There are many pieces of furniture and decor made out of wood. A wooden sign, chair, tables, frame are just some of it. If you are handy with tools and love doing woodworking, then creating something from wood can be fun.
However, it can also mean leaving many scrap planks of wood from the previous projects.
Often time, scrap wood projects deal with small pieces of wood. So, think of small wooden items. On the other hand, you can combine wood with other materials such as strings, wires, and paint.
They make great wall art, kitchen signs, and many other options. Large wood panels are suitable for storage. You can make them in different sizes or the same size for organized stuff.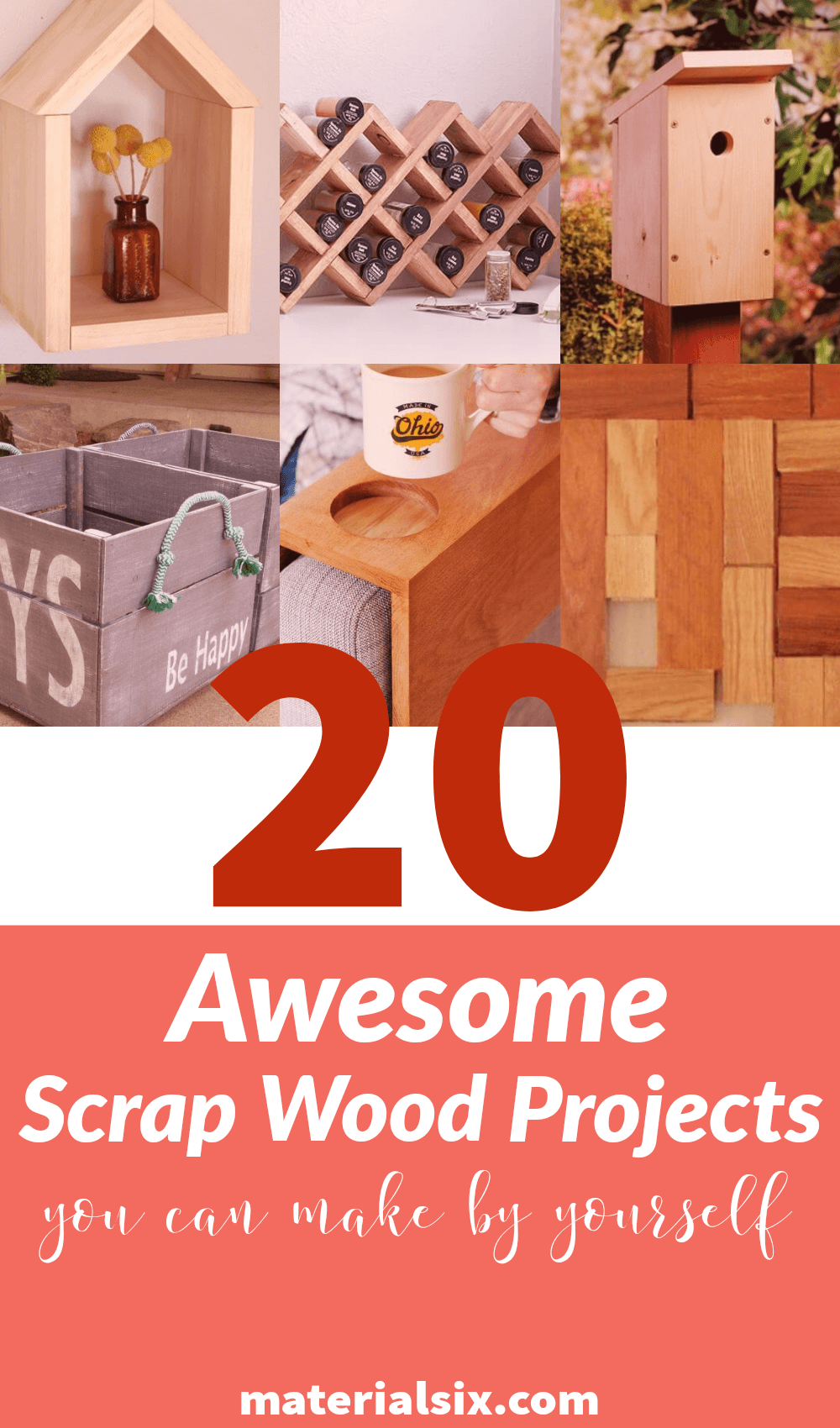 20 Easy DIY Scrap Wood Projects for Beginner Woodworker
Piles of scrap wood have uneven shapes, holes, and maybe even pencil marks. You probably think that they are useless. But it does not mean they have lost their function completely.
Give those leftover woods an upcycle. Use your imagination and creativity when thinking of making good use of them.
Wooden objects will last a very long time. So, investing more time and material to make more wooden items from scraps can be very rewarding.
It can enhance the things that you already made wood. It will bring continuity and blend nicely. Before throwing them away, have a look at some of these scrap wood projects options:
---
1. DIY Scrap Wood House Shelf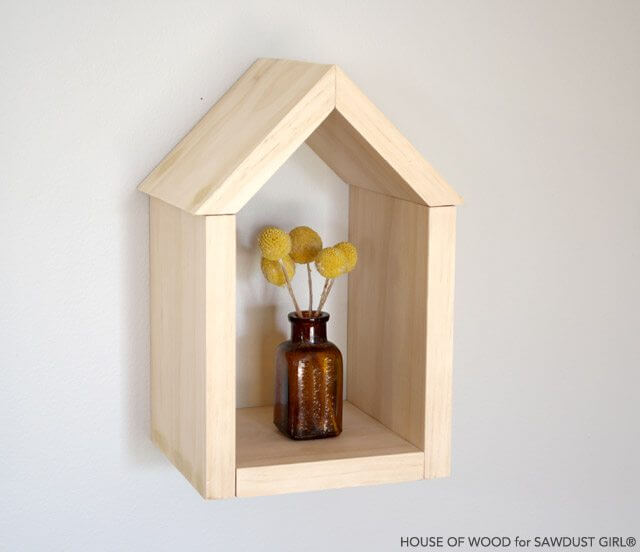 Any beginner can easily do this scrap wood project. You can build a pretty house shelf with only five pieces of used wood slats. It is super easy with simple materials that you can find around.
2. Wooden Sofa Sleeve with Cup Holder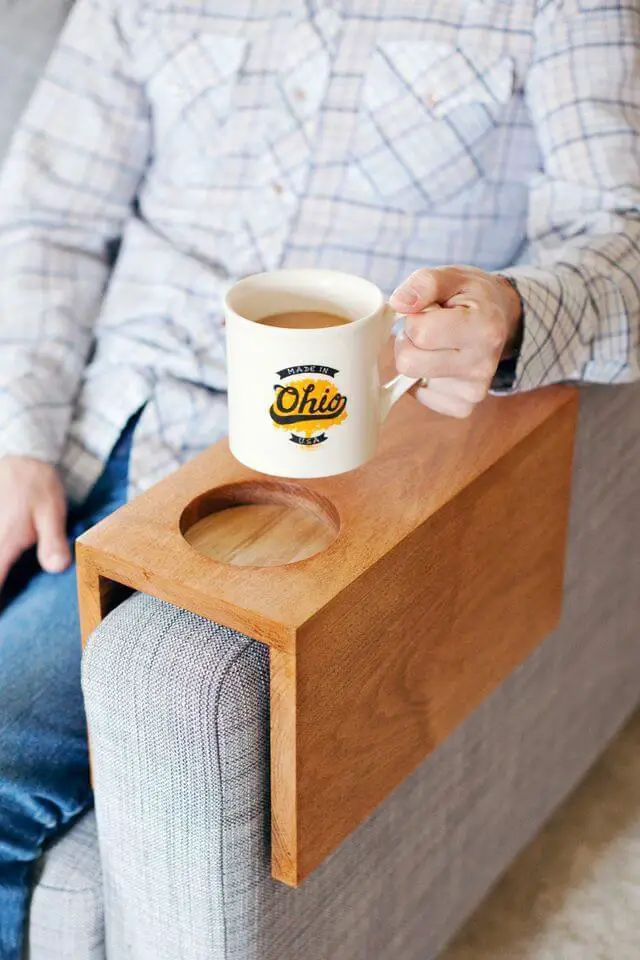 Another brilliant idea for scarp wood is turning them into a wooden sofa sleeve. Add a cup holder to it to maximize its function. From old materials, this scrap woodworking project is a way of bringing you closer to your favorite coffee cup.
3. Arrow Wall Art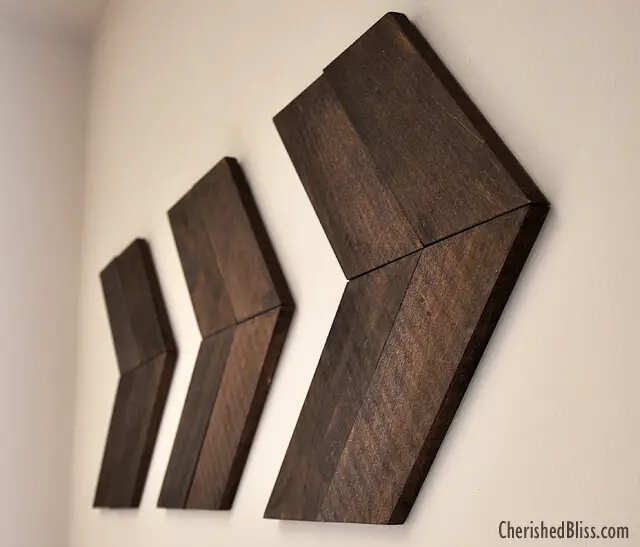 Scarp wood can be the material of your wall décor. You certainly have the idea to turn wood into an aesthetic form. The arrow model is an example of an easy scrap wood project idea that you can copy.
4. Wood Stacker Toy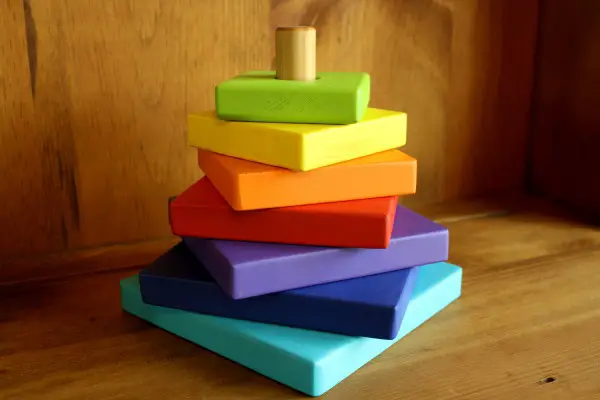 Stackers are babyhood's iconic symbol. It is educational and is fun to play with. Plus, you can utilize it with a variety of toys, including blocks.
5. Colorful Wood Block Candle Holders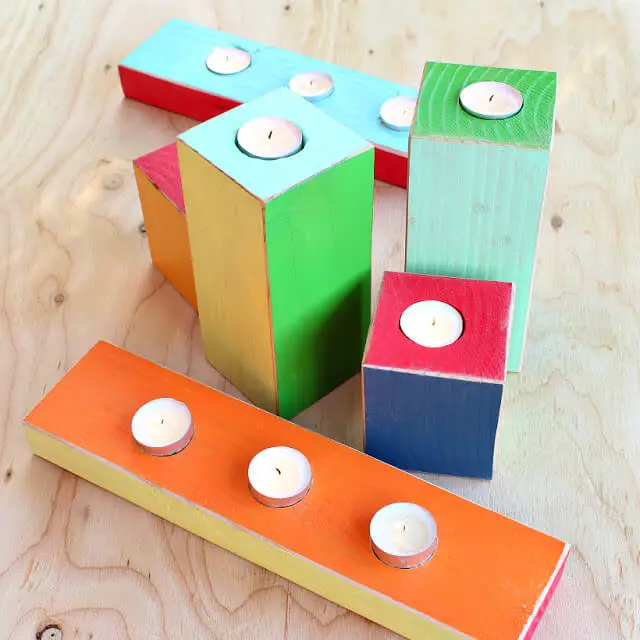 Look at those stunning candle holders! They are a unique addition to any dinner table or a fireplace mantle. Pick your favorite bright colors. They will also be great as gifts to brighten your best friends' day.
6. Mug Stand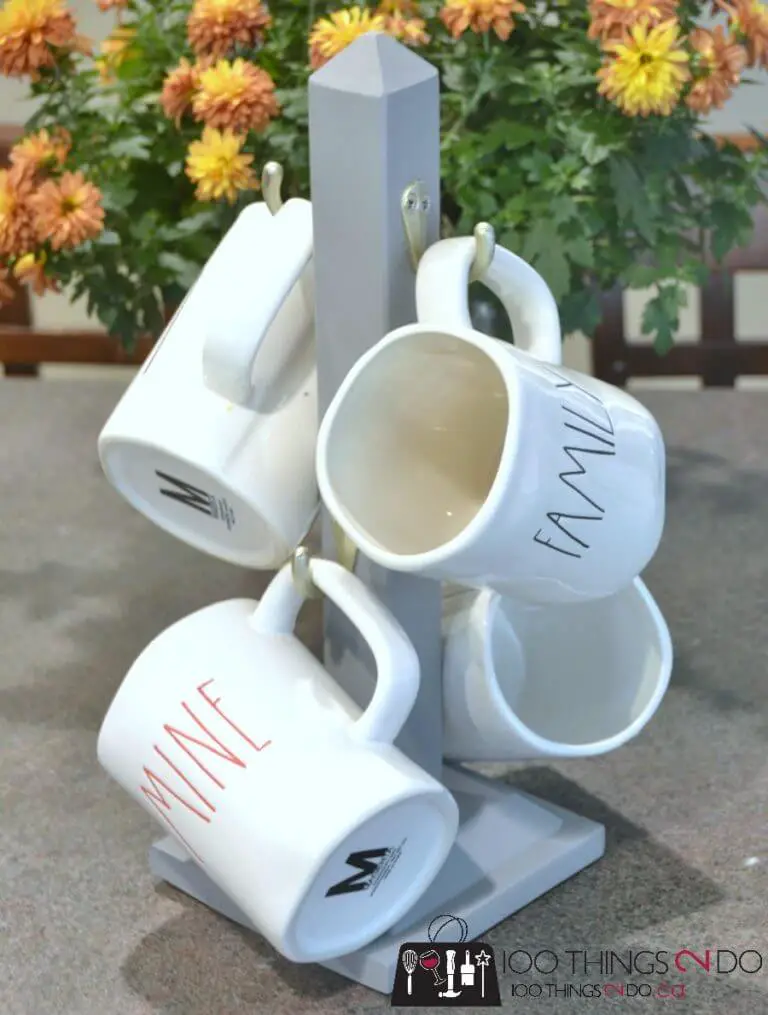 Challenge scrap wood projects for beginners: make the mug stand out from the wood. This project is a bit challenging. You may require the ideal wooden tray as well as a pole. When you hang the cup on them, make sure they don't wobble.
7. Vertical Plant Hanger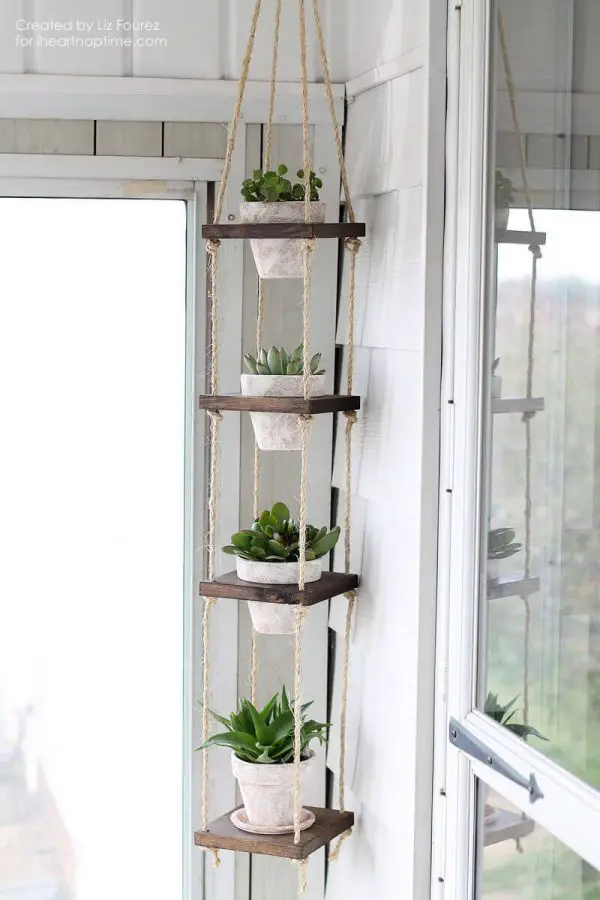 Although it looks a little complicated, the way to make this plant hanger is simple. You may need some ropes and a piece of wood. The key is in your ability to make strong knots so that the wood doesn't tilt or fall.
8. Cook Shelf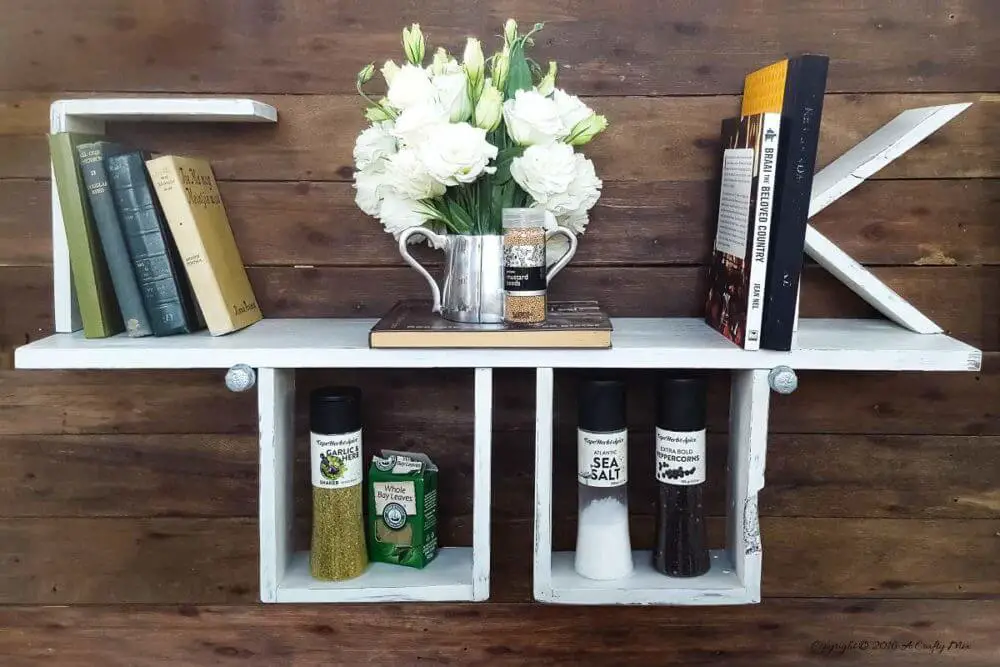 It will be an easy idea to turn wood into a cookbook shelf. Re-check with your kitchen area to determine the shelf size. You can make it smaller to store spices and cookery books.
9. DIY Storage Crates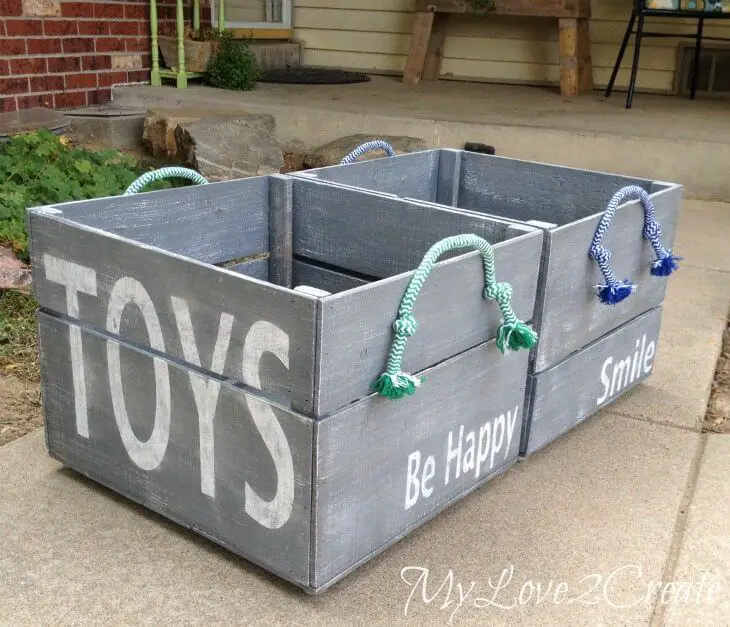 You can turn some used pallets into a helpful storage crate. You can use it as a multipurpose basket for vegetables and fruits too. With minimum effort, it doesn't take long to assemble these easy scrap wood projects.
Related: 15 Creative DIY Furniture Projects Made of Wooden Crates
10. Farmhouse Message Board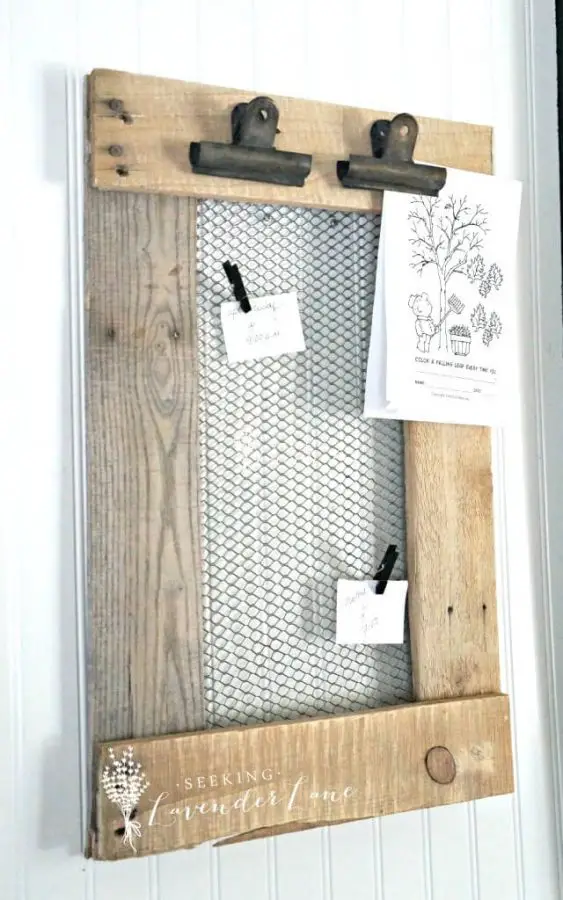 If you like gardening, having a board to lay out a planting schedule is a great thing. It's easy to create these boards with scrap wood near you.
11. Scrap Wood Vase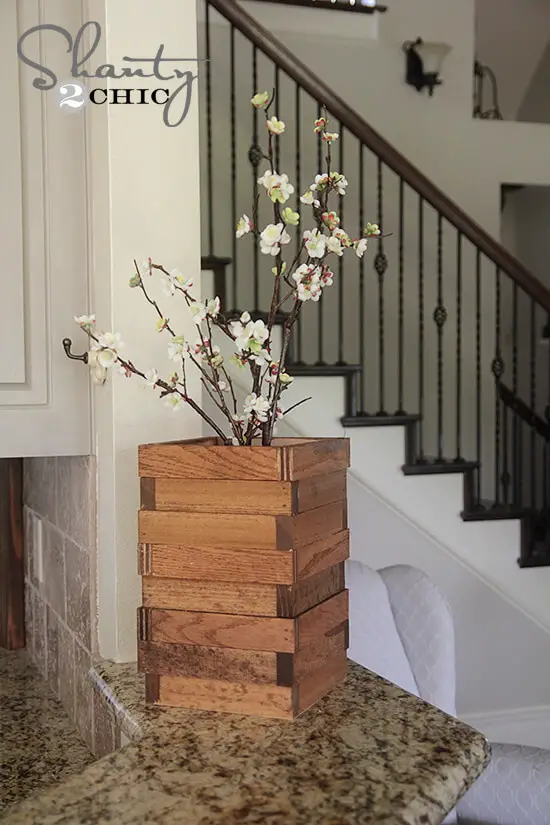 Making a vase from wood is a bit complex. You must choose a type of wood that is strong so that it can withstand soil and water. If you have the suitable material, the next step is to make a concept about the shape of the vase. These DIY scrap wood projects are priceless.
12. Jewelry Stand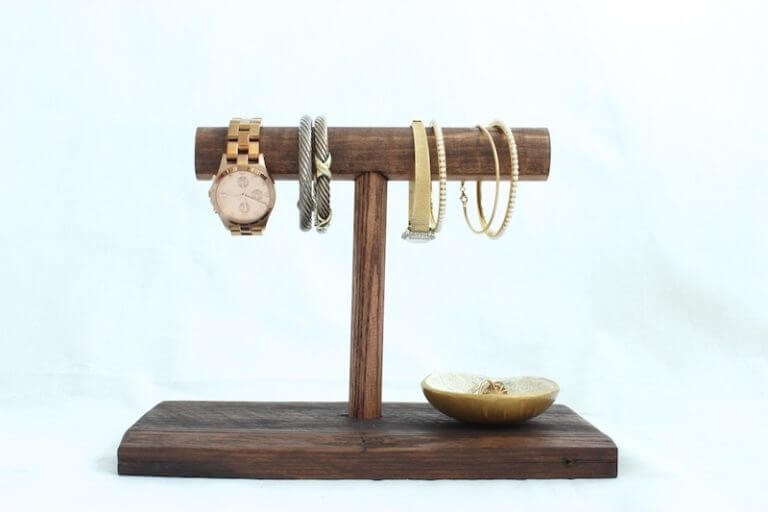 Wooden jewelry hooks always give an antique feel. You may use good woods to form the placemats, posts, and hooks. Make sure you use good-quality lumber to match your jewelry.
Related: 25 Beautiful DIY Jewelry Organizers
13. DIY Phone Stand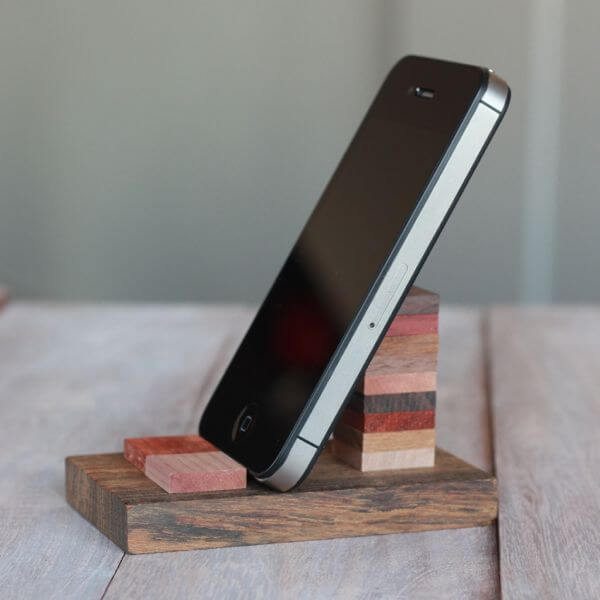 If you are a beginner, a DIY phone stand is one of the simple small scrap wood projects worth trying. First, determine the type of wood to be used and its size. The wood that formed into small pieces is ideal for making this model.
14. Scrap Wood Wall Art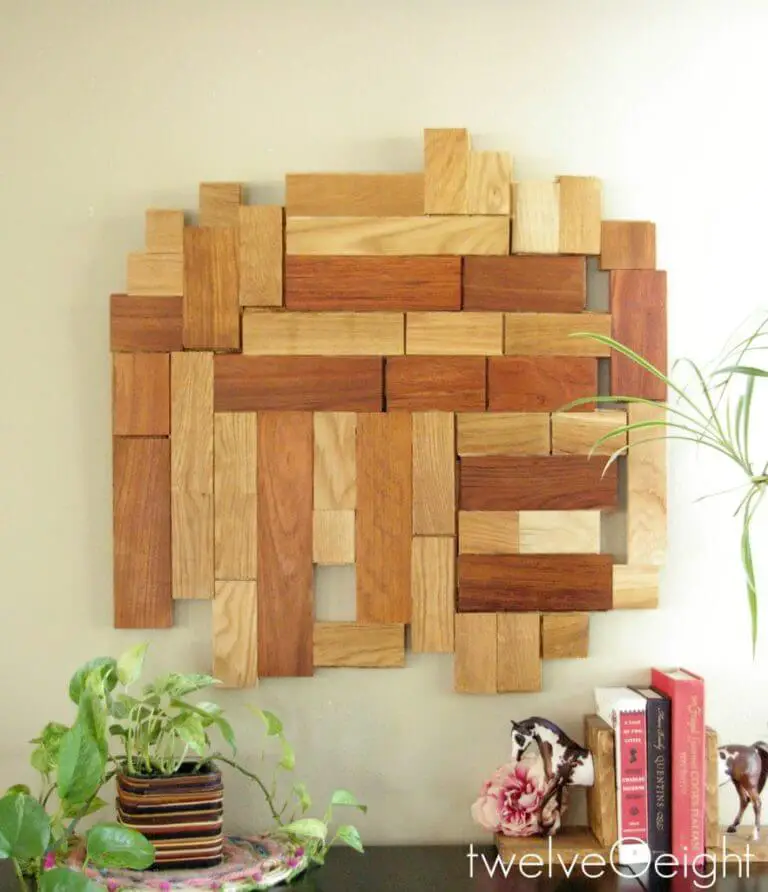 Abandoned wood can be used as wall decoration material. This DIY scrap wood wall art is an art created from your imagination. There are plenty of design samples you can find online to make your artwork the best it can be.
15. Scrap Wood Lanterns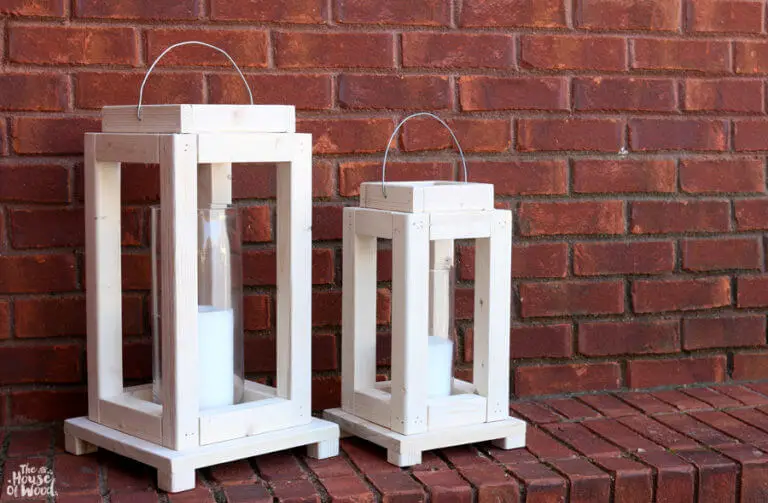 The next idea for used wood is to make a lantern holder from wooden sticks. You will need a wooden placemat and four or more wooden posts. Don't forget to make the lid. It may not be easy for beginners, but you have to conceptualize and try to make it.
16. Scrap Wood Wreath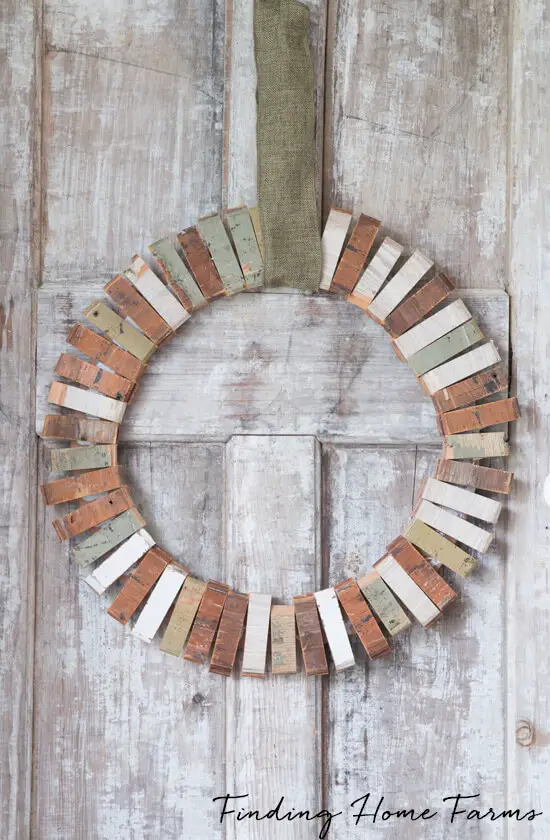 Maybe you could try making a wreath out of pieces of wood. Wreaths are unusual things to make with scrap wood, but it is a unique idea that you really should try.
17. Scrap Wood Birdhouse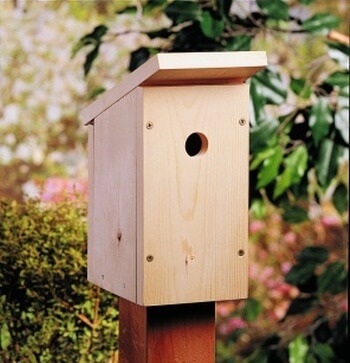 One of the popular small scrap wood projects is building a house. The form can vary depending on your concept. If you are an animal lover, then learn one of these wood projects. Not only do you make birdhouses, but you can also build your other pet's house.
18. Makeup Brush Holder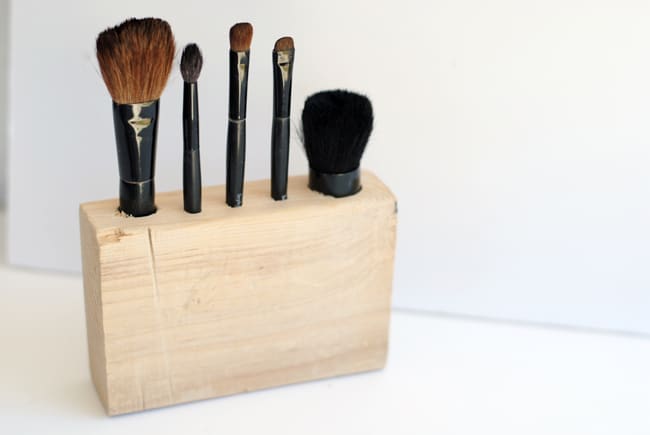 Have you ever thought about making a wooden brush holder? It is an easy scrap wood project that you can make with just one or two pieces of wood. Make sure the wood is wide enough for the holes to match the size of the brush rod.
Related: How to Clean Makeup Brushes Like a Pro
19. DIY Hanging Planter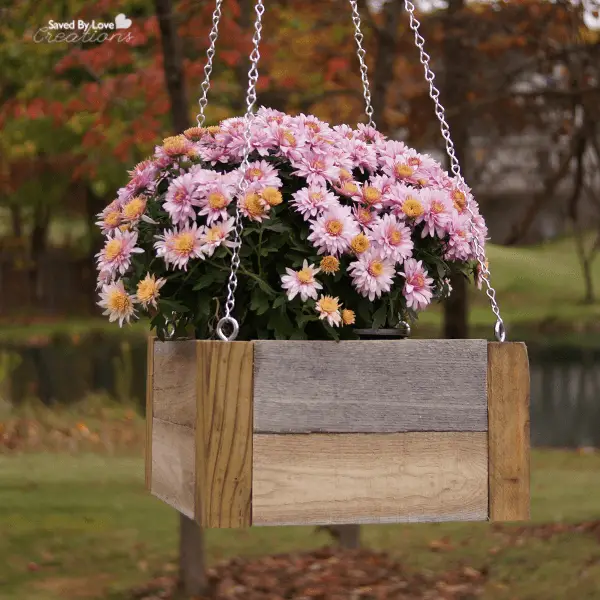 The way to make a hanging vase using wood is the same as making a vase to put on the floor. Simply, you can add a rope or chain to hang it.
20. Wooden Spice Rack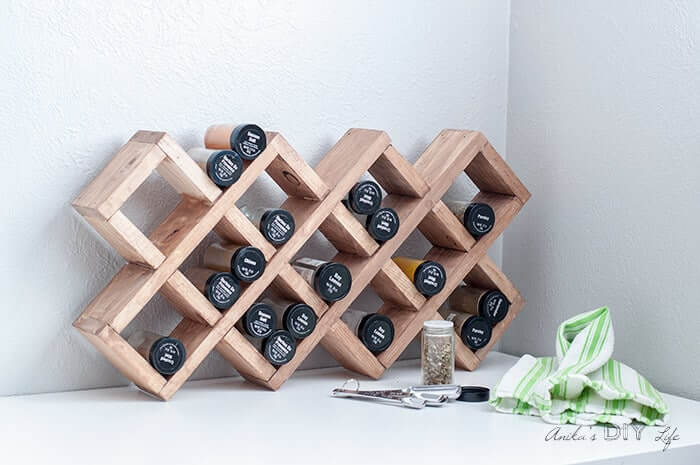 This rustic spice rack is one of the brilliant ideas for scrap wood. You can mount it on the wall or simply set it on the countertop! More idea: use it to store craft paint.
21. Wood Scrap Mirror Frame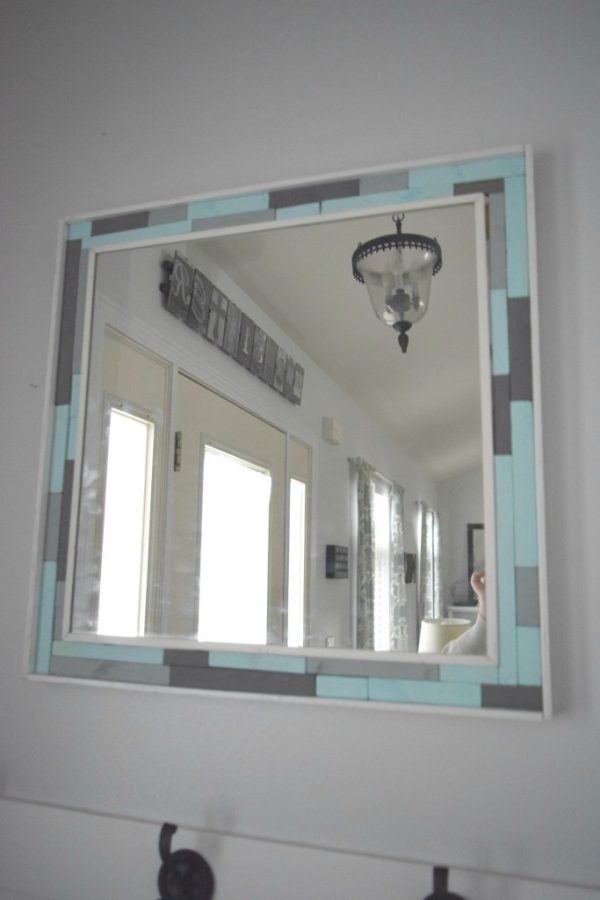 Small and thin pieces of wood are suitable for making mirror frames. Use a type of wood that is light but strong. Once formed, you can stain the wood to clear the mirror and the frame.
22. Scrap Wood Coasters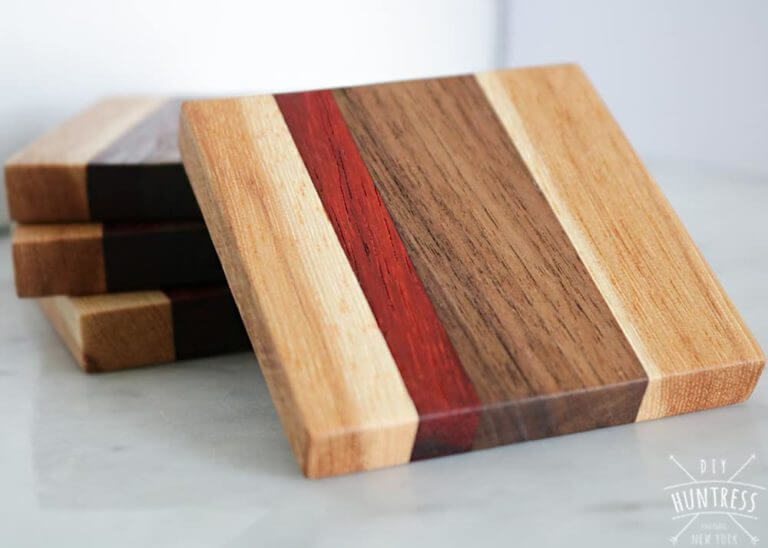 Coasters can be the object of your next used wood idea. Cut the wood slabs symmetrically, then retouch as much as possible. It is a super fun woodworking project with scrap wood.
---
Conclusion
When you set your mind to something, your imagination can come up with many variations. Take your time and browse for the ideas mentioned above. Some designs can be revamped or recreate using different materials.
Get crafty and take out your woodworking tools. It is time to make another DIY scrap wood project using available materials. It probably won't even cost you a cent. Just work with what you have around in the house.
Have fun creating, and do not forget to let others know where you get your inspiration from. Inform others on what they can do with their scrap wood at home.
More DIY Posts & Other Posts You Might Like: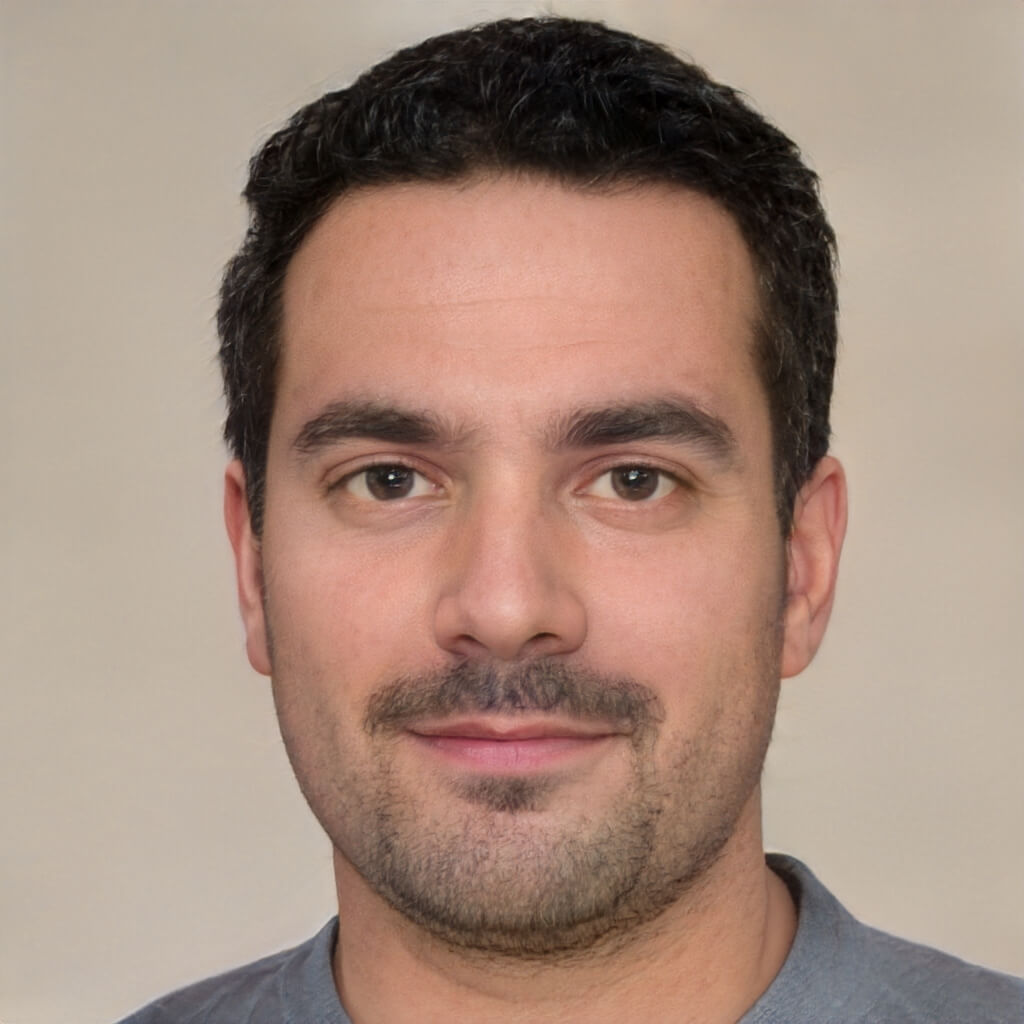 I'm a passionate home and garden enthusiast and the founder of Materialsix Home. With over 10 years of experience in the field, I've cultivated a deep love for all things related to home improvement, gardening, and interior design. Read more…