You need a proper space to keep all your jewelry collections without nervousness. The DIY jewelry organizers are the best thing you can have because you understand the best about your collection.
People tend to keep their jewelry inside boxes or on racks. Those sound like a great idea in the first place.
However, when you have too many jewelry collections, you will realize that the method makes them messy.
When you want to use them, you must deal with the entangled jewelry, which must be exhausting.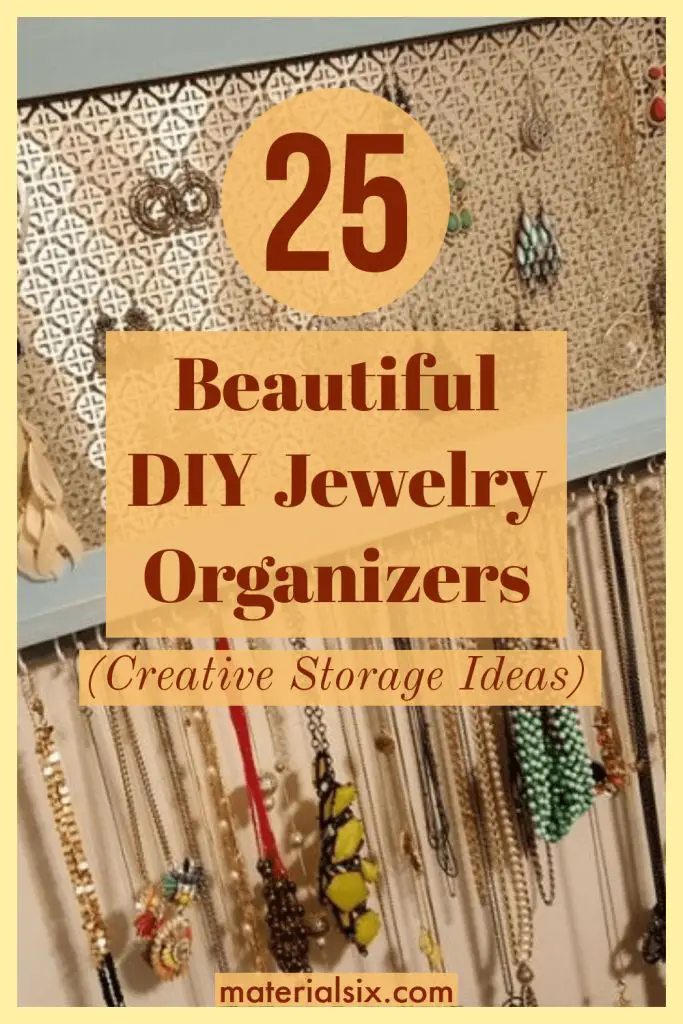 Things You Can Use To Make Great Jewelry Organizers
You can turn anything into a jewelry organizer.
Here are some hints. A framed chicken wire is a brilliant idea to hang your earrings, while an unused window frame plus chicken wire has a double function as decorative pieces and an organizer.
You can also reclaim a thread rack, which is efficient and gives you a minimalist touch. There are so many options when you open your mind and let yourself plays with the imagination!
You can plan on a jewelry organizer theme you love. Opt for a bohemian organizer, an organizer presenting a rustic charm, shabby chic, or anything you like.
Some ideas also let you expose your jewelry without being messy, and they turn your collections into decorative pieces.
Are you ready to make the best home for your jewelry collection? Don't let them get entangled; let's recycle the old stuff into lovable DIY jewelry organizers.
1. DIY Framed Jewelry Organizer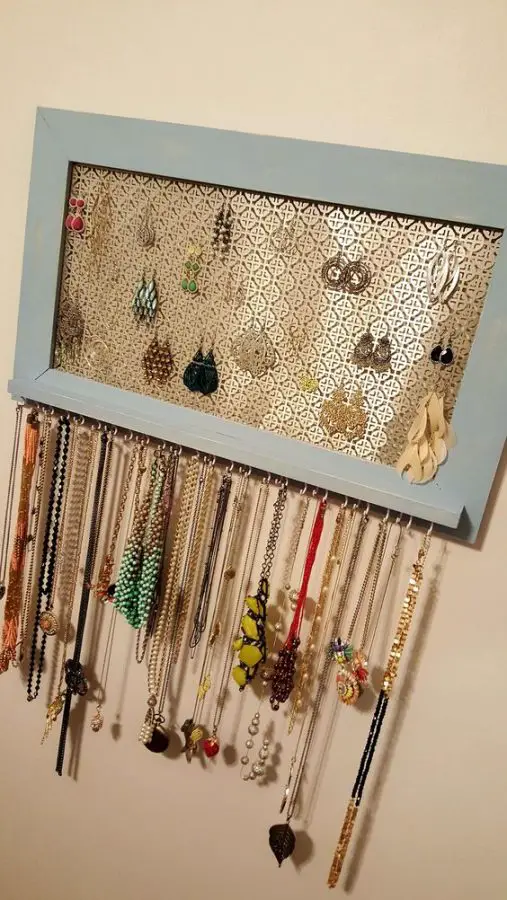 Let's make a jewelry organizer out of a frame, hooks, and some lovely paper. It is entirely up to you in terms of size, color, and design! Paint it your favorite color, add a decorative metal sheet in the center, and all set.
2. Hanging Jewelry Organizer Tutorial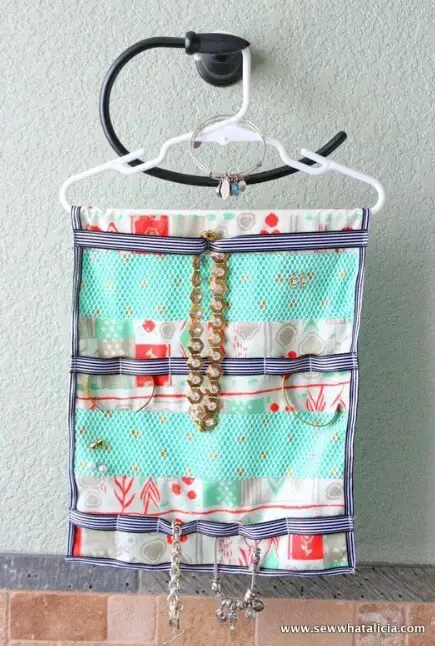 You can sew yourself a hanging jewelry organizer. Ribbons are used to hang your bracelets and necklaces, and mesh panels are provided to clip your earrings. The entire thing hangs from a clothes hanger so that you can hang your jewelry anyplace you can put a hanger!
3. Tiered Jewelry Organizer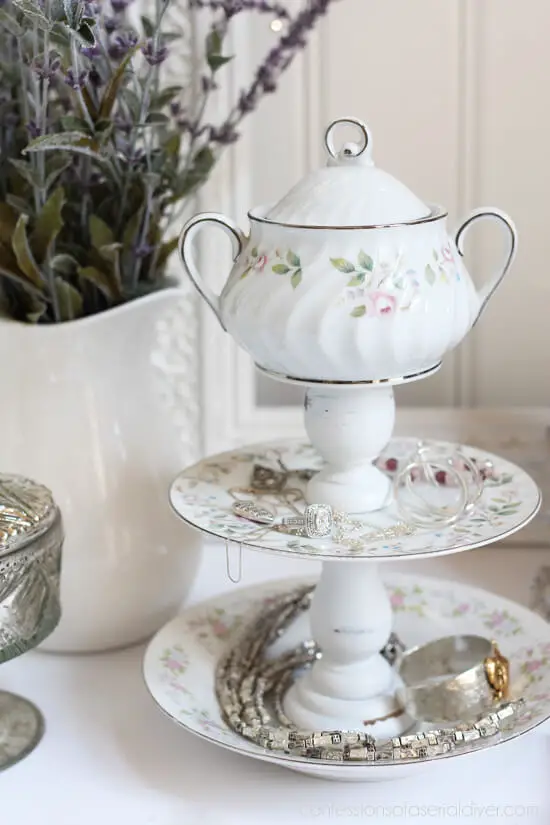 They turned out to be a great spot to toss your beloved pieces of jewelry. This DIY jewelry holder dollar tree is great for earrings, rings, and bracelets, especially ones you wear daily. You can use it to store make-up too! What a stunning piece.
4. DIY Jewelry Organizer with Bracelet Rod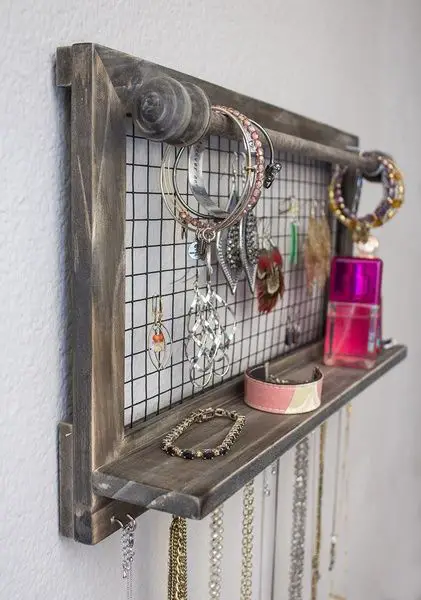 The outstanding feature keeps your jewelry tangle-free! The rustic wooden design elegantly displays your jewels. It is simple to build without any complicated assembly. It will fit on the wall of your bedroom, closet, or bathroom.
5. DIY Rotating Jewelry Storage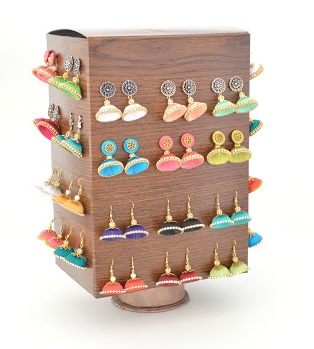 It'll be one of the best DIY jewelry organizers and inexpensive displays that you've ever seen. You'll admire the fact that it's built of recyclable materials, too. This rotating earrings display is made of cereal boxes!
6. Soda Crate Jewelry Organizer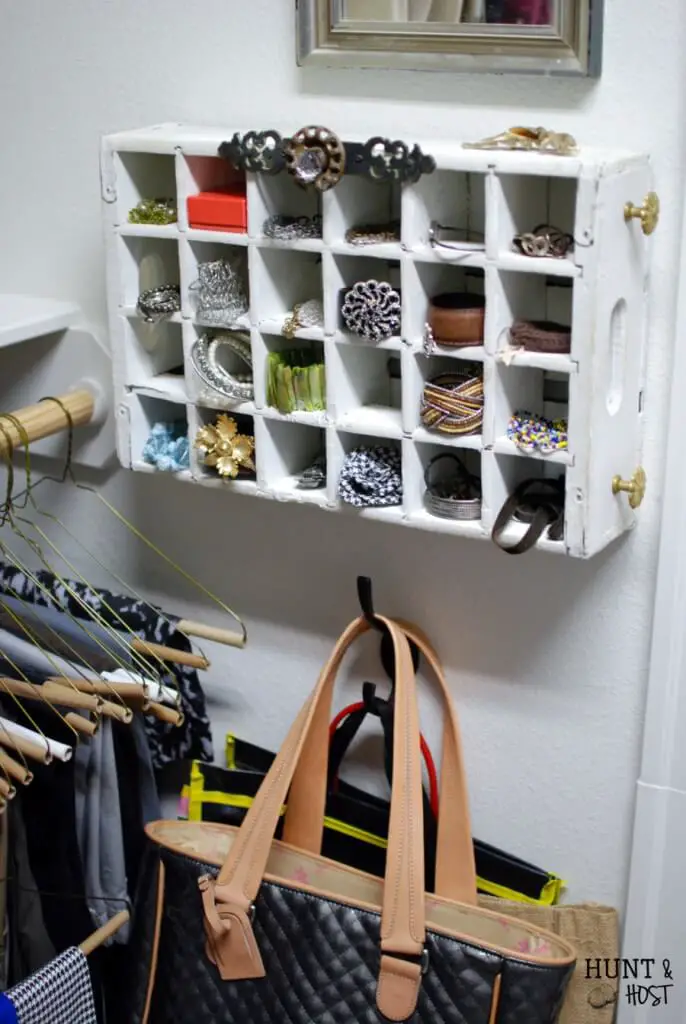 You can transform this old crate into a great jewelry organizer with a new coat of paint and just a few fun bits of random hardware! Isn't it wonderful how something so simple can make such a difference in our lives?
7. DIY Wooden Bracelet Holders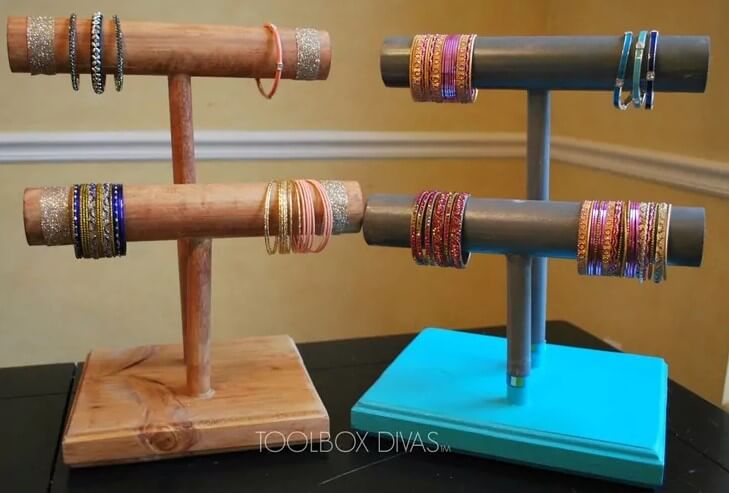 For those dozens of bangles, this is where you could quickly recognize your pieces and organize them by color. A brilliant idea to display your bangles and necklaces while reducing clutter in your dresser drawers.
8. DIY Wood Round Ring Holder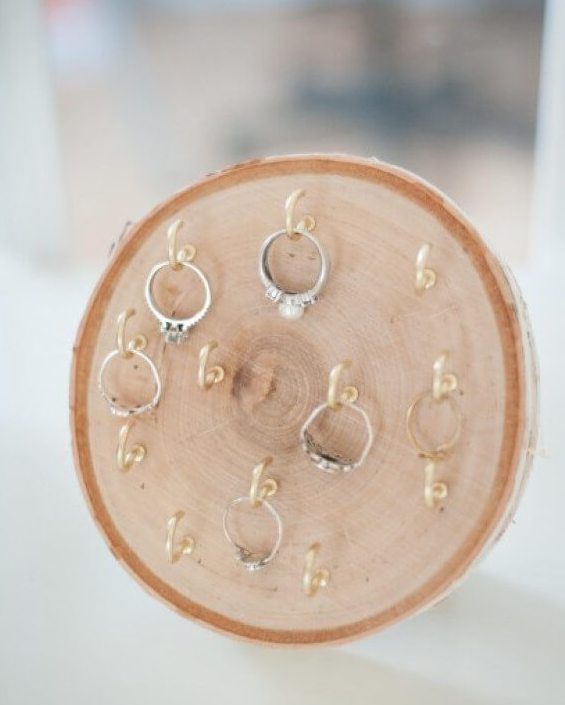 It's ideal for a rustic farmhouse theme and creates a stunning feature of home decor! It indeed adds a touch of sophistication to your dresser! Don't let your rings sit and rot in your jewelry box — here's a nice spot to keep them while you're not wearing them!
9. DIY Driftwood Necklace Holder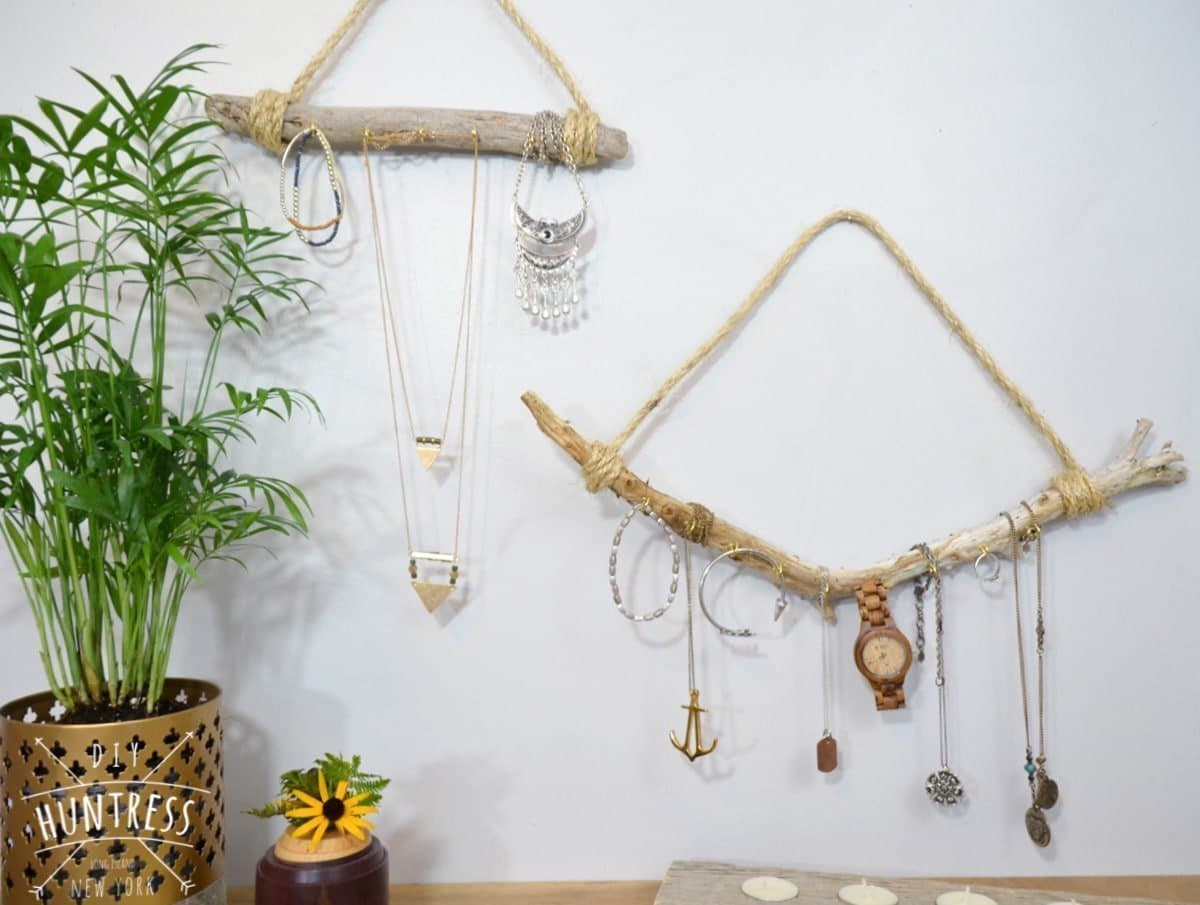 If you have a lot of driftwood lying around, put it to good use with this project! It's effortless and inexpensive. These are also quite functional! The hooks are extremely easy to change, add, or remove!
10. Hanging Branch Jewelry Display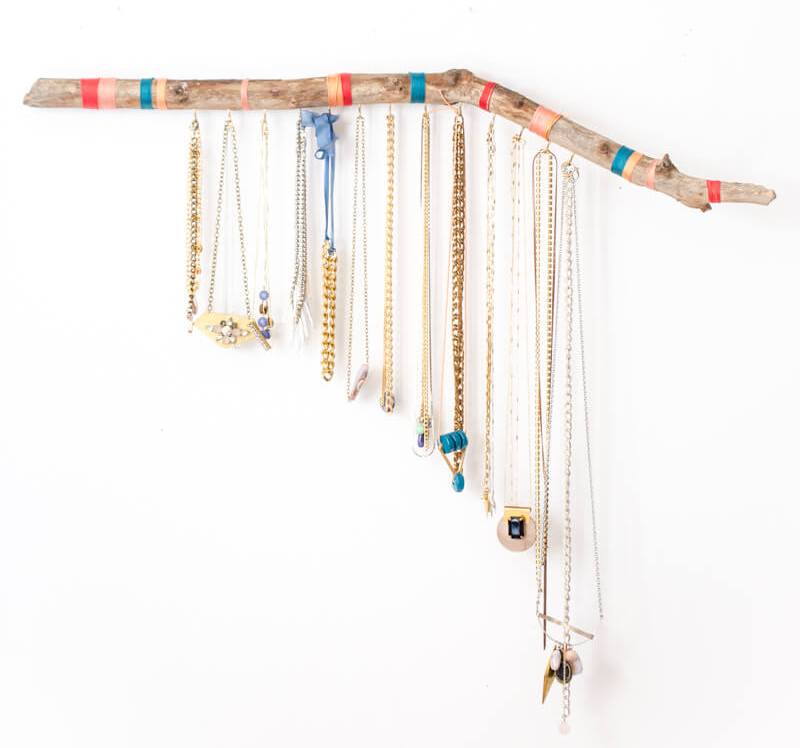 To avoid a tangled mass of necklaces, let's transform an ordinary branch into a hanging jewelry display. It's a simple and versatile DIY project that can be a superb addition to any home decor.
11. Window Frame Jewelry Display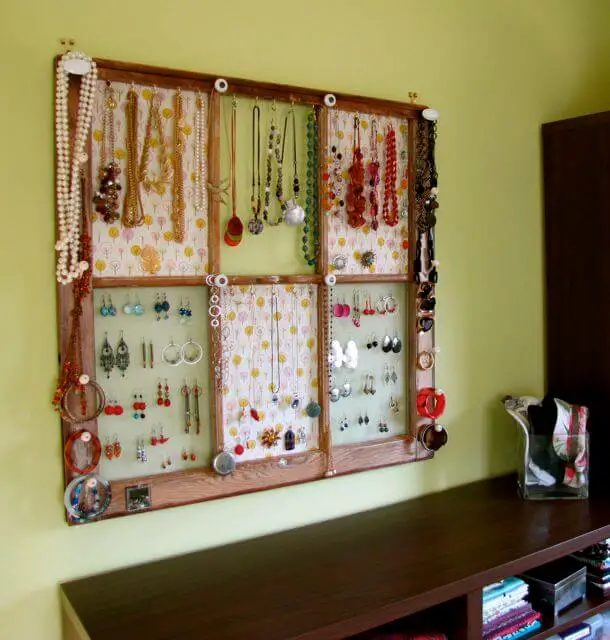 To make this stunning accessories display, look for an old wooden window frame. You may clean it up, sand it down, and even paint it if you wish; the effort will be well worth it.
12. Old Rake Head as a Necklace Holder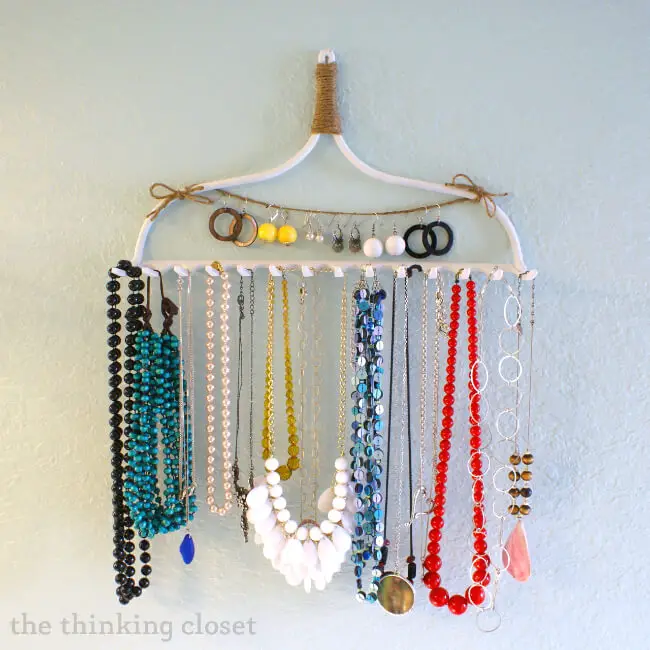 You probably don't wear necklaces often because it's tricky to see what you have since everything is clustered together in such a tangled mass. This DIY holder is here to see you through what you have and easily access it.
13. Wall Necklace Holder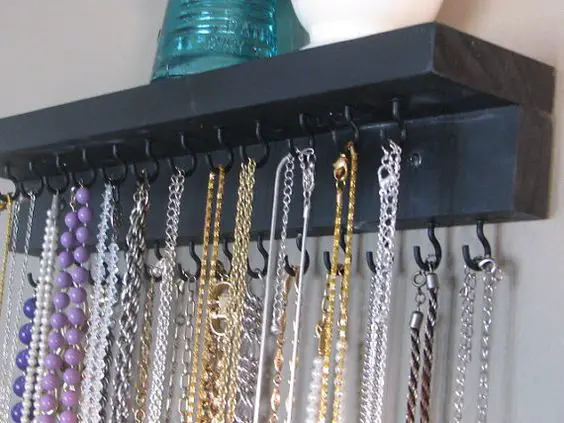 Wondering how to put together your necklace collection without getting them tangled up? This DIY jewelry holder wall works best to store and showcase your gorgeous necklaces.
14. DIY Jewelry Organizer with Farmhouse Charm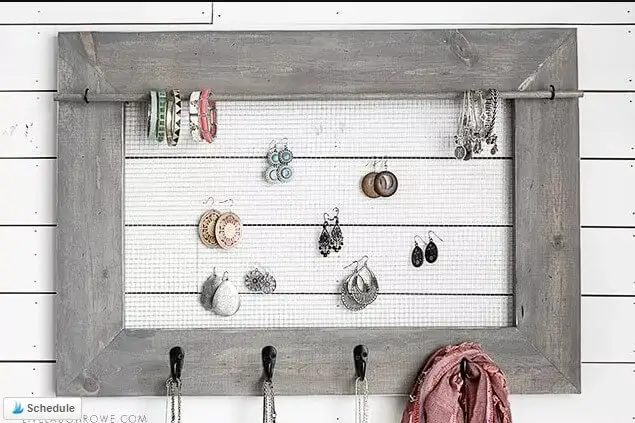 This organizer has a farmhouse feel thanks to the black hook and gray stain. The addition of the dowel for the bracelets is terrific! This jewelry organizer clearly serves as a one-stopshop!
15. Colorful Jewelry Organizers from Silverware Trays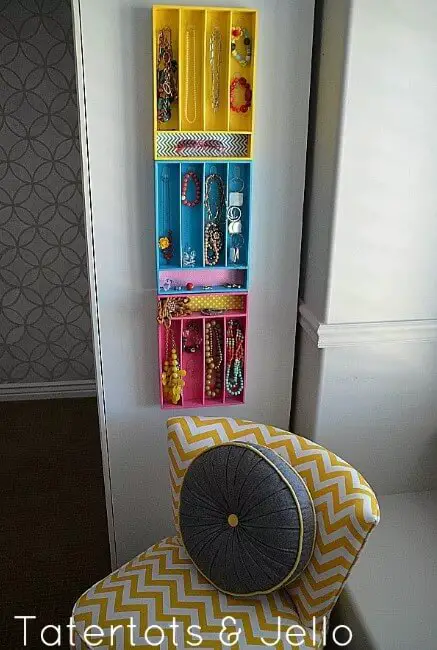 Take a look at this eye-catching jewelry organizer. It is a very simple project. Silverware containers, spray paint, hooks, picture hangers, and scrapbook paper are all you need.
16. Corkboard Jewelry Organizer with Fabric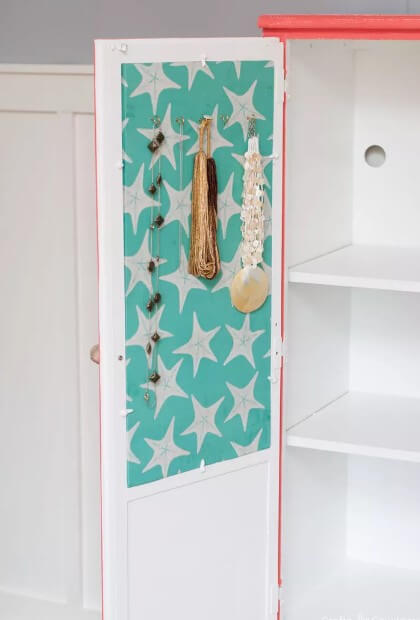 Let's give your bathroom cabinet a makeover and a great little surprise on the inside. Cover it with fabric and utilize the area to hang your jewelry. A corkboard is an excellent jewelry organizer!
17. Shutter Jewelry Organizer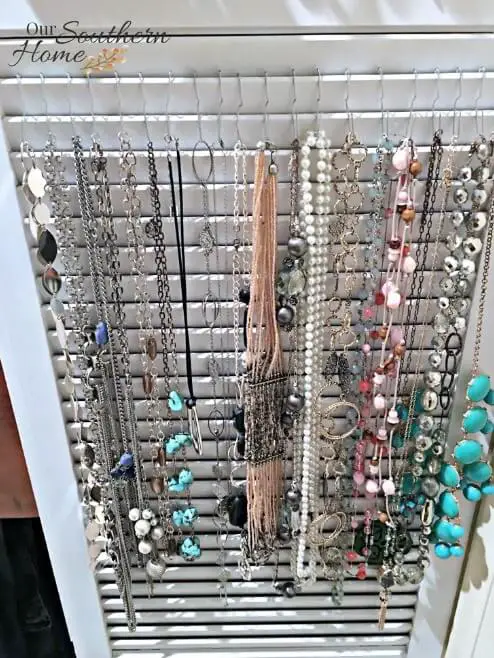 DIY jewelry holders with household items always come up with an outstanding result. It will be easier than you might expect from the picture. We're sure you enjoy going to pick out your jewelry for the day.
18. Easy DIY Cabinet Hardware Jewelry Organizer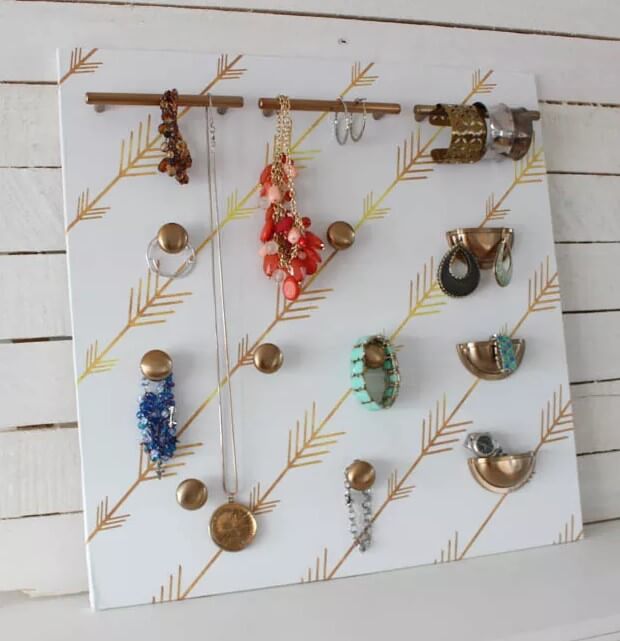 It's unlikely that you've ever considered using cabinet hardware as a material for something like an accessories organizer. This do-it-yourself creation is authentic!
19. Wine Cork Necklace Organizer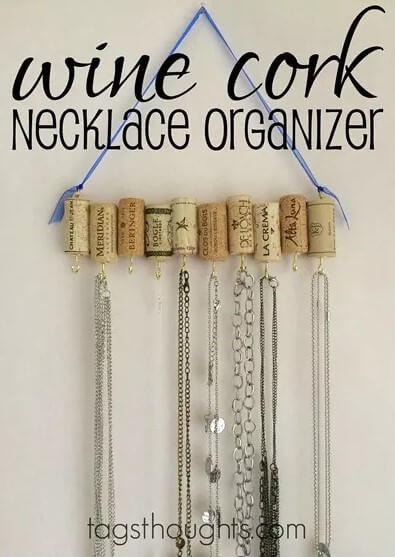 Don't trash your wine corks. Glue them together so that they form a solid piece. Screw the hooks in place, then tie the ribbon to the eye hooks and hang it. Yes, it's that simple.
20. DIY Jewelry Organizer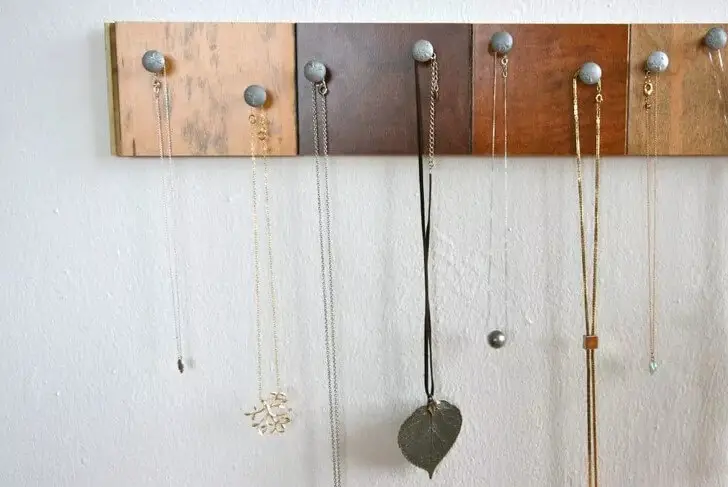 Make use of the wood floor samples you have stashed in your garage. You would never have guessed that you could transform them into anything as adorable as this DIY project.
21. Lace Hoop Earring Display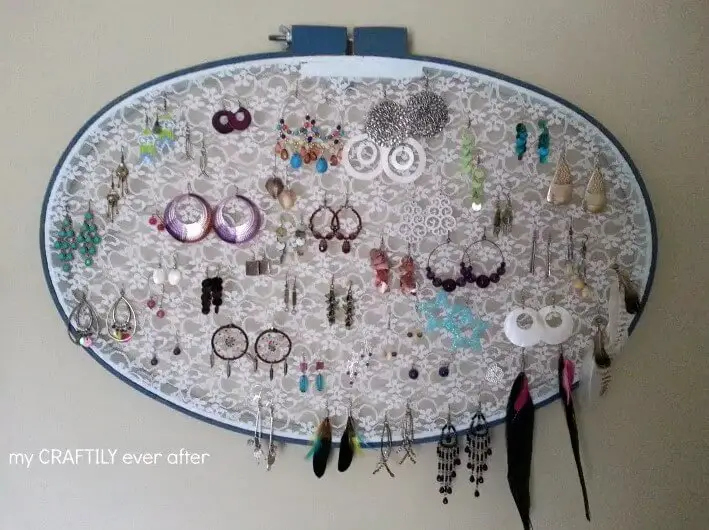 It can be challenging to find a stylish way of storing your earrings. It is a gorgeous DIY earring organizer that will help you organize and beautify your collection.
22. DIY Framed Mirror With Hidden Jewelry Organization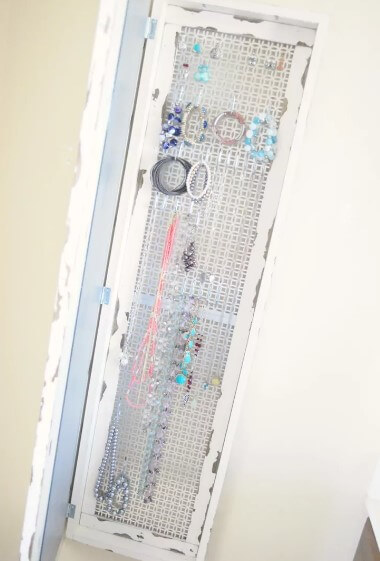 There will be many steps, but this is a simple and pleasant build! It serves two functions while only taking up one wall! You now have a full-length mirror as well as a place to keep all of your jewelry!!
23. Pottery Barn Inspired Jewelry Holder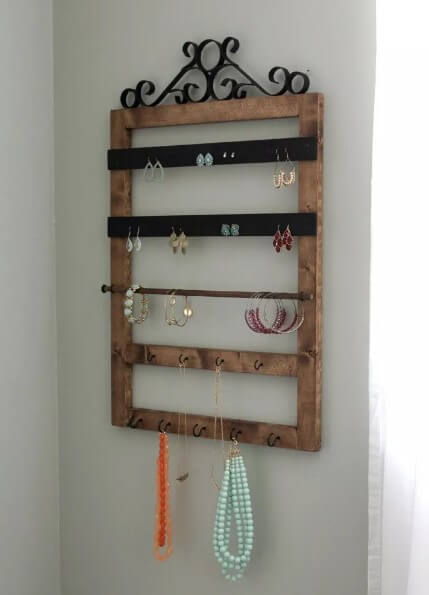 With some materials already on hand, this jewelry hanger costs less than $10! It can cost up to $99.00 in retailers. That's a huge saving!
24. DIY Jewelry Organizer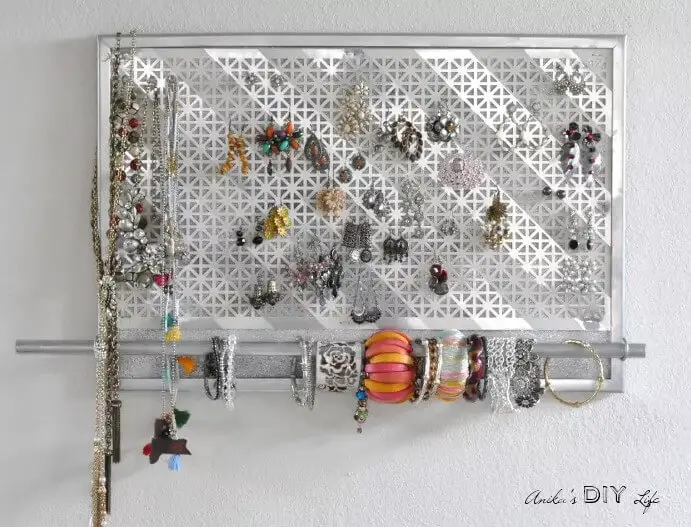 This DIY wall jewelry organizer is simple to build and requires only a few materials. It's the ideal method to show off your favorite jewelry. No more tangled necklaces or misplaced jewels in the hot mess!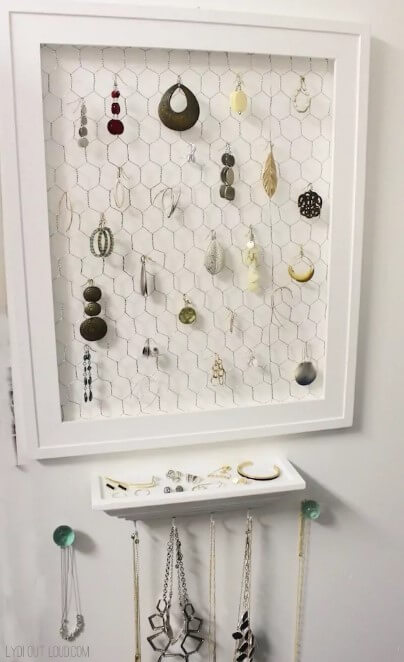 ---
Conclusion
Now you have to splash your mind with many amazing organizers' ideas! The good news is that their breakdown is more doable than you think.
Those beautiful DIY jewelry organizers are an excellent idea to decorate your house and keep you crafty when you can only stay at home! Fill the holiday with something useful. Do not hesitate to share the article on your social media to inspire your beloved friends in keeping their jewelry tidy!
More DIY & Crafts Related Posts & Other Posts You Might Like: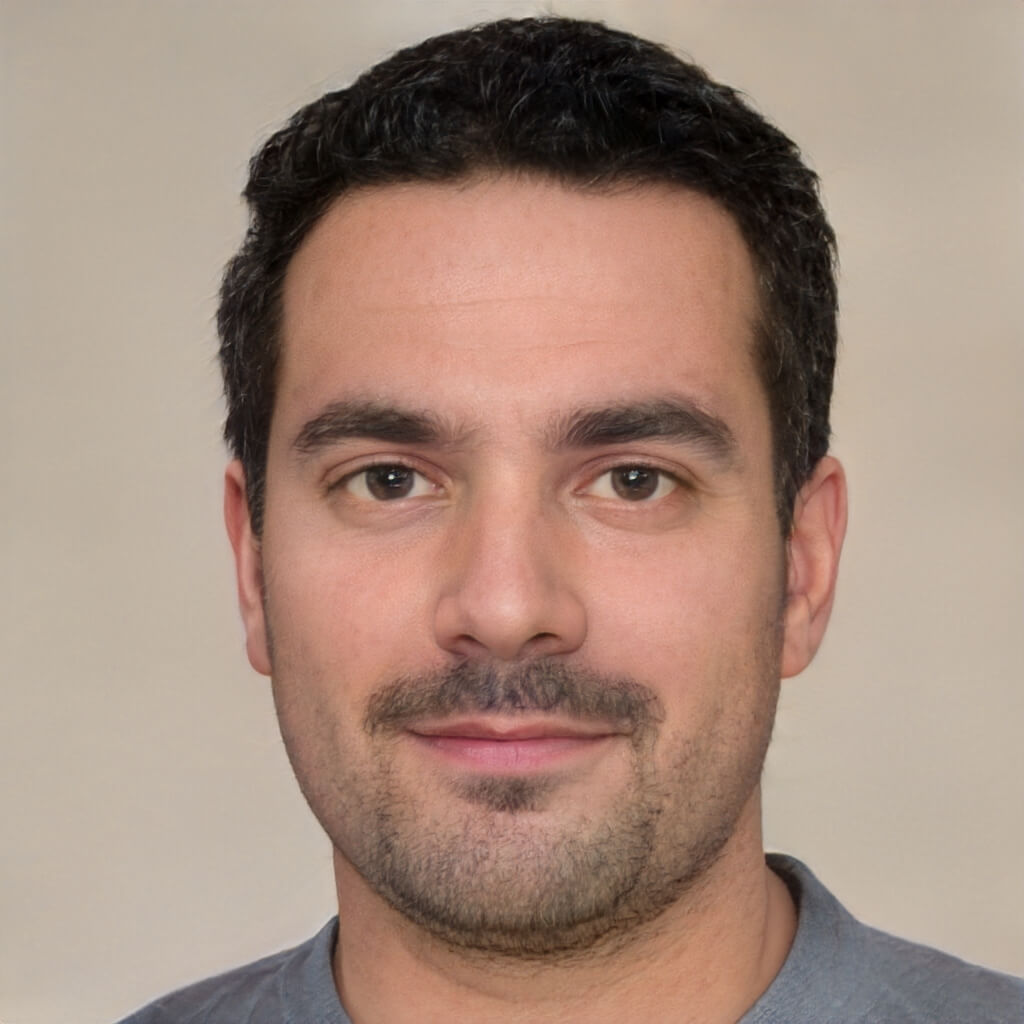 I'm a passionate home and garden enthusiast and the founder of Materialsix Home. With over 10 years of experience in the field, I've cultivated a deep love for all things related to home improvement, gardening, and interior design. Read more…