Ordinary toilet paper holders are boring. Creating new holders is simple and will add to the bathroom's beauty. It will look more enhanced, unique, and modern with a little touch on the toilet paper holder.
If you find some confusion when you want to change the holder, you can look up the following DIY toilet paper holder ideas.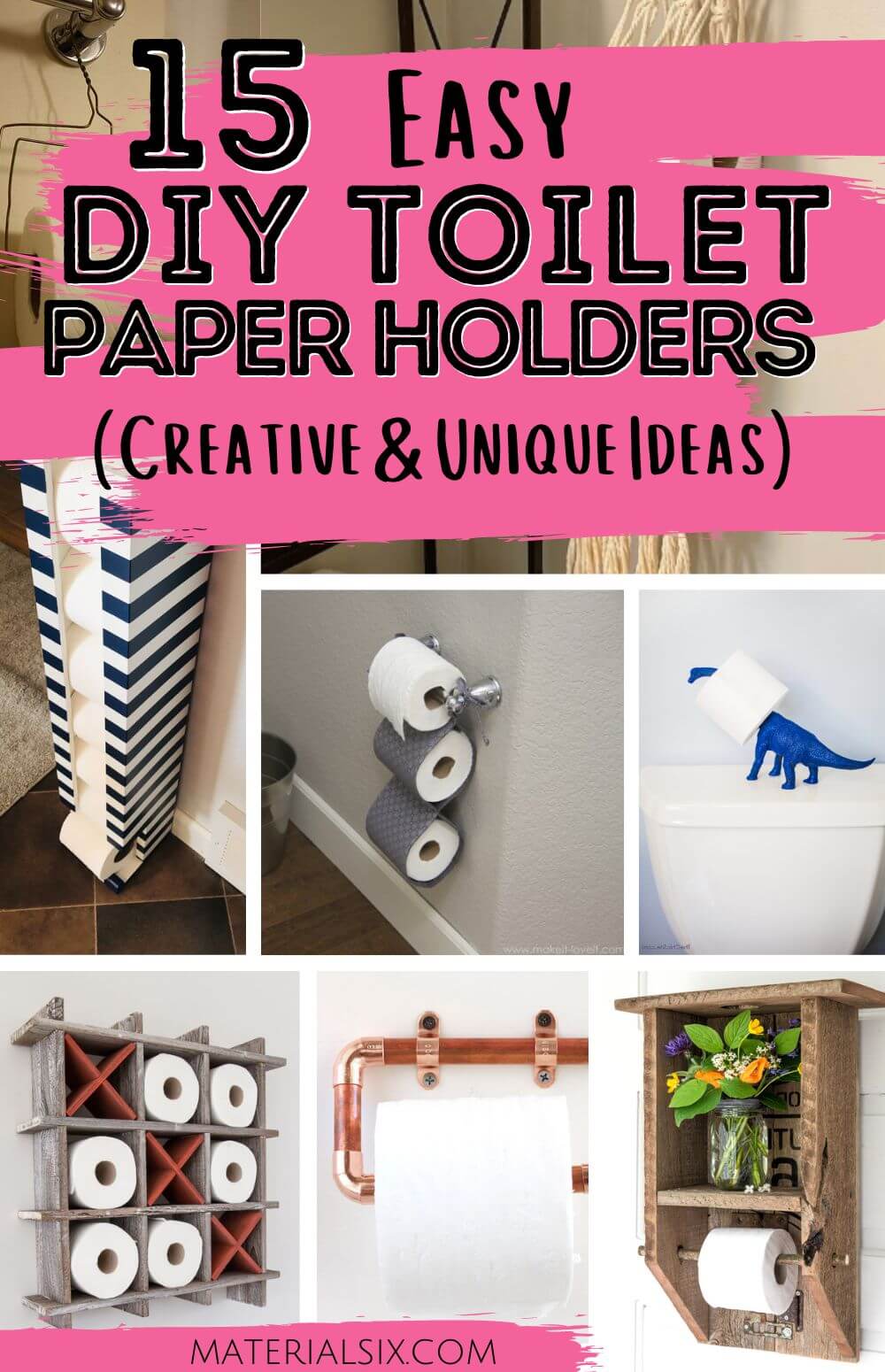 DIY Toilet Paper Holders for Every Budget
1. Simple Hanging Toilet Paper Holder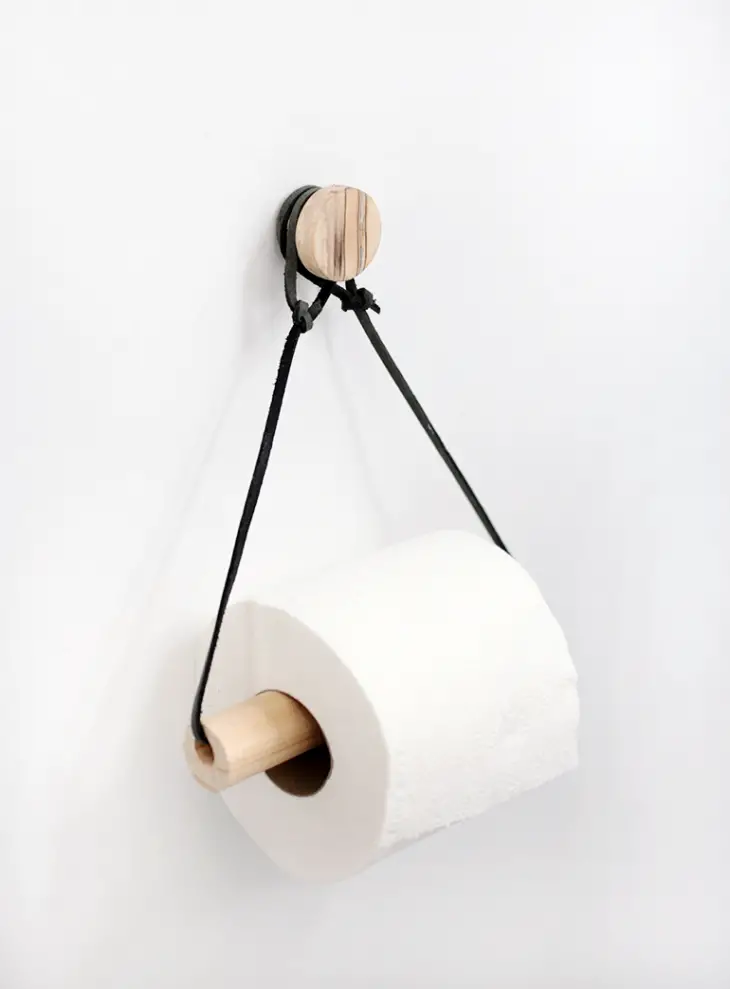 This toilet paper holder is simple, but it's elegant. You only need a knob, leather lace, a dowel, and some screws and pliers to make it. It's cheap, but it offers an awesome holder for your toilet paper.
2. Industrial Style Toilet Paper Holder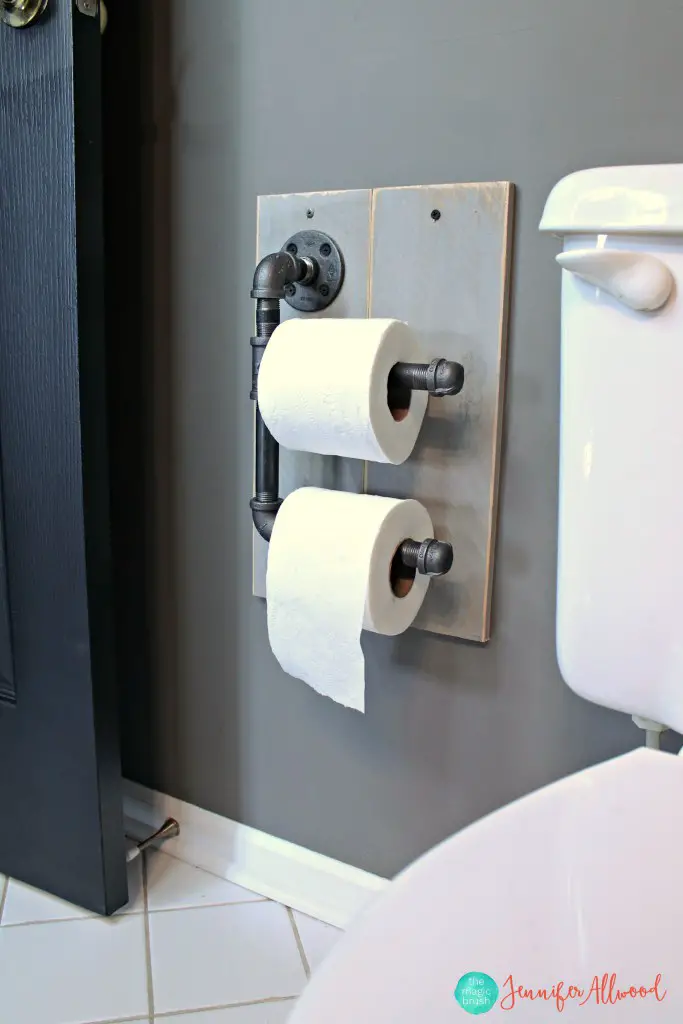 Do you like a modern style for your house? Black iron and black steel nipples are required to complete this project. You can get them and the other items at the industrial store near you. Once you have all material, you are ready to go and create your own industrial toilet paper holder.
3. Little Dinosaur Neck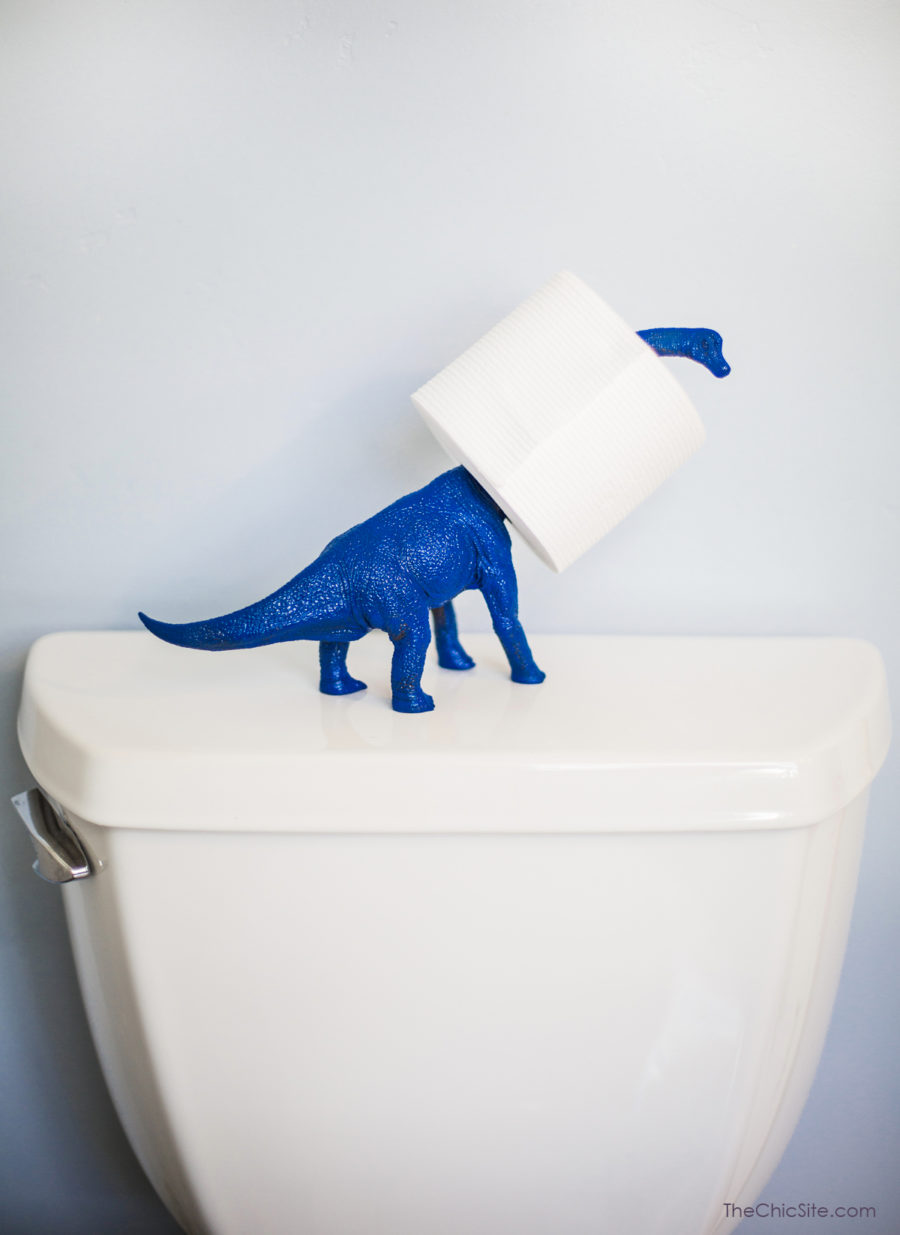 If your kid has a used Dino toy, you can grab it, take it to your bathroom, and use it as a holder for your toilet paper. Make sure that the size of the Dino will fit the toilet paper you would put in there. You can consider Brontosaurus as this Dino has a long neck. Your kid will be happy seeing a Dino in your bathroom.
4. DIY Toilet Paper Holder from Reclaimed Wood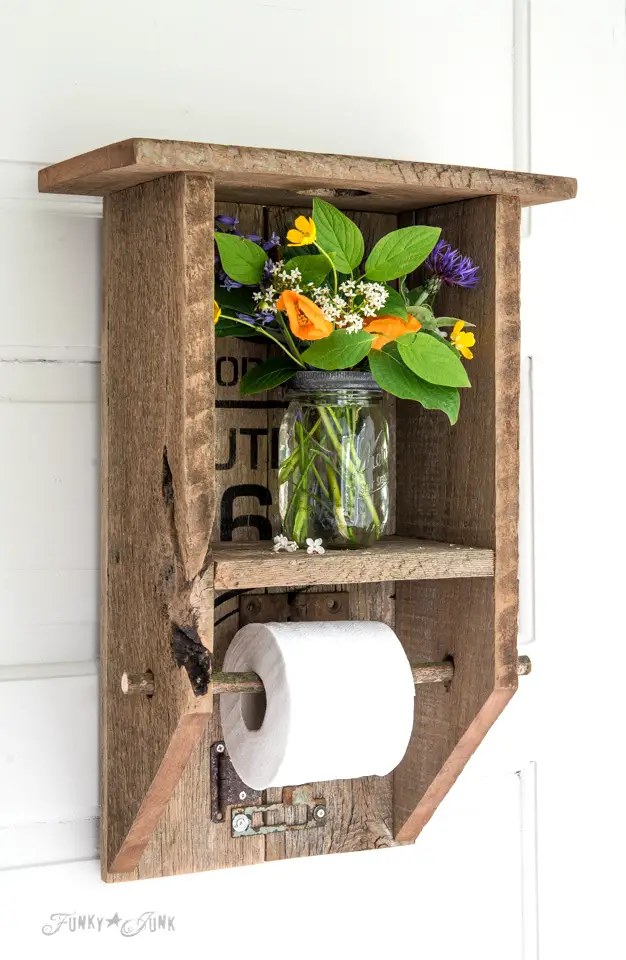 Wooden furniture fits any design of a house. Turning wood into a toilet paper holder is not a hard deal as there are some steps you can easily follow. This reclaimed wood toilet paper holder is another level of bringing wooden furniture into a bathroom.
5. Aesthetic Tree Branch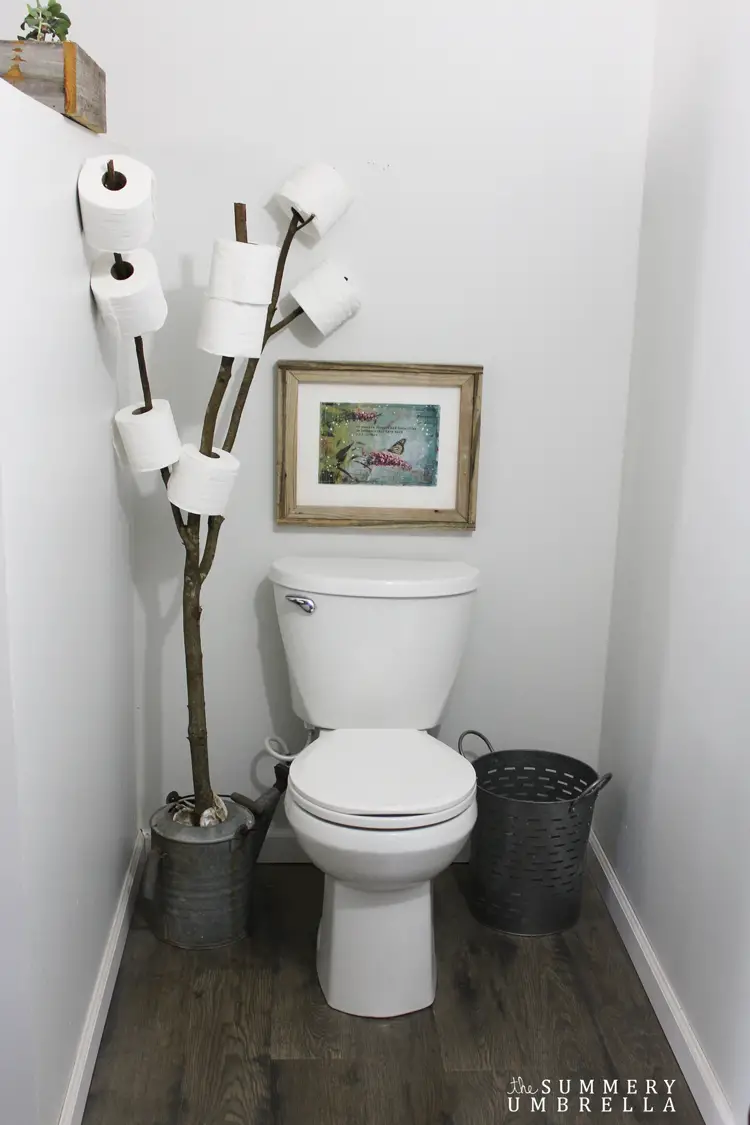 Bringing a tree branch into your bathroom might be an extraordinary idea for others. It will be different if they see this awesome toilet paper holder. It looks stunning and unique at the same time. It will create a great look at the toilet paper are the leaves of a tree.
6. Toilet Paper Holder with Shelf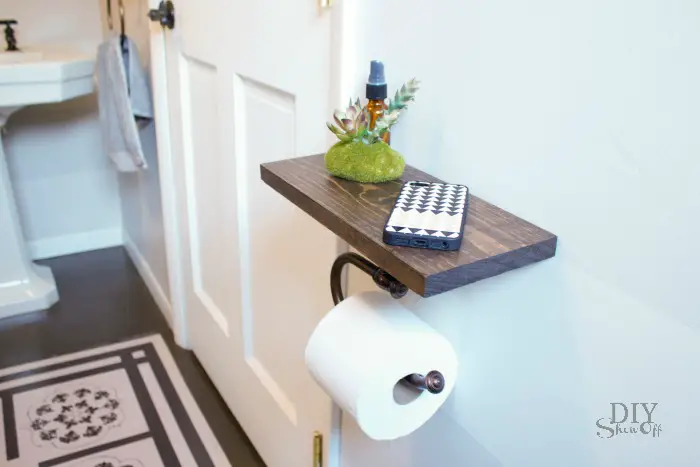 Need more storage space in your bathroom? This style of toilet paper holder will answer your problem. With its shelf, you can put your phone and add some accessories too. It's a great way to design a bathroom and add more storage space.
7. Hanging Toilet Paper Holder with Fabric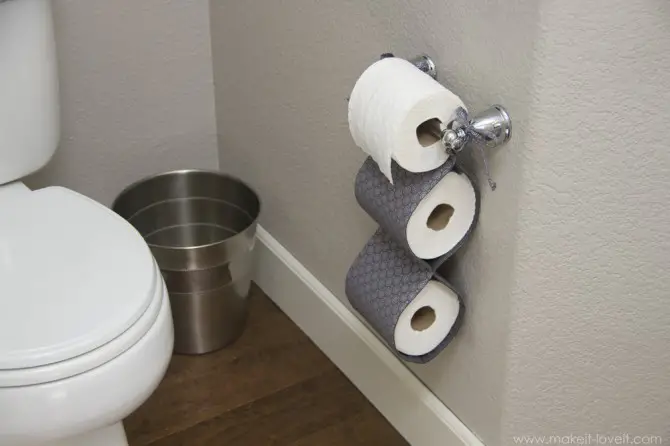 Improvising can be done on any occasion, including choosing your toilet paper holder. You can sew some fabrics so that you will be able to keep more than one roll of paper at a time. It's so practical that you won't run out of paper while in the bathroom.
8. Copper Pipe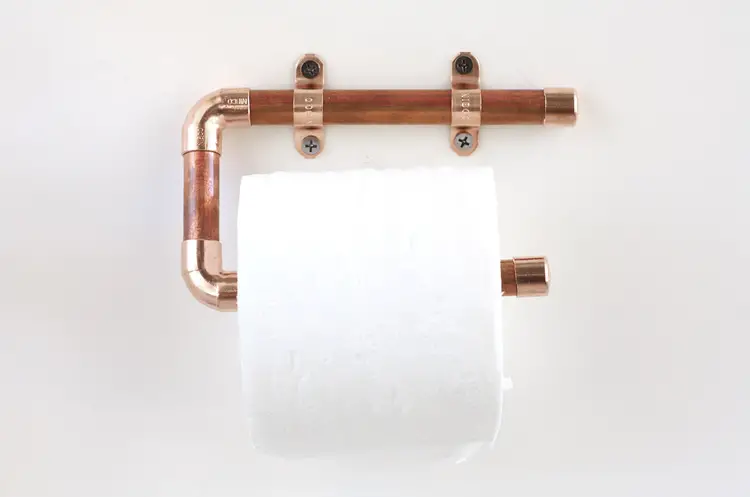 Copper pipes can be found in a household store in your town. Copper color offers elegance and exclusive taste for you. One thing is for sure, and it's affordable. Unlike iron or steel material, this offers a beautiful look.
9. Wooden Letter Block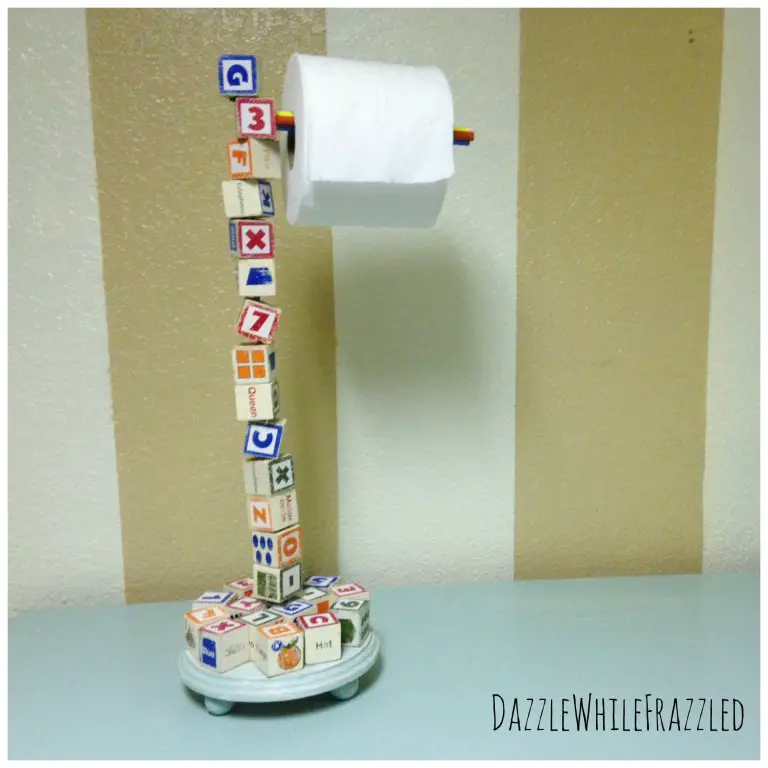 Your kid's letter block will become scrap in some years. Once that happens, you can turn those blocks into an amazing toilet paper holder for your bathroom. It would be a great project for you with easy steps and barely a budget to create it.
10. Recessed Toilet Paper Holder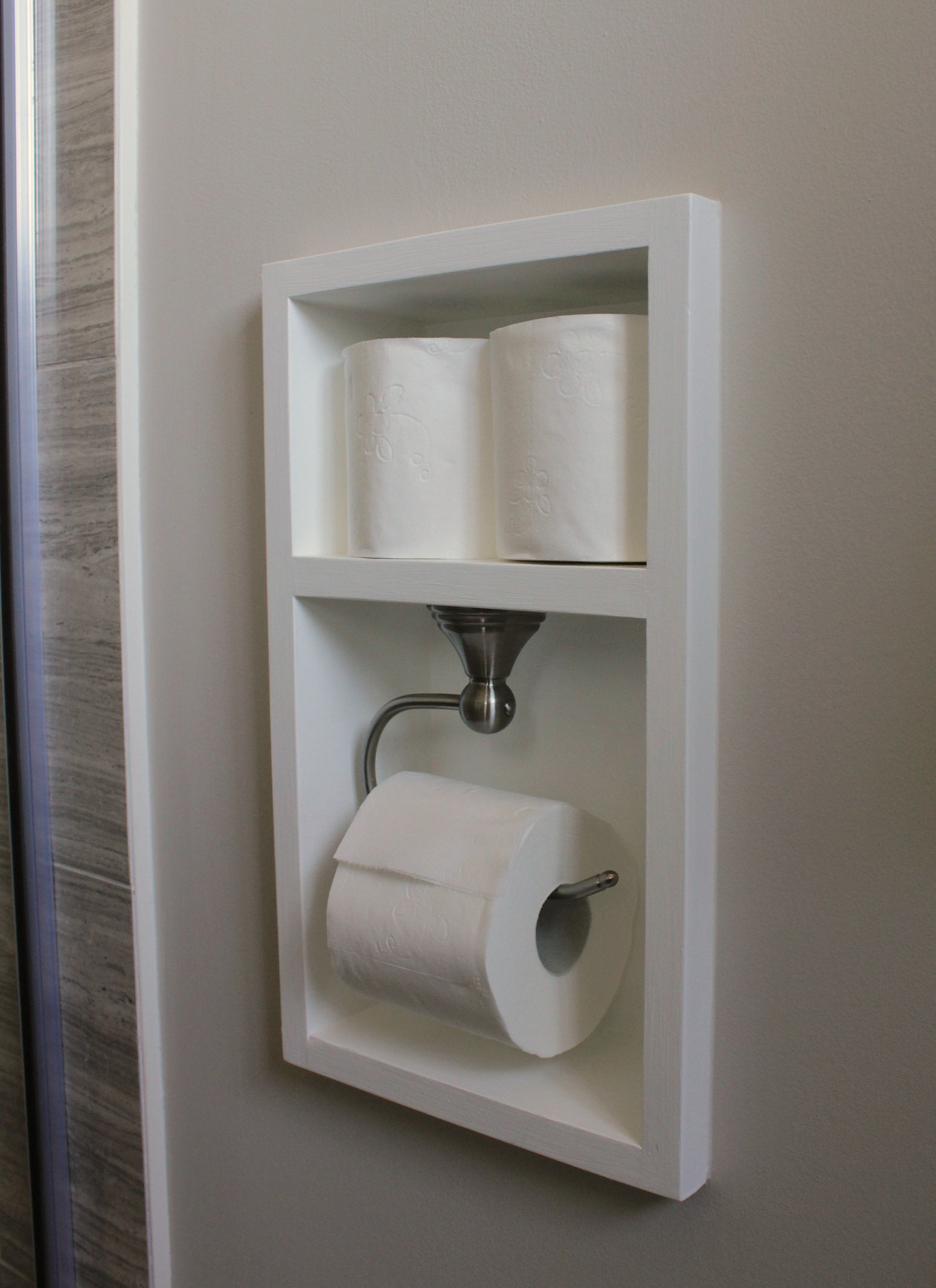 The cleanliness style of this holder will make you like your bathroom even more. If you want to make this your next project, you can start finding the needed materials. You can go on a budget to complete this project.
---
11. DIY Toilet Paper Holder  – diydanielle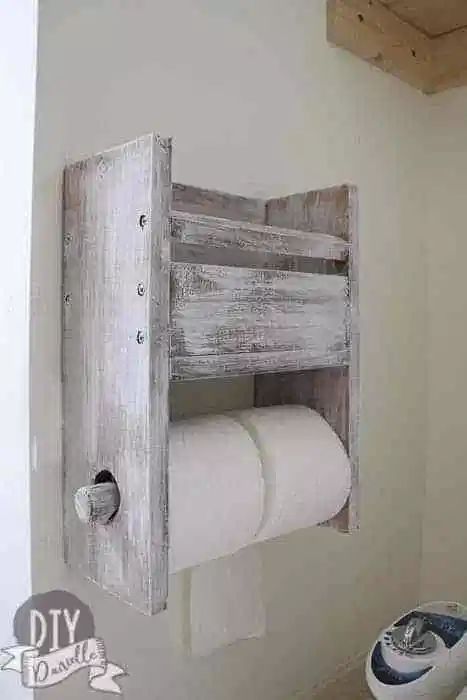 The creator offers a design for your DIY toilet paper project. You will need some wood to create it. Do it with precision, and make sure you follow every step correctly. In the end, you will get an awesome toilet paper holder for your bathroom.
12. Tic Tac Toe Toilet Paper Holder
Wow! It's a perfect holder for toilet paper. Instead of holding some unused toilet paper, this can be an awesome accessory for the bathroom wall. It will add to the room's beauty and functionality of a wall accessory.
13. Macrame Toilet Paper Wall Storage, Boho Toilet Paper Holder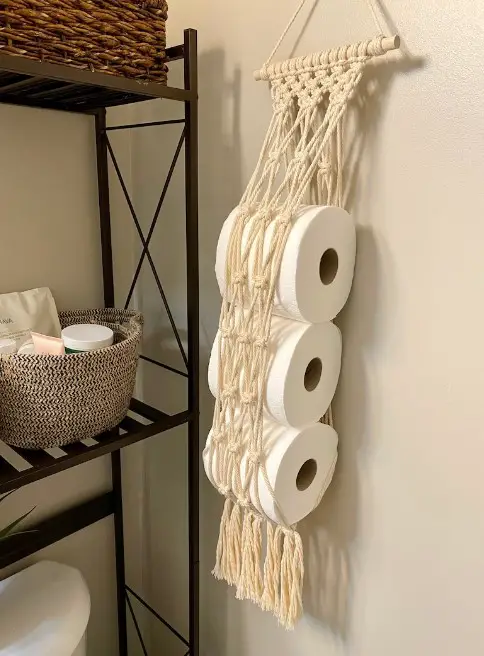 Boho style house needs a Boho toilet paper holder. To fulfill this, you can create it with a Macramé. It would be best if you tied the Macrame in a certain way to create nice knots. It will surely level up your bathroom look.
14. 7x Wooden Striped Toilet Paper Holder Dispenser

We all know that toilet paper is bulky when it comes to storage. With this kind of holder dispenser, your problem is amazingly solved. You will get both function and beauty for your bathroom.
15. Simple Hanger-Like Toilet Paper Holder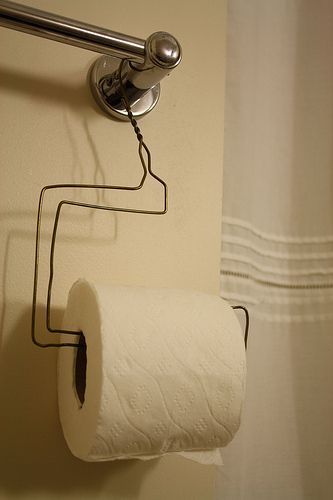 Having a copper or steel wire will give you the idea to make this simple toilet paper holder. Don't need much effort and money to complete this project. Most importantly, you can have an outstanding holder for your toilet paper in your bathroom.
***
In short, you can do many things when it comes to DIY toilet paper holder ideas for your bathroom. This small accessory is important to consider if you want to enhance the look of your bathroom. Pick one that meets your house's design, and you will have a perfect bathroom in your house.
Other Posts You Might Like: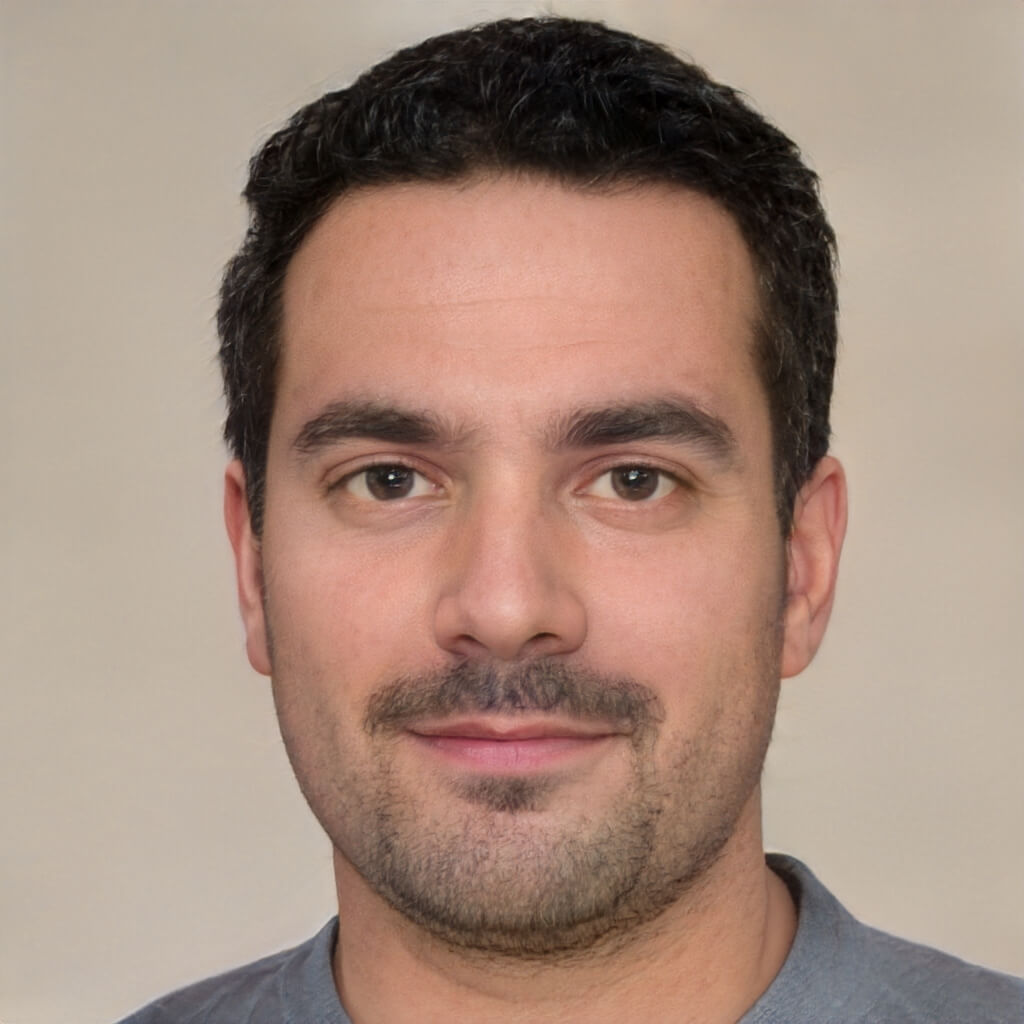 I'm a passionate home and garden enthusiast and the founder of Materialsix Home. With over 10 years of experience in the field, I've cultivated a deep love for all things related to home improvement, gardening, and interior design. Read more…