I love fabulous farmhouse decor ideas that are low-cost, and if you do, too, this article is for you. You don't need to break the bank or even spend a lot of time on do-it-yourself projects to give your room a farmhouse vibe. Now that aesthetic you're after with these dollar store DIY farmhouse decor ideas.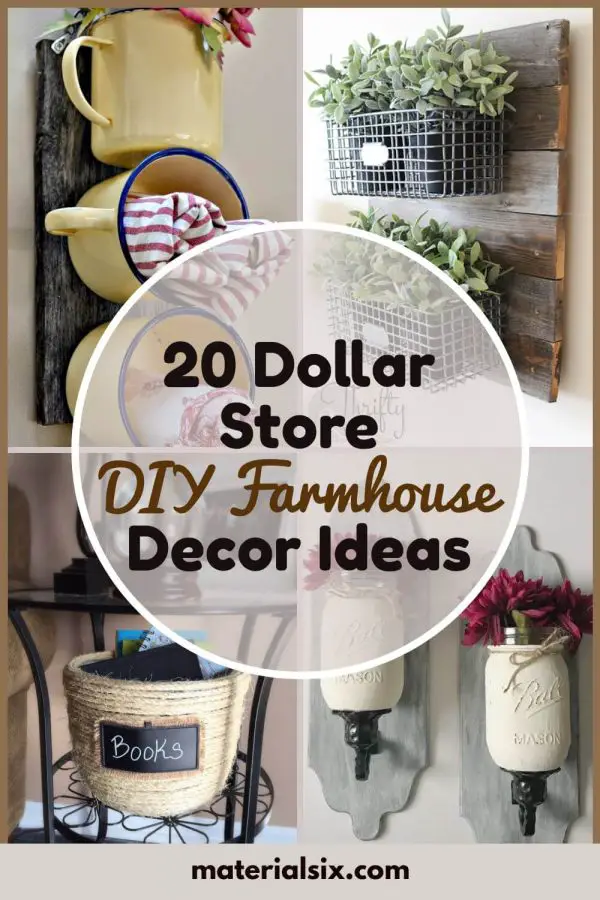 Dollar Store DIY Farmhouse Decor Ideas
1. Dollar Tree Pizza Pan Door Hanger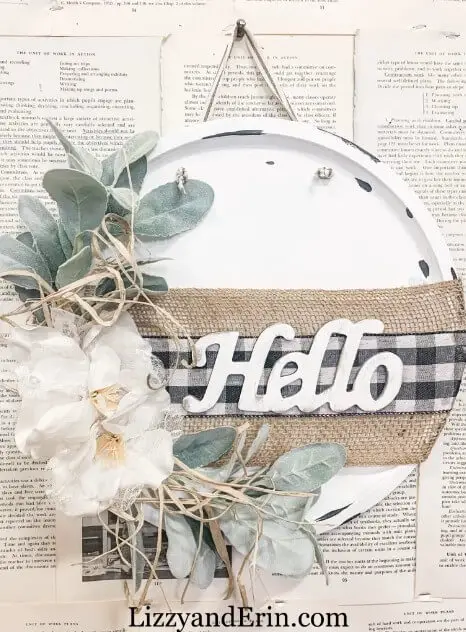 Make a lovely and inventive pizza pan door hanger by combining an old pizza pan with a beautiful placemat. This DIY decor idea is so adorable and popular that there are many other similar ideas to make.
---
2. DIY Farmhouse Style Moss Topiary Tree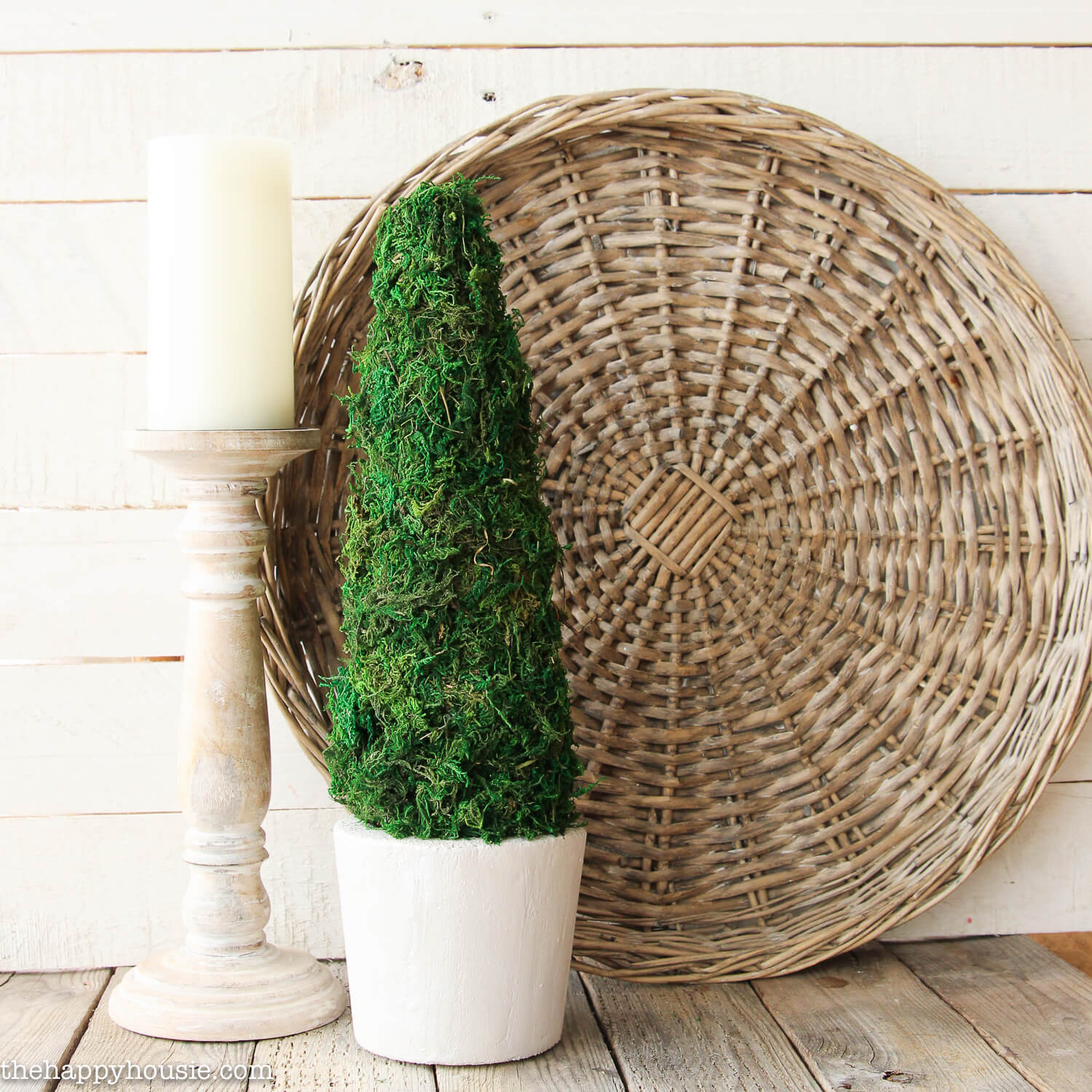 This mini DIY piqued my interest because it looks easy to make and can add an accent to a farmhouse-styled house. Some little ornaments may also be added to it for the festivities!
---
3. Farmhouse Style Vase Holder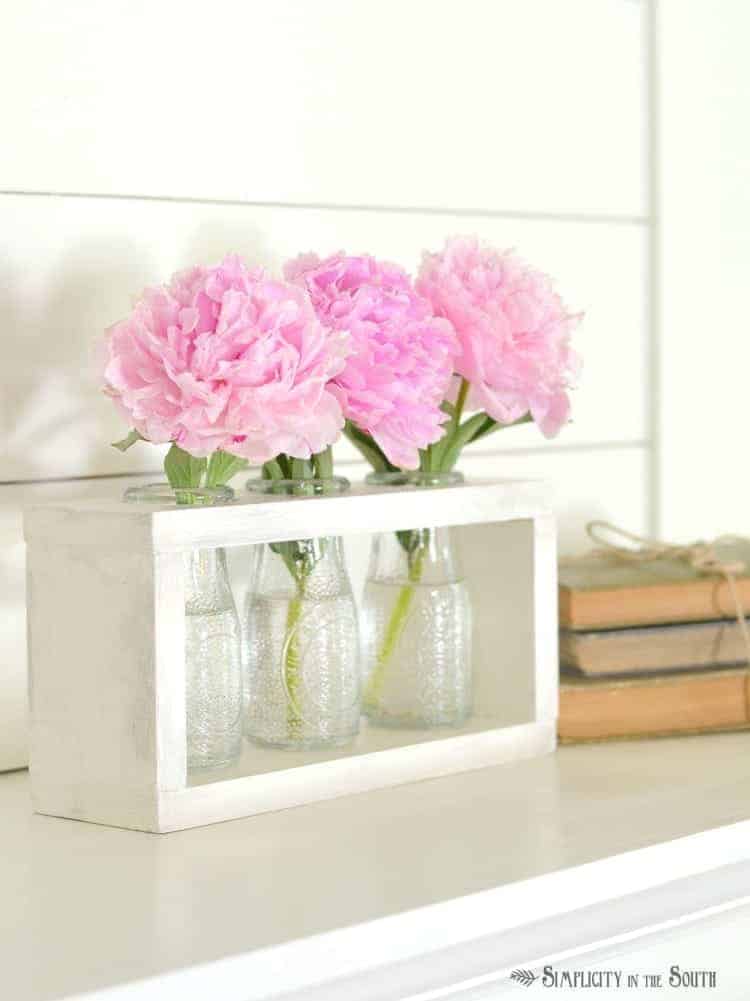 Isn't this DIY vase holder adorable? Its shape and style are perfect for displaying hand-picked wildflowers or some imitation flower arrangements from the dollar store to elevate the look.
---
4. Farmhouse Candle Holder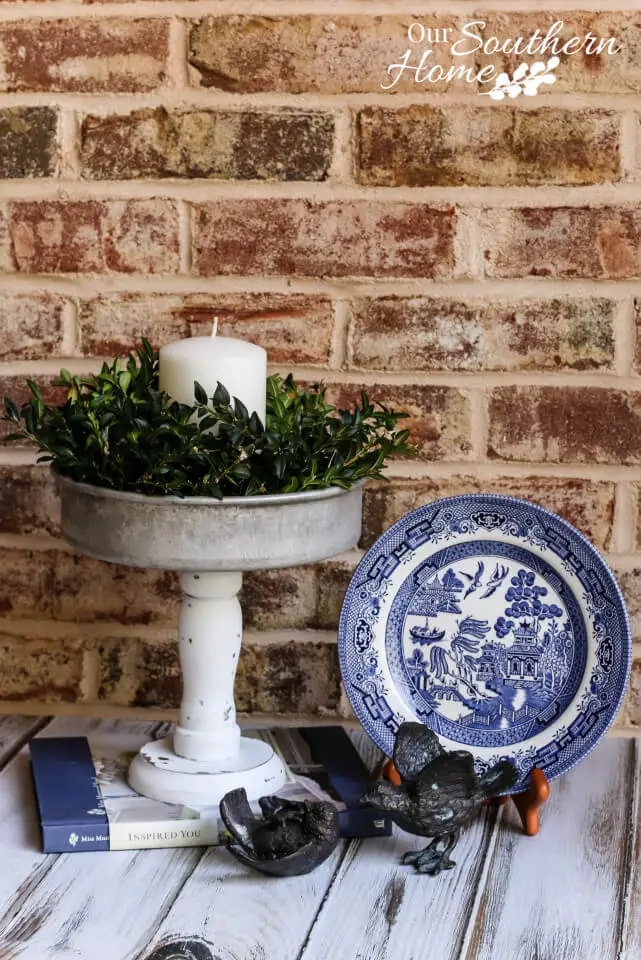 Looking for a cheap DIY farmhouse decor? Try this candle holder. It won't break the bank, and of course, it seems fantastic to display candles, particularly the aromatic ones, because I do love them.
---
5. DIY Tiered Stand from Repurposed Junk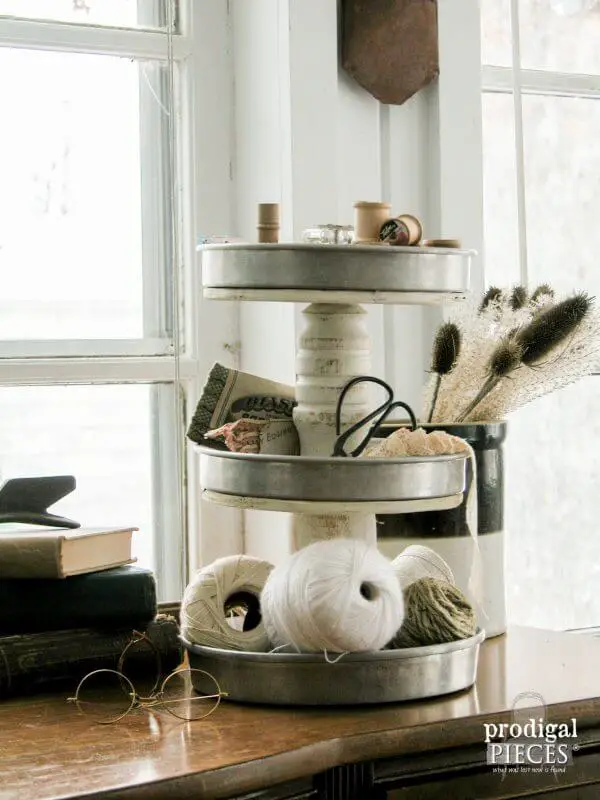 So not only this 3 tiered stand totally looks rustic, but I also find it incredibly functional. It can be used to organize knitting supplies while adding an exceptional character to farmhouse decor.
---
6. Spring Farmhouse Decor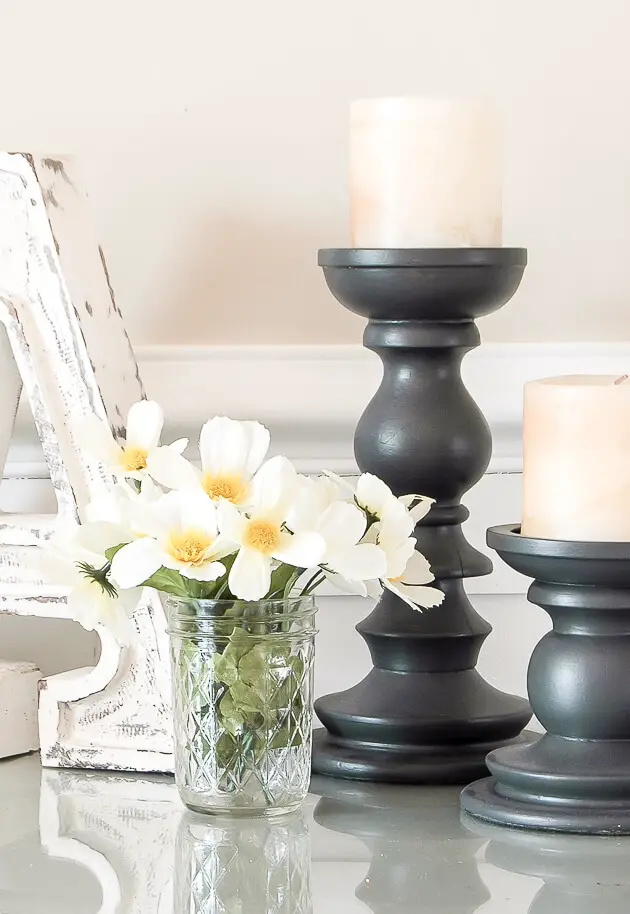 Nothing like a Mason jar DIY project that adds the farmhouse character to a house. This easy project uses a dollar store clear jar to place fake flowers or real ones that can bring spring into a home.
---
7. Dollar Tree Plastic Fencing Into a Farmhouse Lantern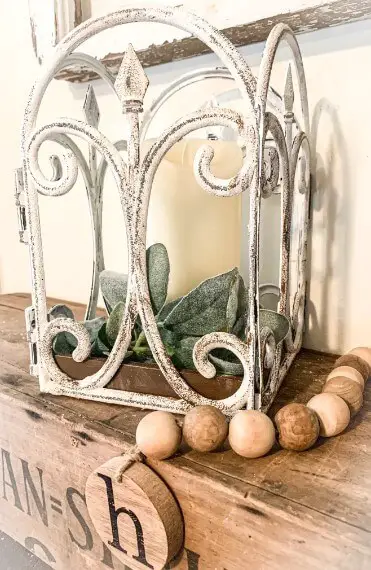 The exquisiteness of this DIY lantern has blown me away. Who would have imagined that a dollar store plastic fencing could be transformed into home decor with a solid antique accent?
---
8. Hand Stamped Book Stacks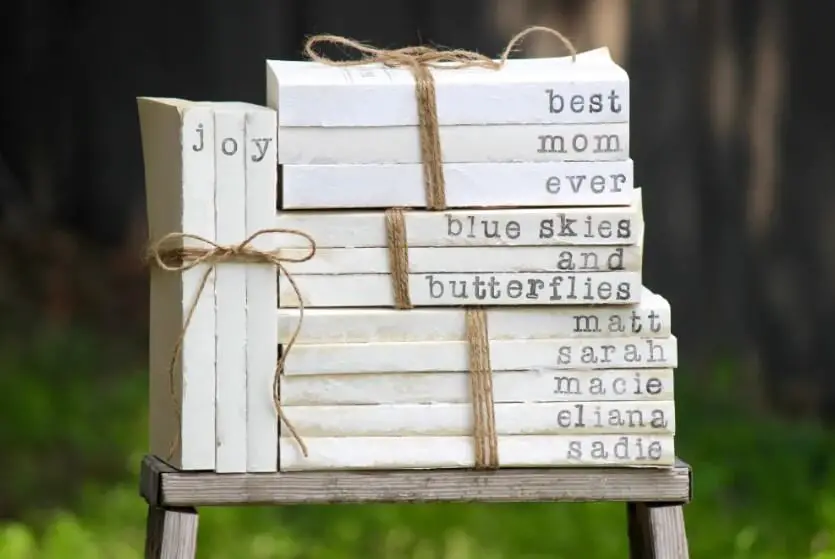 I'm not a bookworm, but I love this book stacks decor. They have such a strong farmhouse ambiance. The good news is those books are available at the dollar store.
---
9. Tiered Farmhouse Tray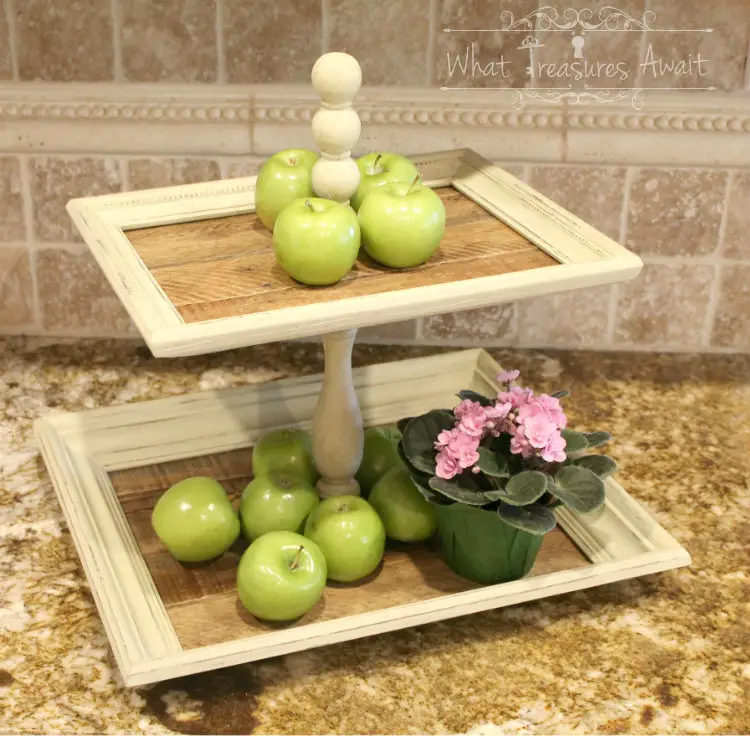 Next on the list of dollar store DIY farmhouse decor ideas, this one is a must-try. It's insane to think that this must-have farmhouse decor costs only a few dollars to make with three essential materials.
---
10. Topiary Trees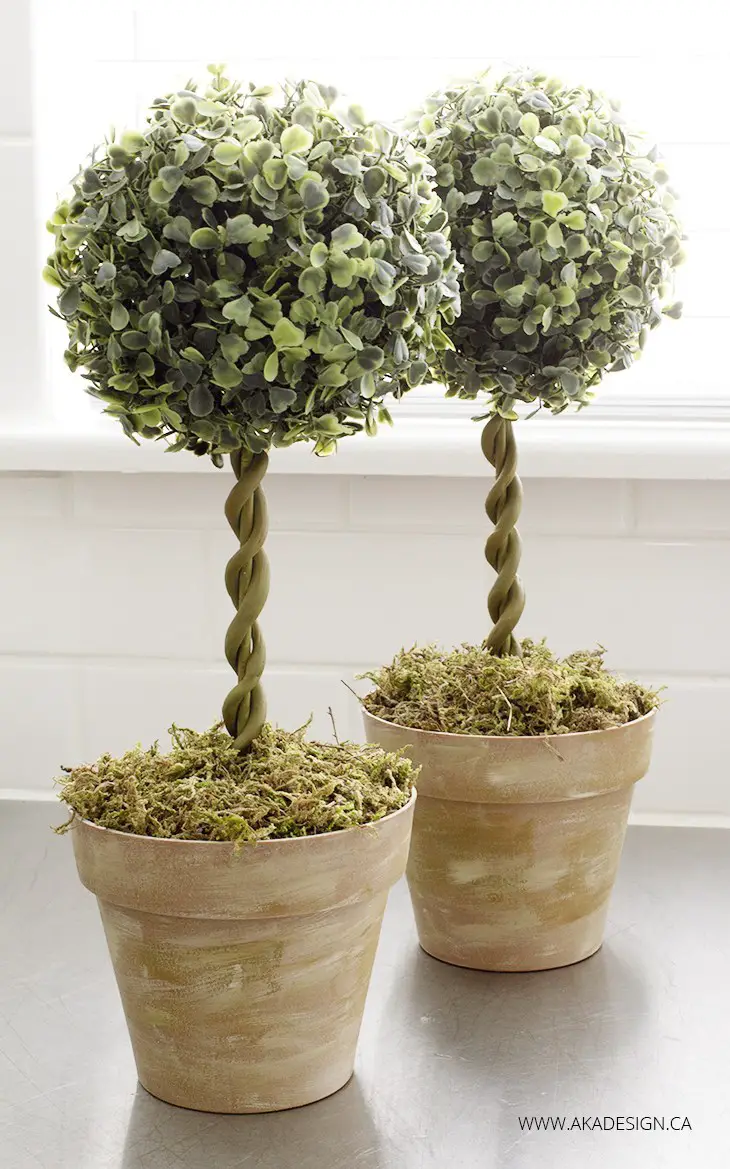 These topiary trees definitely scream farmhouse in a classic way! Also, it's an inexpensive way to add some greeneries to your lovely home with only a few dollars.
---
11. Plate Wall Art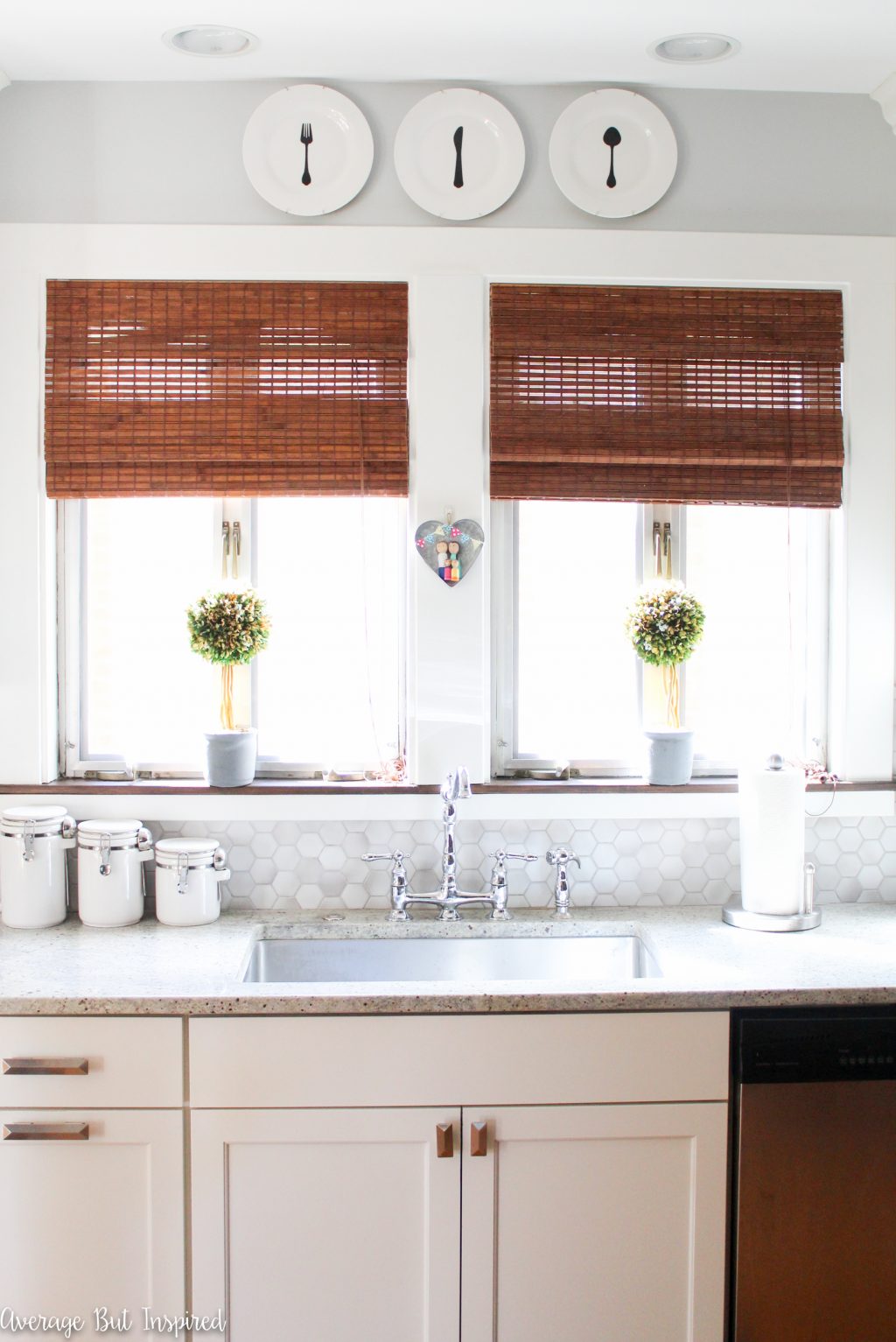 What fantastic kitchen decor for a farmhouse-styled house! I just love how those minimalistic-looking wall decor items turned out made from the dollar house plates sticking with some adhesive substance.
---
12. $1 Greenery Wreath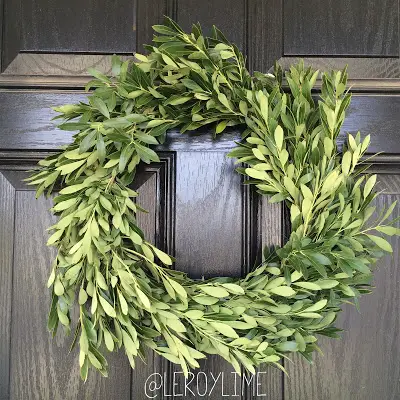 A farmhouse wouldn't be complete without a greenery wreath on the entrance door. And this inexpensive DIY tutorial made by LeroyLime will give the house the finishing touch it highly requires.
13. Industrial Farmhouse Storage Drawers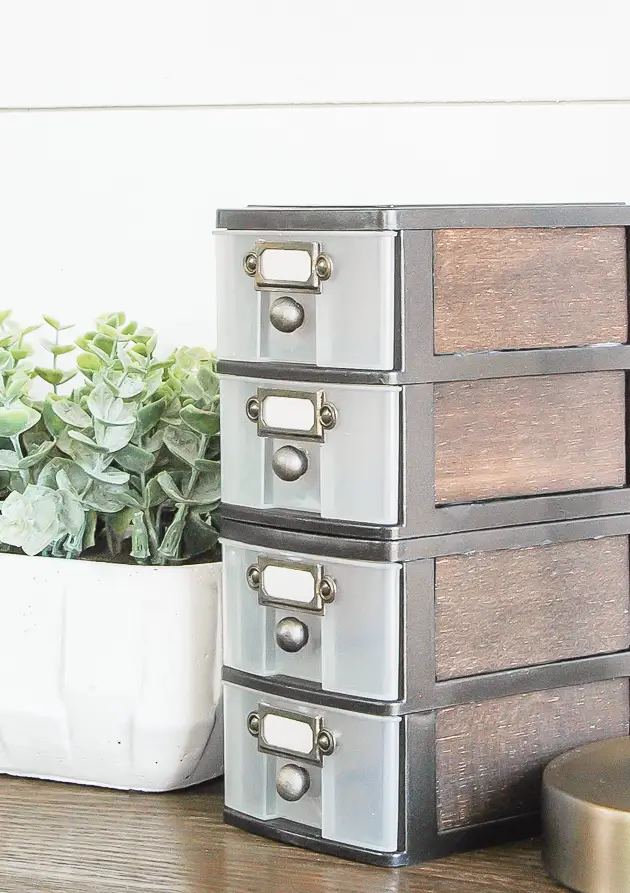 Looking for a cheap DIY farmhouse decor that is also functional? Check out this industrial storage drawer. It looks lovely in a farmhouse-styled home office to store and organize various everyday stuff.
---
14. Farmhouse Cotton Stems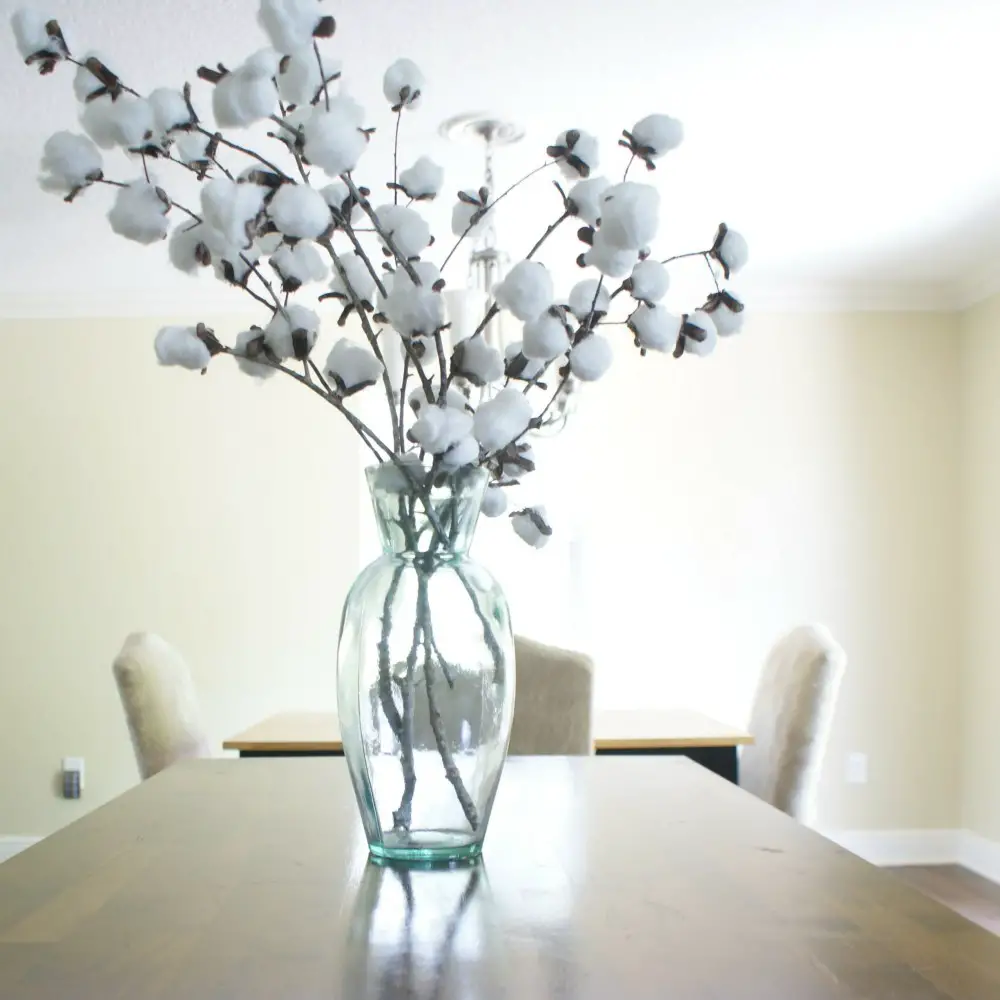 These cotton stems in a glass jar exemplify that subtle accents are essential in farmhouse decor. It only requires some fake cotton stems from a dollar store and an unused glass jar.
---
15. Grain Sack Pillow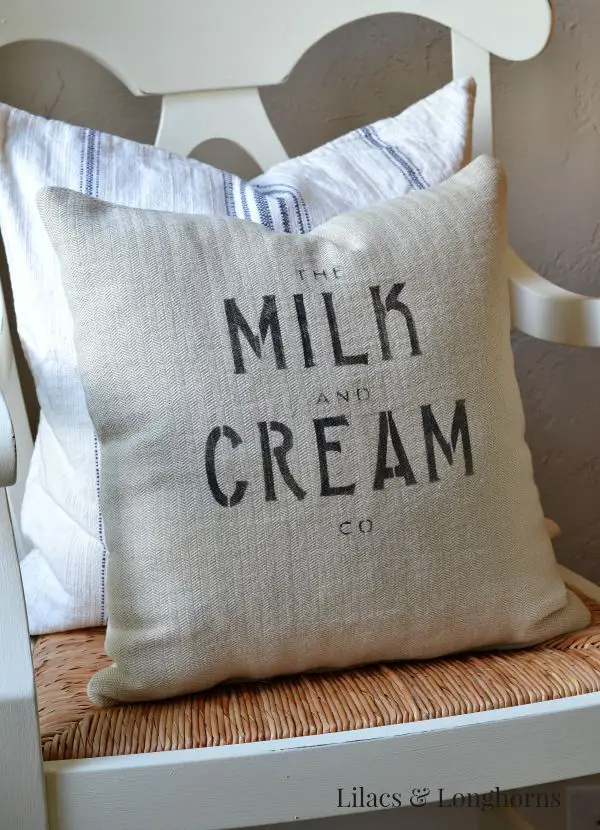 Pillows can add subtle accents to upholstery in a farmhouse-vibed house. Luckily, thanks to this Lilacs and Longhorns' low-cost DIY tutorial, you won't have to break the bank to buy pillows.
---
16. Rustic Succulent Pots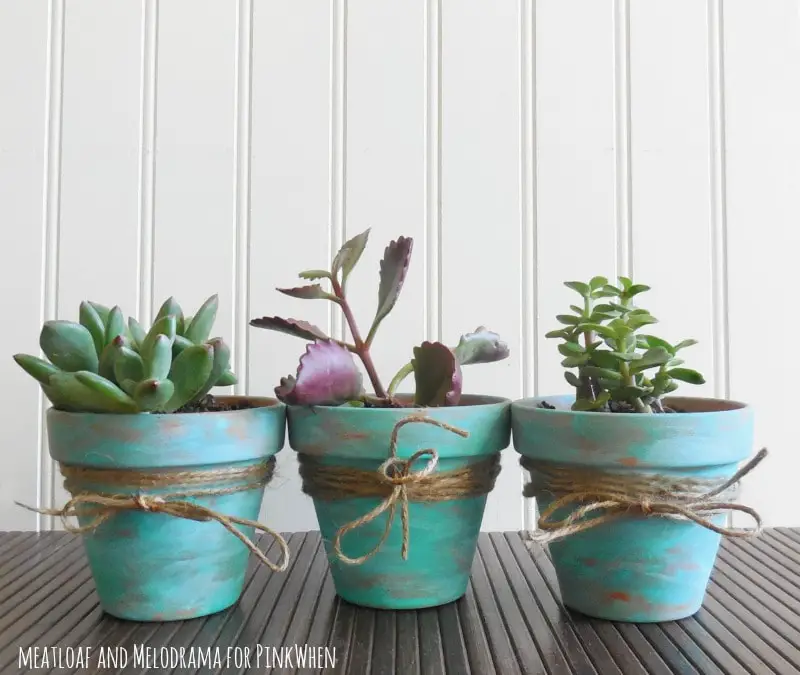 I never thought pots from a dollar store could be easily transformed into succulent pots that scream rustic. If you aren't a fan of succulents, you can replace them with other greeneries you like.
---
17. Antique Farmhouse Mirror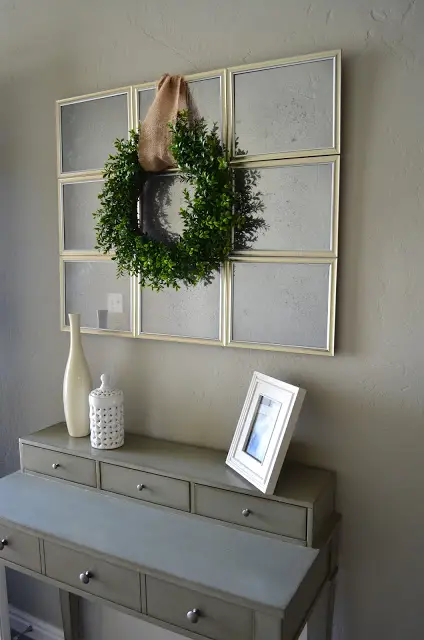 Why go small if you can go big? That's probably what this DIY farmhouse mirror is about. It's humongous, and best of all, it evokes intense farmhouse energy.
---
18. Farmhouse Style Hanging Wire Baskets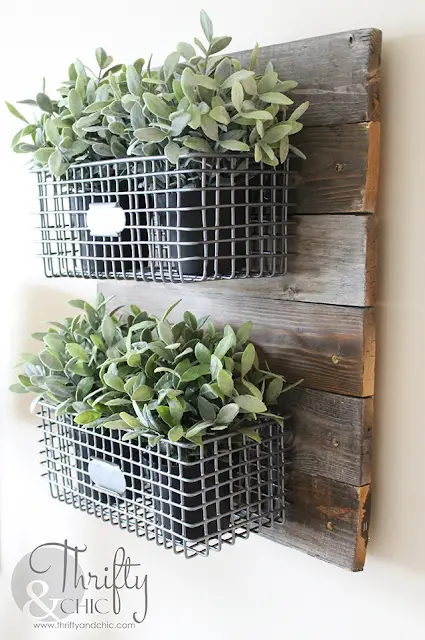 Here goes another way of bringing a bit of greenery to your farmhouse-styled home. Grab the dollar store's wire baskets and simply mount them on a wall or reclaimed wood to create this cheap DIY farmhouse decor .
---
19. Mason Jar Farmhouse Wall Decor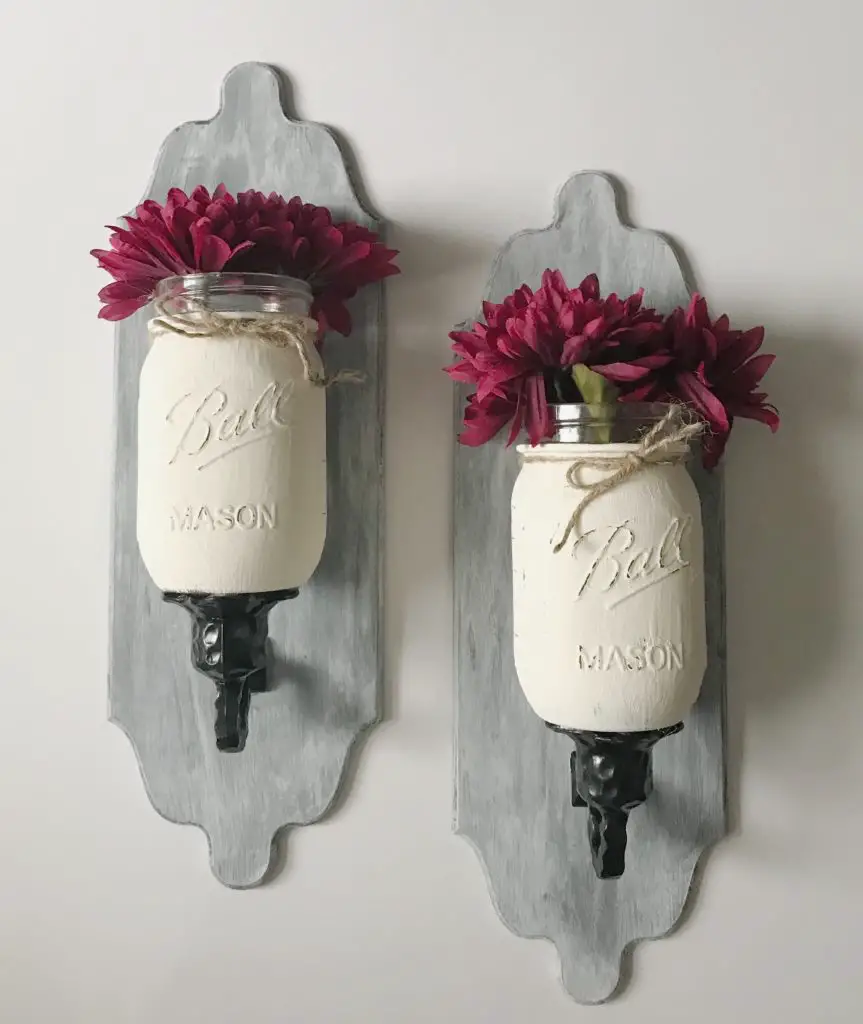 I can tell that Mason jars are one of the most accessible DIY materials to work with because the tutorial by Pretty Crafty and Wanderful has proved so. By mounting the jars on wall sconces, you'll have these lovely farmhouse wall decorations in just a matter of time.
Read also: 20 Easy And Fun DIY Mason Jar Projects
---
20. Wooden Bead Garland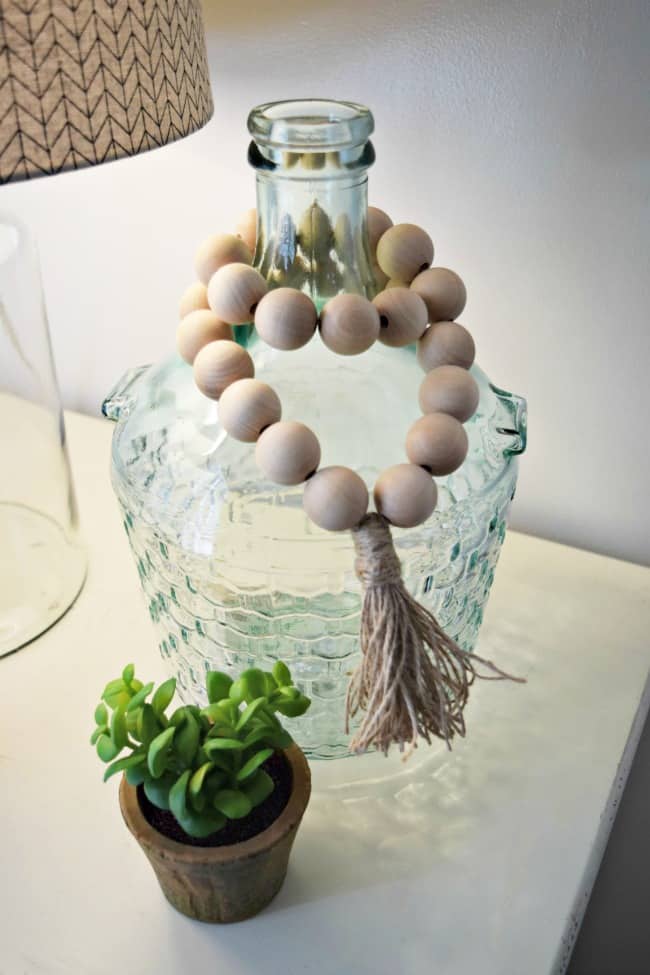 This DIY decor item is a perfect option for enhancing the farmhouse style of a house. All it takes is just the dollar store's wooden bead and a large glass jar. Pretty easy to assemble but gives a substantial farmhouse vibe to a room.
---
21. Sugar & Cheese Shaker Flower Vases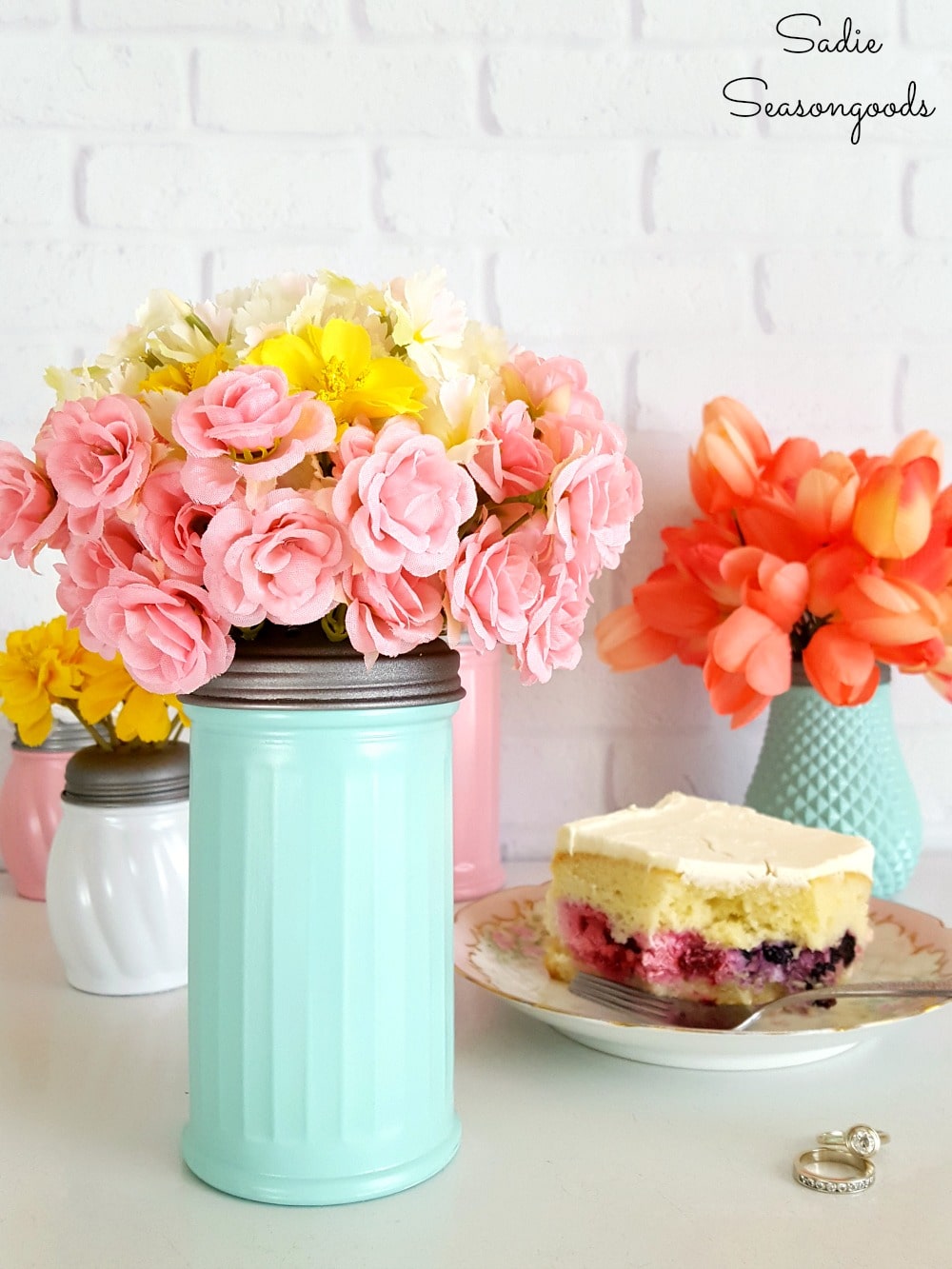 Up for some easy, vibrant dollar-store DIY farmhouse decor ideas? This one definitely fits you! The sugar and cheese shakers from the dollar store transformed into delicate vases for fake flowers to embellish a farmhouse-tyles dining table.
---
22. DIY Farmhouse Kitchen Canisters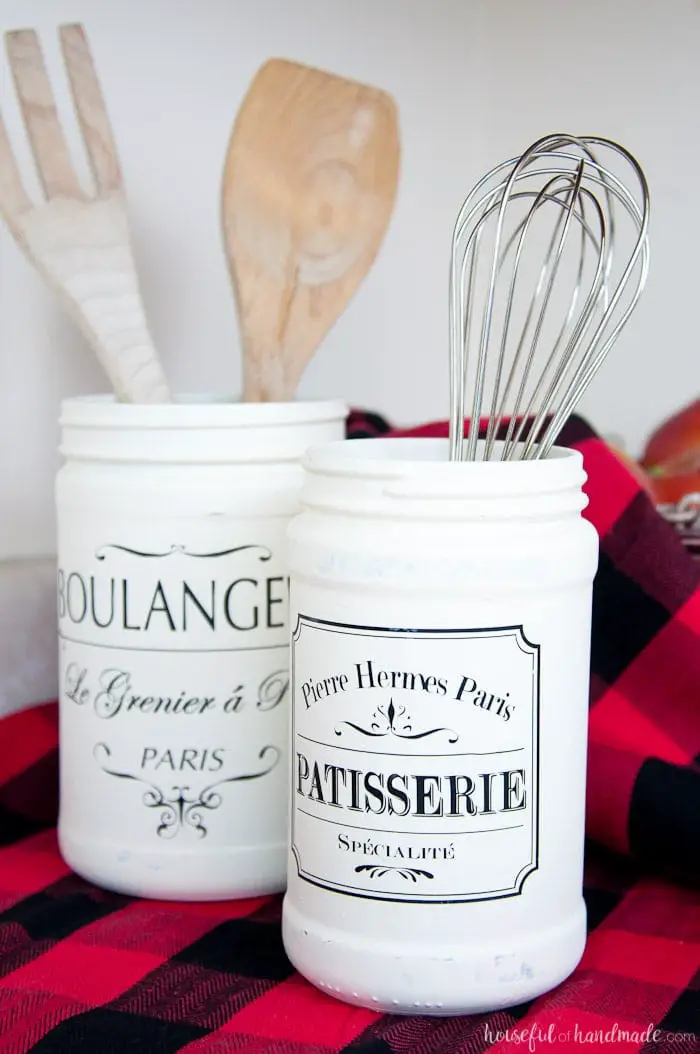 Another DIY farmhouse decor can also serve as an organizer. These kitchen canisters are made of unused jam jars that are upcycled to appear like those of Parisian bakeries. Definitely fabulous to add some old-school accents to a kitchen.
---
23. Hurricane Lanterns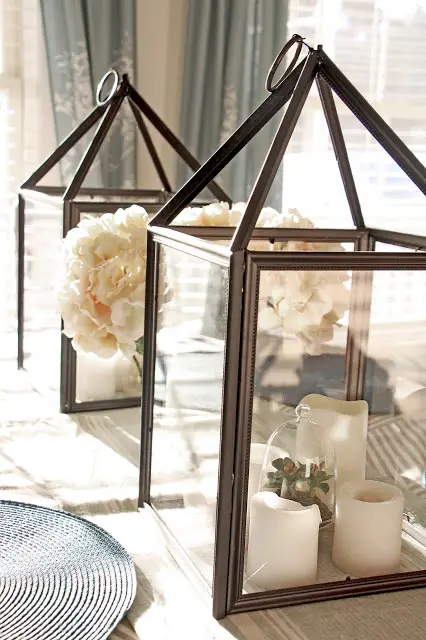 The fact that these lanterns are made from the dollar store's picture frames truly surprised me. While it's used for a candle in the picture, it definitely can be replaced with flowers or anything to fit the farmhouse ambiance.
---
24. Enamel Mug Organizer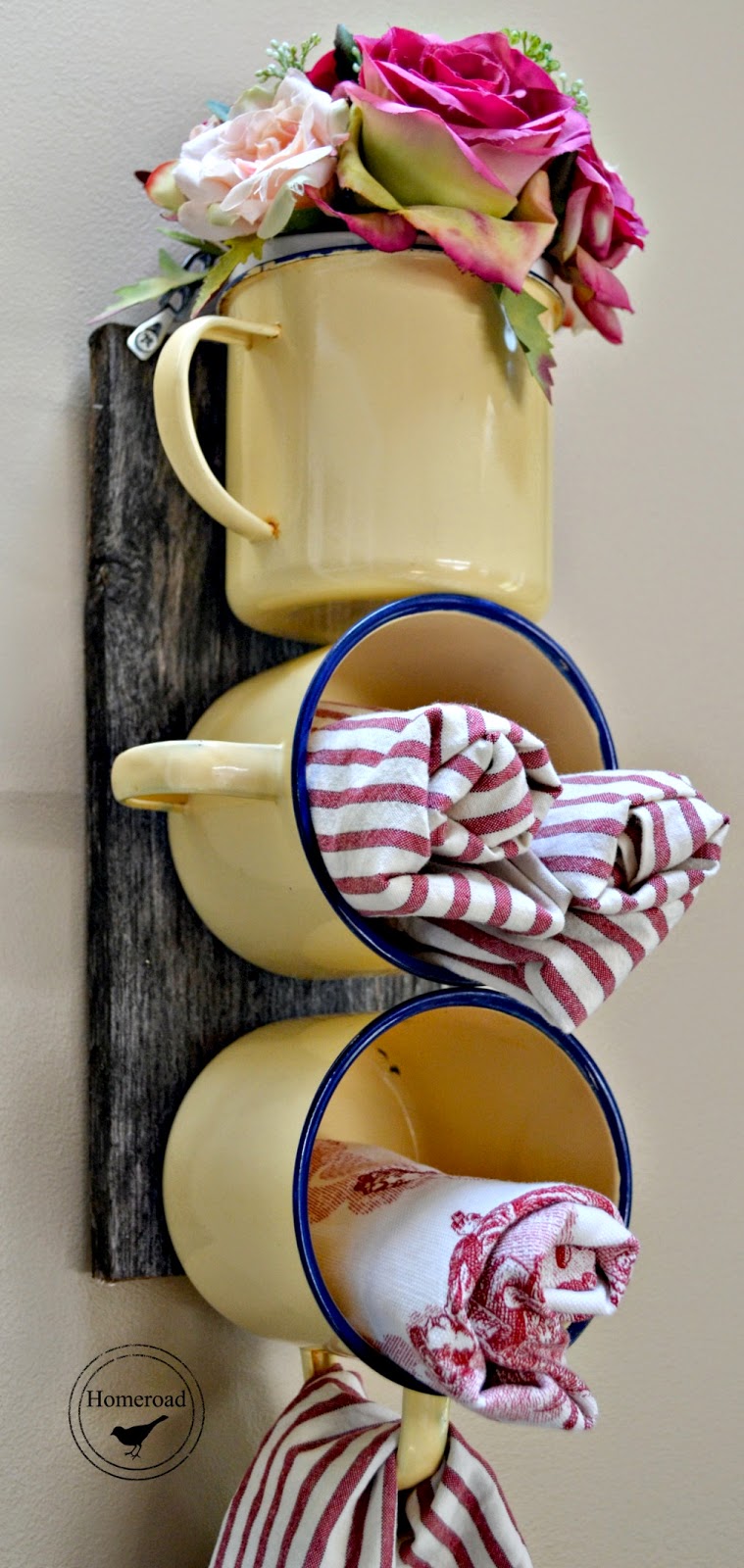 Dollar store has many enamel products, like mugs, in this DIY project. Mount the cups on a wooden board, and voila! You got an enamel mug wall decor that can also function to organize small stuff.
---
25. Farmhouse Rope Basket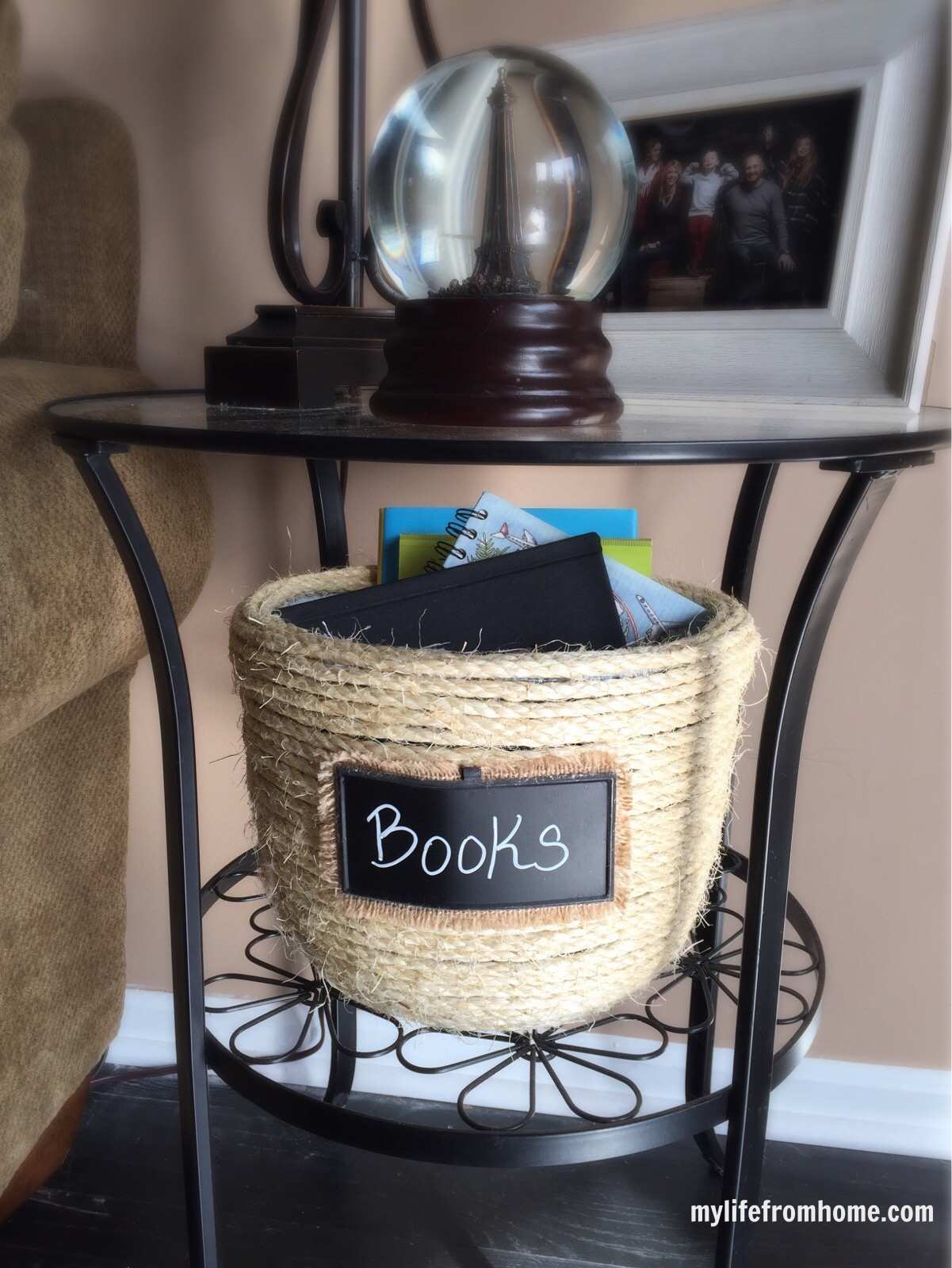 This is more than just a cheap DIY farmhouse decor but is also a smart way to beautify an old basket. Wrap it in a sisal rope with a glue stick, and you'll get a farmhouse-styled basket for home decor and an organizer.
---
26. Lace Doily Table Runner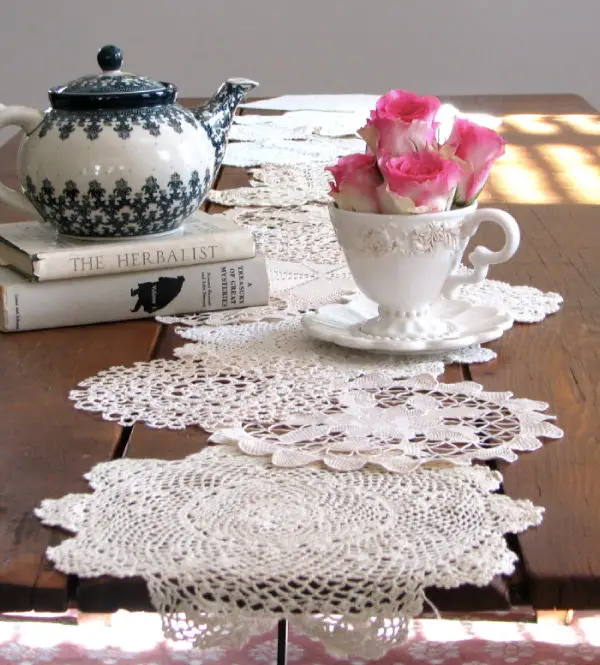 This DIY is perhaps the most effortless project on the list. All it takes is just a few moments to arrange the lace doilies in an overlapping manner and stitch them up. Then, place them on a wooden table after the rustic look it offers.
---
27. Rope Candle Holders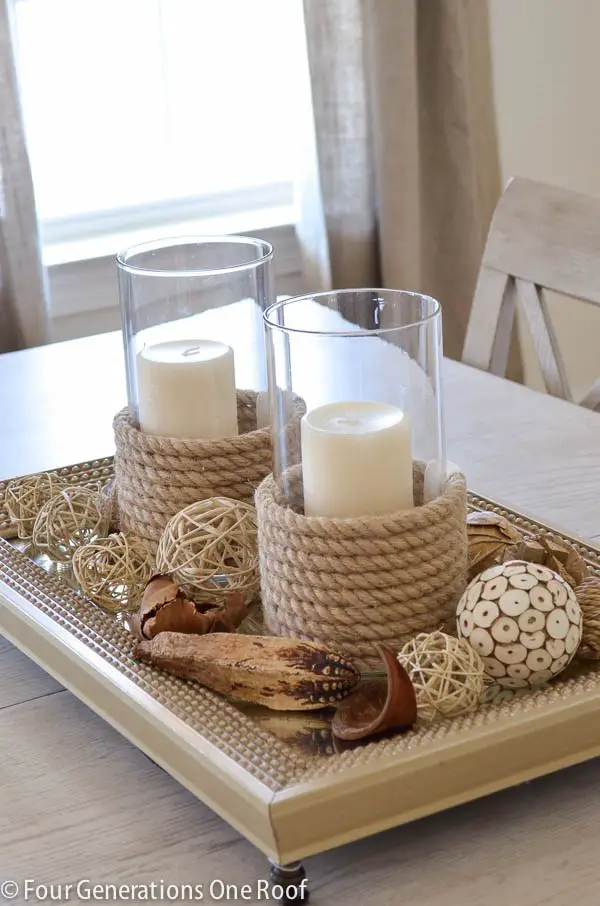 I could agree that rope is another perfect material for efficiently achieving farmhouse style. Simply wrap a jute rope in candle holders, and you're done! Candle holders that can add characters to a farmhouse-styled interior you are after.
---
28. Chalkboard Magnetic Memo Board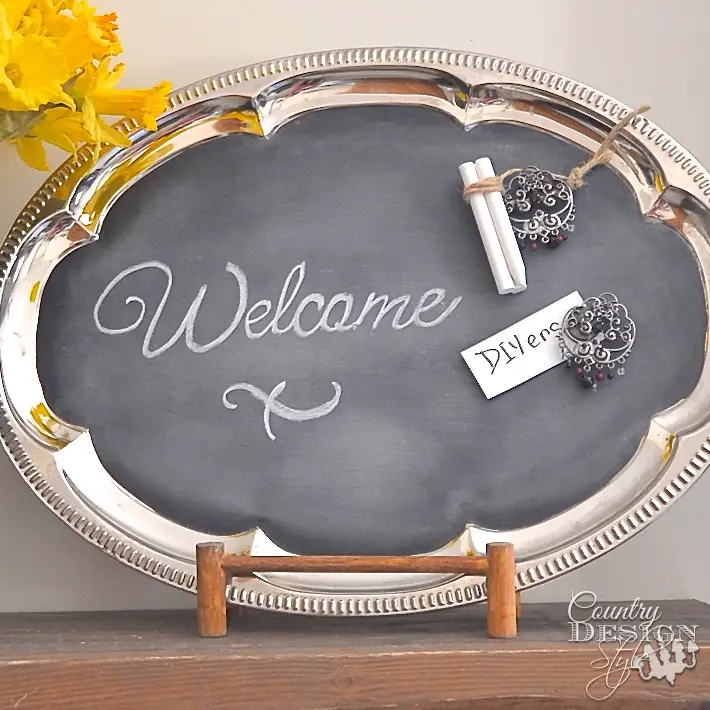 In search of a farmhouse decor that looks fancy? Give this DIY project a shot! Made from the dollar store's metal tray coated in chalkboard paint, this memo board is so unique for both decorations and a place to write up quotes and the likes that anyone can see.
***
That's a wrap! Hope you found the list of dollar store DIY farmhouse decor ideas to benefit you. If you're up for some DIY challenges, don't hesitate to try one or two projects from the list above that fit your style.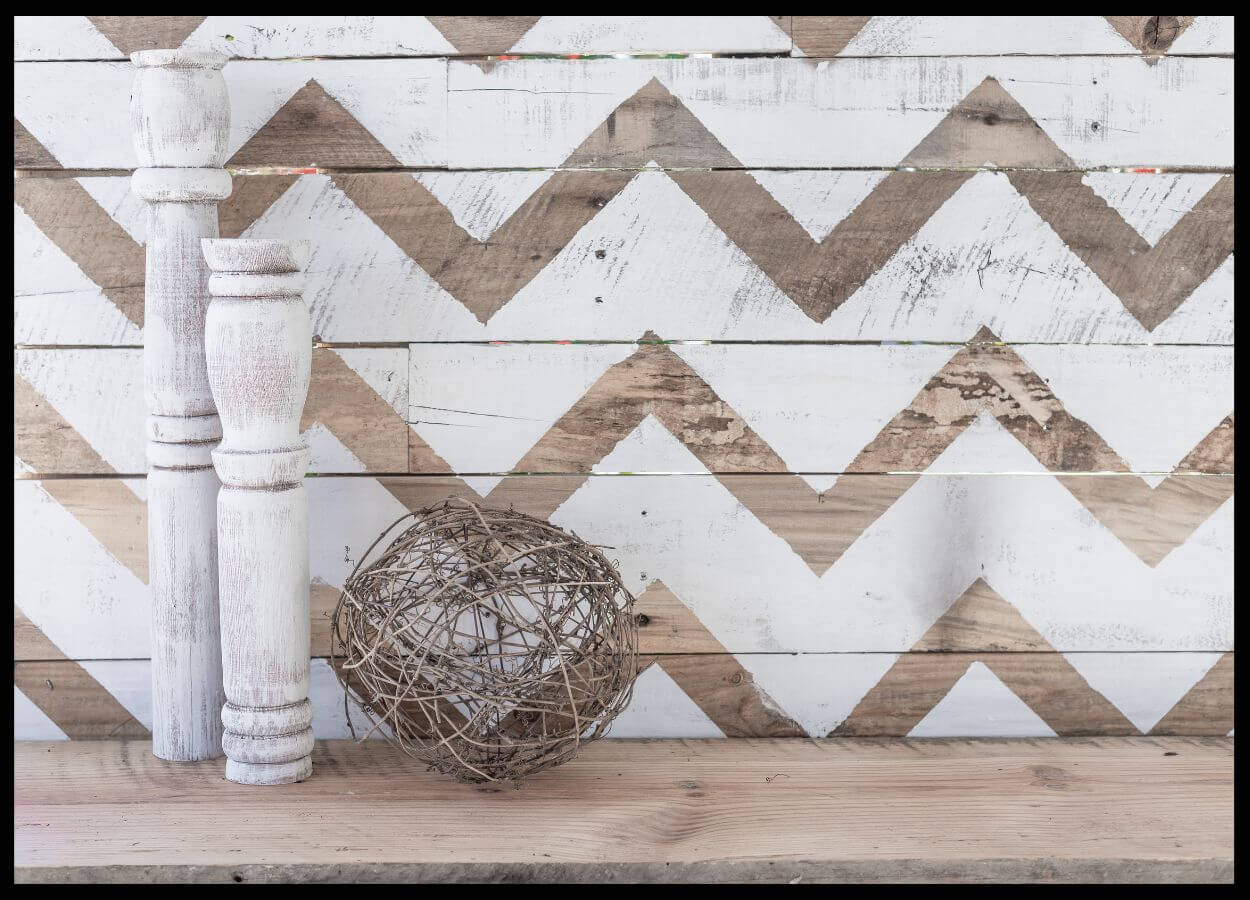 More from Materialsix.com: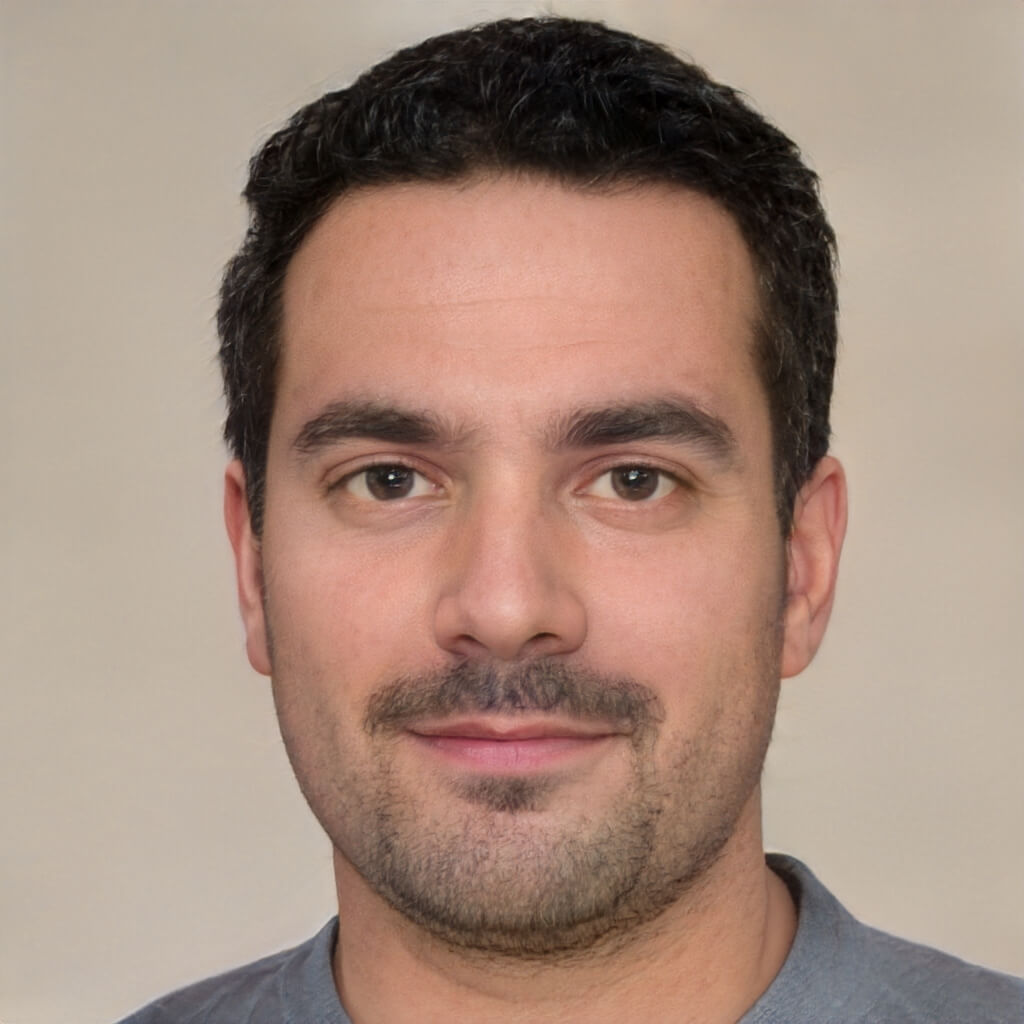 I'm a passionate home and garden enthusiast and the founder of Materialsix Home. With over 10 years of experience in the field, I've cultivated a deep love for all things related to home improvement, gardening, and interior design. Read more…