Creating artwork is one of the best ways to fill in an empty wall. It can be something that you buy or make. An artistic decoration on the wall instantly can upgrade a home. Spruce up any room taken from various DIY wall art ideas.
Wall art can be an expression of feelings. It can be a large painting that you make yourself.  Several small frames arranged in a line are also a nice option. Decorating your wall with drawings made by your kids is also a great wall art material to consider.
Think of what wall art looks great hanging in the bedroom—a piece of artwork displayed in the living room or a series of wall art in the bathroom. Every room can have a little touch of artistic items here and there.
The art piece on the wall can be cheap and does not cost hundreds of dollars. It can be stuff from the dollar store, an old wood turned into a wooden family sign in the living room, or other options can also be a series of canvases with paintings or pictures.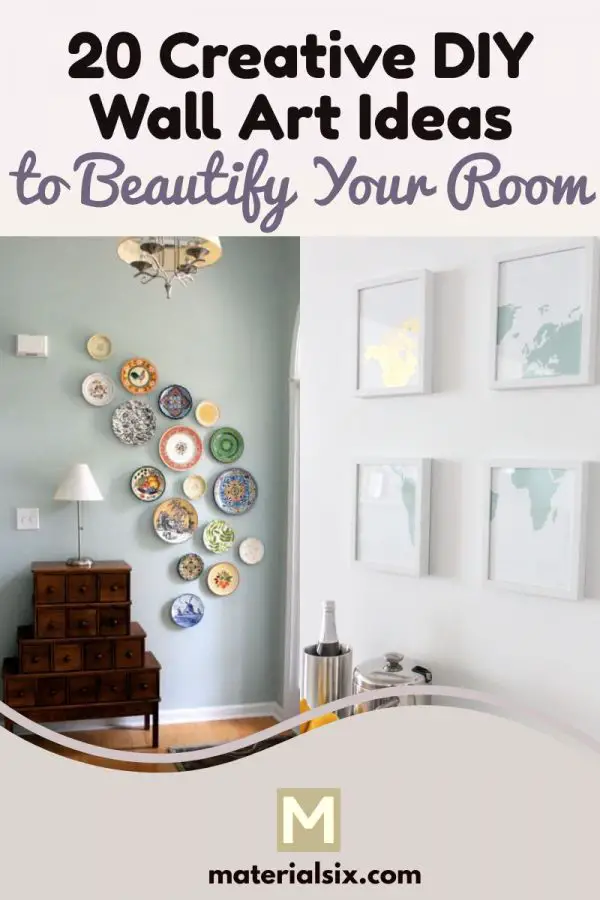 Creative and Easy DIY Wall Art Ideas to Inspire You
Do you have an idea of your own? Or need some inspiration to get your creativity going? Here are various DIY Wall Art Ideas you can try. Just click the link to see the full tutorial. Check these out.
1. Layered Fan Art Piece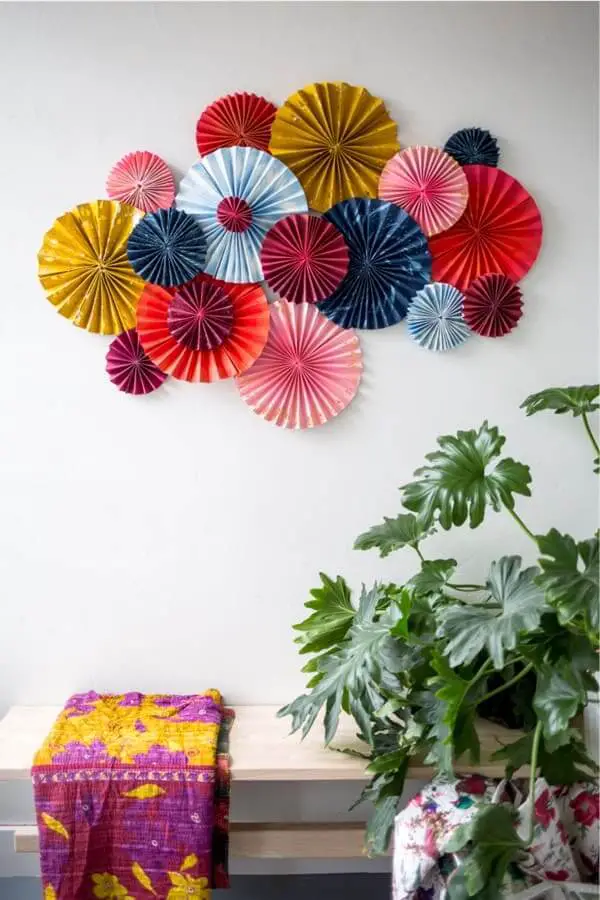 Decor items that jump off a plain-looking wall at anyone who sees it will always create a more substantial impact. It's made of cardstock fans with different colors and sizes that are layered on top of one another.
2. DIY Textured Wood Wall Art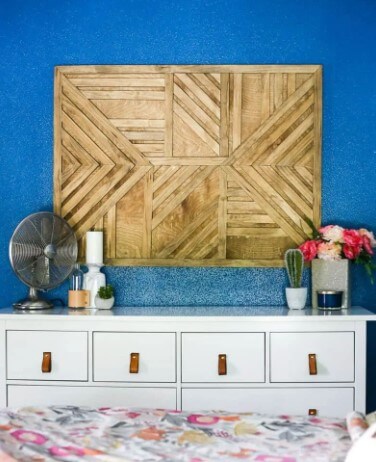 Never has plywood looked better! I adore how the mastermind behind this DIY project created some effortless yet gorgeous wooden wall art with plywood. Doing some woodwork is relatively easy as long as you know some basic woodwork.
3. Wooden Geometric Wall Art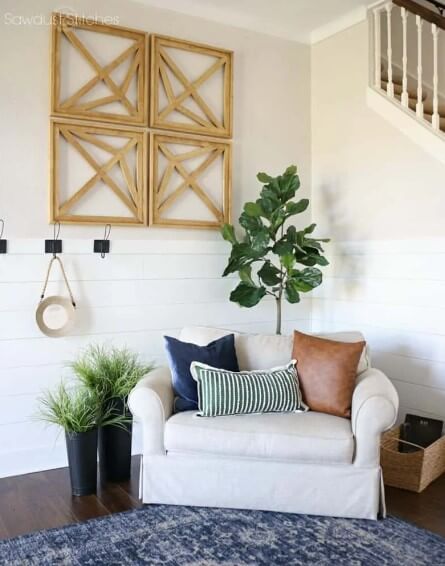 This piece of wooden wall art is elegantly simple. It adds modernity and natural vibes to any room. While the angles may seem a bit tricky to figure out, the DIYer of this decor item made it look so easy to make.
4. DIY Wood Wall Art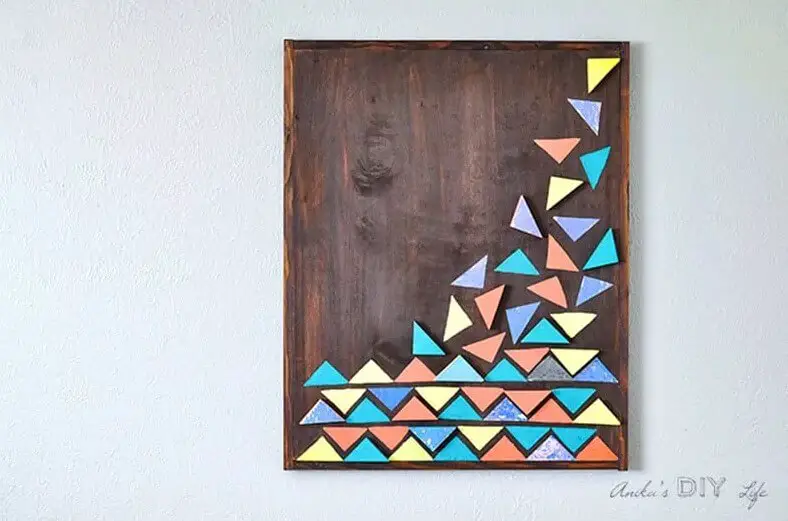 Up for some DIY wall art ideas made of wood? This one is worth a shot. What I like about this one are the colorful triangular scrap wood pieces that perfectly blend in with the natural color of the wood board.
5. DIY Shower Curtain Canvas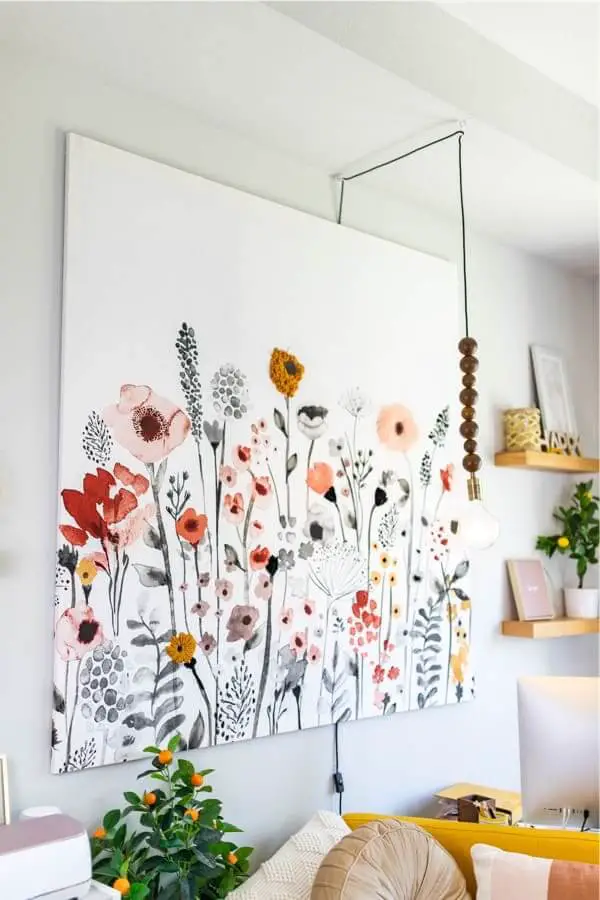 This wall art looks like an optical illusion. Mainly because it's not wall art made by professionals with canvas and oil paints. It's a floral-patterned shower curtain turned into a canvas wall decor.
6. DIY Washi Tape Wall Decals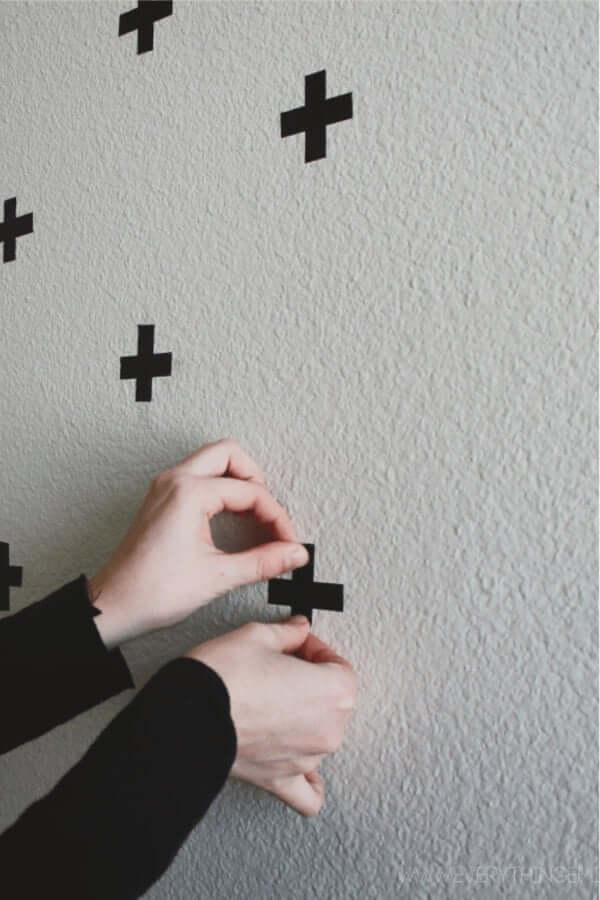 Decals have been a hit lately and are pretty expensive for some. Now, everyone can have it at an affordable price in no time. How? Just stick some black washi tapes like the one in the picture.
7. Neon Yarn Wall Hanging Tutorial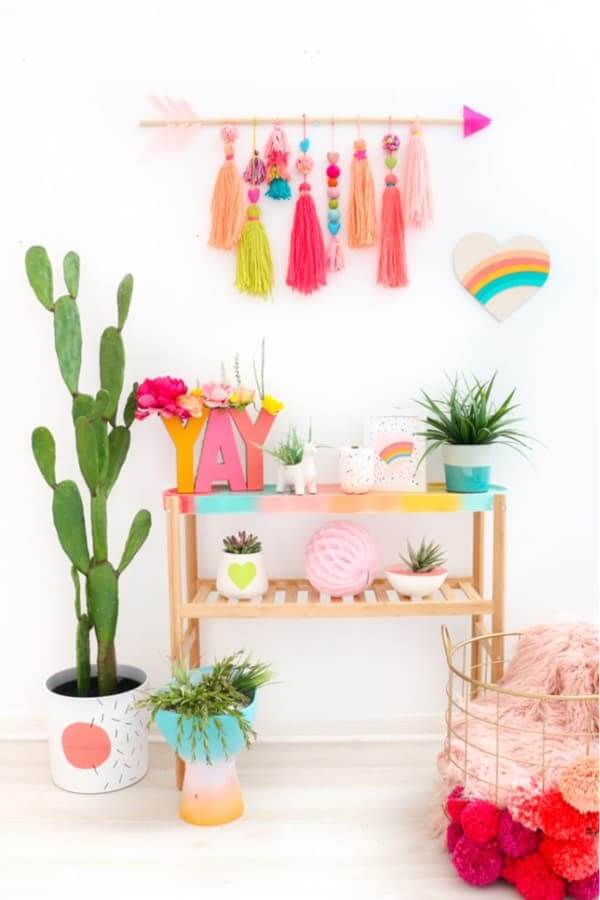 Showing affection to loved ones has never been this cute with this colorful, neon yarn wall decor. It's relatively easy to be made and can add a touch of loveliness to every boring wall in no time.
8. DIY Modern Farmhouse Wall Planters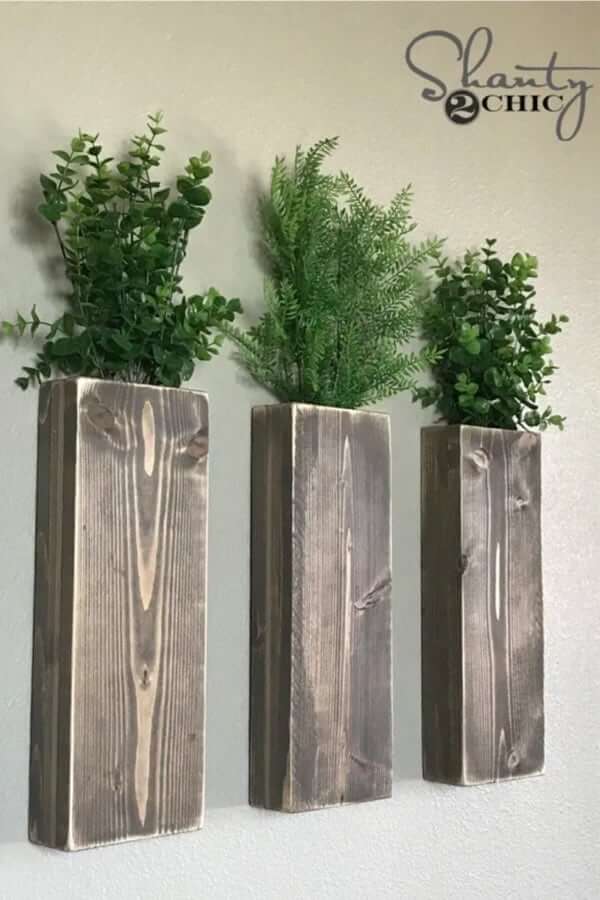 DIY wall decor ideas serve more than just items to pretty up walls. These planters, for example, provide modern growing media for planting indoor plants in addition to being wall decoratives.
9. DIY Oversized Wall Letterboard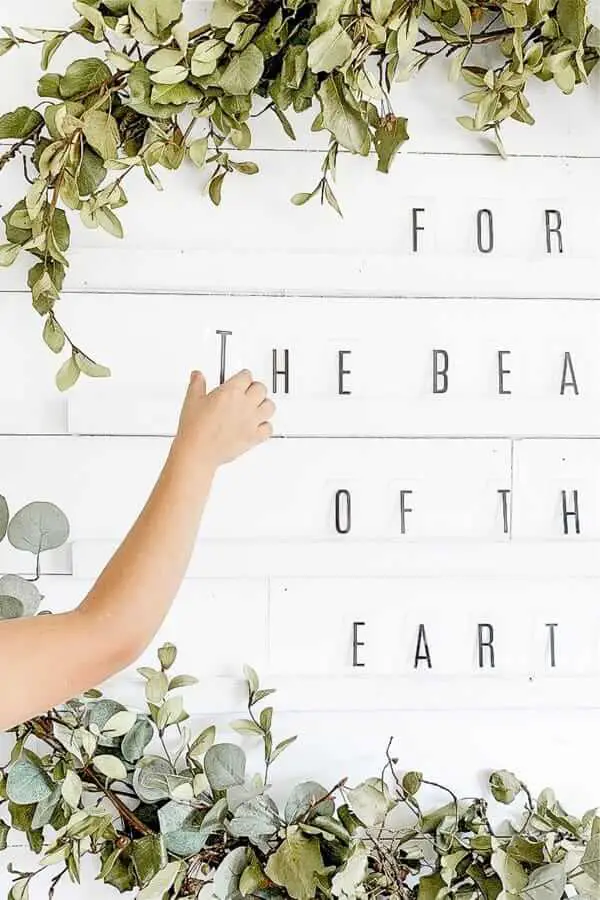 Not everyone realizes this, but walls could figuratively speak. It can be achieved by using this DIY wall letterboard. While the DIYer made it to express a holiday statement, it can be modified with some sayings you live by.
10. Removable Honeycomb Wall Decal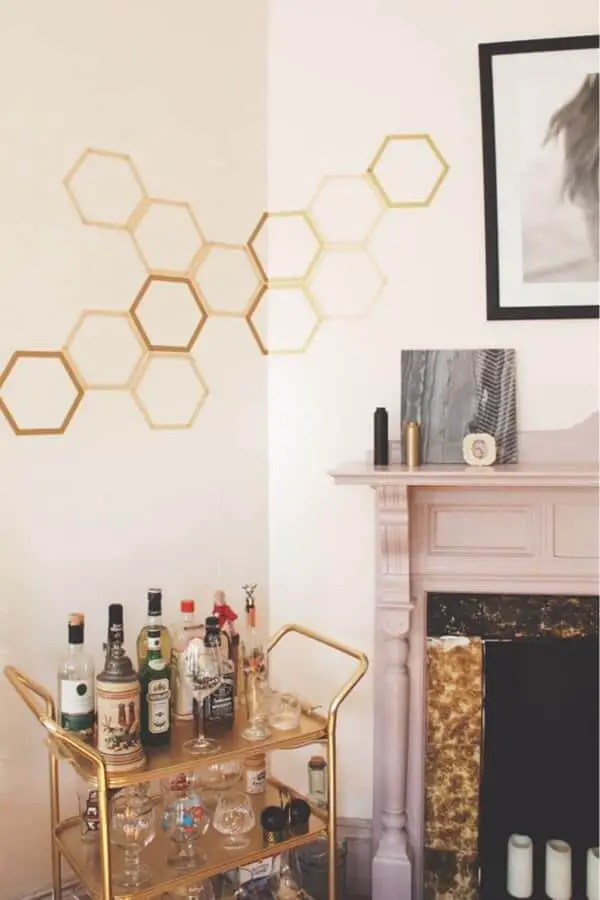 Looking for a wall decal that is super easy to do? Look no further—this one is the loveliest and simplest DIY project. All you need to prepare is just two or more washi tapes in coordinating colors.
11. DIY Plywood Pegboard Wall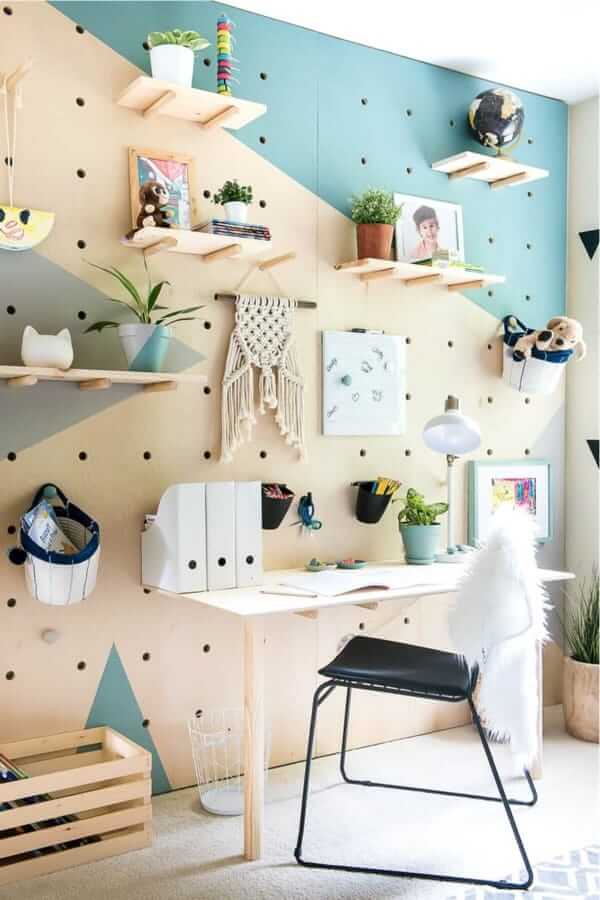 Aesthetic meets practicality—that's exactly what this DIY pegboard wall is. It can beautify a wall and provide a lovely place to organize nick-nacks. Interested? Grab some plywood and pegboard to join the fun.
12. Rainbow Clay Mobile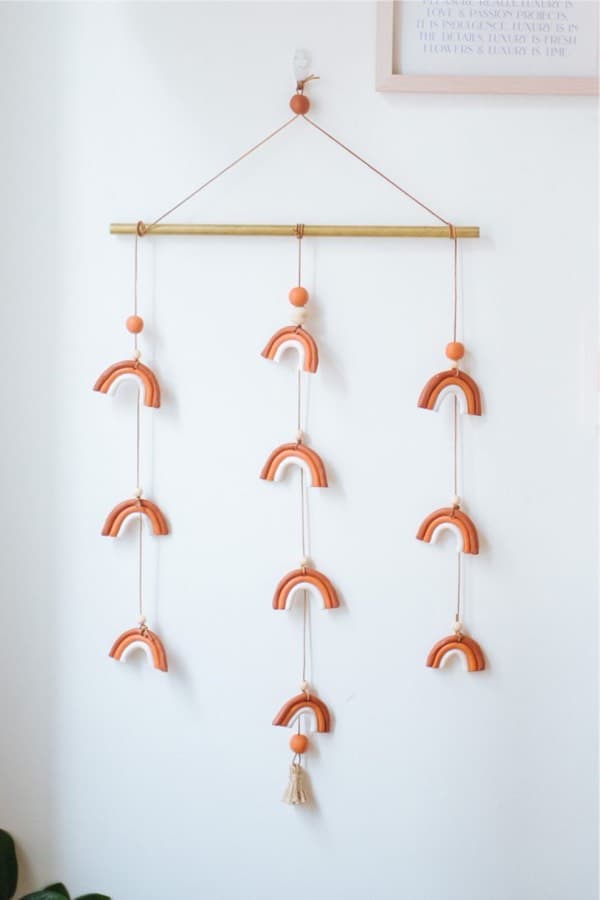 Terracotta clay has long been popular for making DIY wall decor ideas. If you want, you can use it to make a decor item like this one. It's the non-toxic, lovely clay-based wall art for kids' rooms.
13. Rainbow String Art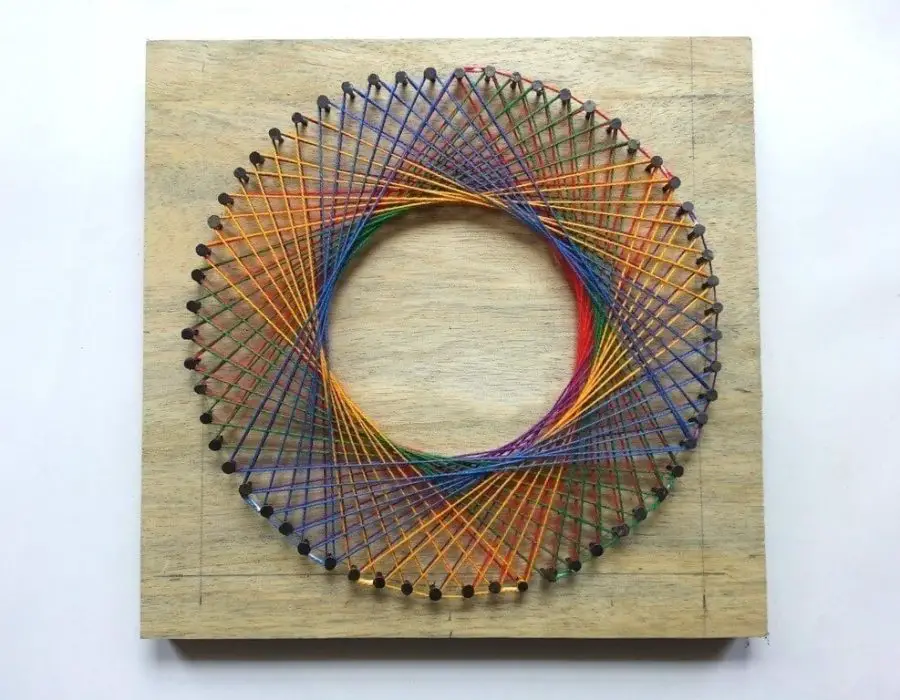 I've seen a lot of spirograph string art, and this wall decor makes me want to make one—and I guess you should, too. This gorgeous rainbow string art will undoubtedly make your room look livelier.
14. Puffy Heart Wall Art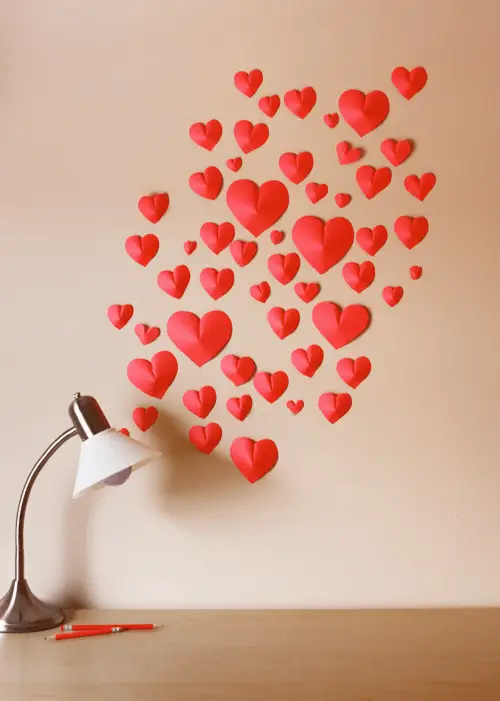 Got an anniversary home dinner coming up? Surprise your loved one with a romantic dining room adorned with the explosion of these cute puffy hearts. Don't fret; these adorable wall decors only require fewer brain cells to get them done.
---
15. 3D Scrapbook Paper Wall Art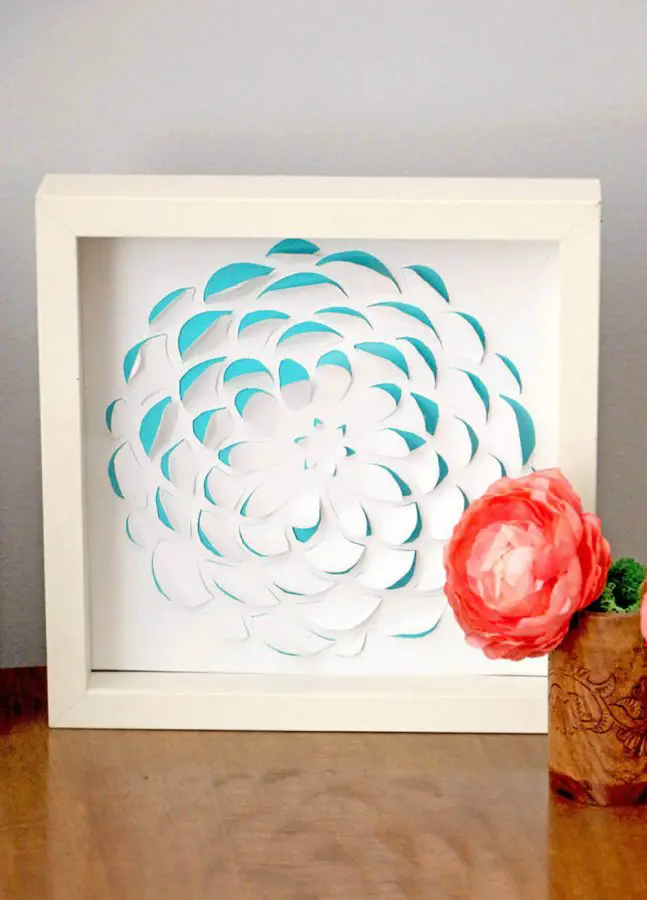 This 3D paper wall art is made of scrapbook paper. It's a super easy DIY project anyone can do. While it takes some time to get it done, you'll be surprised by the result. Any room will "Pop" with this simple DIY wall art.
---
16. Popsicle Stick Art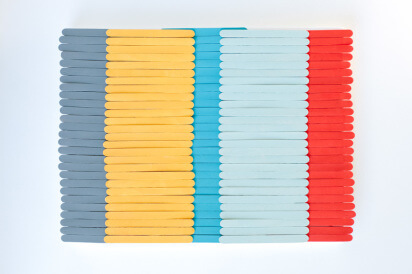 Out of all the DIY wall art ideas on the list, I love how easy this decor item is. This popsicle stick art is super fun for leisurely crafting times or group projects. Best of all, it's an excellent craft for kids.
---
17. DIY Photo Wall Hanging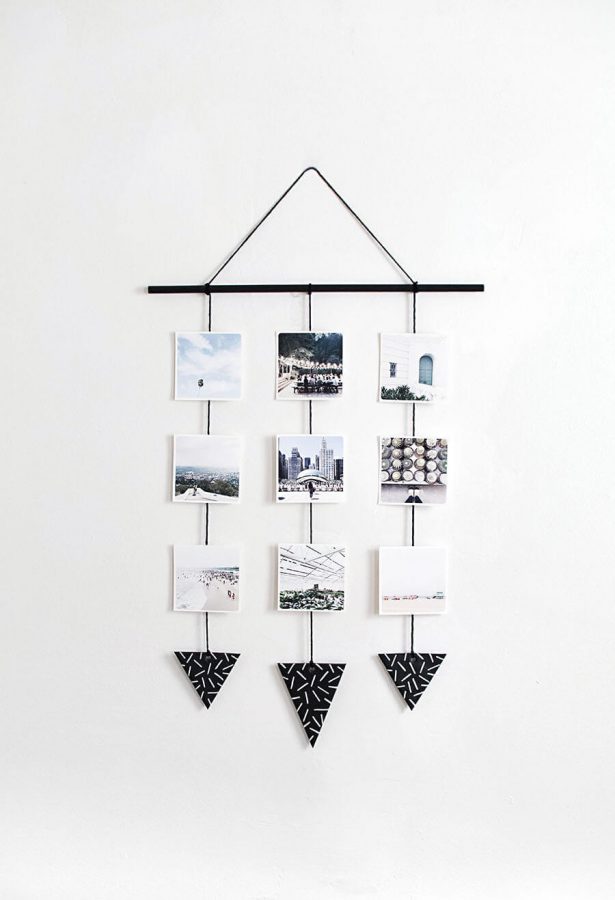 Up for a new kind of way to display memorable family photos? Check out this DIY photo wall hanging. No breaking the wallet and no drilling holes in the wall for every photo frame. You'll get a stylish, cute, and minimalistic wall decoration!
---
18. Pla

t

es

a

s Wall Art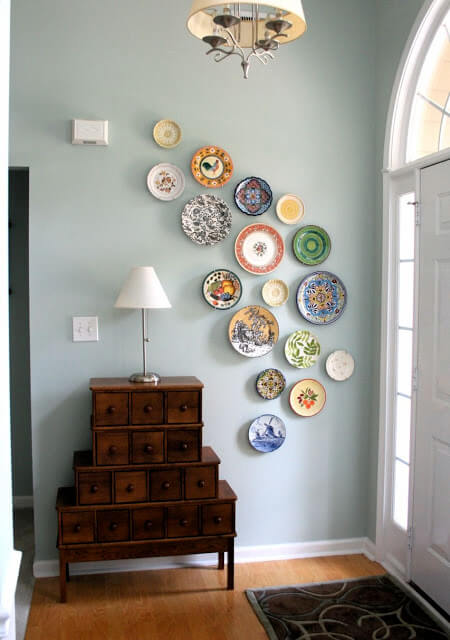 What an excellent method to embellish interior walls. Each plate comes with a different pattern and size, adding a unique spark to the walls. Got plates like these ones? Grab them and stick them on the walls in your own style.
---
19. Basket Wall Art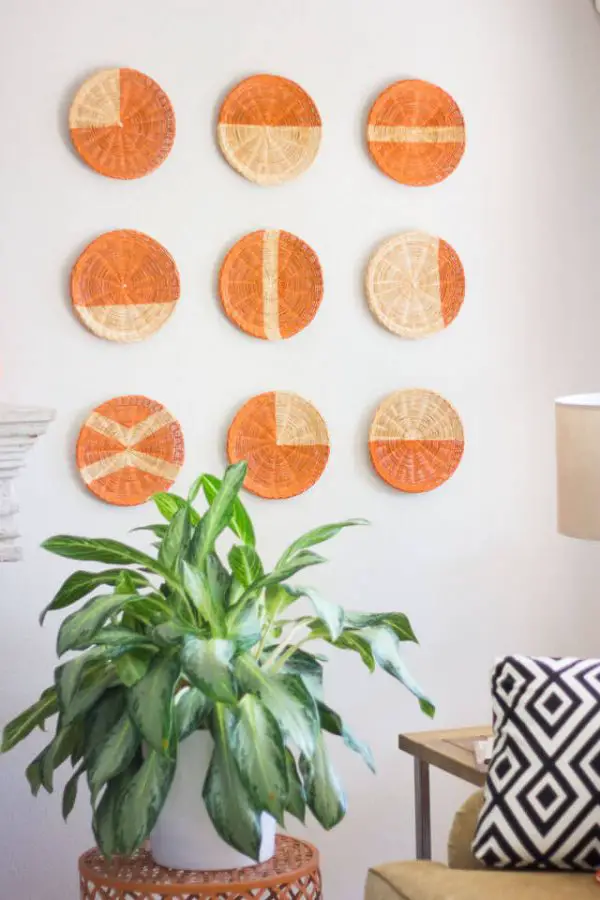 I know wicker paper plate holders may not be a thing anymore. But if you still have them and no longer using them, you can transform them like the ones here. They beautify walls in an artistic kind of way.
---
20. Ombre Quote Wall Art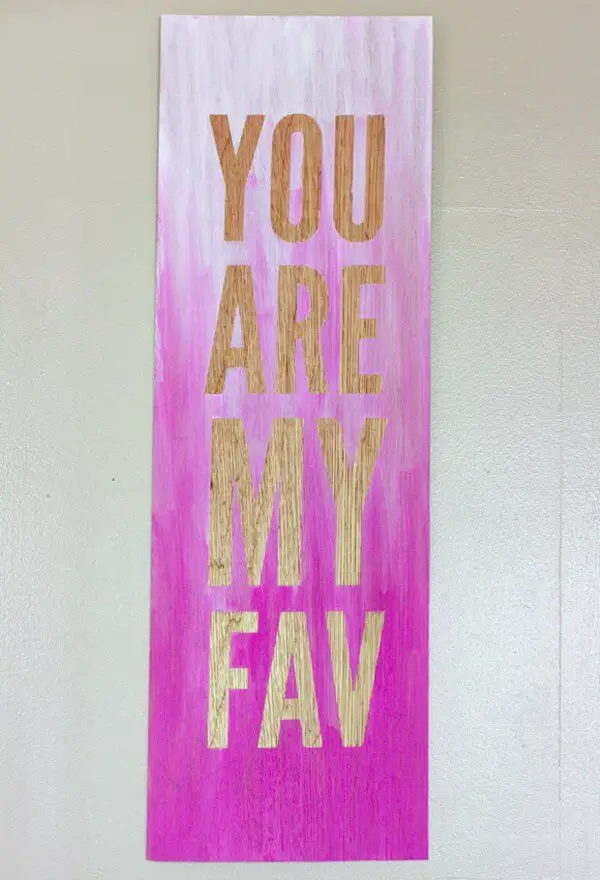 This quote wall art is easily one of the most effortless DIY wall decor ideas to do. Not only does it embellish a blank wall, but it also enables you to speak up about a short quote you live by.
---
21. Designer Shopping Bag Wall Art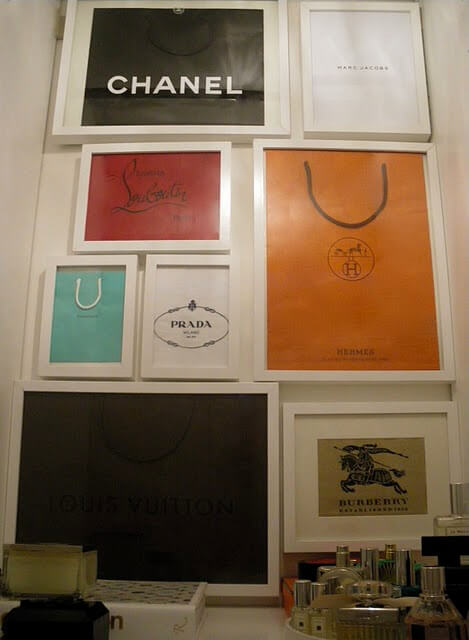 I may not really be into designer apparel, but if you do, don't throw the shopping bags away. Instead, transform them into such as this wall art. It's a simple yet stylish way to showcase bags from valuable fashion brands.
---
22. Toilet Paper Roll Art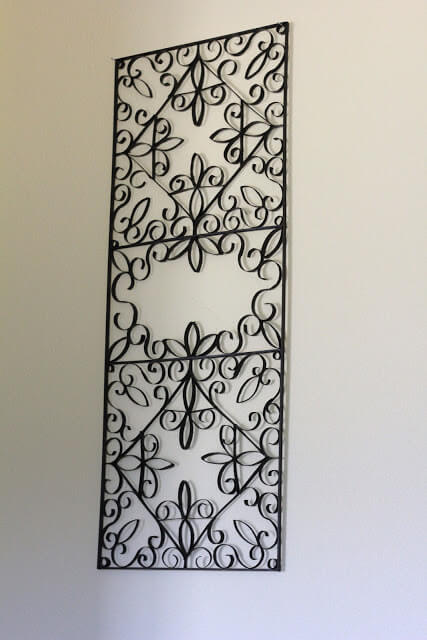 At a glance, I thought this wall decor was made of metal, turned out I was wrong. Those curly parts are made of toilet paper rolls painted in black and framed in wood pieces. It's exceptionally gorgeous for any black space.
---
23. Postcard Wall Art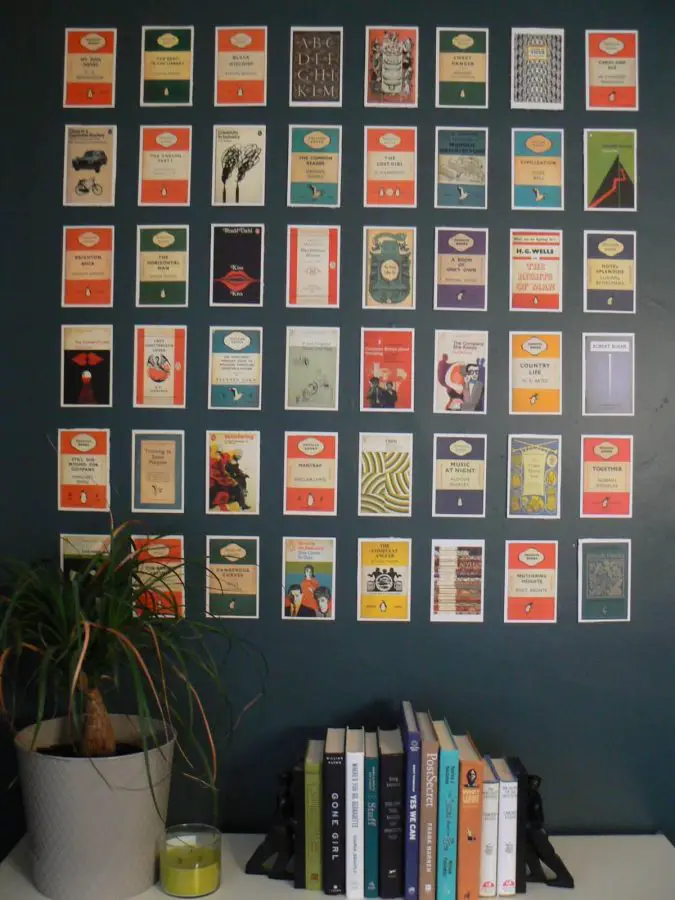 For travel junkies, this decor idea is worth a shot. This is a smart way of displaying your postcard collection. It adds accent to any space, and most importantly, it's cost-efficient and super easy.
---
24. Gold Leaf Map Art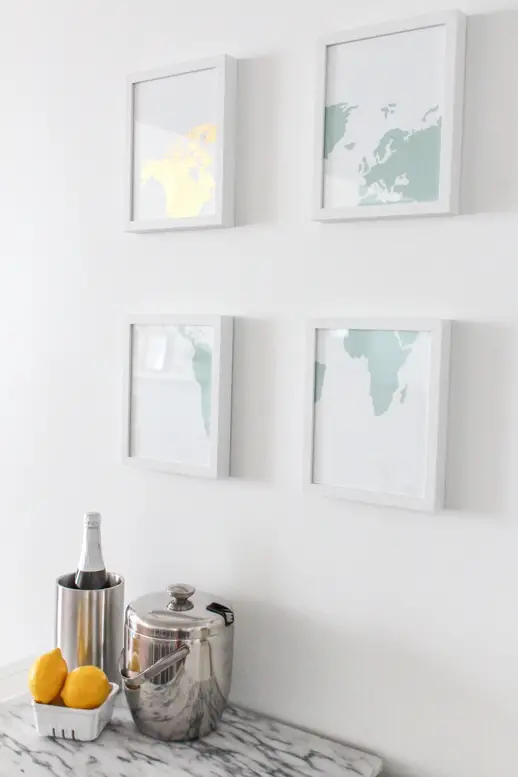 Looking for minimalistic DIY wall art ideas that can still add to the character of interior walls? Simply check this one. It's a flawless wall decor that would fit above the bed or bar cart.
---
25. Scrap Wood Wall Art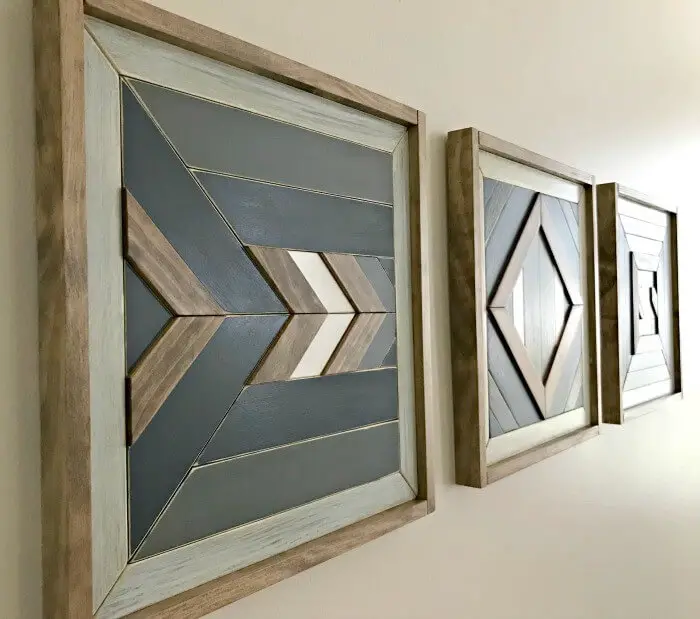 Add a splash of natural colors in various shades to any room with this wall art. With some basic woodwork, pieces of scrap wood may become a talking point. Any skill level may enjoy this DIY project.
---
26. Bubble Wall Art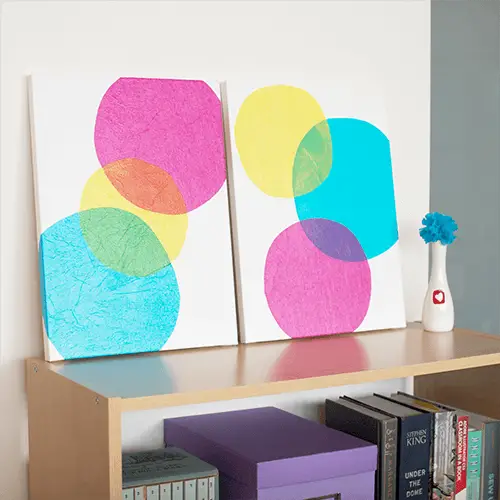 This DIY has convinced me that everyone can be an 'artist.' With just some tissue paper and acrylic paints, this simple, bright bubble art will beautify your wall in a matter of minutes.
---
27. USA Pallet Art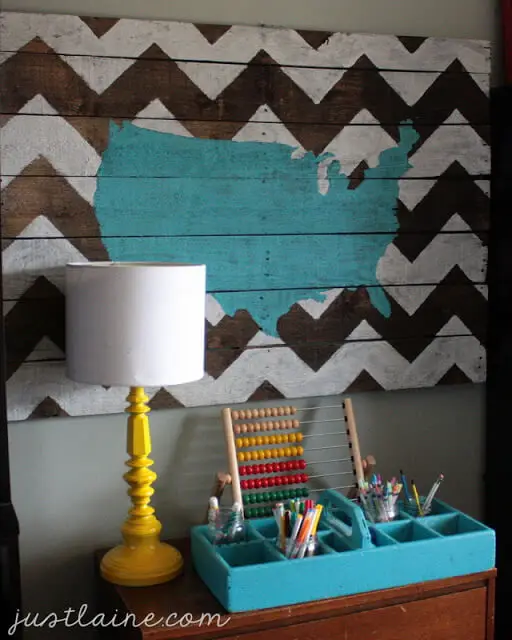 Who doesn't love free DIY projects? This antique wood pallet was coated in chevron with a turquoise blue USA map. Its lively, worn-in appearance is a perfect match for any walls.
---
28. Chevron Paint Chip Art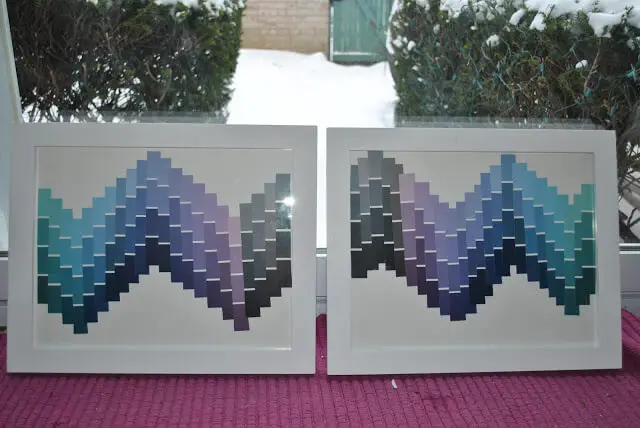 29. Melted Crayon Art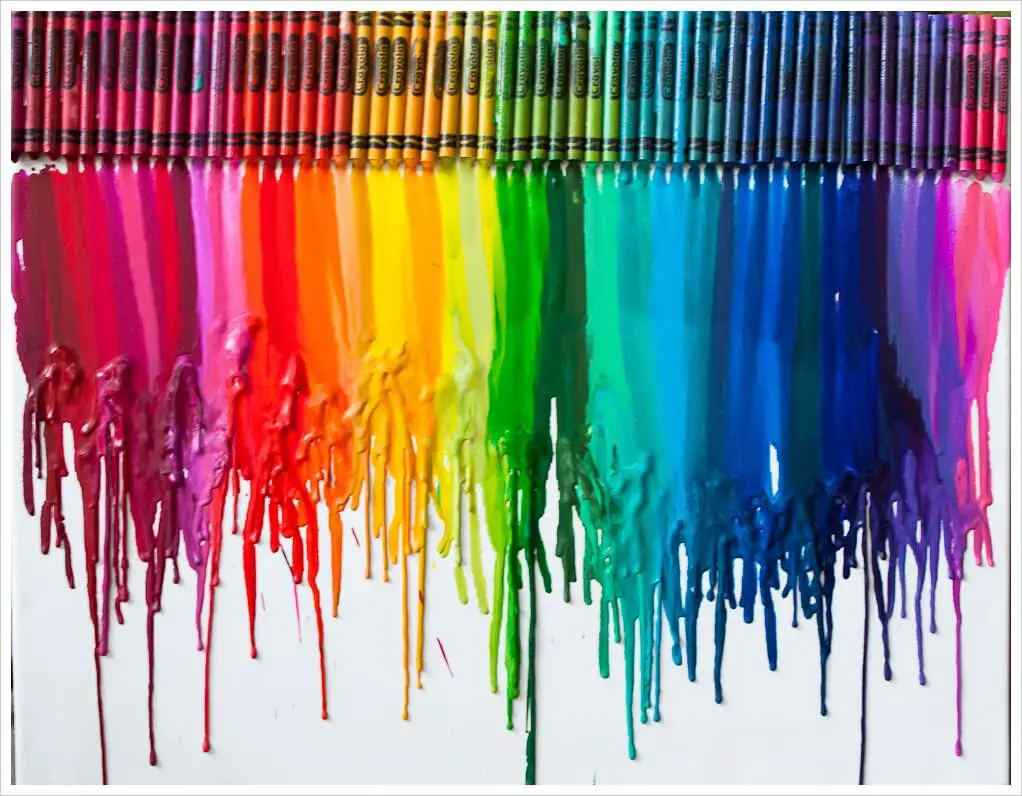 Consider making wall art from different materials such as fabric, metal, brass, old CDs, and many more. They will draw your attention as you walk into the room.
Think of these ideas as a focal point in the house. The choices of color can be a great medium to create a statement. A plain white wall will look stunning with colorful wall art or bold artwork.
So, what do you think? It is not too difficult to make wall art, right? The DIY wall art ideas above can be an inspiration to try in your home. Making, arranging, and hanging artwork that you can do yourself. So, which one from the list above, is your favorite?
More from Materialsix.com: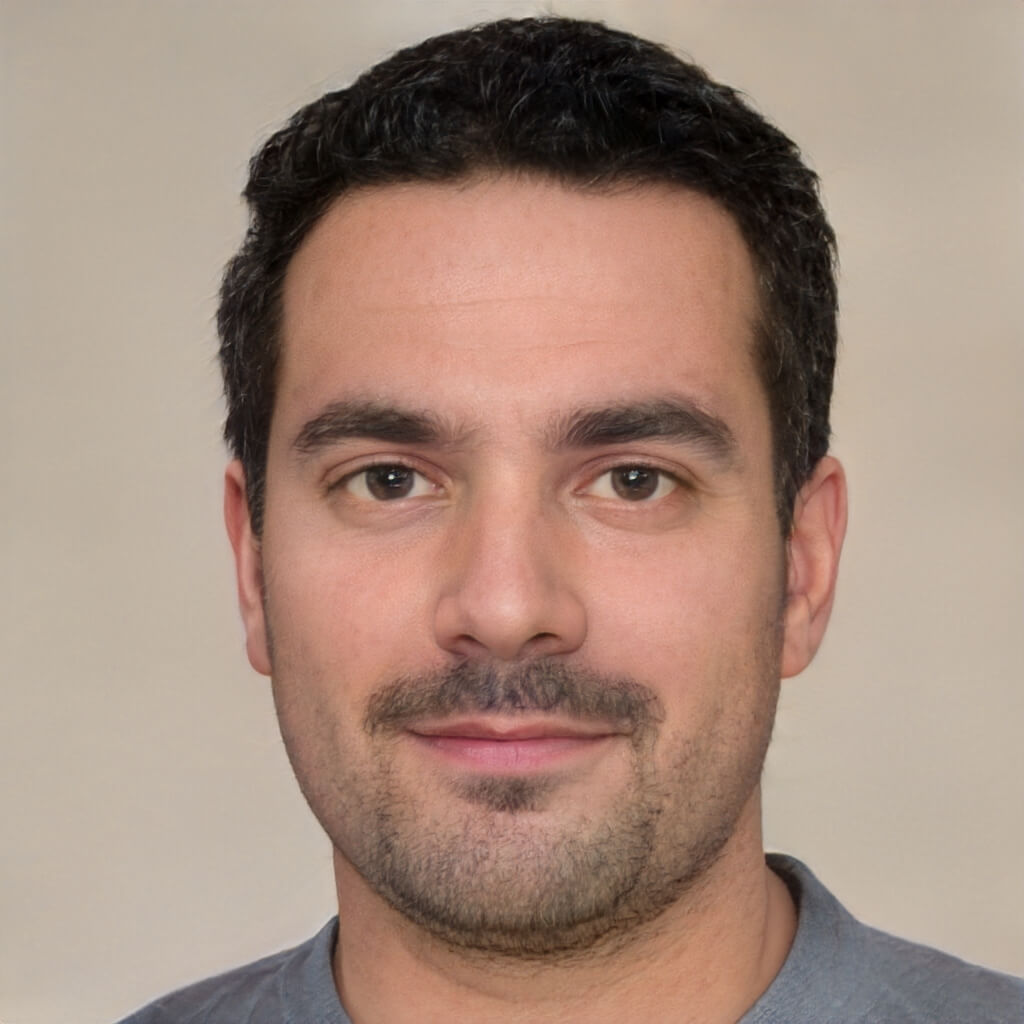 I'm a passionate home and garden enthusiast and the founder of Materialsix Home. With over 10 years of experience in the field, I've cultivated a deep love for all things related to home improvement, gardening, and interior design. Read more…