Who says that playing with the kids must always be expensive? Rather than buying them a toy to play with, why not make your own with paper plate crafts.
There are many crafts that kids and parents can work on together from cutting them into small pieces to painting them into their favorite character.
So, the more creative they can be the more fun the process will be.
Another great thing about making crafts from paper plates is they are suitable for all ages and gender. If your kids happen to start learning colors and weather, then this is one of the best ways to teach them!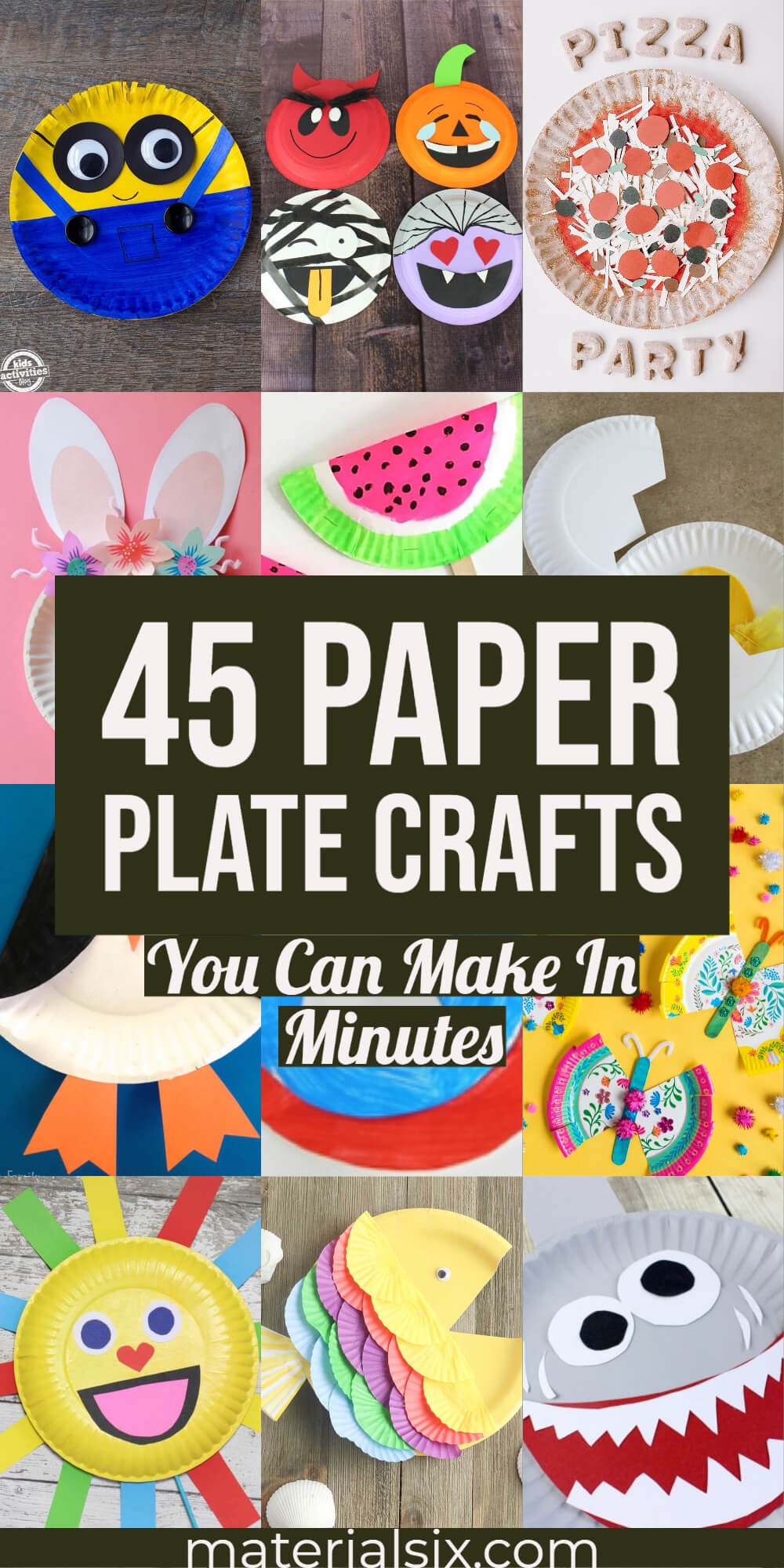 32 Paper Plate Crafts For Kids That Will Have You Crafting For Weeks
When it comes to crafting, nothing can be more fun and useful than a paper plate. However, sometimes parents can get confused about what to make.
Now to help you out here are some brilliant and fun paper plate crafts that parents can make with their kids:
1. Captain America Shield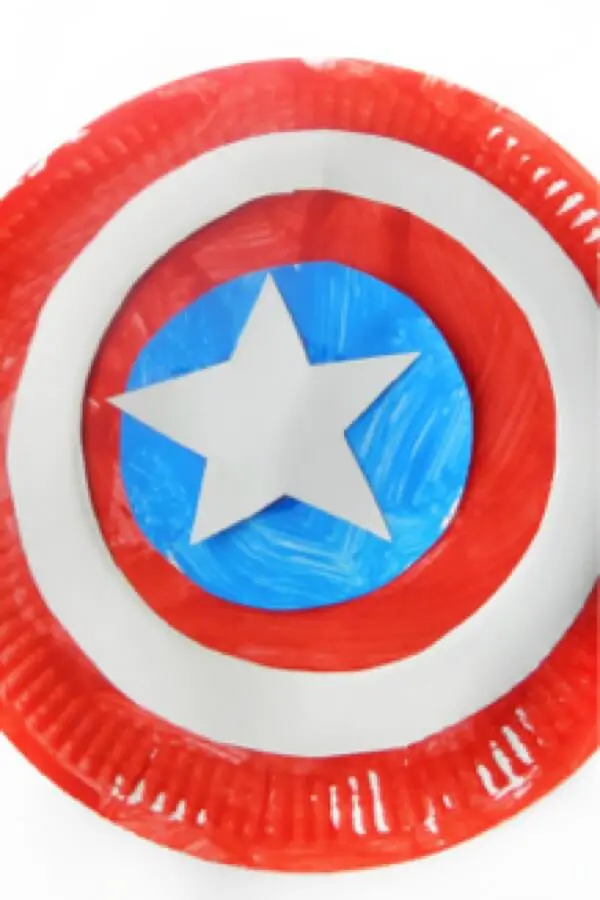 For parents who have boys at home, then one of the great crafts to make is a Captain America shield from a paper plate.
Just prepare some paints, brushes, then let the kids start painting and get creative.
2. Paper Dart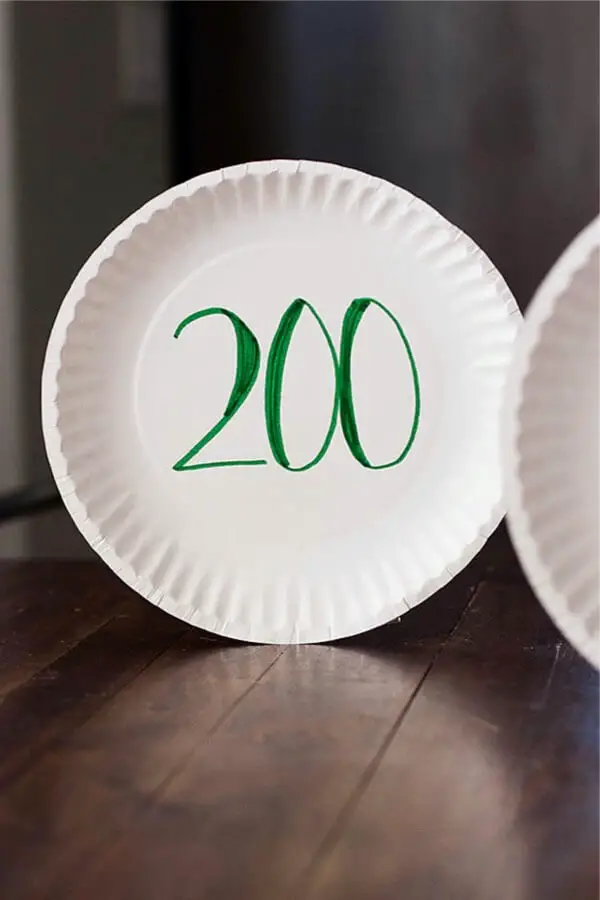 Have fun playing with your kids by making a paper dart. Then, just write the scores on different plates and use wrinkled tapes for the darts.
3. Pretty Easter Bunny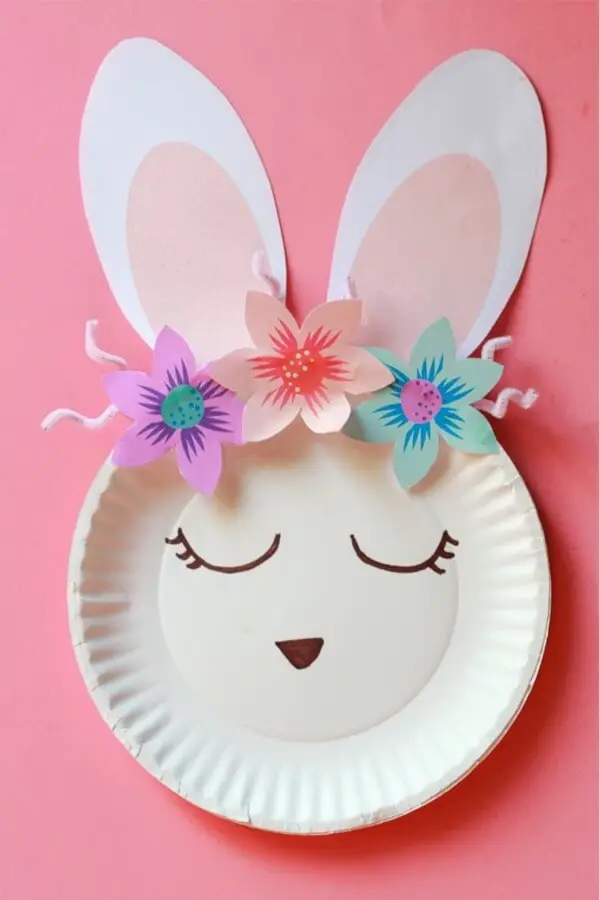 If your kids are bored with seeking eggs, then celebrate Easter by making a pretty and cute bunny from paper plates.
Furthermore, all you need to do is just add some long ears and decoration on the rabbit to make it cuter.
4. Watermelon Paper Fan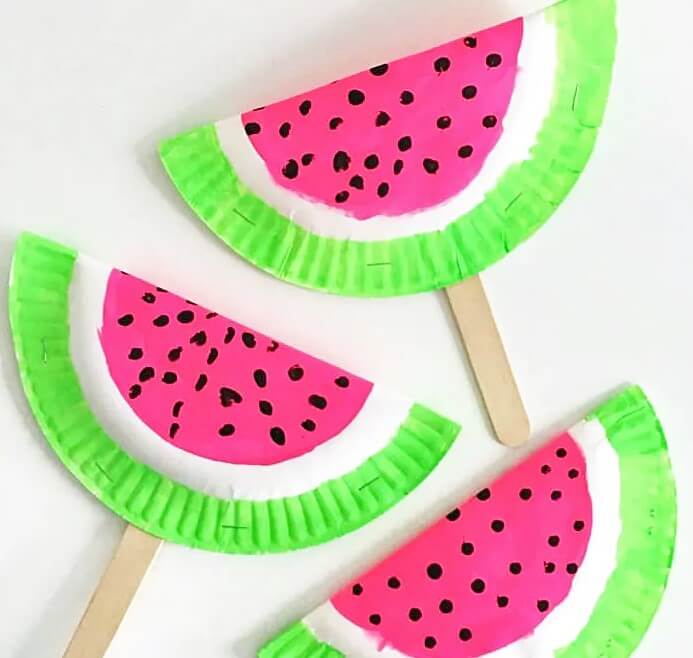 When summer comes, one of the paper plate art projects that kids can make is a watermelon fan. Also, the color itself is refreshing and it is useful.
When you make the fan, do not forget to cut the paper plate in half first. Then, decorate it by painting it into a watermelon or something fresh.
5. Halloween Decoration & Emoji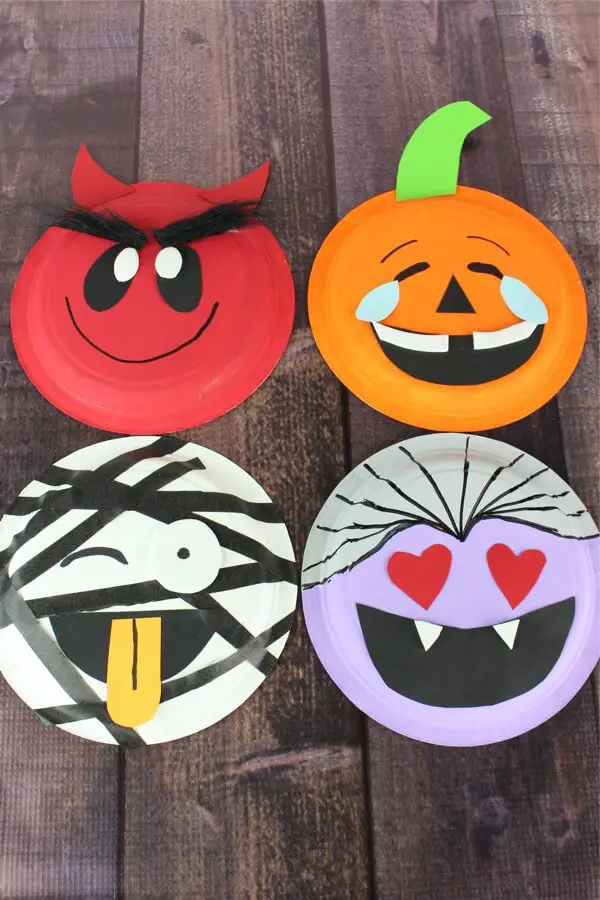 A different way to celebrate the 31st of October is by making emojis and decorations from paper plates.
Rather than using scary monsters, why not make funny and cute faces instead.
With your kids, decorate each plate with different emojis of Halloween characters such as pumpkins, vampires to mummies.
6. Round Minion Characters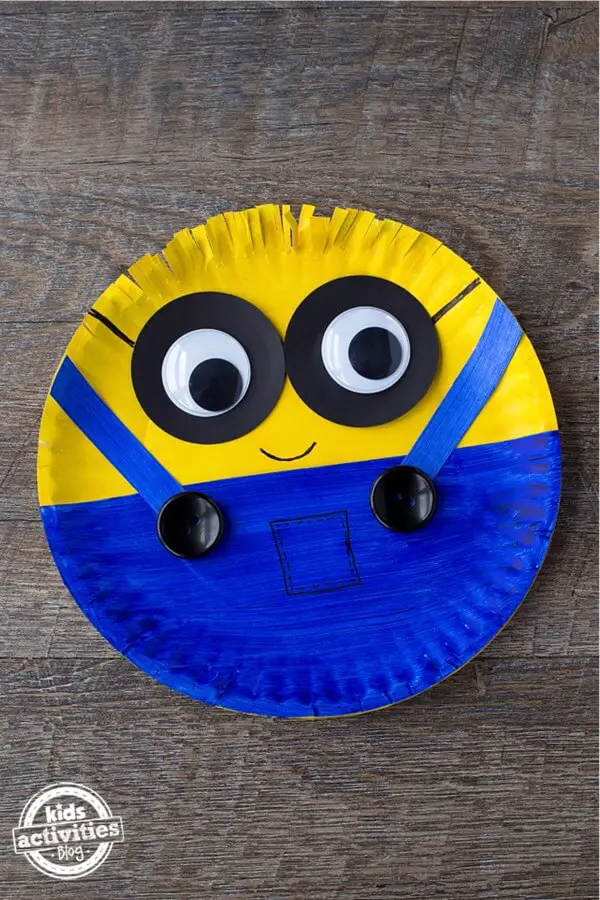 If your kids fear monsters, then make something cuter like a round minion character. All you need to do is paint the plate yellow and blue.
Moreover, do not forget to stick on round eyes and buttons to complete the look.
7. Baby Sheep Craft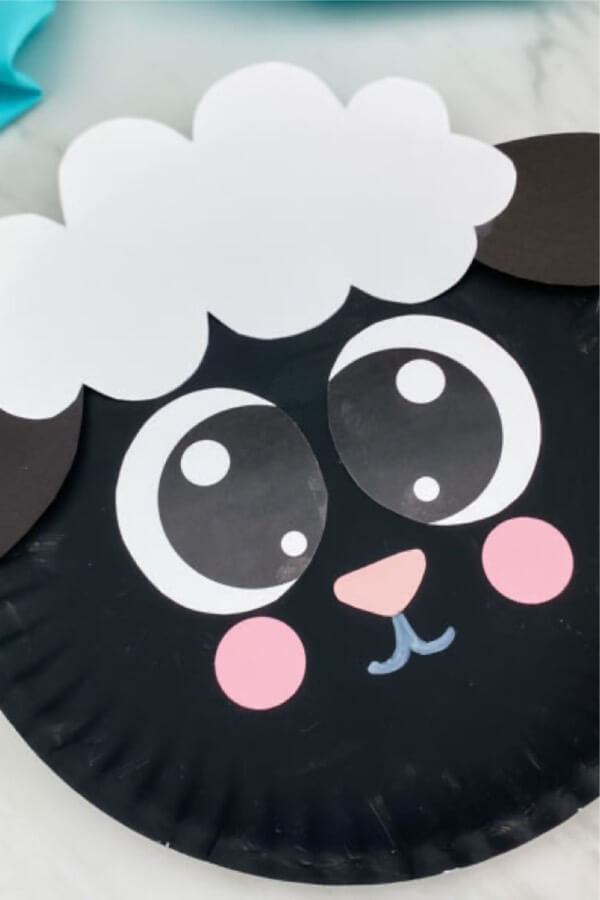 This simple yet cute baby sheep is one of the easiest paper plate craftsfor kids. After creating it, parents can hang them up in their child's room as a decoration.
8. Hatching Chicks in Eggs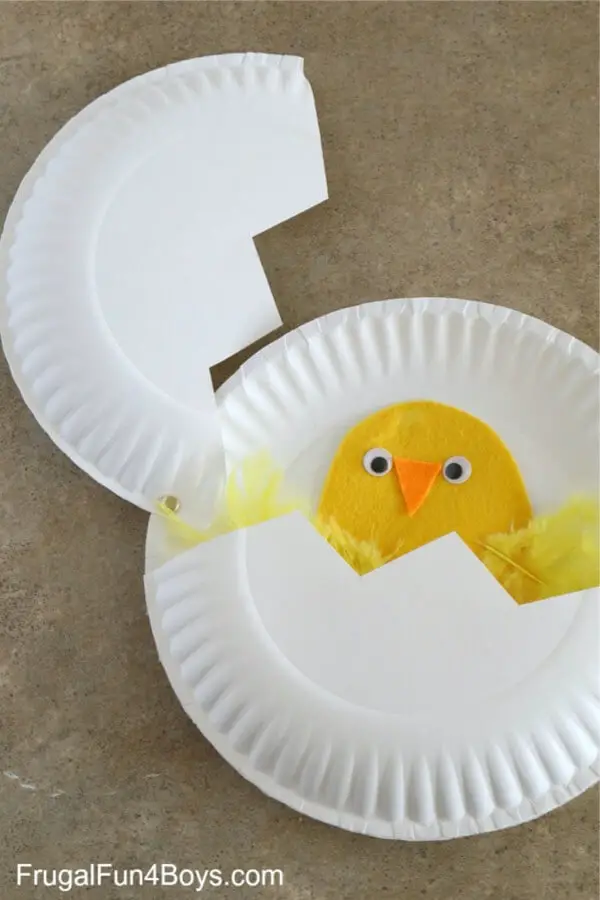 Teach kids where chickens come from with these hatching chicks in egg craft. Likewise, make the plate as the egg and put a yellow chick inside it.
Additionally, to make it look real, make the front side like a sliding door, where kids can open and close it.
9. Colorful Dinosaur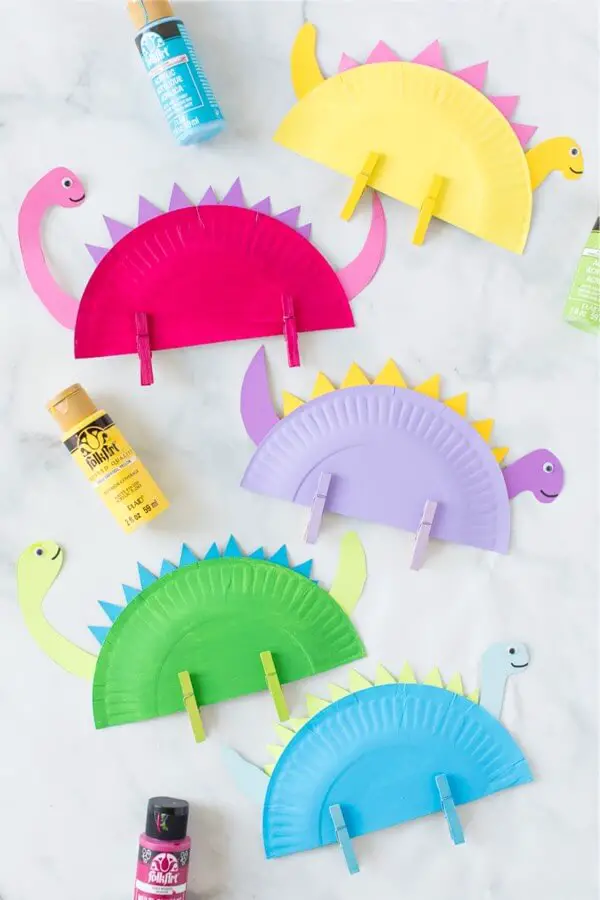 Learn and play by making colorful dinosaurs. Then, these paper plates craft for kids are not only fun to play with but they can teach kids primary colors such as yellow and red.
10. Colorful Rainbow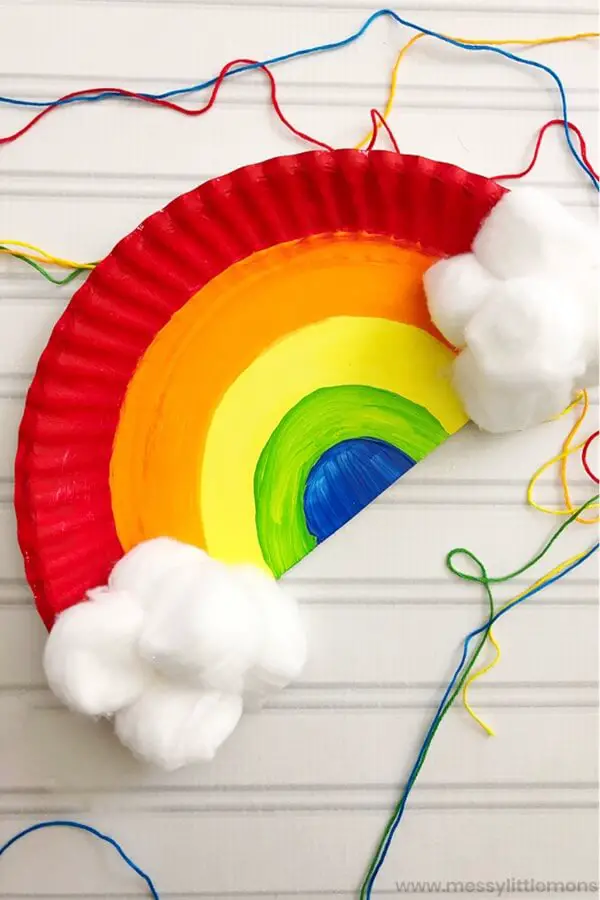 The next crafts with paper plates for toddlers to make are the colorful rainbow art. Hence, with this kind of project, kids can learn how to paint and develop their creativity.
To make it look real, do not forget to stick some cotton on the sides of the plate. Therefore, it will seem that the rainbow is above the skies.
11. Red & Black Ladybug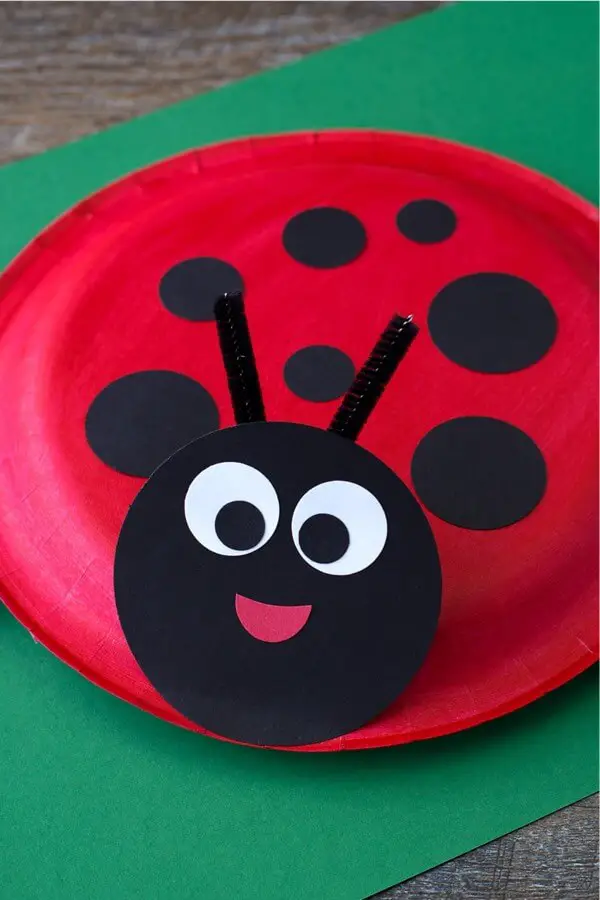 Your kids will never get scared of this cute red and black ladybug because it will never bite or disturb you.
However, parents can make them fly by attaching a string to the back of the plate.
12. Unique Hot Air Balloons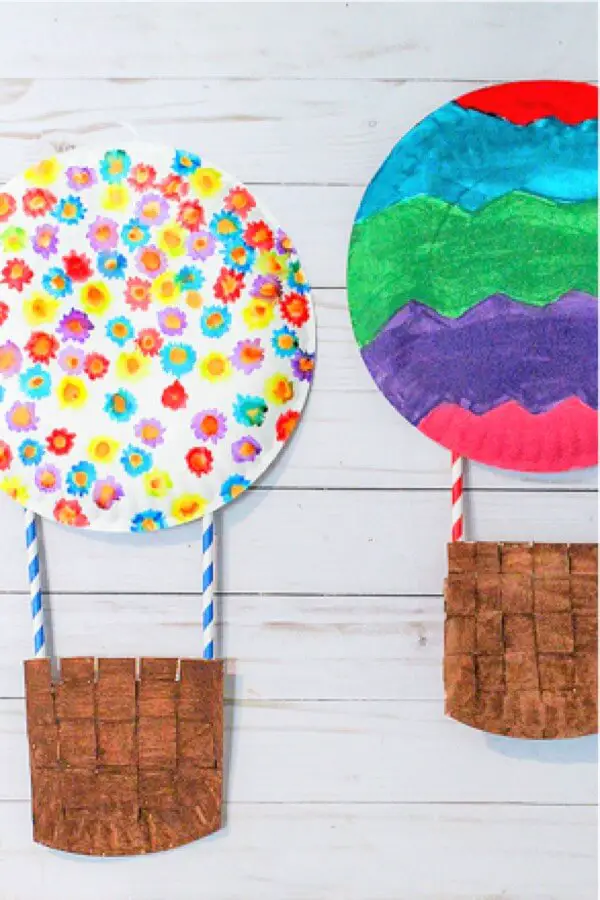 If you are looking for some art projects with paper plates, then the hot air balloon is the perfect job.
With this object, kids can develop their creativity by painting the plate. Also, they must make the baskets and the ropes to attach them to the balloon.
13. Yummy Ice Cream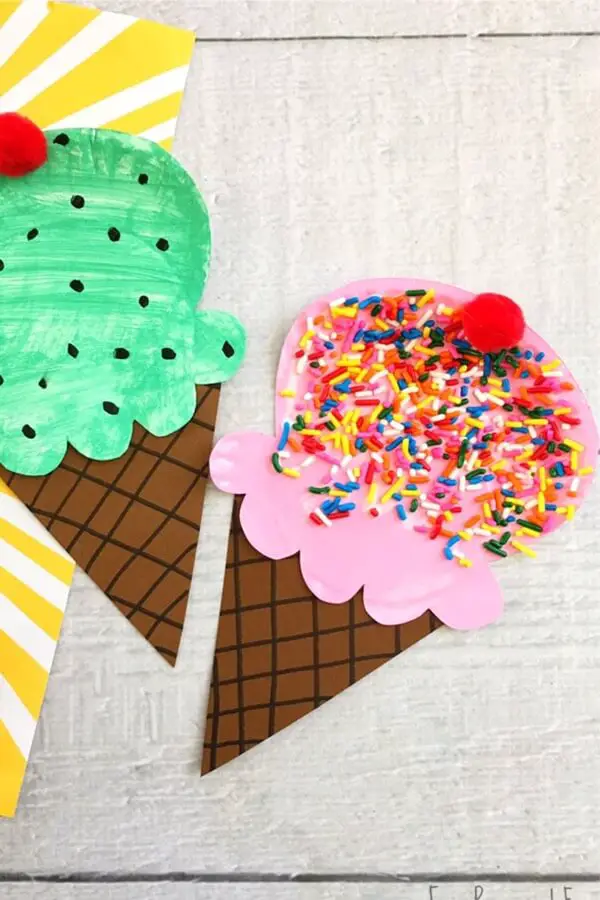 These yummy ice creams are a great way to welcome the hot air in summer! So, decorate them with anything you like glitters, sprinkles to delicious fruits.
14. Yarn Bowl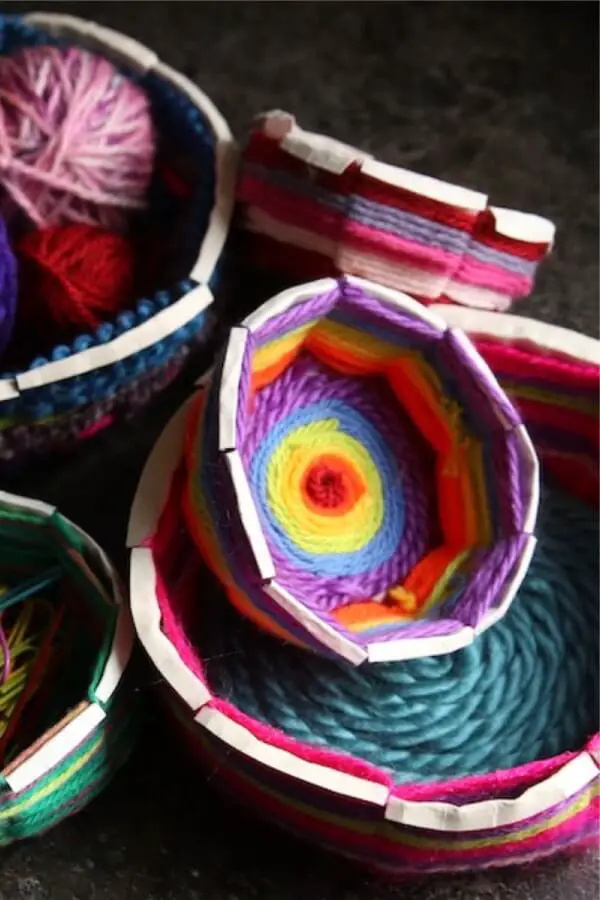 For bigger kids, try to make this paper plate craft. Not only will it look pretty but they can use the yarn bowl to put small things.
15. 4th of July Decorations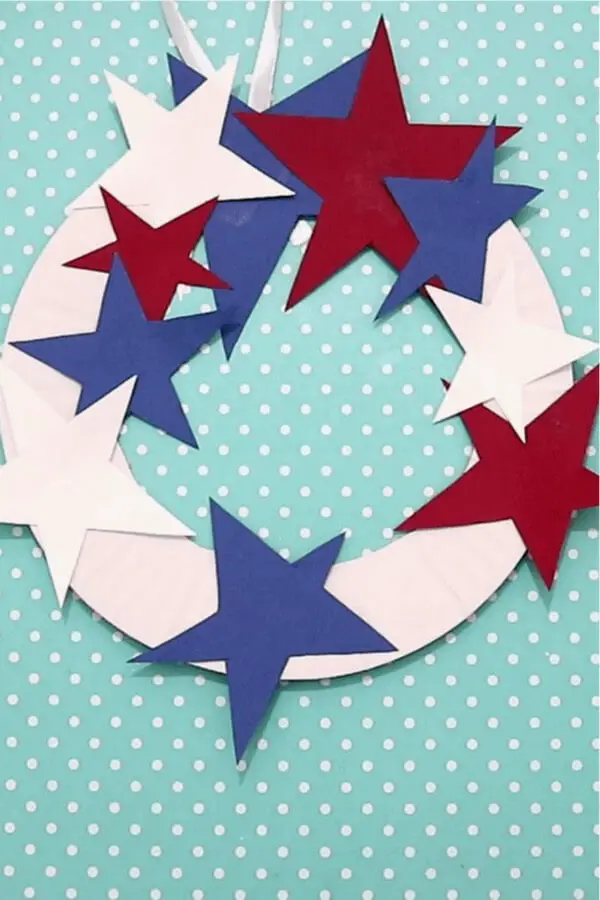 When the 4th of July is coming, then it is time to create some decorations to celebrate it. Thus, make these adorable stars and stick them onto the paper plate.
Importantly, while making it, do not forget to use the USA flag colors.
16. Marble Maze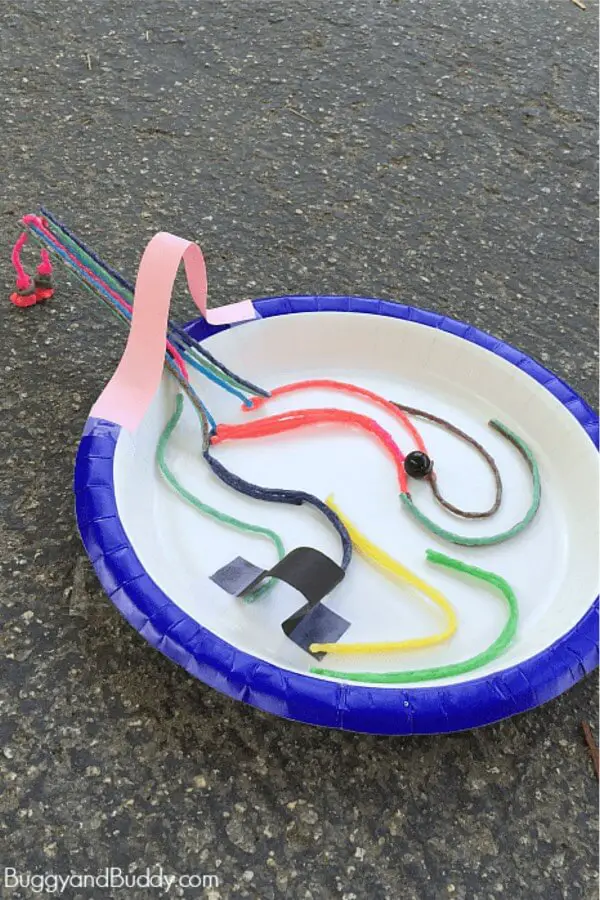 A paper plate craft for kids that they will surely love is the marble maze.
In this project, they do not only have to create a challenging maze but can also play it with their friends and family.
Likewise, the harder the track is the more fun it will be.
17. Smiling Sunshine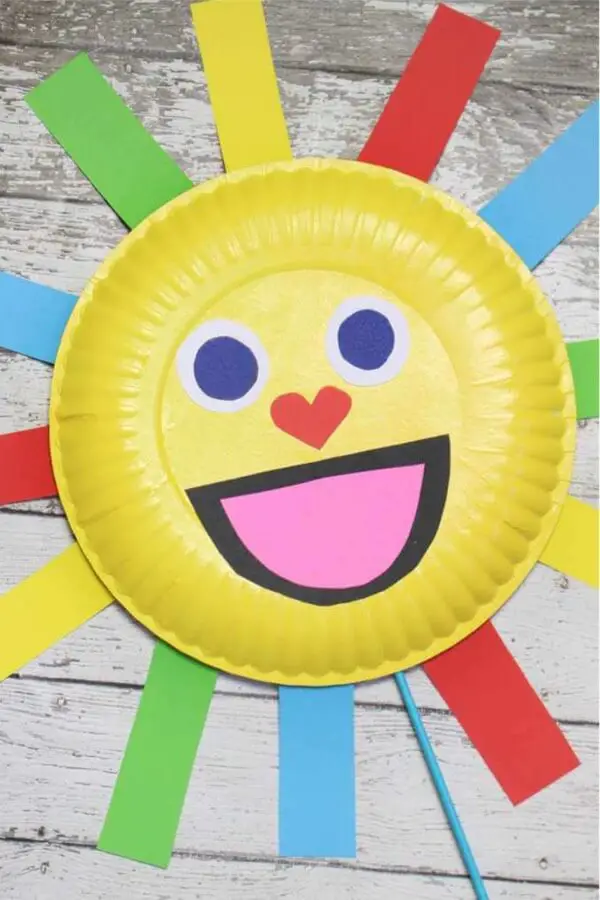 Indeed, this is one of the best crafts with paper plates for toddlers that parents and teachers can make with their small ones.
Furthermore, it is cheerful, colorful, and best of all easy to create.
18. Colorful Vases Mattress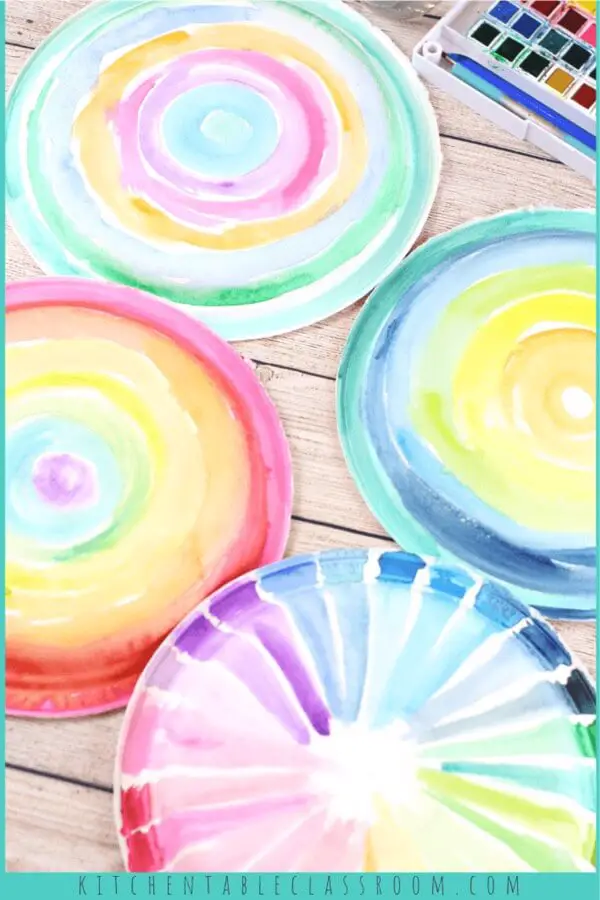 Let your kids get creative by painting these flat plates with colorful colors. Then, when they dry up, kids can use them as a base of any object such as vases or pencil holders.
19. Star Wars Robot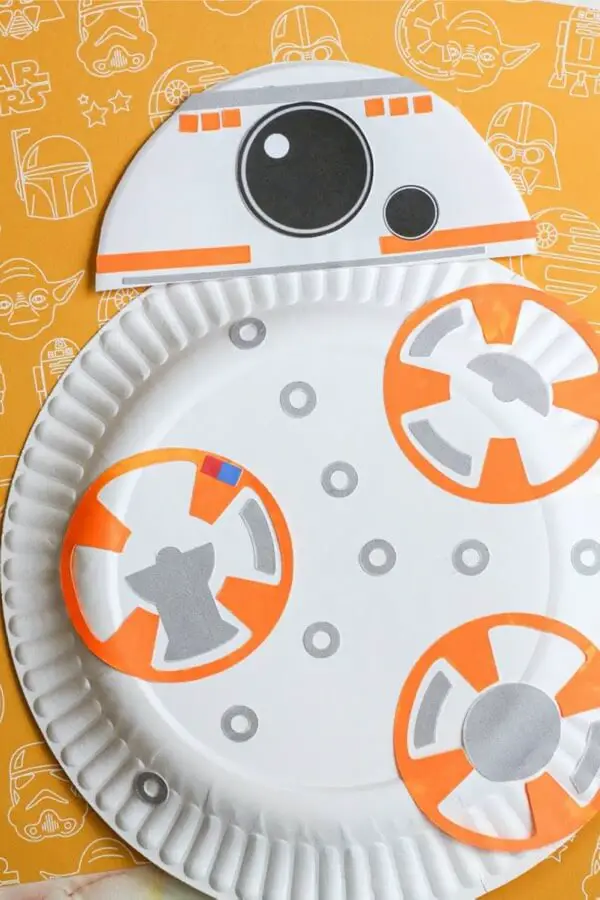 Who does not love this little robot from Star Wars? Hence, with its round shape and cute voice, everyone surely adores this character!
20. St. Patrick Day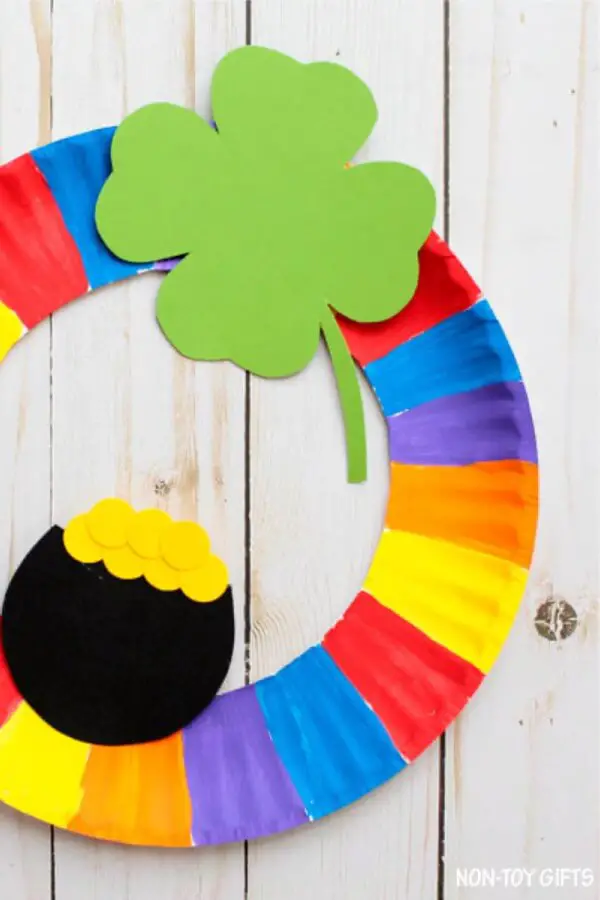 For those who celebrate St. Patrick's day, this sweet clover and the colorful plate is great example of a decoration that they can use.
21. Heart Plate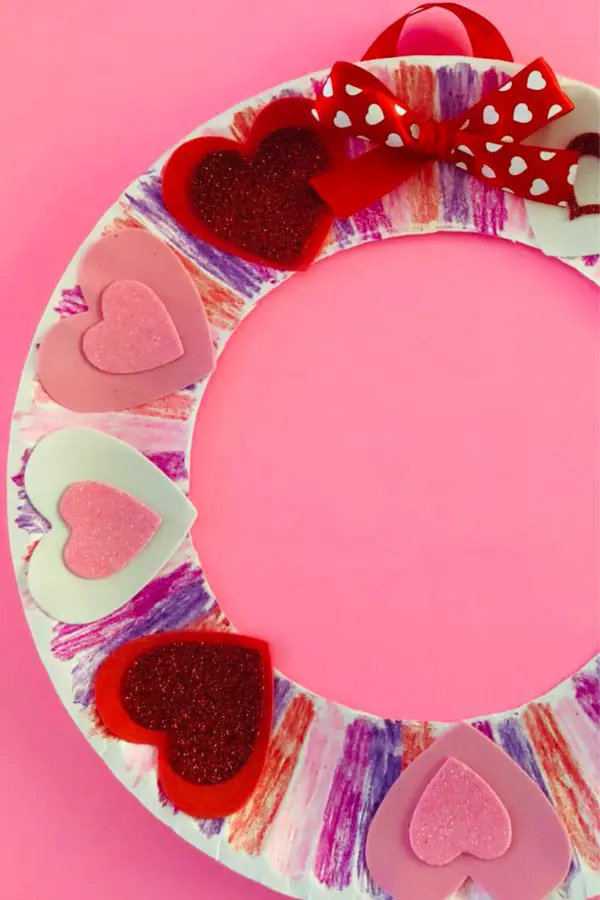 Show some love with these beautiful red and pink hearts. Other than chocolate, this pretty papercraft can be a great present for your loved ones.
22. Ring the Toss Game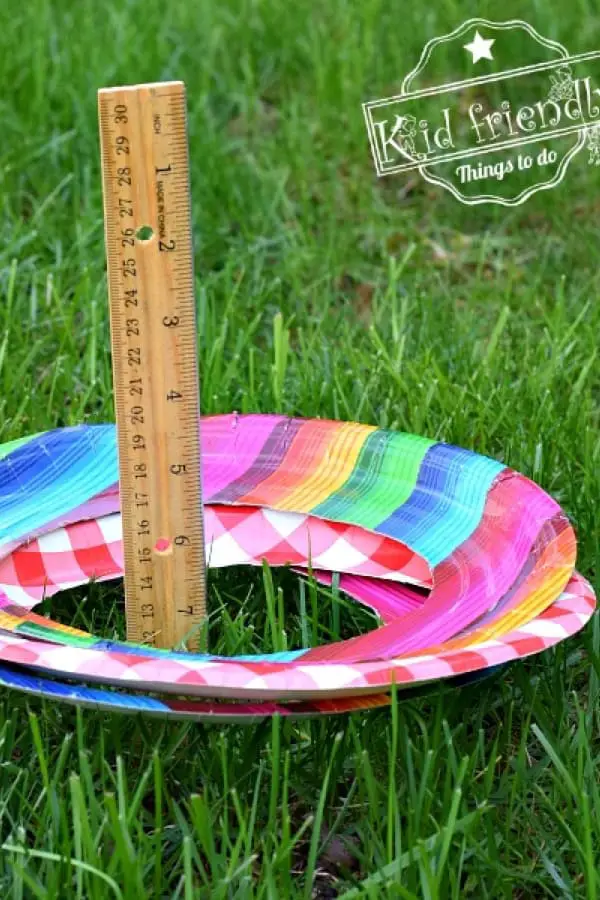 Paper plate crafts do not always have to be decoration, just like this ring the toss game.
Just cut a hole in the middle of the plates and you will get yourself a paper ring. Then, stick in a ruler as the pole of the game.
Furthermore, whoever gets the most rings in, is the winner!
23. Colorful Paper Fish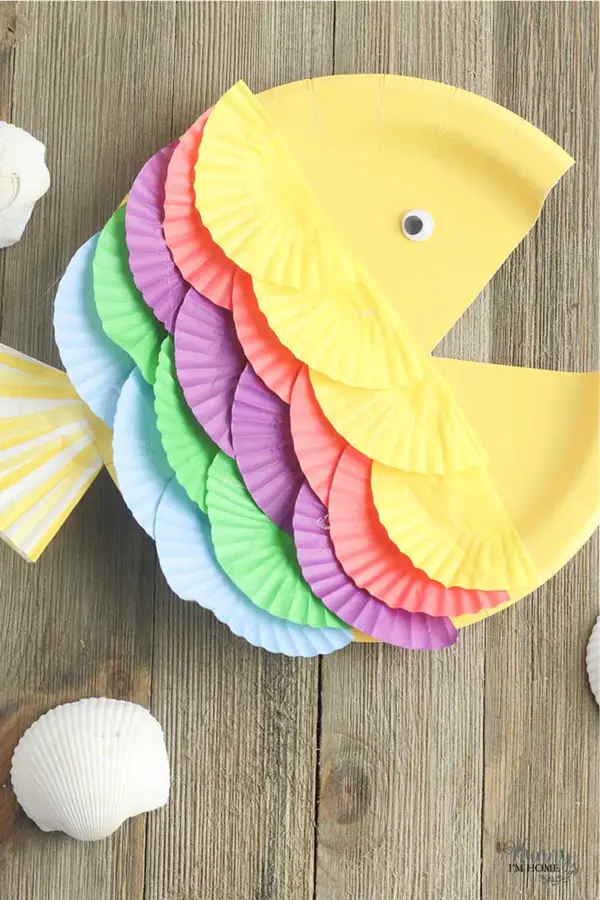 If plain paper fish is too boring, then try to make this piece of art. Not only does it look more artistic, but it will also be a great decoration for the classroom!
24. Easy Dream Catcher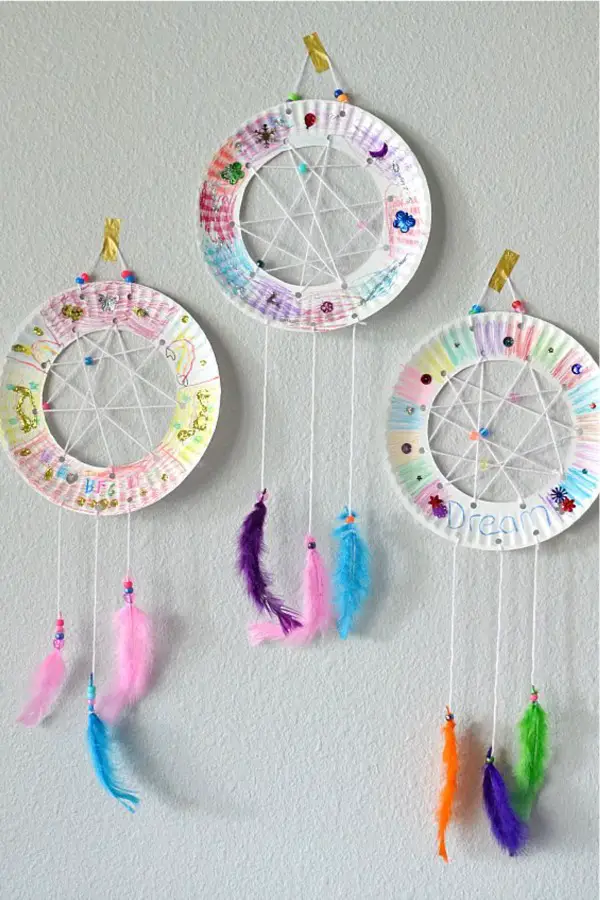 These dream catchers are one of the best ideas for paper plate crafts for kids. Likewise, they are colorful, pretty, and useful.
Therefore, kids can use them as decoration or a present for their friends and family.
25. Pizza Math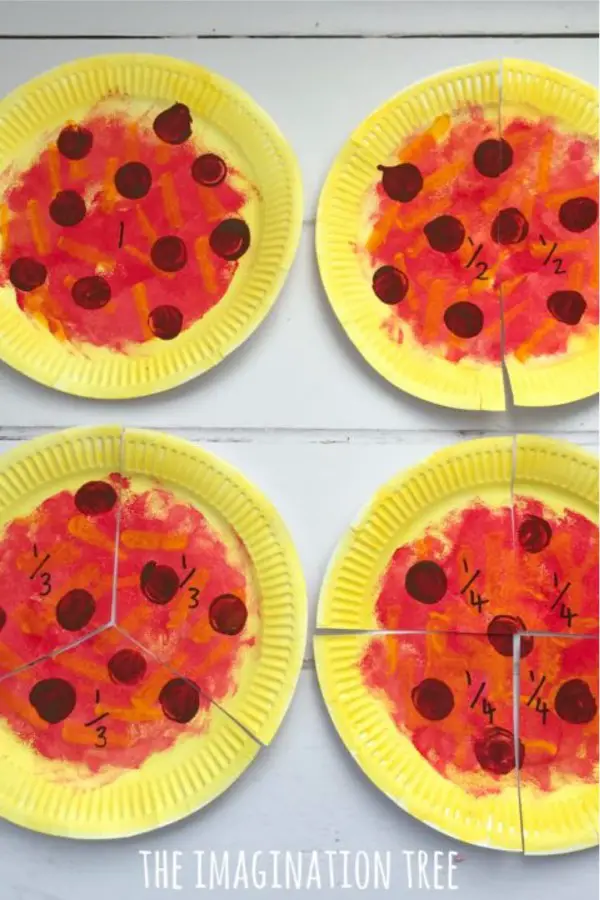 Play and learn with this great idea of pizza math. Other than just painting the paper plates, kids will also have to learn the numbers and fractions written on their artificial food.
26. School Bus Ride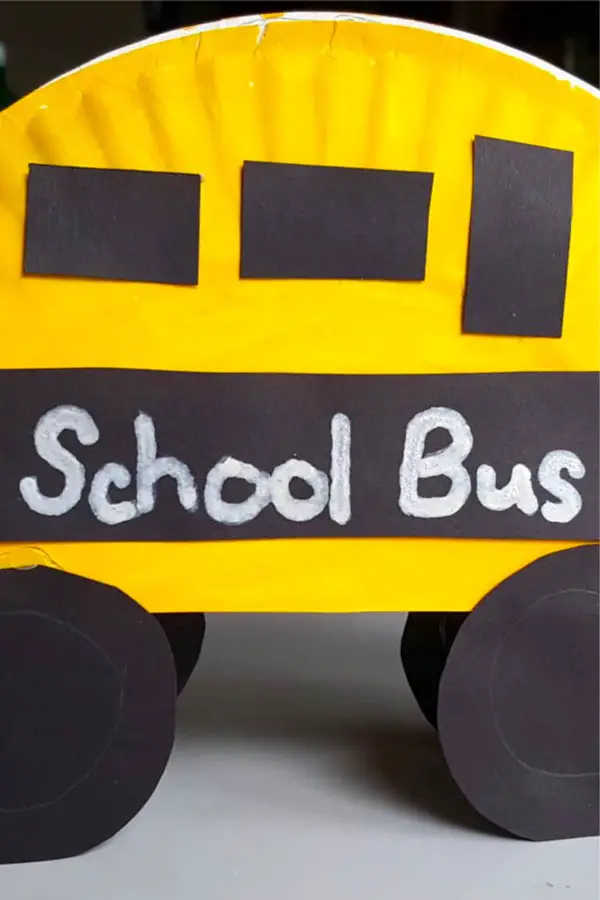 Teach the names of transportation using paper plate crafts. For instance, make yellow buses, cars, airplanes to trains just by using these simple materials!
27. Llama Craft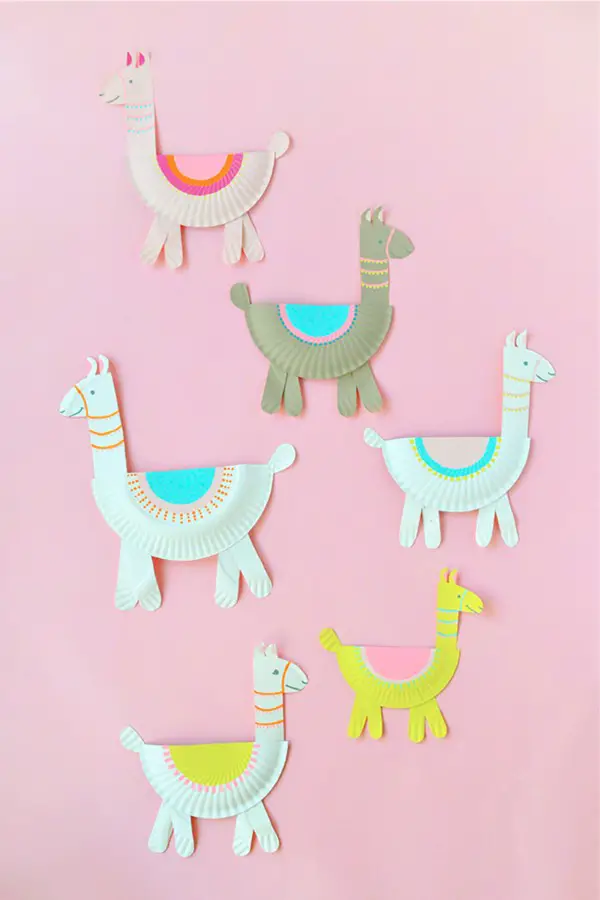 If you are wondering what kind of decoration to stick in your kid's nursery room, then these llama paper plate crafts are a great option!
28. Decorate the Donut Craft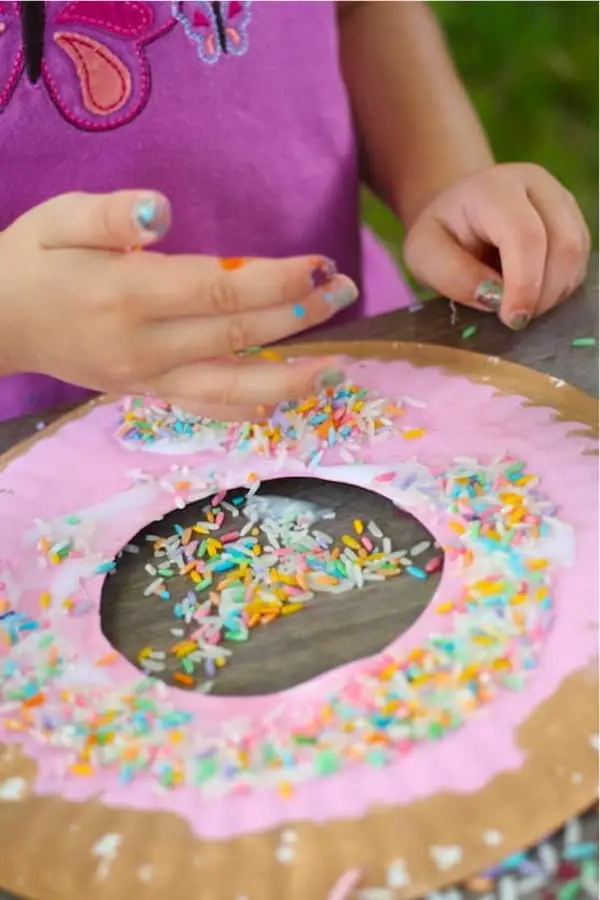 This is another great idea of playing and learning. So, just by using paper plate donuts, kids can learn how to decorate their food and develop their creativity!
29. Dotting Snails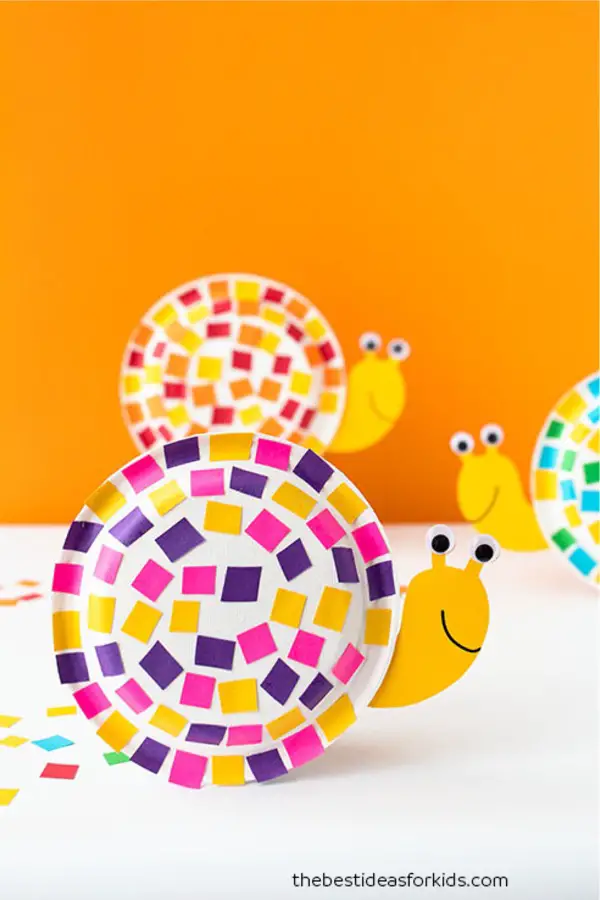 Aren't these dotting snails just so cute? If so, then this is a great idea of art to make with the kids at school or home.
Further, all you need is just some paper plate, scissors, and glue.
30. Rainbow from Yarn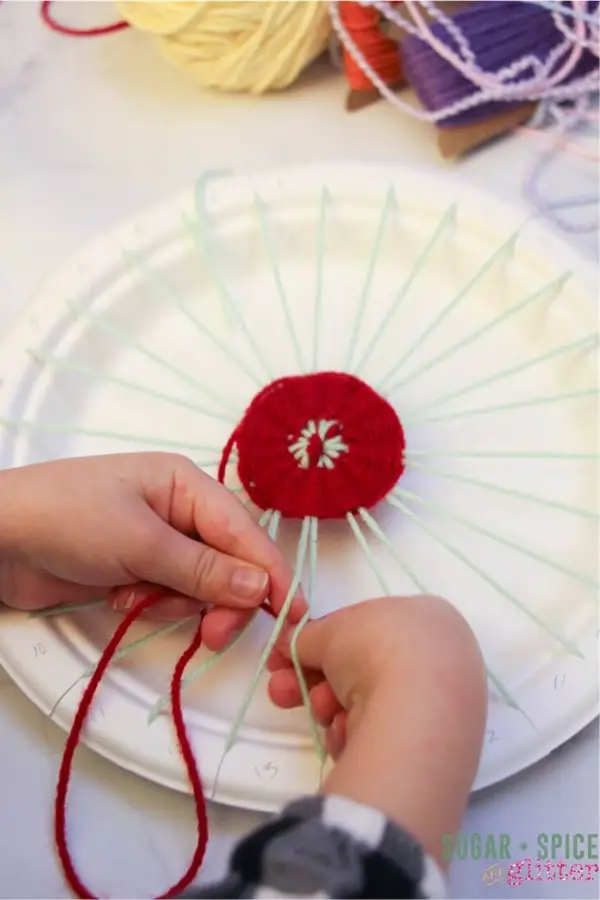 Another creative idea that bigger kids can make is the rainbow from yarn. For this activity, the paper plate will only be the base.
Then, to make the rainbow, kids will have to attach the yarn from one side to the middle of the plate.
Moreover, it may seem hard, but once it is finished it will look amazing!
31. Painting Flowers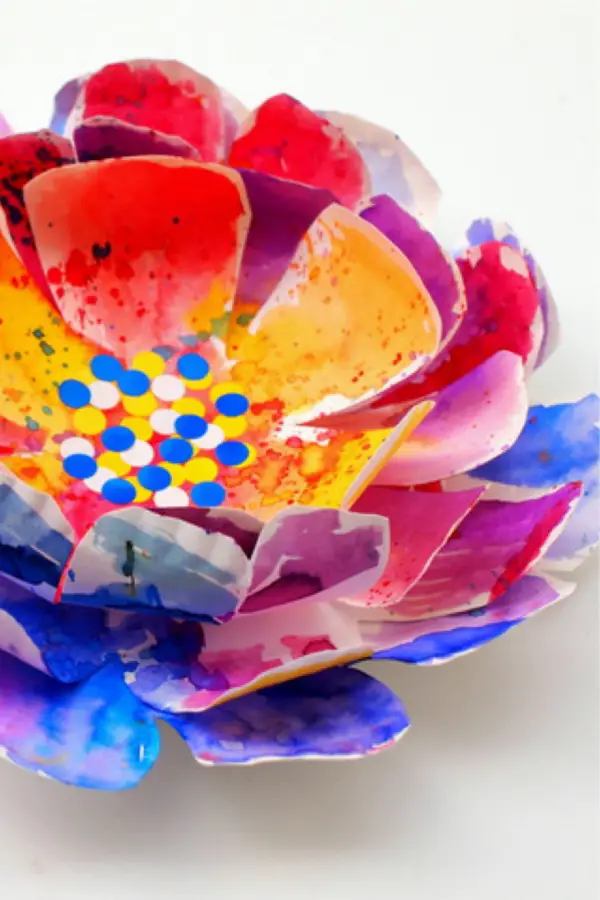 For kids who do not like cutting or sticking, then this painting flower activity can be a great option.
With this piece of art, they can develop their motor skills by coloring each layer with any color of paint.
32. Baby Shark Plates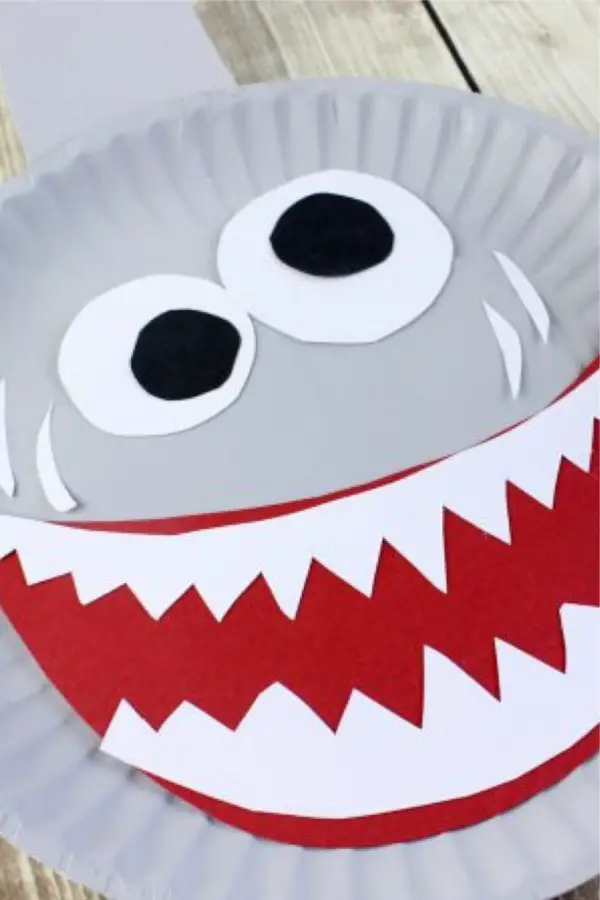 Who does not know baby shark and their families? Well, other than just listening to it, why not make the whole family from paper plates!
This way, you can act out the song while singing it too.
33. Simple Paper Penguin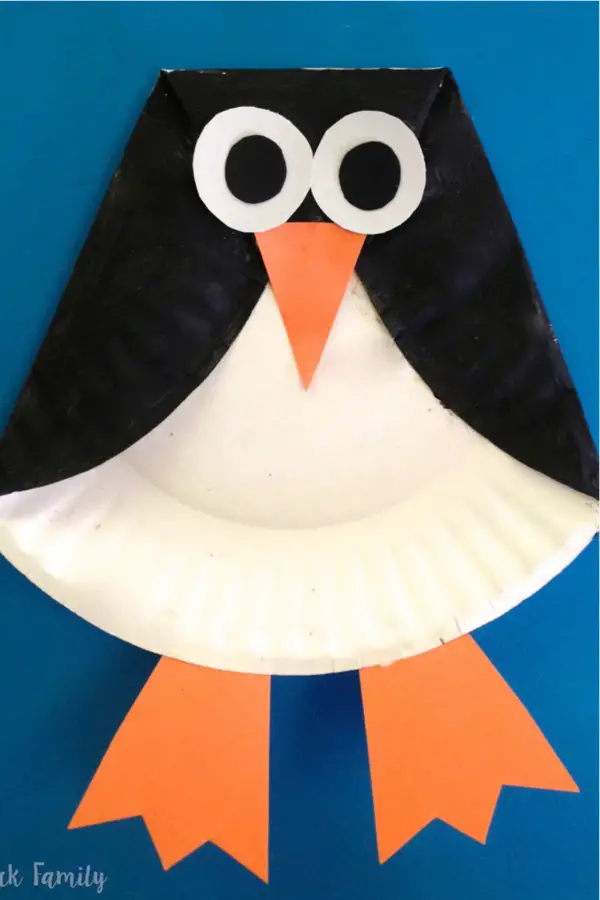 This cute penguin is just stunning and cute! To make this, all you need is a paper plate and different colors of sheets.
Then, just fold the sides of the plates to get the head of the penguin. Do not forget to put on some eyes and the point noise to make it look real.
34. Colorful Raining Dots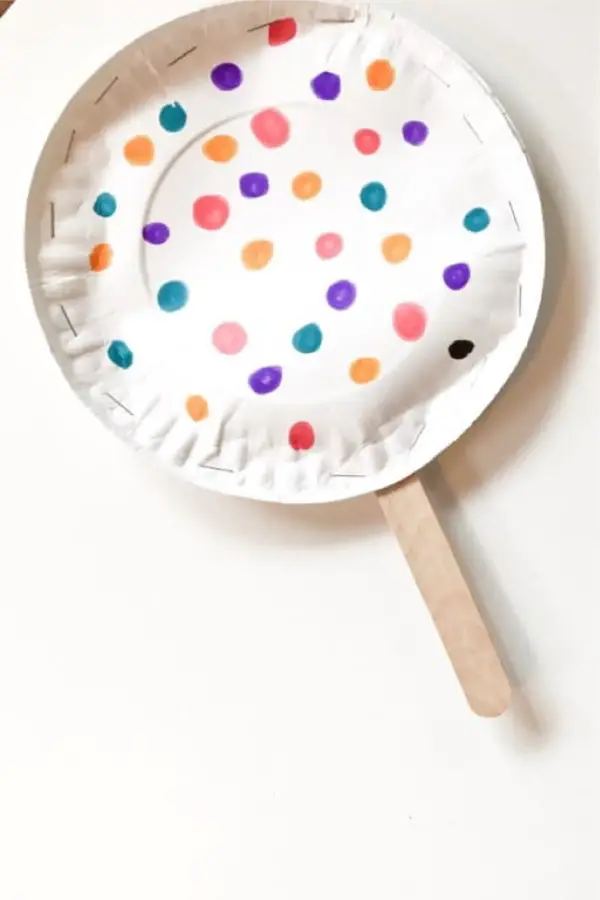 For smaller kids, one of the paper plate crafts they can make is these colorful raining dots.
In this activity, kids can learn how to make small dots or circles using different colors. Even though it seems so simple it can develop their motor skills.
35. Morning & Night Side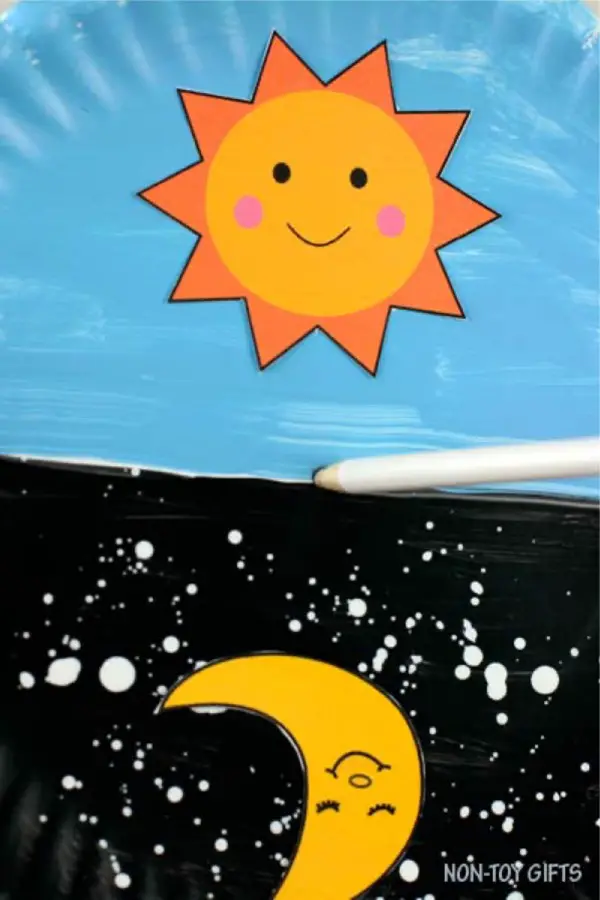 This morning and night papercraft is a great way to teach your kids the time of the day. Just fold the plate into two and use different pictures to differ each side.
36. Decorating Seahorse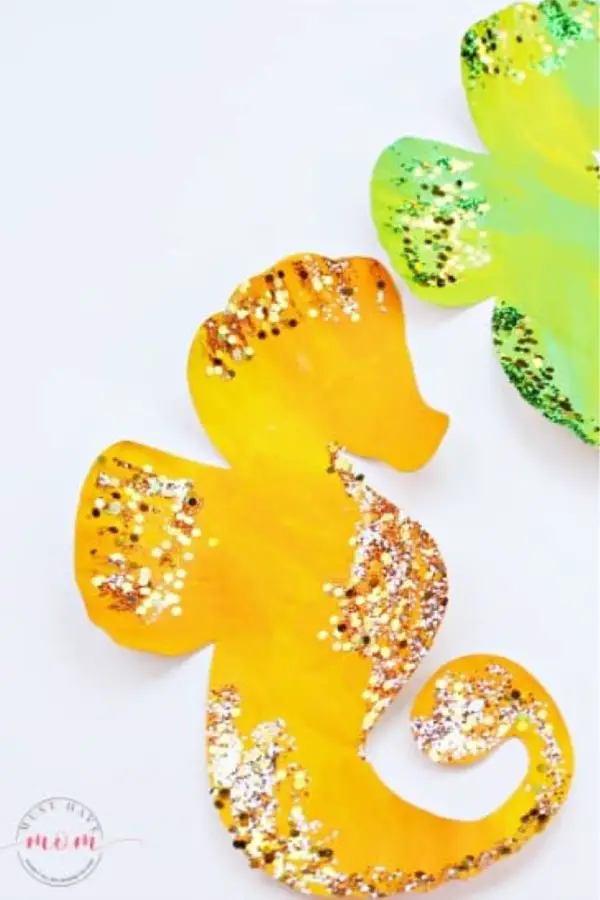 Another great idea for kids is decorating the seahorse in the sea. If they still cannot cut, then just let them sprinkle, paint or decorate the papers as they like!
Then, let them stick the seahorse on the windows to make it look like they are really in the sea.
37. Flower Growing Craft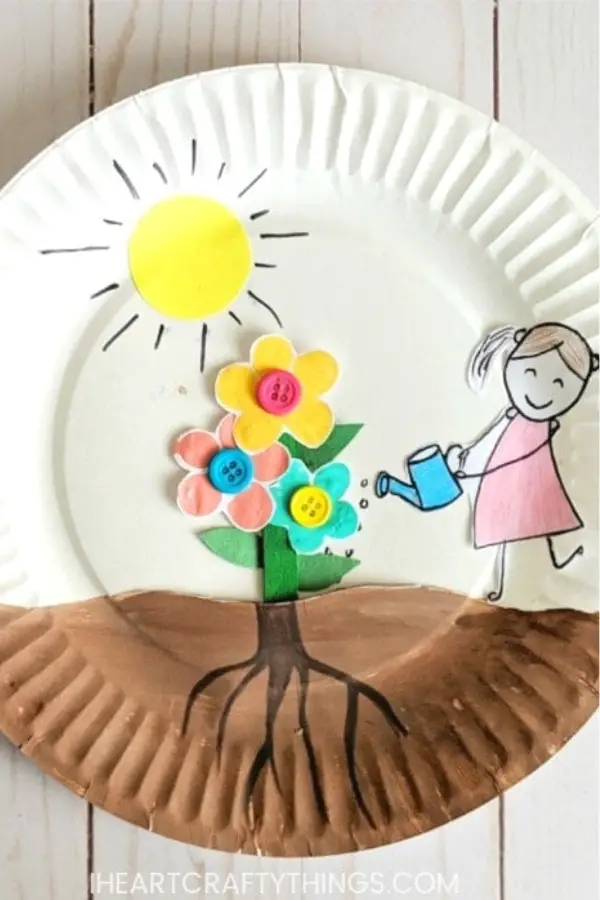 Show kids how they should treat their plants and flowers at home with this piece of art.
By sticking the pictures onto this plate, kids will learn how important it is to take care of their plants.
38. Paper Mask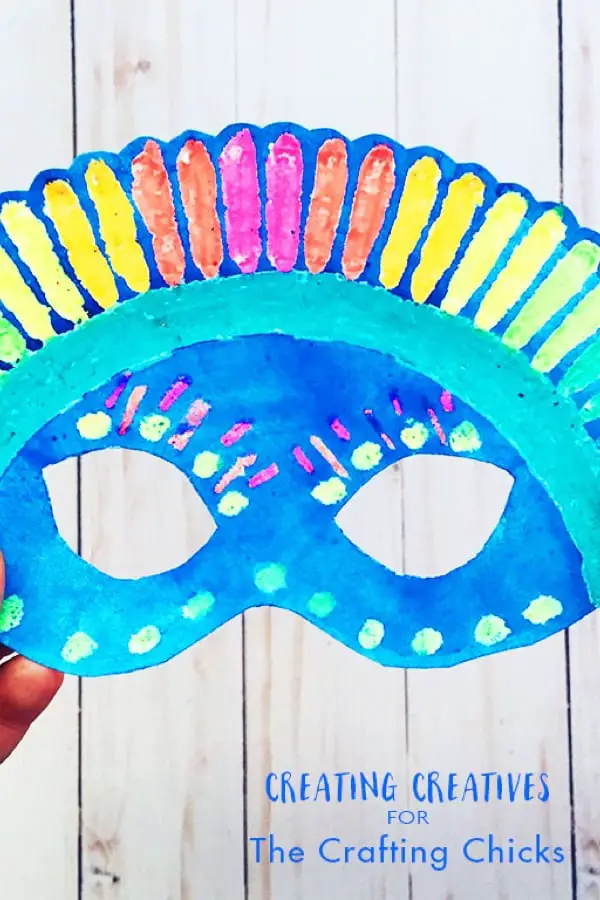 Rather than buying one, why not make a cool mask just from paper plates. This way, kids can create and design it any way they like.
Do not forget to prepare some paints, glitter, and colors to fill it up.
39. Decorating Pizza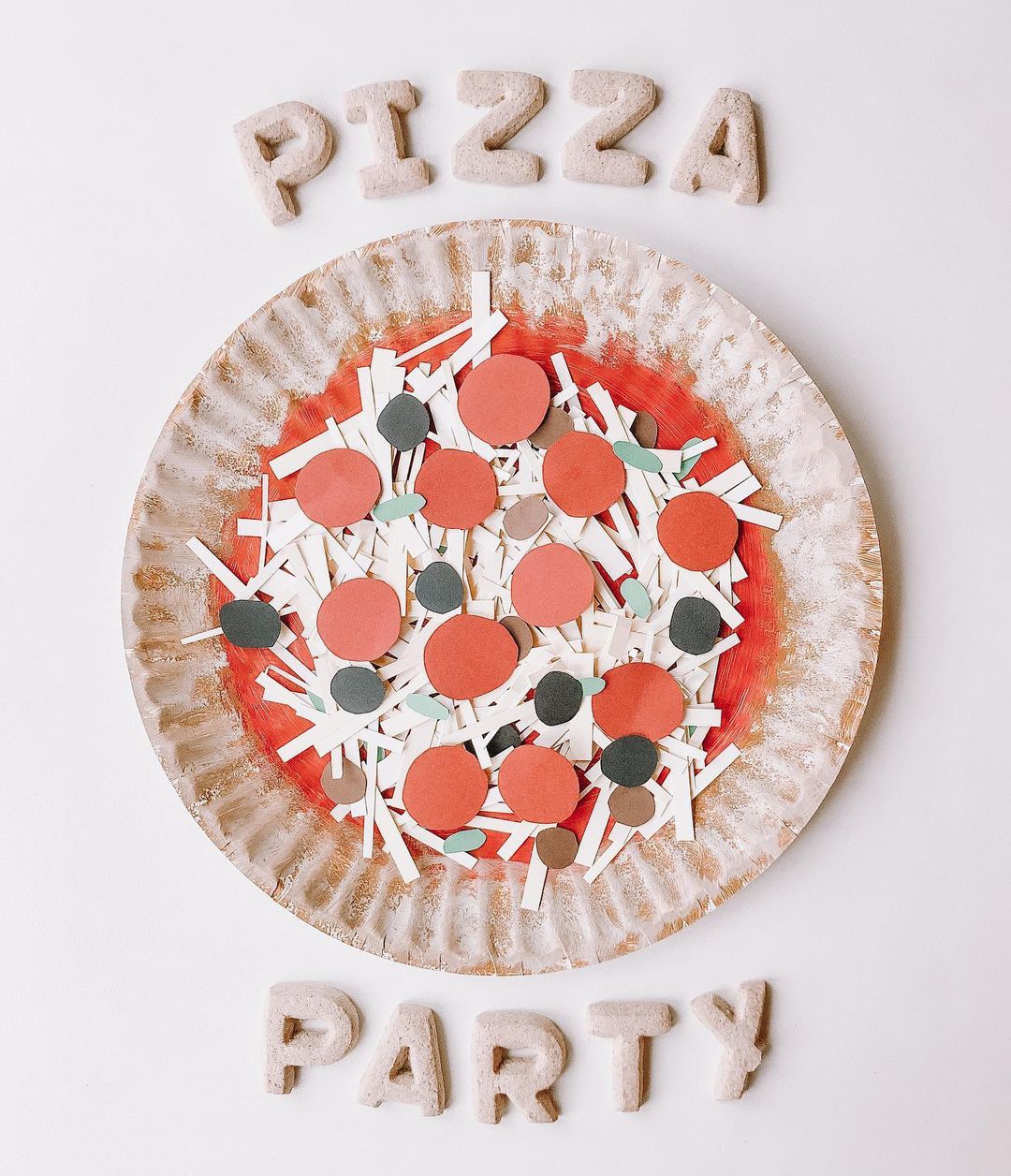 Want to decorate some pizzas in an easy but fun way? If so, then this paper plate version is surely one of the crafts you should try!
40. Farming Animals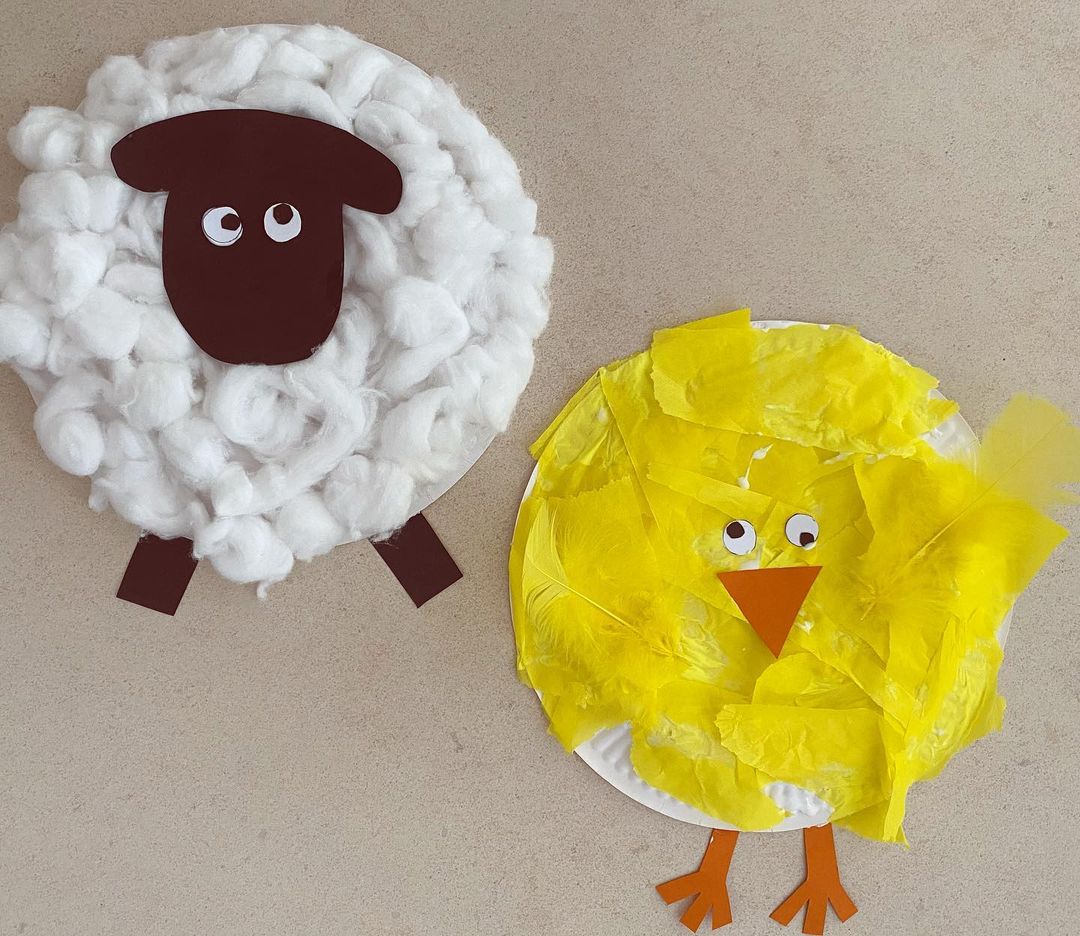 Make your little farm by using paper plates just like the picture above!
Remember to prepare some cotton and yellow tissue paper, so kids can make the sheep and the chick.
41. Pretty Pattern Butterflies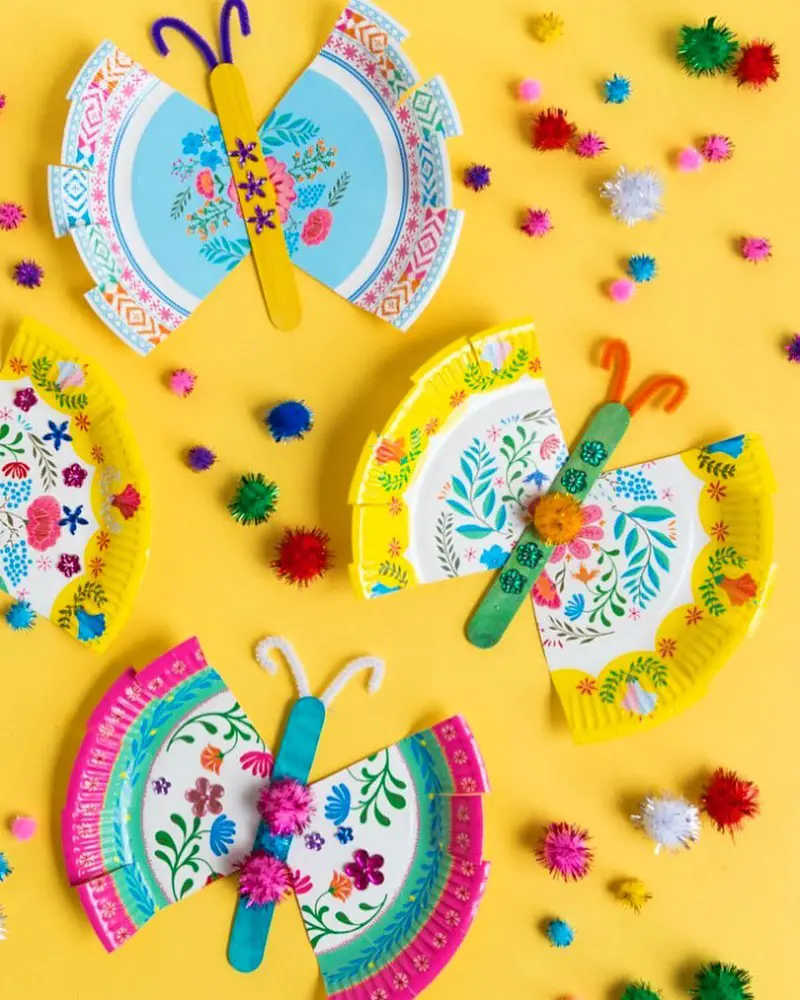 These butterflies look so pretty, right? Well, believe it or not, because all the wings are just made from paper plates.
All you need to make these pretty butterflies are some pattern paper plates.
Then, cut the wings and glue them on a piece of stick. Last, do not forget to add some eyes and antennas.
42. Hand Drawing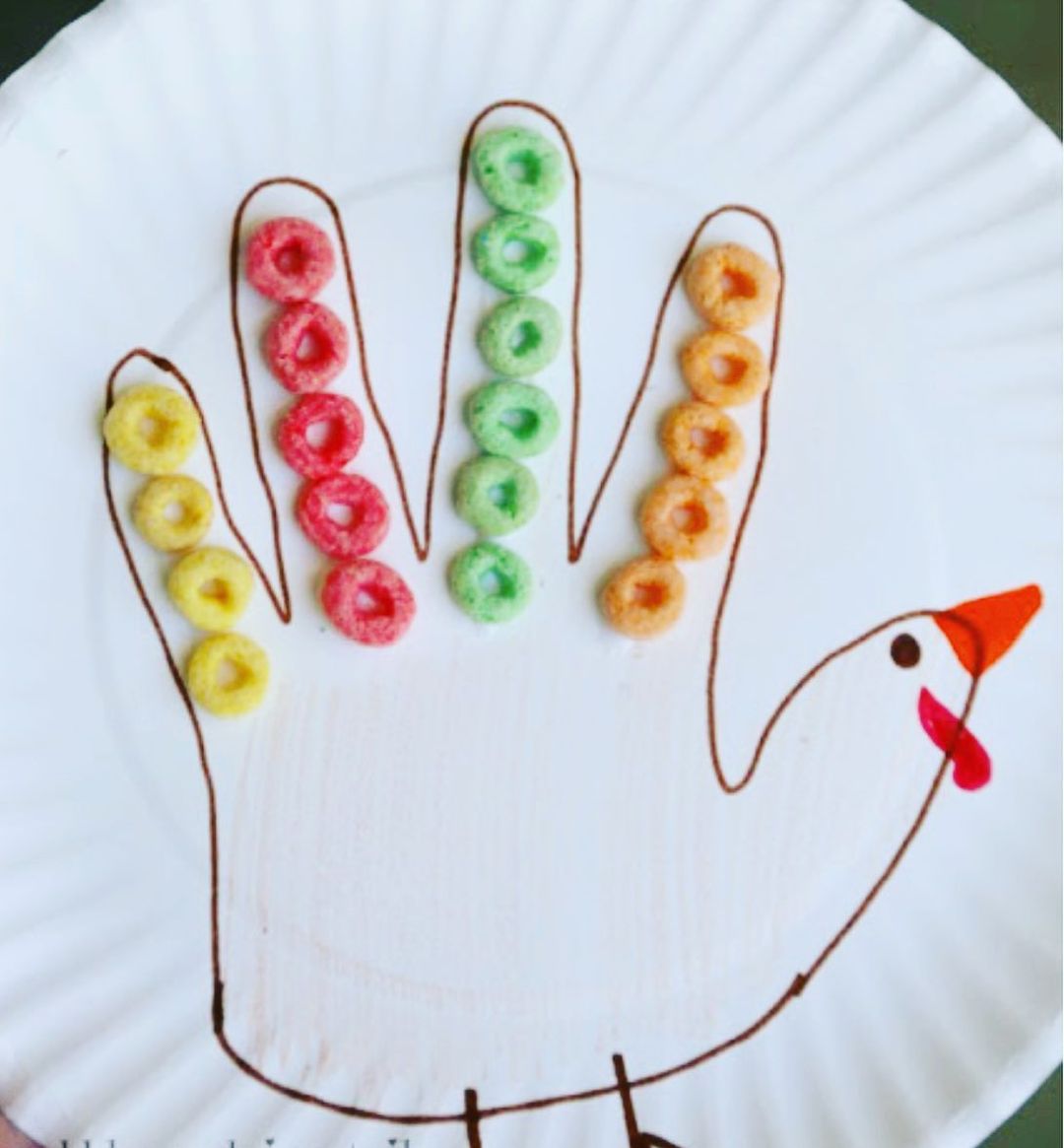 Draw your hand on the paper plate and see what your kids can develop just from that simple drawing!
Like the picture above, children can draw a chicken and add some cereals to it as a feather.
43. Lion Leaves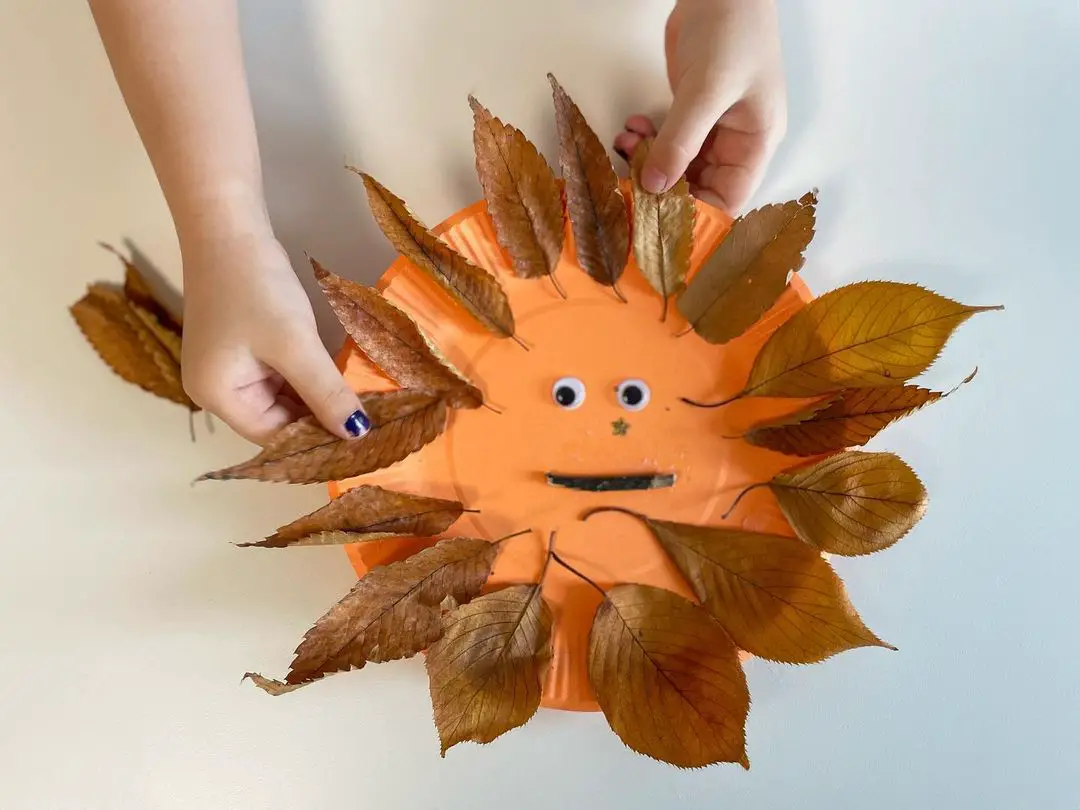 This is a great papercraft idea to make to welcome fall coming. Other than throwing away the leaves, kids can use them as the fur of the lions just like the picture above!
44. Scarecrow Craft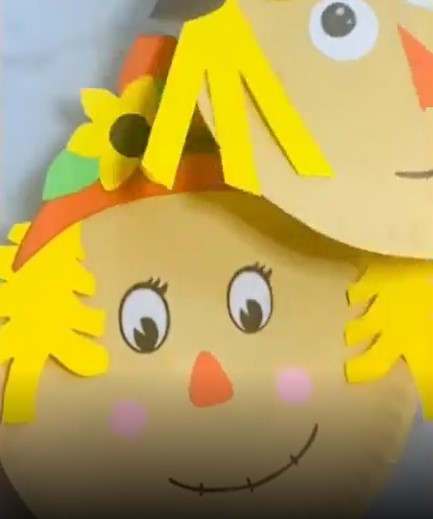 Another great paper plate craft for toddlers to welcome fall or any other season is scarecrow craft.
Likewise, for this activity, teachers can prepare the eyes, mouth, and head. Then, the kids learn and play by sticking the papers onto the plate.
45. Tree Ornaments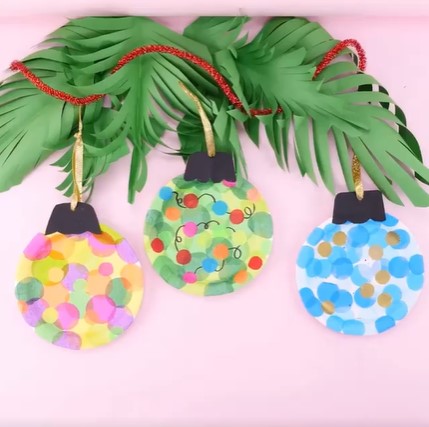 Decorating a tree at Christmas is always a moment people wait for! Now, rather than using normal ornaments, why not make one like the example above!
Not only are they pretty but they also look different from others. Further, by using these ornaments your tree will surely look prettier!
Conclusion
If you like crafts and would like to give them to your kids to do, but they are too busy with their electronics and tablets, then you should definitely check out these great craft ideas for paper plates. They are simple, cheap, and fun to do. You can even use your paper plates to hold snacks and drinks.
More from Materialsix.com: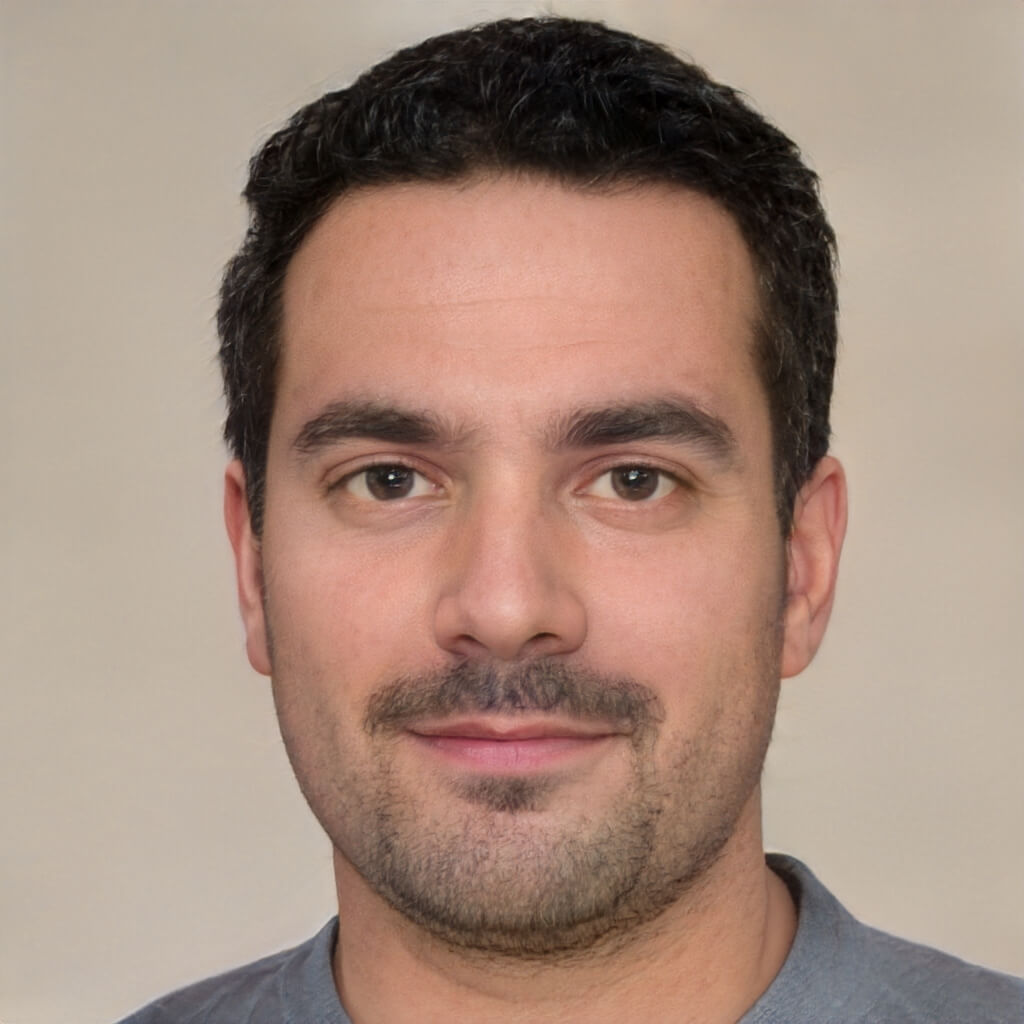 I'm a passionate home and garden enthusiast and the founder of Materialsix Home. With over 10 years of experience in the field, I've cultivated a deep love for all things related to home improvement, gardening, and interior design. Read more…