Making tissue paper crafts is one of the best activities that parents and teachers can do with their small ones.
Not only are they easy to shape, but there are also many things kids can create from them.
Another bonus from making tissue paper crafts is kids can learn while playing. During this activity, not only will kids develop their creativity but also some motor skills.
This delicate material can tear easily. Hence, the only thing parents and kids must pay attention to while using tissue paper is ensuring to be gentle.
So, be careful when cutting or tearing them up.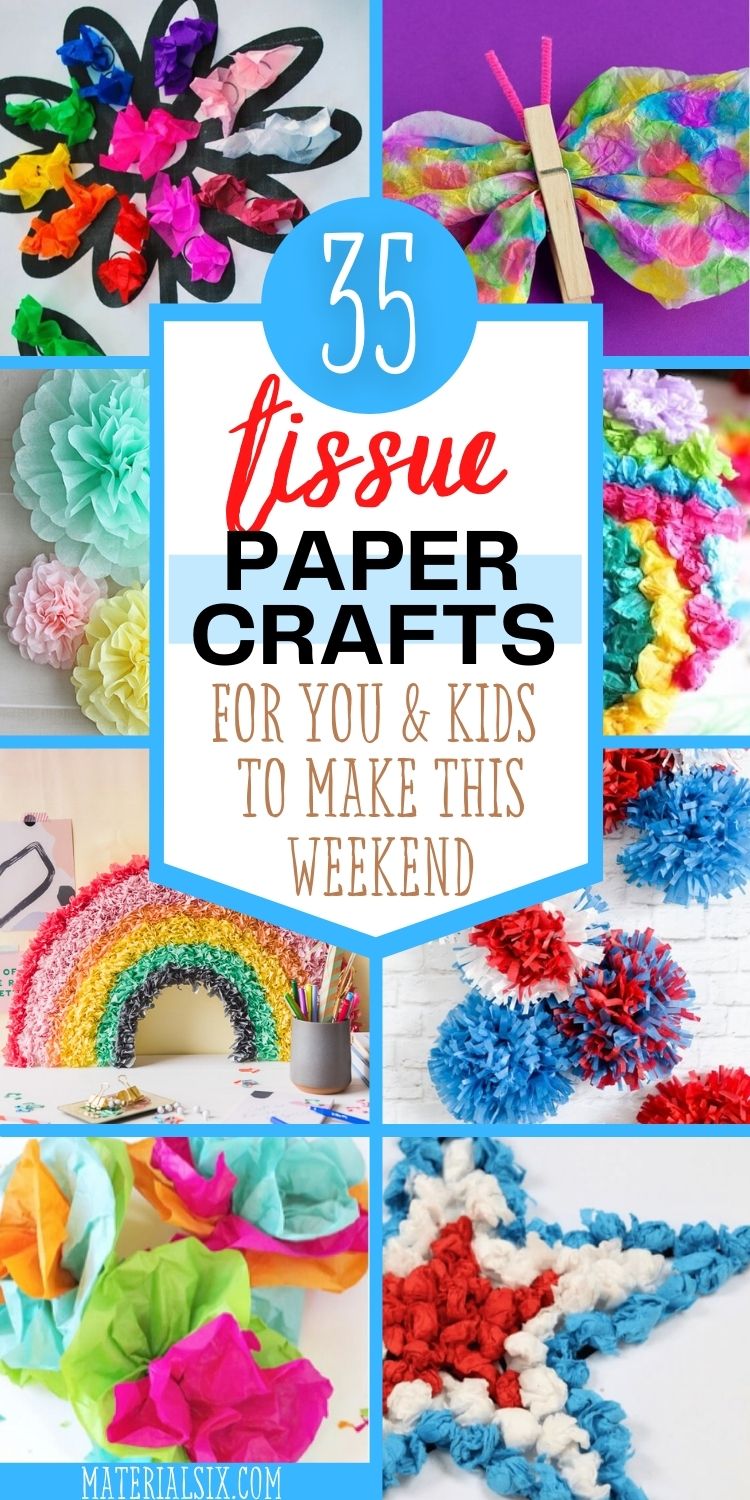 30+ DIY Tissue Paper Art Projects that Will Bring Your Heart a Joy
There are many fun and easy tissue paper crafts that parents and kids can make together. Likewise, various projects are from simple colorful flowers to beautiful butterflies.
So, to make sure you do not miss out on the fun, here are some great tissue paper crafts to make:
1. Blooming Cherry Tree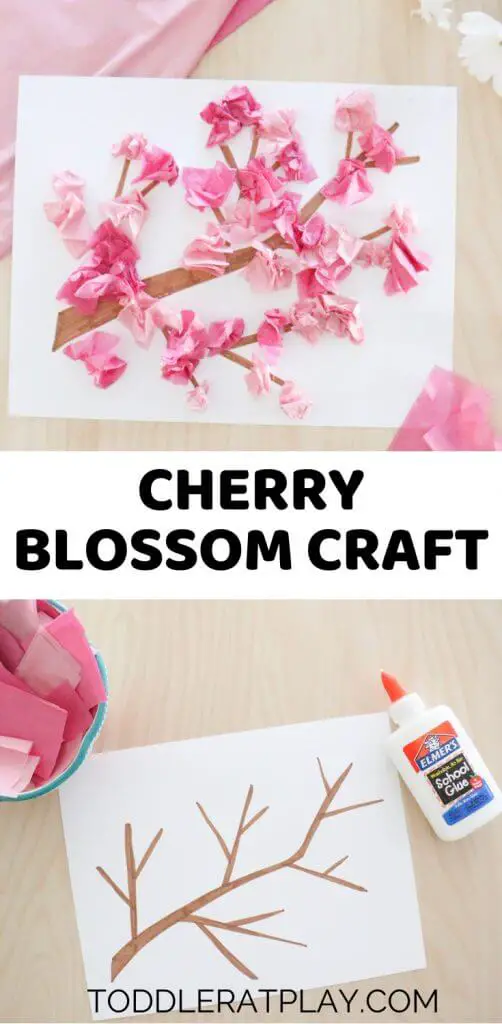 Welcome summer by making a blooming cherry tree using colorful tissue papers. To make it look pretty, kids can use more than one color as the flowers or the leaves on the branches.
To help the kids with the activity, cut the tissue papers into small square shapes. Therefore, they just need to wrinkle it up before attaching it to the paper.
2. Pom-Pom Vase for St. Patrick's Day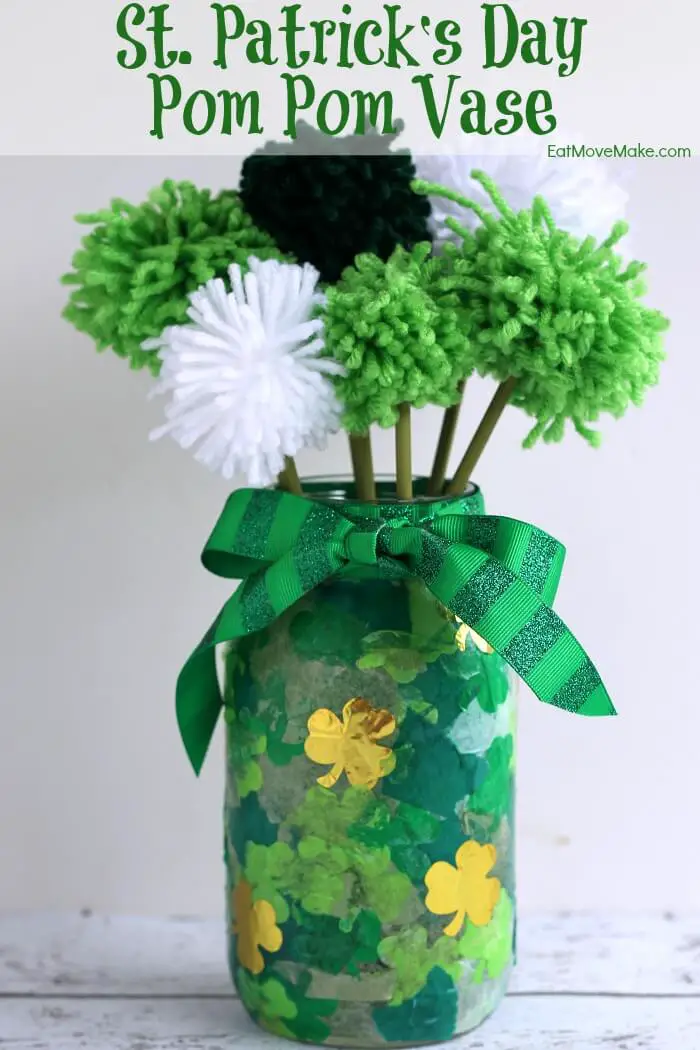 This is a great way to celebrate St. Patrick's Day! Rather than just making simple clovers, why not use them as a decoration to decorate a vase.
Furthermore, as for the flowers, you can use real or fake flowers.
Initially, simply cut the tissues into a clover shape. Then, add glue on one side of the paper and stick them all over the jar.
3. Bleeding Tissue Arts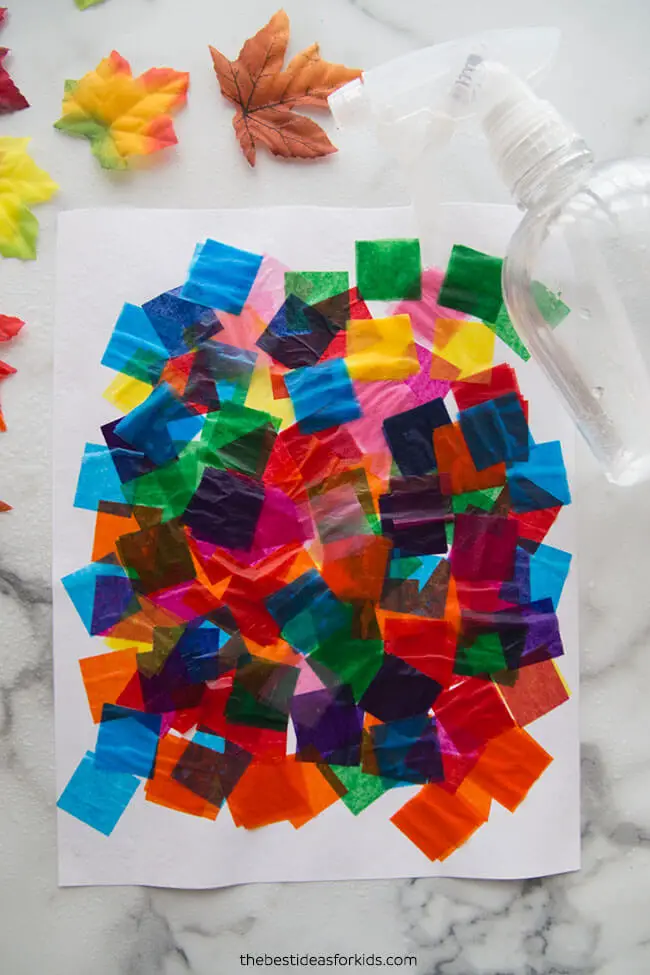 If your kids are just starting to learn, then try this simple tissue papercraft. In this project, prepare some colorful square shape papers and a blank page for the base.
Then, let the kids spray the paper as much as they want on the blank page. After that, close the top part with a silhouette picture to make the art look prettier!
4. Butterfly Suncatcher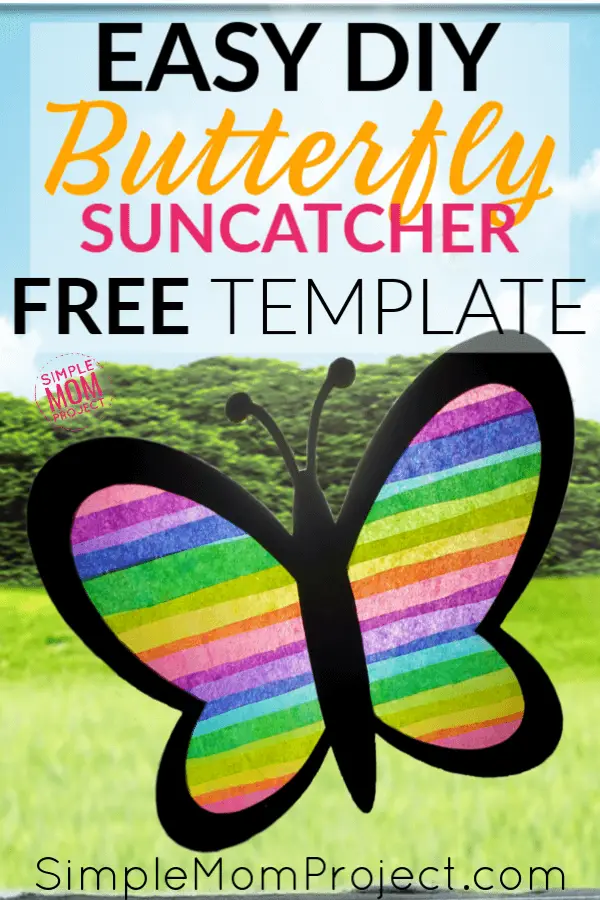 The butterfly suncatcher is one of the best tissue paper crafts that kids can work on. They can develop this art as a decoration for their room or a gift for their loved ones.
The making process of the butterfly suncatcher is a bit hard. However, when they see the sun going through the paper crafts, all the efforts will be worth it.
5. Tissue Paper Vase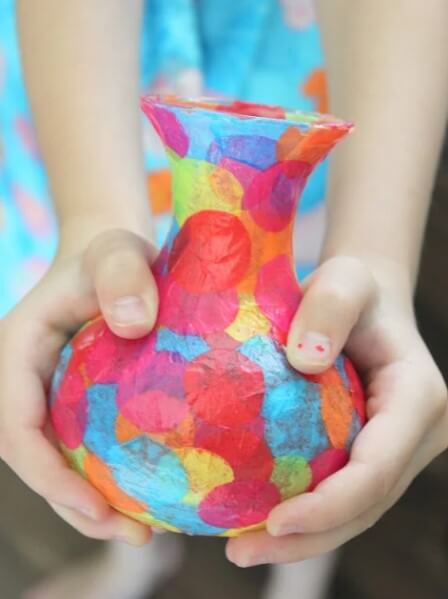 The tissue paper vase is certainly one of the fun tissue paper projects that kids should try at school or home.
All they need to do to make this piece of art is by brushing mod podge all over the glass.
Then stick the paper circles all over the vase until it covers the whole thing up. To make it water-resistant, do not forget to add another coat of mod podge around it.
6. Paper Flowers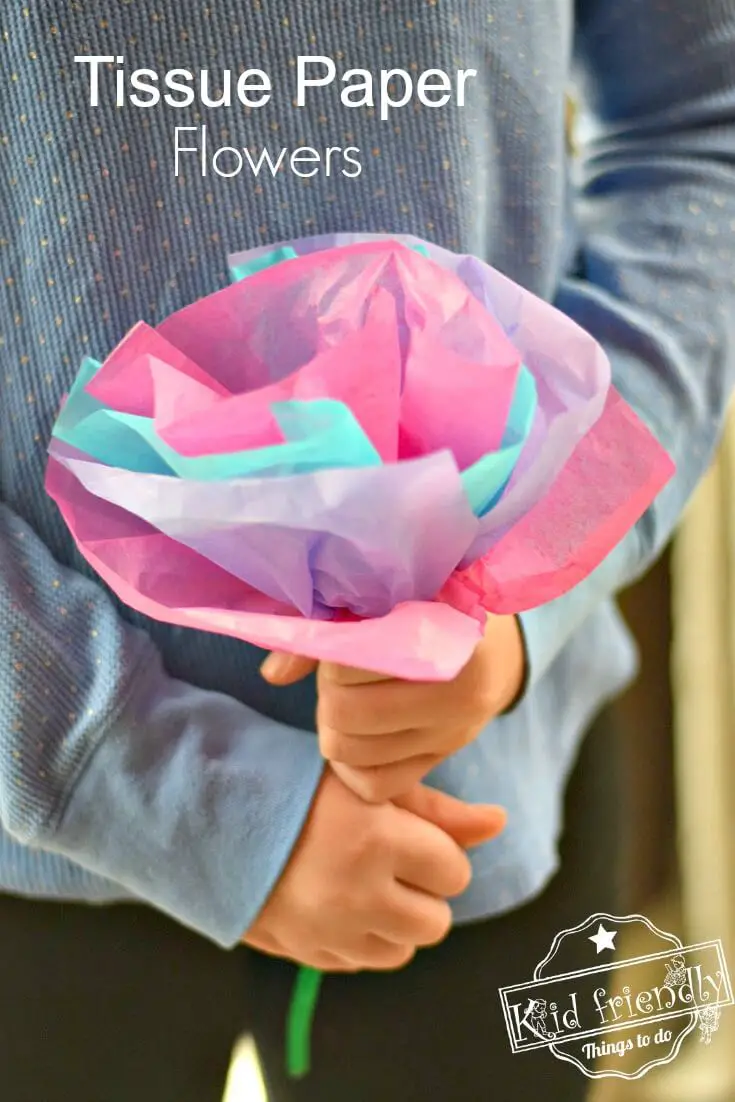 Give your loved ones a long-lasting present such as this beautiful papercraft. You can customize the size, color to the shape of the flower too.
To make the flower look pretty, choose a few colors such as pink, purple, and blue. Also, do not forget to add a small card beside it to show who it is from.
7. Easter Eggs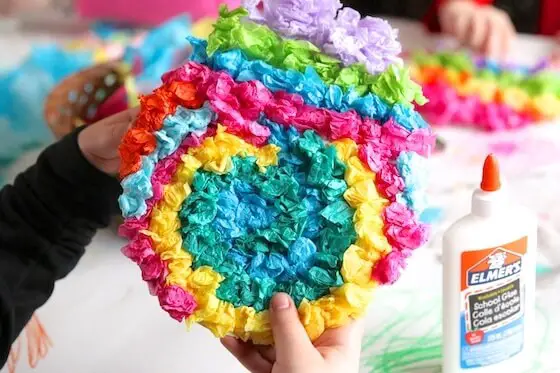 Celebrate Easter by making these gorgeous crumpled tissue eggs. Rather than painting an egg, kids can make their own by crumpling up colorful papers and sticking them to a piece of paper.
Moreover, this craft is suitable for all ages and grades. The young crafters can develop their motor skills by sticking things on.
As for the older kids, they can practice their patience and learn how to design well.
8. Tissue Paper Coaster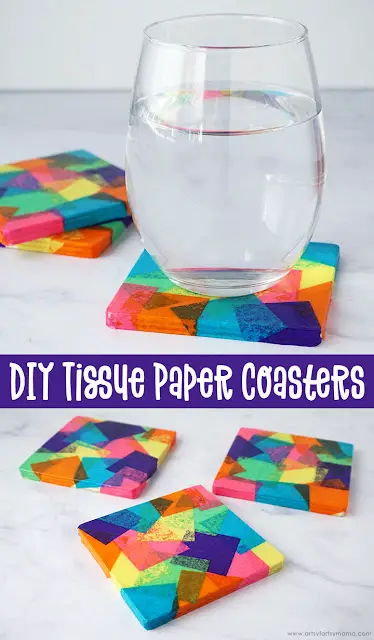 If you want to make tissue paper crafts, then this DIY coaster is surely a great option. Not only is the making process fun but kids can use the base when it is done.
However, to make the coaster strong, parents will need to prepare a piece of wood and some mod podge. This will protect the papers and prevent them from getting broken.
9. Party Decoration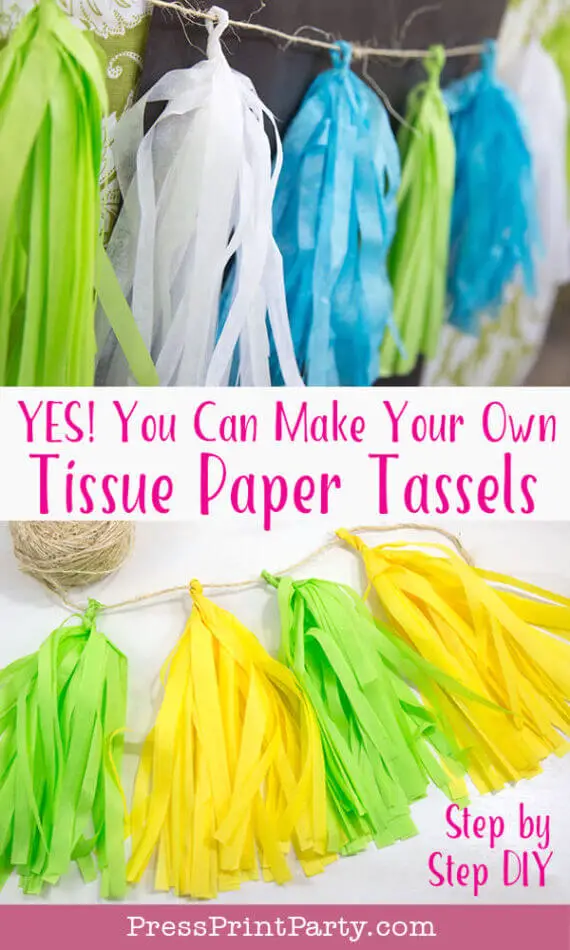 Planning to throw a party but have no budget for the decoration? If so, then this paper tassel and garland will be the saver for your occasion!
Not only are they cheap to get, but paper tassels and garlands are easy to make! To make it look interesting, add some sparks and glitters to it.
10. Flower Bracelets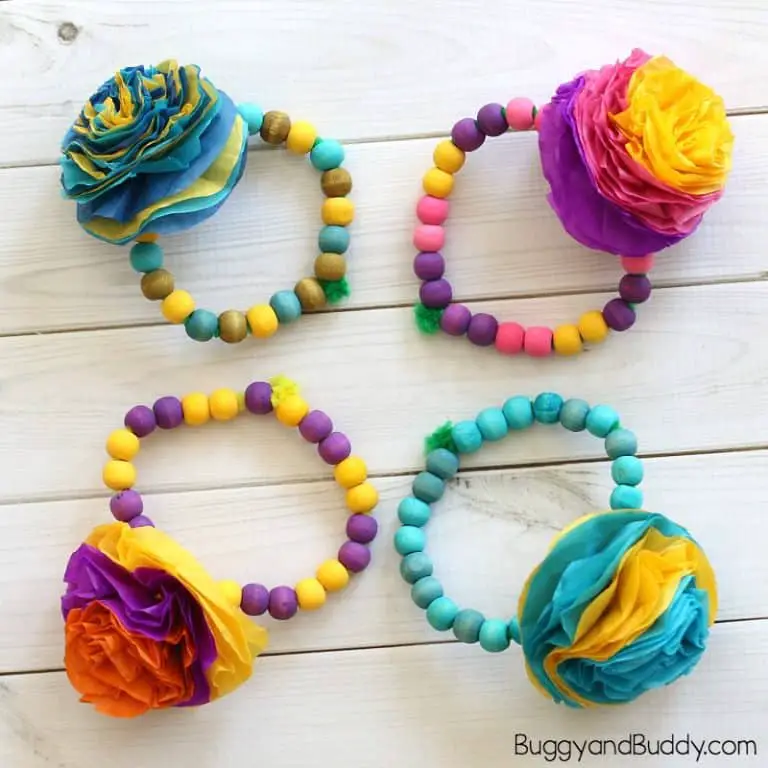 The next tissue paper craft that will also be a great present for Mother's Day is this beautiful flower bracelet.
However, instead of giving a plain bracelet, kids can style it up by adding a flower on one side of the jewelry.
For a better look, use the same color of beads and tissue paper.
11. Spring Fruit Jars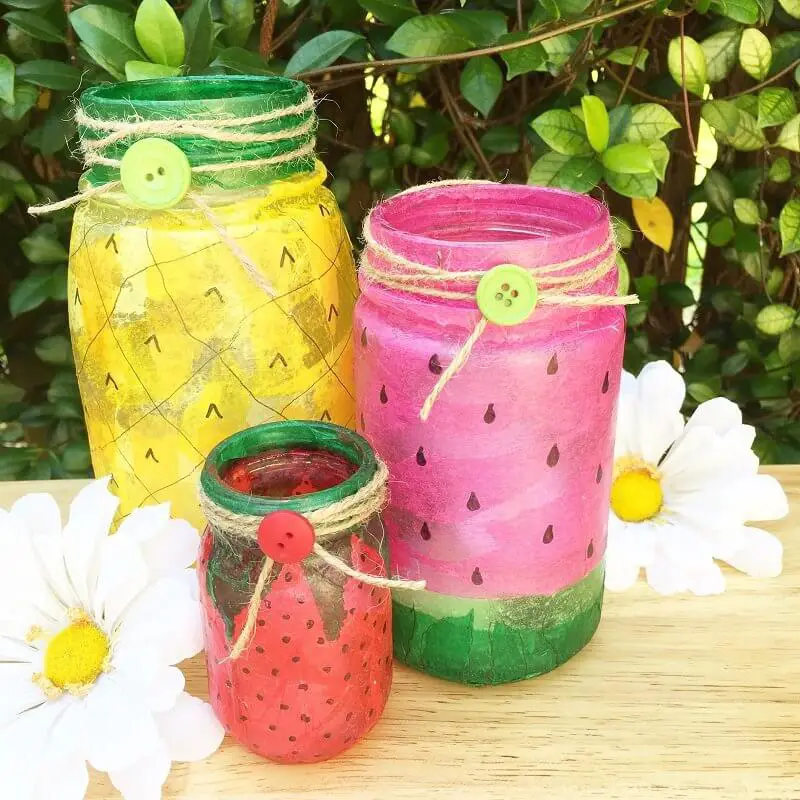 Spend your time in summer by creating these fresh fruit jars. You can use these containers to place candles, pencils, or other small belongings.
To make this spring jar, wrap the tissue paper around the jar first. Then, paint each bottle and create the fruit you want.
12. Tissue Paper Rainbow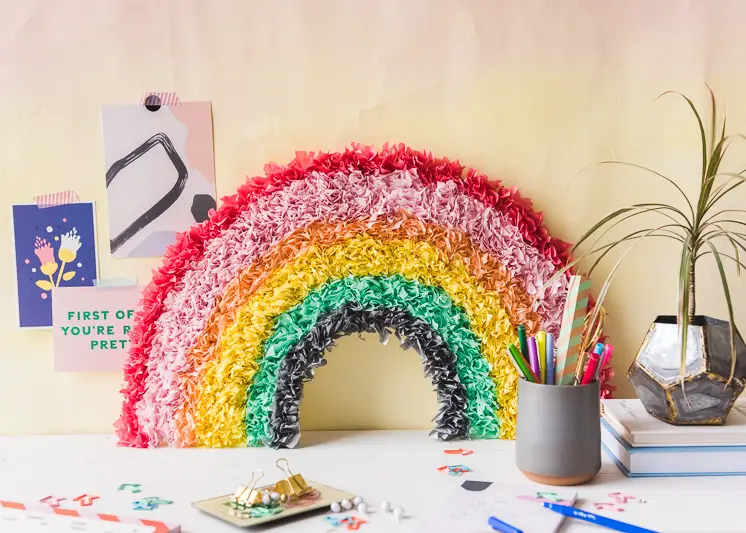 For bigger kids, one of the tissue paper craft ideas that they can try is this rainbow decoration. With the bright colors, this piece of art will brighten the whole room up!
Further, to help the kids make this art, draw a rainbow on a piece of paper as a base. Then, stick on the tissues according to their colors until they fill one curve.
Continue doing this step until all lines are filled up.
13. Glorious Paper Wisteria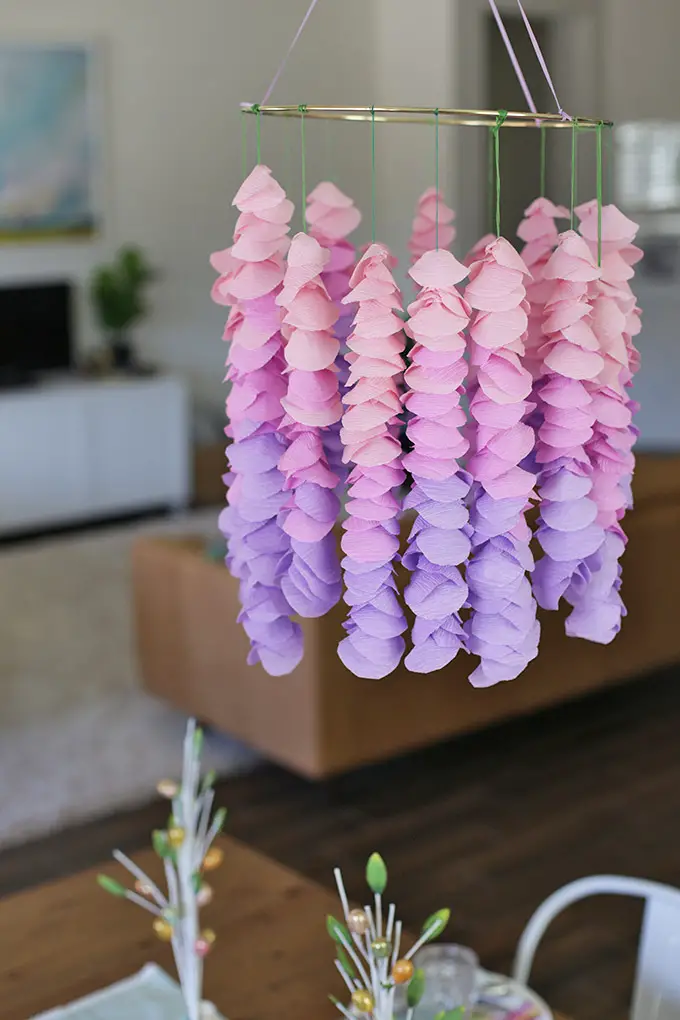 This paper wisteria is one of the crepe paper crafts that is suitable for bigger kids. At first sight, this craft seems complicated, but the fact is it easy to make!
To make them look real, cut the paper tissues in small circles. Then, choose colors that look-alikes such as purple and pink.
14. Pom-Pom Flowers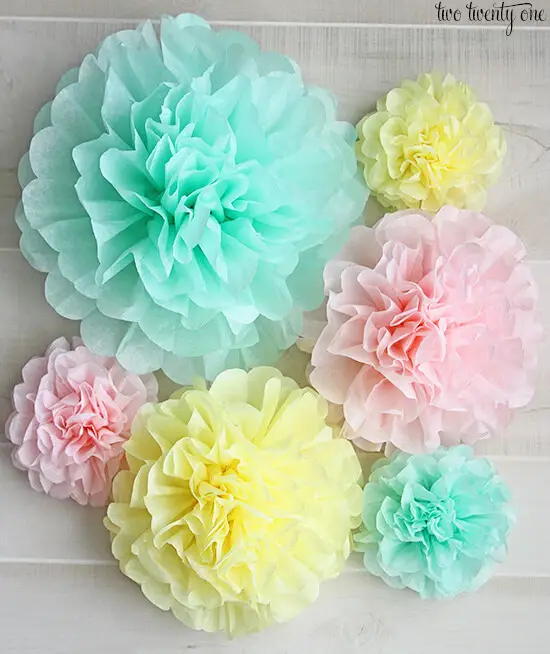 Follow these step-by-step tissue paper crafts to make a beautiful flower pom-pom. These poms will make a great decoration for daily use or those holding a party.
Other than hanging them on the wall, these flower pom-poms can be made into a backdrop. Just gather them together as one and see how it will look!
15. Simple Pastel Pinata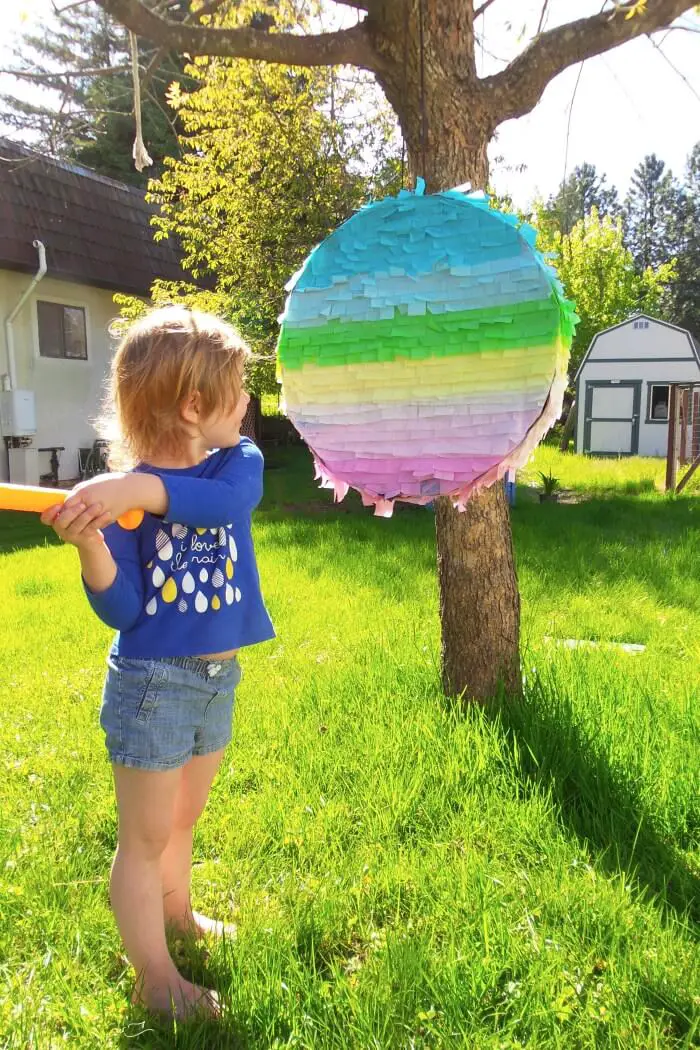 If your kids are celebrating their soon, then why not give a unique present by making a simple pinata together.
Additionally, all you need to make this great craft is some cardboard, tissue paper, glue, and scissors. Before covering it up with tissue papers, fill in the pinata with some candies and your kid's favorite sweets!
16. Rainbow Suncatcher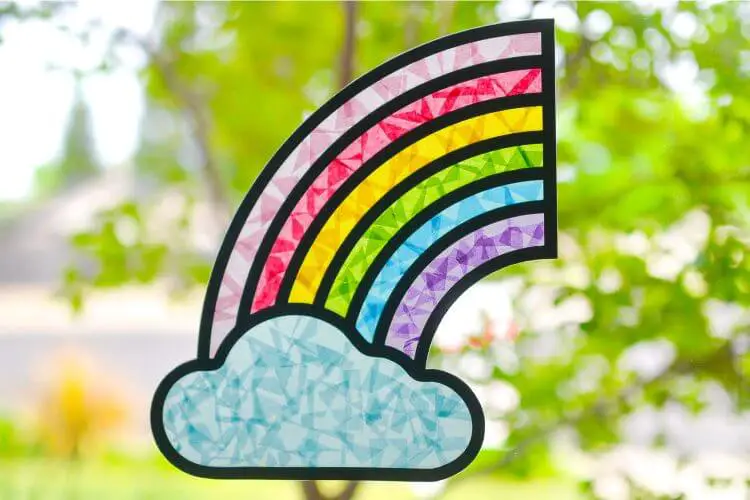 One of the things to make with tissue paper is this rainbow suncatcher. With its small size, kids can hang these crafts in their classroom, cars, or even their bedrooms!
17. Flowerpot Decoration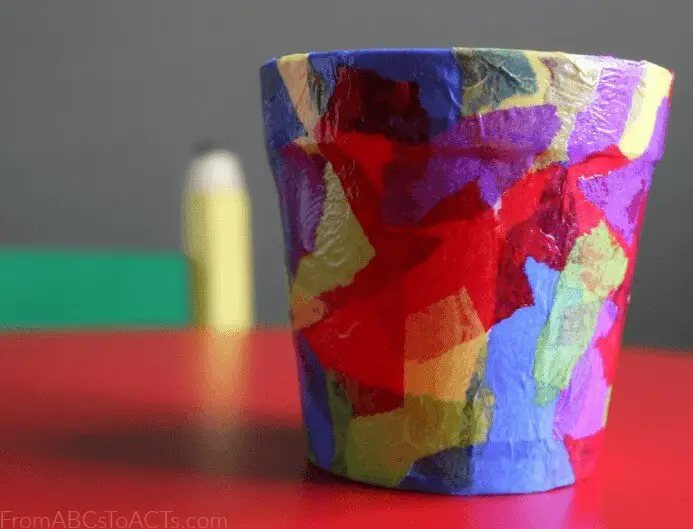 When it comes to tissue paper crafts, making flowerpot decorations is one of the activities that kids can do.
To do this activity, just prepare some glue, pot, and of course some colorful tissue paper! Then cut them into small pieces, so kids can stick them on the glass.
18. Paper Firework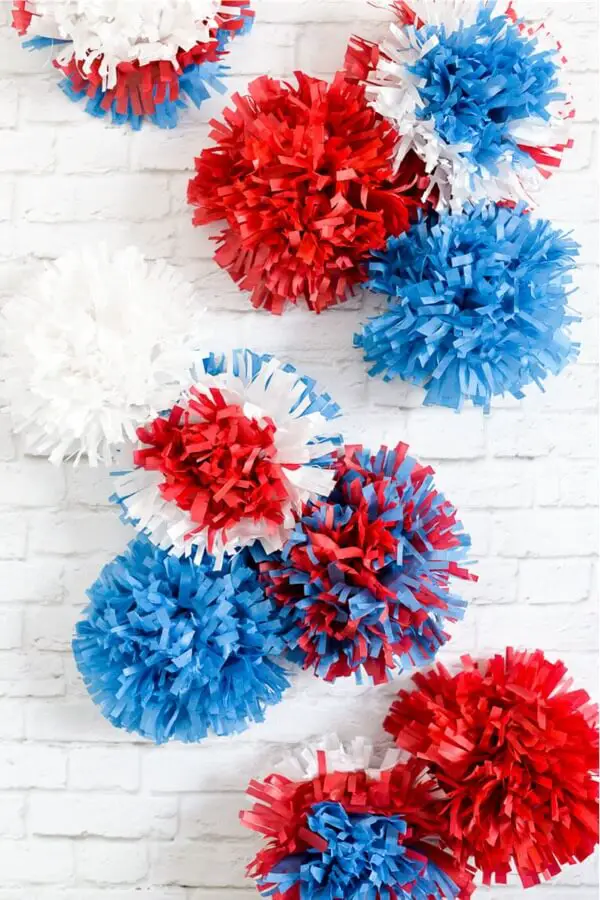 Playing with real fireworks can be dangerous. Therefore, when it comes to the 4th of July why not celebrate it differently.
Rather than turning to play with the real ones, why not make your paper firework! Not only are they safe to play with but last longer.
19. Colorful Flowers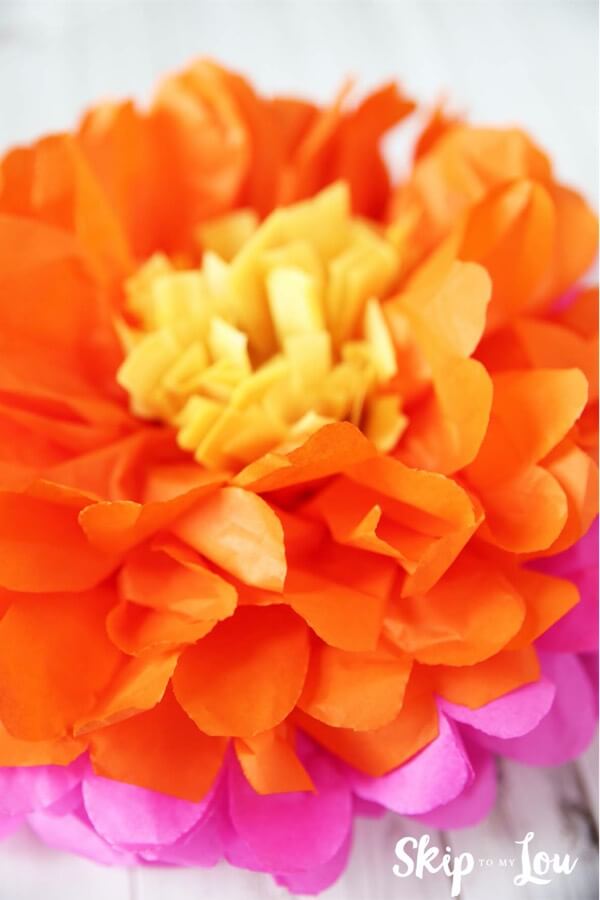 These paper crafts are a great option for those who love flowers. Not only are they easy to make, but this craft can be made as a gift, decoration, or just a display.
20. Tissue Paper Letters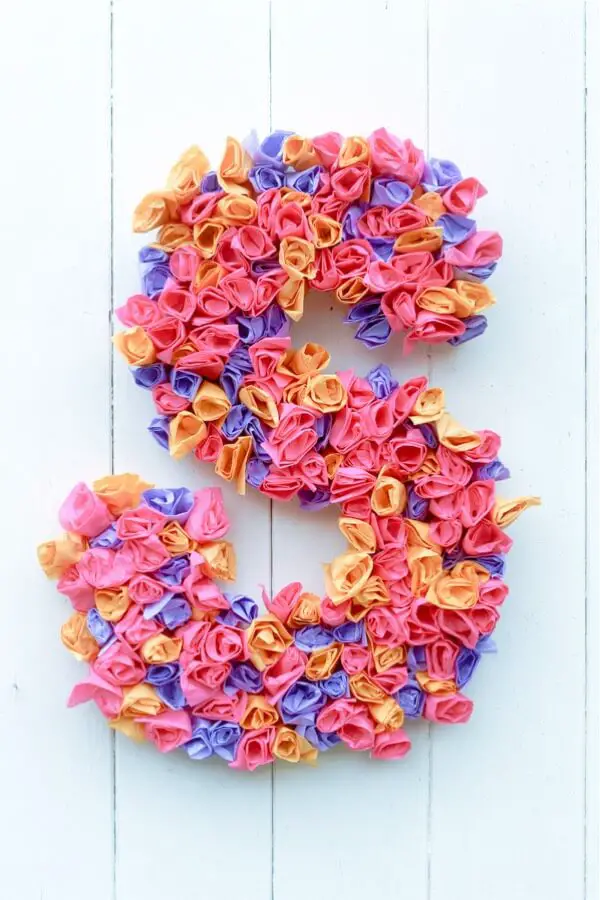 If flowers are just too boring for you, then try making many of them and combining them to make a letter! Look how pretty this S is just by using colorful tissue papers.
To help you out on this project, make the base of the letter first. Therefore, you just need to stick the tissue paper flowers onto it.
21. Paper Butterflies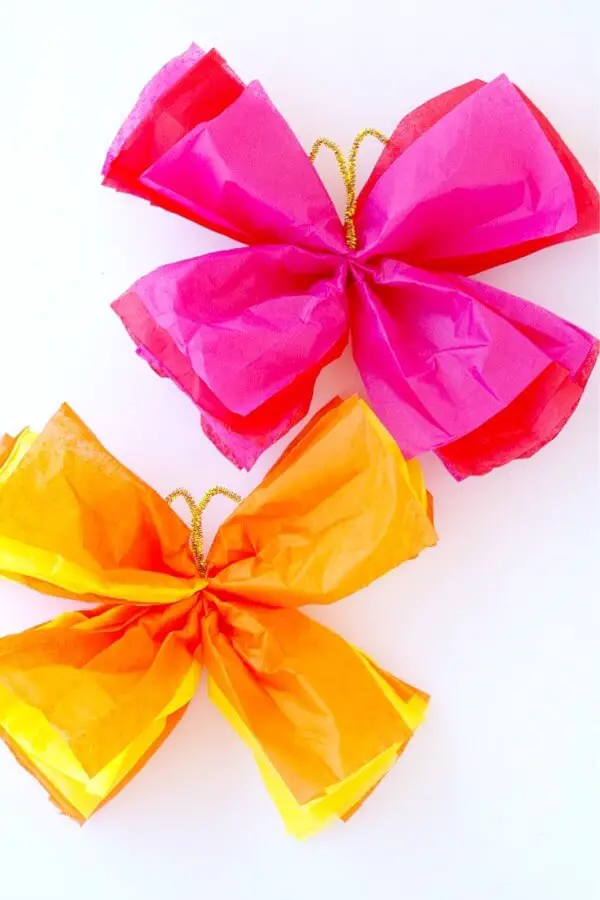 After making the flowers, it is time to make adorable butterflies! Besides, this cute craft will go perfectly with the flower that you have made before.
Another great thing about this papercraft is that is so easy to make! All you need is the tissue and wrap a pipe cleaner in the middle of it.
Additionally, to make it look colorful, use bright colors or two different shades.
22. Stained Glass Craft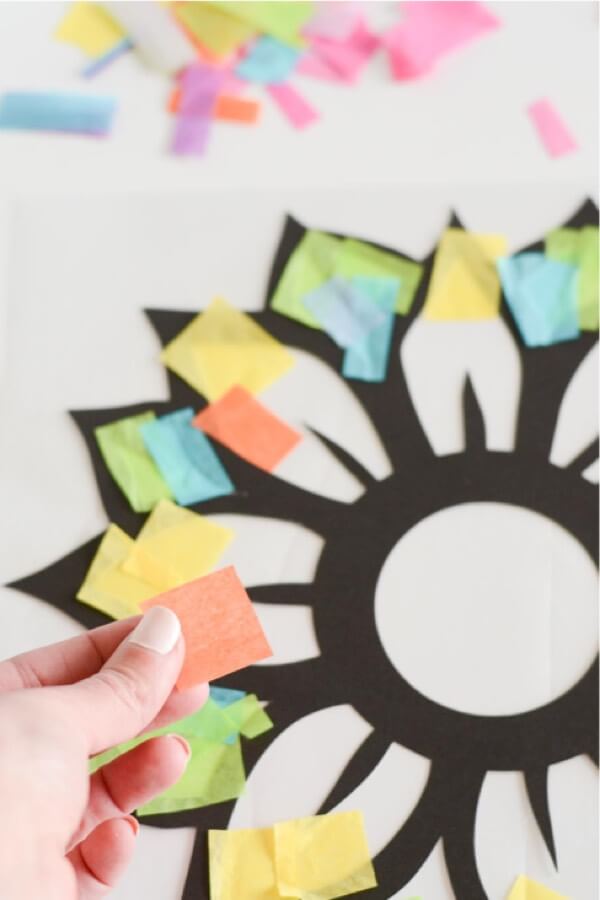 Stained glass craft is a great activity for all ages from kids to adults. Likewise, sticking the tissue paper on the picture is just a fun thing to do for everyone!
After sticking all the papers to the canvas, parents just need to add another sheet of shelf liner. Then, hang the piece of art on the window to see how pretty it is.
23. Sweets in Paper Pumpkins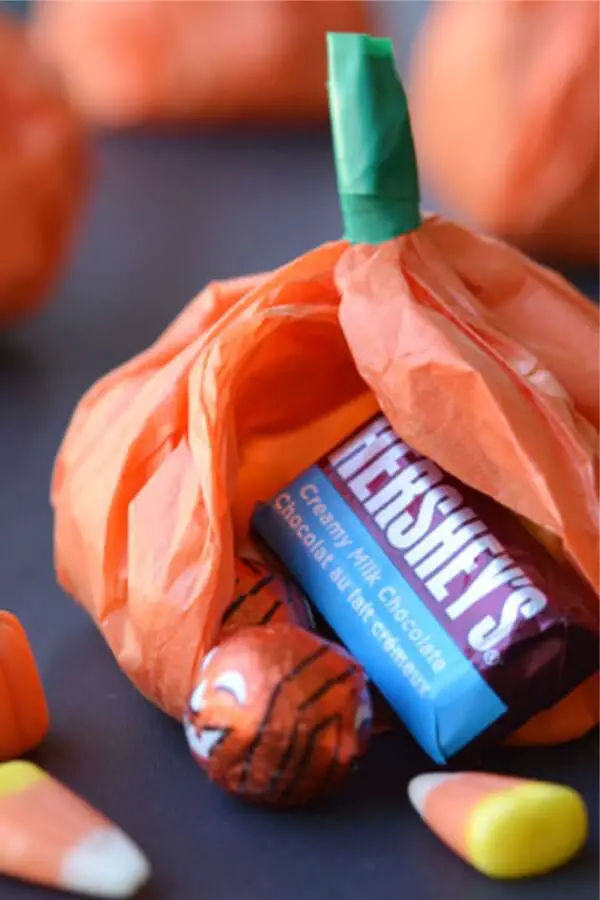 Make trick or treat this Halloween a bit different by making this sweet paper pumpkin! Other than just giving the treats to the kids, why not put it inside this craft to make it look adorable.
24. Jar Lanterns with Tissue Paper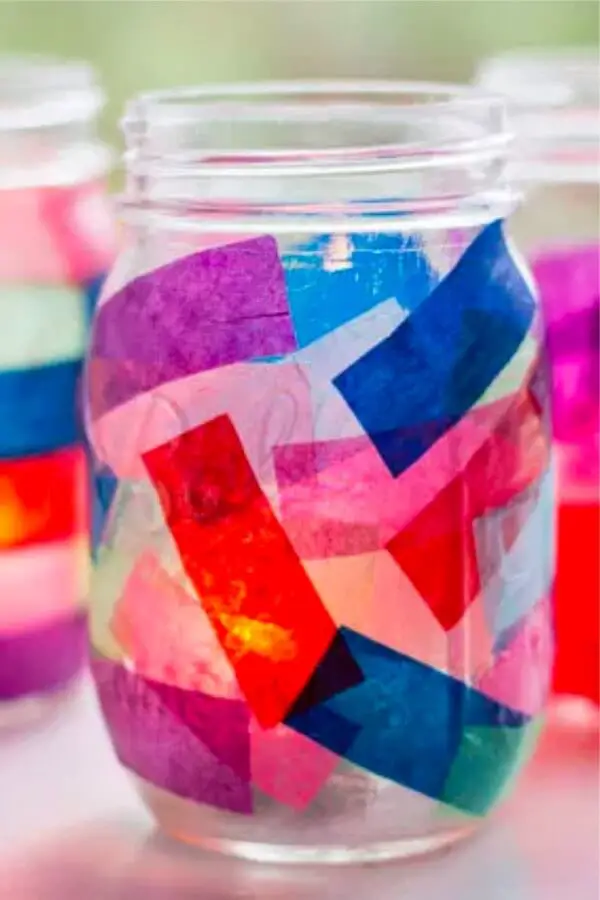 This jar lantern is one of the simple tissue paper crafts that toddlers will love to do! Also, this easy project is beautiful and useful.
After sticking tissues on the jar, put a small candle insight. Therefore, you can see the colorful lights from the papers.
25. Easy Paper Rainbow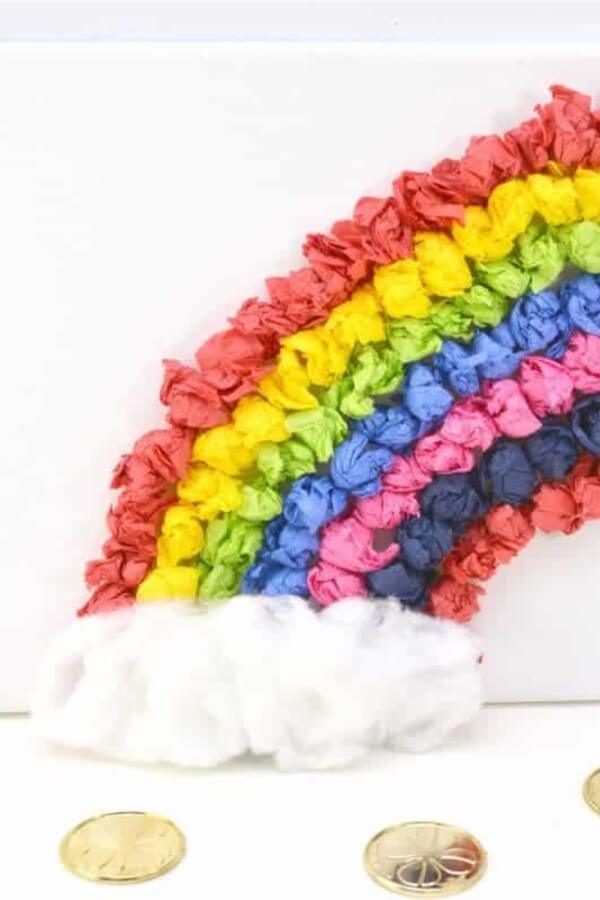 If the rainbow craft before was too hard to make, then try this version out! Even though it is simpler, but it still looks beautiful and will make a great display.
26. Christmas Paper Ornaments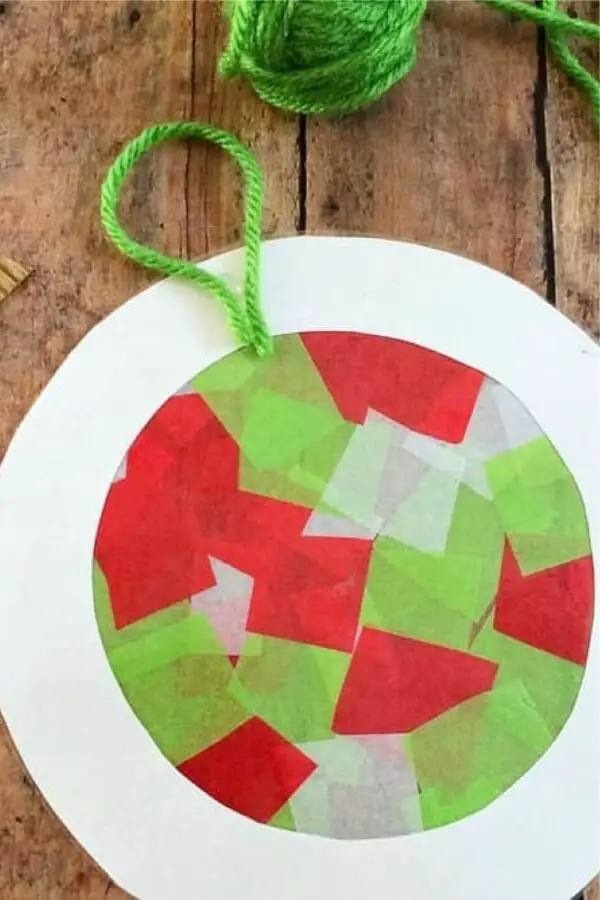 Making paper ornaments for the Christmas tree will be just as exciting as decorating it! Make your kids create decorations like the ones above and then hang them up so they will be proud.
27. Butterfly Dots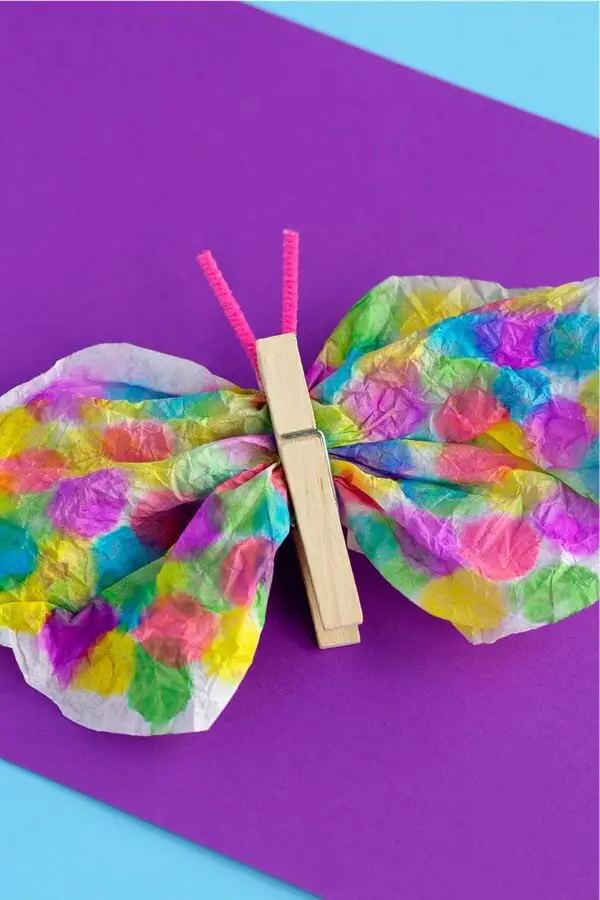 If you want a classic butterfly, then this example will be great! Rather than using colorful papers, use plain white tissue.
After that, paint it with bright colors to make it look beautiful.
28. Heart Leaf Lanterns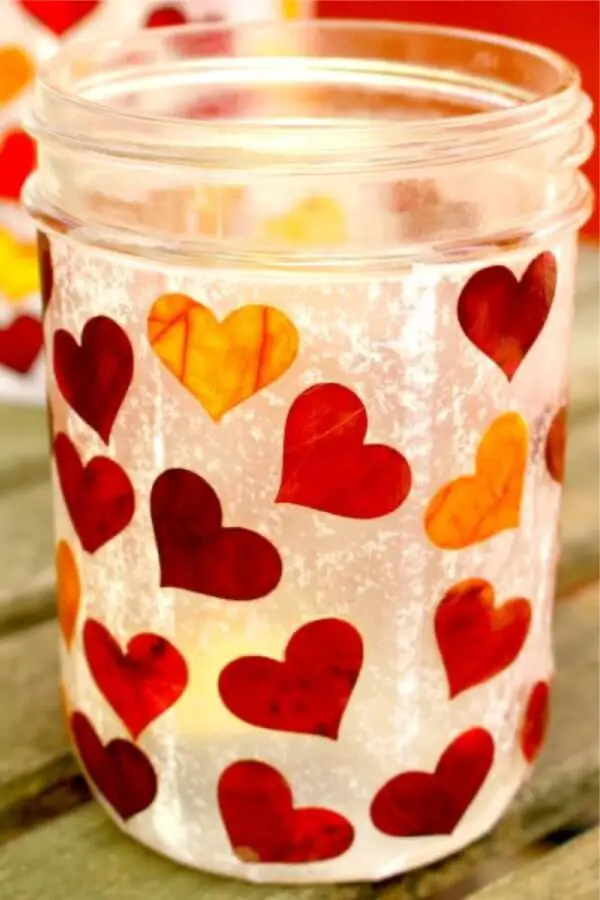 When autumn comes, rather than using tissue paper for the decoration, why not use falling leaves from the three?
Thus, with the unique colors, they will make a great ornament on the jar.
29. Tissue Art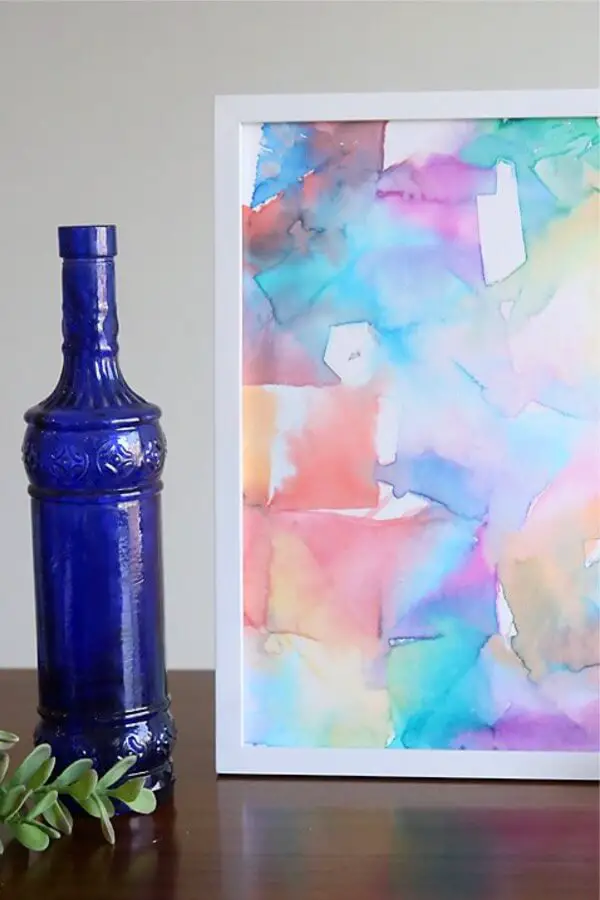 Appreciate your kids' paper tissue art by framing and hanging it in the living room. Not only will this make them proud of their selves, but it is also a great house decoration.
30. Rose Sun Catcher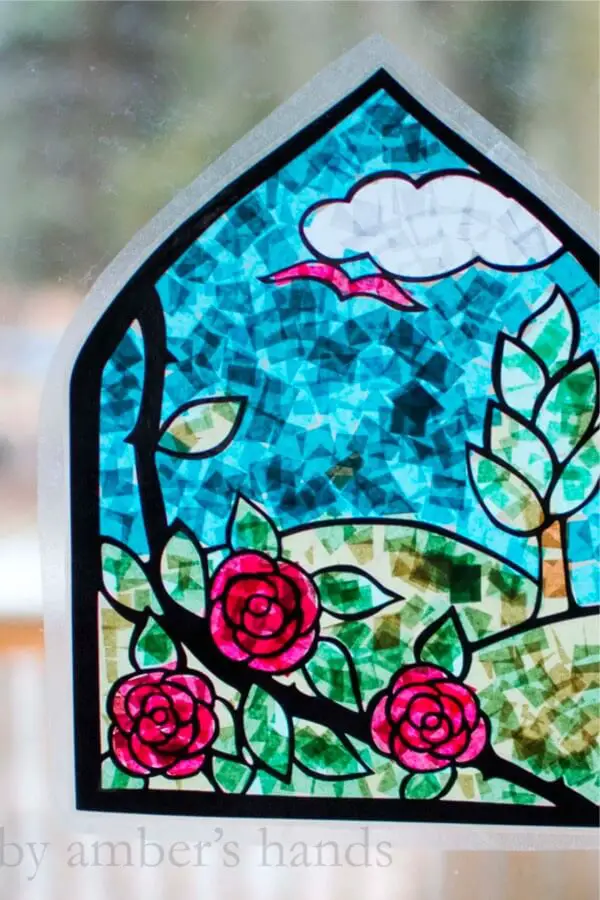 This is another great suncatcher that kids and parents can make together.
Even though this craft is a bit complicated but after seeing the sun shining through, everything will be just worth it.
31. Elephant Jug Craft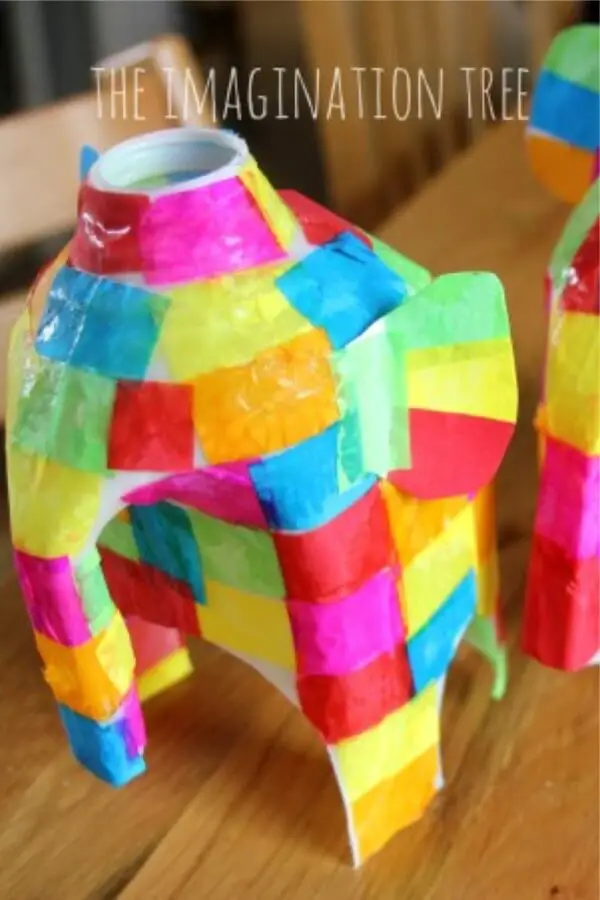 Make your plastic bottles or jugs more interesting by sticking colorful tissue on them and transforming it into an elephant.
Not only are they cute but will also be a great display in the room.
32. Flower Art with Tissue Papers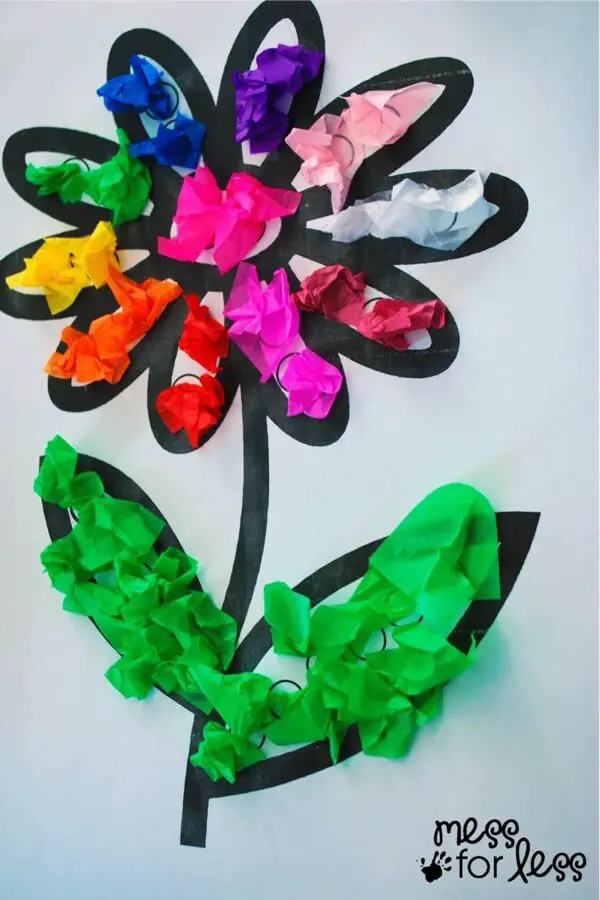 One of the simplest activities that you can give to your kids is this flower art task. Print out a big size picture and let their creativity grow by letting them stick the tissue paper on it.
33. Independence Day Crafts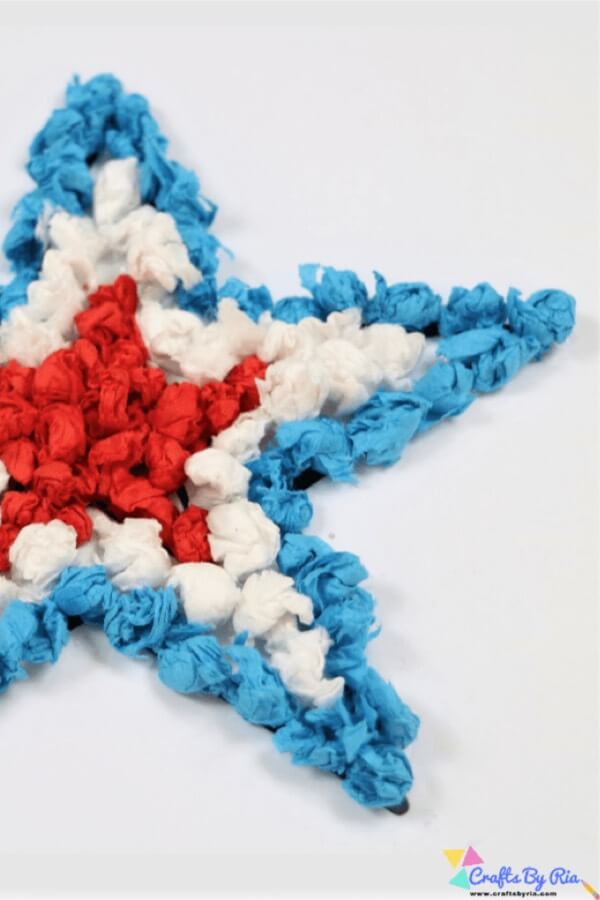 Welcome summer and the 4th of July by making a decoration to celebrate it as well! All you need to make it is some blue, white, and red tissue paper and shape it into a star!
34. Fiesta Flowers from Tissue Paper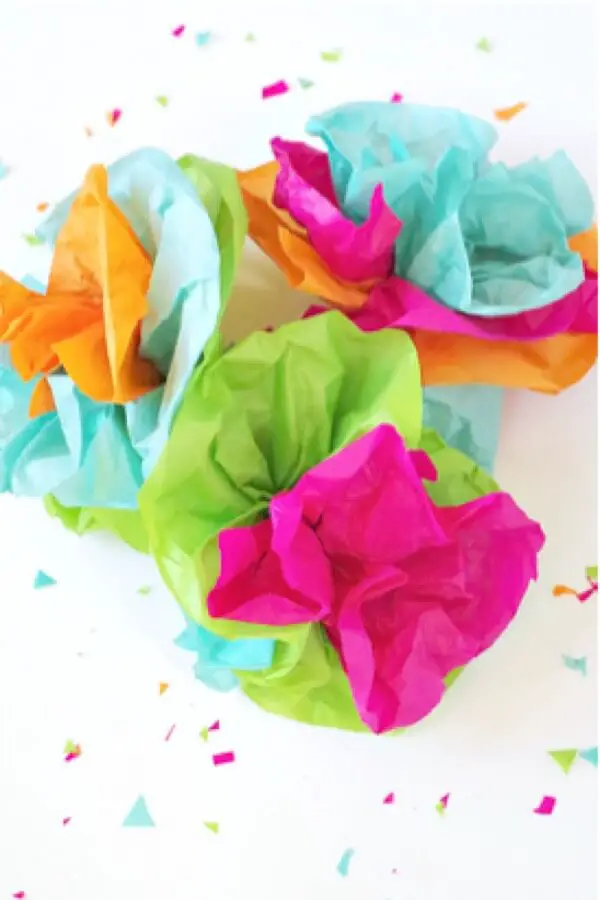 For those who celebrate Fiesta, and looking for a simple and cheap decoration, then try these tissue paper flowers.
Furthermore, they look very pretty and colorful which will make the atmosphere more alive.
35. Plate Earth Craft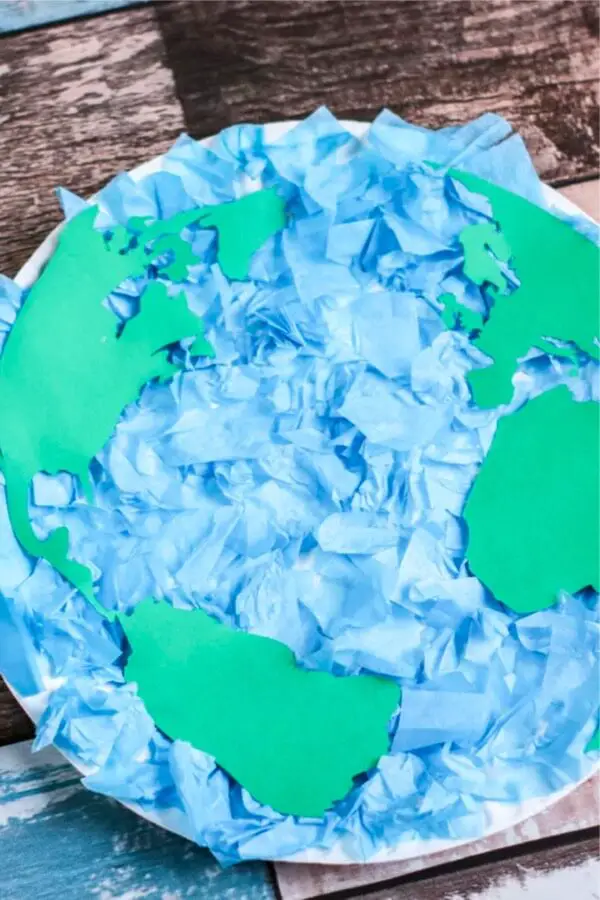 Celebrate earth day and teach them some important issues about this planet by making this simple yet useful art.
Hence, kids will understand that this world consists of both land and sea.
Conclusion
See how much fun you can get just by using tissue paper for crafts? Well, various choices are available, and they are all fun to make.
However, from all the activities above, which tissue paper crafts are your favorite? Comment below to show your feedback!
More DIY Posts & Other Posts You Might Like: