Are you still looking for a great thing to do during the holiday with your family? Give a special present for your kids on holiday. They will love the idea of classic DIY wooden toys. For parents, the toys are also reminiscent of the good old days gone by.
As the world gets older, we need to pay attention to every little thing we do. As long as you can, do something to protect this Earth from more damage. A wooden toy is one of the perfect examples of keeping Earth healthy and alive. Since plastic toys can take up until 1000 or more years to decompose, wooden toys can quickly decompose. It is also children-friendly and might not hurt your children.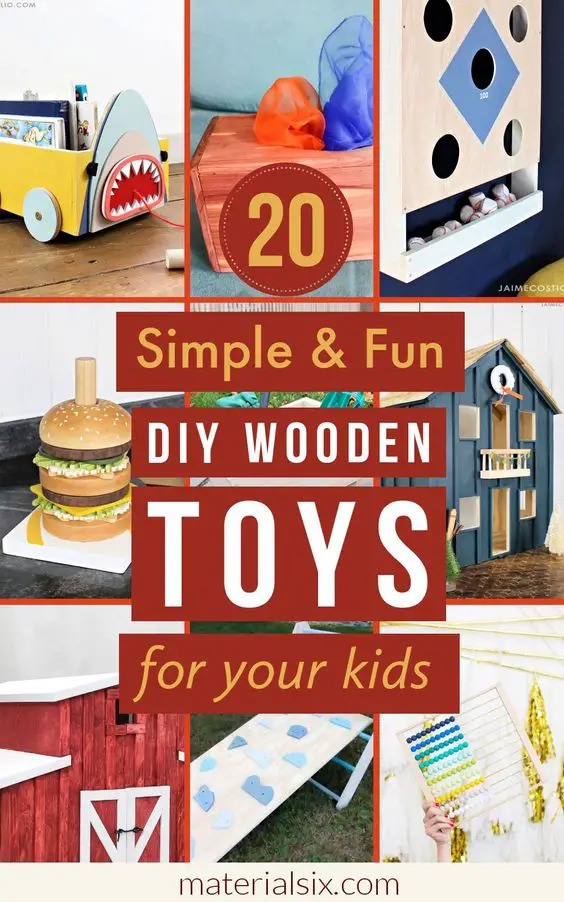 The Possible Ideas for Making Wooden Toys
For some people, the idea of making wooden toys seems too old. However, you can make anything out of wood! It is a durable yet easy material to recycle. Thus, you do not have to worry about how many days it will take to make a wooden toy.
So, what can you make? You might make a wooden toy camera to build the kids' imagination. You can also cut blocks out and splash black color to make simple wooden city blocks. A better idea, create toys to help your children learn colors or train their sensory and motoric abilities.
Are you ready to start? We gather up more exciting ideas to make toys of wood! Your children will surely love them since they are useful, attractive, and have that ultimate rustic charm! Check these out and get inspired.
---
1. Simple Catapults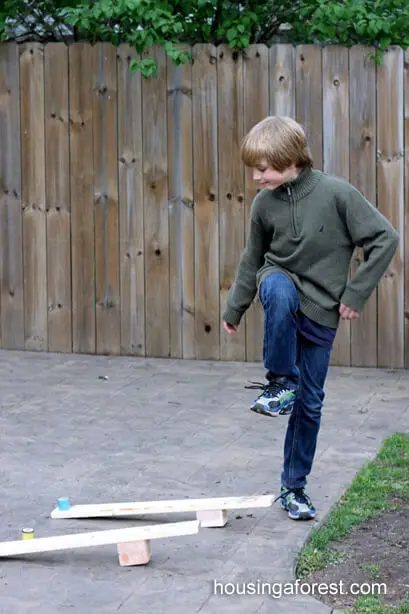 Got kids love throwing objects into the air? These simple wooden catapults would make their day. It's fun to play with, and even adults can use it as well. And best of all, it takes only a few simple handworks to build it.
---
2. Little Tinker Robots –  A Robot Party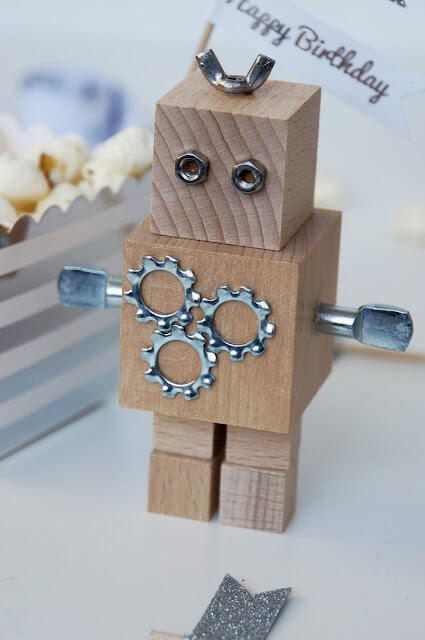 Children enjoy stacking and connecting robots of different sizes and shapes. Made from wood with some leftover bolts, screws, etc., the robot party playset fosters problem-solving abilities and imaginative thinking. As an adult myself, I found these little robots are too adorable.
---
3. Self-Portraits Using Loose Parts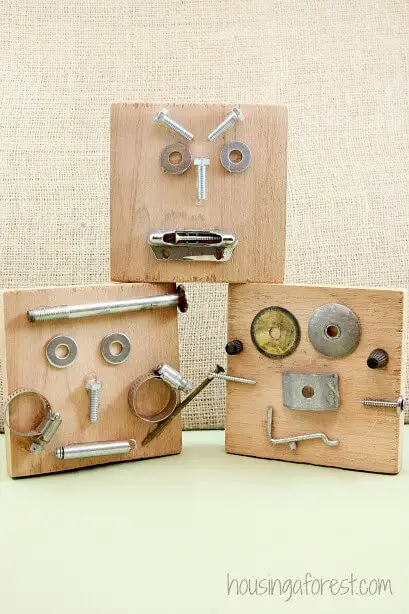 I never thought random metal bits could turn into so many kids' fun projects like this one. The loose parts act as paint, while the wood scraps act as a canvas. All of these allow children to express their expression and emotion in a creative way.
---
4. DIY Wooden Robot Buddy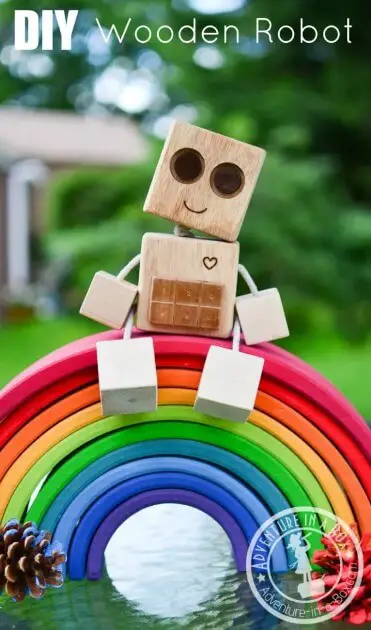 Next on the list of DIY wooden toy ideas is this cute little wooden robot. The robot may not have great articulation, but it does have all the appeal of a toy built with so much love. With this robot buddy, the kids will no doubt enjoy acting out all kinds of things, such as the robot being a wiggly dancer.
---
5. Marble Painted Jenga Blocks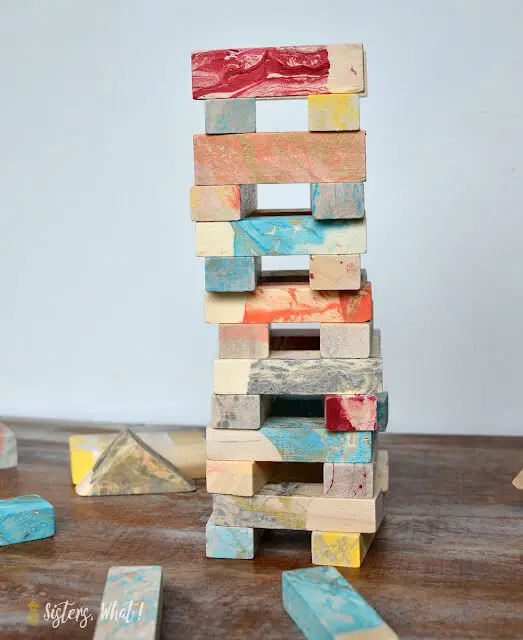 Got some old Jenga blocks? Don't throw them away! Instead, upcycle them by adding some colors in marble patterns to make them more appealing for kids to play with and build with. This DIY is super easy, and it's a perfect activity to do with children.
---
6. Easy DIY Wooden Geoboard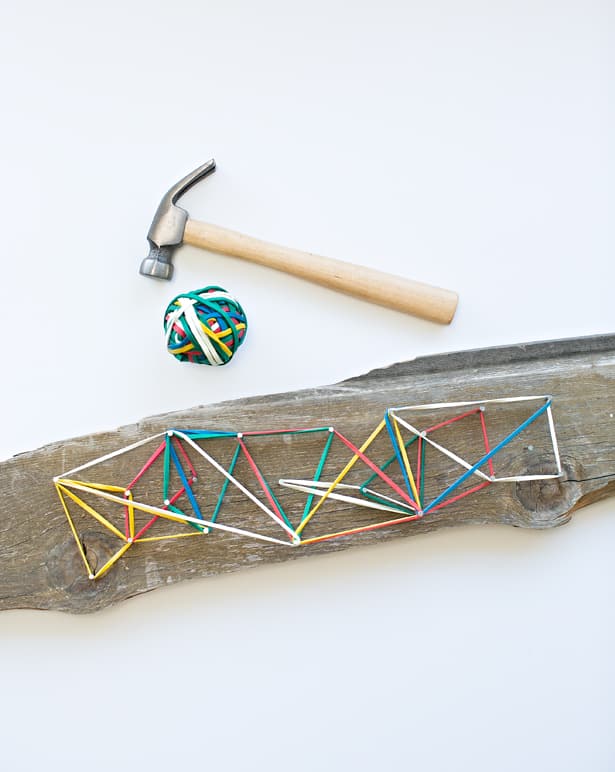 Here is another easy DIY adults can do that kids would love to participate in the making. For kids old enough to handle a hammer, this would be a fun project to practice their motor skills with the tools.
---
7. DIY Wooden Rings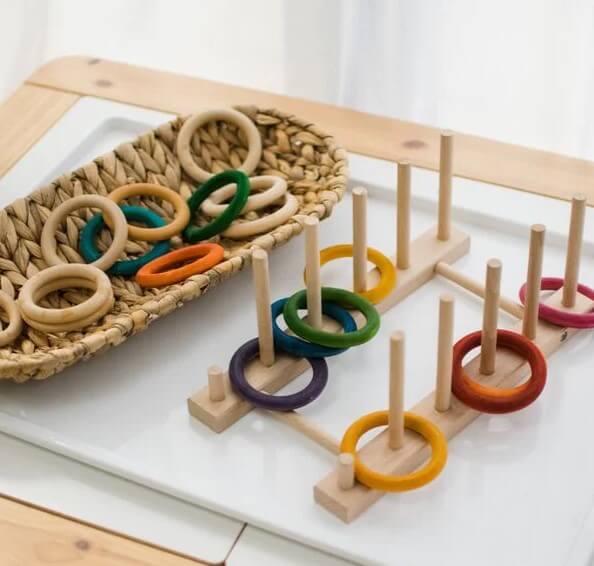 Another DIY kids' toy that can be made in no time! These colorful wooden rings are fantastic for a variety of fun activities, such as hooking on a plate rack, stacking up, and many more. They are also helpful for activities involving color recognition.
---
8. Simple Painted House Tops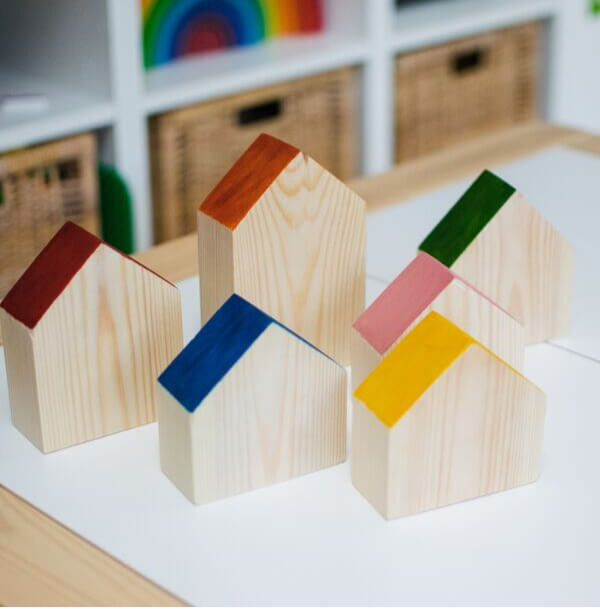 Looking for quick, easy DIY wooden toys? Don't miss out on this one. All it requires is just one or two swashes of kid-friendly paints where kids can also participate in the painting. These DIY wooden houses are fantastic for sorting and color recognition.
---
9. Waldorf-Inspired Nature Blocks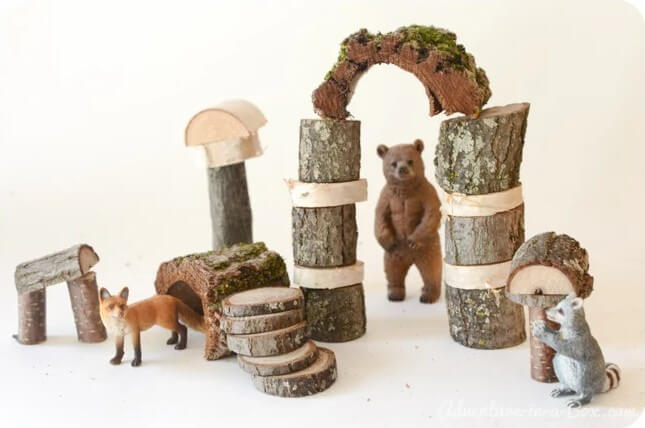 These Waldorf-inspired nature blocks are cute and fun for kids. They are easily the cheapest DIY wood-based toys adults could make for little ones. They provide so many fantastic nature settings for low-cost animal sets.
---
10. DIY Tree House for Small World Play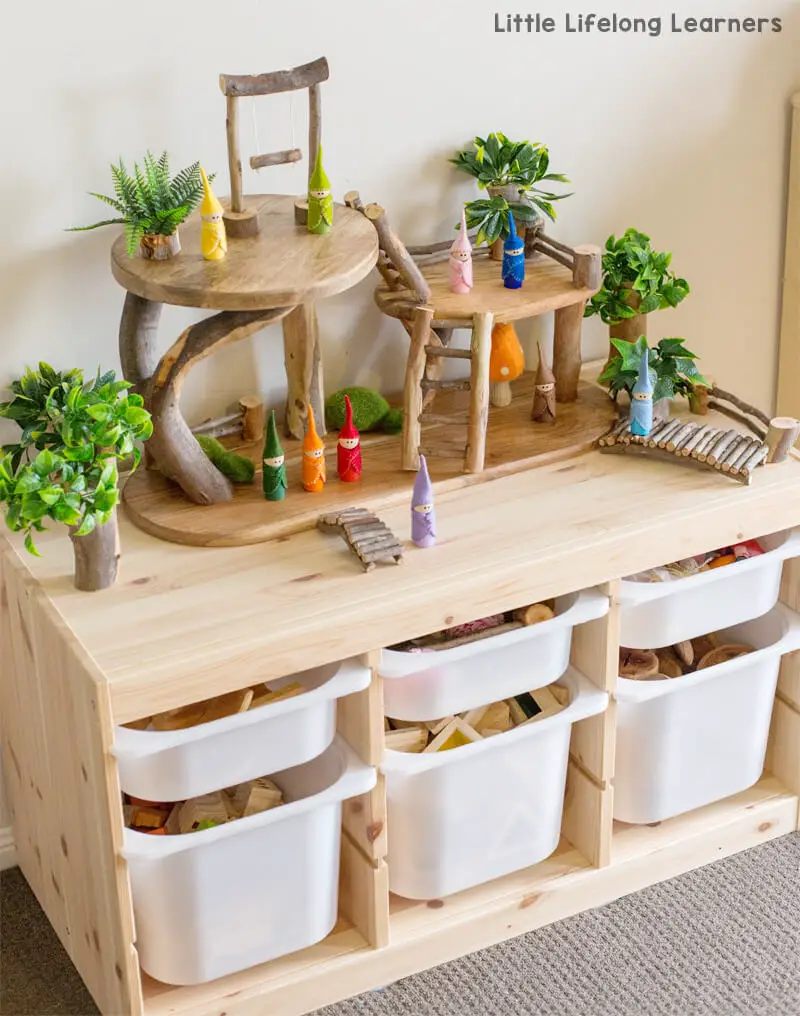 This DIY is like bringing the miniature version of a tree house inside the home. It makes a great addition to kids' small-world play. It may require a few woodworking jobs that only adults can do. Yet kids can still help make small trees to make them feel involved.
---
11. Wooden Play Cake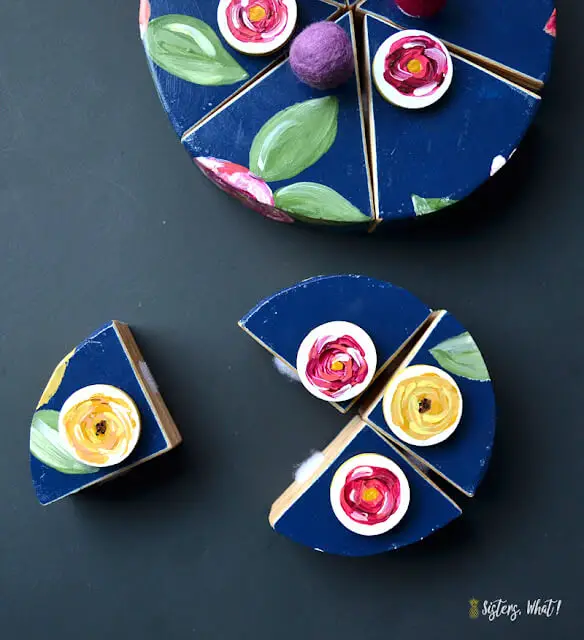 This play cake is fantastic for kids who are in the stage of learning shapes. It also helps in improving children's hand-eye coordination. This DIY can also make a cute addition to the kids' play kitchen.
---
12. Wooden Rattles and Teethers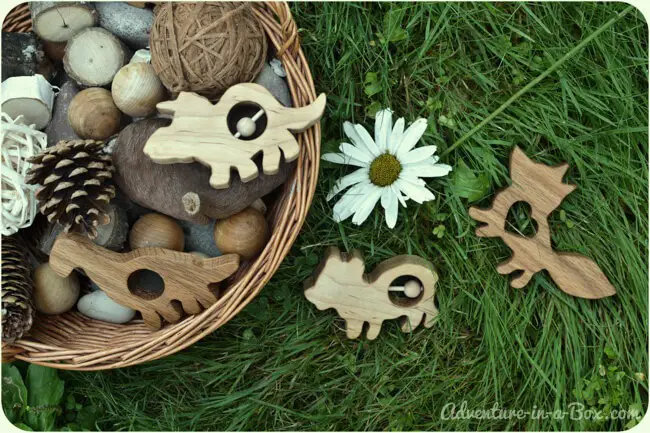 There are a bunch of DIY wooden toys for kids that would make a thoughtful handmade gift; these wooden teethers and rattles are included. They come in cute animal shapes which are perfect for babies' sensory stimulation.
---
13. Pizza Puzzle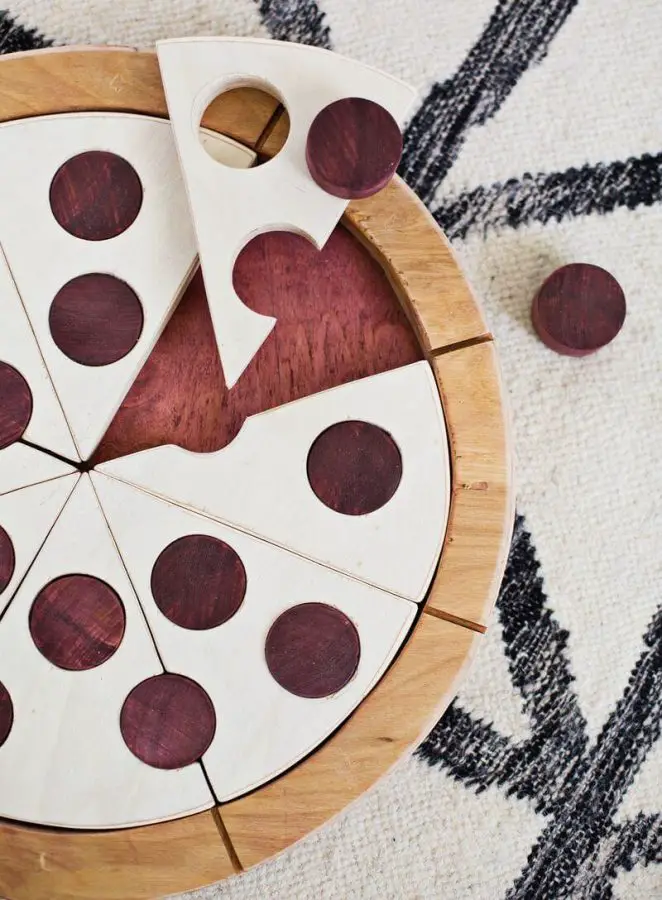 Every night is a fun pizza night with little ones when this wooden pizza puzzle is on the table. Children will absolutely love playing with it for fun, imaginative play. Also, it's a fantastic tool for teaching kids numbers, shapes, and basic puzzle solving.
---
14. DIY Peg Doll Animals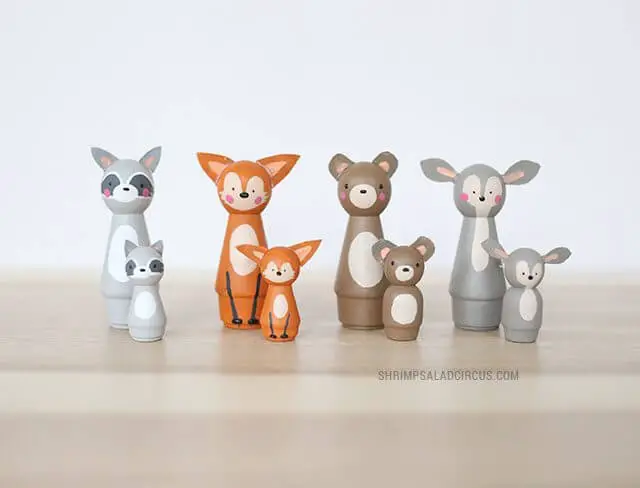 These DIY peg dolls are simply fabulous. They come in great shapes for kids to easily grab with their little palms. Don't you think the aesthetics fit your taste? Customize and cute them up any way you desire or your kids' desire!
---
15. Balance Board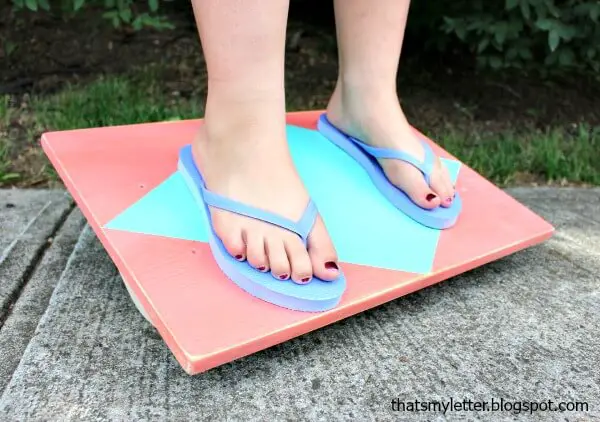 This DIY is perfect for older children. They are made of plywood that kids can paint in any color they like. For kids who enjoy sports, these balance boards genuinely come in handy because they can be helpful in teaching kids balance.
---
16. Wood Toy Camera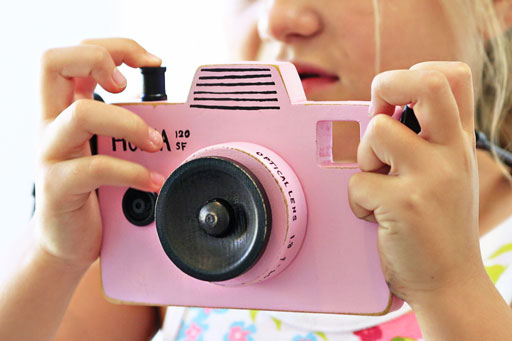 This one is easily my favorite of all the DIY wooden toy ideas on the list. For once, they look so much like real cameras. Second of all, they are perfect for kids who want to act like when adults snap photos. Lastly and most importantly, they can make an excellent decor item for kids' or even adults' rooms.
---
17. Wooden Train Tracks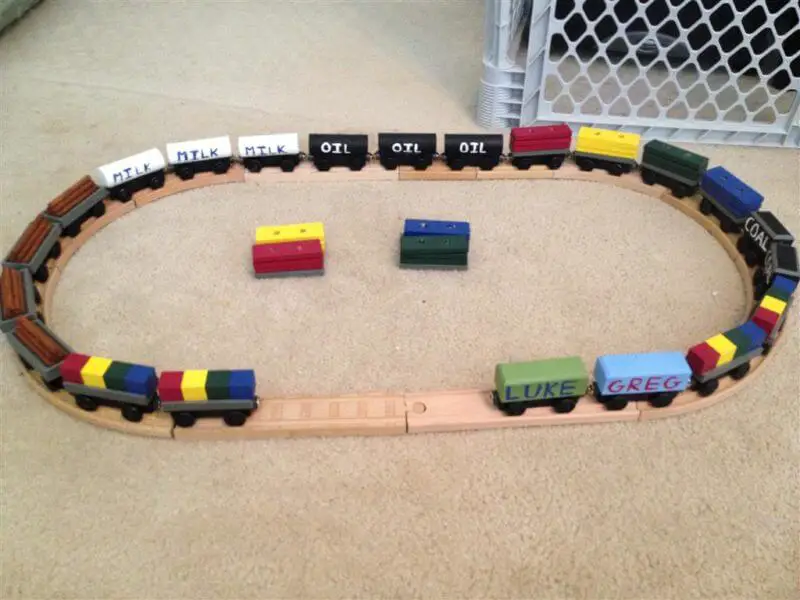 This DIY wooden train track can make a little one's day. It's reasonably easy to build and can also be a perfect match for a DIY train. This could also be an ideal decor item for ornamenting a Christmas tree.
---
18. Wooden Roads and Ramps for Toy Cars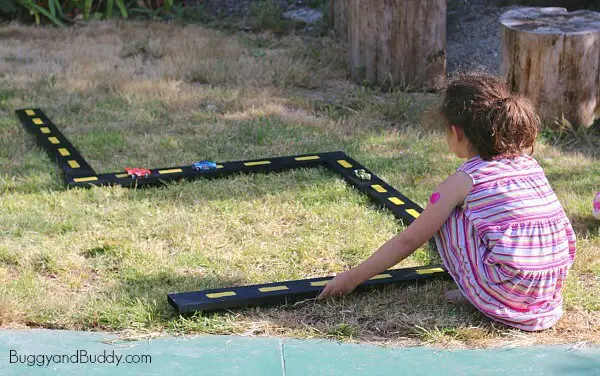 Got kids love racing mini toy cars? Surprised them with these easy DIY wooden roads and ramps. All it takes is just some wood pieces and one or two small cans of paint to give little ones an even more fun playtime.
---
19. Wooden Toy Boat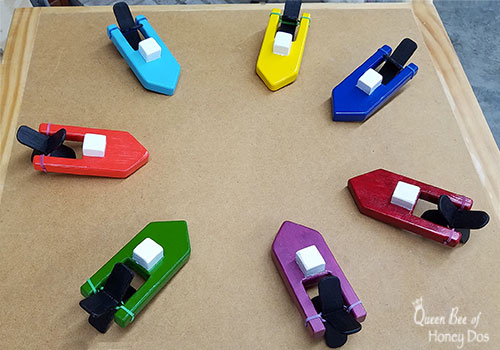 Kids of all gender would definitely love to have a toy boat like this DIY wooden toy. It comes in various vibrant colors that will surely brighten up kids' days. Since it's made of wooden boards, the toys are great for decor items should children no longer play with them.
---
20. Kids Scooter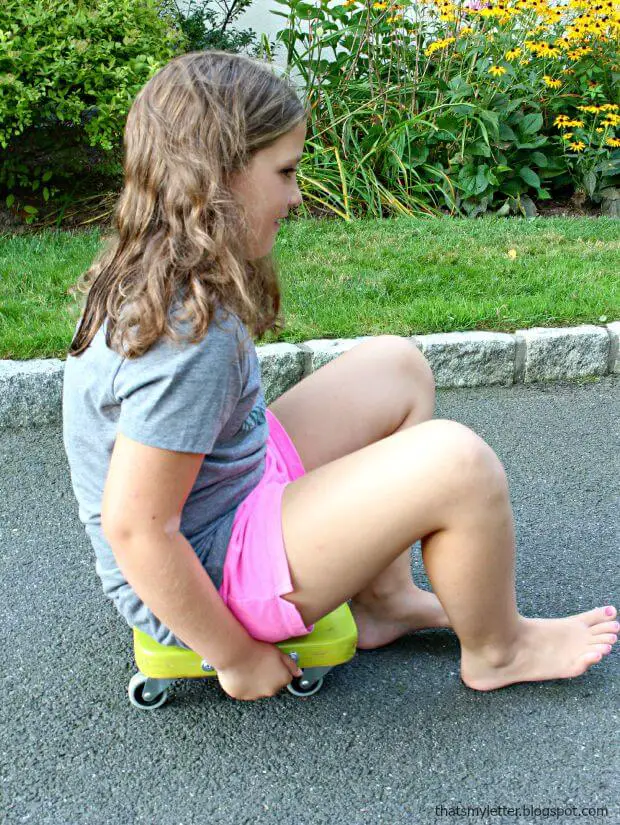 One of the DIY wooden toys for kids that anyone should try to brighten up their little ones is this one. Kids' scooters are made of an old board with a few wheels and handle on their sides for safety causes. It's fun to make, and kids are definitely going to love it.
---
21. Wooden Gradient Blocks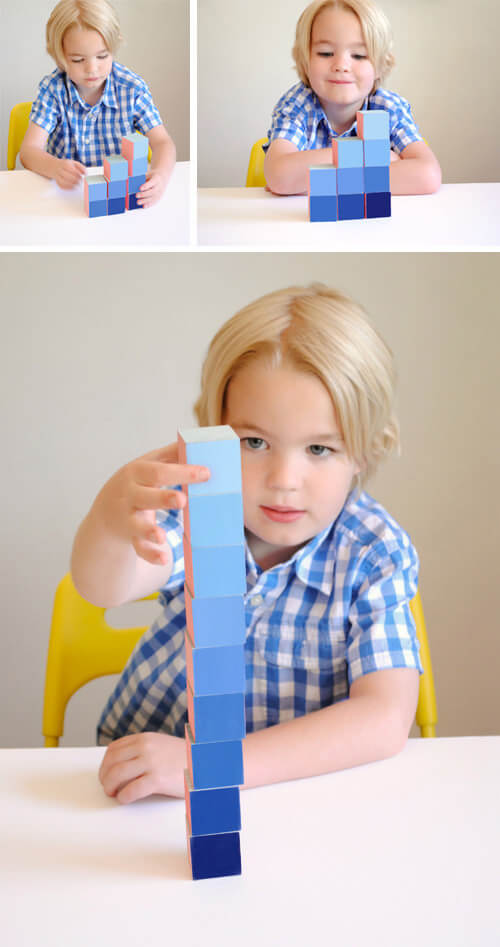 Wooden blocks have long been popular, even since I was little. They come in various colors, sizes, and paints. Meanwhile, these are painted in gradient color shades, making them a perfect toy for teaching kids about color.
---
22. Tic Tac Toe Game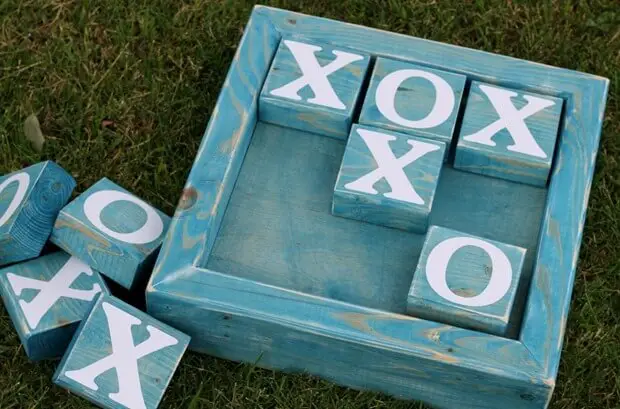 I loved board games like tic tac toe as a kid. This DIY giant tic tac toe appears to be fun for group projects. It's also an excellent toy for children who understand the gameplay of this classic board game.
---
23. Ring Toss Game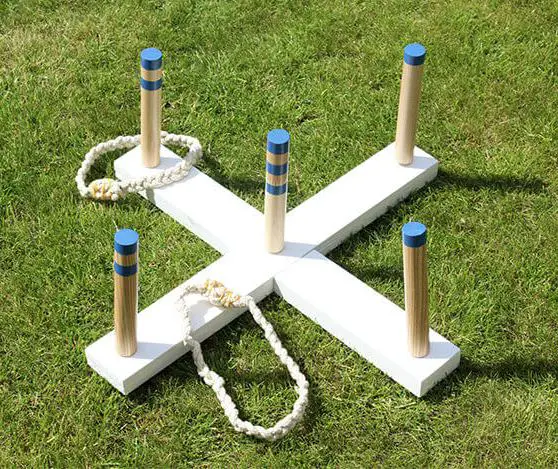 This wooden ring toss is quick to put together. It will almost certainly create hours of outdoor fun for kids' everyday boredom smashers, picnics, summertime parties, and many more.
---
24. Yard Dice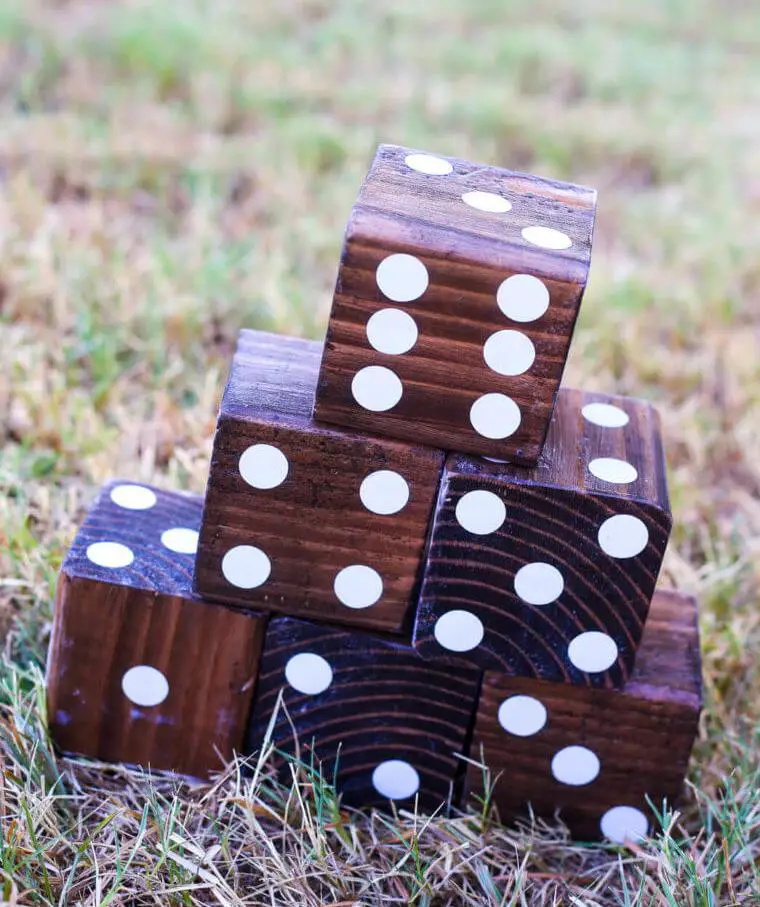 Looking for easy DIY wooden toys to get your kids to spend more time under the sun? Try out this DIY! These easy-to-make wooden yard dice are great for yard Yahtzee with little ones and the rest of the family.
---
25. DIY Wooden Toy Vehicles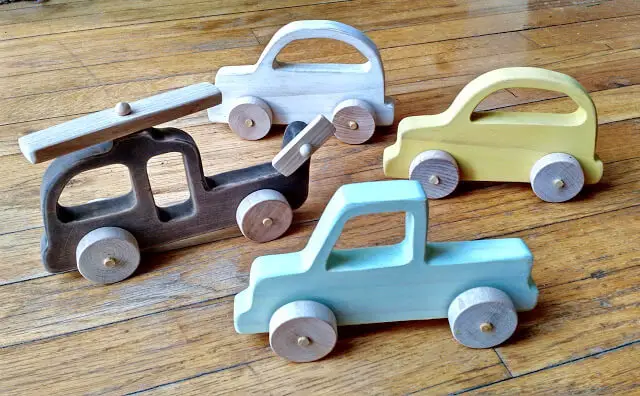 These little colorful wooden vehicles, which can be built in no time, are sure to delight children. They are lovely for boosting kids' hand-eye coordination while also providing hours of fun play.
---
It is more than you expect that wood can give you so many toy possibilities! Plus, you can easily follow the breakdown with simple tools.
DIY wooden toys are such a play that helps you to educate your children. Don't forget to involve them in the making process! Share this useful information with other parents on your social media!
More from Materialsix.com: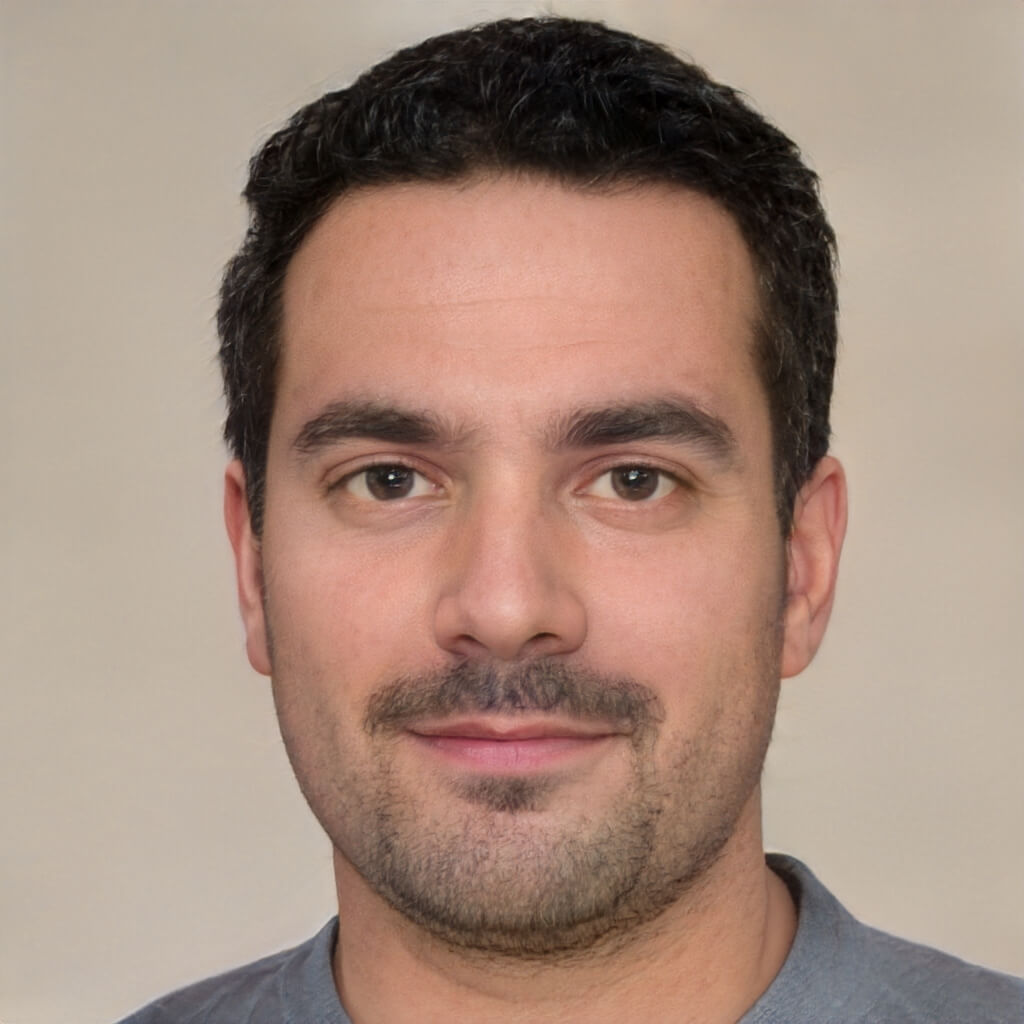 I'm a passionate home and garden enthusiast and the founder of Materialsix Home. With over 10 years of experience in the field, I've cultivated a deep love for all things related to home improvement, gardening, and interior design. Read more…