Painted flower pots are versatile from wherever angle you see them. The original purpose is to house the plants, but they can also serve you as decorative pieces to beautify some spots in your home.
Therefore, this page has eighteen pot painting ideas for you to see.
This page will get you covered when you lack inspiration in the middle of the painting process. Thus, let us not linger in the opening longer; below is the list!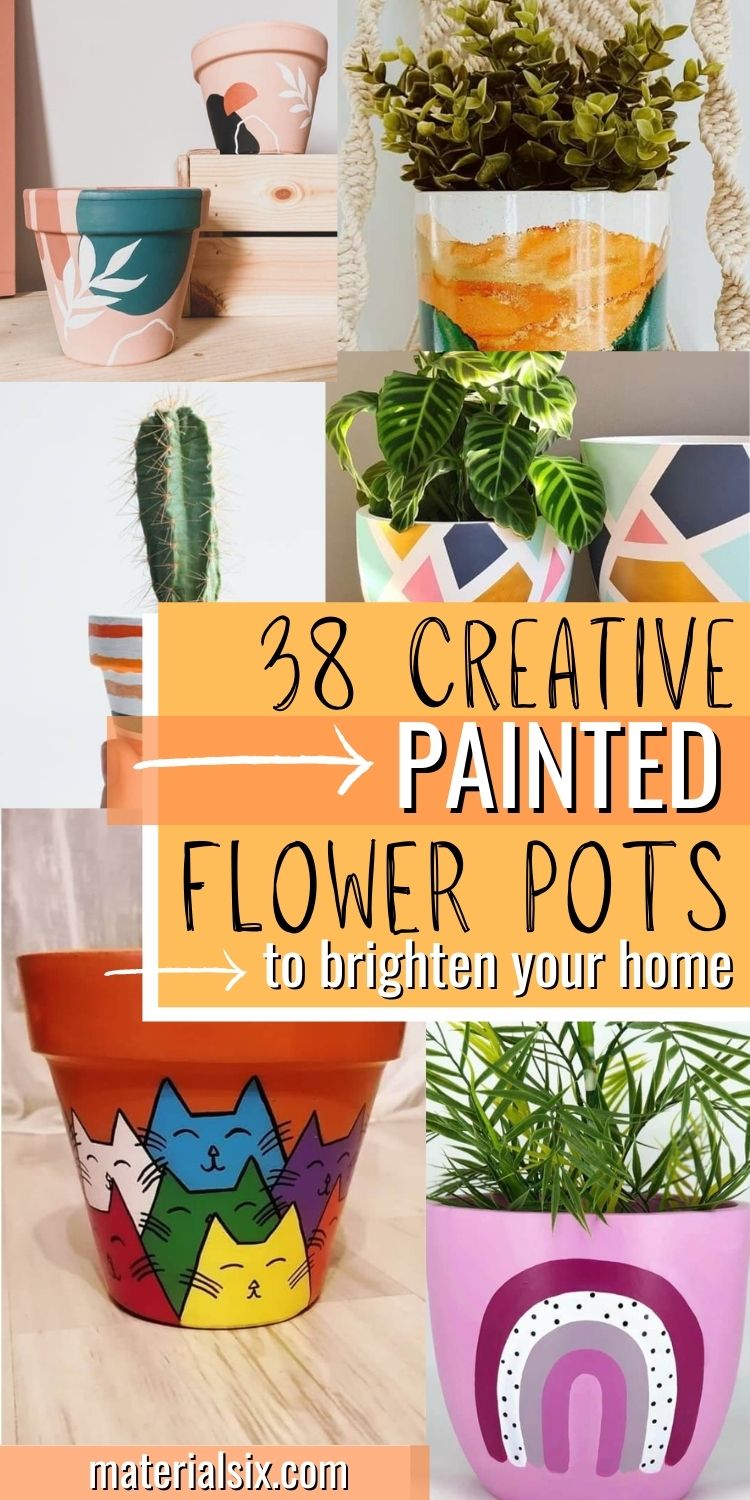 Best Creative Flower Pot Painting Ideas
1. Colorful Kitties Painted Pot Idea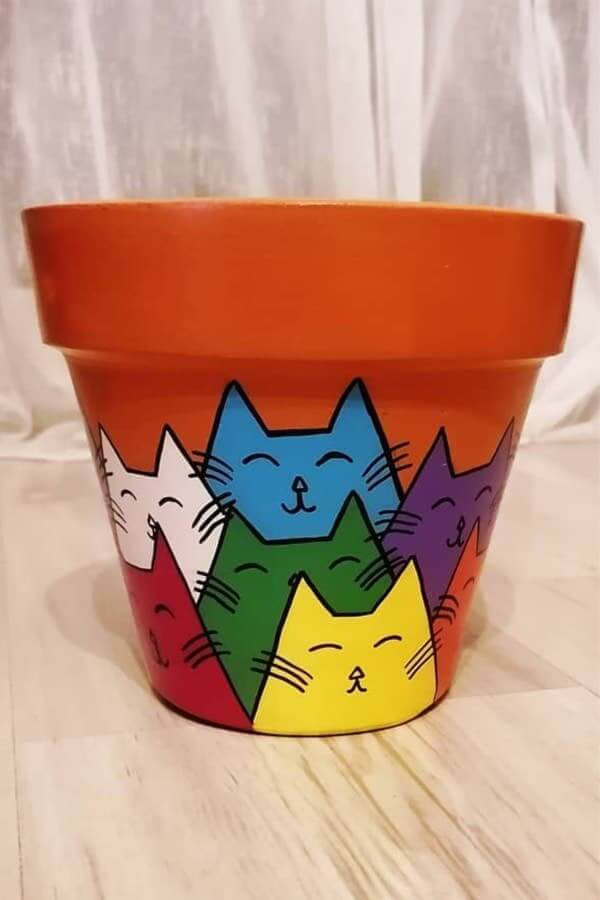 The perk of having painted flower pots is no one will have something like yours. Since they are customizable, you can paint or get them painted in any design.
For instance, this one is an illustration done for cat devotees.
2. Sunrise Sight under the Succulents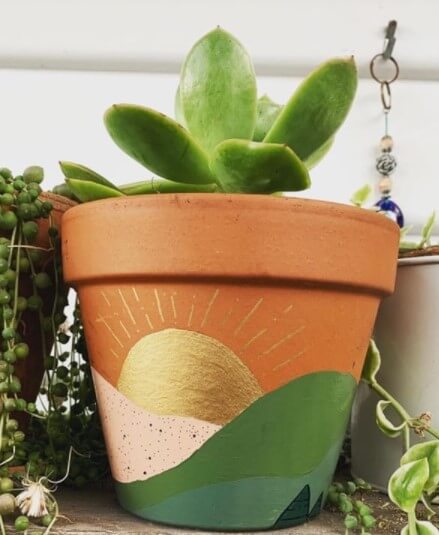 Minimal yet magical are adjectives that best describe this pot design. No need to have advanced drawing skills of any kind, this painting is doable even if you are a novice.
Yet, from a modest illustration comes an enchanting natural sight.
3. Rainbow in Girly Shades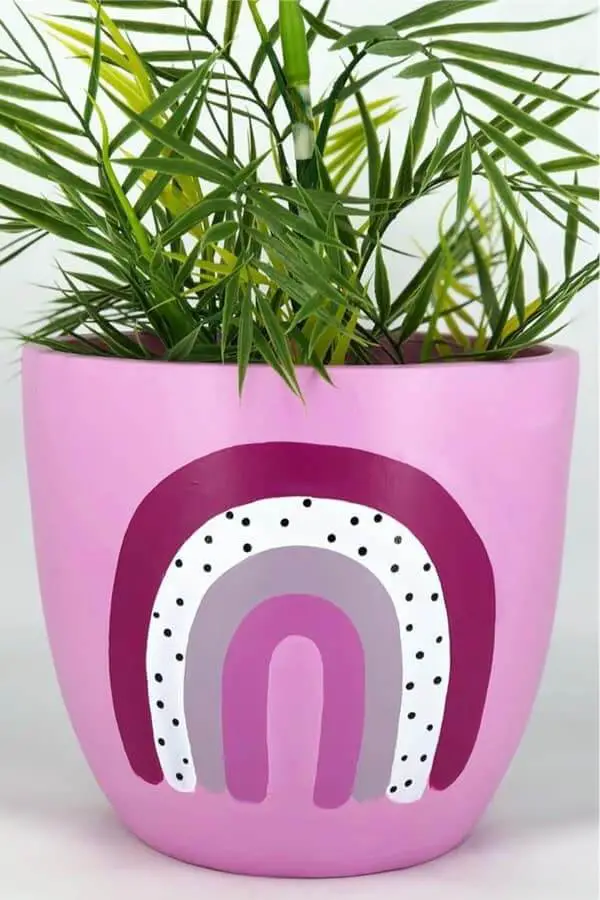 Pink painted pots will upsurge green plants appealing level. Thus, their contrast identity must draw attention to anyone who sees.
Now, what to paint in pink? Well, your kind of rainbow would more than do.
4. Swarming Bees Plant Pot Painting Idea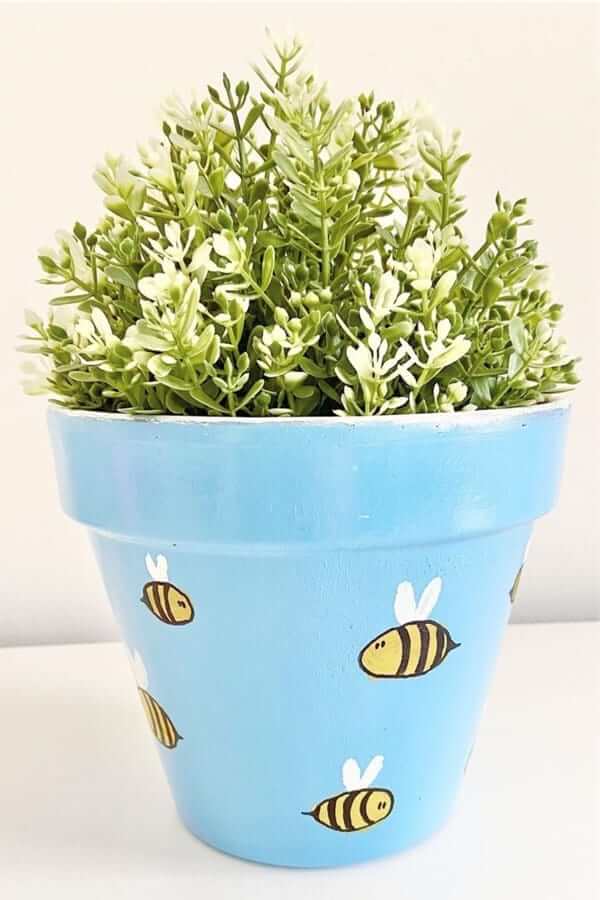 Chilling blue and warming yellow is another opposing twosome. If you combine them into your painted flower pots, your plant-holders will be as striking as they can get.
Furthermore, imagine bees swarming under the clear sky and have that view on your planters.
5. You G(r)o(w), Girl!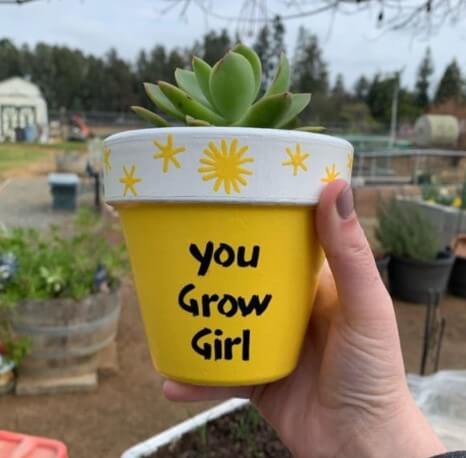 Often, picking illustrations to paint on your flower pots takes so much of your time. Whenever it happens, do not get lost in confusion and go with letterings.
Then, cover the pot surface with a bright tone first and letter some cheering quotes in dark color afterward.
6. Lively-Colored Planter on A Wooden Stand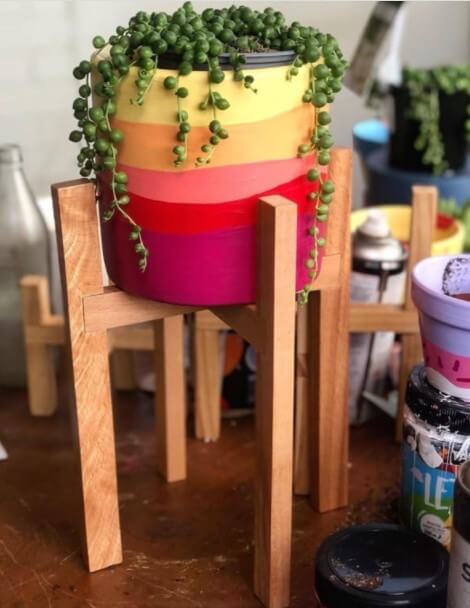 It is another shortcut when the confusion of choosing what to draw gets in your way of painting flower pots.
Moreover, throwing several matching colors in order like those in a rainbow will be a grand idea for your small planters.
7. Ice-Cream Flower Pot Painting Idea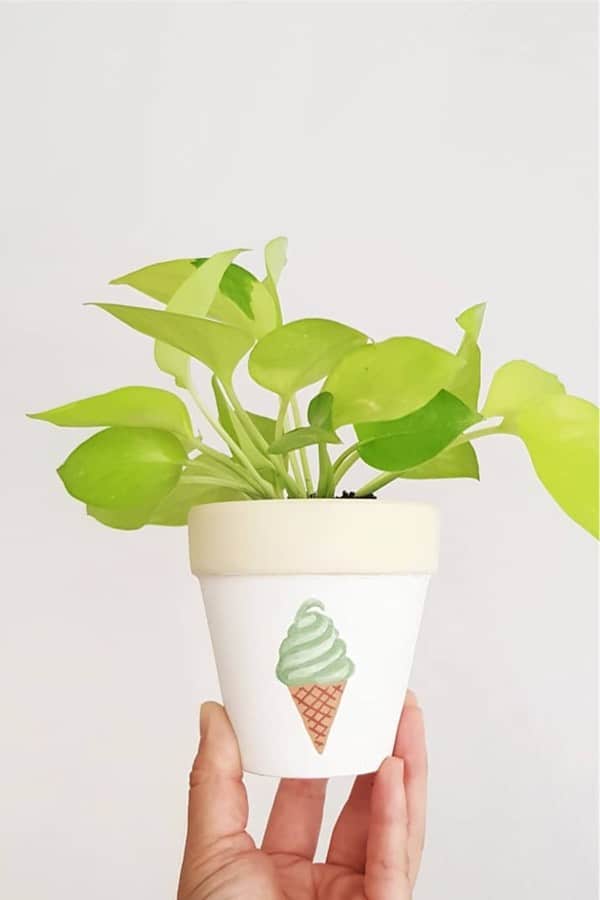 Single illustrations fit smaller flower pots very well, moreover if simplistic and minimalistic are where you go. This ice cream-painted flower pot screams for an example.
8. Astronomical Themed Flower Pot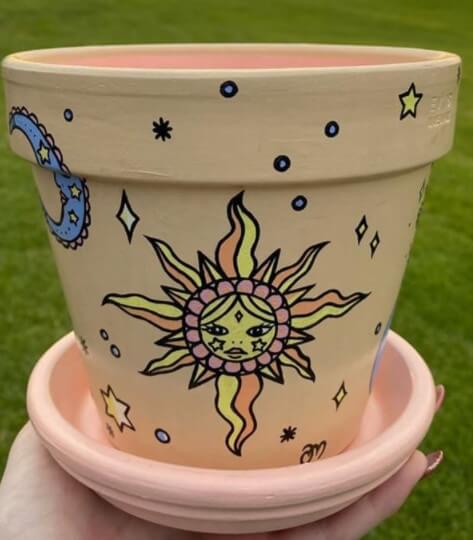 Elements that nature has are always fun to recreate, especially those that people cannot see up close, like the astronomical things.
The entertaining part is to picture how the stars, moon, and the sun are next to each other in their exact position.
Yet, there is no rule in placing them within your art. Go whatever you see fit, and it will still look fabulous. Well, look at this flower pot!
9. A Gift Idea for the Women of Your Life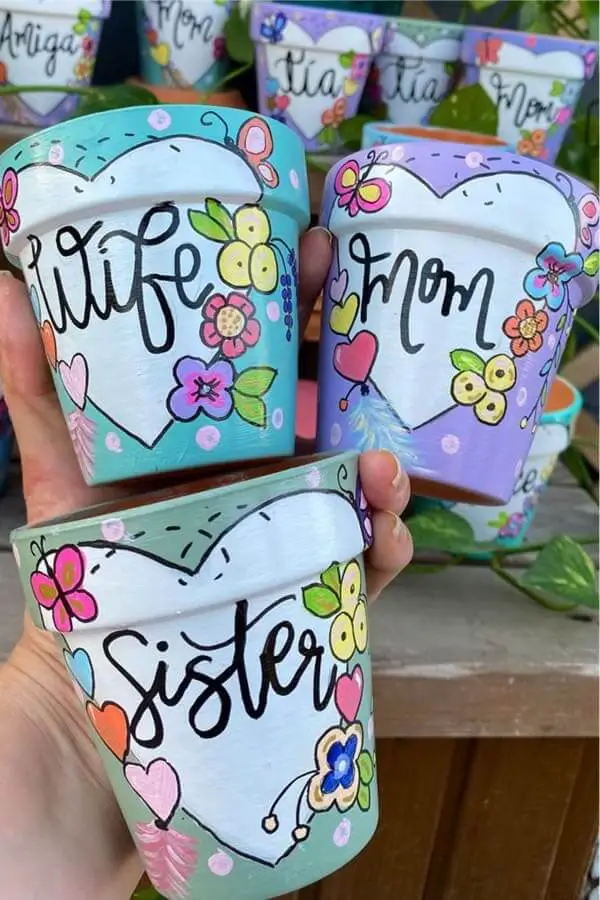 No matter how you say them, the words 'lively', 'pastel tones', and 'flower pots' sound so women. Thus, it should not be too hard to pick a gift for the girls of your life.
The big clue is here, guys. Expressing your gratitude with these painted flower pots will always be enough.
10. Liquefied Rainbow Poured Paint Flower Pot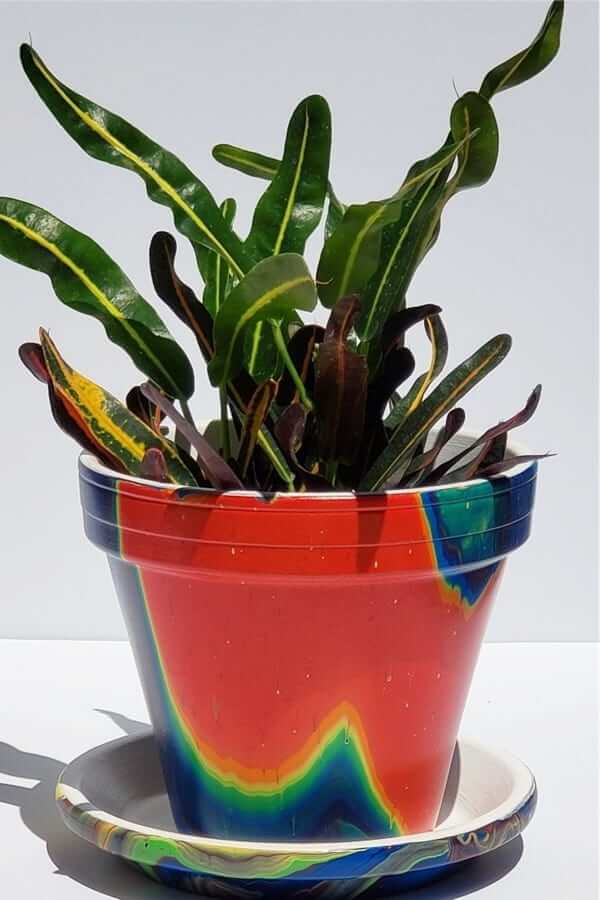 It is what happens when you touch your rainbow digital painting with a liquefy-mode brush. Hence, your drawing will disperse following the tip of your finger or pen.
Further, the case with this painted flower pot is that you do it manually, and it is where the fun part!
11. Taro-Glaze Dipped Donut Pot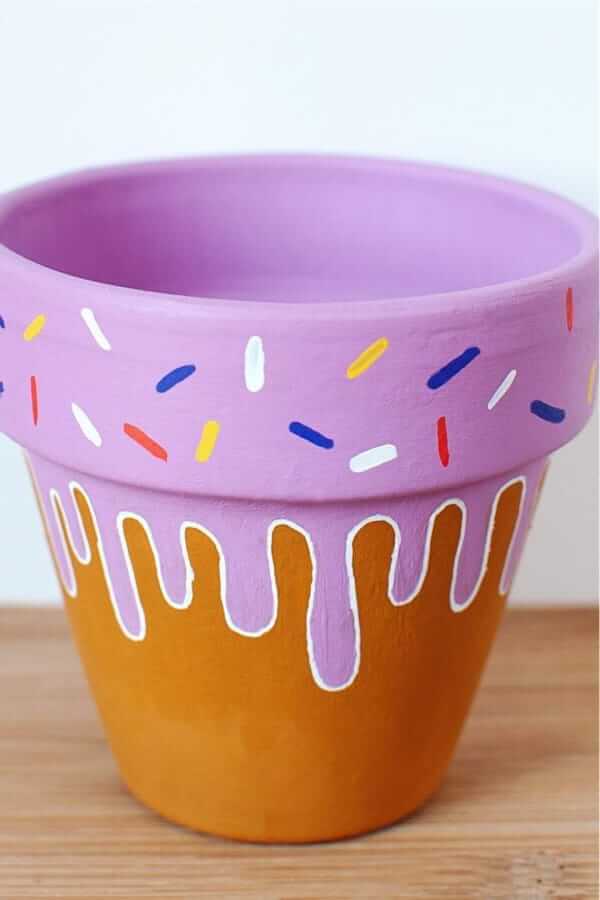 Are you stuck in finding ideas? Well, think about your favorite donut dipped in taro glaze, then. Nothing is worrying anymore.
12. Get Inspired by the Rainbow Flower Pot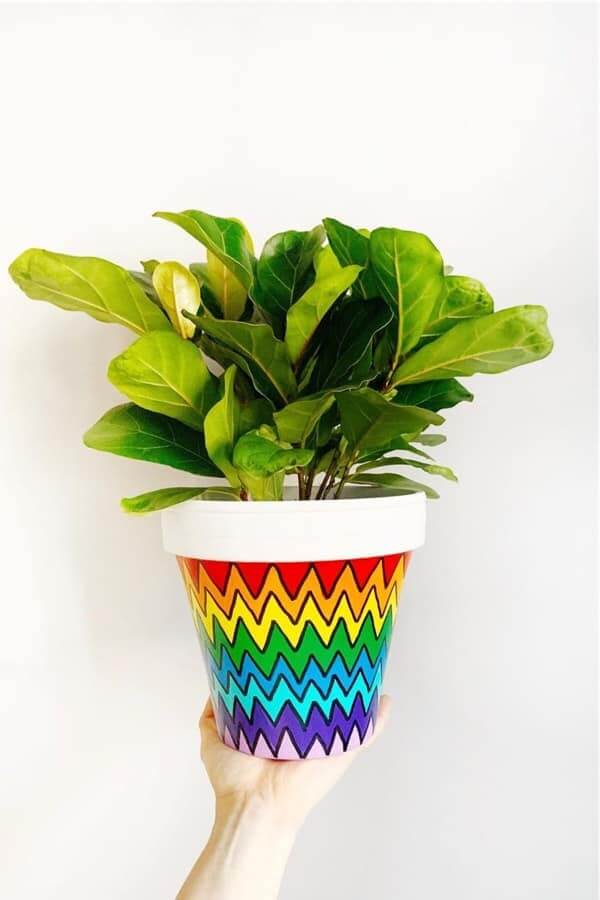 Rainbow colors are always inspirational. So, get them painted on your flower pots, and you will find yourself looking at them irresistibly.
13. Blue Blueberries on A Bare Clay Pot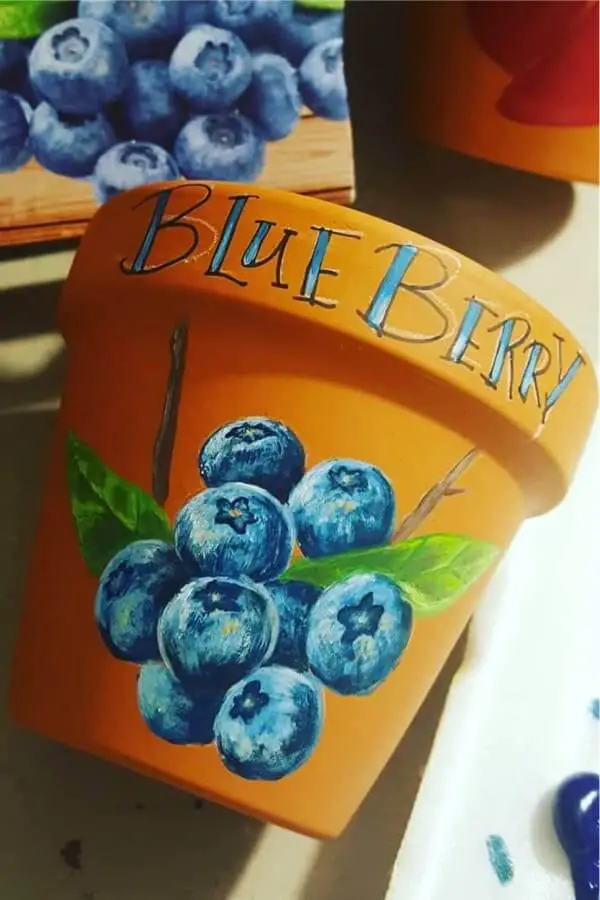 You can go classic by letting your clay pots be the way they are. On top of the bare surface, paint an illustration with contrasting colors, such as blueberries.
Moreover, it will complete the look.
14. Butterflies Painted Plant Pot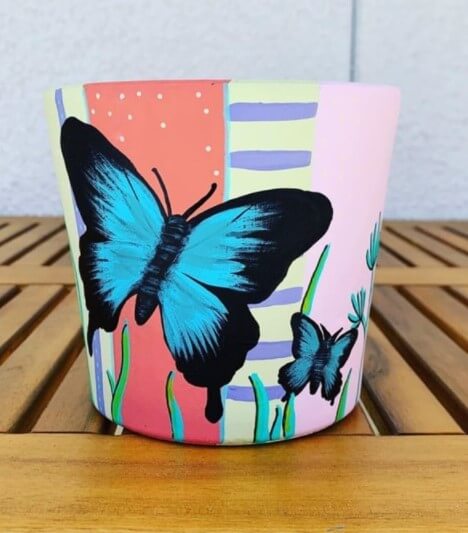 Insects are popular to be an art theme. In the category, butterflies are highly likely the most famous. Likewise, follow the trend by painting a couple of them on your flower pots.
15. Modern Painted Flower Pots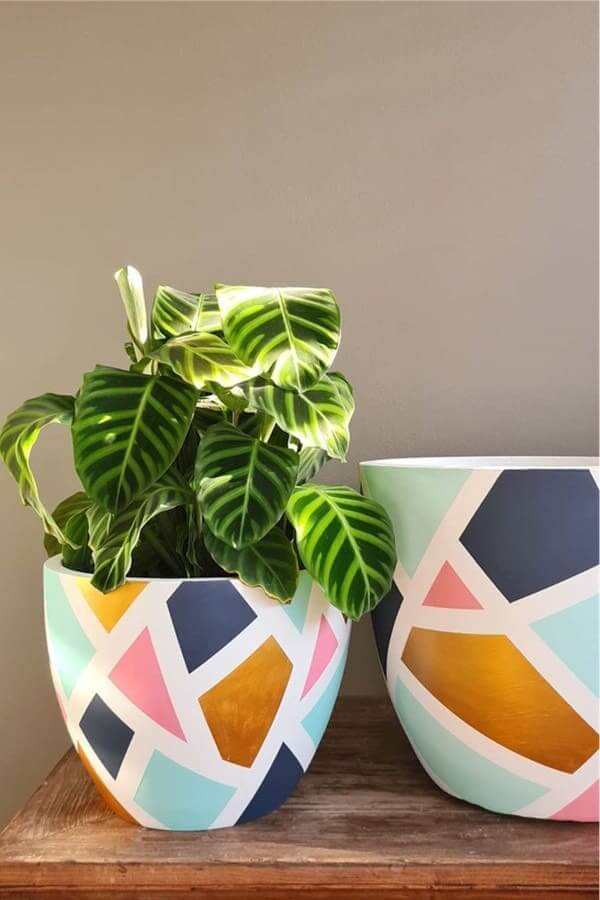 These geometric patterned flowerpots suit your modern living place very well. Then, follow the modernity with the right color choices.
16. Dots on Vivid Colors Succulent Pot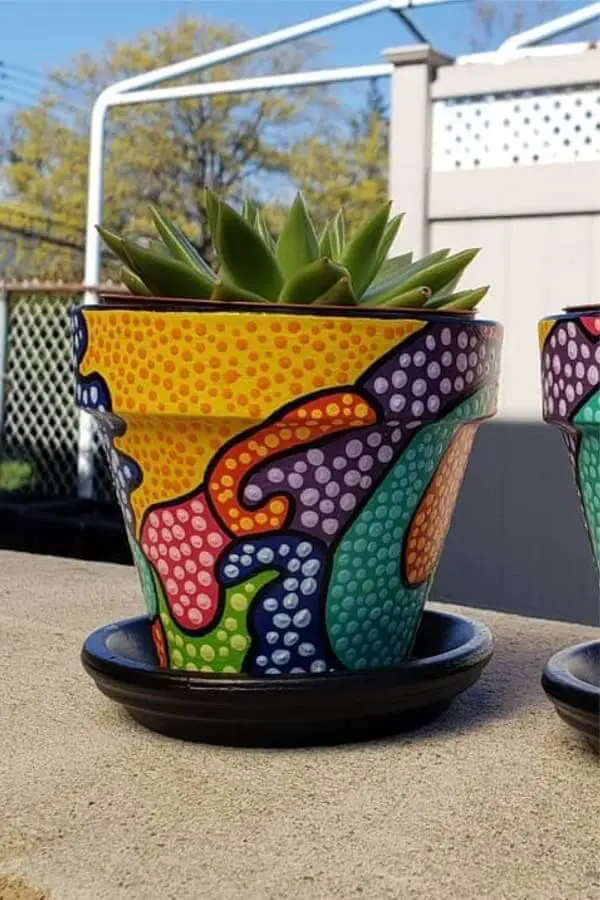 Dots are the simplest ones in the category of patterns. No need to think about proportion whatsoever with them. However, they might trigger anyone with trypophobia.
17. Tribal Looking Aloe Pot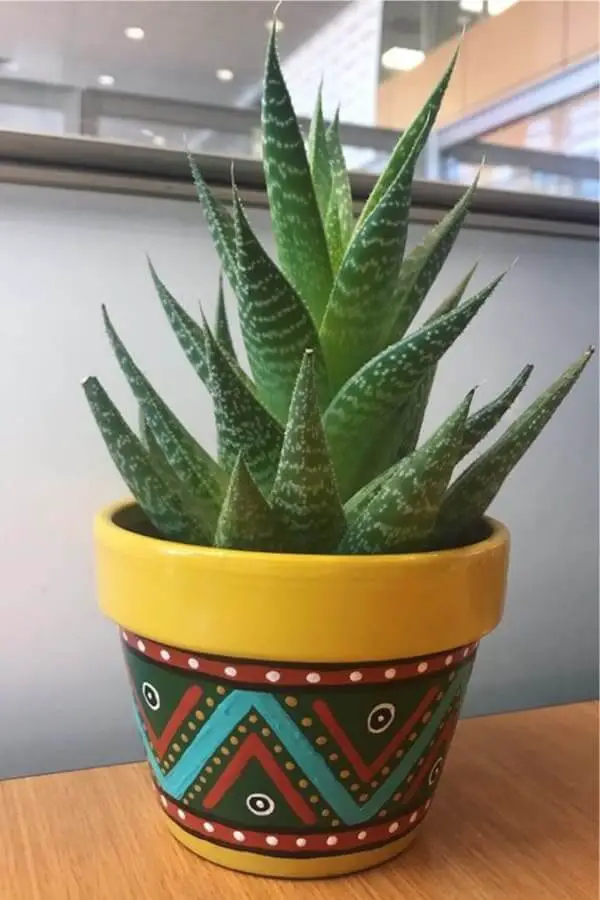 Ethnical is coming! Painted flower pots with such a theme will match your eccentric home.
18. Cactus in Pots for Your Pots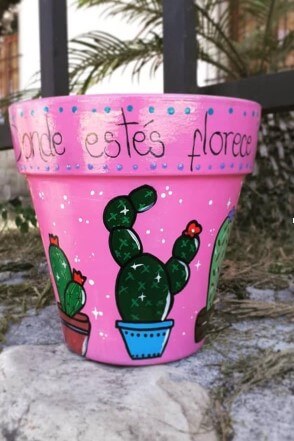 This bold pink hand-painted pot will become the center of attention anywhere you place it. It is none other because of the opposing green cactus on the surface.
19. Colorful Mini Planter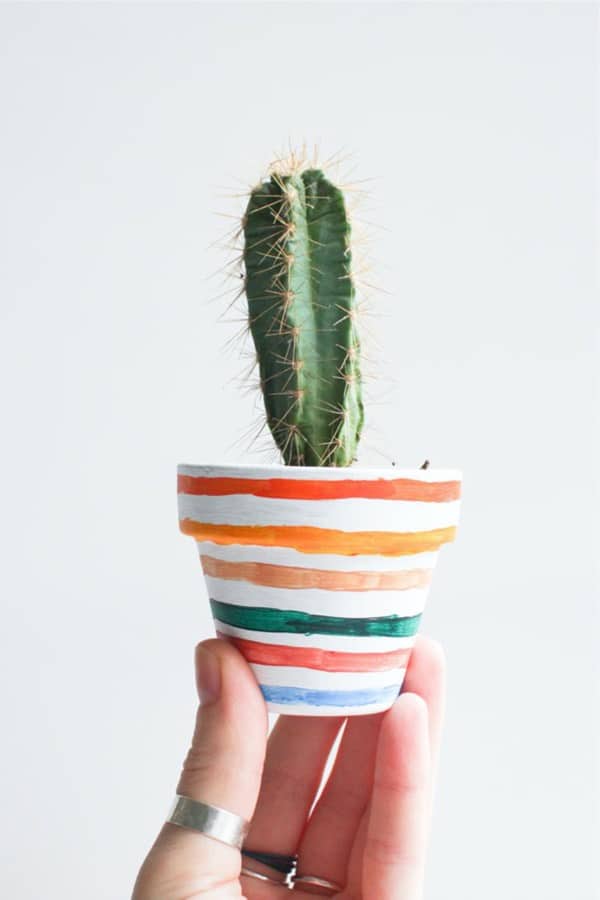 Painting on a planter can be hard for a beginner. But, this idea doesn't need any precision and expertise. Choose white as the base. Then, stroke some stripes of different colors. Thus, creating painted flower pots has never been easier.
20. Abstract Painted Ceramic Pot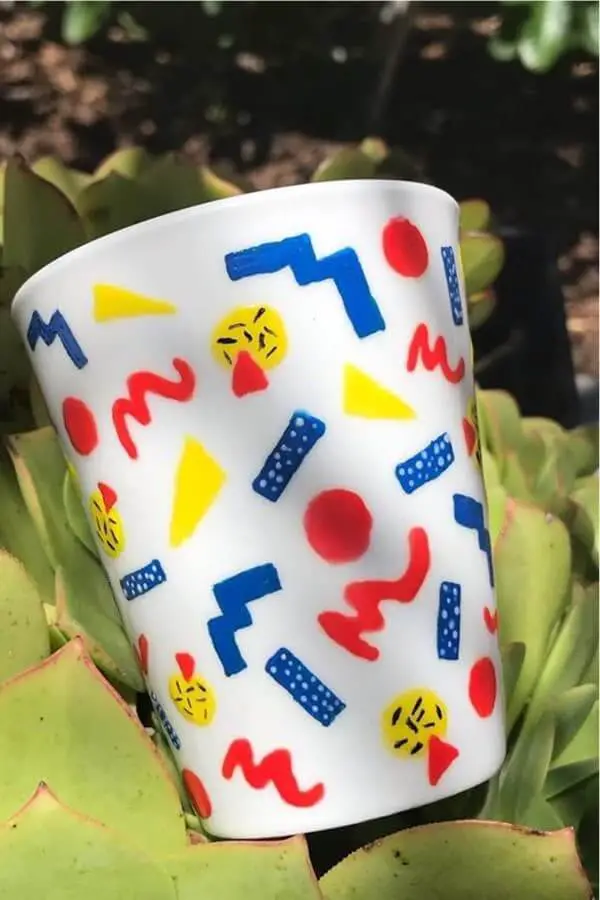 Are you looking for painted flower pots to complement your desk? Why don't you try this DIY? This white base ceramic pot suits any clean desk. Paint some abstract shapes with any color you like. What's good with this is that abstract can be anything that comes to your mind. Don't worry if it ends up looking crazy because that is what abstract is all about.
21. Soft Ombre Clay Pot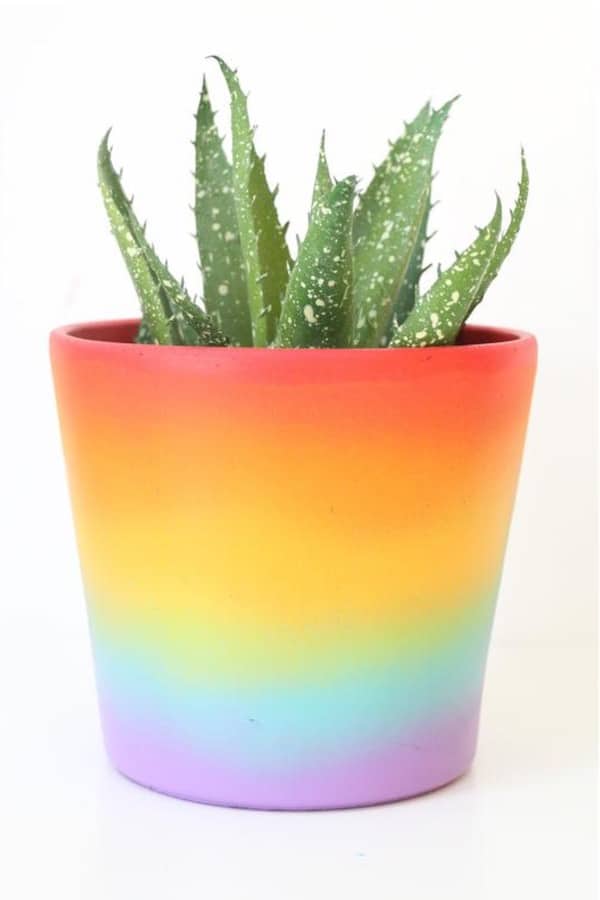 Get playful when doing ombre flower pot painting. Choose a variety of your favorite colors. Don't be afraid when experimenting with the color combination. You can choose a two-tone ombre like the above picture or a three-tone ombre if you dare.
22. Daisy on Blue Pot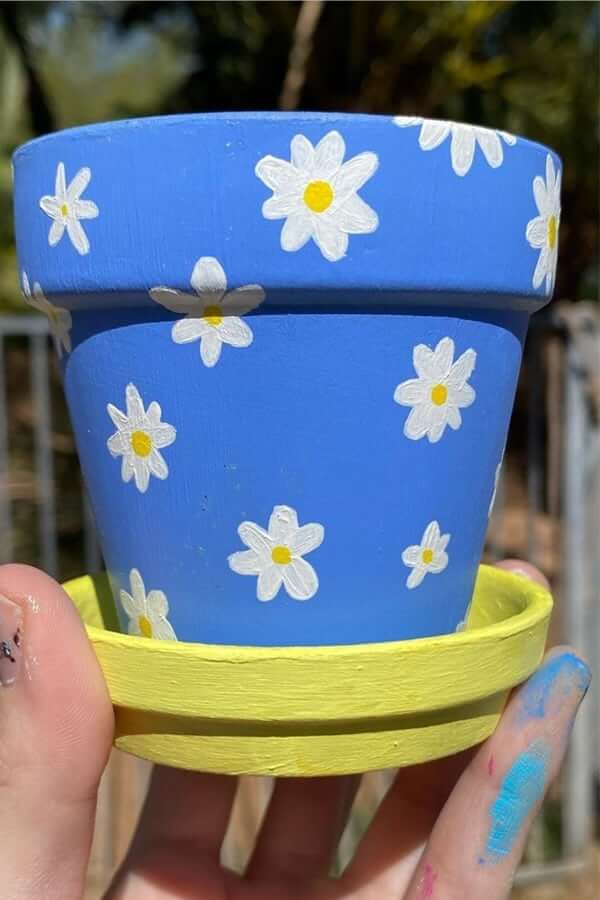 Why not paint some flowers on a flower pot? One of the pot design ideas you can try is a daisy-painted pot. Daisy is easy to paint, thus making it beginner-friendly. Taint some daisies on the blue-based pot to get the look.
23. Black-Based Terracotta Clay Pot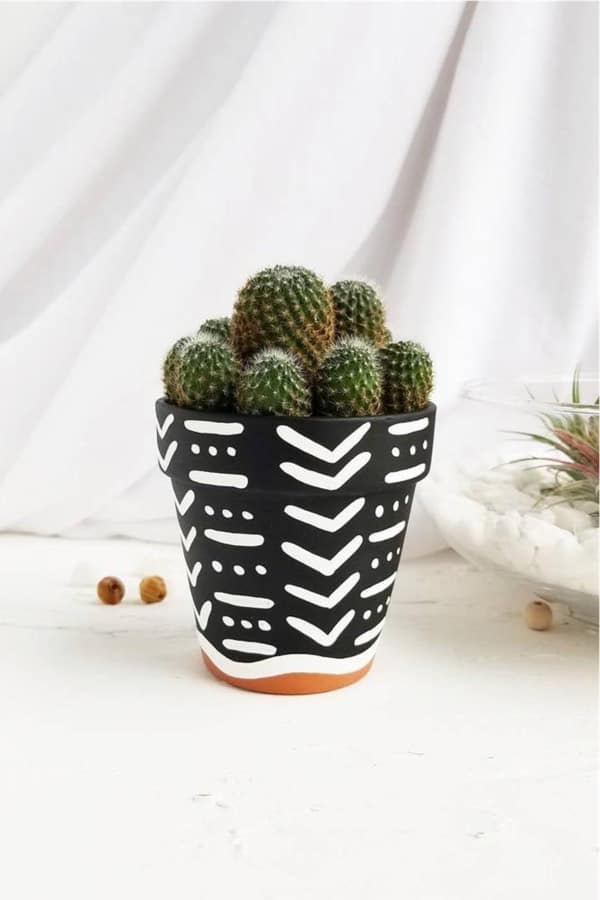 Your terracotta clay pot deserves a new look. Opt for black as the base with some white dots and stripes to give it a modern touch. Any shapes, lines, and dots will do.
24. Pastel Pink Cute Pot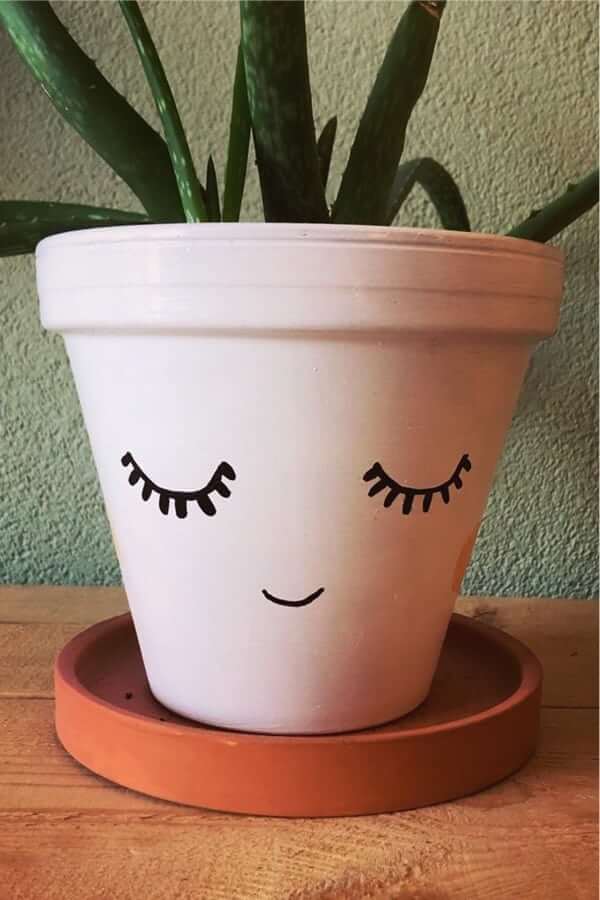 Have no idea what to paint? What about a sleepy face like you see here? Draw two eyelashes along with a cute little smile on a pastel pink base. With these effortless steps, you can get beautiful art.
25. Flower Painted Pot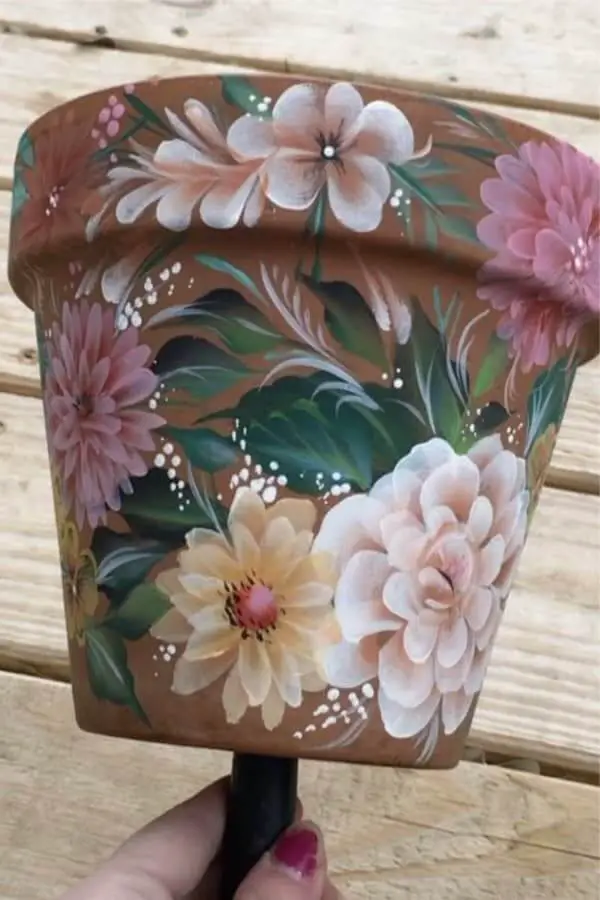 Why not paint some flowers on a flower planter? The colorful design, along with different kinds of flowers, will strike everyone's eyes. Paint several planters and create a point of view.
26. Dots Mini Planter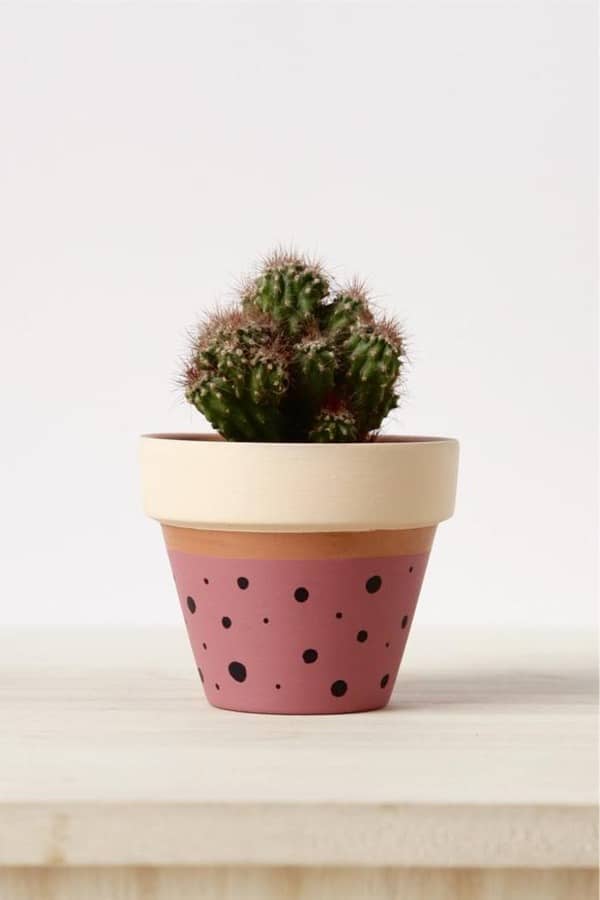 When looking for some clay pot painting ideas, the trick is never to get complicated. Choose any color as the base. You can opt for soft or bright colors. You can also choose the color you see here. Then add some black dots to finish.
27. Hand Painted Ceramic Pot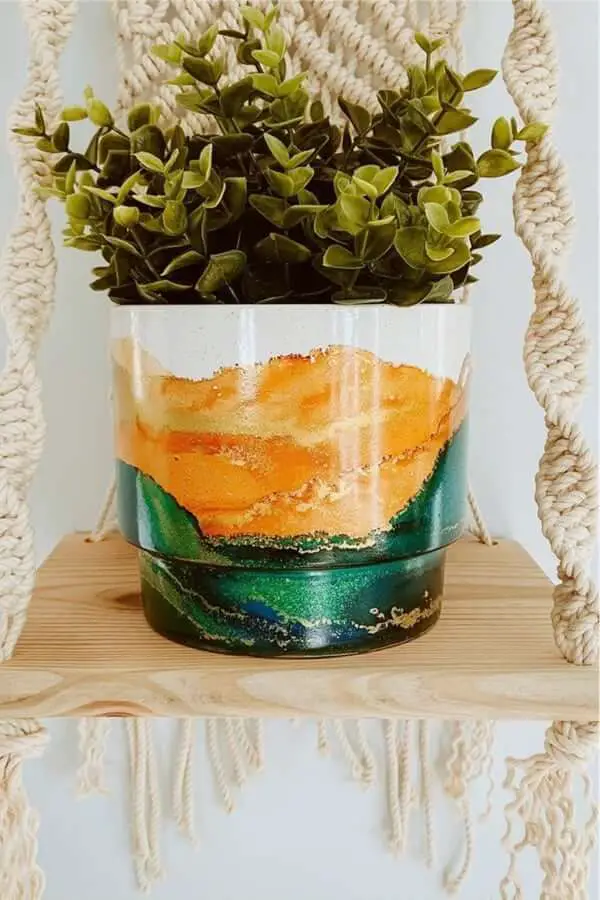 With its glossy look, you can paint any abstract shapes and strokes on your ceramic pot. One white base, try combining light and dark color using any stroke technique. The finish will give a beautiful gradation of color.
28. Gradient Herb Pot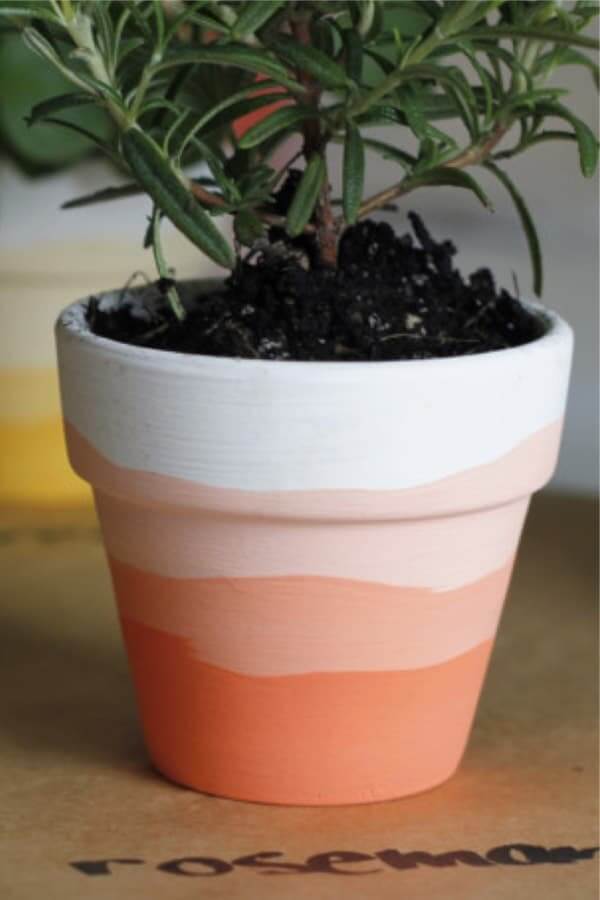 Why not grow your herbs in the kitchen and make them beautiful at the same time? A touch of art in the kitchen is allowed. Try imitating the above picture as the start. Choose your favorite color and try creating a white to the darkest gradient color scheme.
29. Simple Clay Pot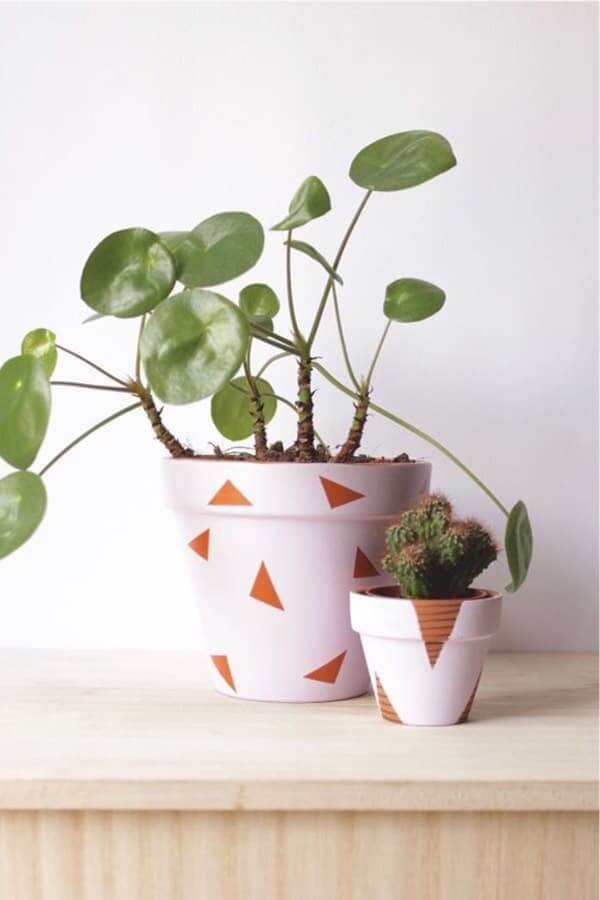 You can give your pot a new fresh look with simple steps like this one. Depending on how you see it, the look can either be a white pot with triangle-shaped holes or terracotta triangles on a white pot.
30. Woman with Flowers Painted Pot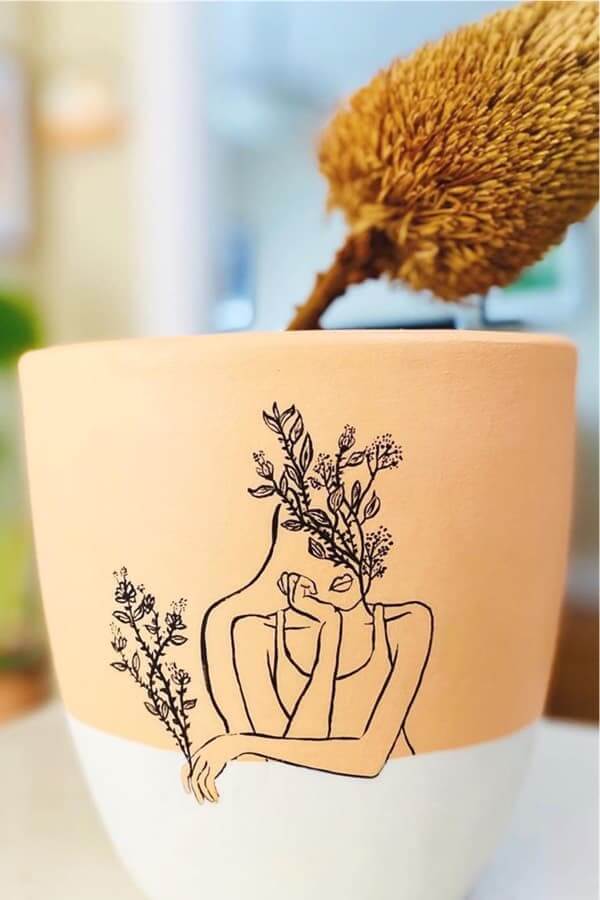 Give a touch of femininity onto your pot to express your inner side. This pastel orange and white pot complement the soft nature of the woman and some flowers painted on it. But, this look is not for a beginner.
31. Creative Flower Pot Painting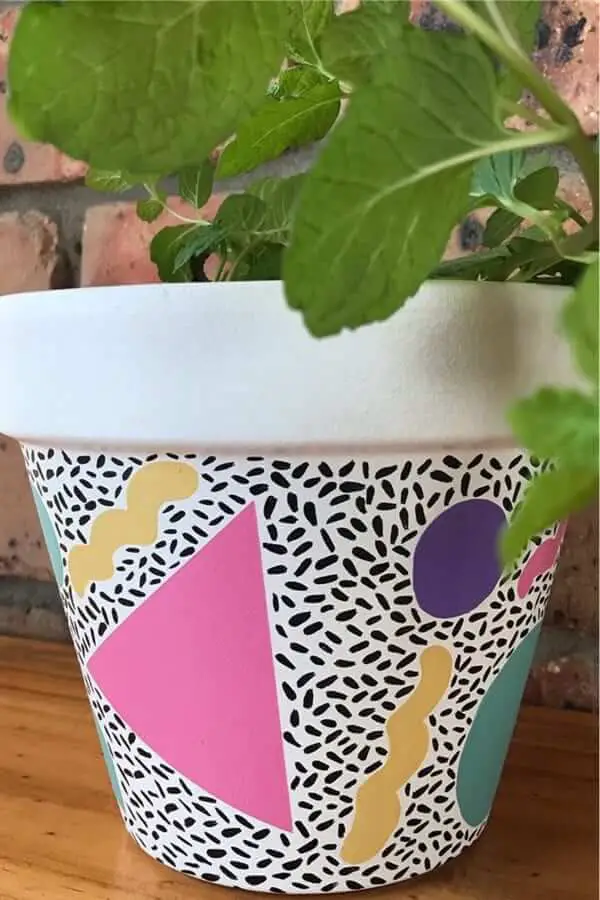 When looking for an idea for painted flower pots, there is a chance that anything that comes to your mind will work. The above image shows it all. With some colorful geometric and random shapes combined with little black strokes filling the white gap, you can get the pot you always want.
32. Terrazzo Stone Planter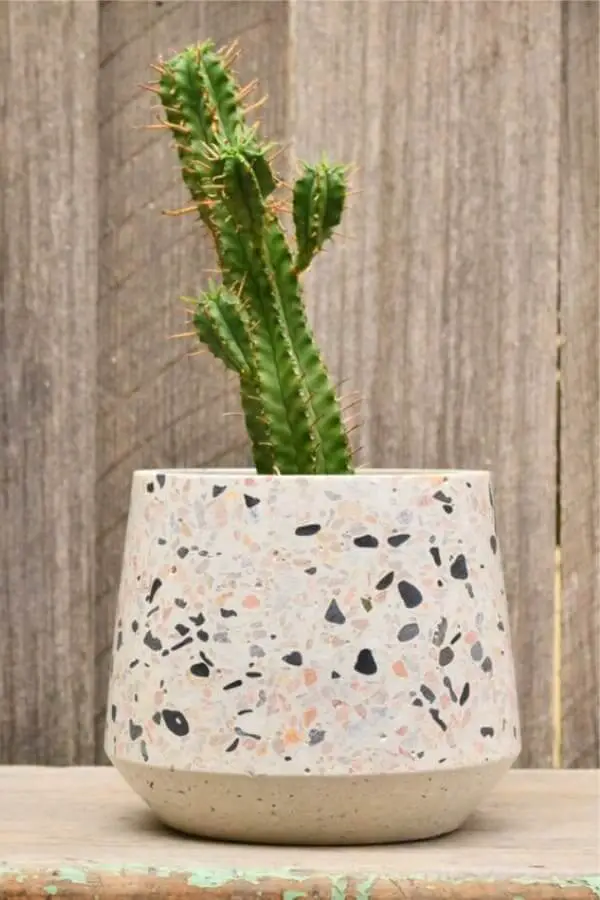 A modern take on this classic terrazzo planter will fit any space. The indoor space will love its clean and shiny look, while its stone materials will go well outdoors.
33. Bohemian Clay Pot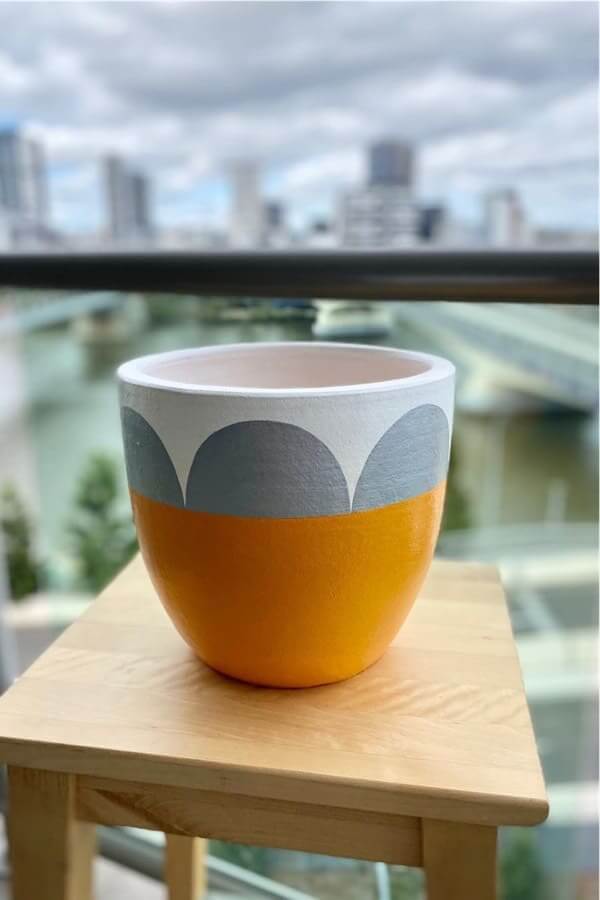 Try boho style when thinking of a good theme for your pot design while maintaining your free will. To achieve this look, start with painting your pot white. Then continue mixing some colors and patterns of your choice.
34. Mini Avocado Painted Pot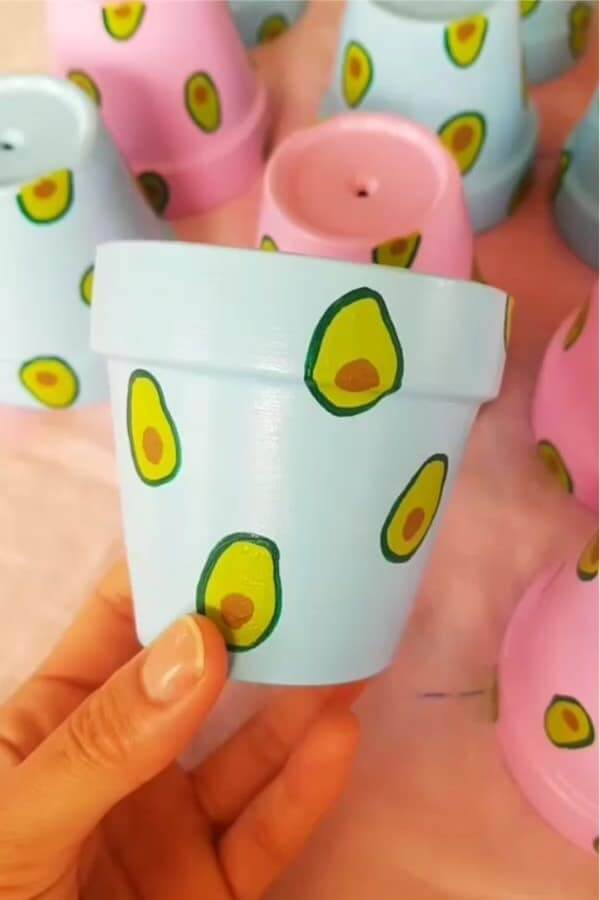 Painting avocados on a flower pot is just as understandable as anyone's love for the fruit. If you can't start the day without having a slice or two of it, why don't you give it some credit?
35. Dedicated Herb Pot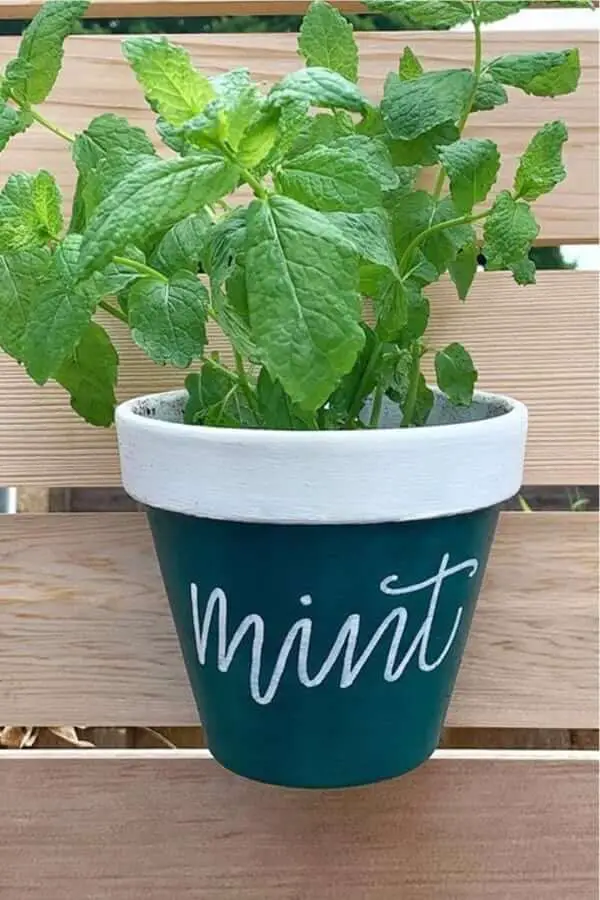 If you grow lots of herbs in the backyard, why not design some dedicated pots for them. You can paint the pot in any color you want and write the herb's name on it.
36. Beautiful Patterned Flower Pot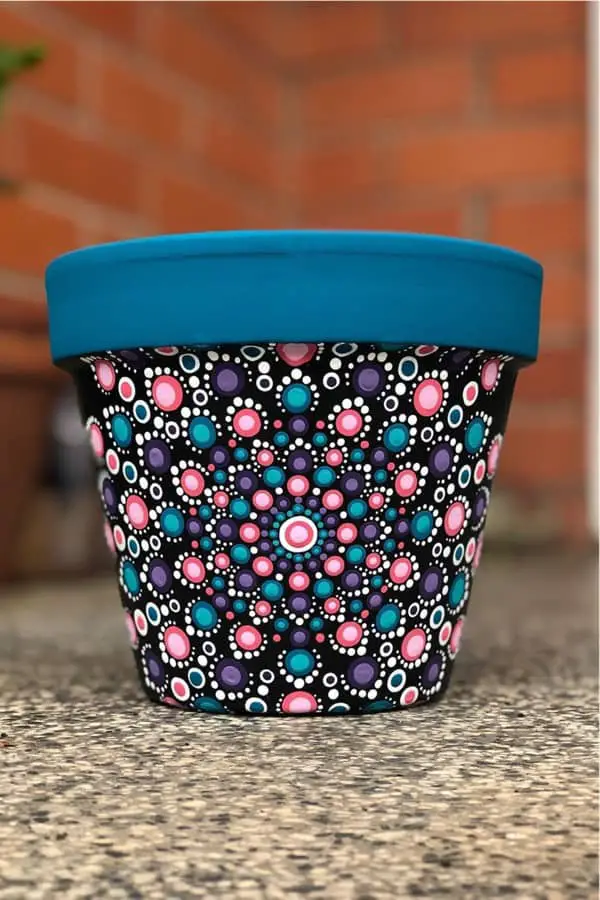 Is art your thing? Try painting some patterns on your pot. They can be dots like you see here or anything else. If you put some commitment to your work, you'd be surprised at the result.
37. Boho Style Planter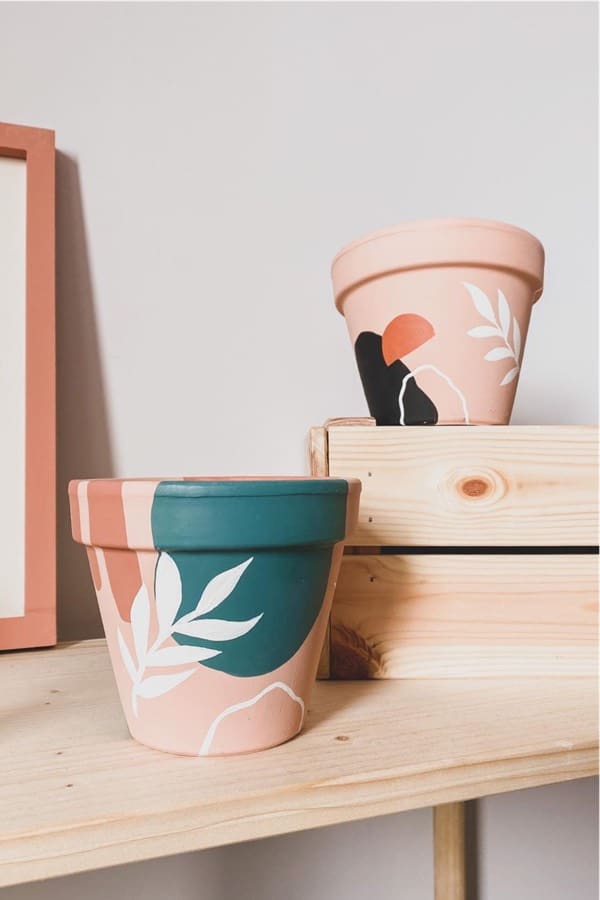 Bohemian is the style you can always rely on. With any pattern and asymmetrical layouts, you can find many designs that fit this style. For example, you can try this soft look.
38. Painted Terracotta Plant Pot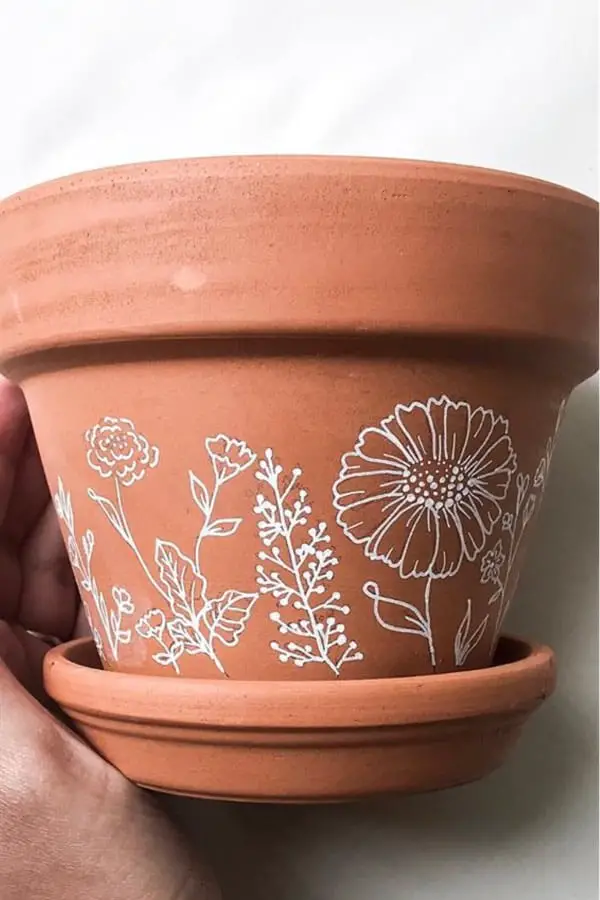 Painted flowers pots don't need to be colorful. The terracotta color of the pot can serve as the base well. All you need to do is paint some ornaments using a brighter color.
***
In conclusion, you'll find that this tutorial gives you some great tips and ideas for DIY projects, while at the same time allowing you to exercise your creativity. With these painted flower pot ideas you'll be able to create a number of unique designs that will allow you to express your personality and show your love for your home. So go ahead, give these DIY project a try and let us know how it goes!
More from Materialsix.com: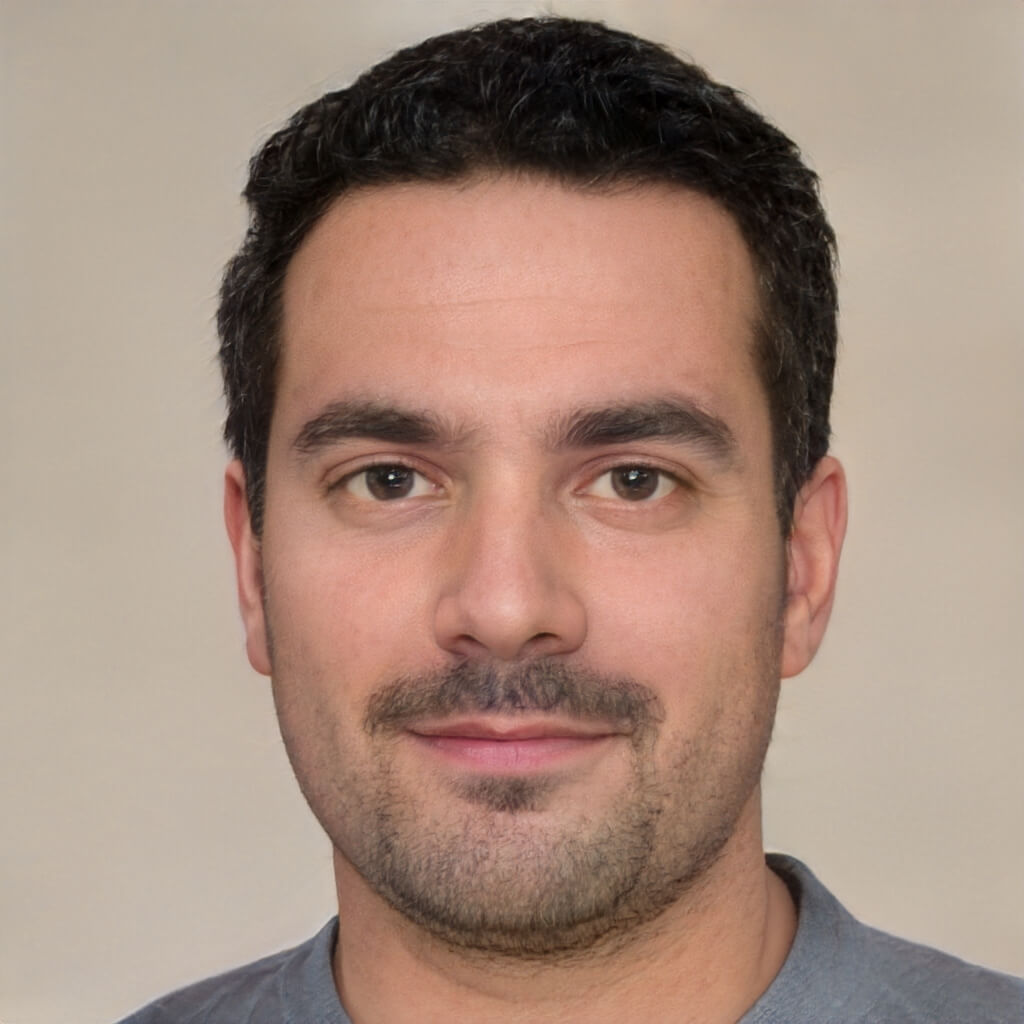 I'm a passionate home and garden enthusiast and the founder of Materialsix Home. With over 10 years of experience in the field, I've cultivated a deep love for all things related to home improvement, gardening, and interior design. Read more…