Did you know that the color of your deck is going to be crucial to understanding just how much you enjoy it?  Furniture can only go so far, after all.  You will want to make sure that you factor in your color choice carefully when you consider the overall deck design.
Not sure just how to pick the design and color of your deck?  Not sure how to know when it's going to look good with your home and outdoor furniture?  The right advice and research will help you get this all-too-important deck color ideas just right.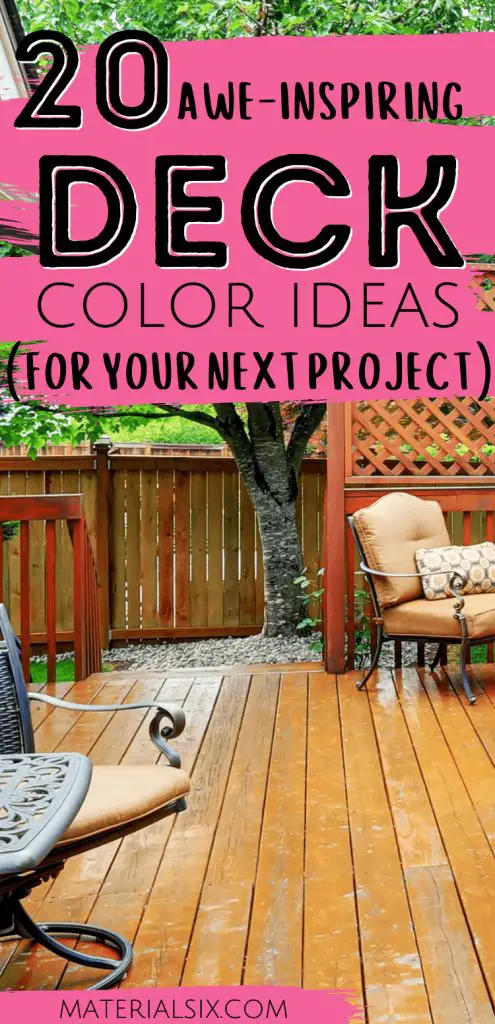 20+ Stunning Deck Color Ideas for Your Inspiration
Below are 21 inspiring options to show you just what you can expect! Check these out!
1. Varigated Wood Deck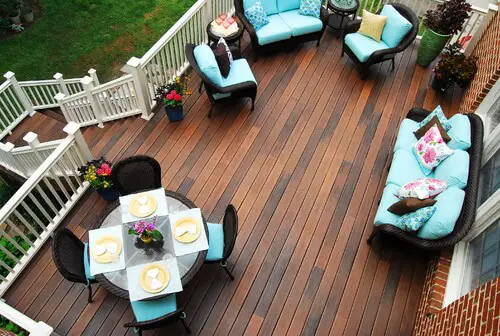 There are some cliches and classic appeals that are both of those things for a reason.  This classic and cliche wood deck is going to be one of the finest examples that you enjoy for keeping things as classic as it gets.  But, there is a fun unique blend of hues that is going to be uniform yet still different to count in modern deck paint colors.
With planks that are all oriented the same way for uniformity, each one is going to rely on fun variegated colors that all manage to come together for a dark meets warm and medium meets light.
In a fun pattern of chocolates and blondes, this is great for those that want to pull out those various shades in their furniture and in their accent pieces.  When applied artfully to the space, you'll get a color combination that still blends it all together.
Read also: 16 Deck Decorating Ideas on A Budget
2. Energizing Shades of Red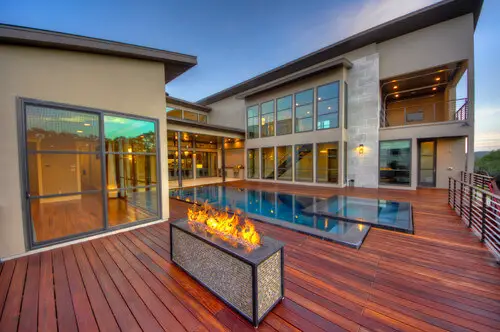 Red is a popular color these days, and when you see it in the artistic displays above, it's easy to see why!  This impressive and exciting example is going to be an entertainer's dream.
From one plank to the other, enjoy an organic flow of orange to red and a blend of planks that is going to be energizing and thoroughly modern.
Perfect for those that are planning on seeing this as a hang-out spot for friends, it'll be great for that young and modern themed home that wants to impress with a cohesive yet invigorating.
3. Blend Neutral with Hued Accessories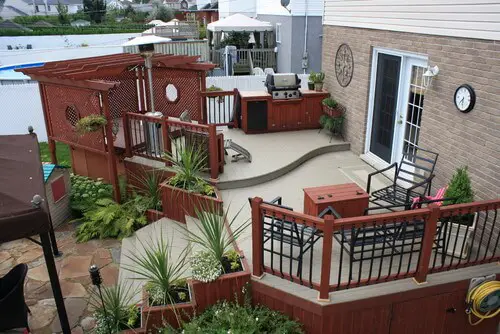 This is one of the more unique ideas with a single color for the deck.  With its main deck in a classic and understated flat neutral, the pop of the hues in the red boards are really going to explode and draw the eye.
If you use that blend carefully and design the actual space of your deck with lots of care and attention, it's going to be powerful.
This kind of design works best if you've got a neutral-colored house just to make sure that the red really pops!
4. Fluid and Space-Defining Wood Grains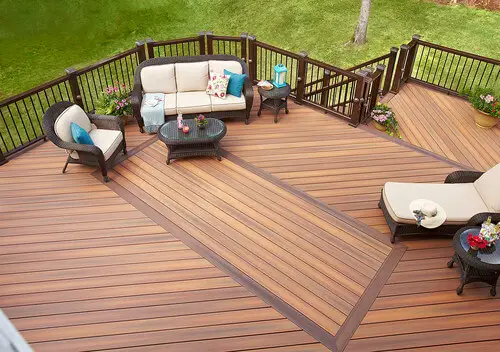 This has beautiful wood in the main part and it is framed by darker wood to accentuate the different spaces on the deck itself.  You can orient all of the wood the same way or contrast angles and play around with different eye-catching combinations.  It depends on what look you want to create.
Contrasting the warm browns and ambers with darker planks refreshing a classic and understated look a lot.  Great for something just different enough to keep it special.
5. Soothing and Flowing Varying Reds and Browns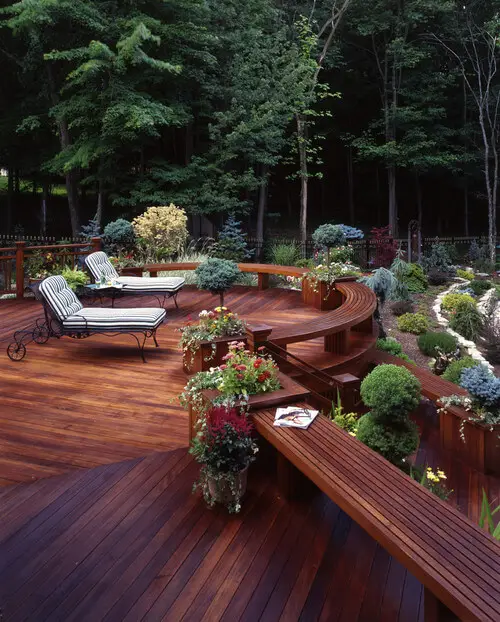 There is something really impactful about this.  Soothing just in the subtle blend of reds and browns as well as the actual change in plank design, it's going to be great for those that are looking for a way to really transform their deck into an outdoor oasis.
Just looking at it makes you want to relax and breathe your worries away.  It's therefore going to be perfect for your relaxation space in a warm and natural red and brown blend.
6. Sophisticated Rich Brown Deck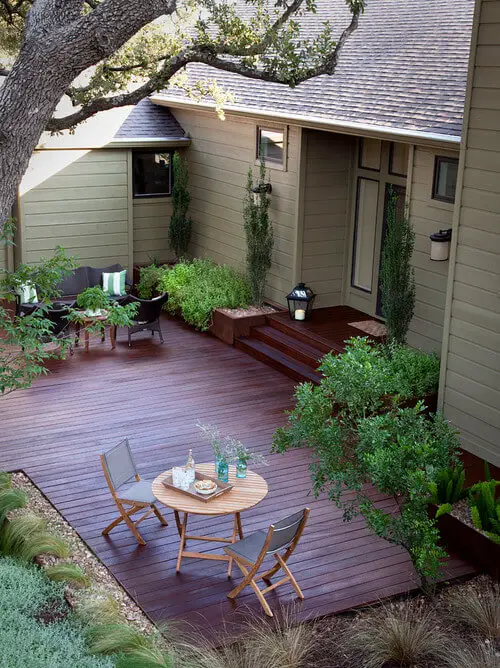 There's a resonance to brown that is simply incredible to look at.  If you want a wonderfully rich shade that is loaded with meaning and personality, this is it.
A lighthouse and deck color combination is going to be really effective here, too, because the rich brown will really pop.  It is simple and sweeping but still loaded with meaning and impact.  The cooler color is really modern, too.
7. Modern and Sleek Monochrome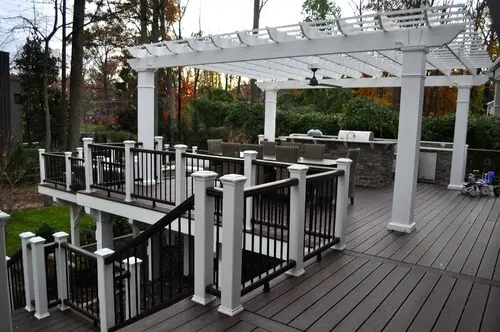 Got that home that just needs to really bring out that cool and uncharacteristically modern vibe, black with white is going to be perfect.
Preferably, go with black deck planks or as dark as you can get.  Contrast it with a rich and blinding white in all of your accessories so that it's going to give that full effect that is so versatile.
8. Understated Red and Brown Planks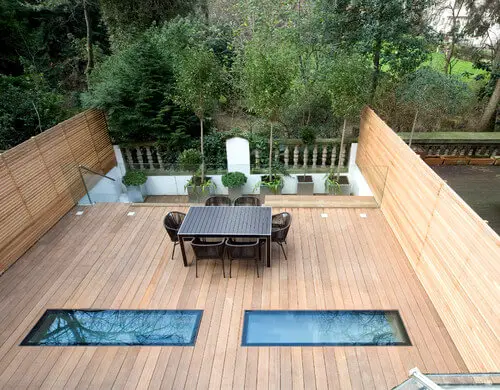 At first glance, this is just another kind of wood that is classic.  But that's why taking a look at it in detail is going to be so rewarding.  Hidden in the calming and classy brown wood grain is a hint of red and darker brown.
It creates this truly amazing and inspiring blend of these wood grains that will pick out the corresponding colors in your furniture and other decorative touches.  It, in particular, blends well with the greenery and more.
Whether it's on a two-level deck like this or a single option, it'll be a great choice.  It's also going to be a logical choice for those that want to stay simple but still enjoy a play on the classic choice.
9. Classy Brown on Brown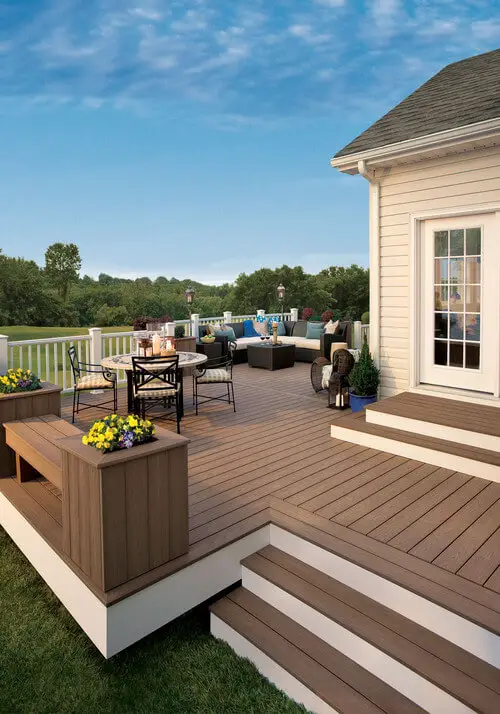 Brown is an instant success.  If you go with a classic mid-tone shade, light it up with some white accents and lightly colored furniture.
It's perfect for when you are going simple with the shade but still want it to be unique.  It's also great for going with a neutral shade in your home and more.  After all, color pops aren't required!
10. Keep it Light (Brown)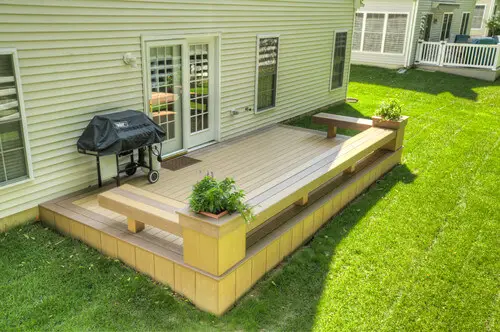 For those that want to go lighter still, you can!  If you've got a vibrant siding color or you just want to keep everything light and airy, a blonde wood design is going to be great for when you are looking for a casual and simple look.
You can spice it up with some color pops, or just enjoy it with nothing but light brown.  It'll look simple and sweet both ways.
11. Awe-Inspiring Classic Mahogany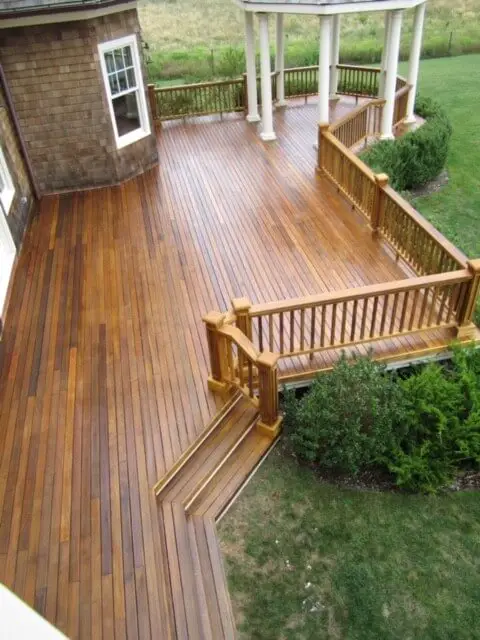 Mahogany is a gorgeous hue that is right between light and dark.  When hunting for a way to really enjoy the warmth that is still variegated and unique, this is a rich wood that will do it for you.
12. Warm and Appealing Honey Stain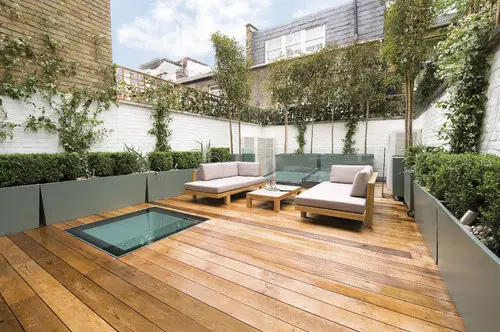 Honey is a nice warm, inviting light brown that will go perfectly with the natural shades of your home.  perhaps it's white, perhaps it's brown, or even something earthy, like a deep green.
This kind of stain is going to help bring out the warm hues of the wood and it will also be great at keeping things simple and plain when looking to add in color in other ways on your deck.
13. Simple Blue-Gray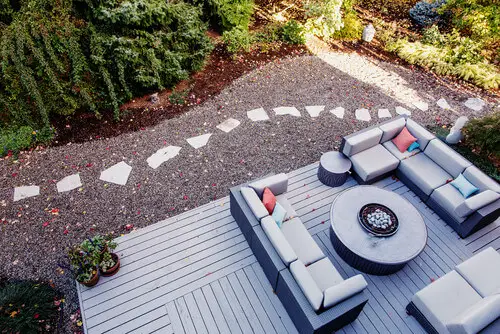 This one is going to blend together movement with a fun blue and grey flat color that is somehow perfect for when you are creating something entirely special
The planks are a plain shape, but they are pieced together so sweetly that it forms a fun footprint that is highlighted with color coordinating furniture and a flat finish on the color of the paint itself.
It's a sweet combination of grey with a blue hint that is there but not so strong that it's overwhelming.
14. Fawn-Grey Matching Set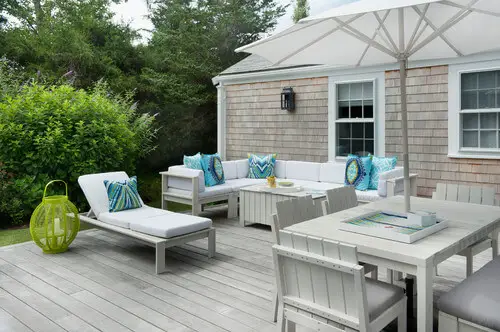 Aptly named, this is a beautiful grey with brown (fawn) that will blend well when you want to paint your furniture the same color.
Great for those with cedar, wood, or even a pop of color on their homes, this is a fun and captivating blend that also is special for when you are looking to add in your own color pops through soft finishes.
Wider planks tend to work better for the subtle touches of color and soothing symmetry.
15. Level Up with Dark Shades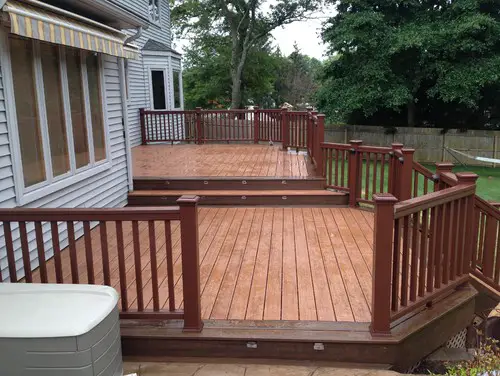 If you have a two-tiered deck as this one does, great detail is to frame your steps with a darker shade of the same woof.
In a single strand or a double ring, this is great for making sure everyone sees the steps, but also is going to be important for distinguishing them and their furniture, too.
Great for blending yet separating.  It also helps show the power of elevation from below/
16. Beige and Grey = Greige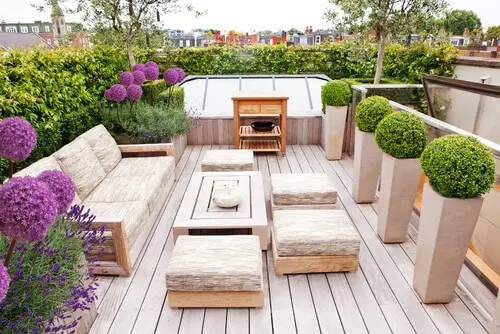 Beige gets so much bad press, but it can be a really soothing and calming hue if you know how to work with it properly.  A great example of truly doing it right is going to be this greige blend.
It's a fun combination of grey and beige in a streaky design that is present in every element of this deck.  It's a great way to form uniformity in a warm yet neutral hue.  It's just an instant success that will really make that garden or flower arrangement pop!
17. Honey and Golden Fun Herringbone Design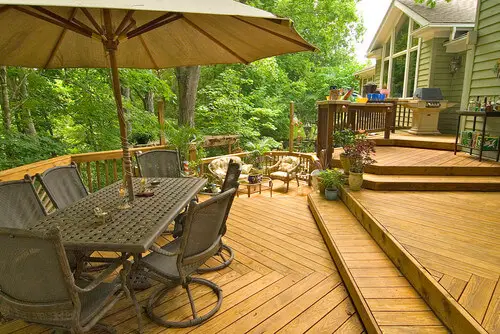 The focus point on this deck design is the herringbone.  While it can be overwhelming if you choose the wrong color, this warm and soothing honey is blissfully neutral yet still full of personality so that all of the right touches come out.
Its color also works well with plain wicker furniture as it is here, or with fun cushioned types.  It's a neutral shade just waiting to be accented (or not).
18. Beige with An Accent Touch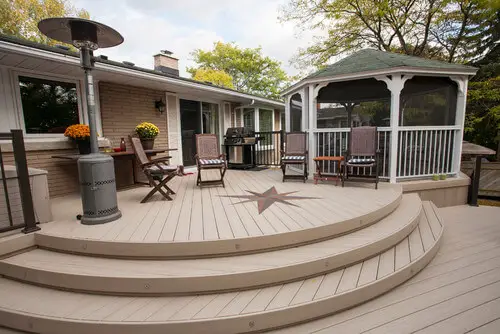 We've talked about beige before, but this is going to be something a bit more appealing if you like to play with wood.  This has a focal point in darker rich grain wood that immediately draws your eye.
It is going to be a fun and simple, beautiful beige that helps calm you down and still appeals to the eye.  The modern play and careful design perks come from the exciting accent.  Whether you do a compass, like this one, or design something else instead, it's going to be a hit!
19. Warm and Classic Cedar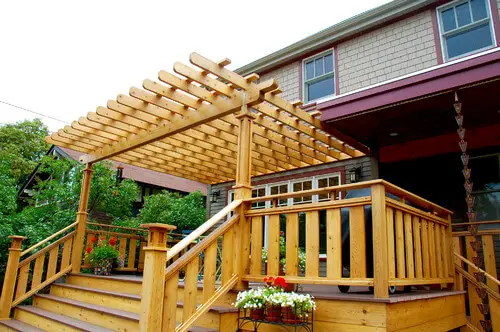 Speaking of color, did you know that the absence of color is still a color?  This is cedar that keeps its natural shade through a transparent stain.  Rich, warm, captivating, and perfect for anyone who wants to put a different twist on the idea of a classic wood appeal, this is going to be great.
When you want to play it up, add in black or dark brown furniture and accessories.  It will really play up the natural warmth and honey tones of the cedar and is going to be perfect as the main deck color or as the accent color in the rails and more.  It's going to be timeless, too.
20. Streaky Charcoal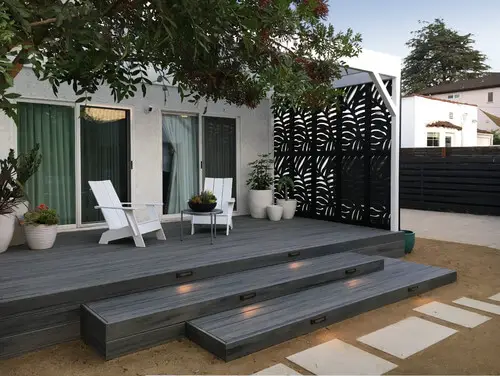 While it may not be common yet, we have no doubt that it soon is going to be amongst the most popular deck colors.  It's a fun black and grey blend that is going to be neutral with still lots of attitudes to bring it together.
It provides great play for color pops and also works well with those black and matte finish accessories if you want to do it that way.  A really special way to transform the way that you look at the color on the decking!
21. Muted Grey on Grey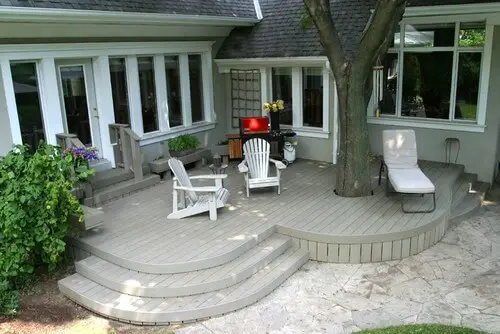 Grey is a classic and cold, sophisticated color.  Blended with fun pops of color, comfortable seating, and greenery from your yard, it's going to be a wonderful choice.
This is an understated deck design, all things considered.  It is a great option for when you want to focus on highlighting the deck's shape rather than using color to help it stand out.
While some find it a cold color, it can be a warm and soothing one when it is used correctly in your space.
Take Away
Perhaps one of these appeals to you more than the others.  Perhaps you saw one that is going to look great with your home's design and overall decor preferences.
Whatever the endpoint is, you'll be able to make a much more informed decision now that you've got the right guidance to show you what's out there for deck color schemes.
More Deck Posts & Other Posts You Might Like: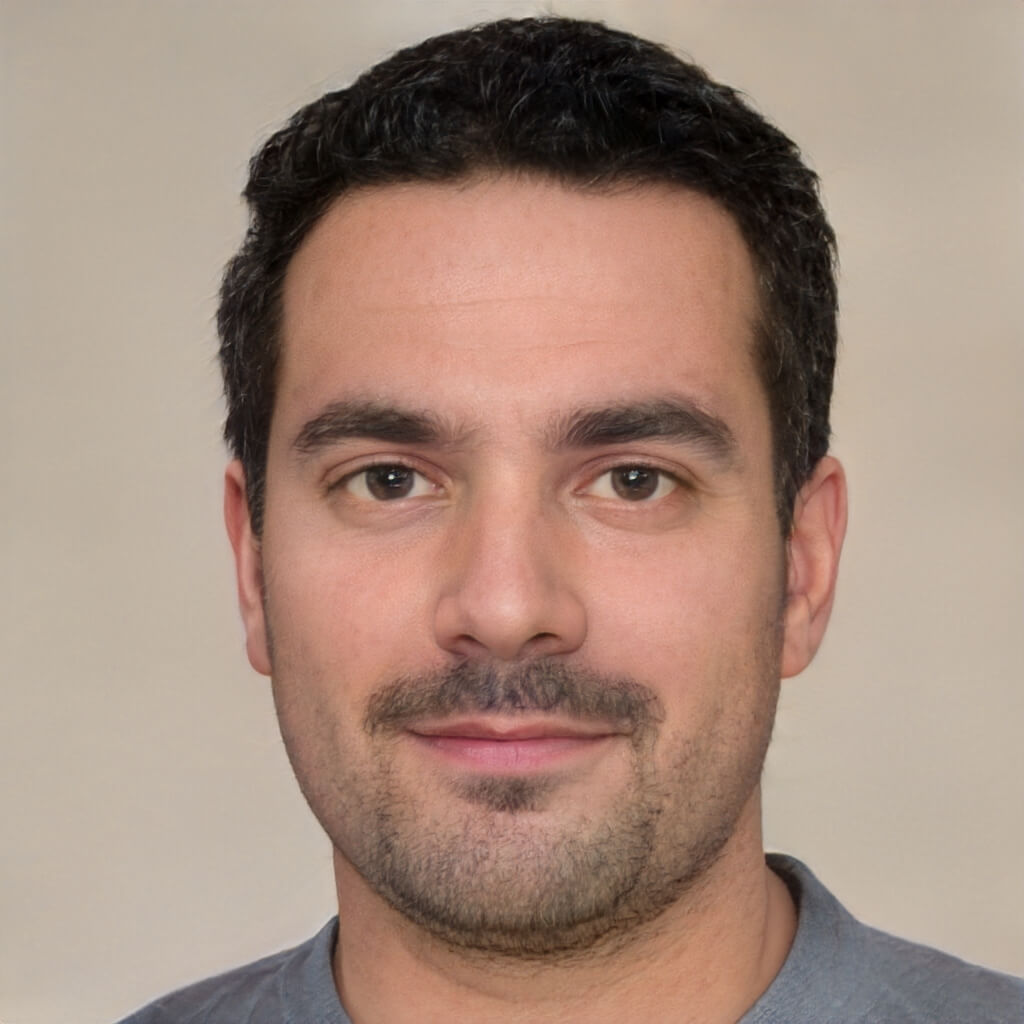 I'm a passionate home and garden enthusiast and the founder of Materialsix Home. With over 10 years of experience in the field, I've cultivated a deep love for all things related to home improvement, gardening, and interior design. Read more…