The house front view is a reflection of the dwellers. The right arrangement will lead to a good impression of the homeowner.
Thus, thinking about the best tone for this part is necessary. The following are recommendations for front door color ideas that might be suitable for you.
20 Stunning Paint Colors for Modern Front Doors
1. Yellow Front Door Color Ideas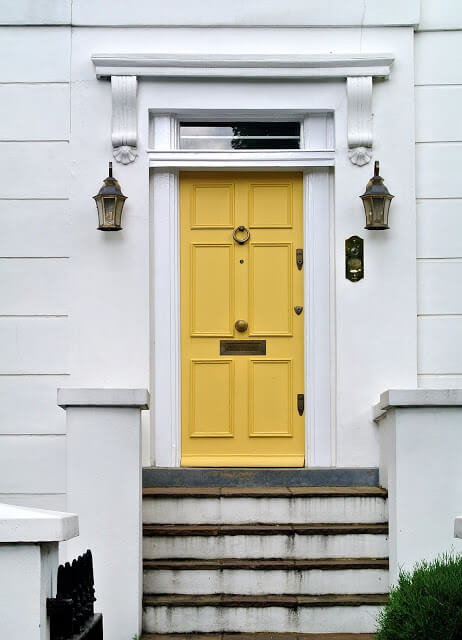 Behind its striking nature, yellow also has a warm and alluring impression. It is also flexible enough to work with any color, such as white.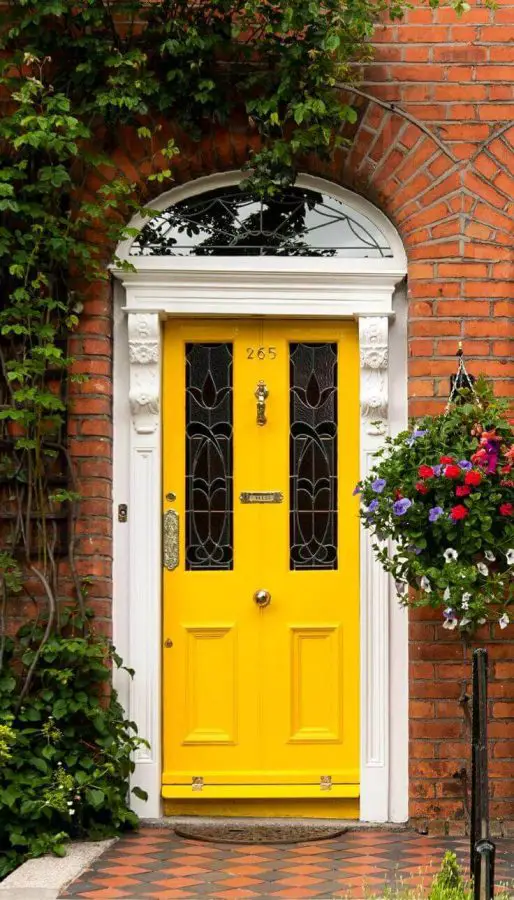 Besides, bright yellow can be an alternative front door color for brick houses. The light tones will look great with the soft tones. Of course, this choice will make your home the center of attention.
2. Olive Green
Olive green is a part of the front door colors 2020 trend because of its beauty behind simplicity. The dark tone displayed is always succeeded in emphasizing an elegant image to anybody who sees it.
The natural nuances displayed also provide coolness, especially when combined with the surrounding greenery. Its flexibility also makes green olive one of the best front door color ideas.
3. Stay Neutral with Gray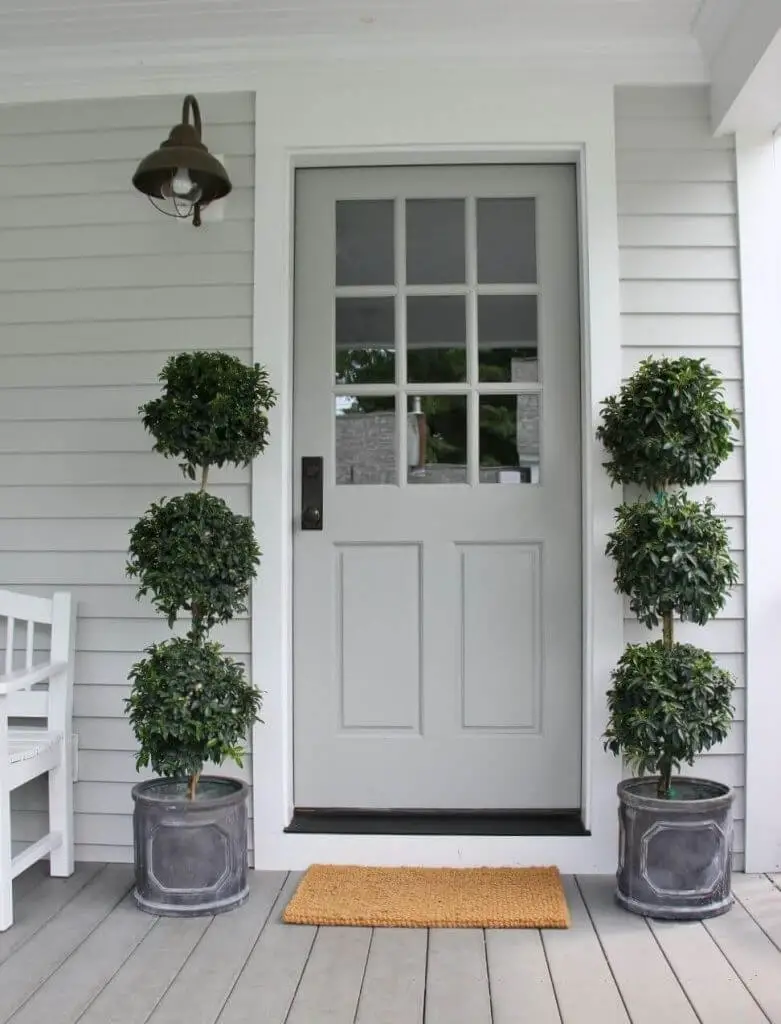 If you are reluctant to fuss on how to pick a front door color, neutral colors can be a solution. Gray is flexible enough to adjust with any tone so that you do not have to bother thinking about the combination.
Another advantage of using gray is its classy impression. This spectrum is a reflection of modern concepts that promote efficiency.
4. White for Any Door Color Combination
Another interesting front door color ideas to apply is white. Not only give a classy impression, but this tone also shows many positive nuances, such as spaciousness, joy, and friendliness.
Read: Best Front Door Color Ideas for Yellow House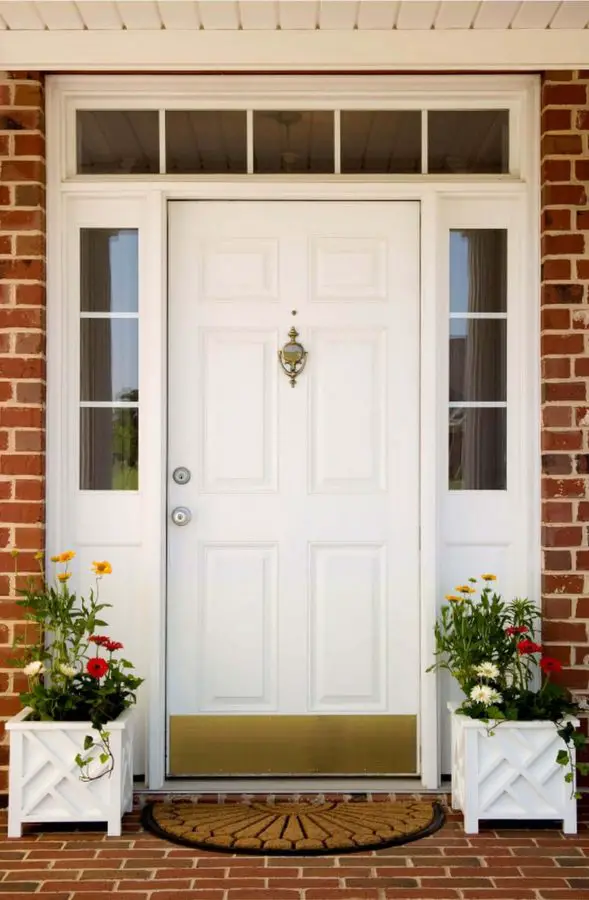 Besides, it is easy to blend with any concept or tone. White will always go well with traditional, modern, vintage, and so on.
5. Turquoise Front Color Door Ideas
Turquoise can be an option for your front door color ideas. This spectrum exudes a sunny yet peaceful feel like on the beach.
Bright colors like this will give the impression that the homeowners have a cheerful and friendly personality. Turquoise also shows a classic but not boring impression.
6. Feel the Beach with Aqua
Aqua is another color with a beach atmosphere. Despite its brightness, the soft tones will bring out a peaceful nuance to the surroundings. No wonder many choose it as the best front door color application.
7. Say It with Maroon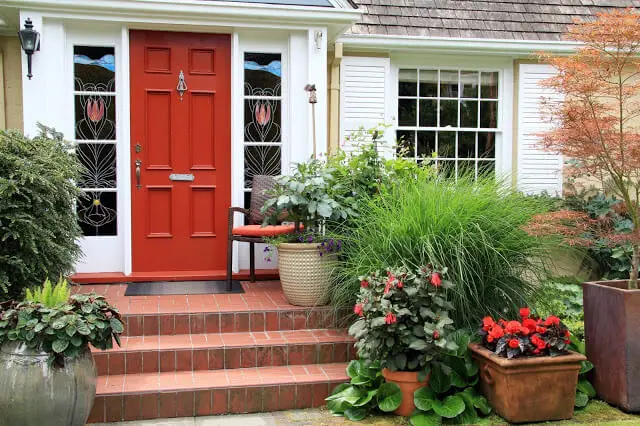 Maroon red is one of the choices that are quite popular for front door color ideas. This spectrum has a simple, elegant, yet a little mysterious impression.
No one can resist the beautiful impression this color gives off. Maroon can be easily combined with any decoration and tone so that you can take these amazing front door paint colors pictures.
8. Going Bold with Navy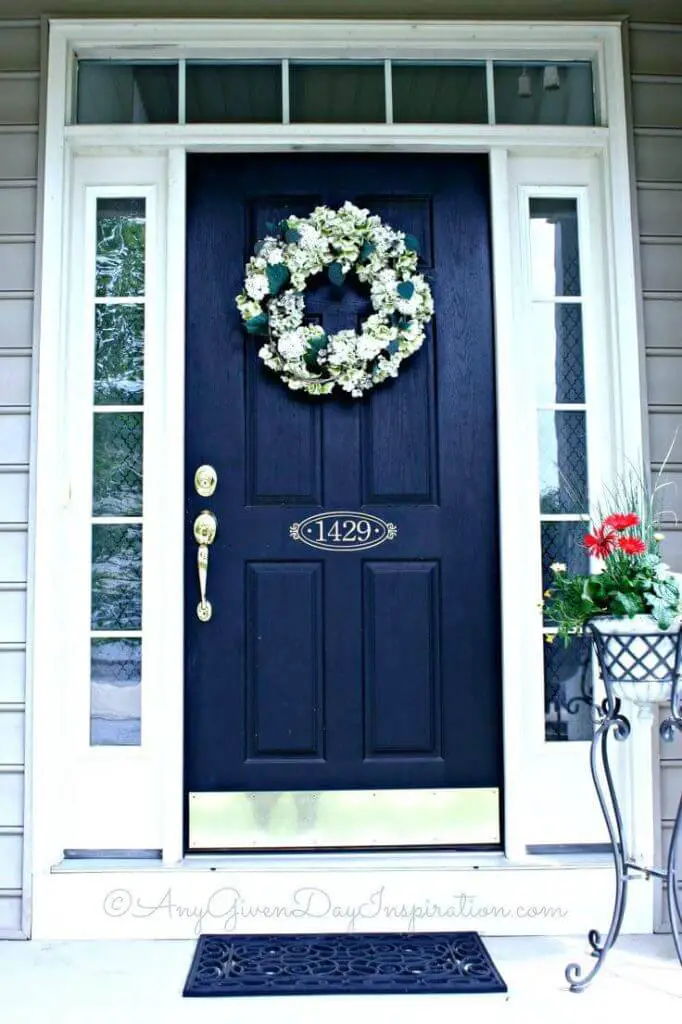 Dark colors can indeed be the best choice of front door color ideas because of their classy nuances. Navy blue is also quite popular among interior design enthusiasts, as it stays beautiful in all seasons.
Read: Best Front Door Color for A Blue House
9. Purple and the Statement of Glory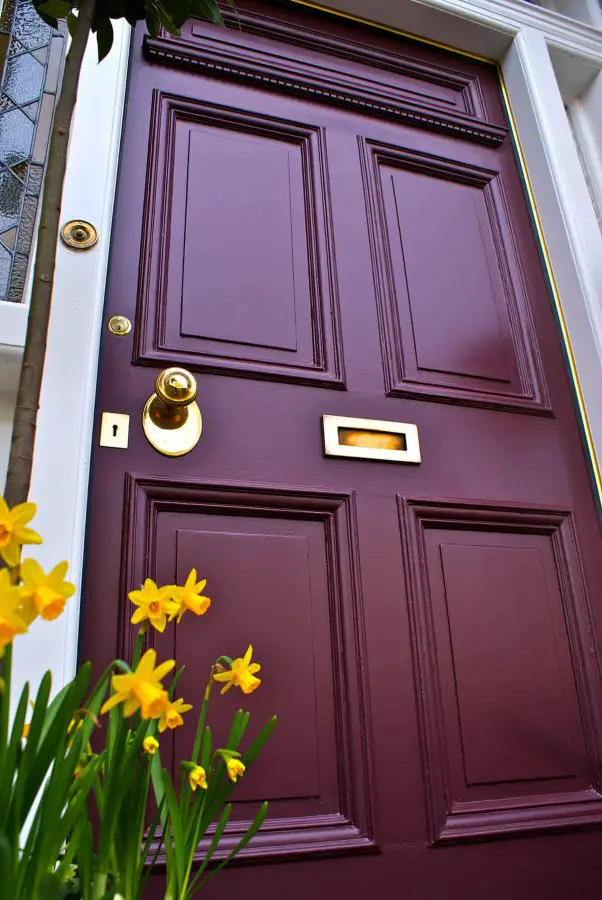 One more dark tone that deserves to choose is purple. Since ancient times, this spectrum has been considered luxurious and a symbol of glory.
Because it is considered a symbol of greatness, people often combine it with gold nuances that also carry the same impression. However, purple is still attractive when standing alone.
10. Magenta Front Door Color Ideas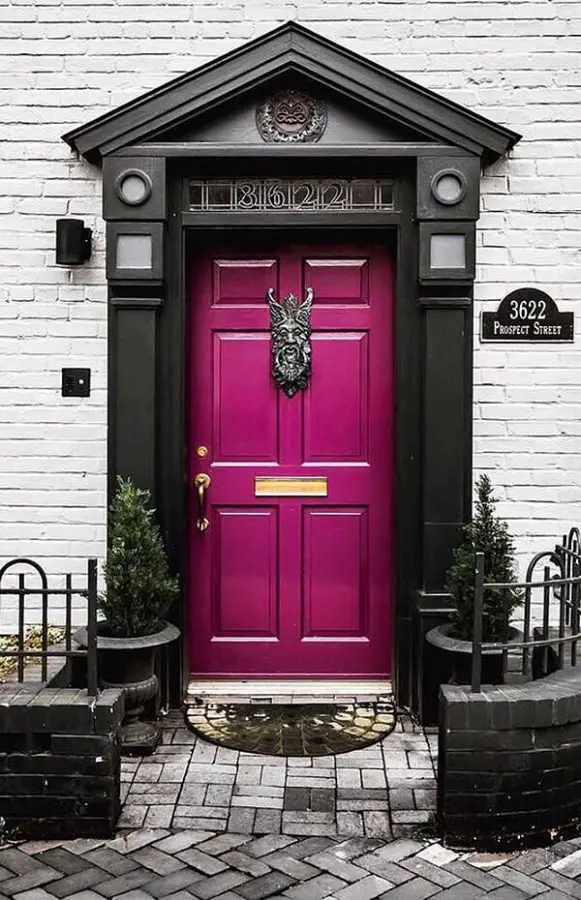 Among the many door color photos, magenta is a color that is quite interesting to apply. The dark tone but still exudes warm nuance is the main attraction. This spectrum works well with gold or white.
11. Romantic Pink
Applying pink as front door color ideas will display a lovely, cheerful, girly, and full of happiness. You can combine it with floral decorations to make it more beautiful.
12. The Black Door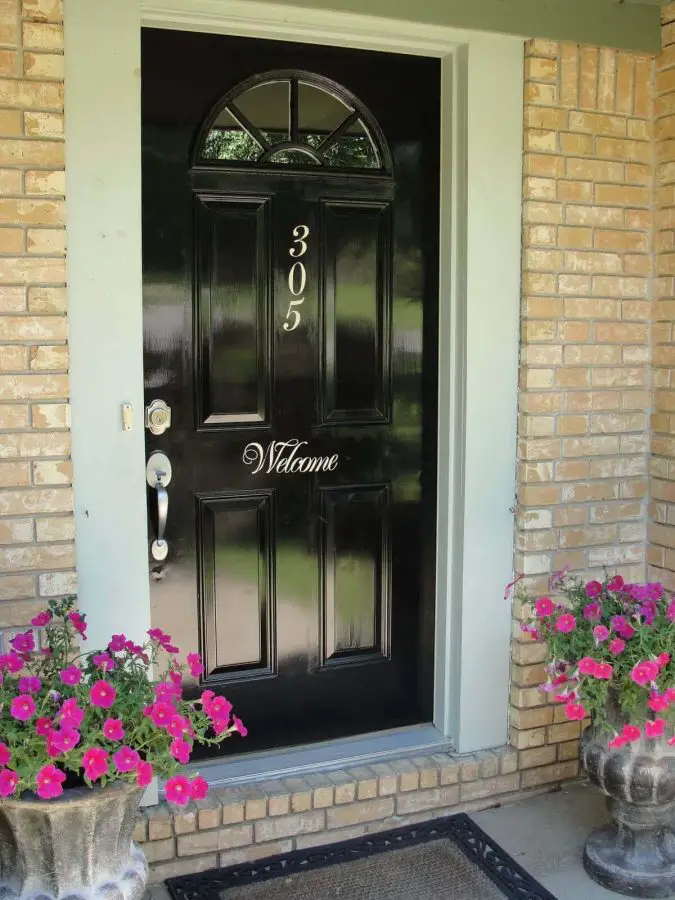 Although most people may find it gloomy and mysterious, black still has a lot of fans as it is quite flexible and can withstand all seasons and weather conditions. It is also adjustable with any color and concept.
13. Let's Go Green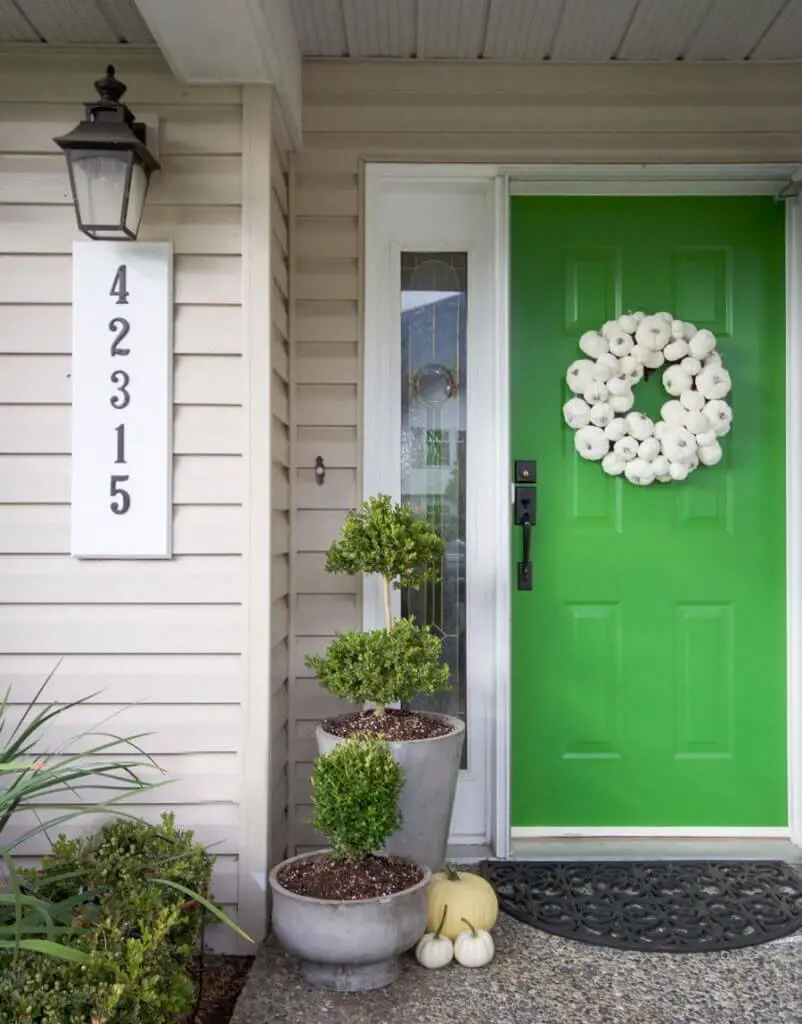 Another recommendation that is no less interesting is green. This natural color is also quite popular because it is bright and adjustable with any concept.
14. Wooden Door Paint Color
Speaking of doors, it seems that nothing is better than wood material. Apart from its strength and flexibility, the original color is also quite attractive. Even after centuries passed, the trend never seemed to die.
15. Stay Calm with Pastels
Choosing pastel colors will give a warm impression. Therefore, there is no need to hesitate to adopt this spectrum as one of the considerable front door color ideas.
16. Orange is The New Trend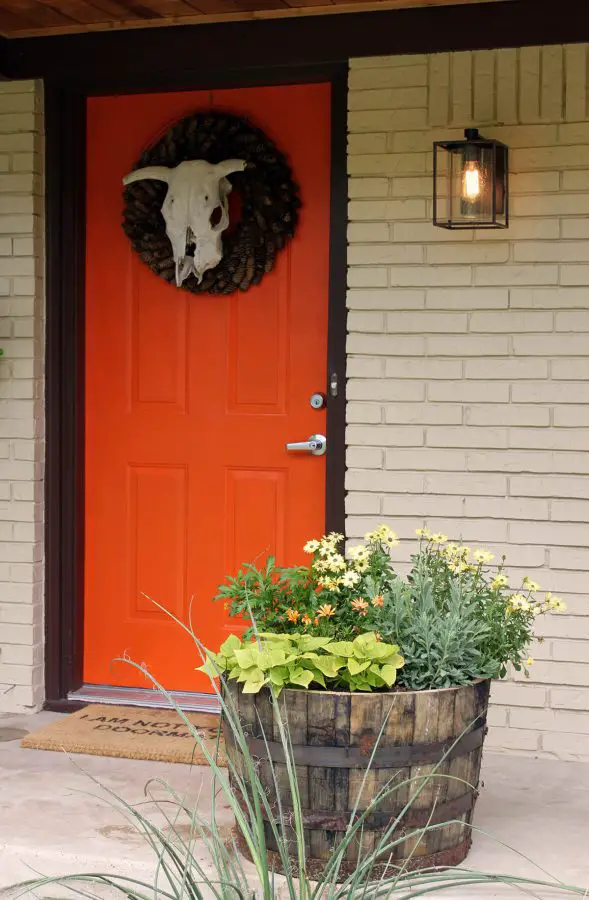 The bright orange color can be a great attraction. Using this color will also give the impression that the owner of the house is a humorous and fun person.
17. Rustic Front Door Color Ideas
Giving a rustic touch can also be an option for front door color ideas. Currently, there are many designs to choose from, ranging from simple to high artistic value.
Now we can say that there are many front door colors to beautify your home. Have you found the right one, or do you have more interesting ideas?
More Door Colors Posts & Other Posts You Might Like: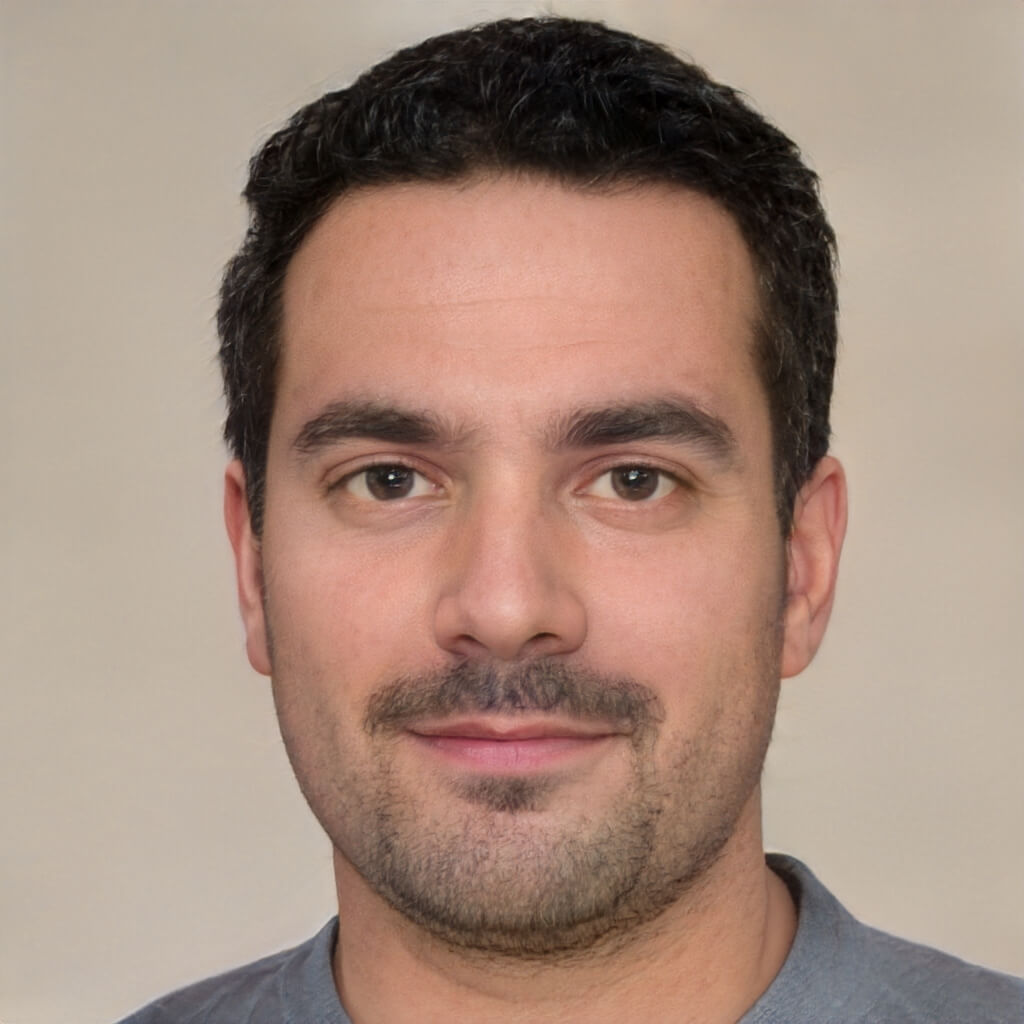 I'm a passionate home and garden enthusiast and the founder of Materialsix Home. With over 10 years of experience in the field, I've cultivated a deep love for all things related to home improvement, gardening, and interior design.