If you need to pick a color for your brick house front door, then you should consider several facts first. For instance, what kind of trim do you have, what type of roof (including color), and will it fit your current style or go with your landscape theme?
Picking the correct front door shade is particularly important if the house has natural wood siding! So, here are suggestions for a front door color for a red brick house.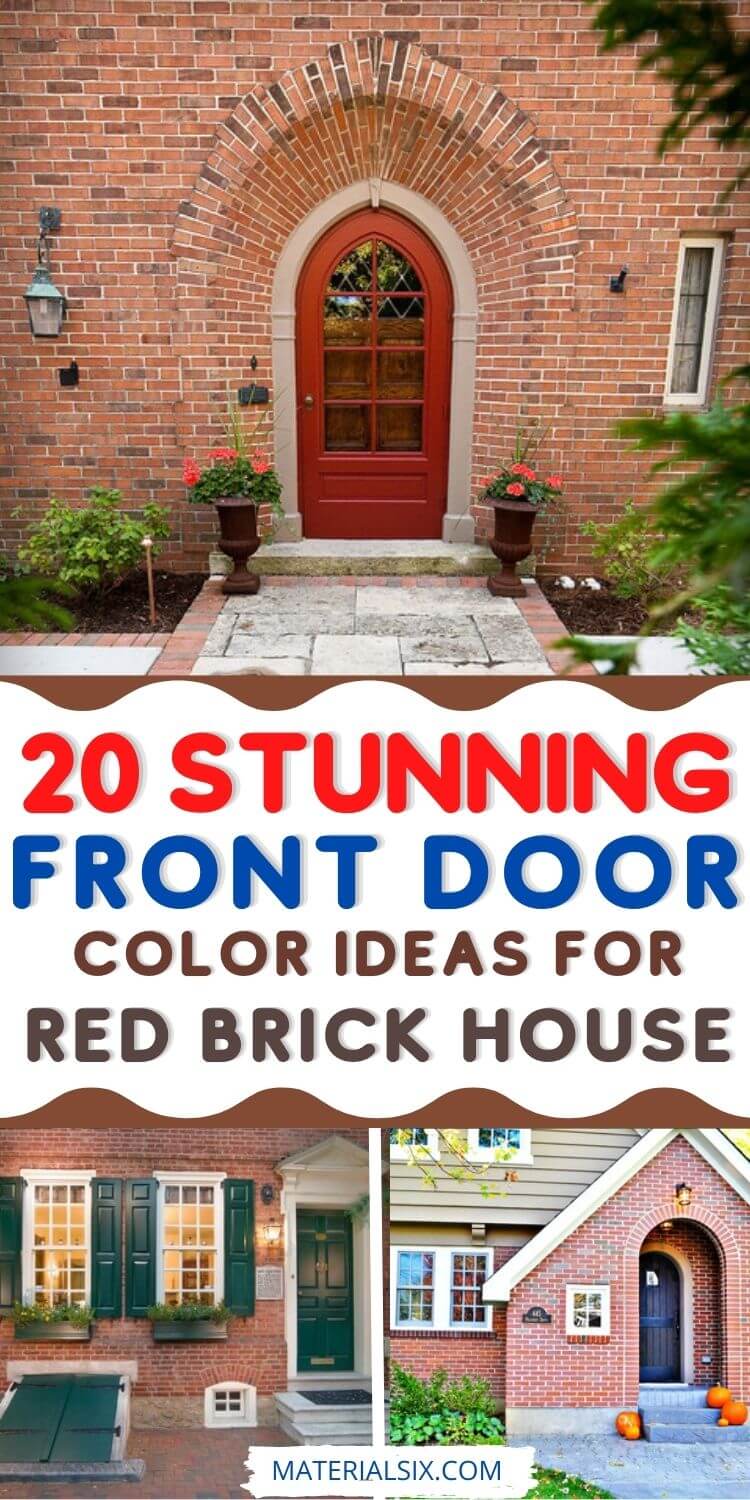 Front Door Colors For Red Brick House
1. Golden Pine Causes Your House Color to Pop
You can see the attraction to this lovely golden pine stain, especially note how the wrought-iron volutes form a web pattern on the glass. If they'd used a darker shade, the design wouldn't have been overshadowed by the background, but via the choice of a lighter shade, it pops
By applying the darker shade only around the door edges, it adds texture and dimension. You end up getting an entrance that looks magically alive. Plus it goes great with the front door's golden-colored stones and is set apart from the backdrop of red brick.
2. Majestic Wooden Doors Add a Majestic Feel
This style shows continuity was chosen in place of attempting to make the front door shade match the red bricks or the white pillars. They decided this majestic wooden door was just the thing and it works well with the color of the stain on the porch ceiling. The dark ceiling color causes visitors to notice the home's brick façade first, since they are brighter and thus a great front and center style.
3. Blue-Green Gives a Forest-like Effect
If the bricks on your house are a medium shade of red, you have a choice between painting your door a dark or light shade. This person decided they wanted it a mix of the door, and chose a front door of a blue-green shade, and the shutters to match. When you add the finishing touch of a window box full of green plants, it causes a forest-like atmosphere.
4. Charcoal Speaks to Respectability, Regal Look
This house is made of a darker red color of brick, and has thin, consistent mortar lines which speak to respectability and has a regal look and feel. As I have often stressed, the color you pick for a front door and its trim are vital to setting the mood you wish to convey. In this case, the owner has decided on a charcoal shade vice a darker actual black. Therefore, the house gives off a business-like vibe.
5. Varied Red Shades Bring Out This Stately Brick Mansion
What if a home's bricks are a bit more orangish or a different shade of red than neighboring homes? If so, you'll want a color that can bring the whole theme together and bring out a stately look. This owner decided on a red that was brighter than the rest of his home, which causes the color to pop against their white wooden trim to form a stately and royal atmosphere.
6. Pair Up Your Color Scheme to Draw the Eye
Many owners concentrate on the home's color patterns when they are deciding what shade to make their front door. Some attempt to match their home's trim or roof shade. But in the case of this home, it's white and grey shades cause it to look a bit washed out. Therefore they needed something to draw the eye better.
Vice blending the door color in with the rest of the house, they choose to pair it up to the color of their landscape, which was a bright green. Now visitors tend to notice this vibrant green shaded door first, then see how it matches the lawn, and grounds the home to the property.
7. Darker Colors Intensify the Shadowy Feel of Front Door
Here's a cool pick for this home's front door. You can see that a few of the bricks here are a sort of faded bluish-grey shade. They chose to paint the front door a navy-grey shade to bring out the color of the other bricks. Had they decided instead to make the front door black, it would instead have caused visitors to assume that was their original shade, while instead, the recessed entryway gives off an enigmatic vibe.
8. Variety Adds Spice
People often say variety adds spice to your life, but you have to be careful when mixing shades in home décor. What's the best way of blending the shades of black, white, red, and green so it looks nice? This house has bricks of three colors: red, white, and black. They decided to also make their gutters black and trim the windows and porch white. And then they added a red front door trimmed in black to finish their color scheme.
9. Cobalt Blue Shade Calms Down the Chaos
This home's bricks are a vivid sort of reddish-orange, with a tiny speck of mortar to set it off. The roof has a dark grey asphalt shade, which means adding another vivid color to the mix wouldn't look very good. Enter the choice of cobalt blue to the front entrance and the trim. That sets off the grey color of the roof and mixes that with a lighter shade that offsets the brightness of the red brick.
10. Pastels Come in Darkened Shades Too
Normally you'd picture lighter shades like yellow or green for pastels, and expect them to put off a tranquil vibe. But take a look at the dark pastel shade of this home's front door. A dark red normally would put off a harsher vibe, but combining it with the door shade causes a more peaceful and quiet atmosphere.
11. Brighter Color Overshadows Perpetual Overcast Vibe
With its stonewashed brick shade, black trim, and white siding, this home gives off a perpetual overcast vibe. The owner managed to brighten that theme up by painting the front door sky blue, which nearly matches the color of their pool water. You end up with the look of a silver lining of a bright promise of nicer days on the horizon.
12. Natural Pine Mutes Concentration on Home's Entrance
It appears this owner was trying to get visitors to concentrate on the whole house instead of noticing their front entrance first. It's a good-sized door, yet the natural pine wood mutes the door's existence. Instead of focusing on one feature, visitors instead tend to visualize the whole house at once.
13. Creamy Colors Give Off  Sophisticated Style, Grace
This house has bricks that are almost a yellowish-orange shade. To made the yellow color pop, the owner picked a creamy white color for their window sashes and the supports. The addition of a black front door with matching black shutters assists in defining the home's personality so it appears to have sophistication and grace.
14. Lacy White Fascia, Dark Brick Produces Uniformity
This home has a white fascia with the look of intricate lace. Its bricks are darker, with very thin and uniform mortar lines. Mix that with a white front door and you get a dignified and uniform appearance.
15. Opposites Attract in This Two-toned Home
The bricks in this home have a light stone shade for the trim with a dark shade for the main part of the home. It features two-toned colors of salmon and maroon, with the maroon outlining the door's interior as the salmon shade covers the rest. Together, this color scheme stops the door from being depressing or noticeable.
16. Get Noticed Via Banking on Differences
If you want someone to notice something, making it different from everything else works every time. This house's front door is right in the middle, so naturally, visitors will focus on it first. This lets a door painted a medium hue or green or red stand out, while also adding some symmetry to the home since the rest of it is a dark-colored brick.
17. Au Natural Stain Pairs Great With White, Red of Home
At times the best thing a homeowner can do is keep it natural! In this case that meant using a light-colored stain to bring out the oak front entrance. It paired up great with their vivid red bricks and bright white mortar lines. All in all, it puts off a warm welcoming vibe to visitors.
18. Red Stain Brings Out the Wood Grain
What about trying to mix the vivid appeal of bright red brick with a rustic vibe from a natural wood front door? What you want to do is use some red stain on that natural wood. Since the bricks on the house aren't all a uniform color, if you painted the door a solid red it would look strange. So, a deeper red stain onto the wood brings out the natural grain and gives the door some texture that goes great with the red bricks.
19. Scarlet and Gray Brings Up the Volume
This home has bricks of a medium temperature type of shade, so the front door needed a way to rachet up the volume so it wouldn't look so dull. Therefore, he took on the challenge and painted the door frame grey, but made the hardware and threshold gold to give it some pizazz.
20. Brick As Accent Only
If your house is like this one and there's not that much-exposed brick, you may wish to use that brick as an accent only. To do so, the remainder of the home must grab the attention. Here, they highlighted the red brick using a wide white-colored mortar and black for the shutters and trim work. As an added touch they painted the porch light grey, so when someone first sees the home, their eye tends to notice the bricks first.
21. White, Blue, and Yellow Give Off  Wintery Feel
This home has bricks of several different hues, so needs some sort of color that stands out. The owner mixed a cobalt blue with white trim and decided on a pastel yellow for their door. The final product tends to give off a wintery feel with the yellow adding a bit of sunshine.
22. Older Brick is Rustic and Ageless
Homes with older bricks are marvelous because they make people think about all the activities the house has seen in its lifetime. In this house, the owner decided to use a barn door style of green with a charcoal-colored trim, which then complimented the brick's age and causes visitors to notice it right away as they pass.
23. Dash of Color Sets the Mood
If your home is a neutral color scheme, adding a dash of a brighter shade helps keep the house from appearing washed out. It can set the mood and affect how people see the entire building. So since it's red, the green would look hotter while a blue shade lends a cooler more peaceful mood.
Conclusion
So, how did you like these options? I wrote it because I have seen how a front door can totally transform or change a home's appearance. Deciding on things like shade, texture, and color scheme totally work to alter a house's personality more than you'd think. If this list helped you to come up with ideas for your house, please leave some comments and share them with us! You can also share the list with others too. Thanks.