Knowing how to decorate a deck is a great investment for any homeowner. As such, they can beautify their outdoor space while adding more functions.
Below are several inspirations to let you create a deck that looks and feels comfortable.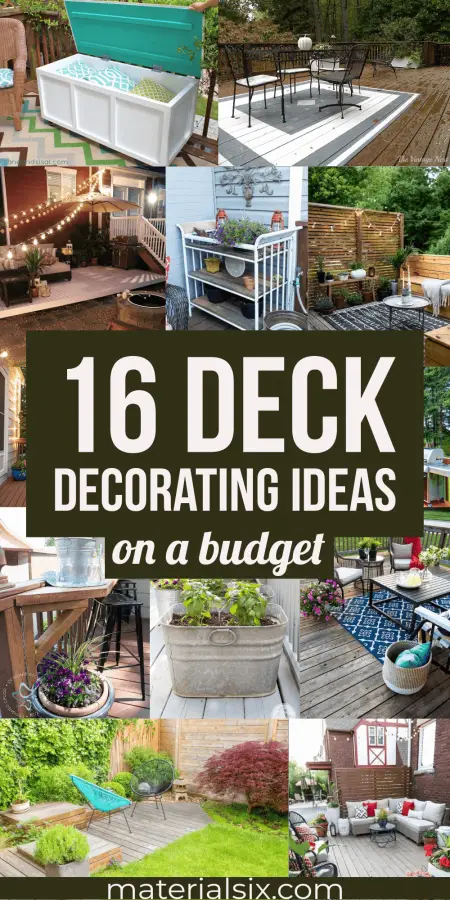 How to Decorate Your Deck on A Budget
1. Introduce a Piece of Furniture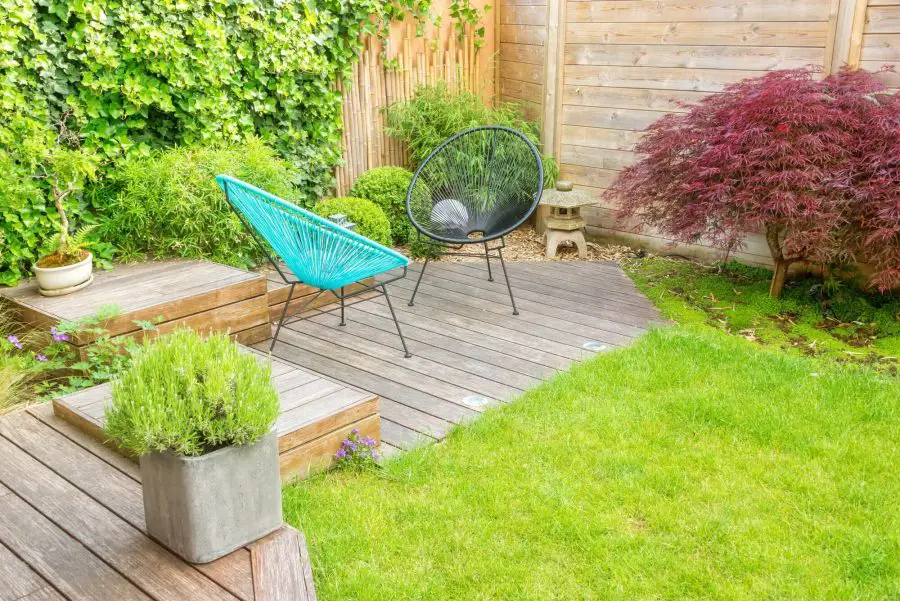 One of the best ways to decorate a deck is by introducing outdoor furniture.
There should always be a great piece available despite how limited your space is.
For budget-friendly small deck decor ideas, you can get a pair of wrought iron chairs and repaint them for a color boost.
Read also: 20+ Top Deck Color Ideas to Consider
2. Bring Your Kitchen Outdoor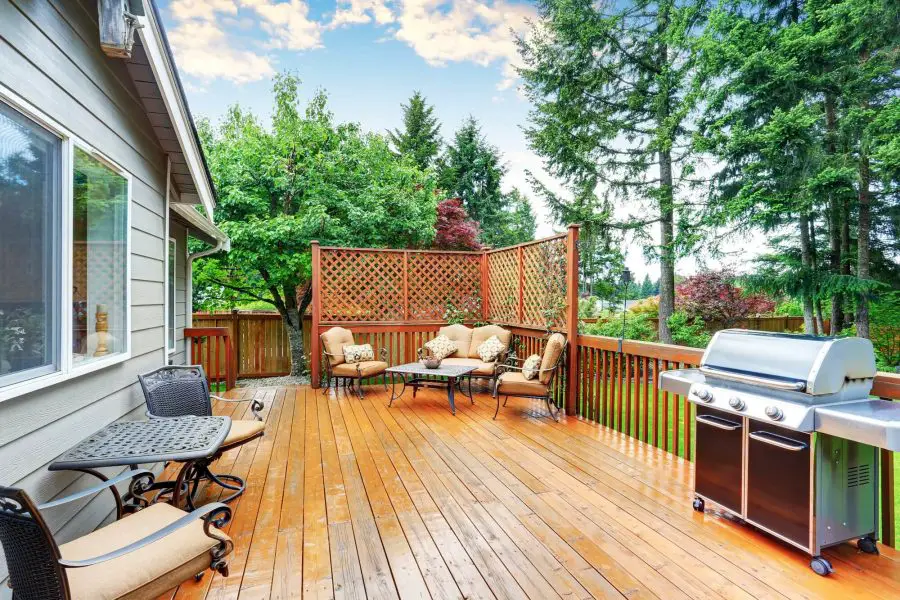 What is more fun than having a barbeque party under the warm summer and starry sky? Now, you can enjoy such happy moments by sprucing up your deck.
During summer, bring your barbeque grill machine and some chairs outside.
For privacy, you may consider adding a wooden screen around the deck too.
Read: Outdoor Kitchen Ideas and Designs
3. How to Decorate a Deck with Privacy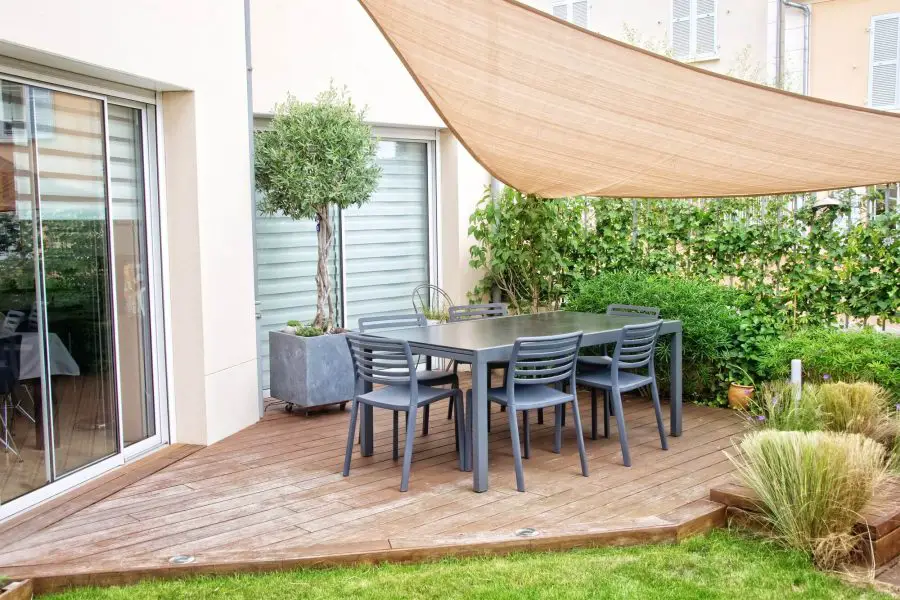 Do you need a little more privacy on the deck? If incorporating a costly screen is not your thing, take a piece of pretty fabric and spread it over this outdoor space, as shown above.
While adding more privacy, the fabric will work as a useful shade as well.
This way, you can enjoy your meals conveniently outdoors.
Related: How Much Does It Cost To Build A Covered Patio?
4. Install Wooden Pergolas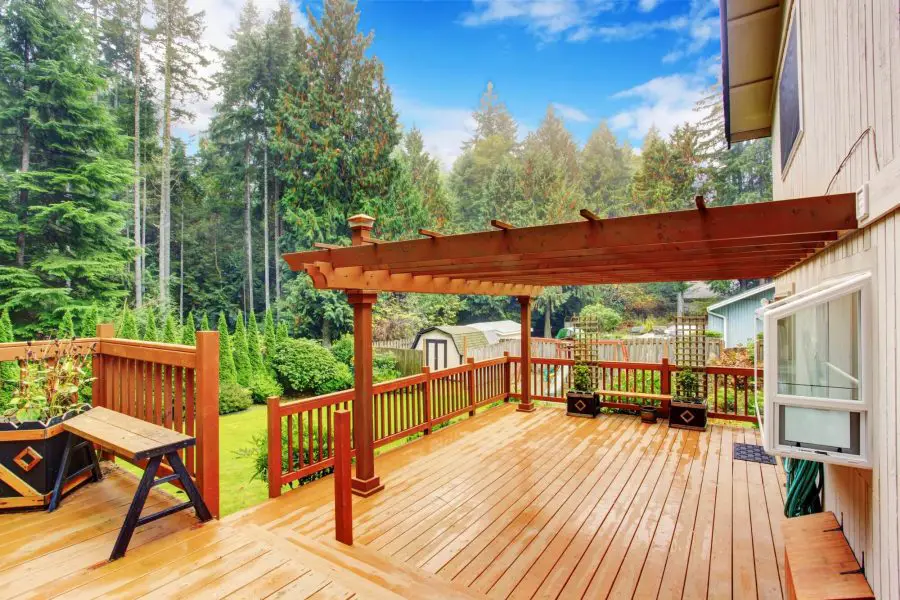 Another one of the functional-yet-affordable deck ideas is to install a wooden pergola.
This additional structure can provide enough shade without requiring so much money.
More interestingly, once you are interested in upgrading the deck into a more enclosed one, it will be less work and budget to provide.
5. Get a Pair of Wooden Chairs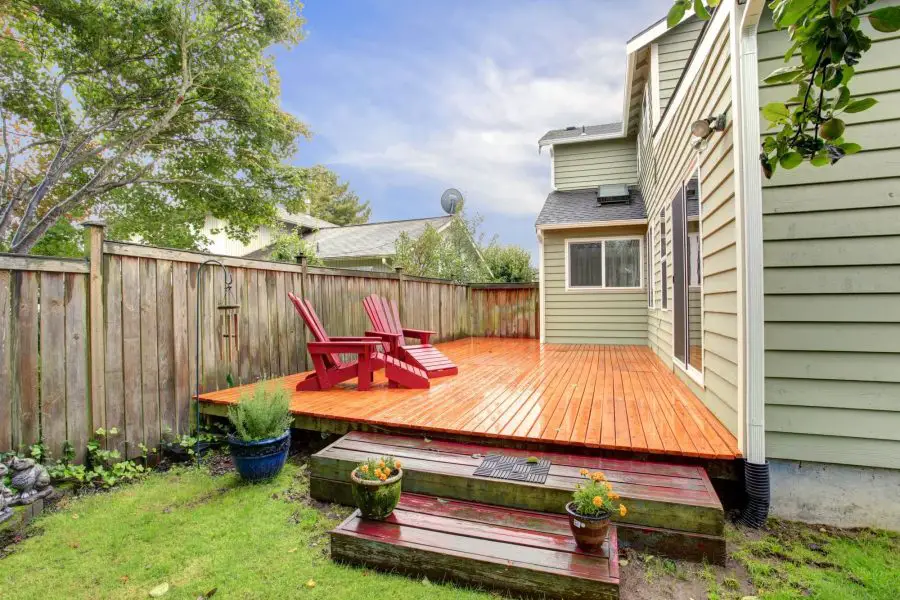 A pair of red wooden chairs offers a fun pop of color on this deck. Besides, they make the outdoor space more convenient to enjoy the summer.
If you are wondering how to decorate a deck with more privacy, this idea can be a great example as well.
It has natural wooden fences to block the view.
Read: How to Get Rid of Skunks Under Your Deck
6. Hang String Lights over the Deck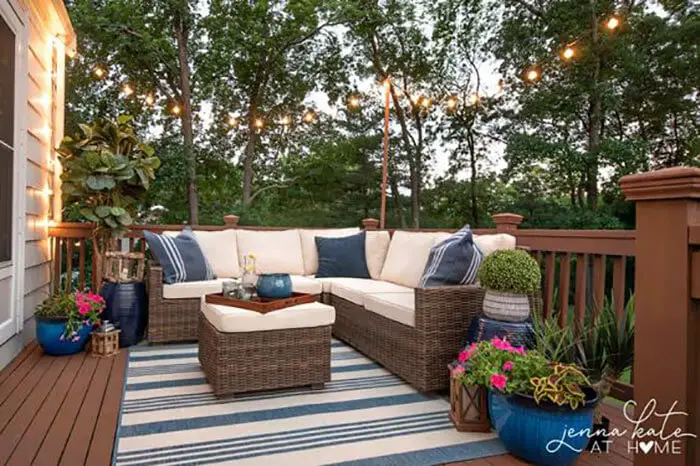 Hanging string lights over your deck will not cost that much, yet it can adorn this outdoor space very well.
You only need to prepare some poles to help to hang the string lights. Furthermore, these deck decorating ideas on a budget will work as a beautiful focal point at night.
7. DIY Deck Storage Bench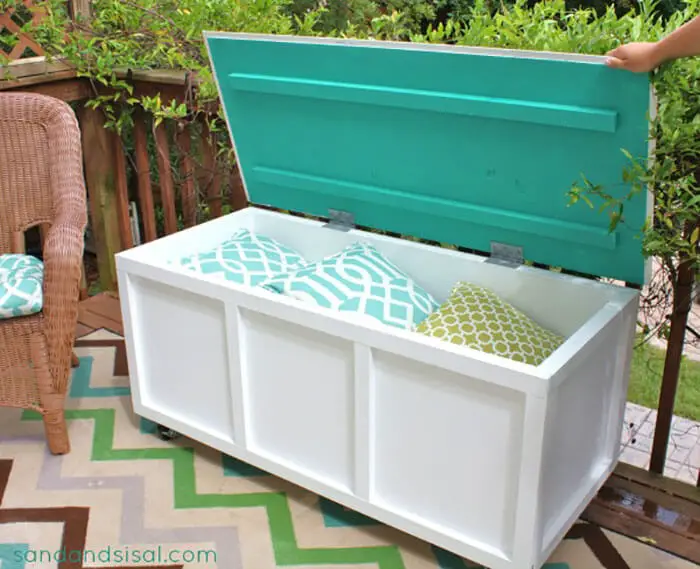 Build your own stylish outdoor storage box that doubles as a bench to complete the deck. It does not only offer high versatility but it is also worth the money.
To create this storage bench, you will need some pine plywood, board, exterior paint, and other easy-to-find materials around the house.
For tips on how to decorate a deck affordably with this idea, consider working hard on the box dimensions so that you will use one sheet of plywood only.
8. Deck Decorating Ideas with Plants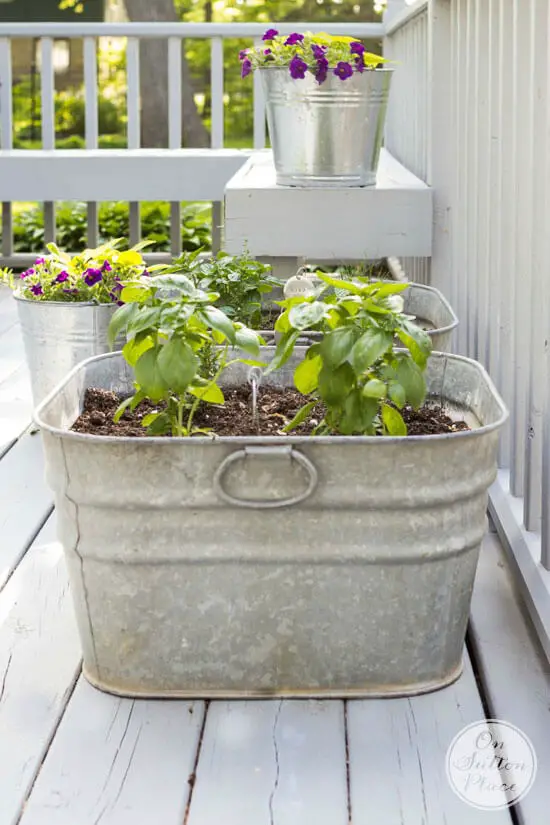 Deck decorating ideas with plants is another solution for those looking for an affordable way to adorn their outdoor areas.
Repurpose several galvanized buckets and plant your favorite perennials or blooming shrubs on them.
9. Update Cushions with Dye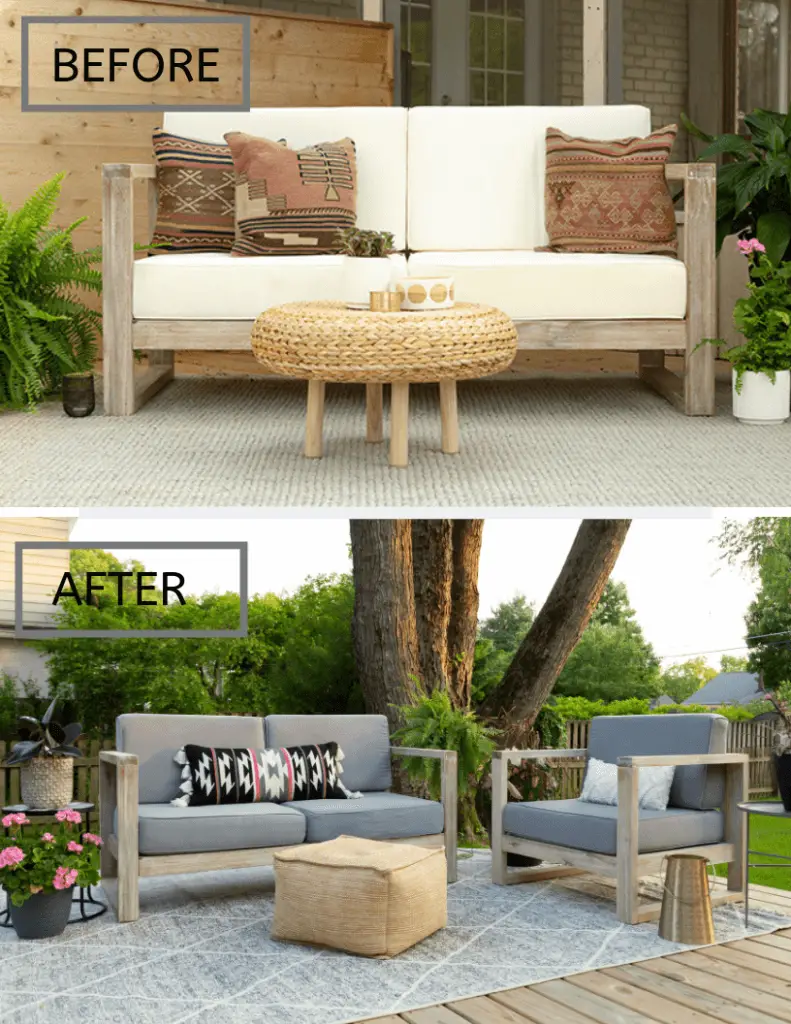 Upgrading the look of your outdoor space does not have to be costly anymore, thanks to this idea on how to decorate a deck.
By dying your cushions in new colors, you will not spend much to get your deck updated.
10. Paint a Rug of Your Own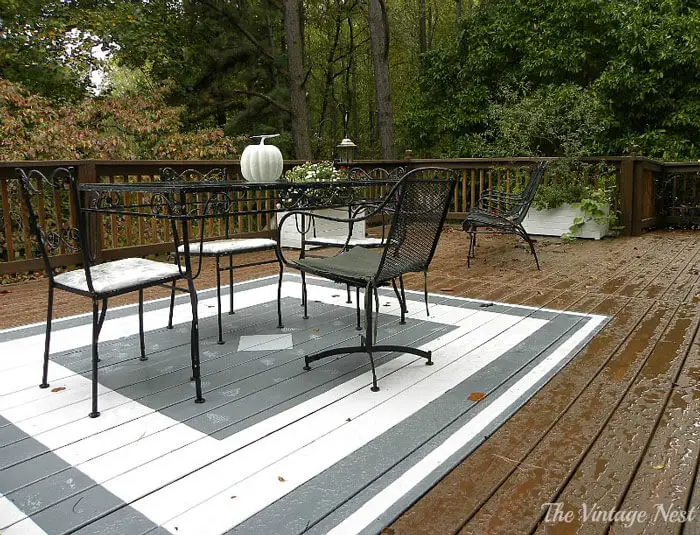 If your location often gets raining, adding a pretty rug will only give you some works.
Alternatively, you can paint the deck's floor to resemble a rug. It will help you worry less while updating the overall appeal.
11. Create a Flip-Up Deck Bar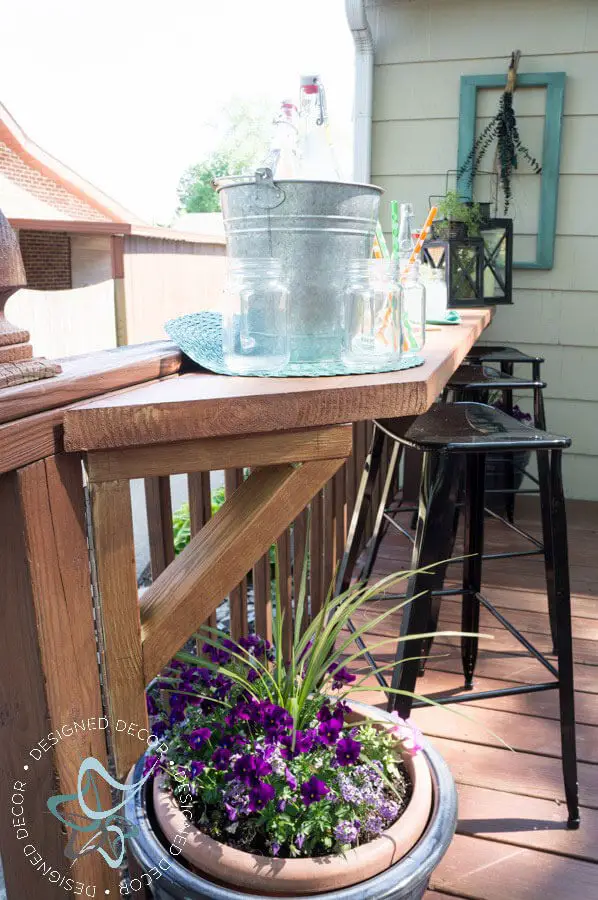 This one of the outdoor patio deck decorating ideas is perfect for urban dwellers that do not have much space for furniture.
Create a flip-up wooden bar and bring several stools to enjoy refreshing drinks right in your deck.

12. Repurpose Racks for Planters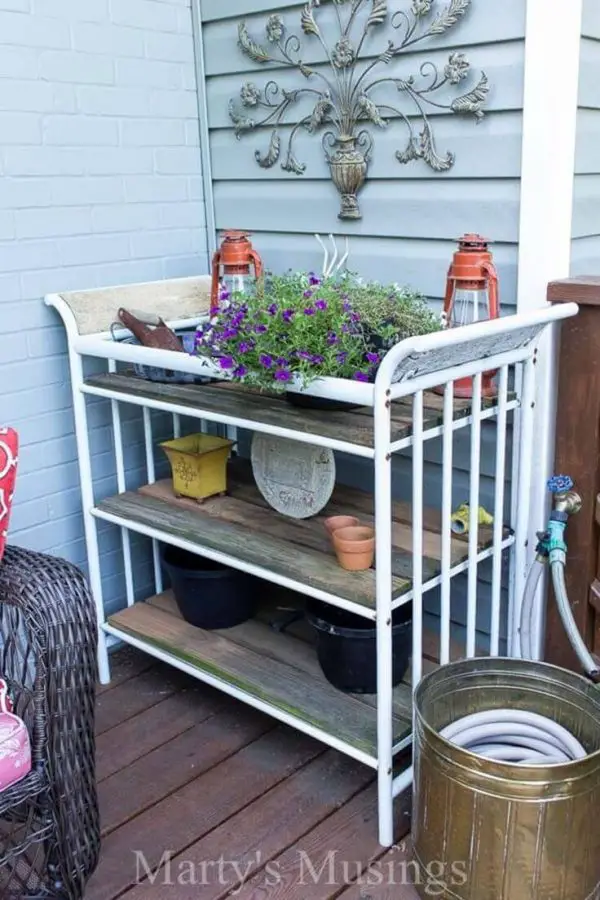 Repurpose your old racks to home planters and other accessories in your deck. You can repaint the furniture or swap the liners with wooden pallets.
13. Get the Most of Light Bulbs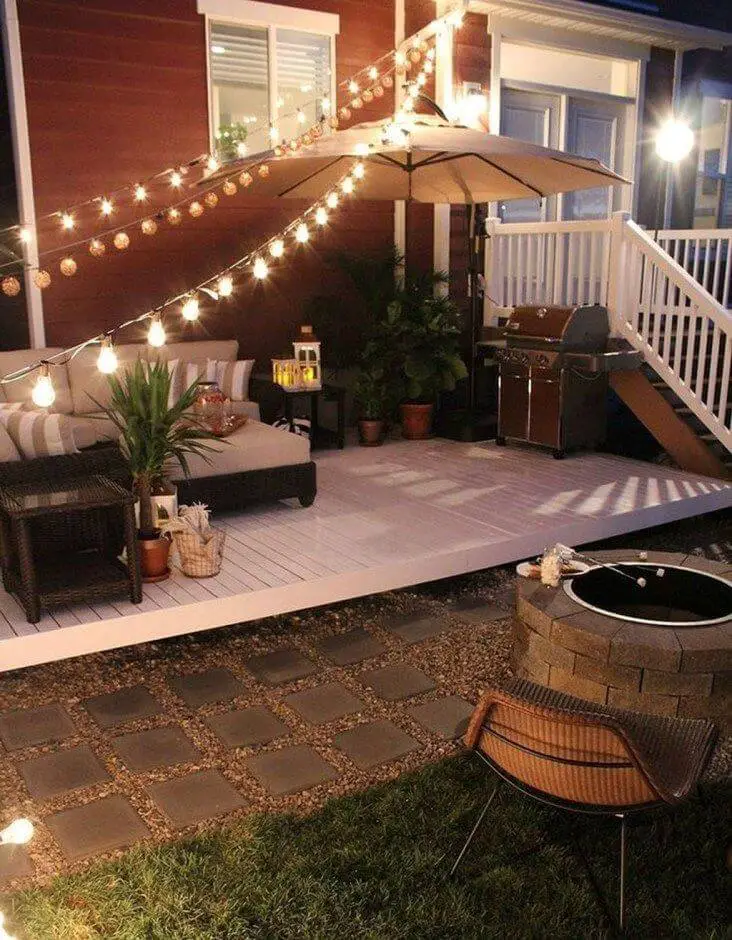 Collect some light bulbs in three different sizes and put them in a string to create this beautiful outdoor decoration.
Read: What does the color of a porch light mean?
14. Decorate Deck with a Rug and Wooden Screen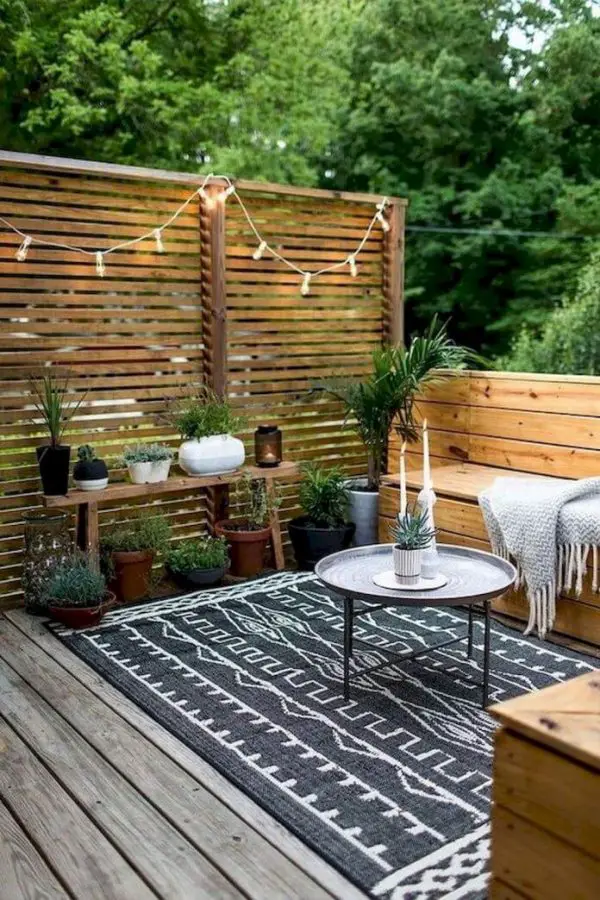 Turn your deck into a favorite spot to hang out by installing a simple wooden screen and incorporating a pretty rug under the outdoor furniture.
Another trick on how to decorate a deck, especially one made of wood, is to add a few plants to liven up this space.
15. Take Advantage of Fabric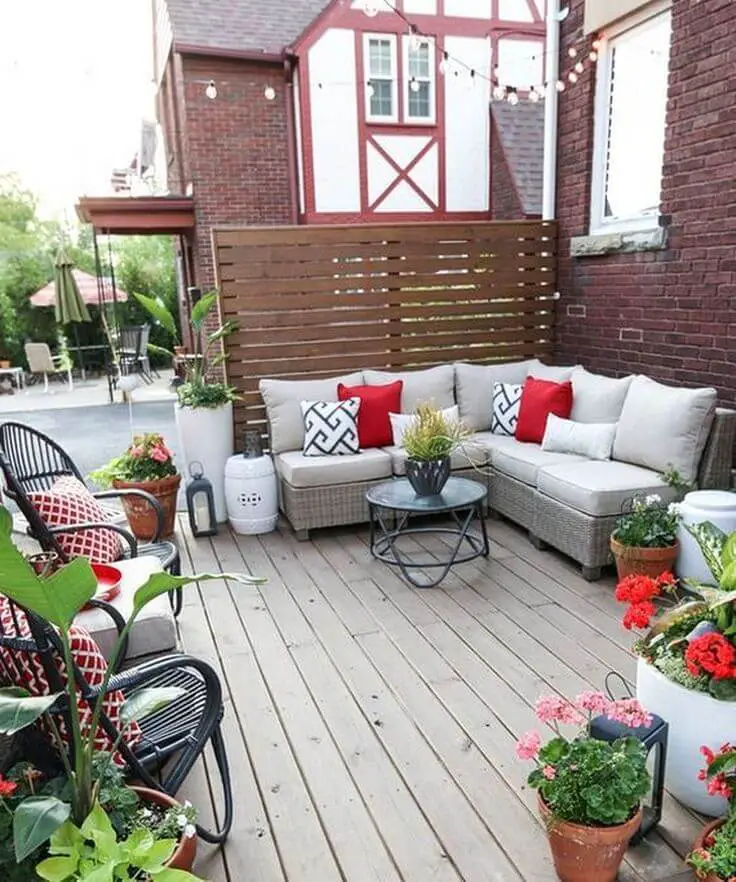 Update your monotonous deck by bringing more cushions or throw pillows outdoors. Its color will complement flowering plants around this outdoor space.
16. Upgrade Deck with Rattan Pieces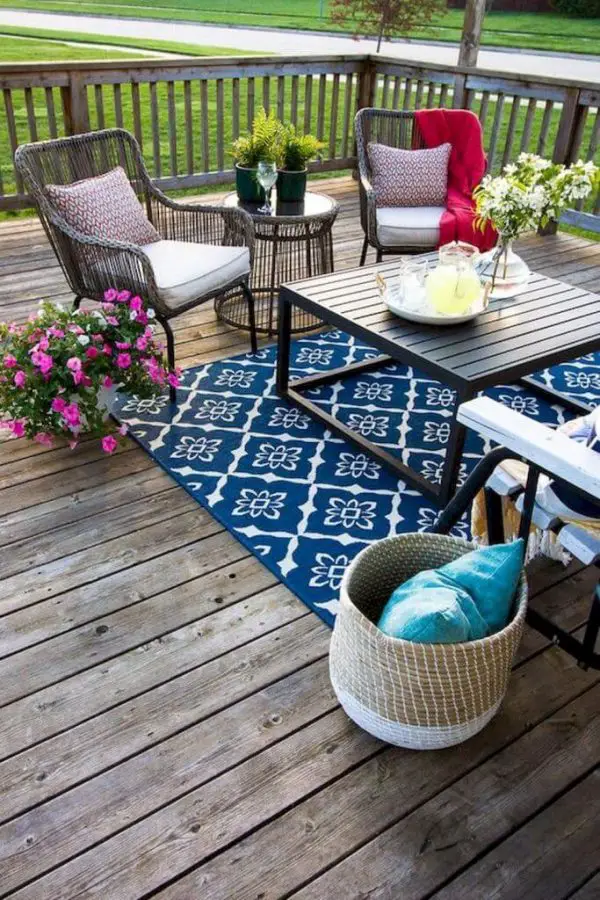 Rattan furniture has become one of the most favorite choices for outdoor uses due to its natural beauty and durability. Besides, you can easily pair it with wooden and steel pieces.
Finally, you have known some wonderful secrets on how to decorate a deck without too much budget. Therefore, happy decorating!
PIN it for later!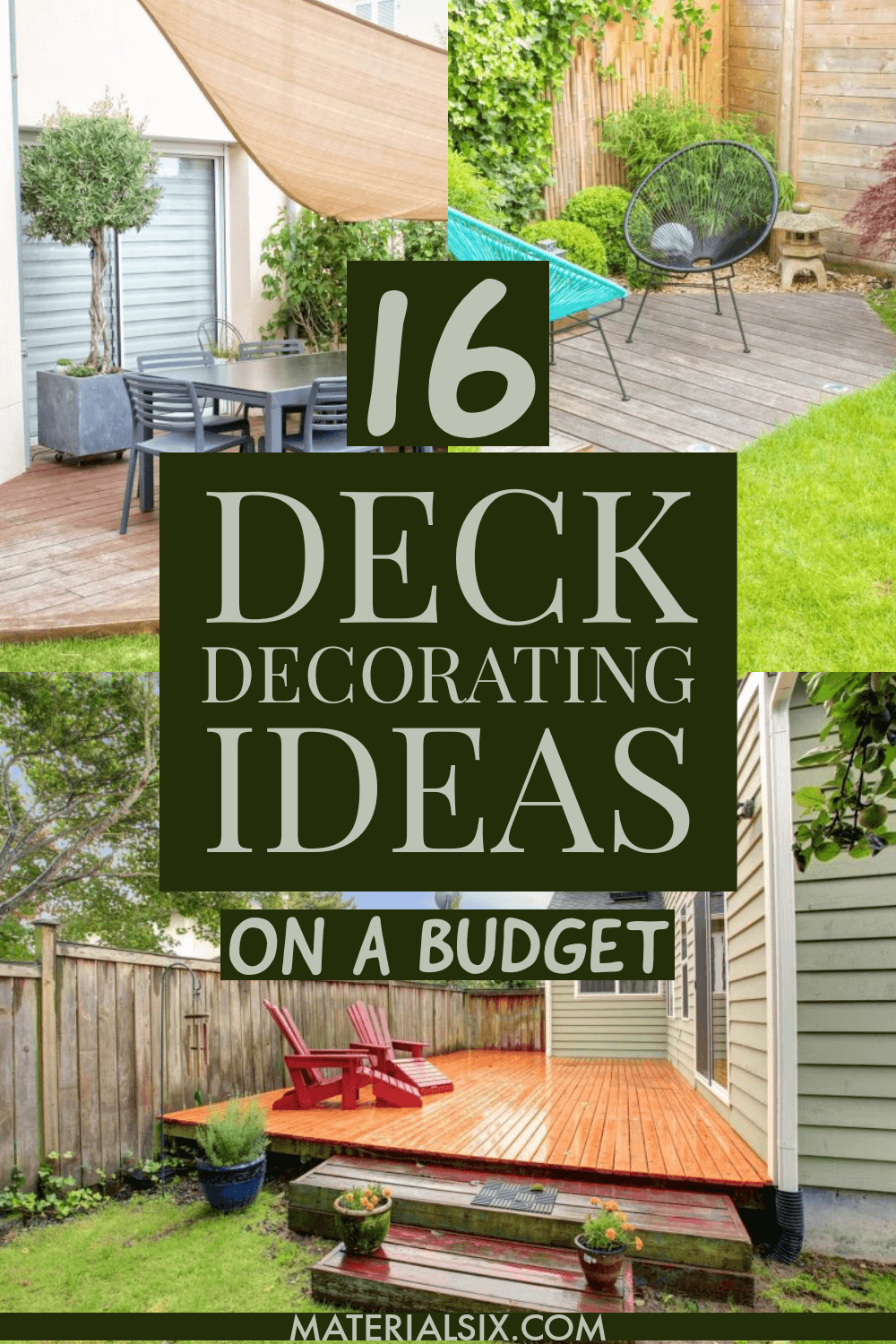 More Deck Posts & Other Posts You Might Like: