Besides being very eye-catching, the DIY front porch sign ideas are also money-effective and easy to make.
Indeed, their rustic charm is always fantastic.
Further, providing some handmade rough-style welcome signs on the veranda is a trending decor among many people.
Additionally, without making it complicated, create a standard style or an interchangeable one for every season.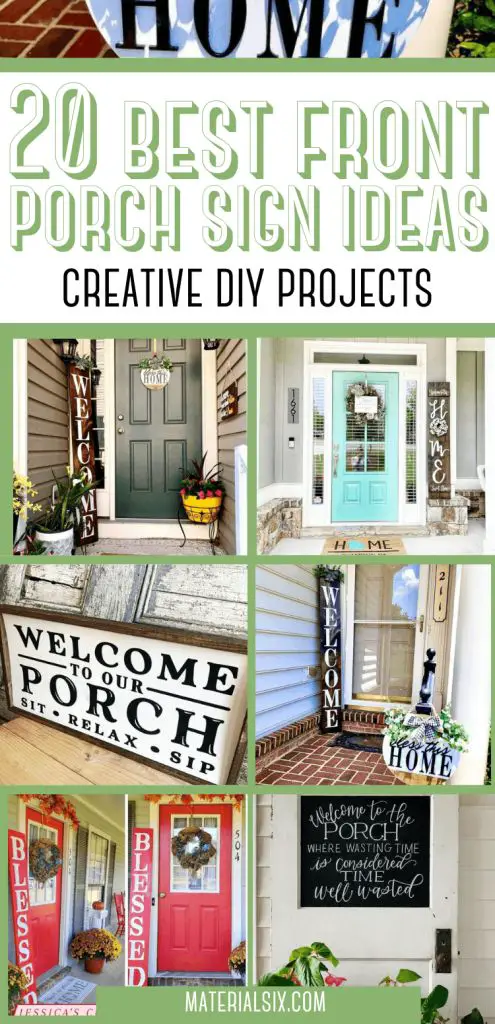 So, once you are ready to jump on the projects, here are the 20 quick DIY front porch sign ideas you can follow!
1. Easy Chalkboard Welcome Sign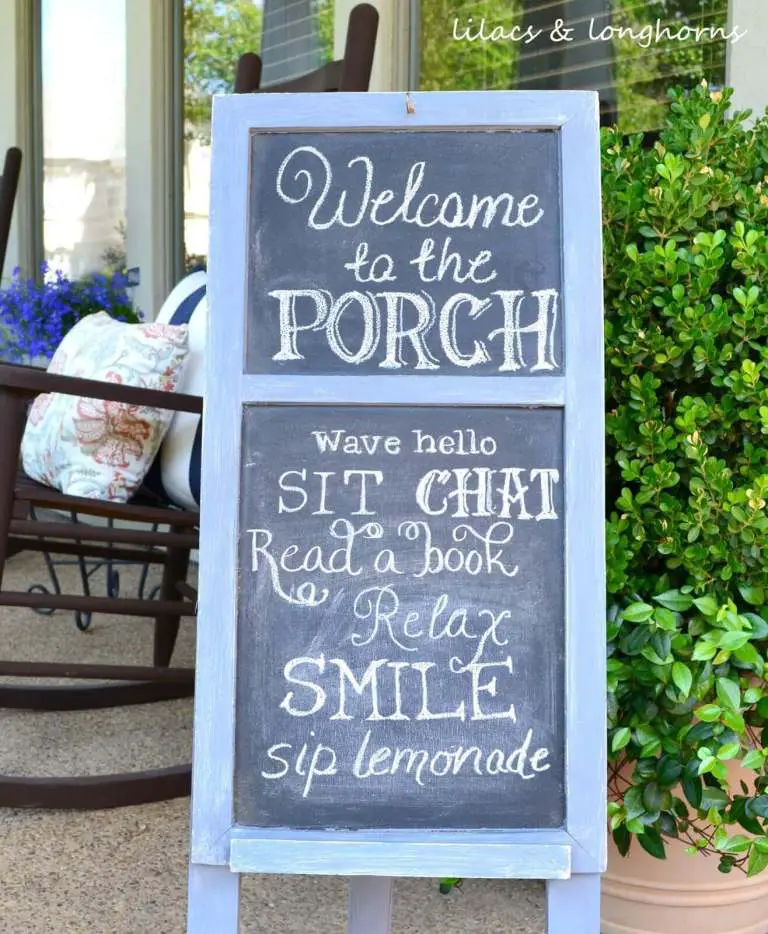 Interestingly, this chalkboard version is one of the most accessible DIY front porch sign ideas for you to follow.
Then, no need to prepare a lot of equipment. Therefore, write some hand lettering with chalk, and it is all set.
2. Large Chalk Paint Home Address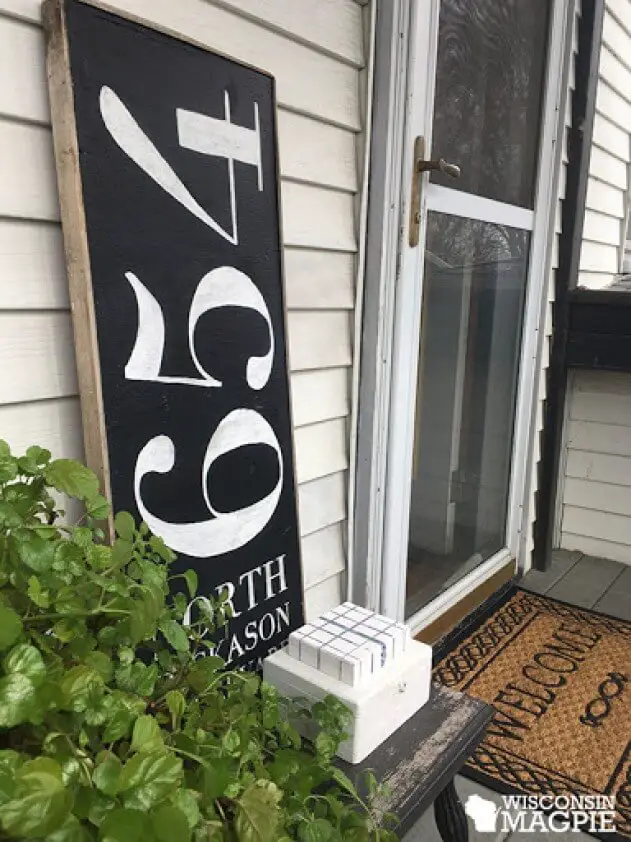 Supposed you are bored with the primary display of your home address.
Thereupon, you can change it to be more attractive by base coating an old wooden board with black chalk paint, for example.
After that, write your address using pre-cut letters to get the uniform font style and size.
3. DIY Front Porch Sign Ideas with Wooden Planks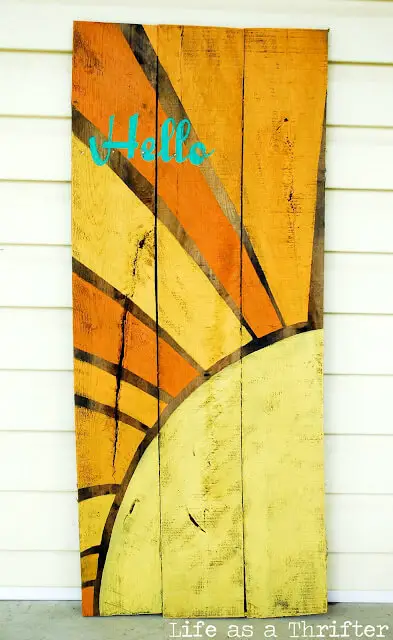 Putting together three unused wooden planks is certainly a great way to save your money on creating a bright welcome sign for the front porch.
Furthermore, keep the rough texture, and some hollows on the boards for an inviting farmhouse feel.
4. Vertical Home Sign with Burlap Band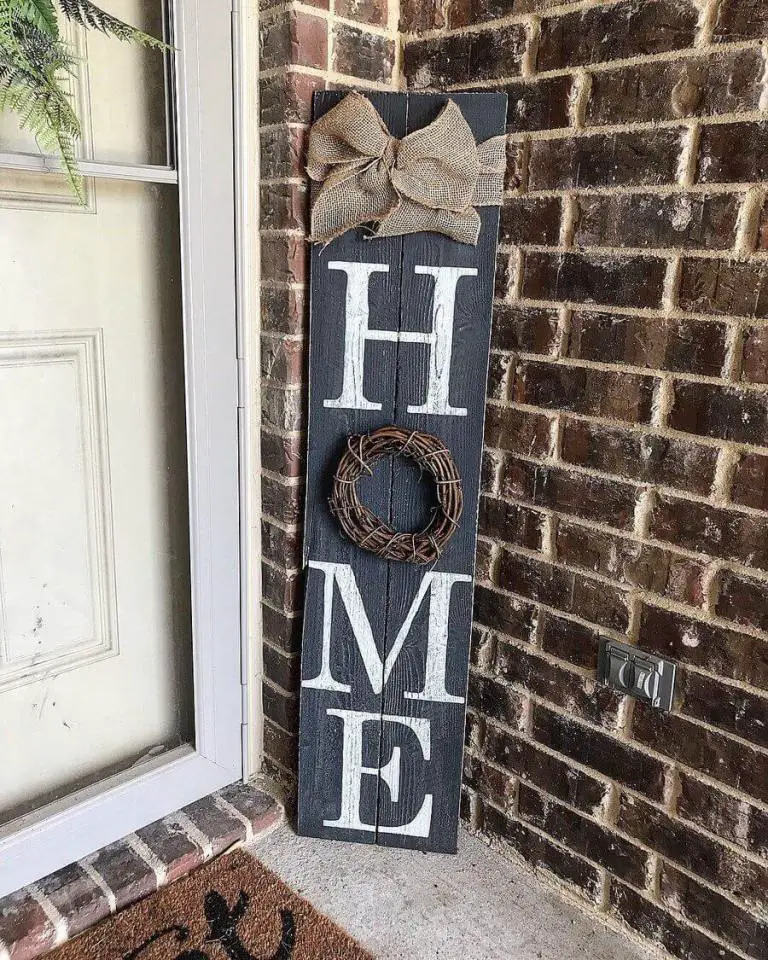 The following DIY welcome porch sign comes with a "Home" mark made of reclaimed woods, a dried vine wreath, and also burlap band to beautify your veranda.
5. Hanging Front Porch Signs with Metal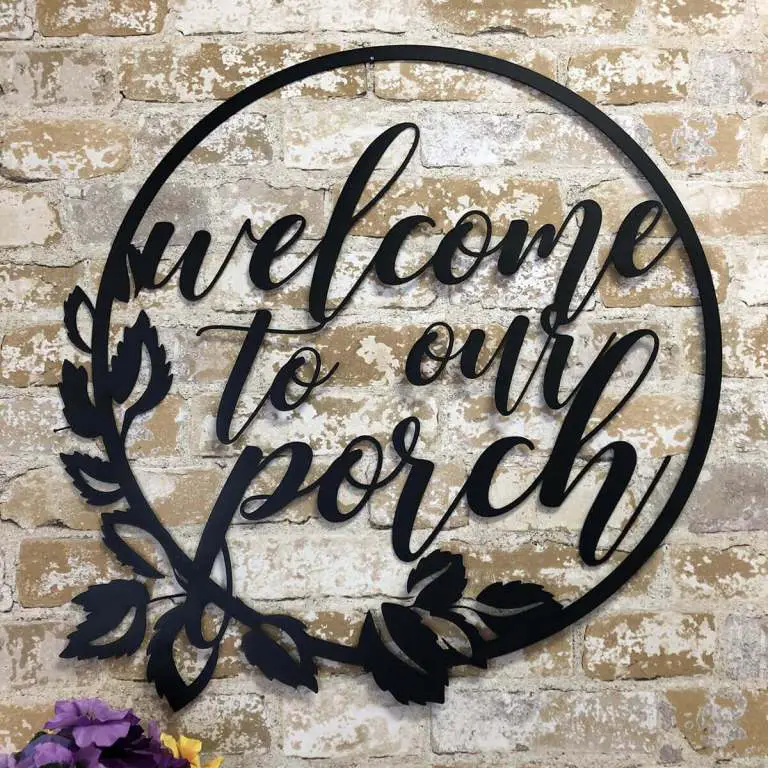 Alternatively, for a more elegant and solid design, you can go with a front porch sign made of metal.
Further, since this sign is a powder-coated one, you can freely display it indoors or outdoors.
6. Dark Walnut Framed Sign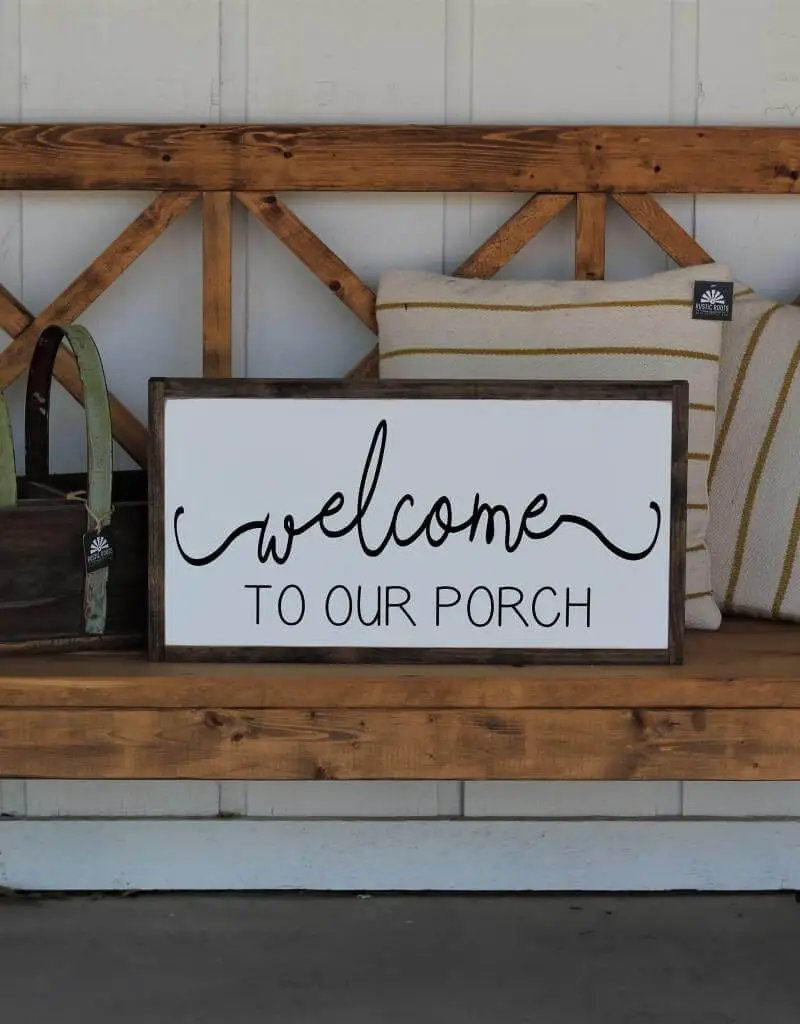 Thankfully, a dark frame certainly goes well with a white base to highlight your black welcome porch lettering.
Hence, consider mixing up the font styles to make it more interesting.
7. Funny Front Porch Signs to Welcome an Autumn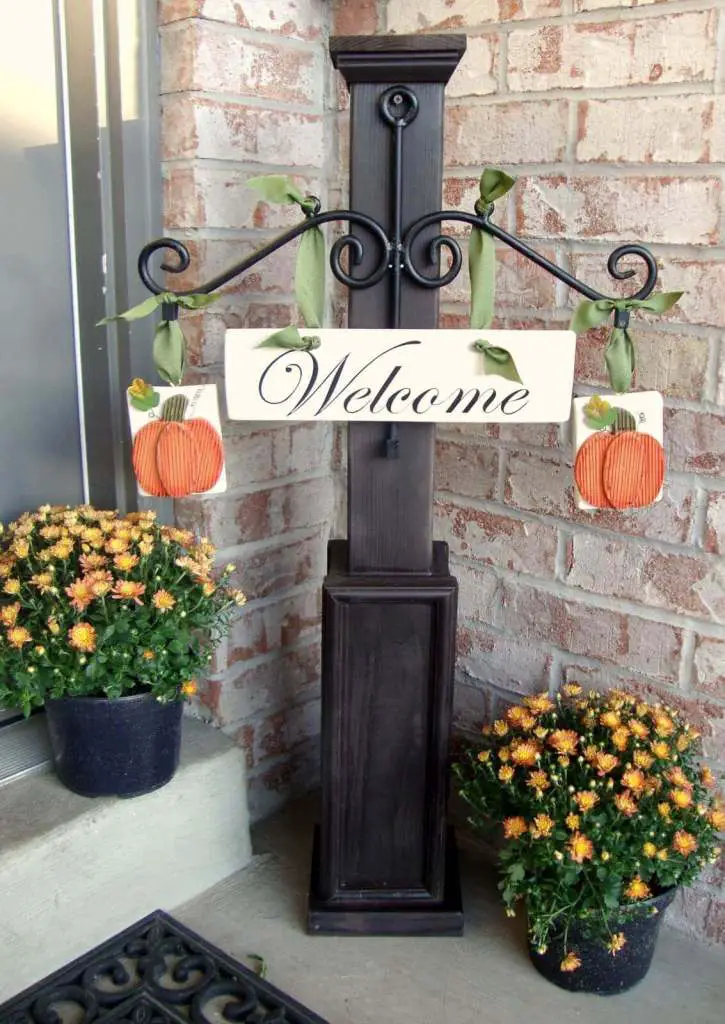 Indeed, autumn is the time for pumpkins to enhance your front porch sign.
So, instead of using the real one, you can add decorative elements from acrylic paints, for example.
8. Old Window Frame Surname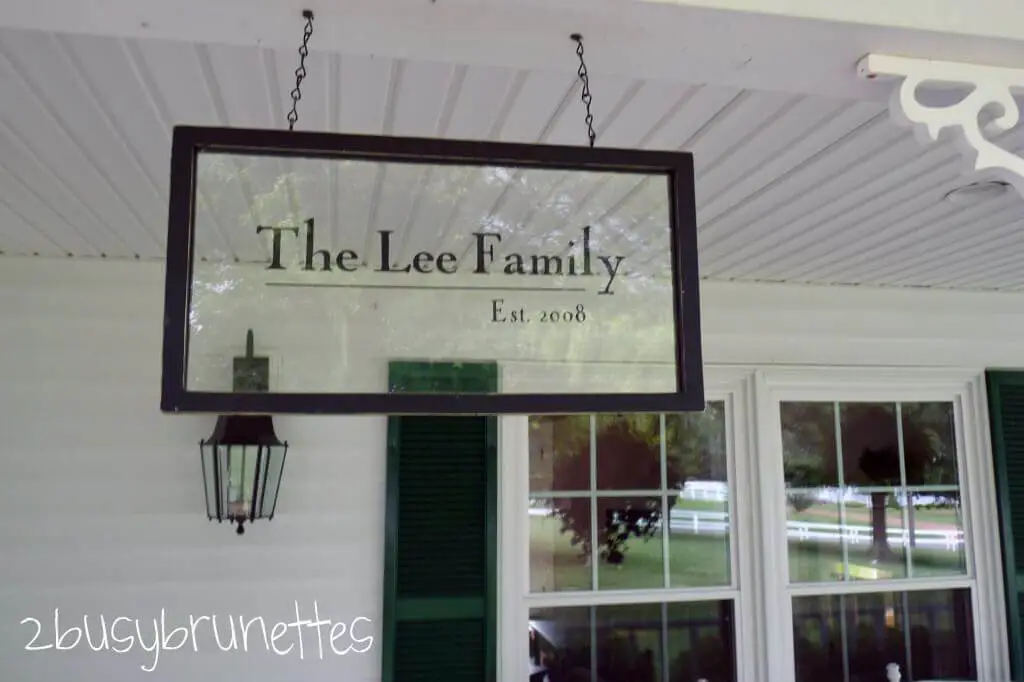 Alternatively, among many DIY front porch signs, one made of old window frames with vinyl lettering in the middle is the simplest yet aesthetically pleasing to the eyes.
9. Wooden Falling Leaves Welcome Sign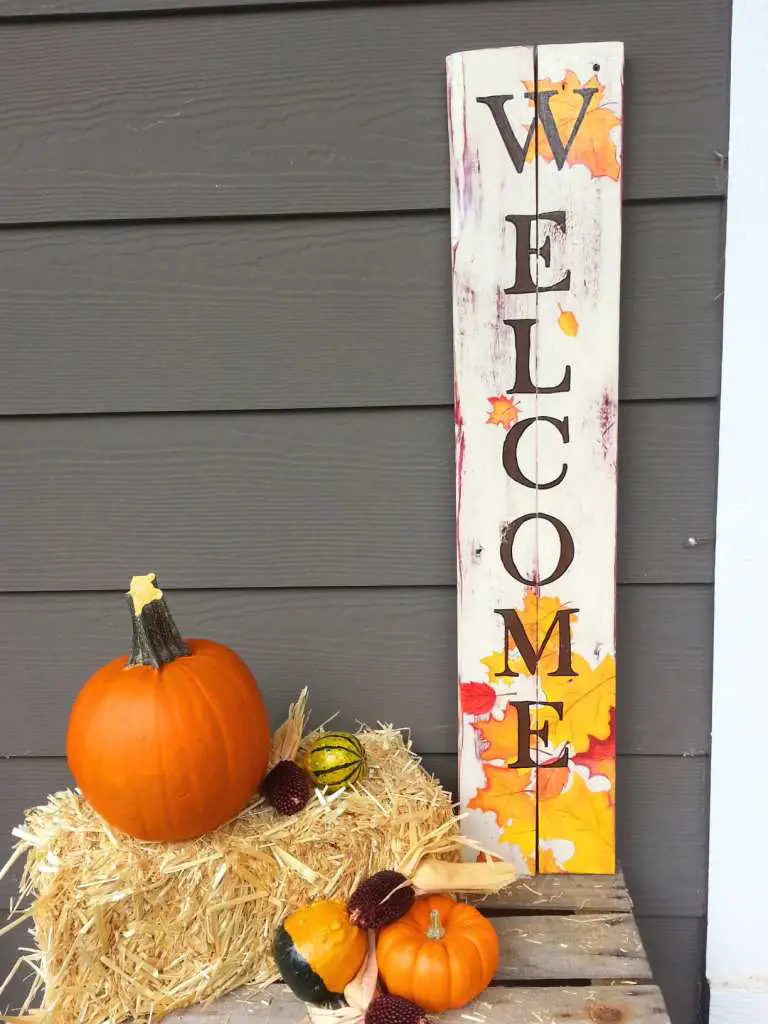 Certainly, there are many creative ways to make your front porch sign suit the season.
Then, painting some dry fallen leaves on a white distressed wooden plank would be perfect for this year's fall.
10. Barn Wood "Welcome" Sign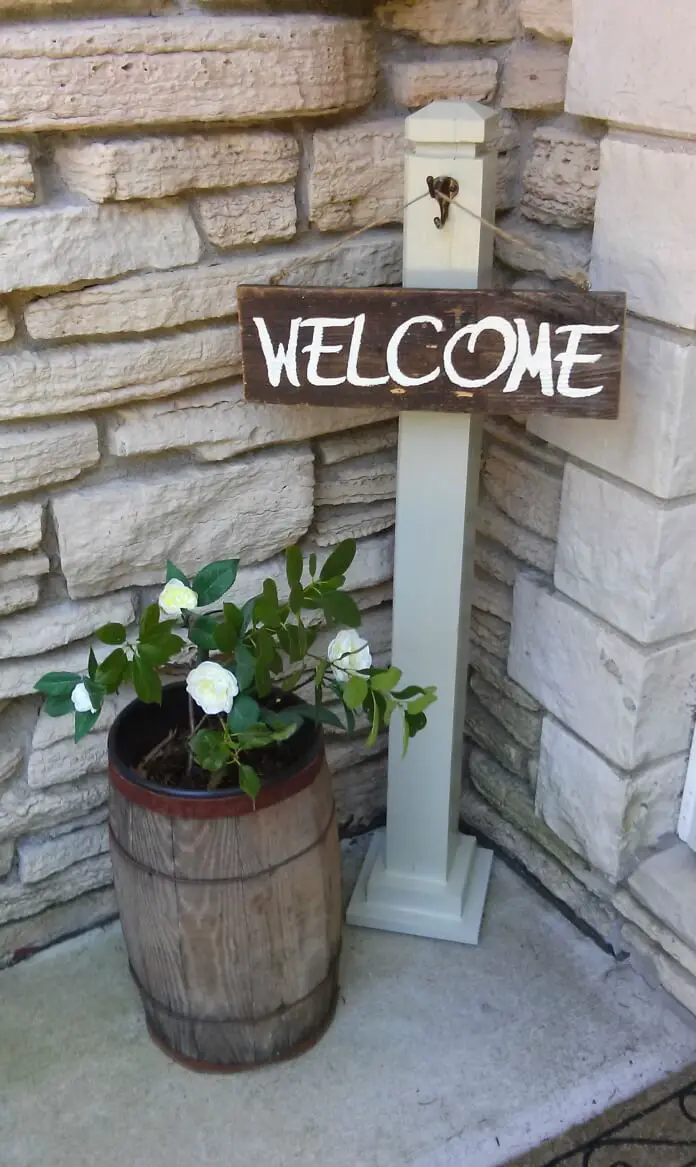 Interestingly, this idea comes with your old postal pole.
Then, you can upcycle it into a welcome sign hanger together with a mini Barnwood plank.
11. Framed Home Numbers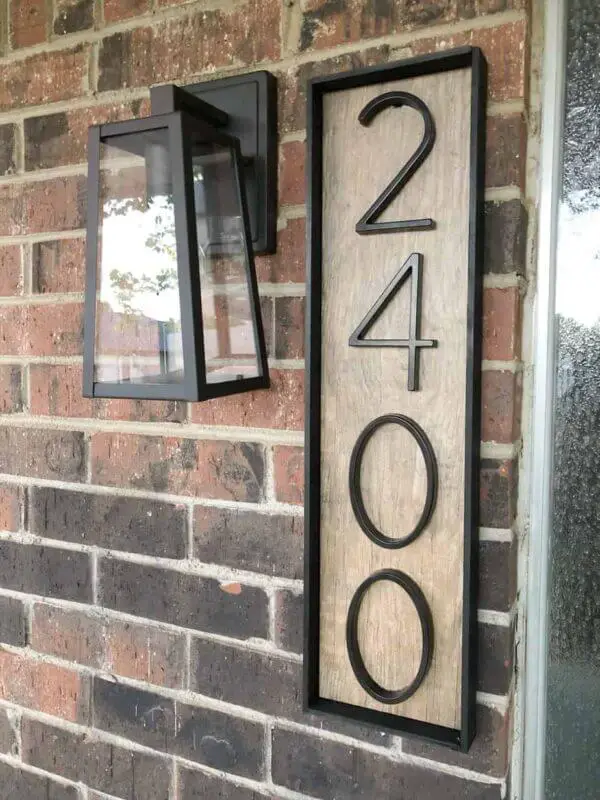 Importantly, try to display an extraordinary house number.
For instance, you can use a DIY porch sign that utilizes old frames like the one above.
12. Amusing Front Porch Sign Sayings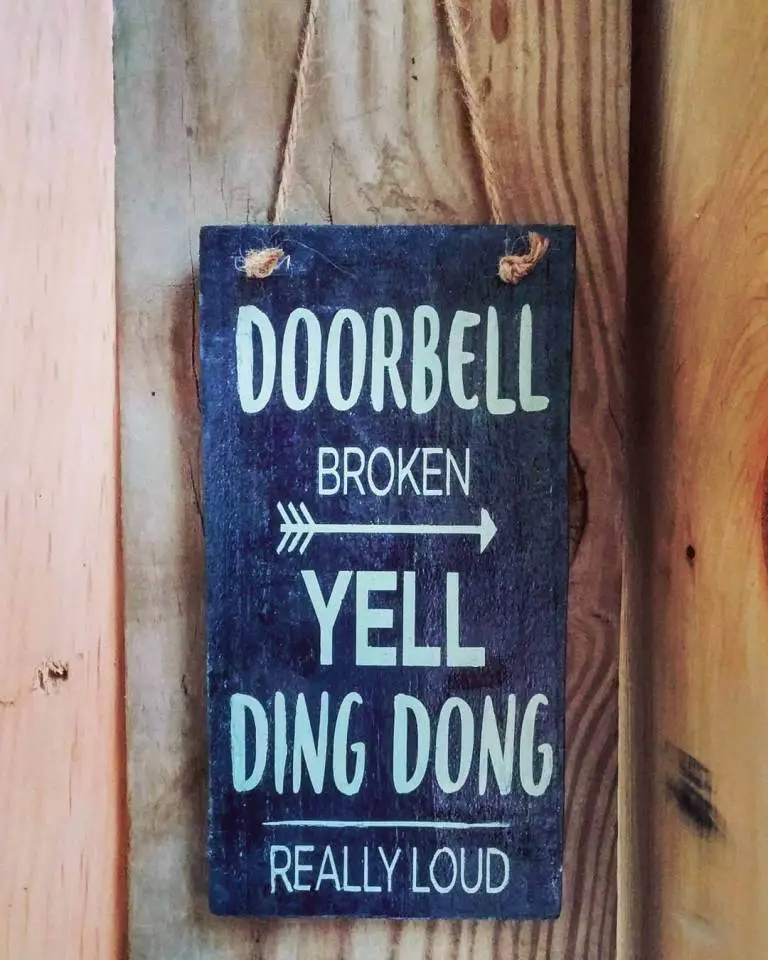 Additionally, you can even go with some funny sayings to build a cozy and fun vibe for your veranda.
13. "Reminder to Be Happy" Sign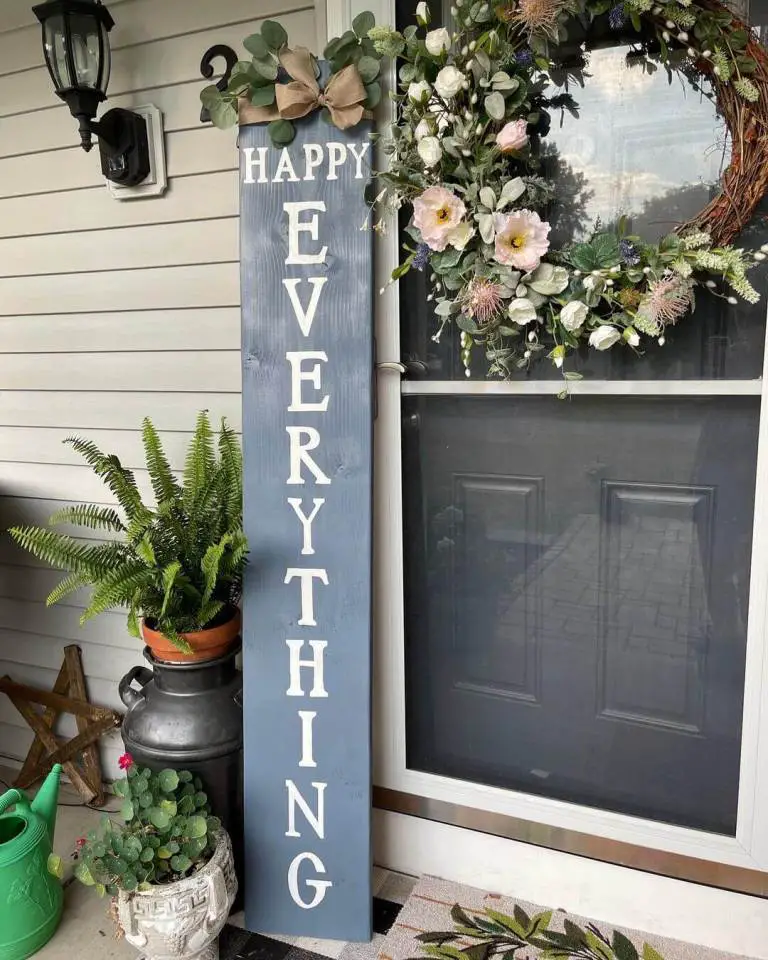 Thankfully, happiness is the source of a good day.
Thus, make a front porch sign with a reminder like this so that you have a joyful moment every time.
14. Red Front Porch Saying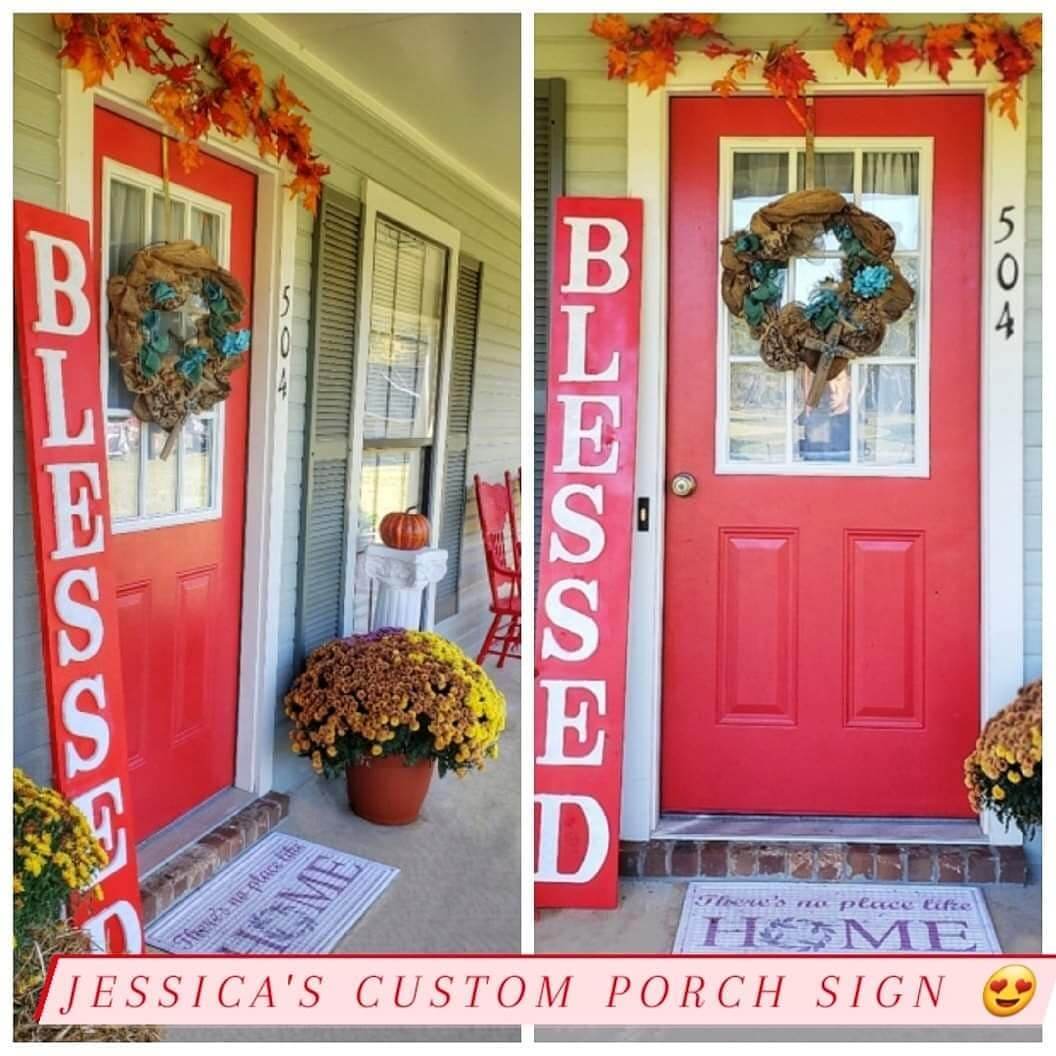 Indeed, there is no rule for displaying a welcome sign for your veranda.
Therefore, you can go creative with red and short saying that implies you are grateful for everything.
15. Inviting Welcome Sign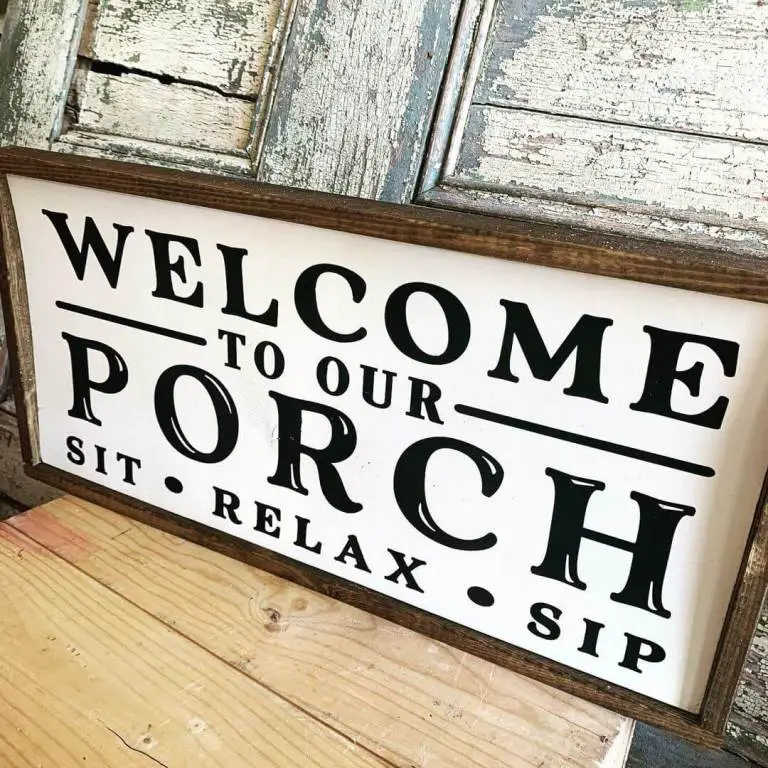 Importantly, the primary key to invite the guests to enjoy some moments in your home is by giving porch signs.
Also, create the signs with relaxing and comfortable sayings like above, for instance.
16. "No Wasting Time" Sign Sayings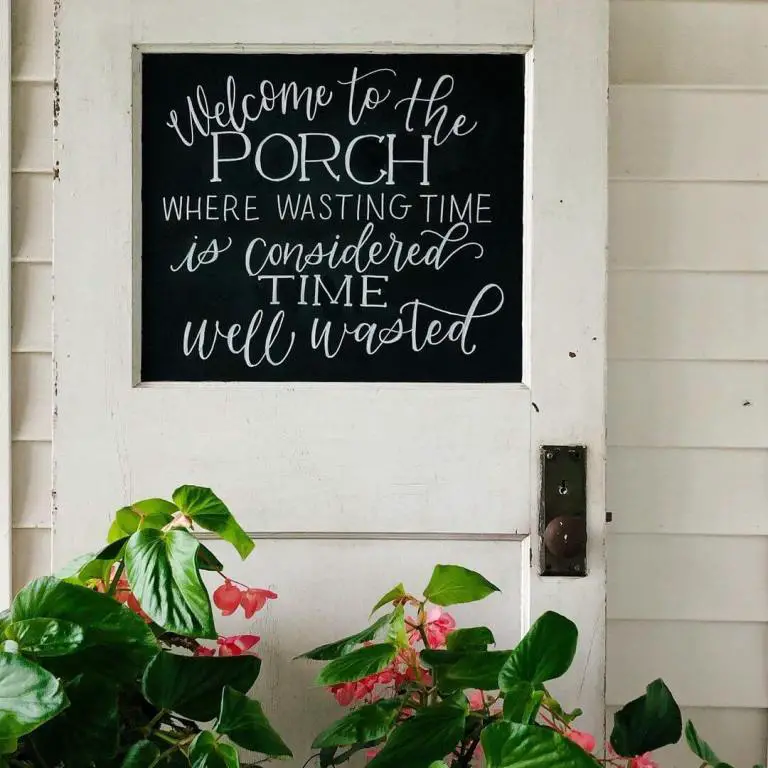 Do not let your days go in vain. Thus, spend it all doing meaningful things on your front porch with your loved ones.
17. Standing Porch Sign for Memorial Day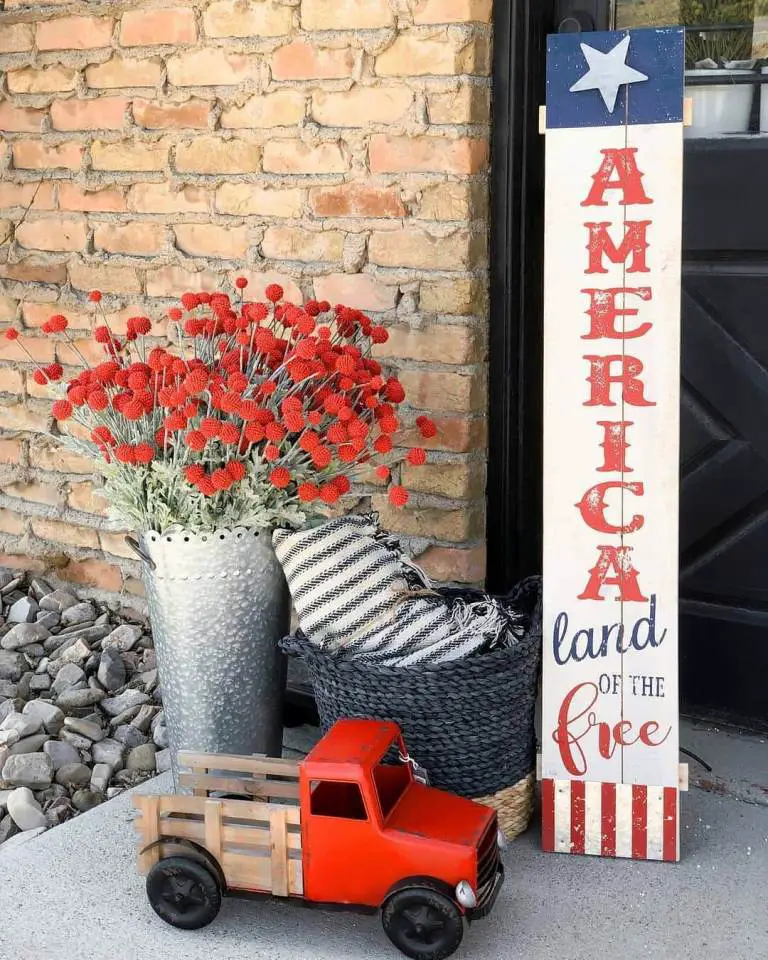 Instead of letting your front porch sign leans against the wall, alternatively, it is better to make one with a stand.
Moreover, this patriotic theme is perfect for celebrating your national anniversaries.
18. "Home" Sign with Flower Wreath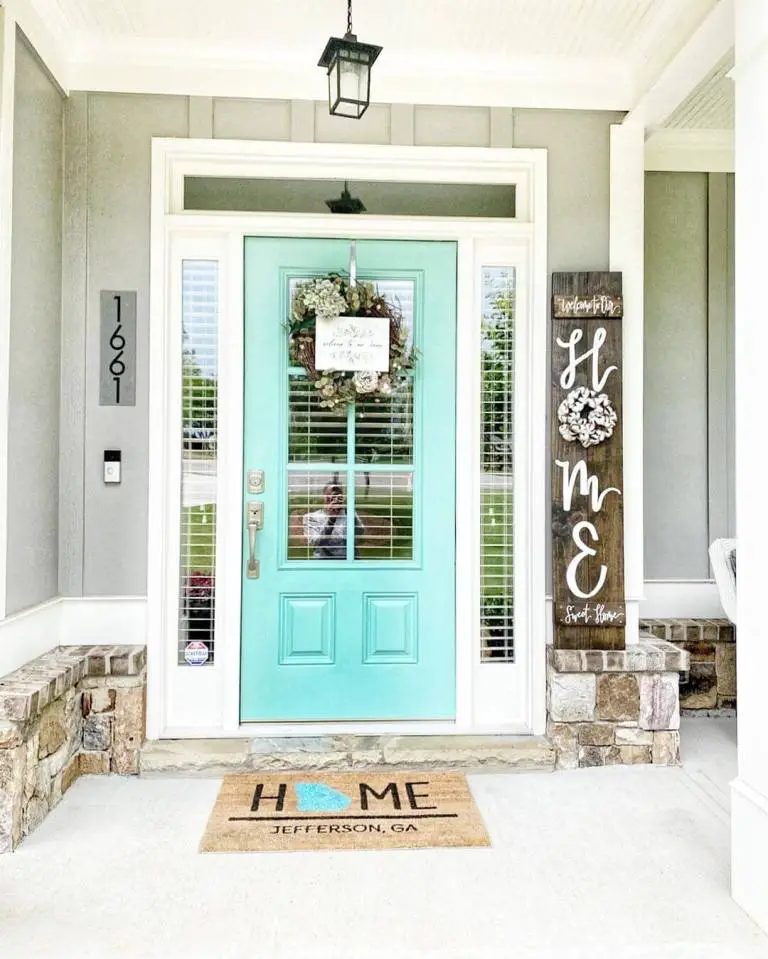 Indeed, many DIY porch signs introduce floral wreaths as their decorative element, for instance.
Likewise, you can choose to use either the initial or the faux one. Then, it all depends on your preference.
19. High Welcome Sign & Door Hanger Sayings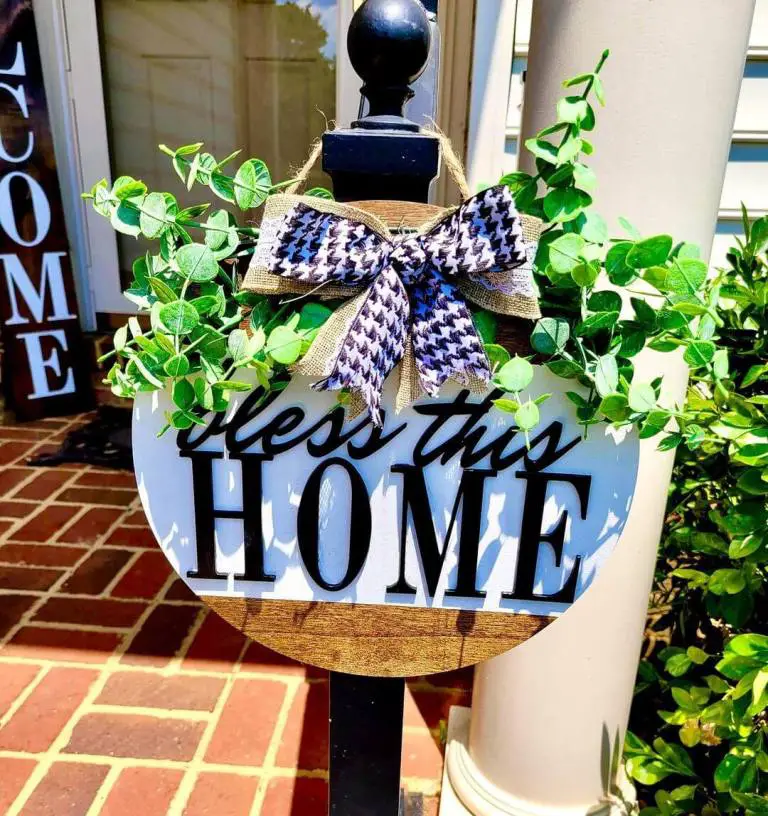 Interestingly, combining a high wooden welcome sign and some hanging decorative elements is very attractive.
Also, the signs with sayings are the best way to invite your neighbors to come inside.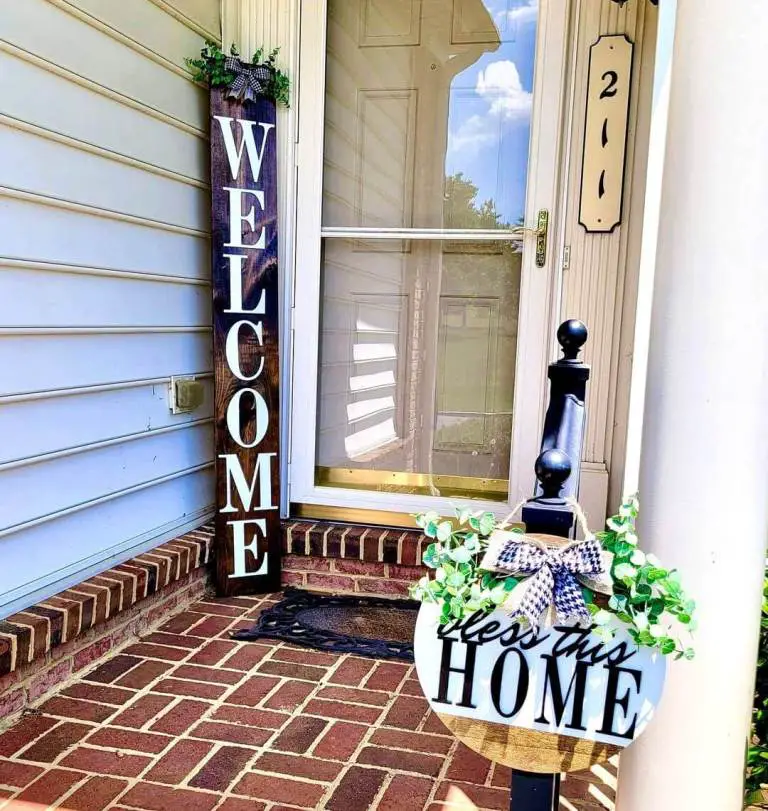 20. Large "Gather" Wooden Sign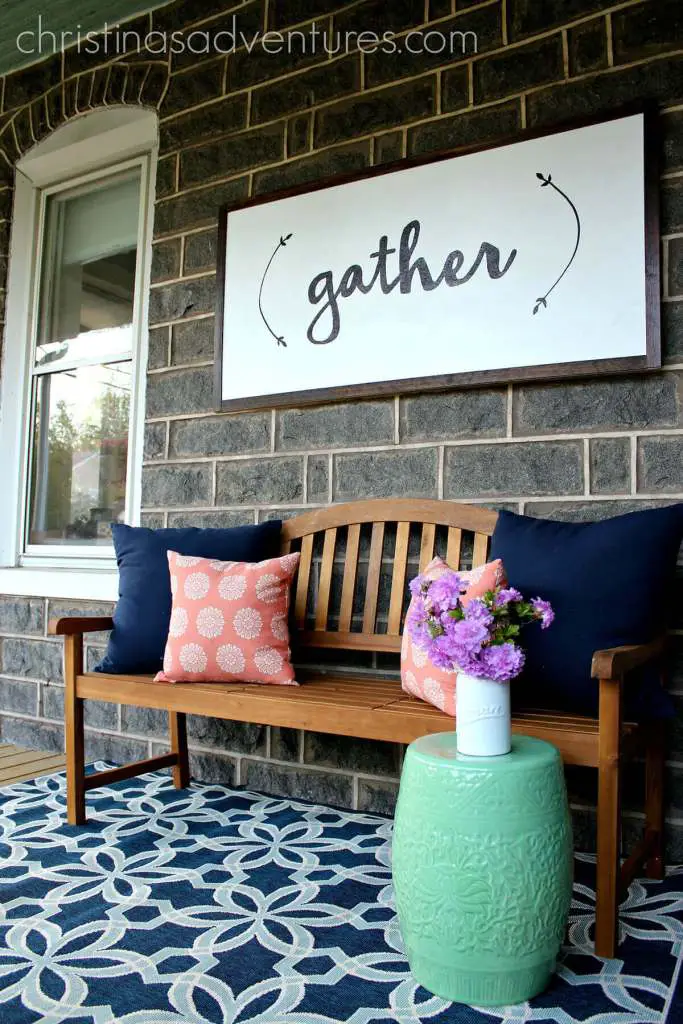 Alternatively, besides hanging your front porch sign in front of the door, apply it above your seating area.
Further, the word "gathers" acts as an invitation for everyone to spend time with each other.
To conclude, that is all about DIY front porch sign ideas to inspire you. Are you ready to get the one?
More from Materialsix.com: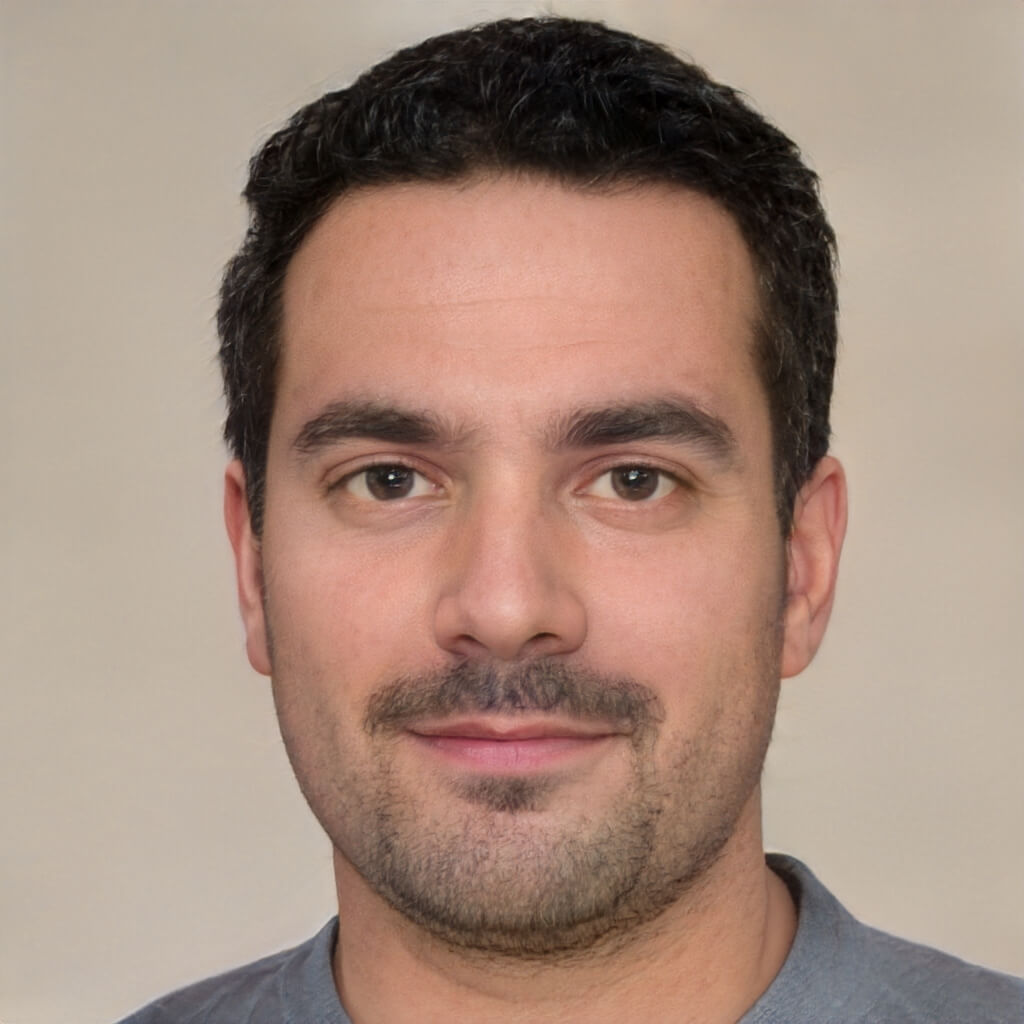 I'm a passionate home and garden enthusiast and the founder of Materialsix Home. With over 10 years of experience in the field, I've cultivated a deep love for all things related to home improvement, gardening, and interior design. Read more…