Without a doubt, there are some notable alternatives to sliding glass doors. They will jazz up your exterior or interior design.
In addition, they offer unique functionalities while providing more enjoyment and privacy.
Sliding glass doors typically work as patio doors. Moreover, they get popular due to their aesthetic appeal.
They are not only easy to operate but also they save space and let in ample daylight. However, such doors are prone to stains and breaks.
The sliding doors are costly. Furthermore, they are less durable and secure than the regular ones.
Also, they cause maintenance issues since they can shatter in harsh climatic conditions. With various cons of sliding doors, you might plan to use another door type.
Here, I have compiled some alternatives to them that you need to know.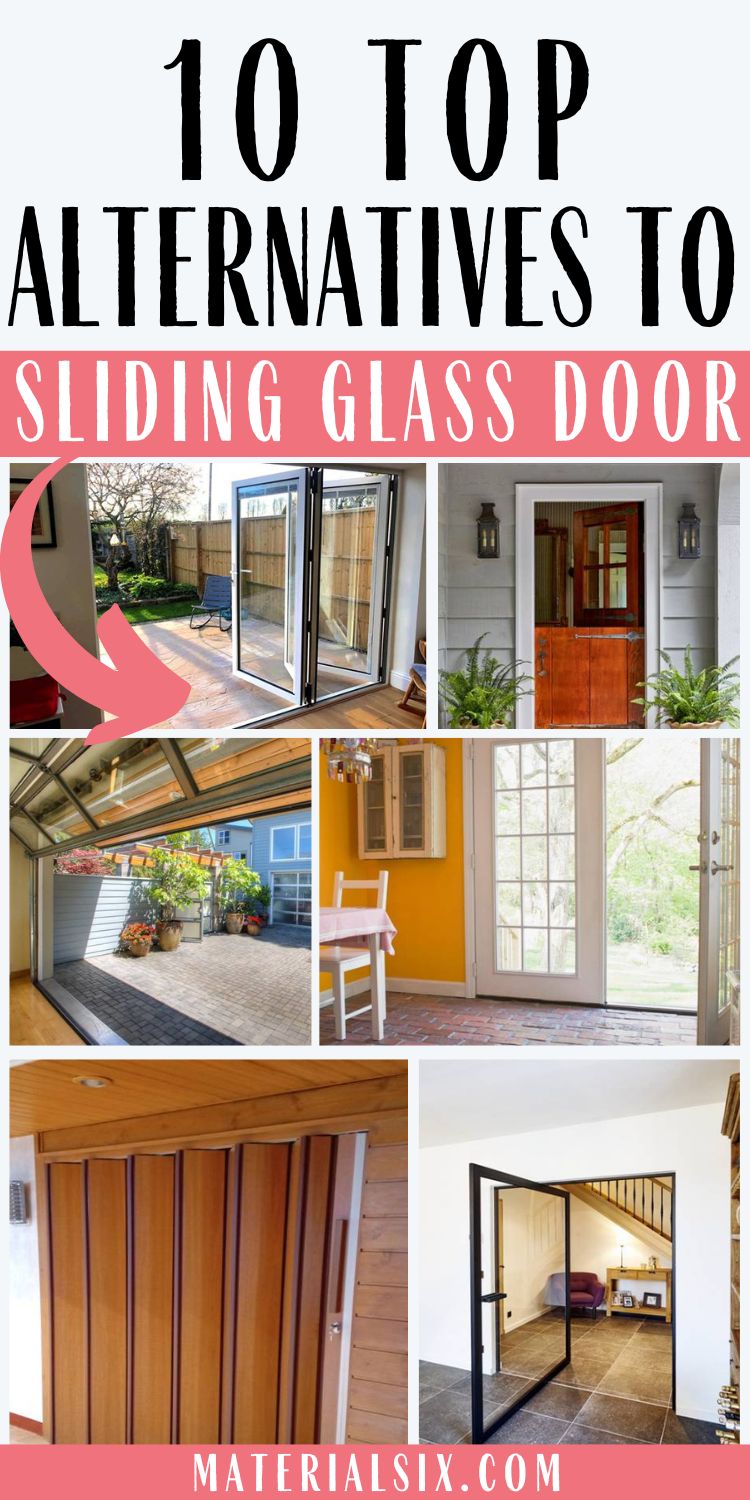 10 Sliding Glass Door Alternatives
It is time to find out fantastic alternatives to sliding doors. Lucky you, I have gathered some impressive ones in this post.
Below are some door types you can install instead of sliding glass doors. Be prepared as these alternatives will blow your mind.
1. Center Swing Doors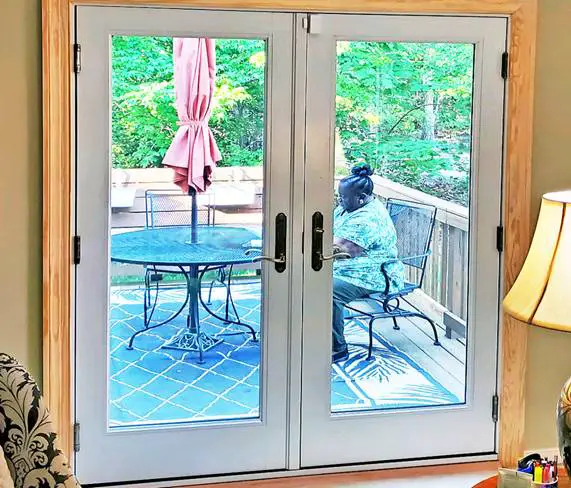 These doors are ideal for homes that crave some visual appeal. They will not break your wallet, though.
Center swing doors are reminiscent of French doors. However, you can open one of them while shutting the other.
As the name implies, these patio doors can swing out and in because they boast a top hinge. Manufacturers usually make them from wood.
Center swing patio doors are practical and convenient. Apart from becoming easy to maintain, they are affordable as well.
These doors are secure, space-saving, and durable. Some people attach mesh sliding screens to them.
That way, you can enjoy the fresh air without letting in the bugs.
Like other door types, these center swing doors are not practical sometimes since they are pretty hard to lock.
Moreover, some homeowners like to open both doors rather than just one.
2. Dutch Doors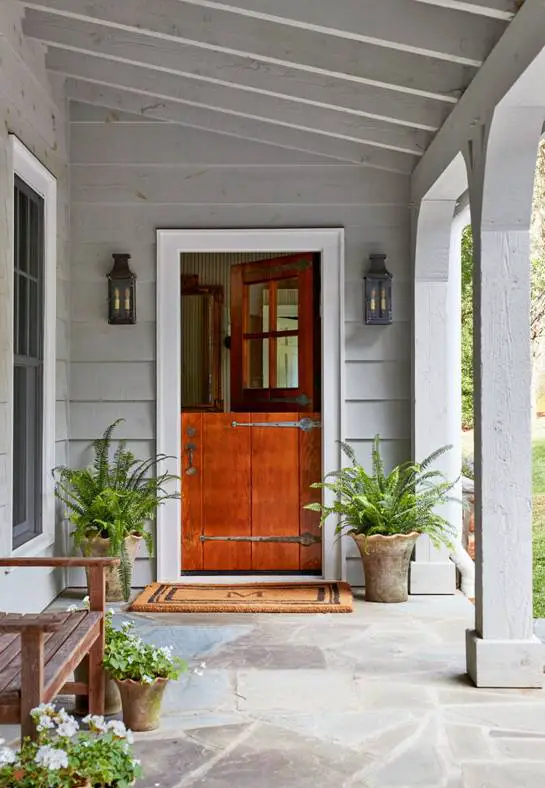 Typically, Dutch doors do not pose as patio doors. They are an incredible sliding glass door alternative, nonetheless.
Dutch doors lend farmhouses and modern rustic homes a great finishing touch.
They are like regular latched doors. You can open the top half separately since they split in the middle. Meanwhile, the lower part remains closed.
Homeowners usually utilize Dutch doors as side doors.
They guide you to your garden or backyard. These doors can be as humongous as French doors too.
The large ones are suitable for patios. In addition, they generate more unique appearances than typical sliding glass doors.
Dutch doors are a perfect fit for families with kids and pets. Due to their designs, they will keep the indoors.
Undoubtedly, Dutch doors provide excellent airflow and an unmatched country look.
3. Pivot Doors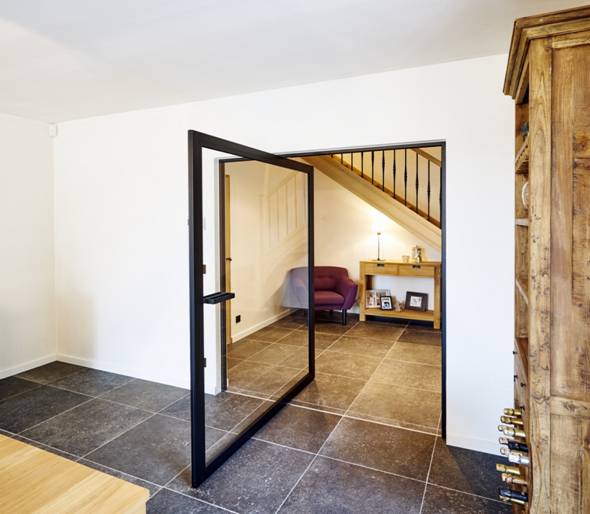 Pivot doors are somewhat unusual. However, these types are not so popular since they are hard to install.
Furthermore, the installation requires some effort, time, and money.
Let's admit that pivot doors are aesthetically pleasing. As the name suggests, you must pivot and push the door to the right or left.
The floor and pivot handle help support its glass-and-metal construction.
The pivot doors are stable and sturdy. Apart from providing unobstructed views, they give you easy access.
You often find them in hotels or companies due to their formal look.
Unfortunately, pivot doors can be expensive. Many people find the cost unappealing too. However, if you need attractive sliding glass door alternatives, go for them.
4. Sliding Barn Doors
Nowadays, sliding glass door replacement options are numerous. Barn doors, for example, appear and work better than regular sliding glass doors.
Barn doors are like sliding glass doors in terms of horizontal movement. They both employ a stationary point, too.
Due to their rustic finish, barn doors suit many designs. You can use the sliding barn doors outdoors or indoors as well.
Barn doors will elevate the closet or bathroom design. Furthermore, they will lead homeowners to their patios.
These doors are more suitable for rooms or lofts than front doors since they are quite bulky.
In addition to being practical, they are space-saving and low-cost. They give you more privacy than sliding glass doors as well.
Be ready, as sliding barn doors will not provide lots of daylight.
However, they act as a nice bedroom or movie room door. If you find them admirable, buy them soon.
5. Shoji Sliding Screens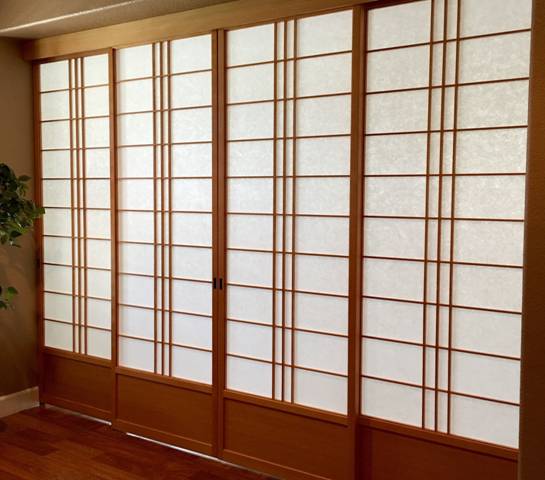 If you are a big fan of sliding doors, try this idea. The shoji sliding screens lend any house an Asian flair.
They exude contemporary vibes as well.
The operation of these doors is similar to that of the sliding glass ones. However, I can say that its mechanism is improved.
Shoji sliding screens come with pocket designs. Moreover, they boast metal or wood frames and frosted glass panes.
They are smaller and provide more privacy than sliding glass doors too.
Manufacturers usually attach translucent papers to the bamboo doors. Even there are Westernized versions that you might love.
Shoji sliding screens are beneficial for summer days.
They add protection against the sun without the need for curtains. In crowded spaces, these doors help maintain privacy.
6. Glass Roll-Up Doors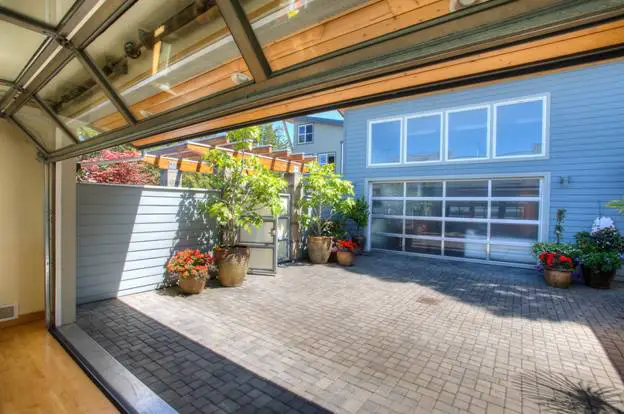 Do you fancy non-latch doors? If so, give stylish roll-up doors a chance. They have an easy horizontal working mechanism.
When you open a roll-up door, the enclosure gets revealed.
These doors are a perfect fit for sheds or garages. You can pick either a metal roll-up door or the wooden one.
If you think about using it as a front door, opt for it. Because of the minimalist or modern design, the roll-up doors suit homes with large facades.
Even though these doors are insulated and aesthetically pleasing, they are hard to install.
If you plan to swap your sliding glass door for this roll-up door, be prepared since it requires some work.
Also, modify the frame and allocate space for it inside the wall.
The glass roll-up door can be a DIY project. In addition to the time and money, you must ask for professional help.
These doors are as comfortable as sliding doors. However, they are more useful in certain ways. They let you move huge items with ease, too.
When opened, the roll-up door captures an impressive, unobstructed view.
Unfortunately, it can be high-maintenance. Also, it is challenging to install and causes door jamming issues.
7. Accordion Doors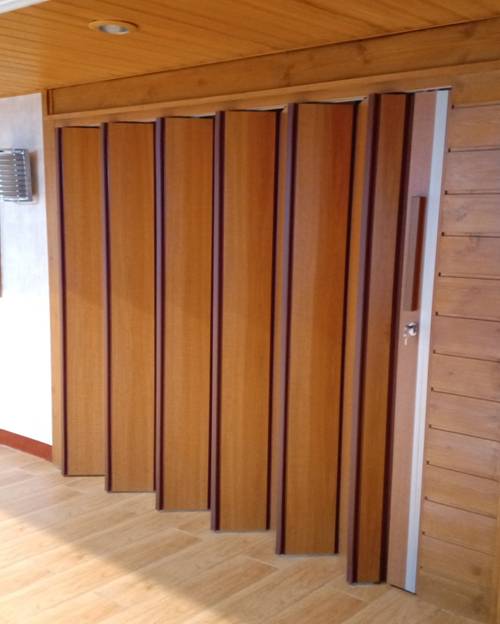 The name comes from the musical instrument. As the term implies, accordion doors match contemporary living spaces perfectly.
You can find their regular or humongous versions.
Accordion doors are one-of-a-kind. They fold in and out as well. When you close them, they spread apart.
Moreover, when opened, they get clumped together.
These doors become popular since they make movement easier. Additiaaaaanally, they are more secure than sliding glass doors.
Accordion doors are practical, lightweight, and attractive. You can utilize them right away too. The installation itself is quite fun.
You also need to check the new trend: lift sliders. In addition to their bifold manner, they can disappear into the track.
They are also ideal for patio doors.
Check Accordion Doors on Amazon
8. French Doors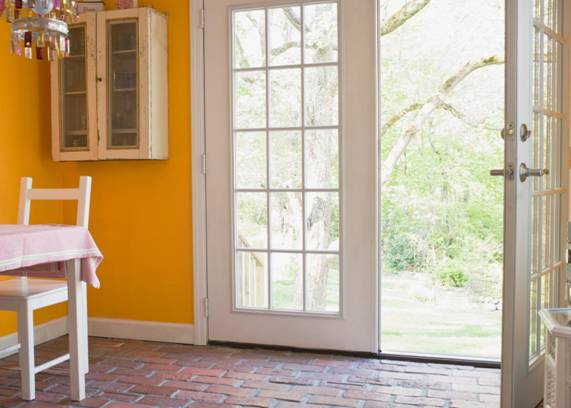 If you need doors to replace sliding doors, opt for this one. French doors are timeless. Moreover, they make a popular choice for homes.
When it comes to design, French doors are like sliding doors. However, they employ glass pockets all over.
Apart from being ornate, they are energy-efficient and generate an illusion of space.
French doors are elegant and uncomplicated. Homeowners can customize them as well, but they are quite costly.
Not all sliding glass door alternatives are affordable, yet they will look and work way better.
These doors are not hard to find and replace. Moreover, the installation is not overly challenging. You will have to add a hinge to their frame.
Undoubtedly, French doors are practical and visually pleasing. Their designs vary tremendously as well.
Nowadays, there are French sliders. They are sliding doors that resemble classic French doors.
Also, they comprise four panels: the two panels pose as middle slides, while the remaining panels provide frame and sidelights.
Read also: How to Stop French Doors Blowing In The Wind
9. Doors With Sidelights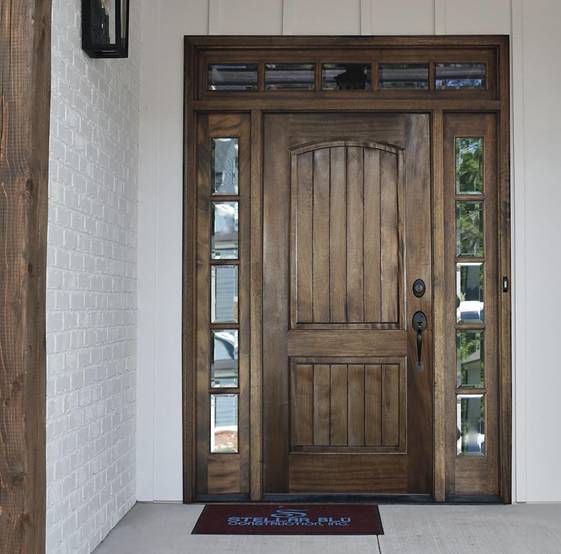 If you admire new-age designs, it is time to dive into a door with sidelights. As the name indicates, it employs a door panel and glass sides.
This door type still lets in ample sunlight. Furthermore, it exudes a minimalist aesthetic that makes it appear fascinating.
A door with sidelights is suitable for modern designs. Moreover, it is durable and provides controlled views.
This sliding glass door alternative can be expensive, though. It is not that space-saving too.
10. Bi-Fold Doors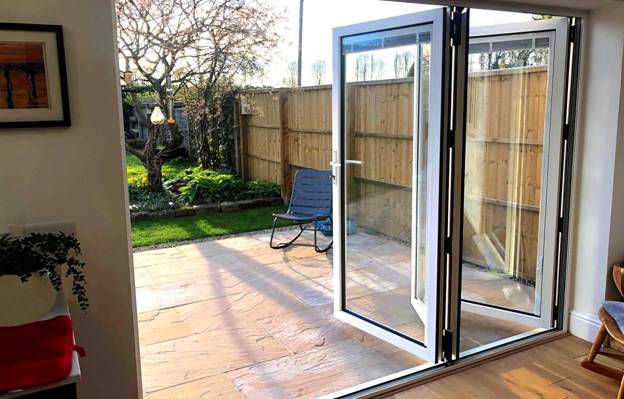 These doors split and fold from the middle. They lend any space an appealing modern appearance.
You can opt for the custom ones to reduce maintenance costs.
Bi-fold doors are space efficient, like sliding glass doors. Additionally, they are versatile and functional.
However, they are typically more expensive in terms of installation.
If you want something more stylish, go for a multi-track sliding door. It lets you open its four glass panels and tracks simultaneously.
Final Thoughts
Before replacing a sliding glass door, you should know the purpose of the change. This strategy helps you narrow down your options.
Sliding doors are incredible, yet you must consider other types of doors with better designs and lower costs.
Some alternatives to sliding glass doors above hit the mark. Pick the best one!
More from Materialsix.com: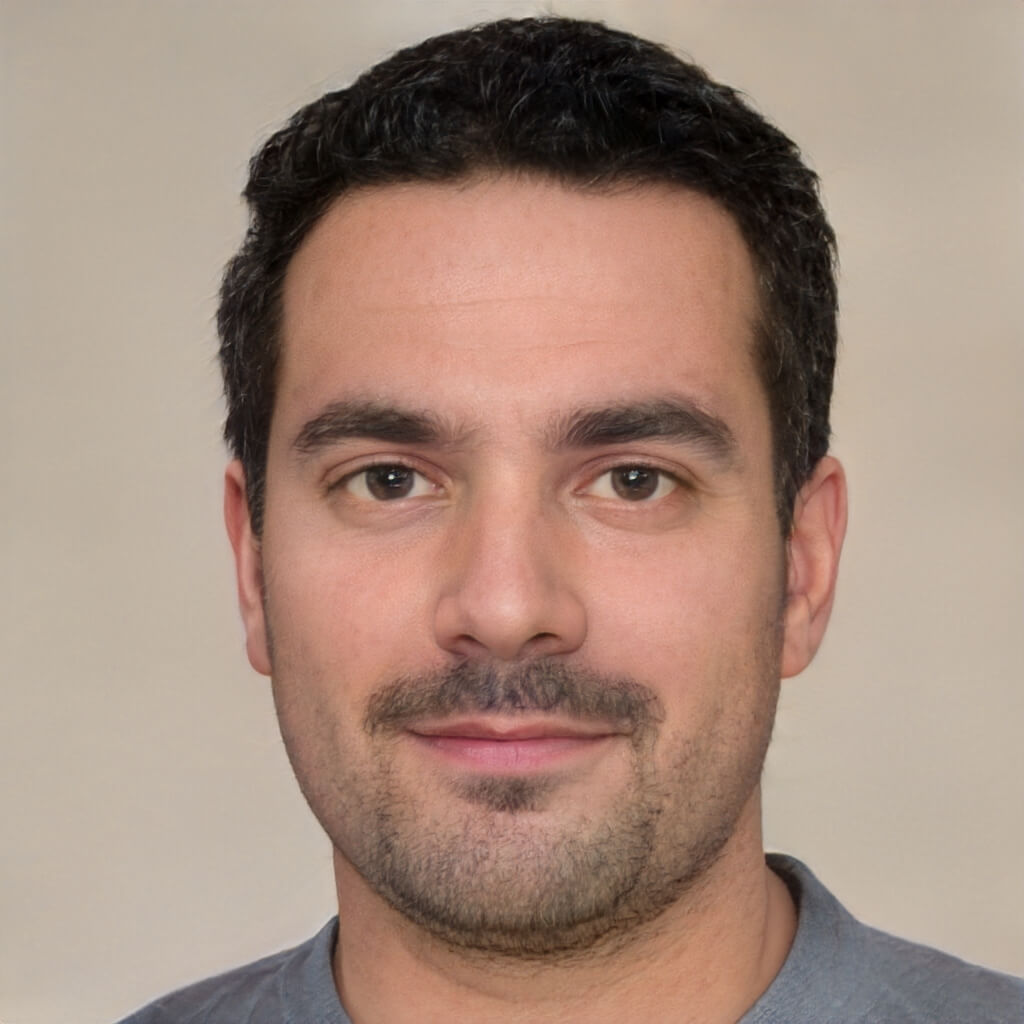 I'm a passionate home and garden enthusiast and the founder of Materialsix Home. With over 10 years of experience in the field, I've cultivated a deep love for all things related to home improvement, gardening, and interior design. Read more…