The curtain closet door ideas may be relatively new in decoration society. A few decades ago, most people still had their eyes on solid objects as access to reach their collection of fashion items.
Nowadays, using something like mosquito nets can be an alternative to make your home more colorful. Instead of a monotonous cover and not easy to replace, a piece of cloth seems to be an option.
In addition, there are many advantages to using curtains for closet doors. Besides making easy mobility, it can also anticipate if you forget to return the closet cover as usual.
Let us be ready for something new!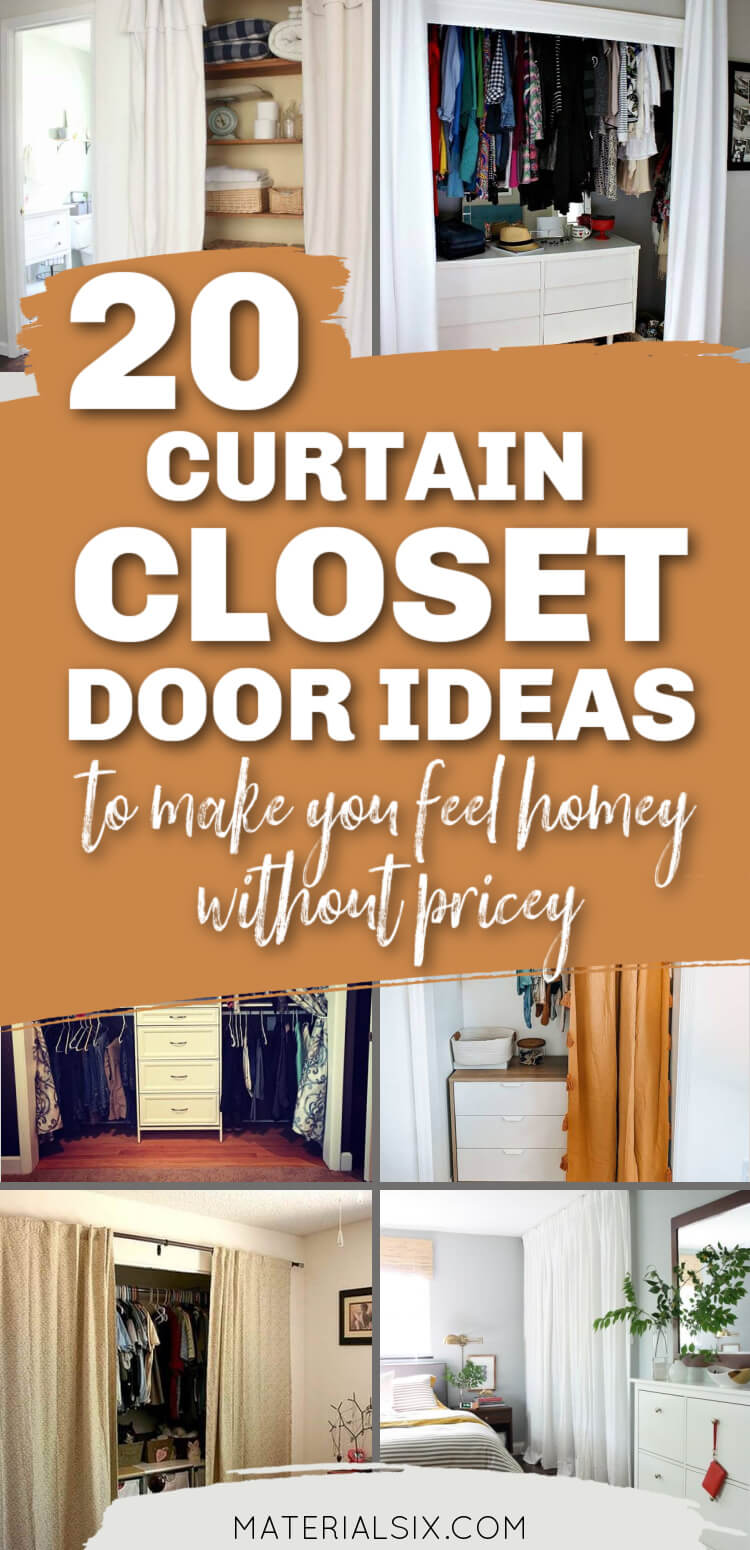 Curtain Closet Door Ideas – 20 Ideas You Can Use Right Now!
Along with more and more enthusiasts, closet curtain door ideas are increasingly diverse and ready to beautify your room.
It does not have to be expensive as you can get less boring decorations at an affordable price. Maintenance costs will also be lower than using ordinary doors.
Now, please take a look at some ideas below!
1. High Sliding Cover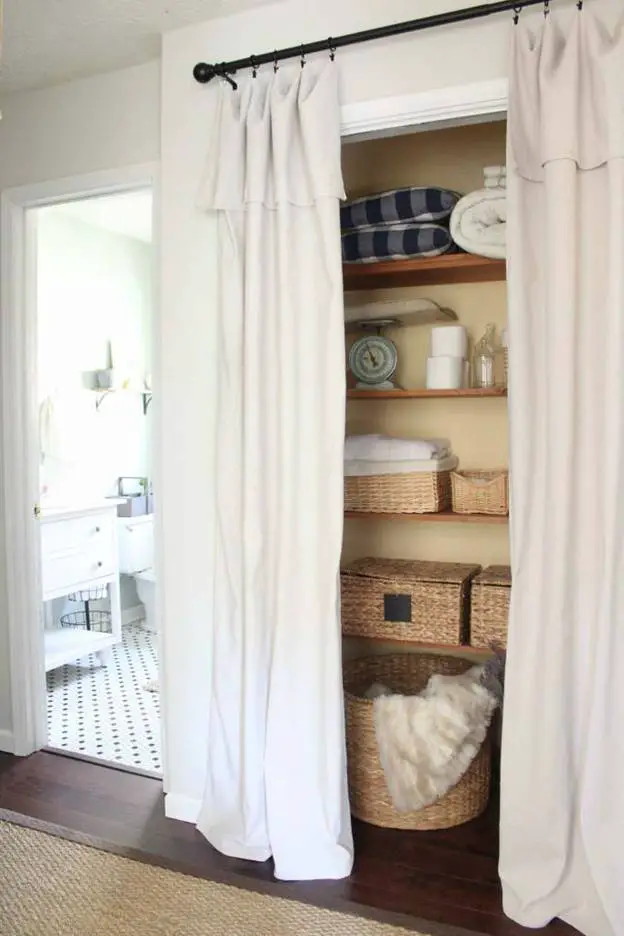 Want a sliding door that doesn't take up space? This idea is the best solution because you can install them easily without wasting money.
The appearance is also much more attractive and classy. However, compared to ordinary cloth covers, installation is more complicated because it requires hangers.
2. Simple Walk-in Closet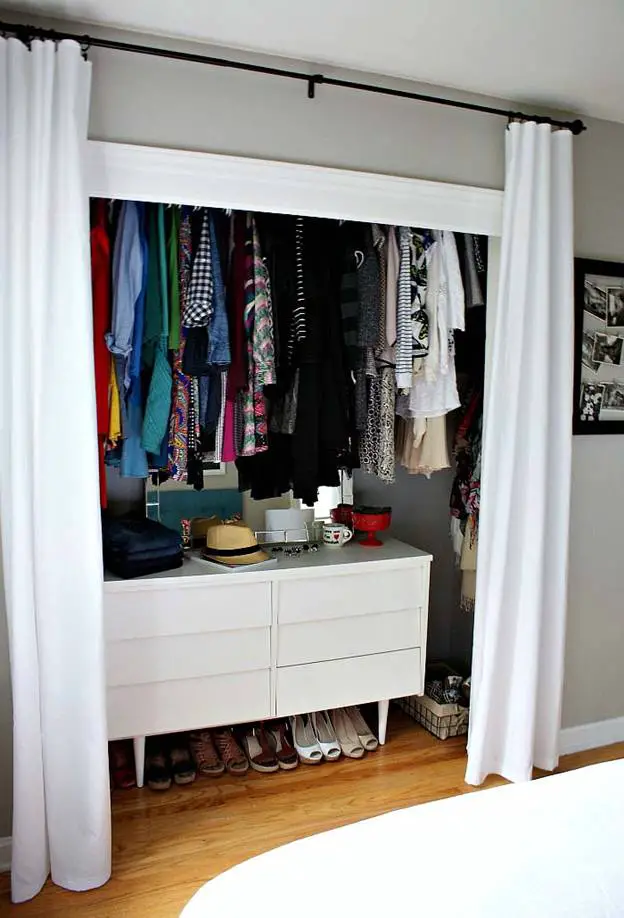 For most people, the walk-in closet is a center for storing valuable collections. Because this location is often visited, you need easy access to get in and out.
Instead of using solid doors, closet curtain ideas will help your mobility. Once opened, you can find and use all the things you want.
For a narrow area, this design also helps maximize space. You do not need to provide space for door movement and can use it to increase your collection.
3. Homey Curtain Closet Door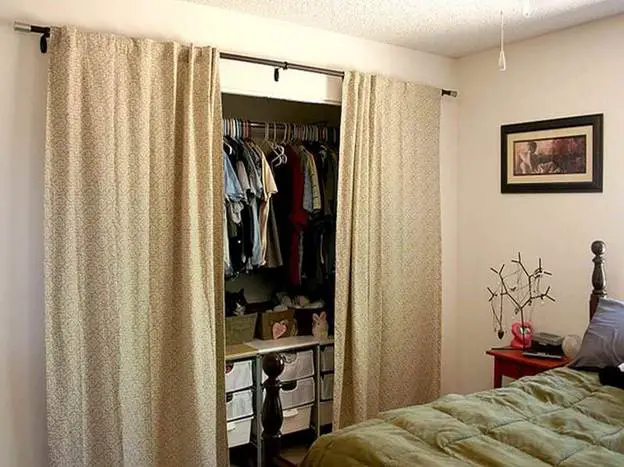 If you are bored with a rigid and monotonous atmosphere, then the use of this curtain idea can be a solution. A hanging piece of cloth will make the atmosphere less stressful and seem homey.
4. A Secret Room in the Bedroom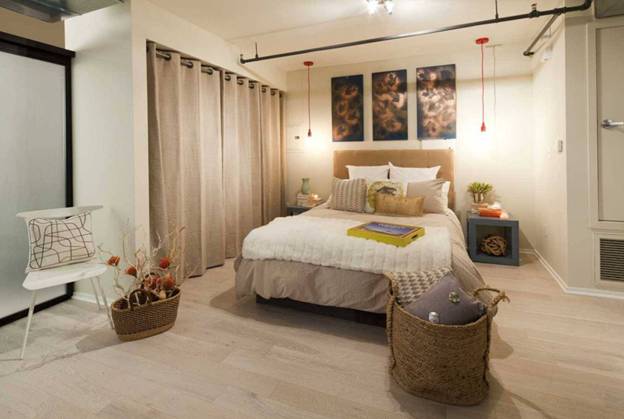 Even in a room like a bedroom, some people need a more private spot to do small things like storing personal items or changing clothes.
With this curtain design, make it happen without difficulty.
5. The Power of Color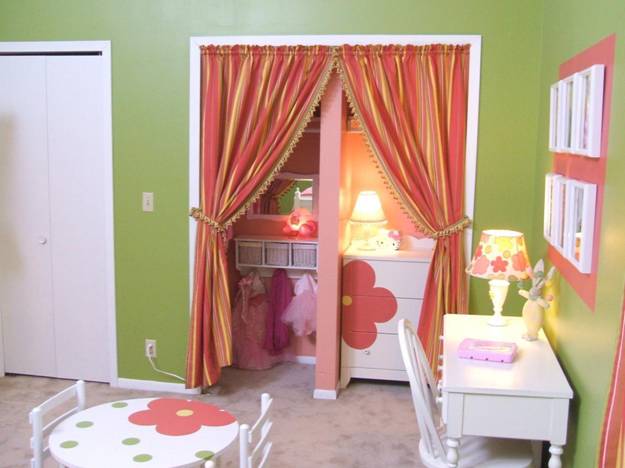 The choice of color will affect the mood. A bright color will invite positive energy and make you excited and productive.
Meanwhile, the soft tone will make you stay calm all day long. Given that someone's mood can change, you need something more flexible according to current conditions.
When you want a productive atmosphere, you can use a curtain with a bold color like red. However, for a relaxing vibe, you can use soft colors like pink or yellow.
6. All in White – Curtain Closet Door Ideas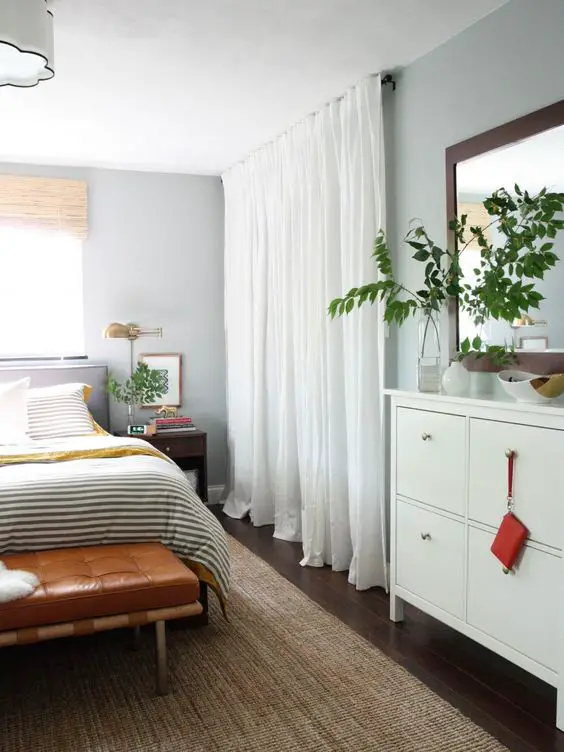 Still a matter of color, white is also one of the favorites of space design lovers. Soft tones will give a calm feel but are still classy and not out of date.
In addition, the white color also gives a clean, neat, and spacious feel. This tone also provides positive energy to keep residents excited and productive.
7. Pastel-themed Warmth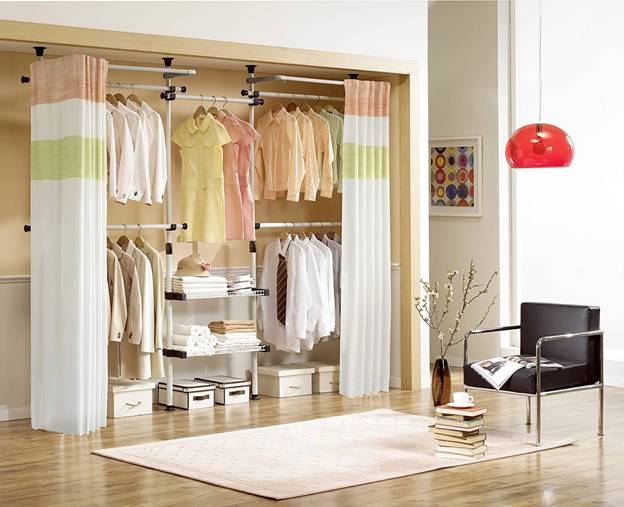 As color is a critical element in the room design, the selection must also be careful. One of the most famous options is pastel tones.
It is classy and beautiful. Besides, this hue gives a warm feeling. You can also add decorations with various design concepts, for example, rustic, farmhouse, or modern.
8. Mixed and Matched Curtain Closet Door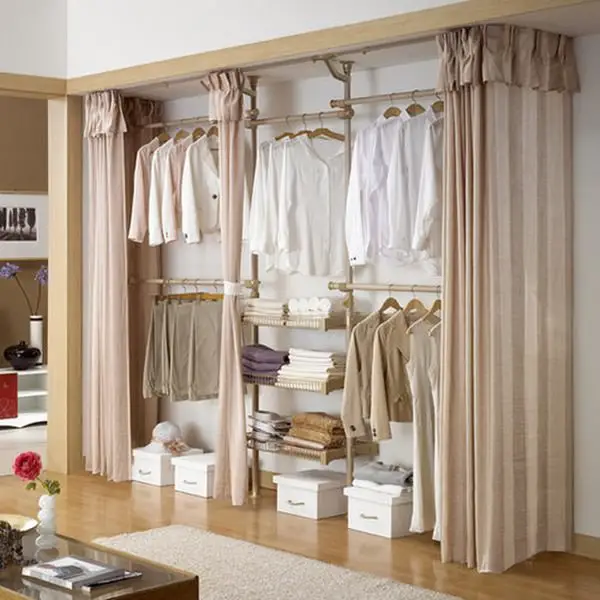 As discussed above, one of the advantages of a curtain closet door is flexibility in design and concept. Therefore, you can mix and match colors and models so that they fit the collection.
For example, if you keep things in pastel colors, you can use matching tones for curtains. It is perfect for some closets with different contents.
Even if you want to change the concept and color, this should not be a problem because the installation is easy.
Let your life be flexible with this decoration.
9. Play Your Patterned Cloth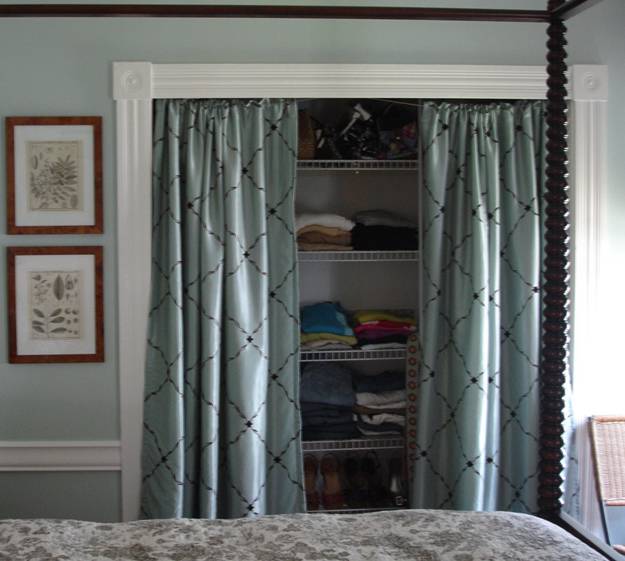 The patterned cloth will help you create beautiful decorations without any effort. With many choices of motifs and colors, you can adjust to the mood you feel.
A curtain with a shell or sand pattern is the best idea when you need something beachy. You can also enjoy the natural green atmosphere with floral or leaf motifs.
10. Textured Things is Never Boring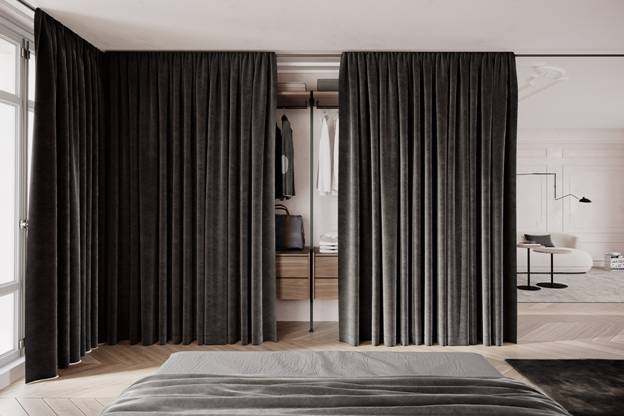 For generations, curtains have had more functions than closing windows or doors. It is also the key to the beauty of the room.
These ideas allow you to beautify your room with unique shapes.
11. Elegance in Simplicity Curtained Closet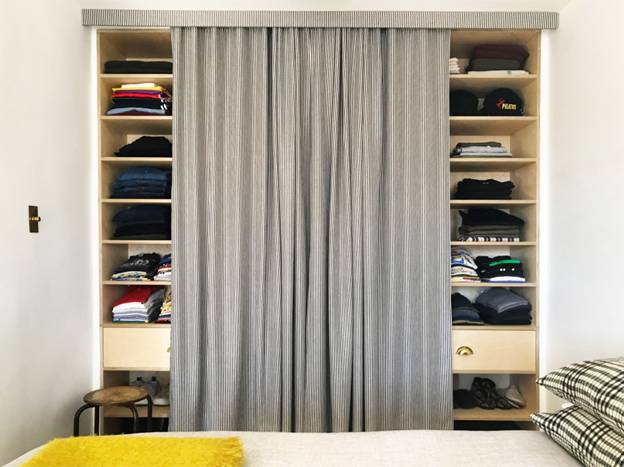 Some people like striking patterns in the design of the room. However, a minimalist interior is also not a bad idea.
Some neat curtain styles have become the choice of many people. Without patterns, minimalist and simple shapes will be a sweetener that softens the room.
Life is that simple!
12. Match it with Patterns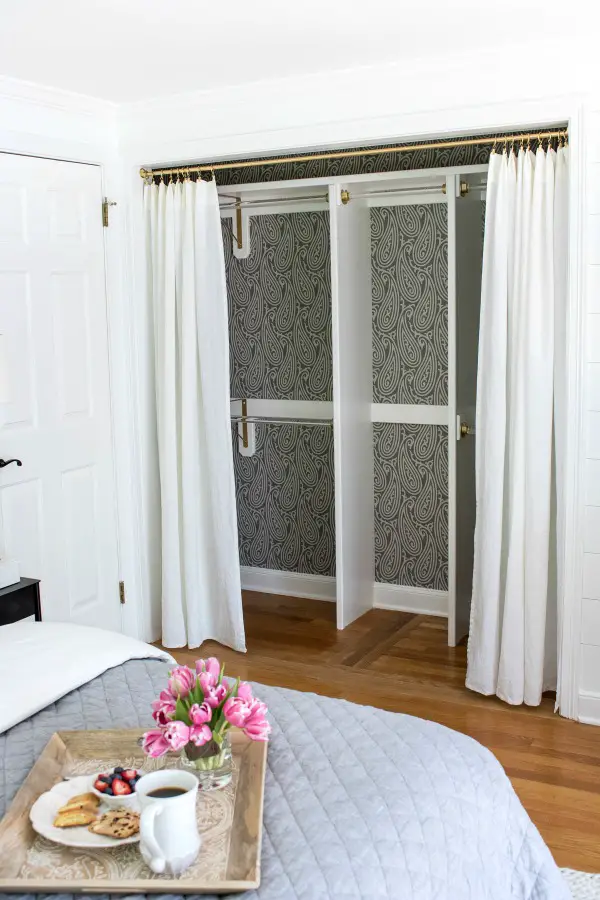 Some closets have beautiful designs with eye-catching patterns as decorations. Of course, you do not want it unseen.
If so, the use of closet curtains is the right choice. You can open the cover when you want, but close it again when you do not need it.
13. A Painted Curtain for Decoration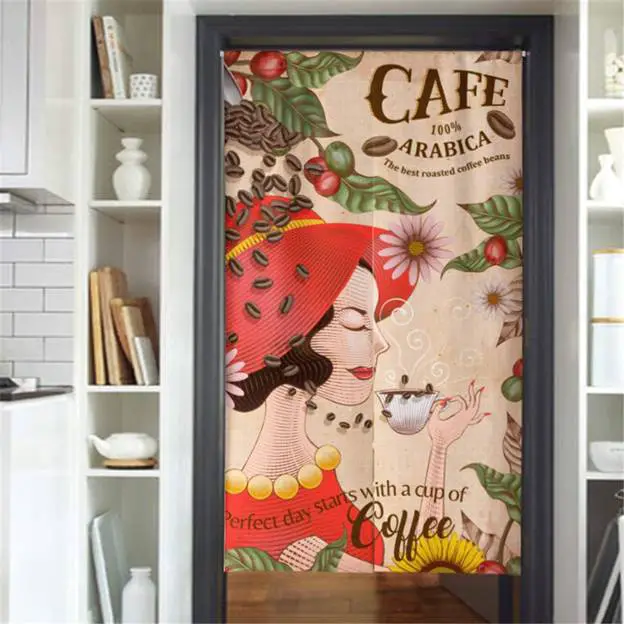 Another thing you can do with curtains is the possibility to display pictures in the room. You can choose a variety of images instead of painting in the room.
This style works great for you who like art. Interestingly, no need to prepare a flat area to display this decoration.
You can also replace the curtain if it is dirty.
14. Space-saving Concept Curtain Closet Door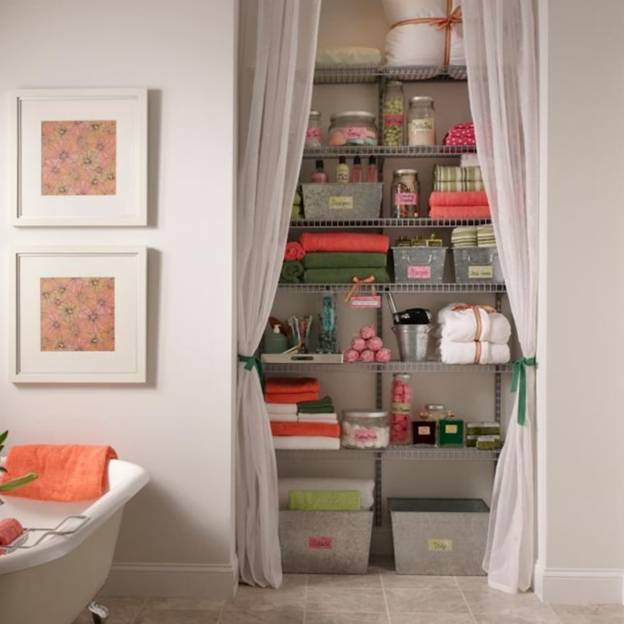 Curtains are much more effective in saving space because they do not require space for the door to move when opening.
You can also place it anywhere, whether to cover corner spaces, large wardrobes, and other furniture without the hassle.
15. Divide Your Space with a Piece of Drapery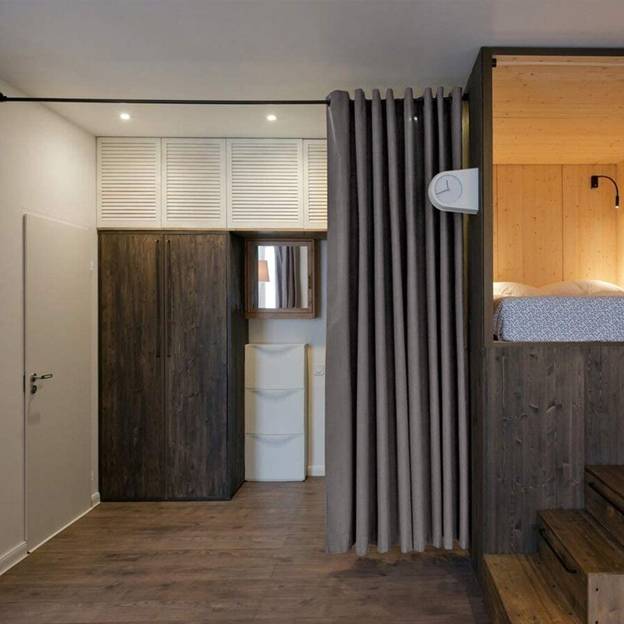 If you want to get a new space without any hassle, curtain doors are the answer. You can mount it at a specific point and create two separate but easily accessible rooms from each other.
If you place the separator cloth in a large enough size, you can hide the parts do not want to show. This technique is perfect for housing with limited land.
16. A Finished Room to Display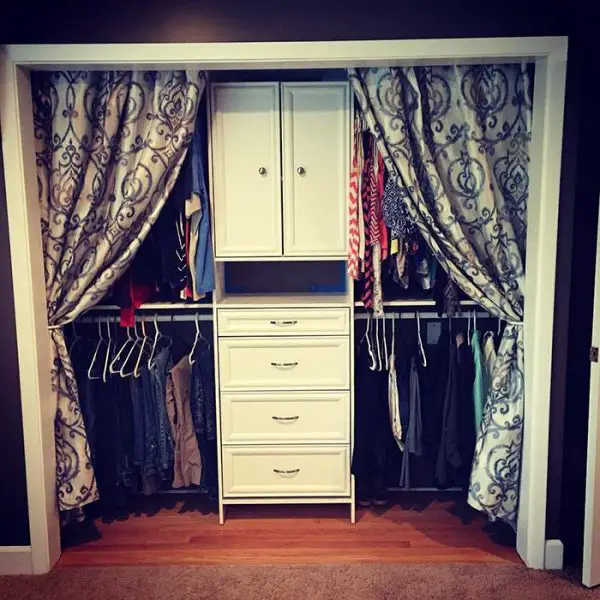 Given that the closet is one of the places to store valuable collections, it is not wrong if you occasionally want to show it off.
With a beautiful arrangement, this spot will be an extraordinary decoration.
For comfortable opening and closing, curtains will be much more effective than doors. You can use a folded cover or other design that allows it to look beautiful when open.
17. A Curtain under Mini Room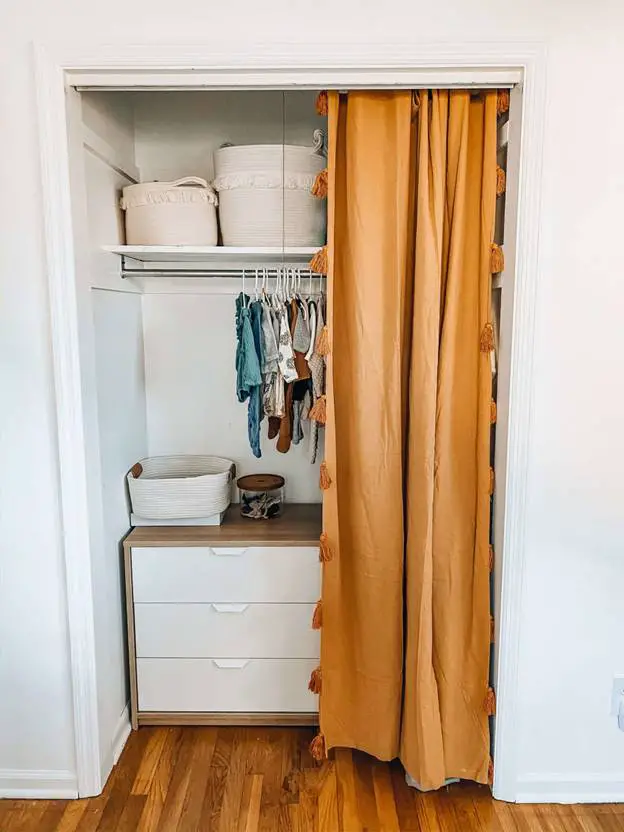 The function of the curtain is not always to cover an entrance. Even if there is a cloth covering, showing signs of a door can also be a good idea.
For example, you can place a mosquito net but still, show the door frame. This idea will be very appropriate if you have a unique frame design that you do not want to miss.
18. Foldable Cover Curtained Closet Door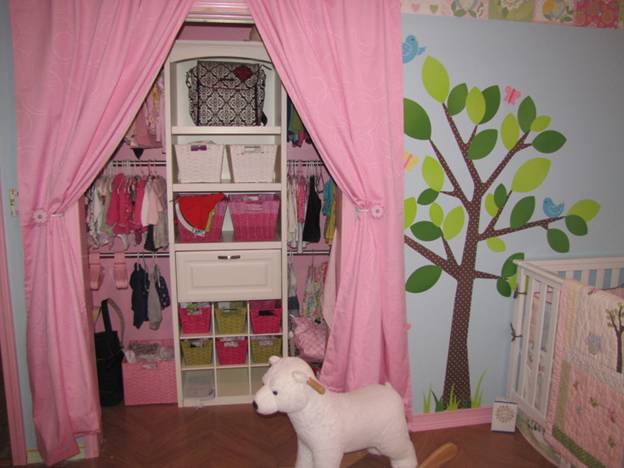 A never-open room will cause tightness, humidity, and discomfort. It can harm your valuable collection. Please open it frequently to avoid mold.
However, a closet with a solid door will be inconvenient when opened because it takes up space and blocks the way.
Hence, you can avoid it if using a curtain.
You can use folded curtains to open them well without looking messy. With the right design, this view will beautify the room.
19. Bridal-themed Closet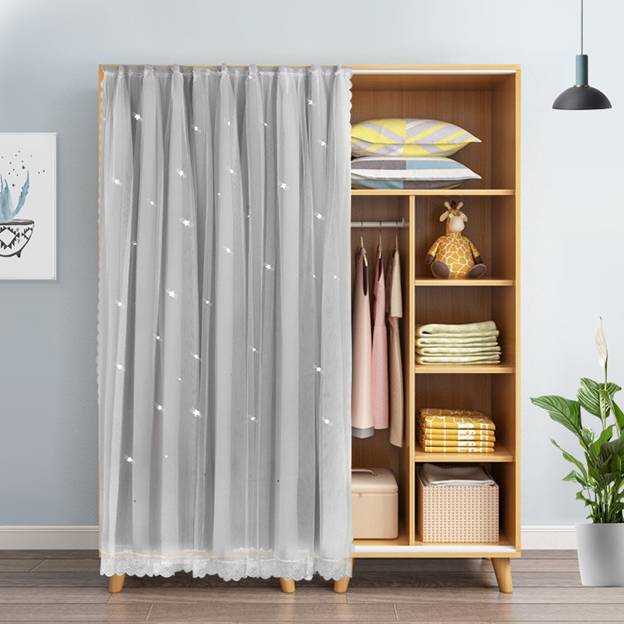 Are you a fan of princes and bridal things? If so, why not try implementing closet door curtains with that friend? A lace will work wonders.
The lace fabric itself is identical to the theme of a wedding or princess. In addition, the transparent material also has an elegant yet simple appeal.
You can add other knick-knacks such as lights, ribbon decorations, and other decorations to enhance your appearance.
However, to maintain privacy, you can add a non-transparent cloth behind it to cover the collection in the closet.
20. Insert Your Concept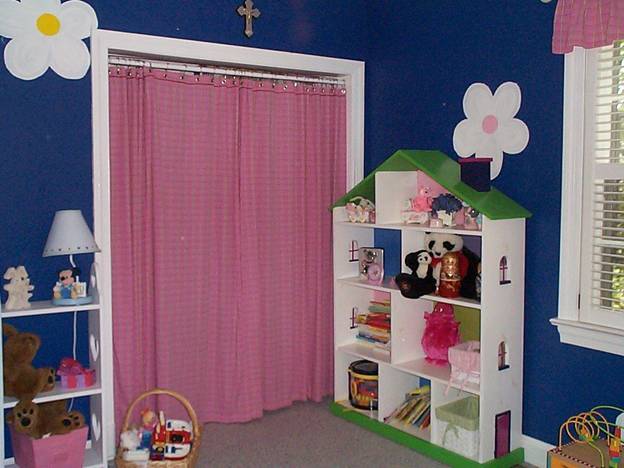 Synchronizing the room concept is sometimes heavy and expensive because you have to adjust the furniture. To make it easier, you can use a curtain as a closet door.
Purchasing expensive cabinets just to fit the concept is not necessary. Just use a closet door with the desired theme, and the cloth will cover things that are not relevant.
Do not worry about applying wallpaper or paint to the closet cover. Instead of wasting money, using fabric will be easier because you can install and replace it as you wish.
Conclusion
The beauty and comfort of the room will affect your mood. Therefore, you need to design well, one of which is by placing decorations according to your tastes and needs.
By applying curtain closet door ideas, you can do a lot of exploration. Various concepts, colors, designs, and models can make it easier for you to create a favorite spot in the house.
More from materialsix.com: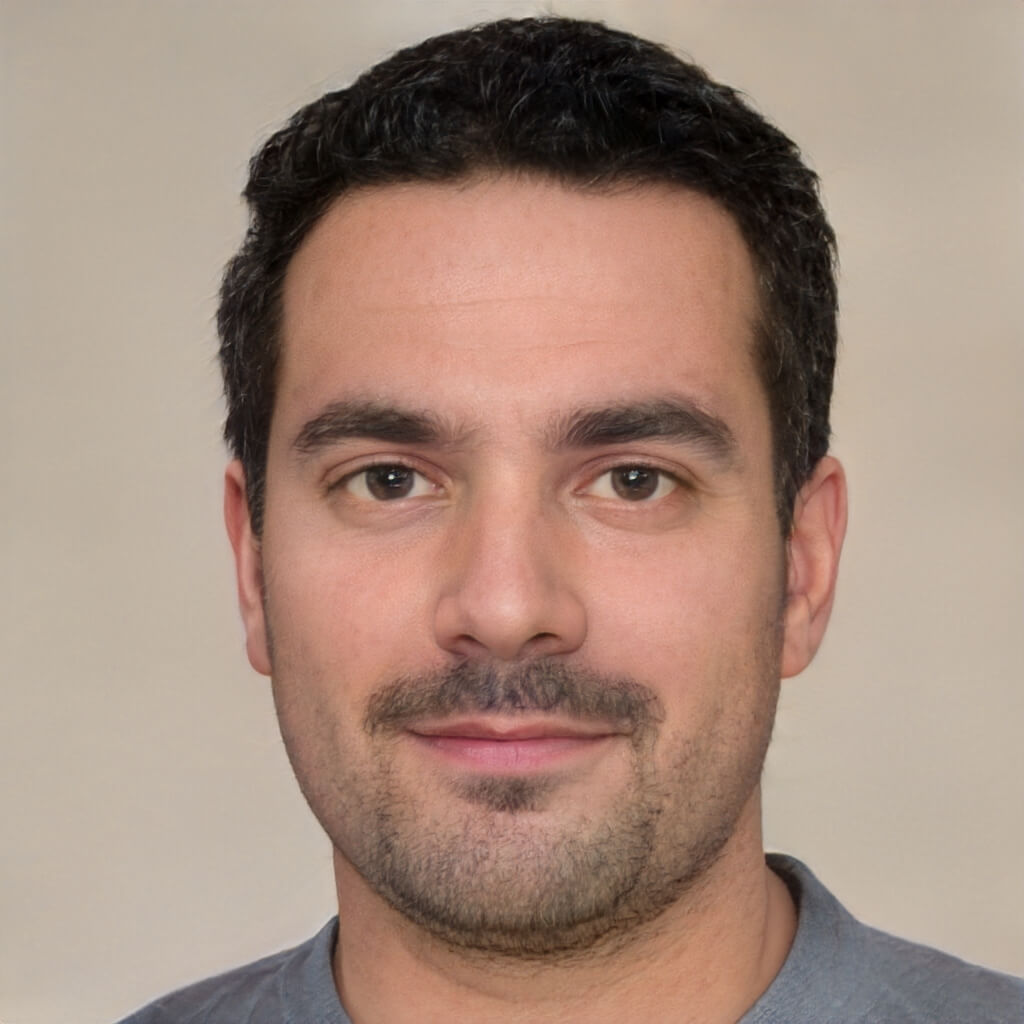 I'm a passionate home and garden enthusiast and the founder of Materialsix Home. With over 10 years of experience in the field, I've cultivated a deep love for all things related to home improvement, gardening, and interior design. Read more…