We all look to be creative while thinking about how to turn a shed into a tiny house. The sheds can be efficiently converted into livable and useable spaces where one can create a music room, cigar room, grow things, craft projects or read.
It is essential to make a good plan for converting a shed into the living room as failing to plan is planning to fail. Before practically starting the conversion, one should have the proper know-how, otherwise, a lot of hurdles will be created.
Take start by simply drawing a general scheme that how things will be arranged. As there is a need to set up new lighting, insulation, cooling, heating, windows, and outlets, so everything should be pre-planned.
One should avoid the options that may not be suitable for installment as they lead to unpleasant and unaffordable happening.
If the shed is in the area where some regulations are implemented for remodeling, then permission should be taken from authorities through proper channels.
Related: Pros and Cons of Living in a Tiny Home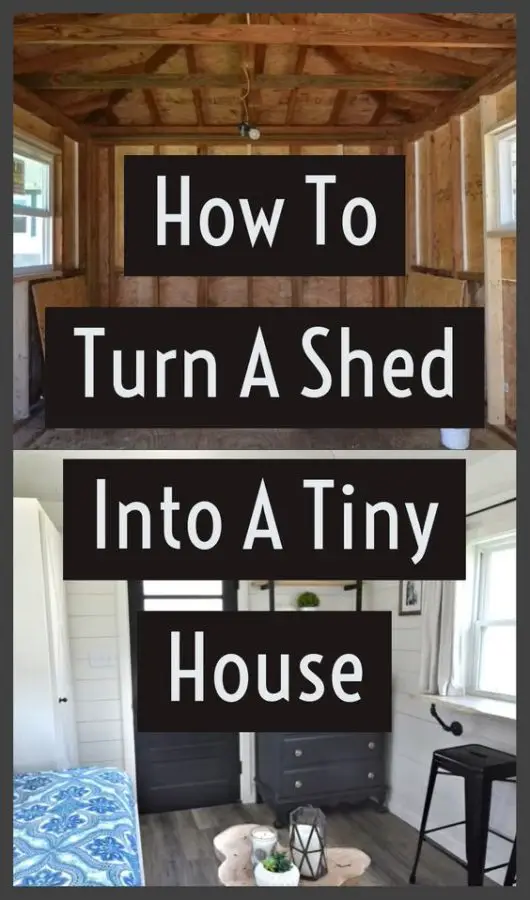 How to Turn a Shed Into a Tiny House
Here are few ways to know how to convert a shed into a tiny house.
1. New Coating of Paint
The shed can be converted into a new and amazing tiny house by exterior and interior paint. As, most sheds are small so, the painting job can be quite quick and can be completed at the weekends by proper planning.
If the shed is at some distance from home then its color scheme can be chosen as flower-like shades and warm pestles.
Otherwise, color combination with home is also a good scheme to enjoy enhanced looks.
2. Sealing Up Cracks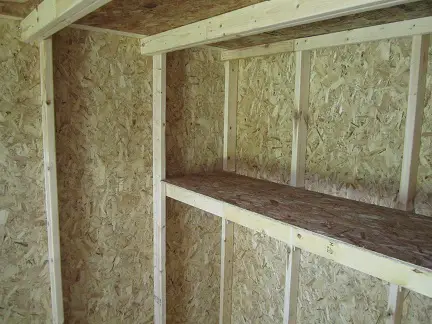 Stand-alone sheds and gardening sheds are most commonly used for storage purposes and they should be properly sealed for the prevention of dust bugs, drafts, and other such problems.
After cleaning, one should be ready to break caulk for creating airtight conditions. If the shed is rickety, then the walls should be completely replaced.
3. Insulation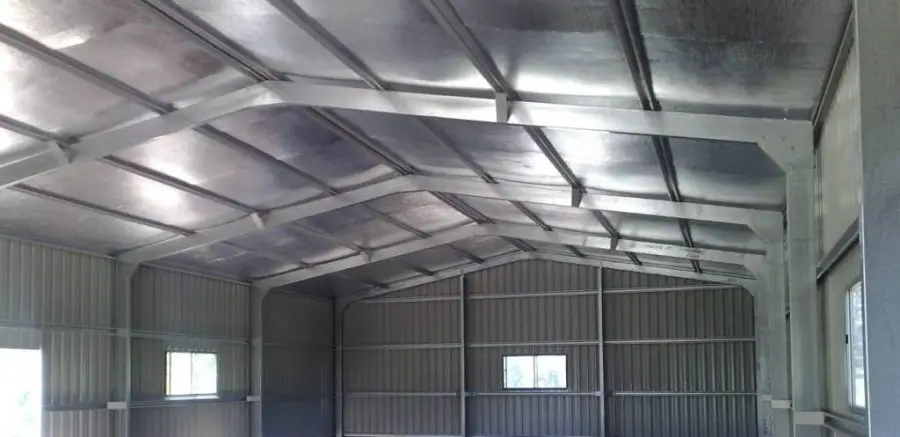 It is necessary to insulate the sheds for creating a comfortable environment for living.
Even, after insulation, the shed should be properly dried to be converted into a good bedroom.
4. Addition of Heating and Air Conditioning System
In the moderate climatic regions, only insulation is enough in the newly converted shed. But in the hot and cooler conditions, additional features are required.
In this situation, a small heater or air conditioner is the most requirement. So, there should be enough space to install these systems according to the requirement.
In the shed, if there is no access to the electricity then an efficient and good wiring system should be arranged.
5. Converting of Extra Space for Storage
In most livable sheds and storage sheds, there is always some kind of storage space such as bins, hooks, and shelves and it should be used in a better way.
This space can be utilized for other purposes such as for displaying decor, organization or hobby paraphernalia, and for holding books.
Tearing of shelves and spaces is never recommended as they can be used for any good purpose.
6. Decoration and Landscaping
Shed space can be converted into a pleasant living area by some decoration and plantation.
Planting a vine by the wall or porch of the shed is widely considered as it climbs up the surrounding surface and gives proper looks to the shed.
Indoor plants significantly improve the quality of air and add greenery to the room.
The area around the door should be visible and welcoming. For this purpose, the porch area or patio can be added along with door painting and the building up of new steps.
7. Install Windows
In many sheds, the windows are few or may not have even a single one. So, for converting the shed into living rooms, windows should be installed on a priority basis, especially if the desire is to get the sunny room.
If there are no windows, the room will feel unpleasant and cramped. Therefore, new windows should be installed on various sides of the shed.
8. Use of Solar Panel Kit
By using a solar panel, the desired level of electricity can be added to the shed without having access to the routine electrical facilities.
These panels directly absorb energy from the sun and route it up to the electric saws, lamps, sockets, stereo systems, and other appliances.
9. Installment of Good Lighting System
In the livable and garden sheds, only a bench light or a single bulb is installed, but additional lighting is required if the purpose is to spend some more time in the shed.
Both lamps and overhead lights should be installed for illuminating the room for studying, reading, and hobbies.
If space is to be used in the evening then an outdoor light should also be installed.
In the vicinity of the shed, the benches can be used by having some color combinations with the lights. These benches provide additional space and also serves the decoration purpose.
This is important when you are talking about How to turn a shed into a tiny house.
10. Conversion of Floor Surface
The flooring in the shed room should be comfortable and durable. Most commonly carpet, tile, and cork are being used for flooring the sheds.
If the wooden floor is in good condition, it can be restored but, in this case, more attention should be given to the mold and moisture.
11. Don't Do Everything by Yourself
Mostly, people think that they can save a lot of money by doing all kinds of work by themselves. But it is a wrong choice, at some points, it is necessary to call the professional services.
Everyone is not qualified to reroute the drainage system and plumbing. They may not even be able to keep the wires in their place.
Similarly, some kind of expertise is required for the installment of doors and windows which an ordinary person may not be able to do.
Just because space is being remodeled and the room is even smaller than other rooms of the house does not means that anyone can do things efficiently.
Conclusion
The sheds can be beautifully converted to amazing and comfortable living areas by doing some sort of transformation.
The desirable changes can be made according to climatic conditions, lifestyle demands, and budgets. By using the above-mentioned simple tips, any storage or garden shed can be used as the living room and fewer costs.
So, this answers the question How to turn a shed into a tiny house in a detailed way.
More Shed Posts & Other Posts You Might Like: