A she shed serves multiple functions. Thus, use it as a crafting zone, workspace, relaxation area, reading nook, and guest house. Copy this awe-inspiring she shed bedroom ideas to personalize your space.
Like man caves for men, she sheds allow women to free their minds. Moreover, this private space keeps you grounded.
Moreover, before planning the design and creating a personalized oasis, make sure you read this post.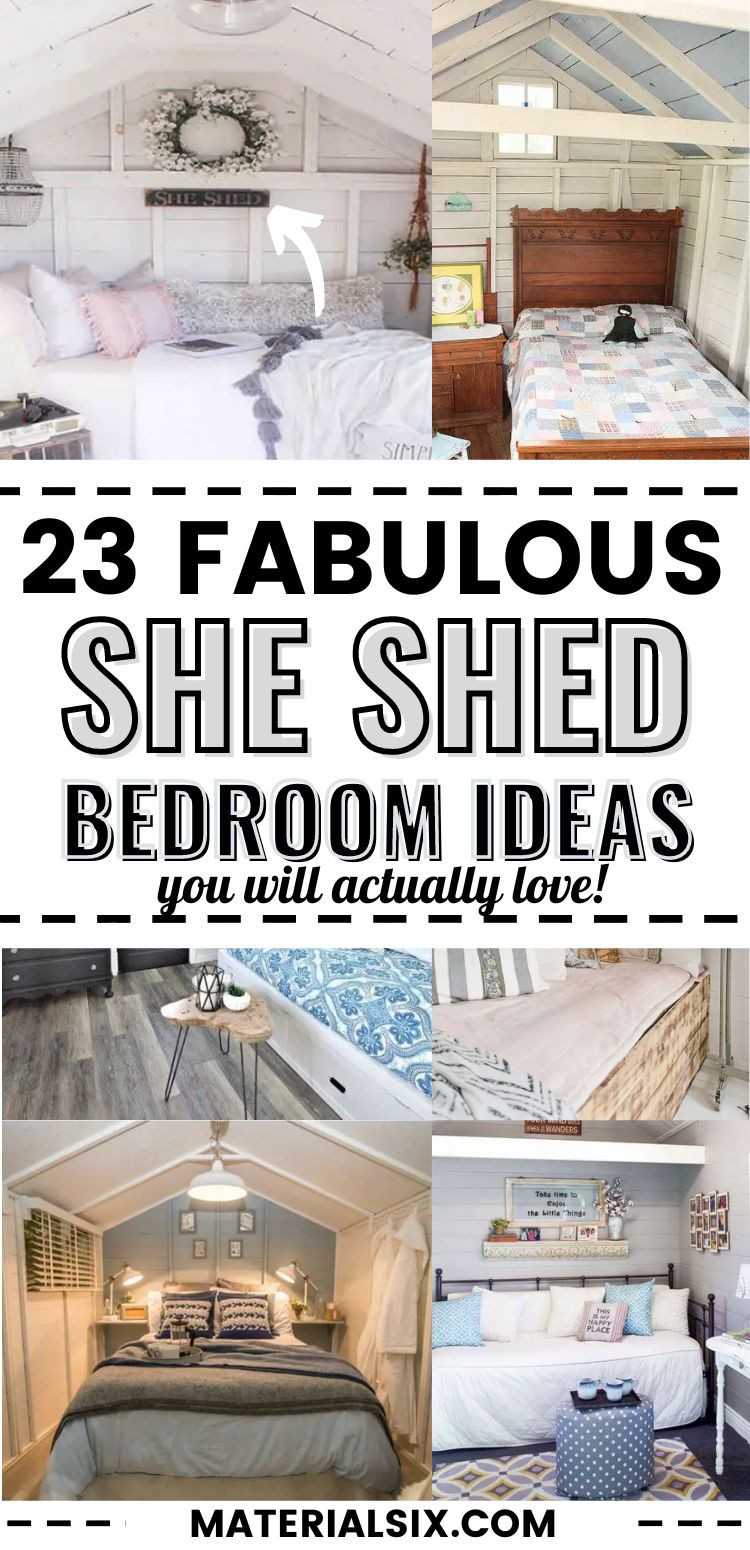 23 Excellent Bedroom Ideas for She Sheds
It's yours to realize your dream she shed. Create a cozy spot that amazes you with she shed ideas below.
1. Double Duty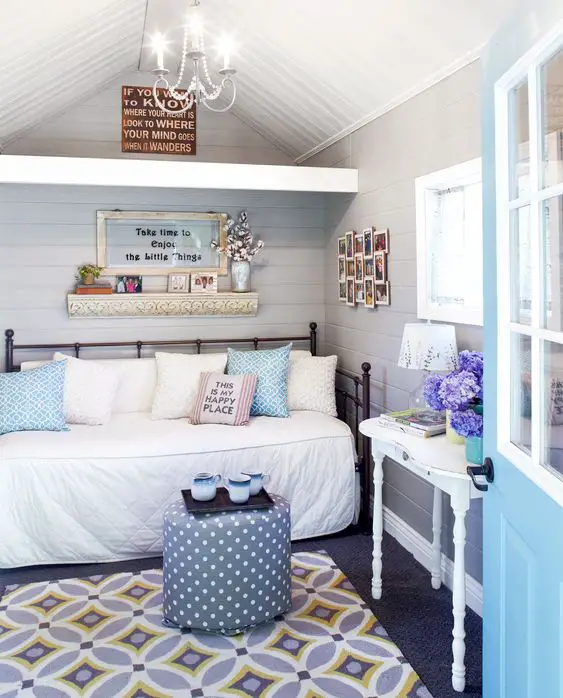 A she shed must be a woman's special place. With a few adjustments, it can serve as an inviting guest house.
This stunning she shed, for example, includes a daybed. Not only is it incredible for seating, but also it makes a brilliant sleeping space.
The short curtains provide privacy, while the blankets add interior-like comfort. In addition, bold patterns give the wow factor to the she shed.
To personalize the room, hang a vintage window sign and a photo wall collage.
2. Coastal She Shed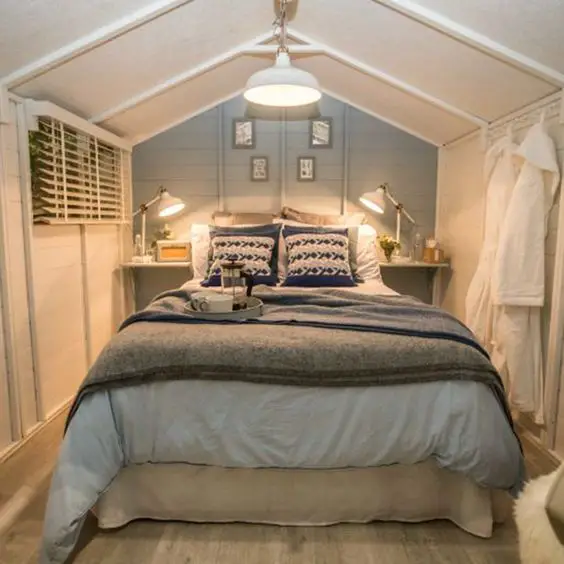 Creating a she shed that reflects personality is very important. This space is a true cozy haven. It also boasts a unique design.
Due to fresh coastal tones and white cladding, the she shed feels more like a boutique bedroom. Furthermore, it transports you to a beachside villa.
Additionally, this she shed undoubtedly makes a wonderful guest room. The symmetrical balance evokes simplicity. Likewise, plush textured fabrics keep guests comfortable.
3. Cozy and Rustic She Shed Ideas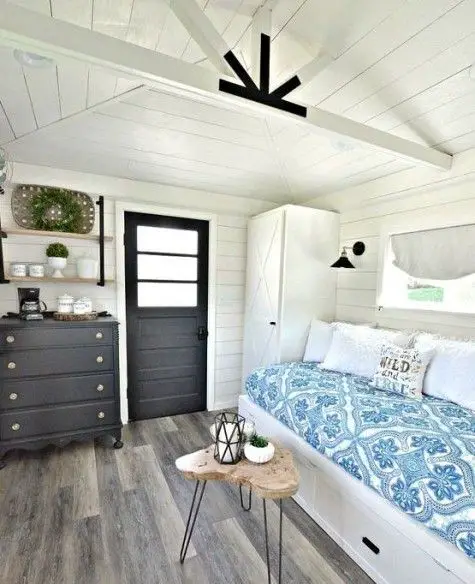 She sheds let women enjoy their pastimes. Draw inspiration from this snuggly yet rustic she shed when decorating your space.
The garden shed features a sleeping area. Also, it establishes a rustic vibe through a live edge side table.
Since the shed is small, it features simple furniture. Instead of a full-size bed, it has a cozy daybed. When needed, it becomes a sleeping zone.
The farmhouse accessories, plants, and striking patterns make the she shed lively.
4. Dreamy She Shed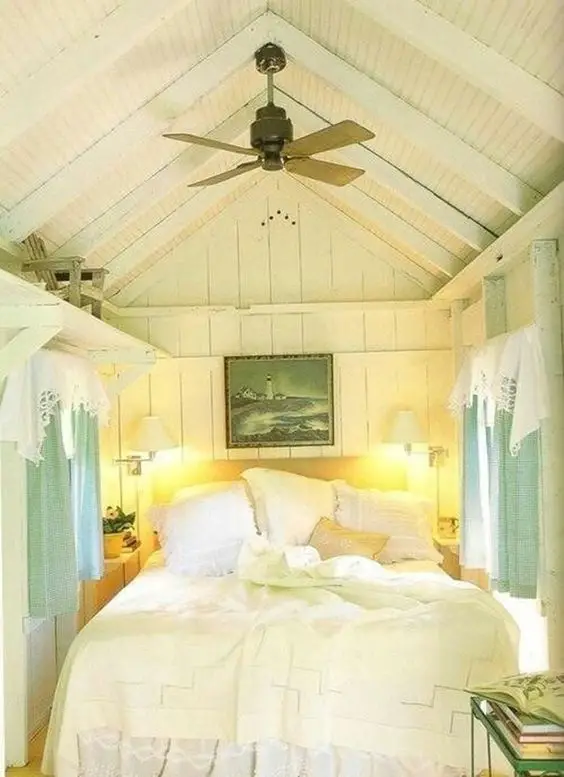 This beach cottage-inspired shed feels welcoming and airy. You surely can pull off this look in your garden shed.
Here, the beach cottage bedroom provides layers of softness. Additionally, the window treatments evoke gracefulness.
The beach art and small Adirondack chair generate a cohesive look. Meanwhile, stacks of books keep the she shed homey.
5. Beautiful She Shed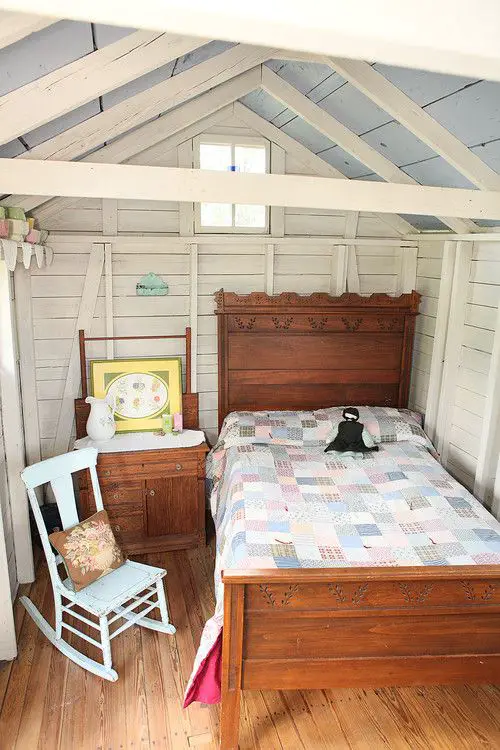 I admire the decorating scheme of this she shed. Moreover, it doubles as a remarkable guest space and reading nook.
Pastel colors are subtle yet powerful. The hues make the she shed look serene. Likewise, these tones ensure the space feels cohesive and attractive at once.
In addition, vintage accent pieces complement pastel hues excellently. The solid wood flooring and furniture offer some warmth. Without a doubt, this she shed is a fun space to sit back and read.
6. Vintage She Shed Guest House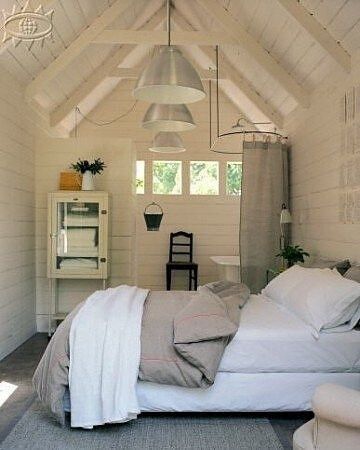 Turning the she shed into a tiny guest room seems a great idea. It allows the homeowner to host holiday guests.
This shed, for example, exudes a vintage feel through metallic pendants and furniture pieces.
Windows and white wood paneling keep the she shed-turned-guest house airy. In addition, linen bedding introduces comfort.
This cozy she shed also includes a shower. The gray curtain matches the bedding and flooring nicely. Likewise, it provides privacy.
7. Log Cabin-Inspired She Shed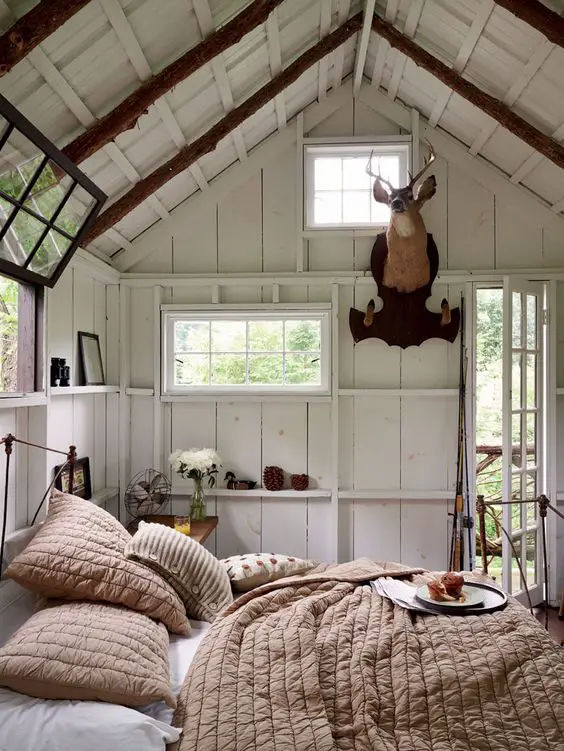 This she shed is inviting and bright. Meanwhile, the French door and windows let in the breeze. They facilitate movement between outdoor and indoor spaces too.
Additionally, the shed features a comfy design. The subdued pink bedding evokes a feeling of comfort. White blooms next to the vintage table fan convey femininity.
The deer shoulder mount spices up the she shed's interior. Furthermore, it matches the log beams excellently. It also keeps the shed décor from looking too feminine.
8. Contemporary She Shed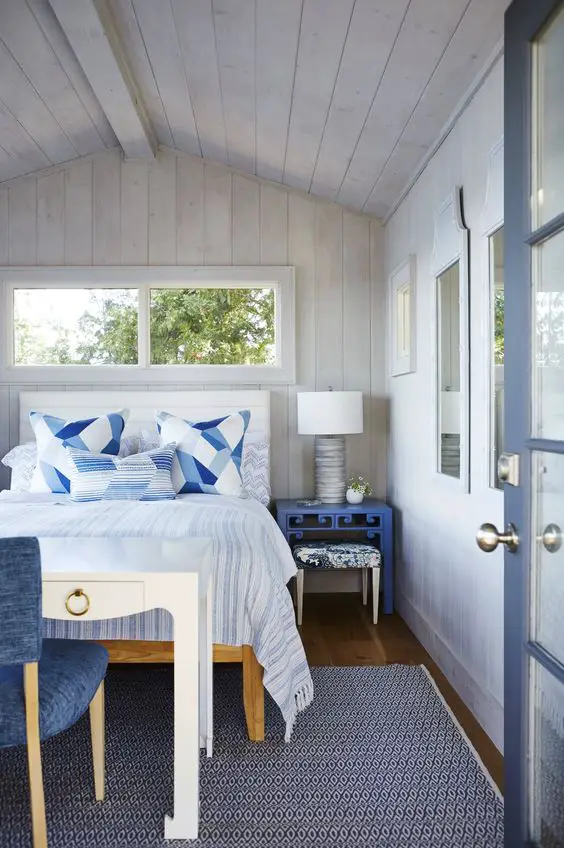 A she shed reflects a woman's personality. It is what makes a shed awesome. Then, you can opt for a minimalist décor or bold designs.
Feel free to integrate your favorite decorations, furniture styles, and colors. Consider combining several design elements for a one-of-a-kind shed.
Further, I love this she shed bedroom décor. The blue color palette and geometric patterns titivate the shed.
Moreover, the accent stool and nightstand welcome oriental vibes. Meanwhile, the desk provides a comfortable workspace.
9. Cottage-Style She Shed Ideas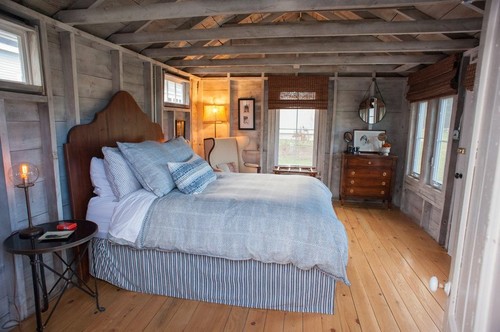 This rustic but adorable she shed is a perfect personal retreat. Whitewash walls allow the wood to shine through. Besides, the designer furnishings meet the pine floors harmoniously.
The statement headboard introduces a graceful focal point. Likewise, it complements the nearby linen-covered wing chair.
Here, the wing chair and comfy bed face a stunning field. Window blinds warm up pale wood walls. Lastly, custom lamps adorn the space.
10. Multifunctional She Shed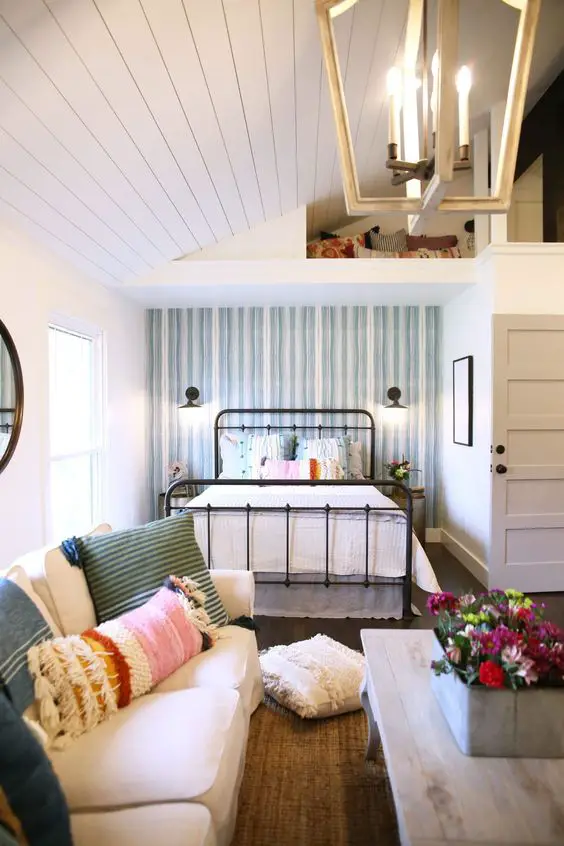 This garage-turned-she shed is worth copying. Hence, it makes a fantastic hideaway for any busy woman.
In this space, a woman can take a moment away from her kids. Moreover, the cozy sitting area enables you to catch up with friends.
The statement wall, colorful extra pillows, and vibrant blooms keep the shed appealing. Meanwhile, windows welcome plenty of daylight.
11. Peaceful She Shed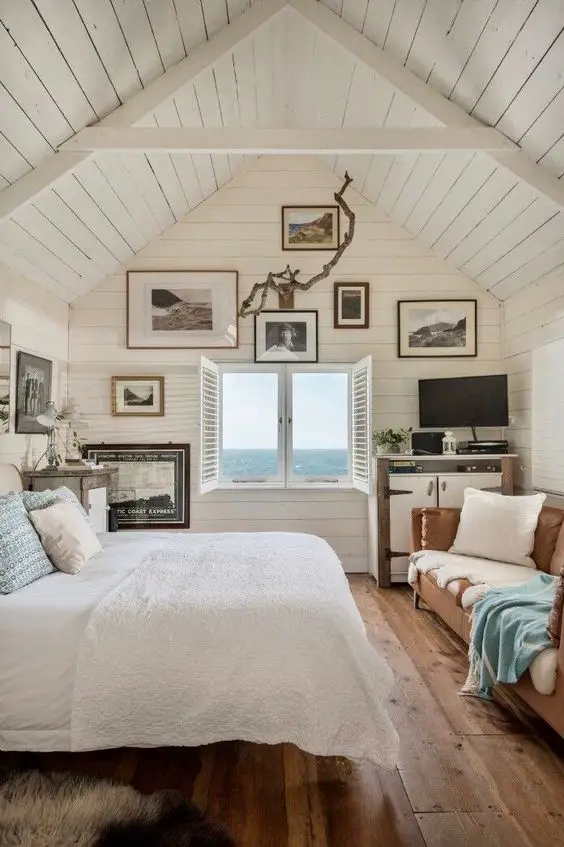 If you're in search of quiet, imitate this she shed. The layout is flexible. Moreover, the sofa lets the shed serve various functions. It becomes an exceptionally snuggly reading nook.
The comfy seating is excellent for entertaining guests too.
This shed is full of cottage charm. Since it looks peaceful, it's like a slice of paradise. The wall collage and rustic driftwood décor make the shed more inviting.
12. Girly She Shed Decorating Ideas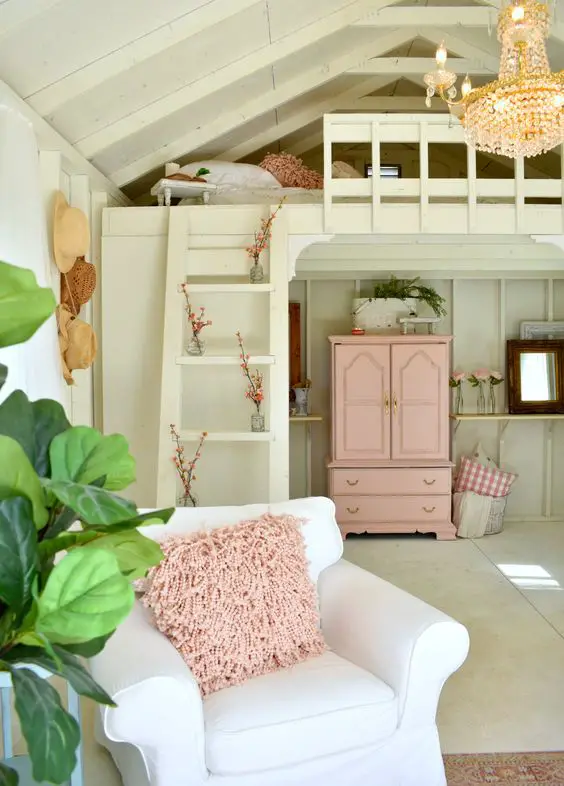 I adore the interior of this she shed. It boasts an ample dose of white. There is also a cute napping loft with a low wooden stool.
The she shed includes all things pink that establish a girly vibe. Likewise, distressed furnishings carve a lived-in look.
Floating shelves provide a display space for accent pieces. Furthermore, straw hats lend the shed a farmhouse ambiance.
13.  Tiny She Shed Interior Ideas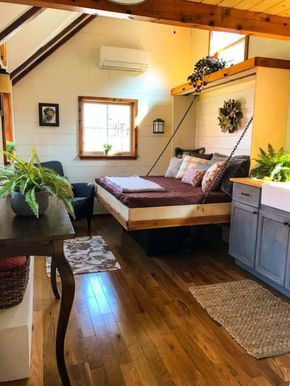 This she shed is small yet welcoming. The wall bed helps you take advantage of usable space. Because of it, the shed also can act as a guest room.
Additionally, windows keep the she shed airy. For seating, choose a cozy upholstered armchair. It serves as a reading nook in a tiny shed.
Consider adding extra pillows to the wall bed. They will make guests feel comfortable instantly. The greenery spruces up the she shed.
14. Bright She Shed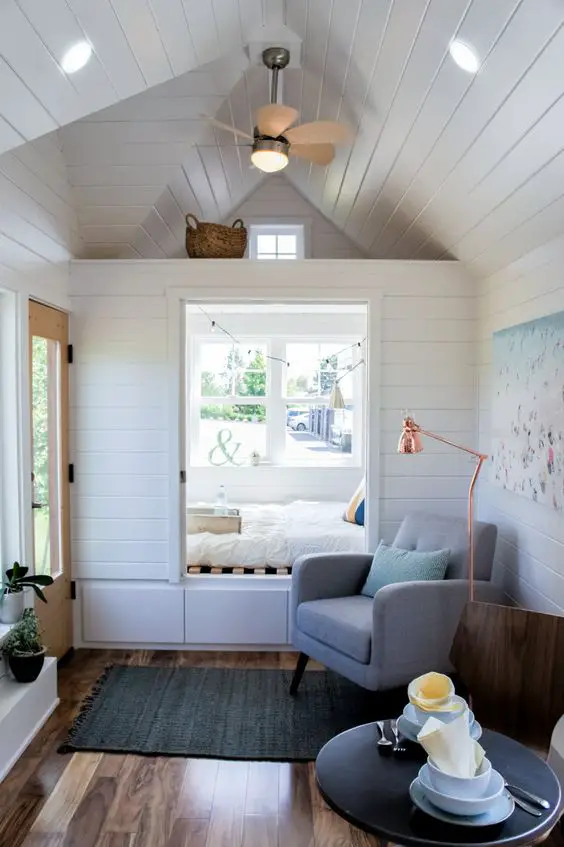 Make the she shed spacious by opting for light paint colors. White paneling opens up the tiny shed. Likewise, it lets furnishings shine through.
The woven basket and ampersand sign introduce a country vibe. In addition, the gorgeous copper lamp complements the shed's interior.
Besides, the painting gives the otherwise plain she shed a focal point. Furthermore, the chair and table create a stylish breakfast nook.
Without doors and windows, the tiny shed could have been gloomy. The ceiling fan does double duty. It makes the shed seem polished too.
15. Magical She Shed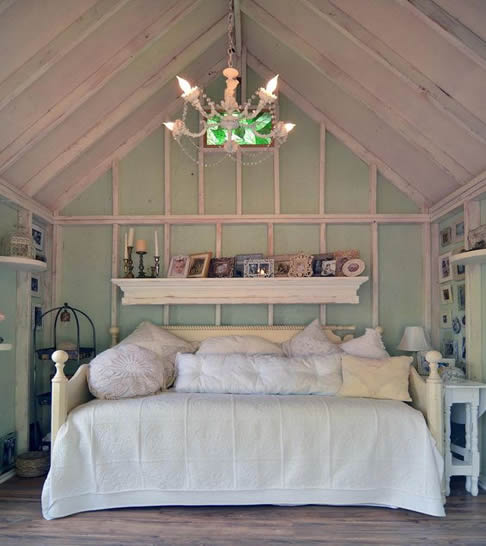 This she shed is surely Pinterest-perfect. The elegant pillows adorn the vintage daybed. It can turn into a sleeping zone quickly.
Here, the she shed generates a shabby-chic aesthetic through the shelving, ornaments, and beams. Likewise, the chandelier keeps the shed cohesive.
The distressed paint effect establishes a rustic feel. Meanwhile, soft colors complement princess furnishings perfectly. This shed is the true definition of beauty sleep.
16. White and Pink She Shed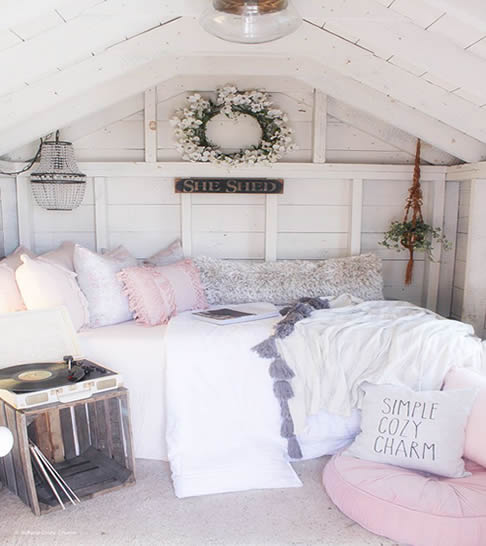 Without a doubt, this she shed is simple yet cozy. White wooden walls look rustic while keeping the sleeping quarters bright.
The floral wreath and "she shed" sign spice up rustic walls. Furthermore, the record player, plant, and beaded chandelier complement them.
Pink hues seem refreshing in this shed. They make the bed look more attractive and snuggly. Meanwhile, gray pom-poms introduce some cheer.
The rug not only feels plush but also highlights the pink seat cushion.
17. Laid-Back She Shed Decor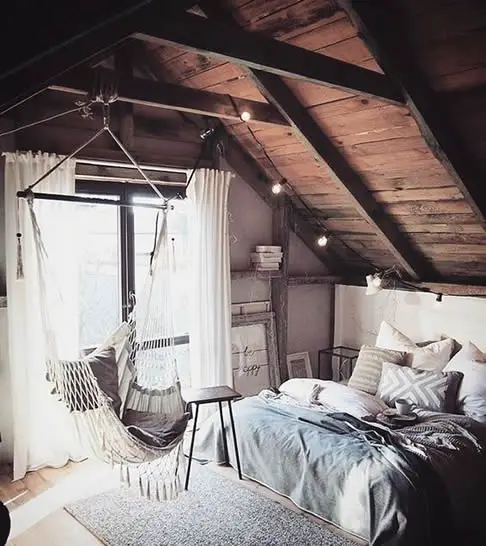 Even though the she shed isn't big, it is ideal for a cozy rest. The wooden ceiling and crossbeams welcome a warm vibe.
The hammock chair lets you daydream or enjoy a book. Furthermore, string lights over the utterly comfy bed keep the she shed well-lit.
Right beside the hanging chair is a table. It makes a display space for books or vases. The color-coordinated rug makes the shed feel polished.
The framed decorations are both attractive and inspiring. Elegant white curtains touch the floor and provide privacy. I really love the laid-back setting of this she shed.
18. She Shed Outdoor Decorating Ideas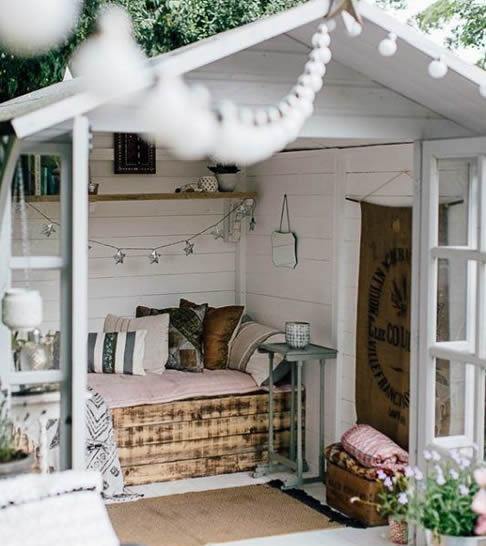 Here, the shed doesn't feel like an isolated structure. The white bulbs and string lights establish a cohesive look. Moreover, windows provide the beauty of the outdoors.
The doors let the breeze in while offering the fragrance of a backyard garden, whereas repurposed wooden panels give the bed rustic beauty.
This she shed features plenty of pillows too. The room is tiny, yet it accommodates a star garland, a mirror, a tapestry, greenery, and books.
The shed above makes a spectacular getaway. You can have your precious "me" time without leaving your home.
19. Space-Saving She Shed Design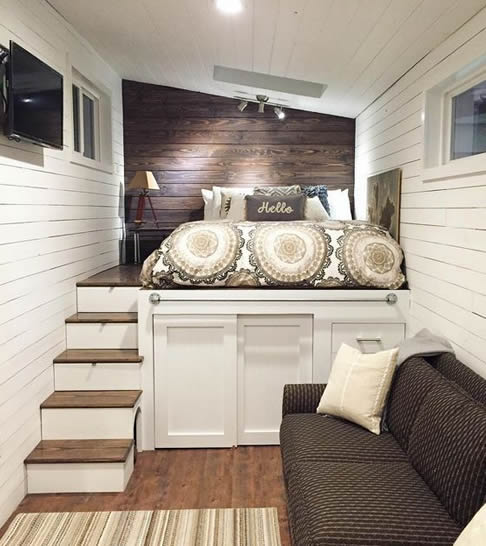 Some people can afford spacious homes and mansions, but others do not. Therefore, if you can't buy a large house, that's fine. Just opt for the tiny one.
This narrow yet cozy she shed belongs to a small house. It includes an elevated bed. Likewise, the elevated structure separates the couch area from the sleeping zone.
For better sleep, outfit the bed with a comforter. Then, stash extra pillows of varying sizes. They'll keep you utterly comfortable.
Furthermore, the stairs generate a sense of more space instantly. The owner also turned the shed's lower portion into usable storage.
The brown patterned couch accentuates off-white pillows. Meanwhile, the rug includes the shed's colors for a cohesive look.
Here, the skylight provides additional brightness during the day. You can stargaze through it too. Besides, the light fixture keeps she shed bright at night.
Dark paneling adds warmth to the she shed. Due to the smart layout, you can view the TV from the bed and couch.
20. Rustic Chic She Shed Bedroom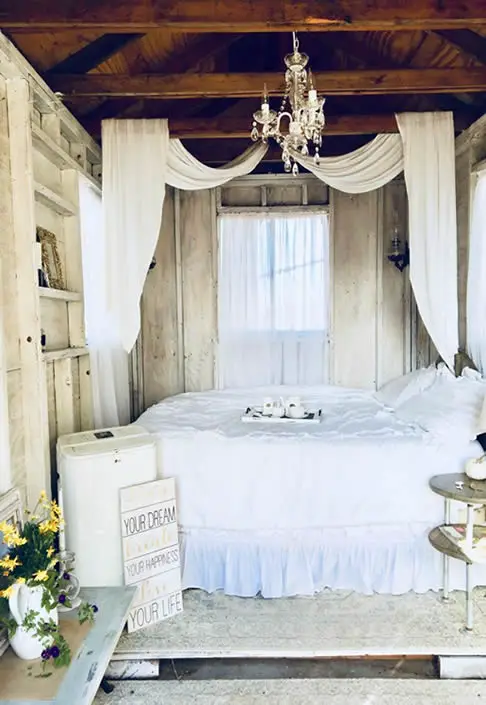 Who doesn't admire this she shed design? It is where the softness of white fabrics meets the hardness of wooden walls.
The shabby chic white paint lets the beauty of bare wood show through. Likewise, wooden ceilings generate a majestic contrast.
Another terrific wall color option is white or cream. Then, if you choose white, then decide on a warm tone or the cool one.
This she shed is the very definition of a hideaway. It includes a chandelier, an inspiring sign, shelves, and graceful curtains.
21. Simple She Shed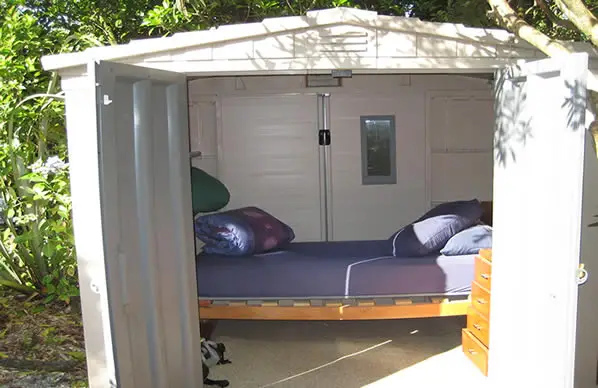 Sometimes, the incredible she sheds are those which have no extravagances. This garden shed, for example, looks impressive.
Although the bedroom doesn't include luxe accessories, it will blow any woman's mind away. It belongs to a standard garden shed.
The snuggly bed sits atop the wooden base. As the image shows, it matches the tiny wooden dresser perfectly.
22. She Shed Summer House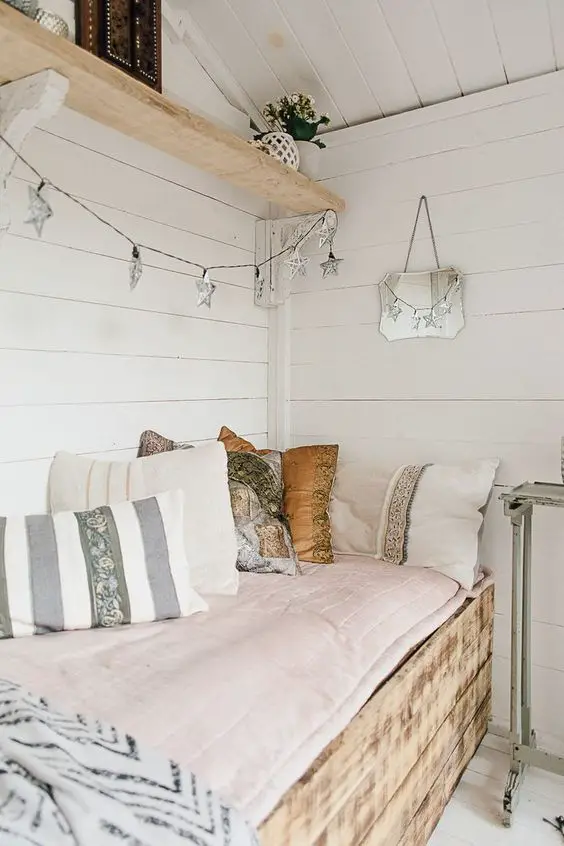 This cozy she shed doubles as a summer house. It enables you to enjoy the warmest season of the year. Moreover, the space provides a sense of relaxation.
Then, the homeowner used rustic wooden panels to carve inviting vibes. Apart from the wooden paneling, this she shed boasts a selection of striking pillows.
The space of this she shed may be tight, yet it doesn't lack cool ornaments. There's also a vintage mirror for the illusion of more space.
In addition, the doors generate easy movement between the shed and the backyard. A touch of pink proves the shed belongs to a woman.
23. Vibrant She Shed Décor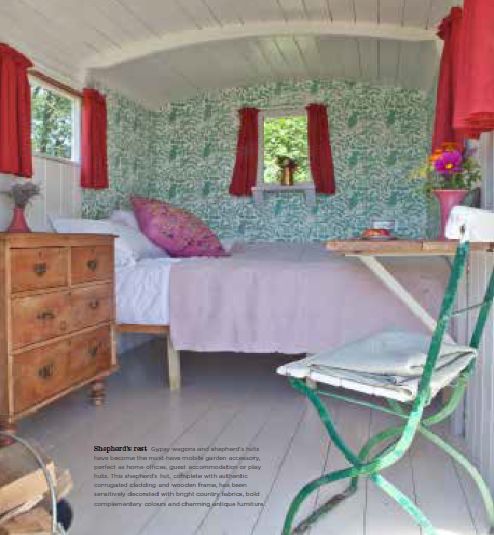 The owner dressed up her shed with antique furniture pieces. In this she shed, the white paneling establishes an open feeling.
Bold complimentary colors liven up the she shed. Meanwhile, the bright country fabrics introduce comfort and character.
Conclusion
A she shed is a man cave's female version. Furthermore, it provides versatility. The space can be anything, from a guest room to a reading nook.
With those she shed bedroom ideas, you won't run out of inspiration. Pick the shed design that lets your unique tastes shine through.
More from Materialsix.com: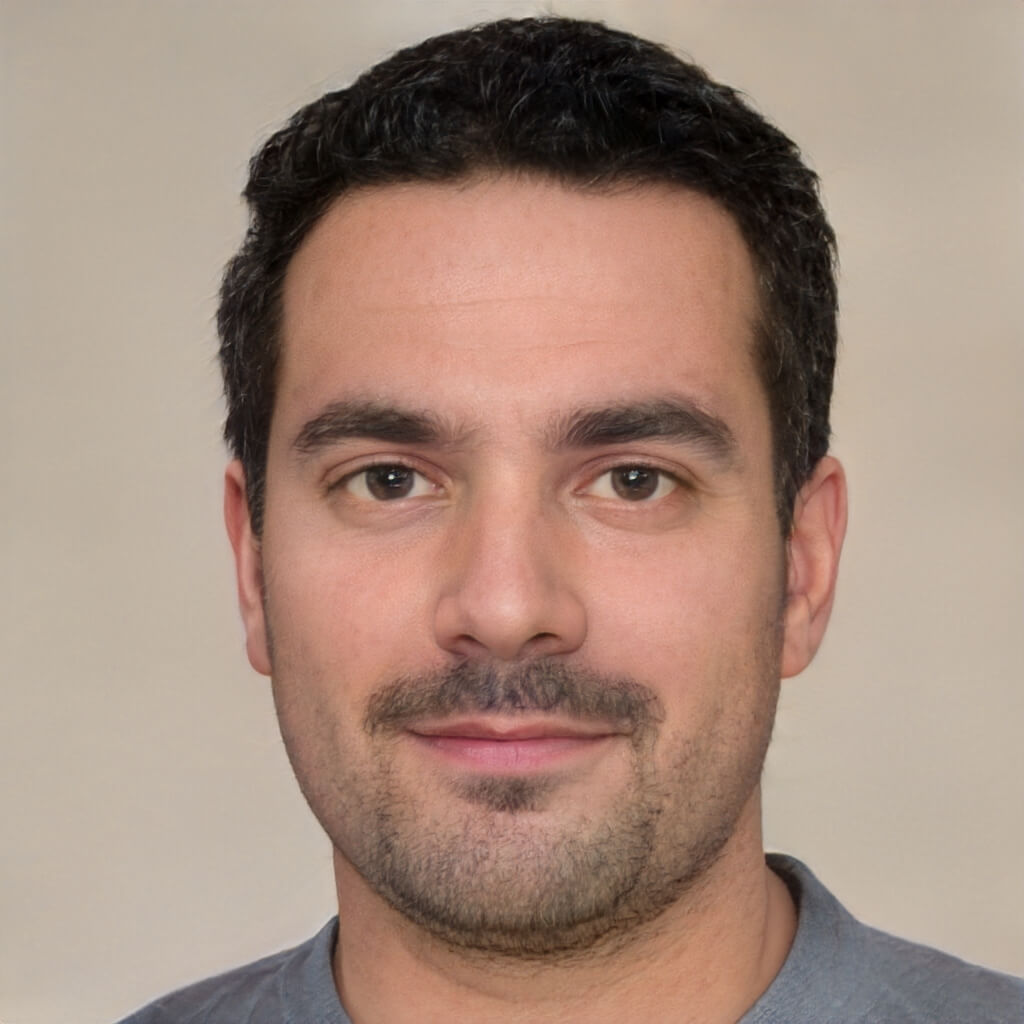 I'm a passionate home and garden enthusiast and the founder of Materialsix Home. With over 10 years of experience in the field, I've cultivated a deep love for all things related to home improvement, gardening, and interior design. Read more…