One of the reasons why brown sofas are very popular is that they can be very practical. Their forgiving nature makes them great for houses where there are pets and kids. Also, they come in various designs.
However, the question still remains what color curtains go with brown furniture? Would you also want to make use of brown curtains? In order to provide a detailed answer to these questions, we have decided to put together this post.
There is good news is that there are numerous color curtains that can be used alongside your brown sofa. Some factors need to also be taken into consideration like furniture items, wall color, and others.
Brown sofas can be paired with some popular colors like brick, red, yellow, teal, white, blue, cream, tan, beige, mustard, and black.
From the above, it is quite obvious that there are numerous colors that go with brown sofas. There is something most people don't understand though.
This is the fact that other factors usually come into play in the process of finding the perfect color combinations for sofas and curtains. After checking out the details below, you will know what color curtains go with brown furniture.
A Review of Which Color Curtains Go with Brown Sofa
Just as shown in the image, you will notice there are numerous options to explore when choosing which color of curtain can go with a brown sofa.
The results we got for most of the colors have been great. These are red, black, teal, blue, and tan. There is no doubt that each of these color curtains goes with a brown sofa.
1. The Perfect Color of Curtains For White Walls And A Brown Sofa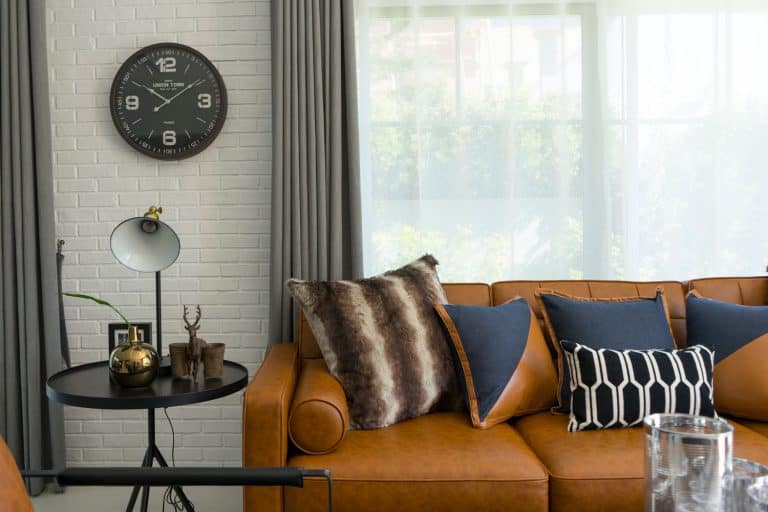 There is one great combination you can try out for white walls and a brown sofa. This is installing a medium gray curtain as shown in the above picture.
The combination chosen by the designer is perfect. You will notice that the walls and curtains are white and gray respectively. The throw pillows on the sofa can be easily noticed.
In case you are searching for throw pillows (mustard-colored) that can be used for your gray curtains and brown couch, here are some great pairs.
Another thing you can add to the above combination in your living room is a vintage rug. The picture below explains it all. You will notice how the rug manages to stand out amongst other items in the space.
2. Using Beige Curtains For Your Brown Couch And White Walls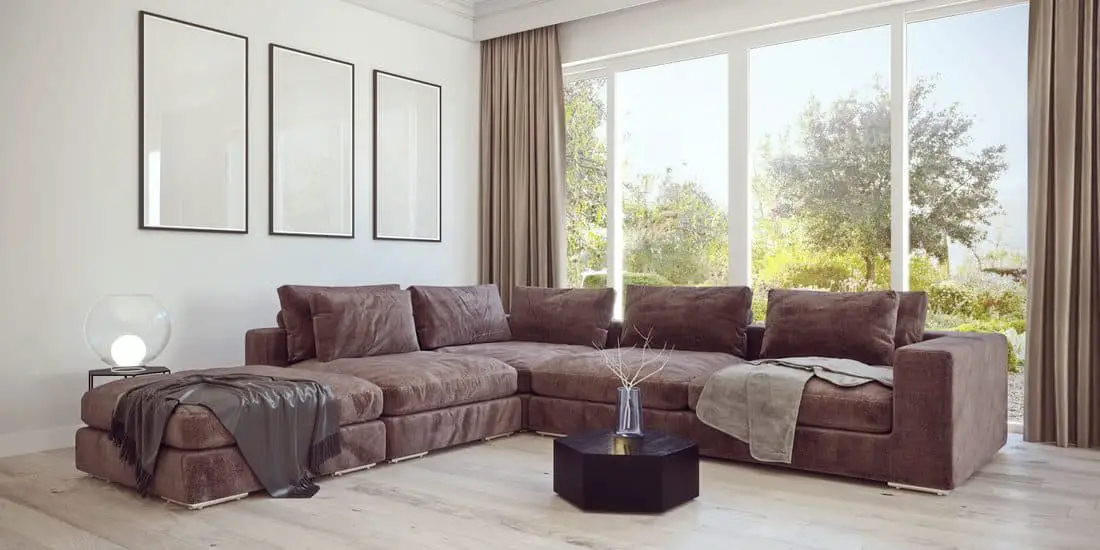 You can make use of a beige curtain for a brown sofa. Also, the throw pillows are going to reflect some amount of beige to create a feel that is harmonious.
Did you notice that the bronze table comes with a beige shade? This is to make the space look quite sophisticated. The colors combined here are simple and very effective.
Having a large ottoman for storing different items won't be a bad idea. For instance, it can be used as a coffee table, footrest, and somewhere your cozy throws can be stored.
3. Color Curtains That Are Perfect For Gray Walls And A Brown Sofa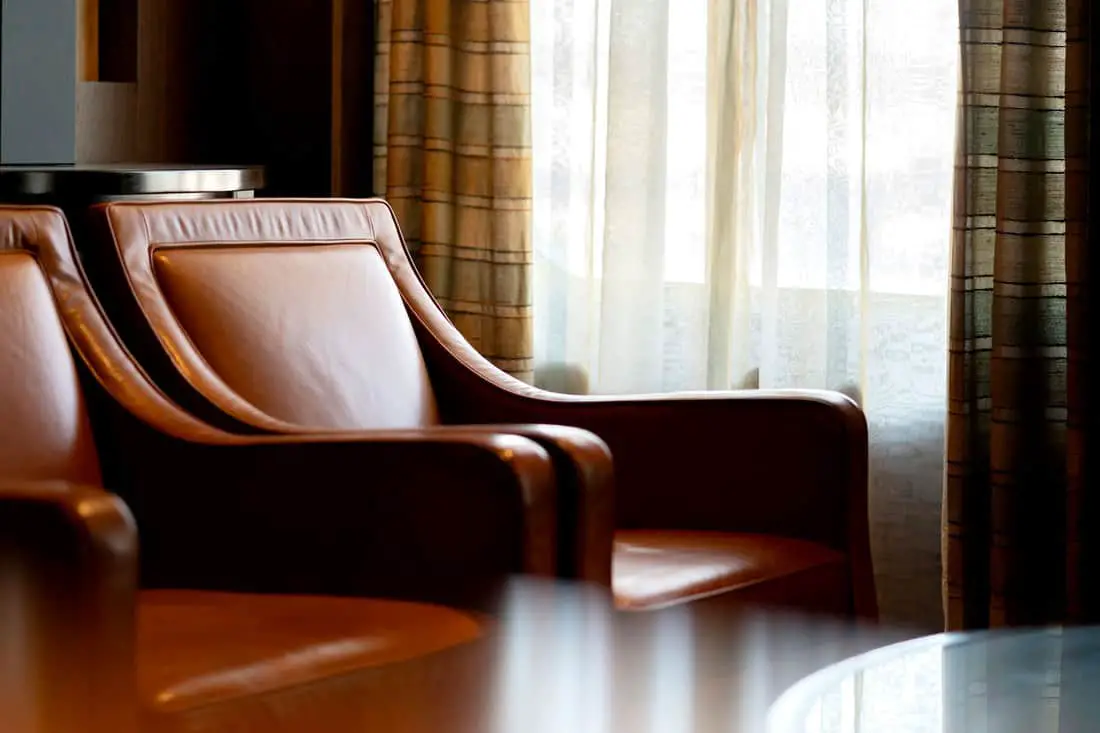 When you make use of tan curtains for gray walls and a brown sofa, they can prove to be eye-catching. This happens especially when there is a tan rug together with decorative mirrors (copper-colored) on the opposite side of the wall (adjacent). This can give your space a natural feel.
We stumbled upon some stylish copper wooden mirrors which can be used alongside tans and browns in your space. Talking about which color curtains go with a brown sofa, this can give added value when used. These mirrors will also ensure that more depth is added to your wall texture. Furthermore, they will provide the perfect light reflection in such a room.
These curtains below are perfect given their unique design (lattice-patterned). Their grommet slides have different colors as well as sizes.

4. Color of Curtain Can Match Tan or Cream Walls And A Brown Sofa
The perfect living room is that with a fabric-covered sofa as well as a loveseat (medium brown). The seating arrangement can also be anchored by a coffee table at the center.
Generally speaking, we have come to discover that a crème curtain is a perfect match for a wall color that is slightly darker. With the mirror below, there is every reason to believe that such curtains will look perfect on your walls. The glass is quite sturdy.
Also, blue curtains can combine with gray walls and brown sofas. The picture above is a typical example of this color combination. You will see the side tables, leather sofa, lamps, and blue curtains.
They are all perfect for the gray wall. The lamps can be adjusted to meet your needs. Everything is just spot on for your gray walls and brown sofa.
If you have a brown sofa, it is not a bad idea to try using any of those gray-patterned rugs. They have been discovered to be very perfect in contemporary spaces. Please note that it is better to choose one that can be easily maintained.
5. Curtain Color Can Be Used Alongside Blue Walls and Brown Sofa
There is something you should understand about blue walls and brown sofas. This is the fact that the combination is classic. For instance, both colors can make a space come alive. Another curtain color you can try out is white. Just like some of the above options, this color can be very eye-catching.
6. Which Other Color Curtains Go with Brown Sofa?
Having explained some options above that can prove perfect for your brown sofa, we would like to make more suggestions. These curtain colors will be highlighted and briefly explained below.
a. Teal Curtains
With teal curtains, one thing is certain. This is the fact that your visitors' attention will be drawn to the framed windows. Teal and white ceramic vases can be positioned on top of your table for maximum impact.
Below are some wonderful colors of vases you can place on top of your tables. Regardless of any curtain, you are making use of, they will always appear great.
b. Yellow Can Create A Striking Impact
Do you want to try out something quite unique with your brown couch? Have you ever thought of using sunny yellow curtains? This tends to create some lighting effects. Of course, it can also help to make your space look very lively. When used alongside teal accents as shown below, these curtains are very fantastic.
The image above is a typical example of textured grommet curtains. They are very perfect when it comes to creating light in a space.
For more impact, you can also include these throw pillow covers with amazing colors (watercolor-inspired). When these are used alongside a brown sofa, your space will be completely transformed.
c. Red Curtains And A Brown Sofa Can Make A Huge Statement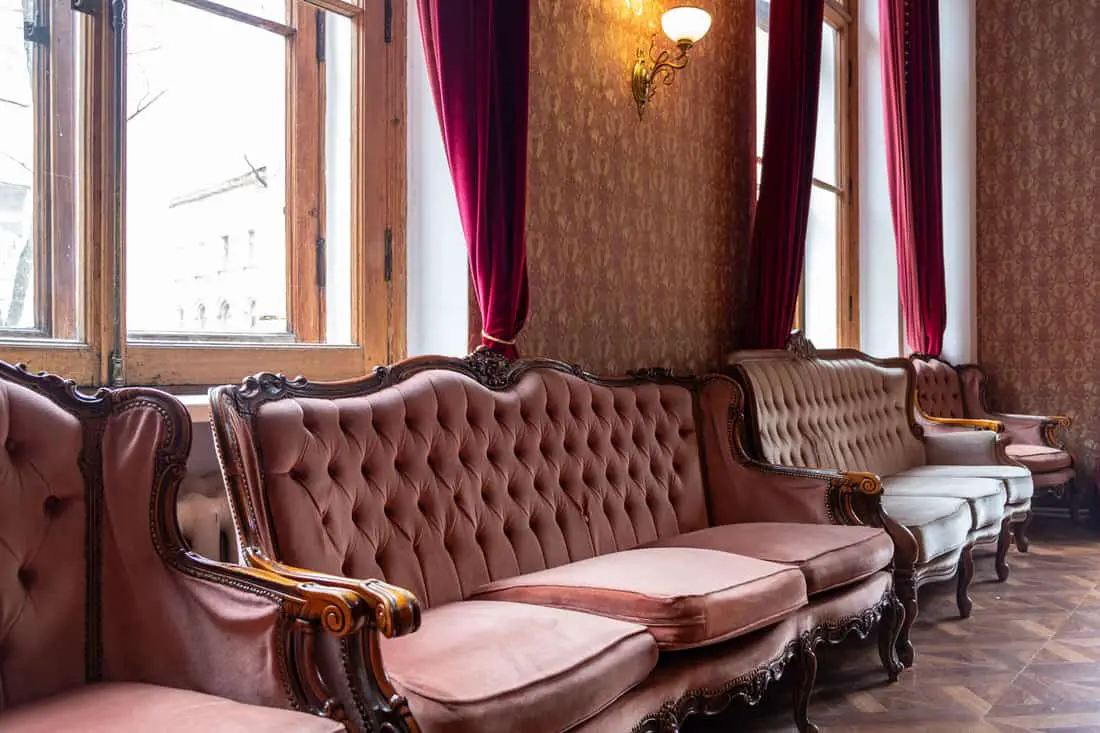 This is a traditional combination that can bring about coziness and warmth. Red curtains are very perfect for coffee-colored (creamed) sofas as well as loveseats. Imagine red accents, red curtains, and a brown sofa in your space. The image below will explain more about what this can actually bring once used.
If you are really serious about using browns in your room, these throw pillows can even add more impact. In case, you want your furniture piece to be very obvious, try using a bronze background.
Another addition you should use is including a traditional table lamp. In the above room, this will work very well especially during night periods.
d. What about brick tones alongside a brown sofa?
This is really cool especially when the brick has darker red. In the photo below, the traditional space tends to use curtains that are brick-colored. There are also throw pillows that have different accents. Putting all of these together, you will notice the space is looking modern.
In case you need a space that will look transitional and stylish, you can easily take inspiration from the picture below. It has a coffee table and curtains that are brick-colored. This space is a clear example of doing something that is not common or popular amongst homeowners.
These are beautiful brick-red curtains that can change your space for good. You will notice they are also black-style. The advantage of this is that your furniture will be protected from sun damage.
e. Another fall tone you can try out is mustard
While we know different fall colors, there is a need to remember the darker cousin of yellow, mustard. There is something special about curtains that are mustard-colored. They are a perfect match for brown furniture pieces. The effects that such a combination can create is inexpressible.
Do you want to create that special effect in your living room? Check out this brown leather sofa which has brass tacks. It is perfect for such scenarios.
Would you like to add more effects to such space? This is possible with a mirror, like the one below? It brings elegance into your space.
f. Have You Tried Using Black Curtains Alongside Your Brown Furniture?
It is possible to black isn't your favorite curtain color especially given the various options available that you can choose from. However, this interior tells why you must give it a try today. Simplicity and elegance are the watchwords for such an impressive combination.
Colors That Are A Perfect Complement For Your Brown Leather Furniture
In case you have got a brown leather sofa, there are many options that you can explore when it comes to styling. For instance, you can choose between autumnal colors like creme, yellow, olive, reds, oranges, and more.
These have got different types so you have to choose carefully. It is also possible to choose an evergreen, gray, or even blues. If your furniture has a dark brown color, it is recommended to go for a light color. It is just all about ensuring things are kept light as much as possible.
Having seen the above, there is no doubt that you have discovered many options when it comes to what color curtains go with brown furniture. Every option revealed here is special and unique. It is all about identifying your needs with regards to the mood and feel you want in such space.
For other related tips, please check out these other posts: