A dedicated man cave is crucial since it becomes a masculine oasis from the daily chaos. Moreover, man caves allow men to make their own rules.
If you need some time to yourself, check out some small man cave ideas in this post.
Finding space to create a secluded man cave can be challenging. It is true if your home has no garage/basement or if you dwell in a compact house.
However, when you do your tiny man cave right, it will feel like the giant one.
Man caves help you unlock your creative side. Due to the tight space, it forces you to think beyond the box.
Below are some astonishing man cave ideas for compact rooms that embrace manliness.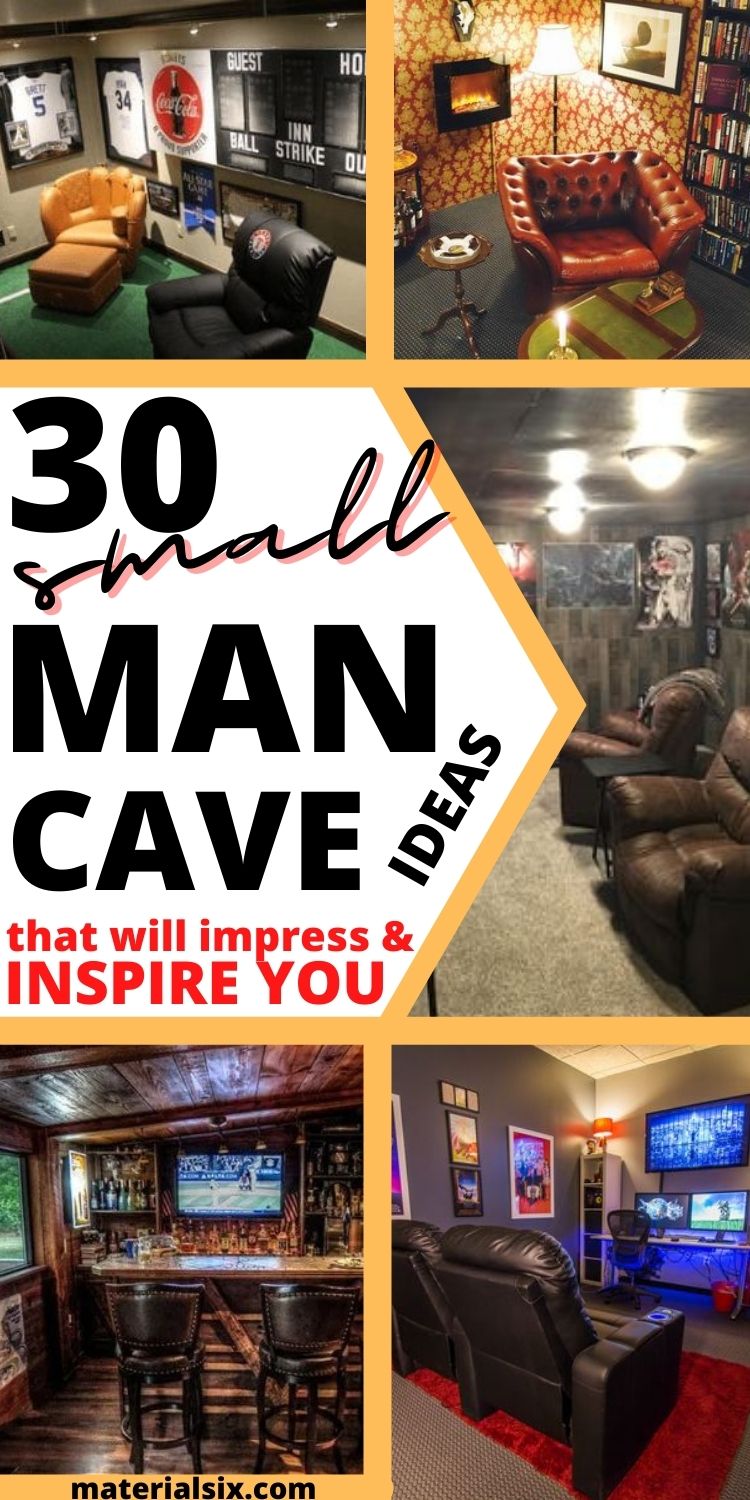 30 Incredible Ideas for Small Man Cave
Whether you are a musician, a movie buff, or a writer, a man cave must speak to yourself. Here are 30 small man caves that exude unmatched manliness instantly.
1. Chalkboard Charm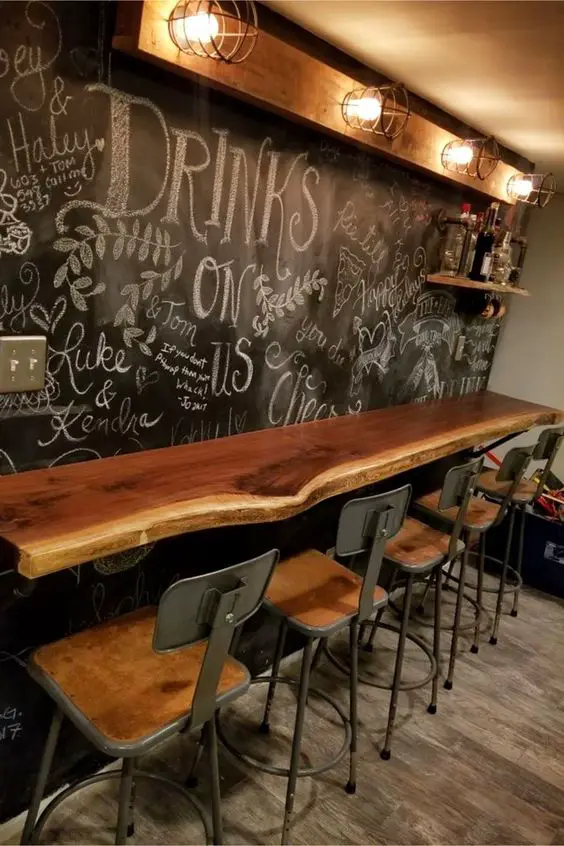 This basement man cave conveys masculinity at its best. Despite its tight space, it maximizes the homeowner's manliness.
Furthermore, it lets him have a drink with his friends.
The live edge table lends the man cave an outdoorsy vibe. It matches the nearby metal-and-stained wood chairs too.
Meanwhile, the chalkboard wall makes this tiny man cave feel custom. Additionally, it highlights vintage industrial light fixtures that carve a sense of hominess.
2. Classy and Inviting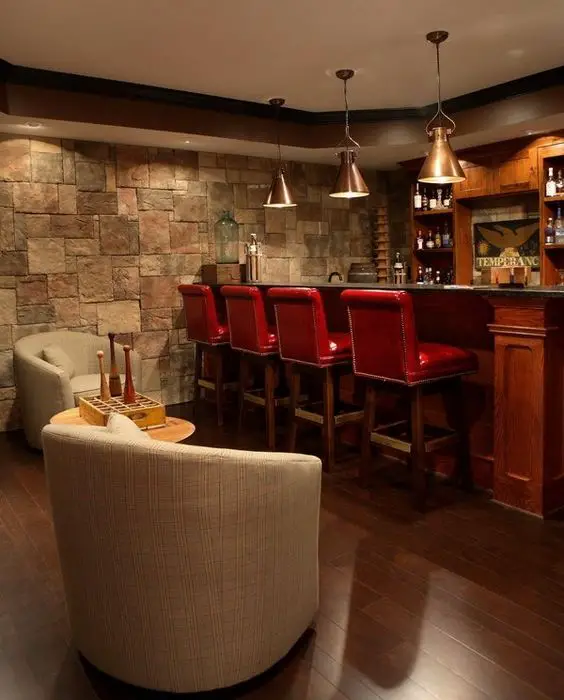 Man cave ideas for a small room are almost limitless. For instance, this one appears lavish and welcoming.
Bright red leather chairs and warm wood furniture make a perfect pair. They counterbalance the cold-looking metal pendants as well.
The stone wall adds dimension, while the tray ceiling carves an illusion of more space. Curved chairs soften the man cave.
Moreover, the round wood table accommodates a matching soda crate.
3. Retro Meets Coastal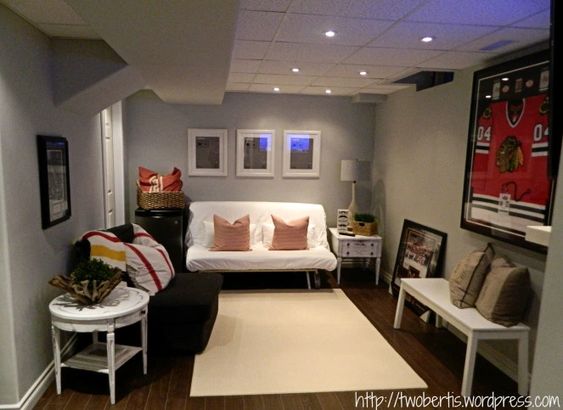 The light tones brighten up this man cave. Then, the space employs retro white lamps, a sofa, and tables too.
The driftwood table and accessories evoke a relaxing coastal ambiance.
Wall adornments imbue the room with masculine energy, whereas the rug and ultra-plush throw pillows make the interior appear softer.
4. Cozy Gamers Hideout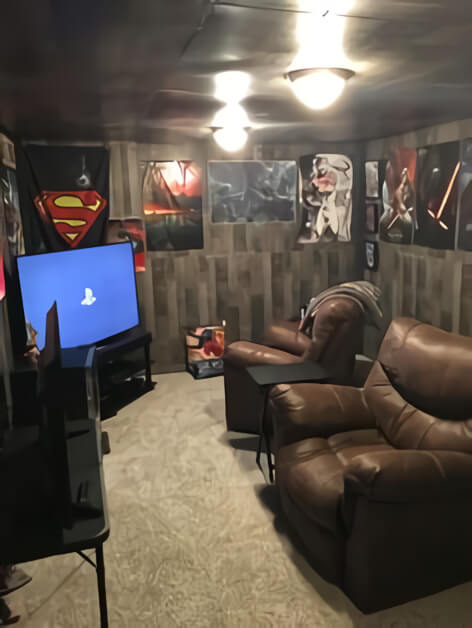 This minimalistic yet welcoming man cave lets you enjoy a few rounds after a tiring day at work. Thus, it is a fantastic way of blowing off steam.
Since brown leather chairs are super comfy, they create a laid-back ambiance. Furthermore, the dark-toned ceiling and wall paneling evoke a den-like atmosphere.
The screen is the main focal point of this gamer's man cave. Meanwhile, flush mount lighting illuminates leather seats and wall ornaments.
5. Unparalleled Luxury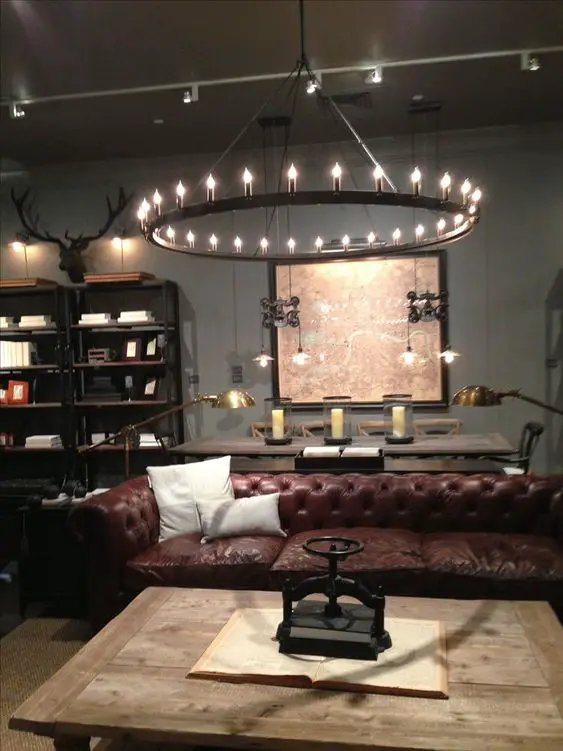 Here is a sumptuous take on a basement man cave. The vintage brown leather sofa complements the giant wooden table.
Additionally, it makes lounging glamorously chic.
This man cave is a perfect hideout for men and women. There is even a dining area featuring a long table with glass candle holders.
Meanwhile, the black deer wall art and shelving units maintain the man cave's drama.
Moreover, the metal chandelier, brass lamps, and steampunk decorations round out the masculine oasis.
6. Snuggly and Stylish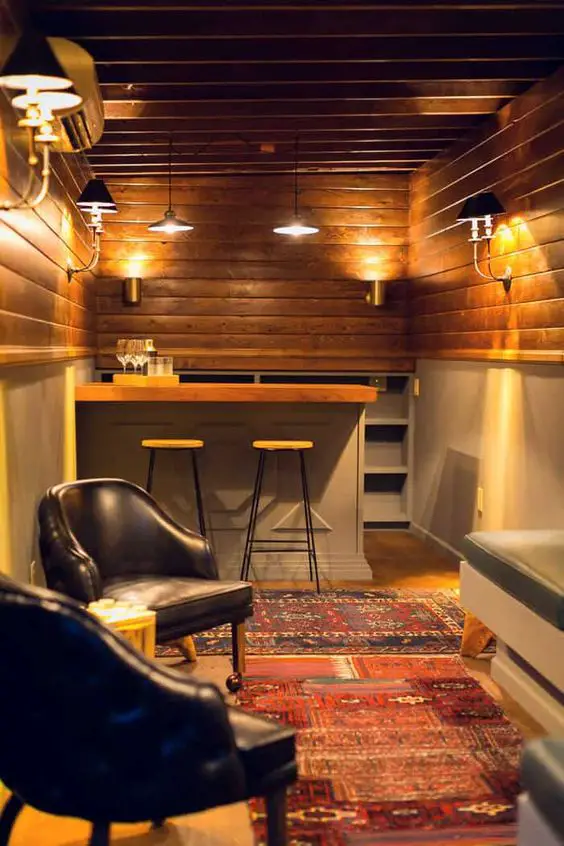 If you are not into giant TVs, copy this excellent man cave design. It is a spectacular example of an uncomplicated, trendy masculine retreat in a tight space.
Warm wood tones make this otherwise chilly man cave look homier. Also, black leather chairs and Persian rugs turn the space into a cozy hangout.
This man cave is a perfect fit for a musician or a writer. Furthermore, it offers a bit of privacy while appearing stylish.
7. The More, The Better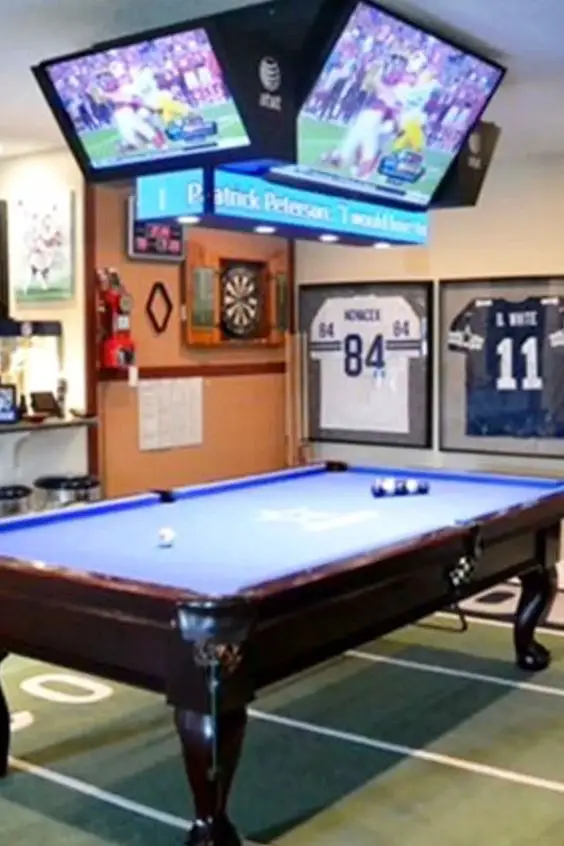 This garage-turned-man cave is equal parts inviting and airy. Also, it is one of the fun home improvement projects for men.
The room shows you how to optimize the available garage space. It does not feature a humongous TV, but it has multiple screens.
Besides, there is a complimentary billiard table that serves as a centerpiece. Meanwhile, the framed jerseys adorn the lackluster wall.
8. Ocean Calling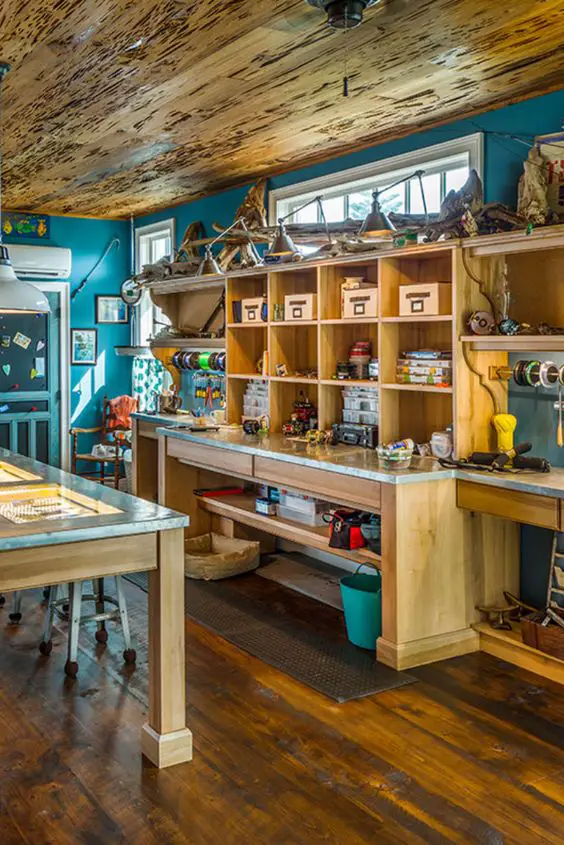 Any avid fisherman would feel eternally grateful for this dedicated man cave. It allows you to fix up your fishing gear and make fishing baits.
This fishing man cave boasts hardwood flooring, ceiling, ornaments, and furniture. They inject the fisherman's oasis with a lived-in ambiance.
Blue walls and decorations are a reminder of the ocean. Metal chairs and light fixtures ensure the room does not lack masculine energy.
9. Sports-Themed Man Cave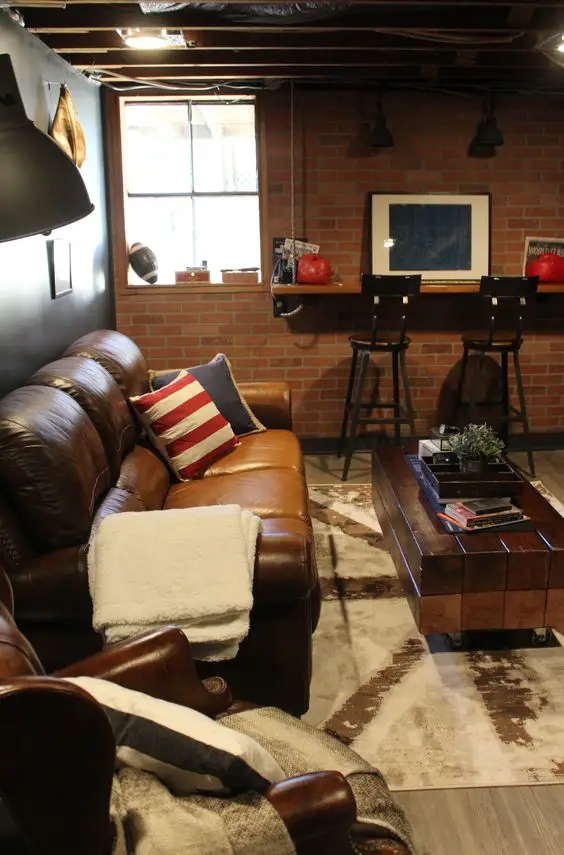 This partially-finished basement doubles as a tranquil man cave. Likewise, the brick and black walls portray masculinity.
The British flag rug matches the flooring at its best. Meanwhile, the brown leather seats, lamps, artworks, and baseball bats are unmistakably vintage.
Further, the blankets add extra softness to the sports-themed man cave. This masculine hideout seems far more attractive because of the plant and red accents.
10. Little Man Cave Ideas for Gamers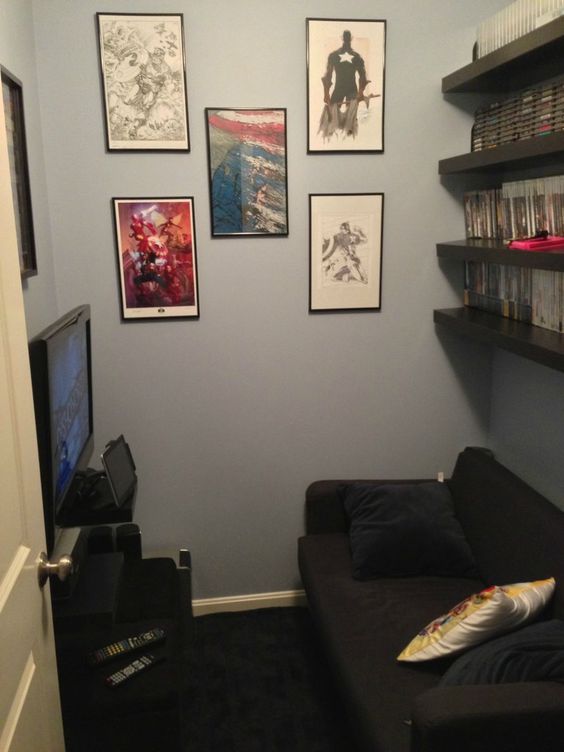 Here is a tiny yet epic man cave. It also acts as a game room. The space proves a masculine oasis has no rigid rules.
In addition, the design of this man cave is ultra simple.
There is just a TV and a small black sofa. Although it is reminiscent of a walk-in closet, it is a cozy spot nonetheless.
This compact man cave lets you unwind. Moreover, the shelves and framed decorative features perfect its atmosphere.
11. Sophisticated But Serene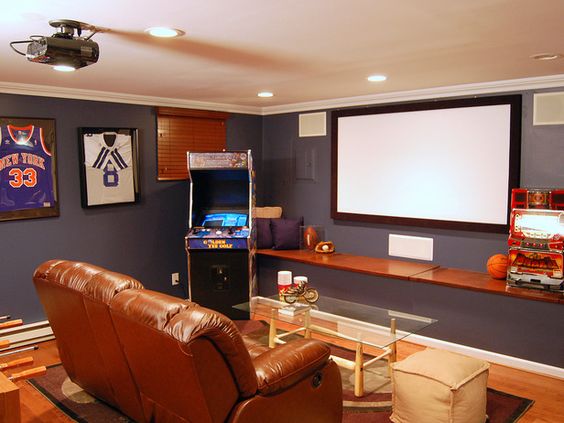 If you plan on getting a new house, take this man cave design as inspiration. It includes a two-person home theater that will not ruin your movie-watching experience.
The clean white moldings frame rich gray walls perfectly. In addition, the arcade machine and framed sports jerseys increase the manliness.
Then, the glass table is stylish and makes the man cave feel lighter. Also, the cube ottoman is a versatile piece of the room that complements the rug.
12. Loft Man Cave
Who says man caves need to be just one room? It is a one-of-a-kind masculine hideout for sure. It appears stylish and enhances manliness at once.
The man cave above takes over the whole apartment. Moreover, the continuation of the bricks from the walls to the arches ties it together.
The chairs and low-hanging light fixtures lend the space a masculine touch. Furthermore, dark wood tones make this man cave appear less chilly.
13. Elder Man Cave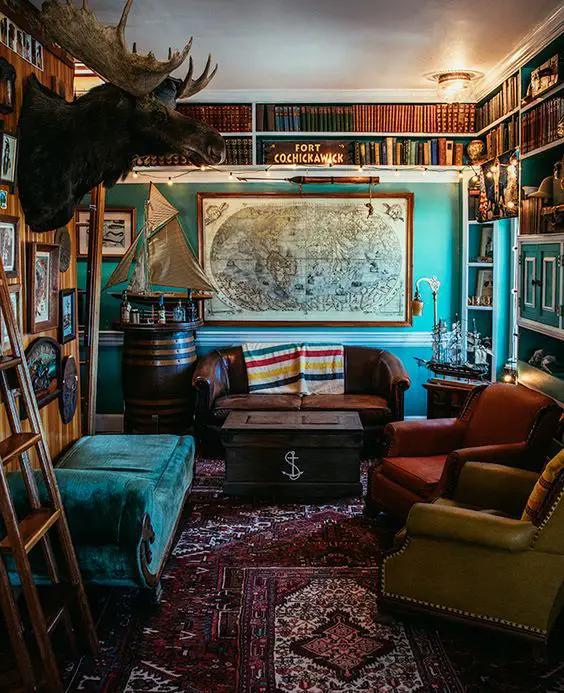 This man cave is ideal for a former Navy admiral, a shipping merchant, or an elder statesman. Hence, it lets him settle down and relax.
The space will win the hearts of bookworms. Since it boasts a space-saving bookshelf, it enables you to gain a wealth of knowledge.
The elder man cave above features loveable things such as a wooden ship, leather furniture units, and maps.
Moreover, it even has a moose head wall décor. All in all, it embraces old-fashioned ruggedness.
14. Small Man Cave Ideas on A Budget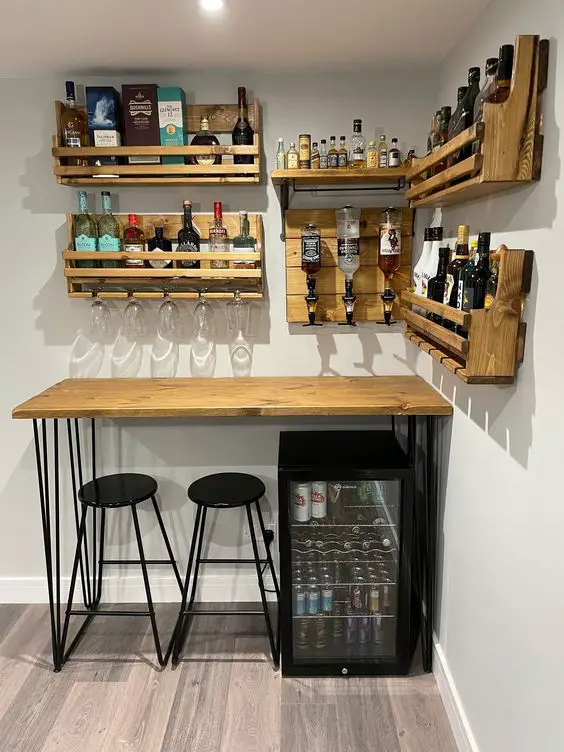 Undoubtedly, this idea will wow men who are short on space and budget. Light paint colors make the otherwise dingy man cave brighter.
The natural wood table is not bulky, so the man cave appears more spacious. It accommodates a tiny fridge and a pair of metal stools.
The homeowner optimizes every inch by installing reclaimed wooden racks. Apart from holding bottles and glasses, they elevate the walls.
15. Industrial Meets Rustic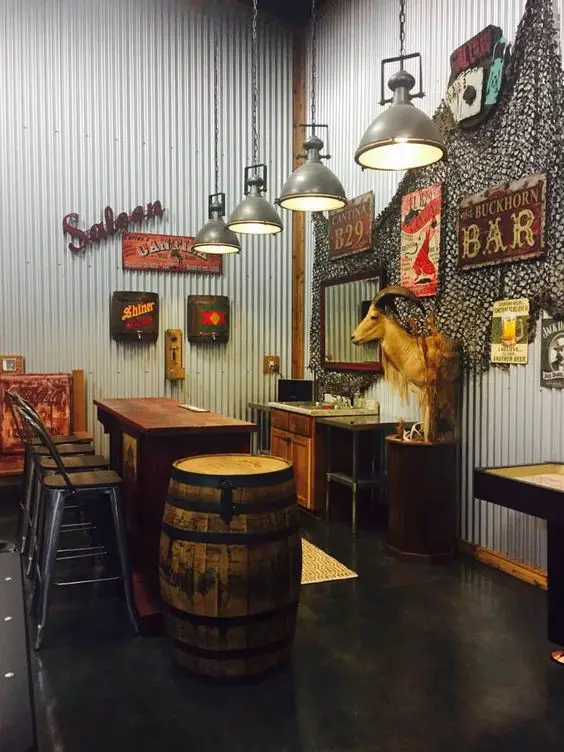 Transforming a garage into a man cave is a brilliant idea. The corrugated metal paneling and metal pendants give it an industrial ambiance.
Also, the metal chairs match the dark-toned flooring. In addition, the mirror and high ceiling trick the eye into thinking this man cave is bigger.
Here, the giant barrel and distressed furniture pieces produce a rustic vibe. Meanwhile, vintage decorative features bring the man cave to completion.
16. Farmhouse Man Cave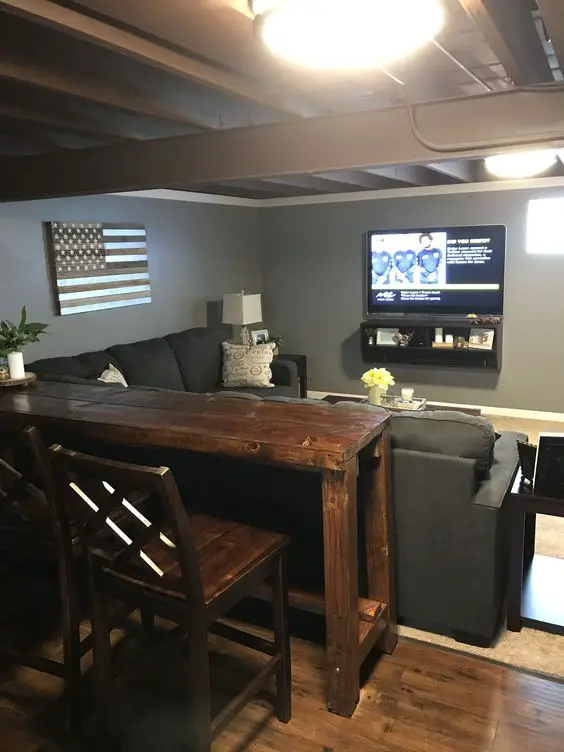 This modern farmhouse man cave evokes a laid-back ambiance. The continuation of the gray color scheme from the sofa to the ceiling portrays cohesion.
Dark-stained hardwood elements add warmth to the man cave. Meanwhile, the TV and wooden American flag complement the walls.
Wooden chairs ensure the man cave has enough seats. Due to yellow and dark green adornments, the man cave does not appear lifeless.
17. Say Yes to Popular Culture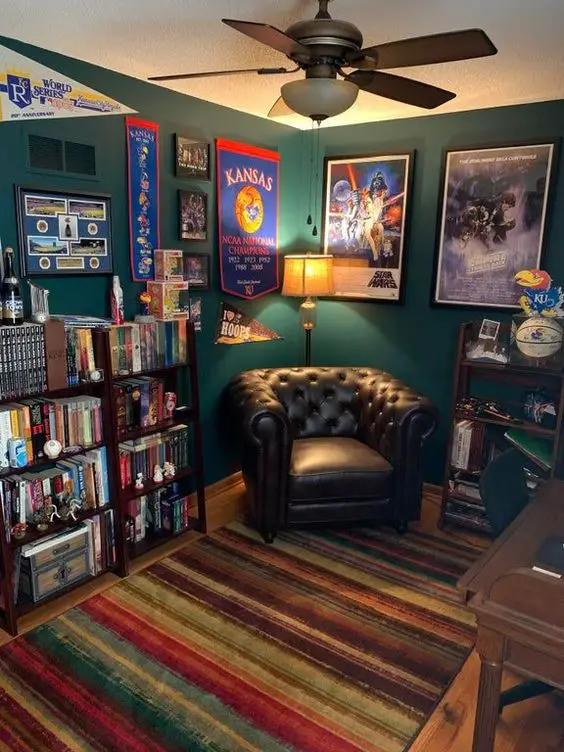 Here is a man cave, a home library, and a sports memorabilia room at once. It is such a comfortable nook for a music or movie fan too.
Even though this man cave is compact, it lets you show off your pop culture collection.
Also, you can embellish it with sports-themed wall ornaments and movie posters. Moreover, dark teal walls create a snuggly vibe.
18. Cozy and Classy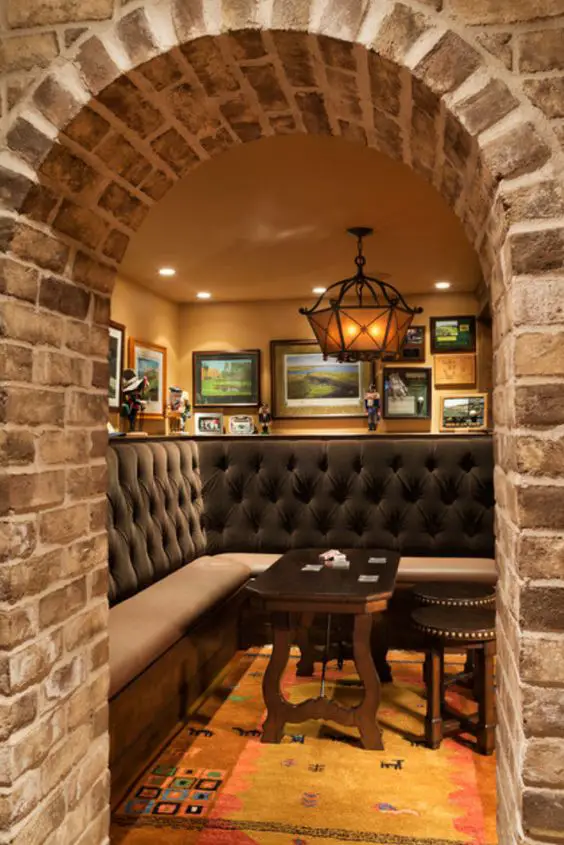 This speakeasy-themed man cave doubles as a cigar lounge. It belongs to a tiny basement. The classic furnishing makes the masculine oasis look lavish.
The brick arch leads to the cigar lounge while adding a rustic ambiance. Furthermore, the repetition of the beige color in this room produces warm vibes.
19. Affordable Man Cave Ideas for Small Rooms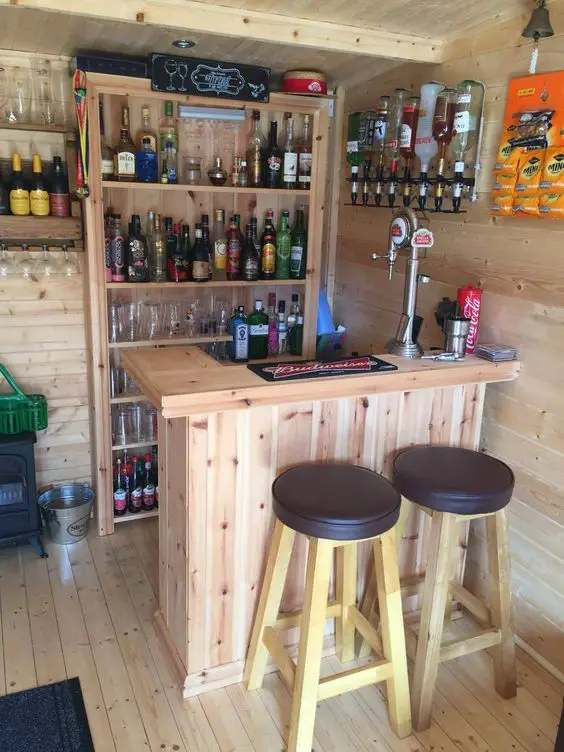 What's not to love about this pallet man cave? Since it employs a full-height shelf, it can accommodate all the supplies excellently.
The Dutch teak finish embraces rustic beauty to the fullest.
This space is suitable for formal and casual occasions. Additionally, the island itself lets you serve snacks or drinks.
20. Garage-Turned-Masculine Oasis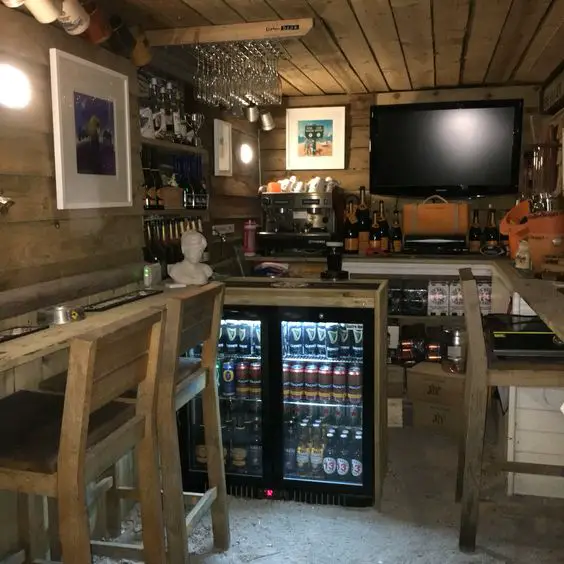 The homeowner covered his man cave in natural wood for an inviting look. Furthermore, the fridge underneath the counter maximizes every inch.
You cannot tell that this man cave was once a garage because it is well-designed. The adornments make the masculine hideout less boring.
21. No Wasted Corners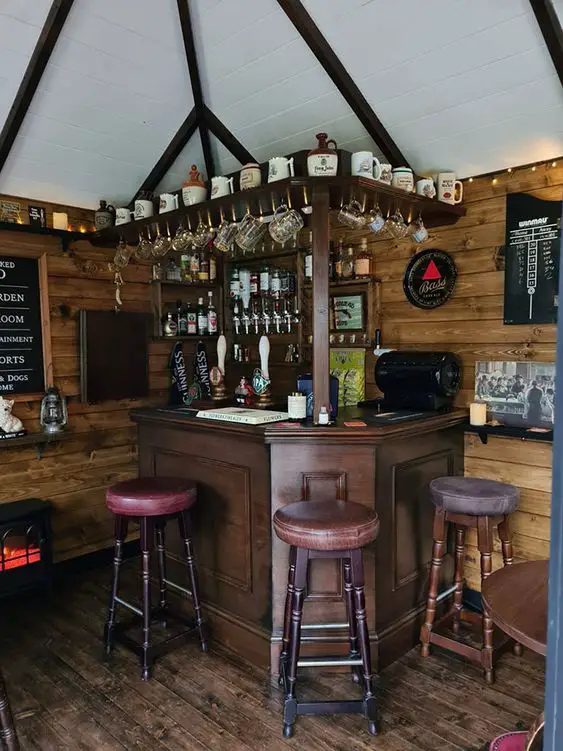 The rich-toned natural wood warms up this compact masculine retreat. Additionally, the storage area and lots of ornaments spice the room up.
This idea is perfect for men who dwell in houses with small basements. It proves going all-out is the best thing they can do.
22. Double Duty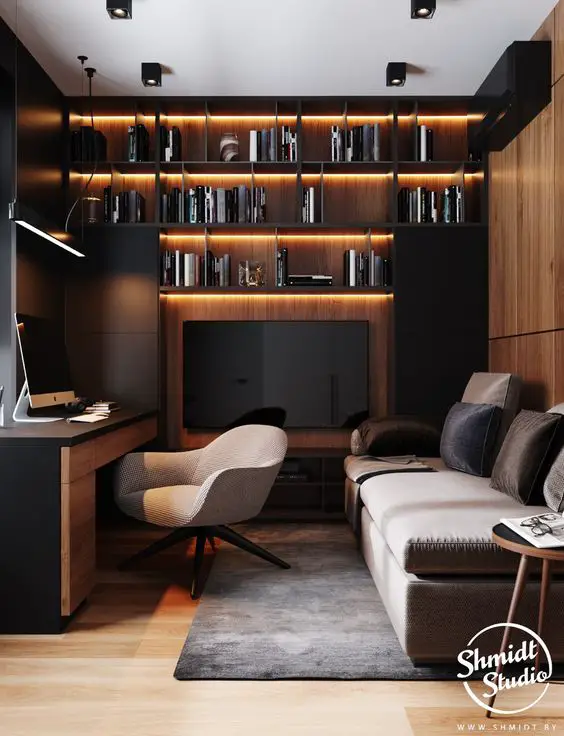 This home office-and-man cave is stylish. Therefore, it enables you to work from the comfort of your hideout.
The ambient lighting accentuates the giant TV. Meanwhile, the modern gray furnishing brightens up the dark man cave.
23. Superb and Stately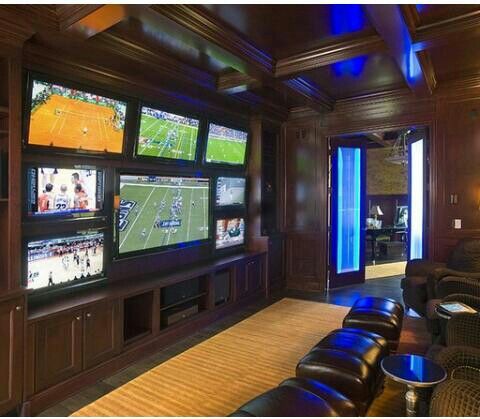 Why have one when you can install eight TVs? They make the entertainment center way more attractive for sure.
Since the room has multiple TVs, you do not need to flip channels. So, you can connect them all to create a massive screen too.
24. Cinephile Oasis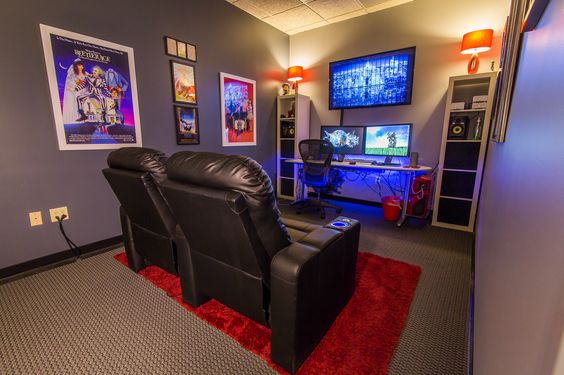 If you are a cinephile, build a tiny man cave that works as a movie theater. It has a reliable screen, posters, and leather seats.
The red and orange furnishings convey warmth. This two-person home theater will give you the best movie-watching experience.
25. Shed-Turned-Man Cave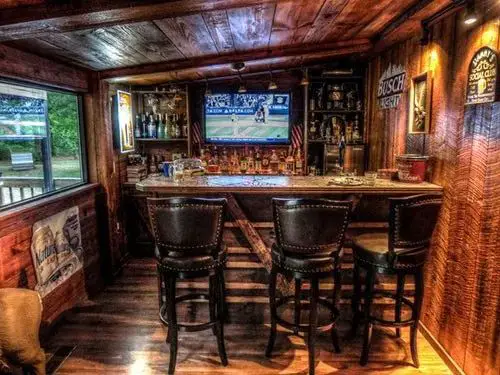 This small man cave is part of a shed. Moreover, the actual wood flooring and paneling develop a welcoming ambiance.
The man cave lets you brainstorm and kick back with your male friends. Here, leather chairs appear classic and cozy.
26. Hunter Hideaway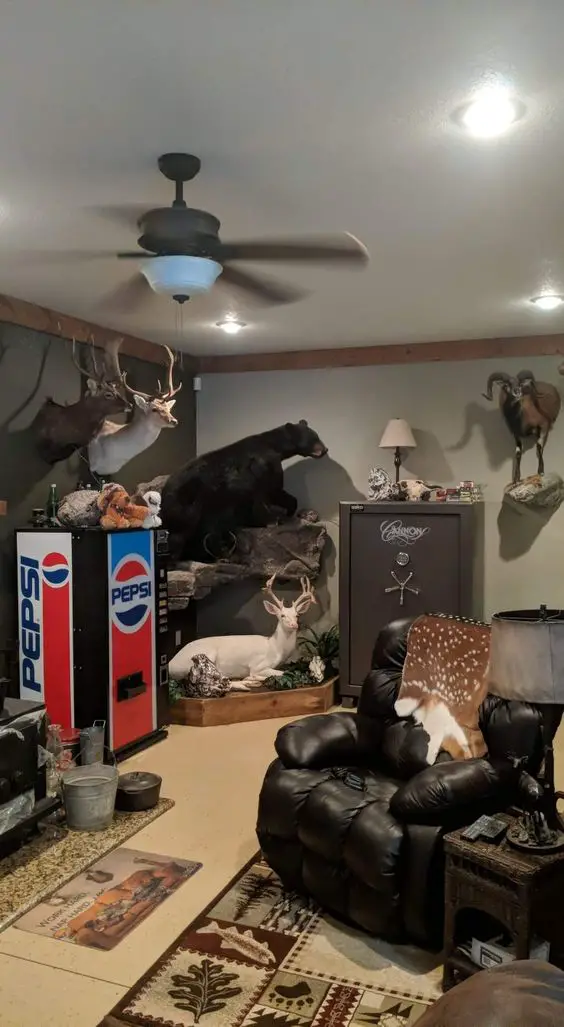 If you are an avid hunter, it is time to create this basement retreat. It is a fabulous place to spend time and think about your next hunt.
Additionally, you can display your trophies in this room. The black leather and wildlife rugs increase the manliness in an instant.
27. Baseball Enthusiast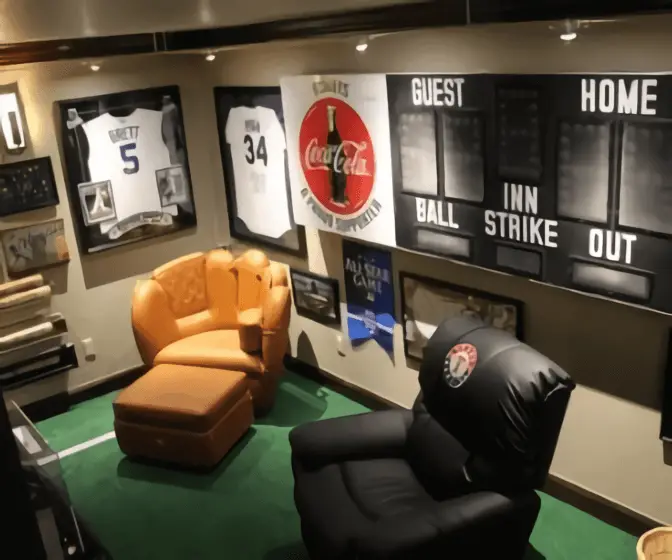 Are you into baseball? If yes, this compact man cave is all you need. It even boasts a glove-shaped seat and fake grass flooring.
The black sofa chair and baseball wall hangings add masculine vibes to the man cave.
28. Amazing Attic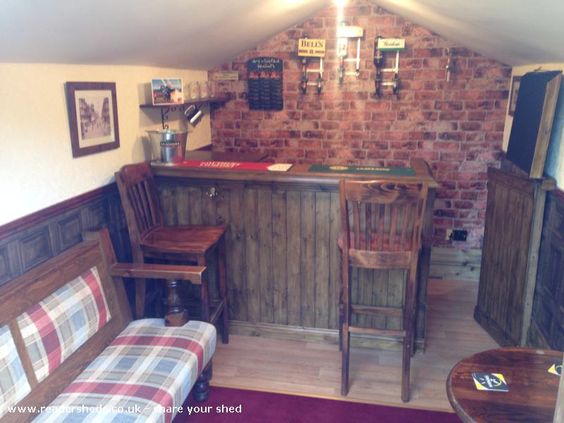 Unlike other man caves, this tiny masculine hideout nestles in an attic. The black leathered sofa set, a TV accent wall, cabinets, and lights complement it perfectly.
The wooden pallet wall and attic ceiling create a cohesive atmosphere. Meanwhile, the animal skin rug enhances the look of this man cave.
29. Cigar-Friendly Man Cave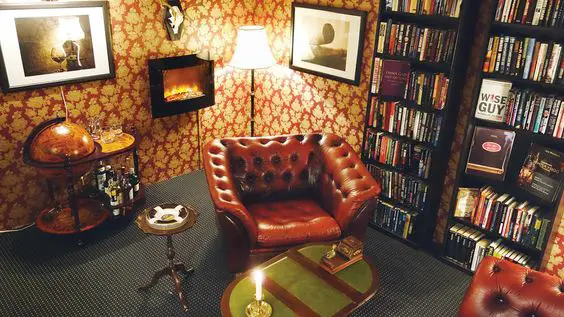 Here is a compact man cave that is also a cigar room. Brown tufted leather seats and full-height bookcases offer a macho aesthetic.
In addition, the cigar-friendly wallpaper and floor globe round out this luxurious man cave.
30. Relaxing Retreat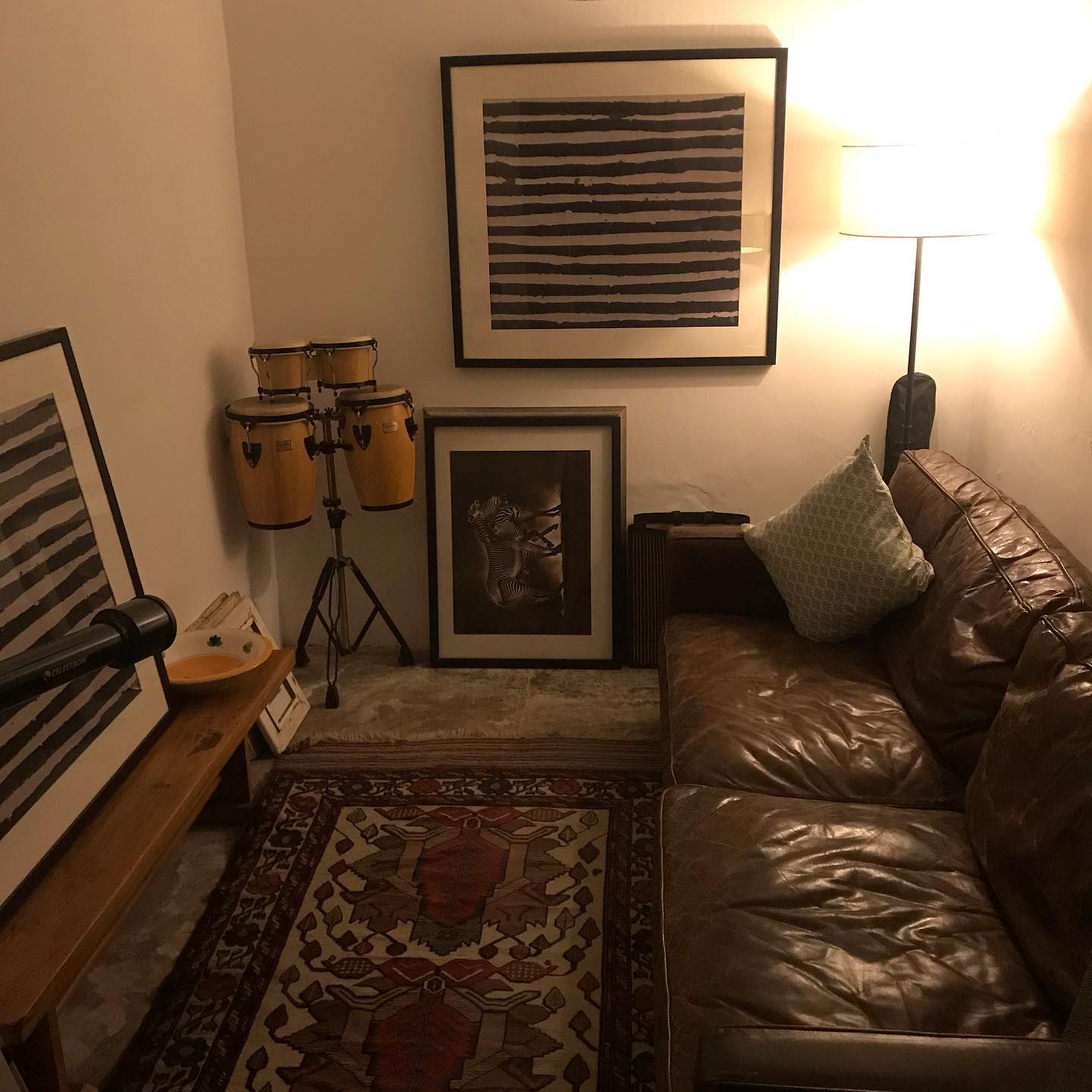 This man cave is ultra simple. Also, the striped artworks give it a cohesive ambiance. Moreover, the vintage rug and leather seat add character.
Furthermore, the musical instrument adorns the empty corner.
Final Thoughts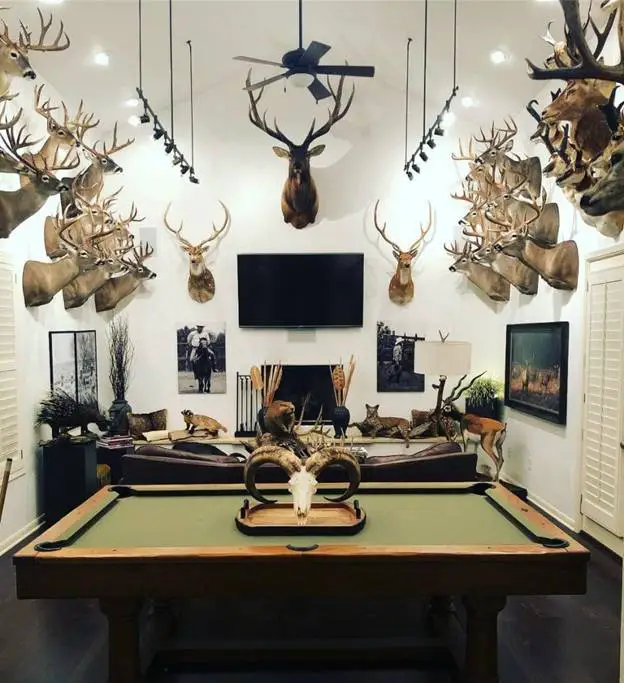 A man cave does not need to stick to one interior design style. Thus, this space is all about the representation of the homeowner.
Did those small man cave ideas leave you feeling inspired? If so, choose the design that reflects your preference and personality.
More from Materialsix.com: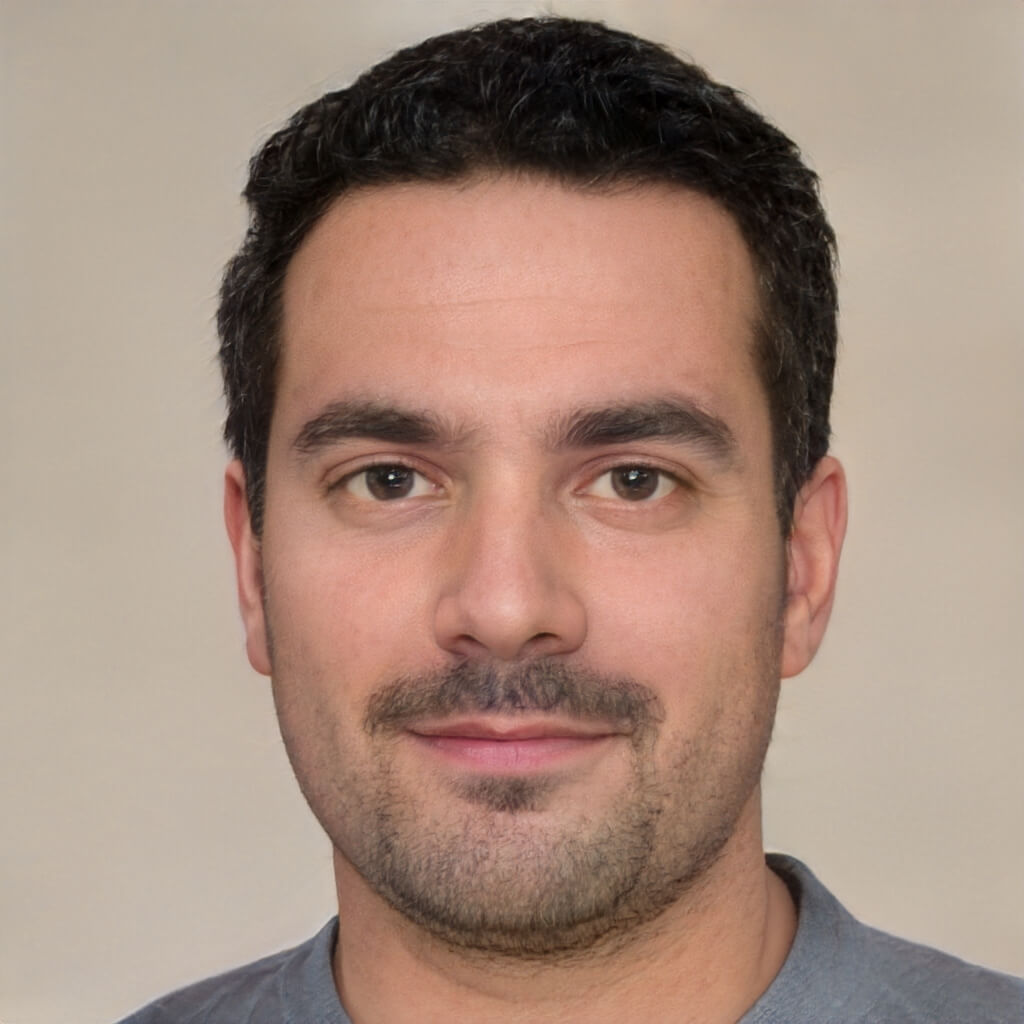 I'm a passionate home and garden enthusiast and the founder of Materialsix Home. With over 10 years of experience in the field, I've cultivated a deep love for all things related to home improvement, gardening, and interior design. Read more…