Feasting on delectable food with your family to celebrate a certain occasion is wonderful. Also, to make it better, implement one of these dining table centerpiece ideas.
Furthermore, a proper and intriguing centerpiece will spruce up the dining table while infusing a bit of festive mood even if you are not celebrating anything.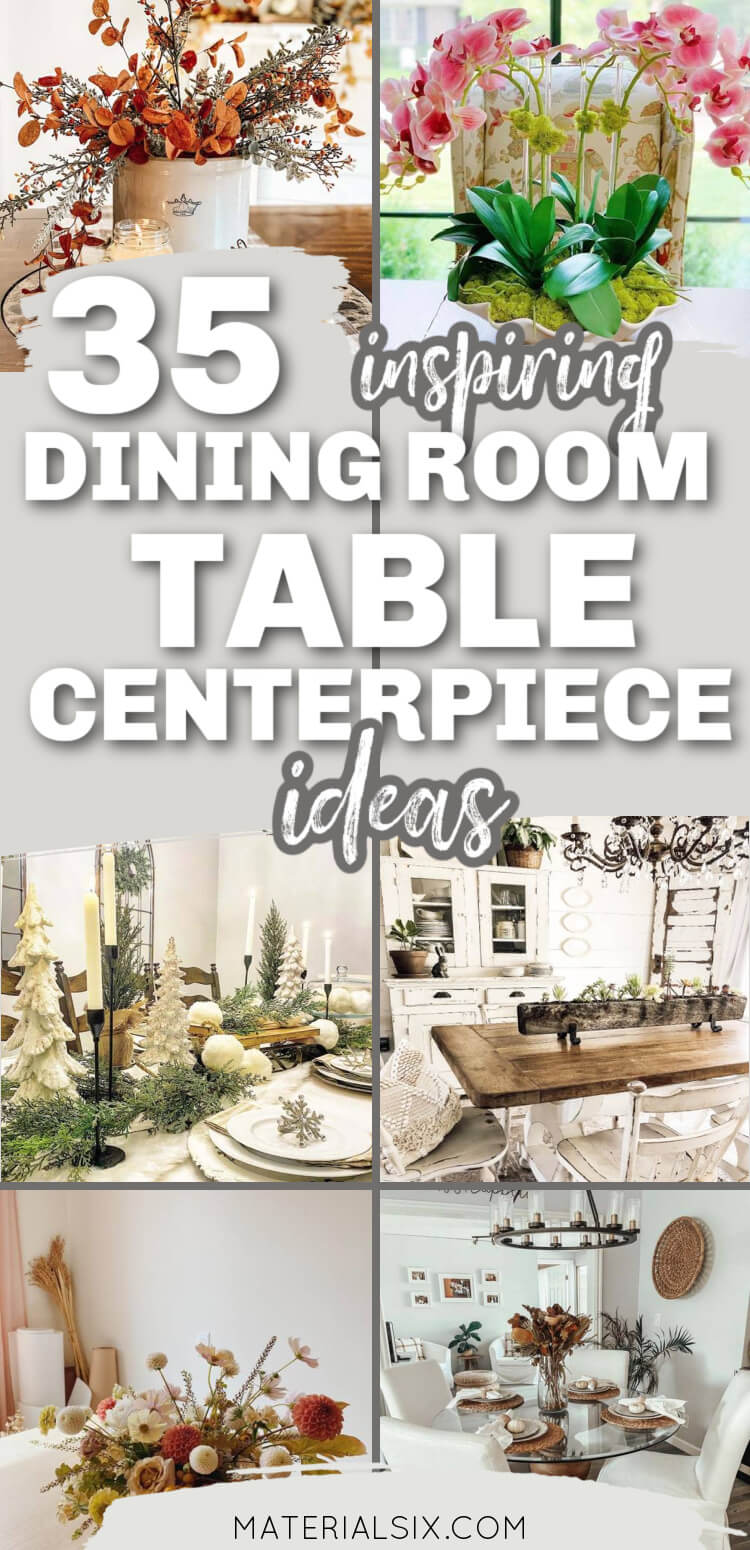 35 Inspiring Ideas for Your Dining Room Table Centerpiece
Are you looking for some ideas to create a centerpiece for your dining table? So, stroll around to find out the decorations that meet your style and need.
1. Simple Dining Room Table Centerpiece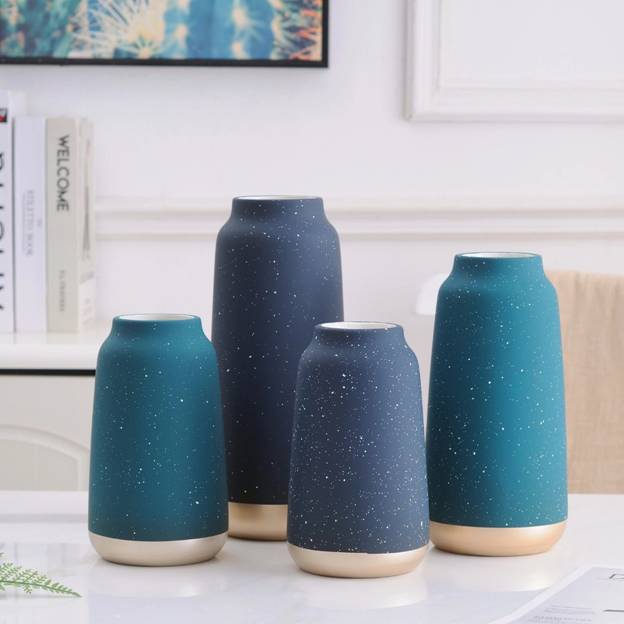 A fascinating centerpiece does not always include flowers. Indeed, you can forgo them whatsoever and opt for pottery for a timeless charm on any occasion.
Since pottery can be dull, you need to vary the patterns and sizes. Hence, you can enrich the look of the centerpiece immensely.
2. Fall-Vibes Table Centerpiece Ideas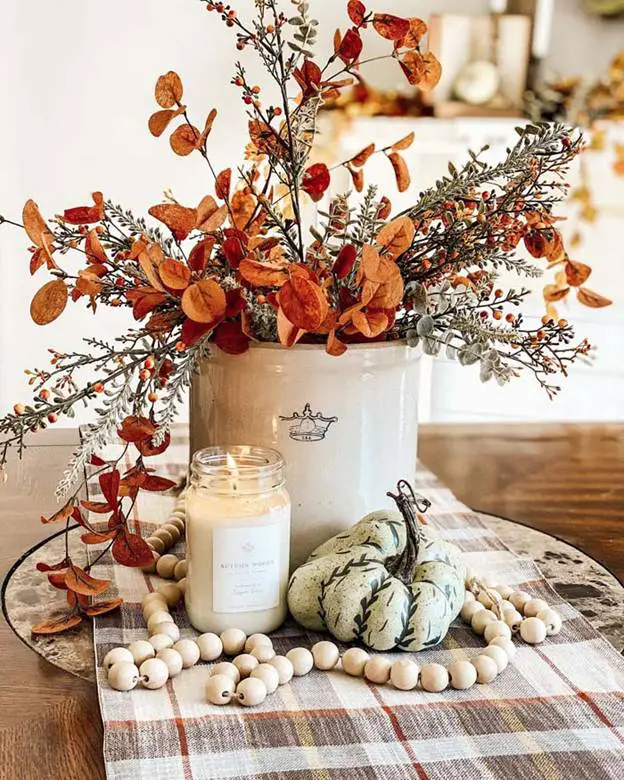 Fall is coming, meaning you will invite your friends and relatives to come over for Thanksgiving and Halloween.
Well, it means you need to impress them with chic fall designs.
Thus, to accentuate the fall vibes, try sticking to earthy, nature-inspired colors for the centerpiece.
For instance, red, orange, and yellow will be your safe bet. Then, you can round out it with white pumpkins.
3. Farmhouse Dining Room Table Decor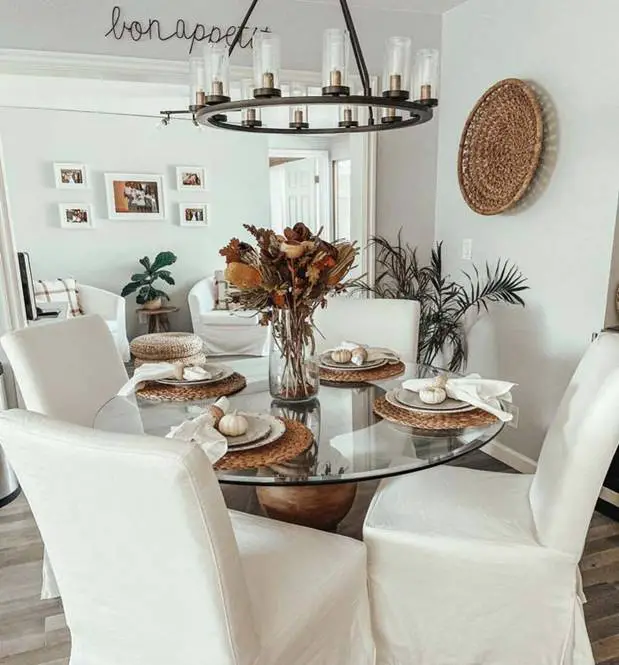 This one is another fall-inspired centerpiece idea. Instead of displaying fresh flowers, you can go with the dried ones to accentuate the vibes.
Then, place the dried flowers into a clear round vase because it will complement the circular dining table perfectly.
4. Subtle Dining Table Centerpiece
If an extravagant centerpiece is not your thing, you can opt for this simple decoration. For example, simply lay a table runner on top of your rectangular table.
Then, place a wooden tray on it to house four to six white Mason mugs. Finally, put some white tulips into them.
5. Dining Table Centerpiece for Christmas Eve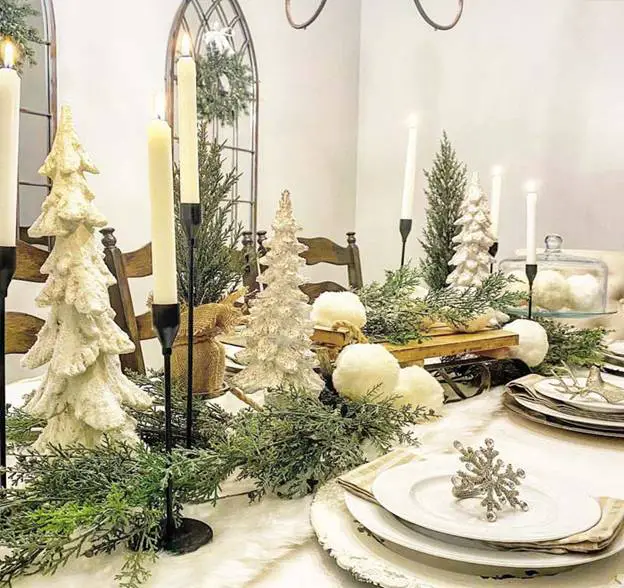 Christmas Eve is the moment you can gather with your family. Therefore, creating an epic impression is necessary.
Additionally, you just need to display white pine-tree miniatures along with cotton balls to represent snowballs.
Then, add a few pine leaves here and there, and somewhat candles to wrap up the centerpiece.
6. DIY Centerpiece for a Rectangular Table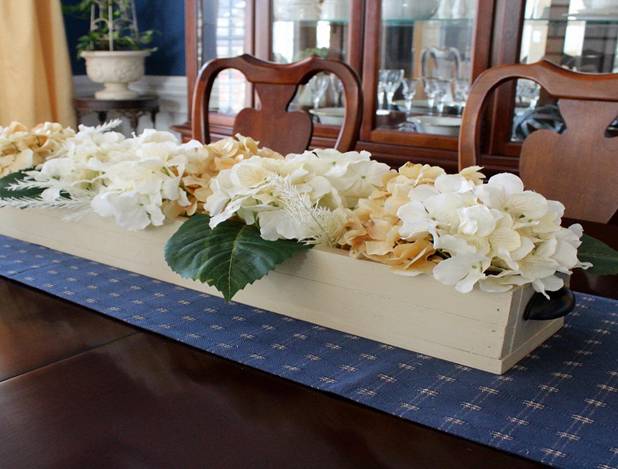 Creating an exquisite centerpiece does not have to be costly. Likewise, you can make it yourself by constructing an open box from a plywood board.
Then, install A cop drawer pool on each square side. After that, fill in the box with any flour of your choice.
7. Japanese Vibes with Orchid and Moss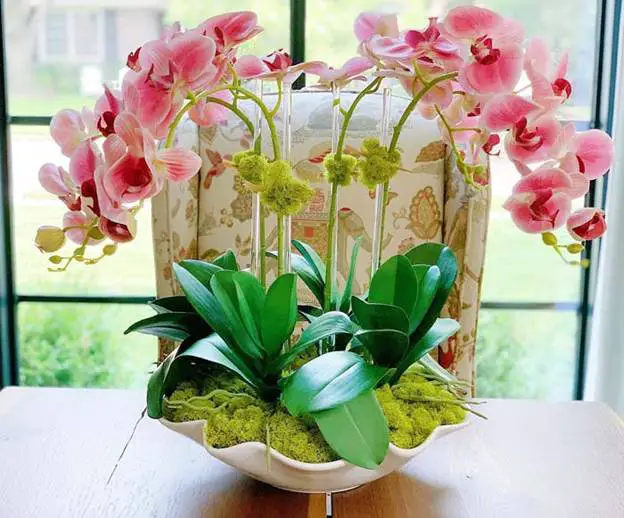 In addition, this centerpiece will immediately remind you of beautiful cherry blossoms in Japan.
They are not the real cherry blossoms, though. Otherwise, these are exquisite orchids growing in a ceramic bowl covered with moss.
8. No-Fuss Table Centerpiece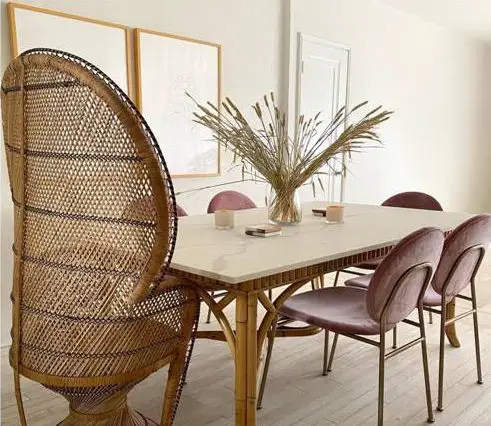 Creating a beautiful centerpiece is not necessarily arduous. Thereupon, you can simply find a clear jar, fill it with decorative grass, and you are good to go.
9. Elegance in Simplicity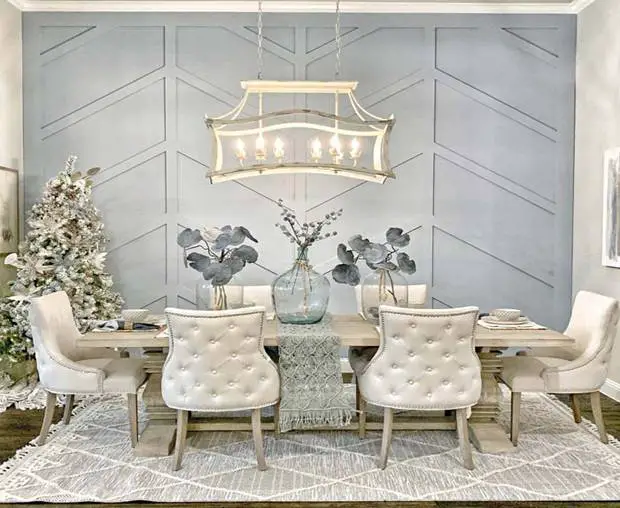 Being elegant does not always entail fancy items. Sometimes you can use anything you have and tweak it a little bit to result in elegance, just like this centerpiece.
For instance, the grayish tone is renowned for creating an elegant look. Therefore, placing gray leaves into clear vases can make a luxurious centerpiece.
10. Monochromatic Centerpiece for a Modern Farmhouse Dining Table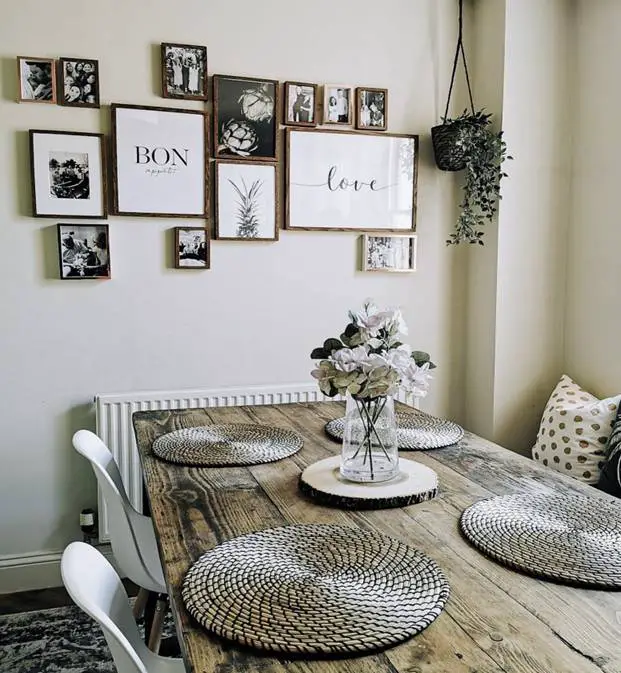 If you think colorful flowers may overwhelm your dining room, try this monochromatic centerpiece.
Further, to create this simple centerpiece, you only need to get some white flowers like roses or lilies, and then put them in a vase.
You can also try to get a slice of wood to anchor the vase in place.
11. Rustic Dining Table Centerpiece You Can Make at Home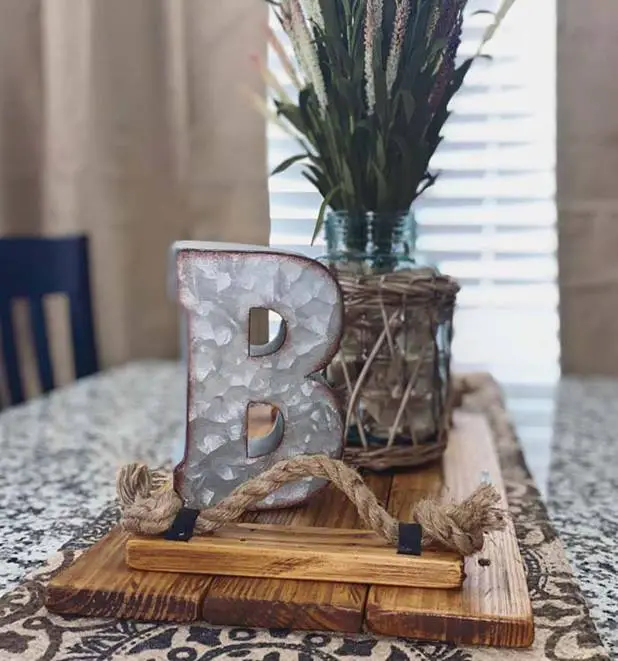 This idea is eminently simple. Firstly, you will need a wooden pallet, rope, and pipe holder clamps to make the tray.
Then, top it with a mason jar filled with flowers or foliage and a concrete monogram.
12. Modern Dining Room Table Centerpiece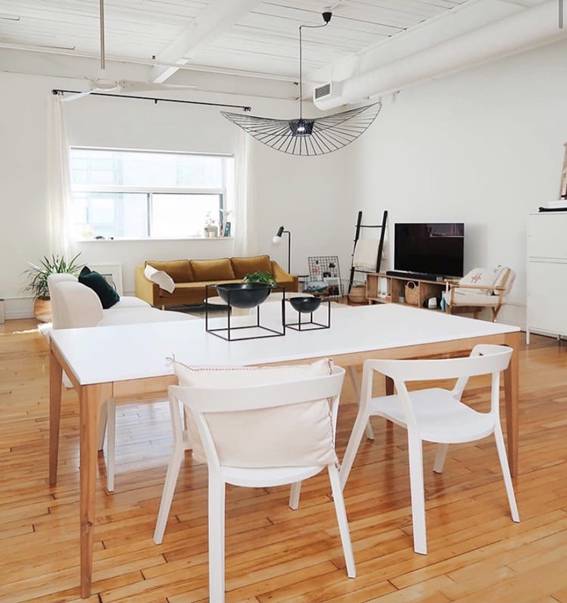 Indeed, modern design keeps things down to a minimum.
Therefore, you do not need to display any plants on your dining table, especially if you do not have a green thumb.
Moreover, topping your planter with a bowl will make a great centerpiece without the hassle.
13. Effortless Centerpiece Ideas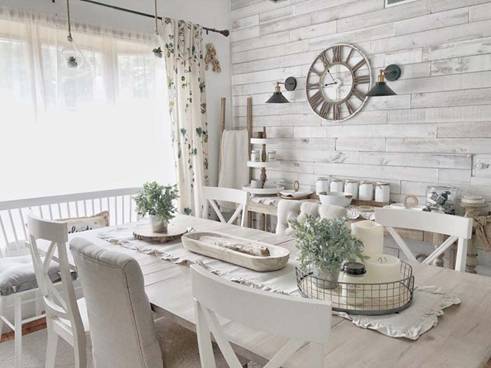 The ultimate goal of a centerpiece is to create visual appeal, which tends to be relaxing. However, it will turn into a disaster if you make yourself break your limit.
Instead of spending much time and money to create a beautiful centerpiece, you can simply lay a white-washed box on the table.
Moreover, it will work like a charm, and, more importantly, spruce up your dining room in no time.
14. Indoor Fairy Garden as a Centerpiece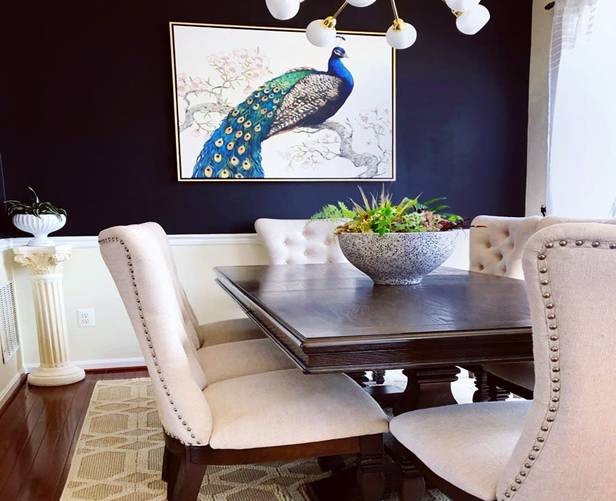 People usually use a fairy garden to top their coffee tables. This time, you can use lay it on your dining table to impress your guests.
15. Bright It up with Sunflowers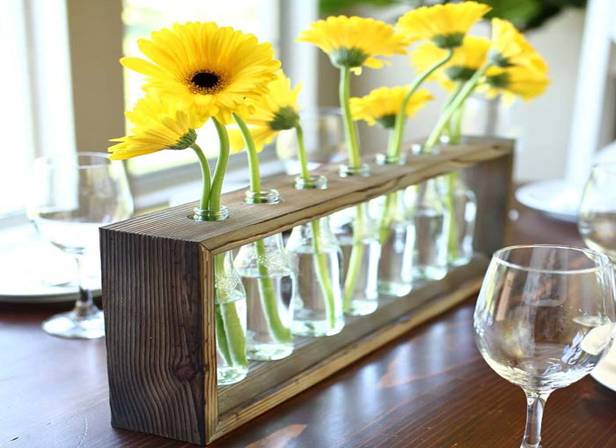 Yellow is the color of joy. Likewise, you can use it at your dining table. Further, these styles show you how to do it right.
Then, try displaying some sunflowers in clear bottles, and see how adorable they are.
16. Bring in Tropical Vibes with a Dining Table Centerpiece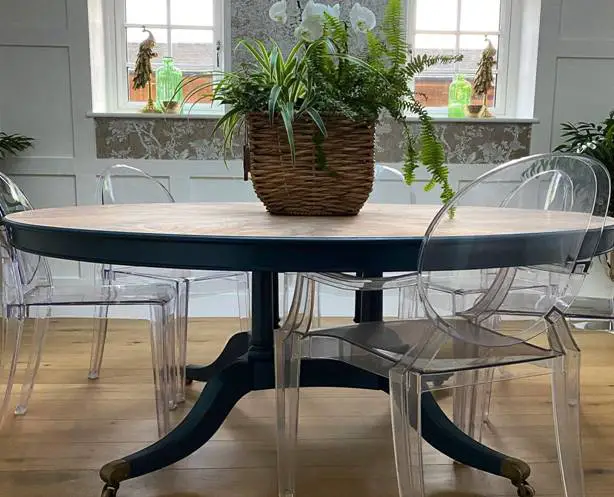 Bringing in a few tropical vibes to your dining room is merely a breeze. Therefore, you only need to get a wicker basket and fill it with Peace Lily and ferns.
17. A Romantic Dinner with Candles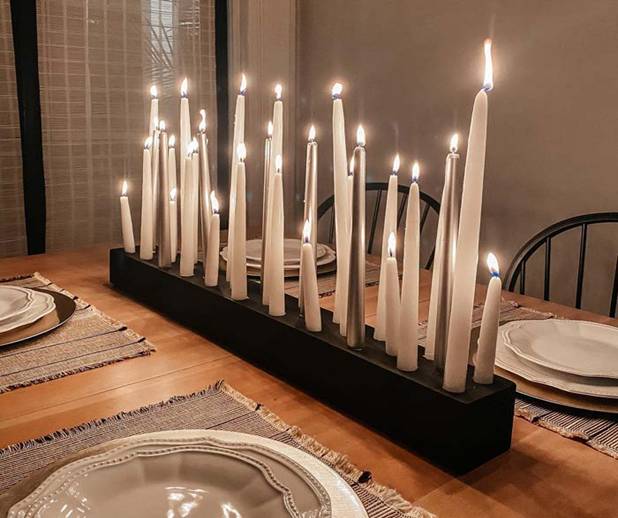 Carving out a romantic ambiance can be as simple as displaying a lot of candles in the middle of your dining table.
Not only will the candles illuminate the dining table well, but also create romantic vibes through their flickering lights.
18. Vintage Dining Table Centerpiece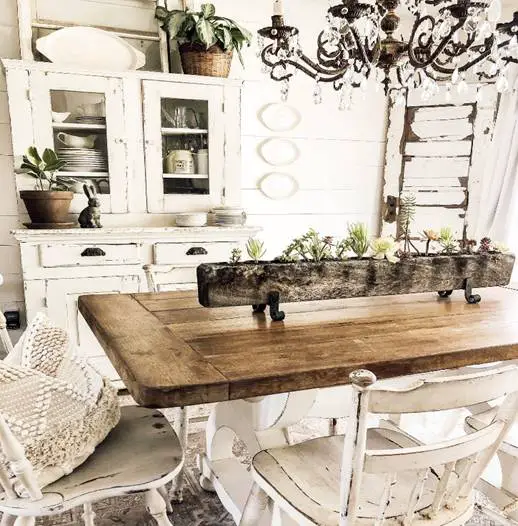 Defendant style is still a thing now because its timeless charm can always soothe anyone's focus.
Hence, to create this vintage centerpiece, you will only need to make a planter that houses succulents.
To enhance a rustic look, you can also try to apply the distressed finish.
19. Pick up a Mesmerizing Vase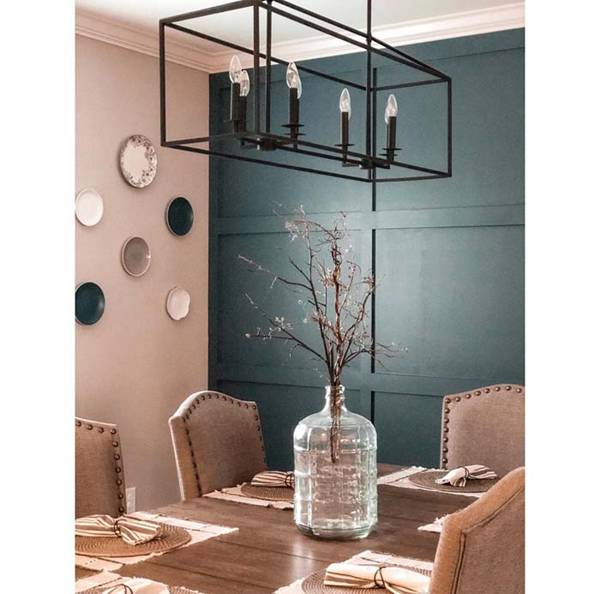 If you can find an antique vase, congratulations! It can make a great centerpiece on its own.
Still, you can fill it with your favorite plants. Do not overdo it, though.
20. Incorporate Some Crafts into Your Dining Table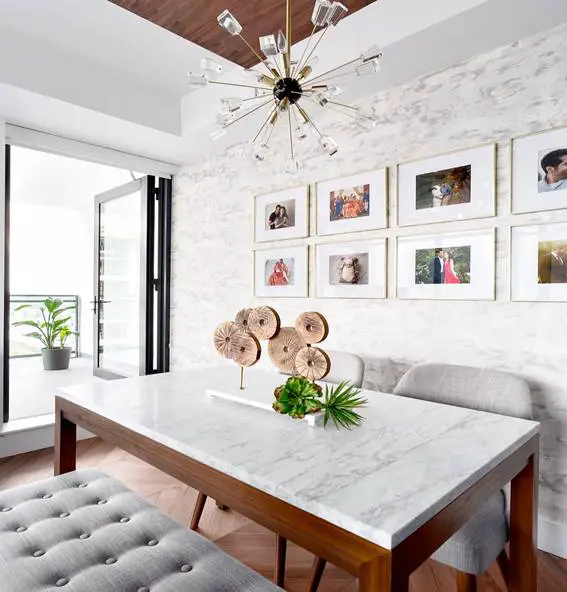 An exquisite centerpiece can be anything, including your masterpiece. Moreover, if you are into crafts, this is the right moment to show off yours.
21. Display an Antique Teapot Creatively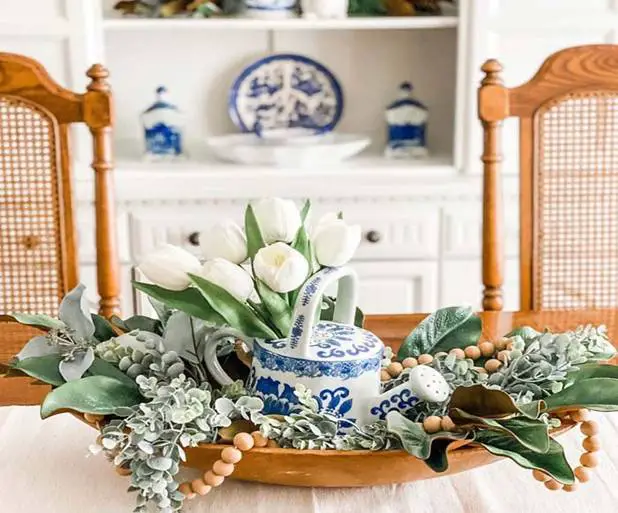 Do not let your treasure be hidden in your cabinet. So, take it out and show it off by making it a centerpiece.
Besides, place your antique teapot on a tray. Then, fill in the space with faux leaves.
22. Festive Mood on the Dining Table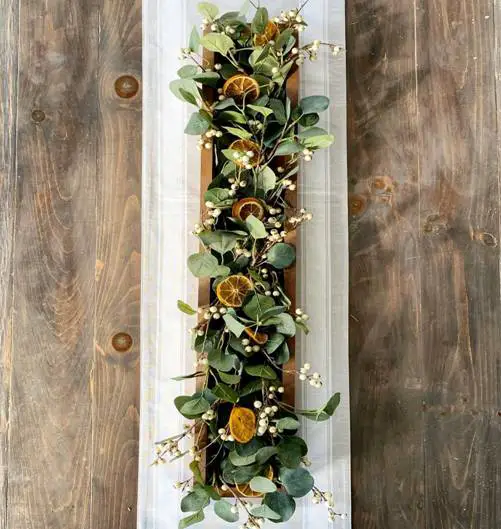 This centerpiece would be an excellent addition to any celebration, including a wedding or graduation party.
Moreover, you simply need to fill in an opening box with dried leaves and sliced oranges.
23. Dining Table Centerpiece that Doubles as Insect Repellent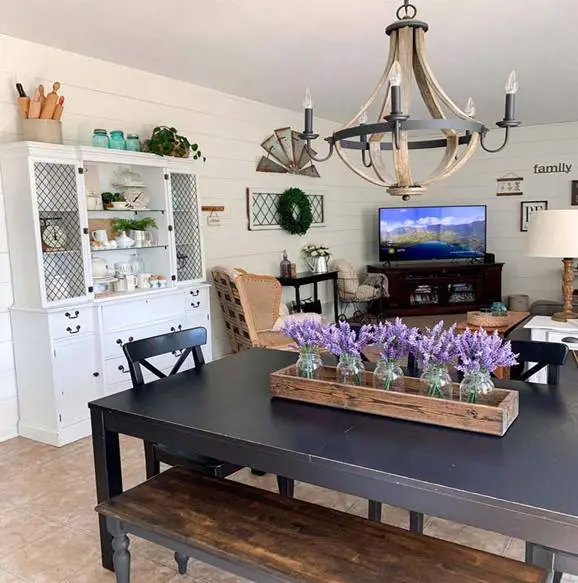 Lavender is renowned for being a decent mosquito repellent. Therefore, using it as a centerpiece would be a great idea.
24. Glamorous Dining Table Centerpiece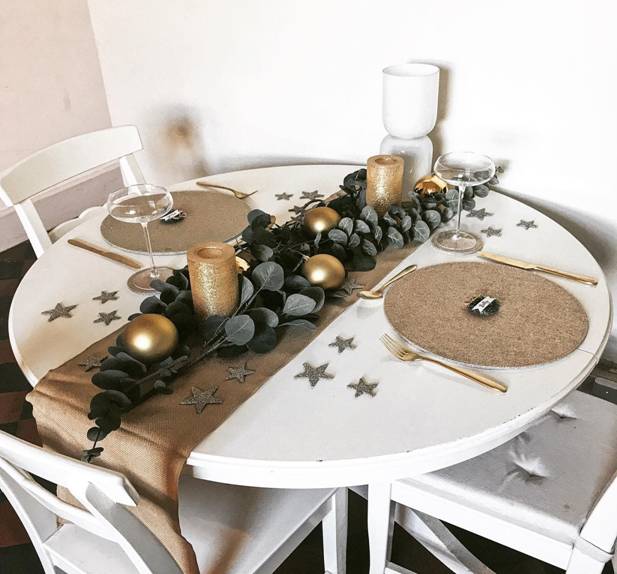 Are you looking for a glamorous centerpiece without costing you a fortune? Thus, you can try displaying gold accessories along with black leaves on a burlap table runner.
Besides, gold and black can make a perfect combination for a glamorous look.
25. Classic Meets Modern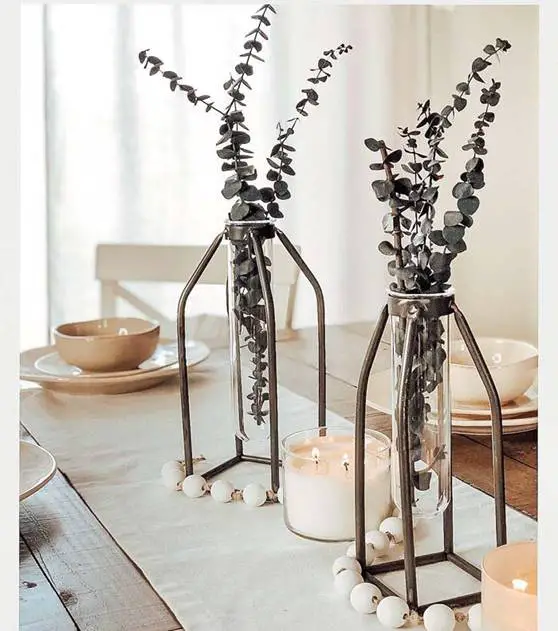 This centerpiece shows you that classic and modern styles can make a pretty good team. Also, the black foliage looks great in the glass tubes and wrought-iron holders.
26. Less is always More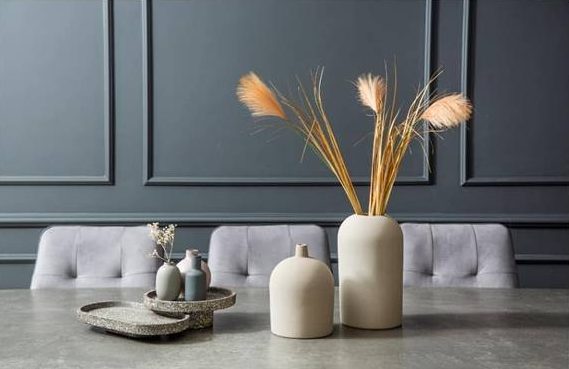 When it comes to carving out a modern style, keeping things simple is always your greatest bet.
Meanwhile, displaying some pieces of clay pottery and leaving them unadorned would be enough.
27. Eclectic Centerpiece
Several choices may overwhelm you sometimes. Subsequently, if you have not made up your mind yet, you can embrace various ideas and create an eclectic look.
Furthermore, to make the pieces look united, anchor them all with a tray.
28. A Vase Can Say Anything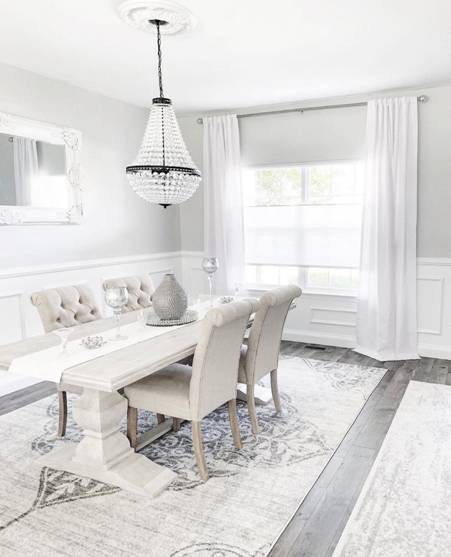 You do not need an abundance of flowers if your vase carries a wow factor already. So, positioning it on your dining table will help you jazz up the space.
29. Elegant Centerpiece at Minimal Efforts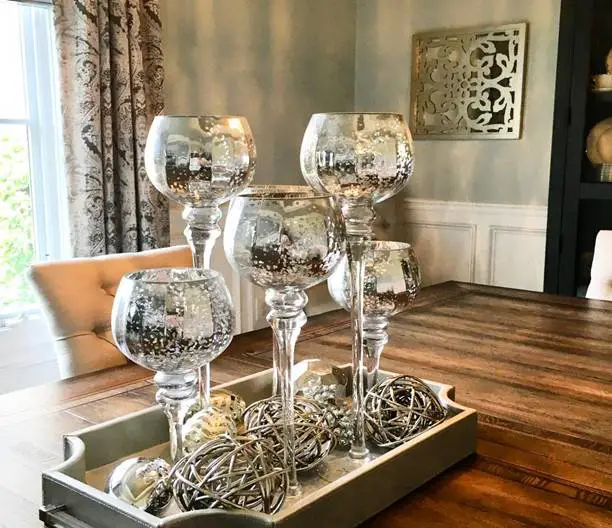 Carving out elegance can be straightforward. Firstly, you need a tray to house your glasses.
Varying the height will also enrich the look.
30. The Kingdom in Atlantis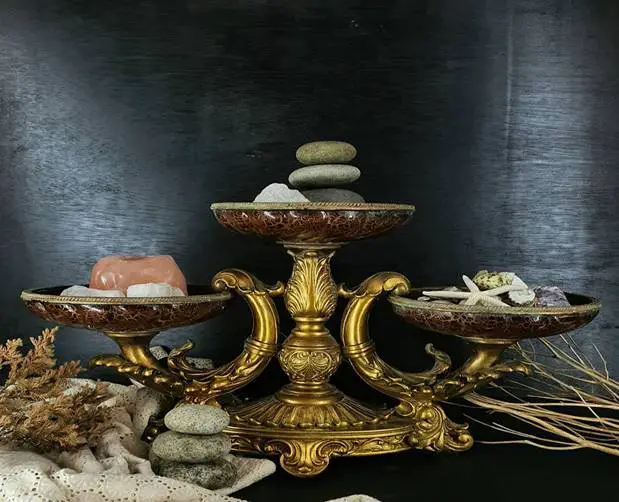 The combination of vintage and coastal style can result in a breathtaking centerpiece. Besides, it is DIY friendly.
You only need to get a vintage weight or chandeliers and top the arms with stones and faux starfish.
31. Affordable Centerpiece for Christmas Dinner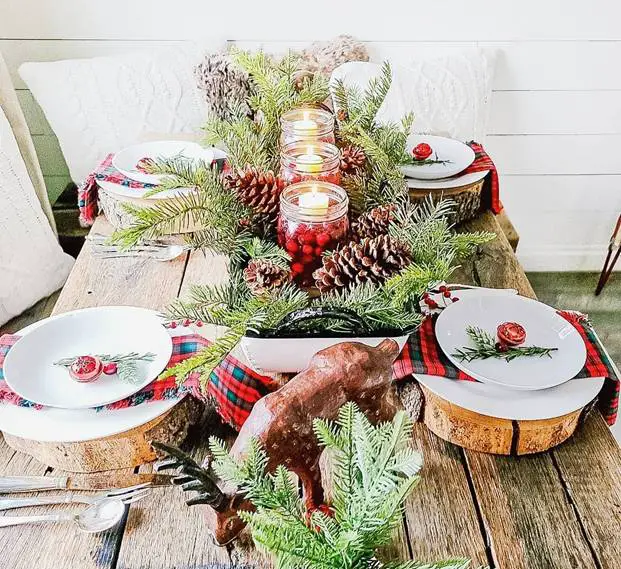 Pine leaves and fruit are always synonymous with Christmas. Consider investing in a tray to house them all.
32. A Lighthouse on the Table
A circular table usually requires a round tray as a centerpiece. Then, top it with a tall candle in the middle and dry leaves to fill in the remaining space.
33. Dining Table Centerpiece for an Artist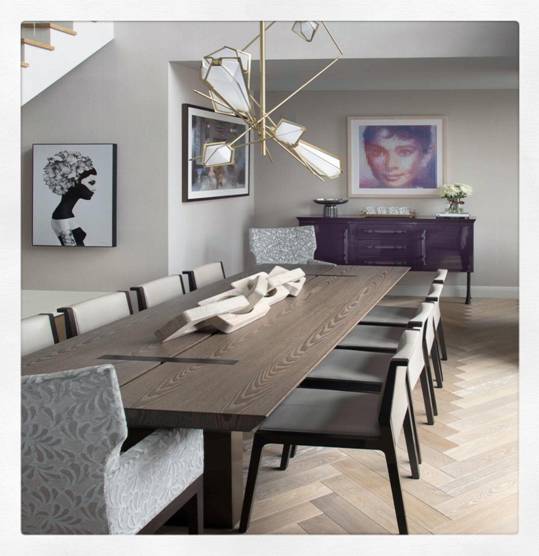 Many people will come up with plants or candles to create a centerpiece. The truth is that anything can make a great decoration, just like this artwork.
34. Spruce up Your Thanksgiving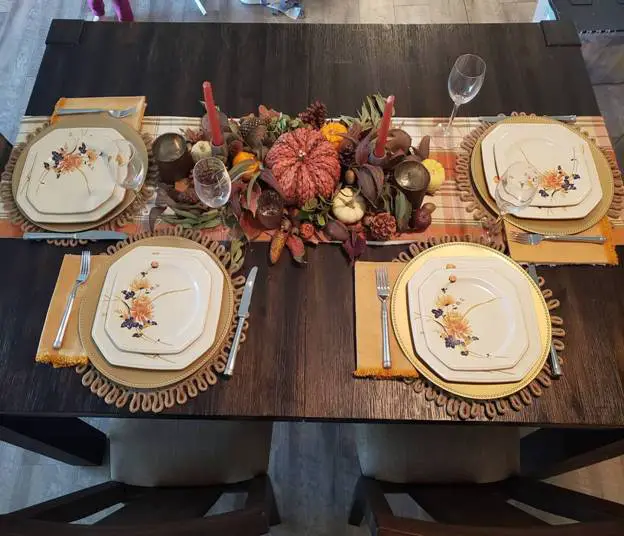 Positioning a pumpkin in the middle is a good start to make a centerpiece for Thanksgiving.
Then, add some smaller pumpkins, acorns, and dry leaves around it.
35. Release Your Creativity with a Flower Bouquet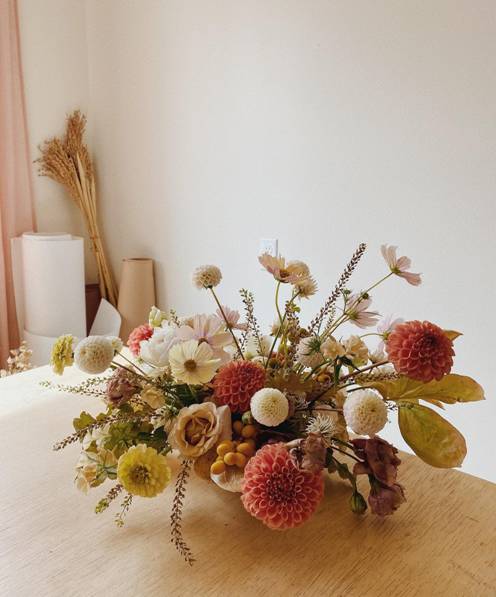 There are not any rules in arranging a bouquet. You only need to explore your creativity and combine large and small flowers and fill the remaining space with foliage.
Conclusion
Applying dining table centerpiece ideas does not have to cost you a fortune. Shop around your house, tap into any treasure you have and add a twist if necessary.
More from Materialsix.com: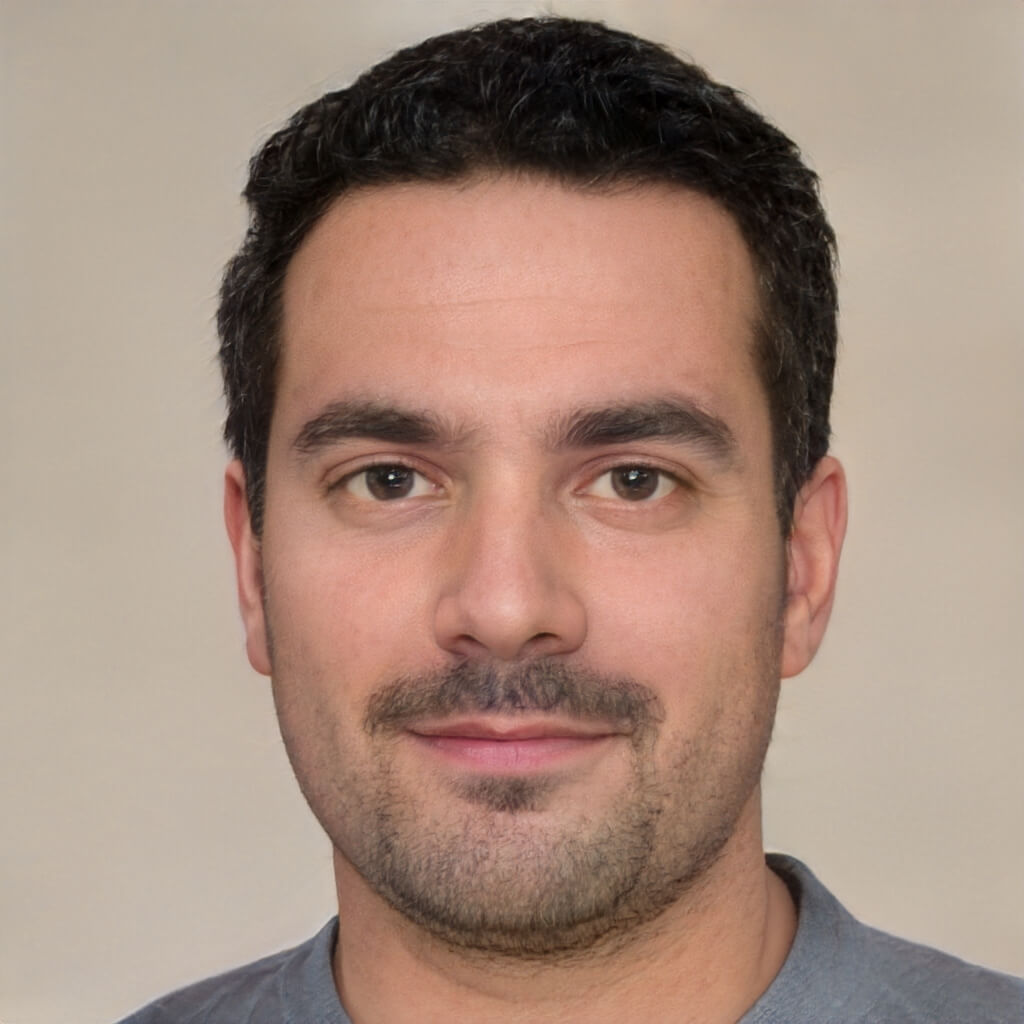 I'm a passionate home and garden enthusiast and the founder of Materialsix Home. With over 10 years of experience in the field, I've cultivated a deep love for all things related to home improvement, gardening, and interior design.