A well-combined building concept with the walls and lighting color is essential in creating a stunning impression in a house. Yet, remember also how to decorate shelves properly so that you can get a perfect interior design at once.
Besides being useful as storage in your house, racks also play a role in making your room look neat and beautiful. How to decorate shelves may seem easy to some people, but it is not the case to others.
That is why you need to implement several strategies so that each arrangement you do is not in vain.
Instead of giving a comfortable impression, not following the rules for decorating shelves will make your interior unsightly. However, do not worry. For you who are curious about how to decorate a wall shelf beautifully, please read this article until the end.
You can follow the tips and tricks below to make up your room!
Tips on How to Decorate Shelves
Match with Your Interior Design
The main concern on how to decorate shelves properly is the suitability of the shelf model and color with the interior design of your home. Ensure that all the room elements have a harmony of textures and contrasts, so they are eye-catching and comfortable enough to live in.
Do not forget to give an artistic impression on the shelves you have. It can be by giving it a unique shape, a carved accent, or merely complete it with some artwork frames to explore your creativity.
Keep It Functional and Stylish
Aside from its eye-catching form, shelves at home are also closely related to its adequate function. Thus, make the best use of a wall or hanging shelf existence as storage too.
Quick Tricks You Have to Follow
To get a maximum result, the next step you need to take on how to decorate shelves amazingly is to do some tricks in arranging the ornaments itself. Pay attention to the points below!
1. Balance Both Sides
If you have tiered-shelves, starting from the very first bottom of the racks is in the rules for decorating shelves. Next, merely fill both sides of the shelf with objects of the same height and size. It could be a frame, mirror, or even a desktop calendar.
Choose the items that fit with your decoration theme.
Remember, do not let the left side of your rack look fuller with bulky items while the right part is left empty, or vise versa. It will be so unsightly!
2. Add Greenery
Put mini cactus pots or other ornamental plants to give vibrant vibes to your racks. Otherwise, to simplify the maintaining process, you can also replace them with artificial plants.
3. Fill the Blank Wall
Hang some artistic frames, family photos, or landscape to fill the blank spot on the wall. Alternatively, a wooden calendar also will not go wrong.
4. Arrange Several Ornaments
Add small decorative pieces like a clock, trinkets, or fillers on it.
5. Put Some Decorative Books
You can buy some old books with antique covers on a thrift store as decorative items. The placement of this book will give a classic impression to your space.
6. Mix Up the Heights Well
Pay attention to this point! It is forbidden for you to arrange one section of the shelf at once. You should put the items with the large size first on the racks. Then, make sure to distribute them out well to all over the space.
Do not position similar items with identical height side by side. Next, when the big things are already well scattered, you can continue to arrange the small ornaments in the same way.
7. Give a Final Touch
Finally, yet importantly, add some candles or air fresheners to freshen the shelves.
How to Decorate Floating Shelves
How to Decorate Shelves in Living Room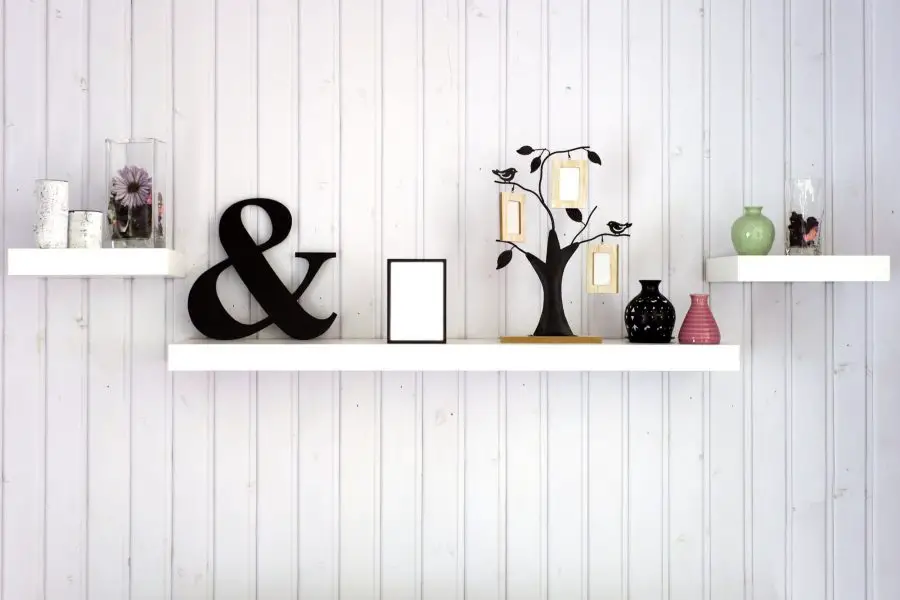 Suppose you have a living room with a minimalist design and striped wallpaper. In that case, it will be great to choose a simple floating shelves model with one plain color. Arrange the shelves in a stage like a picture above, then complete with several miniatures and frames.
How to Decorate Shelves Like Pottery Barn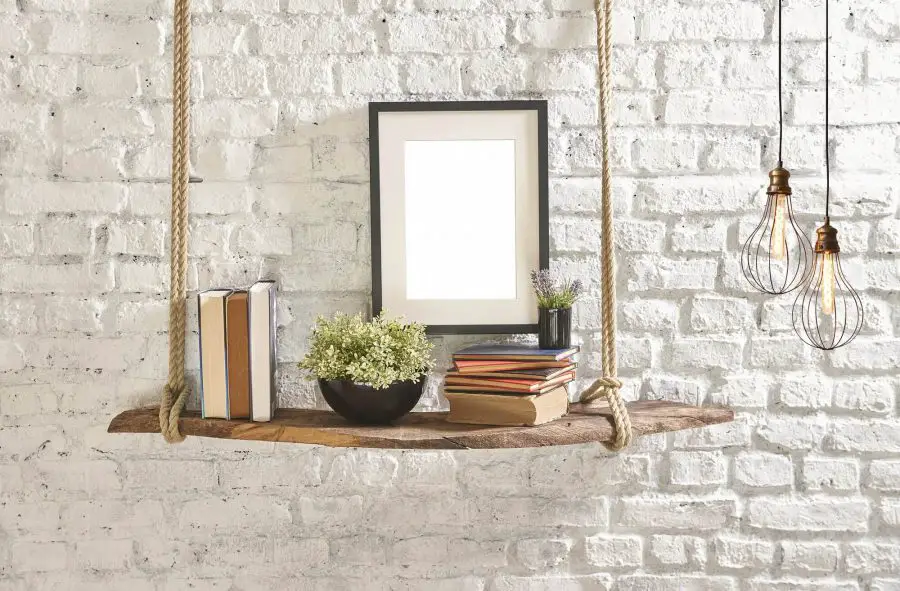 Pottery Barn is also famous for its rustic style shelves. To have a similar hanging rack, you merely need a wooden board with irregular cutting and then hang it using ropes.
Do a double check to tie it securely so that each item above does not fall off. To make it more natural, add small ornamental plants and hanging lights.
How to Decorate Shelves in Bedroom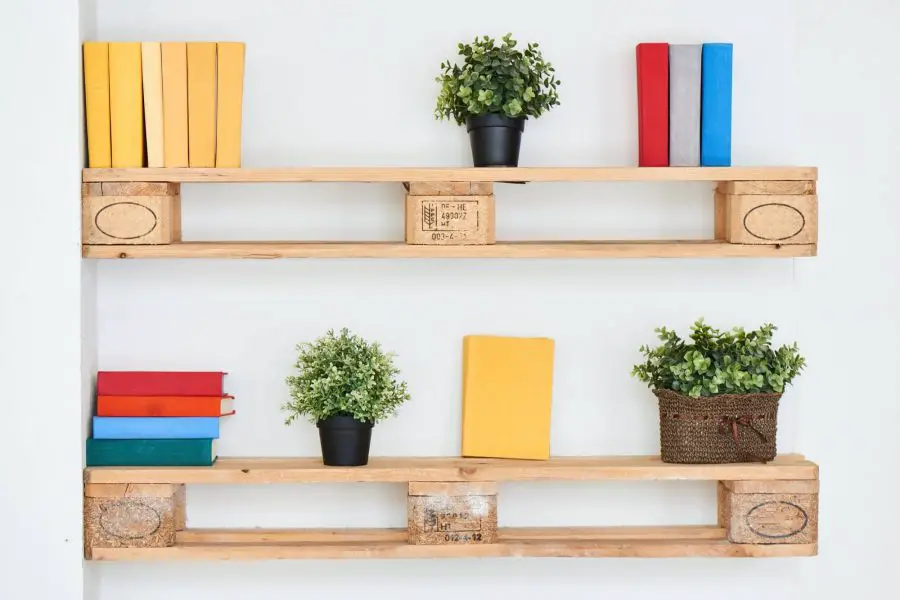 Another rustic shelf also comes into your bedroom. By accenting the carvings on several parts, now you get the beauty in detail. Make this rack a place for your favorite books to take shelter and give a little greenery touch to bring it alive.
How to Decorate Wall Shelves in Dining Room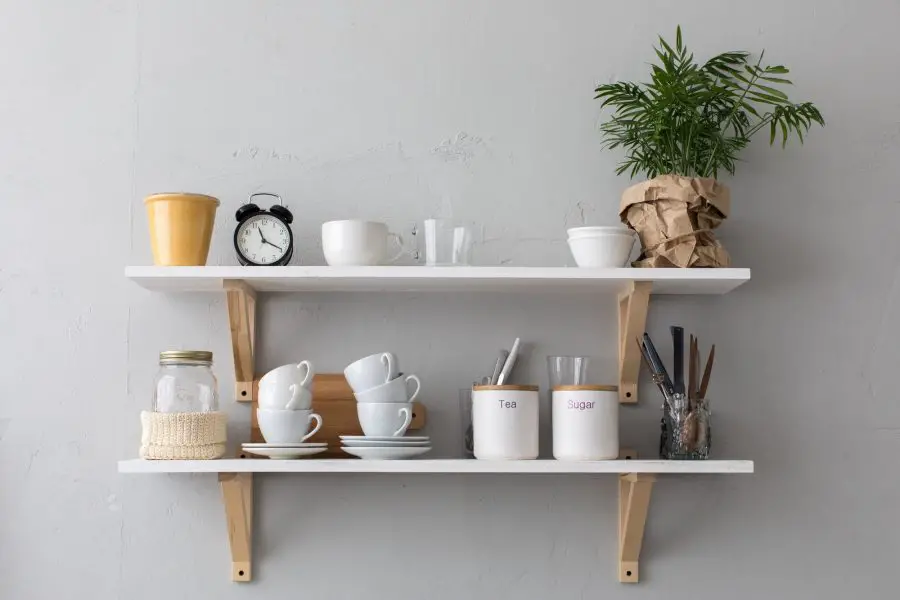 Here the last style on how to decorate shelves for your dining room. Ensure to arrange the cups in the middle part and plastic vase in the edge to prevent the glasses from breaking.
PIN it for later!!