The lamp lights up a room and makes it comfortable to see. You can try to buy lamps in-store or online. Yet, you can also make the lamp yourself. It can be fun activities to tap into that creativity and see what ideas you can come up with. Plus, your lamp can be modified to your taste. So, how about taking some DIY lamp ideas and making a lamp yourself?
First, you need to consider the material before making your lamp. It can be things from your backyard, recycle materials, craft items, and many others.  On the other hand, the ideas can also involve unused and beautiful things that get you inspired.
For example, a rustic home can make a lamp out of wood. An industrial living room use wires, pipes, and other material to make the lamp. You can also take an old lamp and modify it.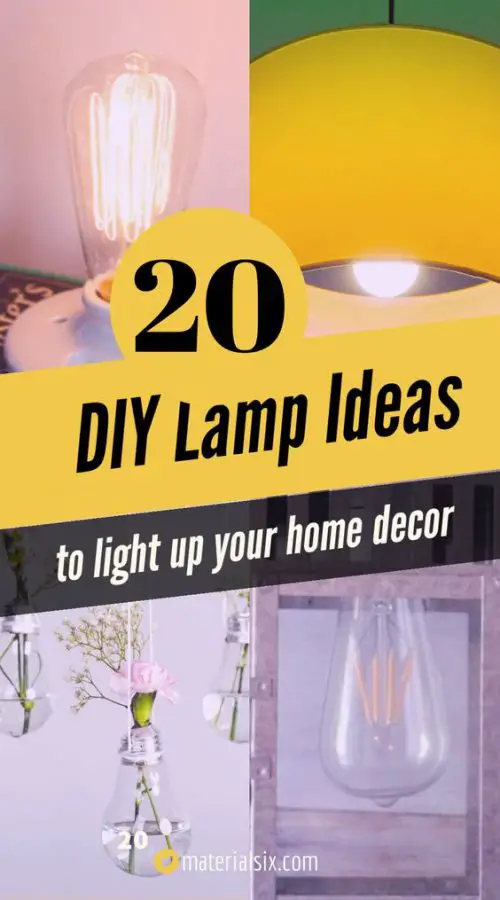 20 Creative DIY Lamp Ideas
Before making a lamp, you also need to know various kinds of lamps. Some of the most common lamps are chandelier lighting, floor lamps, hanging fixtures, or small table lamps.
Think about the room layout and what kind of lamp will look amazing in it. Then, decide on the best DIY lamp ideas for making a lamp that you think you can do yourself. Here are some lamp designs for you to try.
---
1. DIY Pipe Lamp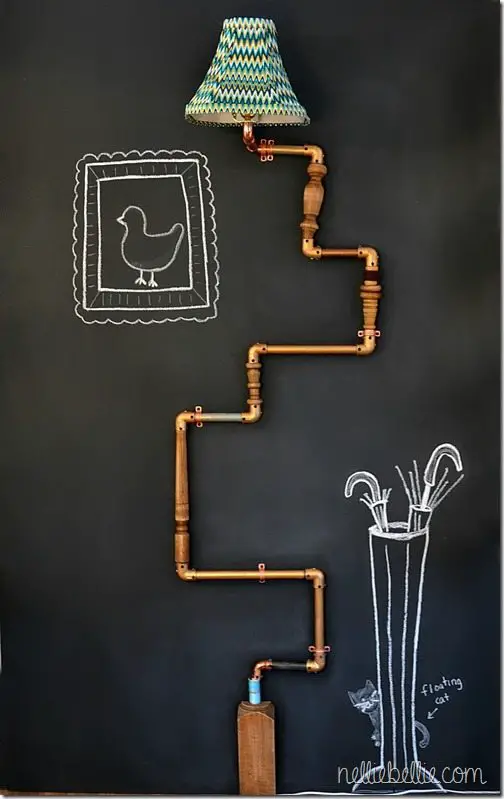 I'm a fan of unique items for a house. This DIY pipe lamp offers an amazing and unique look at the same time. The pipe assembly matches the lamp shade that perfectly blends with a house's unique design.
---
2. Rustic Wood Lamp
This lamp has an old look yet is perfect. The rustic wood will enhance the room where this lamp sits and expose the room perfectly.
---
3. Vintage Bottle Lamp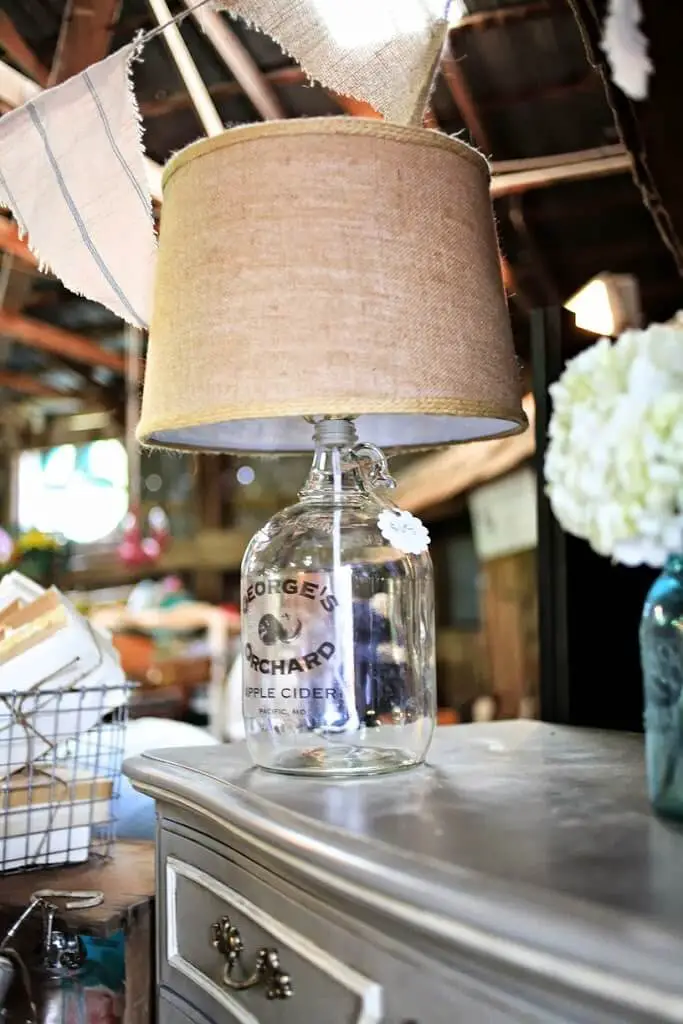 A vintage lamp can be made of a cider bottle. What I like about this lamp is the vintage-look shade, perfect for adding warm and colorful lighting.
---
4. Stacked Book Lamp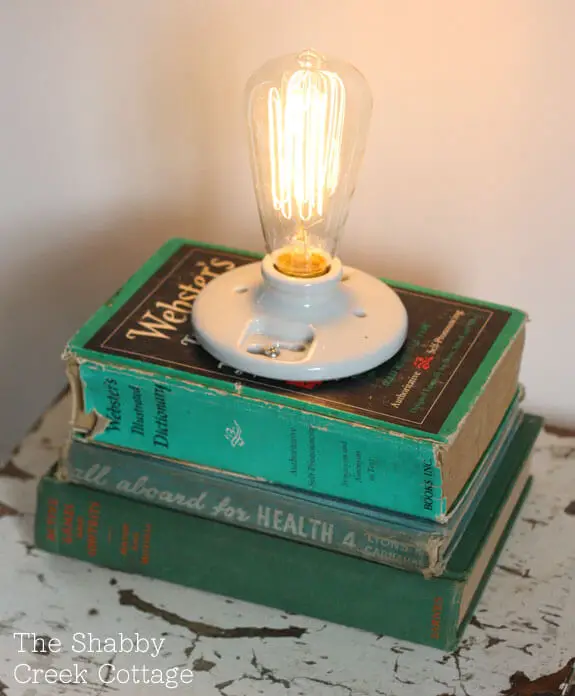 A stacked book lamp is the easiest DIY lamp project that anyone can try. The steps to make this lamp are not complicated at all. The idea of making the lampstand from books is just brilliant.
---
5. Beachball Lamp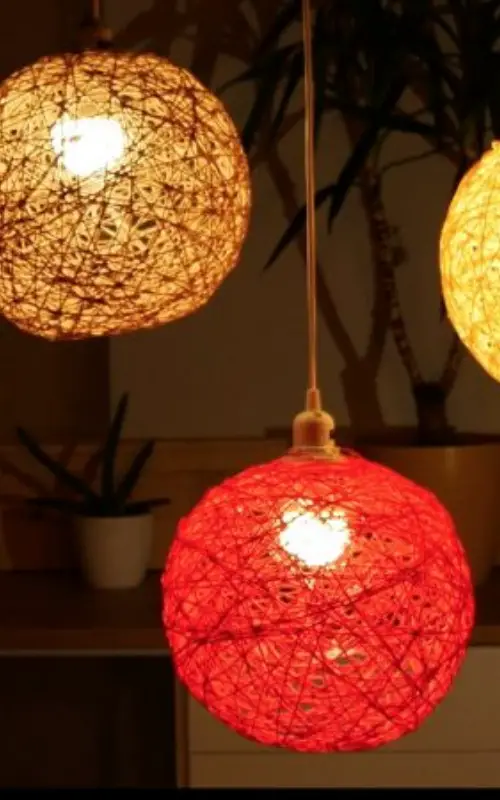 Look at this beautiful lamp! It will be perfect for any dining room to create a cozy and welcoming atmosphere. I like how the colorful strings ball becomes the lamp covers, adding a warm feeling when it's on.
---
6. DIY Seashell Lamp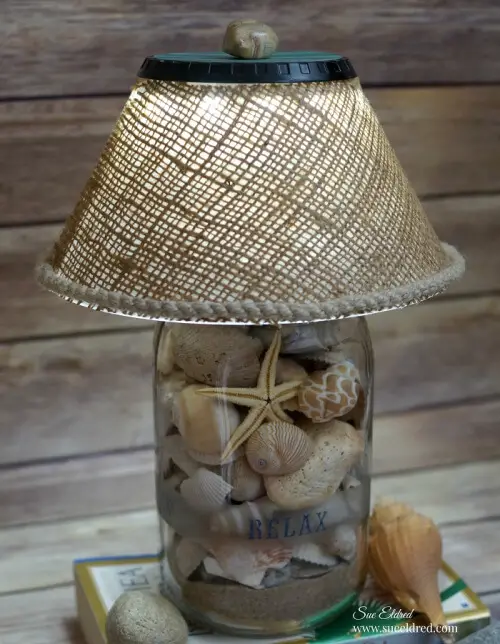 Keen on seashells and stuff? This DIY lamp idea is perfect for you who like the beach. The bottles' shells are just nice to see as an ornament for the lamp, creating natural beach vibes.
---
7. Cordless Plaster Lamp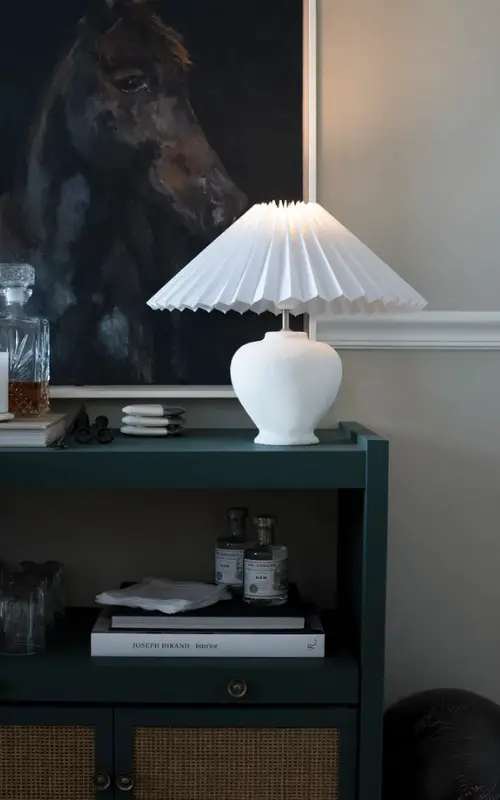 Love some tidiness at the house? This cordless lamp is brilliant for making any room look neat and clean.
---
8. Salvaged Wood Lamp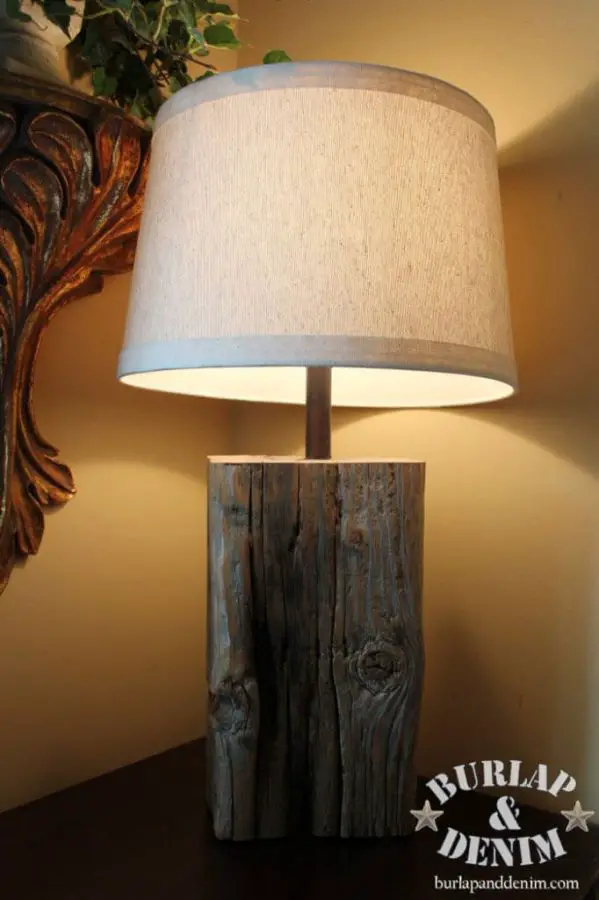 Wooden furniture and accessories are always perfect for any home design. This lamp offers something to level up the appearance of your house. How the DIYer executes the wood log into a lamp amazed me.
---
9. DIY Tapered X Lamp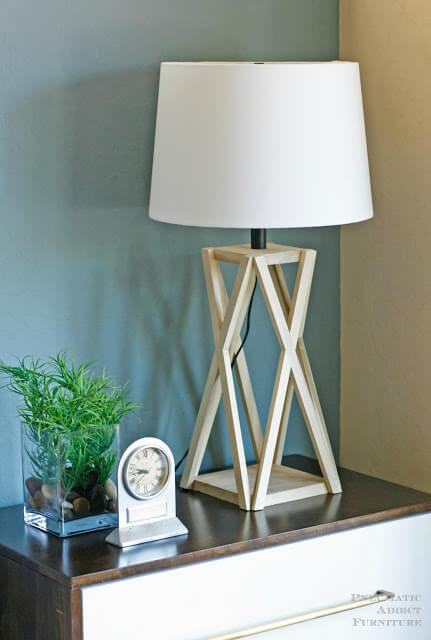 This lamp is one of the easiest DIY lamp projects. Those tapered X woods will add beauty to the room, although it's a simple lamp. I love it.
---
10. Easy Driftwood Lamp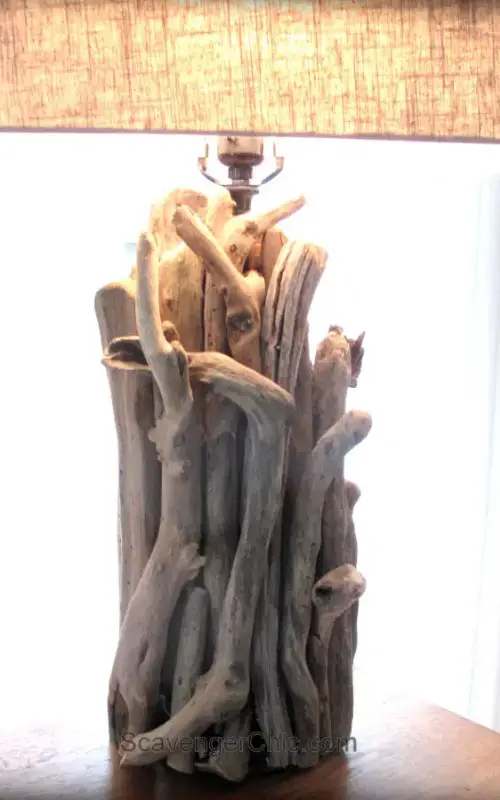 This driftwood lamp is another easy DIY lamp idea. The steps to make it are easy. Sticking the driftwood to the lampstand with a strong glue idea is extraordinary yet smart.
---
11. Pottery Barn Knockoff Rope Knot Lamp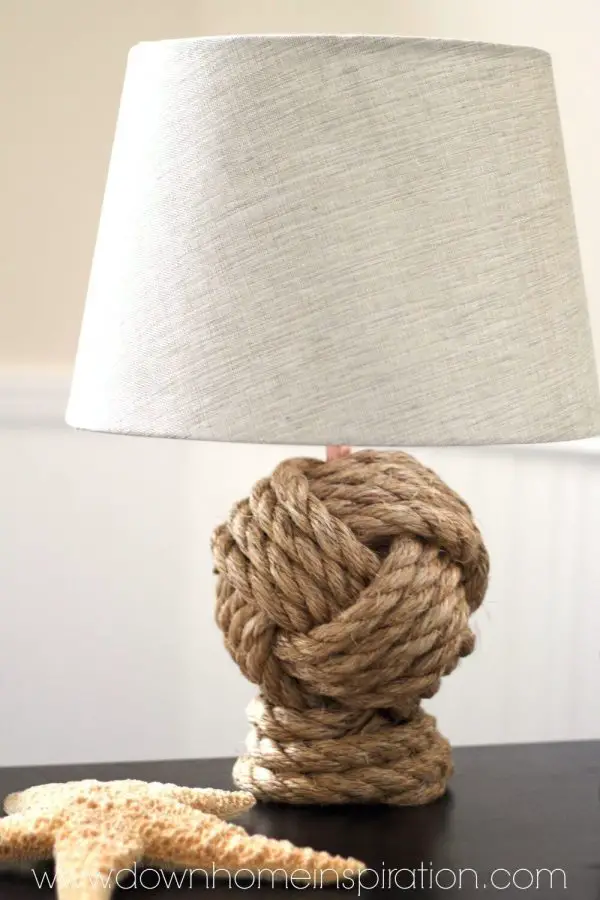 Some Barn rope for a lamp? It's an out-of-the-box idea. The steps are easy, and the result is satisfying. This lamp is an absolute success for a DIY project.
---
12. Vase Upcycle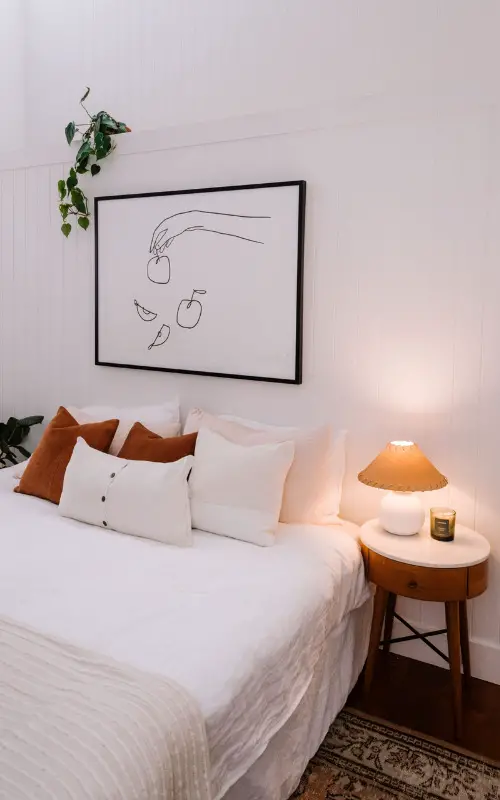 No more throwing old vases away! Like this lamp, some upcycle will make an old vase into a lovely lamp stand that elevates the bedroom's look.
---
13. Turn a Lantern into a Lamp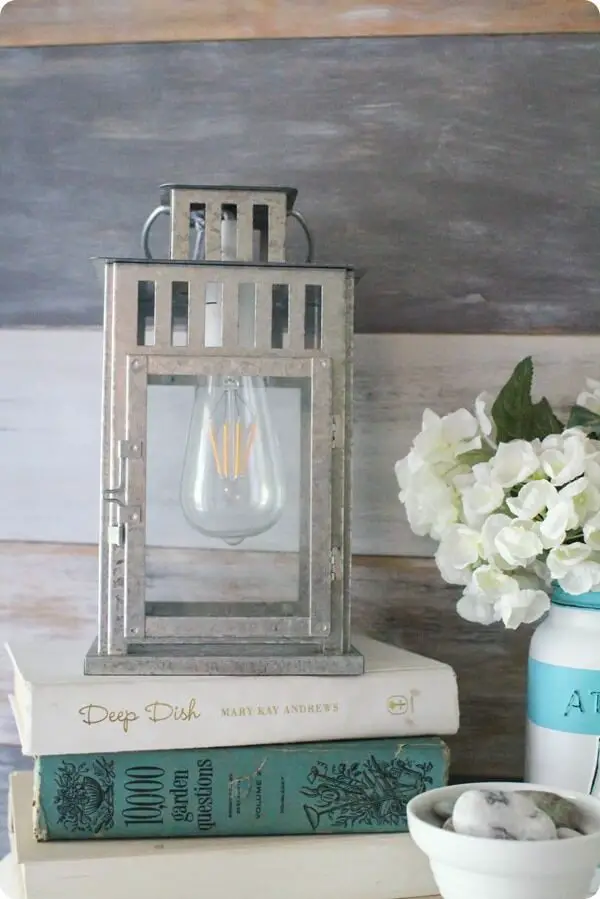 I never thought that someone could do it effortlessly. The result is amazing, and the look it appeals to will attract people to adore the lamp.
---
14. DIY Anthropologie-Inspired Pendant Light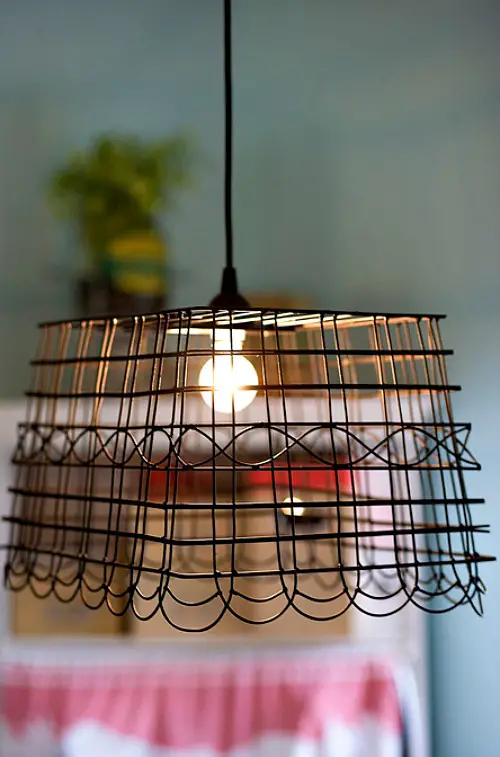 It's unbelievable that someone can create a pendant light from a used basket. This pendant is an incredible way to make the room more enhanced. Simple customization is required to make it a great lamp.
---
15. DIY Terrarium Lamp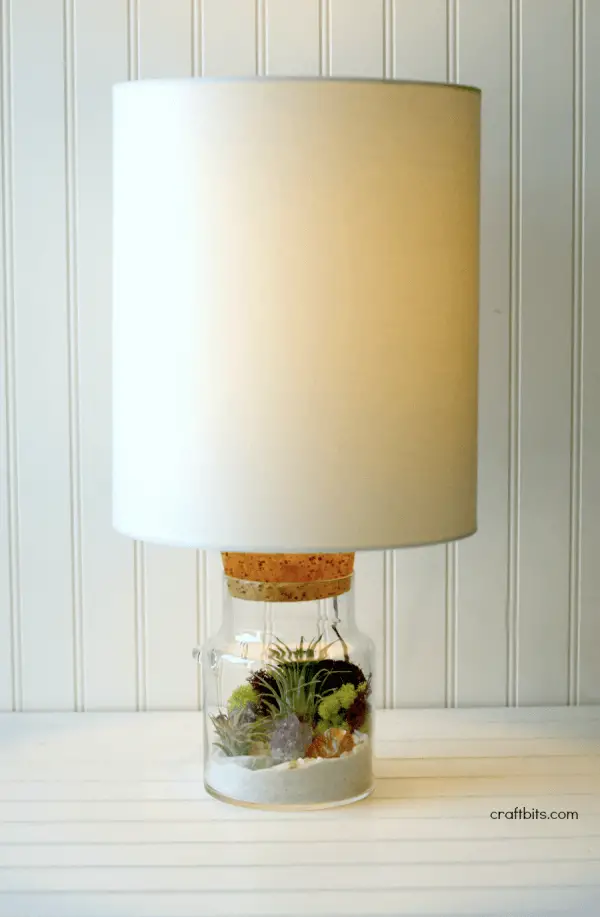 Having some plants to beautify a room is a good way to express your personality. A terrarium lamp will accommodate this purpose. The look is amazing, and the shade matches perfectly with the terrarium.
---
16. DIY Wooden Cube Lamp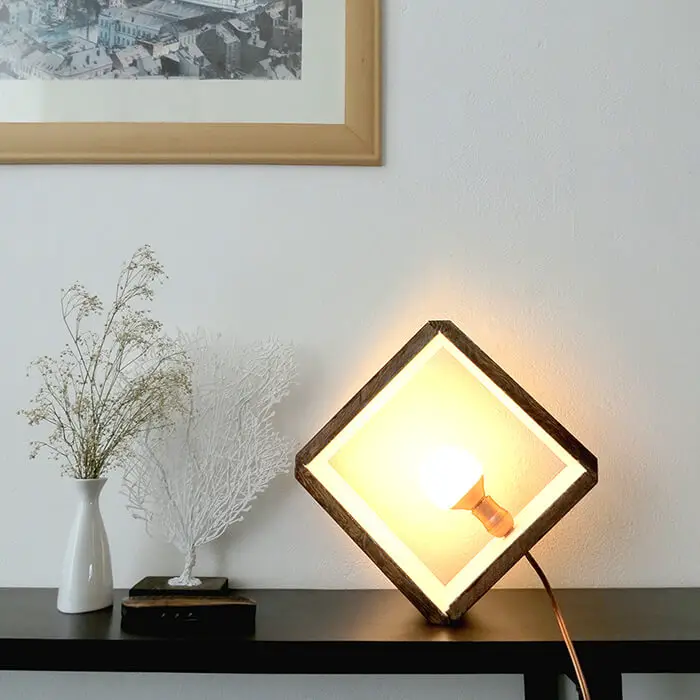 This DIY is another way to make use of wood. It can be a beautiful addition to your room. I like it when it stands brighter than the other accessories.
---
17. Restoration Hardware Inspired Industrial Pendant Light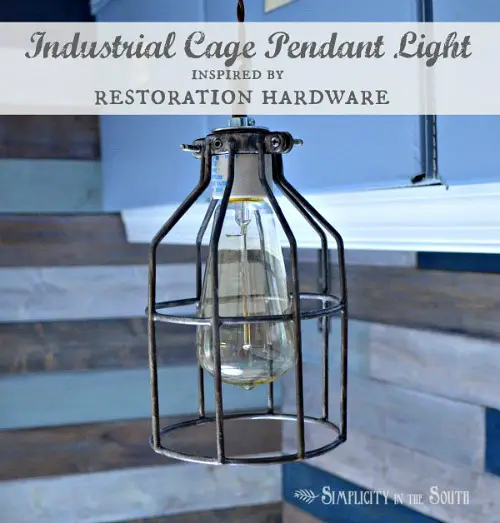 A pendant light is always a great way to add a perfect ambiance to the room. Restoration Hardware offers many things. This lamp matches the modern-designed house to add a warm ambiance.
---
18. DIY Dodecahedron Pendant Light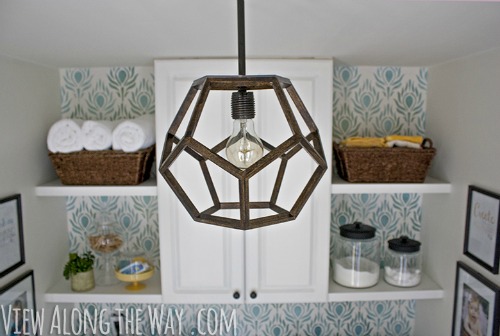 This Dodecahedron Pendant Light can be a perfect solution for the simplicity seeker. For those who like DIY, I recommend you do this project, and you will find that this lamp will match your taste for beauty, simplicity, and elegance.
---
19. Dollar Store Craft Box Lamp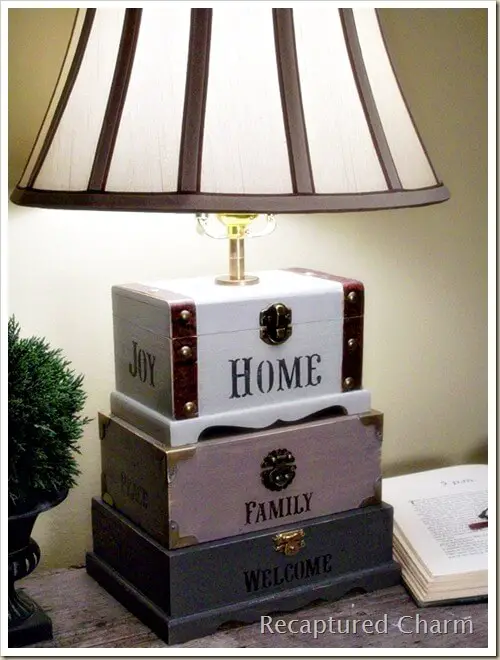 Having craft boxes can become a blessing for a DIYer. I'm amazed at how the craft boxes are stacked and assembled. After all, it's an easy project that anyone can execute.
---
20. Painted Bottle Lamp Upcycle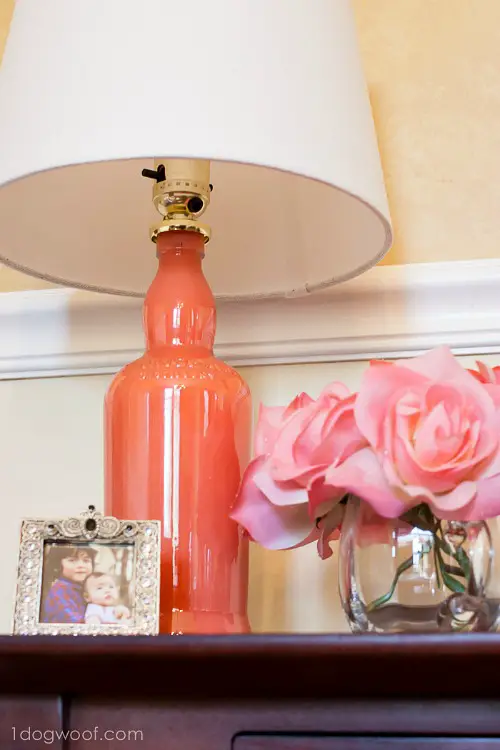 Upcycling things never gets old. Turning a bottle into a lamp by painting the bottle and making it a lamp stand is another level of upcycling. The result makes the room amazingly beautiful.
---
21. Mason Jar lamp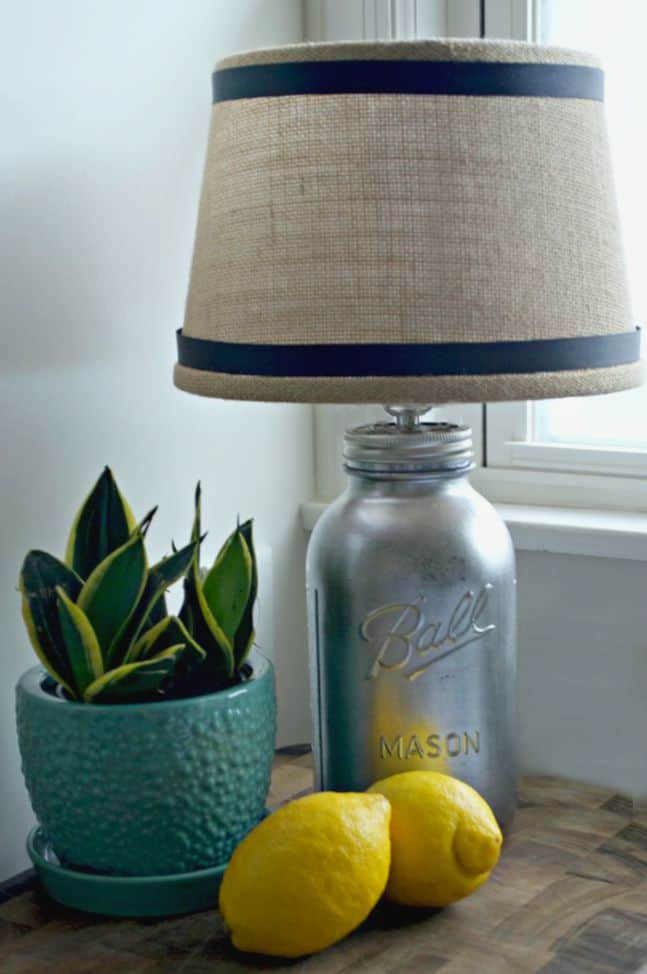 Besides bottles, a Mason jar can be considered an outstanding lamp project item. A matching shade will blend the lamp with the surroundings in the room.
Read: DIY Mason Jar Projects
---
22. DIY Lego Lamp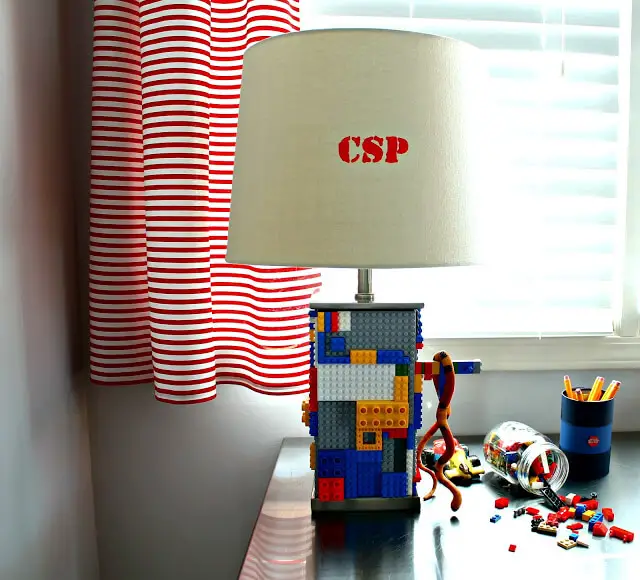 Lego for a lamp? It is another outstanding idea when it comes to DIY lamp ideas. The lamp looks both incredible and unique. It indeed makes the kid's room feels like a playroom.
---
23. Nature-Inspired Floor Lamp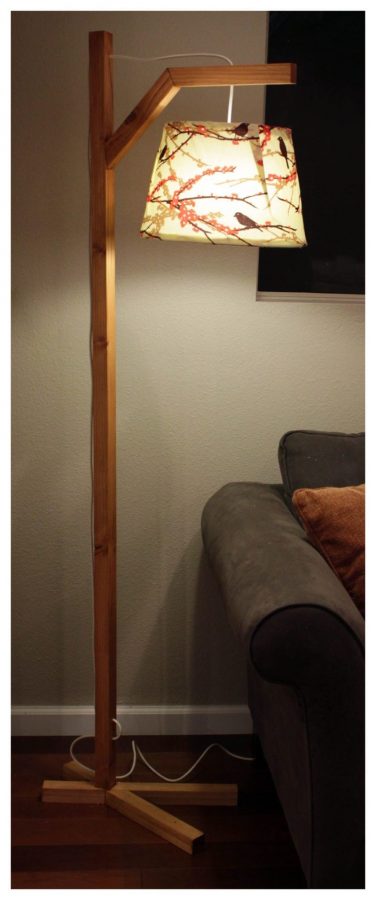 Besides having some table lamps and pendant lights, a floor lamp is also a great way to show off your house. A floor lamp inspired by nature is the perfect option that adds natural vibes to your house.
---
24. DIY Pendant Light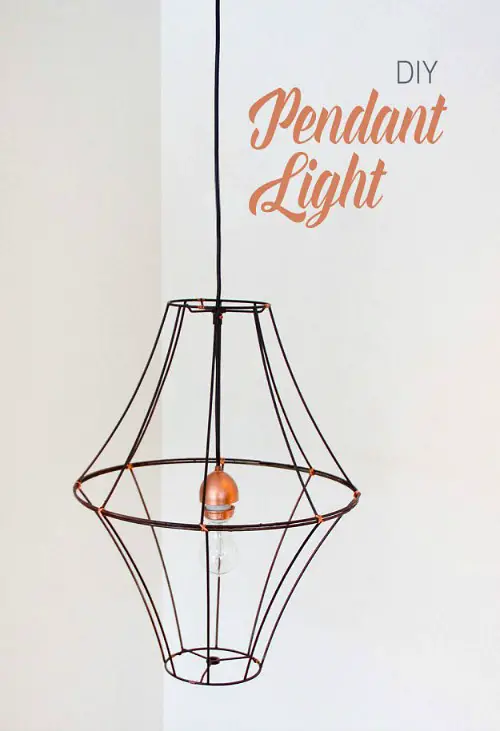 Doing the DIY for the pendant light looks fun as it's effortless. The pendant light is so simple but adorable. Not many details make it even more perfect.
---
25. Concrete Pendant Lamps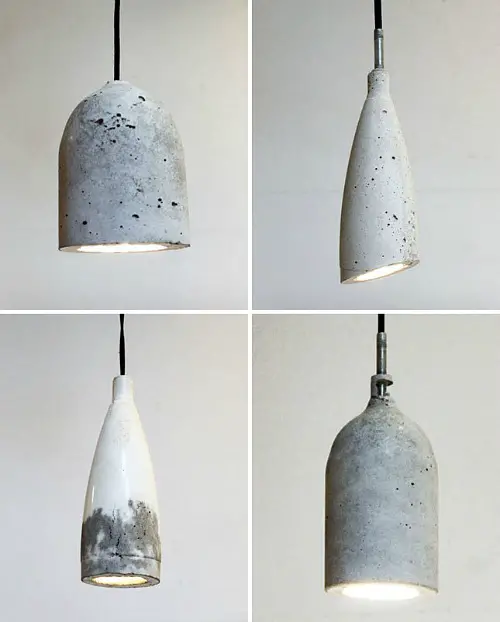 This piece of a concrete lamp gives a modern look of pendant light. You can put it anywhere to make the room brighter elegantly.
---
Inspiration can come from anything; the color of your room, unused material, or the interior of the house. Put all the important elements so you can decide which lamp ideas to make. There are many creative lighting designs that people can do once they set their minds.
You can take inspiration from DIY Lamp Ideas listed above. Who knows, it can be a fun activity to do in your free time. It is a satisfying feeling to create something homemade with your hand.  Do not hesitate to share your ideas and let others inspire others to do the same thing.
More from Materialsix.com: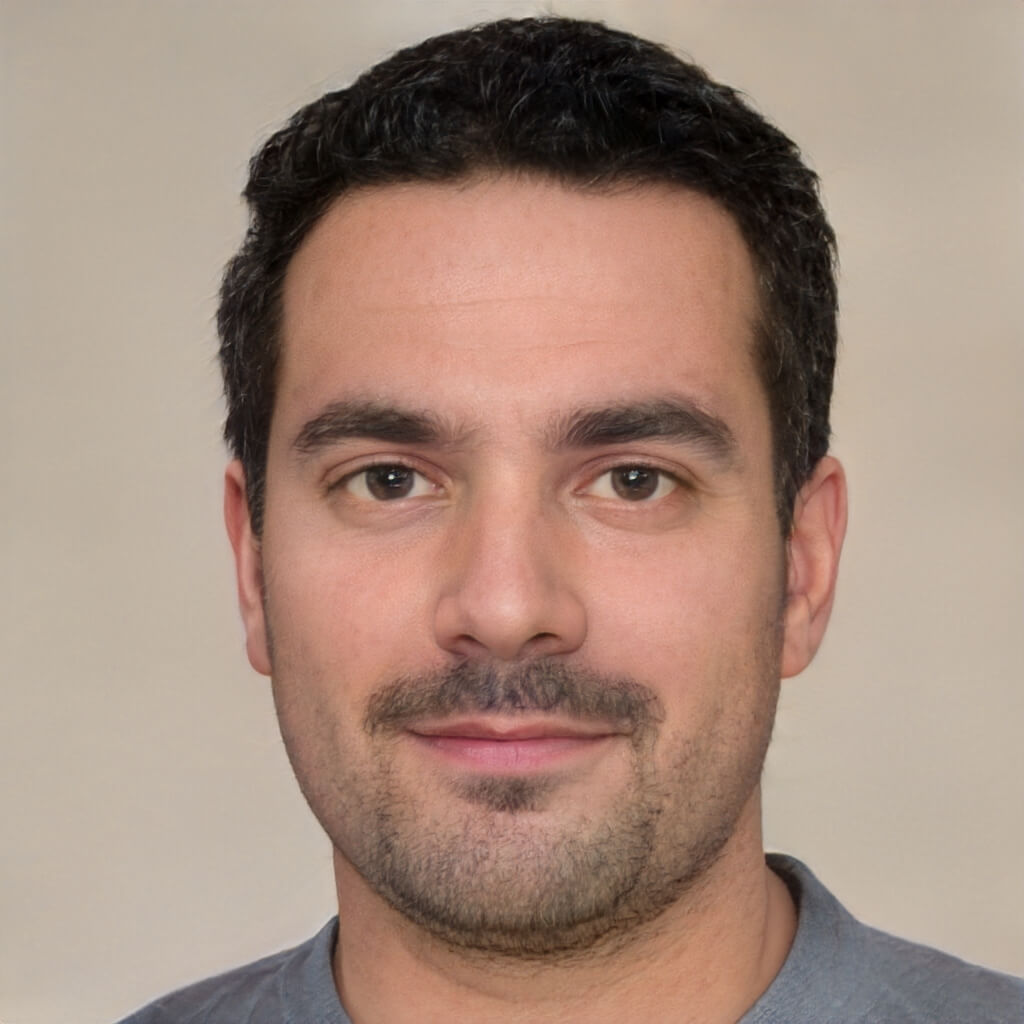 I'm a passionate home and garden enthusiast and the founder of Materialsix Home. With over 10 years of experience in the field, I've cultivated a deep love for all things related to home improvement, gardening, and interior design. Read more…