For household-scale recycling ventures, toilet roll craft ideas are always indispensable. It is because the paper tubes are the unused parts of daily necessities.
You will see not less than sixteen crafts on this page to help you get rid of them ingeniously.
Crafting toilet rolls will get you more than one benefit. Besides diminishing the possible piled junks, you also get to whet your creativity in a good way. Well, the list is as follows!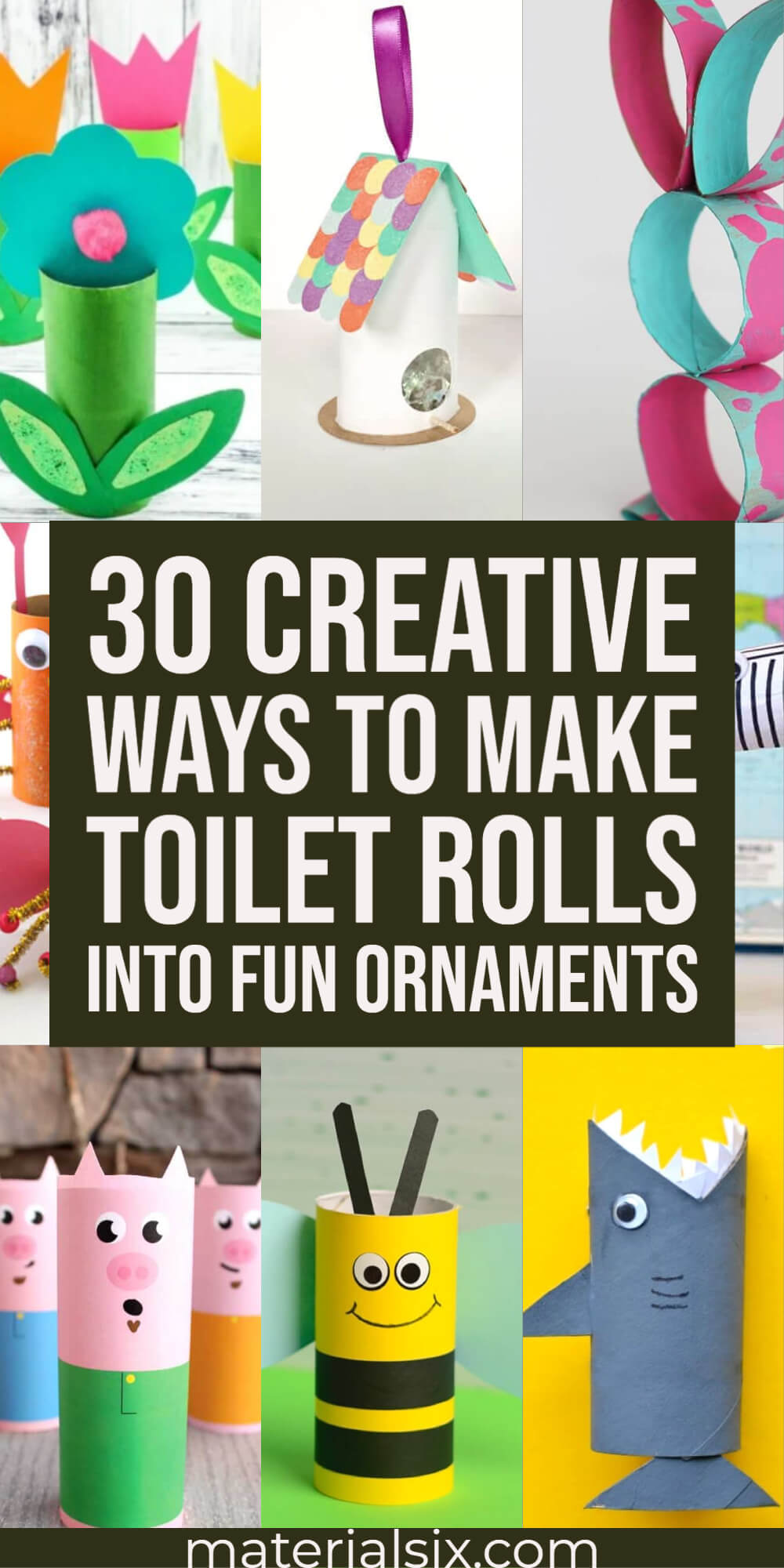 1. Upside Down Bats Toilet Paper Tube Craft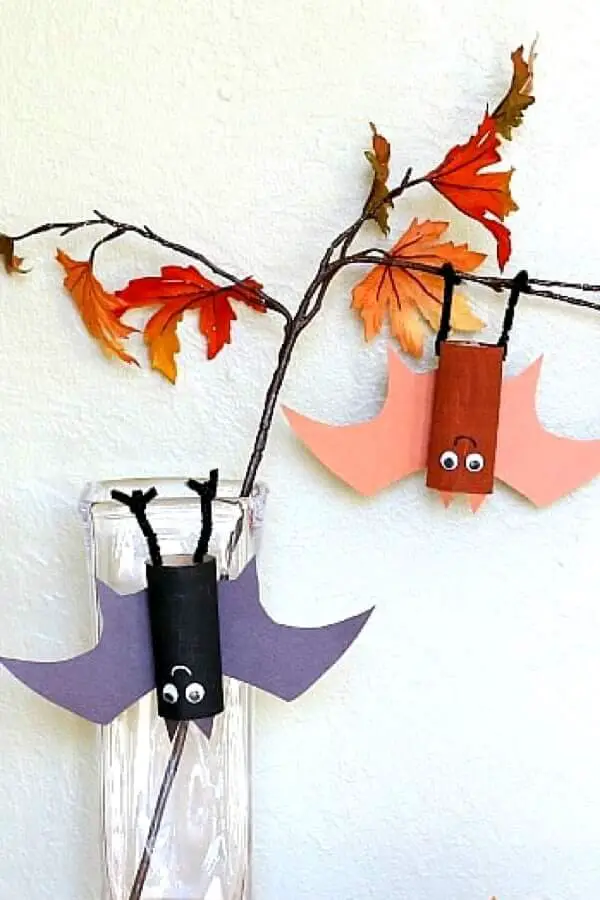 Craft ideas using empty toilet paper rolls are limitless. Most of them are typical, but that is not the case with these endearing little ones.
They can be parts of your house plants as decorative pieces or join the crowd of spooky details during Halloween.
2. Striped Zebra Toilet Roll Craft Idea for Toddlers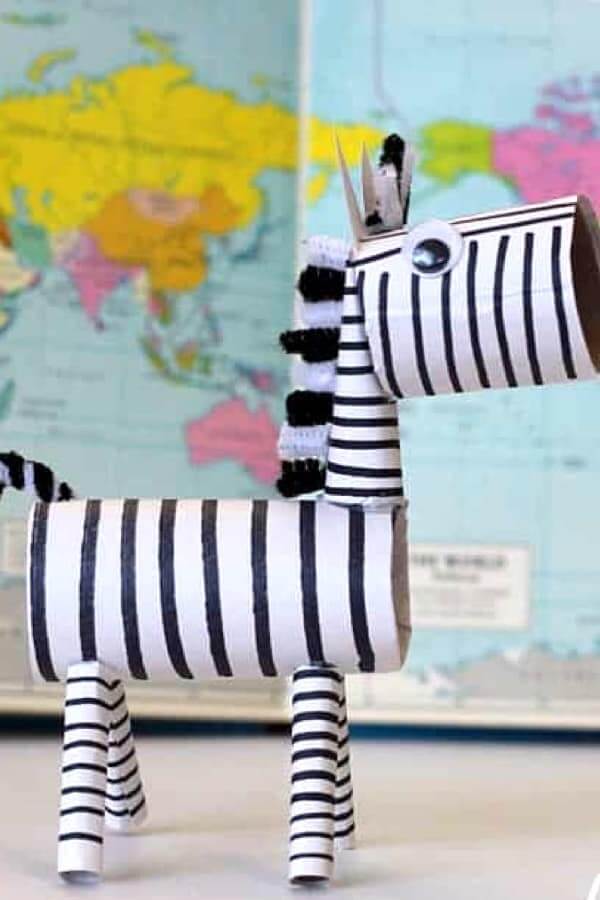 It is initially out of cardboard shaped into a tube. However, why make shapes when you already have some authentic ones?
This craft comprises a pair of toilet rolls, a black marker pen, together with black and white yarns. Do not fail to notice the eyes as cherries on top also.
3. Popular Movie Figures Toilet Paper Roll Craft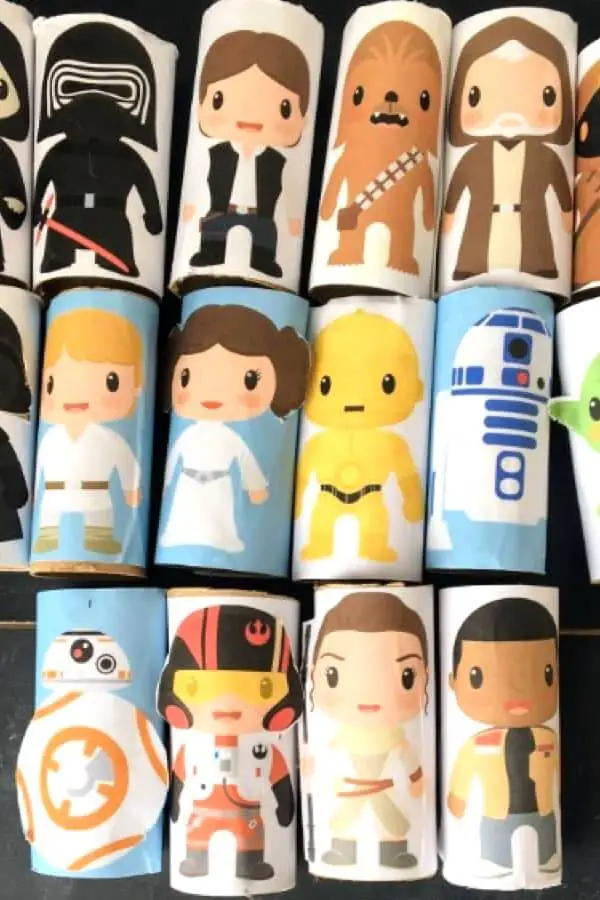 The displayed figures are from Star Wars movies, but other characters from different films are also workable.
It is as effortless as printing the figures drawings and pasting them onto the toilet rolls.
4. Floating Craft Idea – Airplane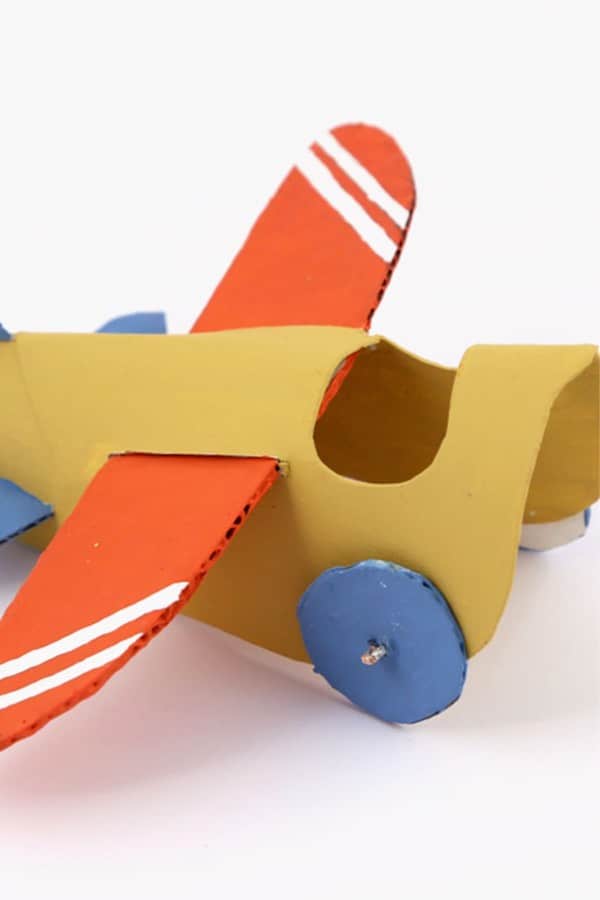 The idea is to use toilet rolls only with little involvement from acrylic paints. When you have them, you could also have some quality time with your kids.
Wait a minute, do you know that this craft could factually fly?
5. Gotham City Heroes Toilet Roll Craft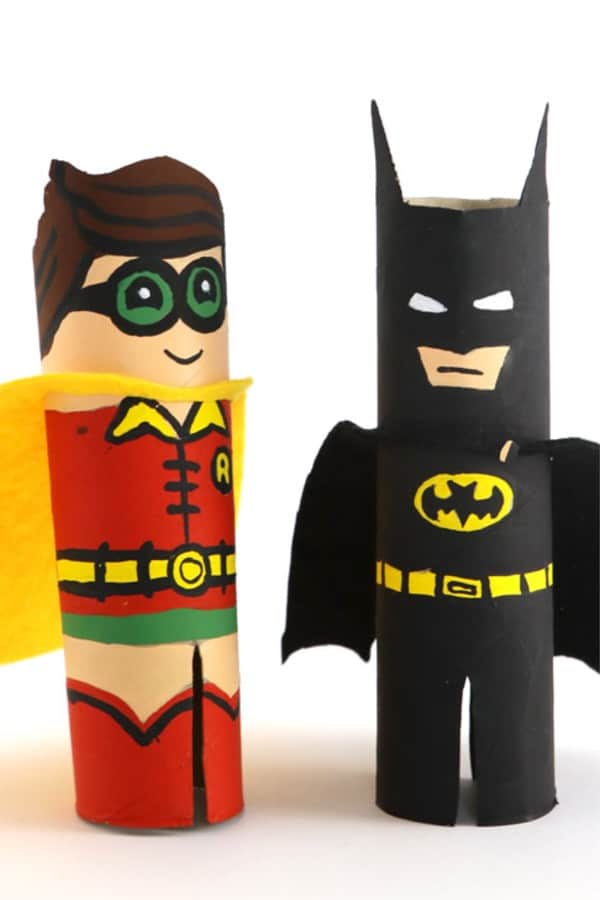 Batman and Robin have been in Gotham City for decades now. They surpassed your dad's era as a kid, yours, and even your children's.
Depart from here, crafting the favorite characters using toilet rolls will undoubtedly be fun!
6. One of A Kind Birdfeeder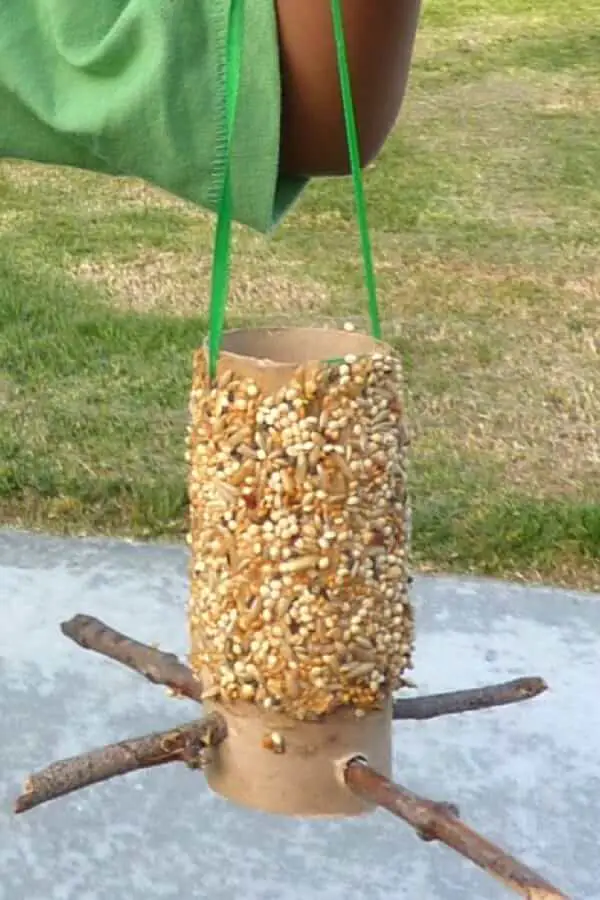 Even though it is a feeder for birds, other animals, like squirrels, will also eat off of it once you set it up.
Doing this toilet roll craft idea with your kids will be a good experience and opportunity to teach them to love another living being.
7. Sea Predator (Shark)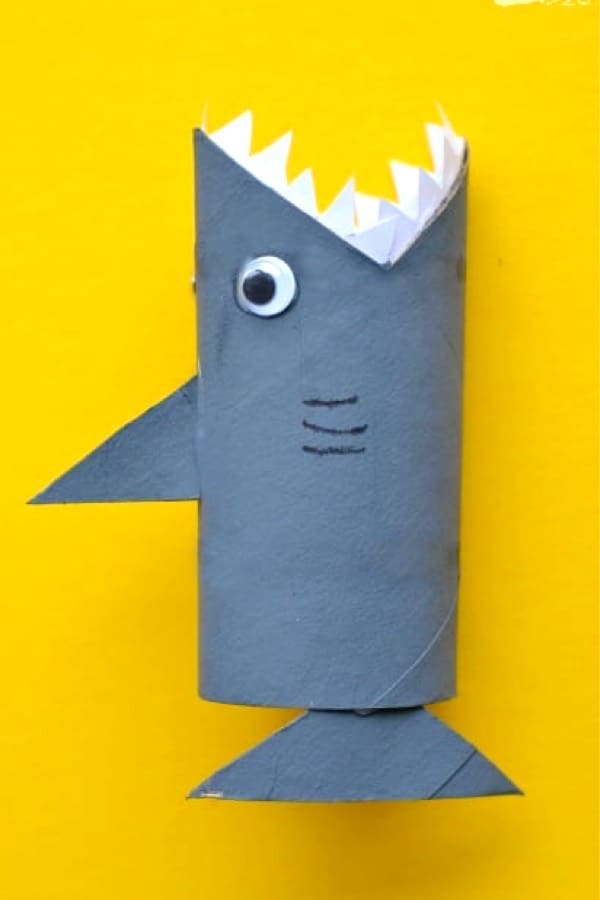 Do you know the illustrious children song Baby Shark? It might be the time to sing the rhyme while crafting some family members of the sea predator using toilet rolls.
8. Black on Orange Striped Tiger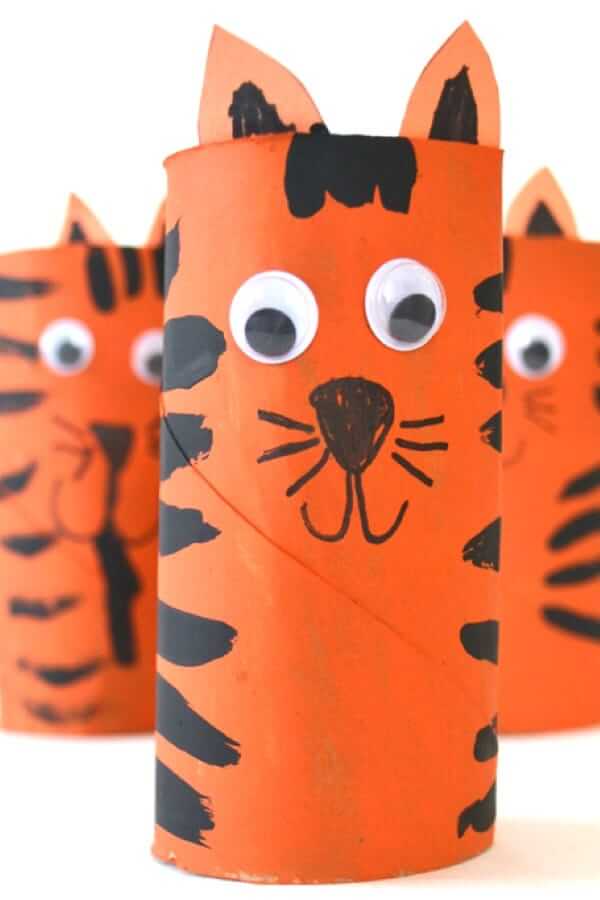 With this craft idea, you can recreate not only tigers but also an entire zoo! Take the chance to let your kids know about the animal kingdom without visiting the safari park directly.
9. Easter Bunny Structure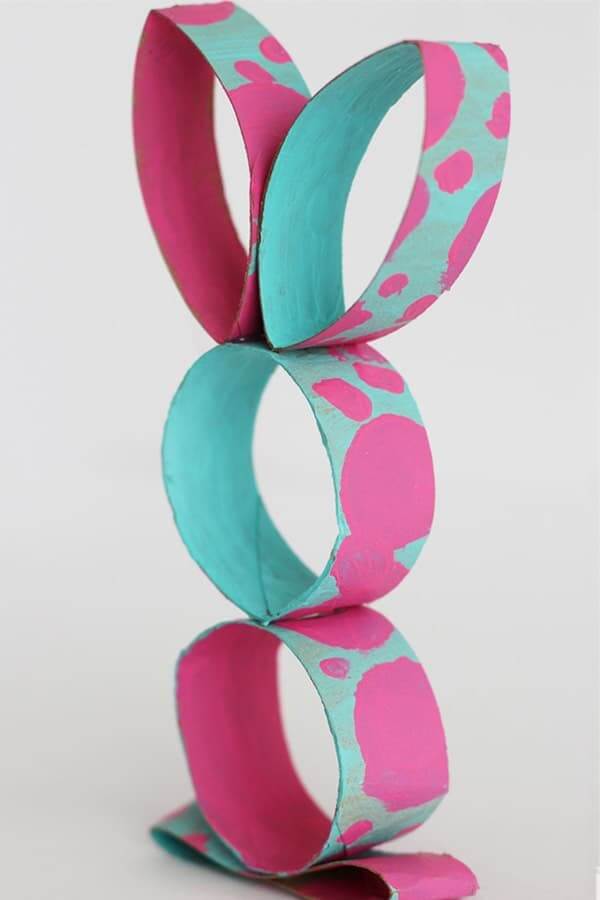 It is a nifty idea for next Easter! The color selections of blue and pink are so enticing. You can adopt the picks or go for another fascinating duo of your choice.
It will always be the center of attention wherever.
10. DIY Affordable Birdhouse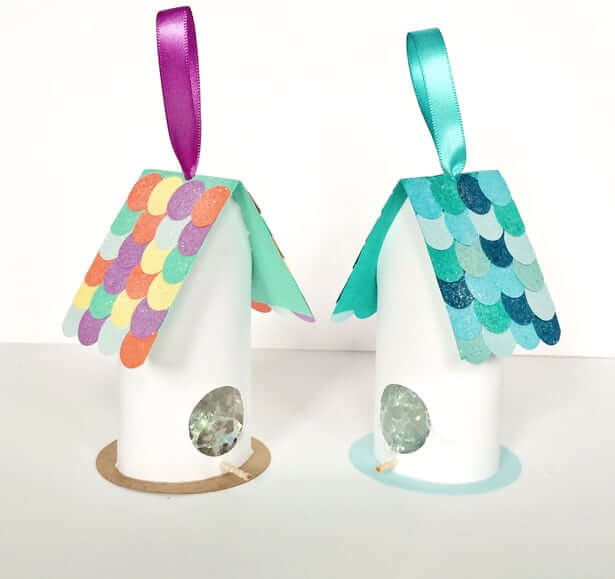 If feeding the birds is not enough, you can upgrade your handmade birdfeeder by adding a birdhouse next to it.
Make sure to set it out during the summer and spring seasons. There will be a crowd of new guests on your back porch.
11. Gingerbread Man Craft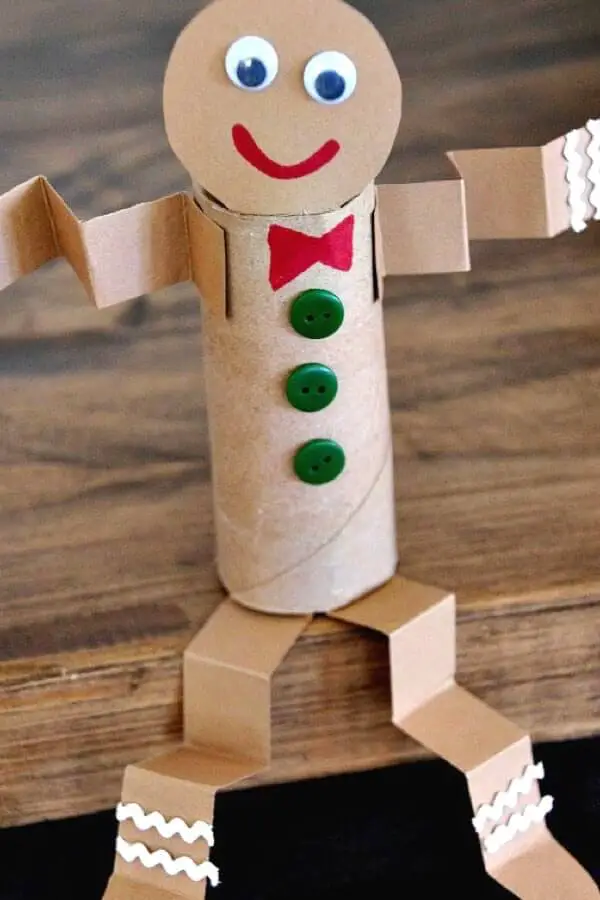 School holiday tends to be fun only in the beginning. After three to four days, your kids might be bored.
When it happens, this gingerbread will come to the rescue. It will entertain them since they can customize theirs to their liking.
Not to mention, the requirements are all easy to get.
12. Pine Tree Toilet Roll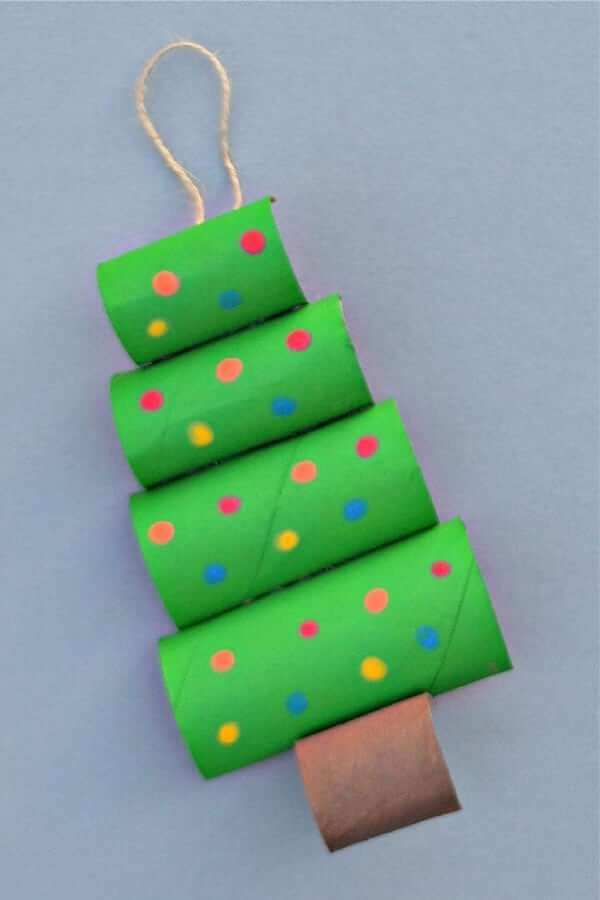 This toilet roll craft serves to be another holiday project. Pine trees are effortless to copy, anyway, and have been ornaments in plenty of forms.
13. Honey Collector Craft for Kids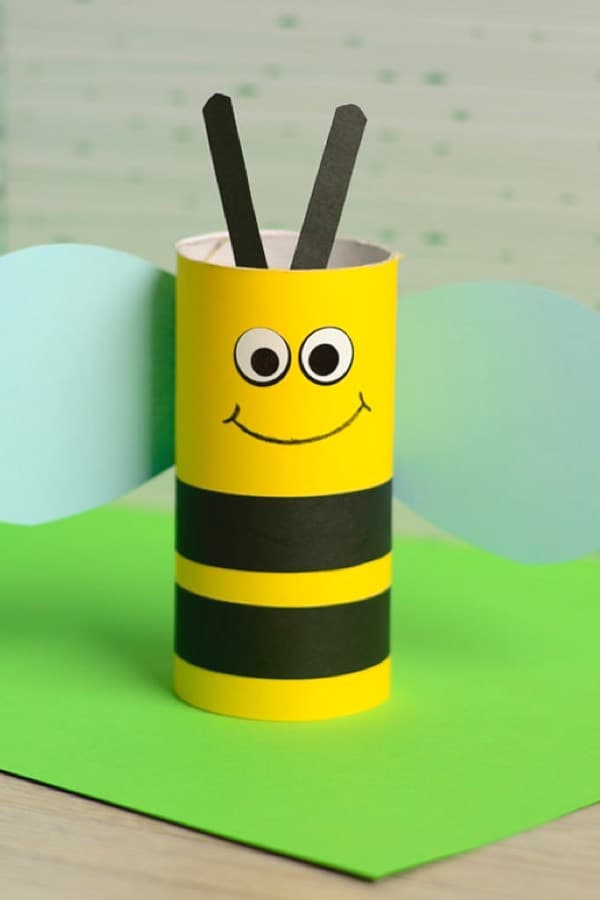 Do you know the bee philosophy? According to aviation theory, it is barely possible for bees to fly, let alone collect honey.
Therefore, a phrase to be like a bee means to do something purposeful even if it is impossible.
Is not it a valuable life lesson? You can inherit such a philosophy to your kids during crafting time.
14. Favorite Comic Characters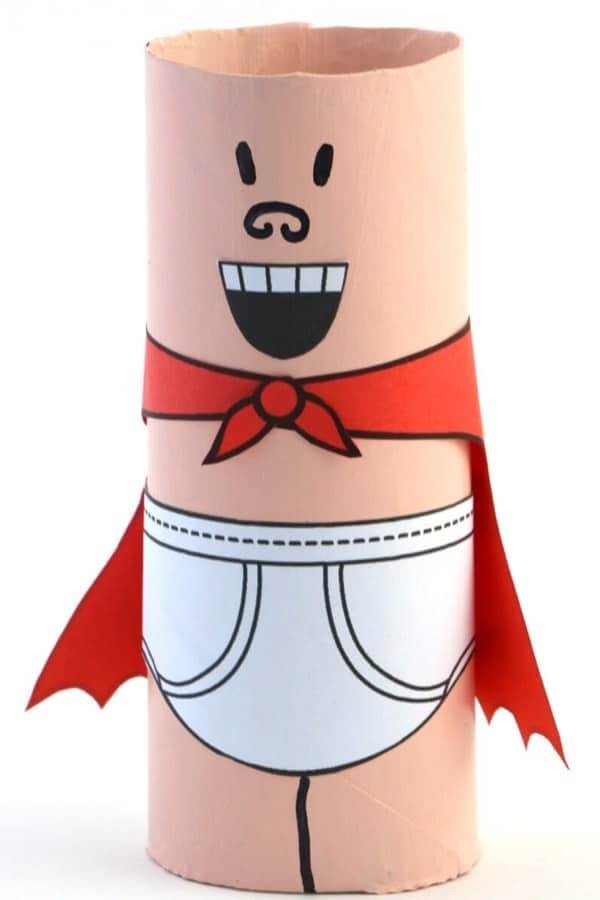 The example is the well-known Captain Underpants, but it is a hundred percent up to your liking if you have other favorite comic characters.
We have Batman and Robin previously as well, so it is flexible to create something else.
15. Unnerving Mummies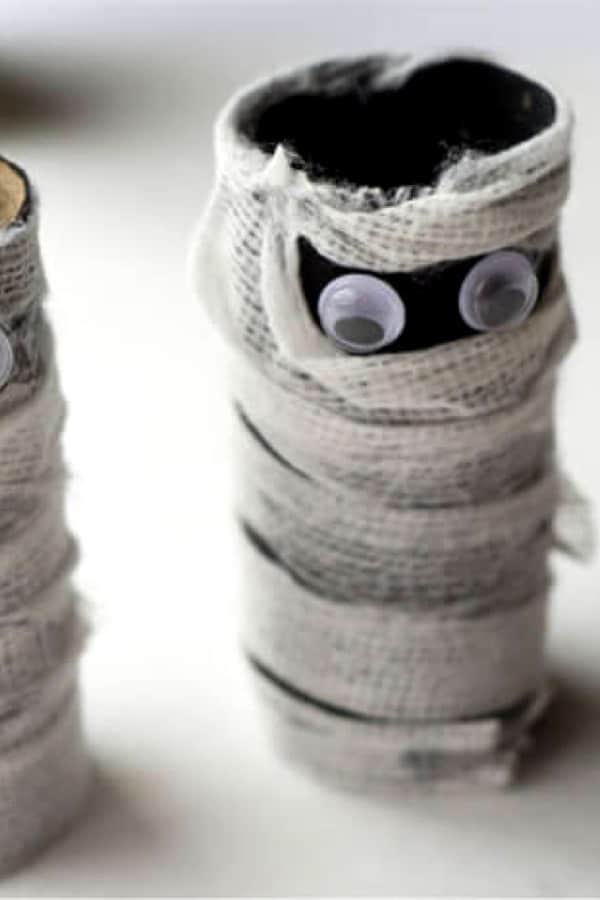 Mummy is not a rare sight, but knowing that this Halloween toilet paper roll craft is workable using gauzes is captivating.
It seems like these little guys could make your October 31st eerier for years to come.
16. Olympic Torch Replica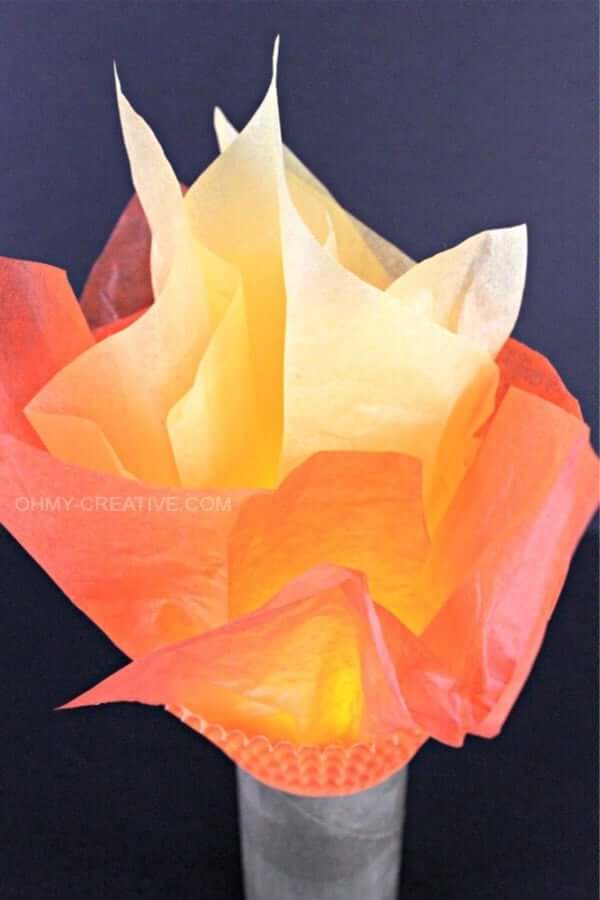 One of the historical moments during the Olympic Games is the opening when they light the torch to mark the beginning of the event.
You can recreate the exciting vibe by crafting the replica of the tea light torch and making your kids do the ignition. Do you know that it can factually glow?
17. Christmas Elves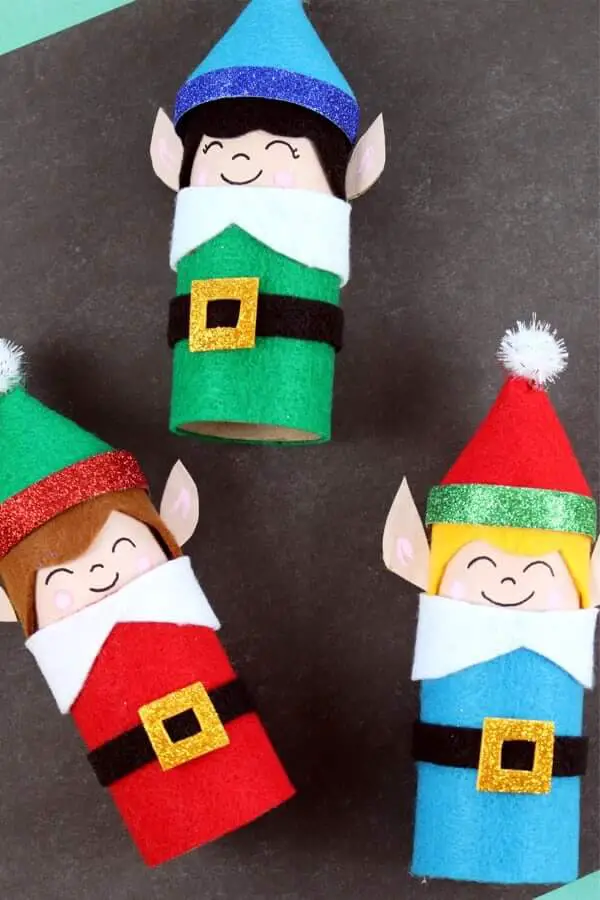 Christmas is a good time to work with some toilet roll craft ideas. Along with the kids, the fun will double. Besides getting all the fun, crafting can improve your kids' creativity. With these colorful Christmas elves from toilet paper tubes, your Christmas will be complete. Hang them on or line them under the Christmas tree.
18. Valentine's Gifts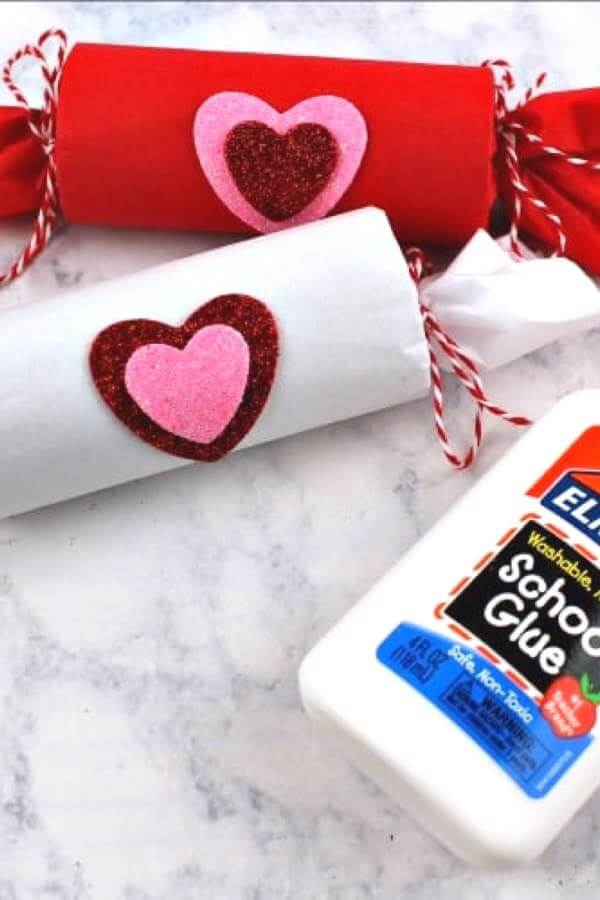 Valentine's for kids is nothing about fancy and romantic. It's about learning how to care for other people. Thus, if your kids celebrate the day, don't get confused. As long as you have a leftover toilet paper roll, you can use them to wrap some gifts. After cutting the roll in half, wrap it with tissue paper and secure it with tape. Fill it with sweets and tie it off using baker's twine.
19. Spring Flowers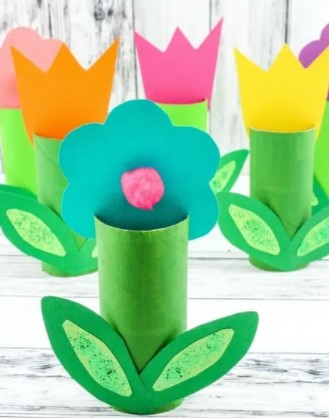 Are you looking for spring décor? Your love for crafts will be satisfied in this project. Creating spring flowers out of toilet paper tubes is unlike any other. The tubes make those flowers stand by themselves. So, instead of sticking some paper flowers on walls, you can line them on a table. Does the spring end? Those rolls will also look good for May Day and Mother's Day.
20. Little Mermaid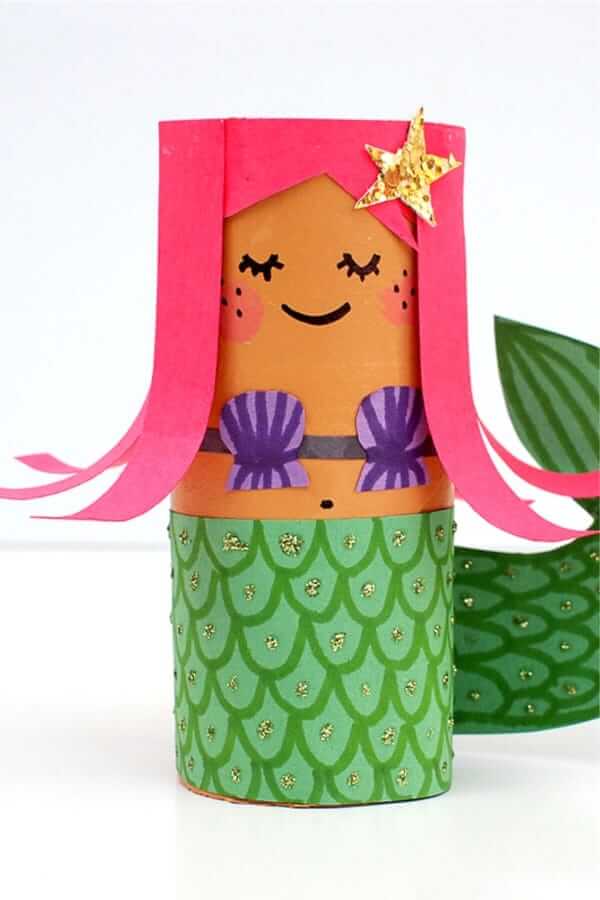 Toilet paper tube crafts also include a little mermaid. Rather than littering the earth with unused toilet paper tubes, why don't you use them to create some doll your kids need. Use it to get closer with your kids while telling a story about Mermaid. You can create other characters that you want to tell the story about.
21. Winter Animals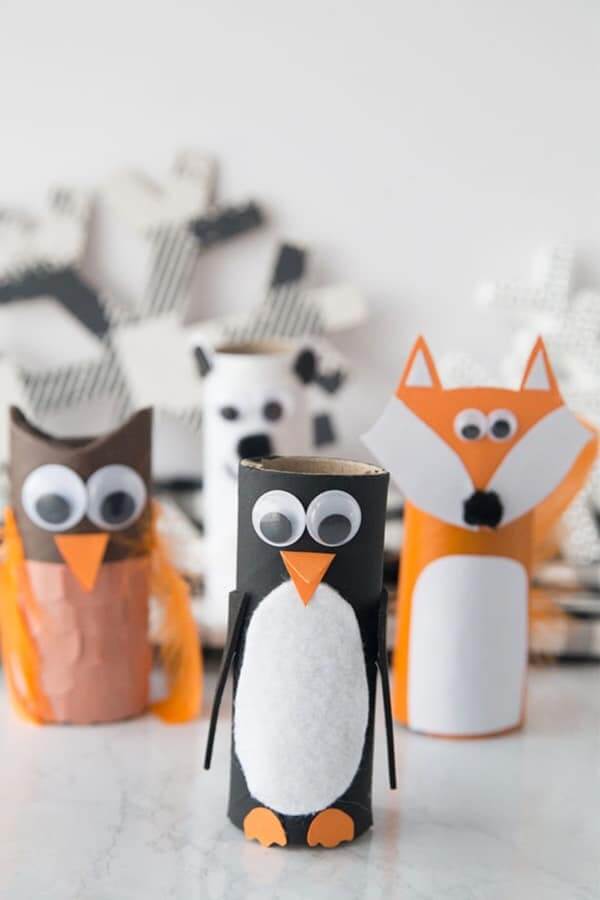 Has the winter come? While getting warm around the fire, why not craft some animal in the season? Try crafting some animals as the picture sees. Use some paper, feathers, fabric, and paint to make it look like real animals.
22. Bugs for Valentine's Day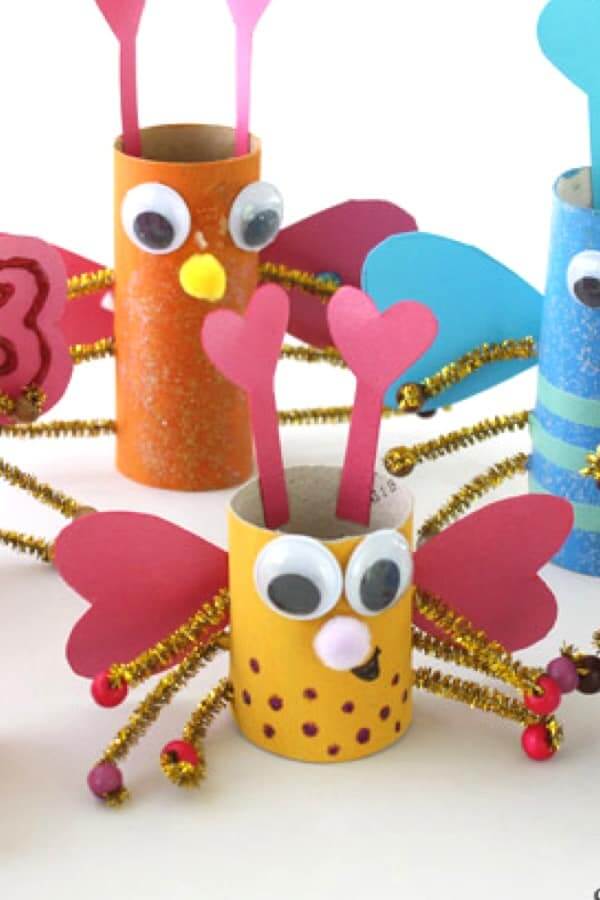 Besides gifts, you can prepare some decors for the day of love. As it is for kids, you can make some cute little bugs that resemble the day. While the toilet roll serves the body, add glue some paper for the wings and antennae in the heart shape. It is for Valentine's Day, after all. Use pipe cleaners for the legs and attach some beads at the ends—the rest is yours.
23. Leprechaun's Hat Craft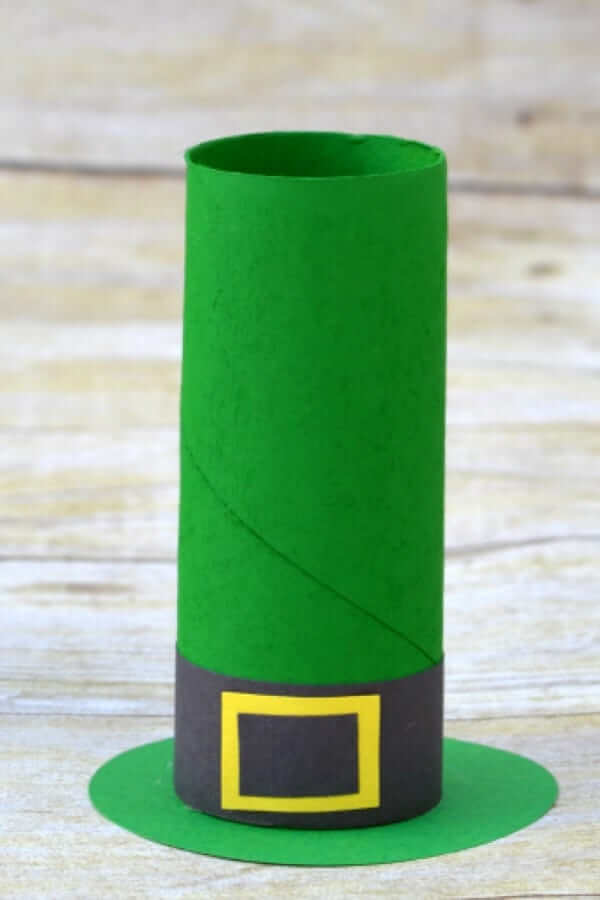 When you see Leprechaun's hat, don't you think it is time for a toilet roll craft project? As the toilet paper roll has a lot of similarities with the hat, you don't need many materials to prepare. Simple paint the tube in green and cut a green paper in a circular shape for the base of the hat.
24. Grinch in Christmas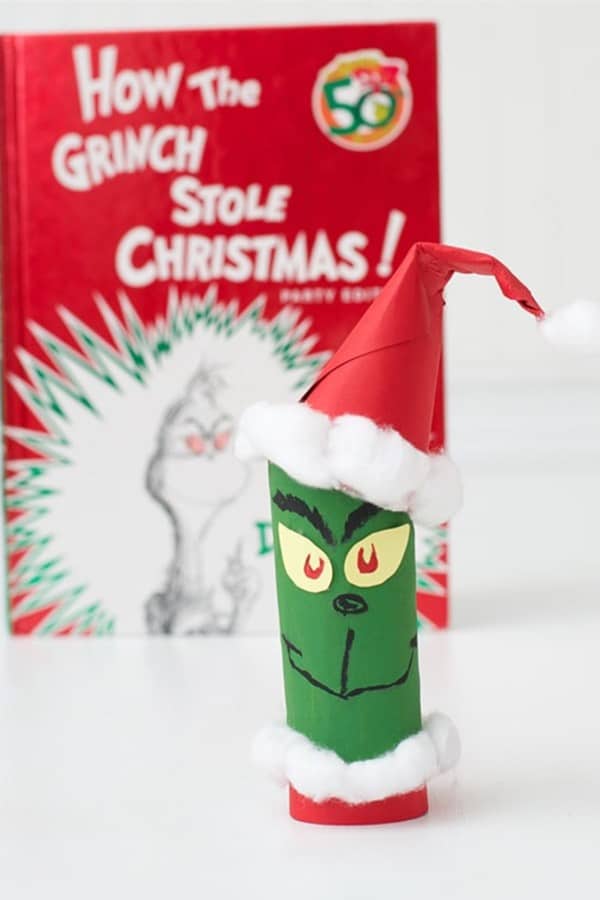 It can be one of the easy toilet roll craft ideas. Draw the Grinch face on a green roll. Then attach some cotton and red papers for the hat and suit.
25. Fire Breathing Dragon's Head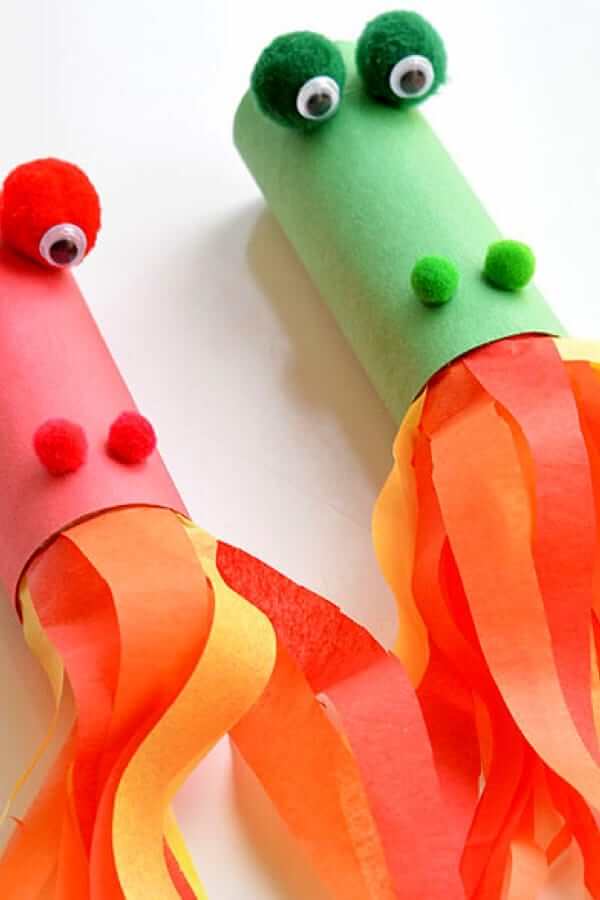 If you don't want to make a mess with paint, this dragon's head idea is for you. Glue a color paper on the toilet tube for the head. The rest of the work is about gluing pom poms for the eyes and nostrils and some orange and yellow tissue paper for the fire.
26. Little Angel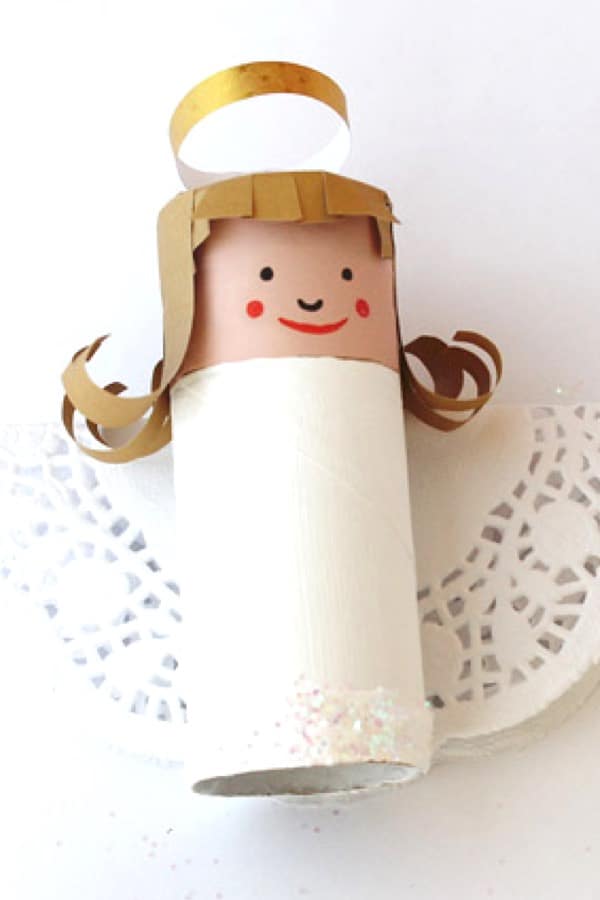 Kids' life is about angel and other imaginary creatures. Create this toilet paper roll craft to be hung on your kid's bedroom ceiling or put it on a table. You will need construction papers for the hair. To curl the hair, curl the paper around a pencil. For the wings, you need small, doily paper.
27. Four Season Trees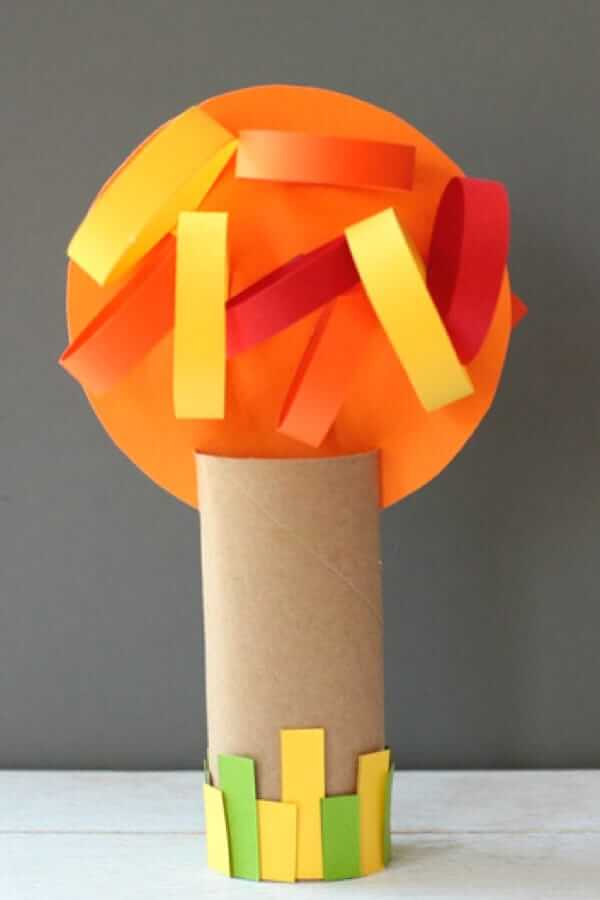 It can be the perfect time to teach your kids some scissors cutting skills. The recycled toilet paper rolls can be some strong trunk. You will also need cardstock as the base for the leaves, glue, and construction paper. The leaves are stripes of construction papers glued into circles.
28. Dr. Seuss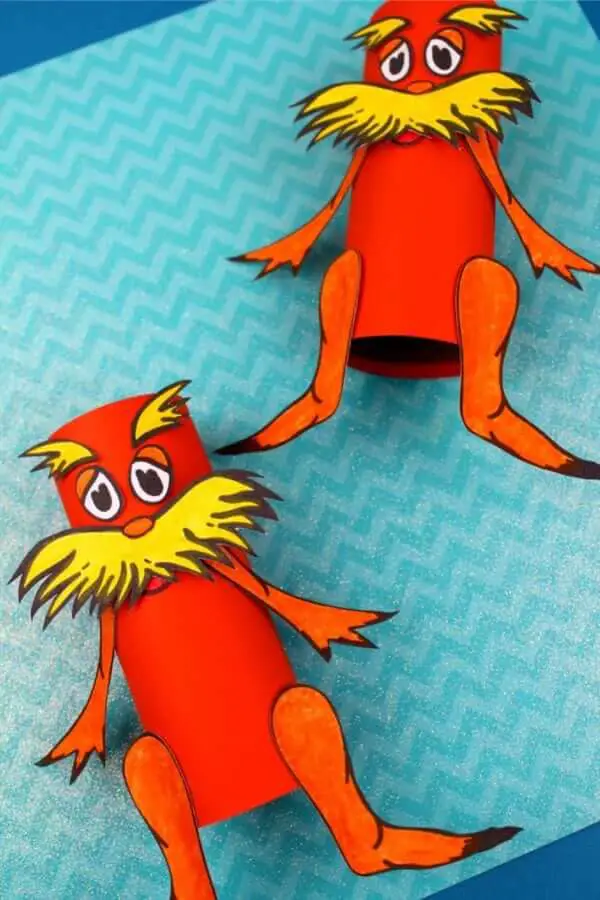 Does your kid love "The Lorax" movie? It is one of the easy toilet roll crafts your kid can make. Your kid may need some help to cut the eyebrows and mustache. But they sure can glue the rest.
29. Snowy Owls for Christmas Tree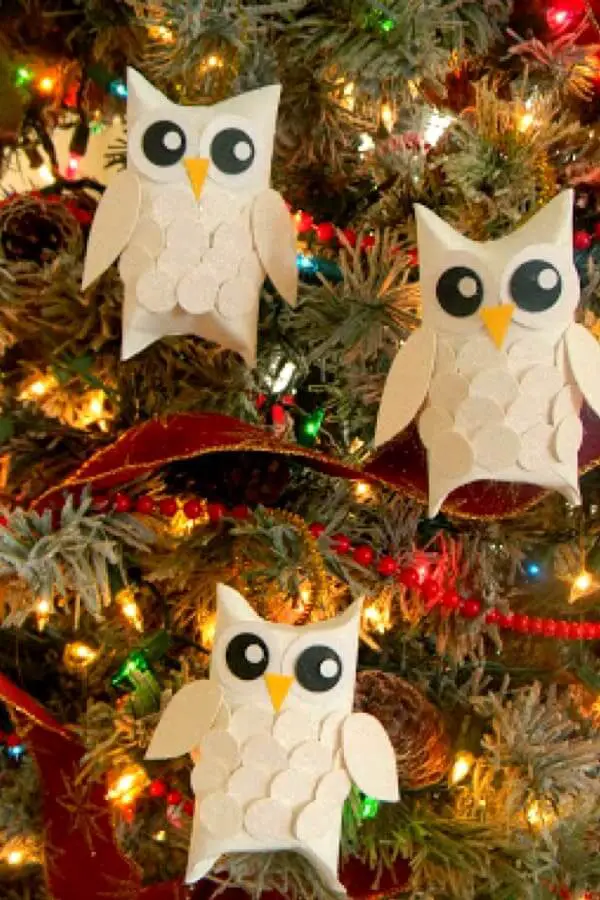 You can always craft your ornaments for the Christmas tree. Get the ears and legs by folding the ends. Cut some cardstock for the eyes, beak, wings, and feathers. Glue them using a glue gun, so they stick well.
30. "Inside Out" Characters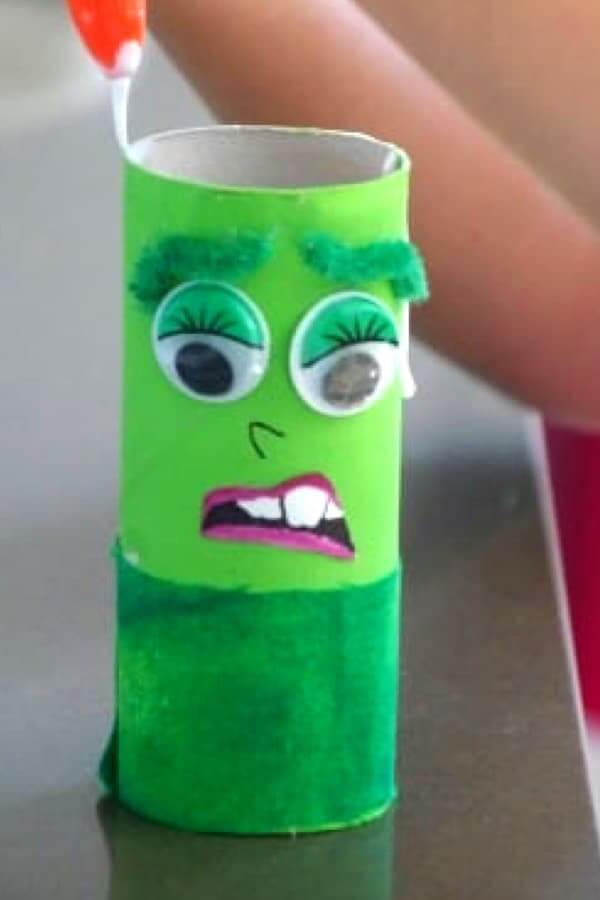 After watching movies, your kids probably want to be the movie character or buy a doll. But, if you can convince them to help them create all of them, why not? Use those leftover toilet paper tubes and start crafting.
31. Dragon Pencil Holder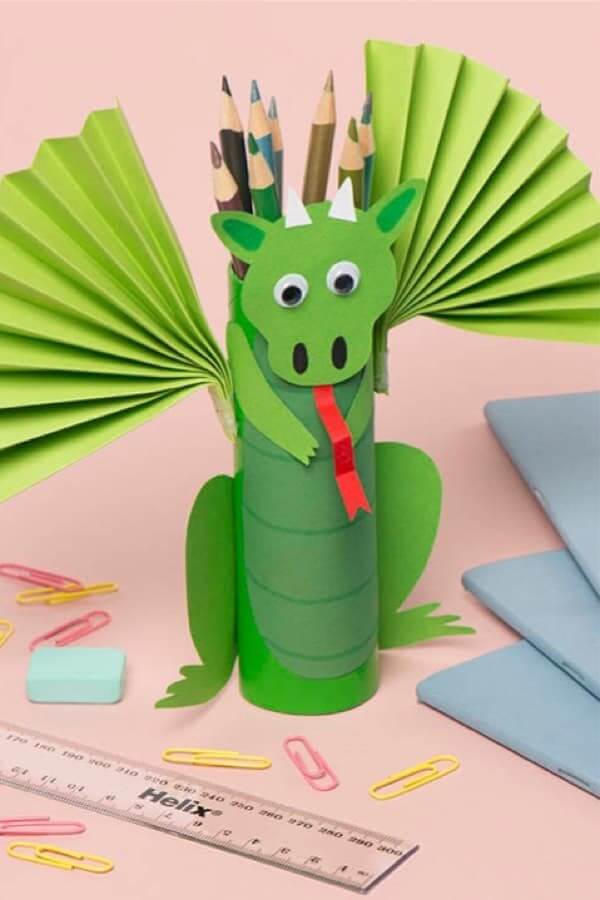 The fun thing about toilet roll craft ideas is that you can create any practical thing. So, teach your kid to organize their pencils by making this holder, improving creativity and discipline at the same time? Why not?
32. Three Little Pigs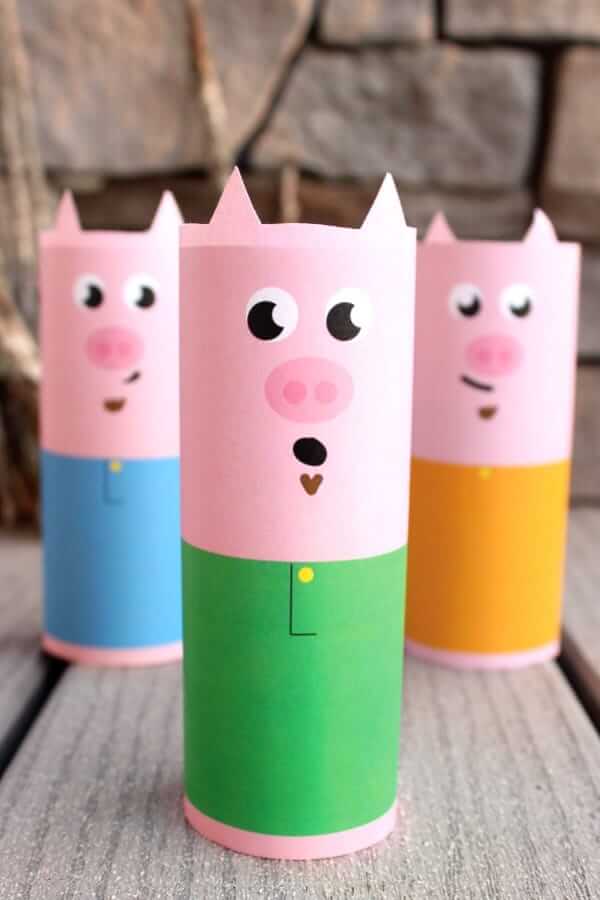 Kids can find it boring when they are only asked to listen to a story. But that won't be the case this time. They can move around with these puppets from the "Three Little Pigs" story.
***
Finally, what kind of toilet roll craft ideas do you like most? All of them are fun to try.