What do you think about the under-deck landscape? Is it a group of garden plants under the stairs? Or a set of table chairs to enjoy the evening view? I understand that everyone has a different vision.
Thinking about under deck space ideas may be the first thing in mind when you build a raised porch in one corner of the house. Especially if you live on a narrow land, who is willing to let the land go unused?
However, I admit that building under deck landscape is quite a challenge. More than just filling in empty spaces, you also have to make it artistic so that it doesn't create a dirty impression.
For those planning space utilization below decks, let me show some ideas to inspire your landscape design plan.
Read also: 16 Stunning Deck Decorating Ideas on A Budget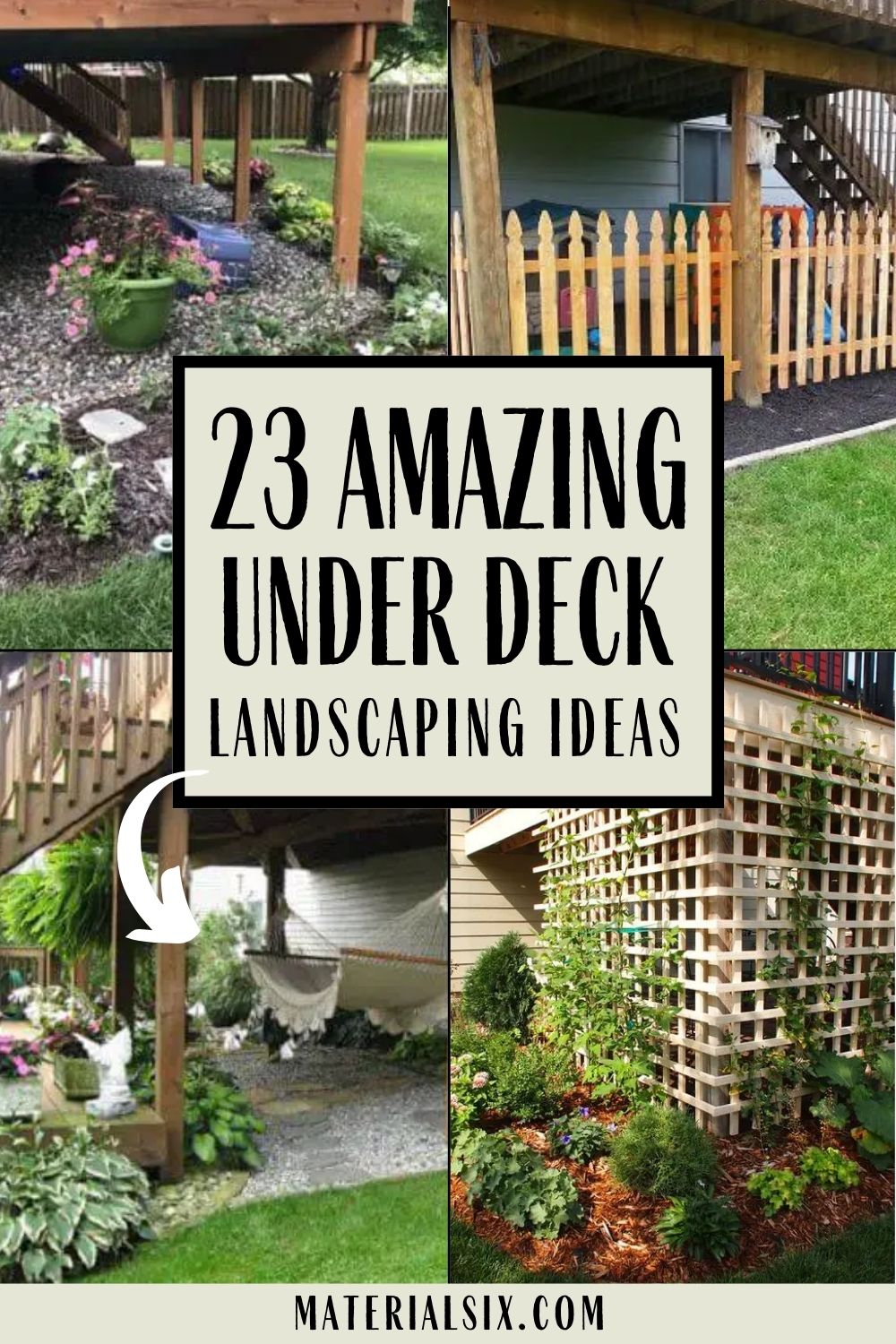 Under Deck Landscaping Ideas for Every Need
Among the many obstacles, finding a design is one of the most complicated things in building under-deck landscaping.
Like the interior, doing exterior things also requires a lot of consideration, starting from the area of space, land conditions, and so on. Here are some landscape designs for you:
1. Dense Patio below the Deck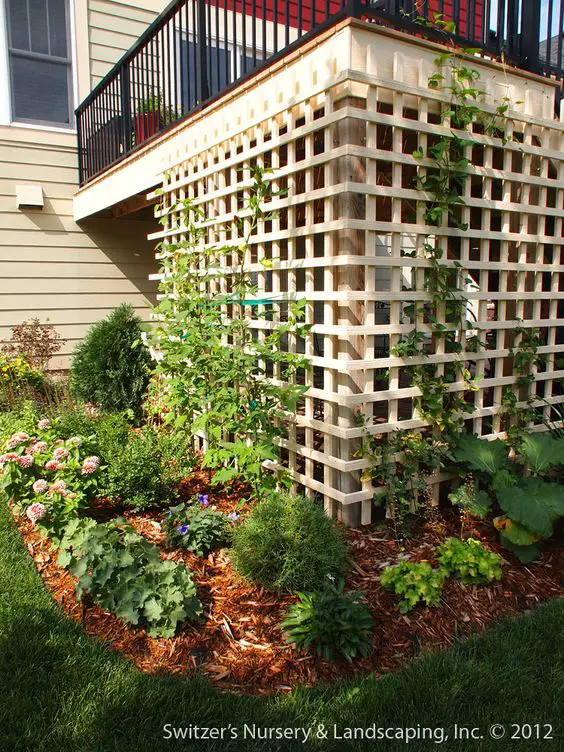 Among the many ideas, one of the most simple but effective is using under deck space as a patio. No need to be too fancy and broad, just need a simple decoration to make it look catchy.
In the picture above, the lattice-like material seems to provide beauty and protection from the sun's rays. Additionally, give decorative vines and garden steps to make them greener and more beautiful.
2. Heavenly Patio with Swings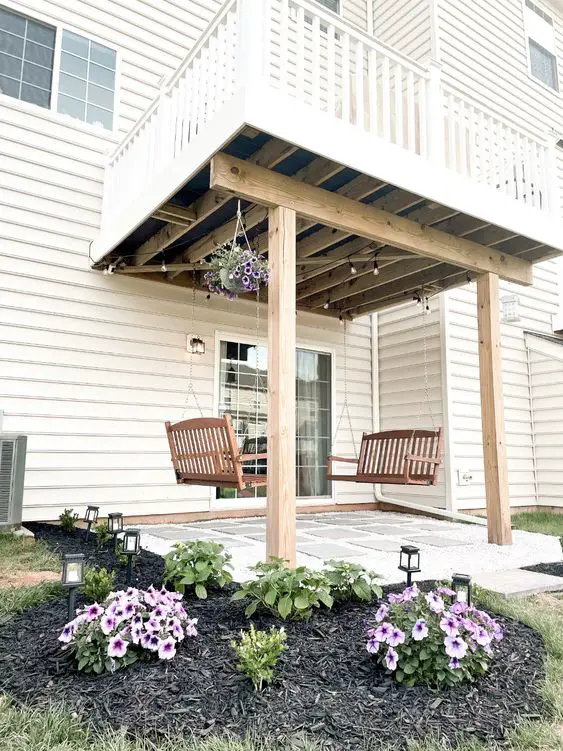 For those who are looking for under-deck ideas instead of lattice, this idea can be a consideration. Just present a heavenly garden feel with a beautiful all-white tone.
Like a place to relax, you need to add seating to this small patio. But instead of adding a chair, some swings will make it unique and playful.
One thing that impresses me with the design above is how the minimalist arrangement gives peace while enjoying landscapes. Maybe it was because of the pretty flowers around it.
3. Some Steps under the Deck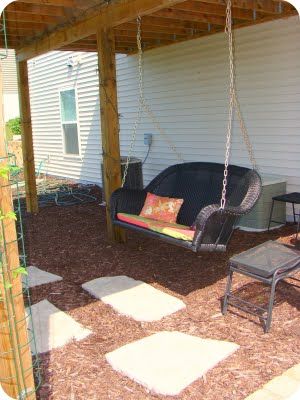 The under-deck landscaping is slightly different from the heavenly patio design though they both have swings. It makes us go back to nature with no flooring underneath.
Instead, I suggest a few steps around the swings and table. There is no problem stepping on the ground directly because the function of these stones is more of a decoration.
In addition, the existence of steps will also be helpful when it rains to avoid muddy ground. For the rest, you have to enjoy landscaping time under the deck.
4. Relaxing on the Rocking Chair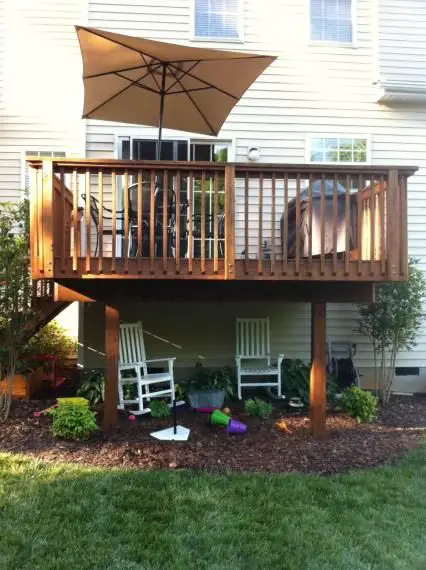 I admit that installing swings under the deck is sometimes not easy. Apart from being a complicated process, please consider the strength of the seat to avoid bad luck.
That said, there are still easy ways to swing and relax in the shade under decks. Why not put some rocking chairs and other supporting furniture?
In the picture above, the design is effortless but quite effective in terms of space utilization. When the weather is tiring, the seats seem more than adequate.
5. A Small Hall under the Deck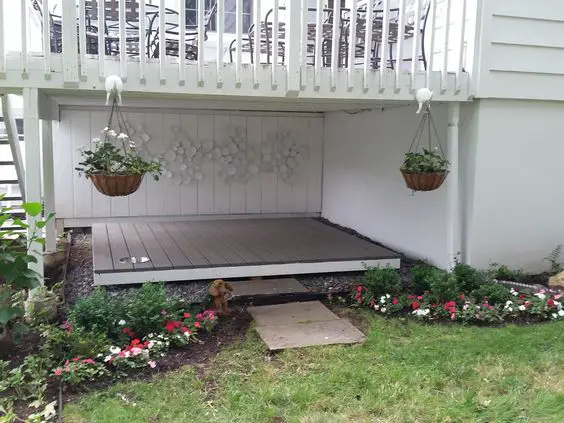 Another way to utilize the space below the deck is to build a multi-purpose mini hall. Then, design it as beautifully as possible with simple but elegant plank flooring.
Don't forget to add wall decorations, hanging plants, and simple steps around it. Use this space to relax, chat, and play with your pets. This design is even prettier if you add an artistic green garden.
6. Beautiful Garden under the Rustic Deck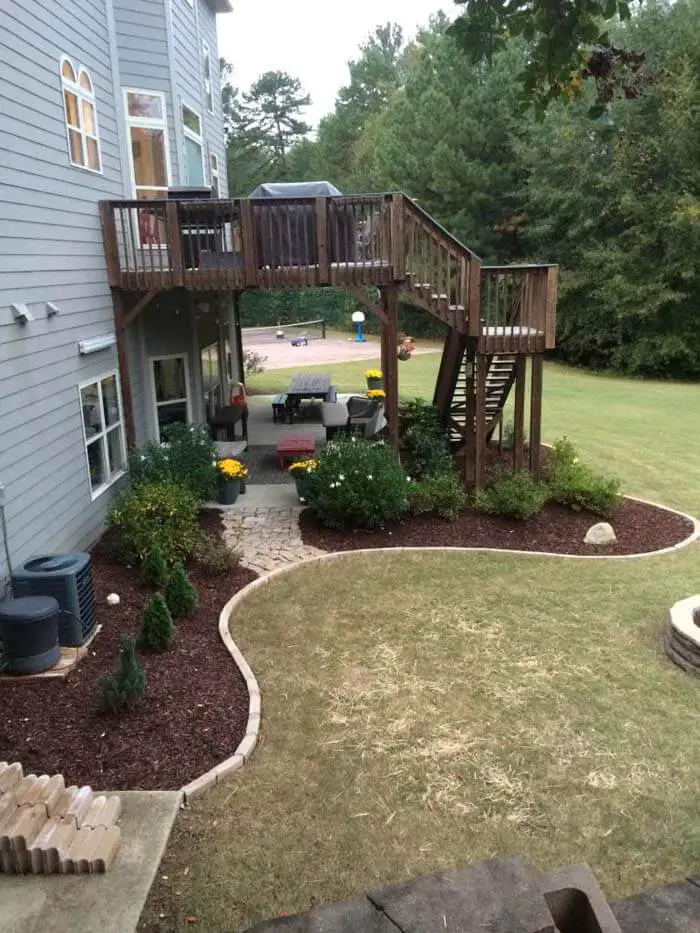 What could be more enjoyable than a beautiful garden and a high deck? As I can see in the image above, there is a space with several design concepts combined.
But what stands out the most is the rustic nuanced deck which looks very Instagram-able.
Below is a terrace with classy stone and concrete flooring, which looks beautiful with its bush and flower decorations. It seems like the afternoon will look perfect from this side.
7. A Rocky Landscape under the Shade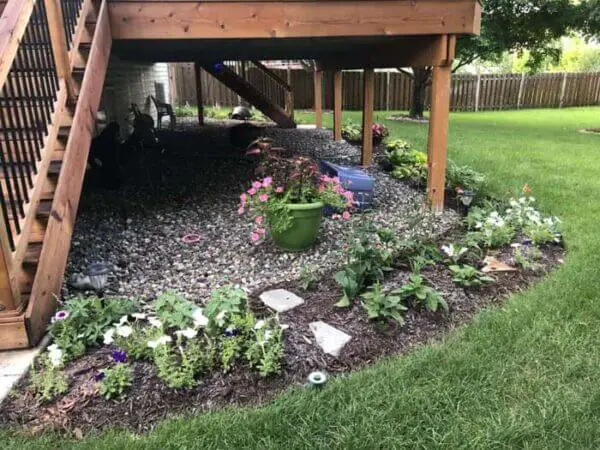 Having a low deck is not an obstacle to having a beautiful landscape. Likewise, turn it into the catchiest spot in the house.
See how beautiful the lower part of the deck looks with charming small stones while the area around is full of grass. A barrier between grass and gravel also sweetens the scene.
8. Hammocks for Sleepers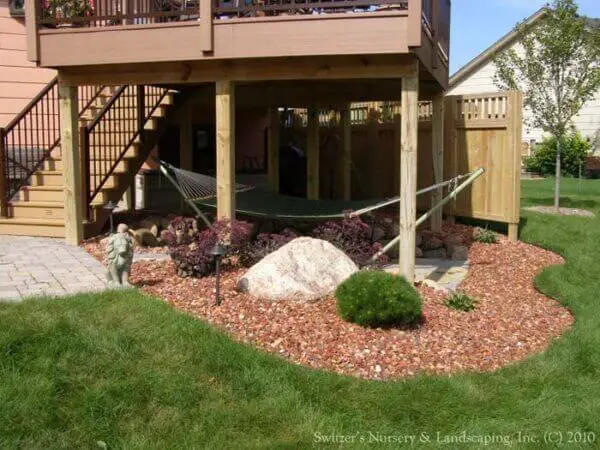 Building a landscape is not only about flowers and grass. The thing I like most when I'm in the park is lying down while enjoying the breeze. And finally, I found this design.
Hammock under the deck is the best idea to enjoy nature without worrying about sunburn or rain. To make it attractive, add decorations and flooring in the form of rocks. Some greenery would also be a great idea.
9. A Harborage behind the Bush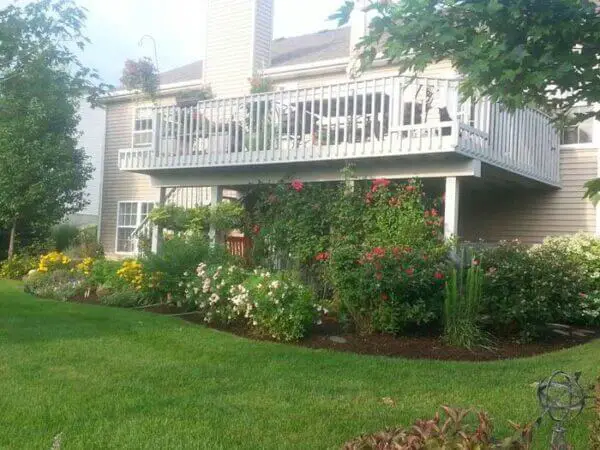 Landscaping can also be a way to maintain privacy. You can see that the owner of the house has placed several tall plants to limit the view of people from outside.
However, surrounding the under-deck area with plants is not merely a matter of privacy but also protection.It will help ward off rain and heat on the terrace while refreshing the atmosphere with green.
10. A Beautiful Garden on the Sloping Ground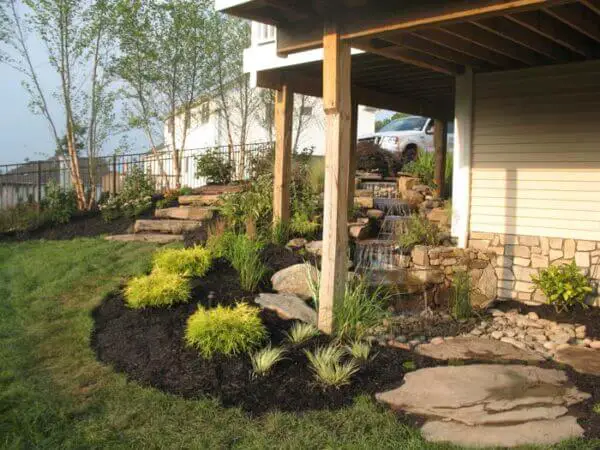 Arranging to landscape on sloping ground is sometimes very fun because you can explore with ladders and cascading waterfalls. One example is visible in the image above.
Apart from a garden full of green grass, you can also take advantage of the under-deck area as a shelter, complete with a charming view of water terraces.
Natural nuances will shine even more with natural components such as rock-like flooring and wooden stairs. Besides, you can put some steps as a finishing touch.
11. Gravel below the Deck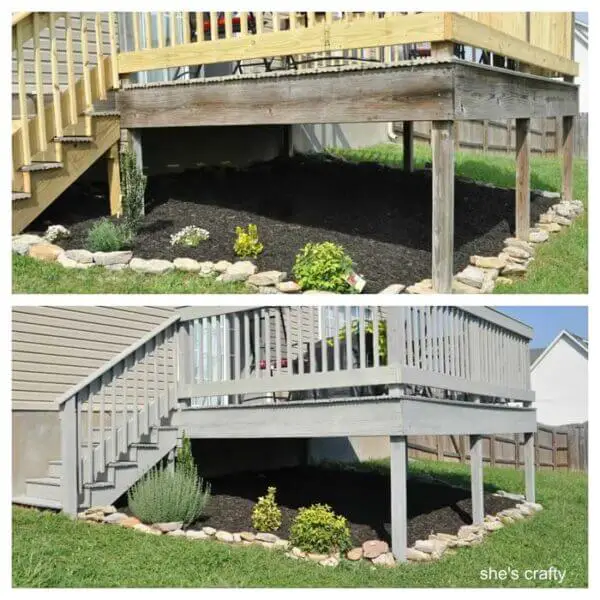 For various reasons, placing decorations below the deck is sometimes not a wise choice. For example, if you use old wood or have a less sturdy structure, it is not advisable to do too much exploration.
However, I will recommend giving it a simple yet classic touch with some gravel below. It will be easier; since building something below the low deck will be complicated.
As a sweetener, you can also place piles of rocks as a barrier between grass and gravel. Some mini plants will make the atmosphere livelier.
12. Green and Dark Brown Combination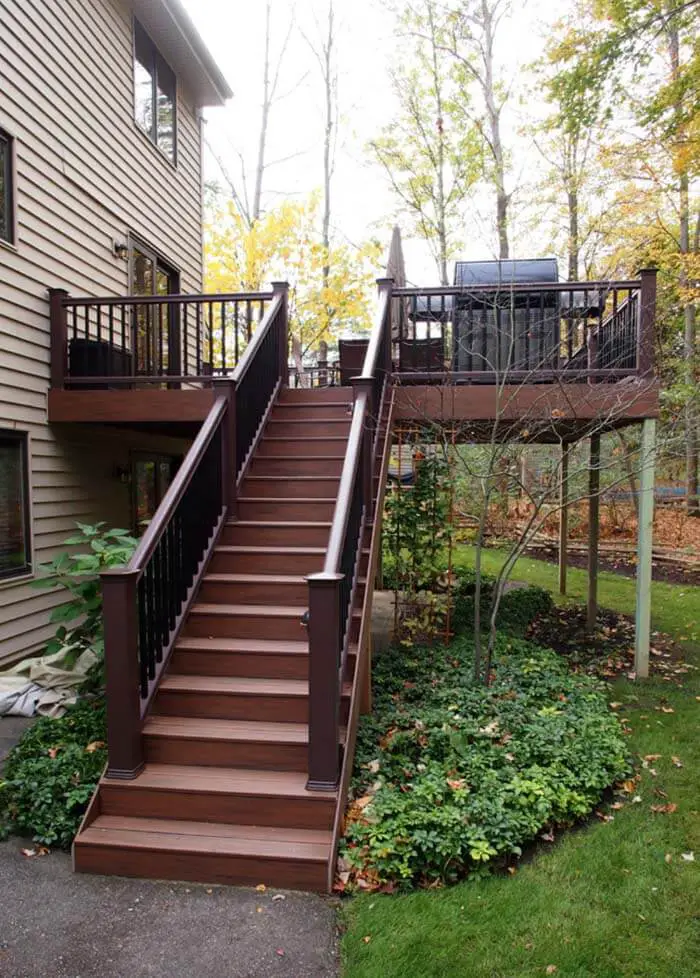 If you have a fully furnished deck with adequate height, beautify it in various ways. Let me recommend you a beautiful green landscape like the photo above.
The space under the deck looks beautiful among bushes and short plants. Besides, the plants function as a barrier between the terrace and the grass.
Moreover, the landscape is getting better with a supporting fence full of vines.
13. Stoned Terrace on the Sloped Ground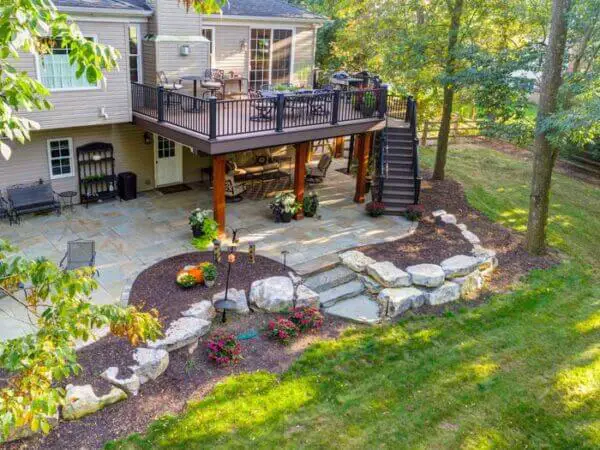 Apart from beautifying the verandah above the deck, don't forget to design a beautiful landscape for the bottom. If you have a large enough terrace, try exploring with flooring.
The design above is outstanding because it perfectly conveys the natural atmosphere. Stone flooring is directly adjacent to the gravelly area and meets artistic stone steps.
Meanwhile, the decoration of potted plants is not too dominating but strong enough to give a beautiful impression. Don't forget the green grass that keeps your mind fresh.
14. The Taste of Asia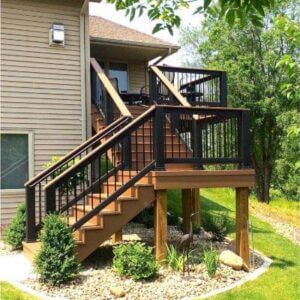 One of the designs that I highly recommend is Taste of Asia. This style will provide priceless serenity in not-too-much space.
It is visible in the picture above that the lower part of the deck is gravel with artistic greenery. A crane statue as a decoration looks to match the expanse of grass around it.
The deck is a product of Archadeck that has superior strength. The design looks solid, natural, and harmonious with the exterior underneath.
15. Mini Garden with Walkway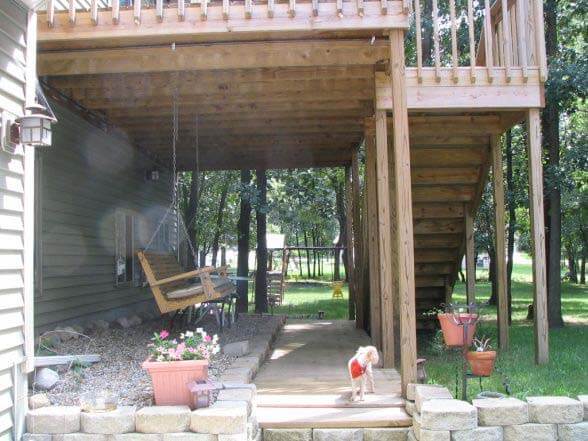 Spacious gardens are almost always synonymous with comfortable, weather-resistant seats. Maximize the bottom of the deck to hang an artistic swing.
To make it perfect, add decorative gravel under the swing and build a walkway, making it look like a mini garden.
Stone stairs also beautify everything. Now, the charming park is not only visible from the top deck but also from below.
16. Multifunction Outdoor Room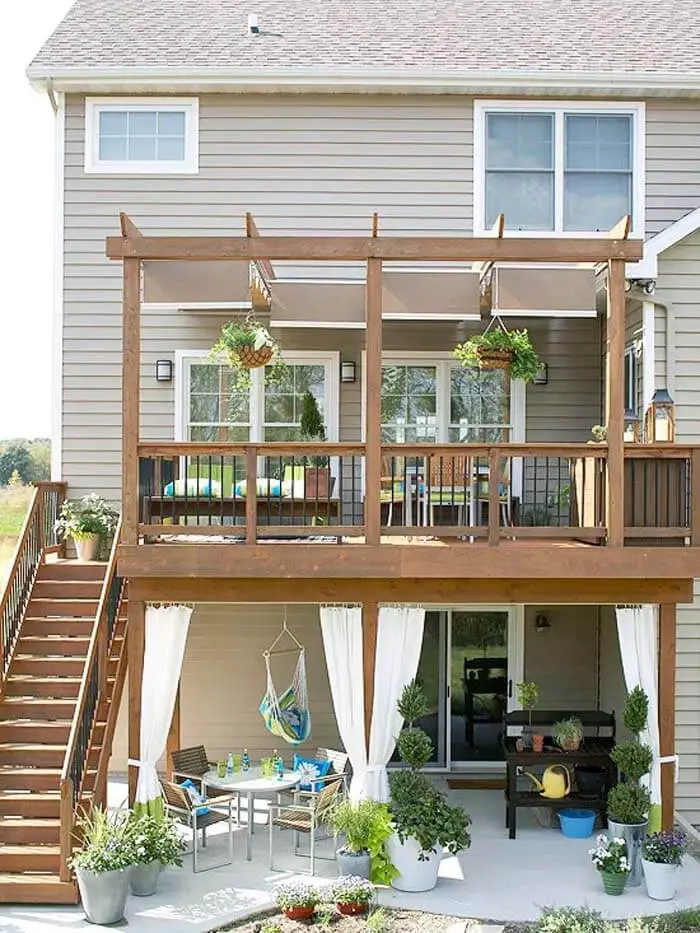 Having a wide under-deck area is very profitable. You can build a patio with any design you like, even use it for various uses.
Let me show you a design that combines a family area with a fun spot. In addition to garden tables and chairs for relaxing, a hammock also hangs nicely and is ready to be used while relaxing.
Functionally, there is a storage rack for placing garden tools. You can also add a curtain for privacy.
17. Gravel Porch in Front of the Terrace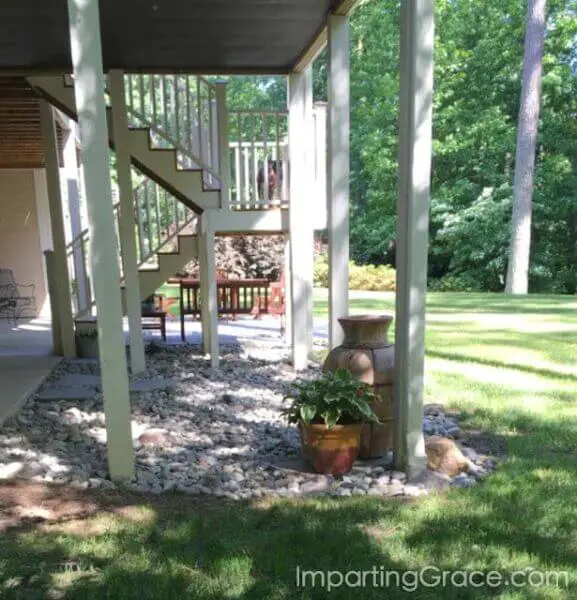 The porch directly adjacent to the park does look artistic. However, I do not recommend this design if the veranda is below the deck.
Grass under sunlight will be different from those under the shades. Therefore, so that it doesn't look striped, you should place other decorations at the bottom of the deck, for example, gravel.
In addition to minimizing differences in grass color, this idea also allows for fun spots in the garden. You can connect it to other rooms with steps or walkways and provide appropriate plant decorations.
18. Partition under Deck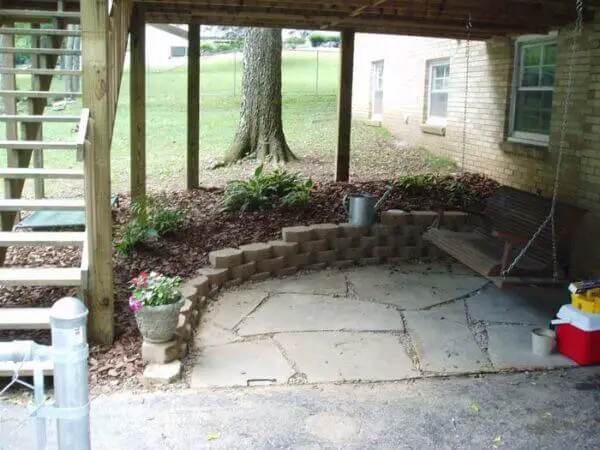 Partitions are one of the main components of landscaping. Of course, pay attention to the boundaries, for example, grass with soil, and so on.
One of the partitioning techniques to try is to place clear boundaries, as shown in the image above. You can see those stacks of paving stones arranged neatly like small walls.
Meanwhile, on the part with concrete, place fun things, such as swings, seats, and decorations. Then, connect it with a walkway.
19. Simple but Luxurious Walkway on the Slope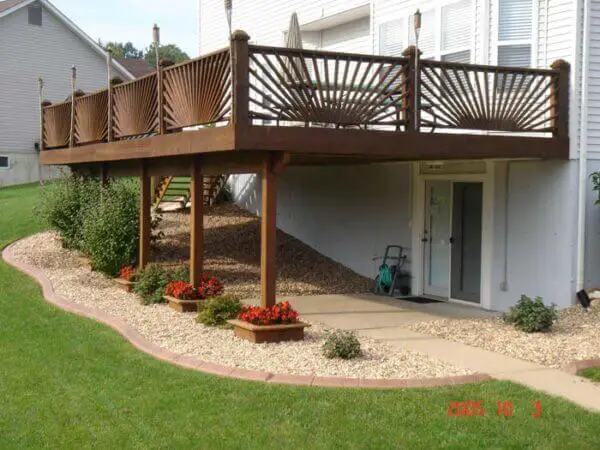 Landscaping on sloping land doesn't always have to involve stairs or something layered. I found some simple and minimalist designs but quite majestic.
Apart from the installed unique decks, the lower room in the image above is also impressive. Neat partitions between grass and gravel give it a luxurious feel from any angle.
You can see how the individual supports act as neat plant pots as decorations for the concrete walkway. Let me say that tidiness is sometimes extraordinary.
20. Warm Space with Furnace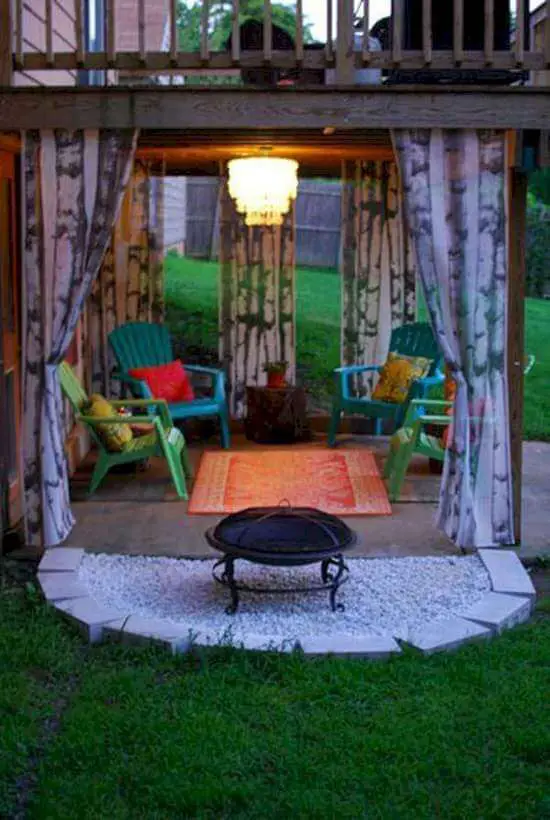 The bottom of the deck can be a space that brings you closer to loved ones. Try designing beautiful flooring out of concrete or stone, then put in easy chairs and chairs.
Besides, add a furnace that will warm up the moment when the weather is too cold. Place a lamp so you can use this space when it's dark.
21. A Playground under the Porch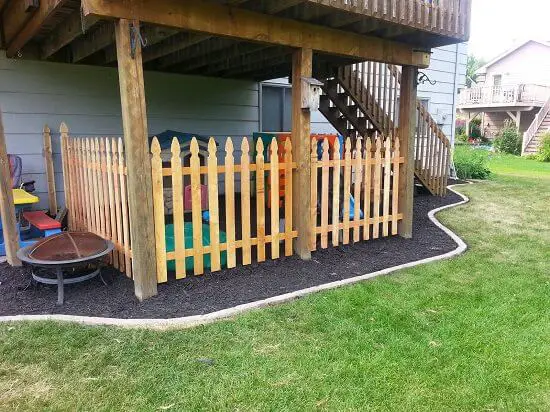 Building a playground in a park area is the best idea if you have children. Put a few rides and turn it into fun.
Like a playground in general, you can add a simple fence. Aside from being a decoration, this partition is critical to keep children from running too far.
22. Private Patio with Curtains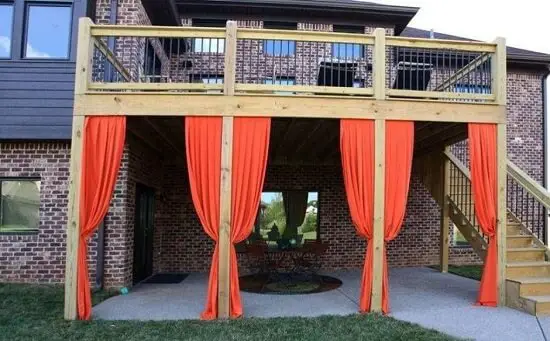 The space under the deck is indeed very suitable as a patio to welcome guests or relax and enjoy the view. However, there are times when the owner wants to enjoy the time without being seen by other people.
The good news, the deck design allows you to install mosquito nets that are easy to open and close. Adjust the color to the theme of the building to make it more decorative.
23. Jungle-like Area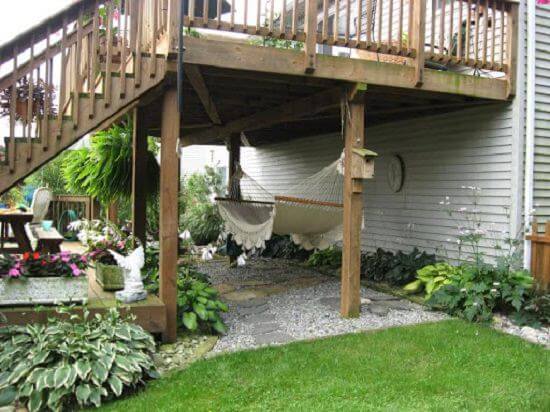 Rustic lovers will love this idea. Apart from a beautiful green garden, also add a fun spot under the deck by installing a jungle-themed hammock.
Then, you can support this atmosphere by placing lots of ornamental plants. For accessing the under-deck, add steps installed on the gravel.
Final Note
After those long discussions, I hope you can find the most suitable under-deck landscaping ideas. If there are any difficulties, don't hesitate to consult the expert. Let's start to design!
More from Materialsix.com: