Creating a great landscape area for your home is great, but you do want to decorate it the best way that you can. This is why finding the best type of rocks for landscaping can be really handy. Not only do you get to customize everything properly but results can be very impressive.
The great thing is that you can choose different types of landscaping rocks and that's great because you can easily pick what matters for you. Thankfully, there's no shortage of options and you will find that it delivers very good quality and results. Which makes you wonder here when you want to do landscaping with rocks, what rocks do you need to consider here?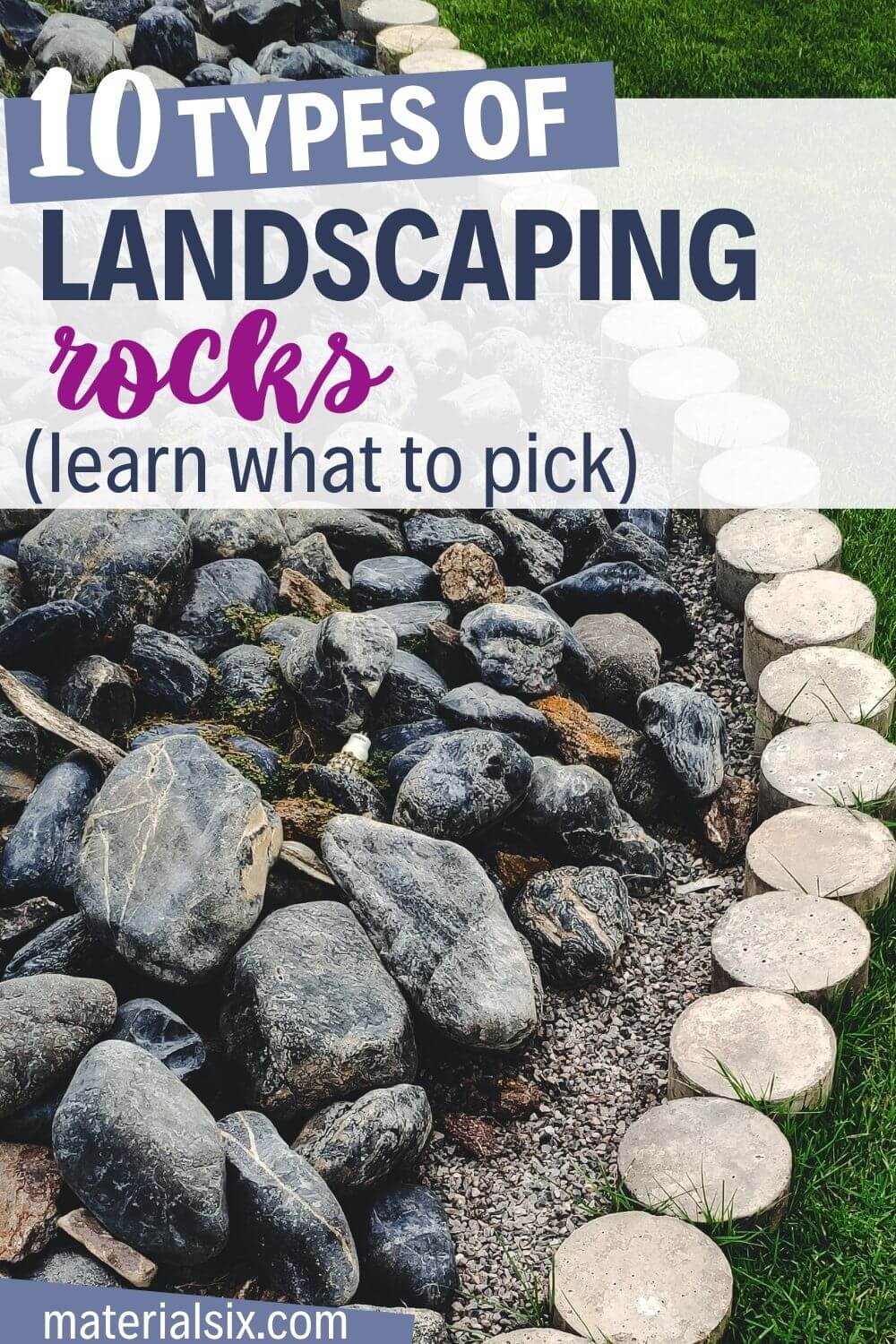 10 Different Types of Landscaping Rocks to Use Around Your Home
1. Artificial rocks
If you want to go the simpler route, you can choose artificial rocks. As the name clearly suggests, these are made from synthetic materials, normally they will be either resin or plastic. They are actually a good option because they can hide all kinds of obstacles. You can also hide waterfalls, water wells, pipes, covers, and so on. Granted, they don't have a natural look.
Because of that, this is one of the types of landscaping rocks that might not be suitable when you go for a realistic look. But you can conceal stuff like speakers, lights, or even keys. It makes a lot of sense to at least check them out for yourself and see whether you like them.
They definitely deliver on their promise, and the benefits can be second to none. With that being said, they do have all kinds of colors, shapes, and variations. Thanks to that, you can pick whatever option you find ok and just go from there. It's stuff like that which makes everything well worth the effort.
2. Boulders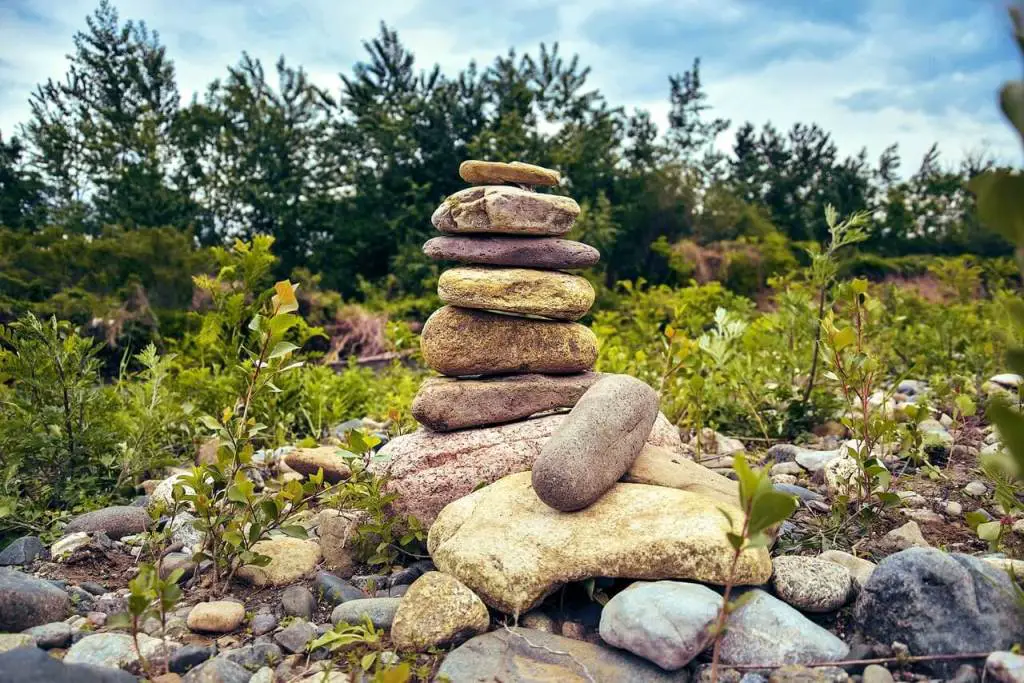 Boulders are a great idea because they are very large, so they work for a vast range of landscaping options. With that in mind, they have a plethora of natural colors, since they are natural rocks.
They are quite rugged however and the fact that they have a natural shape does make them quite appealing and interesting. There are companies that produce cut boulders, but ideally, you want to keep them natural.
They are great for terrace yards, and they can easily become a focal point. You can also use them as a way to separate different types of plants from going one into the other. People also use them around waterfalls and ponds. Needless to say, they all deliver a very natural and appealing look, which is great if you go for such a style.
3. Large rocks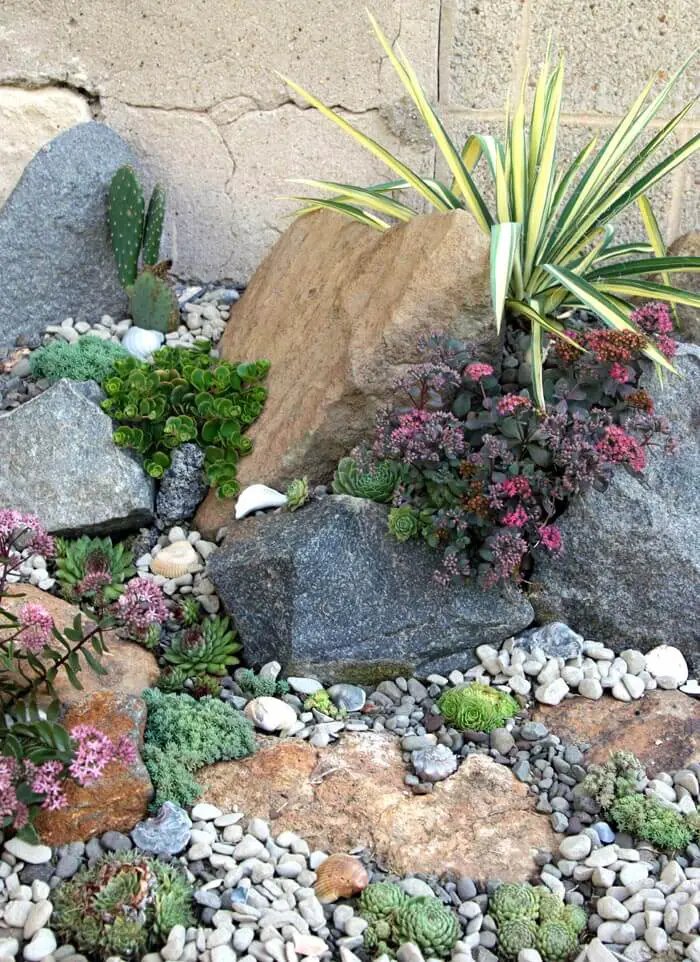 Anything over 3" in diameter can be considered a large rock. People like various types of large landscaping rocks because they look cool and they can have different colors too, which further adds to the intrigue and style.
You can use them as a functional piece, or they can be a decorative option depending on your needs. The fact that you can use them without a machine is good since you have more versatility.
You can use large rocks, for retaining walls, yards, at the edge of a garden area, and also near a pond or waterfall. The fact that you have red, blue, brown, or gray large rocks is also really nice.
4. Pebbles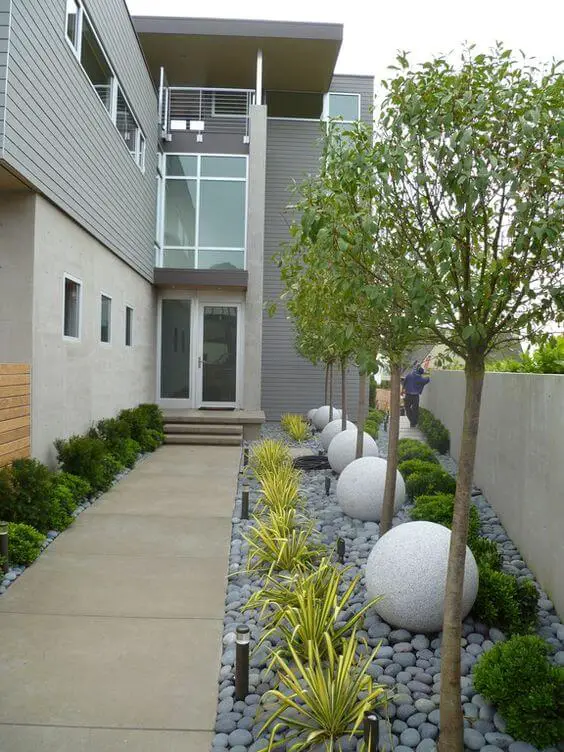 At the opposite spectrum, we have pebbles. These pebbles are really cool because they have a polished look, and they are rounded too. They are created from a vast range of rock types, and they add great accents to the landscape area.
These are very good for garden begs, walkways, flower pots and so on. There are even some glow-in-the-dark pebbles too, and those as a whole are some of the coolest ones you can use to make your landscaping area unique and different.
All you have to do is to check them out for yourself, and the benefits can be second to none every time.
Related: 100 Easy DIY Rock Painting Ideas for Your Home & Garden
5. Stepping stones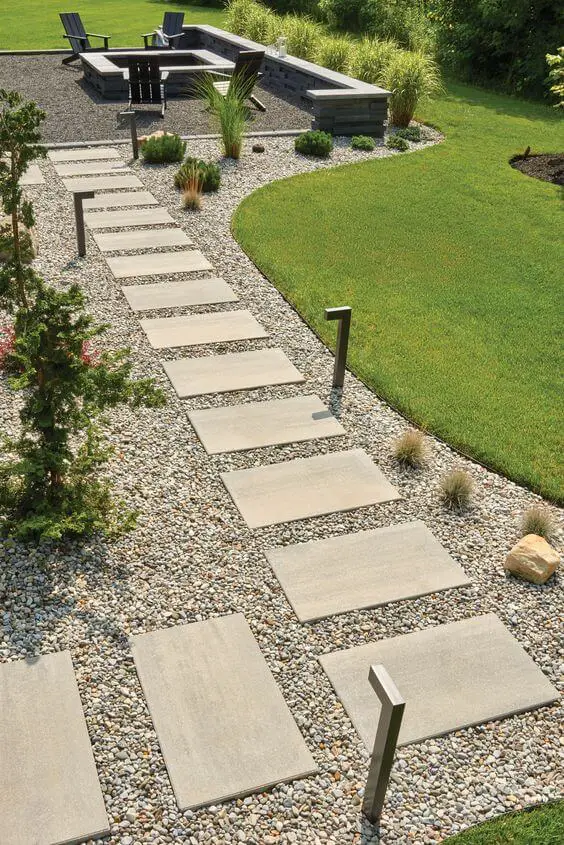 As the name suggests, these are the different types of landscaping rocks that you use as a way to step on the pathway. If the pathway is just dirt-based, adding some stepping stones is a cool idea and it just enriches the aspect, while making it more exciting and unique.
There are different shapes you can choose from here, ranging from squared to round and so on. They are not very expensive, however, they are suitable for most landscape areas.
And yes, they do look cool pretty much everywhere, so you can play around with styles and see what works for you.
6. Pavers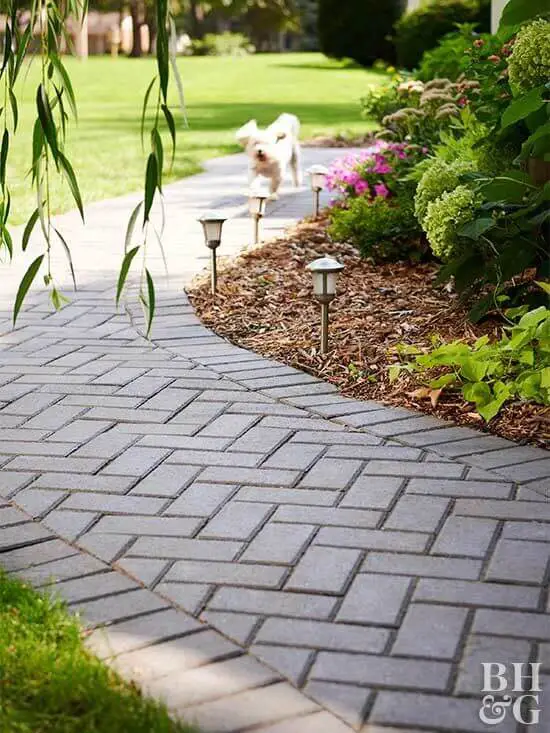 Pavers are a great option if you want to offer a clean and more traditional look for your landscaping area. It's a very good idea to give these a try, they are made from bluestone, travertine, flagstones and so on.
Granted, you don't want to use natural stones for a place with lots and lots of traffic, because they can break. However, natural stones are the most expensive option. You will use these for walkways, patios, and other places.
7. Lava rocks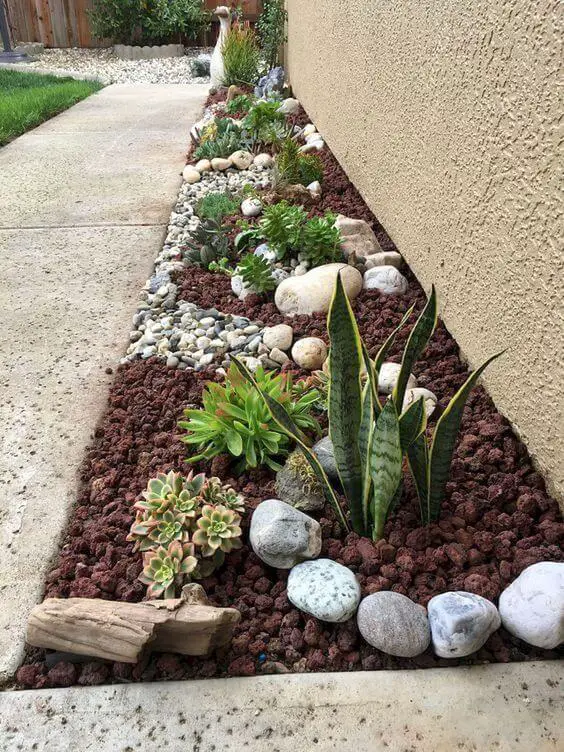 What a lot of people love about lava rocks is that they look great and integrate a very specific style. These are the best types of rocks for landscaping if you want to go with something more distinctive, different than what other people are using, but still very cool.
Many use them as a replacement for mulch because they are porous and they can deliver a great way to insulate plant roots under the soil. This can also help retain the moisture too, which is always a plus. They also don't fade as time goes by either.
Another thing to note about lava rocks is that they can be gray, black, or red. They do have a variety of sizes too, so you can easily pick whatever size suits your landscaping project too. The texture is rigid, so you don't want to use them for patios, driveways, or walkways. However, they can be very good for garden beds or fire pits, which is important.
8. Gravel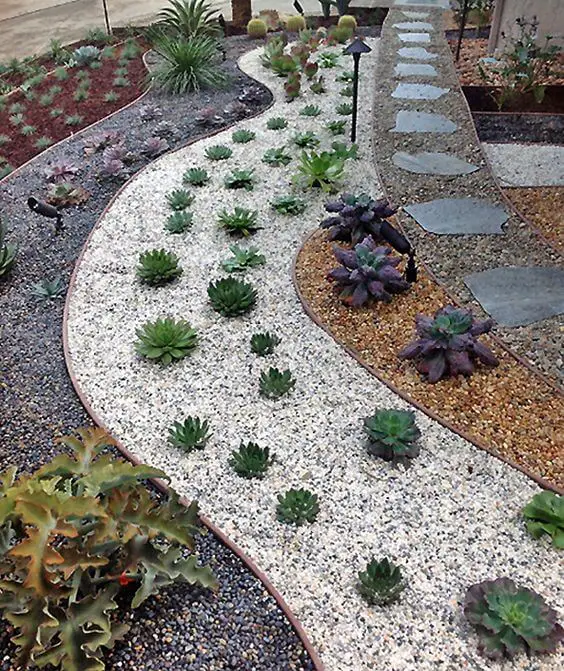 Gravel is maybe one of the most common types of landscaping rocks. It's easy to see why this is crushed stone and it can be very good for driveways. Yet it works great for landscaping too. You can remove the need to water your grass yards. The benefit is that it can help retain water and you can have some plants in between gravel too, which offers a really cool and fun look. You can add it to garden beds too, even a walkway can be created this way too.
Another nice thing here is the fact that gravel comes in a vast range of colors such a gray, and you are free to choose whatever option suits your needs the most. It's quite affordable, and the fact that you can find it in multiple sizes is a very good thing.
Granted, it does take a bit to figure out how to integrate it within your landscaping area. But once you do it right, the benefits can be great and that's what really makes it stand out. You should definitely check it out for yourself and in the end, the benefits can be extremely impressive.
9. River rocks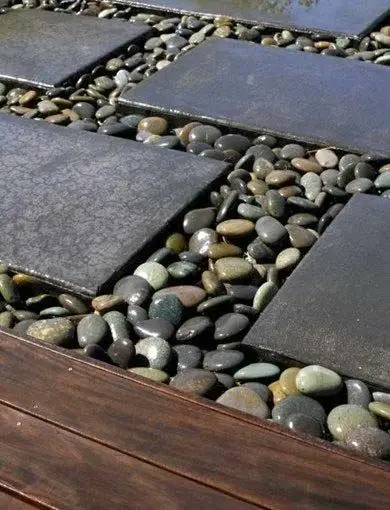 As the name suggests, these are coming right from flowing rivers, either that or at the edge of the beach. They have a multitude of colors you can choose from, and you can easily use these for garden beds, a rainwater runoff system, and so on.
They look great, and many times you can buy these in a vast range of different colors in a single package. With that in mind, they all offer an amazing look and stand out when compared to all the others out there.
10. Flagstone rocks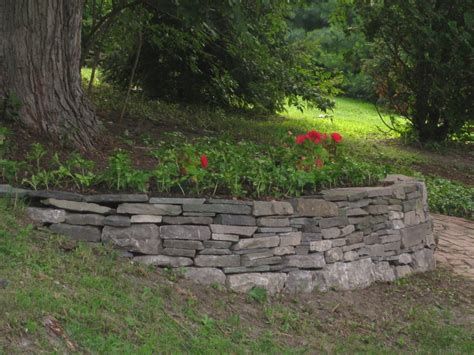 These are flat, sedimentary rocks that have a timeless look. Another thing to keep in mind about them is the fact that they have a rectangular or square look. You will notice a lot of people use them for landscaping projects because they have a very appealing and distinct look, and you can add them anywhere you want in your landscaping area.
They can be suitable for a fire pit, garden beds, patios, walkways, not to mention fences, retaining walls, and so on. They can be expensive based on the types of landscaping rocks you want here, but it's definitely worth a shot.
Conclusion
Finding the right type of rocks for landscaping might take a bit of time, but it's certainly something you need to take into consideration as much as you can. The truth is that taking your time, analyzing what these landscaping rocks can be used for and how to get the most value out of them is a very good idea.
You need to keep in mind that prices can be all over the board with these, but the benefits can be impressive. At the end of the day, these landscaping rocks can provide an incredible look and you will be very happy with the results!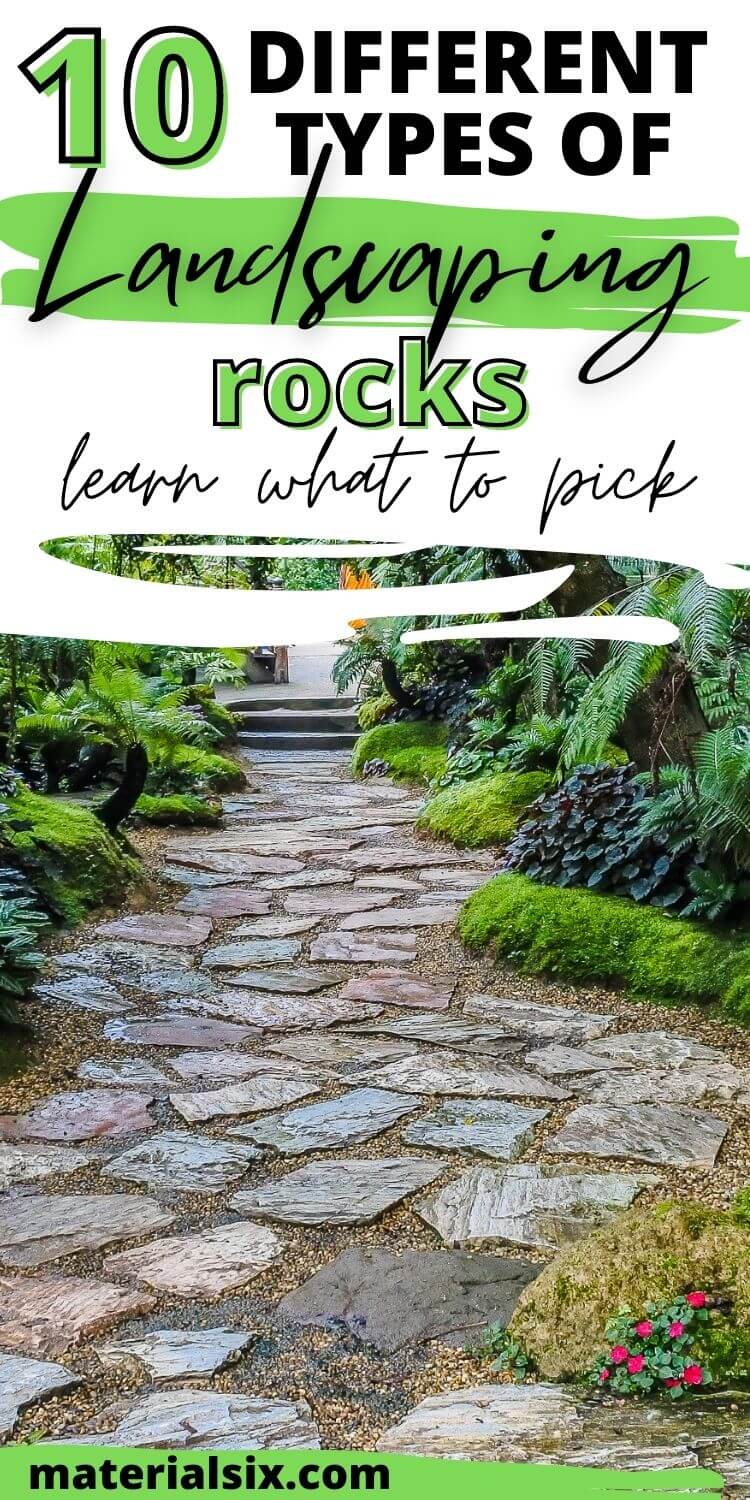 More from Materialsix.com