Creating enclosed patio designs is an ideal choice if you want to have an extra living space. Indeed, this area can connect to the outdoors any time of the year.
Also, whether you go with four-season designs or screen room layouts, this space will be a versatile part of your outdoor areas where you can sit back and get relaxed.
Furthermore, an enclosed patio will make a great place for hosting events and parties at home or simply entertaining your guests with the view of your beautiful garden.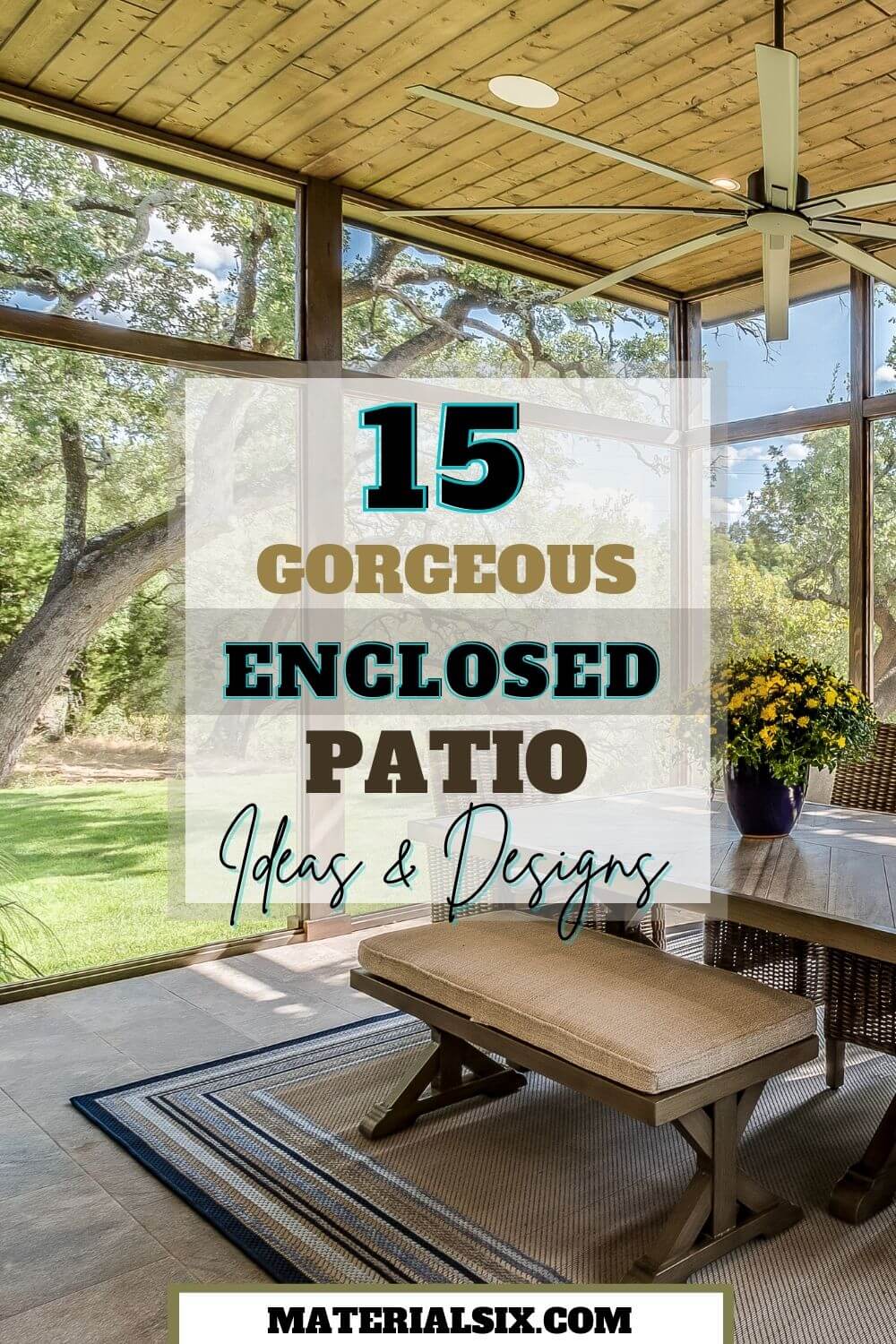 Enclosed Patio Designs That You Love to Copy
If you wish to make this functional space but do not know how to start, this article has some of the best enclosed patio ideas that are worth copying.
1. A Cozy Enclosed Patio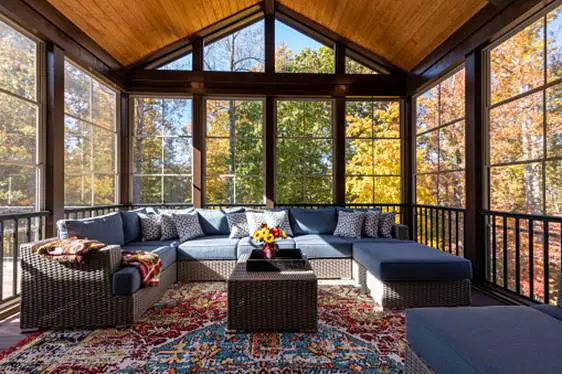 This stunning deck patio offers the best views. Also, it provides the most privacy for a relaxing activity with your loved ones.
Thus, you can easily read or dine while overlooking the beautiful greeneries on this enclosed patio. Further, having a short is not impossible as well thanks to the available sofa bed.
Pros:
Muted shades of red and blue in this enclosed patio create a welcoming and warm scheme.
Cons:
The throw blanket does not make any statement and essential touch to the design.
Costs:
If you are interested in building this kind of space in your home, the cost should start at $13,000.
2. Enclosed Patio with Year-Round Sophistication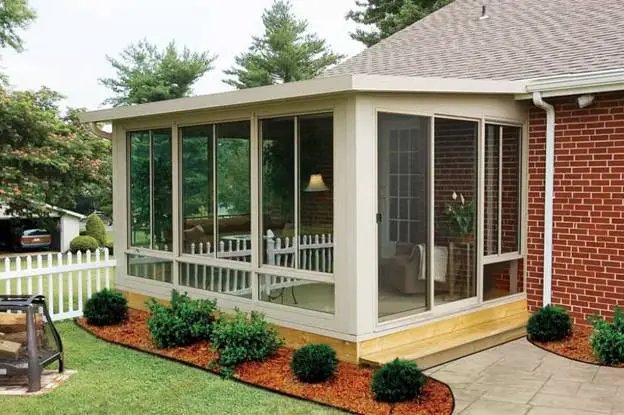 This small patio comes with a glass enclosure and neutral-painted screens. Thereupon, they blend well with the exposed brick exterior walls of the existing house.
Besides, a narrow garden bed that houses boxwoods completes the view of this enclosed patio.
Pros:
Its enclosed design provides a comfortable space for enjoying the outside all year round.
Cons:
Due to its small size, this enclosed patio may not be able to hold a home event that invites a lot of guests.
Costs:
You may need to prepare around $6,000 to $14,000 to build this kind of patio model.
3. Stunning Glass Enclosed Patio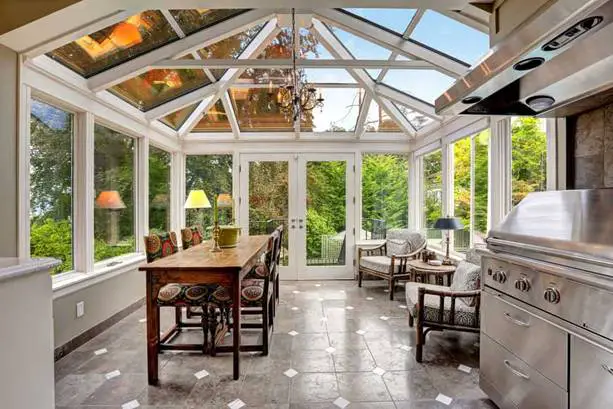 Both the roofs and walls of this enclosed patio are made of glass. Hence, with such features, you can expect this space to give you the best of indoors and outdoors.
Moreover, you can dine out with your family and friends while enjoying the warm summer days without getting burnt.
Additionally, reading a book in the corner of the space will be enjoyable too.
Pros:
The unique patterns of the seating cushions add style and color to this neutral space.
Cons:
It requires a spacious patio area and more budget to recreate this enclosed patio design.
Cost:
Your budget to recreate this patio design should start from $20,000.
4. Enclosed Patio with an Earthy Charm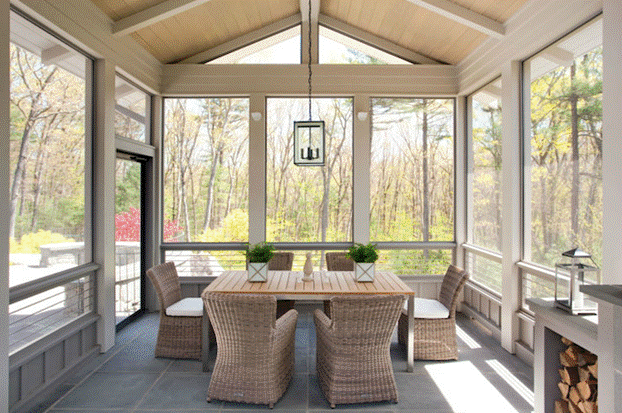 A set of rattan chairs surrounds an eye-catching wooden table in this lovely enclosed patio. Then, a pair of small planters frame the centerpiece for added beauty.
Additionally, light beige structures that frame the wide windows and exposed beams offer an adorable backdrop for this comfortable seating area.
Pros:
The lantern reflects the style of the hanging pendant over the seating area for additional illumination.
Cons:
This design counts on the surrounding garden for added colors.
Cost:
To recreate this enclosed patio, the cost will be around $13,000 to $15,000.
5. Rich in Lights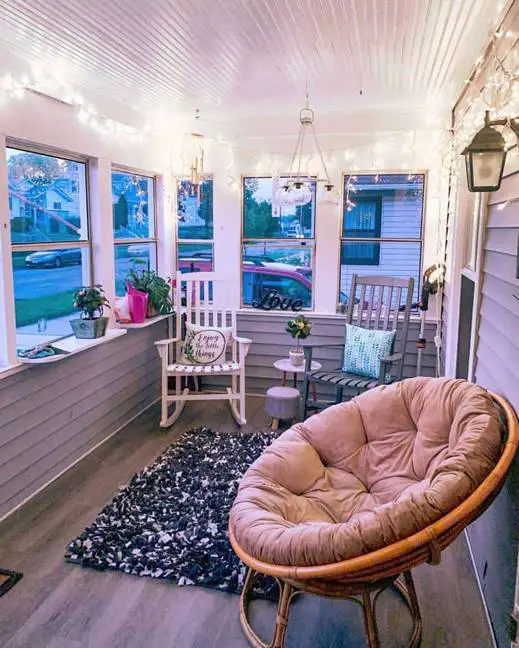 Although it is not that spacious, this enclosed patio offers everything you need for a cozy reading time or taking a nap.
In addition, with a bunch of lighting fixtures, spending the night in this space will be great too.
Pros:
This design also makes a perfect alternative for building on a narrow patio.
Cons:
It is ideal for private use only, so you cannot invite many people for a particular event on this enclosed patio.
Cost:
The cost to build a small-sized enclosed patio is ranging from $5,000 to $25,000. However, it depends on the materials you use and the furnishing choices.
6. Simple Extension of the House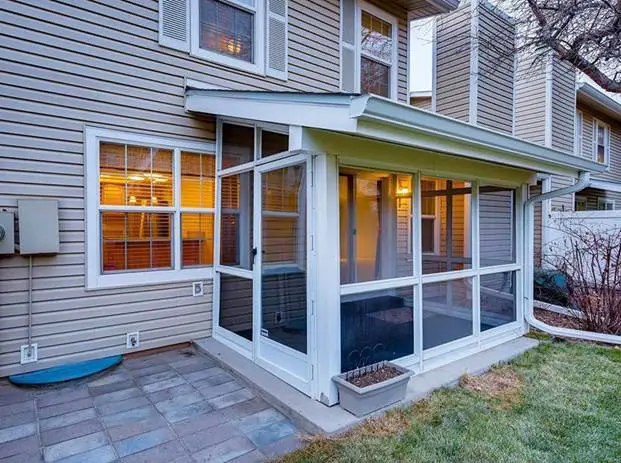 The panels of this enclosed patio match the window trims on the existing house, creating a feeling of being meant to be.
Therefore, with this kind of frosty glass for the screen, you can expect more privacy when spending time in this small patio area.
Pros:
It does not require much space and the design will not break the bank too.
Cons:
This design is not recommended if you prefer to use the enclosed patio for hosting a big family event.
Cost:
With patio kit materials, it is possible to keep your cost under $5,000 for roofing and framing.
7. Enclosed Patio with a Corner Garden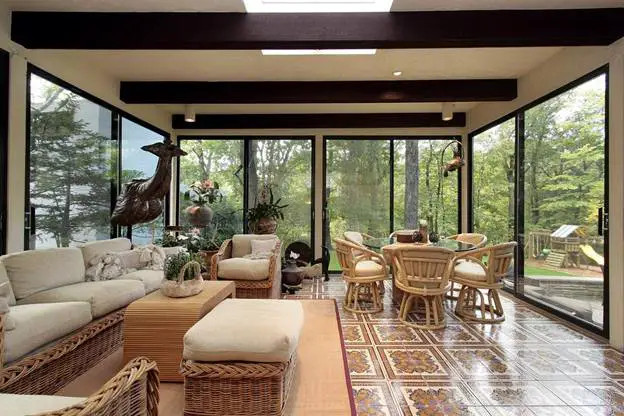 This enclosed patio can give the homeowner a huge relief, knowing that they get additional space in their home.
Furthermore, it will be perfect for throwing a party or other activity that gathers more people.
In addition, the beige cushions match the rattan sofa and chairs. Likewise, together they complement the overall design and decoration of this room.
Pros:
A corner garden lends a fresh color to this earthy-toned space while connecting indoors to outdoors.
Cons:
With such clear glass screens and no curtains, this enclosed patio does not provide much privacy.
Cost:
The average cost to build this beautiful enclosed patio is $13,100.
8. Charming Enclosed Patio with Floral Touch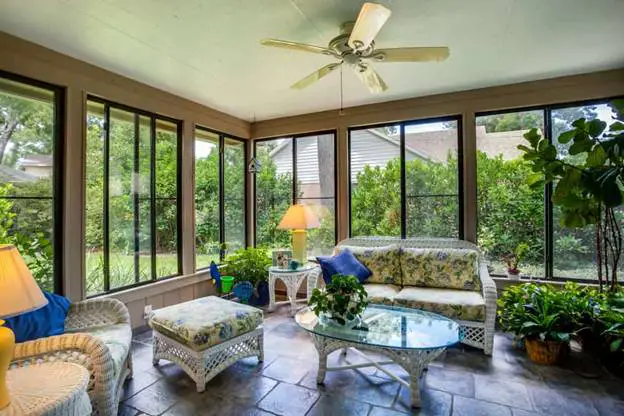 Three-season rooms are among the popular options when it comes to enclosing a patio area. Thus, this type of enclosure makes a perfect alternative for creating an additional living room in your home.
For example, you can arrange your three-season room with a bunch of houseplants that connect this space with the garden next to it.
Pros:
The floral cushions work well against the overall design of this enclosed patio.
Cons:
Depending on the glass materials, the screens may not be always weather-effective, especially during a cold winter.
Cost:
If the patio area is ready, you will need around $5,000 to $10,000 to make this design come true.
9. A Serene Space for Your Family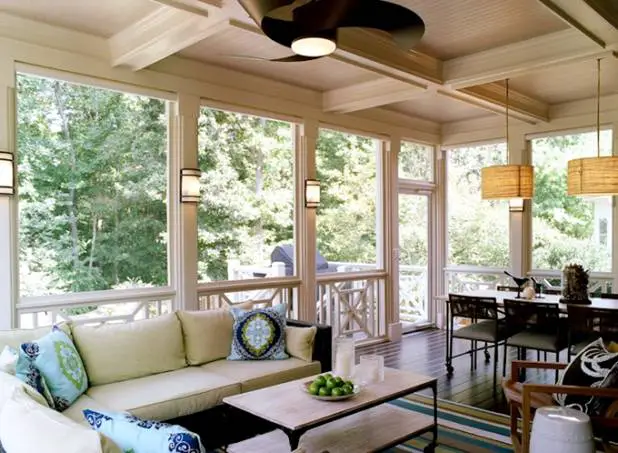 From the ceilings to the furniture pieces, you can find the calming charm of light beige. Meanwhile, dark hardwoods cover the floor for a balance.
This enclosed patio also features various lighting fixtures, including pendant lights and sconces. Moreover, do not forget the ceiling fan with a light hanging over the seating area too.
Pros:
The colorful accent pillows give a splash of color to this neutral scheme.
Cons:
It requires much space, so those who have a narrow patio will not afford to copy this layout.
Cost:
A budget ranging from $8,000 to $18,000 should be enough to build this kind of enclosed patio.
10. Added Greenery in the Room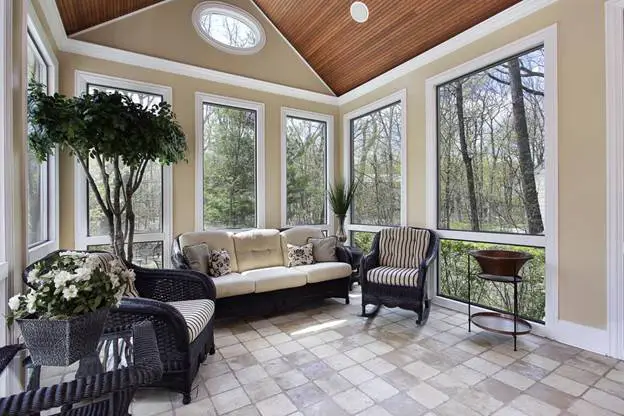 Reflect the beauty of nature right in your enclosed patio area by incorporating a small tree in the décor. Also, accompany it with some flowering flowers and ferns for extra texture.
Pros:
The tree creates a focal point and statement in this enclosed patio.
Cons:
It requires your commitment to keeping the tree well-pruned.
Cost:
Considering the simple furnishing, the cost to copy this enclosed patio design will be around $3,000 to $7,000.
11. Stunning Solarium with a Bunch of Greeneries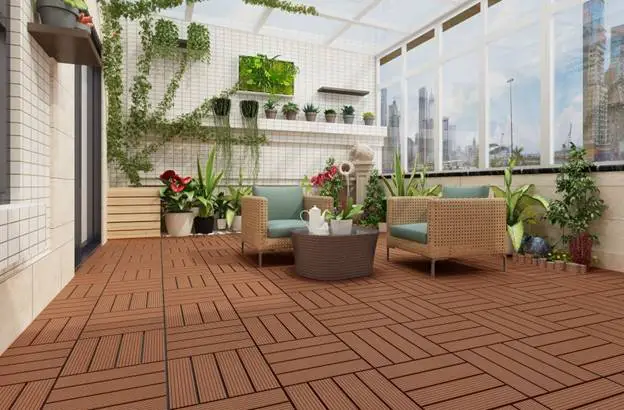 Overlooking the city views afar, this roof deck patio offers a perfect space to have your morning tea while enjoying the warm sunlight.
Thereupon, with a solarium type of patio enclosure, it allows you to grow a different variety of plants. In addition, they lend colors to the space.
Pros:
This design makes a great alternative for urban dwellers who want to have an enclosed patio on their property.
Cons:
You should expect to pay more for the labor cost considering the difficulty of installing a roof deck enclosure.
Cost:
The estimated cost to install a full enclosure to the roof patio is around $70 per square ft.
12. Enclosed Patio with a Cozy Seating Area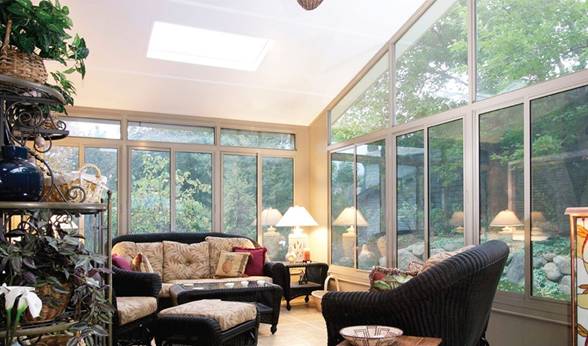 Warm and inviting are the best two words to describe this enclosed patio. Hence, with a glass and aluminum frame, this design will help you to spend less to recreate it.
Besides, patterned cushions make the seating area even more comfortable. Meanwhile, giving the black chairs a soft charm.
Pros:
The flower planters are kept on an open-shelving rack for a neat and formal look.
Cons:
Some accent pillows do not fit the overall look of this enclosed patio.
Cost:
You need to prepare around $5,000 to $15,000 for the budget to build this patio enclosure.
13. Custom-Built Patio Enclosure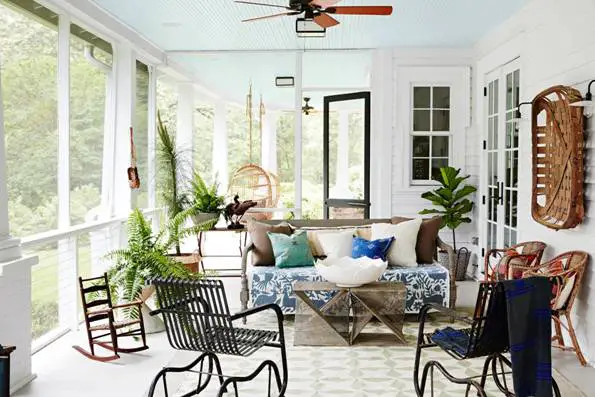 Once you have determined the basic design of your enclosed patio, you will want to decide on the additional features to make this space more livable.
Furthermore, ceiling fans with lights are a favorite accessory for an enclosed patio. Meanwhile, for aesthetical and functional features, colorful throw pillows are favorable too.
Pros:
Different types of chairs incorporated into this enclosed patio add a style to the design.
Cons:
Cost:
Expect to spend around $8,000 to $45,000 to build a custom-built patio enclosure as shown in this picture.
14. Winter-Proof Patio Enclosure
Turn your outdoor patio into a room that you can enjoy in the winter by installing an enclosure that can keep the heat.
Moreover, you can consider incorporating radiant heating under your patio floors, ceilings, and walls. Thus, they can offer a warm space in the colder months.
Pros:
The curtains double as a functional piece to add privacy to your enclosed patio.
Cons:
Additional features added in this enclosed patio will add to your final cost.
Cost:
Depending on the size of your patio, the cost can vary between $15,000 and $50,000.
15. Enclosed Patio Ideas with a Flower Garden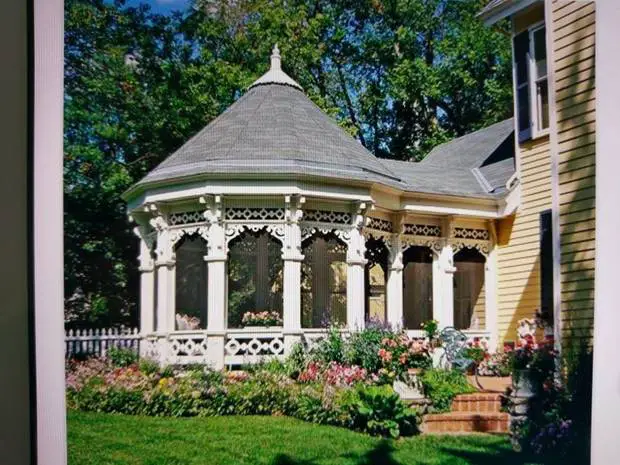 If you want to introduce a romantic charm to your enclosed patio design, surrounding its exterior with a bunch of flower varieties will make a great choice.
Thus, this flower garden will give an adorable view either from inside or outside the enclosed patio.
Pros:
The decorative molding added to the concrete panels creates an outstanding effect. Also, it boosts the overall curb appeal.
Cons:
Only a professional can recreate this design perfectly, so you cannot save money from the labor cost by doing the project yourself.
Cost:
You will require around $15,000 to $22,000 for building this enclosed patio.
Things to Consider before Building a Patio Enclosure
Before recreating any of the enclosed patios above, you better know that there are some other factors to consider than simply the basic design of this structure.
Permissions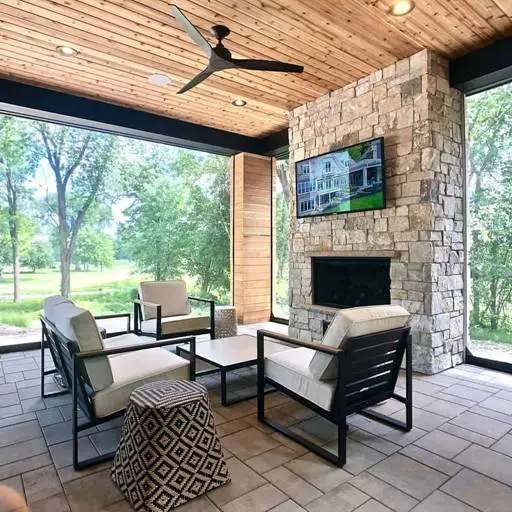 First, you should be aware of the rules regarding the development of a patio enclosure in your cities. So, keep in mind that some areas require homeowners to secure permits before proceeding with the project.
Then, the process of securing permits tends to add up to your cost. Therefore, it is important to think about this factor when estimating the project budget.
Likewise, contact your local city directory for advice regarding patio enclosure permits, so you will know whether it is needed or not in your area.
Materials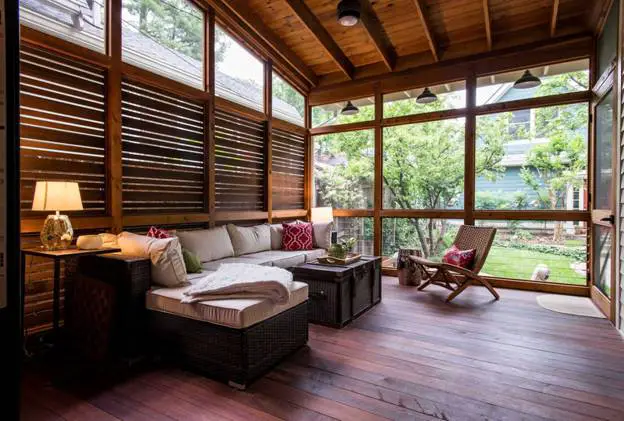 Through the above list, you must have known that each patio enclosure uses different types of materials. Thereupon, your choice of this thing will affect the overall cost.
Additionally, a variety of enclosure materials are available to meet your unique personality and taste. Then, the location and the size of your patio will help you determine the right material to use.
For instance, you can opt for steel, wood, aluminum, and glass to enclose your patio area. It is also possible to have a store-bought kit if you do not want to build the enclosure from scratch.
Sizes and Other Features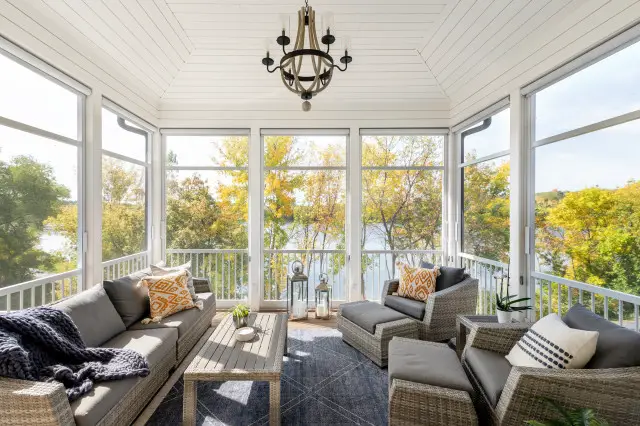 When it comes to an estimated cost, the size of your patio area will be the major factor to take into account.
Hence, a bigger patio will be less affordable to enclose than smaller square footage due to the required materials and the time needed to build them.
Meanwhile, you should not forget about the additional features installed to the enclosure as well.
To make the most of your enclosed patio, you may like to have a portable heater, fireplace, swing, deco panel, planter boxes, and others.
Besides, do not forget that each of these extra features will add up to the cost of building the enclosed patio.
Final Thoughts
Above all, now you know some of the best enclosed patio designs as well as the estimated cost to build them on your property. Happy decorating!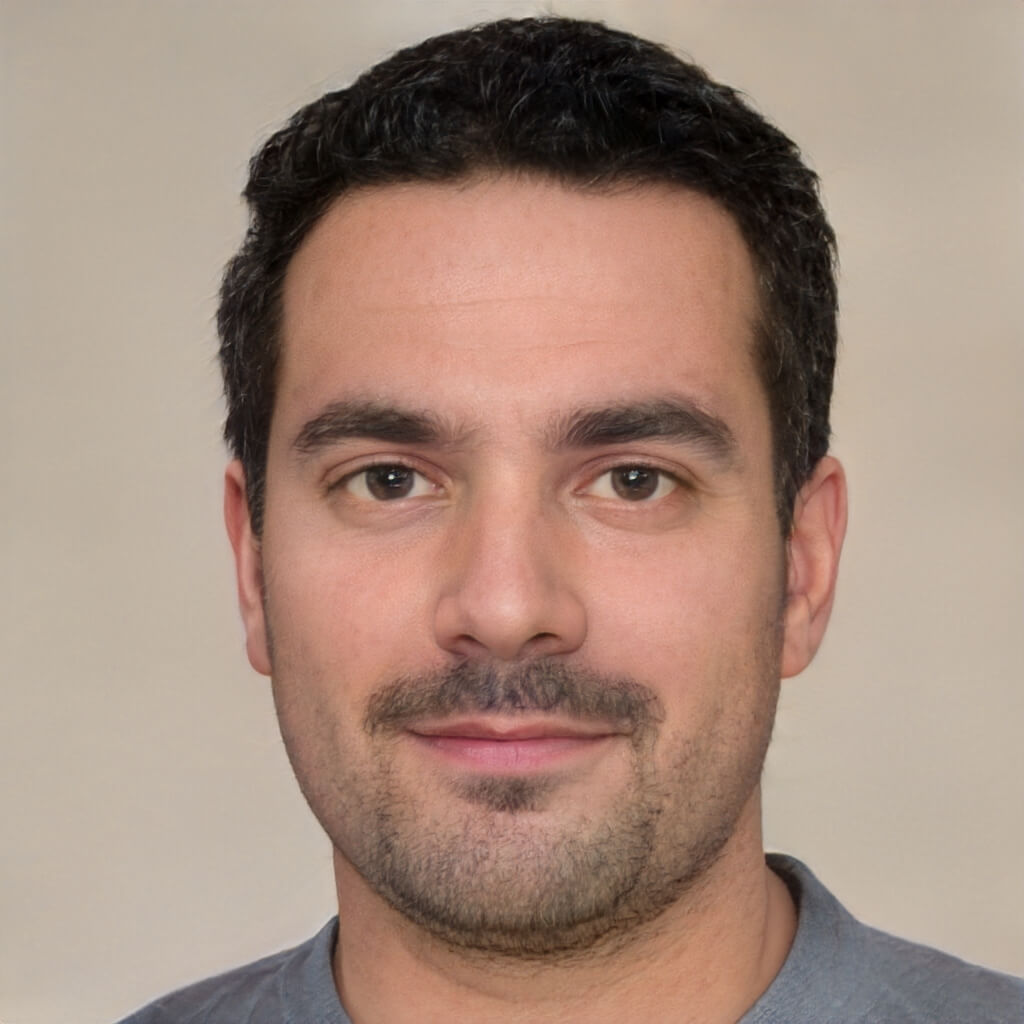 I'm a passionate home and garden enthusiast and the founder of Materialsix Home. With over 10 years of experience in the field, I've cultivated a deep love for all things related to home improvement, gardening, and interior design. Read more…