I have been thinking about building any backyard shed office ideas for quite some time. If some people dream about how fun working from home is, but I don't think so.
Frankly, working from home makes me feel tired and stressed even more. Therefore, even if I'm not going to the office, it still seems necessary to separate my personal life and work.
Fortunately, there is a small space that I can use in the area of the house. After collecting references and designs, I found some great backyard office ideas to steal.
I know that many of you have the same problem. Because of that, I'm going to share some shed office ideas to apply in your area. Happy reading!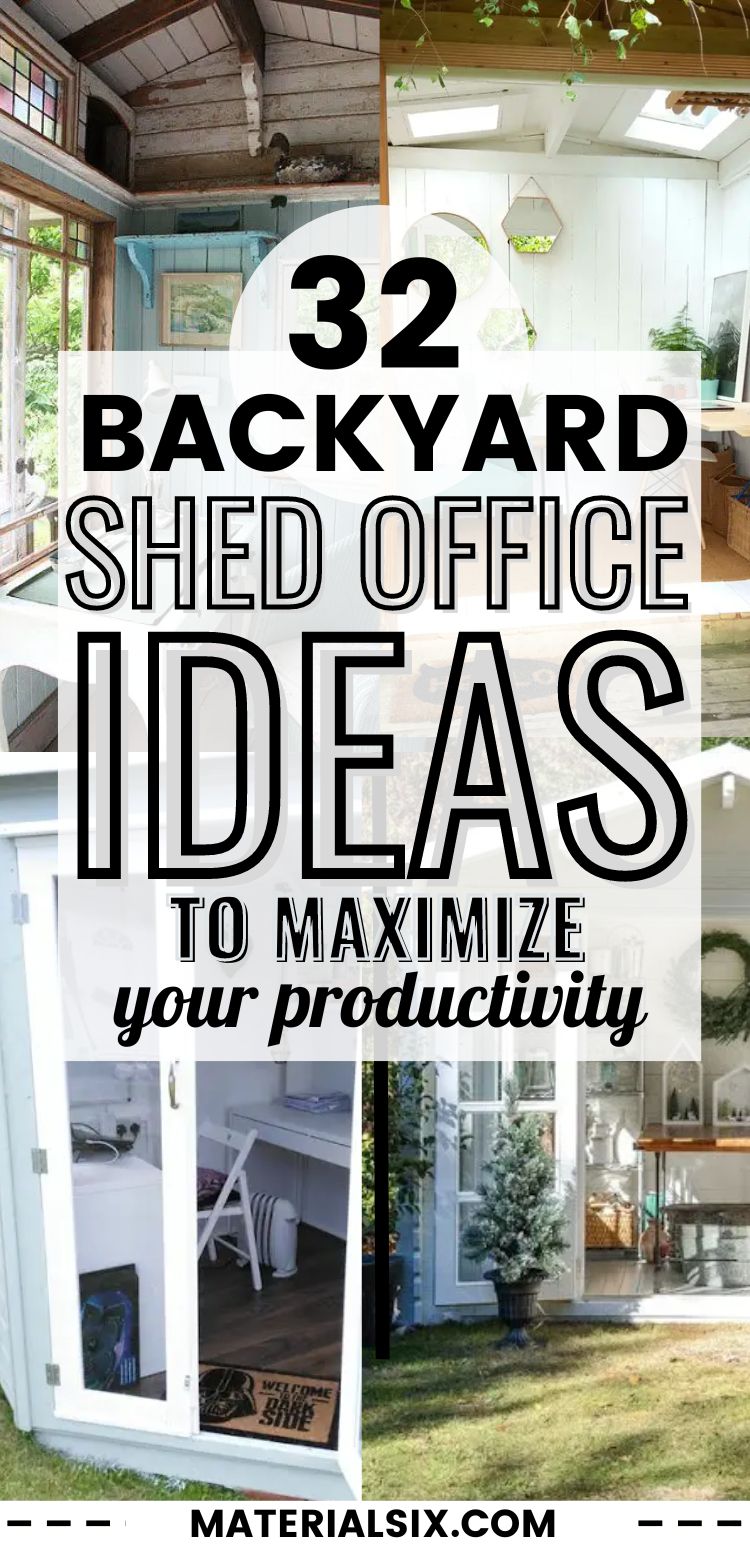 Stunning Backyard Shed Office Ideas
A workspace doesn't have to be pretentious and formal. It's enough if the atmosphere is comfortable and can accommodate your needs and keep you focused. Let's office ideas below!
1. All White with Holiday Shades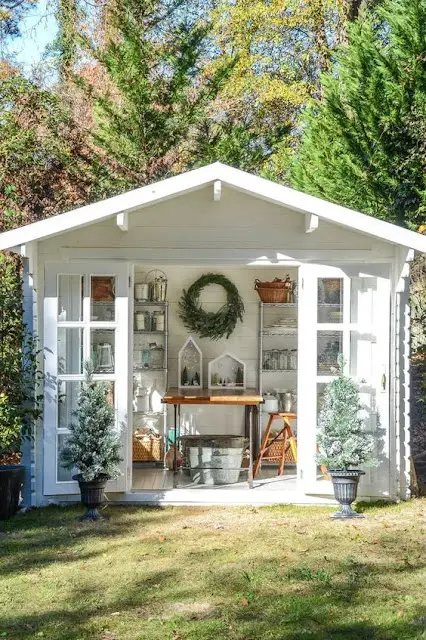 Hearing the word "work" sometimes makes me feel pressured and burdened. Shadows of piling-up work and datelines are not fun at all. Are you the same?
However, I realize that problems sometimes arise because the atmosphere in the room is too stiff and not fun. Therefore, I thought of bringing a holiday vibe to my workspace.
The room in the photo above shows a Christmas holiday theme, complete with decorations. The snow white color also gives off a cheerful and upbeat vibe, making me feel the garden party!
2. Mini Summer-themed Office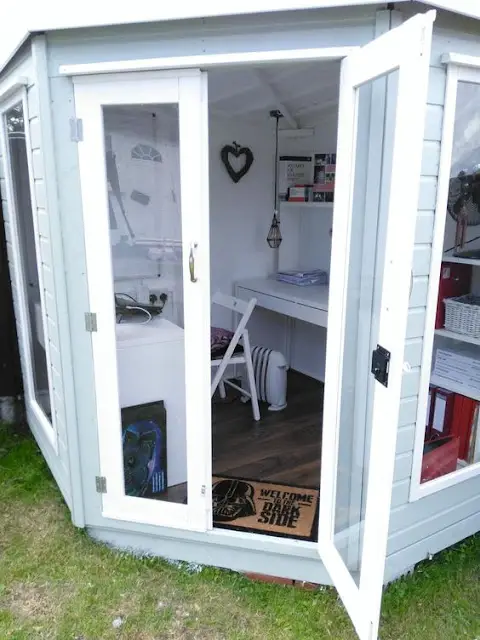 After several years in the workforce, I finally concluded that white was one of the energizing colors I needed.
Even in a narrow room, this tone always makes everything look beautiful. Also, it offers a pleasant atmosphere with a small room with a summer theme like the picture above.
Its unique shape allows you to explore in terms of spatial planning. But most importantly, this tiny house office will not break your pocket.
3. The Teal Farmhouse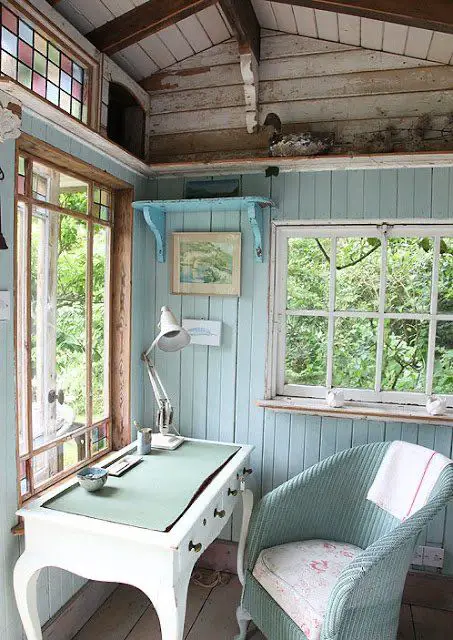 Again, I express my admiration for bright colors because they effectively elevate the mood. Instead of white, also try other colors like teal.
Then, try to use the farmhouse concept to create a different shed office interior. Apart from being beautiful, this design offers easy renovation if you previously had a storage building.
4. Cozy Farmhouse Shed Office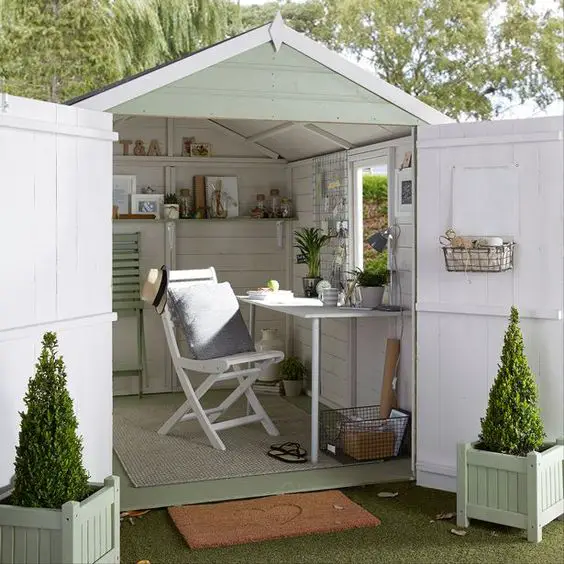 We're back with the farmhouse because it is refreshing and inspiring, especially for creative workers. Instead of boring cabinets, use beautiful wire storage and wooden-handmade shelves.
Moreover, add decorations such as green plants, wall hangings, and knick-knacks to this small office shed. It's time to be you!
5. A Glam Shed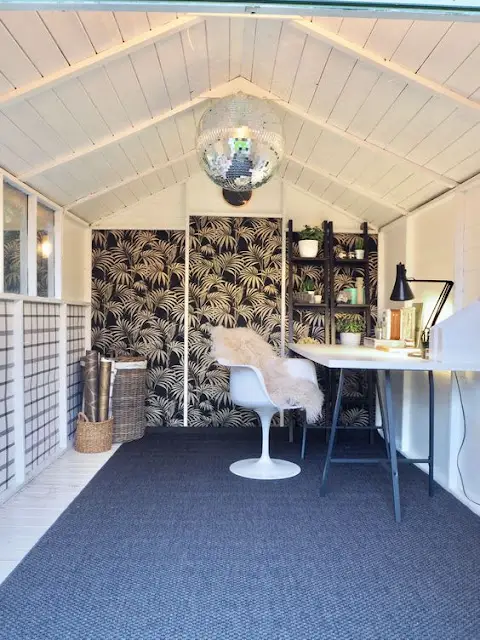 Every woman should have her own space. Based on my experience, doing office things at home is not easy for women because there are so many distractions, starting with children, homework, and so on.
Having a shed in the backyard is an opportunity, try turning it into a fun space. I recommend a glam-themed room because it will make you feel a different atmosphere from home.
6. Scandinavian Shed Office Ideas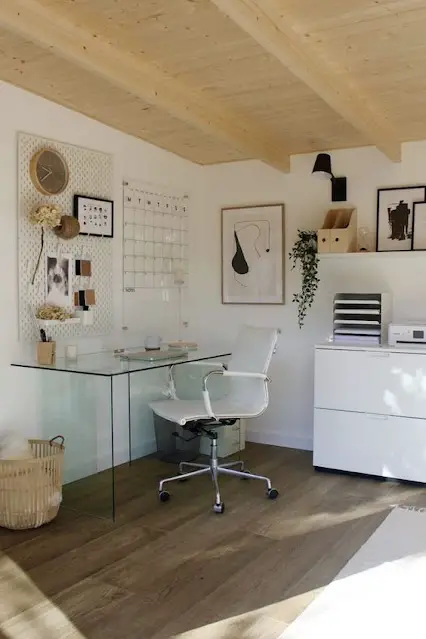 Many offices adopt the Scandinavian concept because it is simple but strong enough to evoke a work atmosphere.
Tables, chairs, and cabinets are components that support this style. However, provide plant decorations or wall hangings to reduce the hectic impression.
7. All Black Studio Office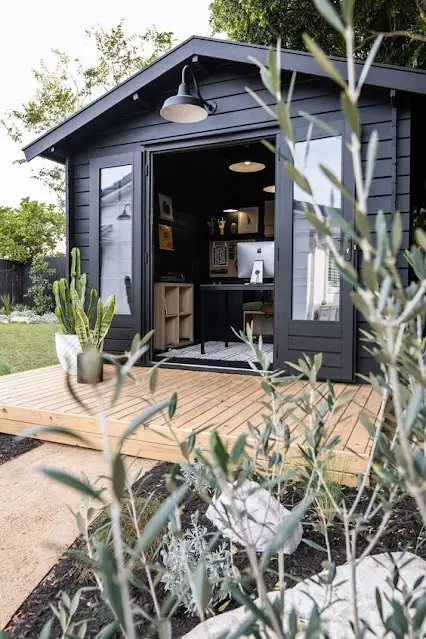 Talking about favorite room colors other than pastel and white, then black is the top priority. The color gives a classy, sturdy, and steady feel. Thus, this tone would suit a studio workspace.
Furthermore, the black color combines with the combined concept of farmhouse and industrial. More than an office, the atmosphere will remind you of a relaxing coffee shop.
8. Minimalist Backyard Office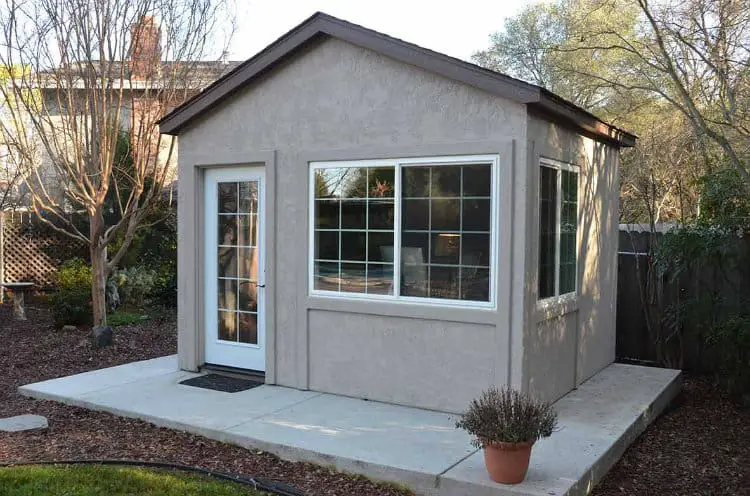 Most office workers I meet prefer a minimalist workspace but support a productive atmosphere. For them, space with an unusual shape creates a less conducive atmosphere.
Therefore, I recommend a simple design like a workspace in general. Likewise, this office shed is much more universal and suitable for various genders and work backgrounds.
9. Working under Containers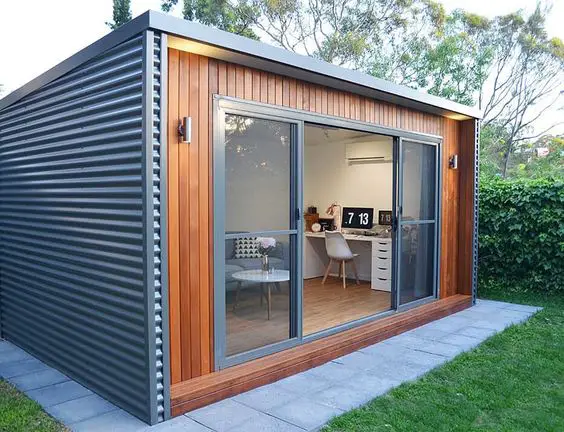 Containers are indeed one way of simplifying the construction problem. Many offices and homes use it, one of which is to save costs. Why don't you follow the trend too?
Additionally, you can design it however you like and add decorations. Also, install a stabilizer or temperature controller in it.
10. Simple Office with Cladding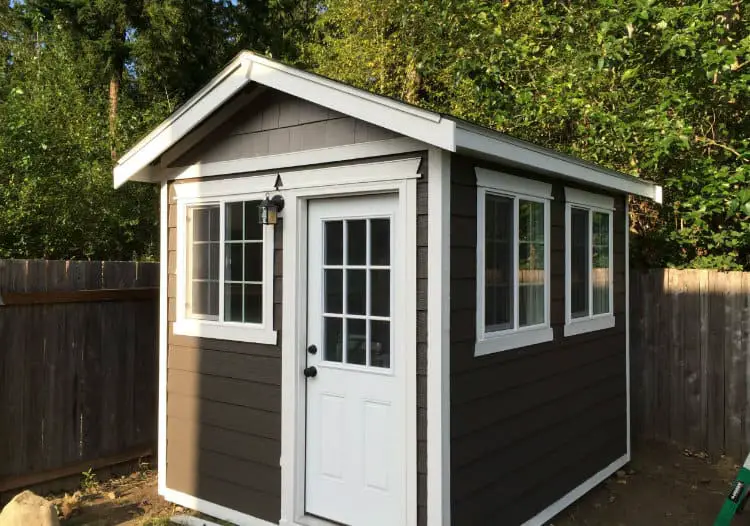 Office design does not have to be complicated like a residence. However, don't forget about decorations to create a classy look.
One way that I recommend for a backyard shed office is to use cladding on the outside walls. It's nothing new but decorative enough to keep you productive all day.
11. A Green Private Shed to Deal with Deadlines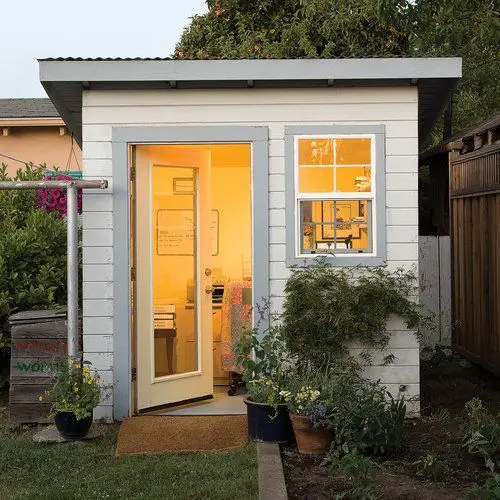 At work, everyone needs a quiet place that supports productivity. Why not create an atmosphere office in your home area?
A room full of furniture and office things is enough to keep you away from distractions. To be healthier, please design good air circulation and provide green plants around it.
12. Beautiful Hut in the Backyard
Some people do not like the too-stiff atmosphere when working. Hence, try to create a different workspace with a concept that blends with nature.
Like the wooden office shed in the picture, a room doesn't have to be made of concrete to be called an office. Applying a rural atmosphere and a rustic touch to boost morale and productivity.
13. Simple Off-grid Cabin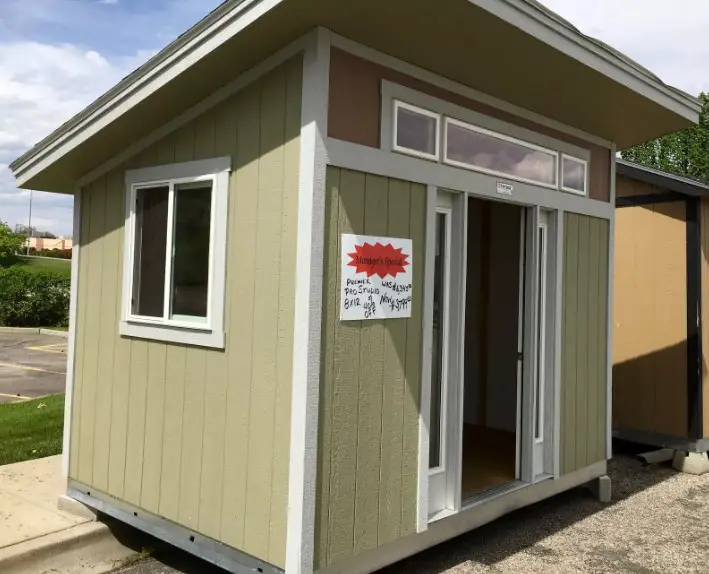 The off-grid design is popular in the farmhouse concept. However,of course, modify it with a different theme. It's like the shed office that we will discuss this time.
The advantages that you can get are minimum costs and easy installation. In addition, buildings are also semi-permanent; making you can easily do renovations or remodels.
14. Small Office with Big Window Glasses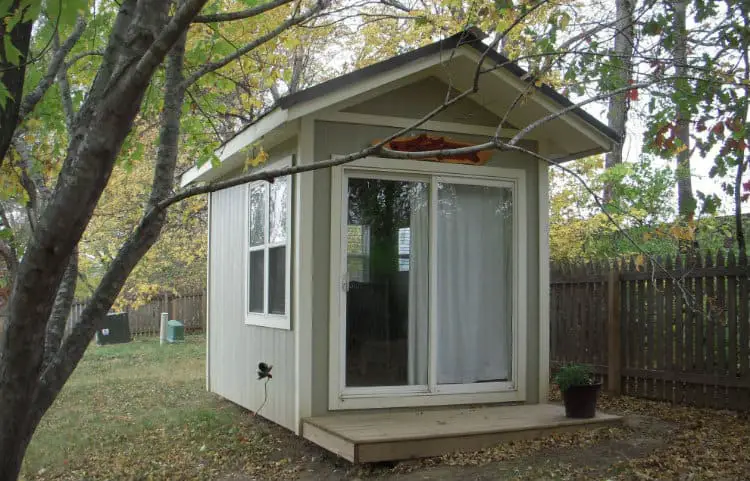 In addition to air circulation, lighting is also critical in increasing productivity. Therefore, many office buildings install large glass windows that allow workers to have a view.
Try applying this method to your small office. Not only does it make you feel close to nature, but this is also a way to save electricity because you can get light from the sun.
15. How to Utilize the Corners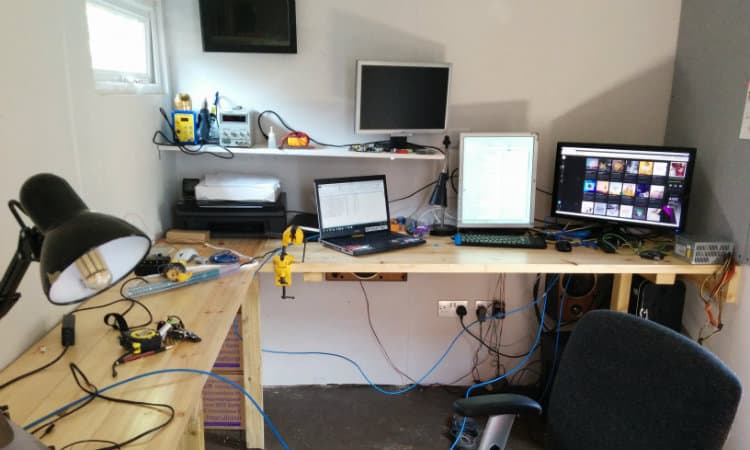 Well, we know that some people do complex jobs with lots of equipment. If so, a standard-sized table will not suffice. Why not design it yourself?
For instance, as in the image above, the user uses a custom table that fills all corners. This way, he can place lots of equipment and move around freely to complete each task.
16. Wooden Shed Office in the Garden
Once I say that a building does not have to be made of concrete to be an office. The homeowner can even build a sustainable workspace with wood scraps like a hut.
As the design above, a wooden shed looks magnificent, standing in the middle of the garden. A beautiful and green atmosphere will increase productivity and unconsciously complete all targets.
17. Instant Shed Office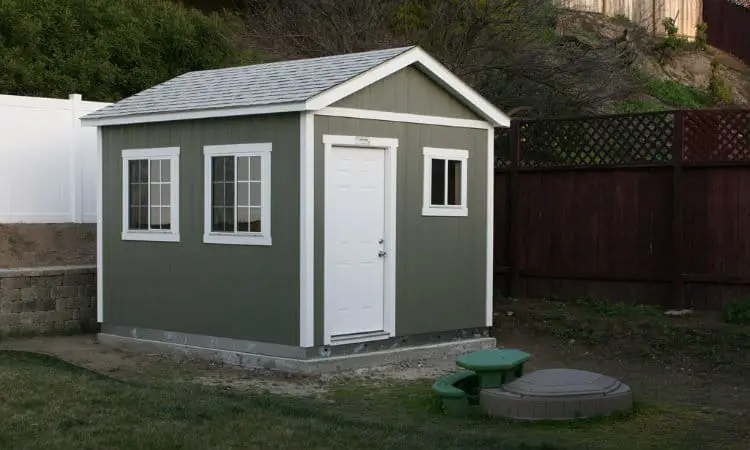 I understand that some people don't have enough time to think about complex designs. Luckily you can build up space instantly by using a shed office kit.
For example, the image above is a shed office that uses materials from the Tuff shed. The process will be faster and easier because the building framework is already ready to assemble.
18. A Giant Desk with a View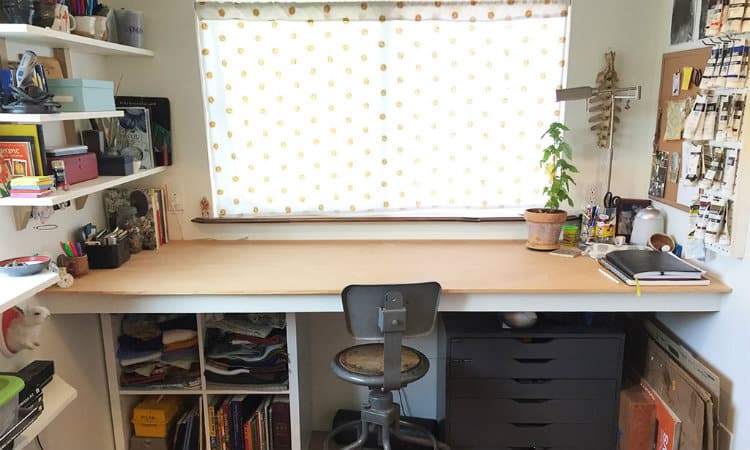 Another advantage of having your own office is that you can customize all the items and interior designs. Furthermore, you can see a large custom table that supports your performance.
On the side, you can place custom shelves for the items you need. A large window with a view will help you find inspiration.
19. A Cozy Recording Studio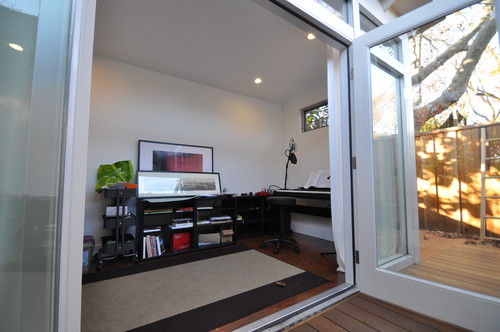 Office space is not only about how to complete administrative work and deadlines. Even a music studio is an office where you must make it comfortable and conducive.
Apart from placing adequate equipment, you must ensure that the room is soundproof. The silencers will prevent sound from entering and leaving the room uncontrollably.
20. Wide View to the Garden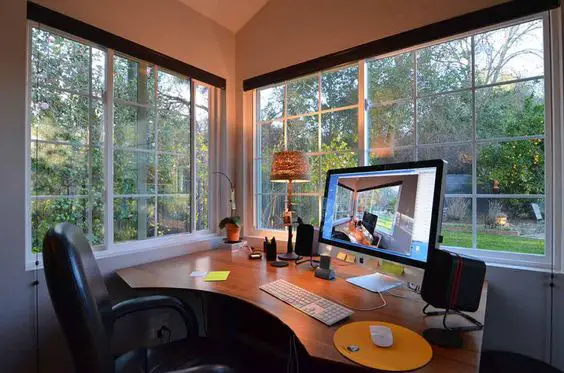 When you feel tired looking at the writing or the screen, you need green scenery to restore your mood. If you have a beautiful and well-maintained garden, why not use it as part of your office?
Place a large window in a location within easy reach of the eye. Thus, you can freely see the beautiful garden view as a mood booster.
21. Fancy Studio with Garage Door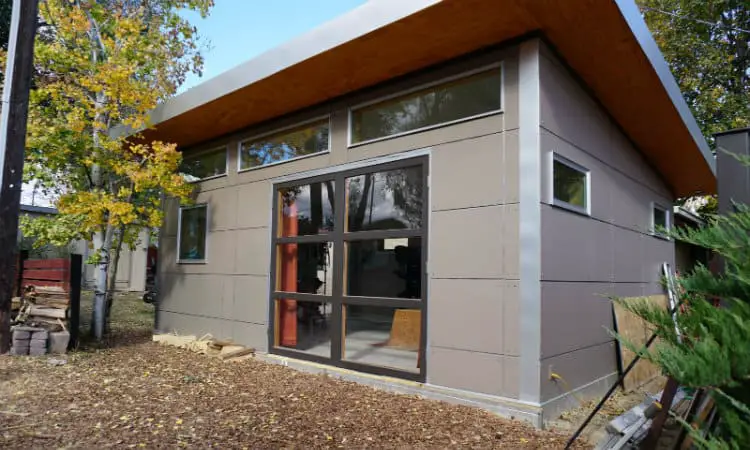 Building a music studio is not just about sound and air insulation. You also have to pay attention to security because you will deal with various tools and electricity. In this case, a door plays a critical role.
Large doors will greatly assist mobility if you have equipment such as a sound system or drum set. In this case, I've seen a design with a garage door that turned out to be both effective and artistic.
22. A Rustic Workspace for the Librarians
The presence of books in the room reflects intellect. But if you have a lot of books to display, why not design a room with a classic feel like a library?
The best way is to bring a rustic feel with wood tones and lights that make you feel warm and focused. Please try!
23. A Natural Office under the Patio

Artists almost always use unique designs when building galleries to show the artistic value they carry. There are many ways to do it, but please try a rustic concept that reflects closeness to nature.
A shed of wooden planks will exude beauty and artistic side at once. You can arrange the interior well according to your taste and the concept of art.
25. Heavenly Garden Room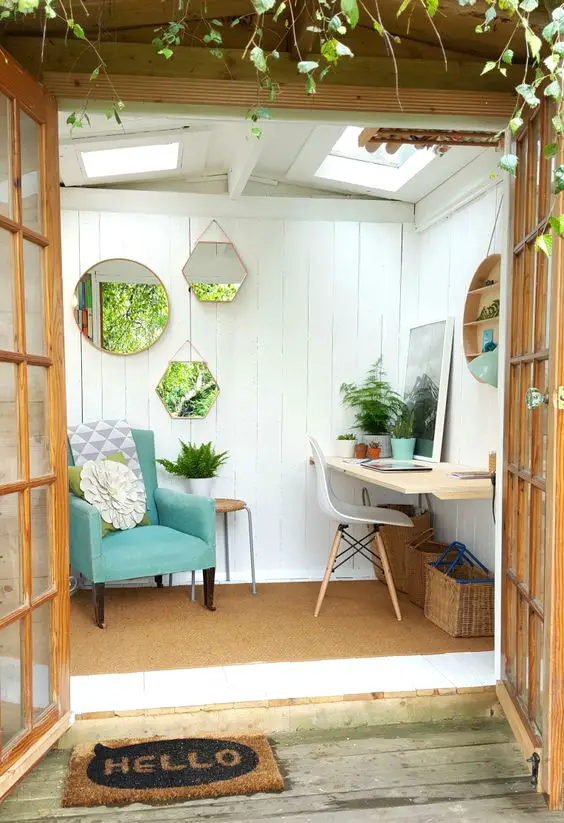 Everything natural and heavenly is always the best as a room concept. If you are less formal but need a lot of inspiration while working, try building a garden room with a natural feel.
I recommend the farmhouse concept with a touch of white. Flower decorations and wooden furniture will make it even cuter. Do not forget to design the exterior as beautifully as possible.
26. Sliding Door with Safety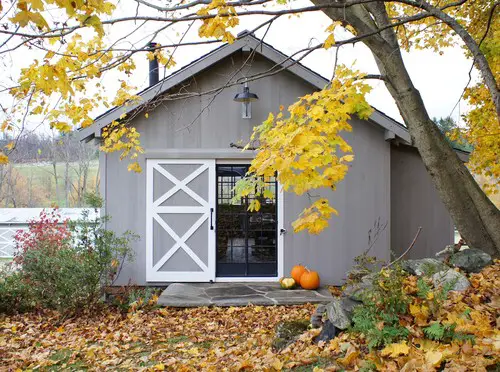 You may have an unused shed in your backyard and want to turn it into a private office. Well, you don't even need to change the structure of the building.
Leave everything as it is, but you can explore with a sliding door to make it look classy. As a security, you can add iron bars to it.
27. Wooden Kanga Room with Terrace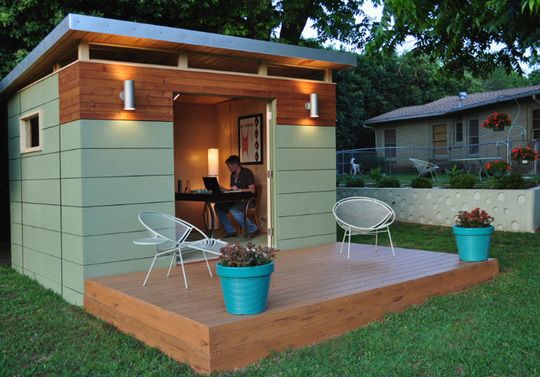 This shed shows the Kanga Room building, which uses ready-to-assemble material. Therefore, you only have to think about how the exterior design will be.
A terrace can be a great idea to beautify your backyard office. When you're tired, you can at least sit on the veranda and think of an idea.
28. Cabanas in the Modern Era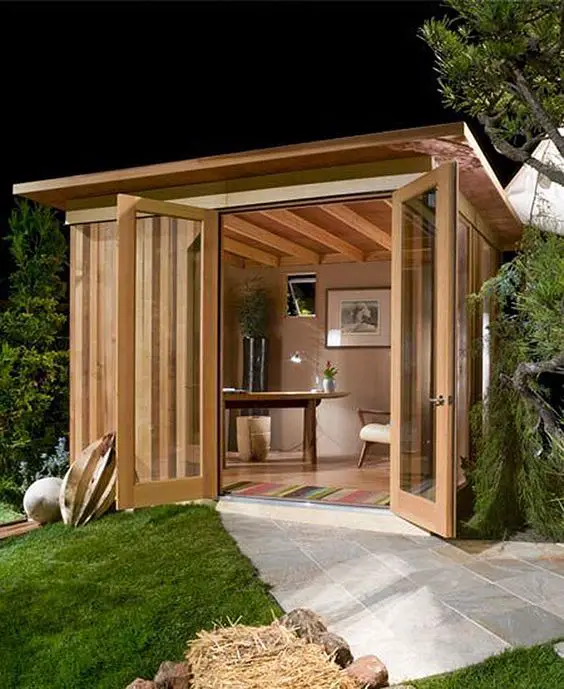 Amidst the popularity of fancy offices, I found that a cabana might be a unique workspace idea. Give a touch of modern design and furniture to support performance.
The image above shows how the door design makes the shed look extraordinary. Also, beautify the exterior design to make it more attractive.
29. Tropical Office on the Deck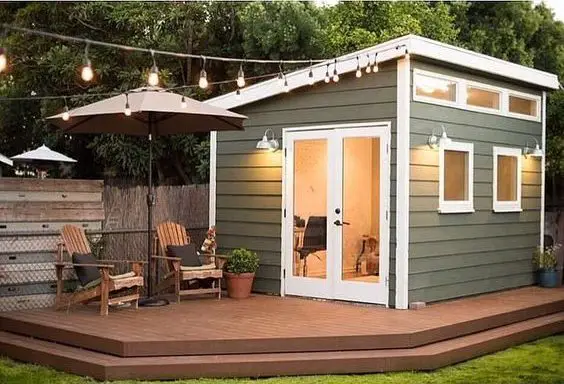 As I said before, building a conducive office is not only about the interior. During breaks, you also need to get out for fresh air. Therefore, a good exterior will help.
The design above impressed me because it gives a tropical touch with a wooden deck as a veranda. Thus, work will feel like a vacation.
30. The See-Through Shed Office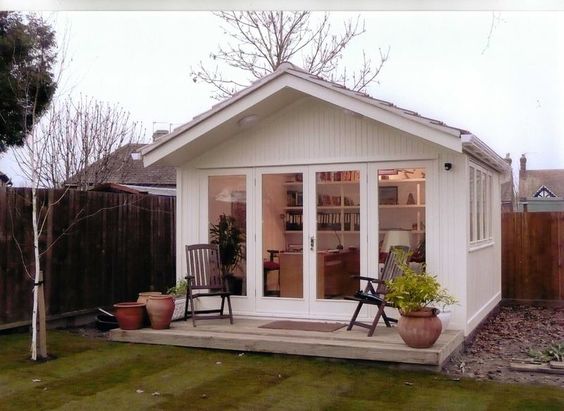 When you build an office to welcome clients, then you must provide a place that is easily accessible and full of friendliness. As well as making it as pretty as possible, try to make it easy for them to enter.
I suggest using glass materials, especially on glass and windows. Thus, you not only give access to clients but also allow sunlight to enter freely inside.
31. Vertical Studs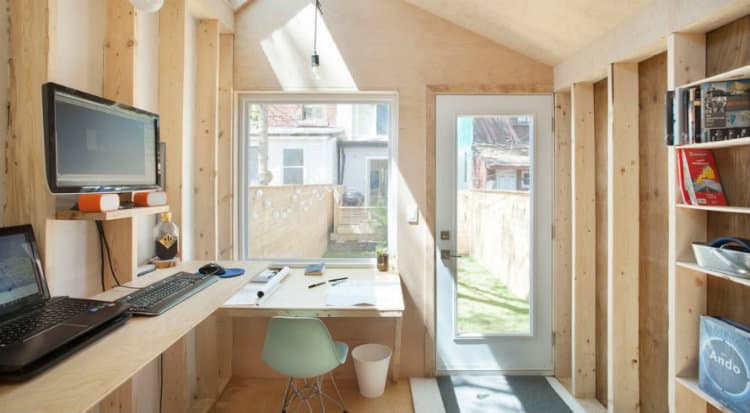 Some people think that the vertical beams on the walls are just decoration. But I can say that there are many things you can do, including adding storage space.
32. Open Shed Office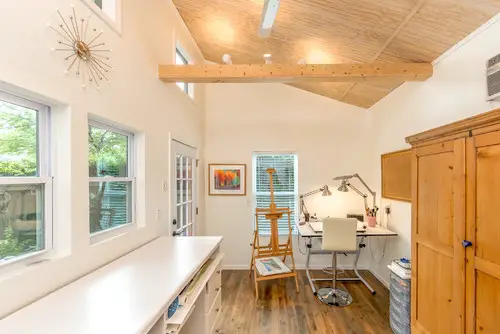 Want to feel closer to nature? You can do it now in your backyard. The open design in the image above is unique and makes you feel like you are working in an outdoor cafe all day.
Final Note
Those are some unique backyard shed office ideas I can recommend for work-from-home fighters. Now, you can create a fun and inspiring office according to your needs and tastes. Enjoy your work!
More from Materialsix.com: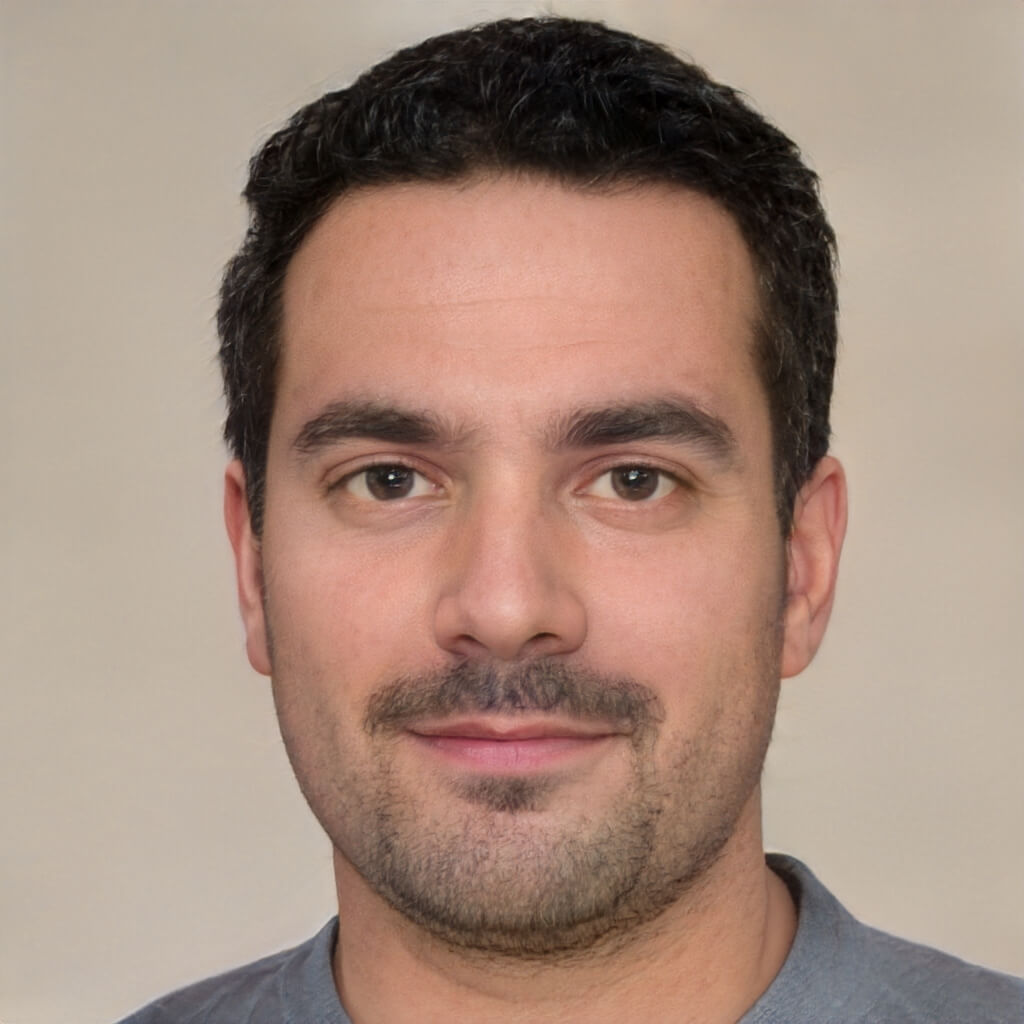 I'm a passionate home and garden enthusiast and the founder of Materialsix Home. With over 10 years of experience in the field, I've cultivated a deep love for all things related to home improvement, gardening, and interior design.