After spending effort and money into constructing and designing a shed, it is time to install functional and appealing floors. Here, we collect some popular shed flooring ideas for every taste and budget.
The shed flooring should not only be enduring, but it also must look attractive. Of course, it has to do with the flooring material.
Choosing the right shed flooring is crucial. Besides establishing a cohesive feel, it will keep the interior cozy and clean.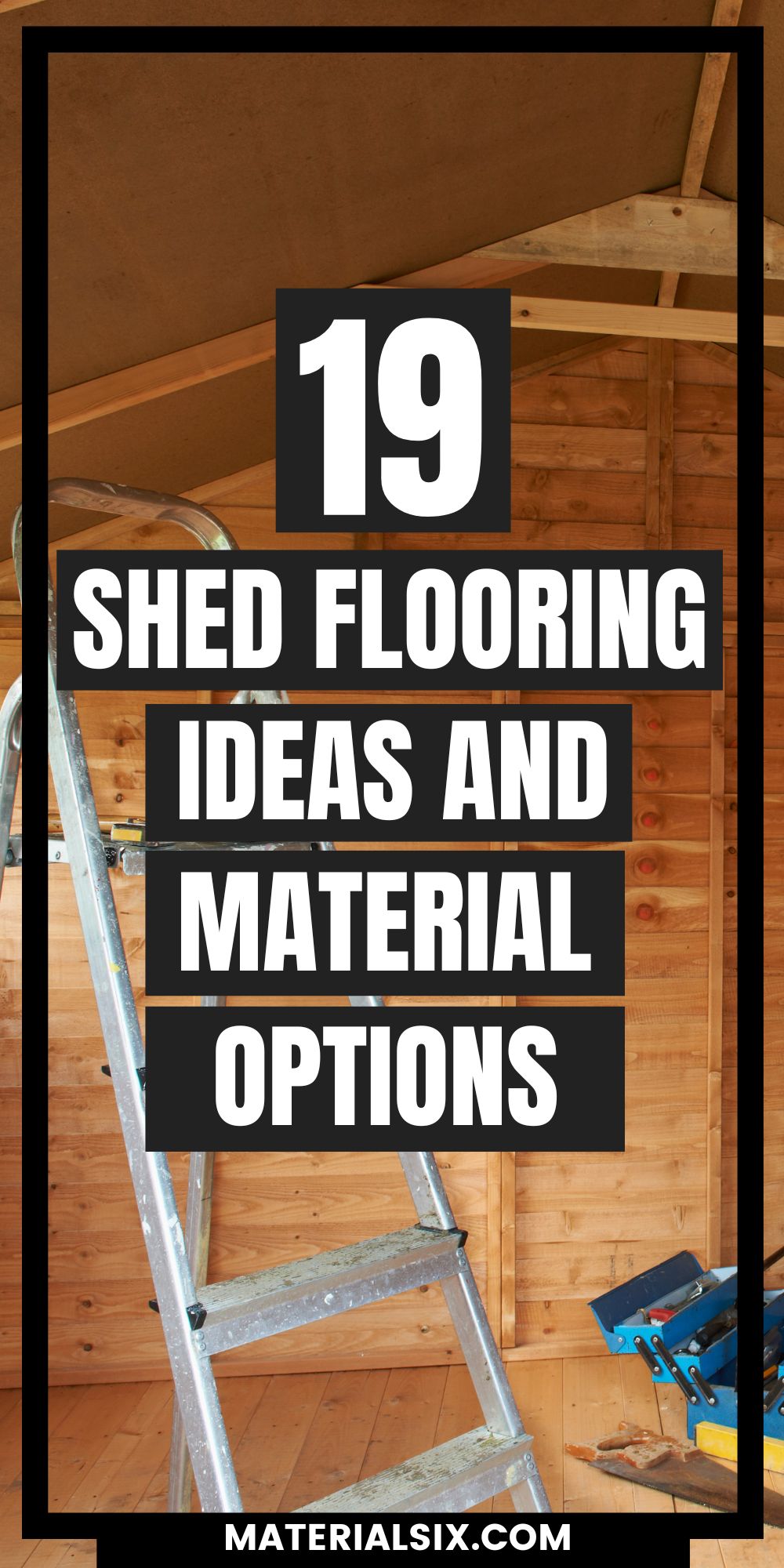 Things to Consider Before Picking the Shed Flooring
Shed floor covering surely needs a level surface. It's critical to place the shed on a dry foundation.
Once you have constructed the foundation, choose the kind of shed flooring. Before installing the floor, consider the following factors.
You must know how much shed flooring will cost. Moreover, the price will reveal its worthiness. It should be investment-worthy.
Some people overlook this factor. The flooring must protect the shed's foundation from water and dirt.
Ideally, the shed flooring should be long-lasting. Likewise, it must be unchallenging to maintain and clean. We have to know the kind of maintenance for the flooring too.
First of all, decide on the shed's location. The best flooring choice is the one that suits the shed. Also, it must fit the existing foundation.
Picking the right style is essential. This is why we should install flooring that matches the shed's aesthetic.
You either install the floor yourself or hire someone. Also, the flooring material must be comfortable to work with.
Don't forget to know how difficult the installation is. The subfloor can dictate the shed flooring option. Choose one that's appropriate for the foundation.
Consider curing when choosing the shed flooring. Furthermore, the curing usually depends on temperature.
Some flooring products only work best during certain seasons. That means we must understand the right time to install the product.
Not all shed flooring materials can stay put. Pick the flooring product that adheres to the shed's subfloor excellently.
Do not neglect this factor. The shed floor serves as a workspace. Be sure the flooring can withstand certain threats, such as heat, chemicals, and water.
The shed's primary function can lead us to the right flooring option. If you'll be on your feet often, your shed needs a cozy and easy-clean floor.
Most Terrific Shed Flooring Options
Now that we have understood those factors, you need to check some shed floor ideas. Below are some popular flooring materials and products.
1. Pressure-Treated Plywood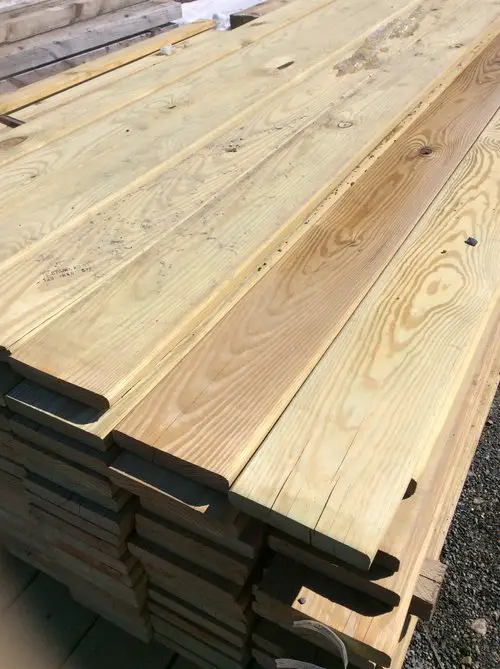 Unlike concrete, this kind of flooring provides a warm surface underfoot. In addition, it's quite easy on the feet or knees. The pressure-treated plywood comes with downsides, though.
Pressure-treated plywood indeed looks more appealing than concrete. However, it still won't create a finished appearance.
Another problem with having a pressure-treated wood floor is that it cannot resist rot. Also, the flooring doesn't withstand wear and tear.
This flooring cannot support heavy equipment. If we drive such things across the plywood floor, it will get chipped.
2. Concrete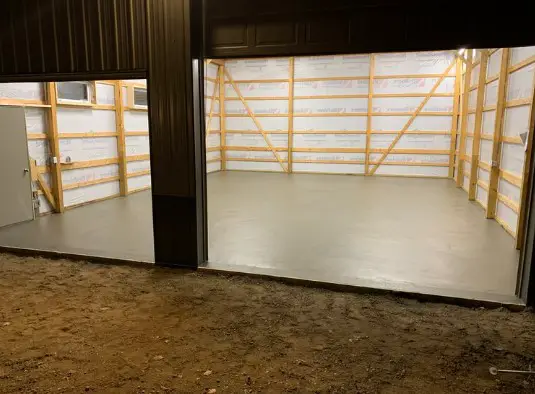 Concrete may be the best flooring for outdoor sheds. Its durability is unquestionable. This kind of flooring is not prone to insect damage and rot.
Cleaning a concrete shed floor is a breeze. Likewise, the solid and durable base will protect items in the shed. Concrete floors come in varying patterns.
In addition, they have various colors that are too incredible to pass up. For sure, concrete slab makes awesome flooring in high-traffic areas. It can perfectly handle heavy loads as well.
Artificial concrete floors tend to be more enduring and cheaper than natural stones. They're suited to low-budget homeowners. Meanwhile, natural ones can't resist fading and uneven surfaces.
Moreover, concrete flooring can withstand water damage. Even though installing it seems promising, it offers a few downsides.
Not all owners outfit their sheds with concrete floors. First, the flooring is not inviting and eye-pleasing. It has a hard surface, too.
Concrete floors are not comfortable if we work long hours in the shed. Besides, they get so cold during the wintertime. Since concrete is porous, the unsealed one stains quite easily.
3. Epoxy Floor Coating
Rust-Oleum Epoxy Shield is a long-lasting and clean coating. Likewise, it features an inexpensive epoxy kit.
This kind of covering defends the concrete floor from chemicals, tools, and water. It helps adorn the shed too. Lastly, the coating comes in four colors.
4. Kilz Concrete Sealer
This concrete sealer is worth buying. Besides being low-cost, it seals and protects the floor from stains and water.
The product offers an eye-pleasing shine. For installation, you can use an applicator, brush, or sprayer. It dries in an hour.
Moreover, each gallon of the sealer will accommodate up to 400 square feet or 37 square meters.
5. Rust Bullet Concrete Paint
The concrete paint above is expensive. It looks incredible and provides easy application, though. This product is scratch- and chip-resistant.
There are 18 paint colors to choose from. Their glossy finishes will enliven the sheds. We don't need to deal with a challenging installation process too.
6. Pavers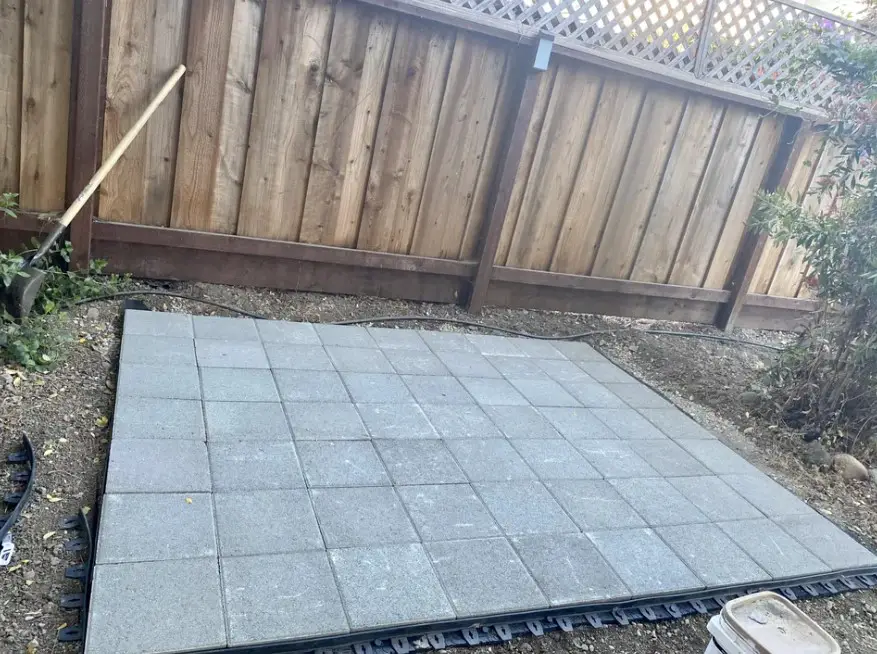 Pavers are more attractive than concrete slabs. They are equally durable, though. Garden sheds with pavers typically look quite welcoming.
Unfortunately, the pavers are cold. Furthermore, they take a toll on both knees and feet. If we don't install them right, they'll be susceptible to sinking. Also, they won't stay put.
With pavers, we must expect stains and cracks.
This type of shed flooring is prone to chips as well. Considering these downsides, we can't say that pavers are an outstanding alternative to concrete slabs.
7. Bricks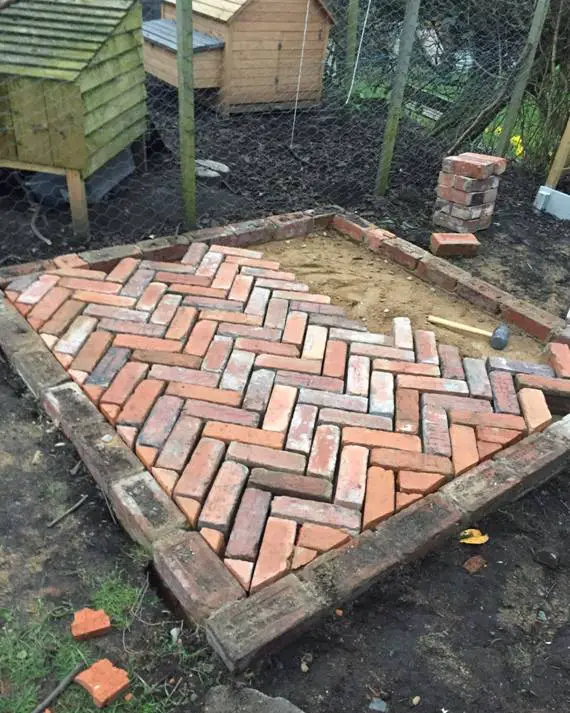 Another shed flooring to consider is brick. Without a doubt, bricks make fabulous exterior flooring for sheds. They boast different patterns and colors.
Bricks are a perfect fit for a garden or greenhouse shed. With the brick floor, we don't need extra flooring.
8. Plastic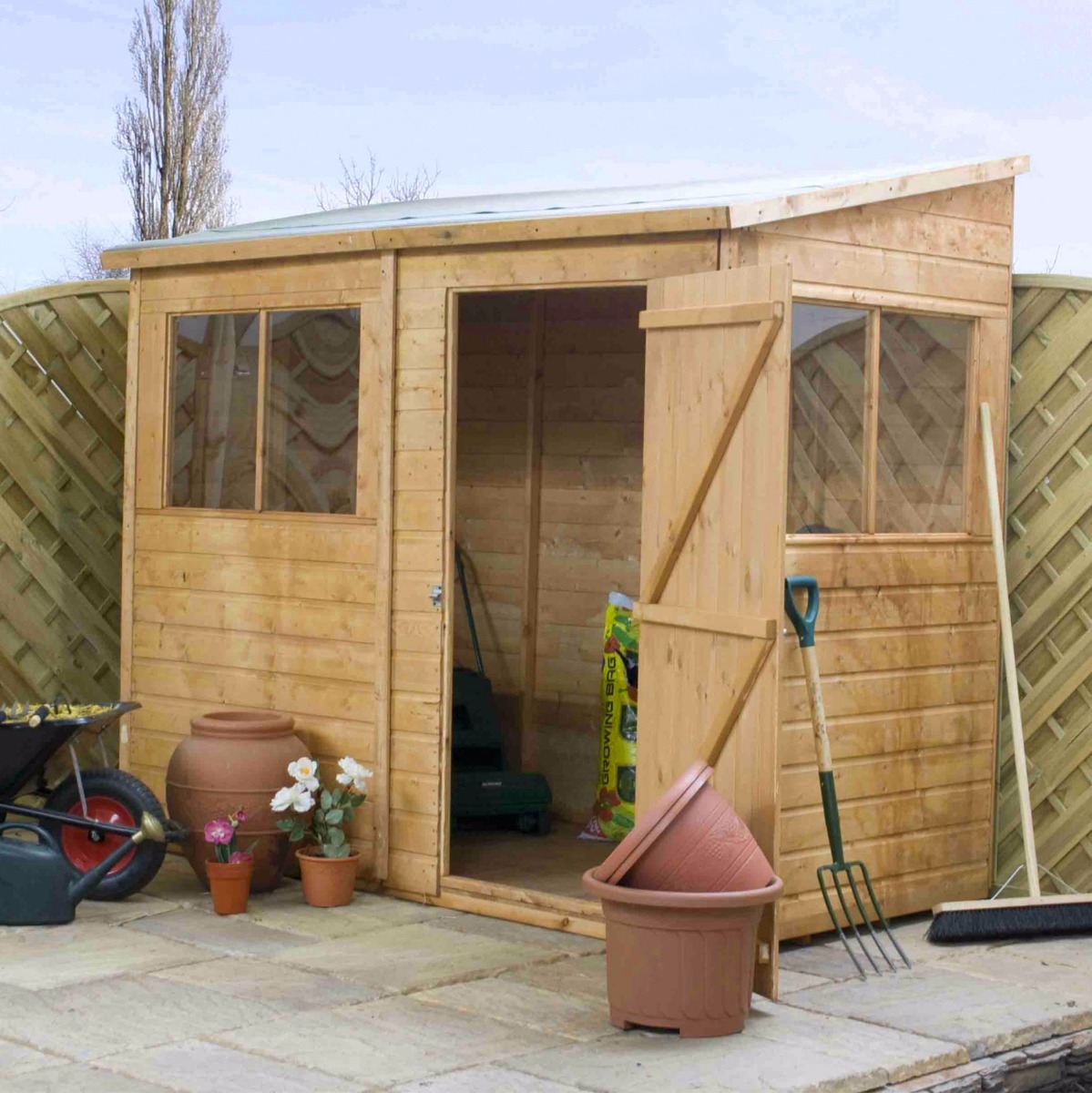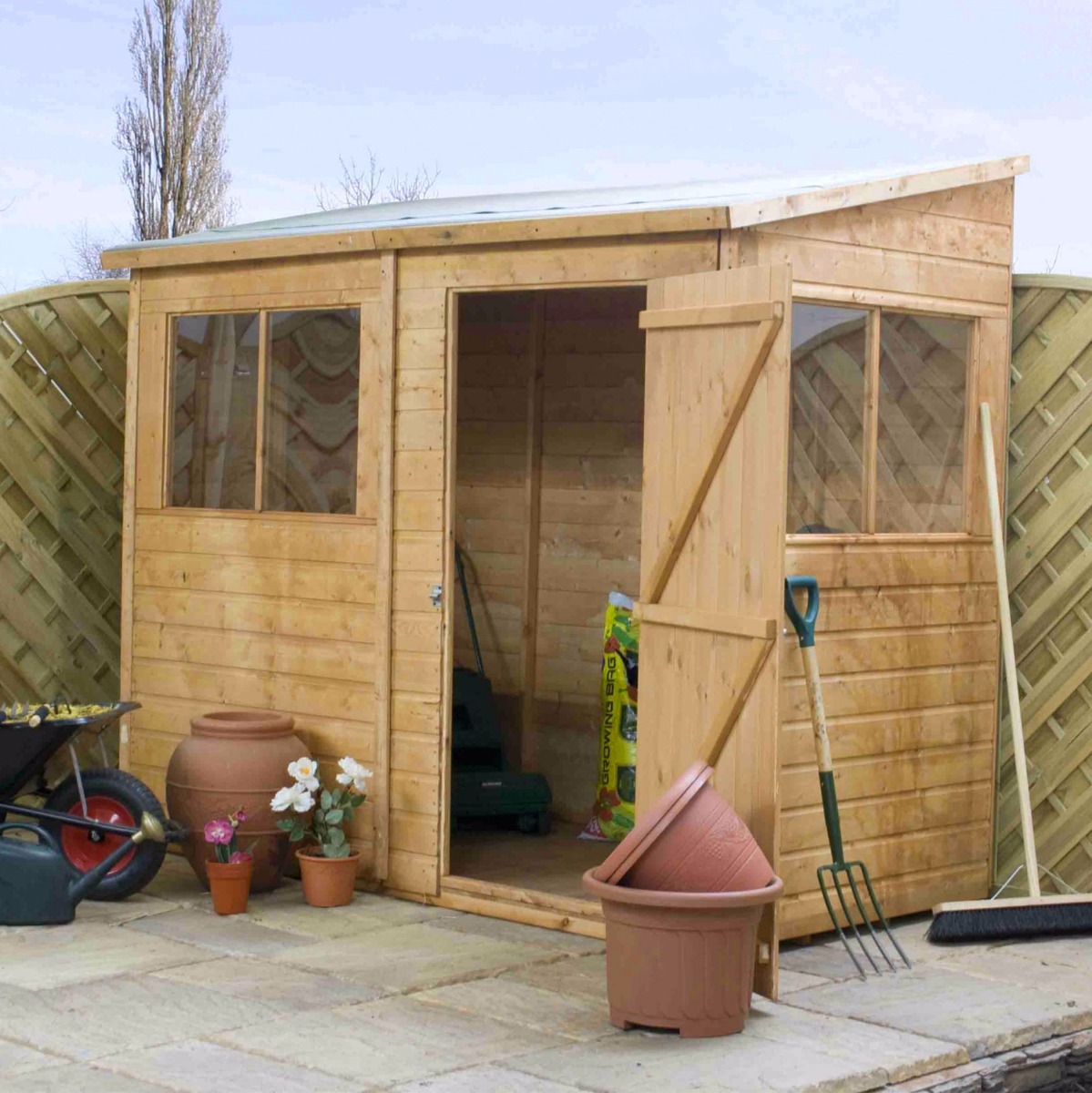 Outdoor plastic sheds usually include plastic floors. They are waterproof. Compared to concrete or wood, they can withstand staining better.
Plastic flooring is durable. However, if you want something more appealing, look no further than plastic floor tiles. They have various styles and colors.
All you need to do is lock them together.
In addition to the no-fuss installation, the long-lasting plastic floors are easy to clean. Also, they are suitable for hands-on workspaces like a greenhouse shed.
If you are looking to store heavy equipment, we don't recommend plastic floors. They cannot accommodate lawnmowers or snowblowers adequately.
Similar to wood, plastic is prone to gouges.
9. Oriented Strand Board Flooring
OSB is one of the cheap shed flooring ideas. This standard type of flooring is durable and sturdy, though. Normally, homeowners install it as a subfloor.
Sadly, OSB doesn't have an appealing look. Yes, it's forgiving on the feet. However, to boost the shed's aesthetics, we think there are nicer alternatives.
Although OSB is ideal for weather-tight buildings, it's not a marvelous shed flooring option.
Similar to plywood, the material will rot and break down over time. Yet, the OSB flooring is structurally better and denser than plywood.
10. Tongue and Groove Boards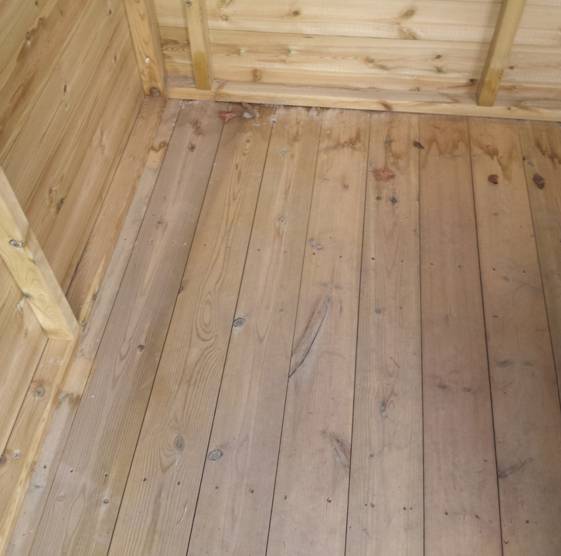 Timber tongue and groove planks make wonderful shed flooring. Apart from being easy on the feet, wood planks are sturdy.
Undoubtedly, timbers are more eye-pleasing than concrete or plywood floors. They provide a stunning finished look.
Timber planks establish a welcoming vibe in any shed. Likewise, they create a classic appeal regardless of their finishes.
Wood planks will not only rot but also attract wood-eating bugs. They aren't waterproof and can warp when they come in contact with water.
Besides being stain-prone, timbers cannot support heavy objects well. The installation is quite complicated. Wood planks may make messes since you need to assemble them using glue.
Timbers tend to be irreplaceable once damaged. If our budget is tight, we suggest you pick the less pricy flooring option.
11. Ready Seal Wood Stain
This stain will lend the wood flooring a classic feel. The product itself comes in 6 gorgeous colors. Apart from spicing up the shed floor, it offers protection.
It is mildew- and water-resistant too. The installation takes just a few hours. Likewise, this stain is excellent for plywood floors.
12. Kilz Wood Floor Protection Paint
Here is an affordable yet superb wood floor paint. We think the product is worth purchasing. It's insusceptible to cracking, fading, and peeling.
Besides the no-fuss installation, the product dries fast. Consider using the white one because it carves an airy look.
13. Roll-Out Vinyl
The roll-out vinyl flooring is marvelous since it is easy to install. Likewise, it defends wood floors from unwanted stains.
We recommend you install this kind of flooring from IncStores. This vinyl sheet can roll out onto the shed floor easily.
Vinyl is prone to gouges from heavy objects. It excellently can resist spills, though. Therefore, it suits a shed that acts as a workspace.
14. Peel-And-Stick Vinyl
This type of vinyl flooring is so affordable. We can install vinyl planks or floor tiles to generate a statement.
Consider buying peel-and-stick vinyl tiles from Achim Home Furnishings. They'll jazz up any dull shed while offering an easy installation. Likewise, they have varying high-gloss patterns.
The strong adhesive of these tiles produces a great bond with the existing subfloor. To stay in place, add staples using a staple gun.
Unlike wood floors, peel-and-stick vinyl tiles can withstand stains.
15. Cork Flooring
Cork flooring is available in rolls. This flooring option is affordable and forgiving on the feet or joints as well. Moreover, its installation is uncomplicated.
The QEP's cork flooring provides a soft surface due to its spongy texture.
Cork cannot resist gouges from heavy machinery. Yet, this one gives the shed natural insulation properties during winter.
16. Rubber Mat Flooring
Rubber flooring is resilient and enduring. Whether we buy rubber mats or tiles, they'll give our shed a waterproof surface.
Besides defending the floor, rubber flooring is inexpensive. However, this flooring idea won't do much to enhance the shed's look.
The Rubber Cal's flooring defends against spills, scratches, and scuffs. Additionally, it generates a non-slip foundation.
The installation is easy-peasy. This rubber flooring also may require cutting. To make it stay put, consider using roofing nails.
17. Outdoor/Indoor Carpet
An outdoor or indoor carpet is a cool addition to a she shed. We can buy the carpet either in tiles or rolls too.
Carpets can resist wear and tear while creating a warm vibe. Another flooring option is using an old carpet. It's free yet protective. Likewise, this stuff gives old feet a bit of cushioning.
18. Interlocking Foam Tiles
Since interlocking foam tiles are easy to install, they are suited to sheds. They also can snap into place with ease.
With these tiles, we have lots of possibilities. Interlocking tiles form an enduring and appealing shed floor. Also, they can withstand fluids and oils for no-fuss cleanup.
19. Synthetic Turf
The artificial turf is excellent for outdoor flooring. Simply roll the turf out before constructing a shed.
We don't think it is worth the investment because it is quite thin. Furthermore, there's another better surface that resists water damage.
Frequently Asked Questions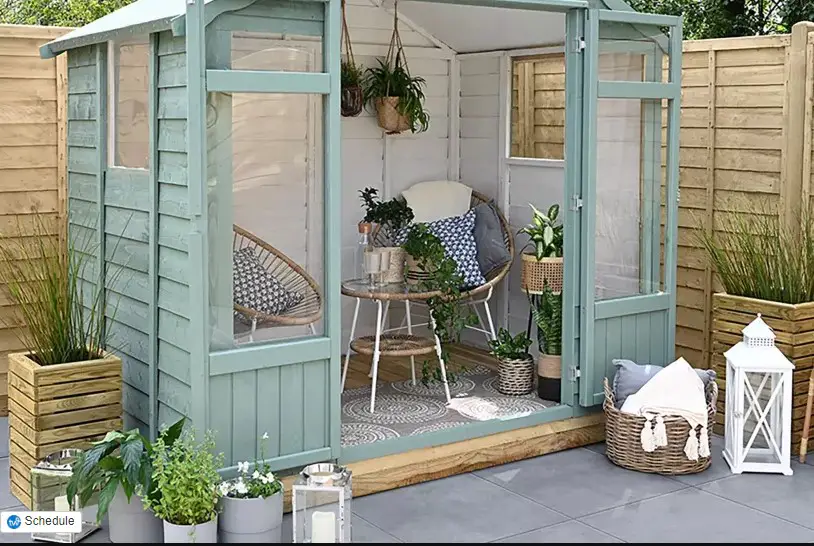 Should I put flooring in my shed?
Shed floors are critical since they provide a solid base to walk on. Moreover, they accommodate belongings like heavy-duty units that you stash away.
What is the best floor to put in a shed?
Pressure-treated plywood is possibly the best flooring choice. You can sweep and paint it with ease. This flooring is not prone to water and insects too.
Can I put vinyl flooring in a shed?
Of course, you can. Vinyl floors are waterproof, weather-resistant, and enduring. The cleaning only requires water or soap as well.
Can you use concrete as a shed floor?
Definitely yes. Concrete floors make a solid and resilient foundation for any garden shed.
Conclusion
The flooring is not just a surface. It provides a level foundation to walk on. Moreover, it can transform the shed.
Any kind of floor makes a tremendous impact. Therefore, we need those shed flooring ideas to make our backyard building livable.
More from Materialsix.com: