Have you ever thought about under-deck storage? Anyway, is it possible to build a proper and solid space between the floor and the building without incurring additional costs?
After many observations, I finally found that applying some designs of under-deck storage would provide significant results for space planning.
More than just dividing up floors and buildings, homeowners can add space to organize things.
As every building has its uniqueness to adapt, just let me show something incredible. So please check these ideas for your more-organized space. Let's begin to tour!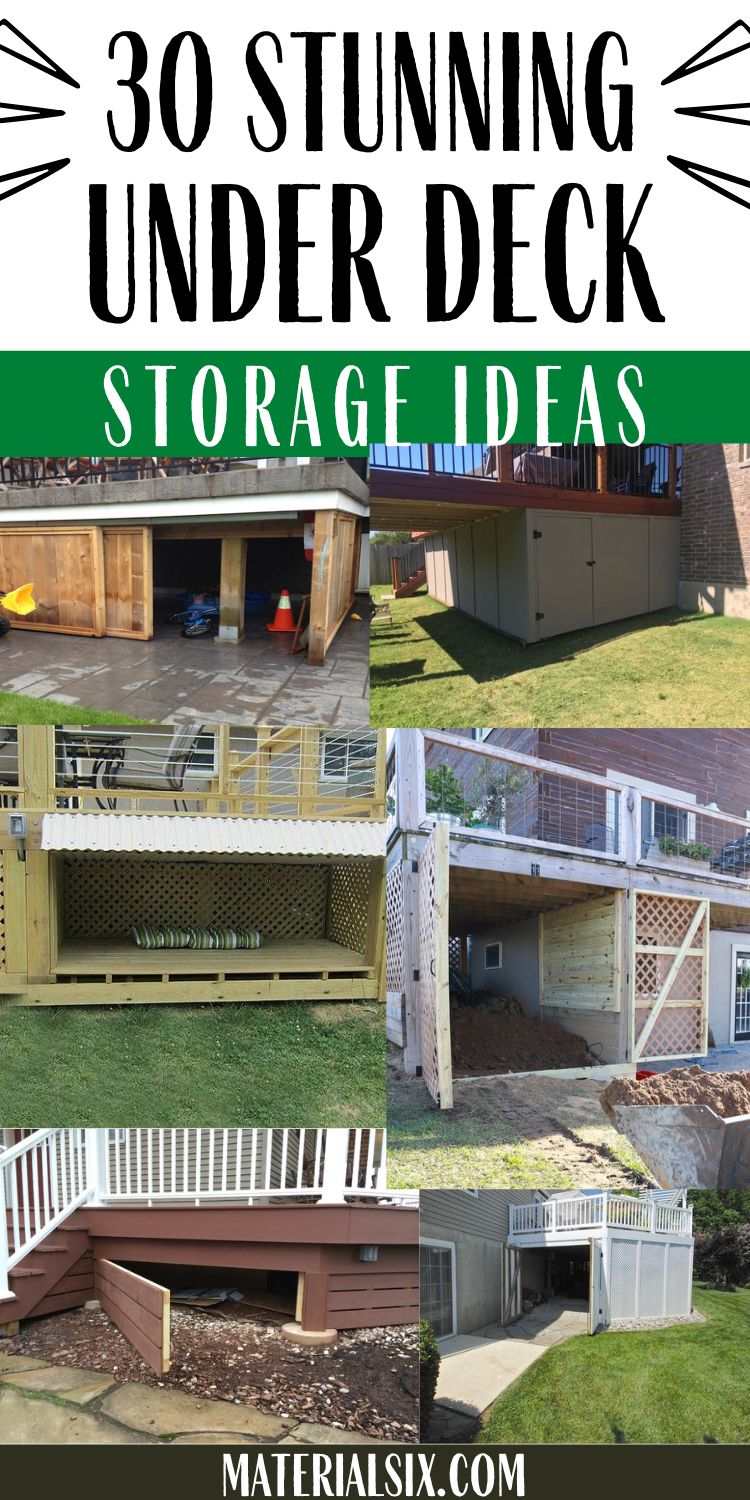 Maximize Your Outdoor Storage Potential: Creative Under Deck Storage Ideas to Inspire You!
Creating a functional building is sometimes uneasy because of the area conditions and the user needs. I also found this problem. Therefore, here are some DIY under-deck storages you can adapt:
1. Gardening Tool Storage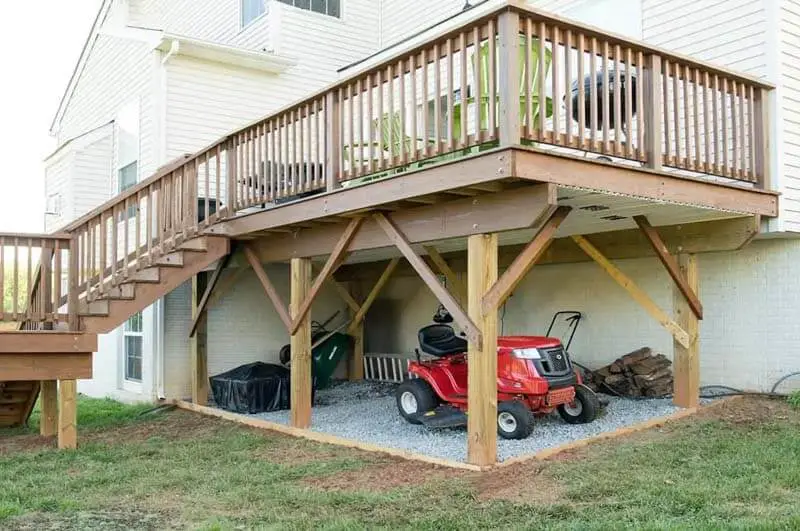 The easiest way to utilize the area below the deck is to leave it open and as is. Thus, the owner can place any gardening tools freely.
This design is suitable for those who have heavy equipment requiring space for traffic and parking. In addition, some carpentry tools will be a pain if anyone has to go through narrow doors.
Of course, it is possible to place an organizer such as a shelf or cupboard to store small items. However, as it is open storage, ensure the conditions are always neat so as not to disturb the view.
2. Traditional-style Lattice Room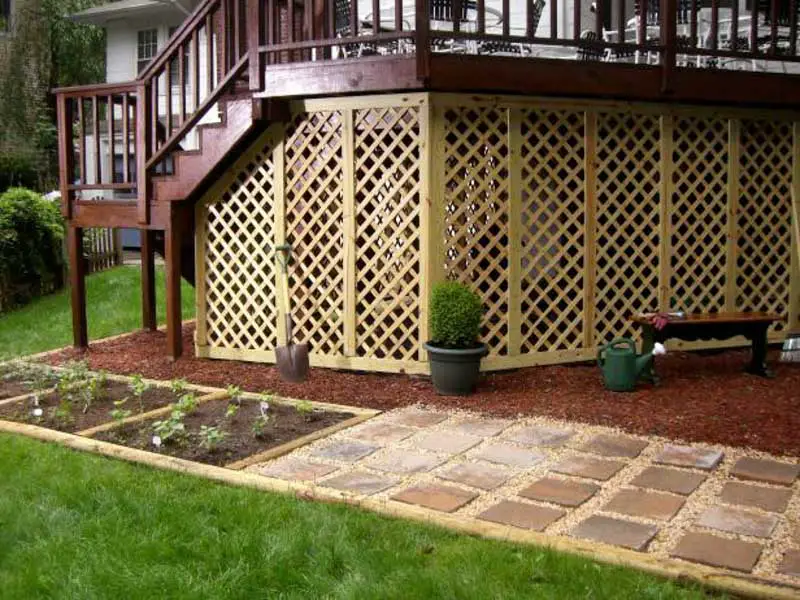 Lattice will enable you to give a traditional, rustic, and even farmhouse feel. I admit that the design with the theme of returning to nature is always successful in inspiring every opportunity.
As in the picture above, the brown color of nature gives a peaceful and calm atmosphere every time you pass it.
To beautify, additional furniture and rustic decorations will make it even more perfect. However, consider the types of items in it. To protect from rain and heat, add an extra layer inside.
3. The Shed under the Raised Deck
While many people leave that part of the raised deck empty, why don't you make it a storage shed? Especially if there is a lot of equipment related to outdoor activities, then this room will be helpful.
While having only a low budget, simply provide simple under-deck storage doors and emergency walls to protect things and avoid a messy impression.
However, I have seen people use waterproof under-deck storage containers to prevent negative environmental influences. And it's great!
4. Under Deck Storage on the Gravel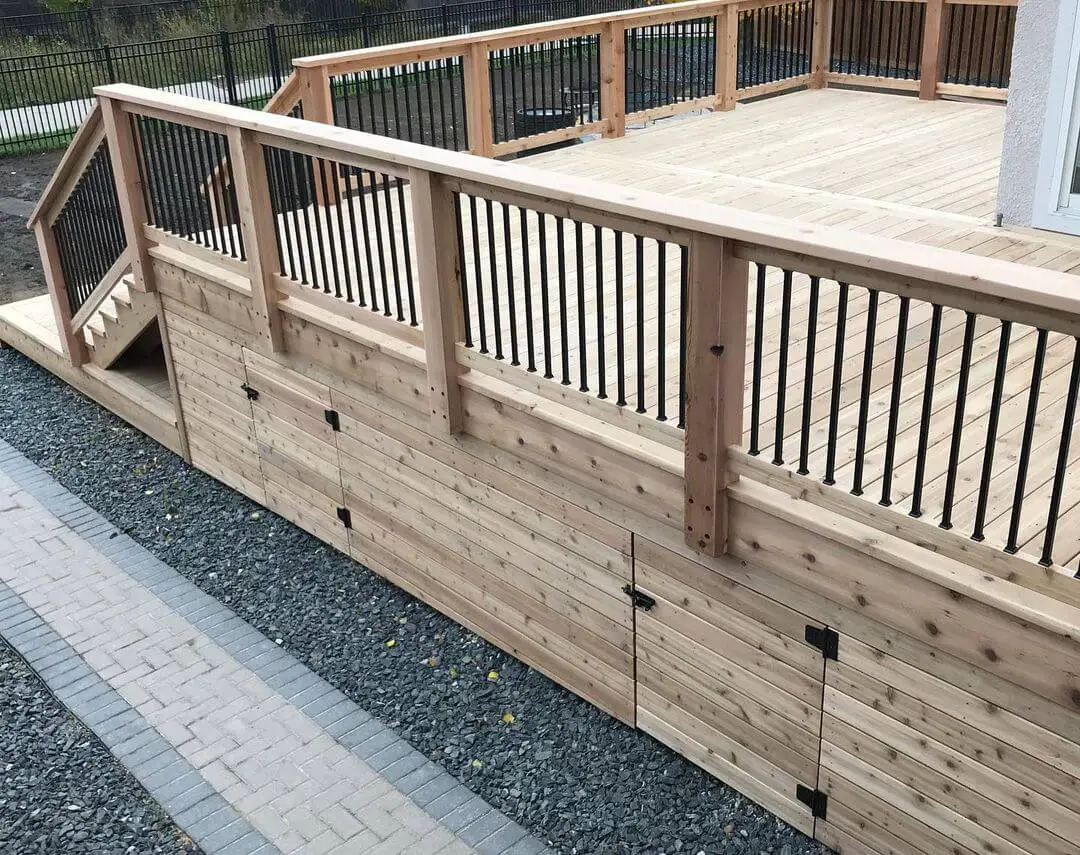 The best thing about DIY underdeck storage is that everyone can do it on any terrain, including gravel. A simple design (with a trick, of course) can provide functional value.
As in the picture above, a mini-warehouse can store things such as gardening tools and folding bicycles. Then, just layer the wood neatly (and this simple idea is perfect).
However, installing additional floor coverings inside the storage has been enabled. Many people take the simple step of using a waterproof case, followed by decking material as the finish.
5. Horizontal Lattice as Closed Under Deck Compartment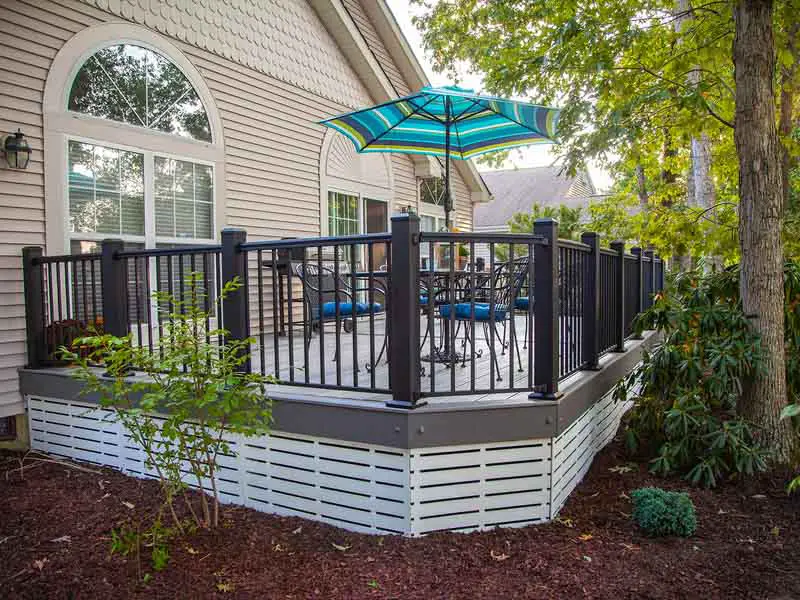 So far, I do recommend lattice as a material for under-deck designs. Besides being practical and easy to install, it can be a decoration.
Let me take an example of the horizontal lattice as an outer part in buildings with striped finishing. This material will make the appearance of the building more harmonious.
6. Just Let the Under Deck Space Open!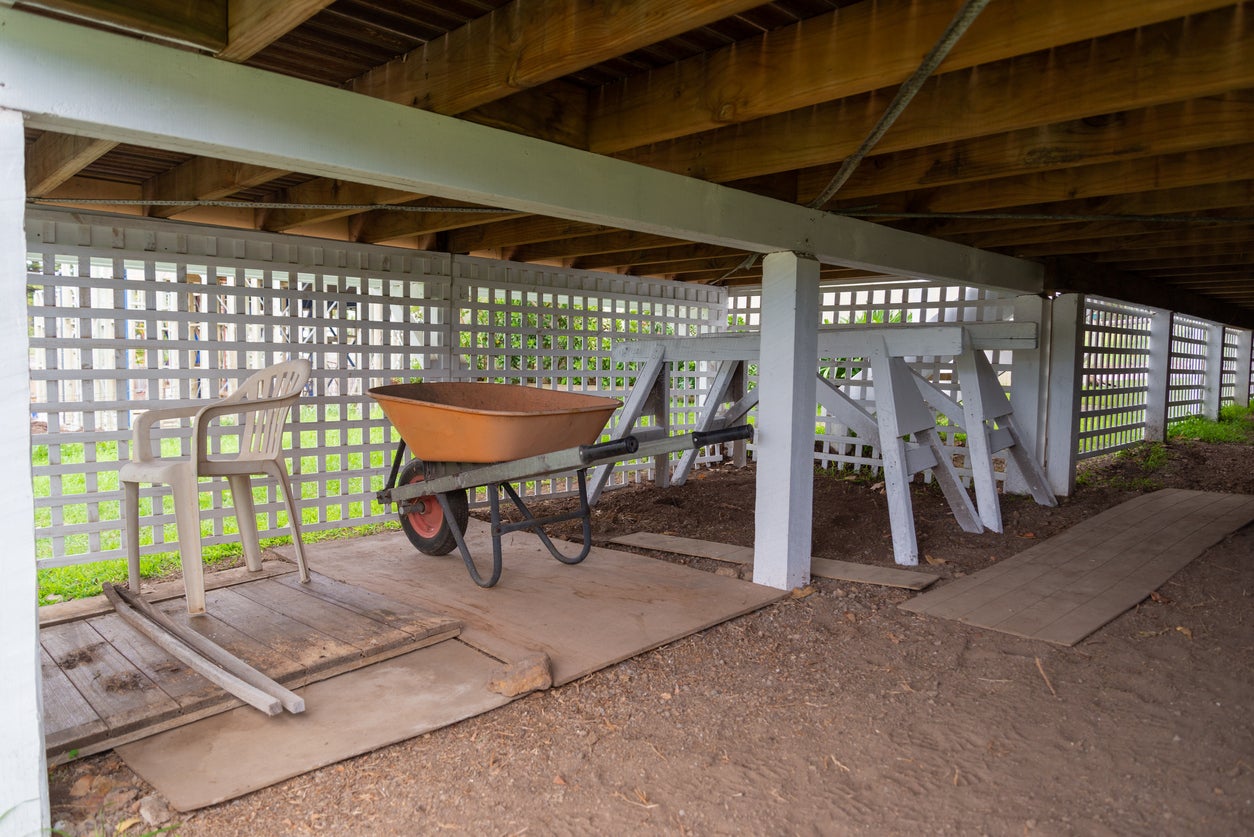 As with closed compartments (as I reviewed before), using open under deck space can also be the right choice. There's no need to build a perfect makeshift wall.
This design allows instant access to see its condition all the time easily. Generally, this storage is perfect for high traffic levels.
Another advantage of open under deck storage is that it gives a spacious impression of the building. People who don't intend to place items that are too personal, please try using this idea.
7. Make It Artistic with Decoration
Farmhouse designs are always great, including for under-deck storage. For a more artistic appearance, a simple decoration can be an alternative.
I'm impressed with how the homeowner utilizes most of the space under the deck, turning it into storage the size of a garage.
More than that, he adapted the decoration to the surrounding garden. In addition to above-ground plants, there are also supports for the growth of vines.
8. Open Storage As an Access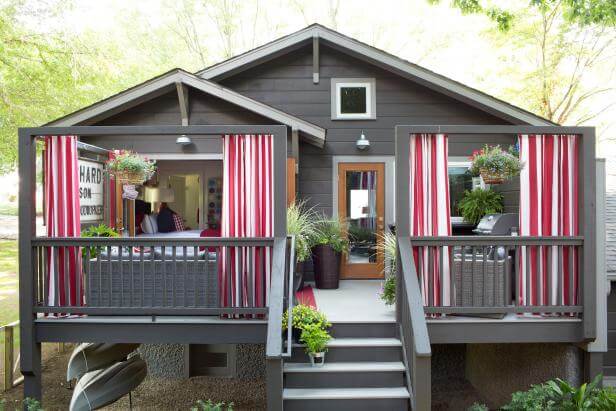 Storage is not always in the form of a container or room. If the items to save are too large or too many, then an open design will be more helpful.
In the picture above, the open space below the deck becomes access to a room with a concrete wall. Thus, you can still use the land for storage but still have access to the room underneath.
9. A Little Secret Storage
Talking about storage, I emphasize that this is not always a warehouse or room. Also, add a small built-in drawer under the deck to store small items.
With the unified design shown in the image above, one would not know at first glance that there is a small space filled with things. Isn't it interesting?
10. Spacious Drawer under the Wooden Deck
Some spacious drawers are also possible for those who need more space. Simply design the organizer by adjusting the wooden deck size and needs.
However, remember that the big drawer under the deck requires a strong structure. Please also consider its practicality, and don't put a too-big organizer that makes it difficult to open and close.
11. Hidden Storage with Clad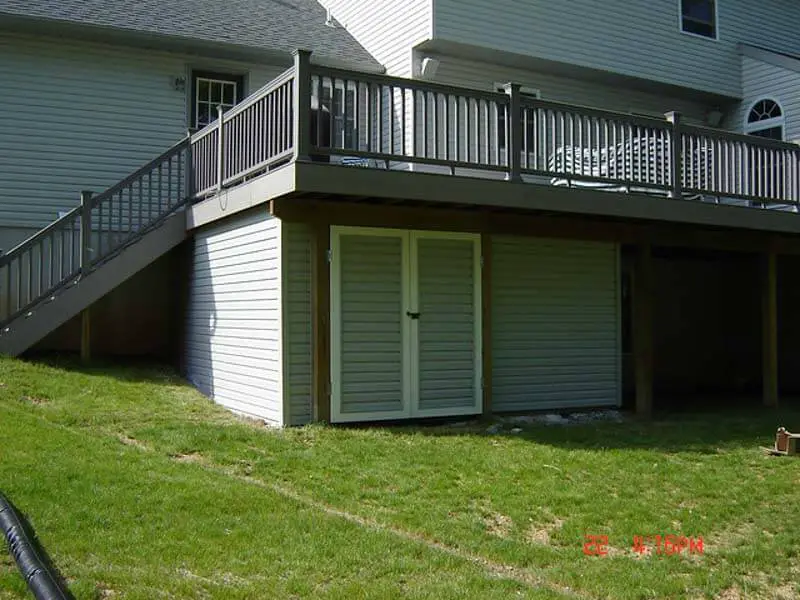 Enjoying the view from the top deck is far more impressive. However, don't let the space below empty, use it as hidden storage.
Clad with siding can be an idea of under-deck storage to make it look concise but in line with the building. At first glance, one wouldn't even know that there is a room.
Aside from being a storage area, the shed can also be a way to embellish the garden. Don't forget to provide charming decorations with colors and ornaments.
12. Under the Terrace on the Sloped Ground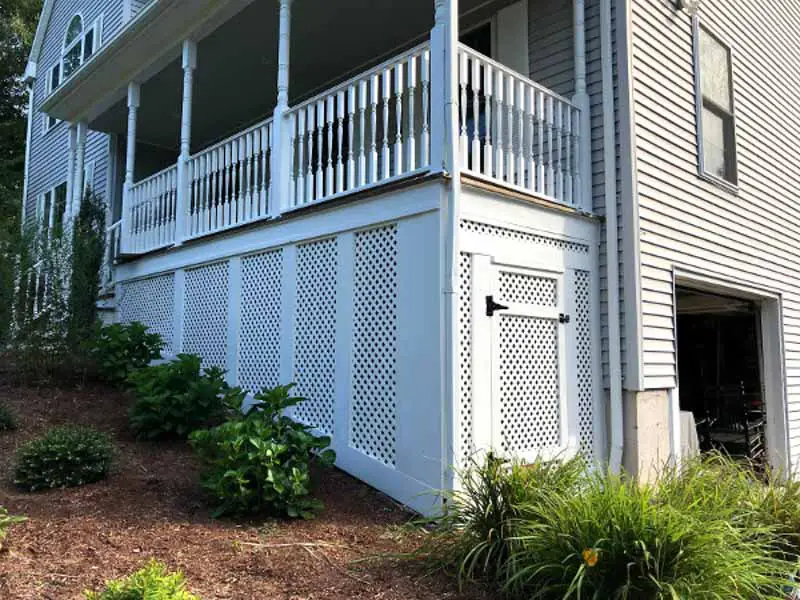 Decking is one powerful strategy for buildings in sloping areas. But instead of immediately making it the main building, I suggest you make a porch right on the sloping land to maintain balance.
To maximize the space under the porch, turn it into adequate storage like in the picture above. Use a lattice or plank, and there won't be a sloping problem anymore.
How to Deal with the Slopes
Even though it is possible to apply an under-deck storage design on sloping land, a problem may arise. How to do mobility effectively with an asymmetrical space?
Don't worry! Just build stairs or multilevel rooms in the storage under the porch. That way, the homeowner can store anything neatly without fear that the things will fall due to tilt.
13. DIY Cubby House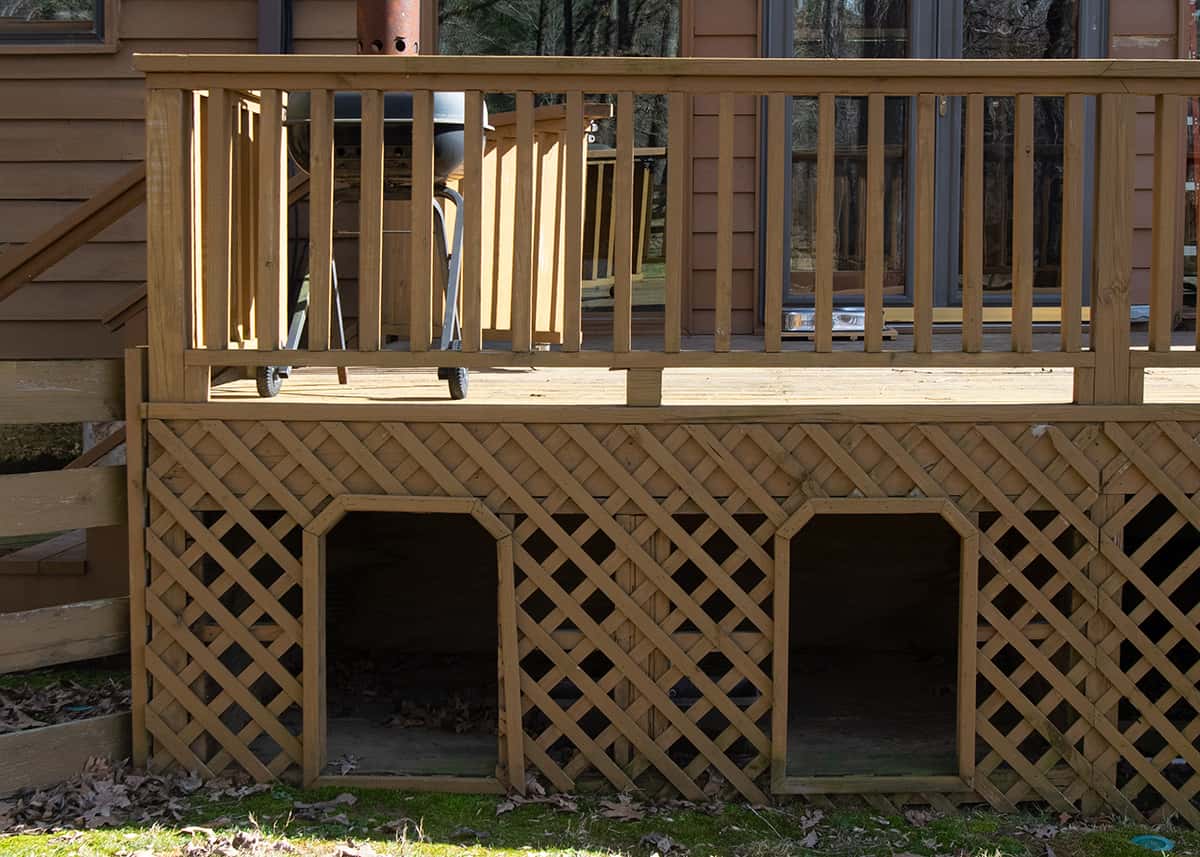 Even though there are many fancy designs currently trending, I conclude that DIY things are priceless. You will not be able to find the same work anywhere.
Like the mini cubby house in the picture above, you can use leftover wood materials and turn them into unique storage. A crisscross design like a DIY lattice will make it look classic.
14. Use the Removable Fence Panel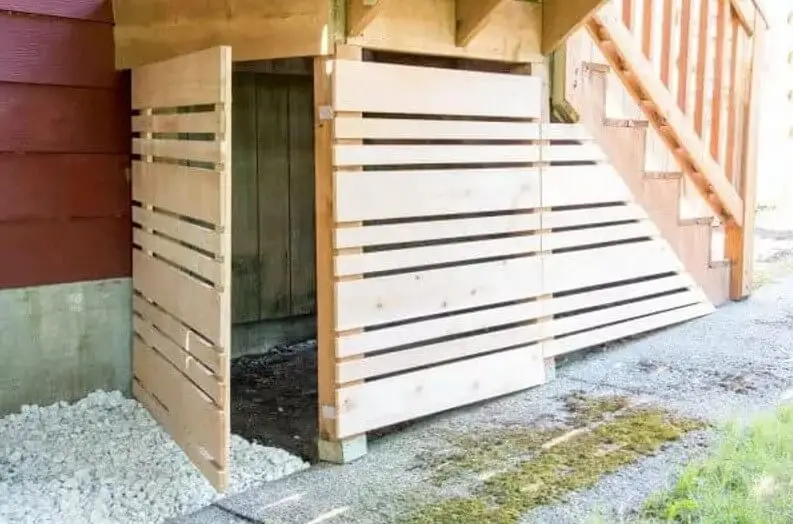 Many under-deck storage designs provide hidden compartments under the stairs. For those who are reluctant to install hinges for the doors, removable fence panels can be a solution.
15. Tall Shed under the Deck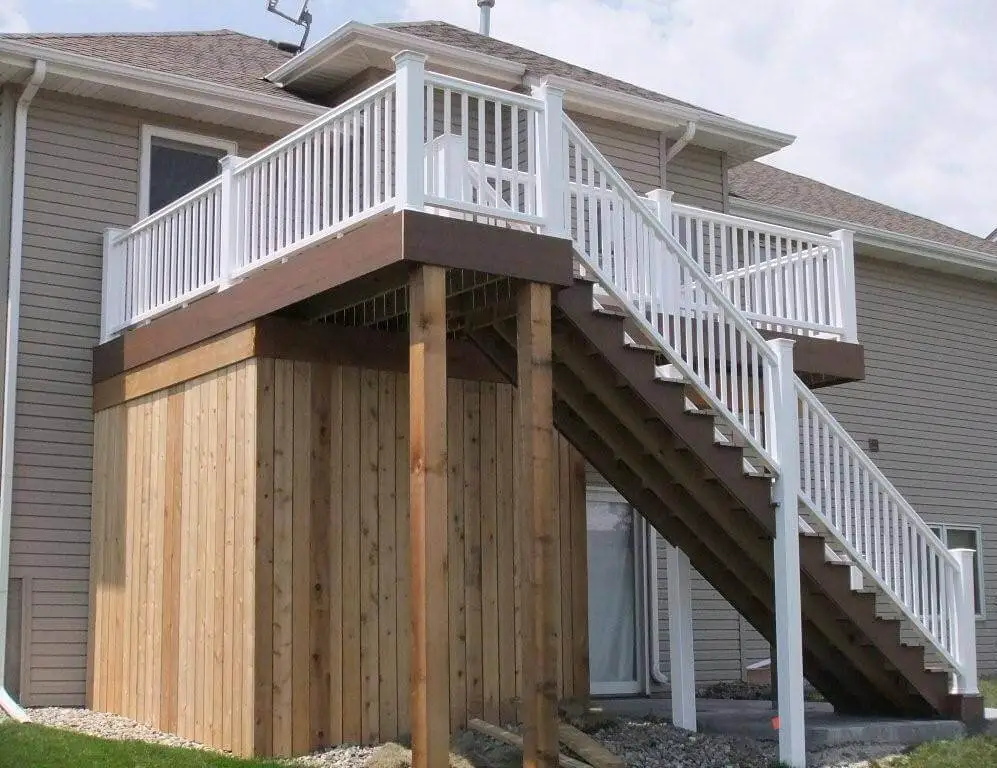 A tall deck offers more horizontal storage space. Why not take advantage of it? Build sheds that also help support the structure of the building.
16. Just Hang the Ceiling Rack Storage
I understand that not everyone has enough to renovate the lower deck. Therefore, for practicality, try directly placing ceiling rack storage underneath.
This hanging storage from Amazon will help you make the most of your space. There are several sizes that you can adjust to your land.
17. Under Deck Storage Design with Some Fun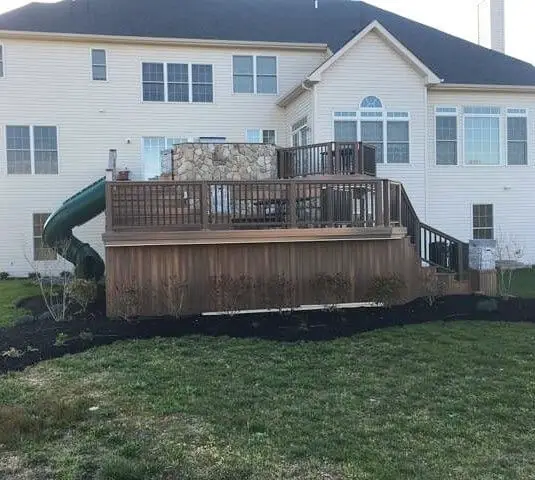 Applying a storage idea under the deck is even more fun if there are additional incredible rides. In the picture above, I love the slide that is sure to be a favorite spot for children.
18. Mini Storage under the Stairs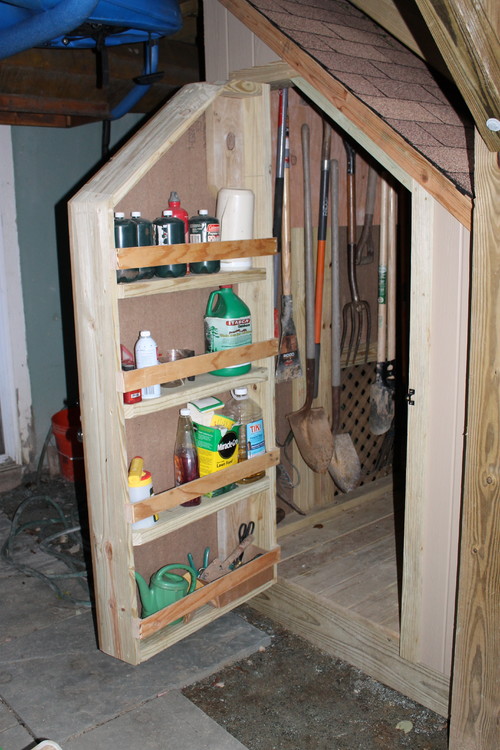 If there is a little space under the stairs, applying this idea is still possible. Build a hut-like wardrobe with a tiered model like the picture above.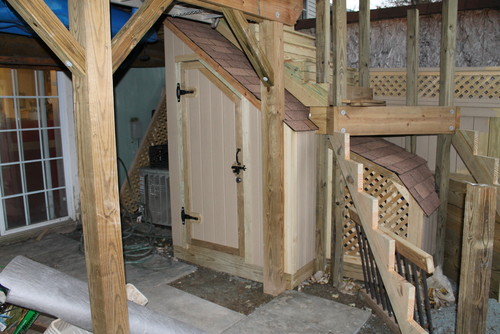 Because it is one of the minis designs of under deck storage, adjust how to organize the inside. Likewise, place some shelves or hangers to make it tidier.
19. Sturdy Shed with Stone Materials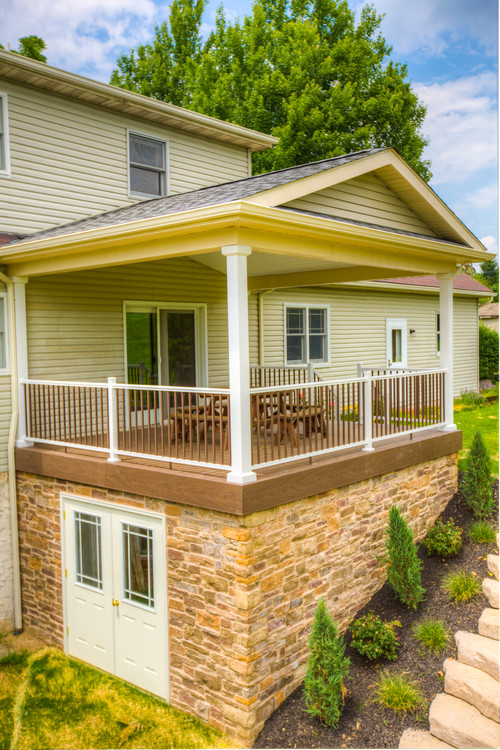 For a house on steeply sloping ground, decking is the mainstay. To make space underneath, use a sturdy material like stone.
The use of this material not only helps support the deck but also makes the space stronger. Then, apply the finished stone veneer to make it prettier.
20. Metal Deck Skirt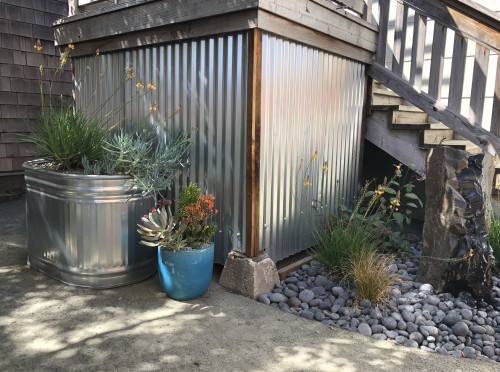 For those who want a space that can protect from heat and rain, then metal can be an option. One of the materials that I recommend is galvalume aluminum which is quite affordable but durable enough.
21. Let's Back to the Nature
Artistic doesn't always have to be fancy. As with the design I presented above, the elegance and natural impression are evident even in their simplicity.
The use of cedar wood lattice gives a warm, natural and soothing impression. Meanwhile, see the walkway and the stone floor which makes the room safe from moisture.
22. Put It Lower than the Ground
For various reasons, you can build an under-deck shed lower than ground level. This design is great if the user wants a wider or higher room.
This idea is interesting, but the owner must consider the soil conditions. Ifthe flooring is not well-built, the humidity can be very high, making mold can breed fast.
23. Mini Crypts below your Feet
There are many ways to store items behind the deck, one of which is by creating an entrance that opens vertically. That way, no need to go outside to put and take something in storage.
This type of drawer may not provide a large amount of space, but it is enough to help organize small items that need protection from moisture.
24. A Mini Private Garden Supply
Outdoor storage is indeed the most popular storage place for garden tools. But if a large area is not available, then the mini shed is still perfect.
Decks don't always have to be spacious. I saw several designs that are mini but quite functional and pretty. It's suitable for buildings on narrow land.
25. A Relax Room under the Deck
Some multifunctional rooms can also be great ideas for under deck storage. Besides being a compartment for goods, this space is also spacious enough to relax for a while.
Furthermore, use some lattices as a wall so that air circulation remains smooth. It feels back to nature, right?
26. Open and Closed Combination
Both open space and closed storage have added value. But if you have a large enough area, why not combine them in one place?
Likewise, you can build closed storage in one spot and leave other parts open for passing or a place to relax. Interesting right?
27. A Shed for Garden Things
Having land with grass certainly needs adequate gardening equipment. Therefore, building a shed under the deck will make it easier for you to store tools and supplies.
28. Attach it like a Parasite
Some people might have a finished under-deck area but they are reluctant to use it as a space. If so, why not turn it into a simple shed?
No need to spend a lot of money to make fancy compartments. Just add ready-to-use storage and attach it to the bottom of the deck. It's simple but very functional.
29. Right on the Balcony
Building a deck sometimes isn't merely to adjust to the shape of the land. You can use it as additional space, for example, a balcony.
In this case, I found that the owner used the lower part of the deck as storage space. It becomes an additional feature attached to the main building. Don't let the useless space be left!
30. Big Storage to Organize
Apart from using a ceiling rack, I also suggest a big storage system which will ease you to use the land. You can immediately place it under the deck and store items under it.
Don't worry about safety as the YardStash Outdoor Storage Box by Amazon above is waterproof. Now, everything gets neat in an instant.
More Under Deck Storage Ideas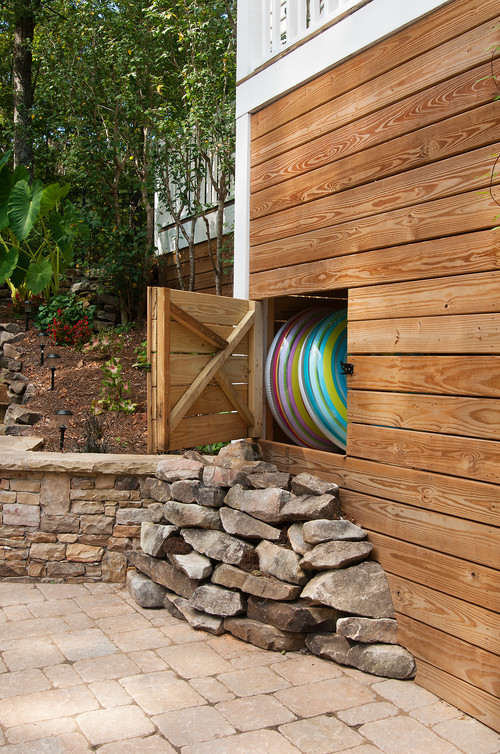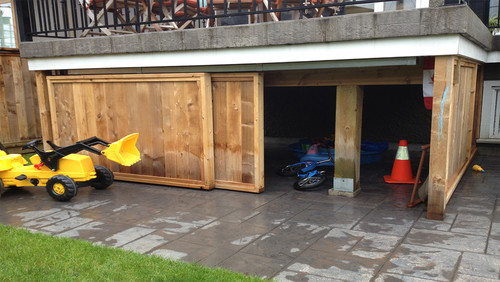 Final Thought
Based on the reviews above, I can say that under-deck storage ideas are universal and applicable to all types of land and buildings. So, adjust everything and be happy designing!
Read also: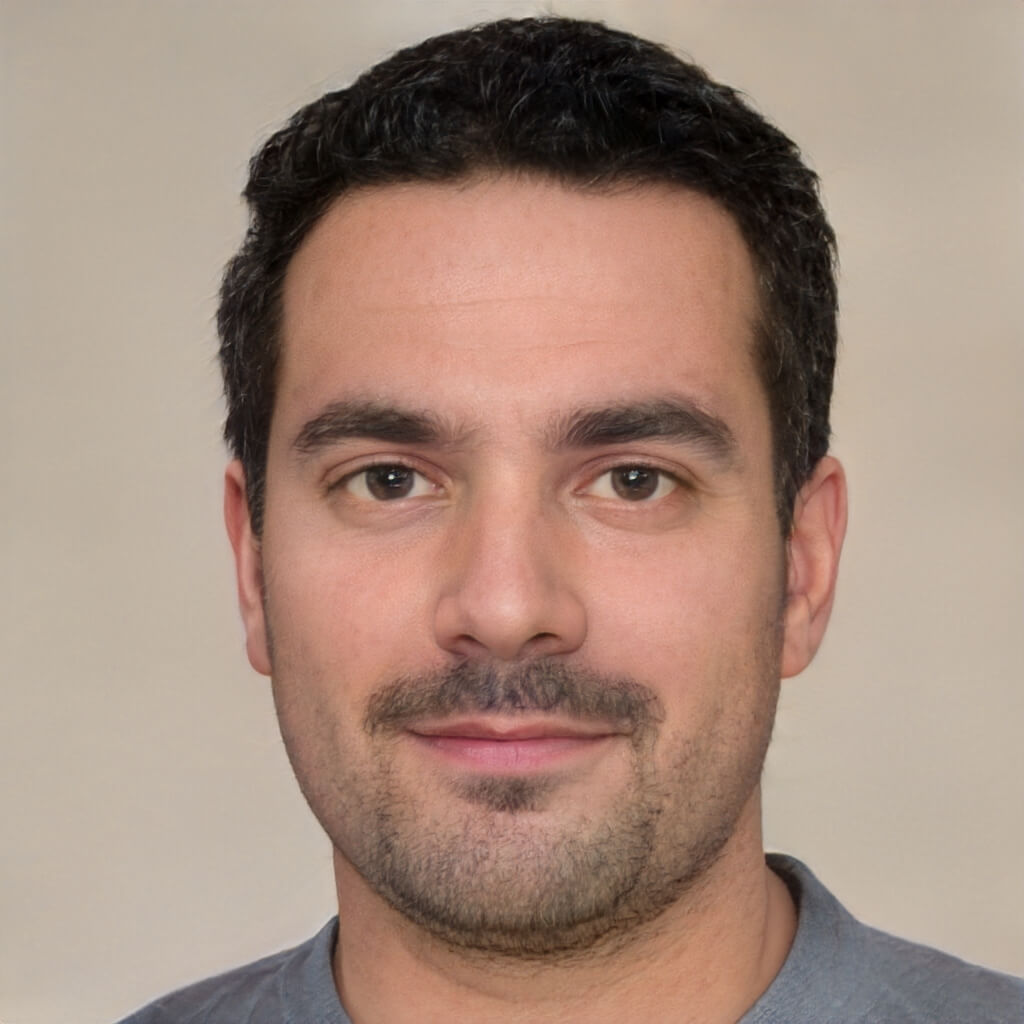 I'm a passionate home and garden enthusiast and the founder of Materialsix Home. With over 10 years of experience in the field, I've cultivated a deep love for all things related to home improvement, gardening, and interior design. Read more…