With the right rustic farmhouse porch decor ideas, you can create a functional and stylish outdoor space without breaking the bank.
Besides, the size of your existing porch will not be an issue as well. Even the smallest space can look appealing when you decorate it right.
Furthermore, from incorporating unfinished wood to a warm welcoming sign from repurposed materials, the rustic flair can bring old-world elegance to your porch.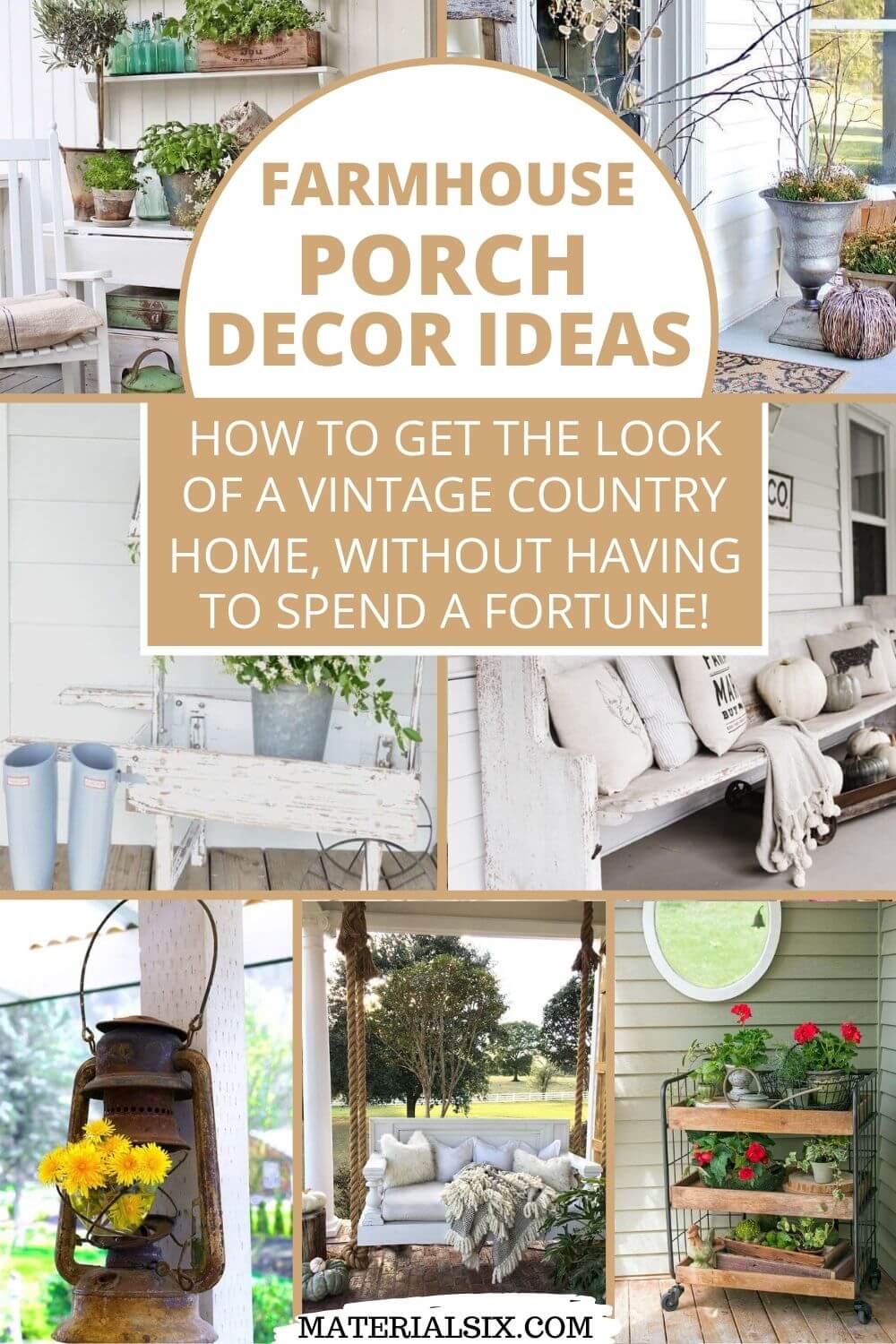 44 Ideas to Create a Stunning Rustic Farmhouse Porch
Whether you purchase brand new decorations or repaint some of your old furniture pieces, it only takes some time and a little creativity to design a cozy porch.
So, to help you get started, check the following 40+ ideas to decorate a rustic farmhouse porch.
1. Shabby Chic Porch Decor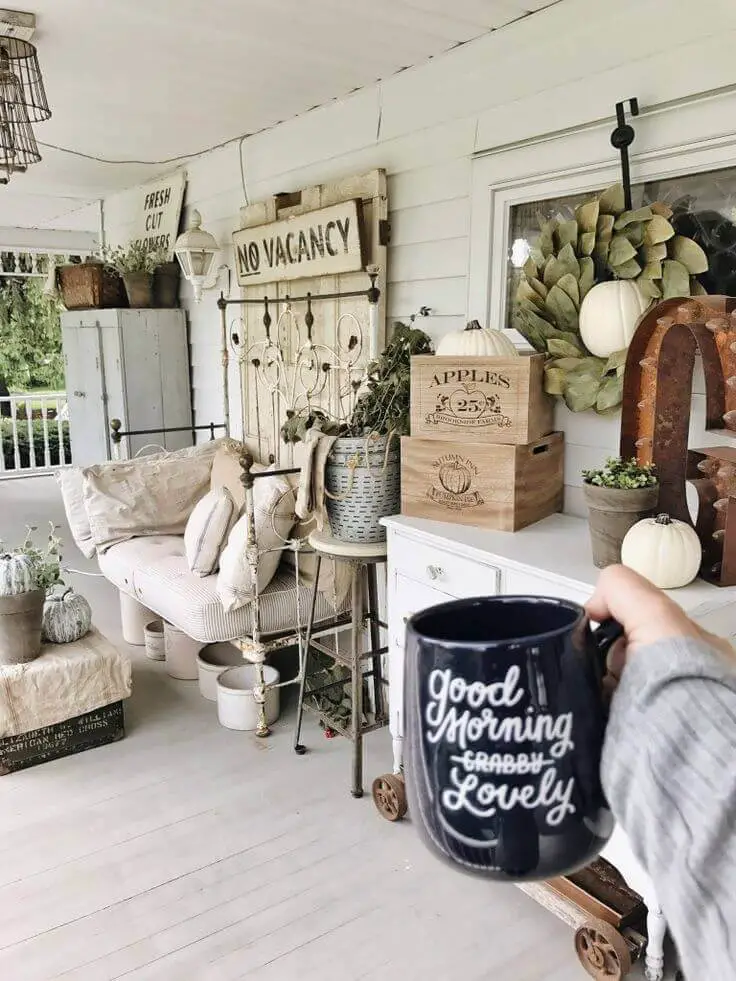 A balanced palette of creams and neutrals creates a charming porch design in this picture. Also, the decorative clutter surrounding the daybed makes it a perfect spot to sit back and relax.
2. Striking Repurposed Spool Table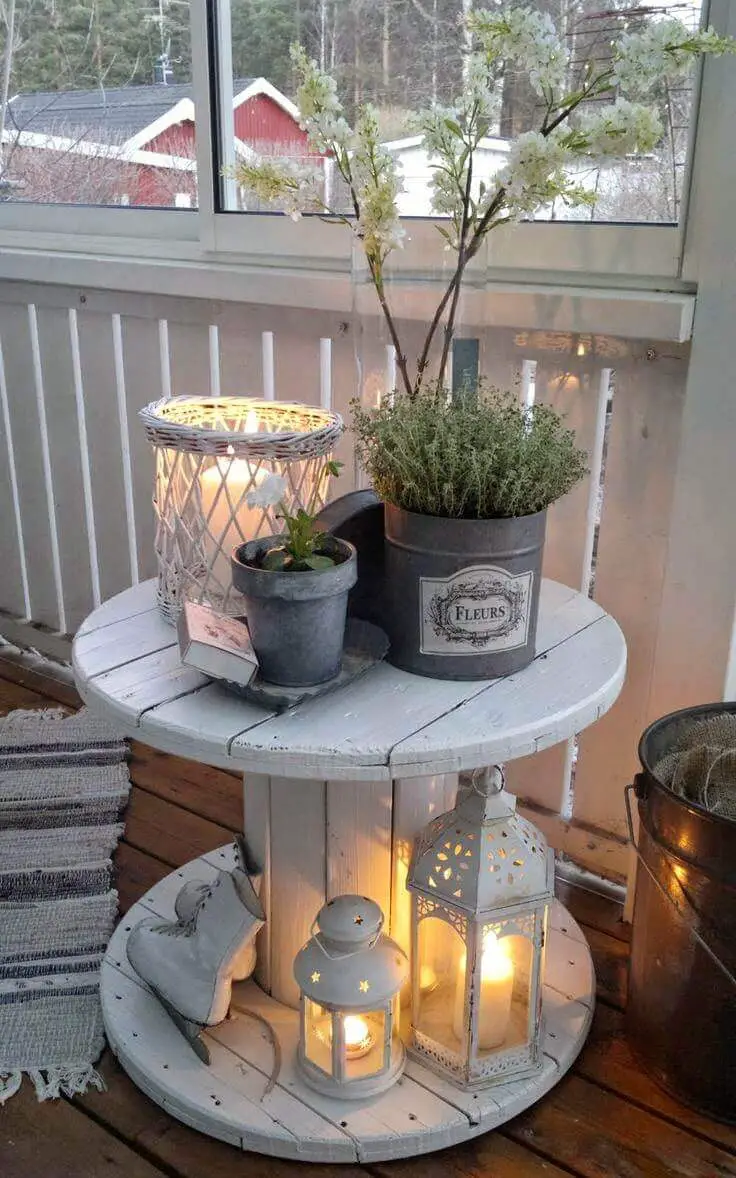 This repurposed wooden cable spool houses a fun collection of lanterns and lamps to create an eye-catching focal point for the porch.
3. Corn Maze Porch Decor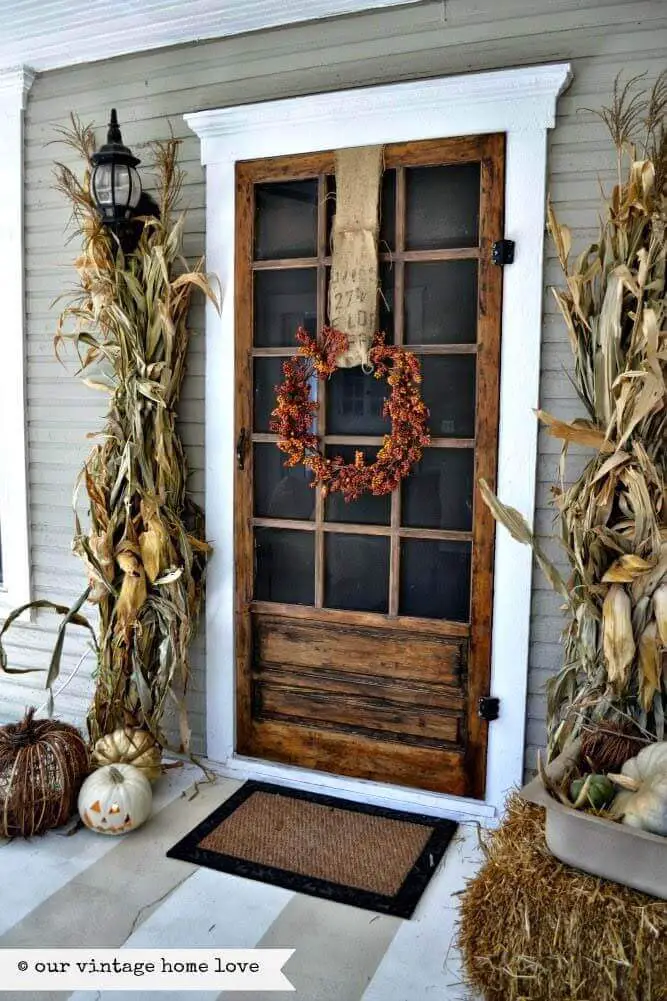 Make your rustic farmhouse décor to hint at the harvest season by incorporating strands of oversized gourds, straw bales, and cornstalks.
Then, the colors of autumn added through these natural pieces gives the front door an interesting look.
4. Cool Rustic Wheat Wreath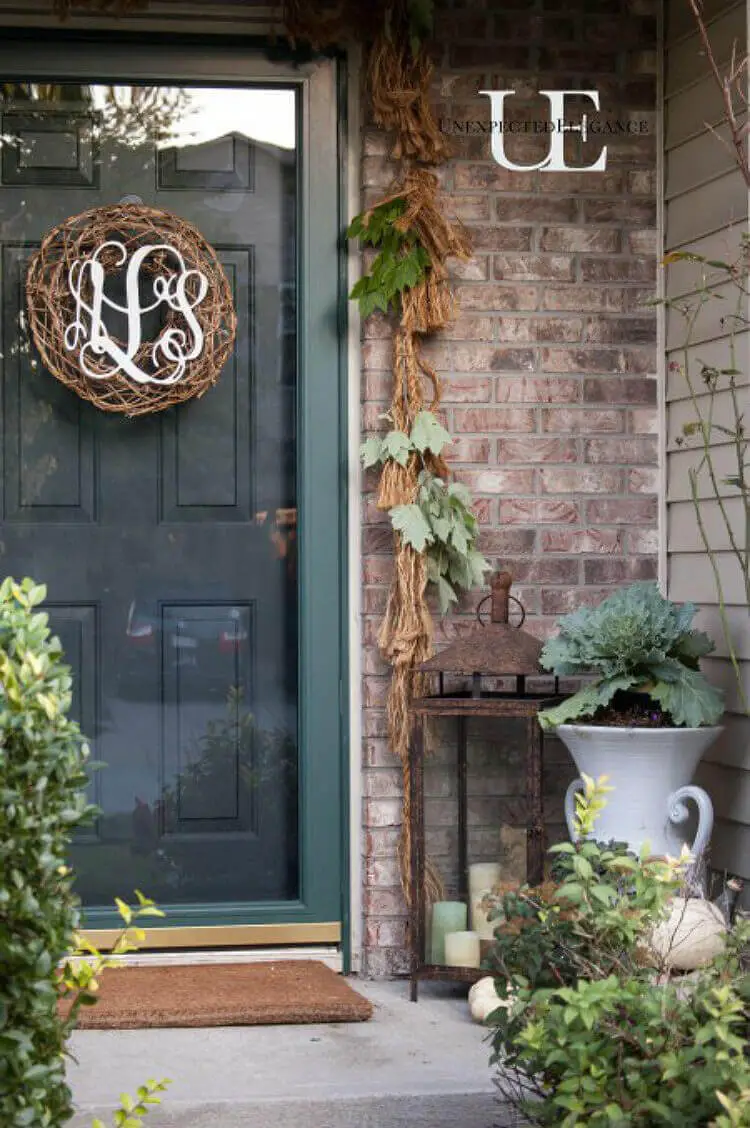 Do not underestimate a small wreath in a front porch décor as it can be the one that brings some life to this space.
For example, this wheat wreath blends seamlessly with the farmhouse décor, offering a charming touch of autumn.
5. Farmhouse Wooden Porch Cabinet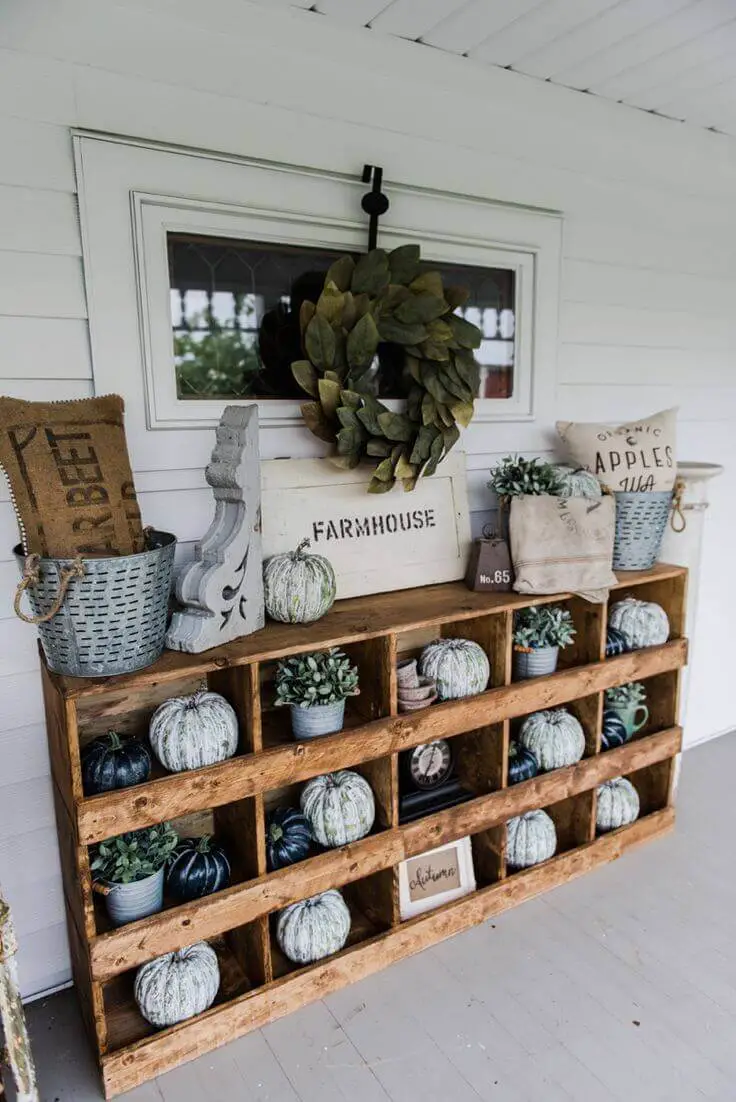 The muted painted pumpkins and succulent pots create a beautiful contrast to this farmhouse wooden porch cabinet.
Plentiful décor pieces on top of the cabinet turn this long narrow window into a focal point of the porch by recalling the pleasant welcome of farmer markets.
6. Woven Furnishing and Antique Crate Table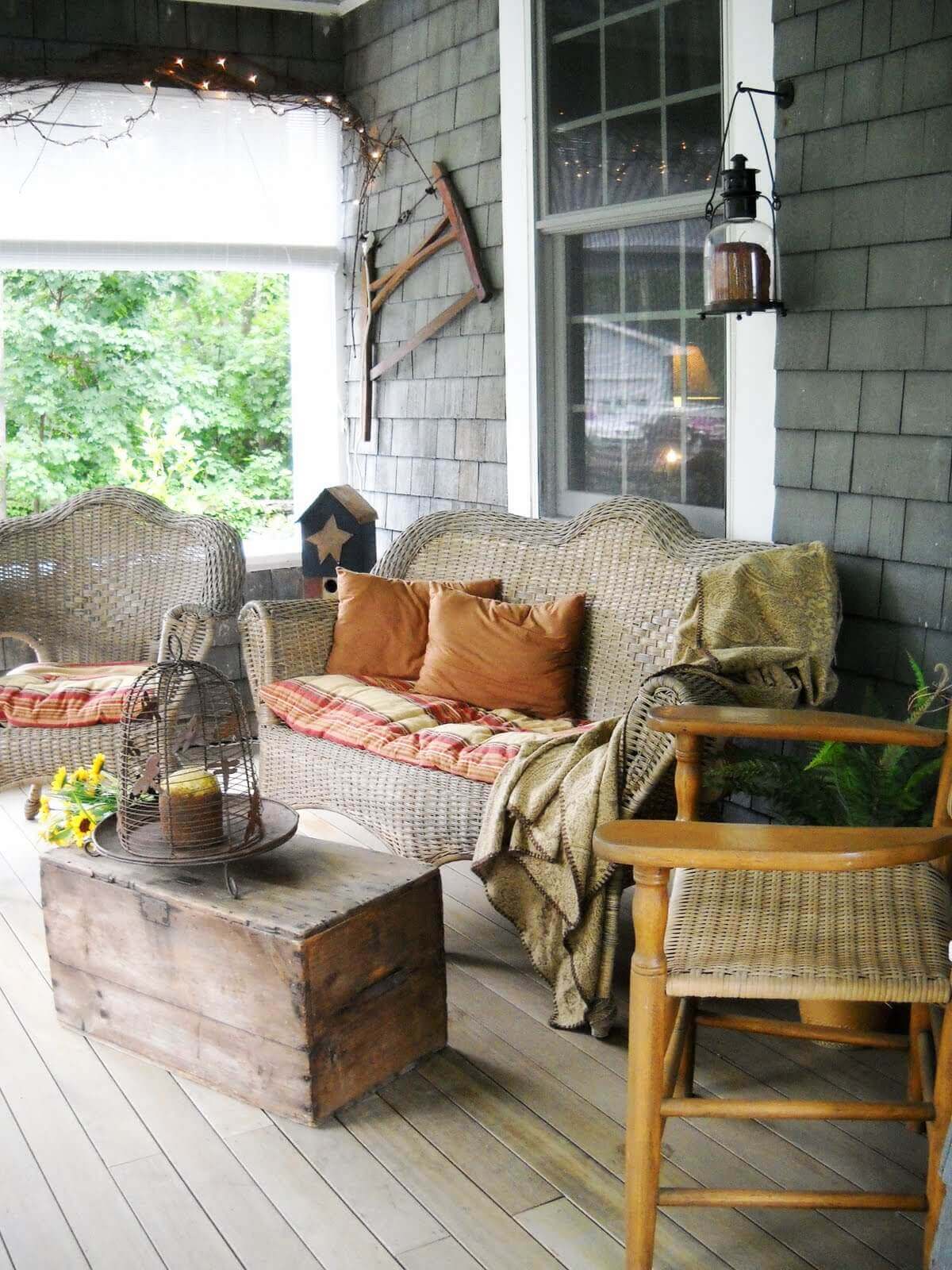 With a comfortable seating area that has amazing decor, your front porch will invite people to gather and start a conversation.
Additionally, on this farmhouse porch, a vintage wooden box becomes a functional coffee table.
Meanwhile, the orange cushion and throw pillows add comfort to the chairs while lending some colors.
7. Rustic Farmhouse Porch Decor with a Barn Charm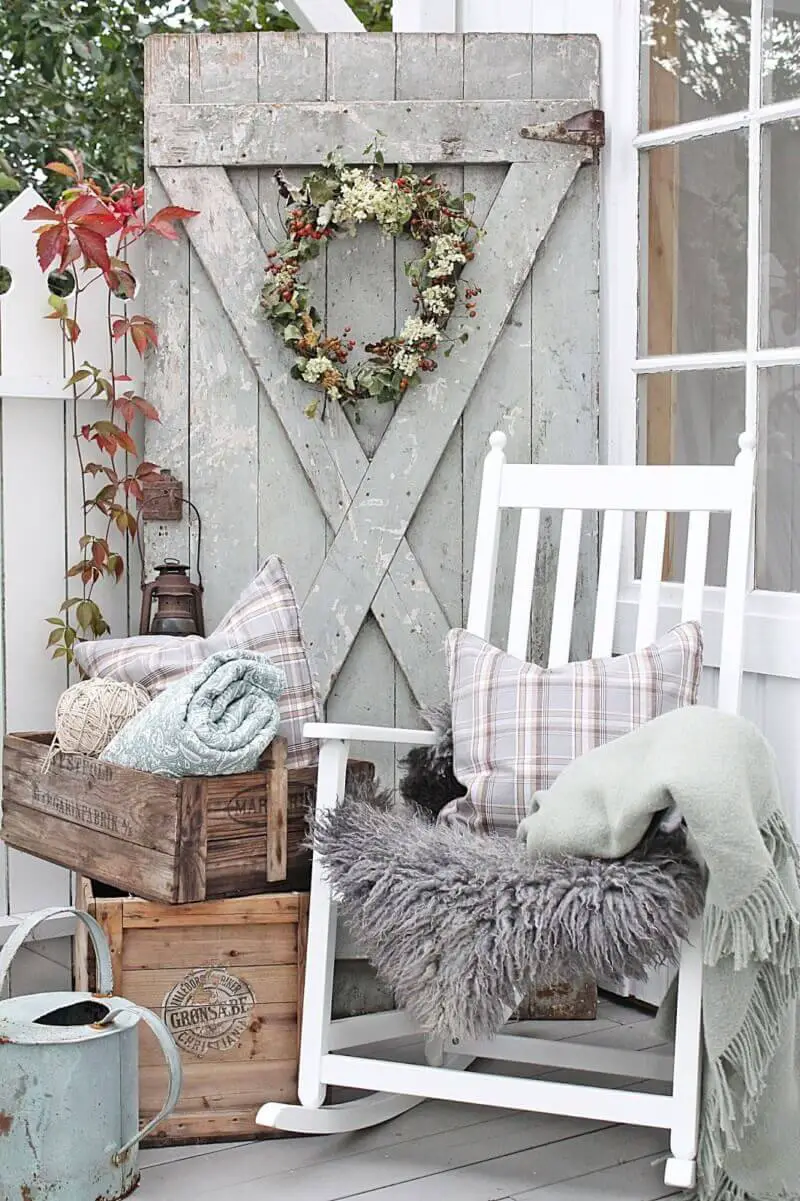 Cool grays and a little accent of neutral warm colors turn this front porch into an inviting area to get relaxed.
Further, a DIY flower wreath offers an additional spark of warm tones to this space. Soft blankets add some textures to the décor while making the wintry color feel more comfortable.
8. Dairy Flair in a Victorian Porch Decor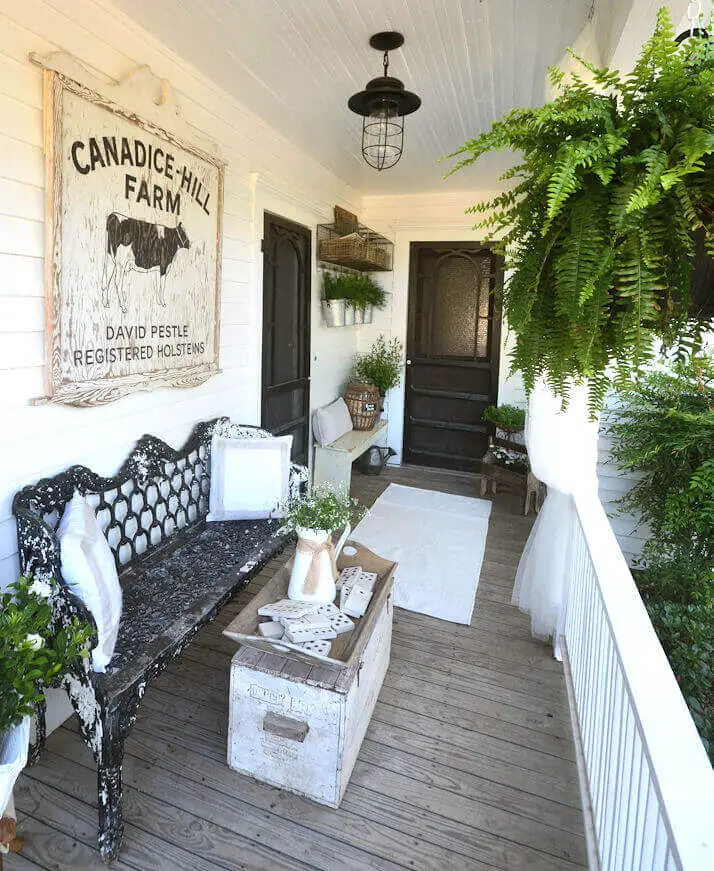 This farmhouse porch turns into a perfect summer refuge thanks to the cool palette of green ferns and white wood.
Then, the centerpiece is a repurposed wooden tray that houses a pot of flowering plants and oversized dominos.
Moreover, it sits over a distressed wooden box that highlights the rustic flair.
9. Antique Lanterns and Planters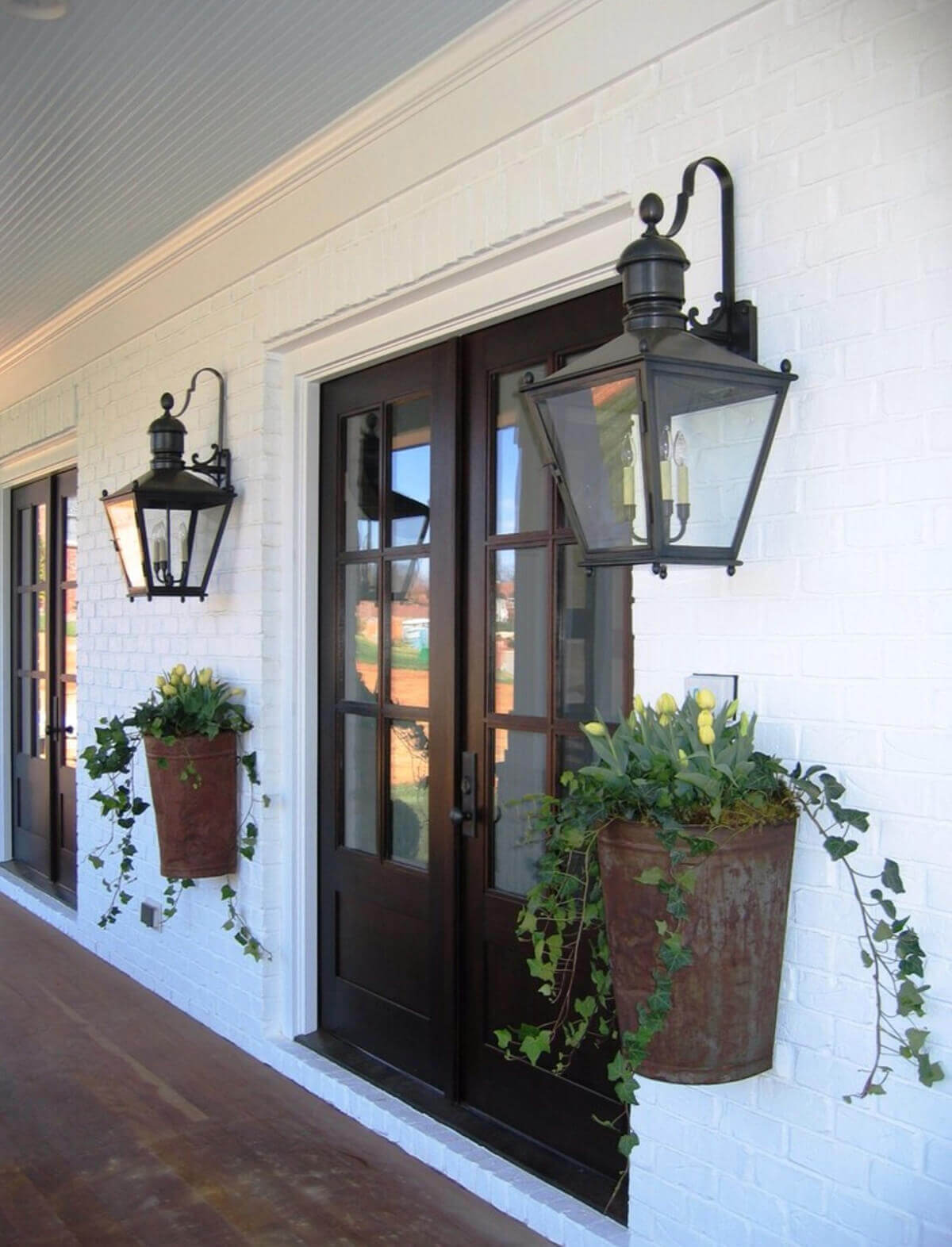 Repurpose old wooden boxes, pans, rusty buckets, or pots that make a great planter. They will carry their rustic charm and character, particularly when you highlight them with wall-mounted vintage lanterns as shown in this picture.
10. Rustic Tin Table with a Wooden Top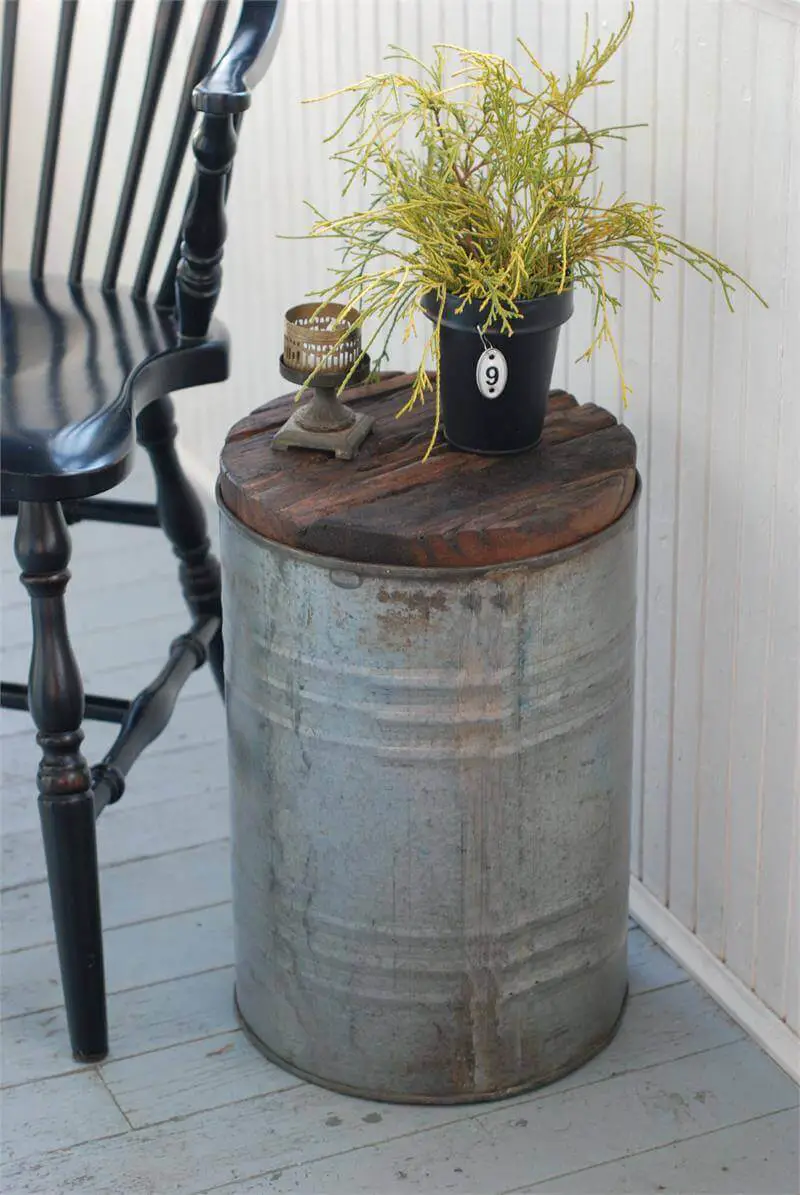 To introduce a touch of rustic style to your front porch, you can create a DIY outdoor table from various materials found around the house.
For instance, spools, churns, cages, logs, and buckets will make a good choice for the project. Also, for reference, repurpose a metal can and finish it with a wooden top for added interest.
11. Chic Bed Swing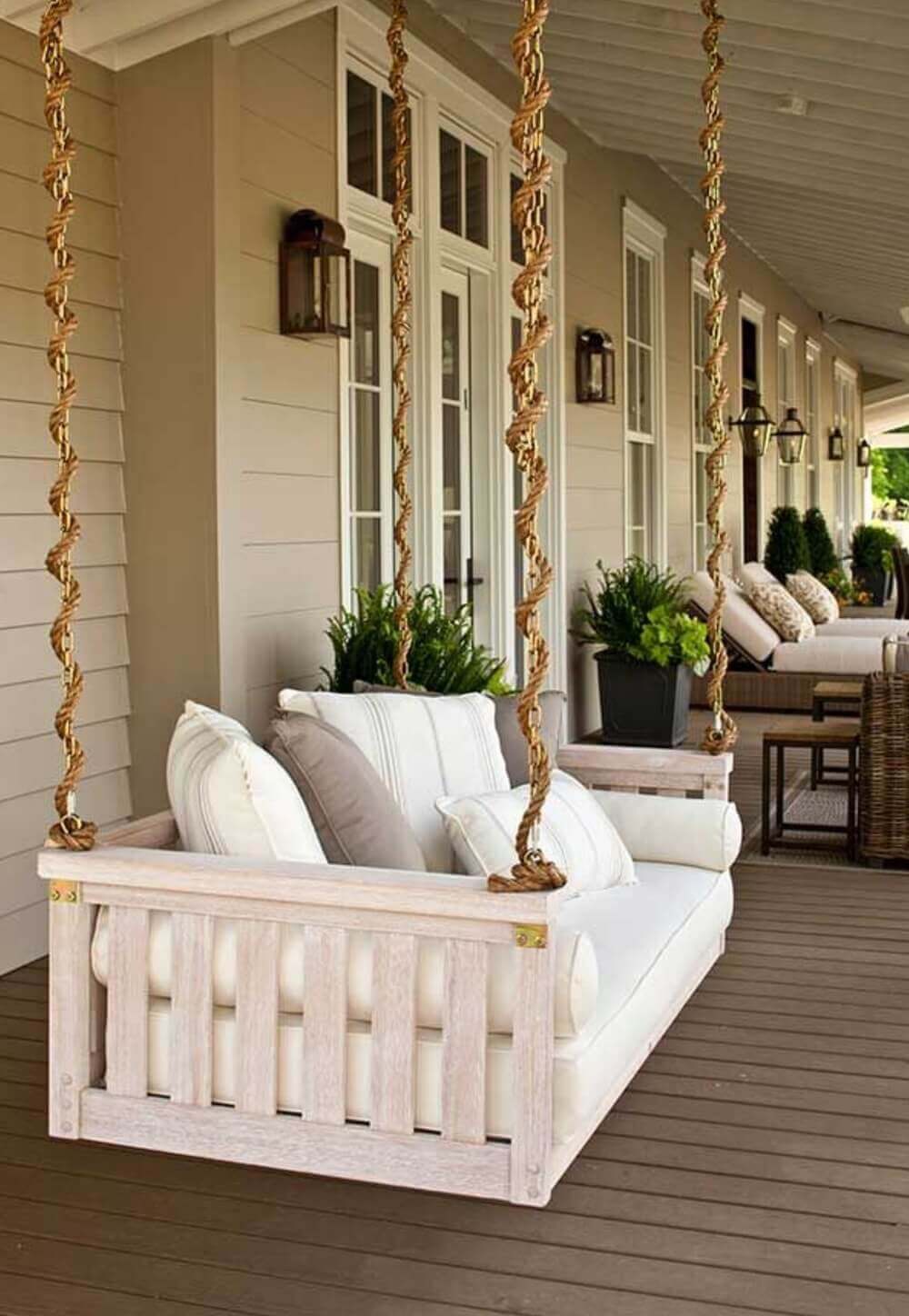 A porch swing is enough to make your porch more functional and stunning. Likewise, the rope twisted around the supporting chains of this furniture piece makes it even more decorative.
Aside from its visual impact, the twisted rope also helps protect your fingers from being pinched. Then, along with the soft neutral palette, this bed swing makes the porch more inviting.
12. Porch Lantern with Colonial Flair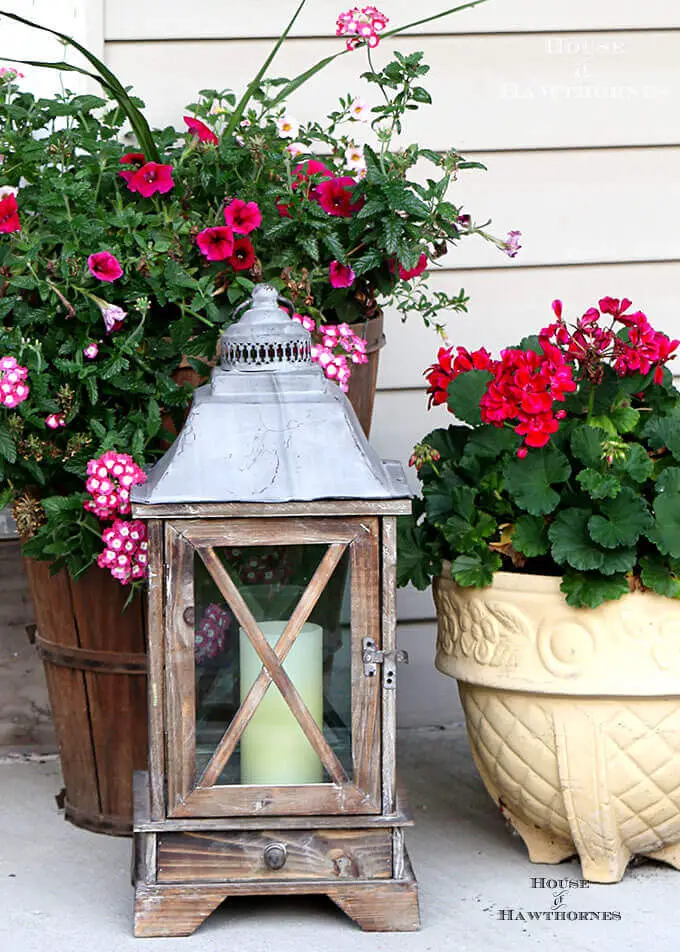 This antique lantern features a citronella candle to repel unwelcome biting insects on this porch. Besides, it provides illumination that is not as harsh as electric lighting.
Furthermore, framing the porch lighting are potted flowers that give the space a pop of colors.
13. Rusted and Rustic Standing Vase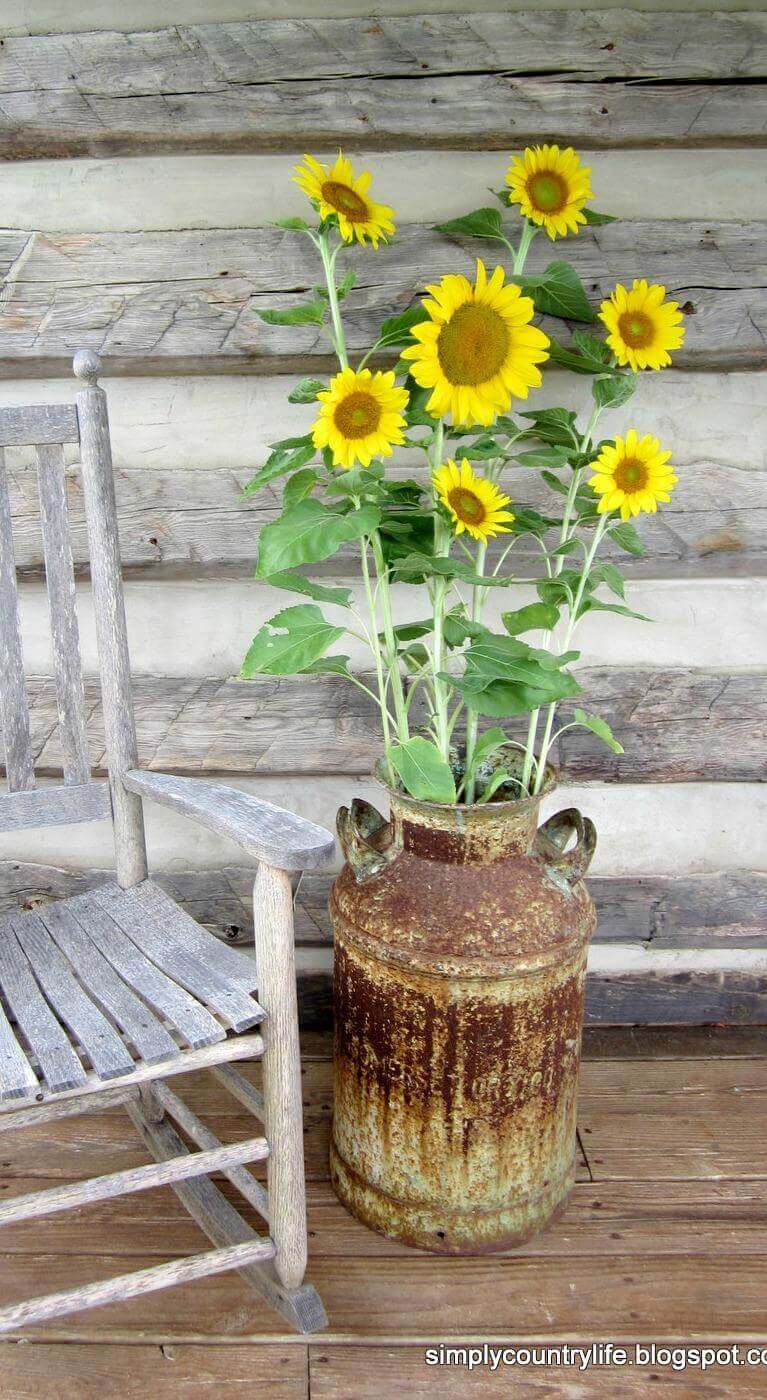 A repurposed item always makes a great decoration piece for a rustic farmhouse porch. This rusty milk churn is an example.
With a solid shape and bold color, it becomes a perfect planter for sunflowers. Thus, together they lighten up the gray log wall.
14. Haystack Stuffed Sofa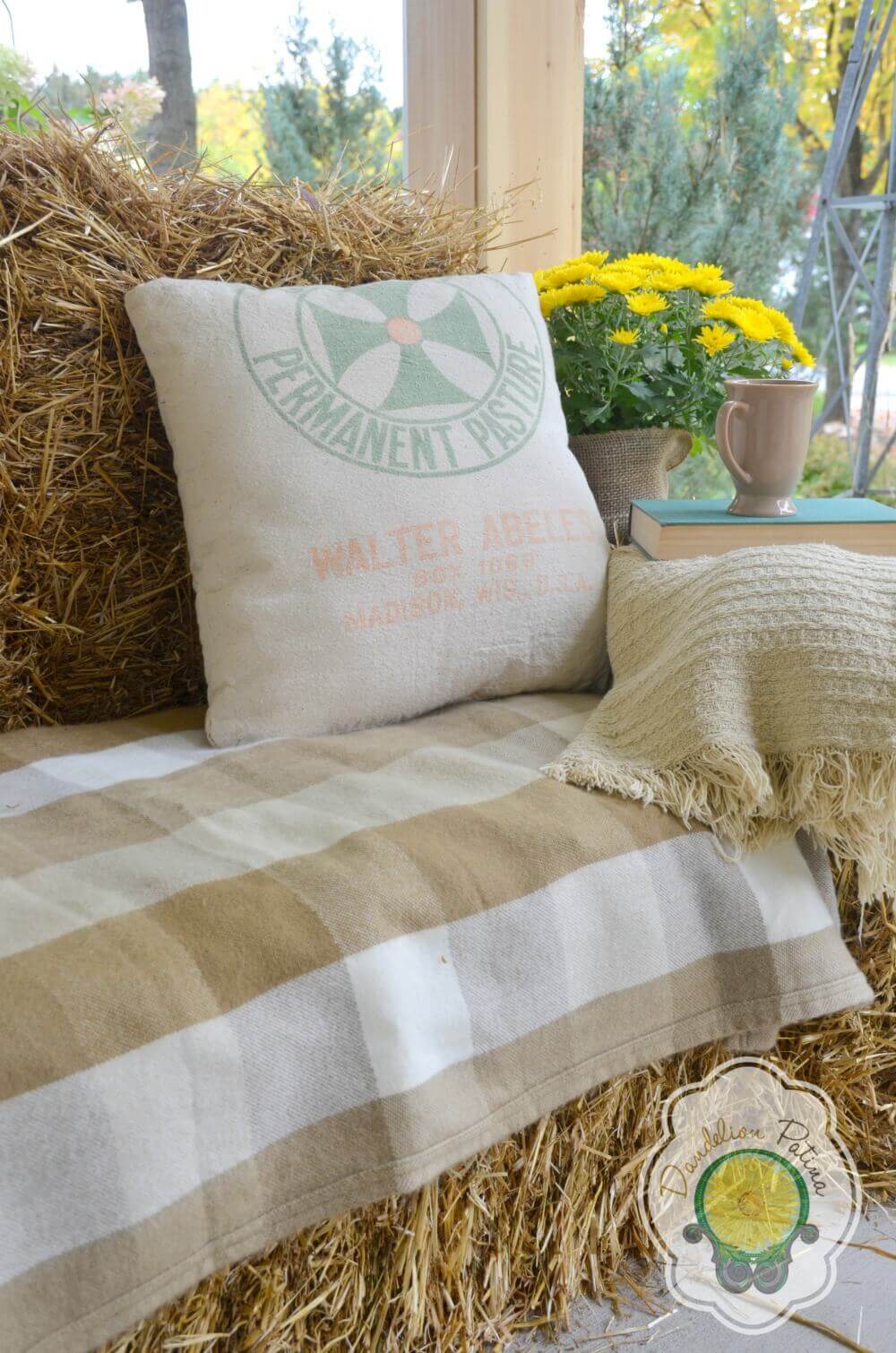 Paired with a soft blanket and knitted throw pillows, this DIY haystack sofa offers a cozy seating area that also adds texture and visual interest.
Additionally, completing the aesthetic of the porch is the vintage feedbags.
15. Upcycled Wall Décor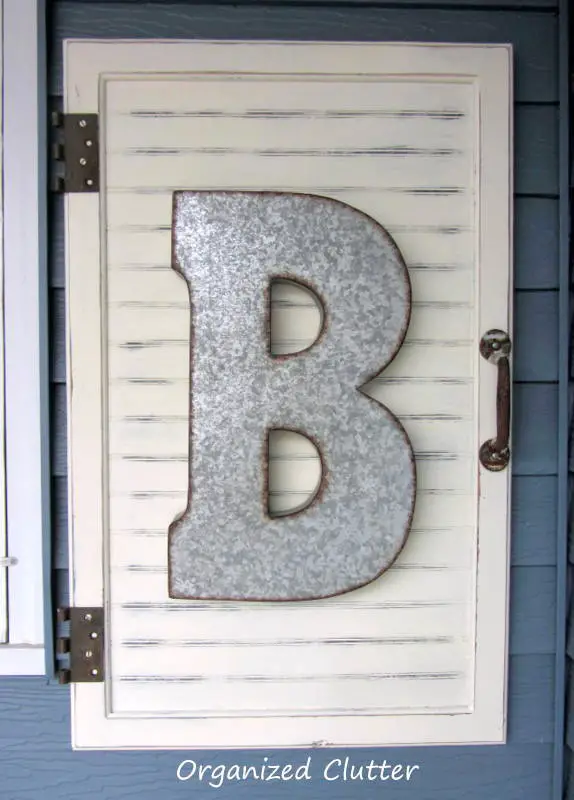 If you have an unused cabinet door, turn it into a functional and eye-catching porch decor as shown in this photo.
Moreover, adding a fun touch to this front porch is the old wagon wheel, scrap wood table, milk churn, and colander flowerpot.
16. A Celebration of Springtime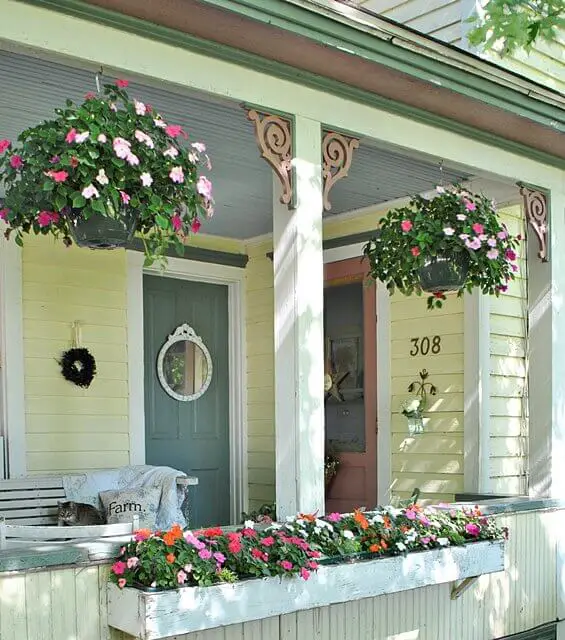 Bring a beautiful color of spring to your porch by incorporating real flowers. Hence, you can use window boxes and hanging baskets to achieve the look.
For added beauty and fragrance, you can also place some pots of lowers on this porch.
17. Comfy Bed Swing with a Rustic Flair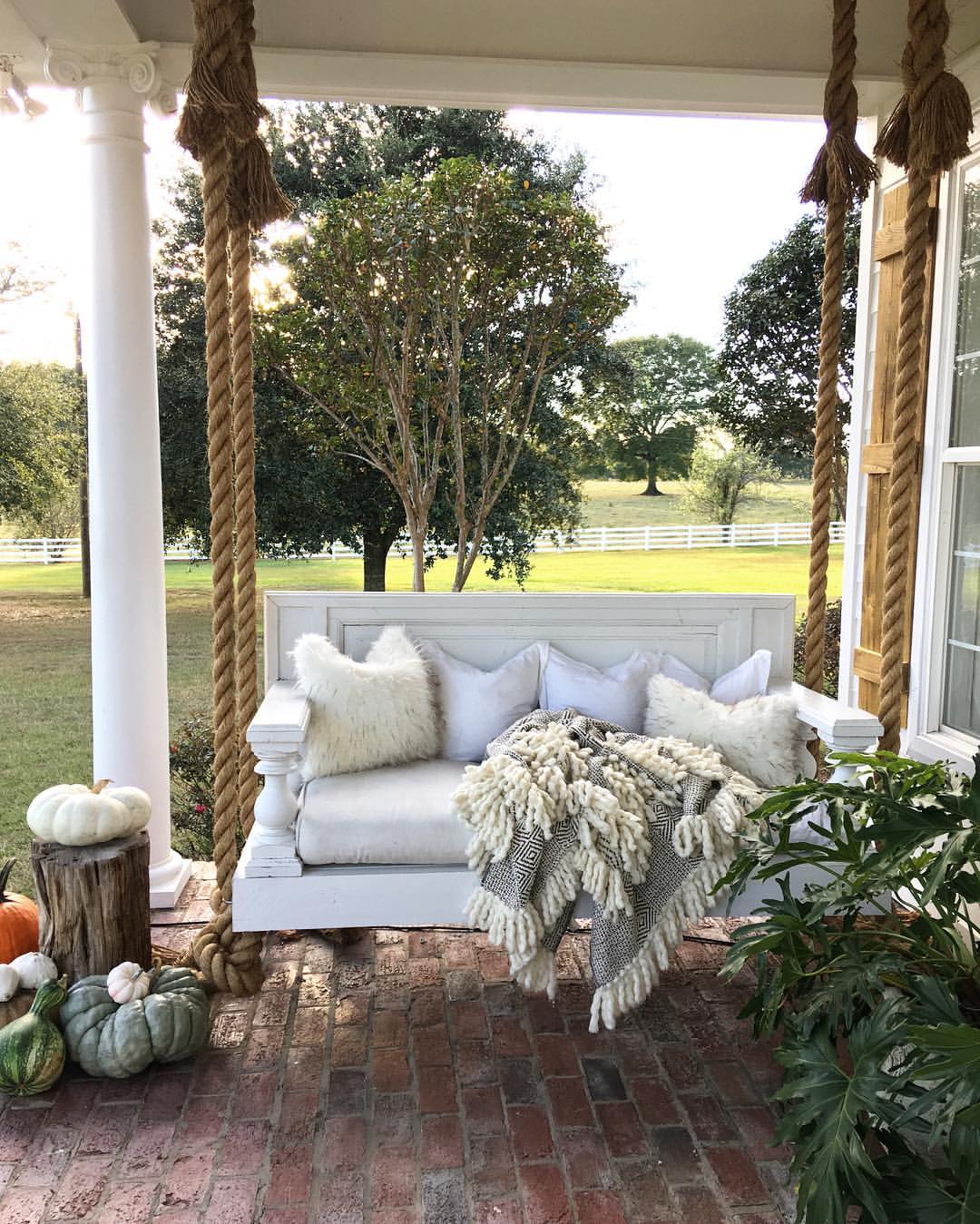 The heavy nautical rope adds a statement to this swing porch bed. Meanwhile, the piles of pillows and the throw blanket create an inviting softness.
Therefore, those items make you want to spend more time here.
18. Repurposed Window Planter with a Sign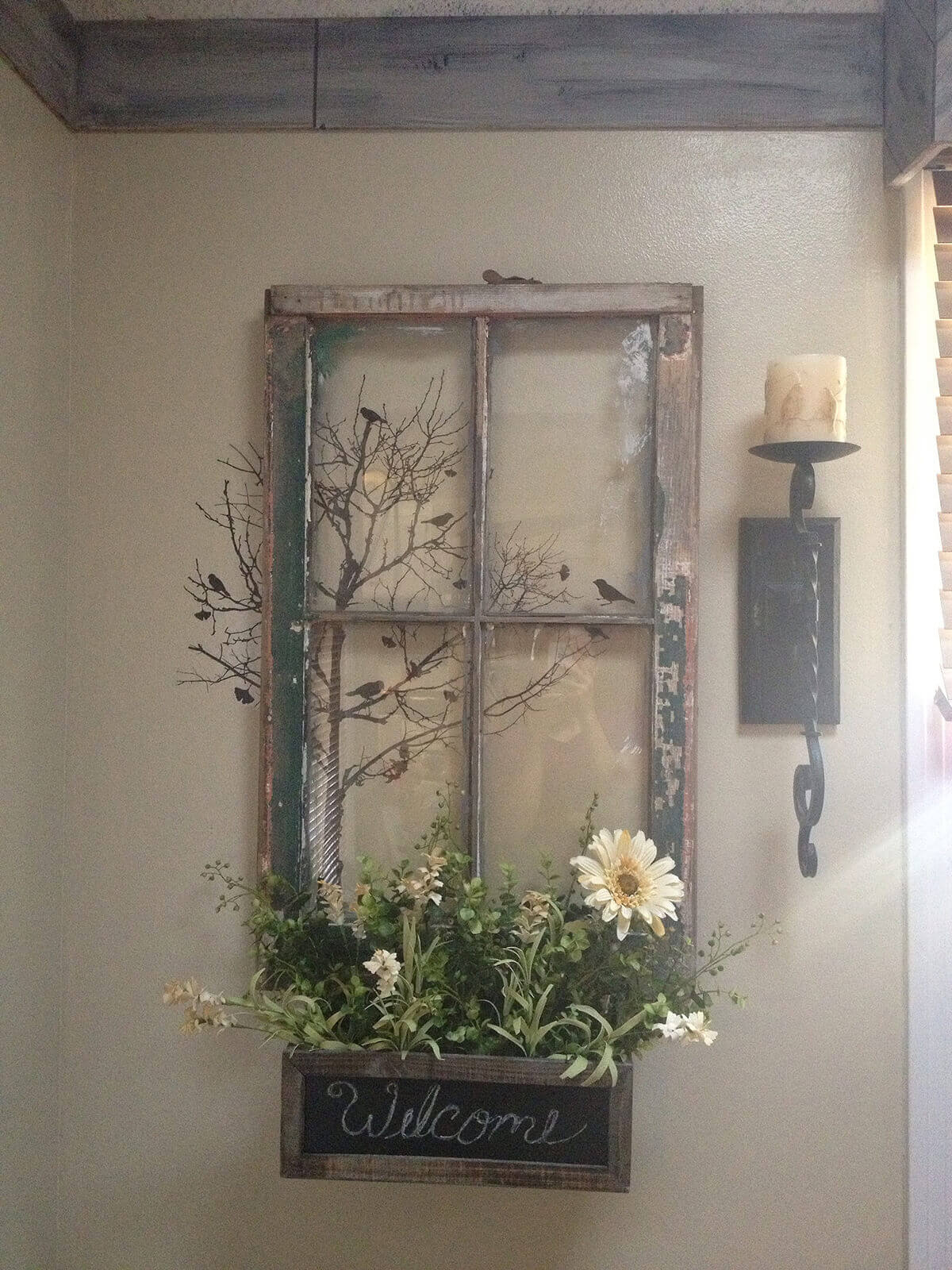 Repurpose your old wooden window frame for a personalized wall décor that doubles as a welcoming sign on the porch.
Aside from being a stunning wall art, it also serves as a window box that houses beautiful flowers.
19. Trolley Gardening Display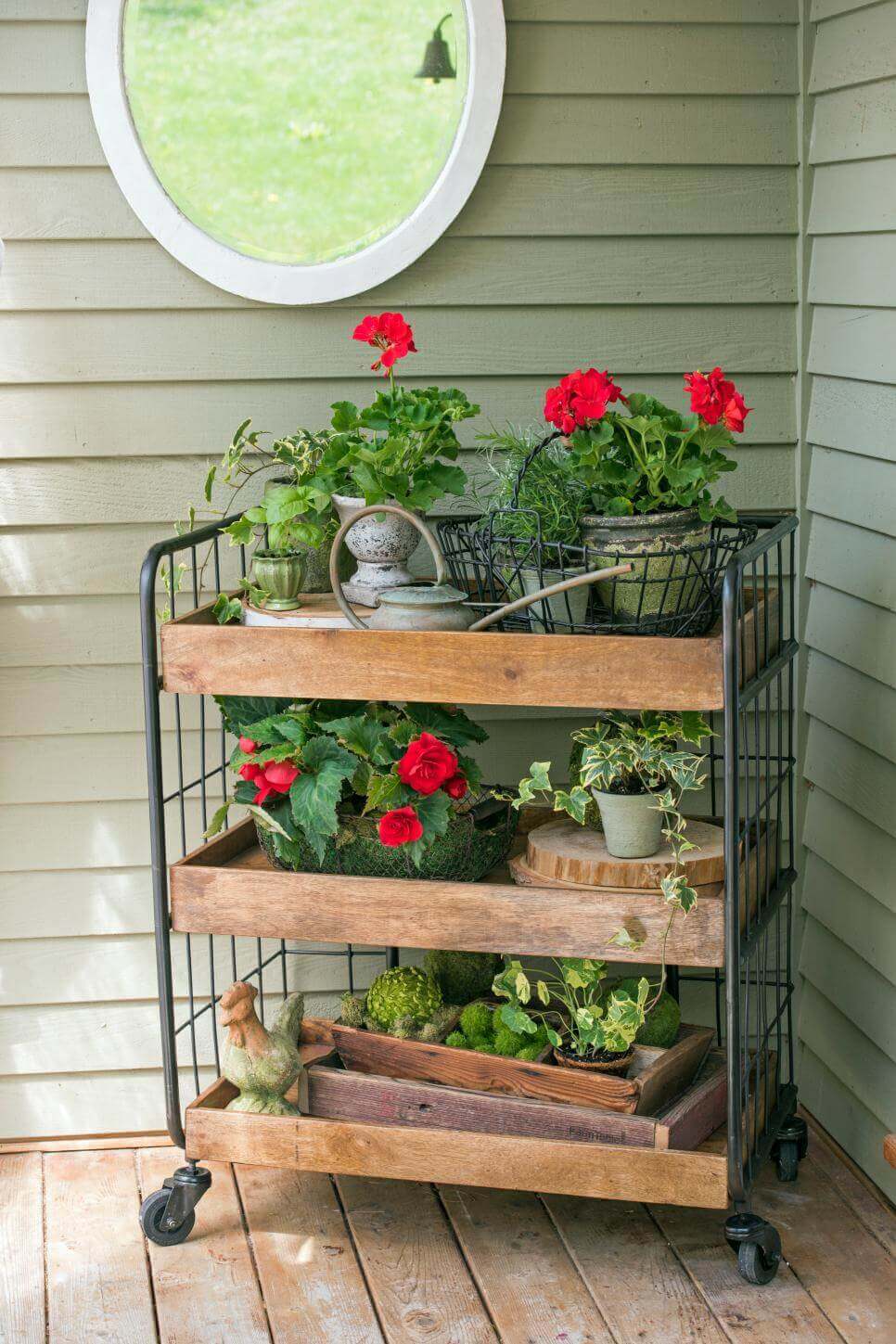 If you have an old utility chart, do not throw it away. It will make a great place to display a small garden of adorable succulents and colorful blossoms.
Then, put the cart on the corner of your porch for a touch of rustic and added natural beauty.
20. Eye-Catching Welcoming Sign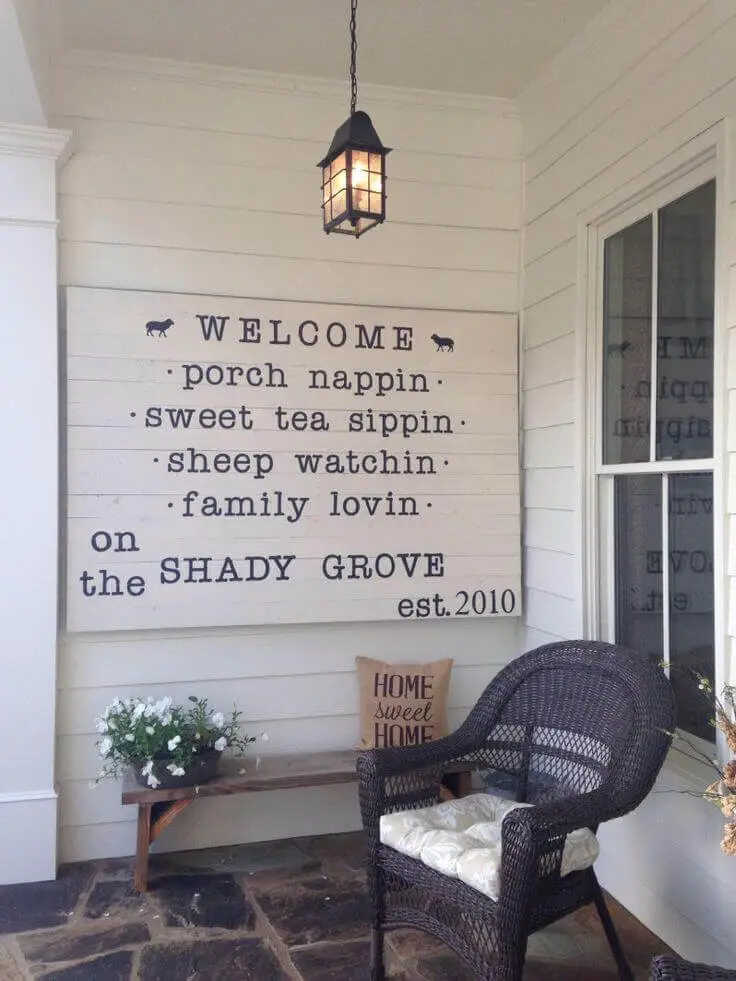 This welcome sign comes with a monochromatic palette that makes the porch feel seamless and clean.
Thereupon, you can copy the look by stenciling your favorite quotes on a wooden board.
21. A Short Walk in the Woods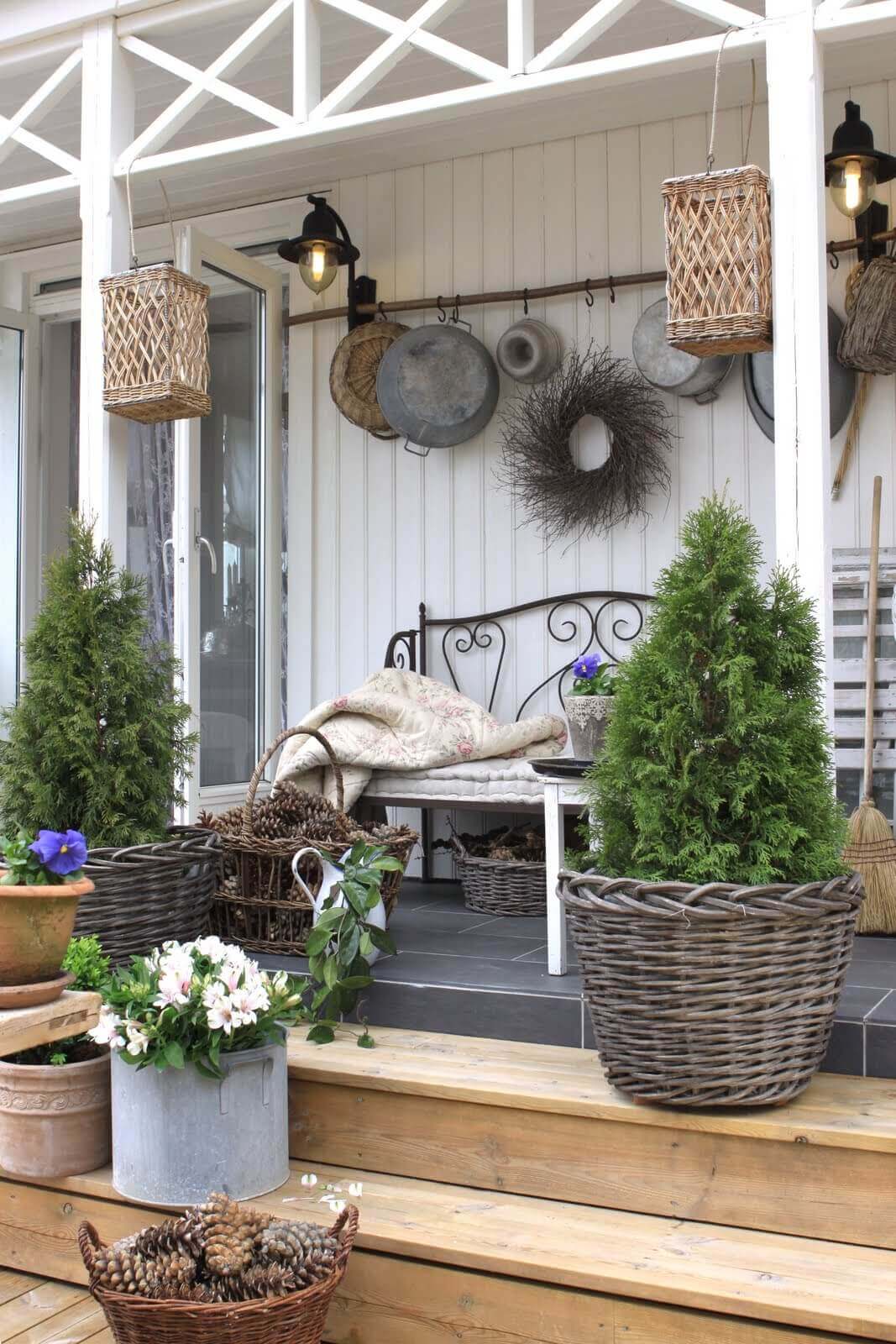 You can see everyday objects like brooms, pans, blankets, and baskets creating an interesting adornment around this daybed sofa.
Meanwhile, a couple of potted cypress trees frame the seating area while adding sufficient cheery color.
22. Antique Planter with a Twist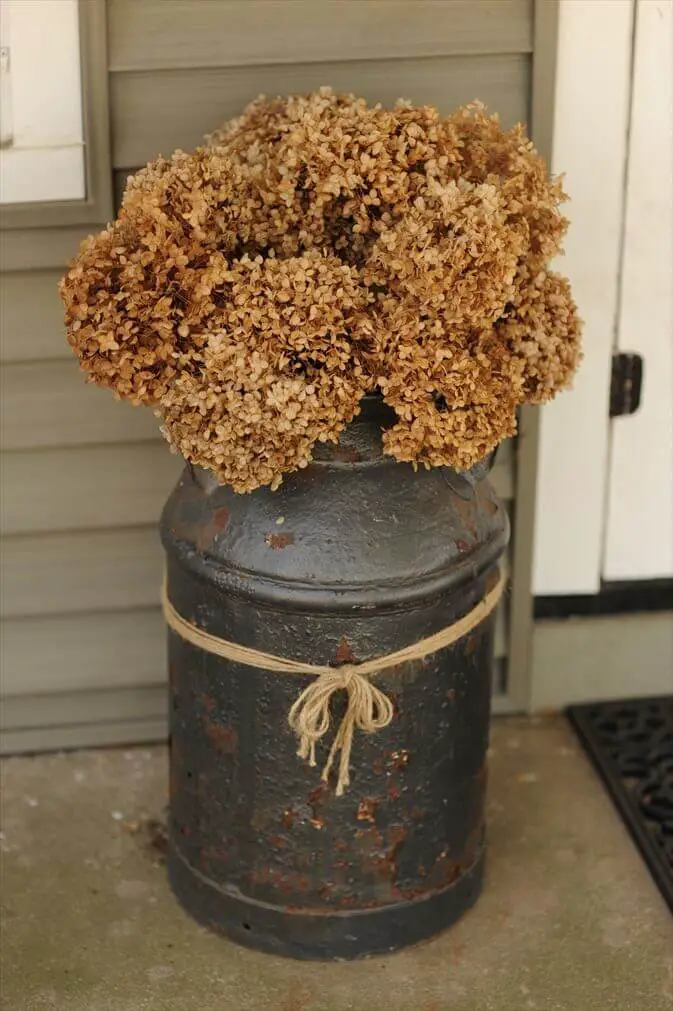 With the rusted charm and muted color, this oversized iron jar gives the porch a rustic charm. In addition, the dried hydrangea blooms complete the look seamlessly.
23. Repurposed Hanging Lantern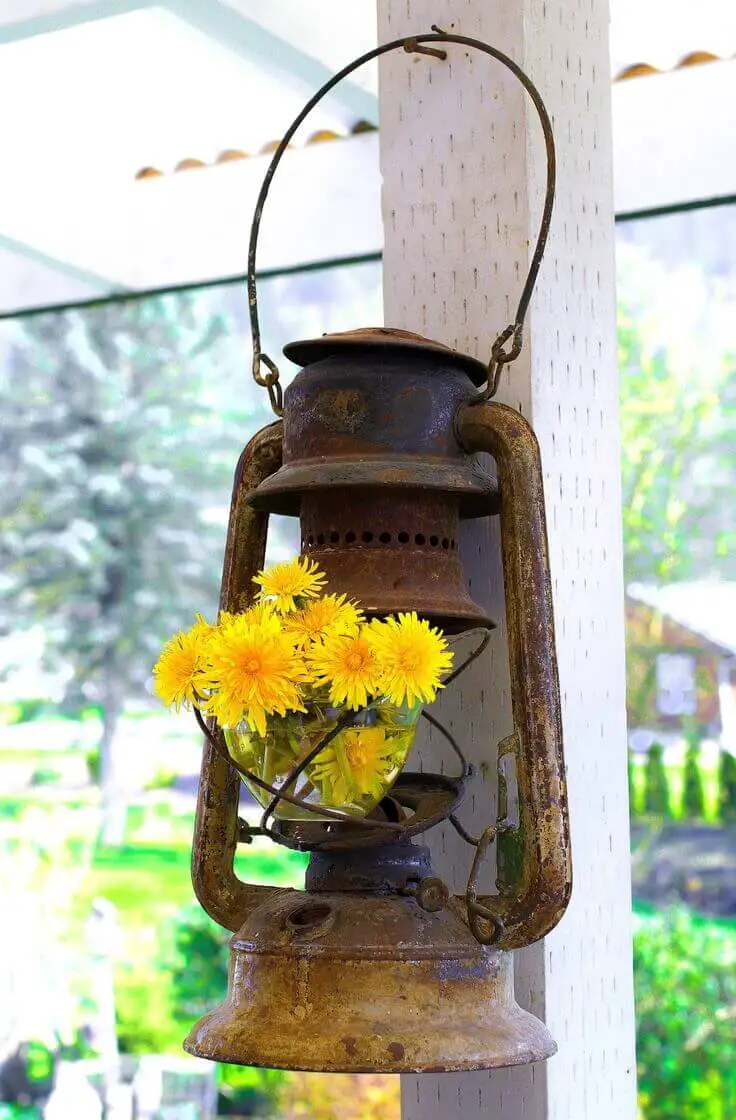 Although you cannot use kerosene lanterns and hurricane lights anymore, they still make a great décor piece for your rustic farmhouse porch.
For example, you can use it to hang a hand-picked collection of sunny dandelions or other wildflowers.
24. DIY Ladder Pot Stand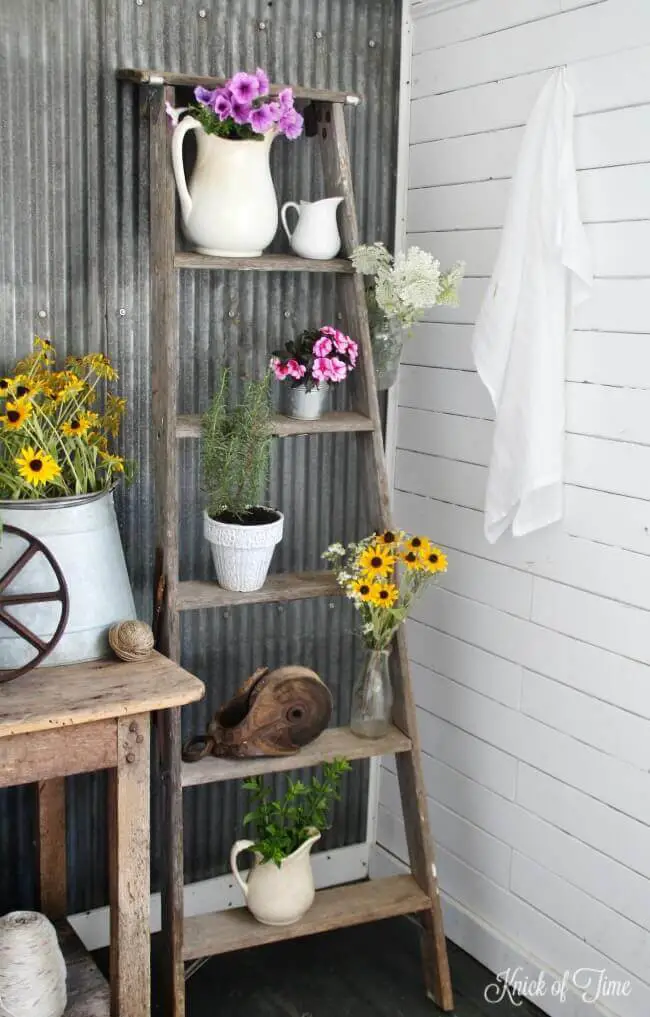 The old broken ladder turns into a functional pot stand that houses various colorful flowers on this porch.
It also stands against the washboard-texture wall for another rustic impact.
25. Handmade Bird Heart design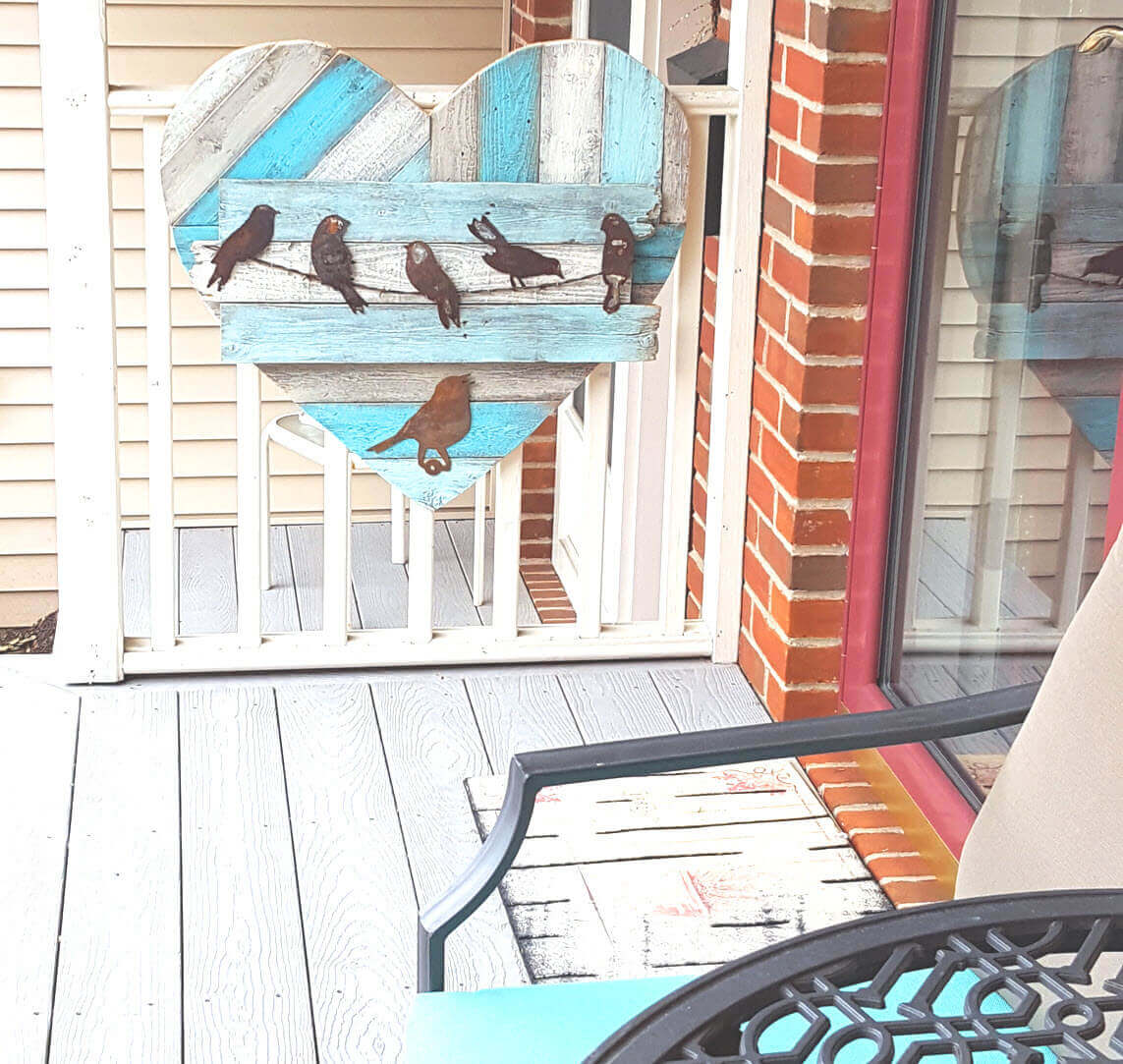 Give your porch a striking rustic charm that is hard to find in another home décor like this unique DIY bird heart design.
Thus, the rustic charm of the distressed wooden pallet blends naturally with the metal bird arts.
26. Adorable Springtime Display Bench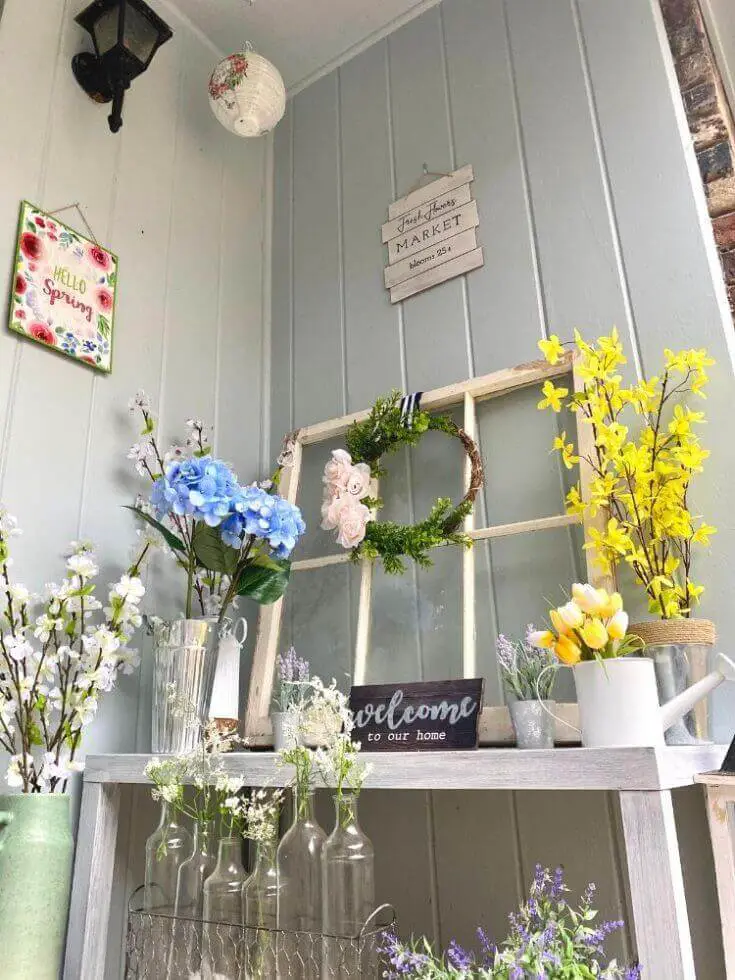 This is one of the rustic farmhouse porch decor ideas that will make your guests fall in love at the first sight.
Moreover, with different variety of flowers placed in vintage planters and watering cans, this display bench adds a lovely springtime charm to the porch.
27. Autumn Décor on a Budget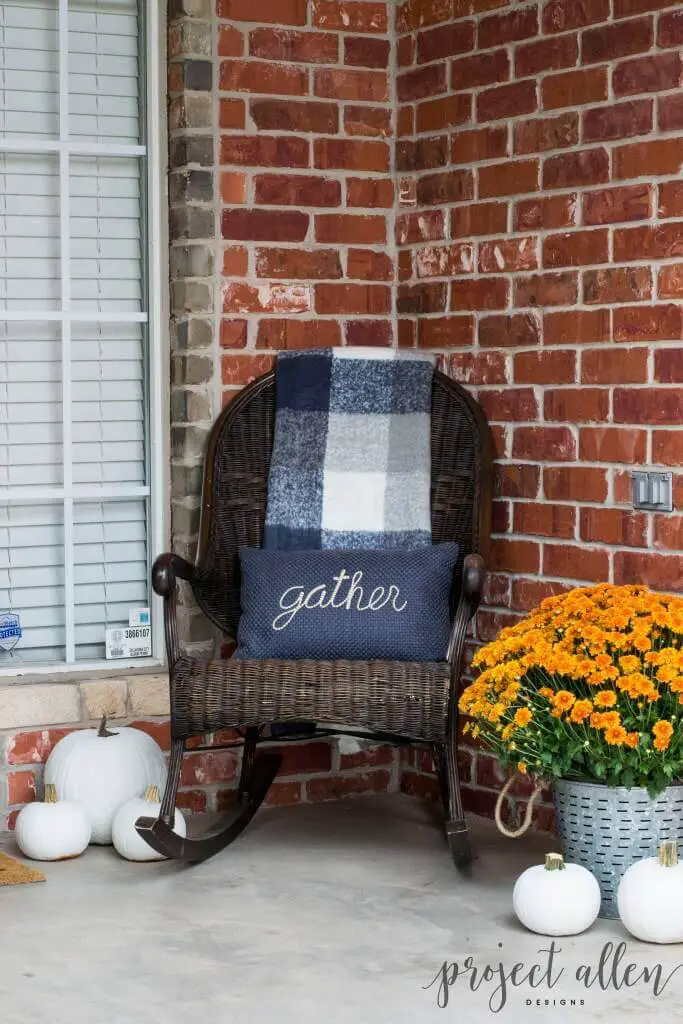 Your autumn-themed décor does not have to be costly. Hence, you can simply surround the seating area with a pot of orange blossoms and some painted pumpkins.
Furthermore, to make the seating area cozier and for added color, you can top the chair with a soft blanket and a pillow.
28. A Splash of Autumn Colors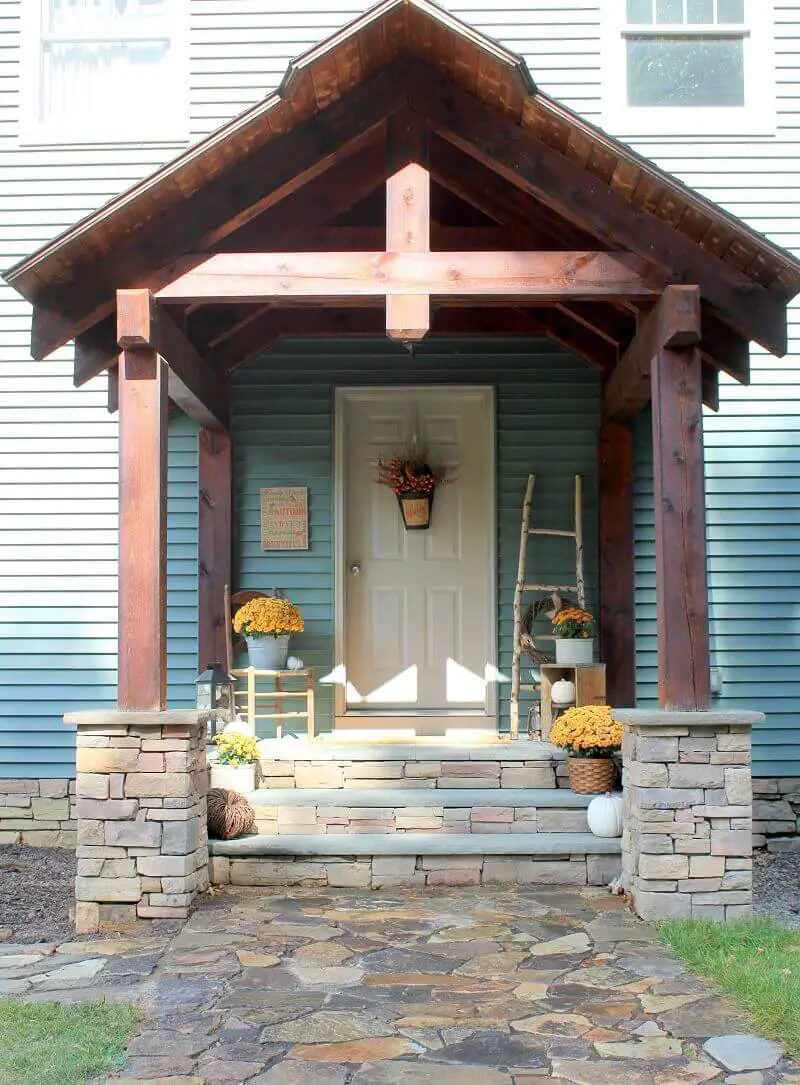 This makes another great inspiration if you want to decorate your rustic farmhouse porch with a touch of autumn flair.
Nothing says this seasonal celebration better than a bunch of orange flowers in a range of different pot sizes.
Then, add a rustic birch ladder into the decor for an outstanding visual impact.
29. A Distressed Filing Cabinet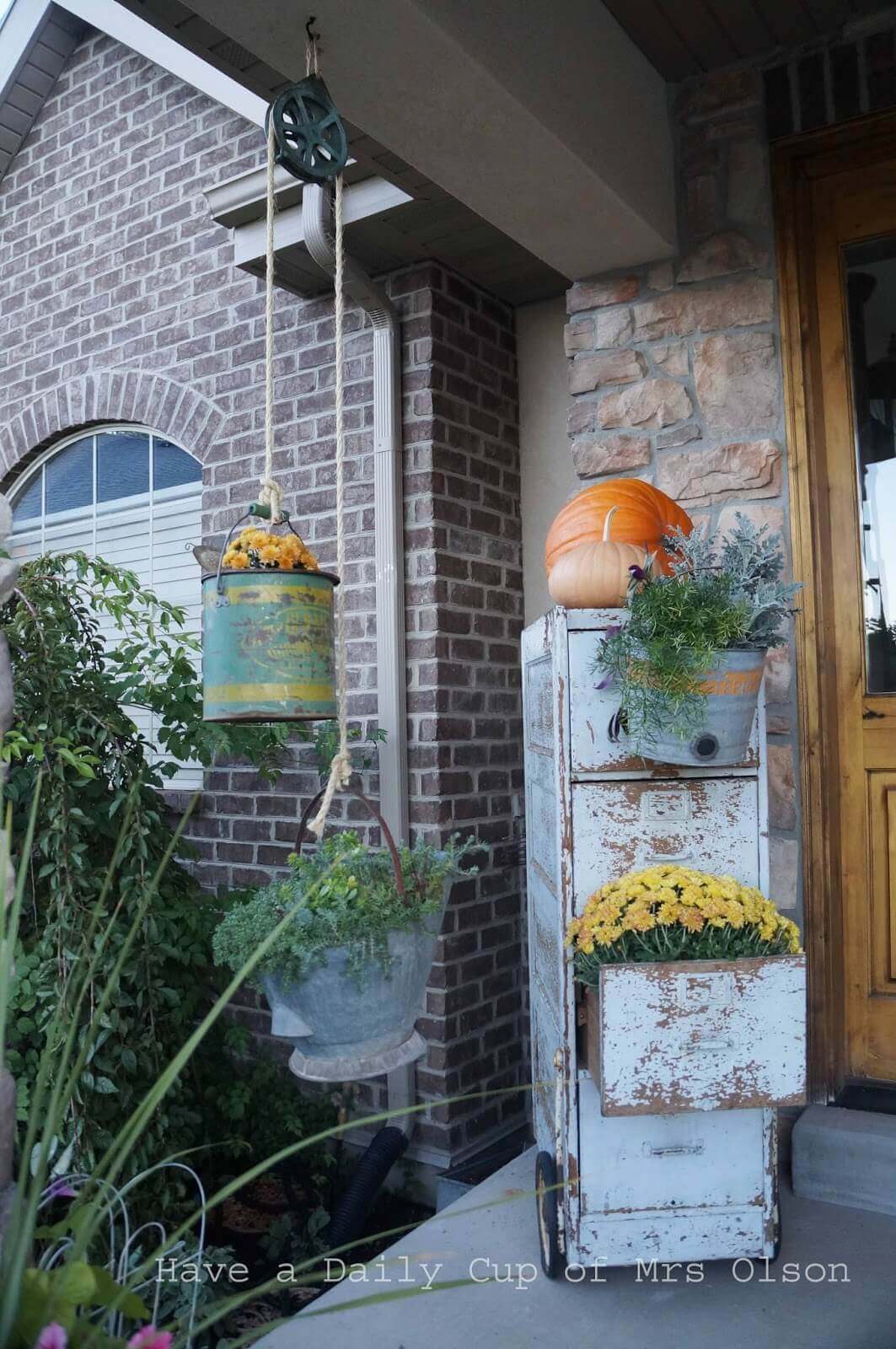 If there is an old filing cabinet at home, repurpose it into this unique flower holder to adorn your porch with a rustic flair.
Likewise, you can even get a new filing cabinet and distress the surface's painting or coating to have the same rustic effect.
30. Wall-Mounted Flower Pot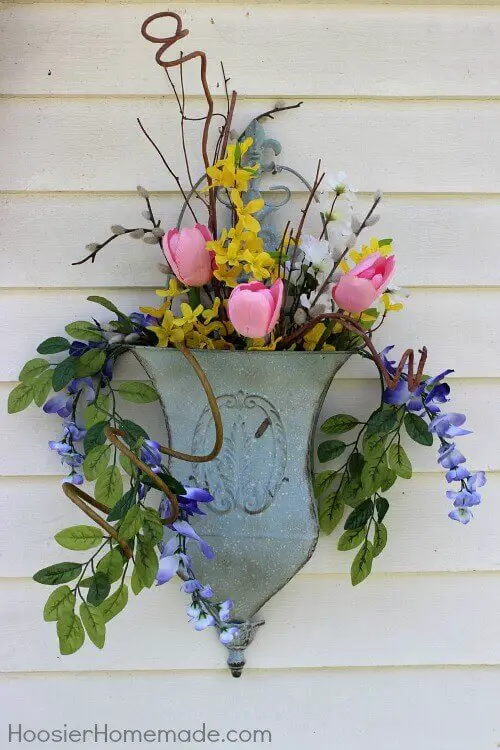 You may never think that this gorgeous plant holder is repurposed of an old-fashioned wall container.
Moreover, its vintage look suits the rustic style, and the vibrant blossoms that it holds offer a pop of color.
31. Exceptional Milk Can Table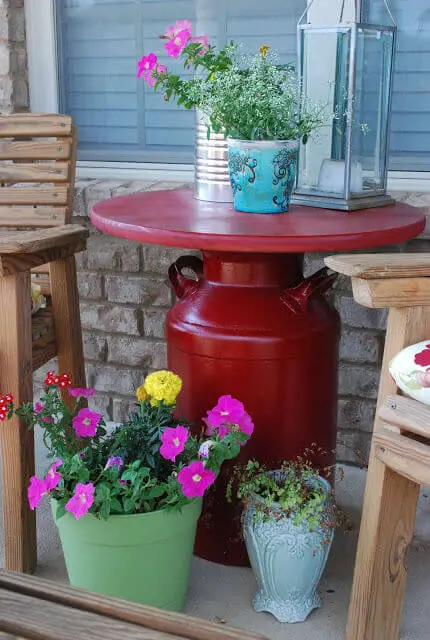 Reclaimed items make a great material to create a rustic farmhouse porch. Thus, you can simply paint it and use it as a practical tabletop.
Furthermore, for the table leg, you can take advantage of an old milk can and paint it in the same color as the wooden top.
32. Lovely Cart Flower Display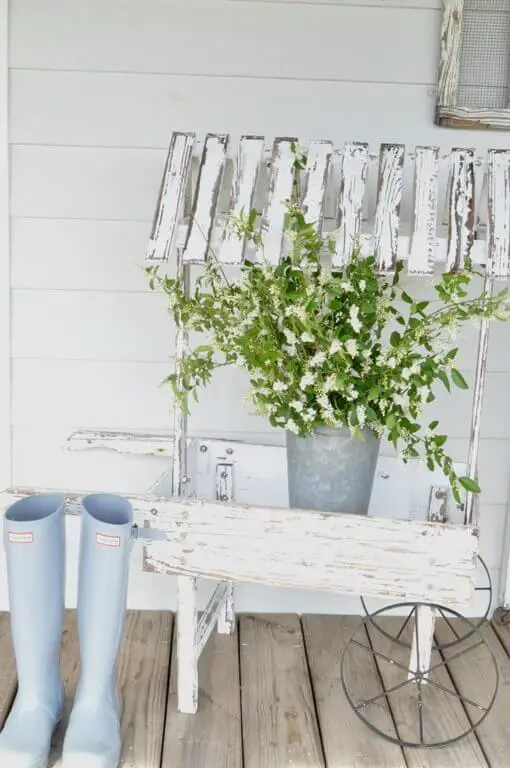 When it comes to farmhouse décor, you have a lot of options to display your planters. Hence, this lovely vintage wheeled cart décor serves as a great example as it stands out enough to draw the eye.
33. Wooden Rockers and Painted Shutters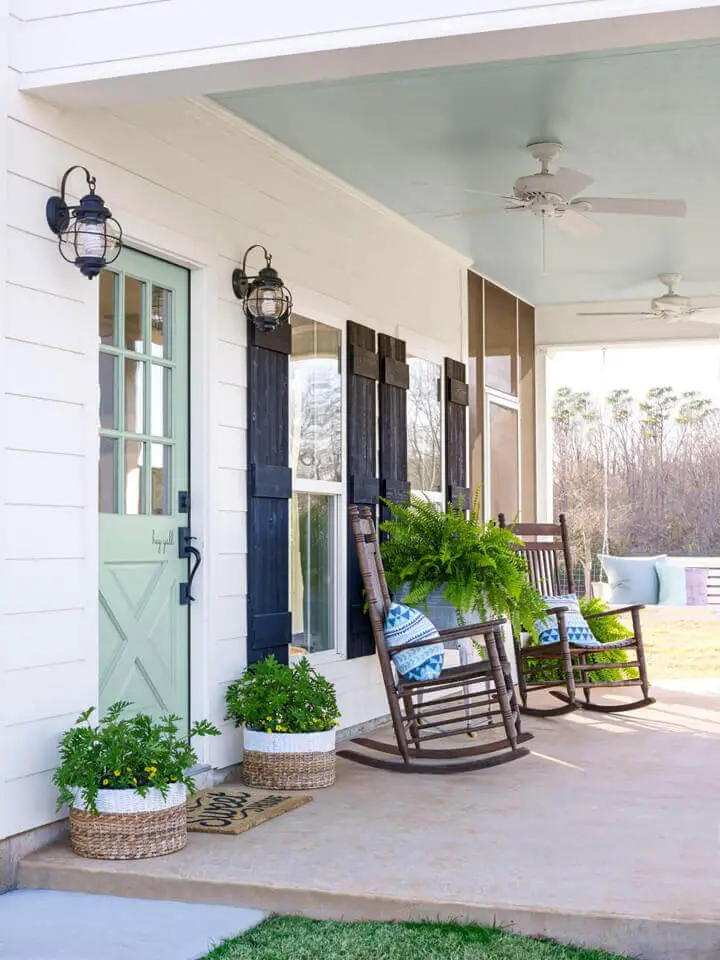 This front porch provides you with a perfect reference to a rustic farmhouse porch. Then, the clean decoration lends a natural elegance and simplicity to this rural home.
Additionally, highlighting the farmhouse hospitality is the painted shutters and wooden rocking chairs.
34. A Hint at a Railway Station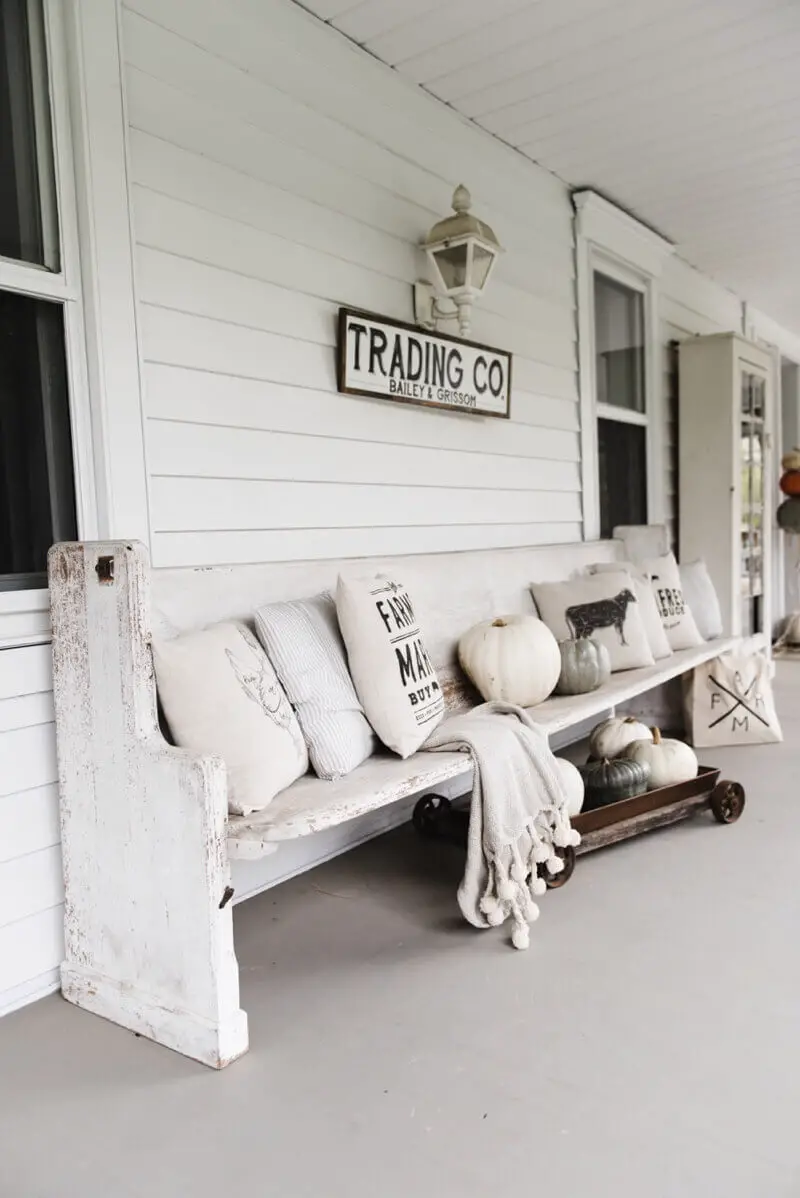 From the soft fabric to the rough wood, this porch has a range of textures. Therefore, they make the muted palette appear more interesting.
Besides, the long bench reminds you of an old railway station. It also creates a seamless backdrop for the welcoming lantern and sign.
35. Tree Branches and Display Domes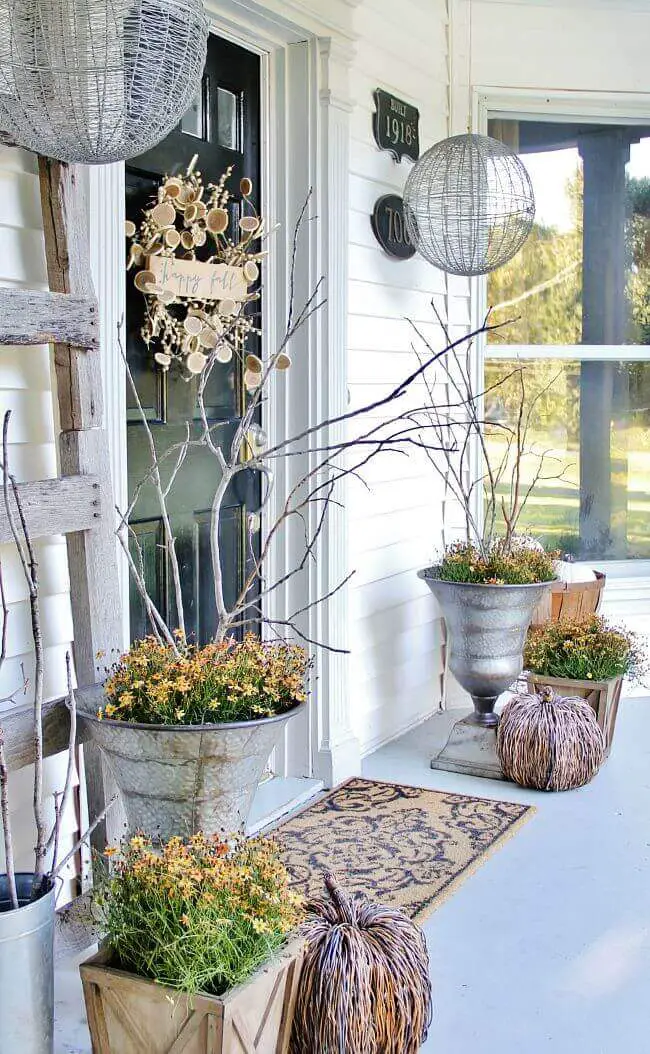 This front porch achieves a bright and airy feel thanks to the translucent hanging spheres and the pale branches in the tin urns.
Meanwhile, a flower pot and earthy-tone rug warm up the space.
36. Whitewashed Wooden Cabinet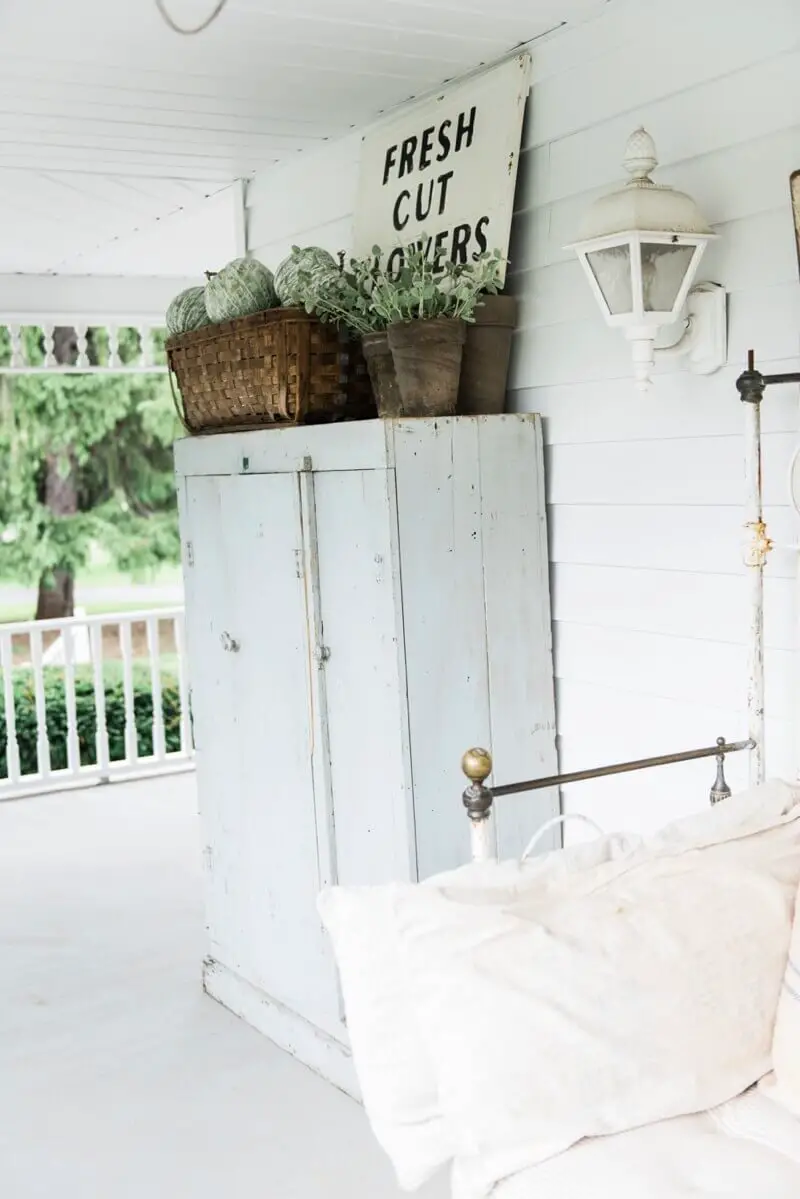 Go to a nearby flea market and find vintage furniture. For example, you can opt for an antique icebox, wooden cupboard, or an old wardrobe.
Then, they will make a stunning addition to your rustic farmhouse porch.
37. A Welcoming Place to Sit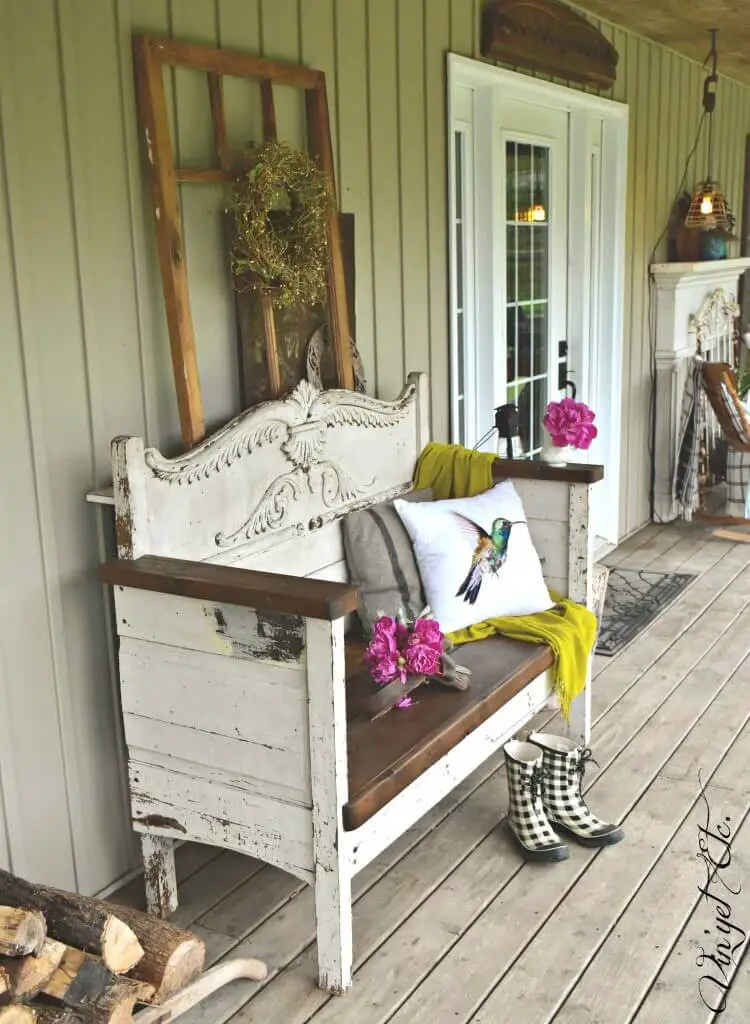 Indeed, incorporate an old bench into your farmhouse décor to introduce a rustic charm.
Besides, it will be functional for your guests and family to use after topping it with some throw pillows and a warm blanket.
You can also consider adding a vase of flowers or a DIY green wreath to complete the look of your farmhouse porch.
38. Rustic Porch Setting with a Secret Garden
A small porch garden also offers a natural backdrop for this pair of elegant tufted chairs. Otherwise, this décor shows you that a rustic style is not always about rough items.
39. Salvaged Furniture Pieces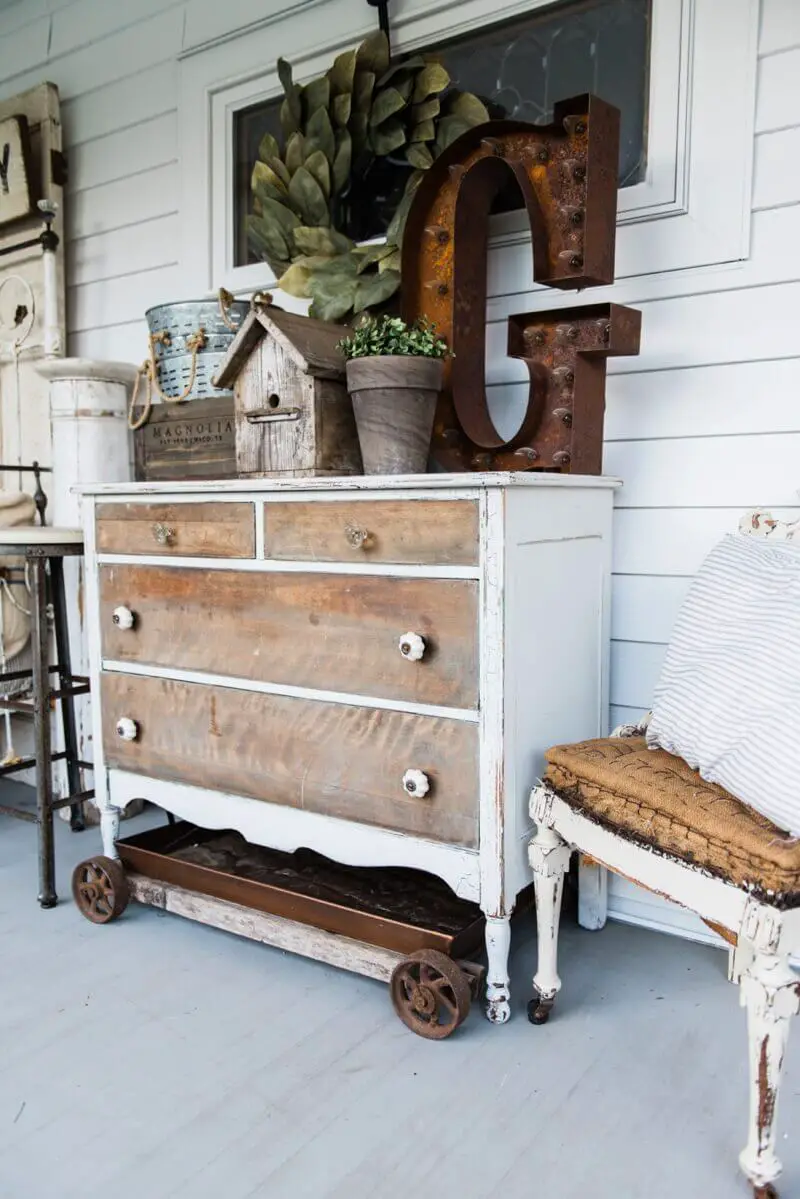 Introduce an exceptional focal point on your porch by using salvaged furniture pieces. For instance, this old-fashioned dresser houses a rusted décor piece and rustic wreath.
40. English Retreat Porch Decor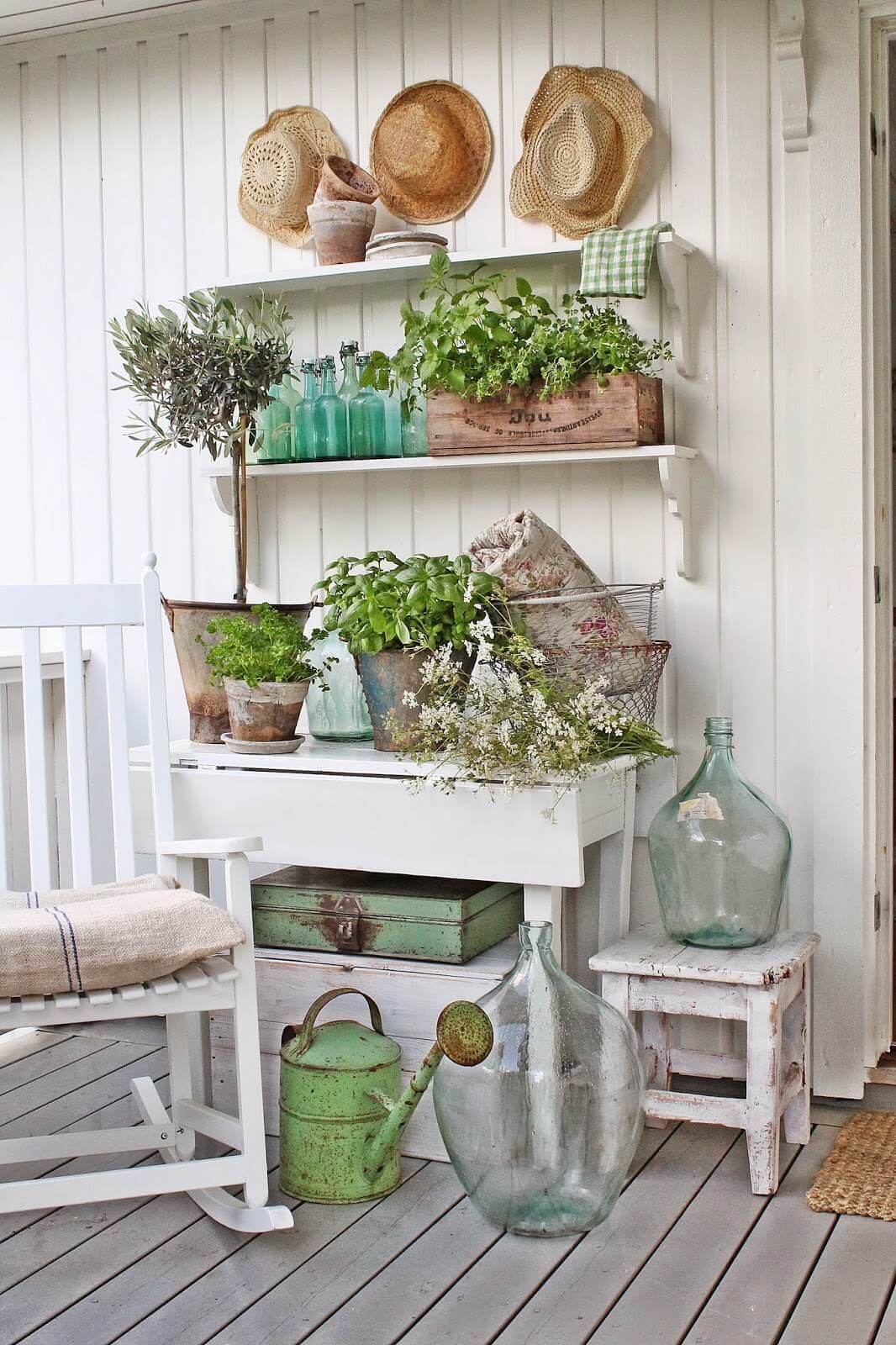 This drop-leaf table displays a bunch of bottles and pots. Therefore, they give the farmhouse a touch of nature.
In addition, the balloon-shaped glass jugs and hats complete the treasure collection.
41. Front Porch Garden Shed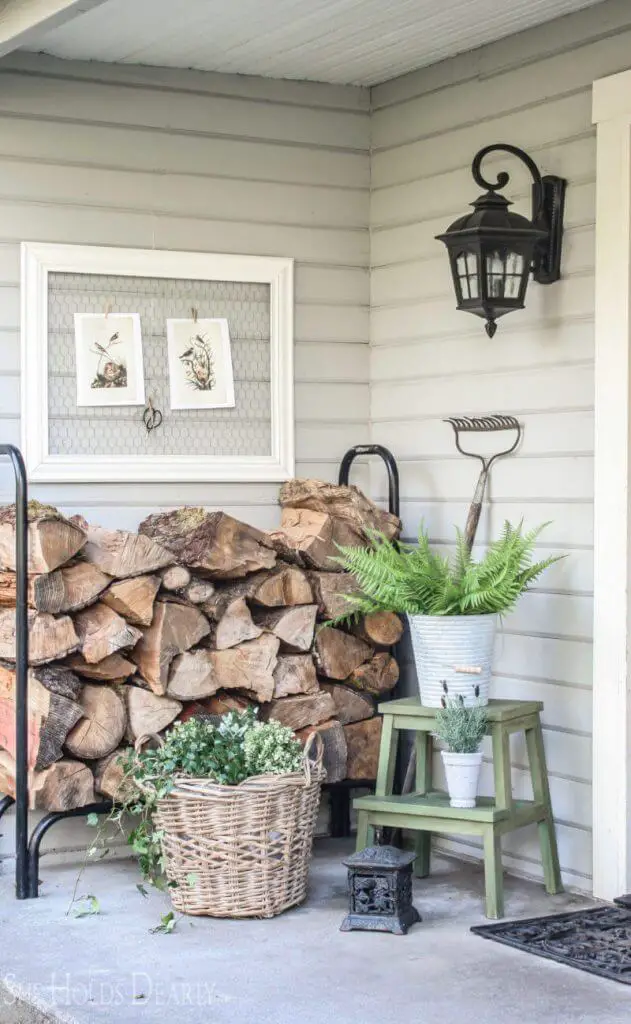 Turn your farmhouse porch into a stylish garden shed by replicating this layout. So, you just need to set up some of your favorite plants in different planters.
After that, combine them with a stack of firewood.
42. A Unique Welcome Sign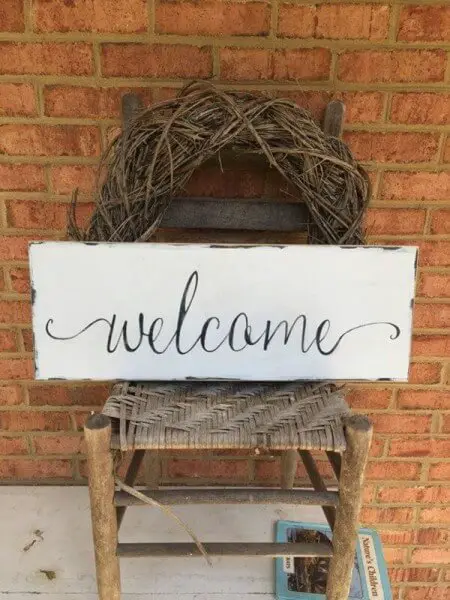 Instead of a floor mat, you can create an exceptional welcome sign by repurposing a rattan chair. Then, placed against the exposed brick wall, this also offers a perfect rustic farmhouse décor.
43. Classic Fall Decor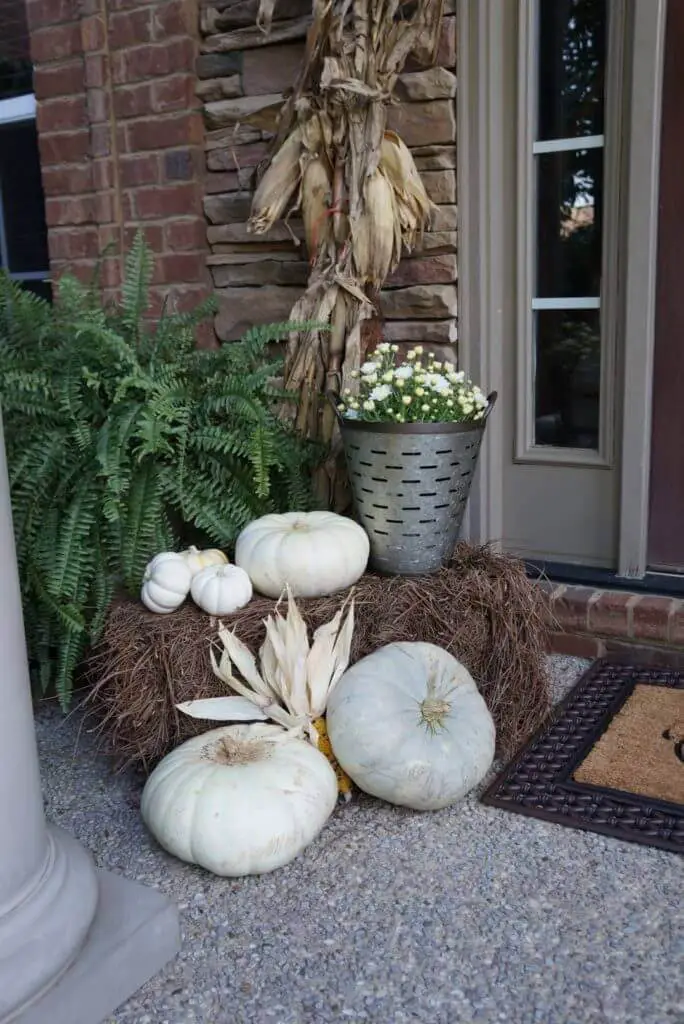 Indeed, adding a seasonal flair that matches your rustic farmhouse style always makes a good option.
Hence, you can incorporate some flowering plants and pumpkins to welcome your guest to the front porch.
44. Newport Palace Porch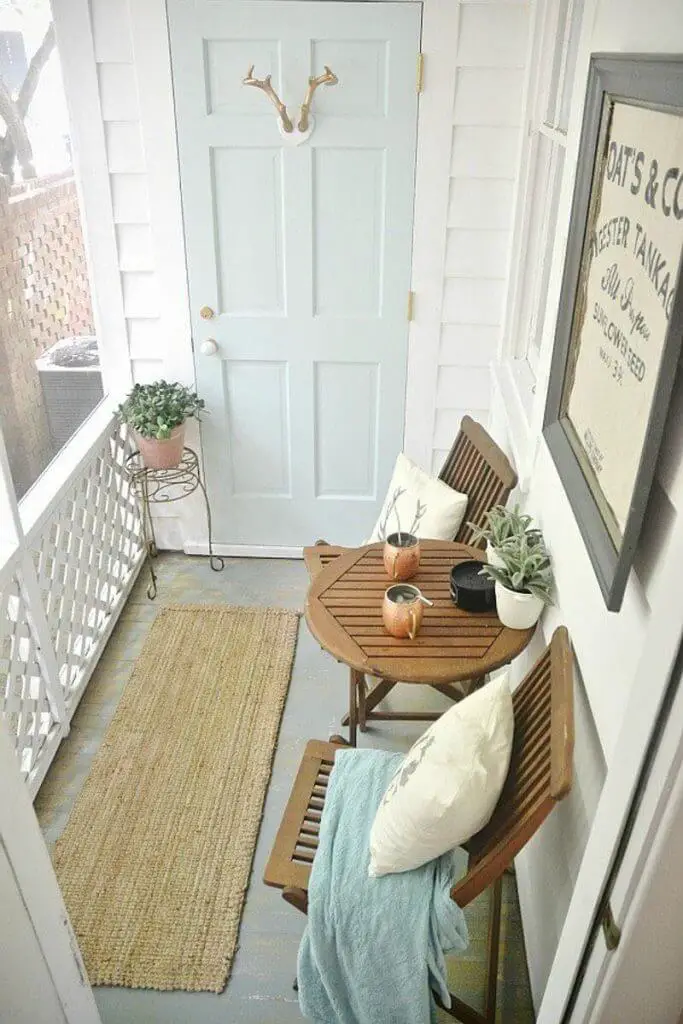 With furniture pieces that scale to fit the space, this small front porch offers a cozy sanctuary for its homeowners.
For instance, a few little succulent planters, a jute rug runner, and homemade wall décors are all great choices in this soothing outdoor space.
Final Thoughts
Above all, timelessly appealing, the rustic style always makes a good decor idea for any home space and your porch is not an exception.
Hence, if you like a decoration that has an ageless charm and is not hard to achieve, do not hesitate to recreate one of the rustic farmhouse porch decor ideas above.
More from Materialsix.com: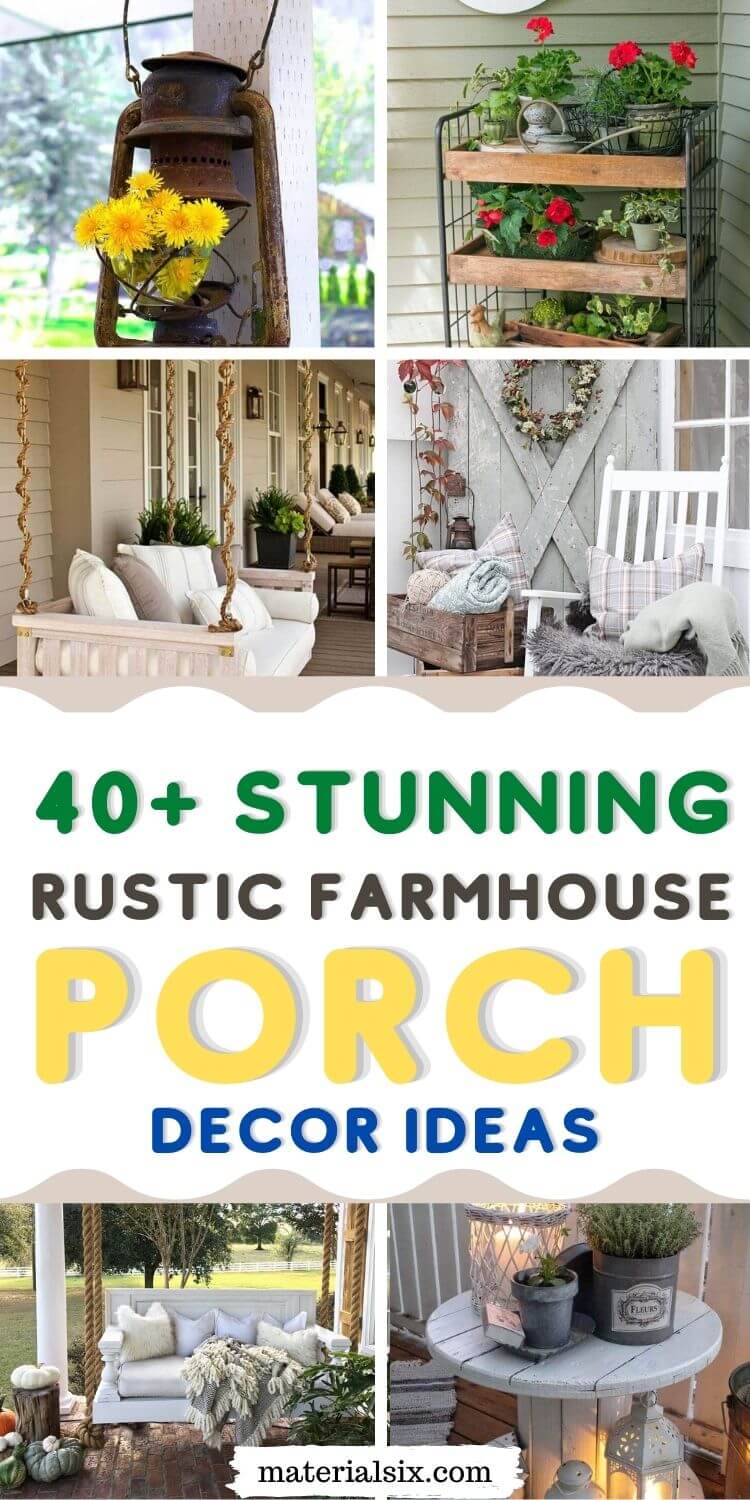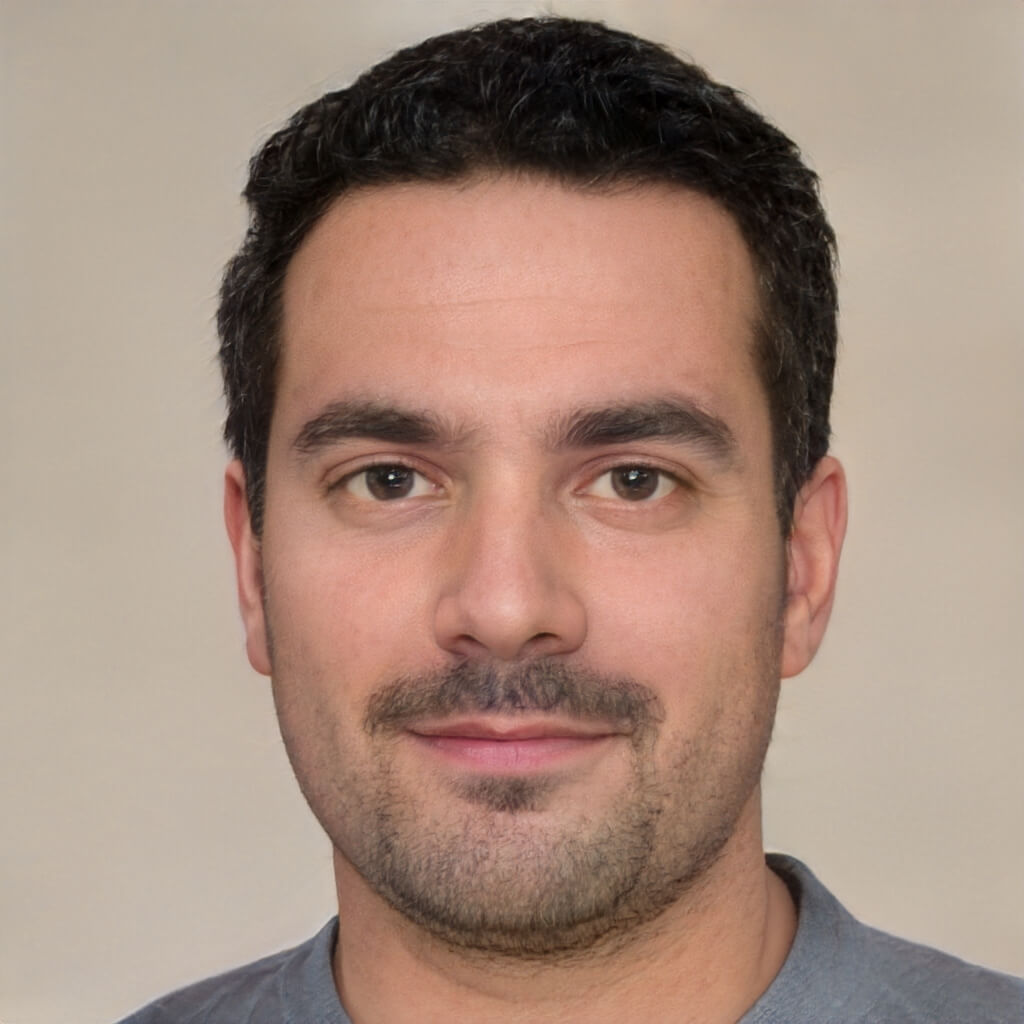 I'm a passionate home and garden enthusiast and the founder of Materialsix Home. With over 10 years of experience in the field, I've cultivated a deep love for all things related to home improvement, gardening, and interior design. Read more…