The front porch of your house is not just the area between the main door and the lawn. The front porch paint colors, furniture, and accessories you put on your front porch decide what it will look like. According to most real estate experts, the house's front porch serves as a first impression.
You can increase or decrease the aesthetic beauty of your front porch by choice of colors, types of furniture, and other details. You must choose smartly for the fun part of your house, that is the front porch.
 We have you covered if you're not sure what color you should paint your front porch. We have come up with front porch paint color ideas as well as a complete guide on how to choose paint shades for your front porch. So let's get into it.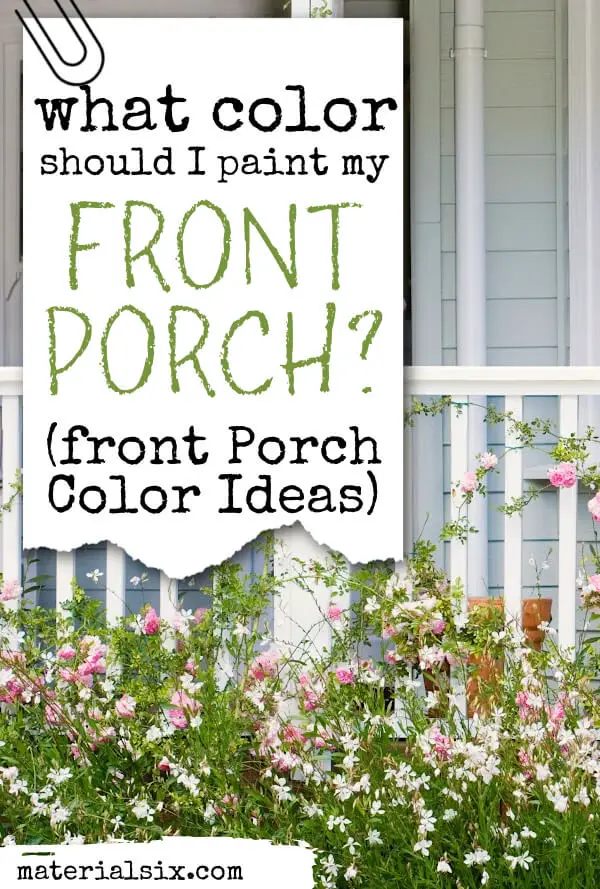 How To Choose Shade For Your Front Porch?
In general, the front porch of a house is the open space structure attached to the house and is a deciding factor in the house's curb appeal. Therefore, the front porch should be welcoming, warm, and cozy, whatever you choose.
We will share different shades and colors you can mix up to create a warm yet breathable front porch that leaves a good impression on people coming in. You can decide to play safe or choose the same front porch paint colors as the rest of your home. Alternatively, you can decide to mix colors up to match your taste and increase the aesthetic presence of your porch.
Besides, here are some tips for you to get started with choosing shades for your front porch:
When choosing your front porch paint colors, always

observe the surroundings

to decide on one. If your house is in the middle of the garden with lawns and shrubs, off-whites, and lighter shades. To create a harmonious look and synchronization in your property, choose a darker tone if the house is in the middle of a lawn surrounded by deep green trees.

The

direction of your front porch

is also very important. If you have a south-facing porch, lighter shades are best as the lights coming from the south are warmer than the north. So the lighter shade will complement the luminosity.

Always make sure that you're creating a good contrast between the floors, walls, and roofs. Your front porch paint colors should be in

harmony with the floors

. For instance, the colorful tiles of the porch will go well with summer blue or gray porches.
What Can Shades Be Used For Front Porch?
Here are the different shades that you can use for front porch paint colors according to what the real estate experts think.
Grays and Blues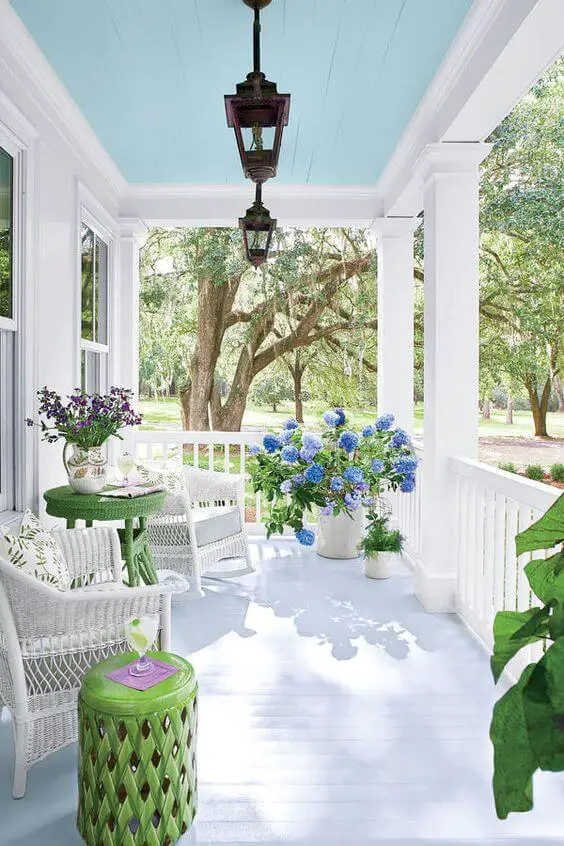 Traditional grays and blues will never fail you like the floor color of the front porch, and they often go well with the overall curb of the houses.
Softer Shades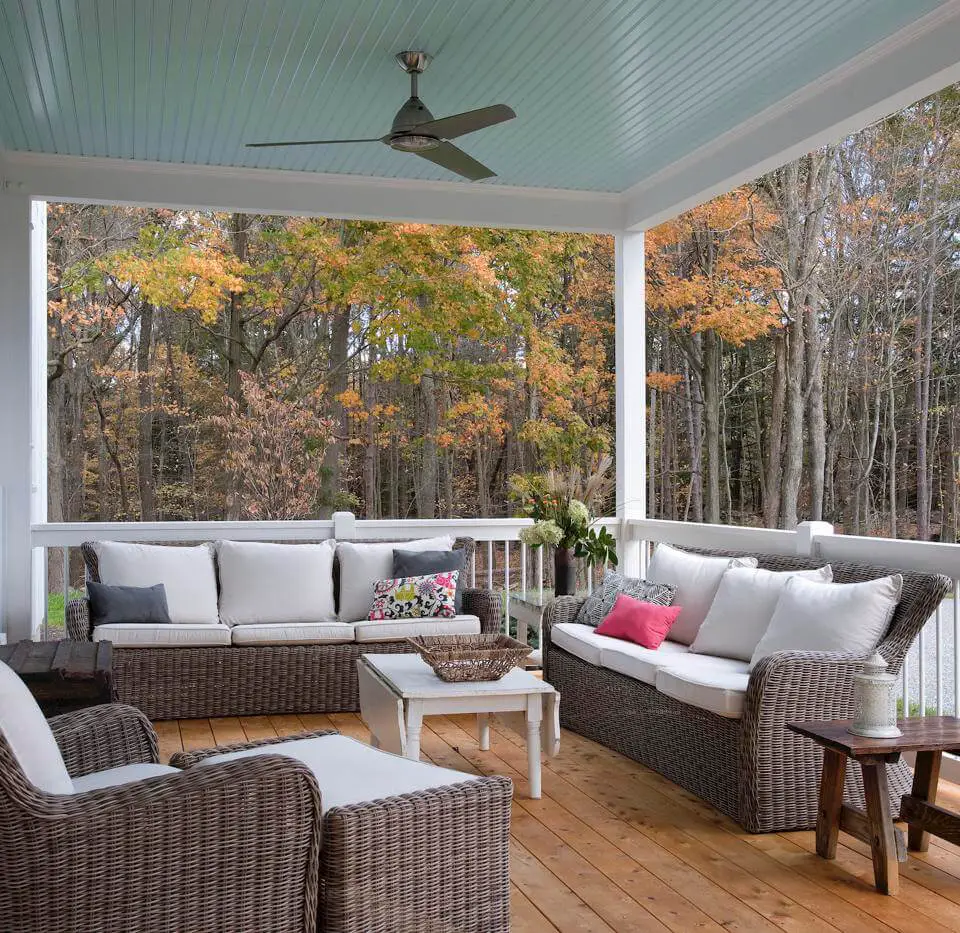 Softer shades are a good choice when you're trying to express your personal taste in front porch paint colors. You shouldn't lose the sense of harmony of your house with the neighborhood or have a house that stands out from others in a wrong way. Therefore, whatever softer shade you choose, keep in mind the surroundings.
Neutrals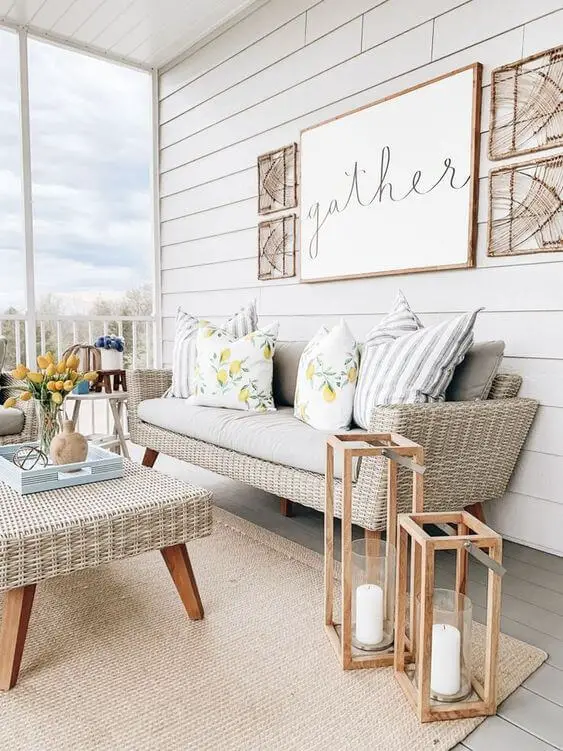 Neutrals are the safest option, and besides, you don't have to go too wild for the front porch. Since the front porch of your house is part of the curb appeal and the first impression, you shouldn't be taking a risk with the first impression. Therefore, if you're not sure what to go for, white, tan, or any other neutral is a safe bet.
Hues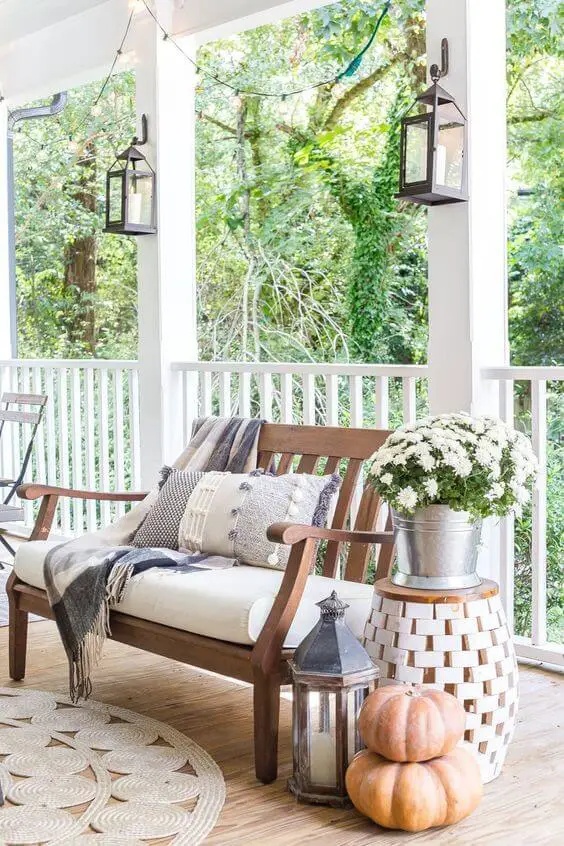 Vibrant hues can be used in the front porches to add to the house's curb appeal. But it highly depends on the neighborhood you're living in. For instance, Orlando, Florida, has a lot of colorful homes due to the tropical climate. Therefore, you can go for even vibrant colors if it is giving a harmonious vibe to the surroundings.  
What Color Should I Paint My Front Porch?
Now to the most important question: what color should I paint my front porch? Here are some suggestions for front porch paint colors and why to choose them.
Deep Blues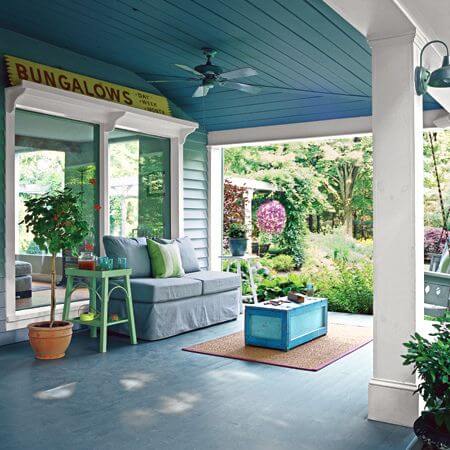 Deep blues, night blues, or darker shades of blues (like Benjamin Moore's Evening Dove) can be used to paint the front porch. The blue color is believed to be a bold statement. Therefore, you can go for it to add a soothing and relaxing appearance to your front porch.
However, a few things to synchronize with the deep blues are:
Accents and details should be kept light with luminous night blues

Adding sunny or brighter shades in detailing makes the porch less spacious in appearance.

For glass-covered porches or the ones near skylight windows, night blues enhance the aesthetic appearance by balancing the dark blue with the light.
Muted Greens
Muted green can be a great choice if you're living in the suburbs. Grayish-green color with a splash of white gives a muted green shade resembling the mossy and aged log. Since it's a lighter hue, the luminosity of the front porch is not affected, and you get a spacious and well-lit porch. Besides, the lighter hue of green also harmonizes with the surrounding landscape to create warmth & cohesiveness and also not deviate focus from the lush green lawn.
You can check out the Prestige Semi-gloss paint in muted green color on Amazon.
Underwater Grays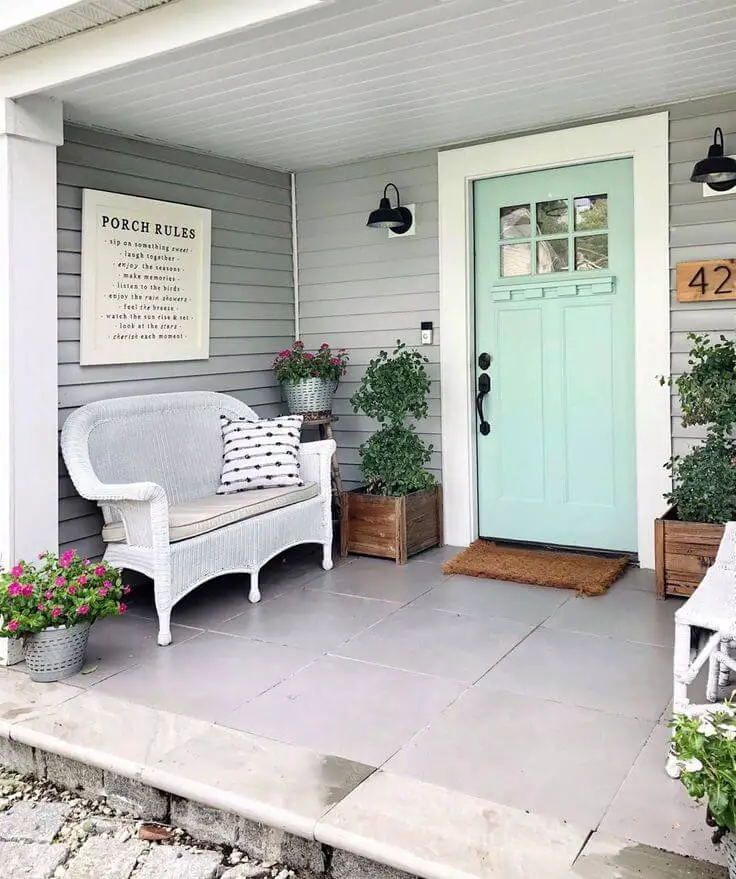 Silver grays will not fail as a front porch paint color regardless of what they're combined with. These neutrals can pleasantly enhance the appearance of your porch and highlight the architectural details as well. The shade at a midpoint between steel and summer blue is a great choice for contemporary architectural designs. Underwater grays would enhance the porch's appearance in northern landscapes as the warmth of the porch stays the same whether it's December or August.
Rust Oleums's 1980502 flat gray primer is very near to underwater grays. You can check the Rust Oleum's color on Amazon. 
Summer Blues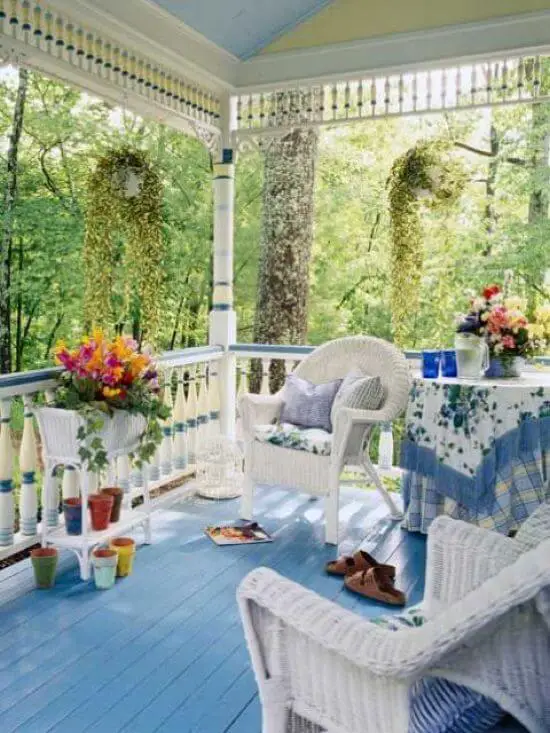 Summer blue is the shade inspired to create a feeling of the summer morning sky. The warm yet light shade of blue makes the front porch look more spacious. You should choose the summer blue for your porch if the accessories and furniture are of crude colors. Summer blues are also a great choice for the front porch floors as well.
Check out the Prestige's SW6800-PCM on Amazon.
Off-Whites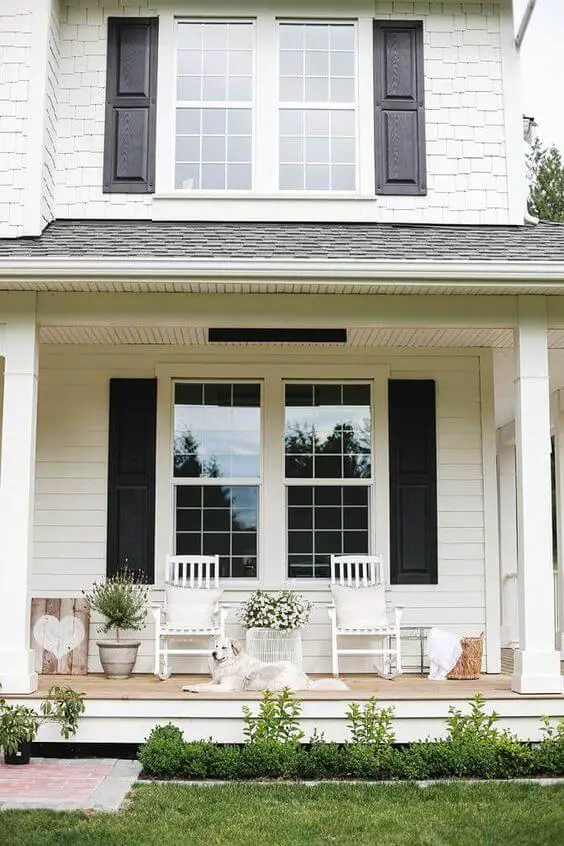 As mentioned earlier that white will never fail the curb appearance of your front porch. Creamy or off-white shade is a great way to improve the ambiance and make the front porch look more spacious. Going for off-white instead of classic white is preferable as the former creates the warmth and cozy feeling to the front porch and blends well with whatever colors you've chosen for your home exteriors.
Check out Rust Oleum's  329598 Ultra Matte Chiffon Cream shade on Amazon.
Grayish Greens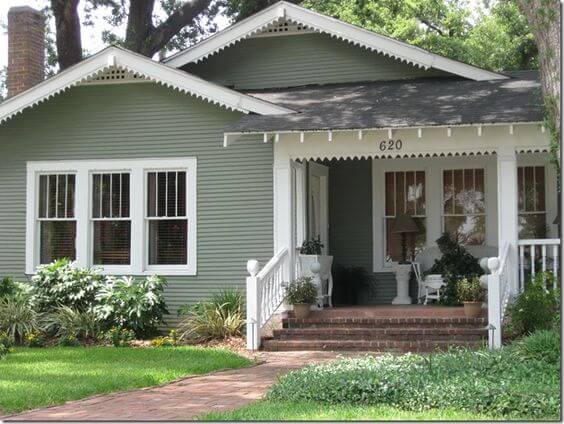 Are you a greenery lover?
Grayish greens are a good choice as your front porch paint color if you're house is surrounded by greenery and lush trees. Combined with the wooden flooring, highlights in brighter orange, yellow, or brown hues will go well with the shade. You can go for this relaxing and calming shade to ditch the classic whites or off-whites without compromising the warmth and light.
Check out Prestige's Adirondack Green 453BM-PCM to use as a gray-green on your front porch.
Light Gray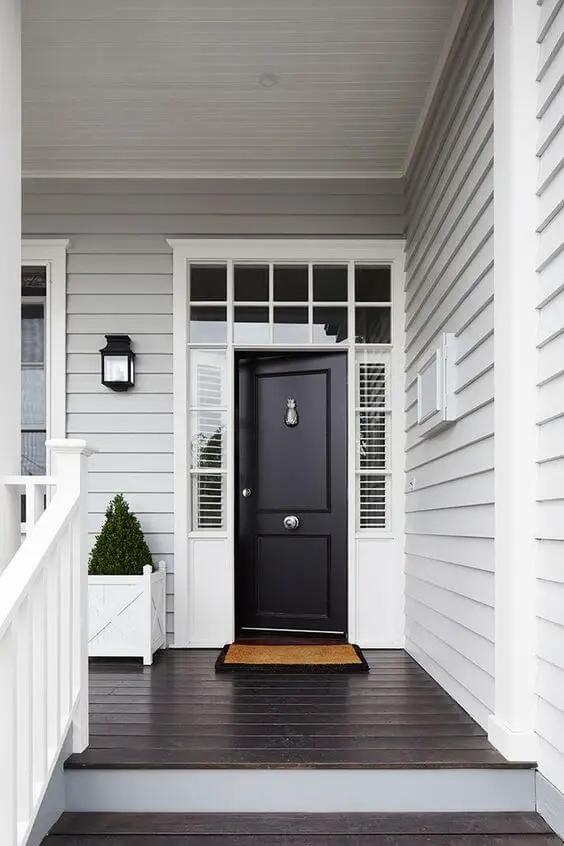 Softer shades like light gray or classic gray go well when your home exterior has been pained in commanding colors. The gray will add warmth and space to your front porch. It will also tone down the things in the overall appearance of your home.
Rust-Oleum Brands 285143 Aged Gray Chalked Ultra Matte Paint is the perfect color you can check on Amazon.
Classic White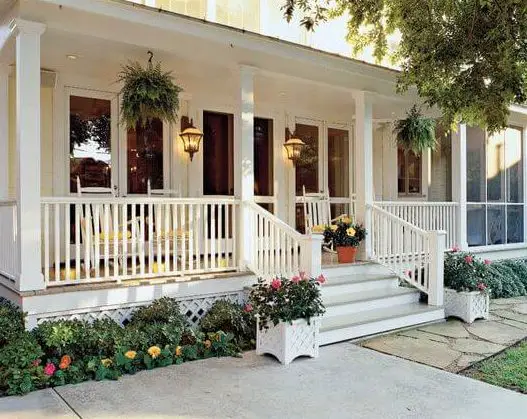 For the vintage colonial-style homes with red-bricks flooring, absolute white or classic white is the most popular choice. Classic white is still relevant to modern homes if you're residing in a hot area. The color will reflect the heat and adds uniformity & neatness to the overall appearance. You should mix the white with some brighter color highlights and accents like a faint blue ceiling, green windowsills, etc.
The classic white is the same as Rust Oleum's 285140 Linen White Chalked Ultra matte on Amazon.
Navy Blue
The neutral blue and the navy blue go very well with the modern front porches. According to experts, go for the classic navy blue when nothing is working out for paint color. The contemporary and elegant neutral adds vibrance to the exterior of your home without making it flashy or overstated. Besides, navy blue is a great choice or southern-facing front porches to complement the luminosity.
Check out the Microblend's Blue Beard shade on Amazon as a navy blue shade for your porch.
Final Words
Don't fear letting your creativity come out, whether you choose to go with the front porch paint color the same as your home's exterior or mix things up. We have shared different shades for you to play around but at the end of the day, what matters most is that your home should be a happy place for you.
Don't hesitate to improvise things according to your taste. We hope this guide will help you choose the right shades for your porch's floor, ceiling, and walls that match the vibe of your home and surroundings.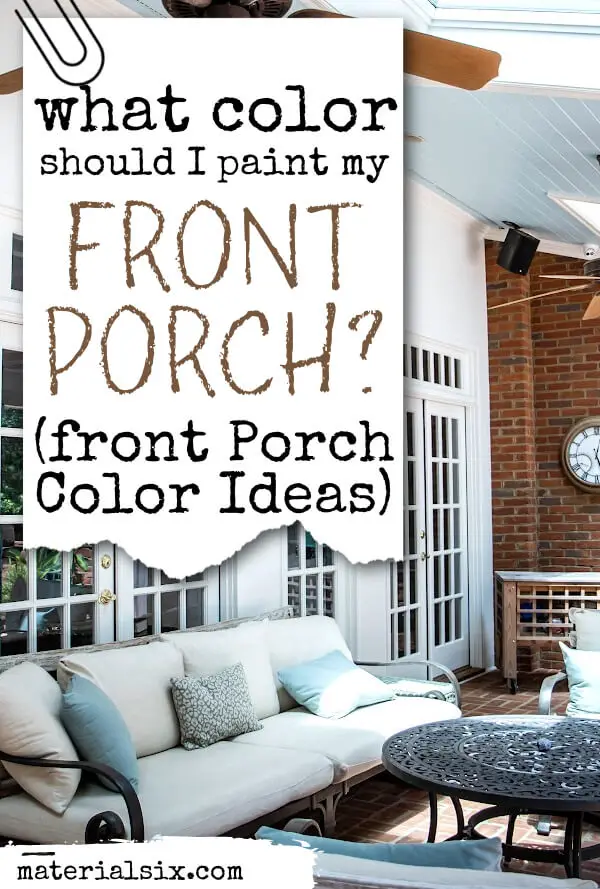 More from Materialsix.com: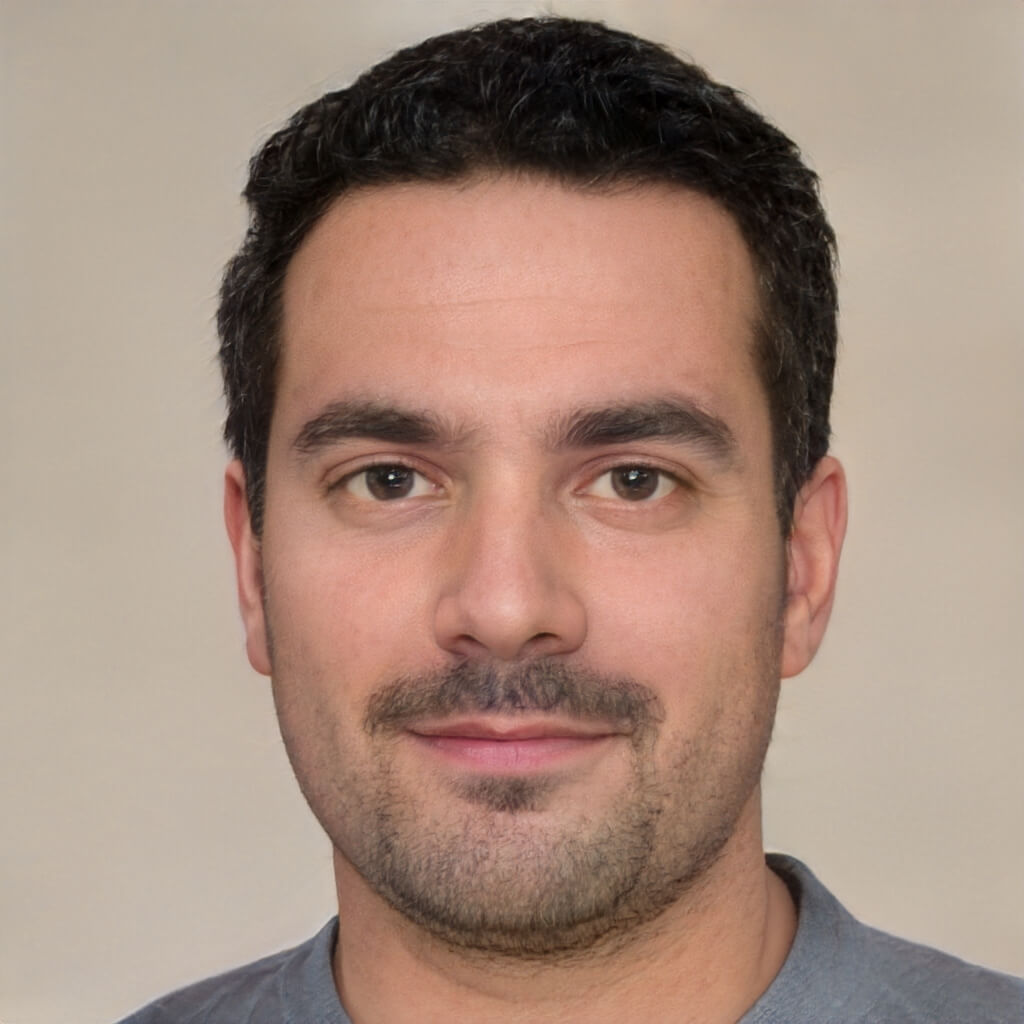 I'm a passionate home and garden enthusiast and the founder of Materialsix Home. With over 10 years of experience in the field, I've cultivated a deep love for all things related to home improvement, gardening, and interior design. Read more…