Light is an important element in the house. It is even more beautiful by adding a lampshade to it. Maybe you never notice this; the decorative lampshade can give different light effects.
Think about how to beautify your room by decorating it. A little revamp taken from various lampshade makeover ideas can make a huge difference to a room.
Some ideas highlight their design with materials. Things like fabric, wire, paper, and even ribbon are just some of it. Other ideas take things that you do not need anymore and being very creative with it.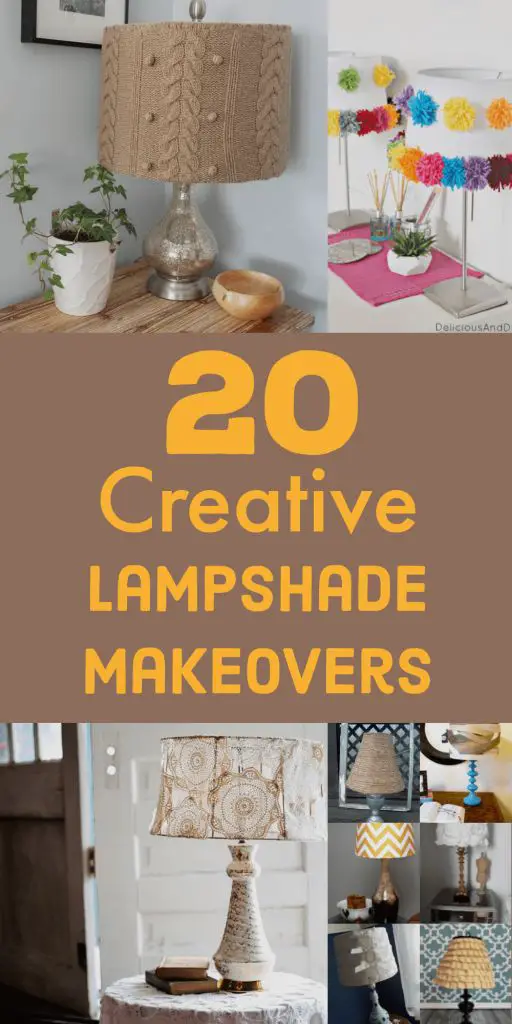 Creative Lampshade Makeover Ideas
You can recycle items and make bottle shades, drum shades, and many more. Cheap and even free items are equally useful to be transformed into a unique lampshade. How about making a lampshade made from twigs, dried leaves, sands, and stone?
The homeowner's personality inspires some lampshade ideas. If you love bright colors, use that on your lampshades. If you are romantic at heart, there are sequins, feathers, and soft materials that fit that theme. A modern person will choose something timeless like paper, a piece of plain fabric, or wood.
Find an idea that suits your home, personality with materials. Things that you know you can get done. We have gathered some lampshade makeover ideas as inspiration below.
---
1. DIY Ruffled Burlap Shade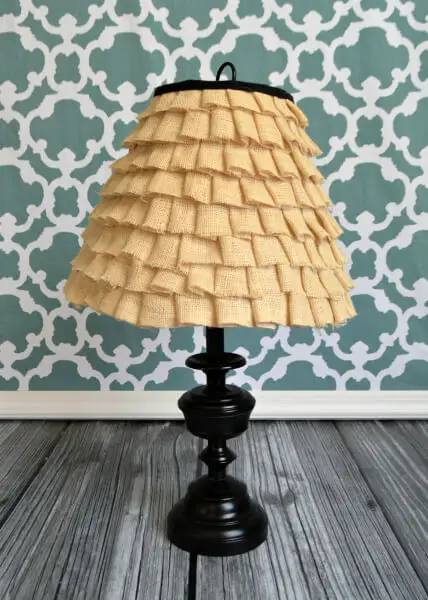 Looking at this beautiful lamp makes you think of the ugly lights you have in the basement. Why not make those lamps lovely instead of leaving them on the curb? No sewing is required!
2. Pom-Pom Lamp Makeover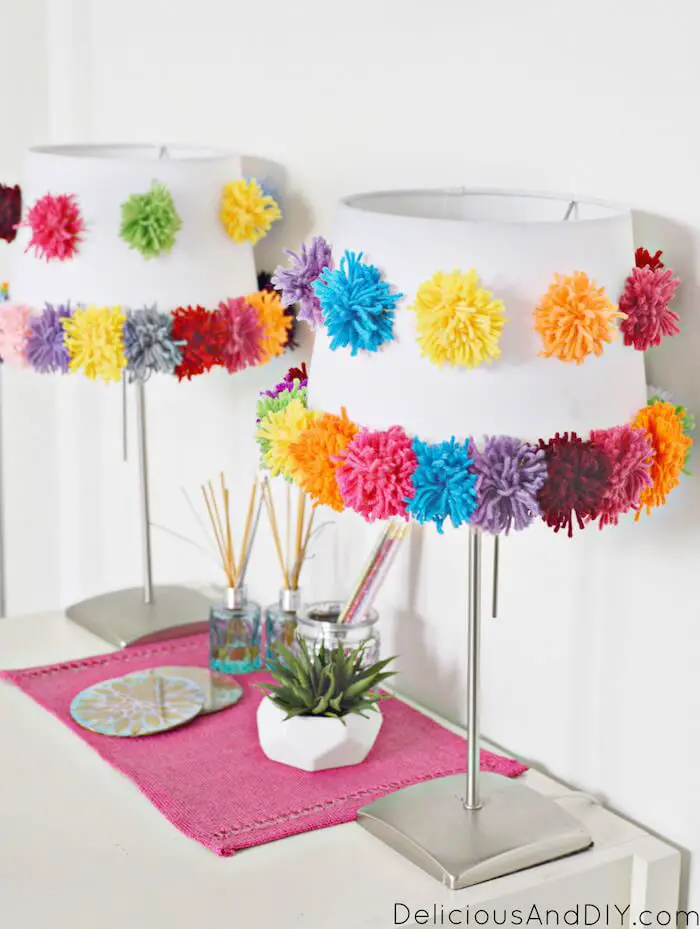 Either you buy the pre-made ones or make them yourselves, these Pom Poms added a nice pop of color to the outdated lamp. Simply searching online will give various Pom Pom tutorials, or you could get a Pom Pom Maker to make your life easier.
3. Balsa Wood Lamp Shade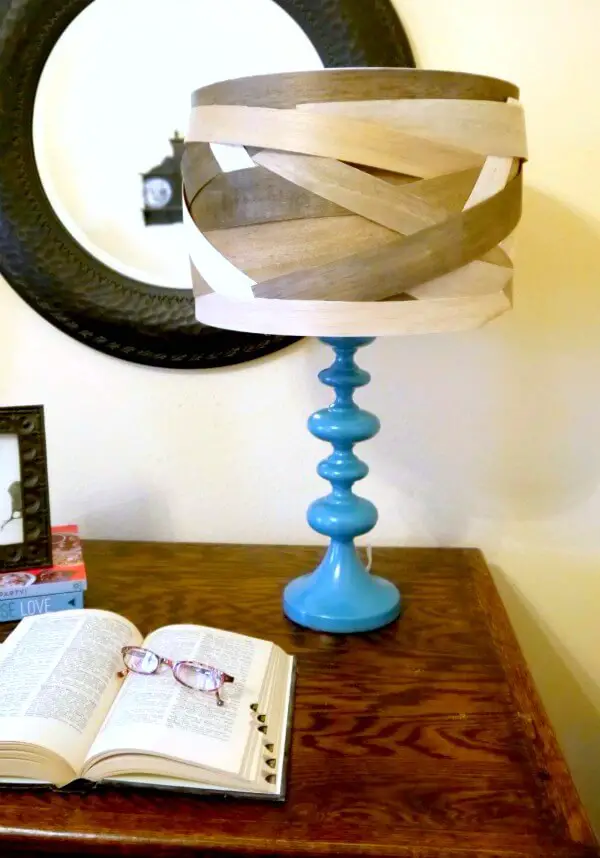 Balsa wood is lightweight, sturdy, not easily broken, and easy to shape. Take a look at this lovely lampshade, with its various hues and wood feel. Now you're ready to fall in love with lampshades.
4. Chevron Pattern Lamp Shade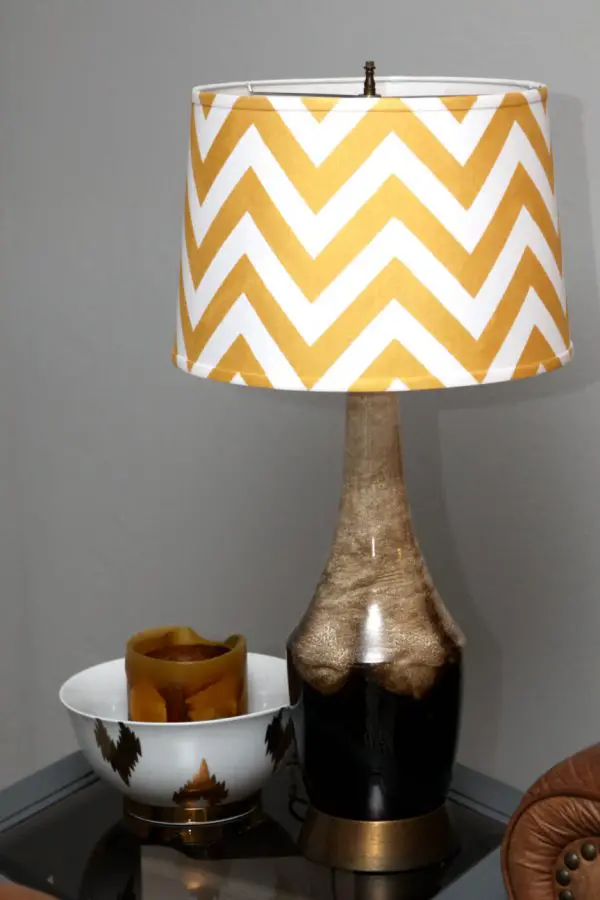 The beautiful thing about a chevron design, particularly on a rounded surface, is that it is incredibly flexible and does not have to be precisely lined up to look properly lined up. It's one of the best lampshade makeovers that is totally a neat idea!
5. Vintage Map Lampshade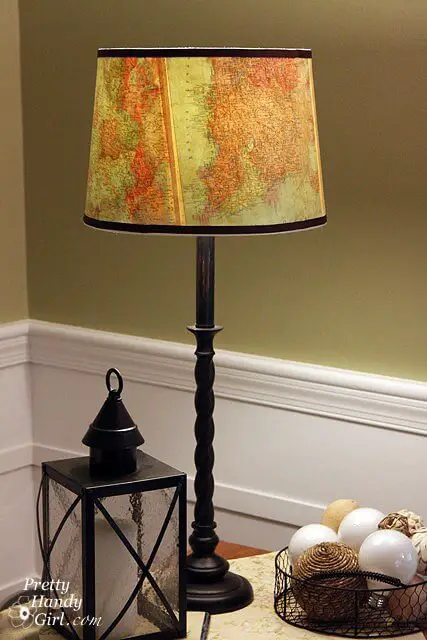 The vintage style is a great way to elevate your lampshade. Let's give that dull old lampshade a makeover! Don't mind the maps; it's optional. You may use anything from wallpaper to fabric to a poster!
6. DIY Floral Lampshade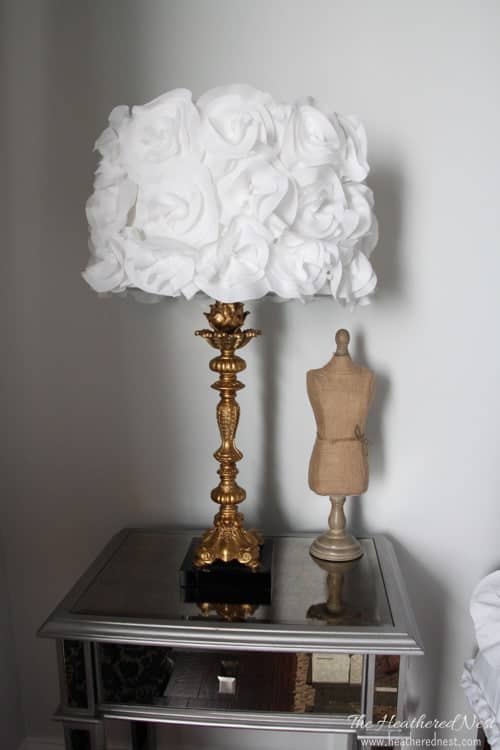 Fabric is obviously a personal choice, but the function of a lamp is to let the light within. So, light and sheer fabrics work the best. Semi-sheer polyester fabric is our recommendation since it's incredibly light and affordable.
7. DIY Glitter Lamp Shade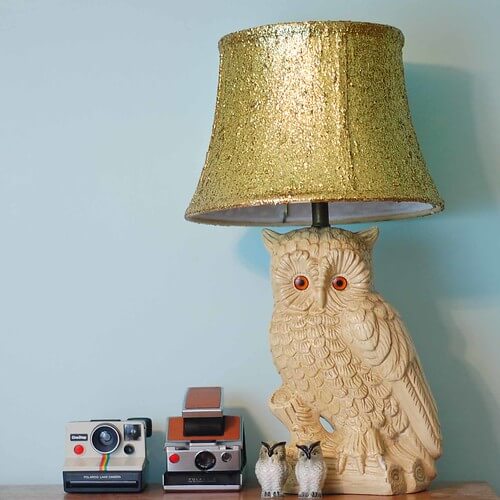 What a stunning look! This is what you need to do: mix around 1/4 cup Mod Podge and a lot of glitters. Take your brush, and spread it over the lampshade. Consider not to use too many coats. Otherwise, you will entirely block out the light. Let it dry, and you're set!
8. DIY Sweater Lamp Shade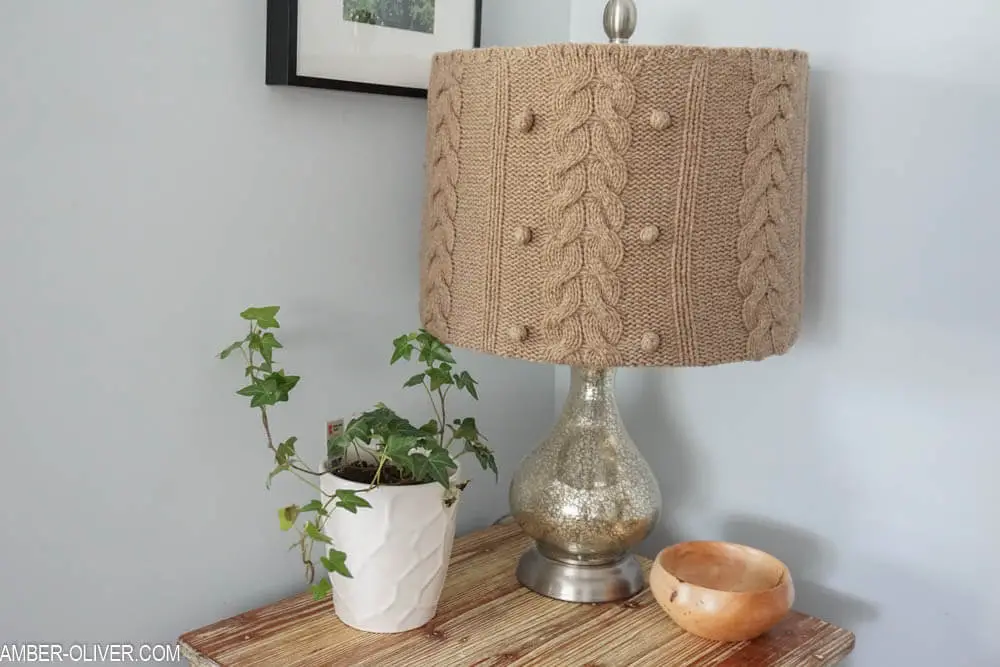 If you enjoy upcycling, we have a nice treat for you! It is a fantastic idea to repurpose an old sweater. It's one of the simplest lamp shade ideas and smart ways to get rid of our worn-out clothes. A sweater lampshade is a pleasant addition to your home!
9. DIY Photo Lamp Shade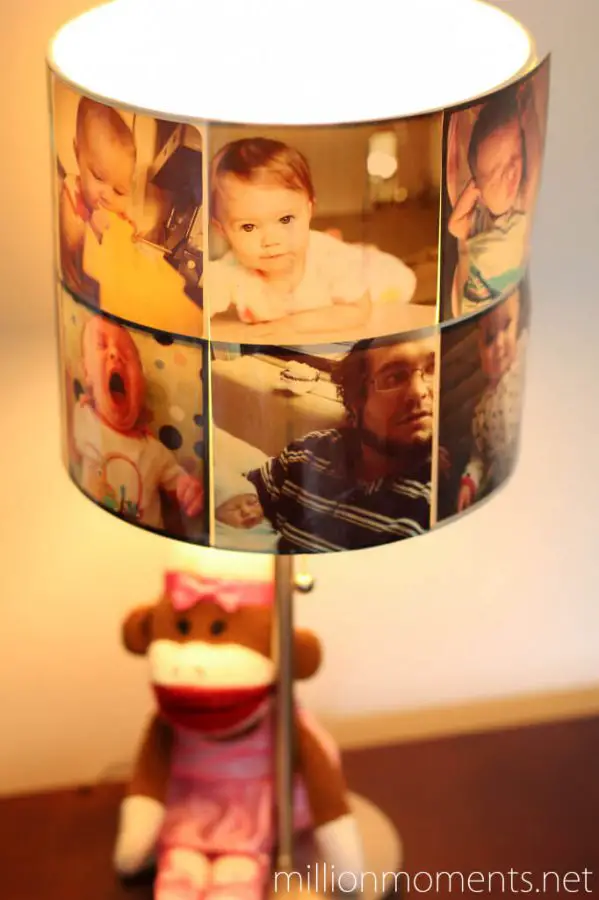 This project is ideal for personalizing your room or a perfect idea to create a lovely customized light that will remind you of beautiful memories. It will even make an excellent gift!
10. Seagrass Lamp Shade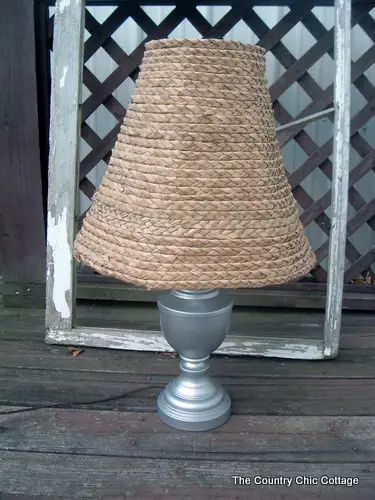 If you're a fan of everything country chic, this DIY seagrass lampshade will amaze you. The texture is lovely, and the idea of including the stand is quite creative and polished. The pricing is reasonable and affordable to everyone who dreams of this magnificent piece of art.
11. DIY Ribbon Lamp Shade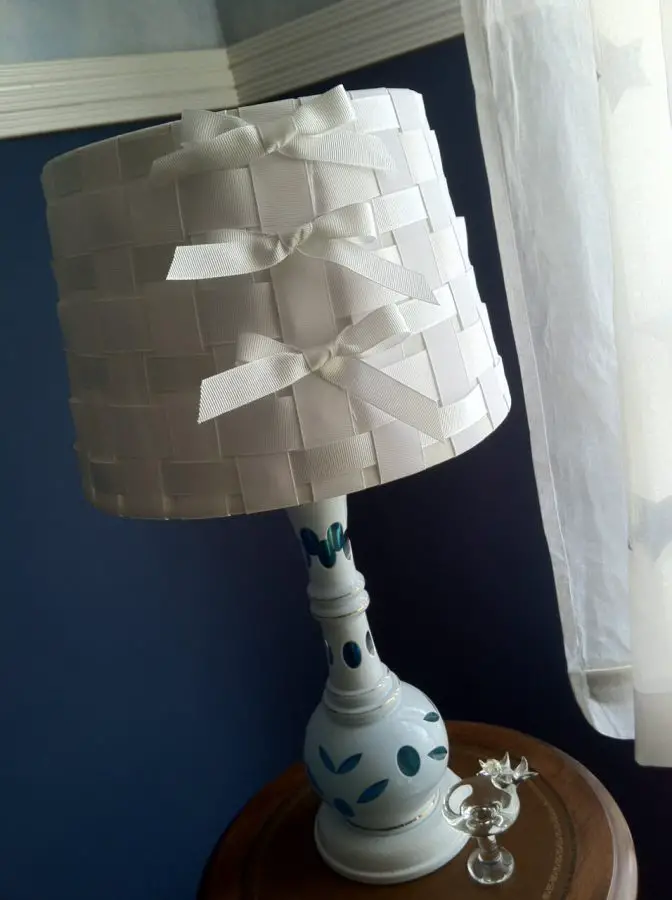 Ribbon will save the day! Why live with a boring lampshade when you can easily liven it up with a bit of DIY magic? This adorable light is a lovely addition to any space.
12. Doily Covered Lamp Shade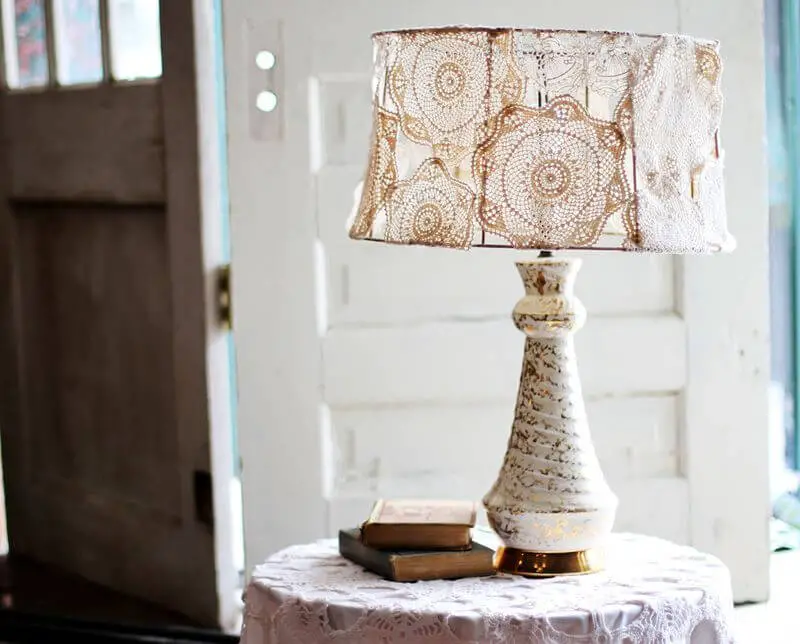 Pick an old, damaged lamp shade. Remove any material or fiberglass that is surrounding the lampshade. Attach the doilies to the lamp with your favorite pattern by stitching them around the frame! Voila! A quick dose of beauty for your space.
13. Thrifted Lamp Makeover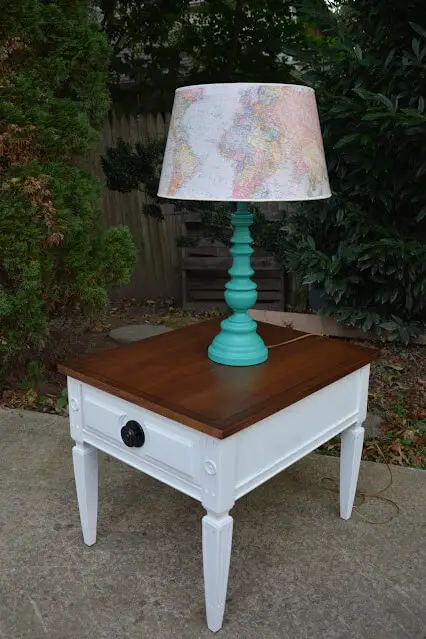 If you are all for an eclectic look, you'll adore this lampshade makeover. The turquoise color is lovely and would make an excellent accent to any end table. Consider using chalk-based paint, which eliminates the need to sand or prime first–simply wipe it clean!
14. Burlap DIY Lampshade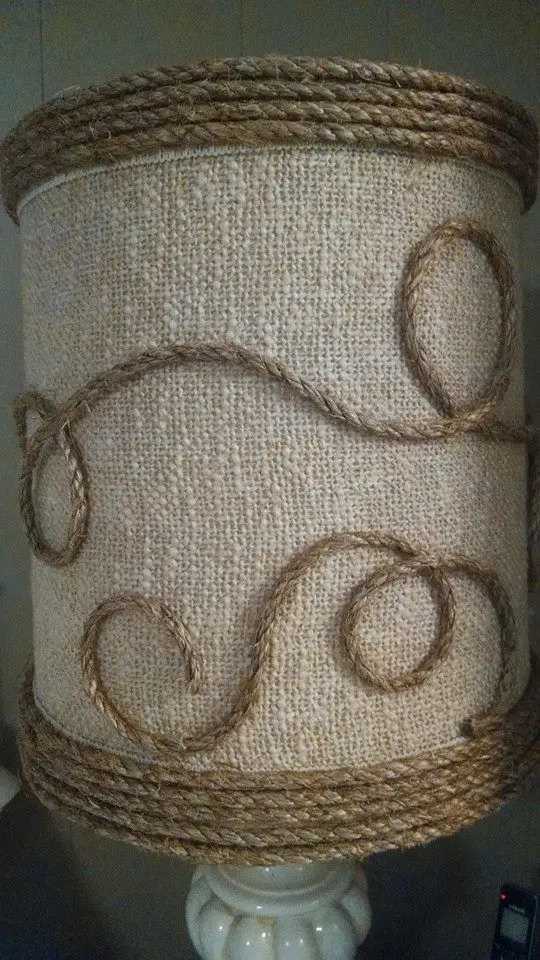 Burlap has a natural look and lovely texture. It's durable and also one of the least expensive. You may use burlap in various home decoration styles: chic, beachy, modern, cottage, or even bohemian style. It is versatile and timeless.
15. Vibrant Yarn Lamp Shade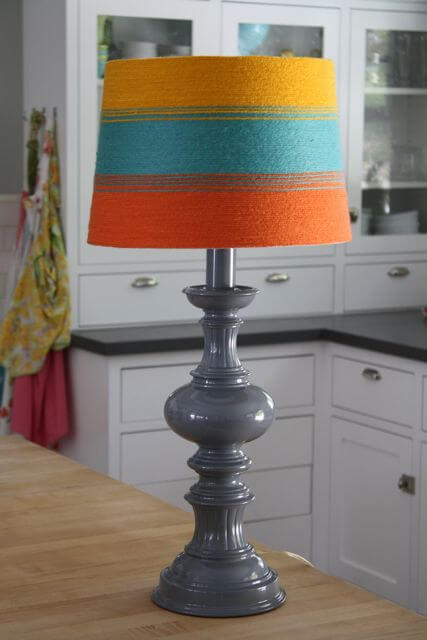 When you have a tiny budget but want to create a huge impression, a collection of DIY lampshade ideas is all you need. This lovely lampshade project is worth a try. It's such a simple, high-impact DIY.
16. Slip-Covered Lamp Shade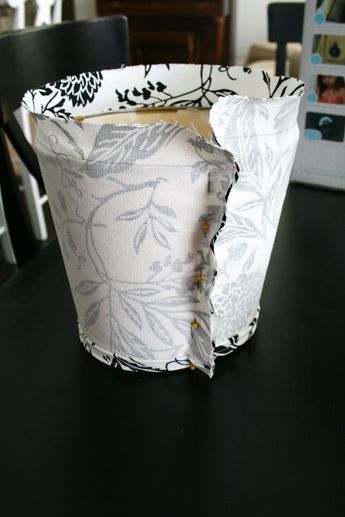 An interchangeable lampshade cover? It's brilliant! You could modify it seasonally or on holidays! It looks fabulous on any table, such as the side bed table or the small table in the foyer.
17. Victorian Lampshade DIY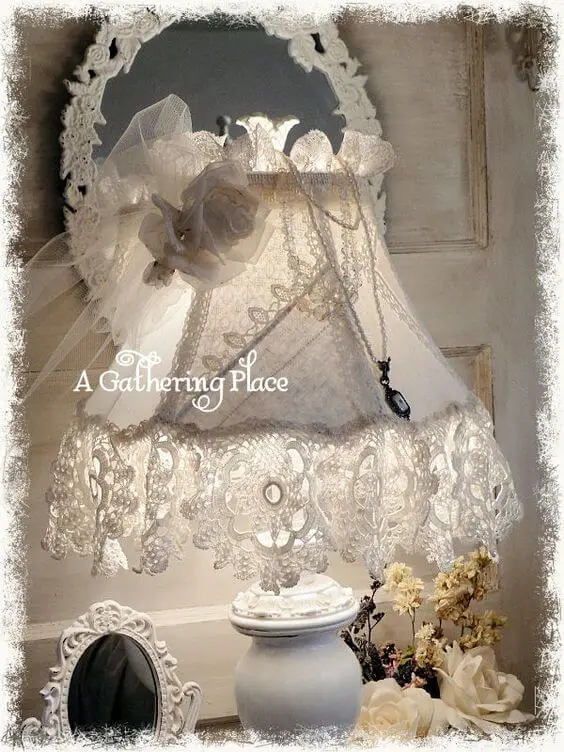 Make a crease in the lampshade with lace and embellish it with string and classic trim. You'll create beautiful stuff that exudes warmth, comfort, and elegance. Everyone will love how you added the crocheted edge to your shades.
18. Blissful Beading Lamp Shade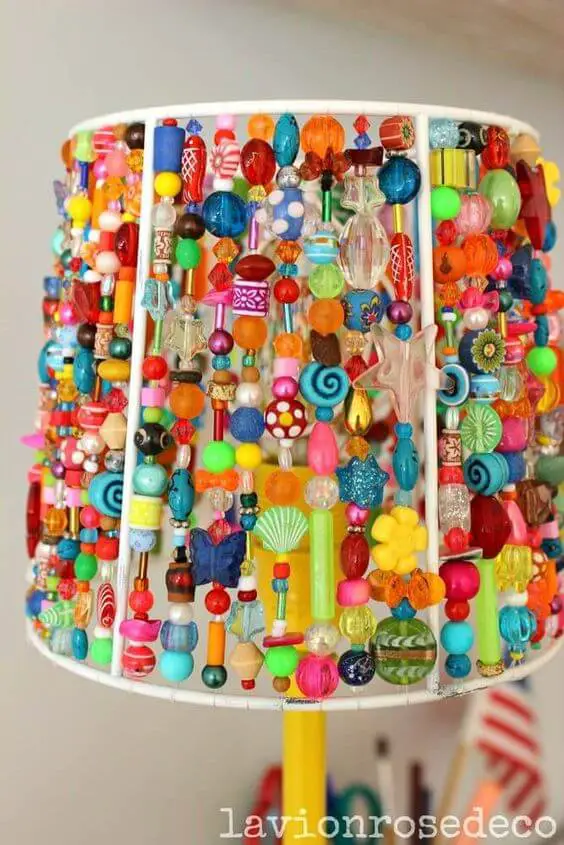 String random beads in varying shapes, sizes, and colors onto a lampshade frame for a truly bizarre design. Turn your old vintage lamp into a vibrant conversation piece that will look awesome in any space.
19. Watercolor Fabric Lampshade Dress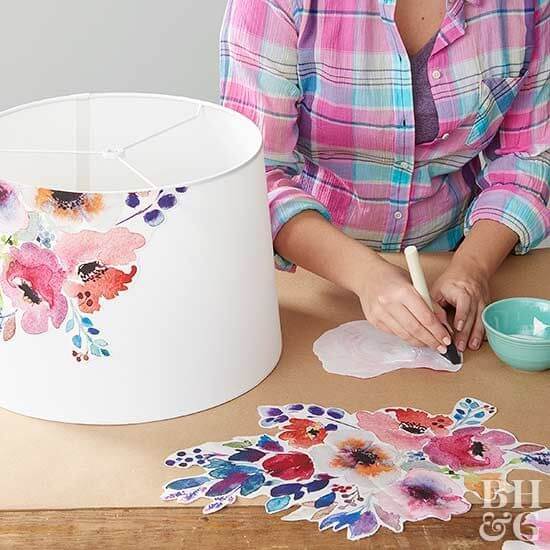 Decoupage makes unique lighting simple and affordable. Let's transform a regular white drum shade into stunning watercolor floral decor. To dress up a plain white drum shade, use leftover fabric from curtains or discover a design you like. This simple DIY project is pleasant to do and saves huge money.
---
Conclusion
So what can you do with those ideas mentioned above? Get crafty by taking them according to your ability. An old lampshade can have a little redecorated or a full makeover. Check out these makeover ideas; they are super easy to follow.
Turn it into a DIY project for you to try yourself. Plus, it is way better than buying a new one. So, what are you waiting for? Save money by choosing one or two from the lampshade makeover ideas above. Then, share your ideas with others. So, the next time you decided to remodel your lampshades, there are more ideas for it.
More DIY Posts & Other Posts You Might Like: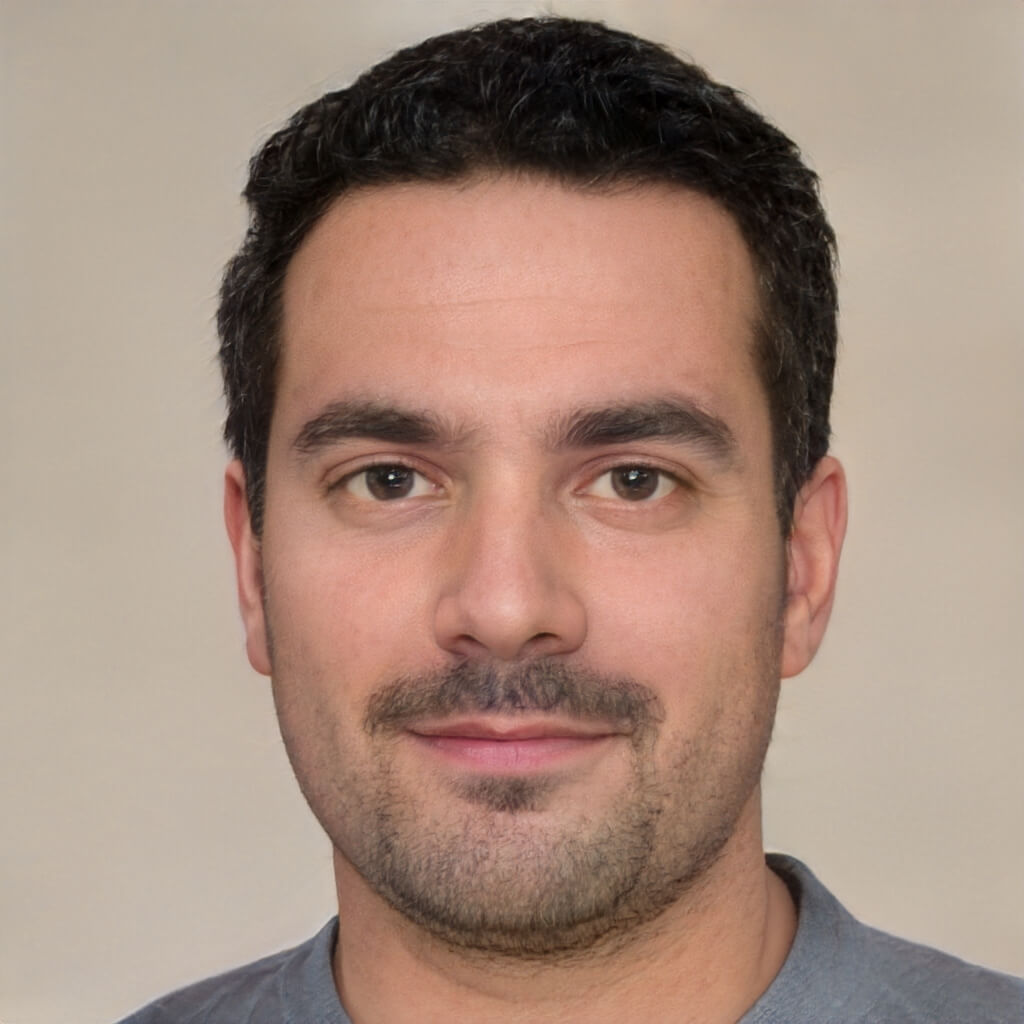 I'm a passionate home and garden enthusiast and the founder of Materialsix Home. With over 10 years of experience in the field, I've cultivated a deep love for all things related to home improvement, gardening, and interior design. Read more…