Designing an industrial bathroom can be an ideal choice if you want to introduce something special to your home design.
However, incorporating industrial style into a bathroom is not always easy since it typically requires a bit of different thinking.
This selection of 17 industrial-styled bathrooms will help you to make the most of the idea. Without further ado, let's check them out!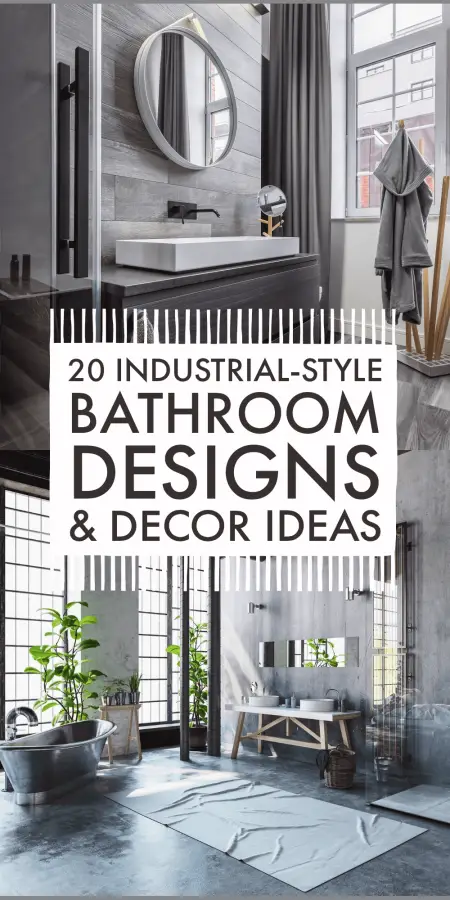 1. Grey and White Combination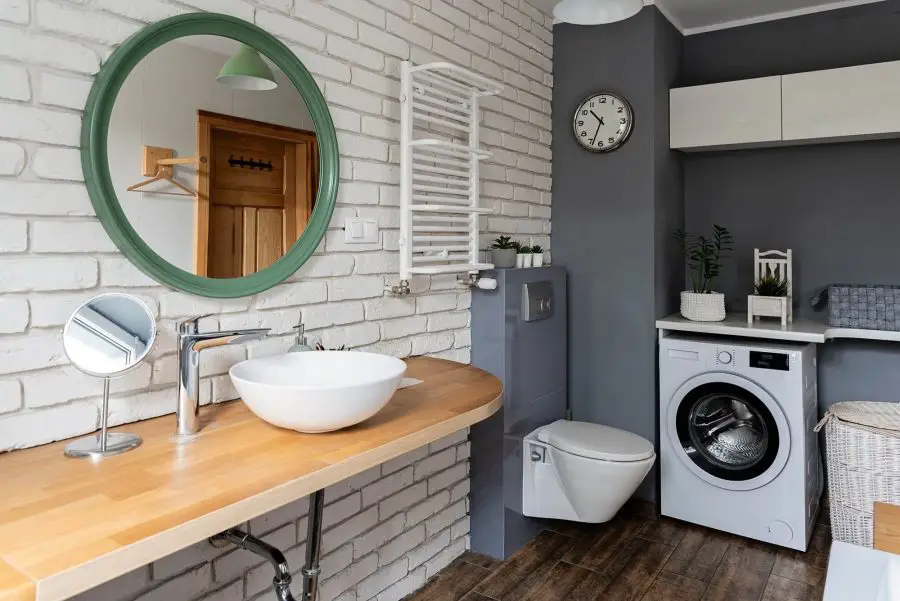 If you want to have a stunning industrial bathroom that boasts a modern flair, this picture makes a great example.
The combination of white-coated exposed bricks and light grey accents introduce an industrial style in a more contemporary way.
2. Industrial Bathroom with Concrete Walls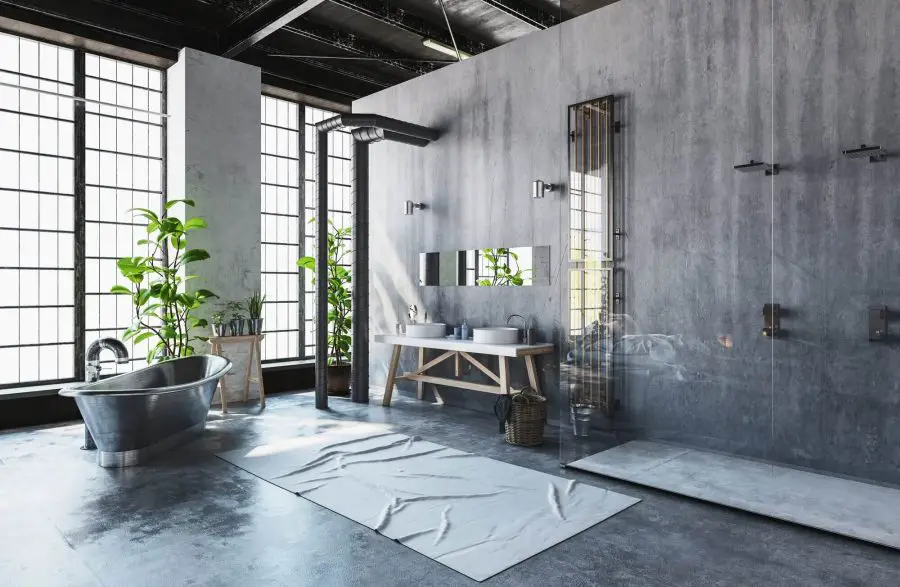 Exotic concrete walls and exposed beams make a perfect backdrop for this industrial-styled bathroom.
Meanwhile, the see-through glass shower screens and floor-to-ceiling paneled windows keep the room feel airier despite the dull walls.
Not to mention the outstanding indoor plants that help the room appear livelier.
3. Rich Wood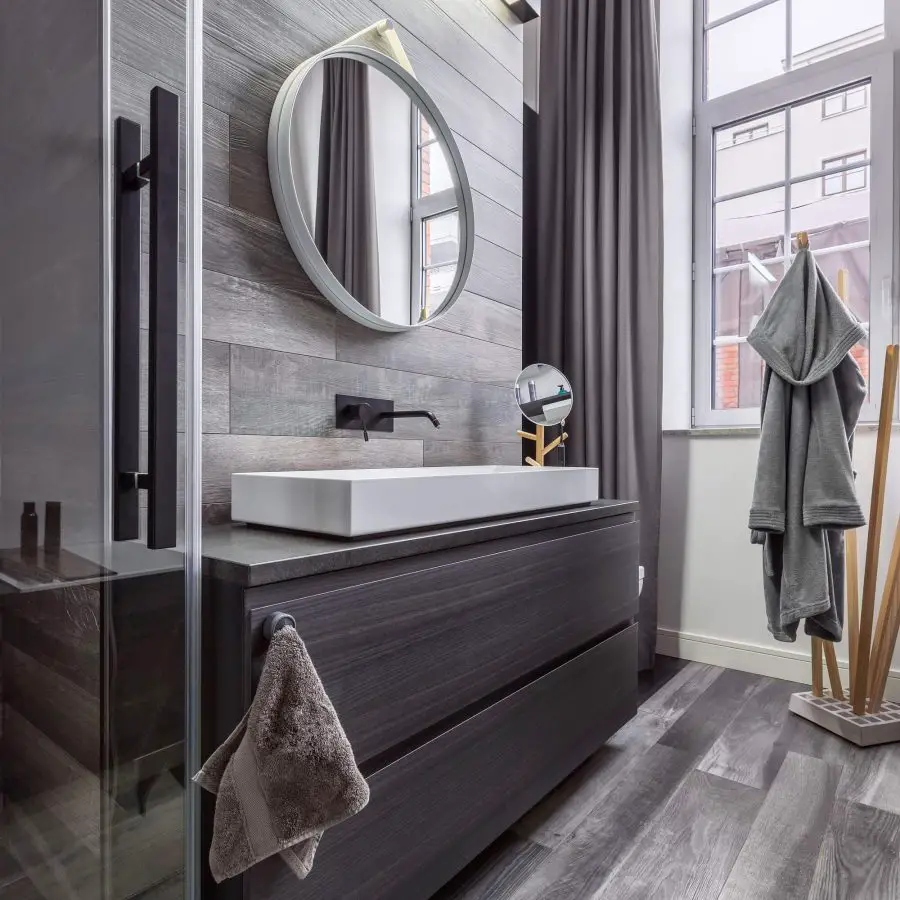 Bring the contemporary vibe into your industrial bathroom by incorporating a sleek wall accent and modern vessel sink.
Instead of mounting some hooks on the wall, get a unique standing hanger to organize your bathrobes and towels.
4. Exposed Brick Accent Wall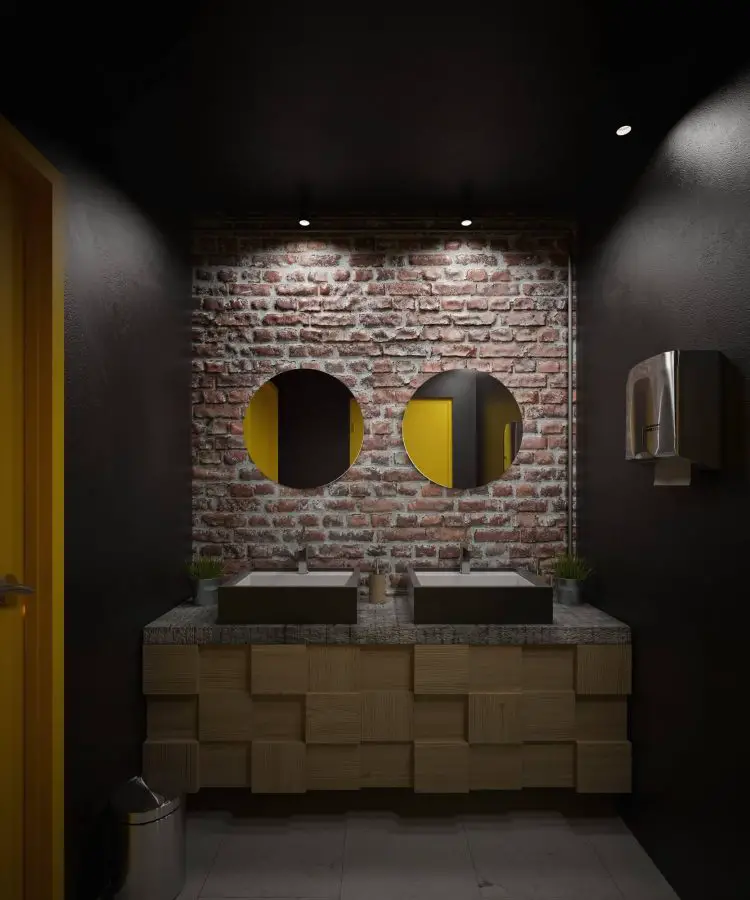 None can deny that exposed brick walls are a staple of industrial decor. Not only offers visual interest, but they also add depth and texture to your space.
With matte black surroundings, the exposed brick accent wall lends a focal point. Then, a couple of frameless round mirrors complete the design of this small industrial bathroom flawlessly.
5. Elegant Washed Brick Wall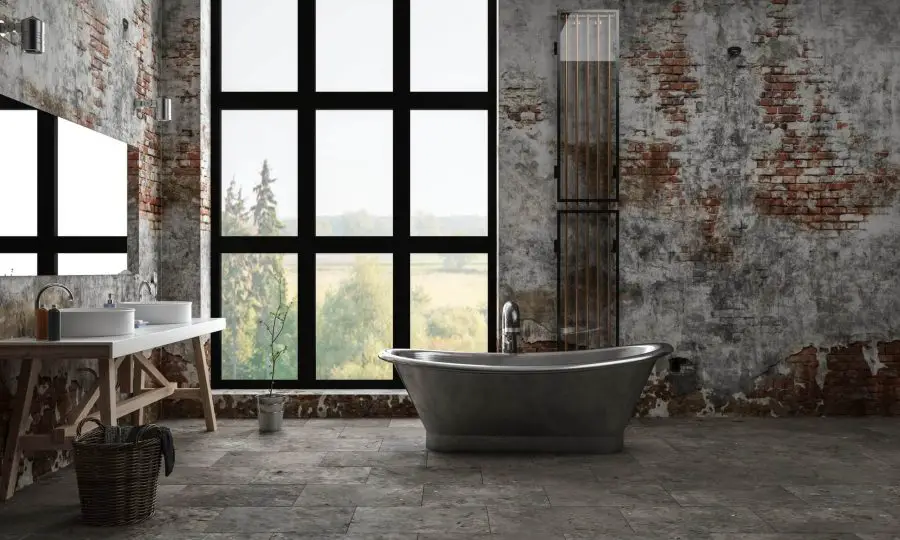 The unfinished look offered by the washed brick wall becomes the main interest of this bathroom's design.
With huge paneled windows that display wonderful scenery, this bathroom makes a perfect spot to get relaxed after work.
6. Urban Industrial Bathroom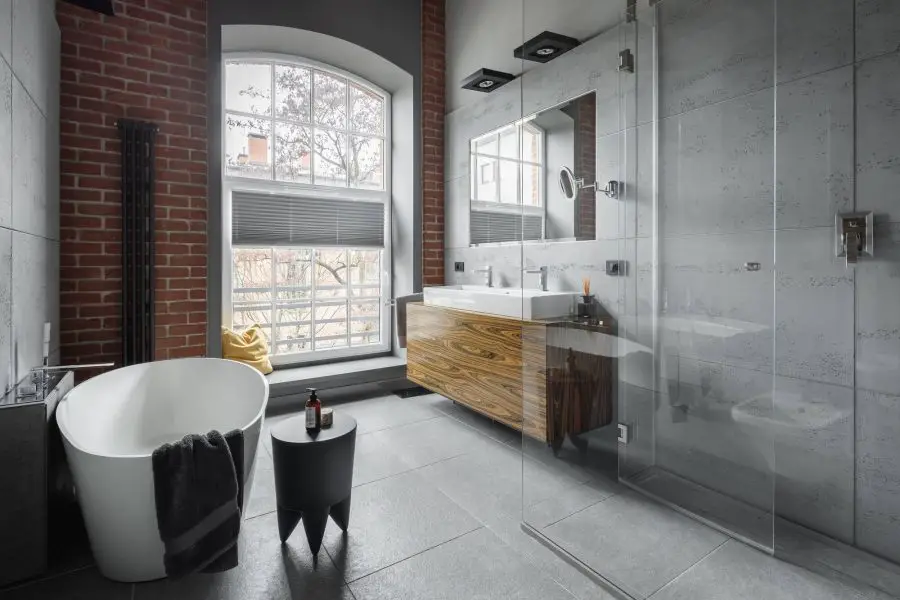 Living in an urban area and does not have the luxury of scenic view? This industrial bathroom design has that exposed brick style that is probably of interest.
The neatly finished exposed brick wall is employed as an accent for the neutral surroundings.
7. Copper Bathtub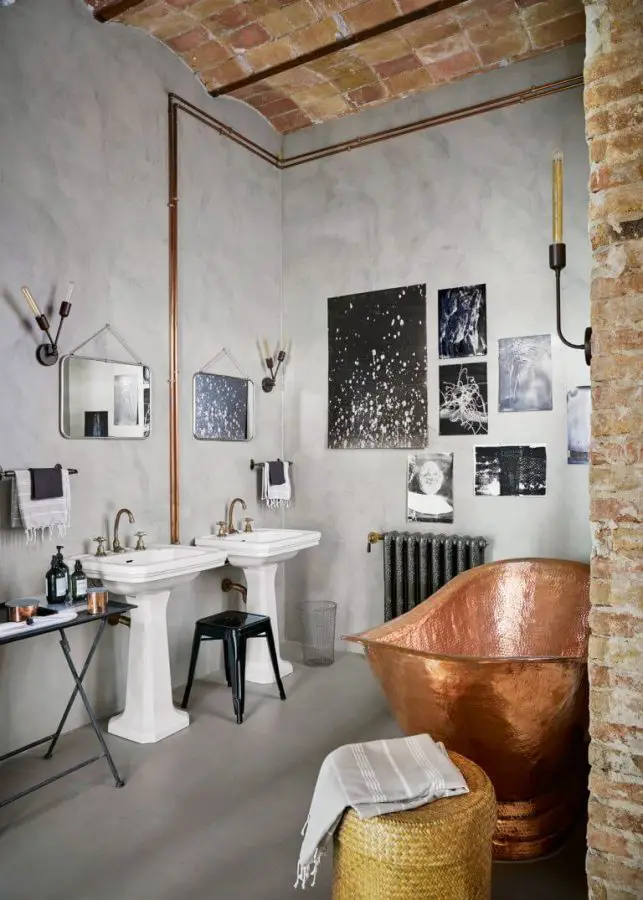 In addition to the exceptional application of concrete and brick on this bathroom, the copper-coated bathtub will attract any guests' attention.
To emphasize the industrial vibe, you can expose the plumbing pipes and finish them with copper paint, as shown above.
8. Small Industrial Bathroom with Galvanized Bathtub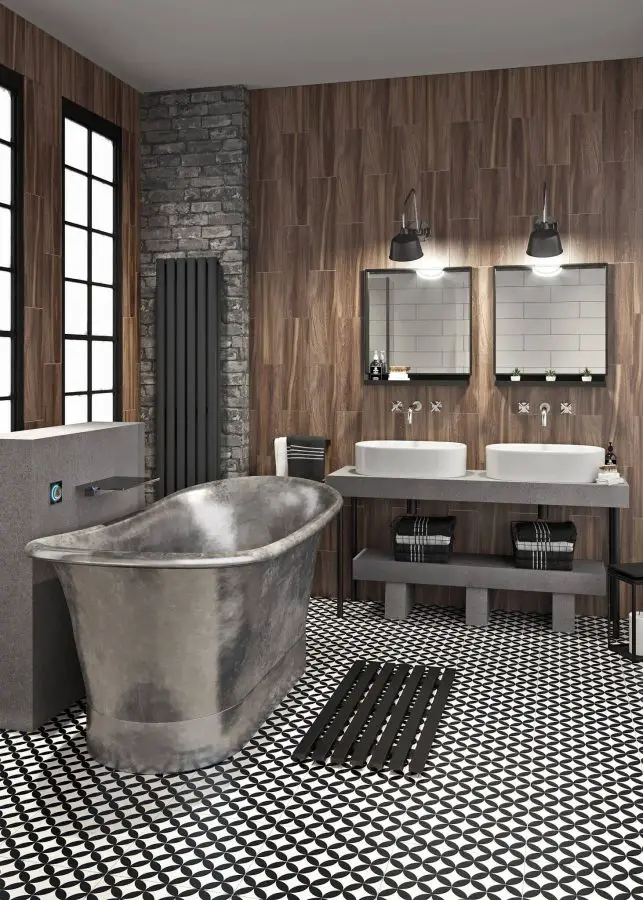 If concrete is too cold for your taste, you can still take advantage of its industrial beauty by applying the material on the vanity or the bathing area.
Pair your industrial bathroom vanity with a glossy galvanized bathtub for a unified look.
9. Floating Wooden Cabinet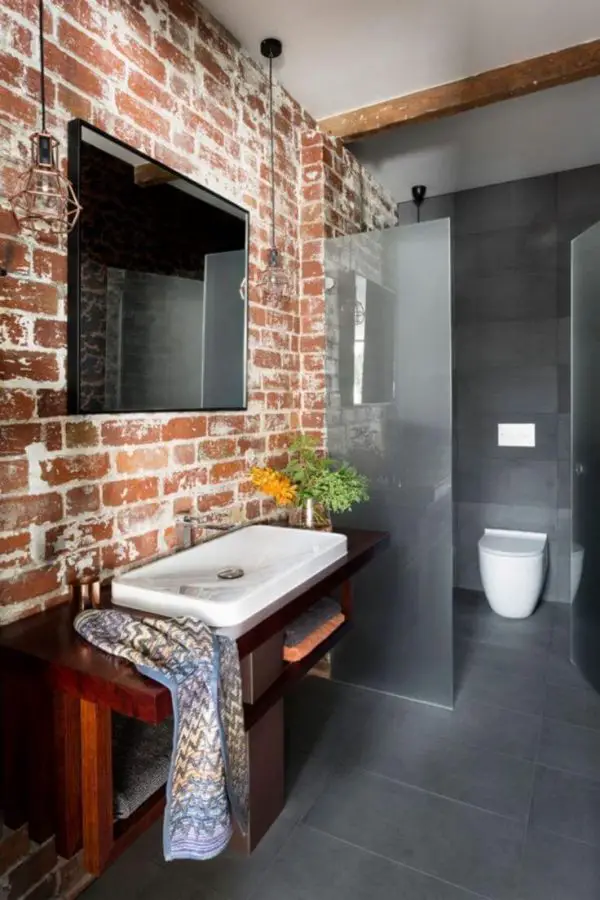 Add a touch of rustic to your bathroom by mounting a floating wooden cabinet with a classic above-the-counter sink.
Then, swap your modern wall sconces with a pair of industrial-styled pendant lights.
10. White Brick Tiles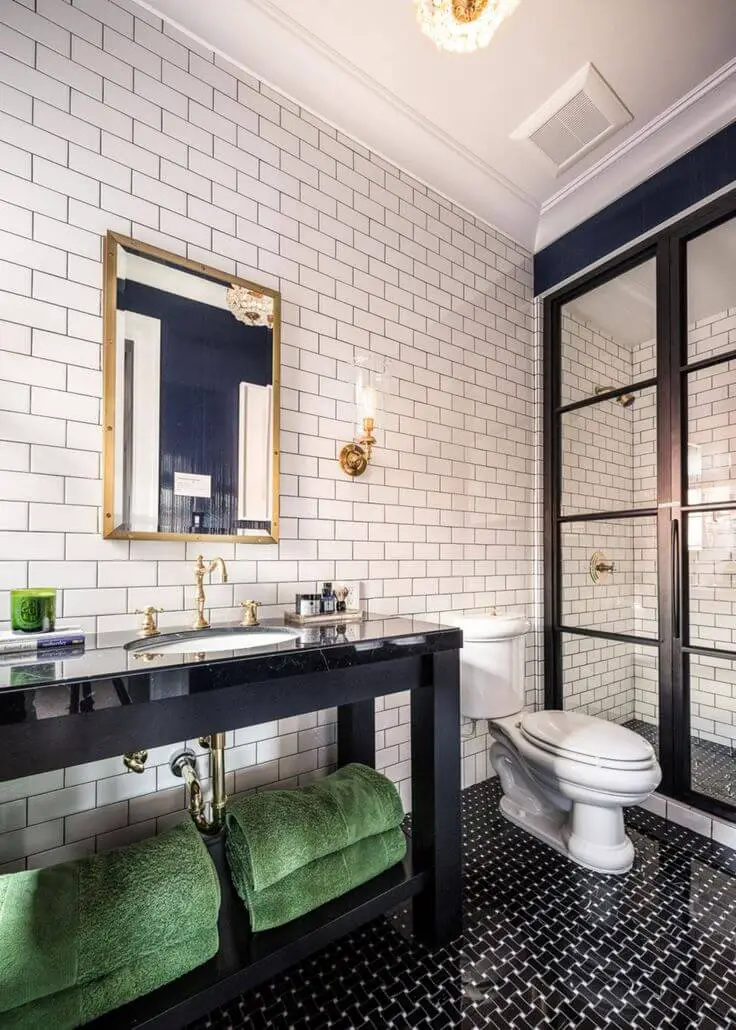 In an industrial bathroom, subway tiles make an ideal alternative to the plain exposed brick walls.
Copper industrial bathroom fixtures and frames steal the spotlight without overwhelming the overall design. The patterned black flooring is also lovable.
11. Black Pipes and Wooden Walls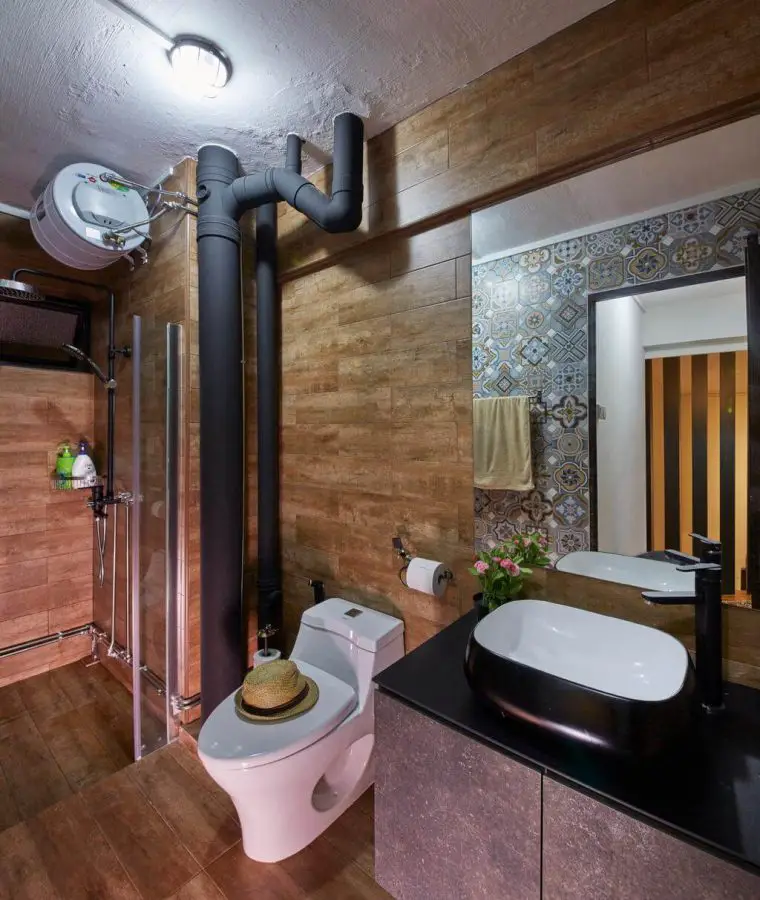 It is no secret that black pipes are often seen in industrial-styled spaces. You can also include this decoration in a small bathroom with sleek wooden walls.
Boost the industrial look of the bathroom by incorporating a frameless mirror, black countertop, and above-mounted basin.
12. Exceptional Vanity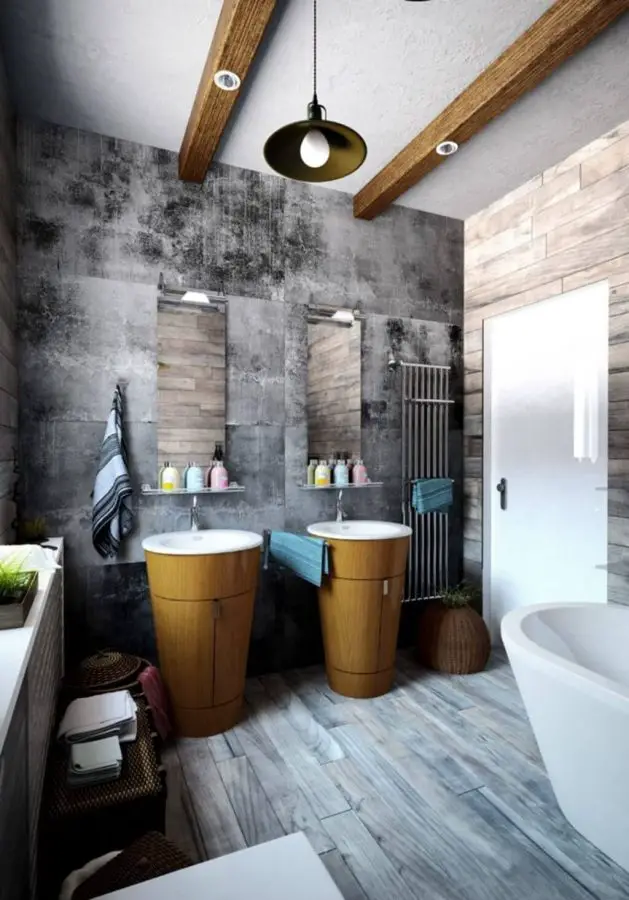 Aside from the richness of materials and textures in this bathroom, the double vanities are particularly eye-catching.
The industrial bathroom sink sits in a barrel-like vanity table that doubles as a storage space. Painted in light brown, it offers an interesting pop of color on this neutral scheme.
13. Warm Shower Box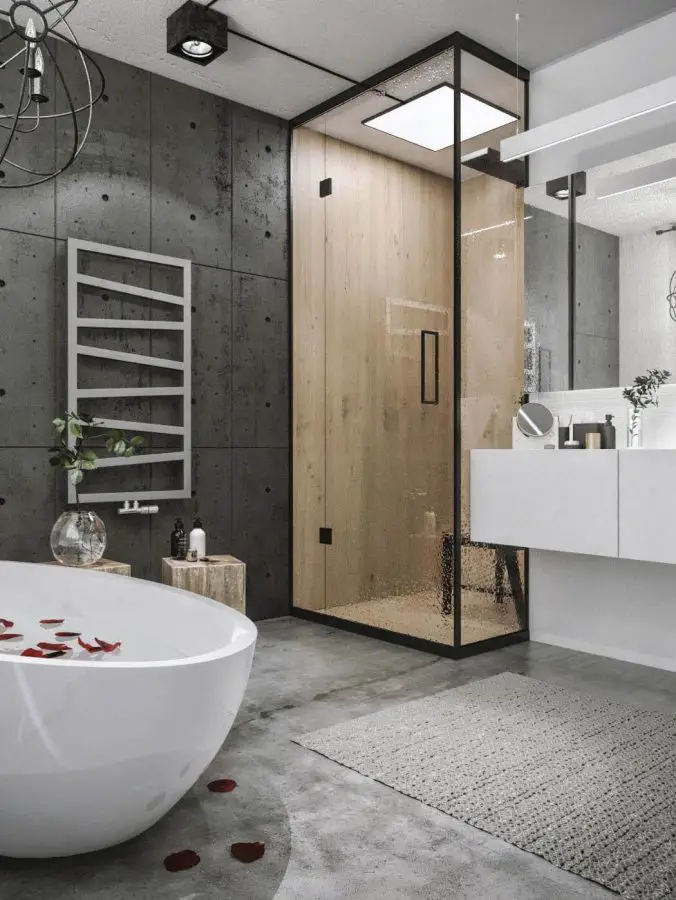 Introducing a sufficient dose of warmness in this cold industrial bathroom is the shower box. Thanks to the tiles that resemble woods, it appears warm and welcoming.
Outside the box, you will find a freestanding bathtub and other decorations that feel modern.
14. Exposed Brick and Shiplap Wall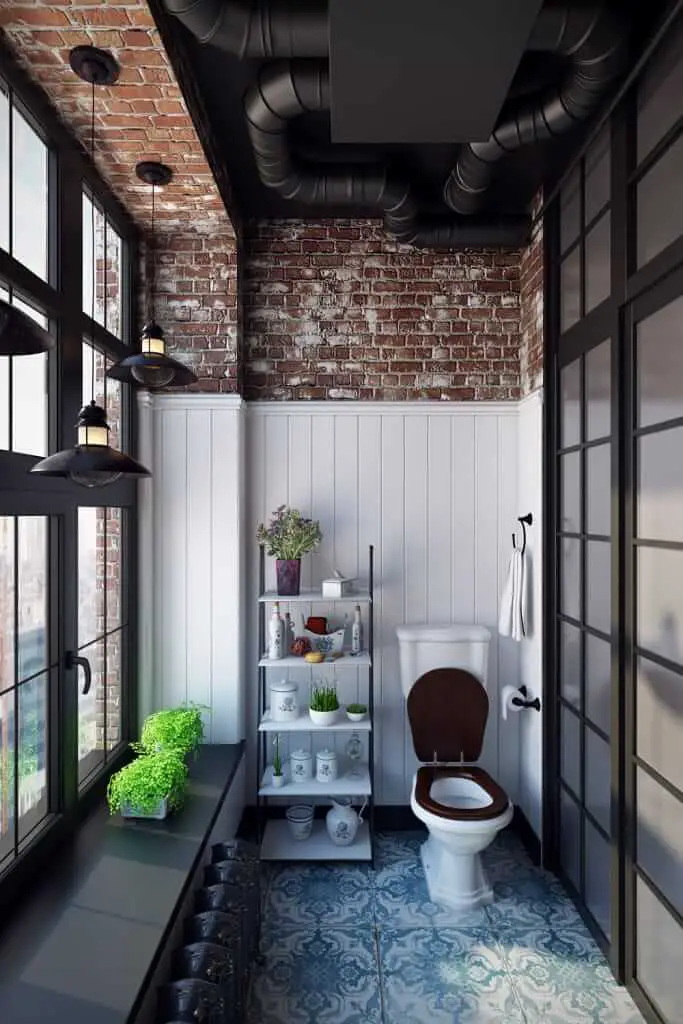 With a combination of exposed brick and shiplap walls, this small attic bathroom looks amazing on all sides.
Furthermore, the industrial bathroom shelves complete this small space by offering enough space for storing your toiletries.
15. Sophisticated Vanity with Industrial Affairs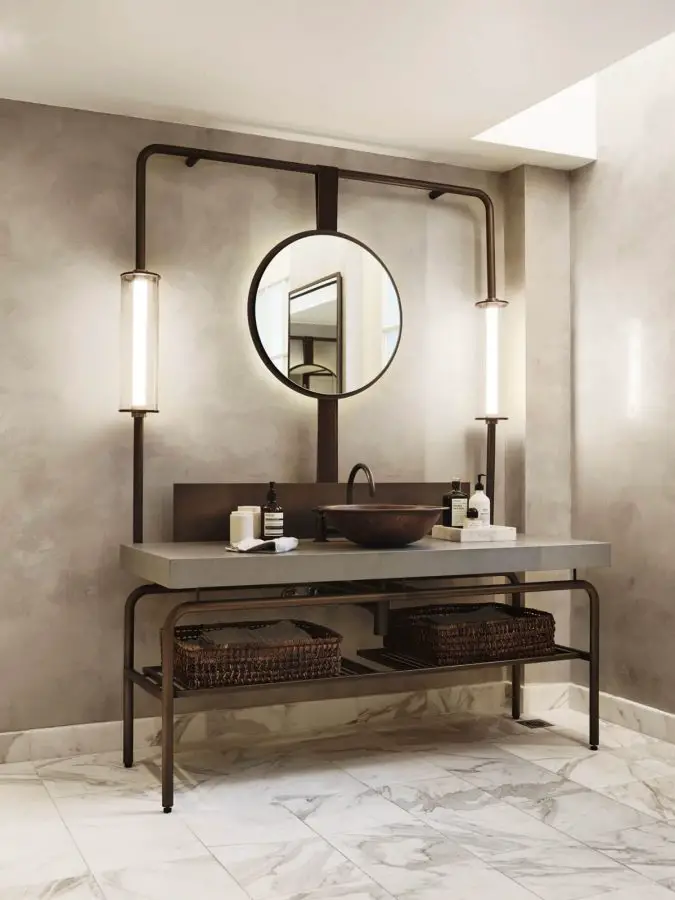 Incorporating pipe-like designs is one of the best approaches to the industrial style. This bathroom applies this idea very well with its exceptional vanity area.
The built-in lights and mirror make it appear more sophisticated. Not to mention the concrete slab that is used as a countertop.
16. Steel Bathroom Sink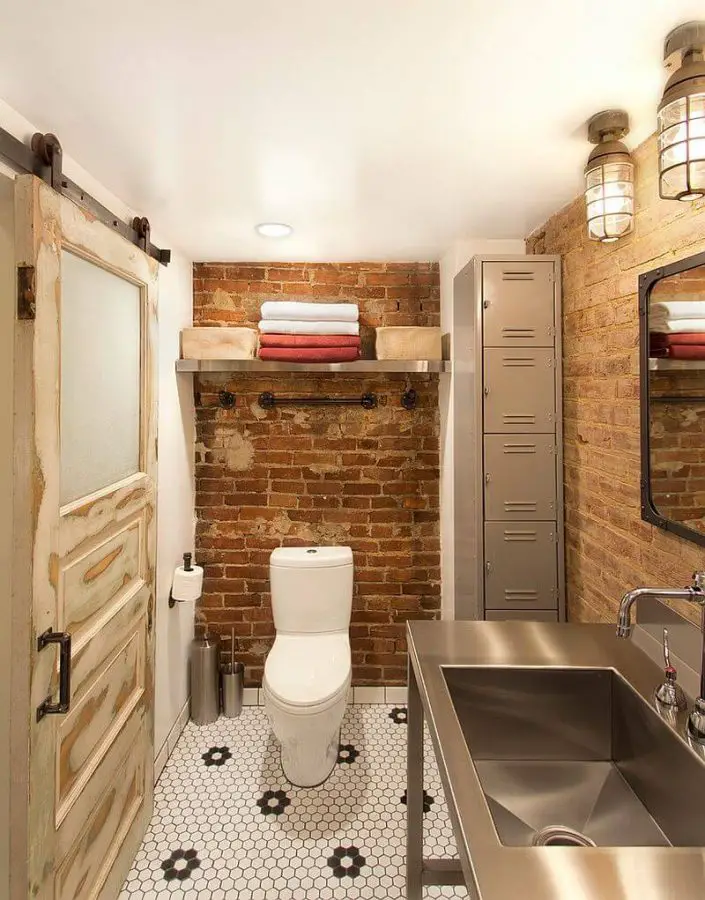 A barn door, exposed brick walls, and honeycomb floor has helped this small bathroom to feel warm and inviting.
For another touch of industrial style, a steel sink and cabinet are added to the space.
17. Industrial Pendant Lights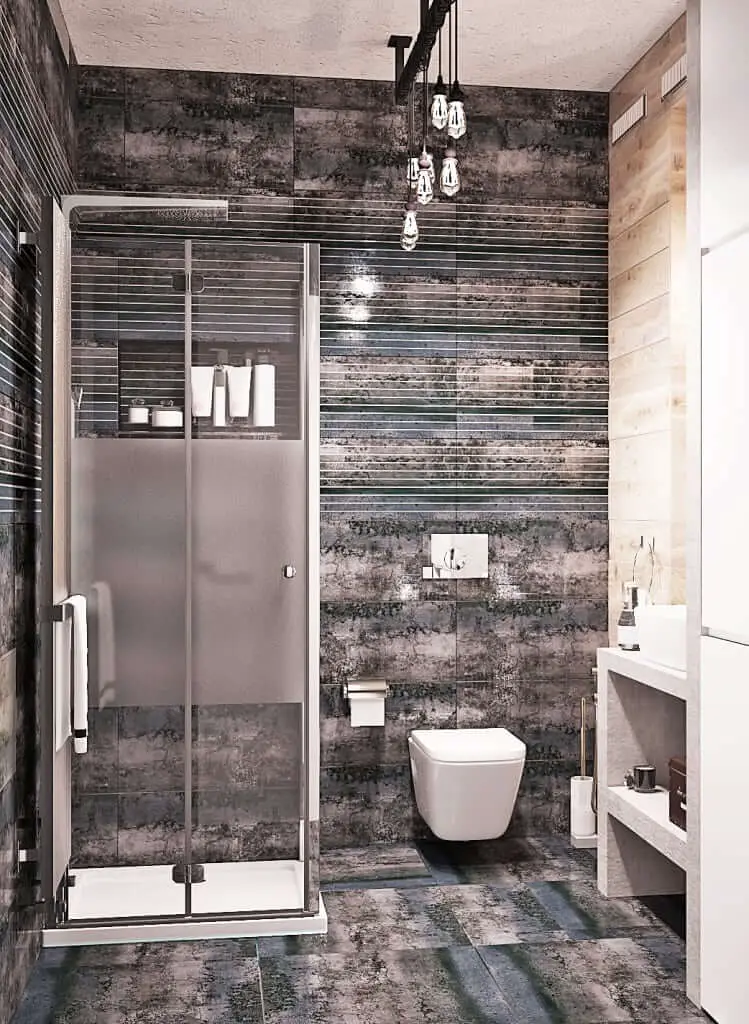 This bathroom comes with industrial lighting that plays the focal point of the space. Despite the full patterned wall and floor, it is still attention-grabbing.
Meanwhile, the floating toilet bowl makes this design-friendly for a small space.
Finally, you can pick your favorite industrial bathroom and attempt to achieve the look in the next remodeling project.
More from Materialsix.com: