Usually, the paint on the walls of your shower room slowly peels off due to frequent splash. When you start to see this happen in your space, immediately consider wallpapered bathrooms as your problem solver!
We all know that wallpapered bathrooms have become popular lately. Moreover, its varied and trendy designs make your shower room pleasing to the eyes.
So, if you're asking, "Is it ok to install wallpaper in the bathroom?" Then, the answer will be "Absolutely!"
Doing a bathroom remodel with wallpaper is not a wrong choice, as long as you pick and install it in the right spot.
Moreover, you can set it in your powder room, right behind your pedestal sink, or even on the wall above your bathtub.
You must also remember to buy a waterproof bathroom wallpaper peel and stick so that it is easier for you to remove and replace it with a new decoration later.
So, after considering the things above, now it's time for you to redecorate your shower room. That is why we'll share nineteen bathroom wallpaper ideas 2020 that you can try!
1. Random Maze Wallpaper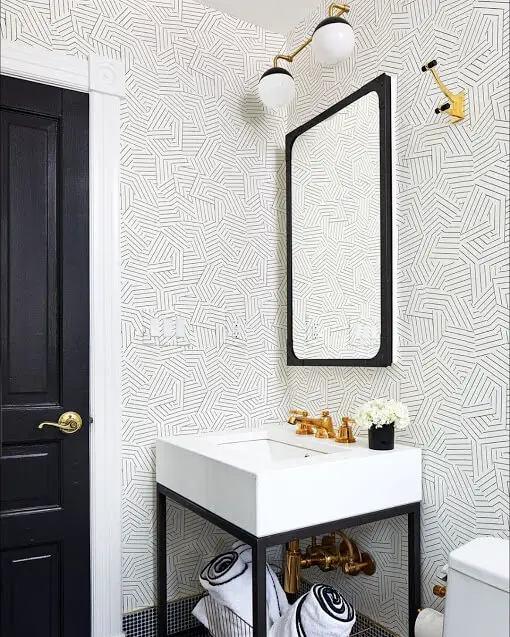 The first concept of wallpapered bathrooms comes with random maze accents. Certainly, its small pattern and inconspicuous color make your restroom look spacious.
2. Light Brown Autumn Leaves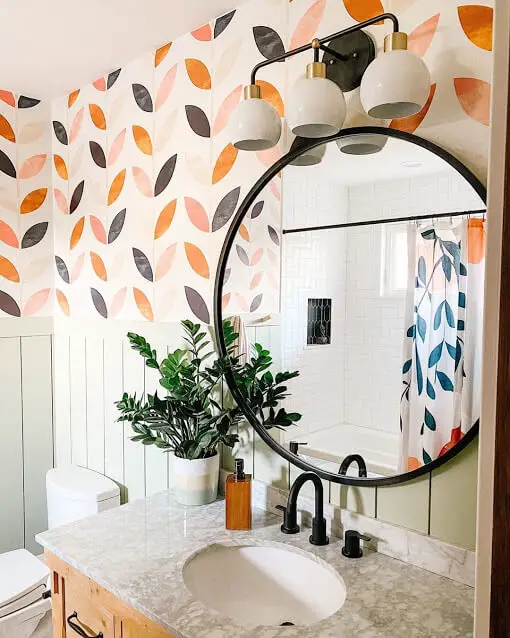 For those who love autumn vibes, then this light brown falling leaf pattern is perfect for you. You can also hang a wide round mirror over your pedestal sink to get the most incredible sense of fall season.
3. Blue Monstera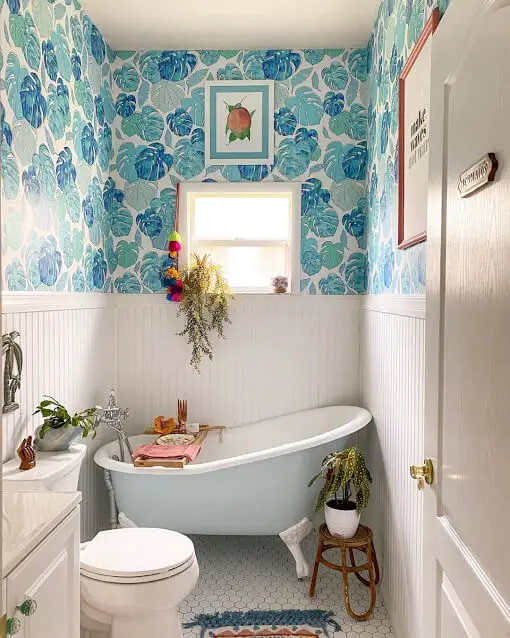 Light blue is believed to have a calming effect on your mind. Therefore, owning these kinds of blue monstera wallpapered bathrooms will bring more joy in your bathing time.
4. Pink Floral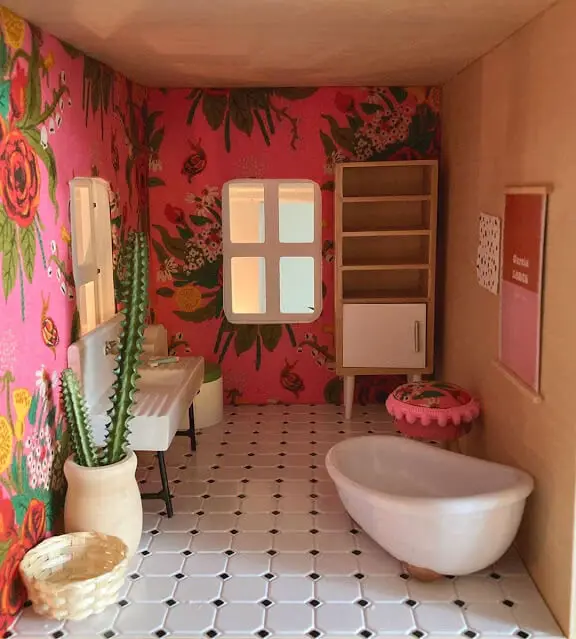 The wallpapered bathrooms concept can also apply to your daughter's shower room.
For instance provide an all-pink wall design and equipped with a mini bathtub and dresser, she will always be happy to enjoy her bath time.
5. Black-Gold Patterned Wallpaper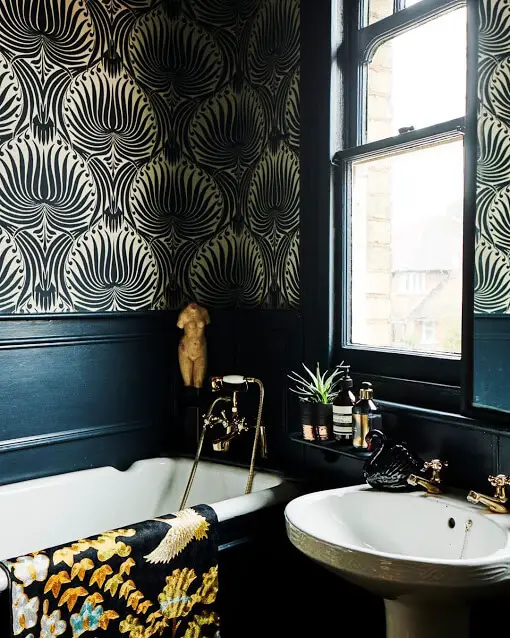 Combine the black-gold patterned wallpaper along with the dark wall painting. Then, you'll get the most elegant wallpapered bathrooms design in town!
6. Cheerful Banana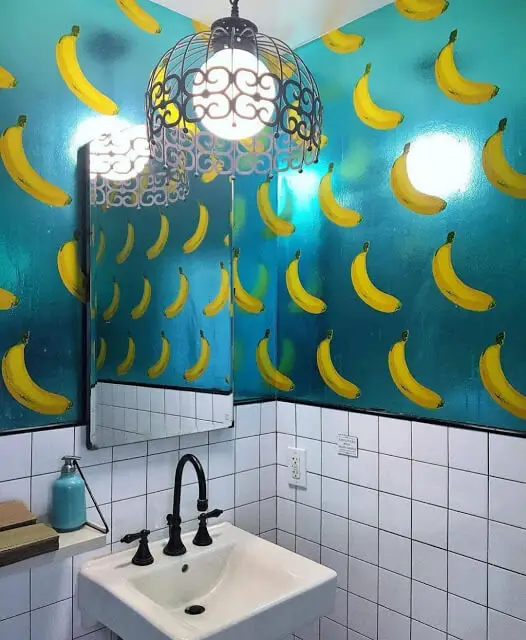 Do you want an unusual wallpaper bathroom idea? Then, try this cheerful banana with the blue metallic base wall decor. Undoubtedly, your shower room will be anti-mainstream!
7. Vintage Floral in Peach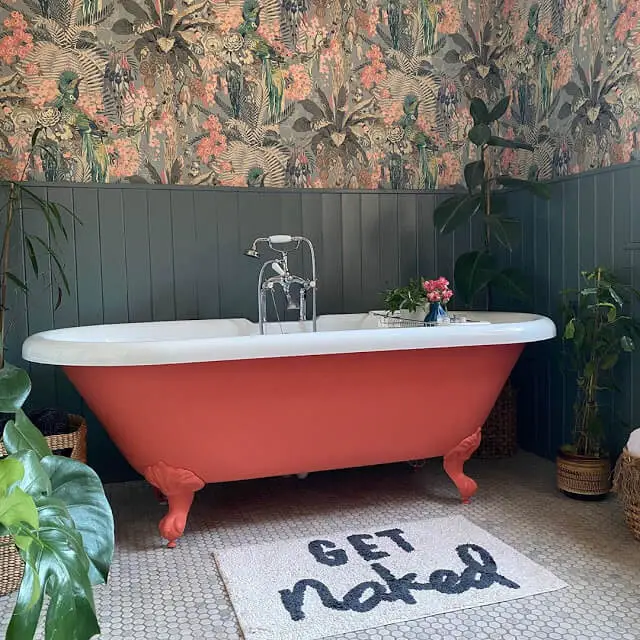 Falling in love with vintage interior design? Then, you must install this peach nuanced floral wallpaper in your bathroom.
In addition, pair it with the gray striped texture wall to get the most attractive old spring atmosphere.
8. One Side Pattern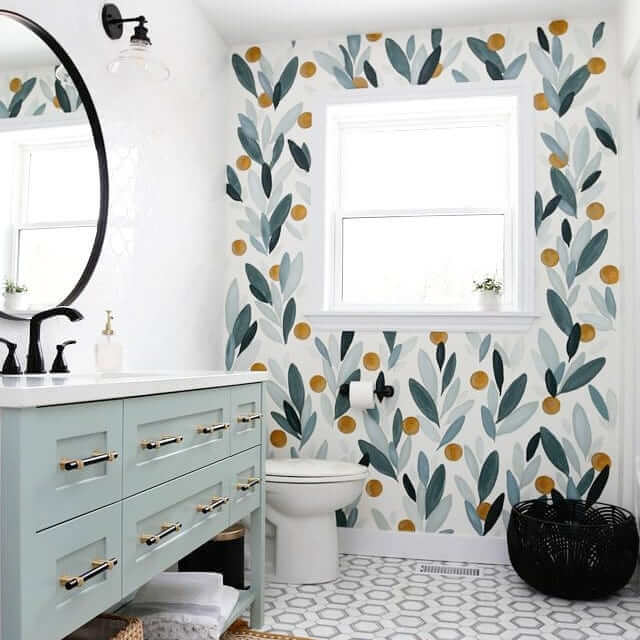 Wallpapered bathrooms design doesn't have to be applied to the entire wall of your restroom.
In other words, you can choose to set it on only one side. But make sure to choose the pattern color that matches well with your partition coloring.
9. Pink Flamingos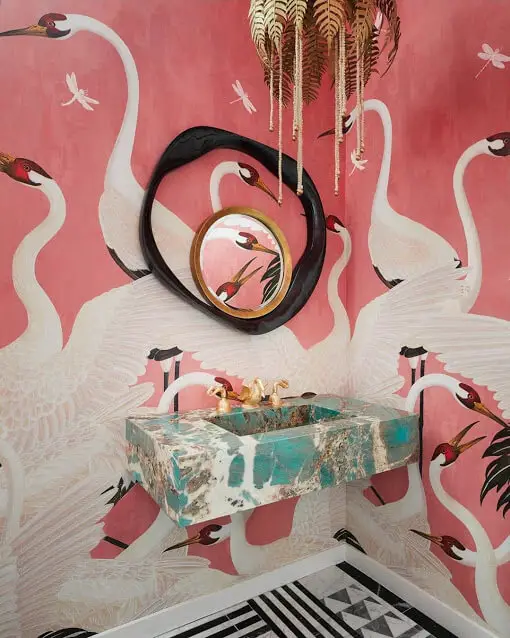 This is a clear example of a unique and artistic restroom. Firstly, install this pink flamingo wallpaper in every corner of your powder room.
Moreover, excellent pasting techniques will make it looks like a real painting. Then, voila a great bathroom design is yours!
10. Zig Zag Blue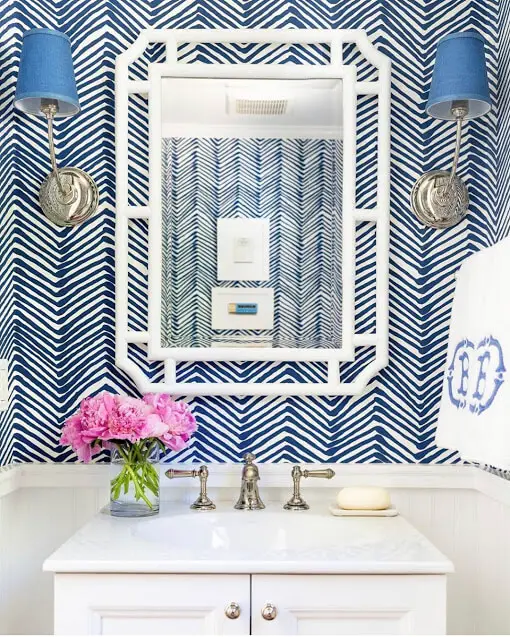 Are you a fan of blue color? If you are, then choose this zig-zag wallpaper to decorate your bathroom. Leave all other furniture in white so that your shower room still looks neat and clean.
11. Evergreen Pattern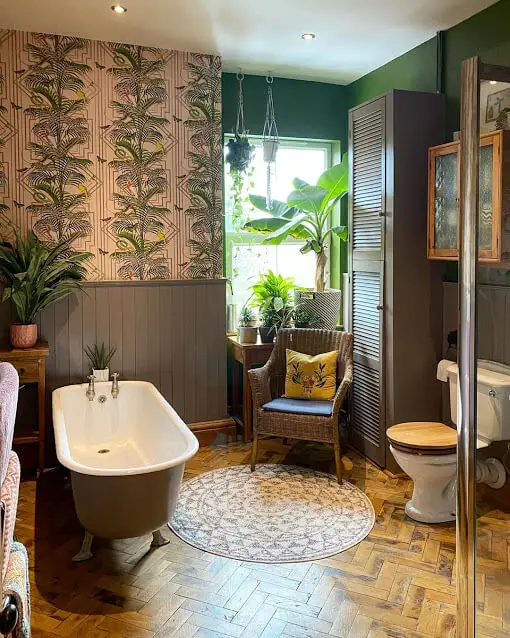 Wallpaper with palm leaf motifs will make your bathroom feel fresh as well as comfortable. Add some bathing items made of wood and also put some live plants in pots. As a result, you'll really feel like in the forest!
12. Green Coral Reefs Wallpaper for Small Bathrooms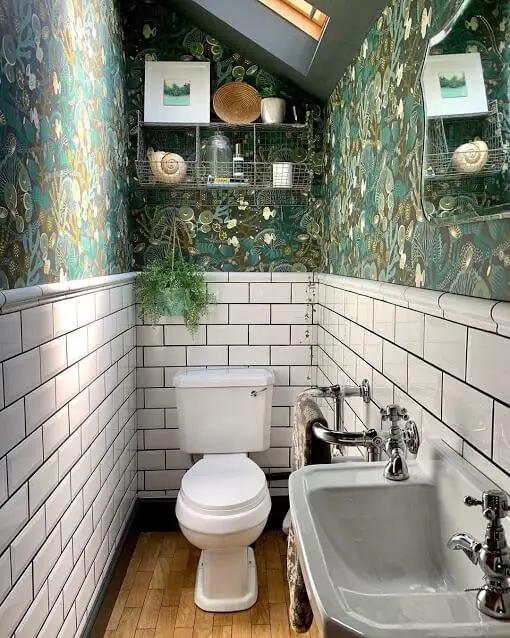 Is it suitable to install wallpaper in a small bathroom? Of course, it is!
Furthermore, you can set the wallpaper only on the upper wall. While for the bottom part, leave it as it is.
13. Animal Wallpapered Bathrooms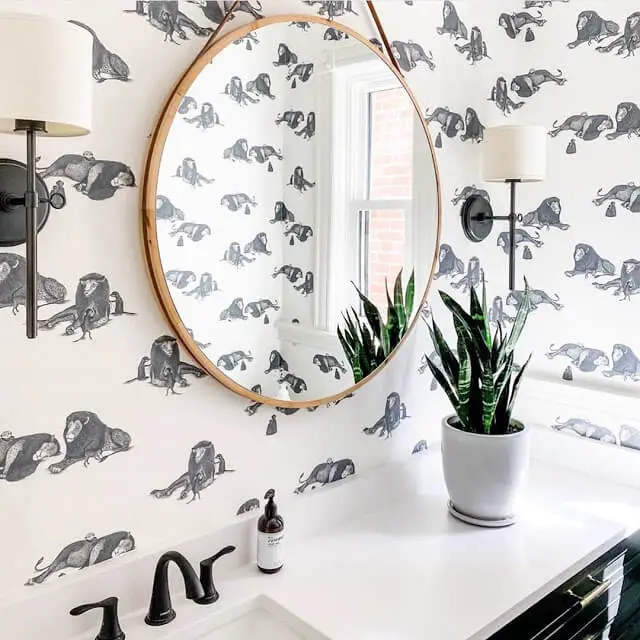 A bathroom with this kind of interior design will suit perfectly for your son. Besides, its not-to-much animal motifs and neutral colors make this wallpaper pleasing to the eye.
14. Doodles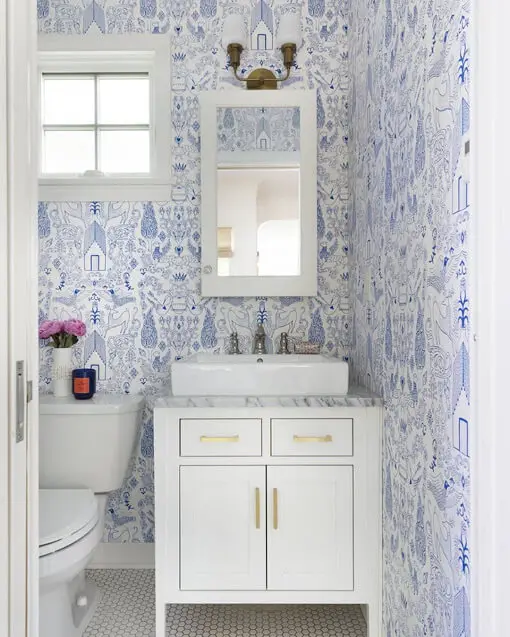 Do you like doodles? Then, set this wallpaper in your toilet so you can be creative all the time!
15. Pink-Gold Spiral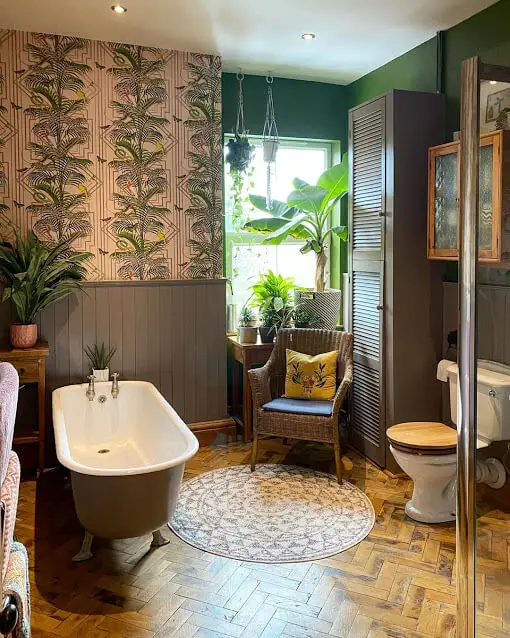 For those of you who have a spacious bathroom and still want to apply a luxurious, feminine, and free impression at the same time, choose this pink-gold removable wallpaper!
16. Tropical Wallpaper
Similarly to natural scenery, this wallpaper look so real.
By having a wallpaper design like this, you will feel the fresh tropical forest while taking a shower. Likewise, it will be amazing!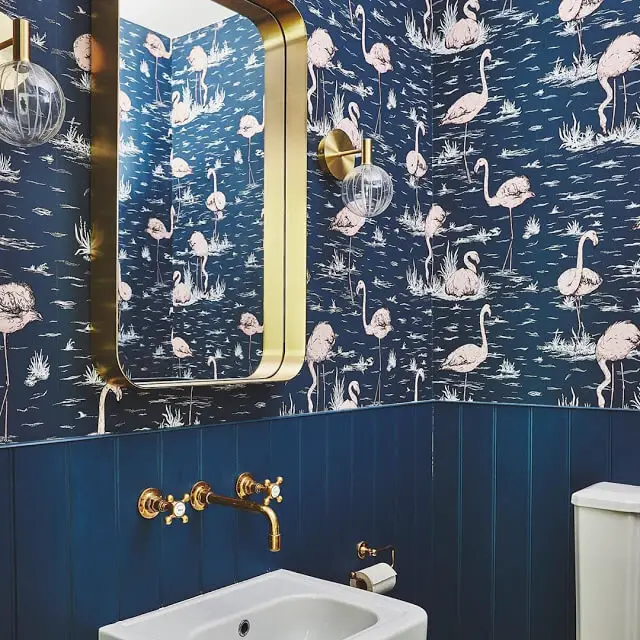 This flamingo also comes in navy. By combining this wall decal with a gold mirror and several ornamental items, you will have another idea of ​​wallpapered bathrooms.
18. Luxurious Floral Pattern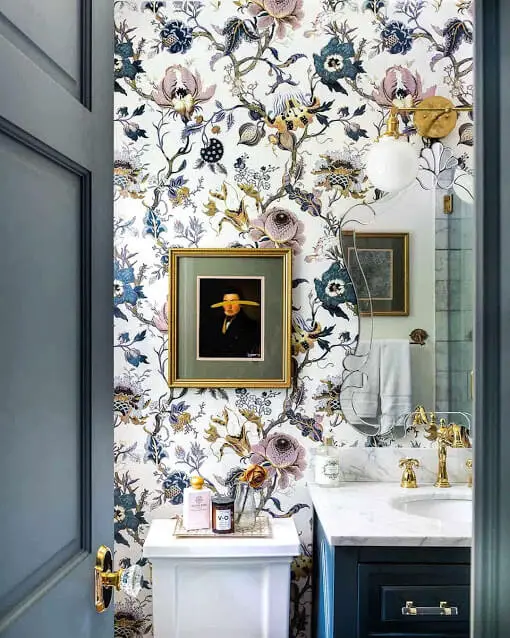 The floral motifs, coupled with a classic mirror and a little gold touch, can never go wrong in creating a luxurious bathroom. Moreover, you can say that this is one of the best wallpaper for bathrooms.
19. Abstract Pattern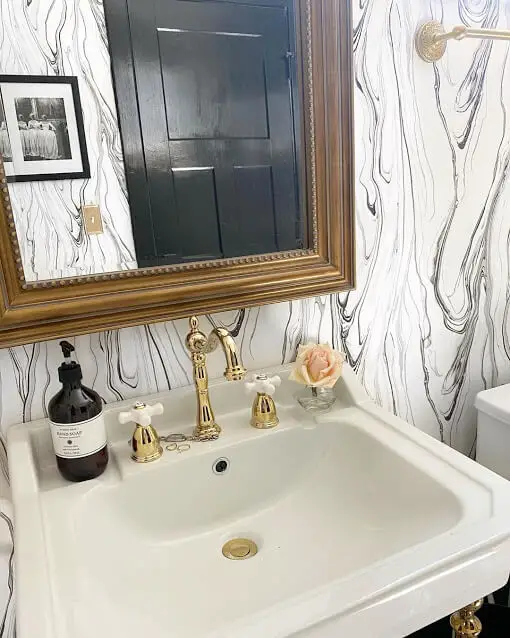 Lastly, this style of wallpapered bathrooms brings the abstract pattern that suits every type of shower room. It can be a modern, luxurious, as well as a simple concept.
In the other words, the choice is in your hand!
So, from all of these wallpapered bathrooms ideas, which grasp your sight the most?
PIN it for Later