Some people think that the bathroom is not their favorite place because it may look dull. However, if you can apply the appropriate drop-in tub nicely, everything will change.
A drop-in tub is actually a bathtub that sits inside a frame used to hide the subflooring, plumbing, and the sides of the tub, creating a more finished look.
Furthermore, people also know it as a surrounding. You can use a wide array of materials to build this type of bathtub.
If you have not made up your mind yet, these ideas may help.
Drop-In Tub Ideas That Will Make Your Bathroom So Special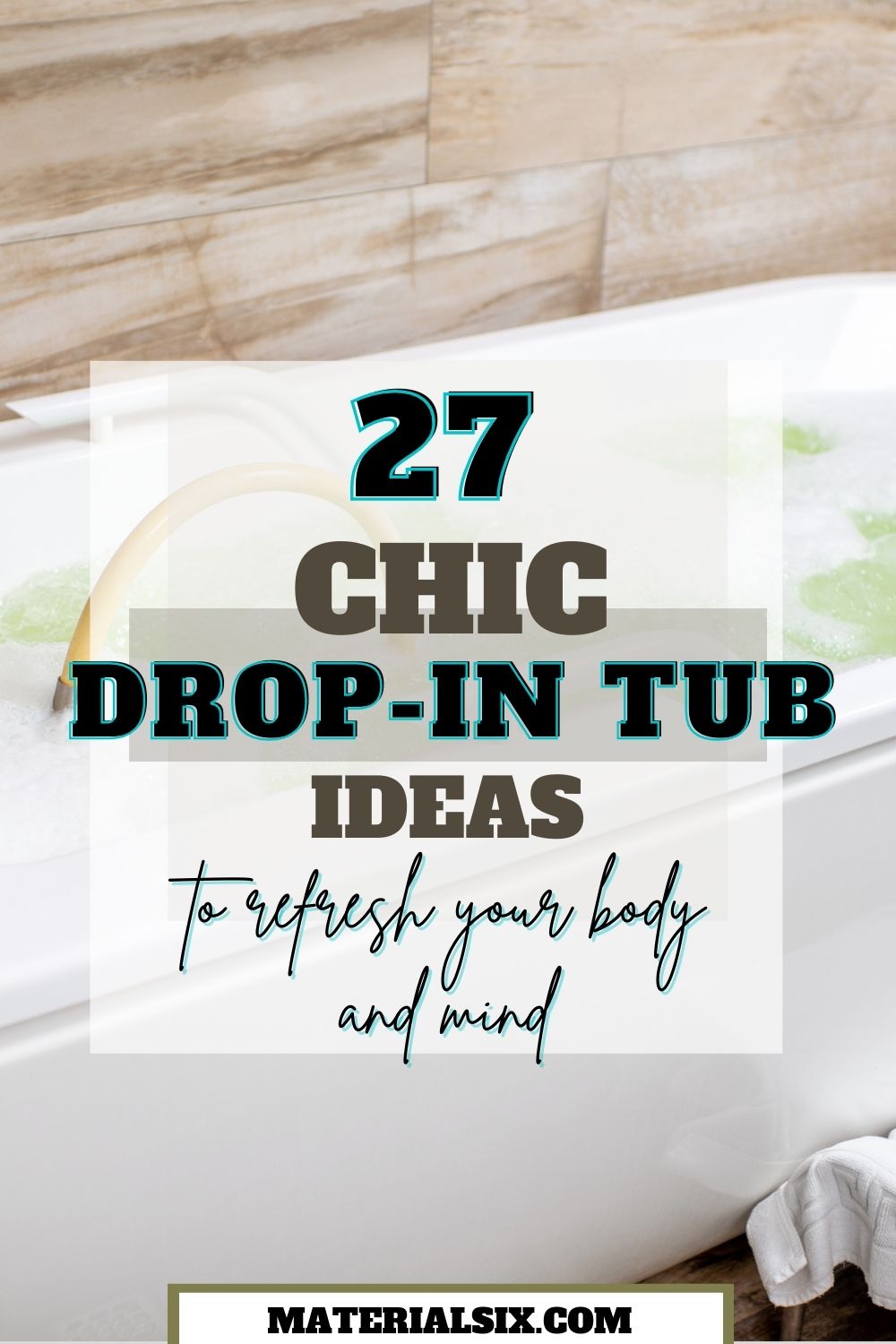 You need the right bathtub to invigorate yourself. Thus, check out the following chic drop-in tub ideas and designs.
1. Gray Contemporary Style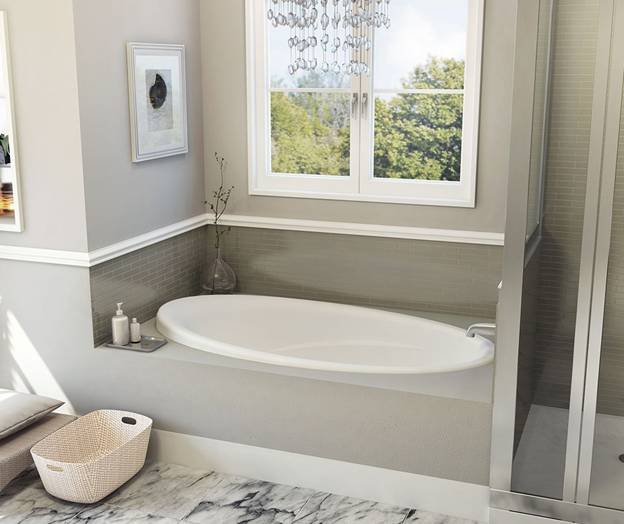 This white oval tub looks great in a gray surround.
Since the bathtub and frame are not in the same shape, you can find ample space to set down bathroom essentials, a vase, or candles in each corner.
Besides, the gray surround offers a seamless look because it comes in the same color hue as the walls and stays flush with them.
Furthermore, the trim matches the bathtub immensely.
2. Drop-In Bathtub with Shower Combo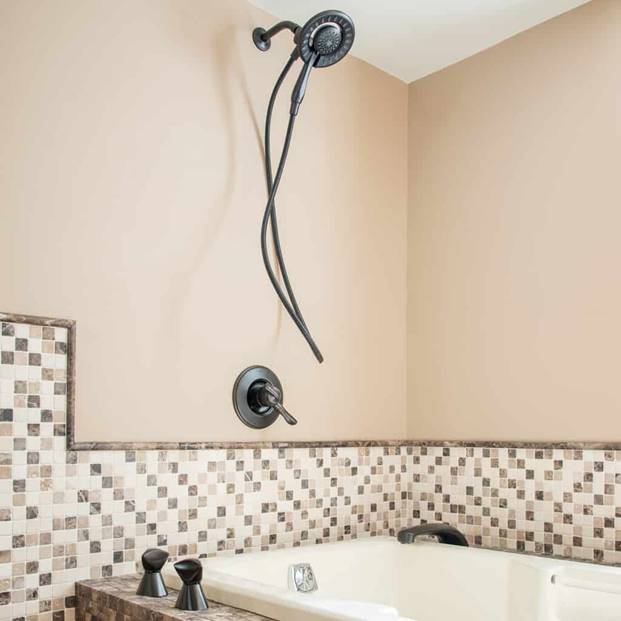 Do you want to take a bath or a shower? What about both? Is it even possible? Of course, it is.
This idea is perfect for a small bathroom. Likewise, you do not have much space for a shower and bathtub.
Thus, installing them in the same spot would be your safe bet.
3. Sleek Oval Design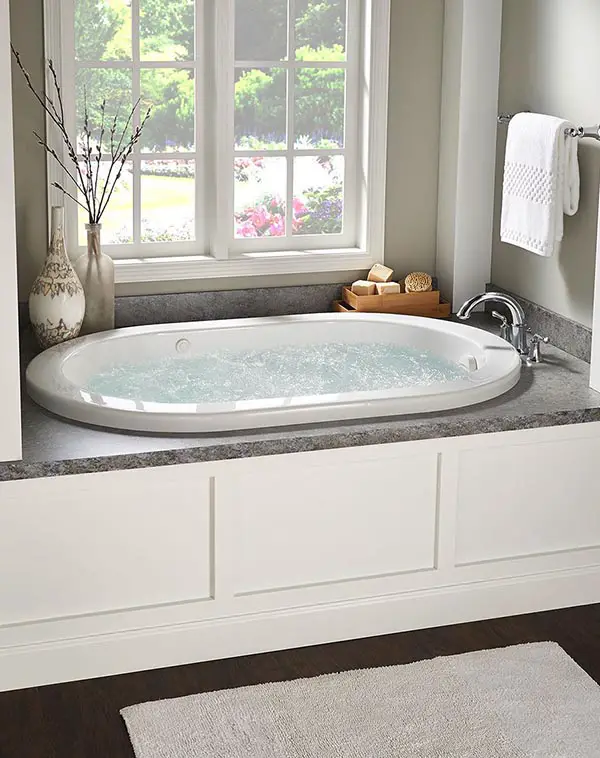 This one is another contemporary drop-in tub you can copy. Then, the surround features a polished stone slab that lends a bit of an elegant look to the bathroom.
Additionally, for a more finished look, you can try covering the skirt with wood paneling.
This way, you can create a more united look because it matches the window and wall trim, and cabinetry.
4. Rustic Elegant Drop-In Tub Surround Design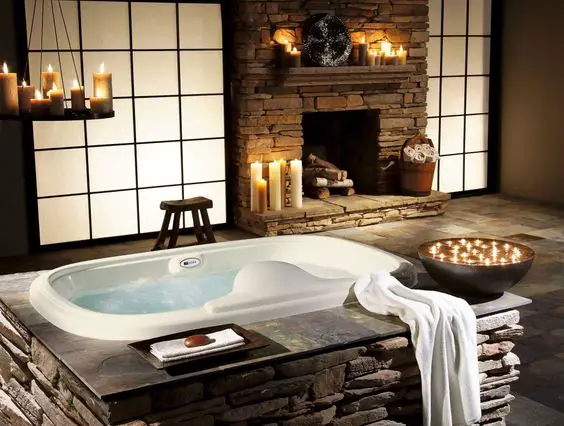 If the day has stressed you out and you want to unwind while invigorating yourself, this drop-in tub will be your top-notch choice.
Instead of sitting in the corner, this bathtub floats in the middle of the bathroom, creating an epic centerpiece.
Moreover, the bathtub carries an ultra-modern design, which is not suitable for a rustic bathroom.
Therefore, you need to install stone tiles around the surround to create the style and match the fireplace immensely.
Now, it is time for you to know how to decorate a tub surround. You do not need fancy things to do that.
Further, topping the stone tiles with some candles would work like a charm.
5. Vintage Meets Modern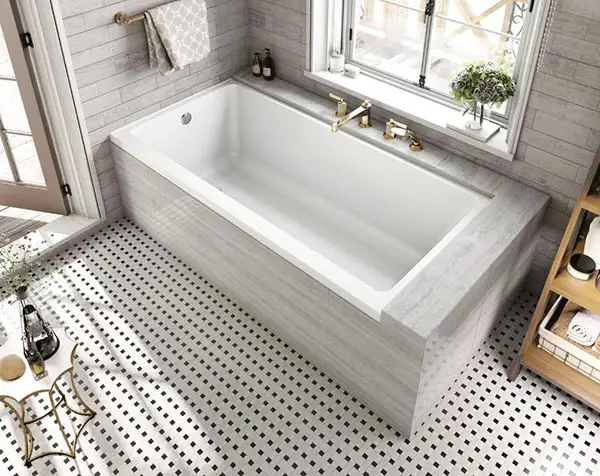 Just because your bathroom is not the place that everybody will easily notice, it does not mean you can forgo some style.
The surround of this tub denotes the modern style due to the simple design and clean-lined edges.
Hence, it looks outstanding on the vintage flooring and subway tiles.
6. Japanese-Style Sunken Bathtub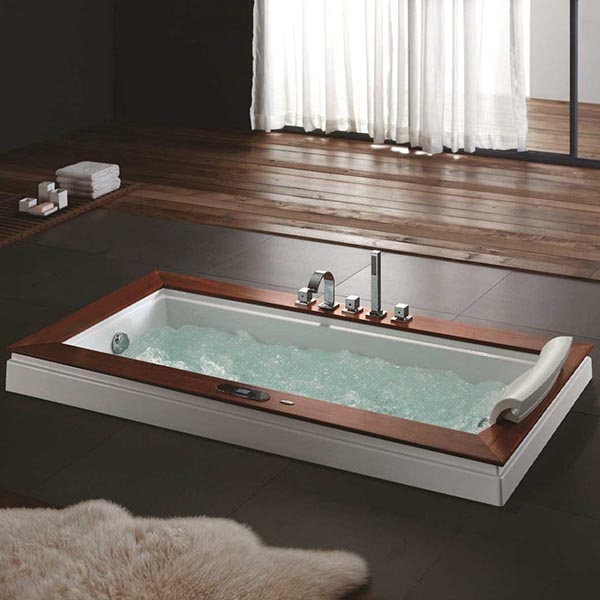 Instead of sitting on the floor, this tub partly lies in it. As a result, you will find it easy to step into the water because you do not have to climb up the surround.
In addition, the surround comes in dark brown that matches the wooden tiles nicely, which creates a seamless look and subtle transition.
7. Recessed Drop-In Tub with Built-in Storage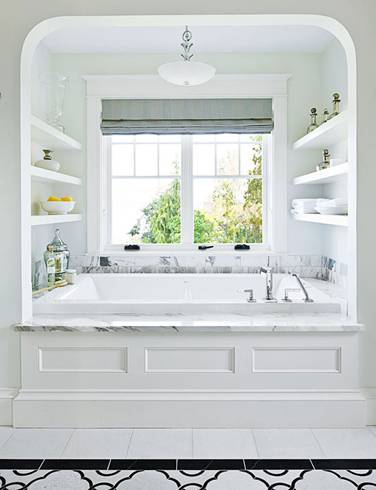 Incorporating additional storage near the bathtub is such a good idea. These shelves, for example, allow you to reach soap or exfoliating scrub more easily.
You can also use them to set down your phone.
Besides being practical, this drop-in tub also offers a luxurious look, thanks to the marble rim and wainscoting paneling that add a few spa vibes.
8. Simplicity at Its Finest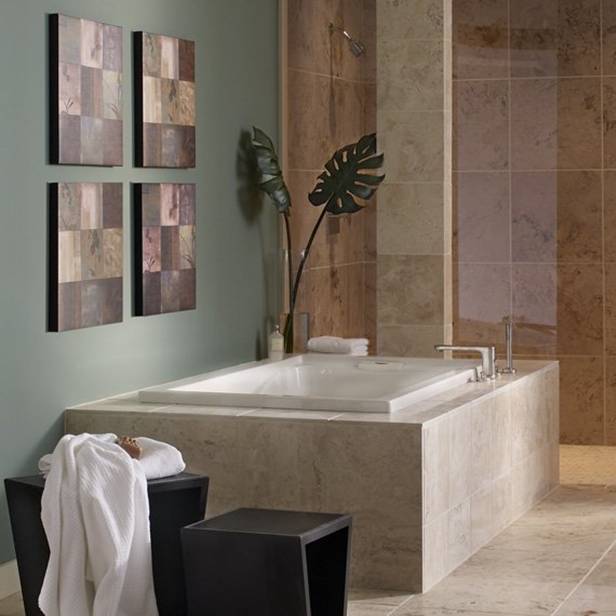 Creating a cool bathtub does not have to be arduous. Thus, you only need to add a simple surround like this, and you are good to go.
This bathtub nests in a rectangular surround that creates a simple-yet-elegant look. Then, you only need to hang your favorite artwork by the tub to jazz it up.
9. Rustic Wooden Bathtub Idea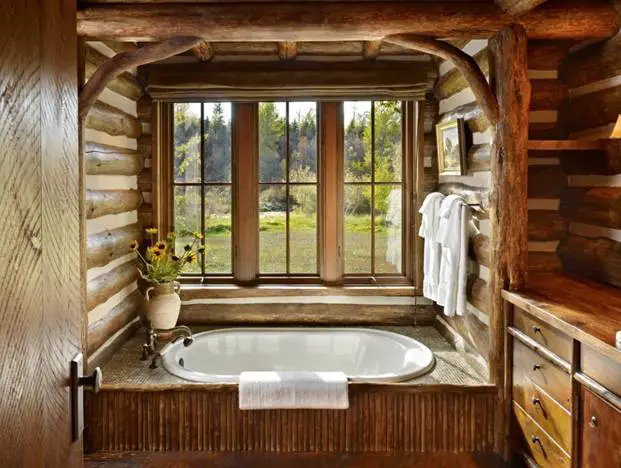 You can construct a surround with any materials you like, namely stone, concrete, or even wood.
Exposed wooden beams make this bathroom look cozy and rustic. Moreover, to accentuate the style, try covering the skirt with the bamboo screen.
10. Drop-In Tub Design for a Small Bathroom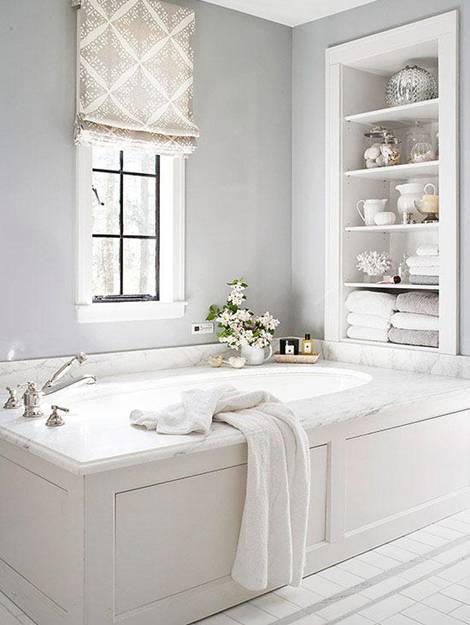 This drop-in tub idea is suitable for any small bathroom. Besides, the bathtub and surround come in crisp white that matches the trim and flooring.
This way, they look like flowing into one being, resulting in a seamless and sleek look.
When you can match everything in your small bathroom, the limited space will look larger than it really is.
11. Triangular Drop-In Bathtub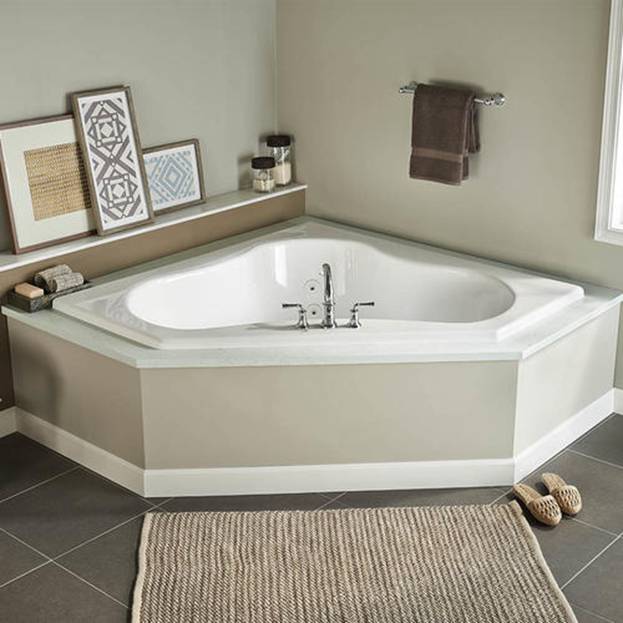 The whimsical design makes this drop-in tub look bewitching.
Therefore, you do not need to add extravagant details to the surround because they will overwhelm the bathtub rather than complement it.
12. Simple Yet Elegant Drop-In Tub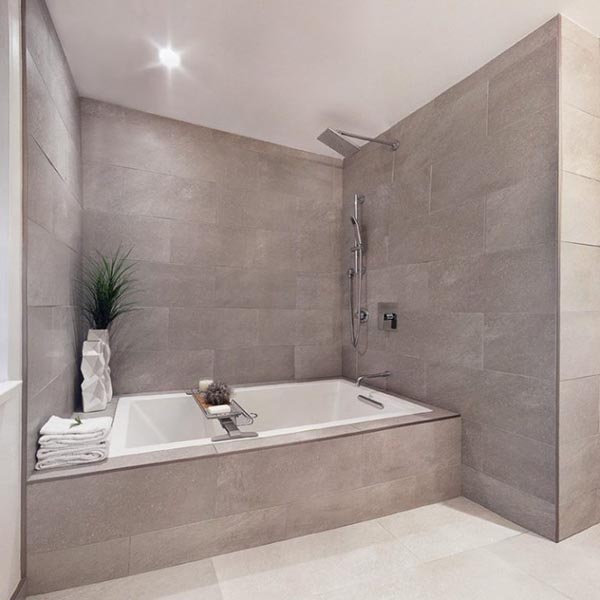 Creating an elegant look does not always entail investing in pricey accessories. Likewise, installing sandstone tiles on the surround and walls will help you in no time.
13. Vintage Corner Dro-In Tub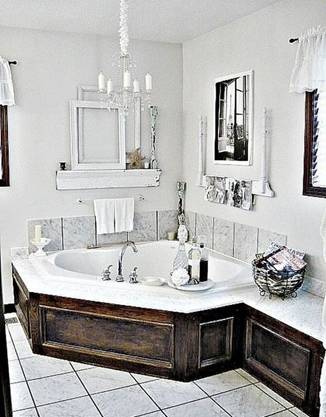 This bathtub pays tribute to the past by displaying a well-worn accent, namely the wainscoting paneling covering the surround, whitewashed shelf, and chandeliers.
Although most of the furniture denotes the classic style, you can still find an itty-bitty touch of modern design in the bathtub.
14. Mid-Century Modern Drop-In Bathtub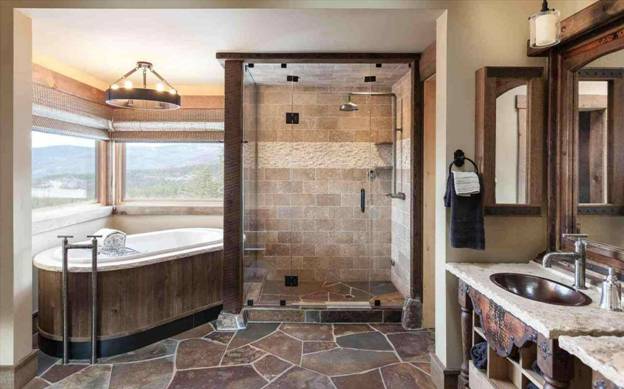 Instead of shoving an oval tub into the corner, you can try adding some space between the surround and the walls.
This way, you can add a planter between them.
15. Drop-In Tub with Soothing Effects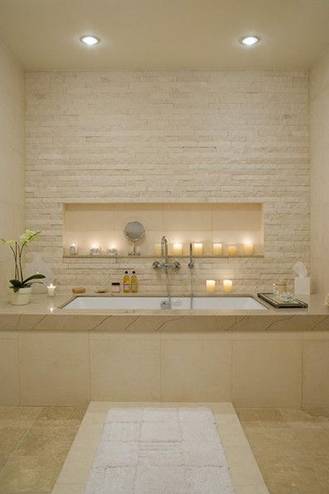 This is a perfect place to relax after the hurly-burly of a busy day at work. The surround and walls come in soft beige rather than crisp white which is usually popular for small spaces.
You can also set down scented candles in the surround along with your music player to get the most relaxing time.
16. Drop-In Tub Design for a Master Bathroom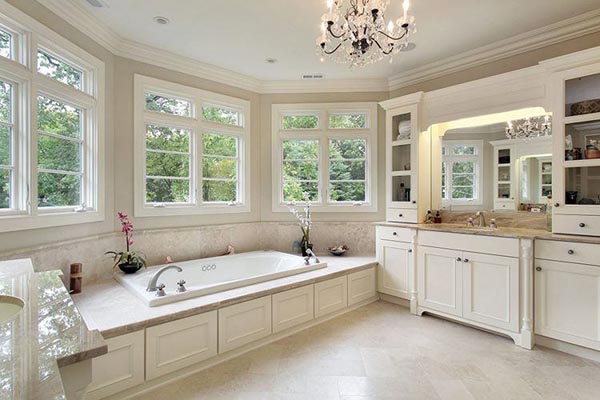 A master bathroom is usually spacious and elegant. You can earn elegance by installing wainscoting paneling to the surround.
Besides, they match the cabinets well.
17. Drop-in Bathtub in Contemporary Style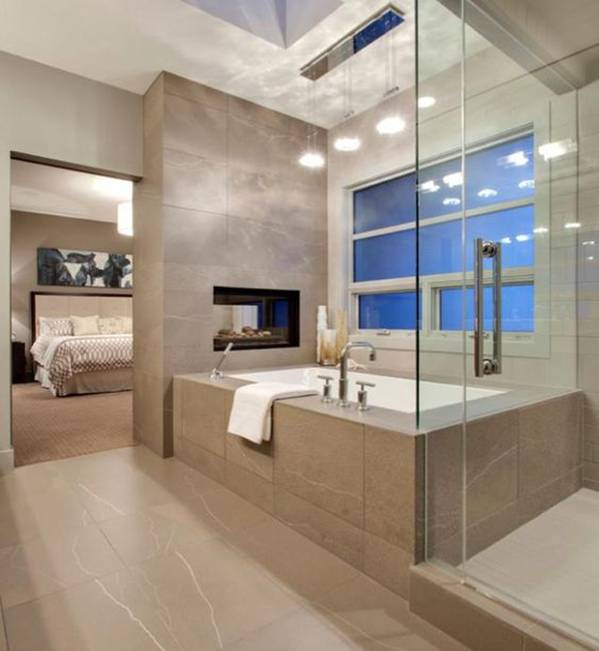 Indeed, you can tell the contemporary look from the simple designs and clean-lined edges.
Furthermore, another wow factor you can find in this bathroom is the gas fireplace that will entertain you with the flickering fire when you take a bath.
18. Black Drop-In Bathtub for Elegance and Boldness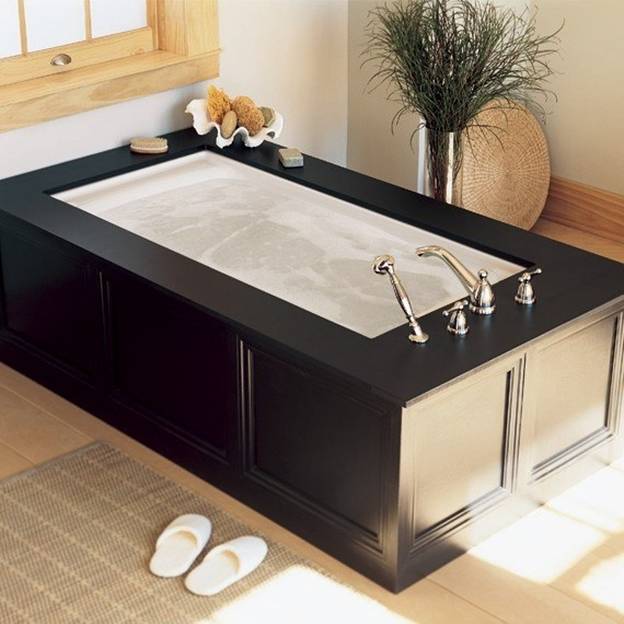 Black has always been the color of boldness. If you combine it with a sleek finish and wainscoting paneling, you will also get some sort of elegance simultaneously.
19. Luxurious Circular Drop-In Tub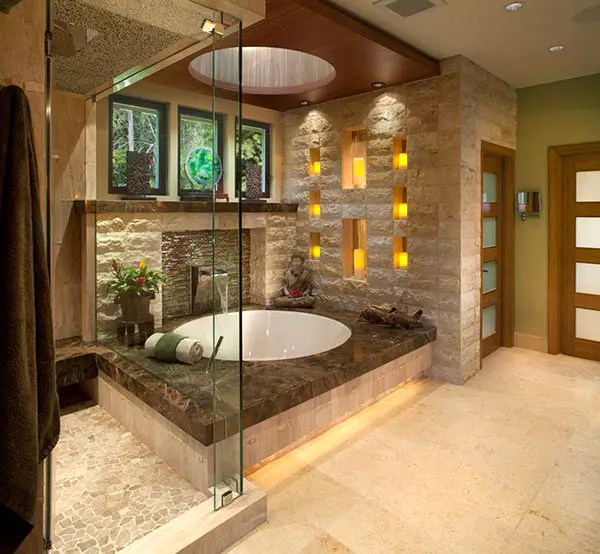 This circular tub sits under a recessed light nesting a large round opening. Hence, you can notice the luxurious look instantly through the use of granite for the surround's top.
Additionally, faux stone tiles complement the look of the surround. They also add a textural element to the space.
20. Drop-In Tub with View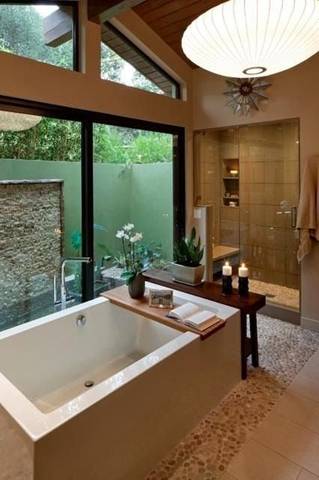 It would be great to take bath while enjoying the beautiful scenery. However, you still need to make sure that you can get your ultimate privacy before doing it.
So, you do not want a peeping Tom to watch you, do you?
21. Minimalist Drop-In Design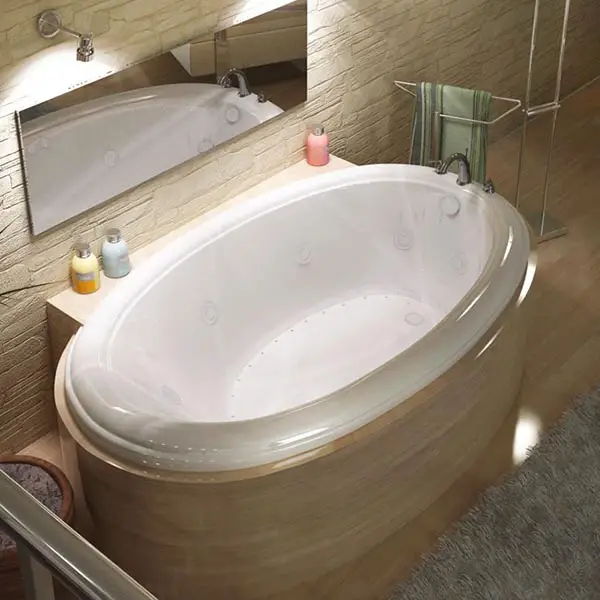 Many people think that the more, the merrier. Nothing could be further from the truth. Apparently, less accent can result in an elegant bathroom, just like this bathtub.
This bathroom features a soft beige color base, which can be somewhat soothing. It does not feature any accessories whatsoever.
Nevertheless, it still looks elegant, thanks to the faux stone tiles that add texture to the space.
22. Asian-Style Drop-in Bathtub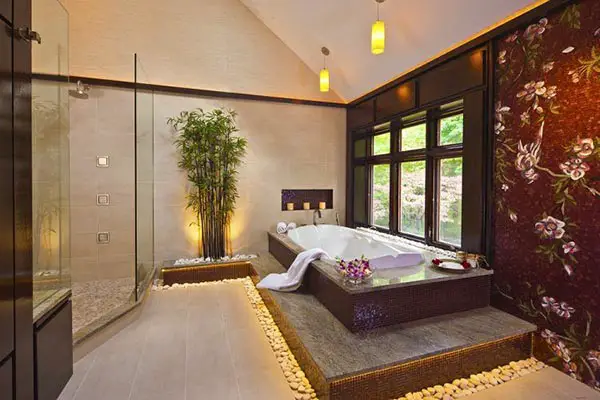 A multilevel surround might add more visual appeal. This surround, for example, looks great with white pebbles that separate the bathtub area from the flooring.
You can also find bamboo trees here, which infus a bit of Asian touch.
23. Bring Nature to the Bathroom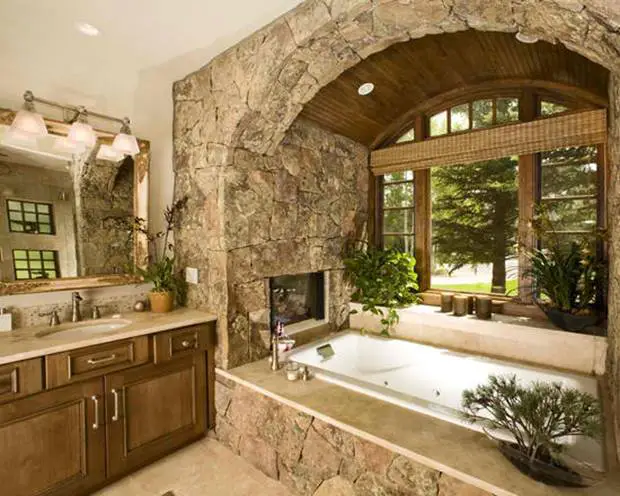 Stone surround and alcove have made this bathroom looks fascinating. Besides, it has a gas fireplace that completes the upscale appearance.
24. Earn Natural Light and Privacy
Natural light is crucial for a small bathroom. However, letting it come into the space means you have to forgo curtains, which is not a good idea.
You can try installing frosted glass, instead. This way, you can enjoy bathing while getting a lot of natural light.
25. Drop-in Tub with Steps and Built-in Storage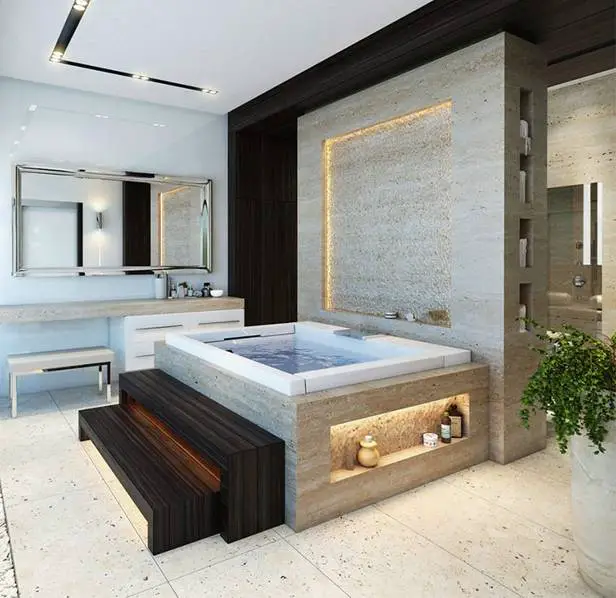 Some surroundings are too high for particular users. Thereupon, to overcome this problem, you can take some steps.
That way, you can access the tub more easily.
It would be better if you incorporate a built-in shelf into the surround of your tub so that you can store bathroom essentials.
26. Drop-in Tub for a Contemporary Bathroom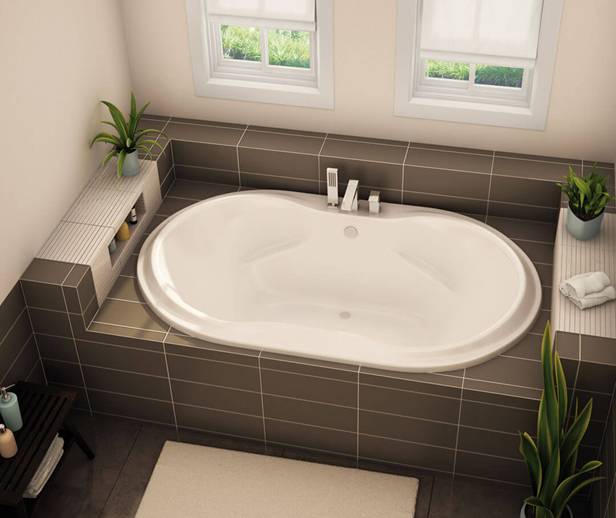 This oval tub sits nicely in a rectangular surround that lends a contemporary look. Ash tiles cover the frame nicely, and the white grout matches the bathtub and trim well.
27. Luxurious Circular Bathtub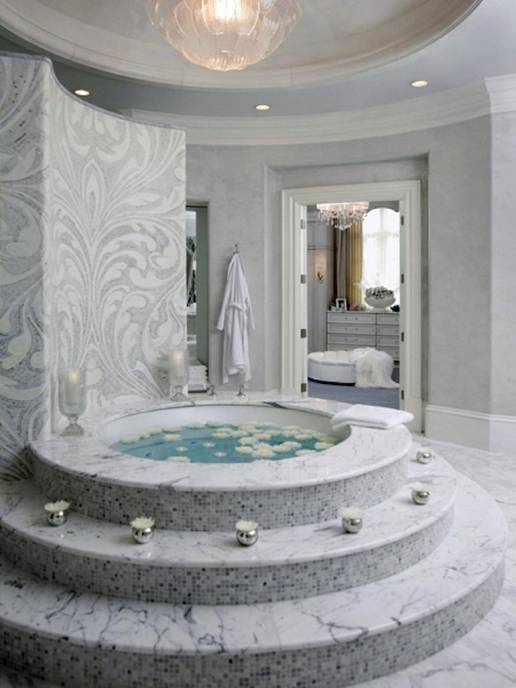 When stepping into the bathroom, you will immediately feel like you are in a spa. The marble steps will pamper your bare feet with luxury.
Conclusion
Adding a surround to your bathtub offers you many benefits, namely the additional storage space, flexibility, and hidden plumbing.
However, some people think that it is usually less appealing. If that is the case, these drop-in tub ideas are your savior.
More from Materialsix.com: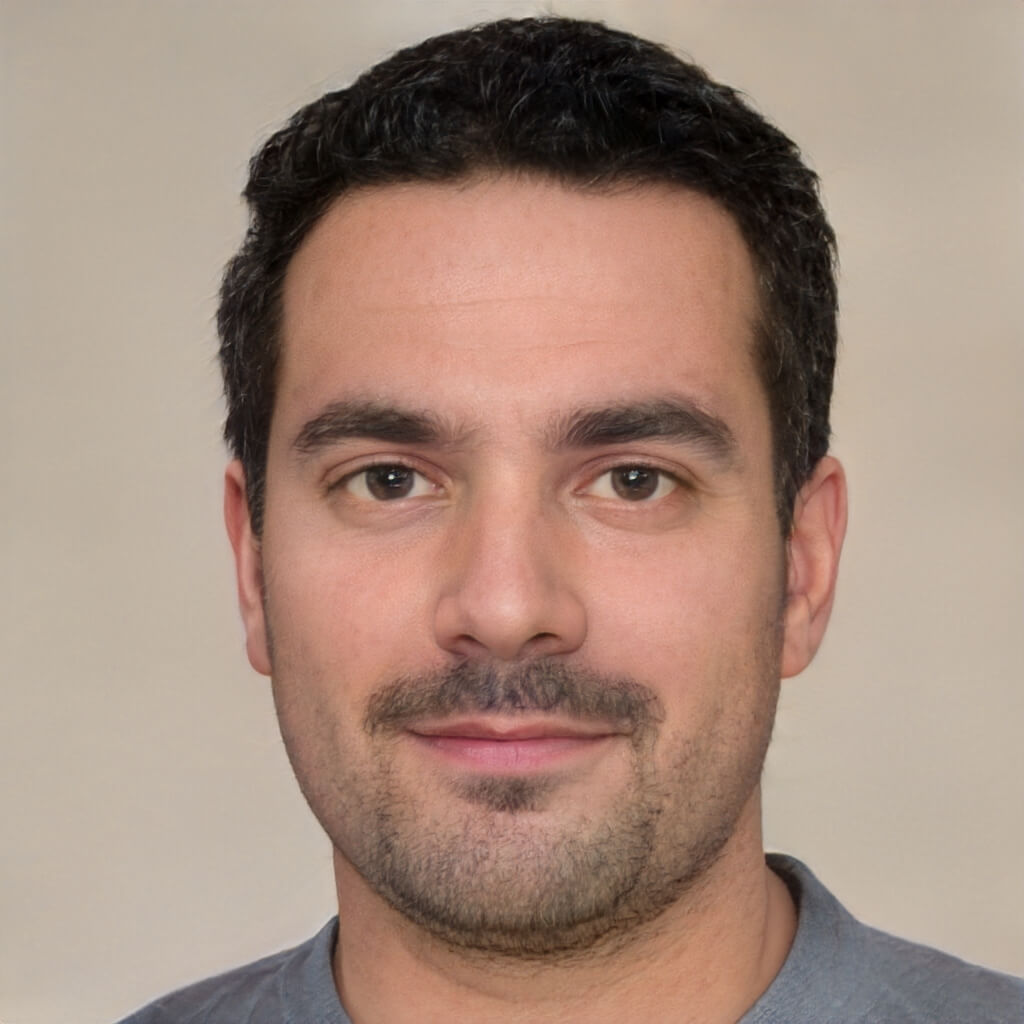 I'm a passionate home and garden enthusiast and the founder of Materialsix Home. With over 10 years of experience in the field, I've cultivated a deep love for all things related to home improvement, gardening, and interior design.