Make your DIY side table for your living room, bedroom, or anywhere you want for the house. This idea will be great because it is cheap, easy, and best of all unique!
Even though side tables are not the main furniture in the house, they play an important role inside the house.
Normally they are the place for lights, pictures, or just an accessory to the room.
Now rather than buying a new one, people can easily make their DIY side table. They can even create one by using the materials they have at home.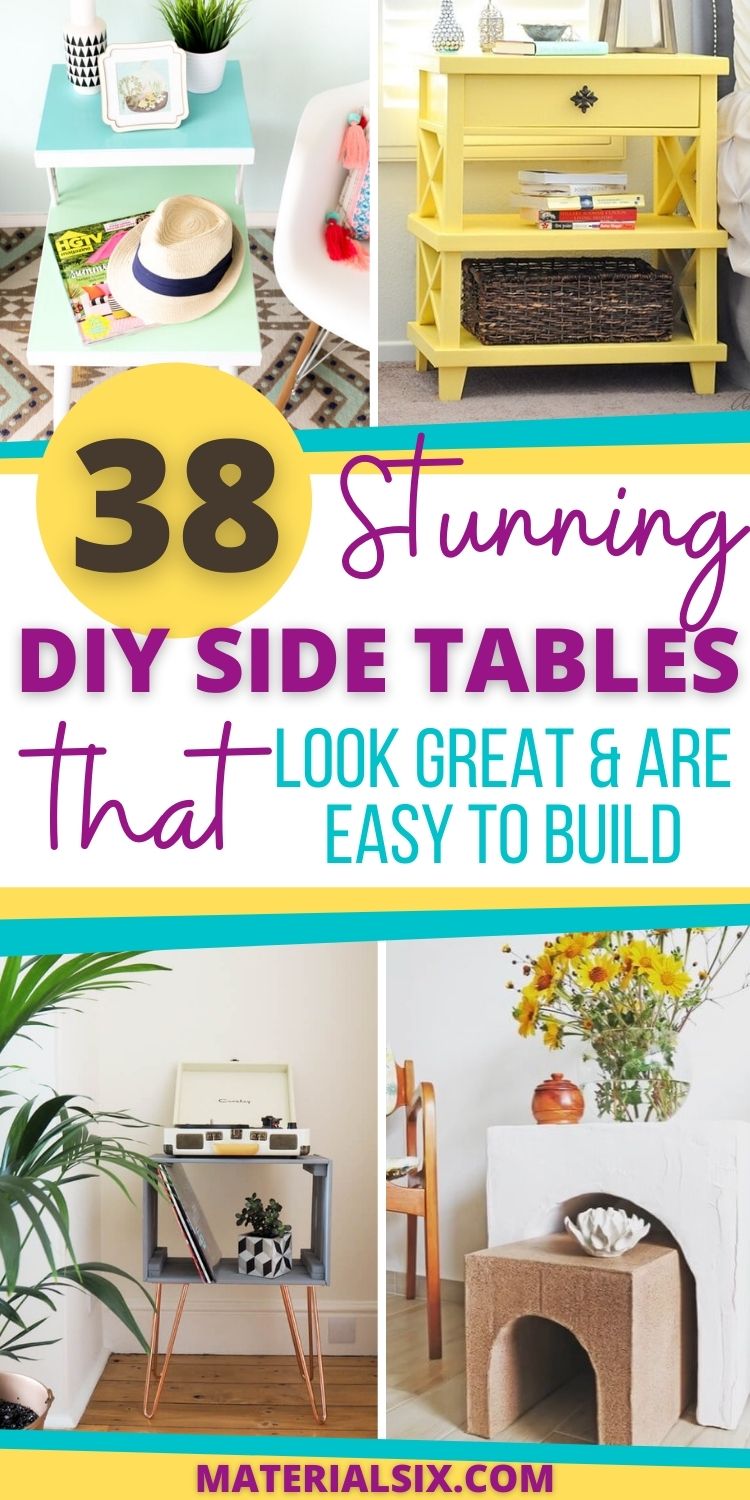 Easy & Fun DIY Side Table Ideas
Whether you are a newbie or an expert, making a piece of DIY furniture is always something interesting to work on.
It may be hard in the beginning but when I succeed; the feeling is satisfying.
Luckily, there are many easy and cheap DIY side table ideas that are available online. Therefore, people can choose the ones that suit them the best.
So, for those planning to make their own and unique side tables, here are some ideas to try:
1. Pottery Barn Table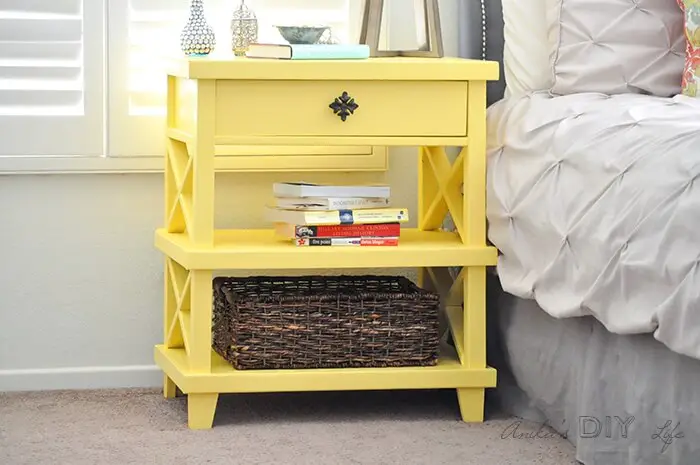 The first idea people can try out is the pottery barn table. This theme is simple, yet it can bring a traditional atmosphere into the room.
If you do not want it too to look too simple, then color it with a shocking color such as pink, yellow, and orange.
Then, on the bottom part of the stand, add a barn basket to put your things inside.
2. Ikea Nightstand Hacks
Just like the name of the idea, this is one of the hacks to make a look-alike IKEA Tarva nightstand but at a cheaper price.
The concept of this furniture is multifunction. So, rather than just making putting a piece of wood, this idea is making a wardrobe as a table too.
3. DIY Farmhouse Table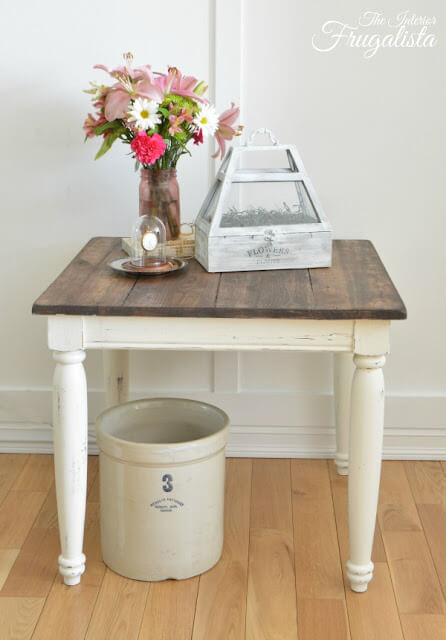 The farmhouse idea is one of the best DIY side tables that people should try! Not only is it easy to make but it brings a rustic atmosphere into the house.
4. Cheerful End Table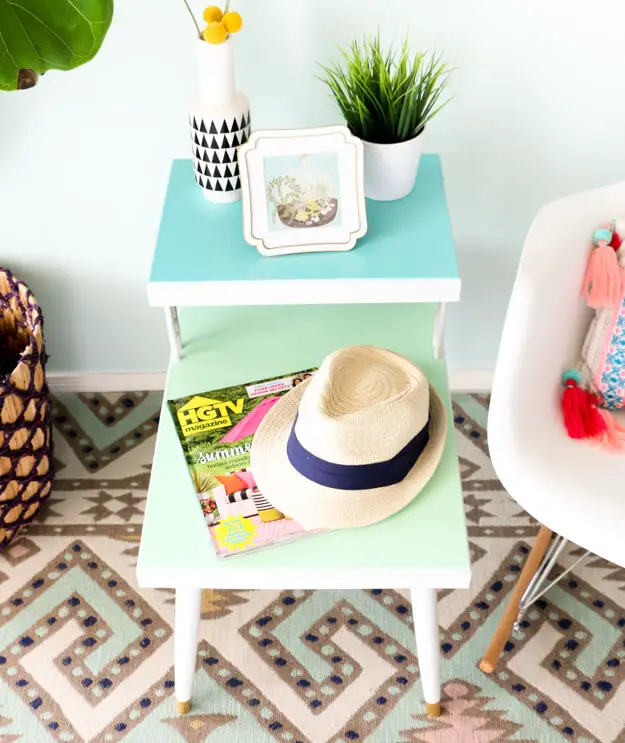 For those who love something colorful, then check out this cheerful idea. This is one of the DIY end table ideas that will make your room look brighter and bigger.
The key to making this table is to choose bright and cheerful colors such as yellow and green.
However, if you do not want it to be too shocking then combine it with some white and plants on top of it.
5. The 7-Sided Table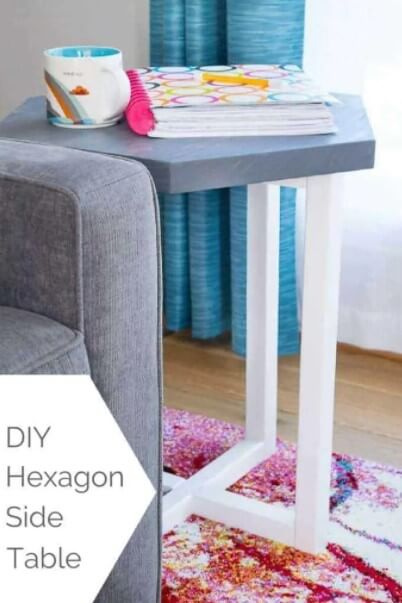 As for people who love something simple, try out making the 7-sided table or more popular as the hexagon.
This is great for those who apply a minimalist theme inside their house.
6. Classic End Table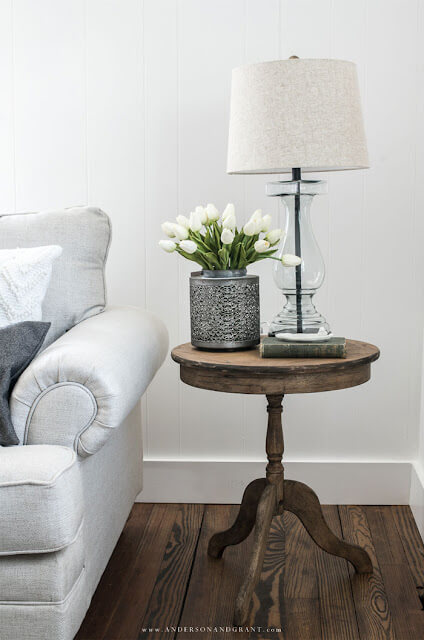 The next idea that comes on the list is the classic end table. This furniture is just perfect especially for those who love some antique but in a modern way.
As it is an end table, the best place to put it is on the side of the table or in the corner of the room. Then to make it look more beautiful, add some plants a small light on top of it.
7. Multifunction Laptop Table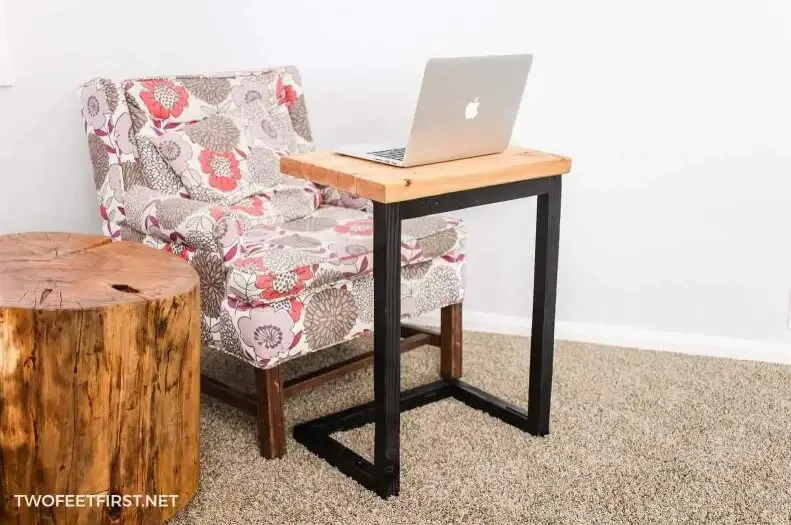 For something more multifunction, then the laptop table is one of the best ideas to make. This furniture is not only a decoration but also a table you can use for work.
So, when you are not using it, just put it beside your sofa.
8. Small Side & End Table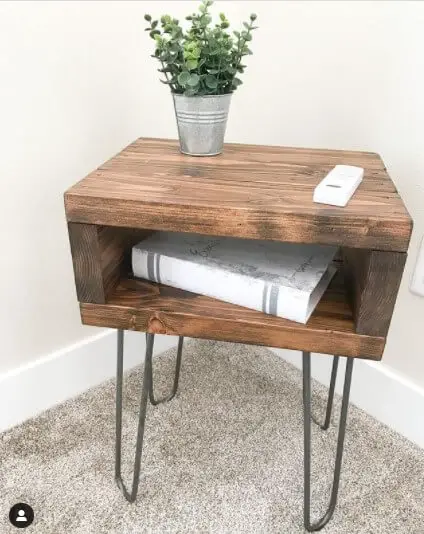 If you do not have much space in the house, then make a DIY small table for the room. However, the first thing people should do is measure how many free spots there are.
Interestingly, this small side table is built out of scrap 2x4s that offer a unique and rustic look. It also becomes a great DIY project for those who have basic woodworking skills.
9. DIY Hairpin Leg Table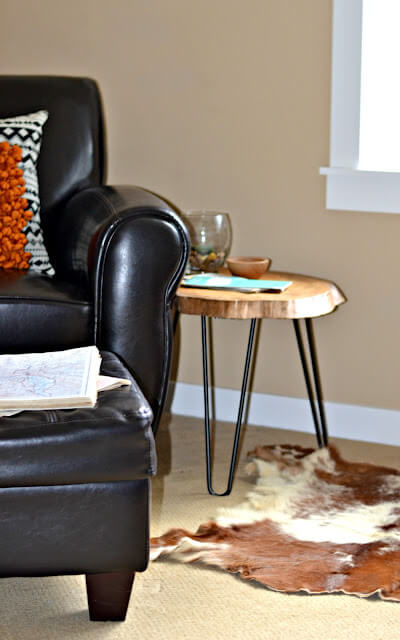 Another simple yet rustic idea that people can make is the DIY hairpin leg table. This idea is a combination between wood and metal.
10. Bench Side Table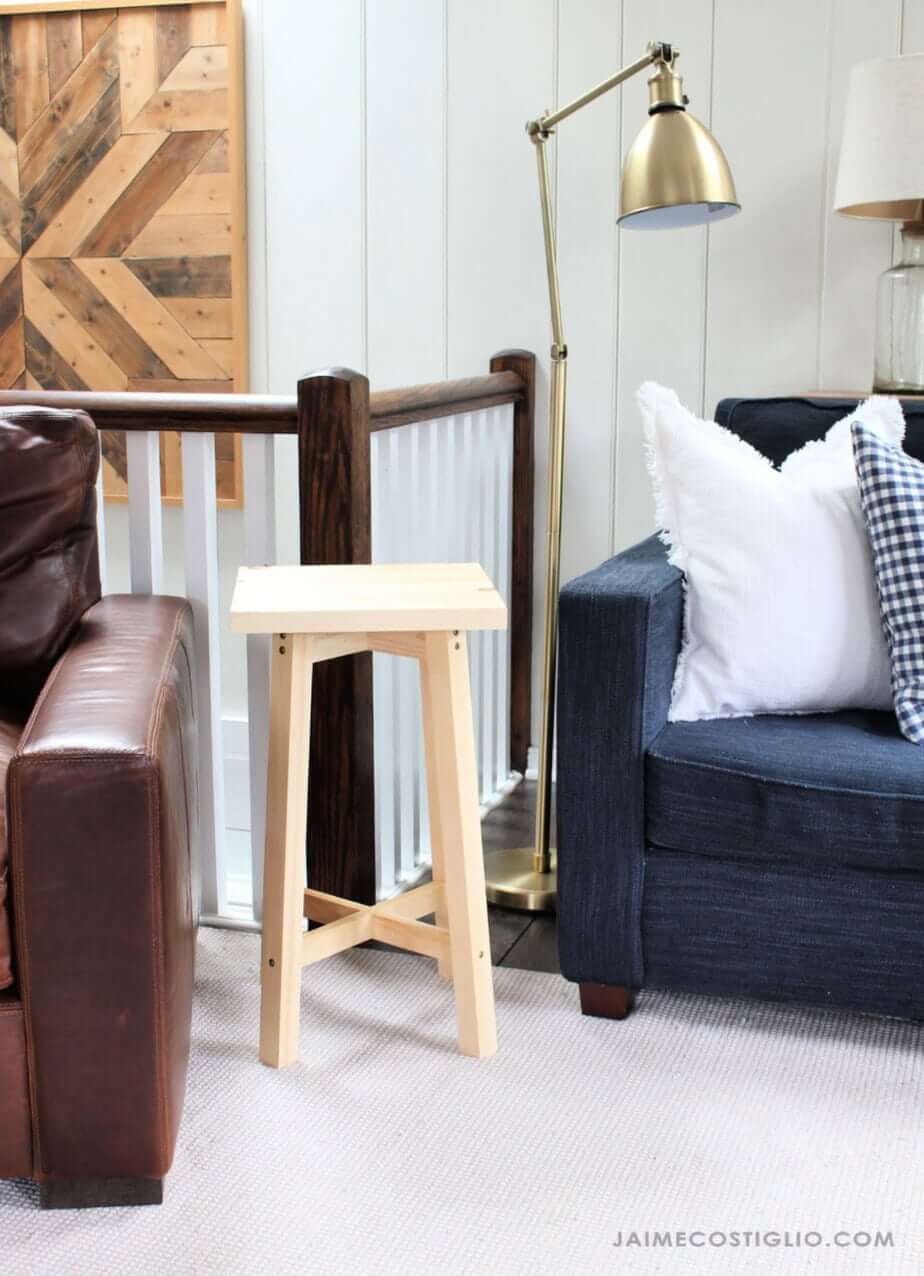 Rather than making a DIY table, why not use a bench in the house as a replacement. You can put it at the end of a sofa and cover it up with some fabric so people will not even notice it.
11. Tall Side Tables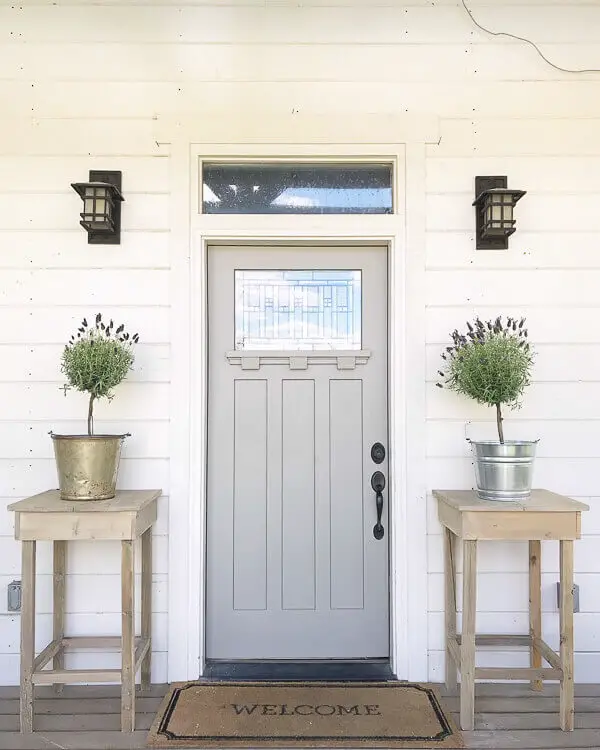 The tall side table is not too general for some people. However, this kind of idea is great because people can use them for inside or outside purposes.
For example, you can put them outside the house to support your plants. Besides, they can be placed inside to make a side end table.
12. Modern Table-Seat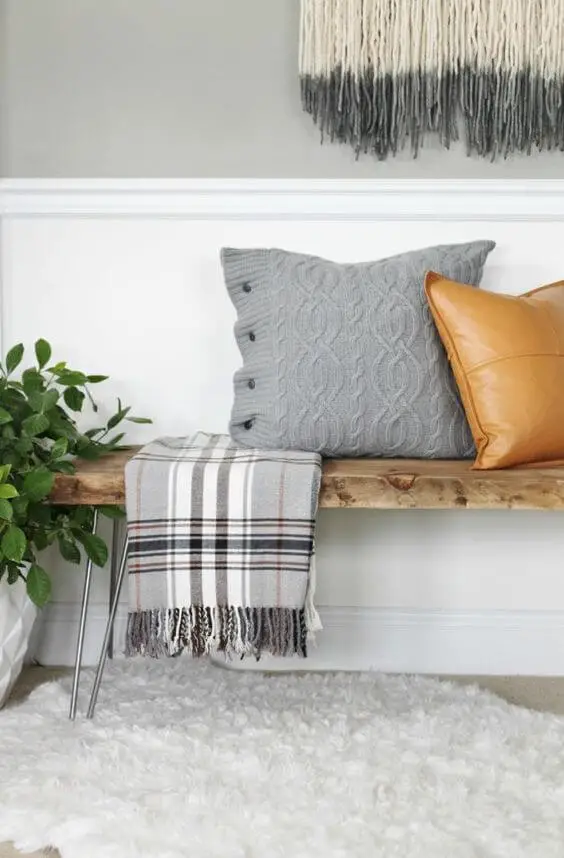 Another great DIY idea that is great for those with limited space is the modern table seat. So, sometimes, this furniture can be a table where you can serve your beverages and snacks.
However, if you have too many guests in the house, then change it into a wooden bench! As easy as that.
13. Laundry Table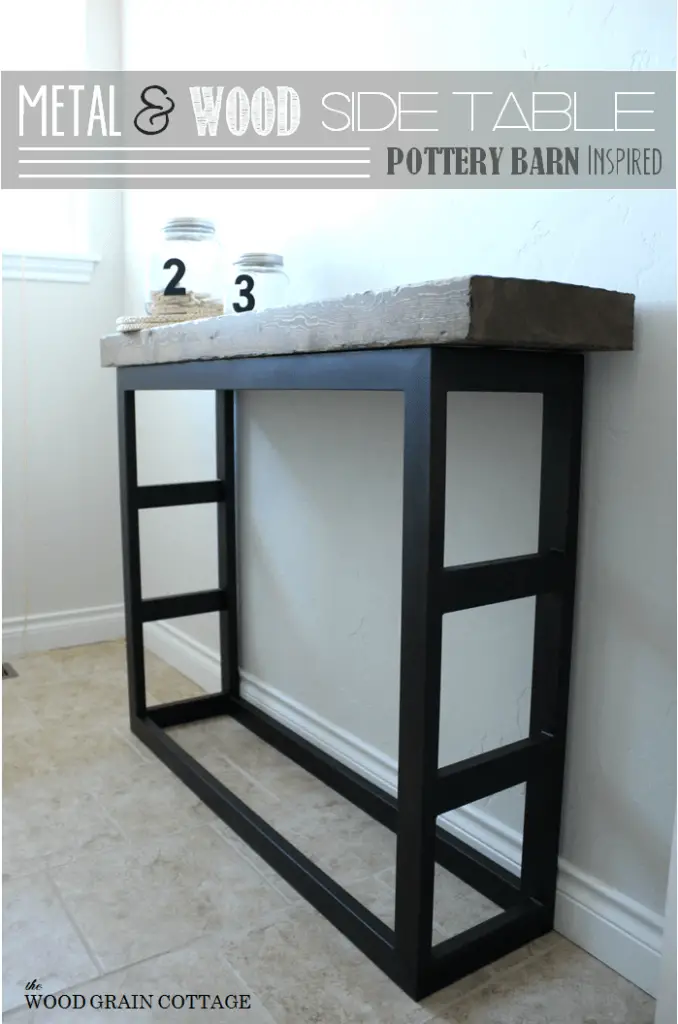 This design is great for those who have a laundry room in the house. With the combination between wood and metal, you can get a high and strong place to put your clothes and baskets.
14. Crate Box Table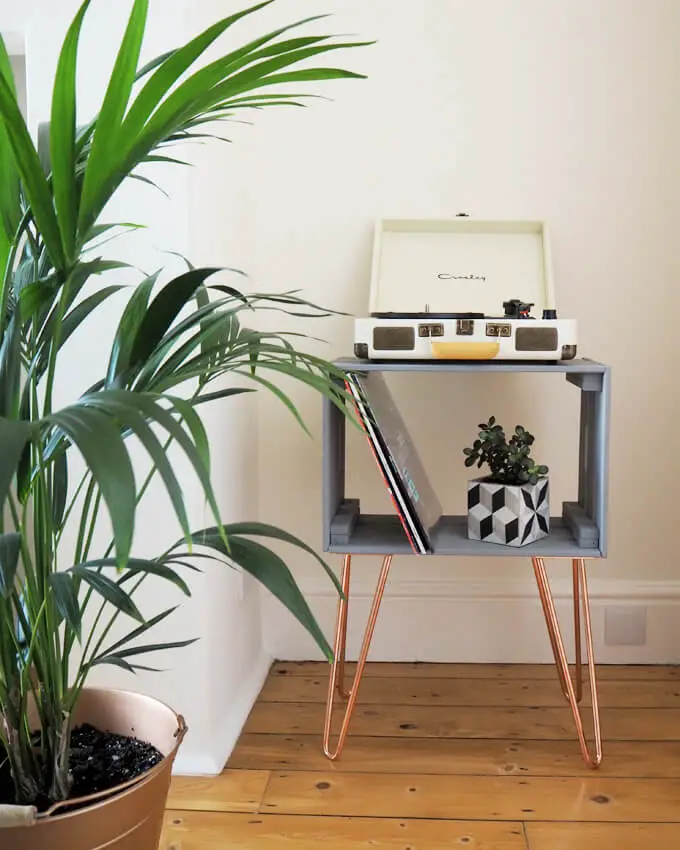 If you want something smaller than the idea above, then check out the crate box table. It is small, functional, and best of all, cheap!
15. X Table Design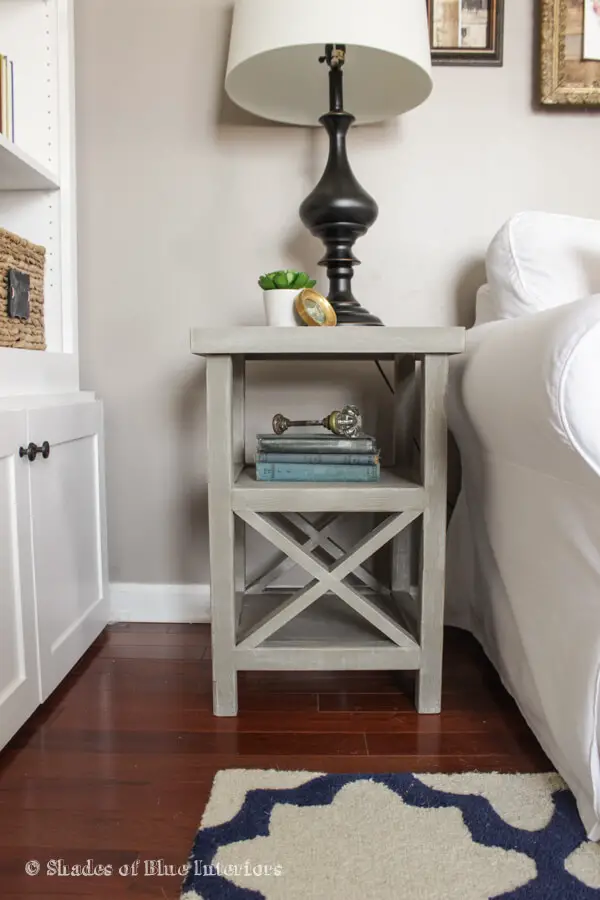 Do a small makeover in the bedroom by adding this cute X design. Put it beside your bed and then add some books and a lamp to make it feel cozier.
16. Simple Outdoor Table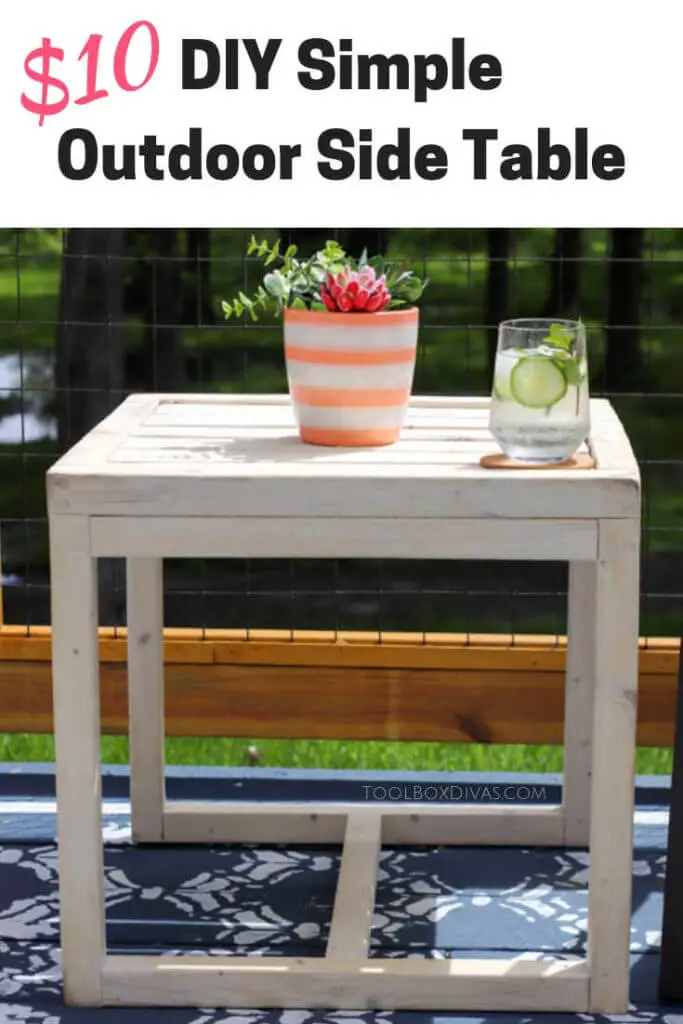 For those looking for an outside table, then try out this design. It is simple, easy to make, and cheap! You can even make this desk for only around $10.
17. Cage Accent Table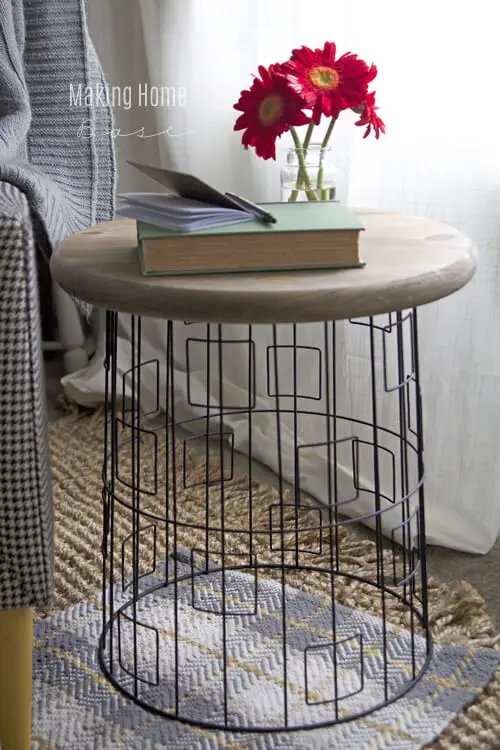 The next DIY side table that can also be a decoration to the house is the cage accent idea. So rather than using simple legging for the legs, why not give it some accents.
Initially, reuse an unused cage for the legs of the table. Then, make a unique accent on their own.
18. An Outside Barn Table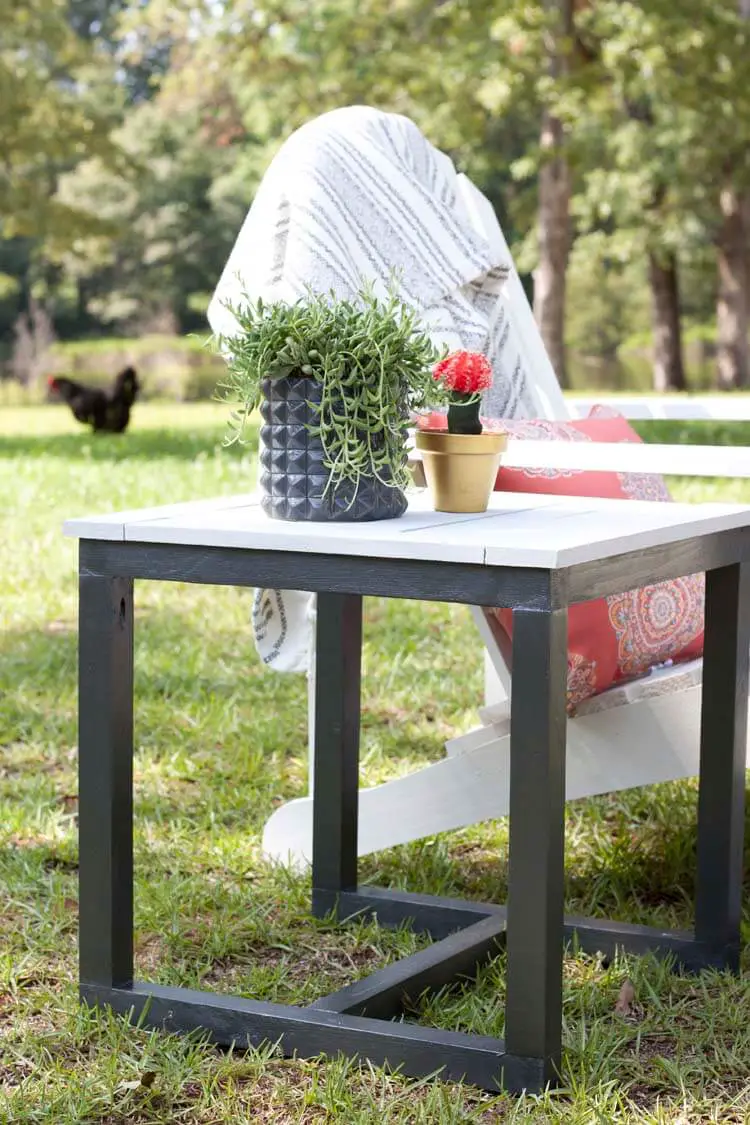 This is another simple design of an outdoor table that people can copy. Rather than making it too simple, you can try painting different colors such as white and black to give it a barn theme.
19. Chalk Paint Table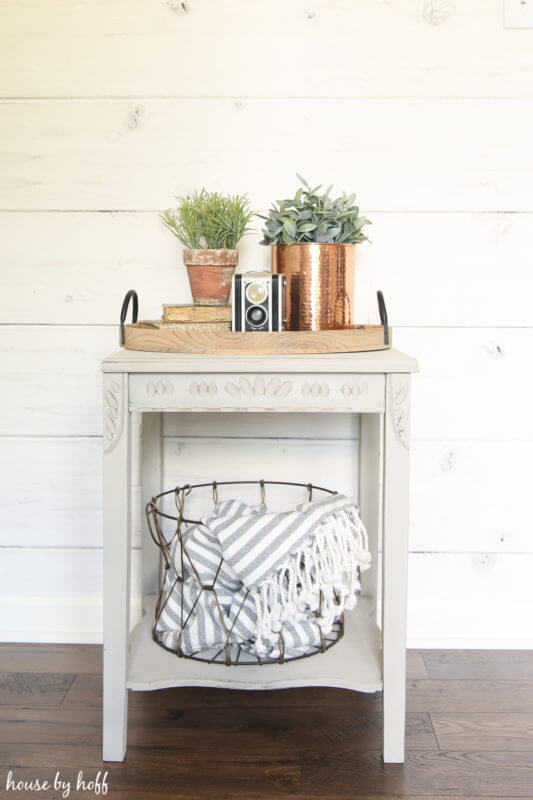 One of the simplest ways to change the look of your old table is by painting it with chalk paint. This color is just unique but also pretty.
To get the best result, make sure to remove any loose varnish first.
20. DIY Pallet Table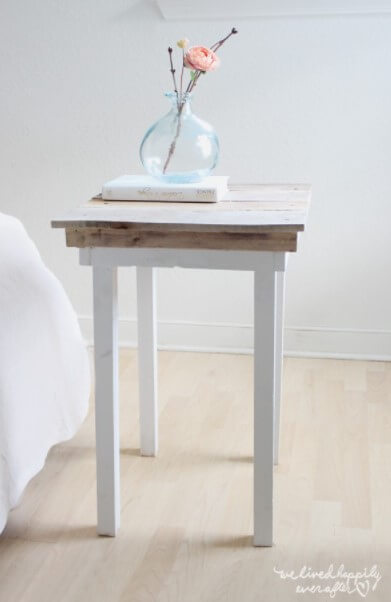 Another material that you can use for a DIY side table idea is pallets! All you need to do is cut them into small pieces and build them as one.
21. Farmhouse Nightstand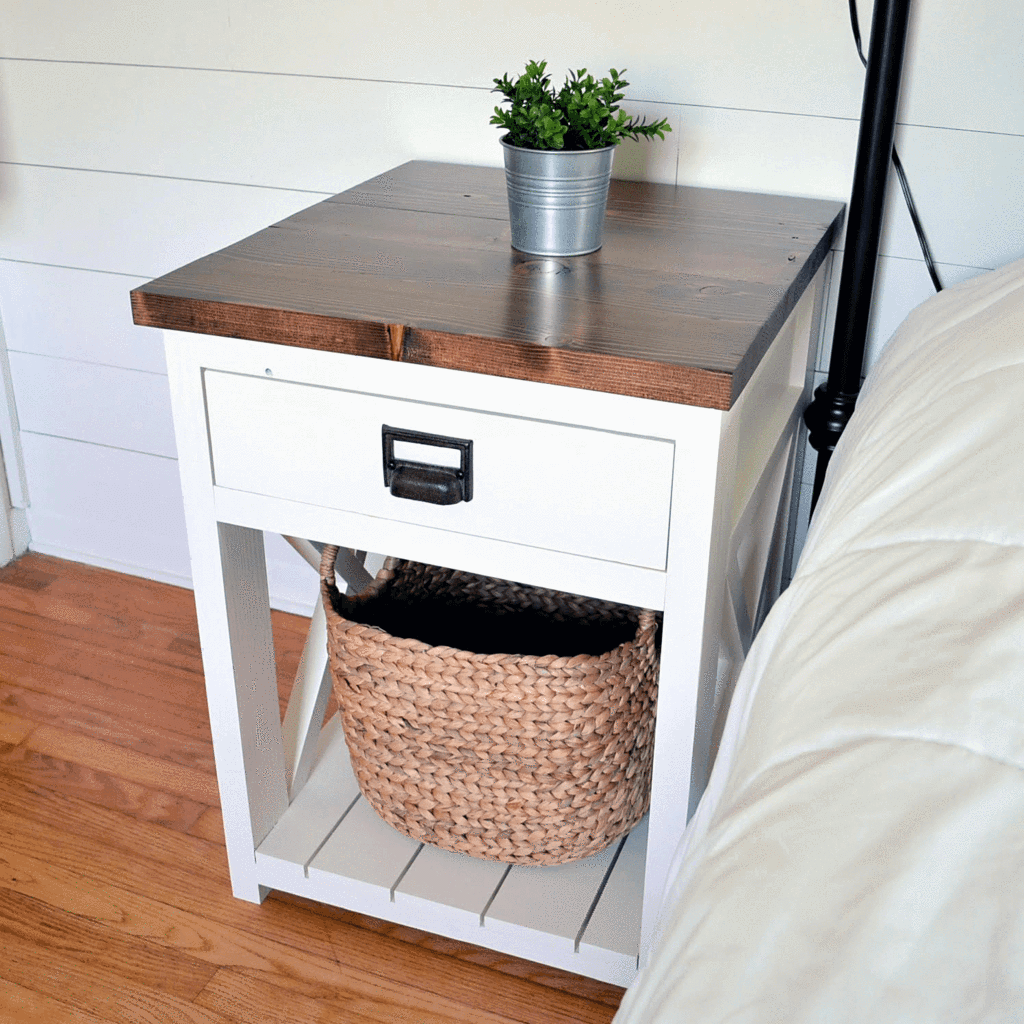 This design is a combination between a farmhouse theme and X design of a nightstand that you can use in your bedroom.
To make it look rustic, add a basket for the bottom part and paint it with white-brown color.
22. Simple Wood Nightstand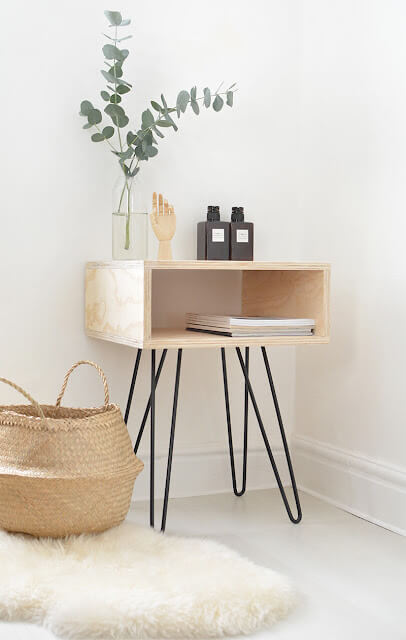 If you are looking for a modern nightstand, then this design is a great option. You just need to combine some blocks of wood and hairpins for the legs.
23. Geometric End Table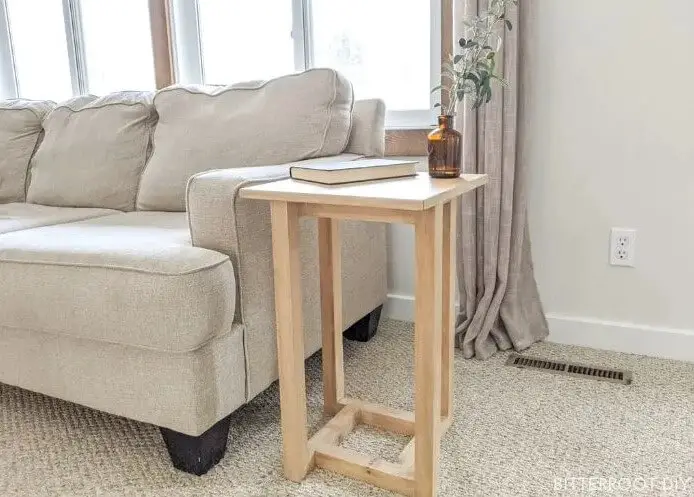 One of the tips to make a more interesting side table is by making it in a geometric shape. So, instead of designing it symmetrical, try combining the curves, lines into one design.
For beginners, you can start by making a geometric design for the legs first. Even though this step seems simple, but it can make a huge difference to the table.
24. White Wooden Table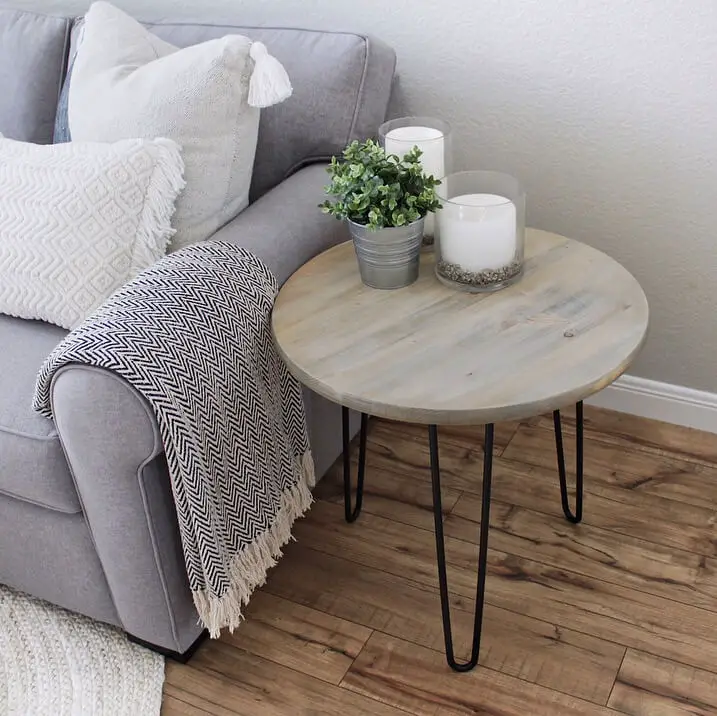 The next idea that can never go wrong and can suit any kind of house is the white wooden table. There is nothing unique about the shape, however, what makes it special is the color.
So, rather than coloring the table with other colors, try to paint it all white. Then, to make it colorful, just add some plants or other accessories on top of it.
25. Simple Hairpin Table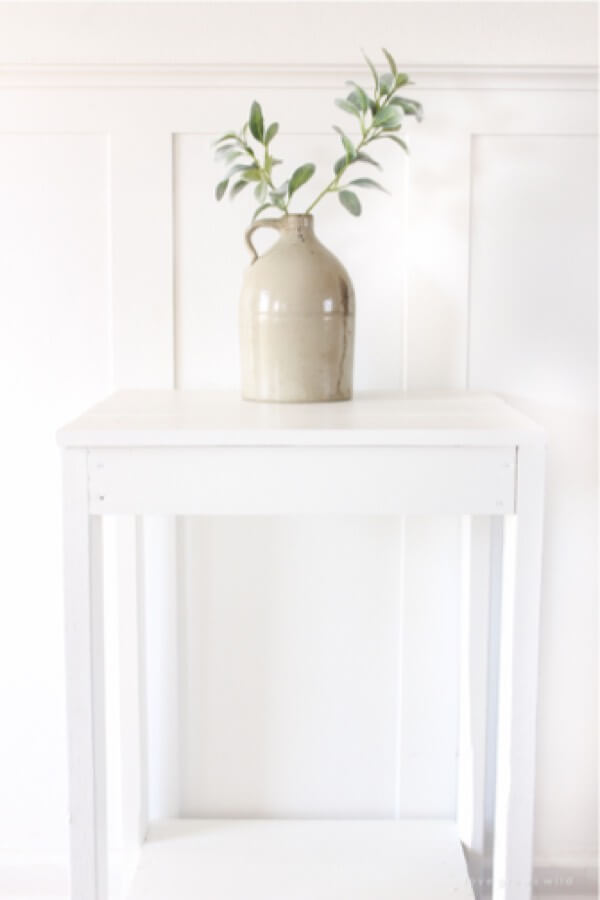 This is another example of a simple hairpin table that will fit into your living room or bedroom. It is small yet functional.
The best part is it brings a modern and minimalist touch
26. Colorful Side Tables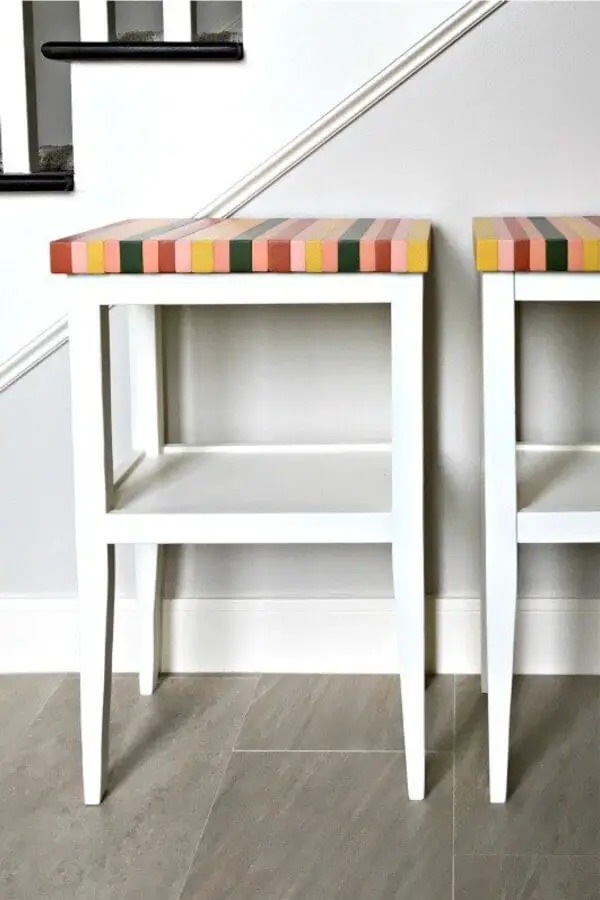 If you like something simple but useful, then this wood design is a great example that you can try to make.
To make a good design, make sure to use pine wood.
27. Rustic Table End with Storage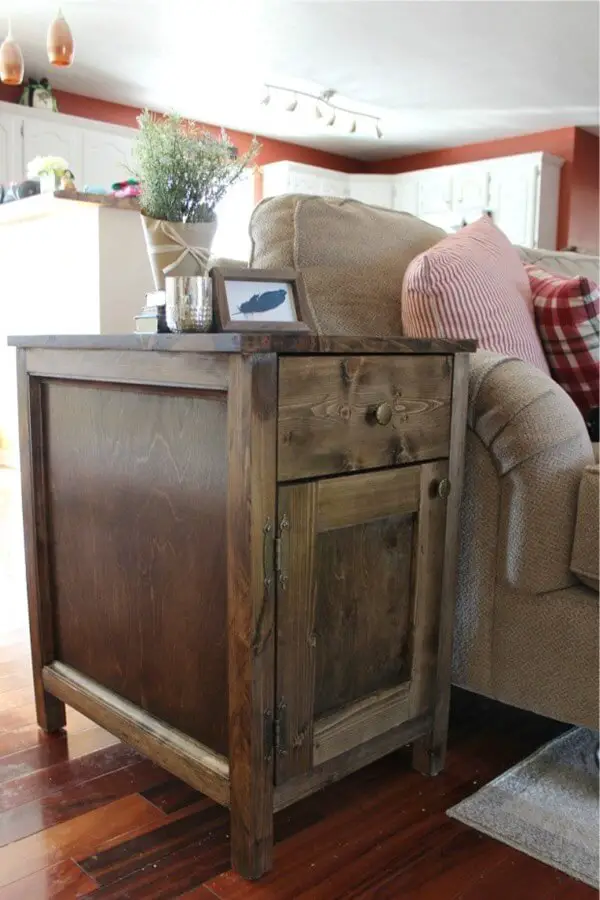 If you want to make your room look neat, then make a rustic table with storage using a small wardrobe.
Then, do not forget to paint the table with wood color or white to make it look rustic and suit your living room.
28. Stool Bar Table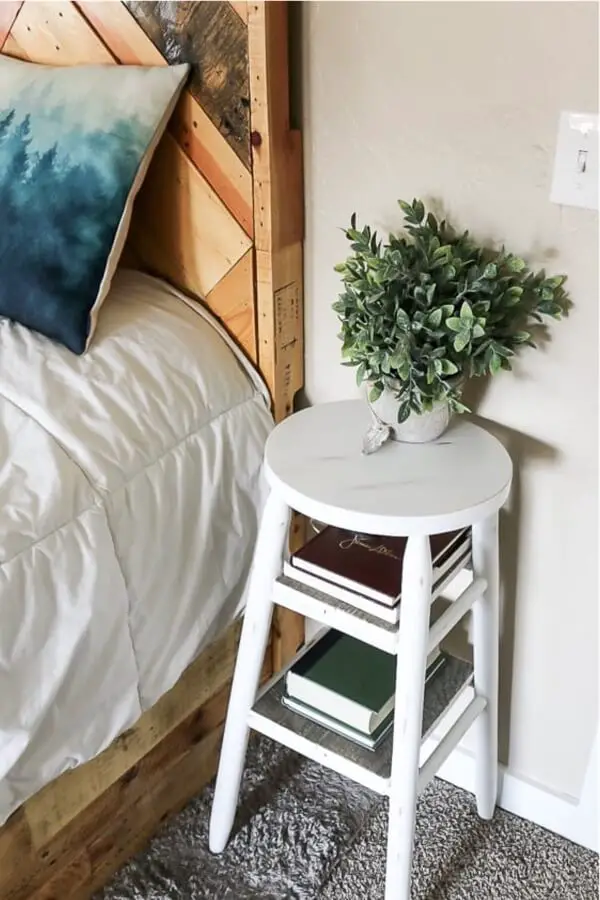 If you have an old stool bar in the house, why not recycle it to make a side table for your room. To add more storage, then just close the bottom parts with extra wood.
This DIY side table is great for beginners! Without having to do anything, people can just use the old stool as storage.
29. Pipe Leg Table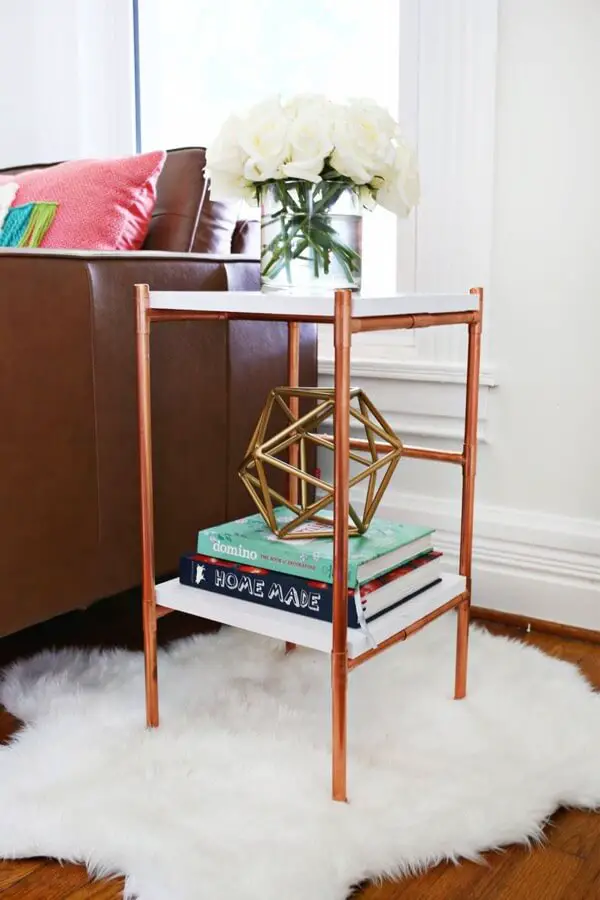 Other unique materials that will make a great side table are pipe and ceramics. This modern-styled table evokes an expensive look without spending too much money.
However, to get that kind of look, make sure to choose bright colors such as white ceramic and gold for the pipes.
If you can do this, then the table will look pretty inside the room!
30. Concrete Side Table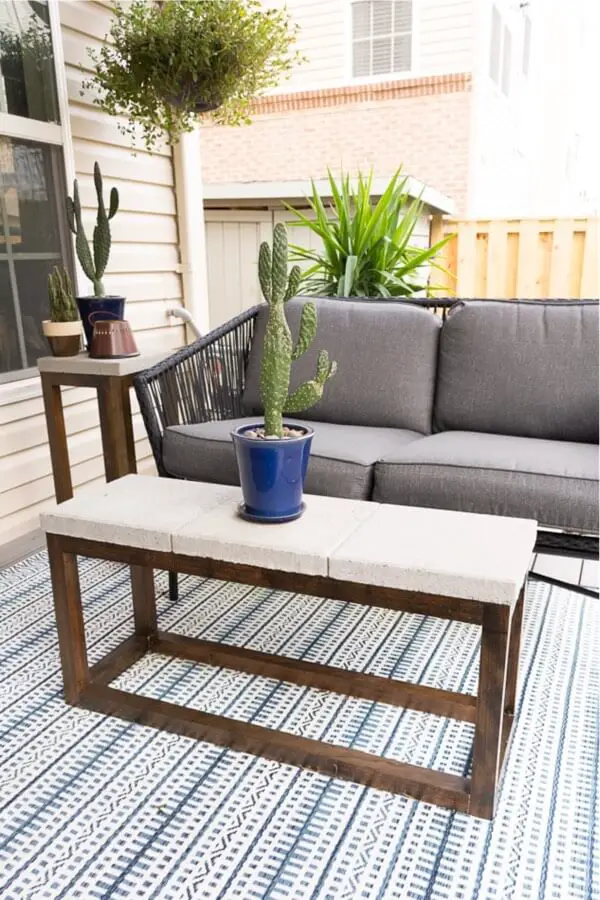 Make a strong table from concrete and wood. This is also a great combination because the maintenance is easy, so it is suitable for indoor and outdoor use.
As it is made from concrete, people can put many things on top of it without having to worry too much.
31. Short Stool Table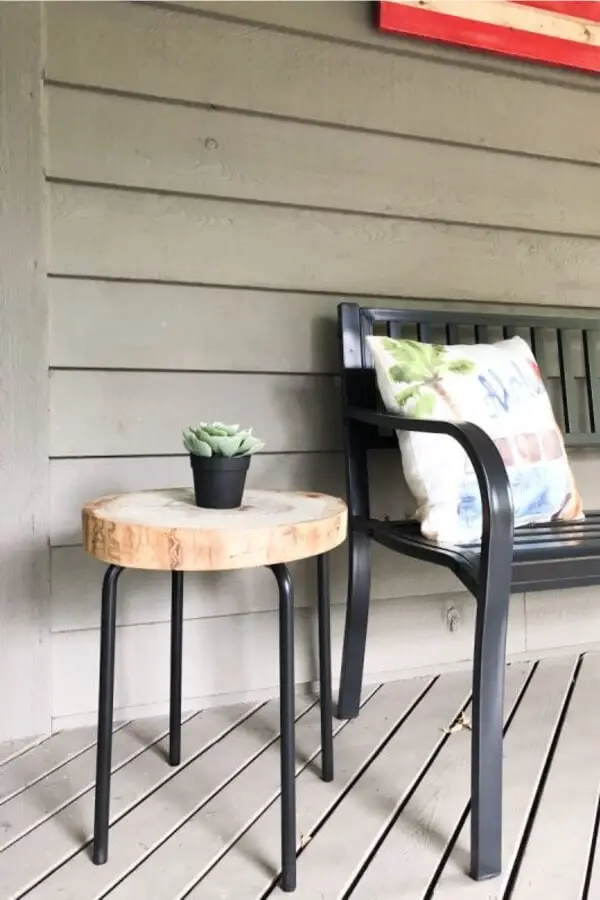 As for those who have shorter stools at home, do not worry because you can also use them as a side table.
However, to make it look better, change the top part with wood or ceramic. With the short height, the stool is great for a coffee table that can be put aside from a sofa.
32. Wine Crate Nightstand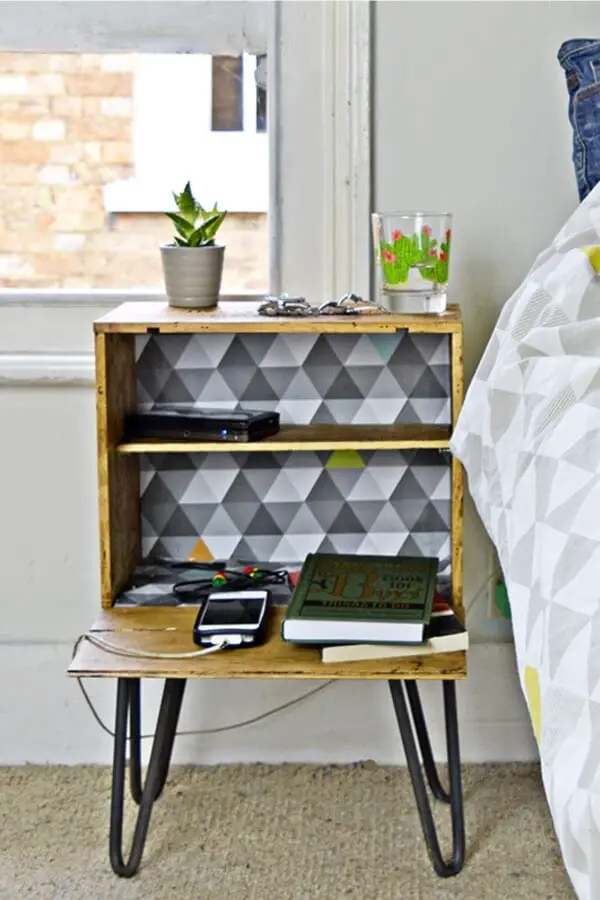 If you are creative, an old wine crate can also be a great nightstand for your bedroom or living room.
All you need to do is just add some legs on the bottom part so it can stand beside the bed. Then, close the doors of the crate, to make it seem like a normal table.
33. Farmhouse Outdoor Table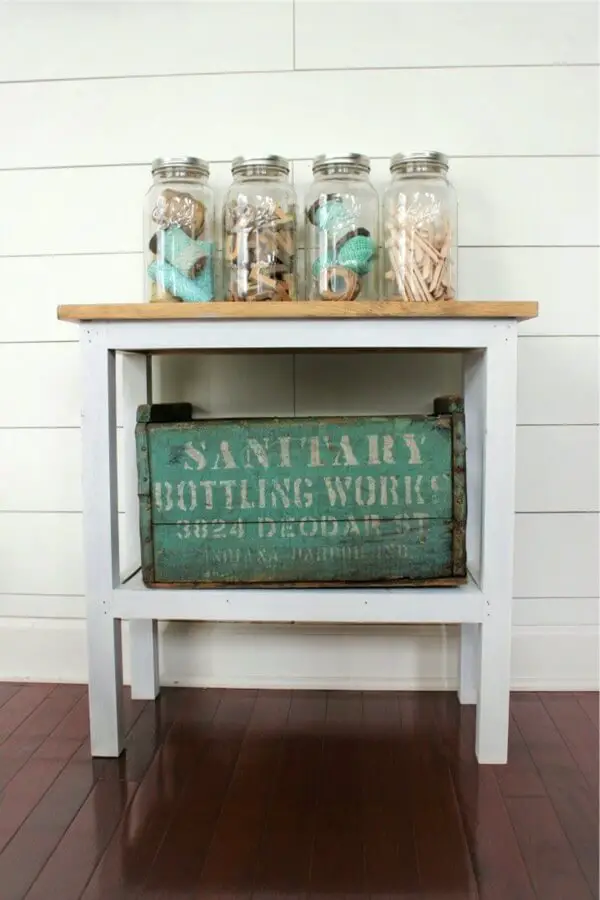 If you want to make the front house look attractive, then use this farmhouse accent table. This accent will welcome your guests with a rustic yet pretty atmosphere.
34. High-End Table for Sofas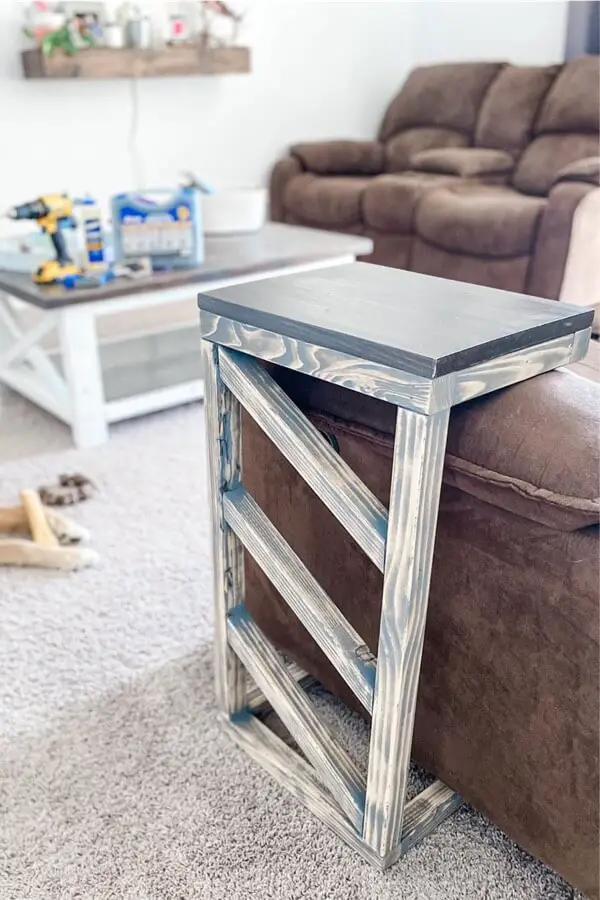 This side-table idea is a design that people can apply to their living room. Overall, the concept of this furniture is like the laptop scheme.
However, the size is a bit smaller as you will not need much space.To make this table functional, make sure that the height of the table is a bit higher than the sofa.
35. Round End Table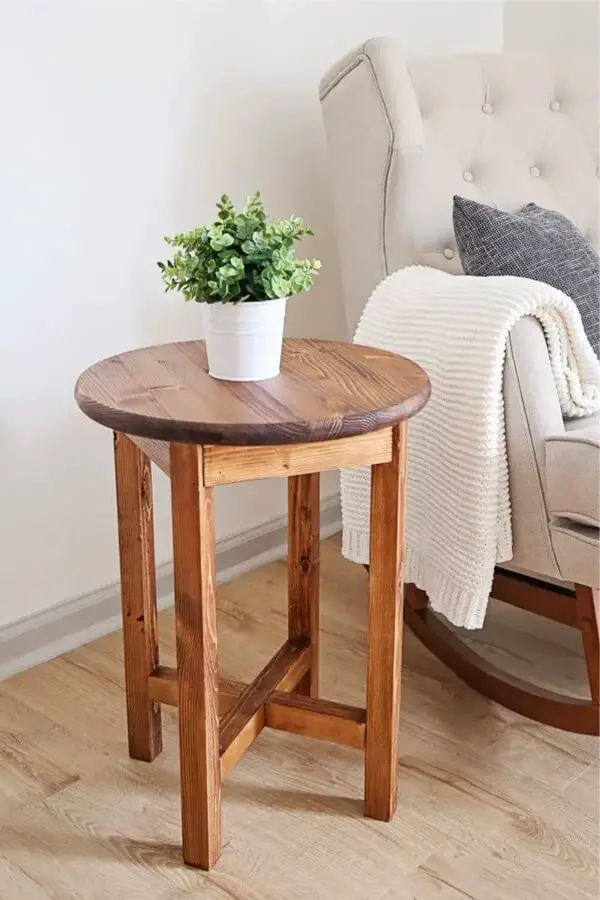 Looking for a simple classical end table for the living room? If so, then this round wood design will fit in perfectly.
36. Modern Wood & Ceramic Table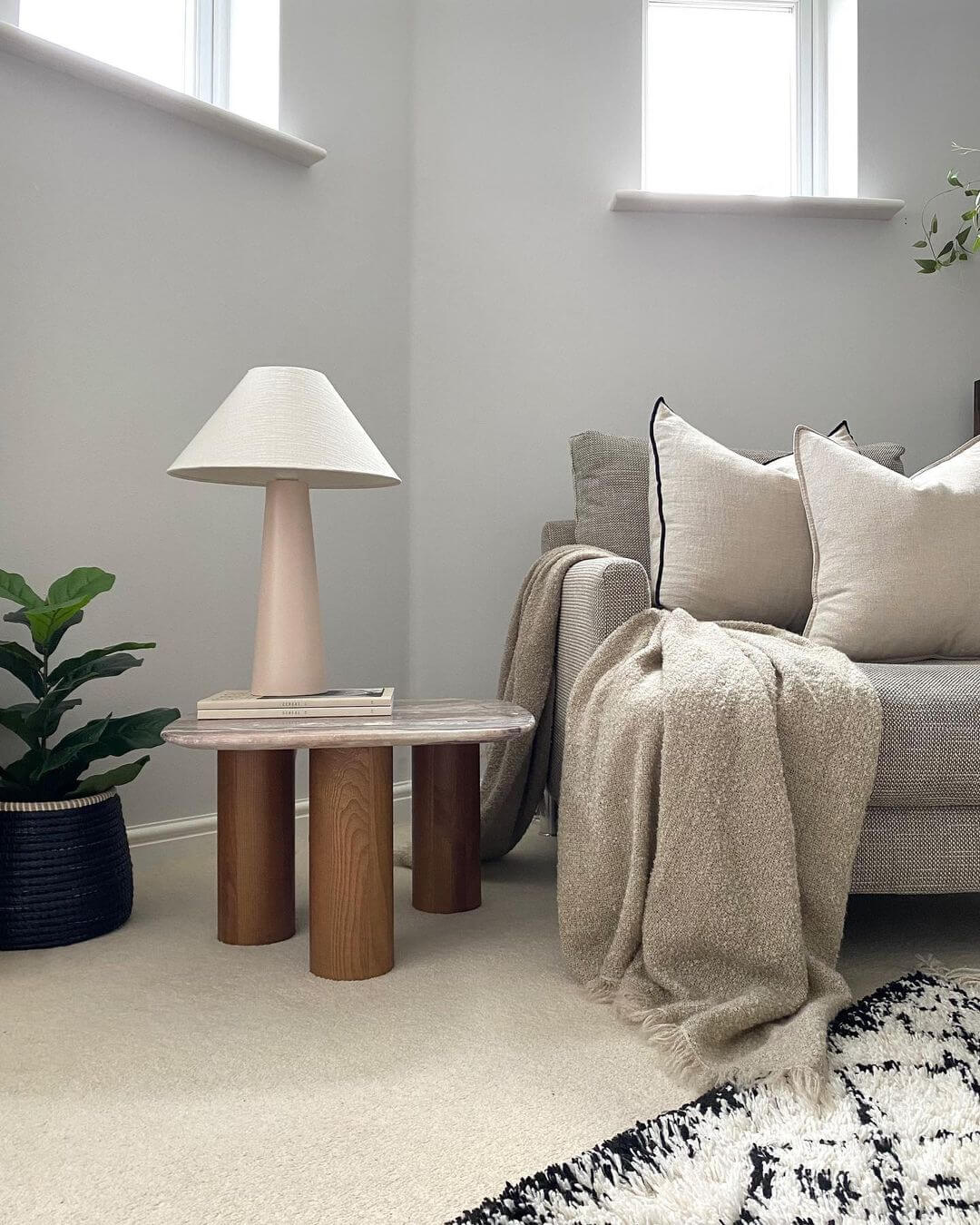 This DIY side table is just gorgeous and perfect! The combination between wood and ceramic just makes the design look modern, which fits in so well with the living room.
37. Recycled DIY Table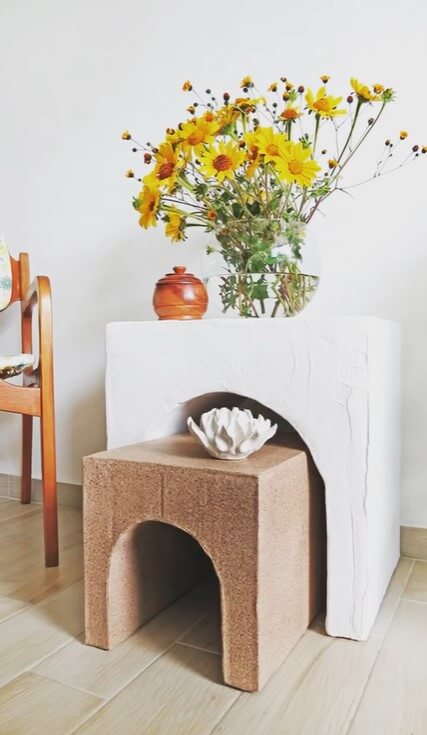 Look how these cardboard boxes turned into a simple yet artistic side table! To make this unique-looking design, all you need is some boards, glue, scissor, and paint.
38. Old but New Table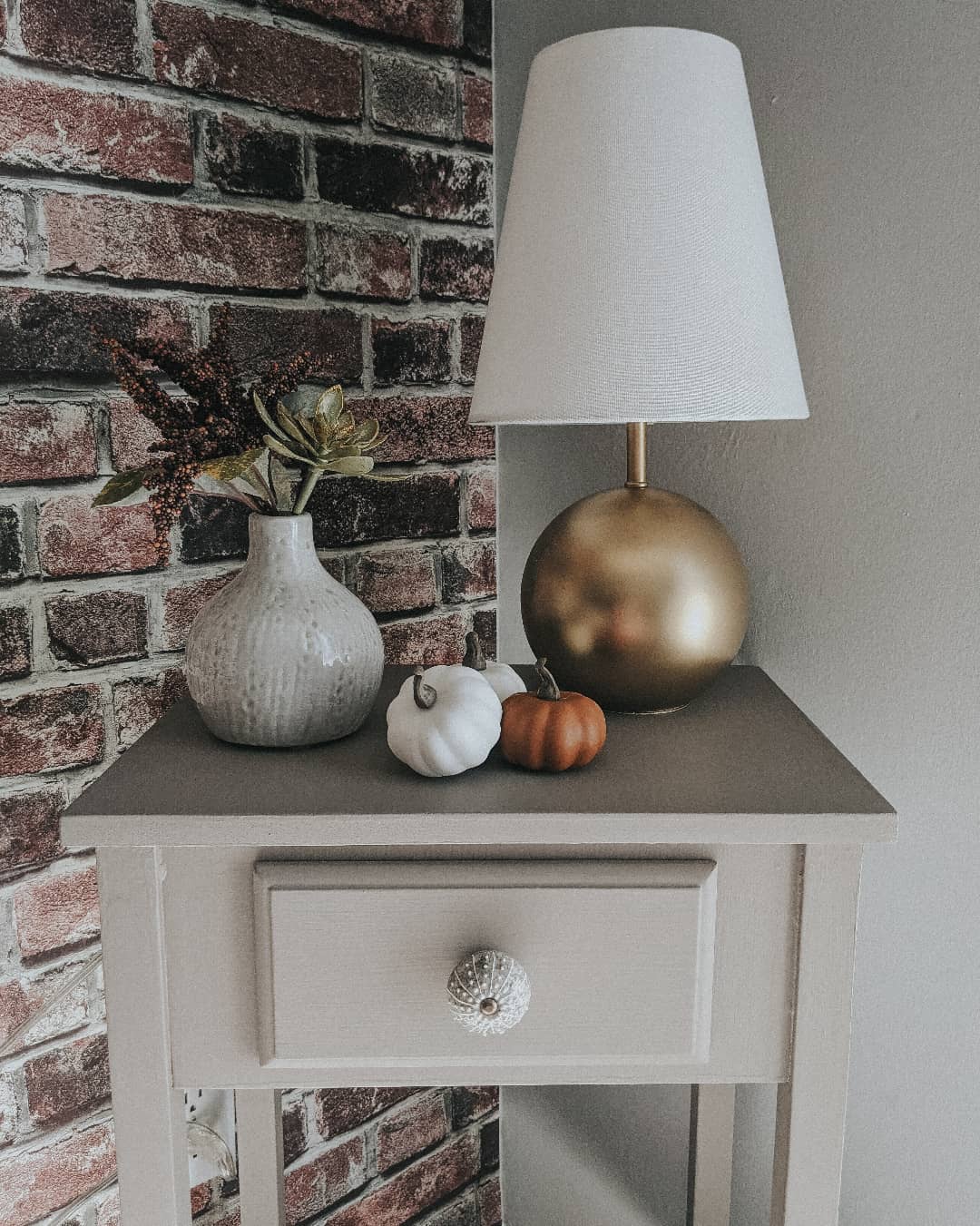 Believe it or not, this is a side table in the house that used to look old. Just by repainting it, everything looks new like from a furniture store!
Conclusion
In conclusion, you can start by thinking about the room you want to create the side table in. Remember that the size of the table and the way it is placed in the room are equally important. Also, remember that there should be space to set down other items in the room. You can go with a rectangular table or a square one depending on the area of the room that you have to work with. The height of the side table should be somewhere between 2 and 6 feet so that it won't obstruct your view of the room.
So, there you are some of the best and easiest DIY side table ideas to make! Hopefully, one of these designs can be applied to your house.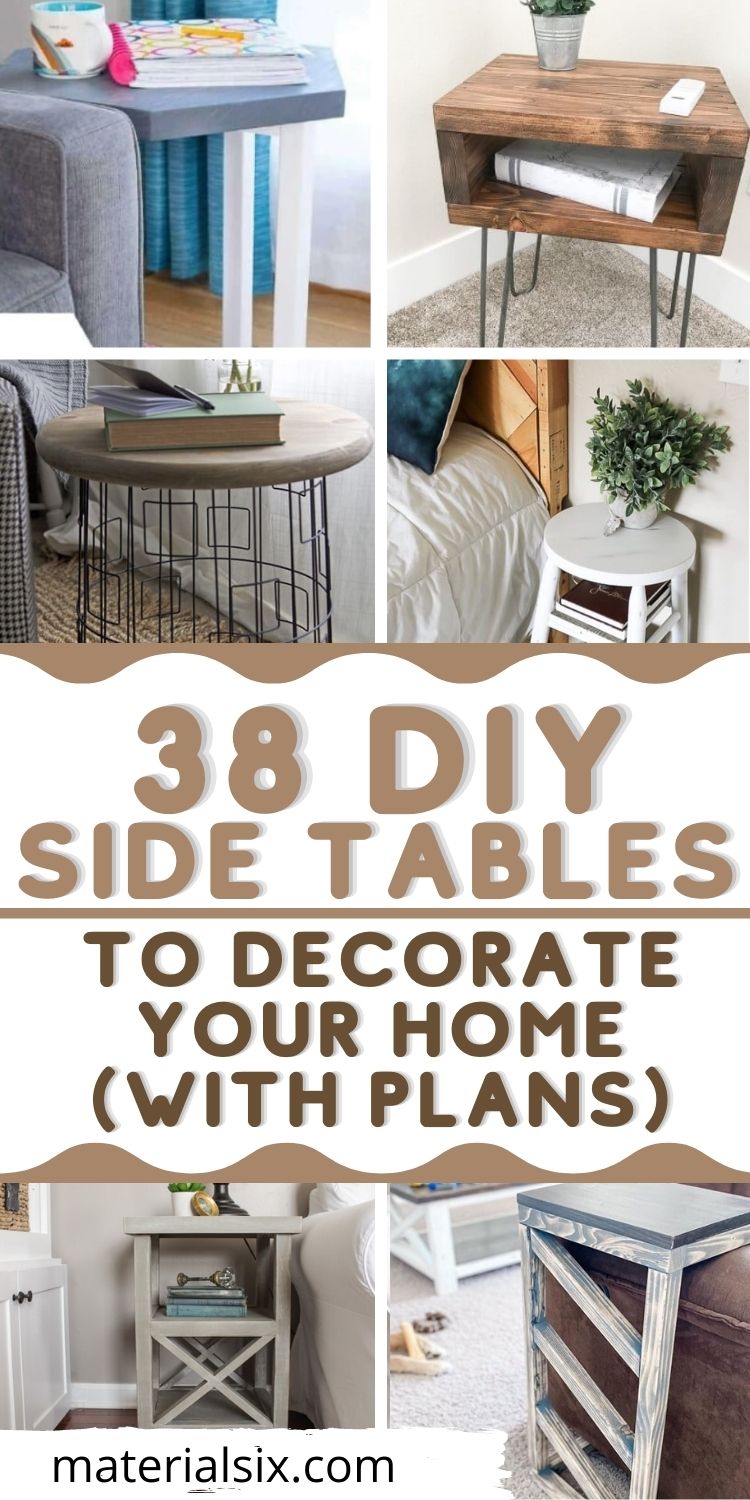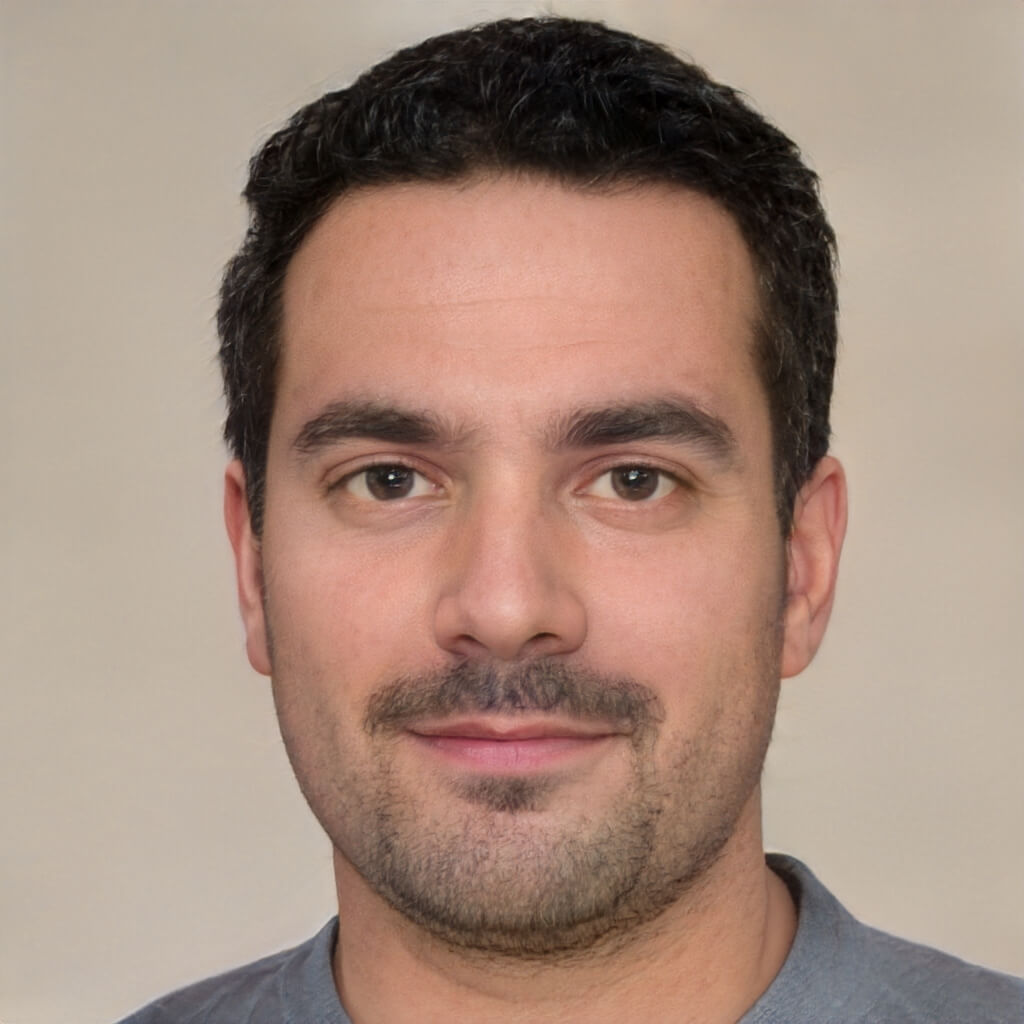 I'm a passionate home and garden enthusiast and the founder of Materialsix Home. With over 10 years of experience in the field, I've cultivated a deep love for all things related to home improvement, gardening, and interior design.