You might consider putting a border between your bed and the wall. However, at some points, you feel too bored of that ordinary headboard in the hardware and furniture store.
Plus, a bed with a headboard is not always budget-friendly. They can cost you double compared to the bed without a headboard. In this case, some affordable DIY headboard ideas can fix the emptiness and bring color to your bedroom.
You think that it is impossible to add up the headboard on your own. You are limited in material and time. However, you only need to get out of the box and boost your imagination!
Instead of thinking about an ordinary headboard made up of solid material, you can use fabrics, reclaimed windows, decal, or even your photo frame collections!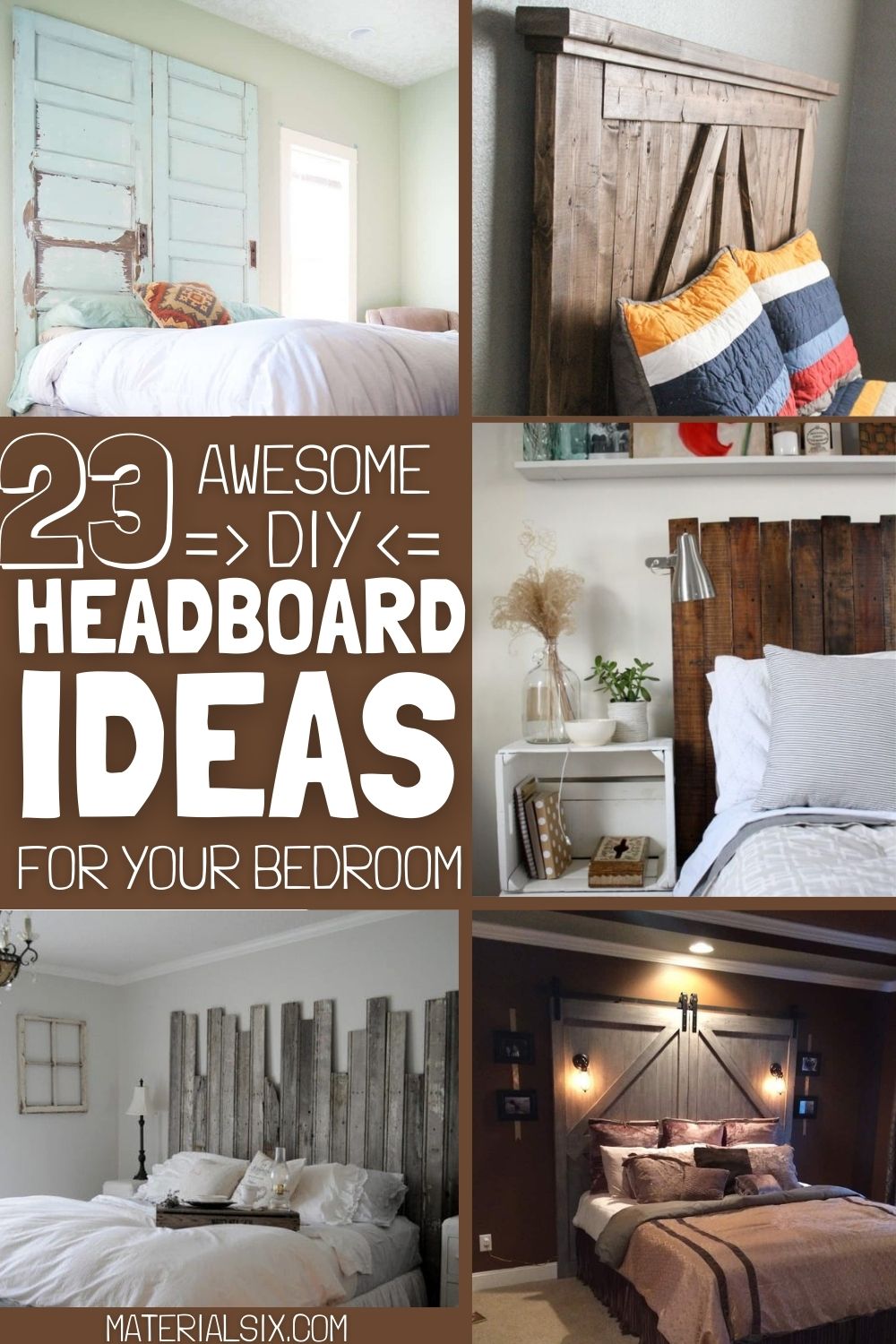 How Do You Start These DIY Headboard Ideas
There are plenty of headboard ideas on the Internet, and we are going to gather up the best ones for you. However, not all ideas might suit your bedroom.
First thing first, you need to check the room theme you want to embrace.
Second, check your budget and see which idea is most affordable.
Third, opt for the idea that you think will not take too much of your time, especially if you have more important things to do.
Last, you have to check the size of your bed. Make sure you put a headboard that is not too big and also not too small.
Read: Bedroom Makeover Ideas on A Budget
If you've done with those lists, then you are ready to start to pick the best DIY headboard ideas! Do not let the emptiness brings boredom to yourself!
---
1. Rustic Pallet Headboard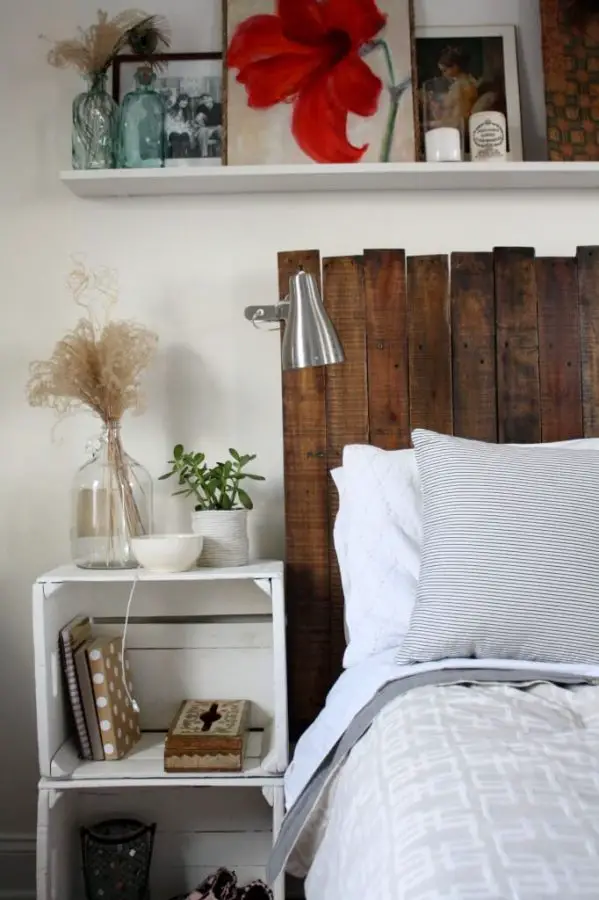 It is one of the clever DIY headboard ideas that brings you closer to the countryside. Headboards using pallets like this are very easy to assemble. The design is simple, and the materials are easy to find. You can decorate it by including lights or coloring the pallet.
2. Wood Round Headboard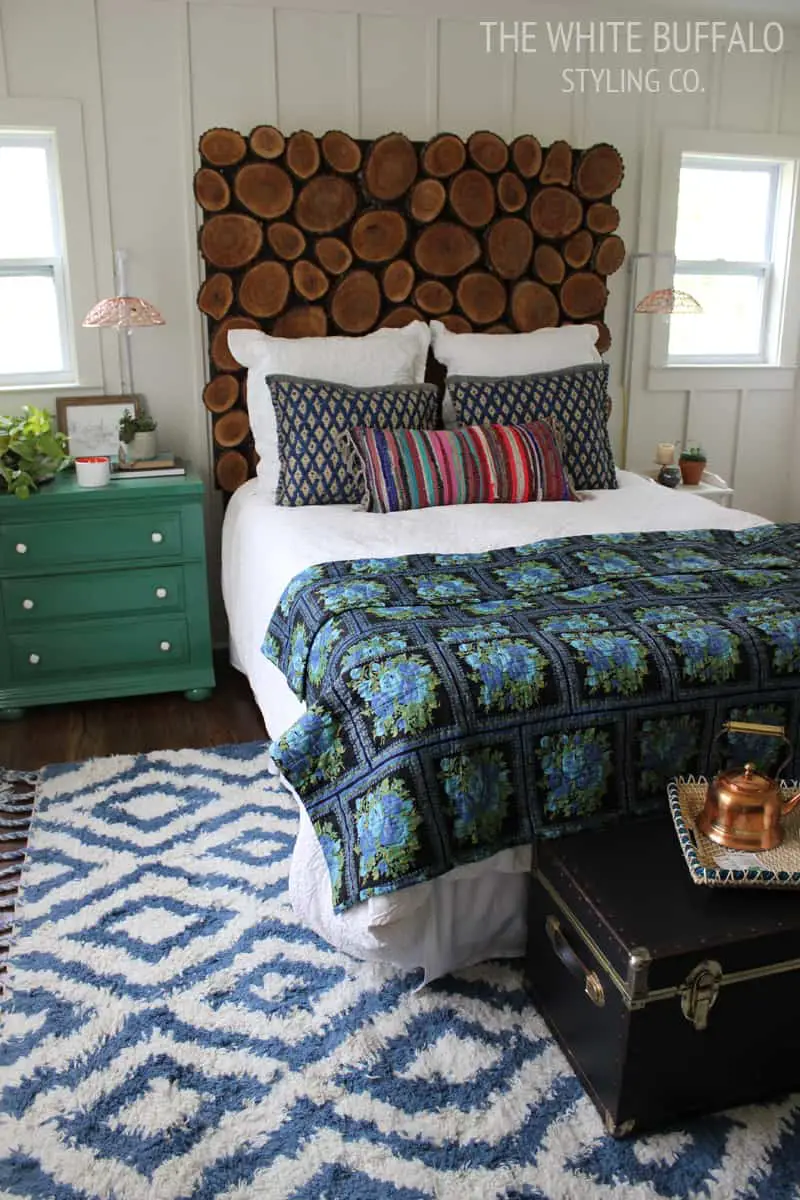 It's a unique imagination: forming a headboard from tree pieces and then forming it like a giant pizza collection. You will need considerable effort to make it, but it doesn't mean you need a lot of money!
3. Easy Pallet Headboard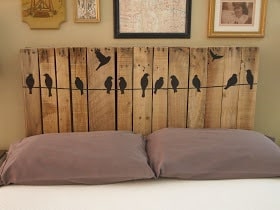 This method is very functional. You can create a unique design so that the space inside the headboard is maximized, such as an additional bookshelf. Super tips: consider sanding it until it is super smooth.
4. Old Door Headboard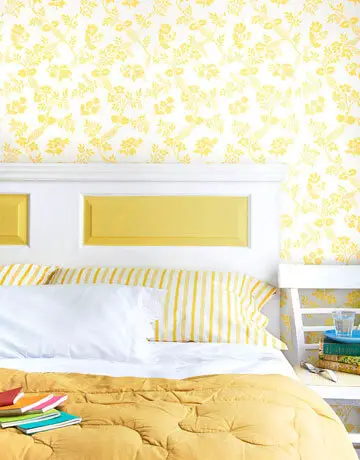 Let's say this door is made of wood and is no longer used for some reason. Take symmetrical parts and measure according to the size of the bed. Next, attach it to the wall. Adjust the matching paint to the theme of the bed and the walls of the room.
5. Slatted Headboard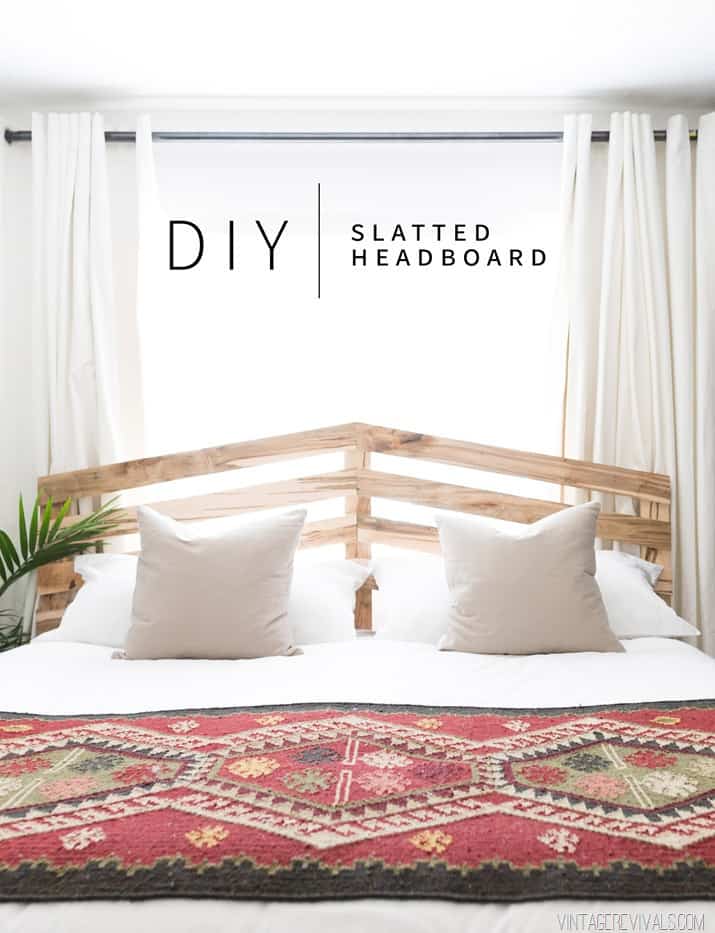 This method generally connects the bed legs with the headboard. So, the headboard is not affixed to the wall but instead becomes one with a bed. If you want to make headboards under $50, use it this way.
6. Cedar Fence Picket Headboard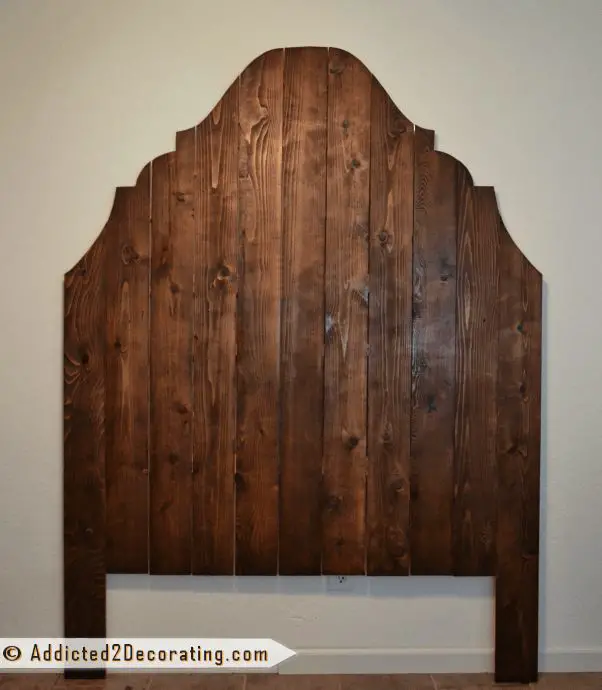 Another DIY cheap headboard idea is to use cedar wood planks. You can get it at a reasonable price. Cedarwood gives the impression of sturdy as well as classy. Slightly different from the cost board, cedarwood can be close to each other to close the entire surface of the wall behind it.
7. Chevron Reclaimed Wood Headboard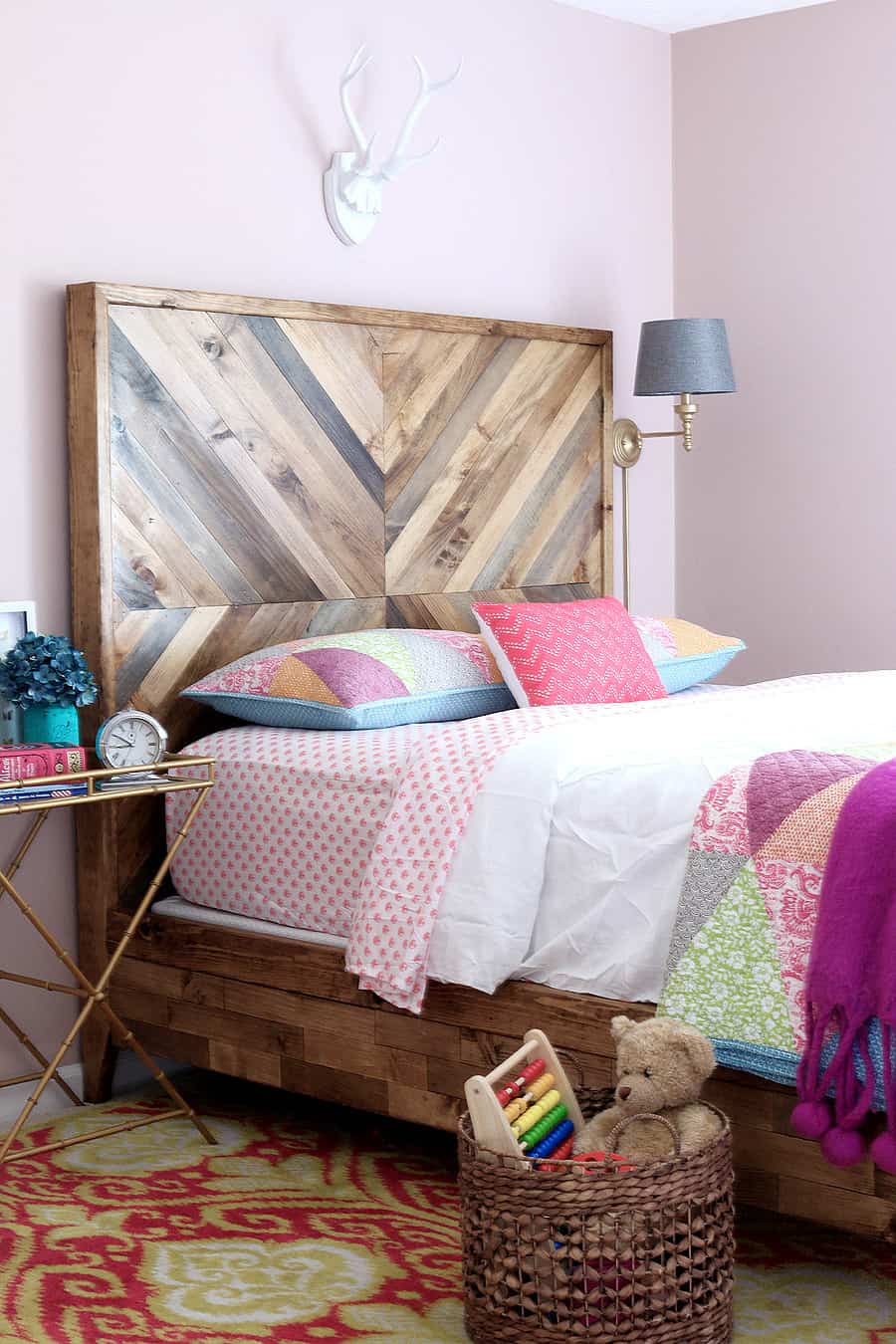 Making chevron patterns out of reclaimed wood slats gives your headboard an expensive feel. People think you spend a lot of money to get that privilege. In fact, the way of designing and making it is effortless. These are cheap headboards with classy ideas.
8. Pegboard Headboard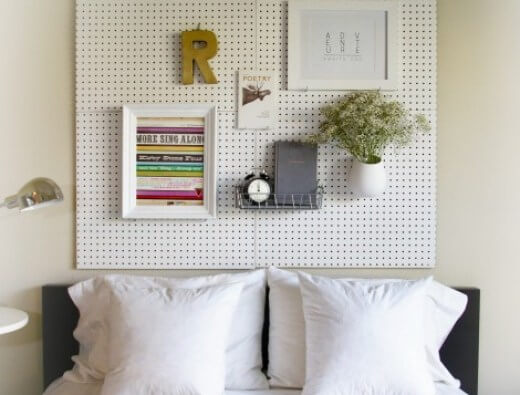 Another cheap DIY headboard that is worth trying is to use a pegboard. You can only use this idea if you want to create a headboard that also serves as a place to hang up (keys etc.). Stake boards: you can buy or made yourself using good wood.
9. Storage Headboard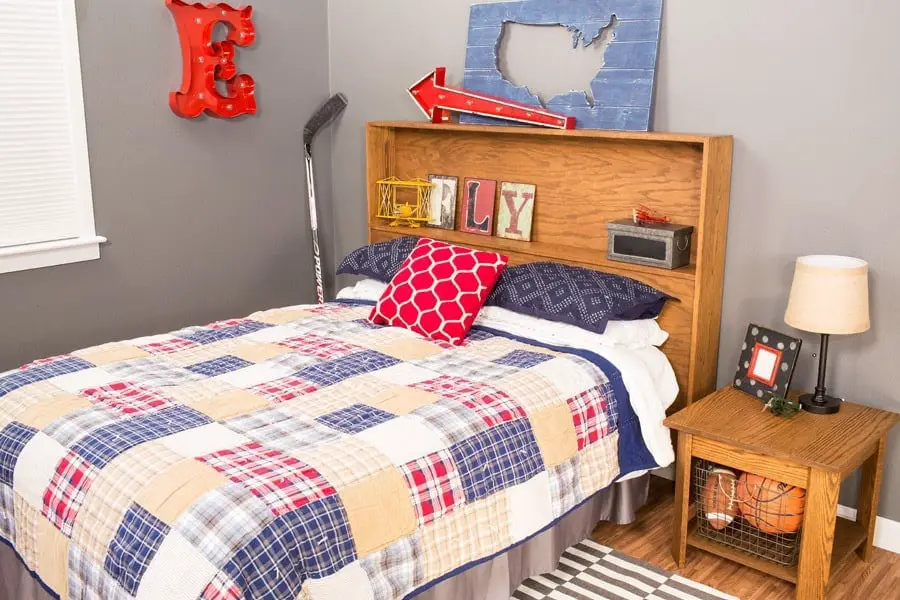 Looking for easy headboard ideas to create a multifunctional headboard? Use wooden slats to form a headboard with shelves on it. This shelf should be wide enough to fit the essential items that should be there.
10. Vintage Shutter Headboard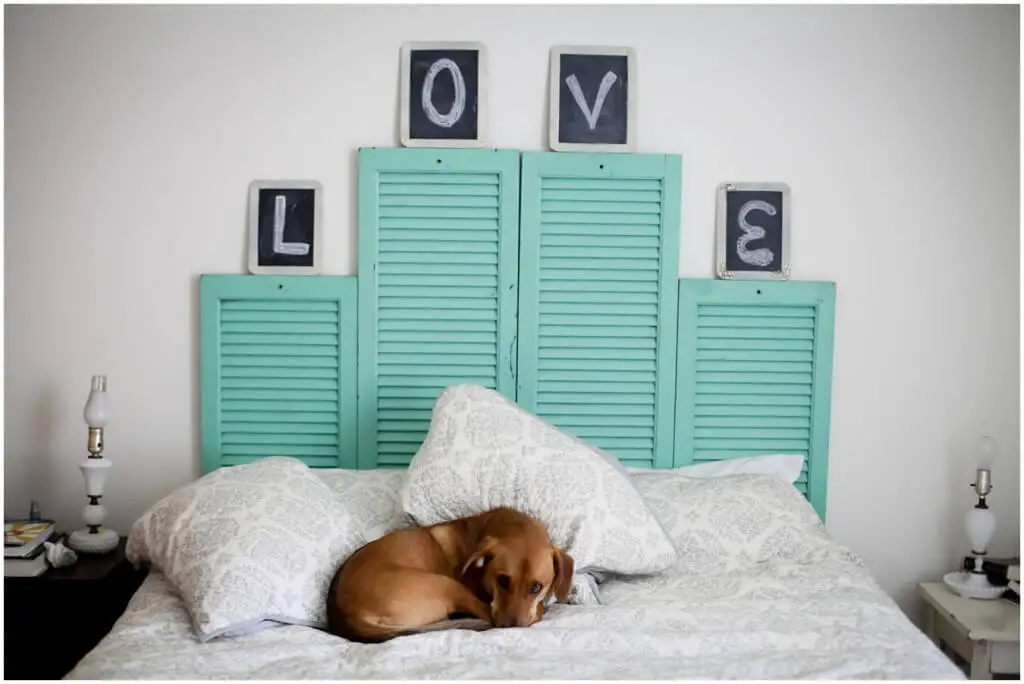 In addition to door leaves, you can use shutters to form a unique headboard. If you have abandoned shutters and the condition is still good, use them as materials for your brand new headboard. Since they are in good condition, you do not need to do complicated designs. Just add a suitable color; these shutters will be a unique cheap headboard.
11. Pallet Headboard With Lights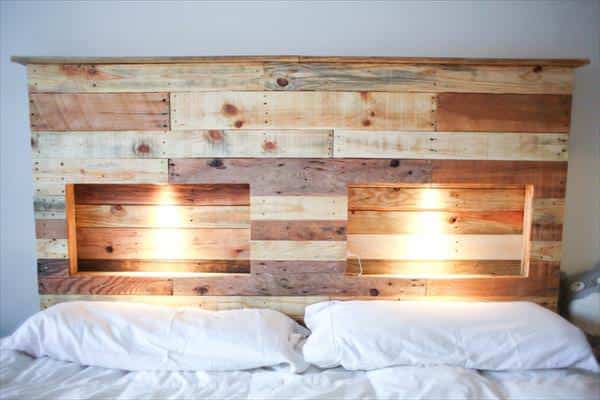 This idea aims to change the appearance of pallets at night. The headboard made of dim wood will reflect magical lights for your sleep.
12. Colorful and Rustic Headboard Wall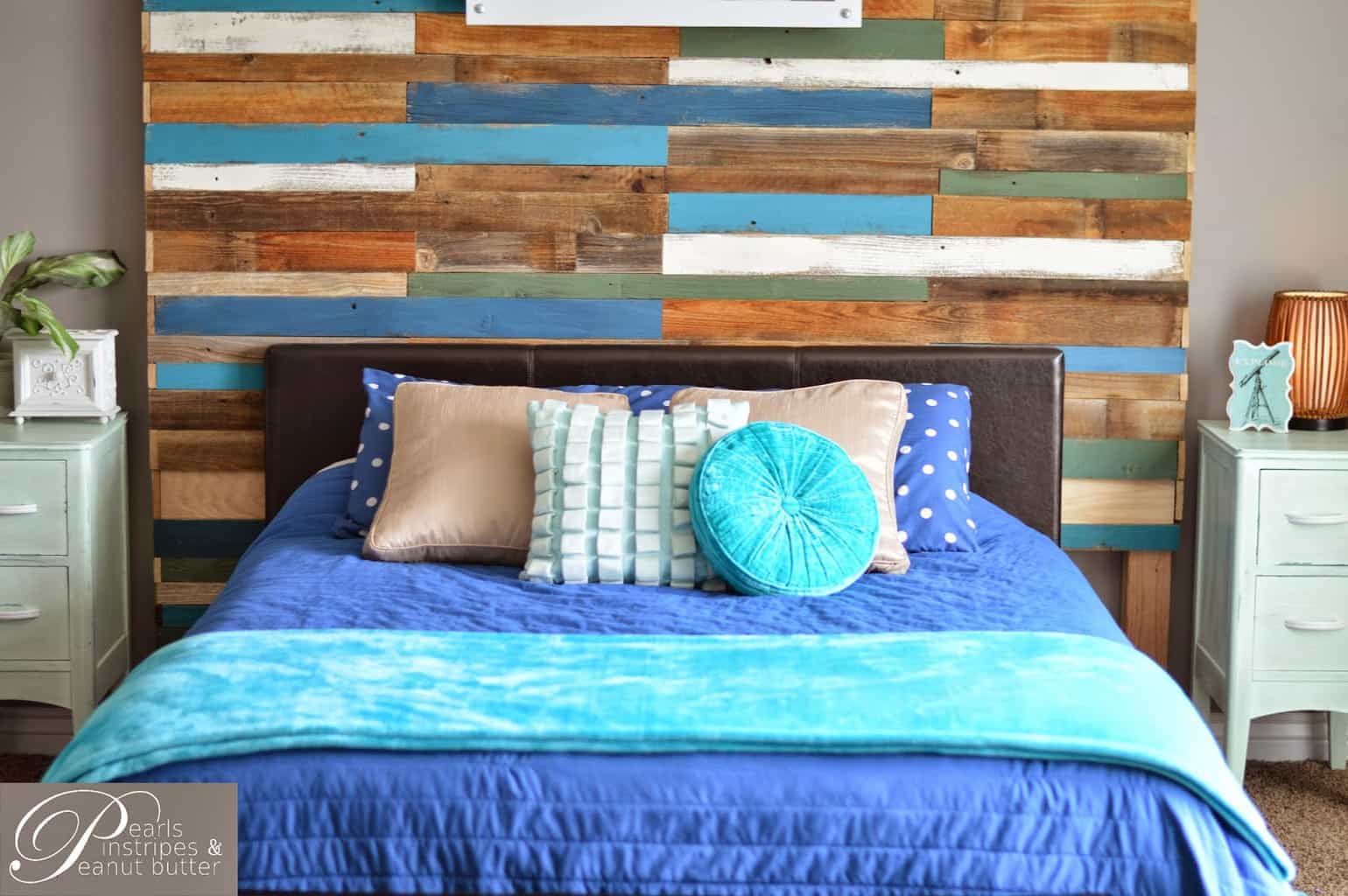 The chipped wood is not good enough for the headrest. You have to sand and paint it. The right color will change the look of your wood.
13. Floating Headboard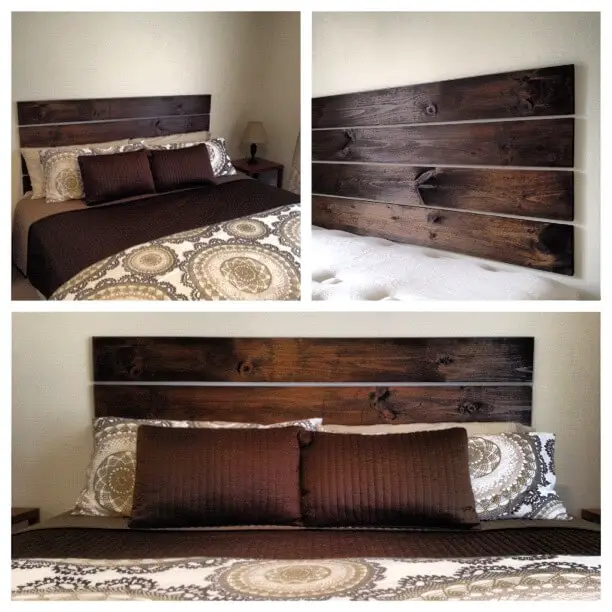 It is one of the cheap headboard ideas that are easy to build. It only takes four sheets of wooden planks to be affixed to the wall. The richness of the idea lies in the type of wood, the right color, and the arrangement. Giving space between wooden boards may be better than sticking them tightly.
14. Two Doors Makes One Headboard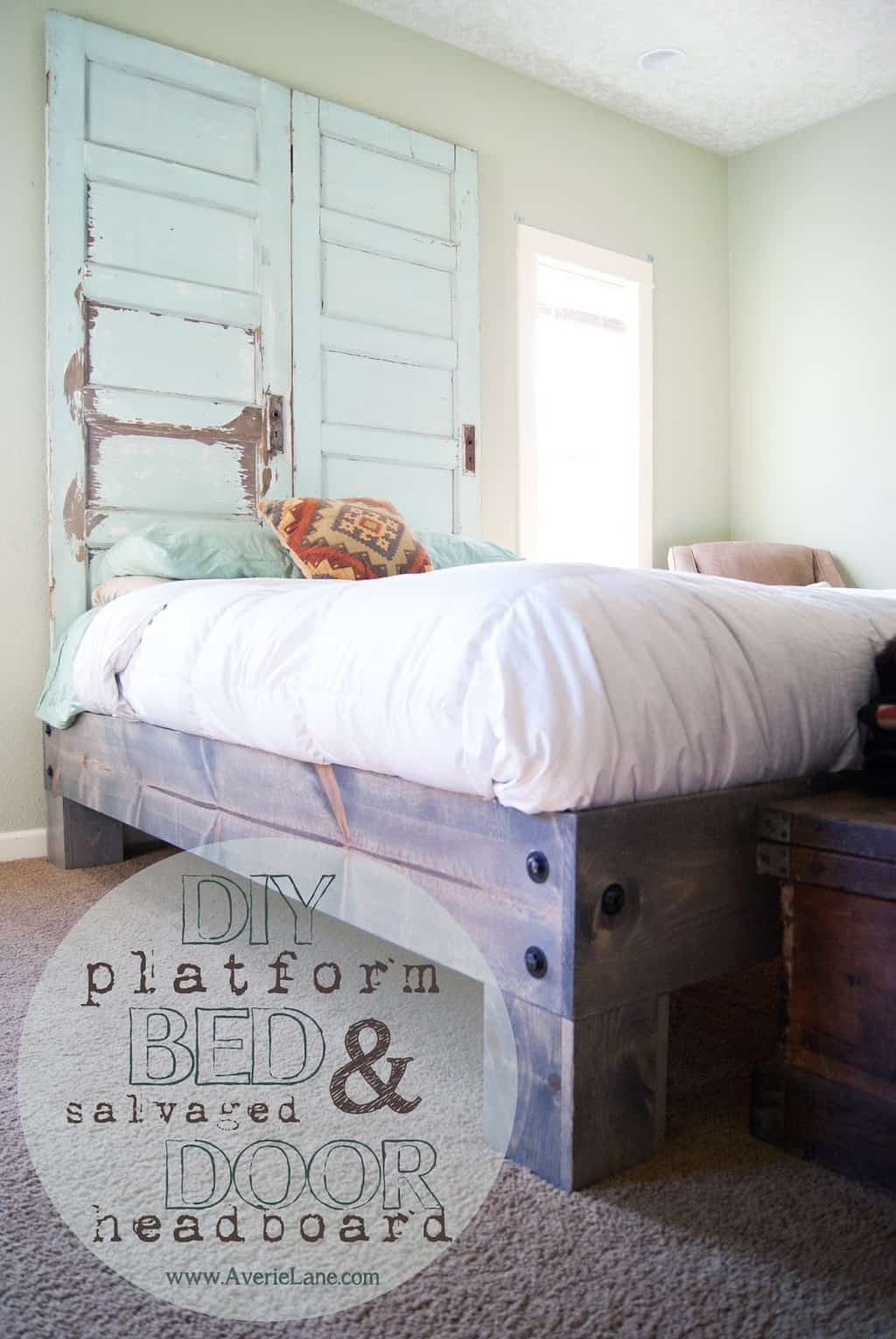 Two is sometimes better than one. This brilliant concept is beyond excellent. Keep in mind to use the identical door kinds.
15. Rubber Mat Headboard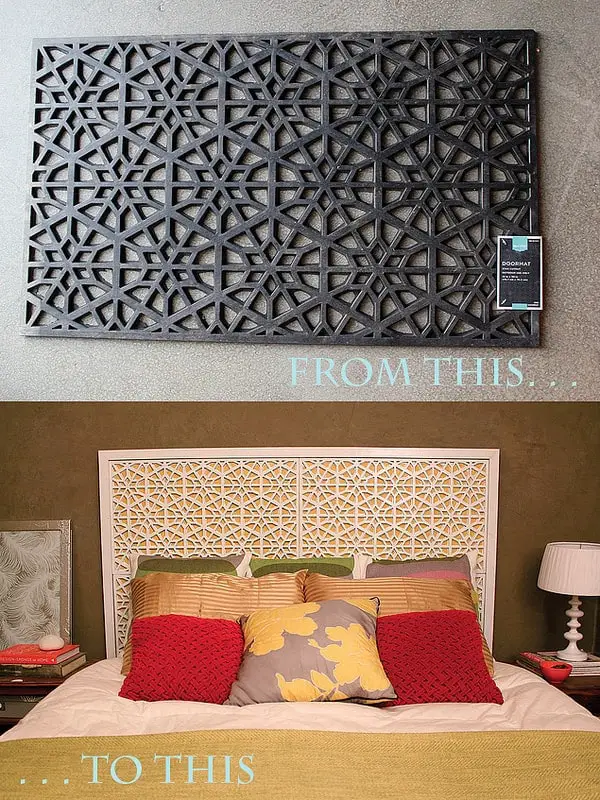 You can make a one-of-a-kind headrest out of the rubber mat. Choose colors that are perfect for your taste and the theme of your room. If you are unable to find any, simply repaint them!
16. Book Headboard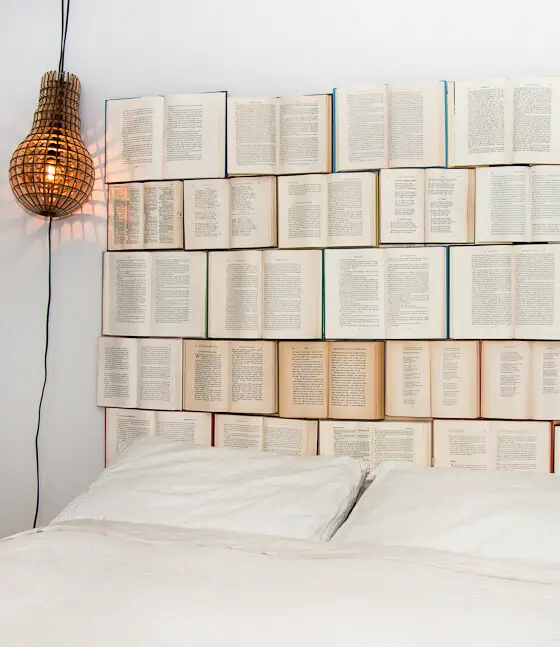 Do you dare to sacrifice some of your books to make a headboard? If yes, you will have a headboard that doesn't own by others. Use abandoned books. Keep in mind; the size of each book should be symmetrical to the same thickness. Simply lay the largest book at the bottom, followed by a small one.
17. Antique Window Headboard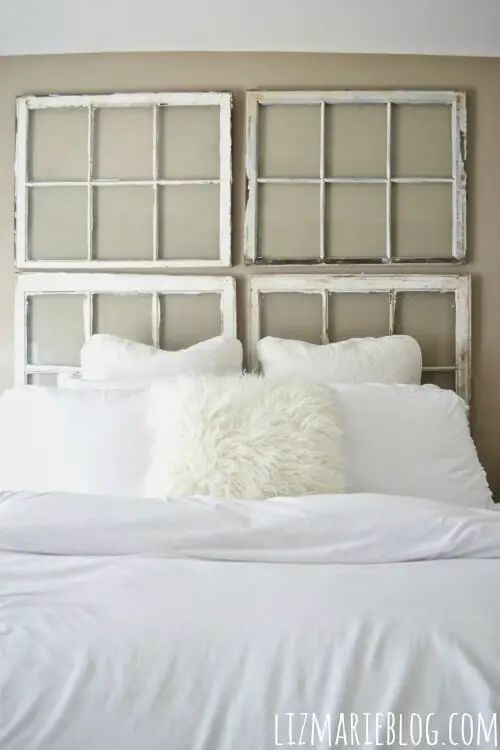 Broken shutters should not be abandoned. You can only use the frame if the material is porous. However, if the condition of the original shutters is still decent, utilize them all for your headboard.
18. Pool Noodle Headboard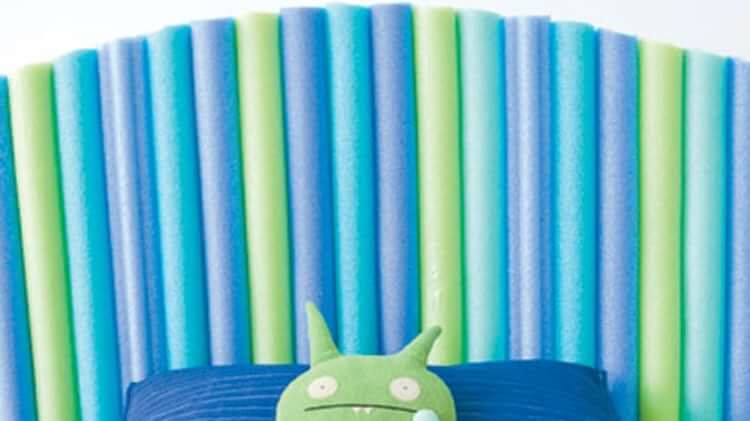 It's an odd concept, but it's impressive how pool noodles can be used as a headboard material. You don't even need a complicated design or installation process.
19. Smaller Barn Door Headboard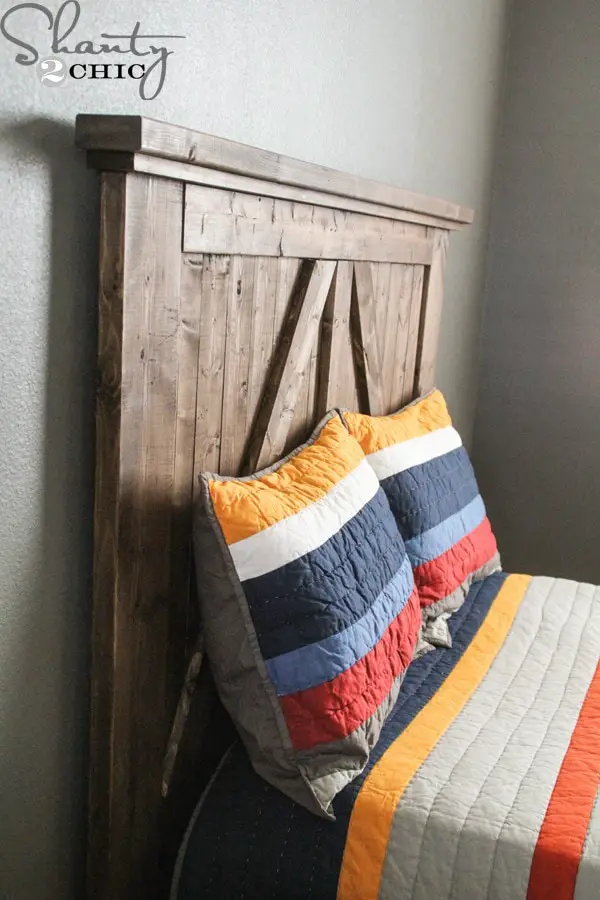 You may make this adorable full-sized headboard for a children's platform bed. It's a very quick and straightforward build, making it ideal for beginners!
20. Picket Fence Headboard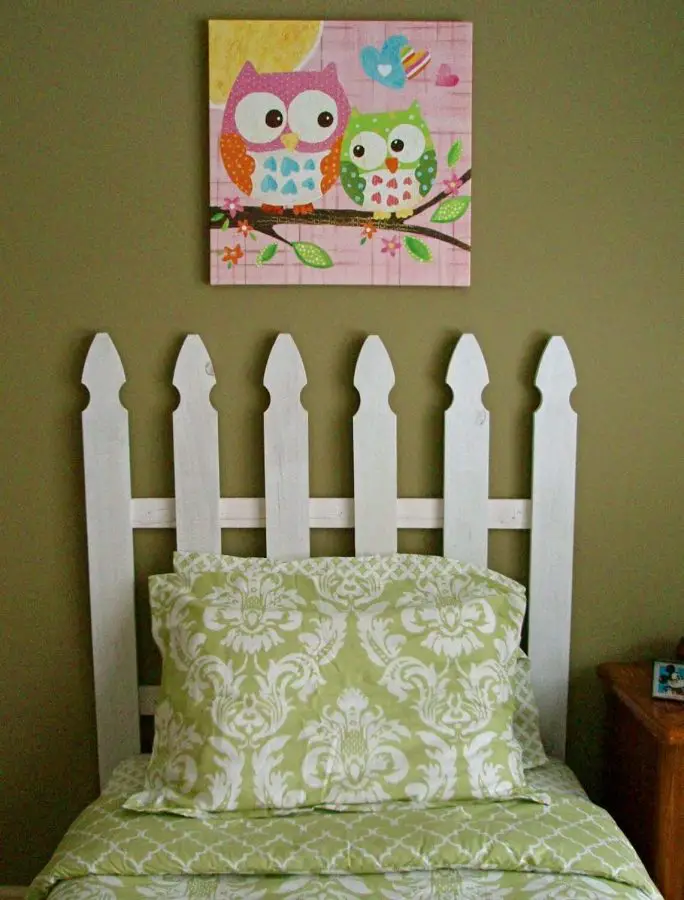 It is not a terrible idea to build a fence at the head of the bed. Flowers and lights can be pinned into the fence's crevices. The natural impression is reminiscent of a lovely garden.
21. Reclaimed Wood Headboard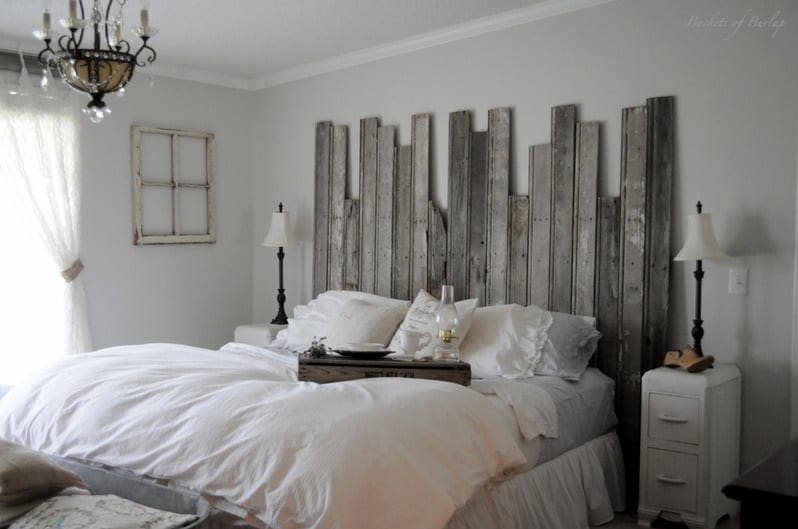 The reclaimed wood is sturdy enough to be the base for your mattress. However, it can also use as a headboard. You can easily design the headboard model to match the type of reclaimed wood available.
22. Plywood Print Headboard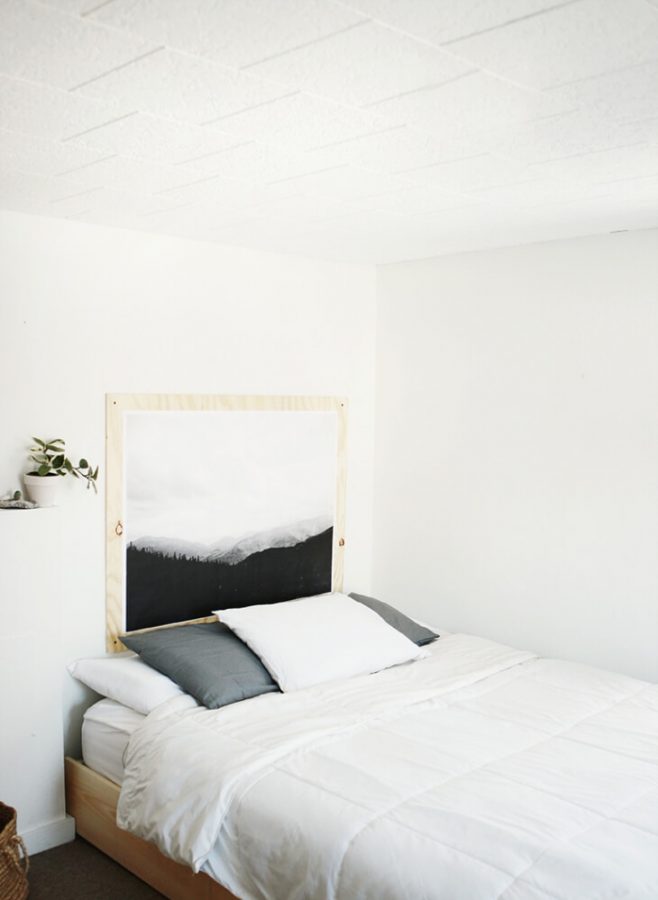 Only use plywood printing if you want a headboard with a smooth surface. In this case, no other substance is as good as this one.
23. Barn Door Headboard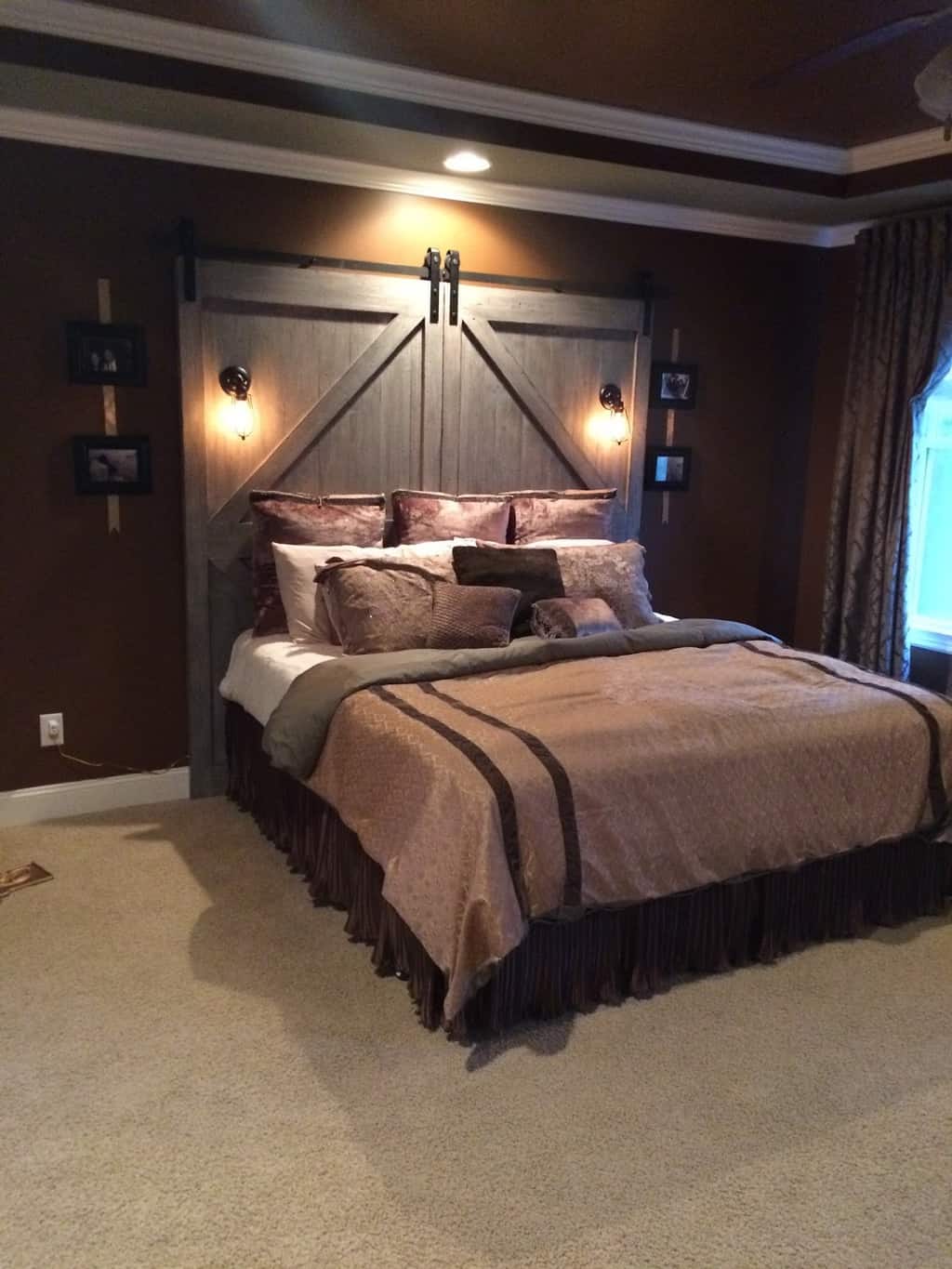 Turn a barn door into a headboard? It sounds weird and might take a little bit of work, but you'll definitely fall in love with the result.
---
Conclusion
Now you've got the best DIY headboard ideas. Which one do you love the most?
Do not hesitate to combine two or more ideas to make a more personalized headboard!
Inspire your friends to make these simple and affordable DIY headboards by sharing the information on your social media!
More DIY Posts & Other Posts You Might Like: