A stunning grey and navy bedroom is probably not everyone's cup of tea. However, if you want to create a gentle, natural color scheme, it makes a great option.
Whether it is a pale or warm grey, any shade of this color typically goes well with navy blue. Refer to the below ideas if you need some inspirations before getting started.
1. Starry Bedroom for an Astrophile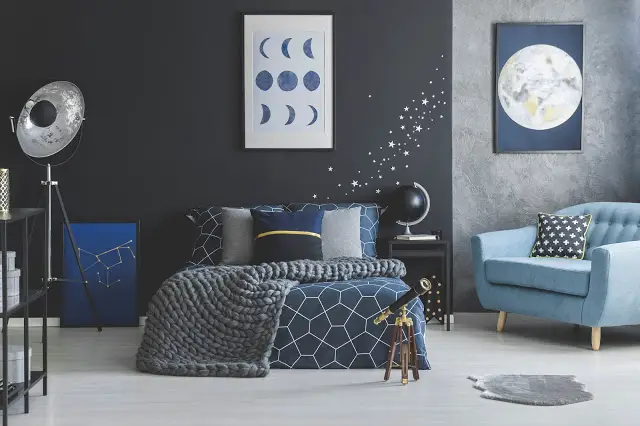 This grey and navy bedroom gives a hint of a wonderfully starry night. With a telescope as well as a picture of the lunar phase, it makes a great sanctuary for an astrophile too.
You can achieve the look by painting the wall navy while leaving some space bare for an accent. Then, complete the design with grey pillows, a rug, and a blanket.
Include a single Scandinavian sofa and get ready to have it as your favorite spot to read some astronomy books.
2. Grey and Navy Bedroom with Modern Affairs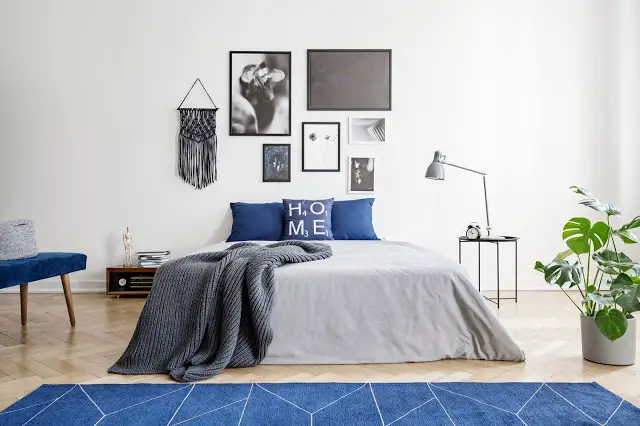 If you are in love with the clean and sleek vibe of modern styles, this idea is probably of interest. It has the right amount of grey as well as a navy on its color palette.
In addition to the bedding and fabric, the grey is infused through the photo gallery hung over the headboard.
Avoid making this spacious grey and navy bedroom feels empty by incorporating a pot of greeneries in the design.
3. Floor-to-Ceiling Curtain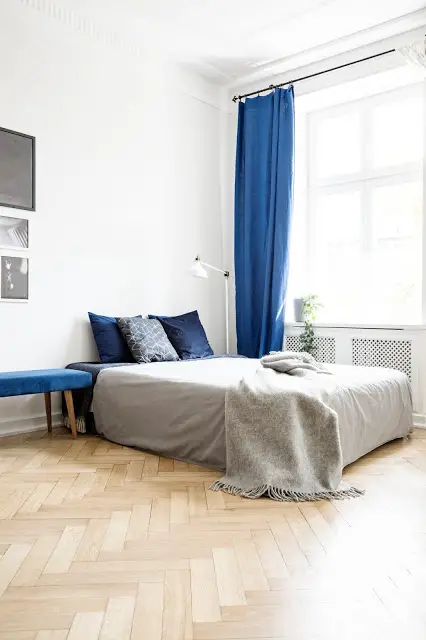 Bursting the elegant vibe of contemporary design, it should be one of your favorite navy blue and grey bedroom ideas.
This bedroom comes with floor-to-ceiling curtains that completely block the view from outside when needed.
Against the neutral scheme, the herringbone floor offers an appealing pattern and color to this space.
4. Grey Bedroom Ideas in Small Space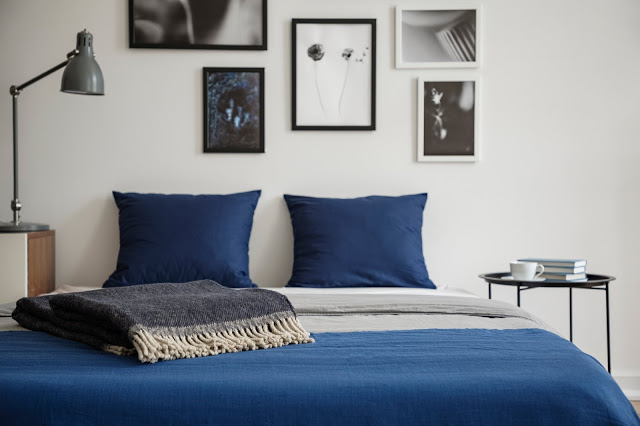 Owning a small space should not stop you from creating a gorgeous grey and navy bedroom. This picture proves how the idea works perfectly fine in a narrow room.
Consider keeping everything simple and paint the wall in the lightest shade of grey. You may skip a bulky headboard as well.
Instead, you can use your pillows to fill the absence of the headboard.
5. Paintings and Patterned Bedding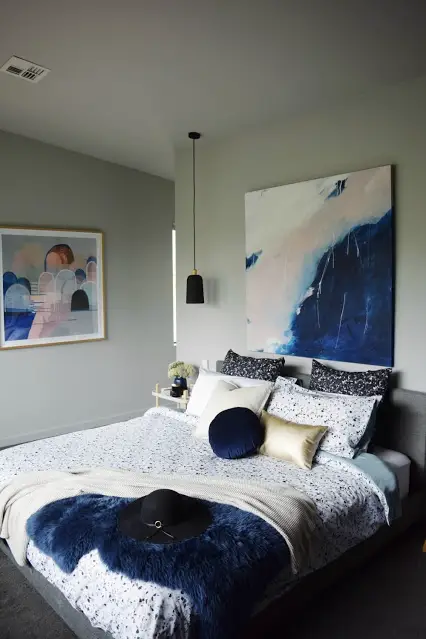 A painting of the sandy beach complements the navy blue bedroom color schemes very well. Meanwhile, the furry navy blanket adds some texture without distracting the design.
To emphasize the idea, take advantage of patterned beddings and pillowcases in the corresponding colors.
Since the walls have been painted in light grey, the beddings come with lighter white color for a balance.
6. Exposed Wooden Beams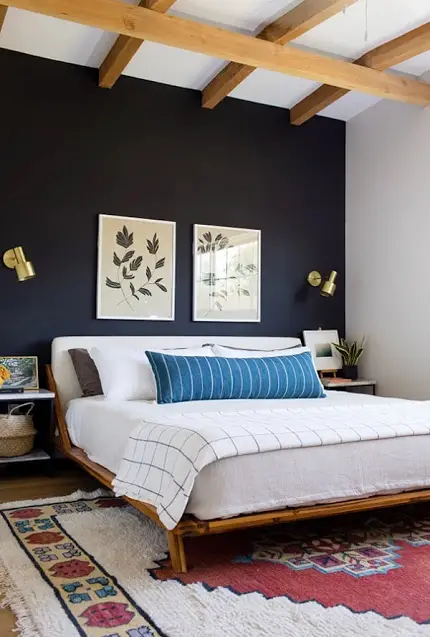 Spice up your grey and navy bedroom with a more natural flair by exposing the wooden beams, as shown in this picture.
Rather than painting all the walls navy, apply it as an accent and leave the others in white. Meanwhile, the grey can be infused through the throw pillows or blankets.
For a twist, introduce a pair of golden wall sconces instead of the ordinary table lamps.
7. Impressive Velvet Headboard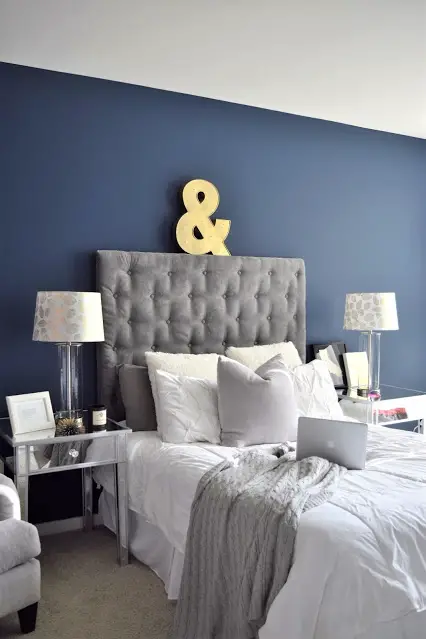 Make your navy bedroom decor seems more grand and luxurious by incorporating grey velvet headboard. Add some other accessories in a similar color for complements.
The golden symbol hung over the headboard introduces an interesting contrast to the entire scheme.
Not to mention, the floral-patterned table lamps provide an appealing illumination pattern at night. To keep the scheme balanced, opt for white bedding and pillowcases.
8. Lovely Burst of Pink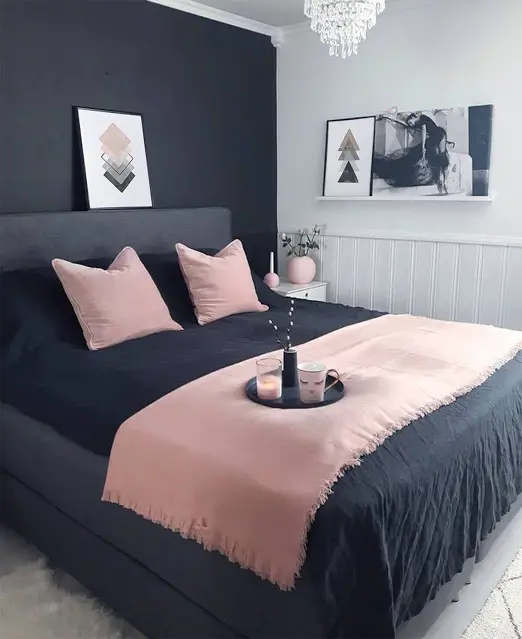 You probably want to include another color to your blue and grey bedroom color schemes. To this end, adding a burst of pale pink should be a perfect approach.
Pale pink bed runner, as well as throw pillows, introduces a feminine flair to this grey and navy bedroom.
This lovely color also expands to the wall arts and other accessories, offering a beautiful pop of color against the dark backdrop.
9. Rustic Decor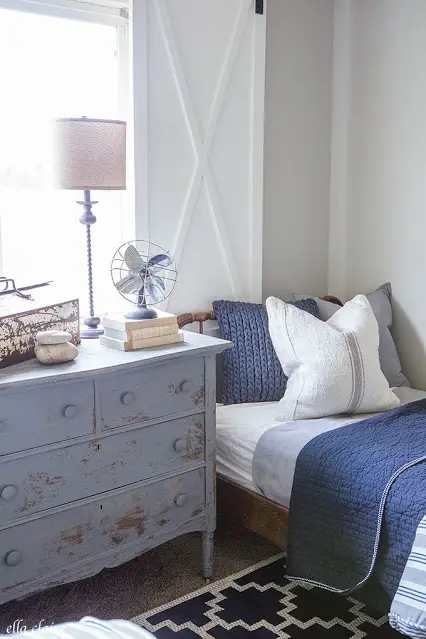 If you have a small space and prefer something more rustic than modern, this bedroom probably gives some inspirations.
It comes with a twin bed that is furnished with navy and green stuff. Next to the divan is a distressed light blue cabinet, offering enough space to store your things.
The patterned rug spread beneath the bed gives an eye-catching style without hurting the rustic style above.
10. Golden Curtains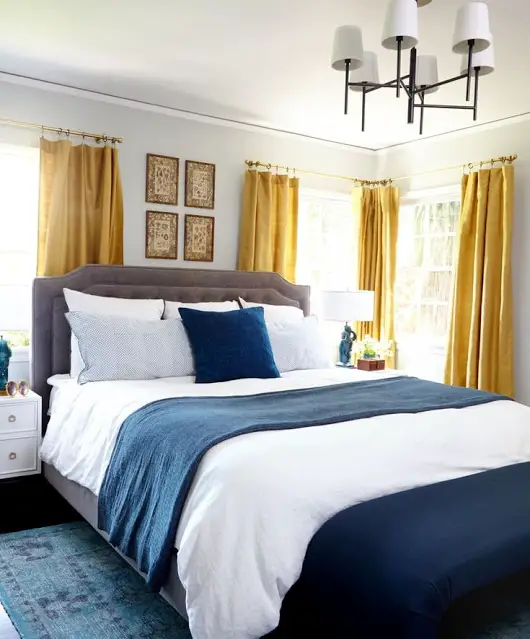 Instead of spicing up the navy blue bedroom walls with many wall arts, this homeowner prefers to incorporate stunning window treatments.
Against the light grey walls and navy decorations, the golden curtains become a sophisticated complement that steals everyone's attention.
Along with the modern chandelier, a pair of unique table lamps completes the design very well. A couple of wall arts are also added to adorn this grey and navy bedroom.
Finally, this is the time to pick a favorite and apply the idea to your home. Whatever the choice is, it should be a safe bet considering the number of shades available.
From deepest to palest hues, there is always the right shade for your decor style. Therefore, do not hesitate to make the grey and navy bedroom comes true!
PIN it for Later!!!