Corner Garden Ideas – Growing some plants in the yard has been a thing lately. Moreover, many people claim that it is more than just a particular hobby. It can help them maintain mental health, instead.
However, not all people enjoy the privilege of having a large yard. Some of them even have to put up with limited space.
If you also have the same problem, these beautiful ideas will inspire you to spruce up your home while brushing up on your gardening skills.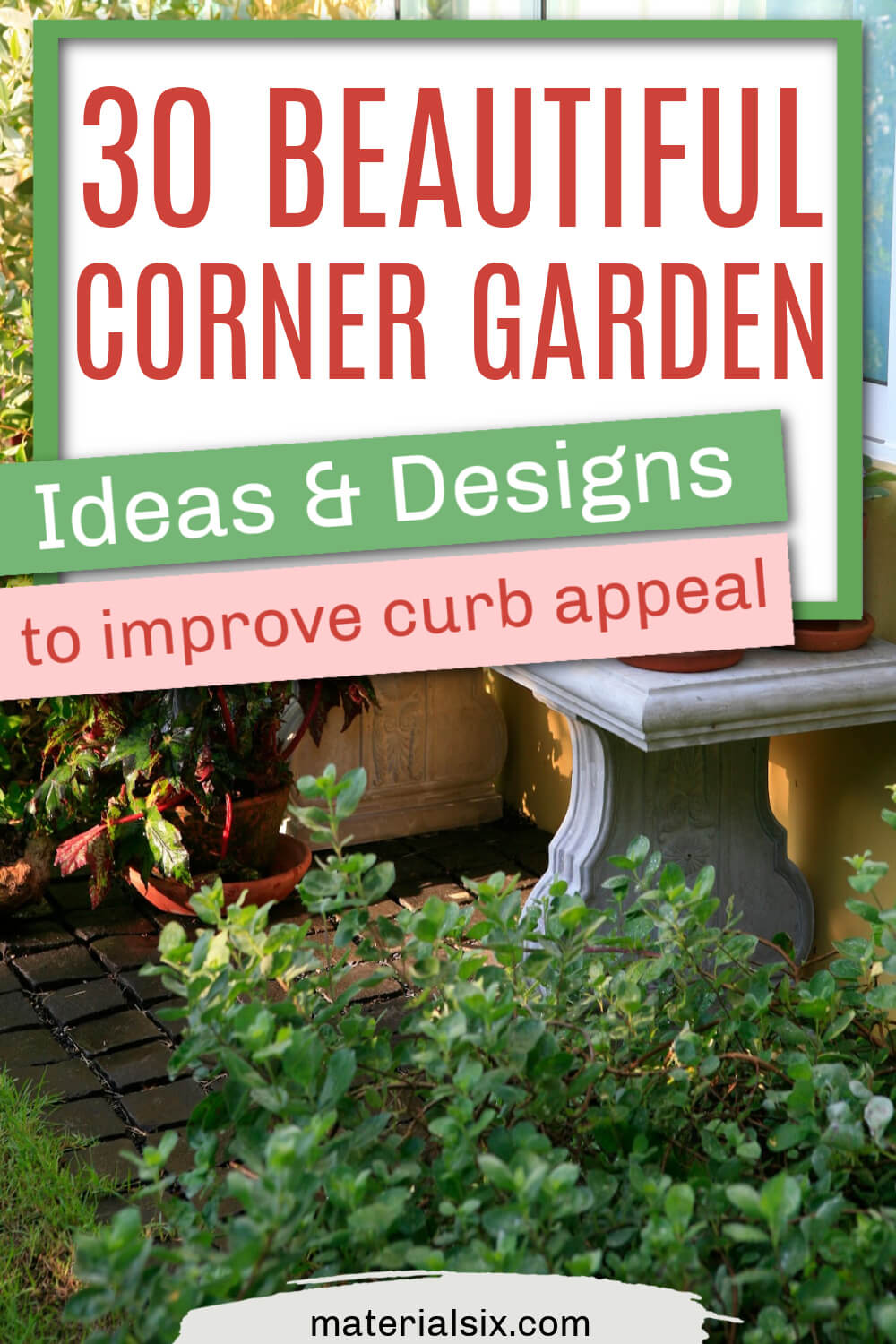 30 Beautiful Corner Garden Designs
You may have come across a lot of yard landscaping inspirations. However, if you have limited space, these corner garden ideas & designs will come in handy. Check these out!
1. Wooden Pallet Corner Flowerbed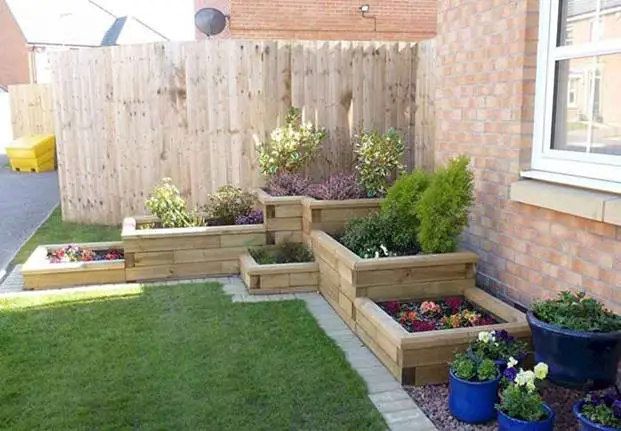 Wooden pallet is popular for their versatility. You can make storage, furniture, or even a raised flowerbed with it.
More importantly, it is usually cheap. If you are lucky, you can even get it for free. This corner garden shows you that a wooden pallet can make a great flowerbed.
You can simply construct them at the same height, especially if you want to incorporate a built-in seat.
Alternatively, you can try varying the height so that you can grow more plants. Besides, this design will add visual appeal to your garden regardless of the size.
2. Backyard Corner Landscaping Ideas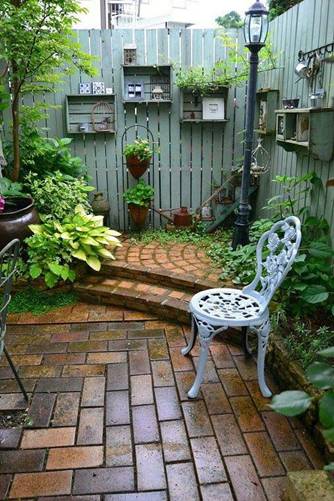 A striking garden does not always entail a lush, green lawn. In fact, the one that does not cause you any trouble would be a perfect choice.
These designs are ideal for those who like spending some time in the backyard but loathe fussy maintenance.
Instead of grass, you can cover the ground with pavers or concrete. Expanding the hardscape is one of the most convenient ways to eliminate regular maintenance.
Although you cover the ground with pavers, it does not mean you cannot enjoy the lively lift created by plants.
Bring in some containers and place them strategically around the garden.
You can also go vertical by installing shelves made of wood crates and putting your plants there.
Finally, round it out with a chair so that you can sit back and relax.
3. Colorful Flowers – Corner Garden Ideas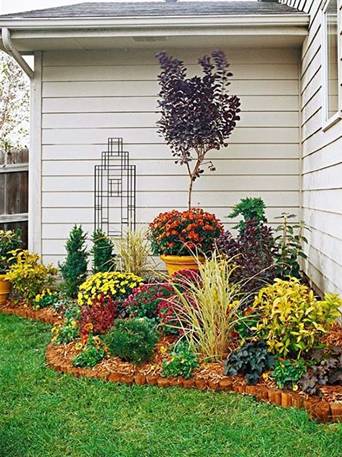 Having a colorful yard is possible although you lack space. This design shows you that limited space cannot limit creativity.
Installing the edging is the initial thing to do. This way, you can picture the layout you want.
Then, begin planting a dwarf tree like a Japanese maple or Saucer Magnolia near the wall.
After that, you can grow some other colorful plants, but make sure they are shorter than the dwarf tree.
4. Welcome Visitors with a Corner Garden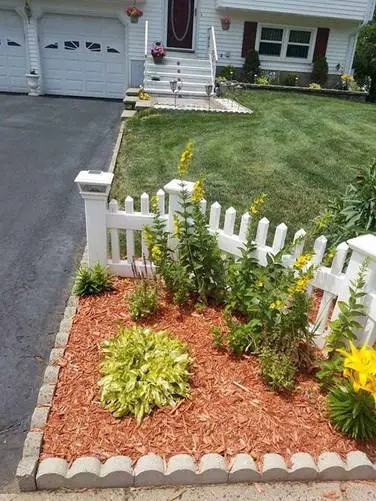 Some people love the neat and green look of a manicured lawn. However, it can be a bit mundane sometimes.
If you want to add some pops of colors to your front yard, building a corner garden will always be your safe bet.
You only need to separate the corner garden from the lawn by adding a picket fence. Furthermore, the fence can make a perfect backdrop for your flowers.
5. Low-Maintenance Shrubs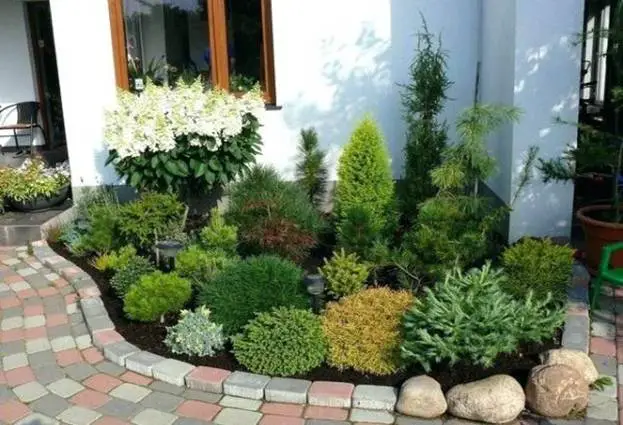 Carving out a beautiful garden is always a great idea. Unfortunately, not all people can put up with the maintenance.
If you are a busy person who longs for beautiful landscaping, you can grow some low-maintenance plants like boxwood, smoke bush, and Goldthread cypress.
6. Vertical Garden with Trellis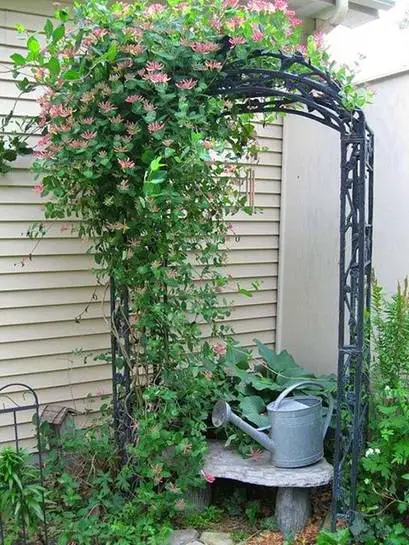 If there is no available space for your plantations, do not worry! Go vertical, instead! Growing plants in trellis is not a new thing.
Besides, this method may offer a mesmerizing look if done properly.
You only need to invest in a trellis or garden arch. Then, let climbing plants like wisterias, roses, or butterfly pea wrap around it.
7. Accentuate It with a White Fence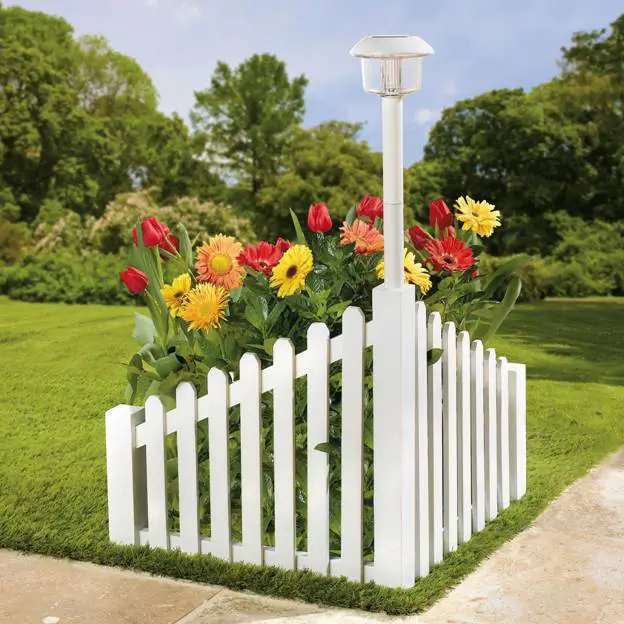 A white fence not only provides a clear boundary separating your yard from your neighbors' properties.
Besides, this fence becomes a great base for your corner garden. Even better, it can help you accentuate the colorful flowers you are trying to show off.
8. Show off the Rustic Vibes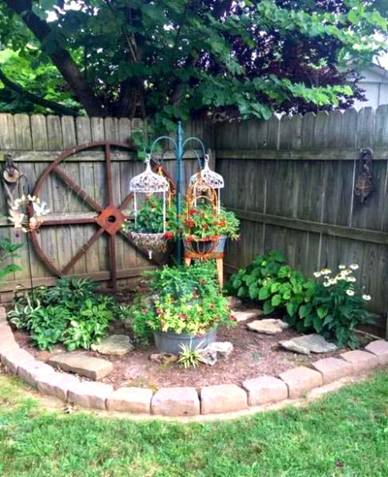 Carving out the rustic style can be a bit tricky if not done properly because it may end up being a safe haven for junk.
This rustic corner garden offers a mesmerizing look due to the thoughtful arrangement.
A large metal wheel makes a perfect backdrop for the plants growing in the galvanized tub and hanging cages.
9. Succulent Paradise in Blocks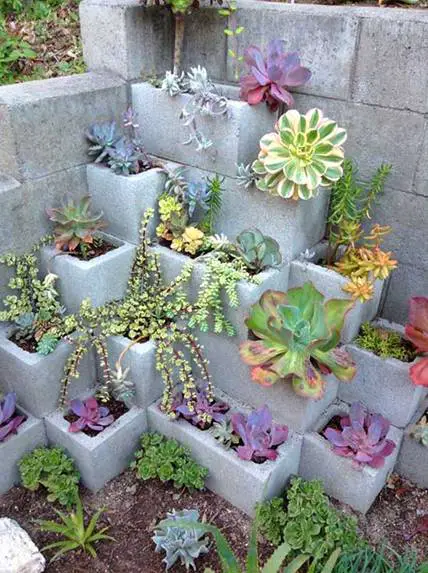 Did you know that concrete blocks can make great flowerpots? Utilize them to plant herbs and even succulents.
The light gray blocks will be a perfect match to the simple yet colorful succulents. Then, simply fill in the opening with potting mix soil.
10. Do Not Throw It Away! Use It!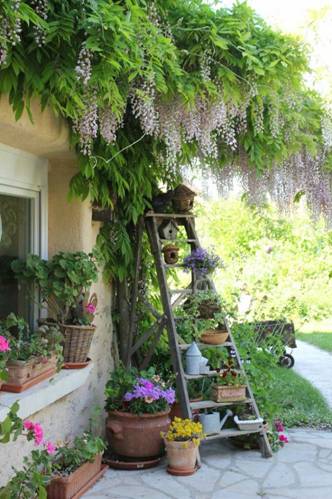 Do you have an old ladder at home? Do not throw it away yet! You can use it as a plant stand to display various kinds of plants simultaneously.
11. Vintage Style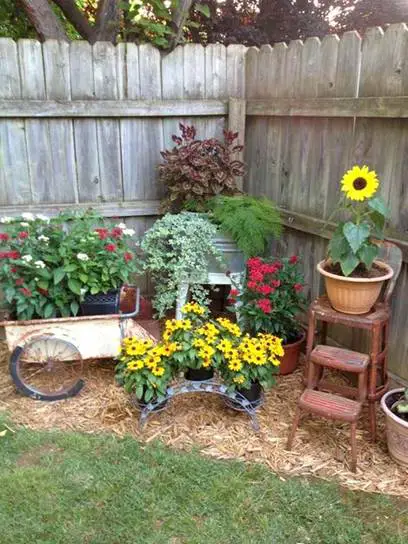 In your house lies a lot of treasure that you can use to create a decent corner garden. An old wheelbarrow and galvanized tub can be excellent planters.
If you need to elevate your plants, an unused table and chair will work like a charm.
12. Cozy Place to Hang Out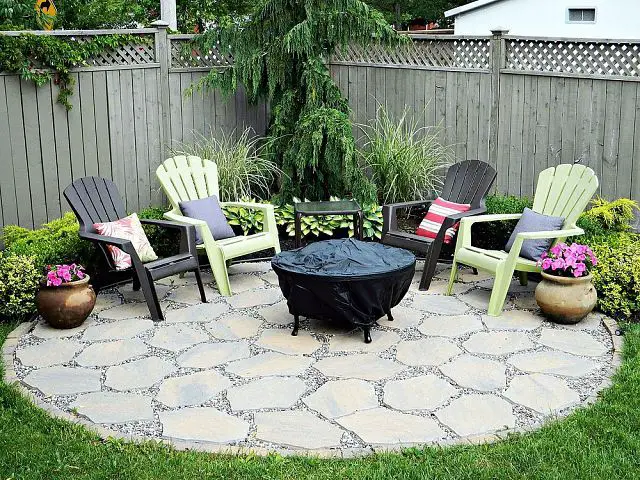 Creating a perfect hideaway to relax while enjoying the soothing breeze or glittering stars does not always need a spacious backyard.
In fact, a small one will do.
You only need to place some chairs and cushions in the corner. Then, add a fire pit in the middle to keep you warm.
13. Play with Height and Shape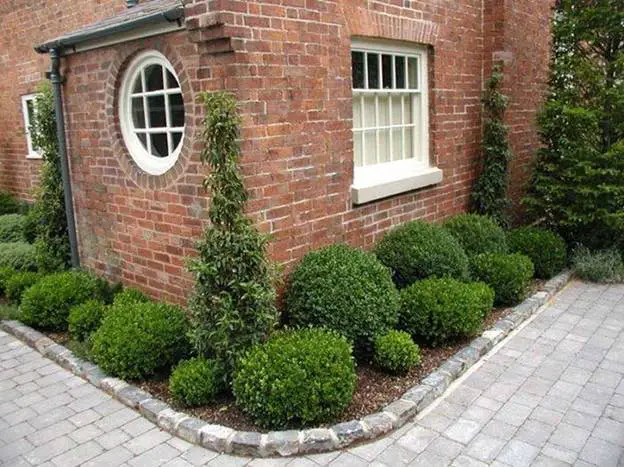 Modern houses tend to avoid colorful flowers. They prefer greenery instead.
However, greenery can be a bit mundane. Therefore, you should trim it in whimsical shapes to boost visual appeal.
You can also try to vary the height of your greenery. Place the taller ones at the perpendicular sides to smoothen the transition between the two walls.
14. Spruce up the Mailbox with a Garden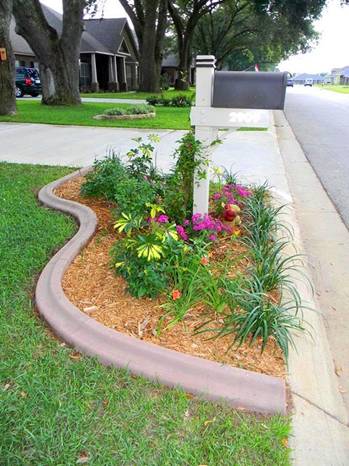 Do not let your mailbox become a loner. Try growing some plants around it instead. As a result, it will look more fascinating.
15. Spill the Flowers Creatively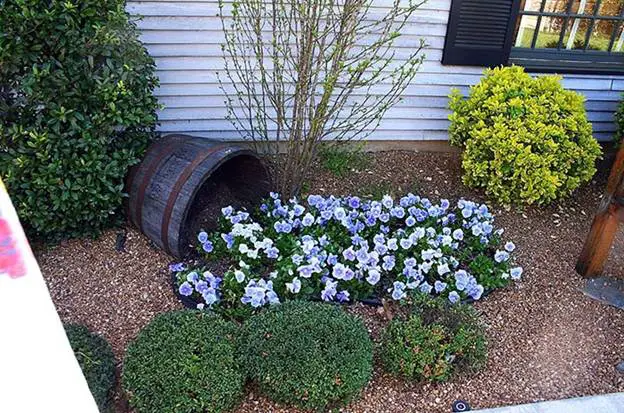 Creativity at its finest is necessary when it comes to creating a whimsical corner garden.
For example, you can grow your favorite ground cover and place a bucket or tub next to it to create the impression that it is pouring the flowers into the ground.
16. No-Fuss with Gravels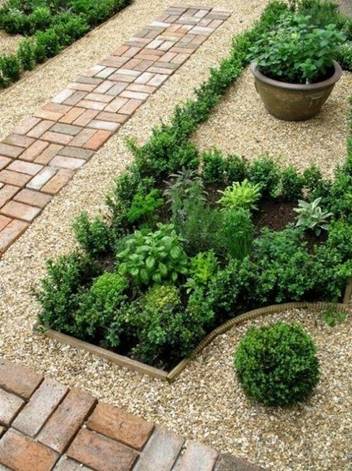 Gardening is supposed to help you unwind, not stress you out. Therefore, opting for low-maintenance plants and growing them in a small portion is such a good idea.
Instead of covering the ground with grass, you can try fine gravel.
17. Winter Lasts Forever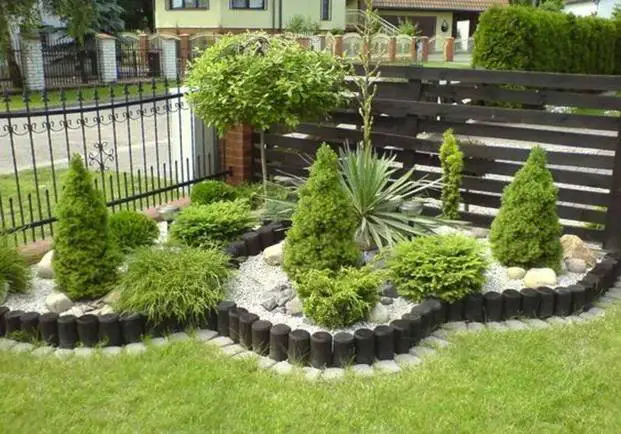 If you love the mesmerizing look of winter, you can bring it to your home anytime regardless of the ongoing season.
You only need to grow boxwood or cypress in your corner garden and cover the ground with white fine gravel.
18. Perk It up with Water Feature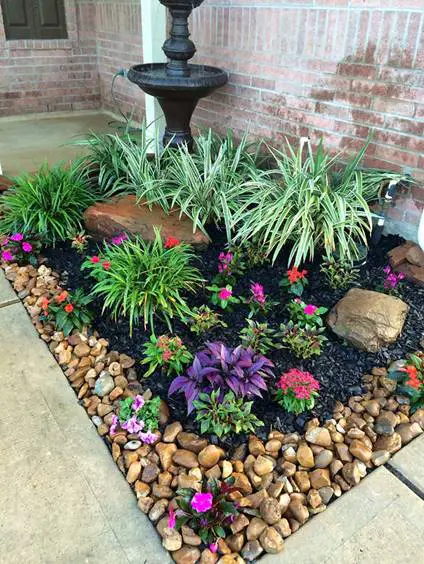 The water feature always carries a soothing effect to the space. Thus, it is not a bad idea to incorporate it into your corner garden.
19. Tiered Wooden Boxes on a Deck or Balcony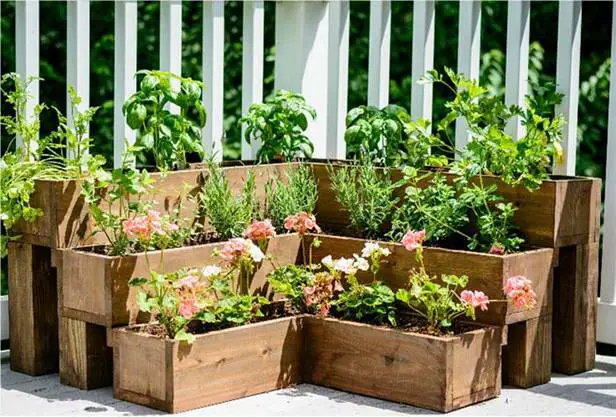 If you are an apartment dweller, you may not have the privilege of having a spacious backyard.
Otherwise, you can still utilize your balcony corner to make herbs thrive.
20. Rock Garden to Spruce up Your Modern House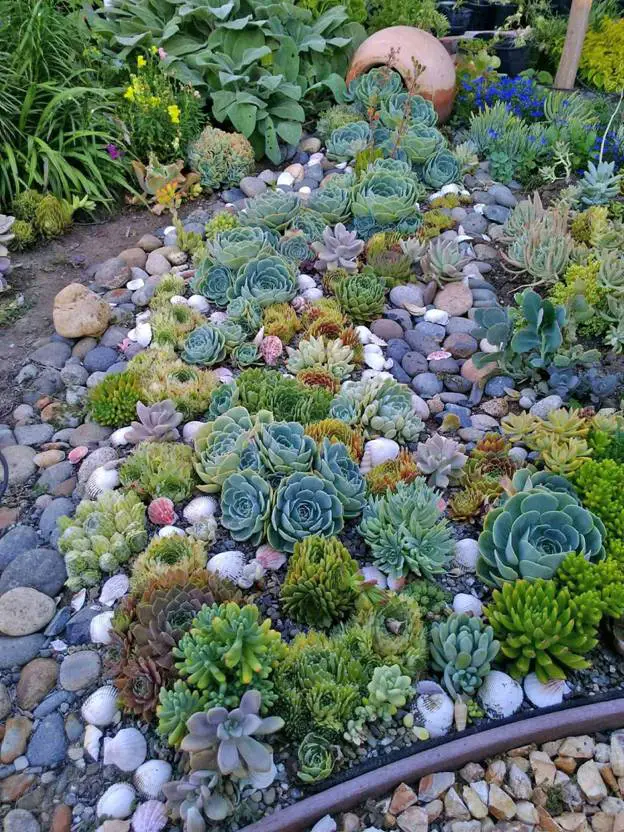 The main idea of a modern house is to live in simplicity and practicality.
Therefore, low-maintenance garden like the combination of succulents and pebbles has always been a part of this style.
21. Corner Garden in a Galvanized Metal Wash Tub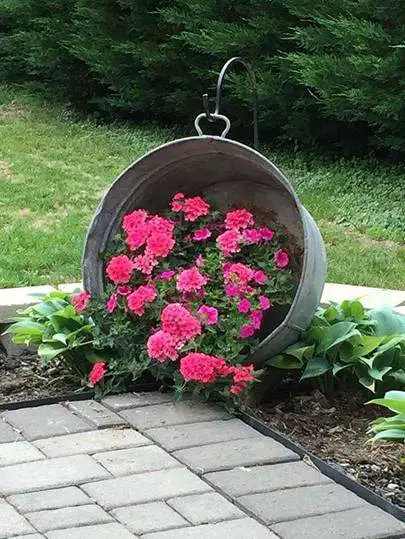 You can do many things to upcycle unused items. For example, you can try growing roses or hydrangeas inside a hanging galvanized metal washtub.
22. Arrange the Height Wisely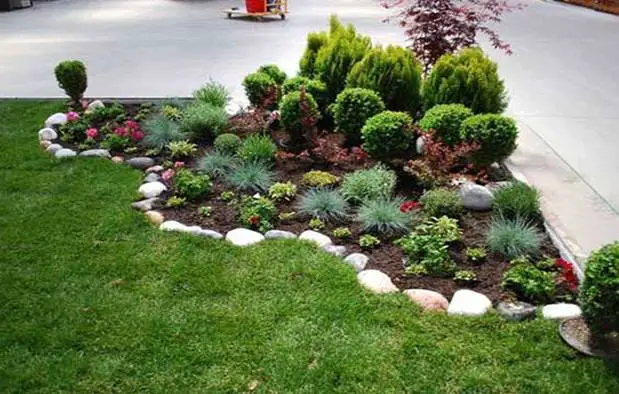 If you want to introduce height to your corner garden, make sure you place taller shrubs in the back and the shorter ones in front of it.
23.  No-Plant Design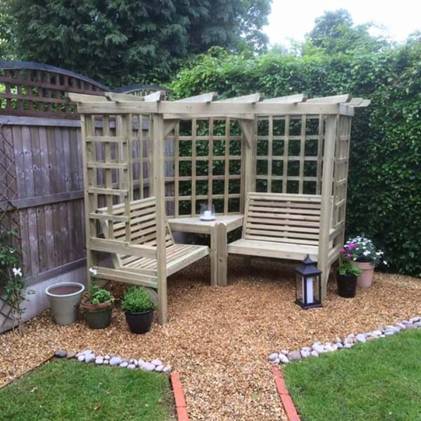 A corner garden is not always about growing plants, especially if you are not an avid gardener.
For this reason, creating a seating area would be a good decision.
24. Show off Your Favorite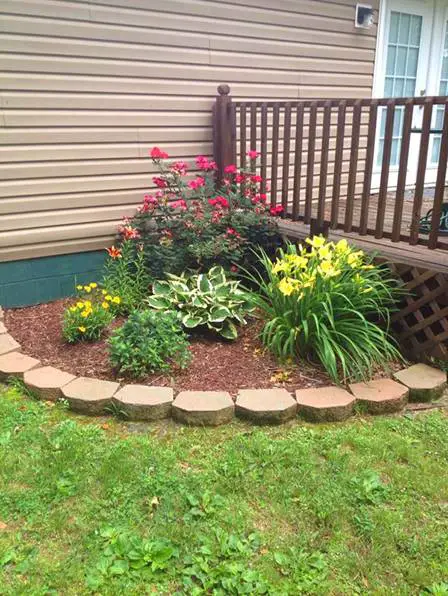 As a good rule of thumb, you should pay attention to the composition when creating a corner garden.
Nevertheless, you can always grow your favorite.
25. Alleviate the Glaring Sun by Adding Shade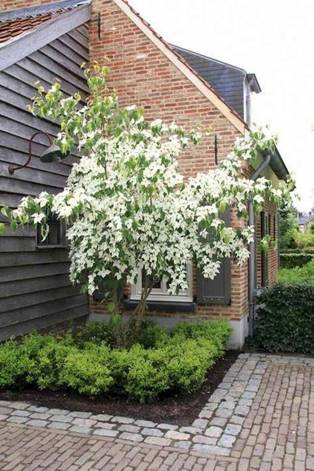 A tree not only completes your garden. Additionally, it can be a shade that helps you alleviate the glaring sun.
26. Go Rustic with Rock Edging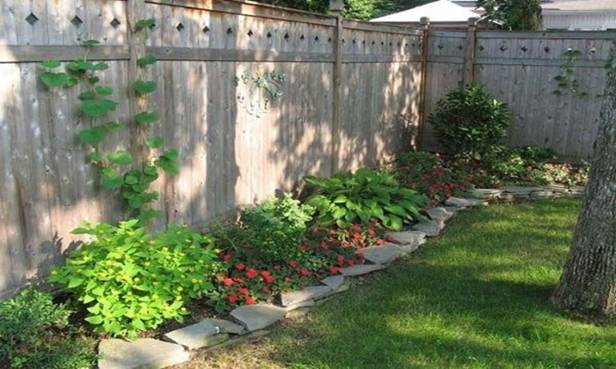 Garden edging also plays a crucial role in backyard landscaping. Laying some big chunks of rock along the flowerbed is enough.
27. Corner Garden with Outdoor Entertainment Area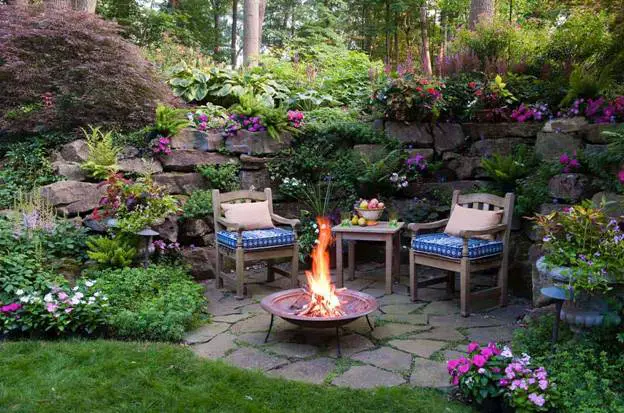 Can you imagine sitting around a fire pit while shooting the breeze? Do not just picture it. Make it tangible instead.
28. Forgo Plants, Embrace Inner Peace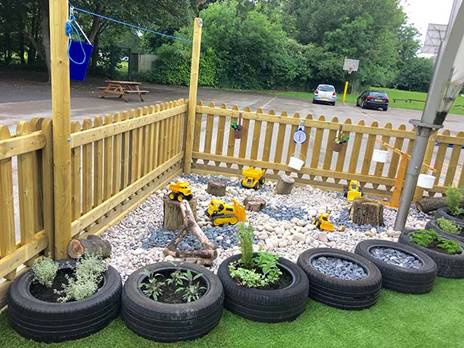 Who says that you have to fill your garden with a lot of plants? If you prefer having a rock garden, by all means.
Besides, you will not have to water and mow it regularly.
29. Modern Corner Garden Design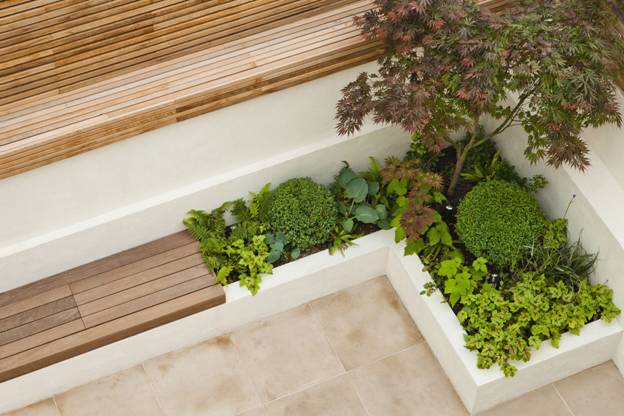 A typical modern garden features various kinds of greenery trimmed into certain shapes. Then, you can add a dwarf tree-like Japanese maple as the centerpiece.
30. Asian-Inspired Style with Gazebo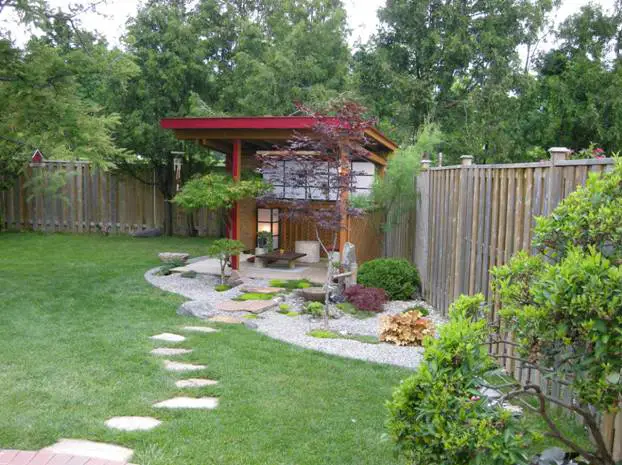 The epic combination of wooden gazebo with shoji, fine gravel as a ground cover, and cloud trees infuse Japanese vibes into this backyard.
Conclusion
Above all, just be a green-thumbed and creative person to grow some plants. Additionally, these beautiful corner garden ideas will help you out with that.
More from Materialsix.com: