Now that you are planning to refresh your room's decor, creating a cactus-themed bedroom is probably of interest.From adding several framed cactus artworks to simply incorporating some cacti in the bedroom, there is always a good way to update your space with this theme. Use the following cactus-themed bedroom ideas to discover some helpful inspirations.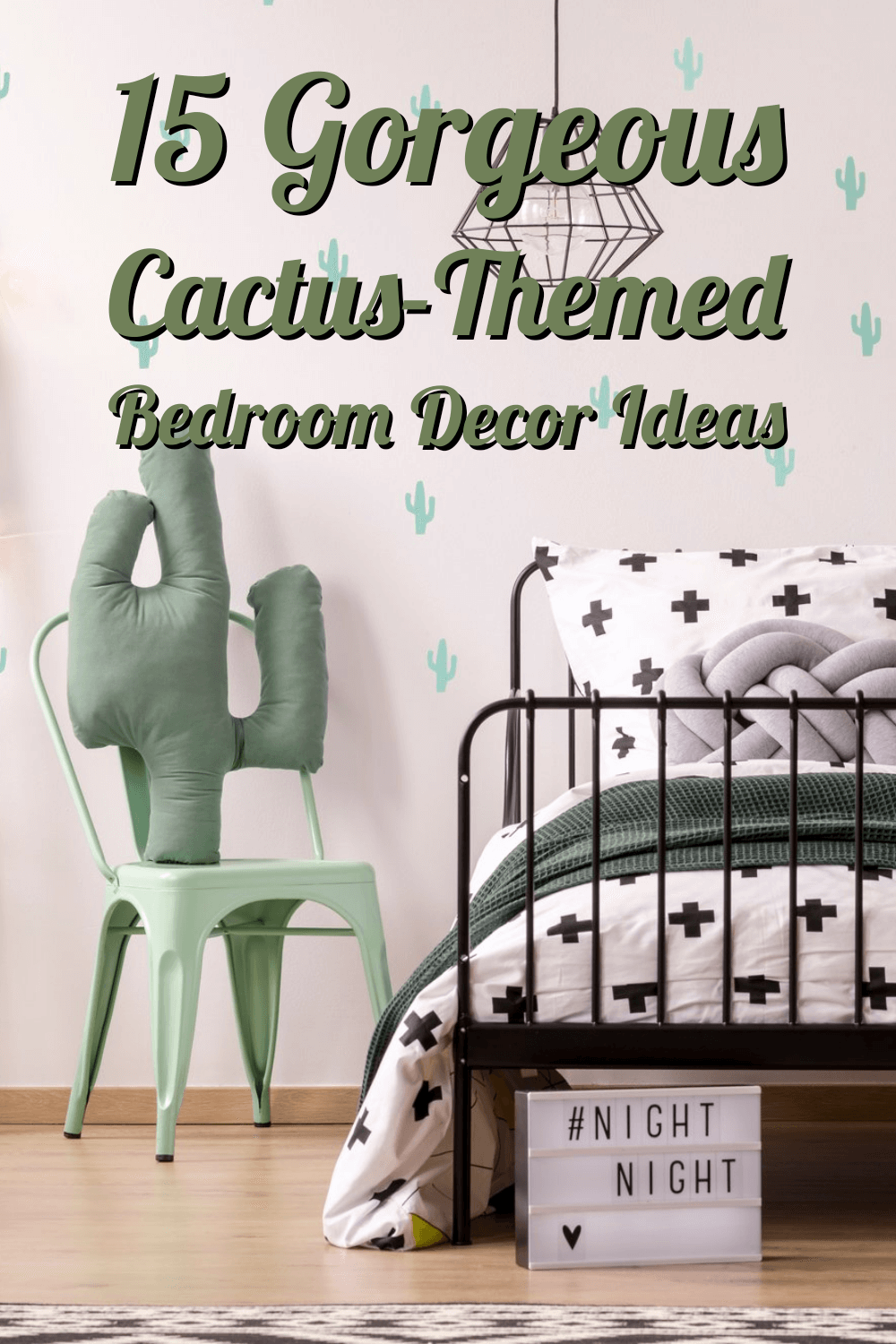 1. Modern and Minimalist Affairs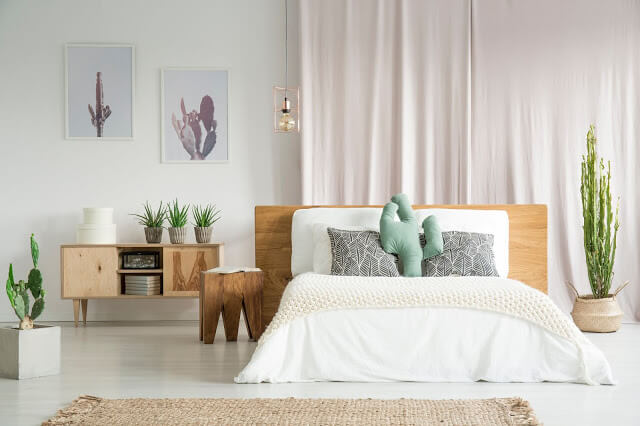 Design a cactus bedroom that helps you unwind like this. It has both contemporary and minimalist flairs to suit everyone's taste.

With neutral white walls and a pastel color scheme, this bedroom feels far more spacious. Meanwhile, the cactus accents give a fresh touch to the design.

Do not be afraid of incorporating some cacti in stylish planters. Alternatively, you can also buy the imitation that comes in a lovely container.
2. Lovely Cactus Themed Bedroom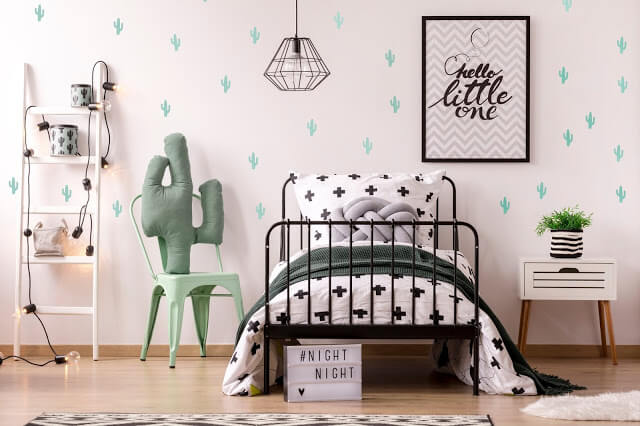 This lovely bedroom is complete with small cacti wallpaper and a fresh indoor plant on the bedside table.
The eye-catching plush cacti doll says hello to your little one before he is going to bed. Not to mention the framed wall art that is stating the same words.
3. Cute Patterned Bedspread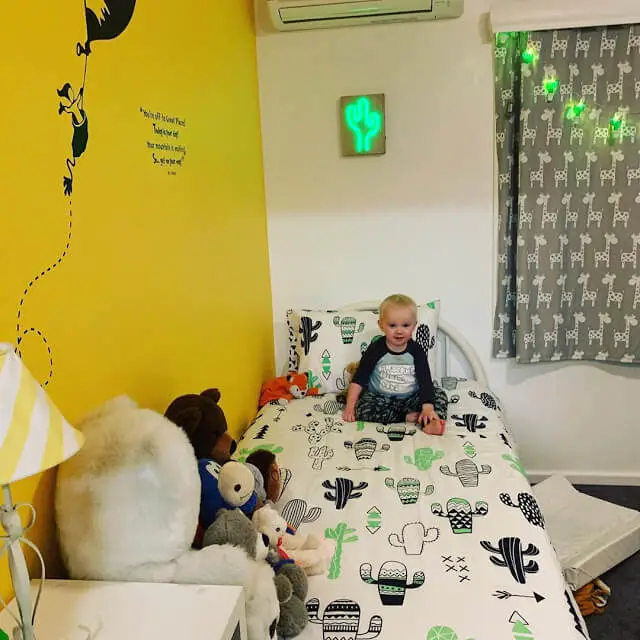 Keep your kid's bedroom fun and cute with a minimalist patterned bedspread, as shown above. Its design helps to balance out the room that has a bold wall accent.
For the wall decor, try creating a glowing cactus with a piece of board and LED strips.
4. Cool Desert Vibe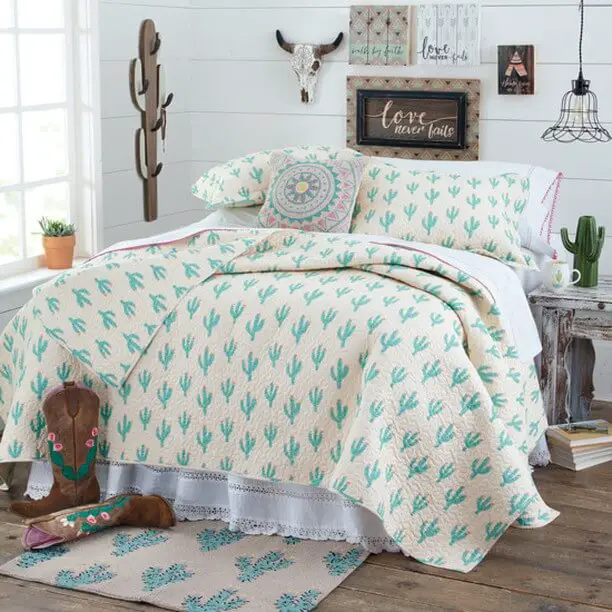 Another way to decorate a cactus themed bedroom is by adding other accessories that hint a desert vibe such as an artificial cow skull.
A desert skull decoration can lend an artistic, rustic effect to the bedroom. Try to add some DIY cactus room decors as well to achieve this chic aesthetic.
5. Colorful Throw Pillows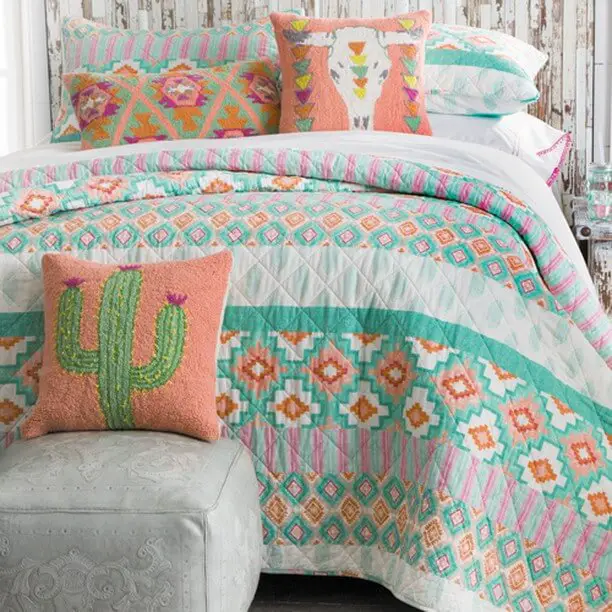 If you are into something playful and lively, try to find these colorful cactus bedroom accessories for your upcoming project.
The cactus print pillowcases complement the colorful patterned bedding, offering fun accents.
6. Cactus Wall Holder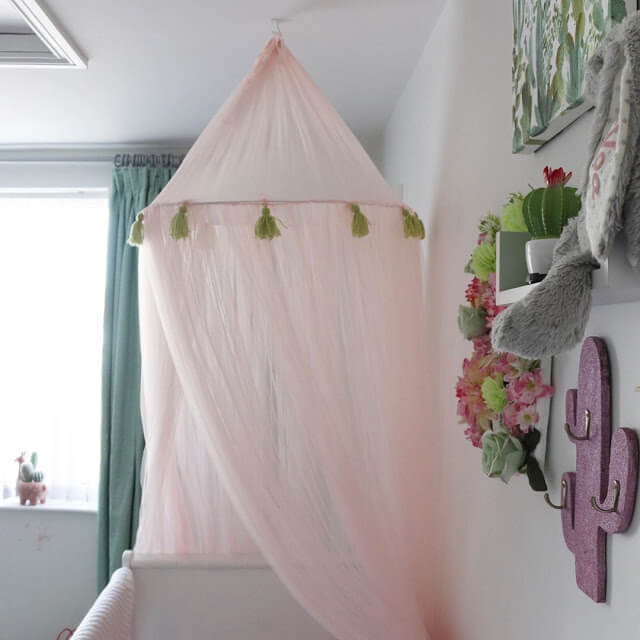 Look closer, and you will find a cactus-shaped holder on the wall. It offers several hooks to hang your things while adorning the blank white space.
There is also a pot of small cacti on the open shelf and around the windowsill to emphasize the theme.
7. Aesthetic Cactus Bedroom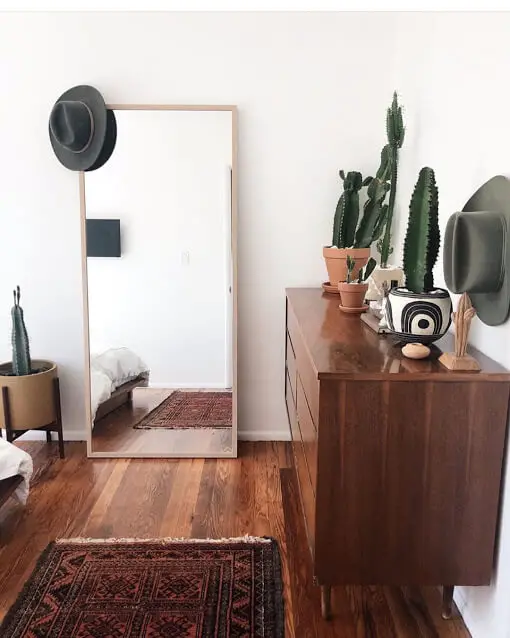 Plant several cacti in pretty planters and get them in a row above your cabinet. Put one in a freestanding pot as well for another point of interest.
Against the all-white walls and rich-wood design, this idea seems so intriguing.
8. Natural Fresh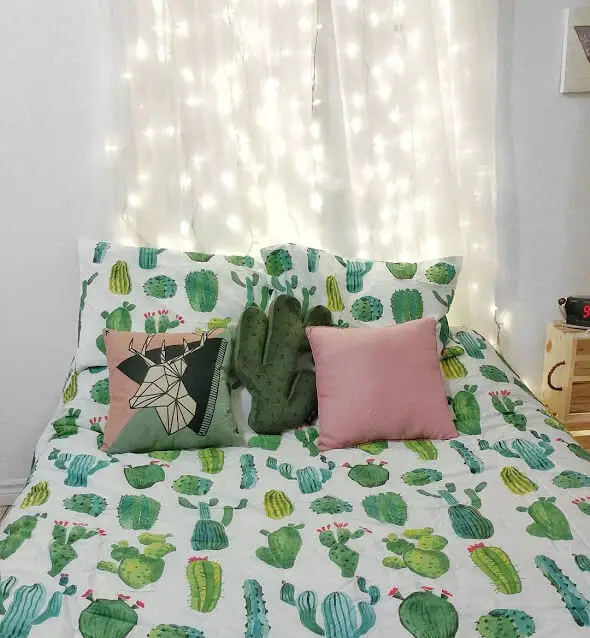 This room also gives out a minimalist and contemporary vibe with its white color scheme. The design helps the narrow bedroom to feel more breathable.
Moreover, the cactus-themed bedding introduces a fresh, natural pop of color to the neutral backdrop.
9. Cozy Small Space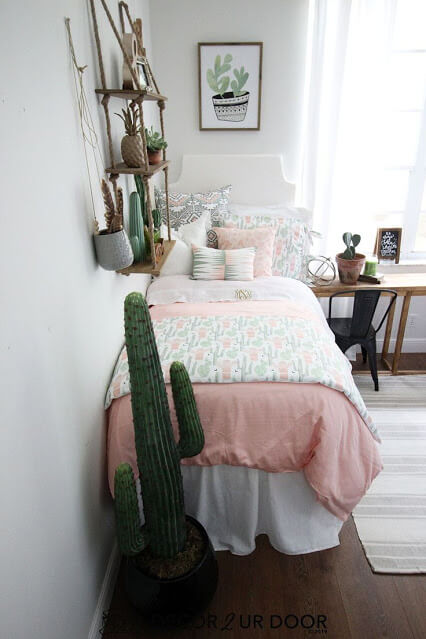 Cozy is one of the perfect words to describe this cactus-themed bedroom. A blend of lovely patterned bedding and a simple color palette helps to make this room feel so inviting.
Try to bring some cacti in eye-catching planters to add a flirty upshot in the bedroom.
10. Double-Agent Cactus Miniature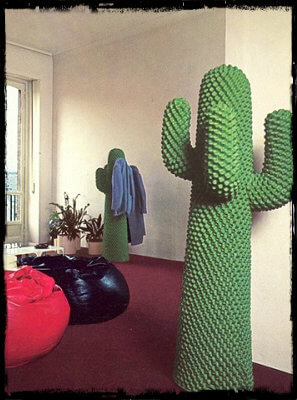 Although they seem too big to be considered as miniatures, these decorations are perfect for your cactus themed bedroom.
The artificial bedroom cactus plant is not only visually outstanding but also doubles as a standing hanger for your coats and jackets.
11. Minimalist Cactus Arts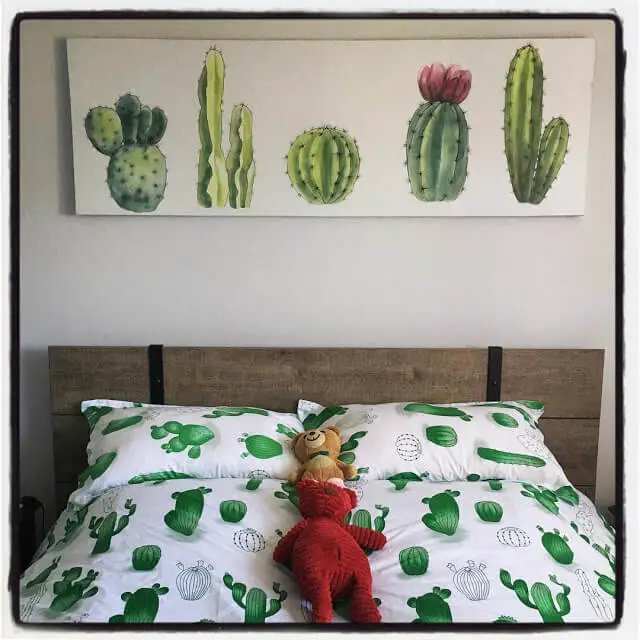 To strengthen the cactus theme and generate a natural fresh look, consider adding some pieces of minimalist arts against your neutral backdrop.
Just like this simple cactus wall decor, you can create something else that goes well with the cactus-themed bedspread.
12. Watercolor Cactus Wallpaper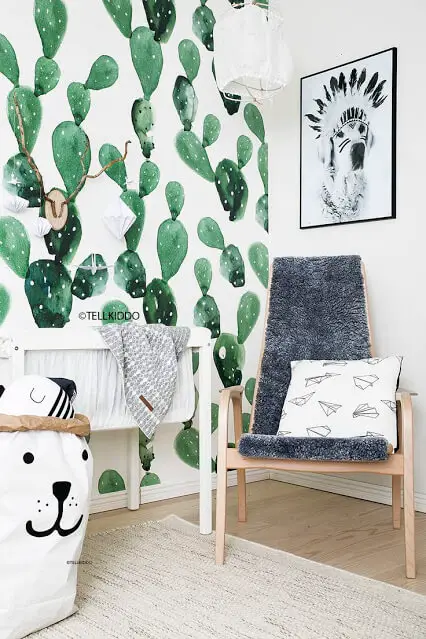 The playful yet artistic depiction of the watercolor cacti wallpaper gives this bedroom an amusing atmosphere.
It also offers an interesting contrast against the white walls and furniture. You can try to swap the usual throw pillow with a cactus plush toy to increase the cutesy too.
13. DIY Cactus Room Decor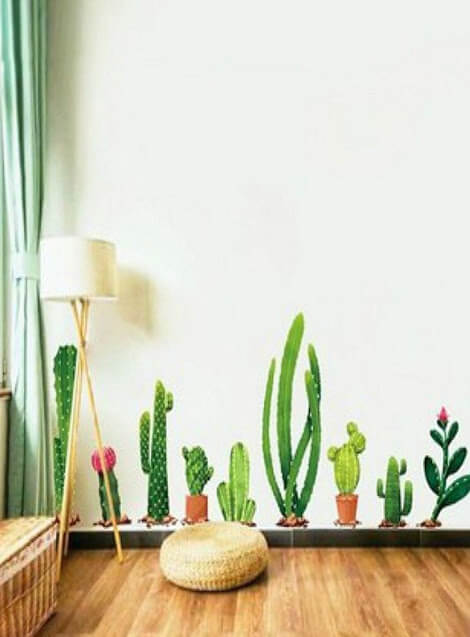 If you do not dare enough to go for full cacti wallpaper, this idea makes a perfect alternative.
There is no need to paint the decor yourself if you cannot afford a DIY cactus room decor. Shop for cacti stickers and apply them to the wall.
14. Outstanding Bedroom Cactus Plant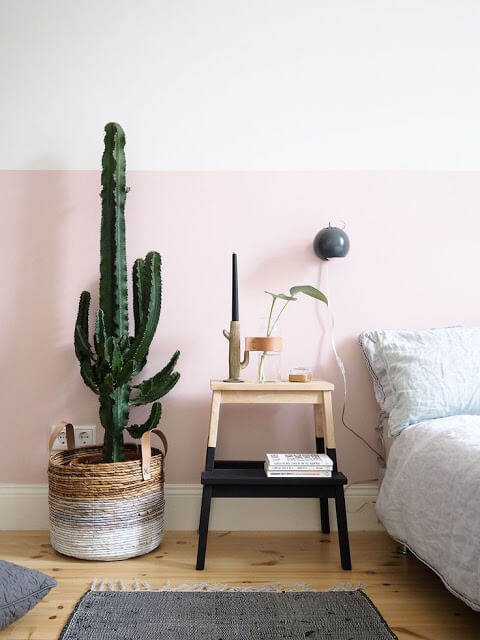 This cactus-themed bedroom is indeed cute and adorable. The pale pink paint on half of the wall gives out that lovely vibe to the scheme.
Furthermore, the deep green color of the cactus lends a charming contrast against the pastel walls.
15. Cactus Themed Bedroom – Lamp and Tapestry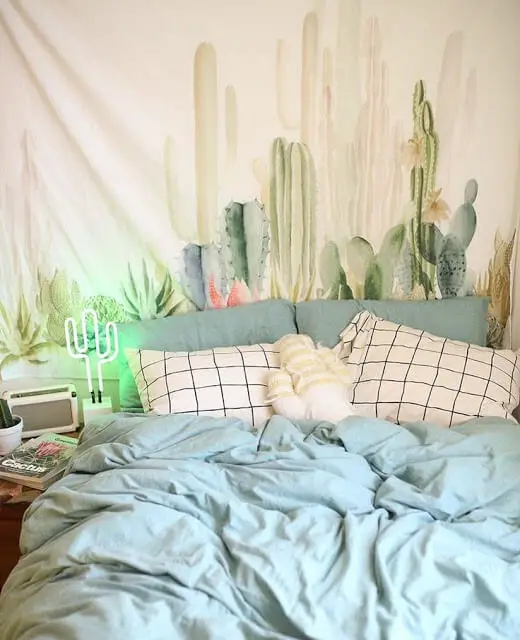 Amplify the theme by incorporating a cute cactus lamp like this bedroom. Try to organize it with a real plant on your bedside table for a natural touch.
While cactus wallpaper is like a long-term investment, you may be more interested in employing tapestry that can be easily switched anytime.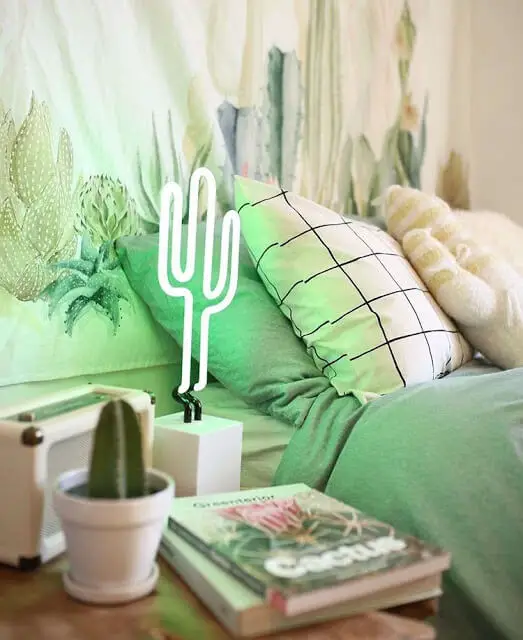 This picture shows another side of the bedroom where the cacti tapestry is visible. It offers an appealing backdrop while boosting the calm mood of the design.
Finally, are you ready to try one of these cactus-themed bedroom ideas? Do no more hesitating and start decorating!
More from Materialsix.com: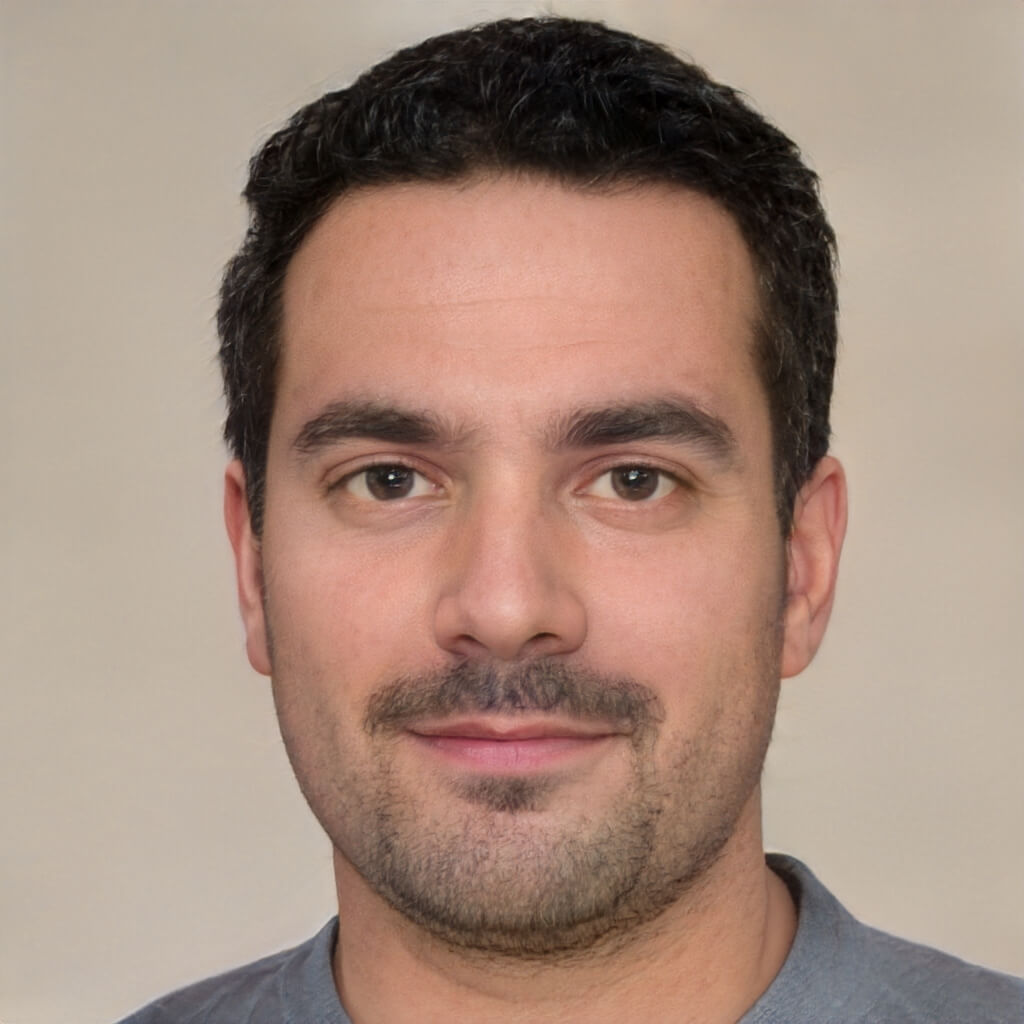 I'm a passionate home and garden enthusiast and the founder of Materialsix Home. With over 10 years of experience in the field, I've cultivated a deep love for all things related to home improvement, gardening, and interior design. Read more…