The Bohemian bedroom can be an attractive alternative for those who like comfort and have a free spirit.
The combination of ethnic, hippies, and vintage styles will make a livelier and cozy atmosphere.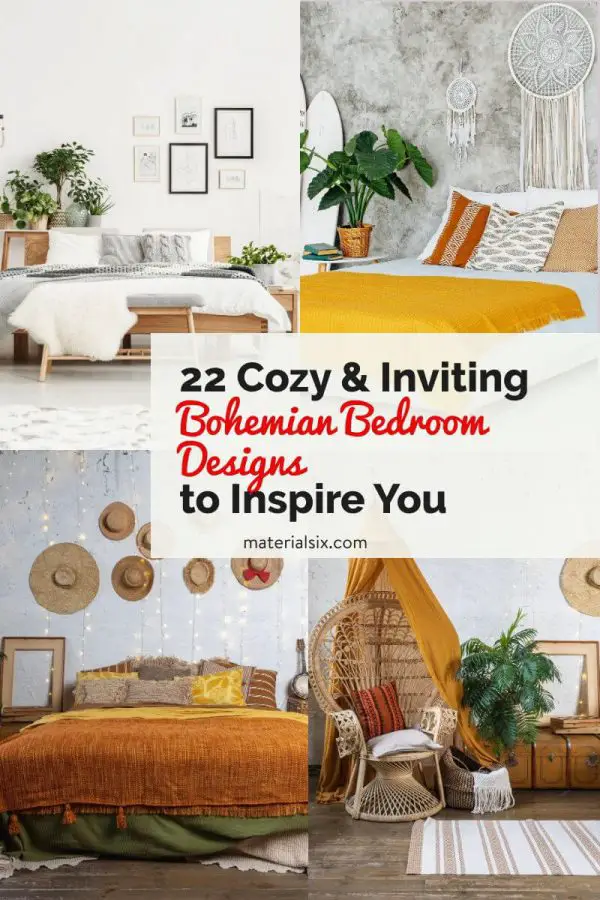 Inviting Bohemian Bedroom Designs to Inspire You
1. Modern Bohemian Bedroom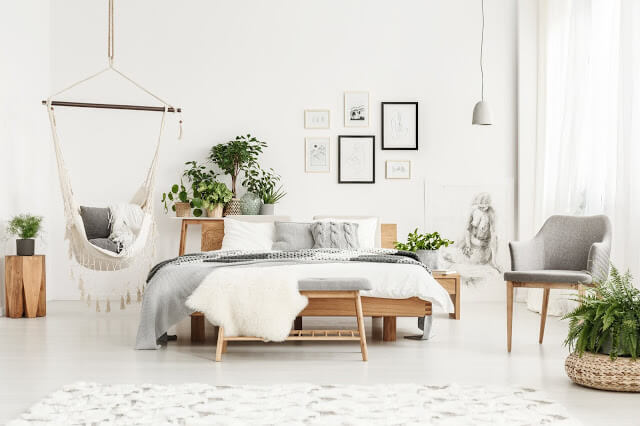 Even though this concept is identical with many colors, you can still combine it with a modern principle. The white color with a minimalist design will make you comfortable all the time.
2. Minimalist Design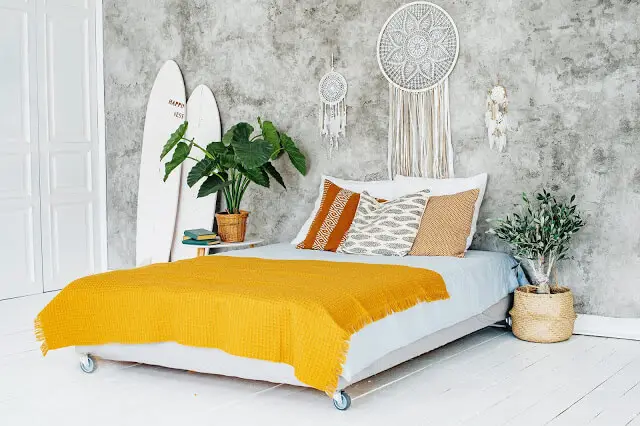 Forget about colorful design with many motives as you can make it simple. Less furniture and decoration not only give a broad impression but can also be a choice of bohemian bedroom ideas on a budget.
3. Rustic Bohemian Bedroom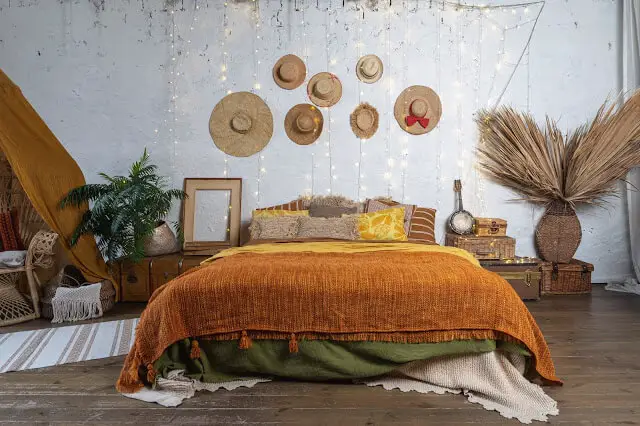 Inspired by the Stylecaster Bohemian bedroom, you can even combine it with rustic elements. Ethnic-themed decorations will certainly well blend with any nature things.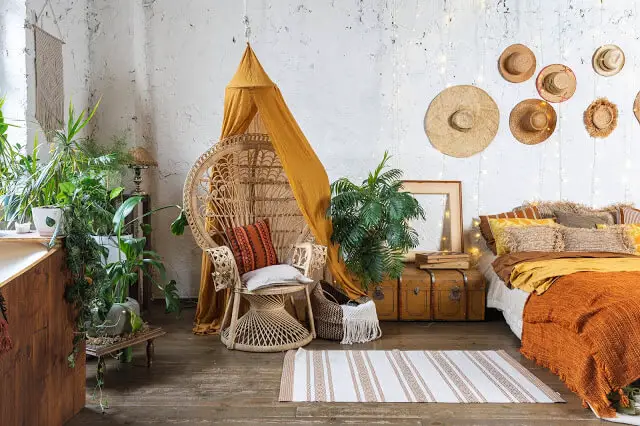 Wooden furniture or decorations in natural colors also look great with patterned carpets, bedspreads, and other knick-knacks. You can also combine many motives at once without feeling guilty.
4. The Main Bedroom with Patterns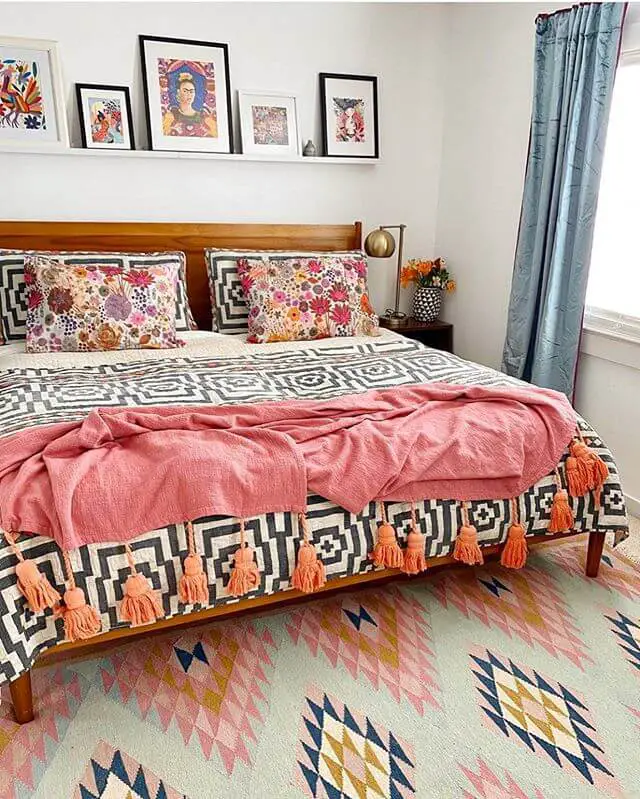 A spacious main bedroom with a king-size bed inside enables you to do many things. Do not hesitate to beautify your appearance with various patterns and various colors. A little wall decoration or decorative plants will make it perfect.
5. Fill Every Space with Arts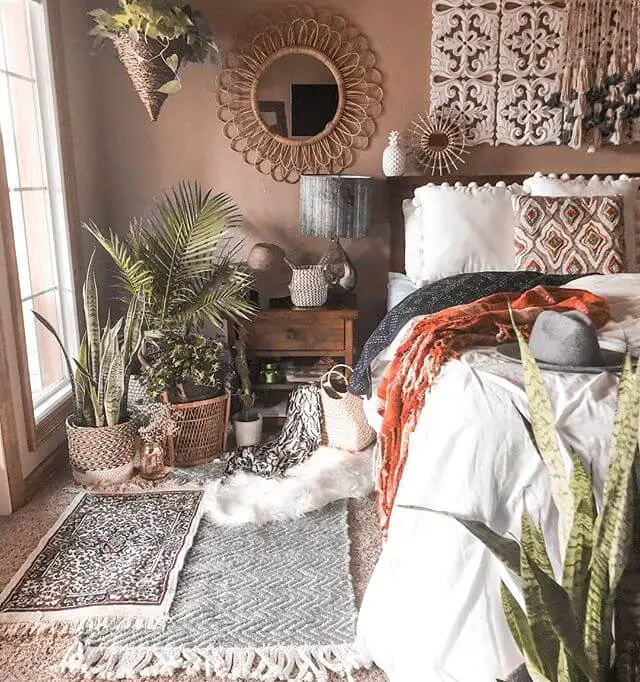 If you are the type of person who is interested in art, then you can fill every space with various decorations. This method will be very effective to cover deficiencies in the room.
6. Cozy Bohemian Bedroom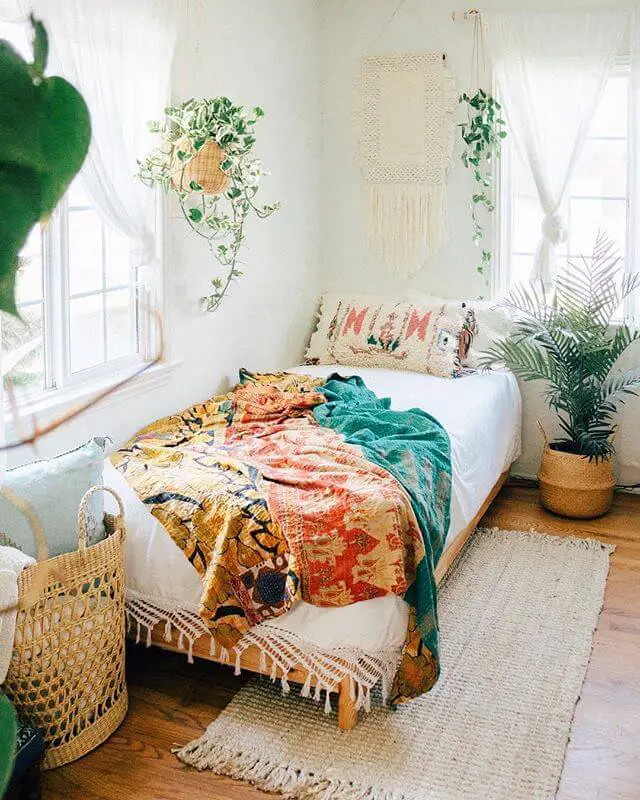 Behind the ethnic decorations with many motifs, this style is also identical with a comfortable and warm feeling. Make sure the design and furniture you choose to give a peaceful and calm nuance to spend your time.
7. White Bohemian Bedroom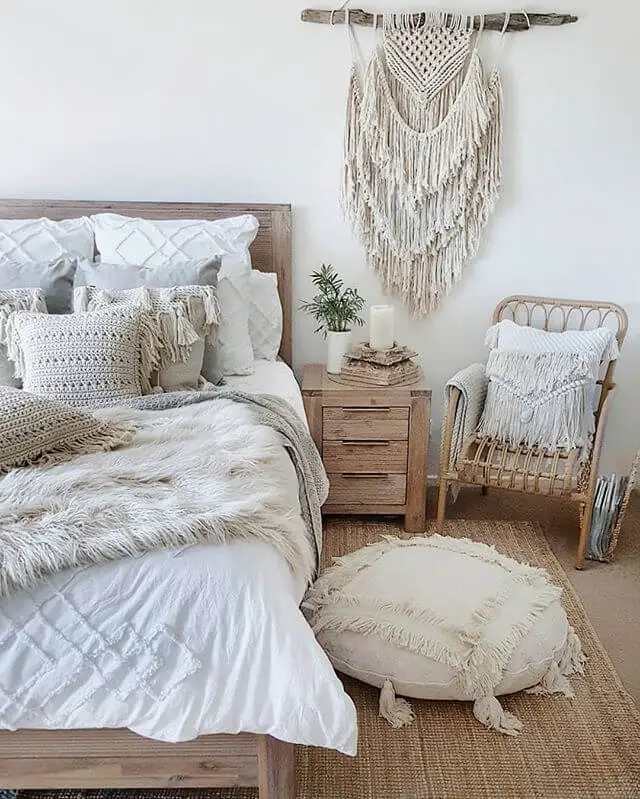 Bohemian bedroom color schemes are generally diverse and have many motives. However, turn it into an elegant white nuance is not a sin. Instead, you can place ethnic decorations such as tassels or wooden furniture.
8. Desert Shades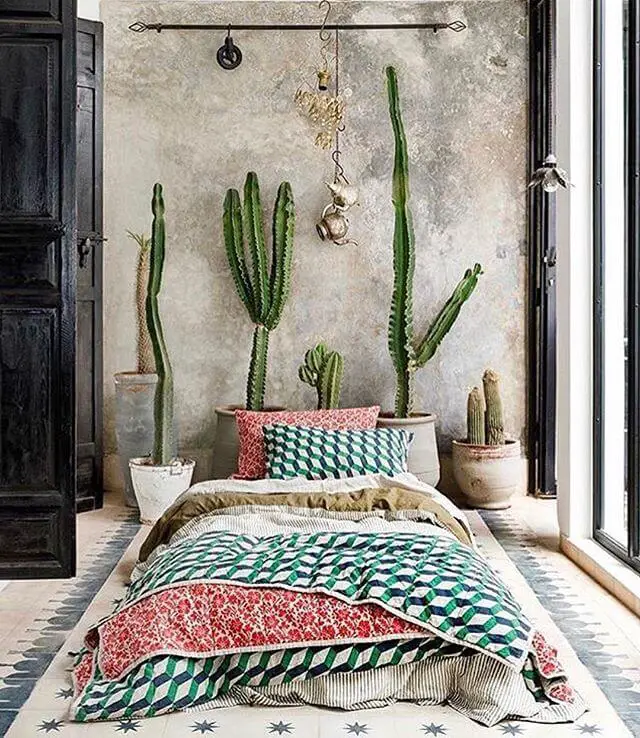 Bohemians can be adopted in any style, including a desert feel. Do not get hung up on boring ornamental plants. You can use succulents indoors and design them in a unique style.
9. Welcome to the Jungle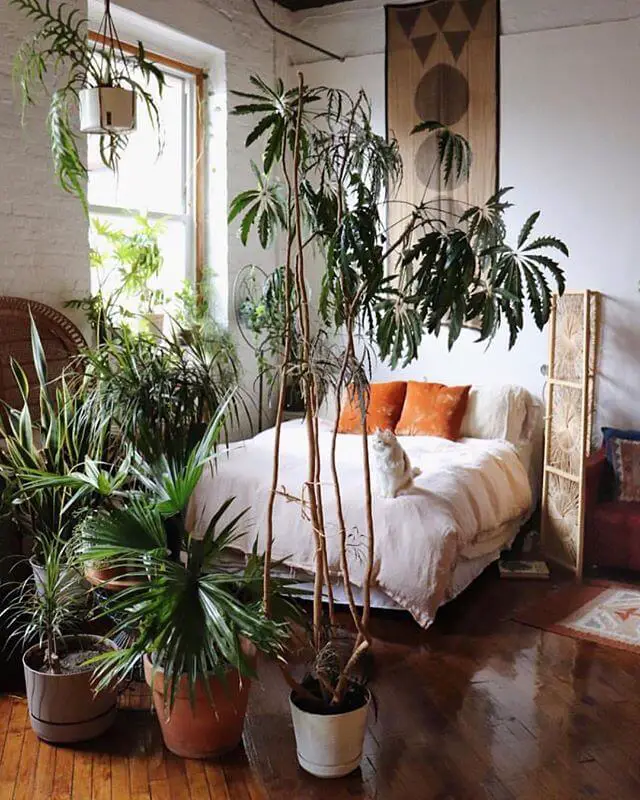 The nature theme is always interesting to adopt in the concept of space. Some fans of this style even place many plants in the room, complete with decorations that contain natural elements.
10. Garden Party Everyday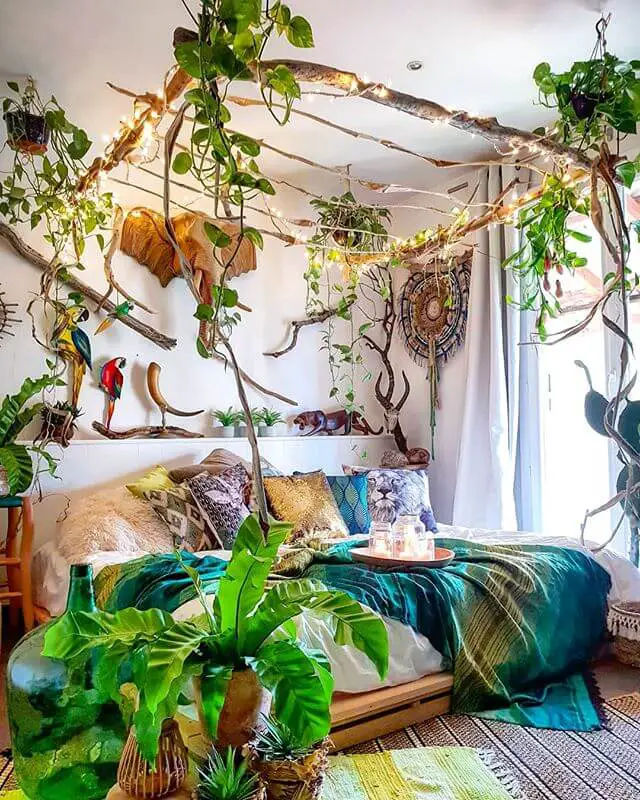 For those who like garden parties, why not try decorating a room with natural nuances, complete with lights. Do not forget to place the cozy furniture inside.
11. Vintage Bohemian Bedroom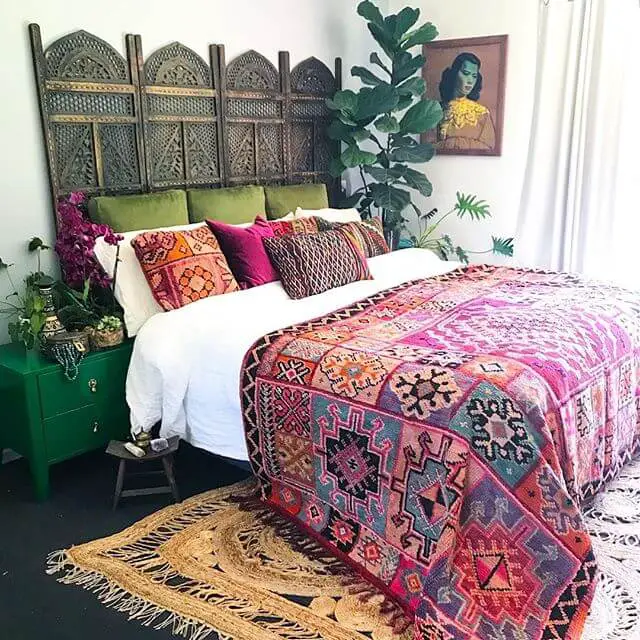 Vintage is never old. Until now, many people like this theme in various ways. You can also adopt it into the bedroom. Ethnic themes work perfectly with antique décor.
12. Classic Ethnical Bedroom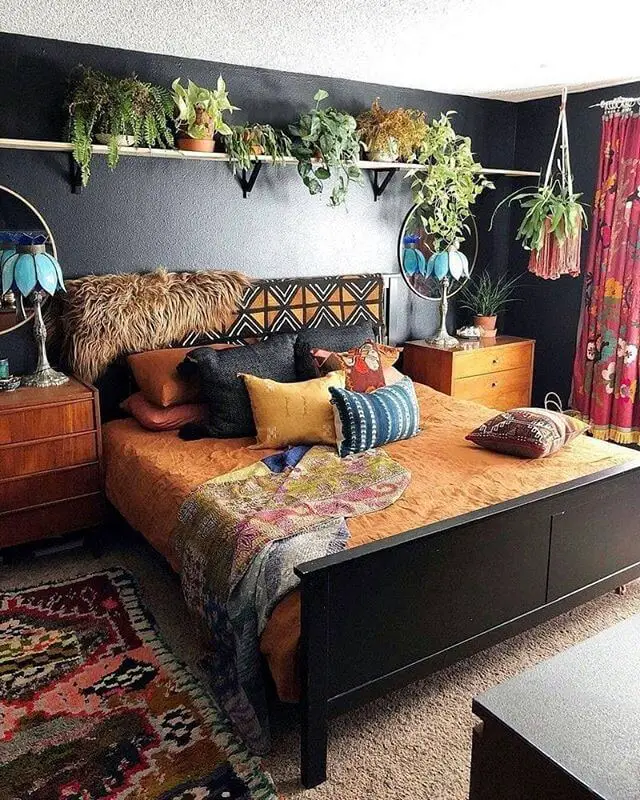 Even an old-fashioned item can be very attractive with good arrangements. Classic beds will look classier with warm ethnic colors and give a cozy feel to make you feel at home.
13. Unfinished Wall Design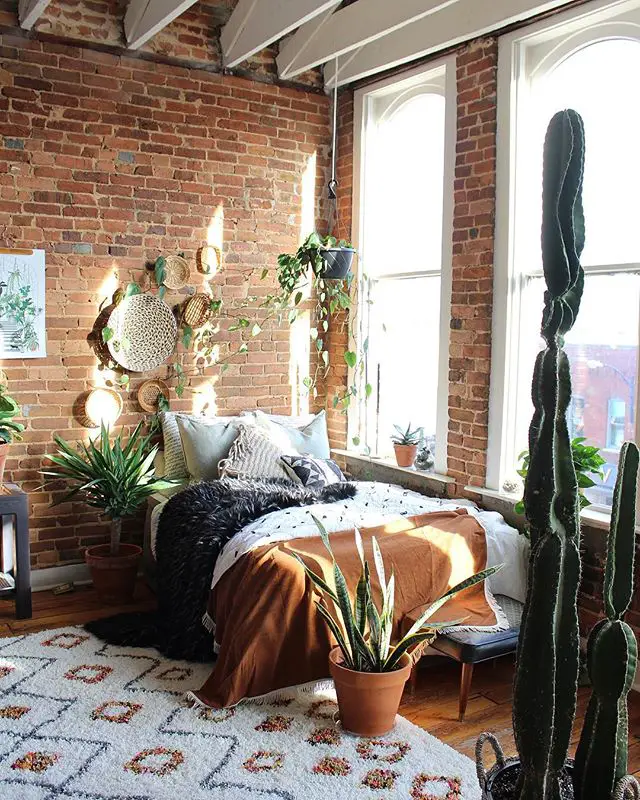 Recently, unfinished walls are considered to have high aesthetic value. This style is also suitable for Bohemian themes, which often carry natural colors. Decorative plant decorations will provide a beautiful and shady nuance.
14. Art Gallery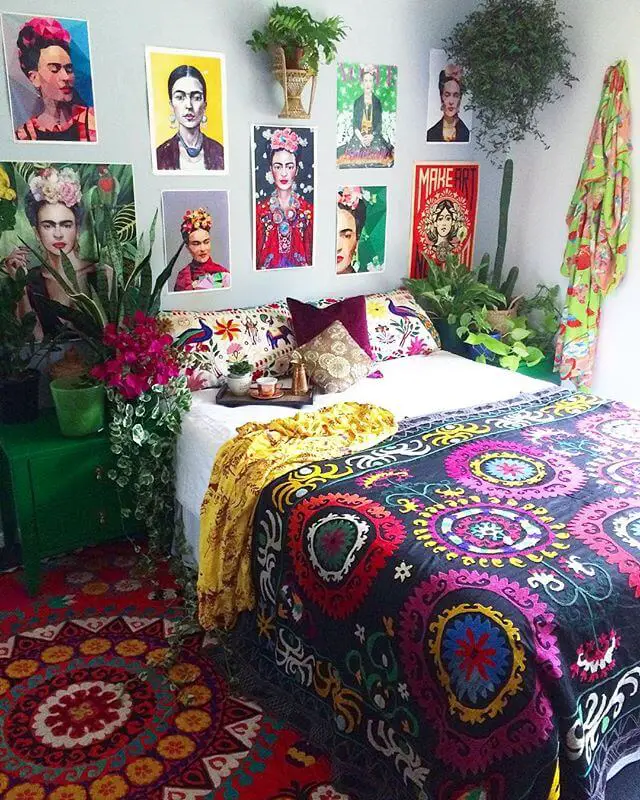 Some people like something related to art. If you are one of them, this design can be the right choice. You can place various paintings or handicrafts as decorations.
15. Sleeping Outdoor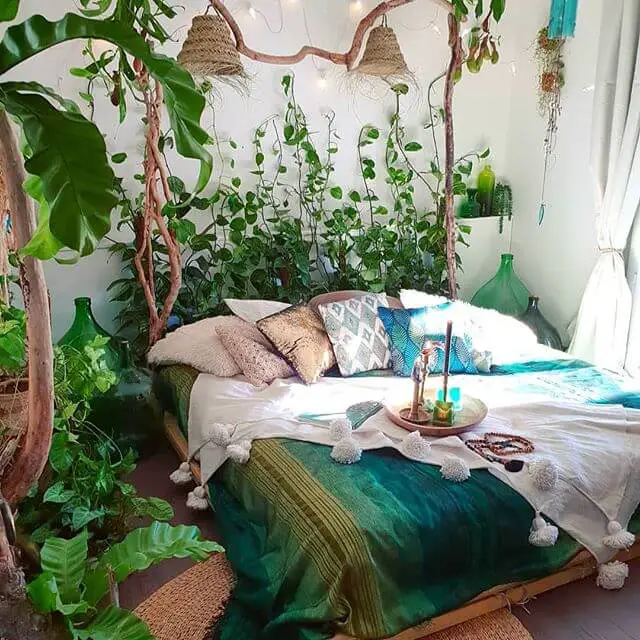 The outdoor atmosphere is always great on various occasions. The good news, you can also adapt it to the bedroom. You can place ornamental plants and green themes to make it look beautiful.
Related: Green Bedroom Ideas
16. Pastel Bohemian Bedroom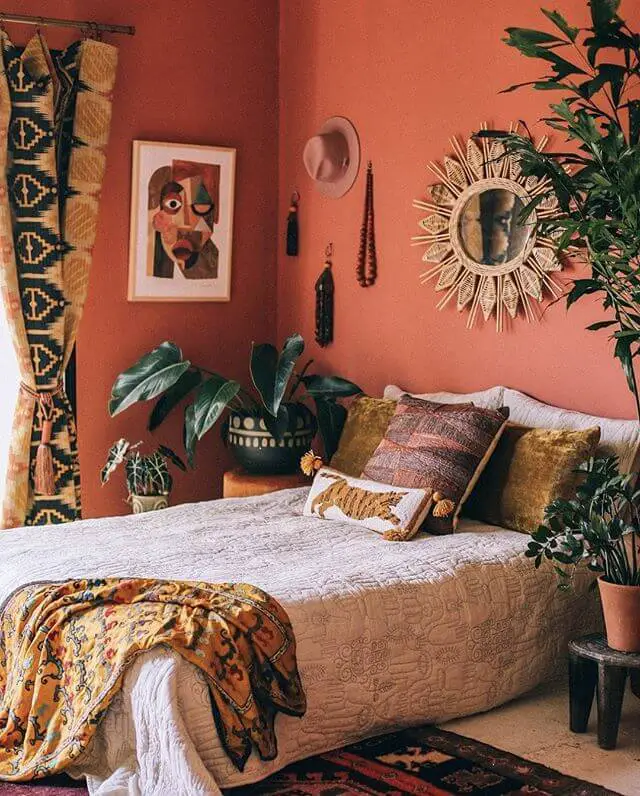 Pastel colors like orange or yellow are always the best in giving a warm and comfortable impression. This nuance will be very suitable to be combined with ethnic decorations that will further reconcile your moment.
Related: Cactus-Themed Bedrooms
17. Romantic Bohemian Bedroom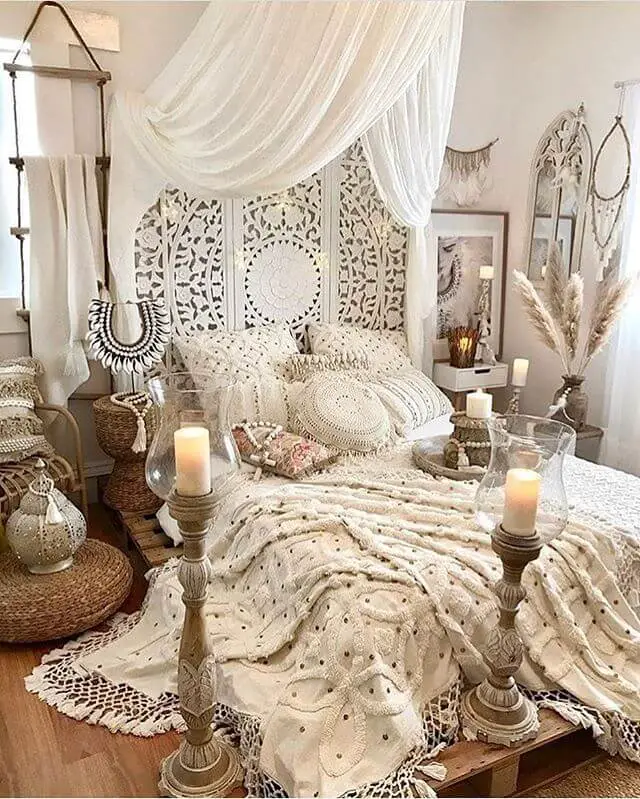 Do you need some quality time with your partner? Make it romantically with candles and flower decorations. Rattan furniture, knitted blankets, ethnic touches will make your moments unforgettable.
18. Simple But Warm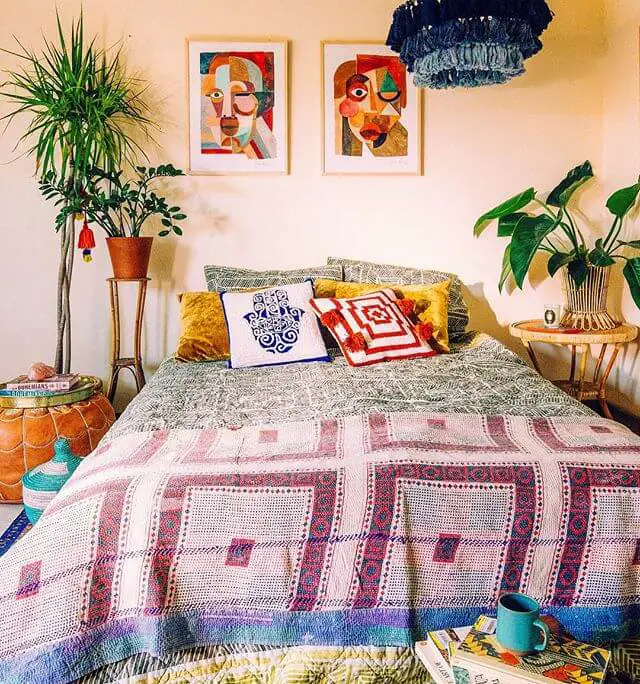 The arrangement of the room does not have to be full of items. For those of you who prefer simplicity, just a little furniture is enough to make you feel comfortable.
19. Candle Light Bedroom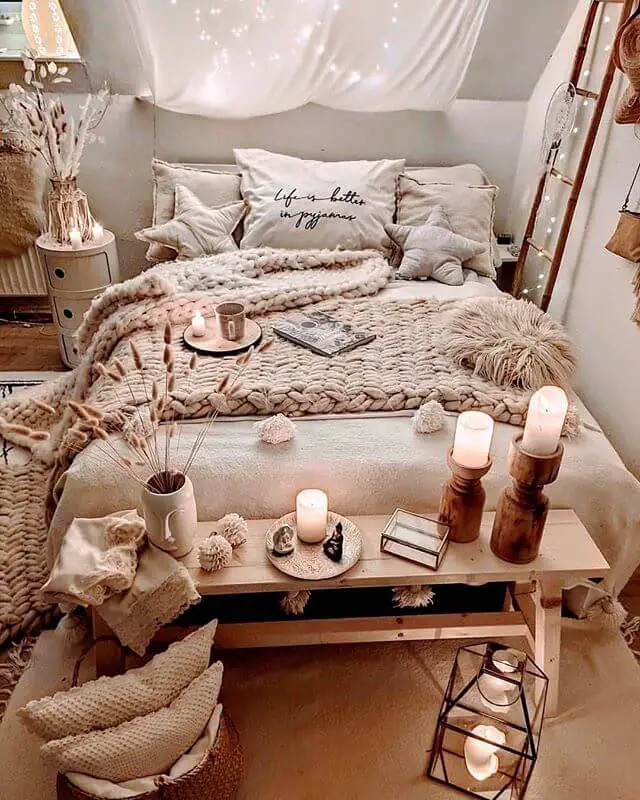 Many people like the many lights in their bedroom. You could as well make it appear beautiful with various lights that make your sleep well.
20. Make It Rich with Furniture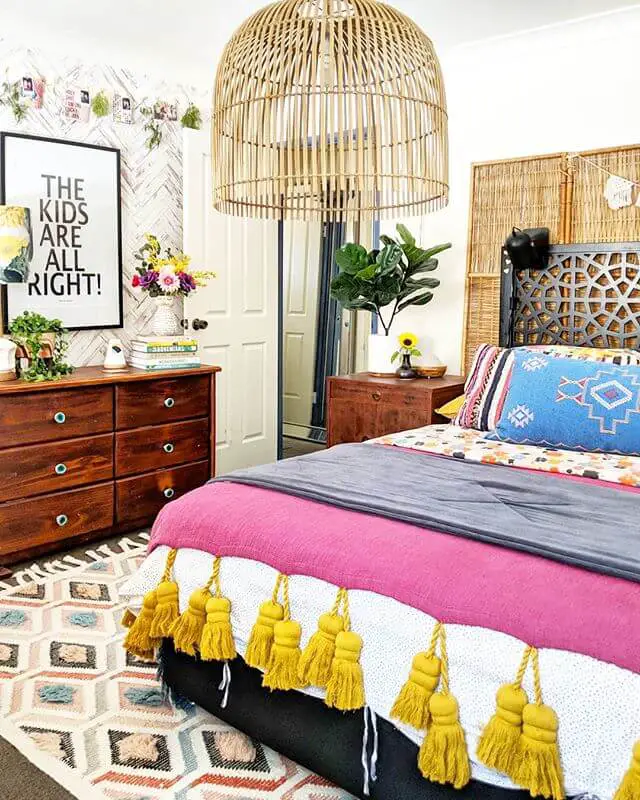 Bohemian bedroom furniture generally uses wood or other materials that are easy to be converted into handicrafts. Besides having a functional value, anything related to this style should also contain unique artistic elements. Therefore, do not hesitate to do the best possible exploration.
21. Feels Like Home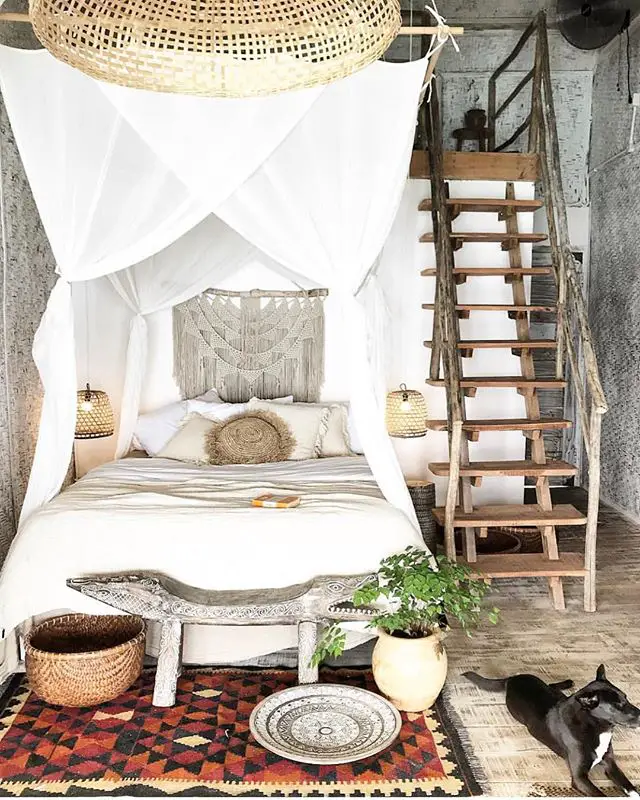 There is no better place than at home. If you spend a lot of time in the room, there is nothing wrong with designing this spot with all the house comforts.
22. Beach Style Bedroom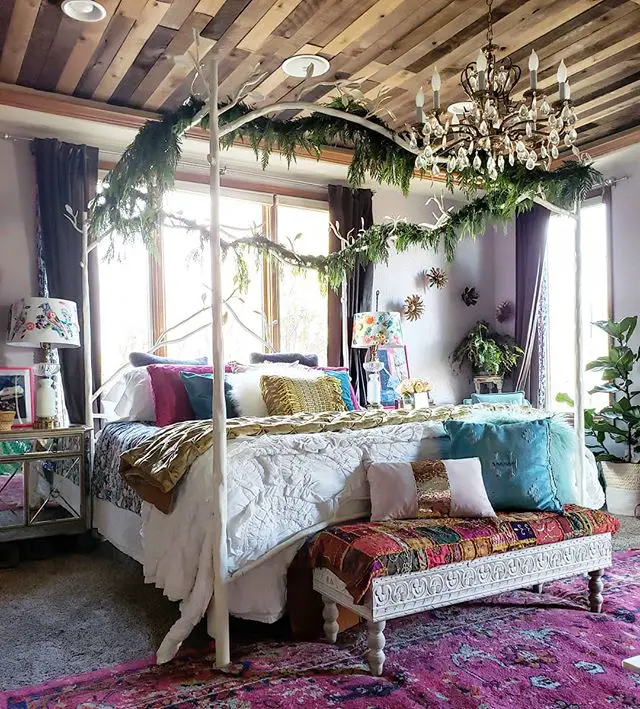 Beach enthusiasts can adopt this theme into the bedroom. Besides playing with colors, you can also insert marine-themed decorations or something green.
Those are some recommendations on how to have a bohemian bedroom. You can choose them as inspiration to organize your personal space, or even do some exploration according to taste.
PIN it for later!!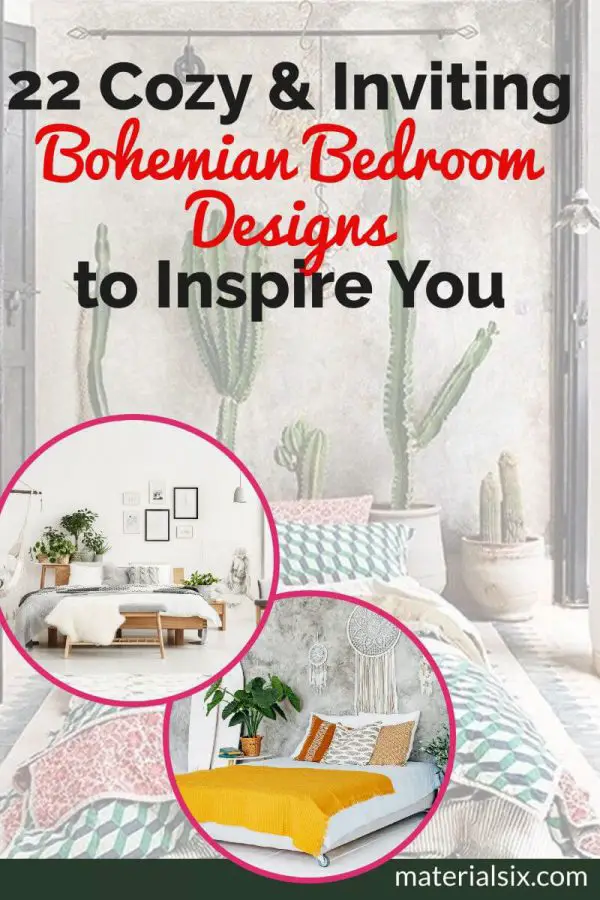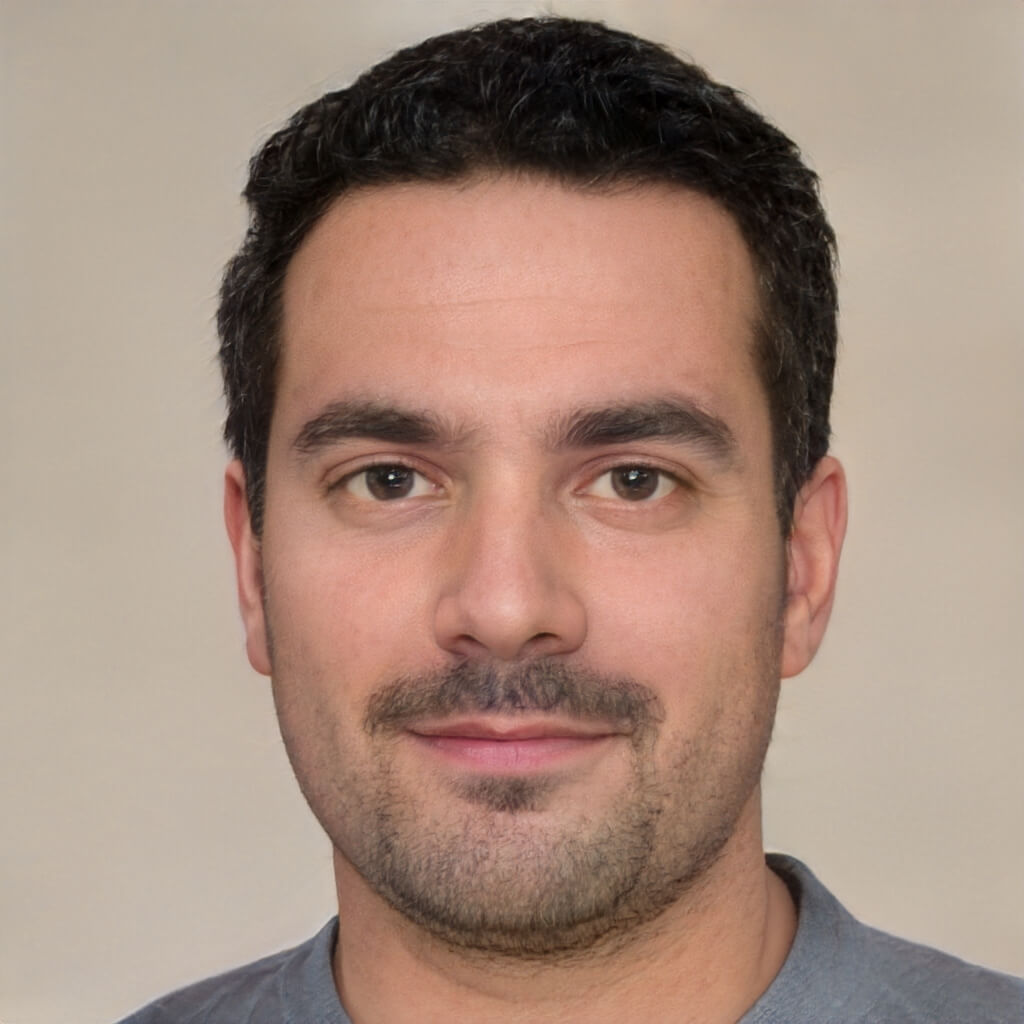 I'm a passionate home and garden enthusiast and the founder of Materialsix Home. With over 10 years of experience in the field, I've cultivated a deep love for all things related to home improvement, gardening, and interior design. Read more…