Modern homes are incomplete with the flat-panel LCDs and LEDs with picture resolutions higher than 1080p and reaching up to UHD or what we call 4K. The modern flat-panel TVs are not only improved from their predecessors in terms of picture quality and utility. But these TVs are a great aesthetic addition to your interiors without eating up too much space in your living room or bedroom.
Wall-mounted TVs are ideal from all perspectives, be it maintaining the aesthetic look of your house, getting the highest picture quality, or having something eye-friendly. However, your expectations might fail. You won't get the best experience if the wall-mounted TV in the bedroom if it's not installed in the right way.
It's one of the reasons why people ask questions like: What is the proper height for wall-mounted TV in the bedroom?; What is the ideal eye distance to enjoy the wall-mounted TV experience?; Where to install my wall-mounted TV?; And so on.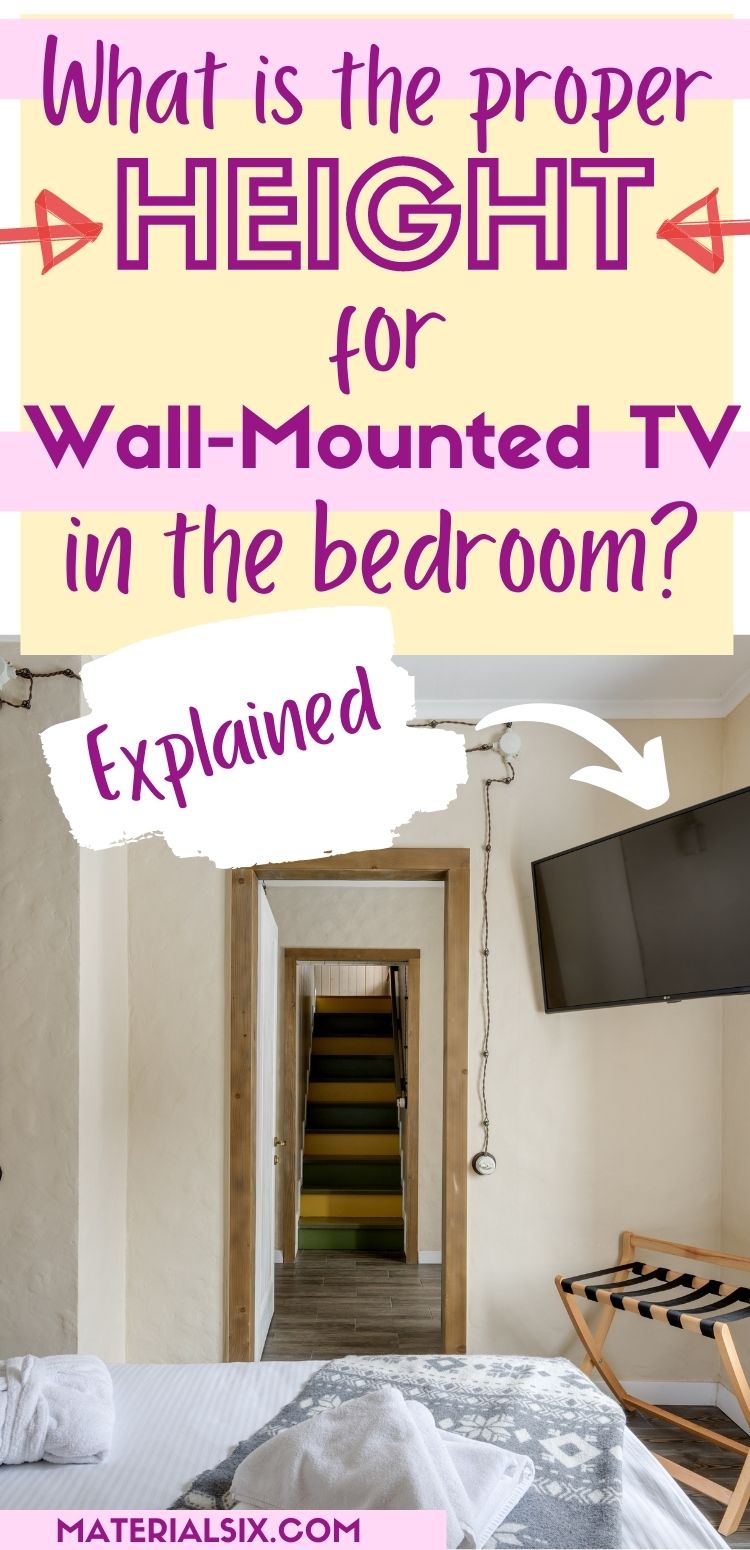 In this post, we will explain everything about proper height, watching distance, room aesthetics, and choosing the right TV for your bedroom. Besides, there is a lot more information about flat-panel wall-mounted TVs to get you started. So let's get into it without further ado.
Related: Can You Mount A TV On The Wall Without Studs? (+Guide)
Why "The Right" Height and Distance Matter?
Most interior designers and architects recommend installing your viewing devices like wall-mounted TVs at a certain recommended height and distance. It's hard to locate the reference and science behind the recommendation. However, it's obvious that the right height and distance of TV is for the best interest of the viewers.
Watching TV in the wrong direction, viewing angle, distance, and height in the long term doesn't only affect your eyesight. But it is also one of the reasons you have to suffer from neck strain. Therefore, it's best to take the recommended height and distance as a reference when planning to install a wall-mounted TV in your bedroom.
Right Height And Distance For Different TVs
Generally, a rule of thumb says that the wall-mounted TV should be installed at least 42 inches high from the floor. Another formula to mount TV to the wall is keeping it at eye level.
Eye level is a better measure as different arrangements have varying eye levels. Besides, the distance and height of TV installations also vary according to the TV size. Here are some common sizes of wall-mounted LCDs and LEDs are sold in along with installation height and distance:
| | | |
| --- | --- | --- |
| TV Size(Diagonal) | TV Screen Height | Floor to Bottom of Screen Distance |
| 43-inch TV | 22 inches | 31 inches |
| 50-inch TV | 25.5 inches | 29 inches |
| 60-inch TV | 29.5 inches | 27 inches |
| 75-inch TV | 37 inches | 22 inches |
| 85-inch TV | 42 inches | 20 inches |
How is the optimal distance calculated?
Since a height of 42-43 inches is recommended from the center of the TV. Therefore, the taller the wall-mounted TV, the lower the optimal distance.
Important Tip Regarding Height Of TFT LCD Panels: These panels are sensitive to vertical positioning. As a result, if the position of LCD is high, it makes visual bleaching of the screen. On the other hand, the low position disturbs the contrast to a higher setting leaving you with a darker picture.
Things To Consider For Wall-Mounted TV In Bedroom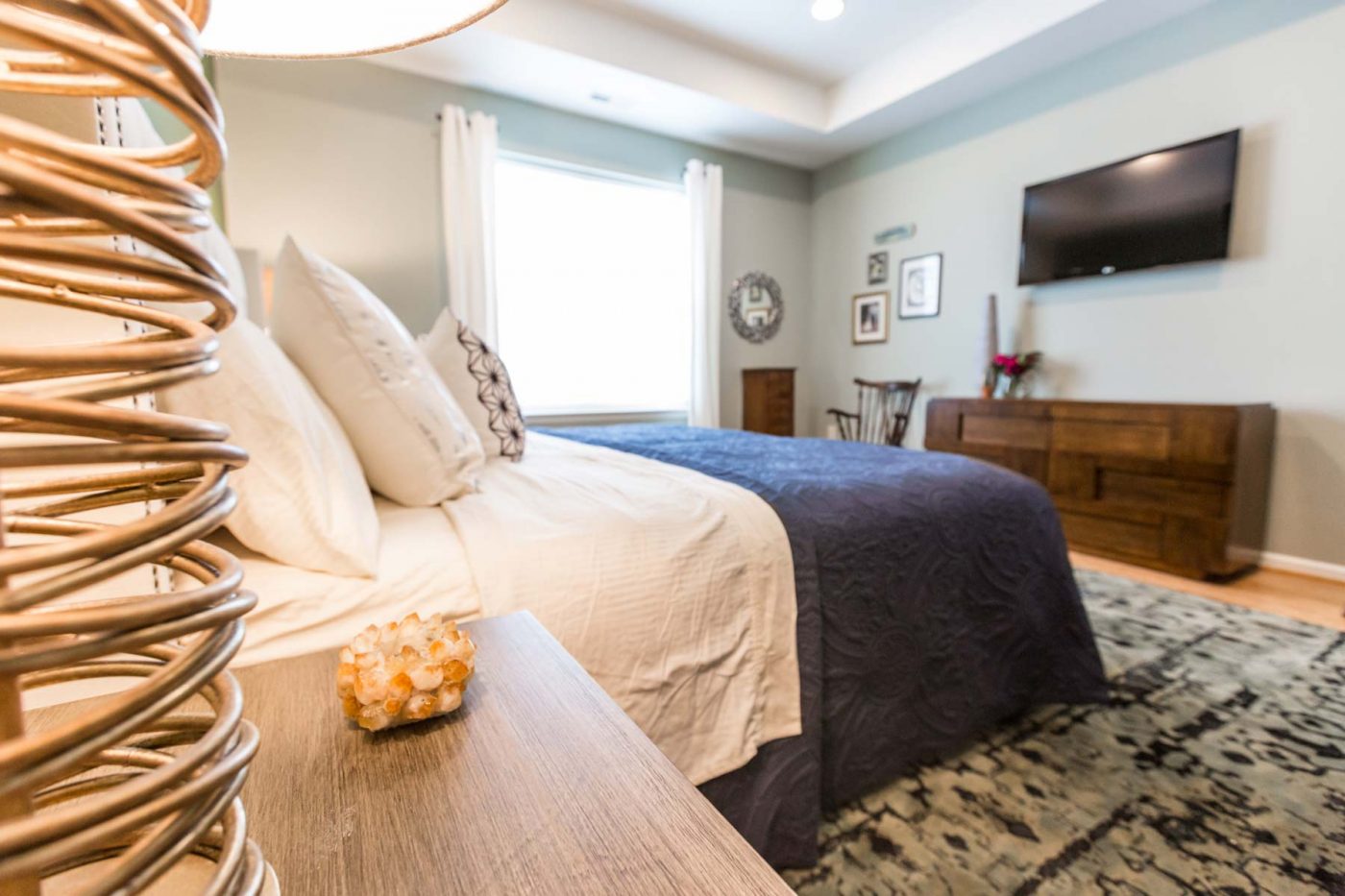 When installing a wall-mounted TV in the bedroom, the rule of thumb might not always work. The optimal height where the TV should be installed depends on several internal factors of the bedroom. Most common are room size, furniture, the height of furniture, space with furniture, lighting, etc.
Let's see how each of these factors impacts the installation of your TV in the bedroom.
1. Make Sure TV Is Installed At Eye Level
Eye level is determined by the height of the furniture and the person sitting on it. By complying with the eye level, you rule out all the mathematics and calculations for finding the optimal installation height.
Simply sit on the most-used furniture(bed) in your bedroom, and determine the eye level. The benefits of installing your TV at eye level include no neck strain and having a better watching experience. If your TV is for more than one person, the average eye level can be determined by considering the tallest and shortest person at home.  
2. Room Aesthetics
There might be a spare wall in your bedroom that is too unaesthetic to install the TV. While many people don't care about it, the bedroom is your personal space that must be adjusted according to your mood and choice. Therefore, the same should go with installing a wall-mounted TV. The style will be your first preference over functionality if you're an aesthetically conscious individual.  
The short answer to this question is that where you mount the TV in your bedroom is dependent on room size, shape, available space, furniture arrangement, and ports location. However, a general rule is to go for the location that is nearest to the ideal viewing angle and height. Besides, make sure that your TV view is not blocked by any furniture or object.
3. Best Viewing Angle
It's probably the most critical and technical aspect of mounting a flat-panel TV in your personal space. The viewing angle should be no more than 30 degrees as prescribed by Motion Picture and Television Engineers. On average, the viewing angle is kept between 10 to 15 degrees for most people who watch TV while sitting.
If we refer to the ideal viewing angle, your TV base should be around 25 inches higher from the ground(with carpet or without carpet). As a result, you're getting the optimal height between 35 to 35 inches, as we talked about before. This also offers you the optimal eye level of around 40 inches.
4. Centered Or Cornered Installation
Another thing to consider when installing a wall-mounted TV is which part of the wall do you want the TV to be installed in. It's closely related to room aesthetics. However, it's important to discuss it separately. There are generally three ways to align TV on the wall:
Wall-centered Installation
If you are looking for a balanced look inside your bedroom and align everything well, the wall-centered mounting of the TV adds to aesthetics. It gives a simplistic and clean look. Such settings are ideal for smaller rooms with equal dimensions.
Bed-centered Installation
If you're going to watch TV from your bed at most times, a bed-centered mount is a perfect solution. You can comfortably watch the TV from your bed. However, you will need to compensate for this asymmetrical setting with large pieces of décor accompanying other parts of the wall.
Cornered mounting is ideal for long and narrow rooms. It allows you to utilize the walls to maximum by hanging décor on the other parts of the wall. When going for corner mounting, make sure to choose the corner that is farthest from the door.
5. Light Availability
Even though most of us enjoy watching TV in the dark, lighting plays a significant role in mounting your LCD. The dark surrounding is not practical for long-watch hours.
Besides, it puts much strain on your eyes and leads to visual fatigue. Therefore, maintaining dimmed lights at least is necessary to keep everything working.
6. Recommended Height For Installation Is Not Always Right
Even though much emphasis is put on the TV's recommended height from the floor. Unless it's uncomfortable and risks your eyes, any height is comfortable.
Therefore, it's not as relevant in the case of the wall-mounted TV. You must watch out for the bed's height from the floor to determine the right height of the TV mount for your bedroom.
How To Choose TV For Your Bedroom?
A lot of factors are considered when mounting a flat-panel TV in your bedroom, but it's important to decide which TV to pick for your bedroom. Here are some things to consider when purchasing a flat-panel TV for your bedroom:
TV Size To Bedroom Size
It's impossible to declare one size as the right size for TVs in the bedroom. It greatly varies depending on how large your bedroom is, surroundings, décor, furniture, and your budget. Viewing angles and distance are also working parts when choosing the right size of TV for a specific bedroom. A general recommendation based on your room size is as follows:
A flat-panel LCD or LED around 43 inches is good to go for small rooms. However, people intending to watch sports, play video games, watch movies, etc., might find it a bad deal.

If you want to install a TV in a medium-sized room, you can comfortably go with a TV size of around 55 inches. It won't be too big or small.

For larger spaces with a lot of room,  you can go to purchase 65 inches or above screen size. It can be used for any purpose, from chilling on Netflix to playing video games.
TV Size To Budget
You can spend ridiculous amounts of dollars on having a fancy larger screen in your bedroom or going for an option that is optimal yet on a budget.
Choosing which TV to install in your large, small or medium-sized bedroom depends on your budget as well. Look at the room size and budget before finalizing which model to go for.
TV Screen Resolution
Screen resolution is also a matter of personal choice, but we can give you a recommendation because it plays a role in TV mounting. Don't go below the screen resolution of 720p for smaller-sized flat-panel TVs of up to 40 inches.
If you choose the bigger screens for your bedroom, 4K(full HD)or 1080p is recommended. The higher the screen resolution, the smaller the optimal distance from the LCD. By choosing higher resolution, you can watch TV from close distances without putting a strain on your eyes.
How To Get Started To Install Wall-Mounted TV in the Bedroom?
You got what to consider for mounting and what TV to choose. Let's explain how to get started with mounting flat-panel TV in your bedroom with these easy-to-follow steps.
1. Examine The Room
Based on all the information regarding the mounting height, viewing angles, optimal distance, etc., the first thing to do is room examination. It's about finding the perfect point on the wall to continue with the installation process.
When choosing the right spot, also consider the following things:
Proximity To Wall Sockets
The TV mount should be installed near the wall sockets and inlets. It is important because no one would like numerous ugly-looking cables spread all over the place. Besides, also make sure that there is space around to place the add-ons like Xbox, DVD player, speakers, sound system, etc.
Which Wall Is Strong Enough To Hold TV?
Although modern TVs are light in weight, it's important to double-check the strength of your wall. Aesthetics and styling go in the background if the most appealing wall is not strong enough to bear the burden of TV mount and TV. We are sure you won't like to lose your expensive screen because the wall couldn't hold the TV mount in place. Check out the mounting options according to the build of your bedroom walls. For instance, magnetic stud finders can be useful to hold big screens in place.
2. Get Your Tools On Work
The second step is to get your tools on work. Ensure that nothing is missing from your toolbox before reading to install the mount. Generally, you will need the following tools and things:
Stud Finders provide support to the TV mount. Hence, providing you maximum protection from any mishap.

TV Mounting Bracket is useful to hold your TV in place when mounted on the wall. Make sure to purchase a TV mount according to your purchased model.

Drill Bits depend on how small or large and of what shape holes do you want

Power Drill as an alternative to a screwdriver for faster work ]

Level to find the eye level
3. Installation
Find some studs on the wall with the help of a stud finder. For larger screen sizes, install two bolts for more support. Mark the bolt points by placing the bracket on the wall's reference point. Enough room should be left between the wall and mount for cable installation.

Fix the TV bracket on the wall with the help of a screwdriver or power drill.

After installing the wall bracket, attach the remaining part to the back of the TV. Once done, fit the frames together to fix on the wall.
Wrap Up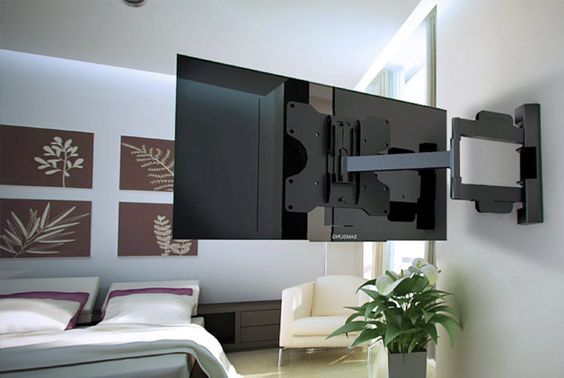 We hope this guide will help you install your TV in the bedroom and enjoy the content you love! We have explained everything about the ideal height, distance, and wall-mounted flat-panel TV angle. Besides, we have also discussed the installation process by considering all the ins and outs of the flat-panel TVs sold nowadays.
More from Materialsix.com: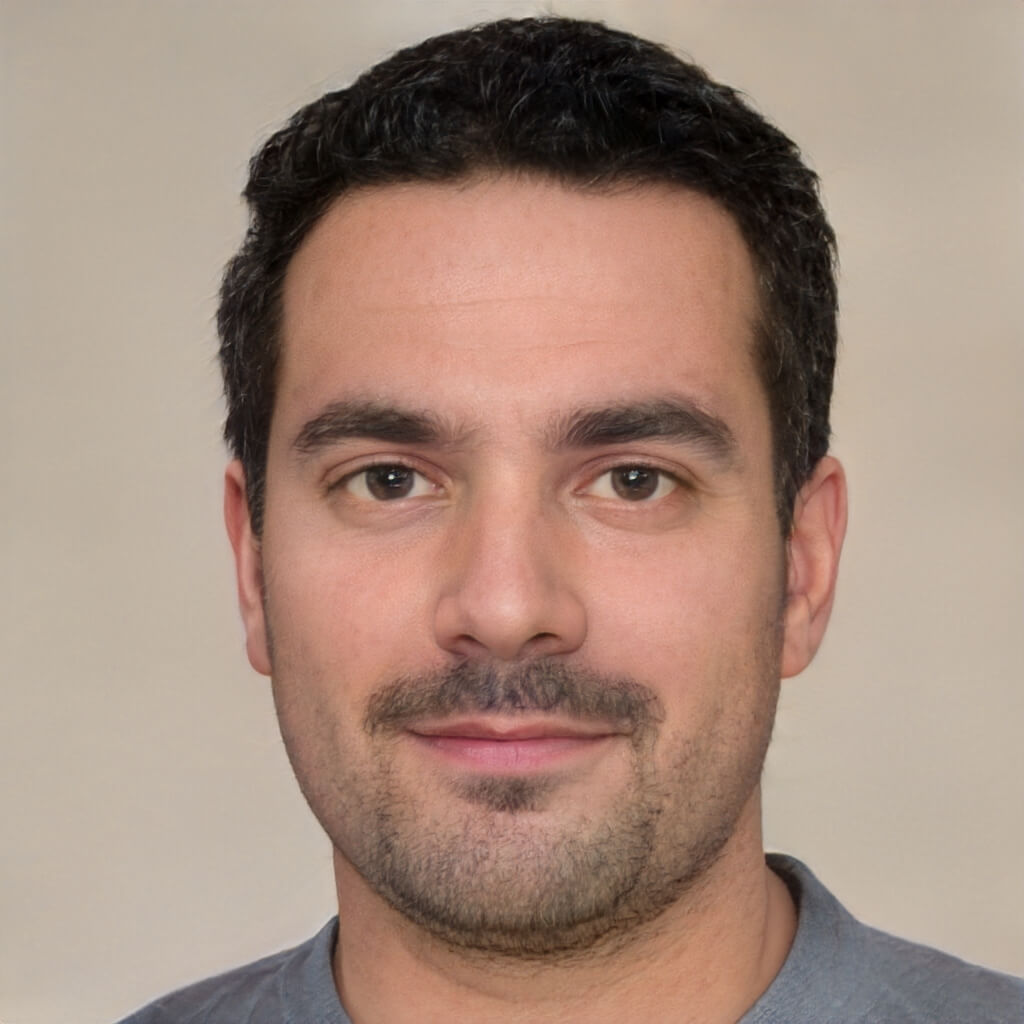 I'm a passionate home and garden enthusiast and the founder of Materialsix Home. With over 10 years of experience in the field, I've cultivated a deep love for all things related to home improvement, gardening, and interior design.