Got space to decorate with plants? Whether that be your home, office, or workspace, you want to do a clean job. This means little drilling and breaking, and more "easy fixes."
So what are some easy ways of hanging plants from the ceiling?
We'll discuss that below. We'll mention 10 options to try. Check them all out, and pick what suits you best!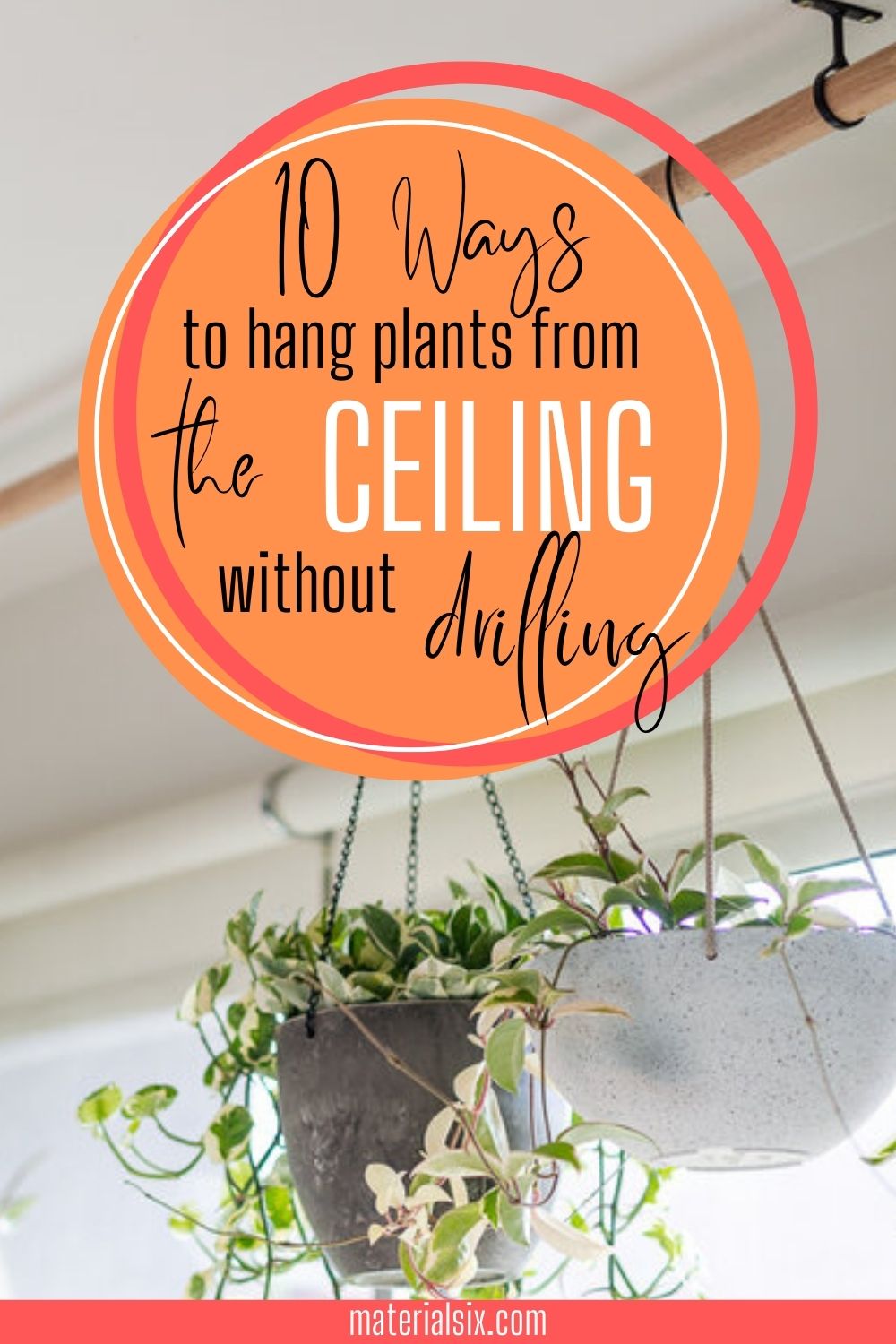 How to Hang Plants From the Ceiling Without Drilling
#1 – Adhesive Hooks
The first solution we advise. You'll use ceiling hooks, no drill required.
Adhesive hooks are simple and familiar. You've probably used them on multiple occasions throughout your home.
Not only do they fit as door hangers. But, they work well on ceilings!
Plus, they're affordable. You can get them at a dollar store, and hang almost any kind of plant through them.
Take Caution
When buying adhesive hooks, do take care to check its weight limit. You want to know the maximum your hook can hold without it coming off.
After all, having a hooked plant fall from a ceiling is a bit disastrous.
Also, adhesive hooks do come with a slight drawback. That is, you can't mess up their positioning the first time.
If you stick them wrong, they're often ruined for good, requiring you to buy a new one.
To avoid that problem, you can always try…
#2 – Magnet Hooks
Magnet hooks are amazing. They're mostly metallic, so they'll last you a long time.
Also, since they're not adhesive, you can reposition them to your heart's content. And you'll rarely have to buy replacements.
The only problem is, they work only with specific types of ceilings.
If your ceiling has a metallic making in its structure, it'll help your magnet hook stick. Otherwise, magnet hooks are worthless to you.
But still, there are ways on how to hang plants from the ceiling without relying on adhesives, or your ceiling's structure!
Read also: Types of ceiling cracks
#3 – Suction Cup Hooks
They bring the pros of magnet and adhesive hooks, with little of their cons.
Suction cups are simple. You simply push them into the ceiling, sucking the air out and maintaining an inner vacuum that lets the hook stick.
They're similar to adhesive hooks in that regard. The only difference is, you can reposition them as you like.
Do be wary though. Suction cups do lose their sticky nature the more you reposition them. So try to get it right the first time.
Also, just like the previous two options – you'll need hooks that match the plant weights you're hanging.
What if I Want Something That Cares Little for Weight?
Then you'll want to stay away from using hooks. You'll be shifting to something that requires a bit more setup.
An option you can try is…
#4 – Tension Rods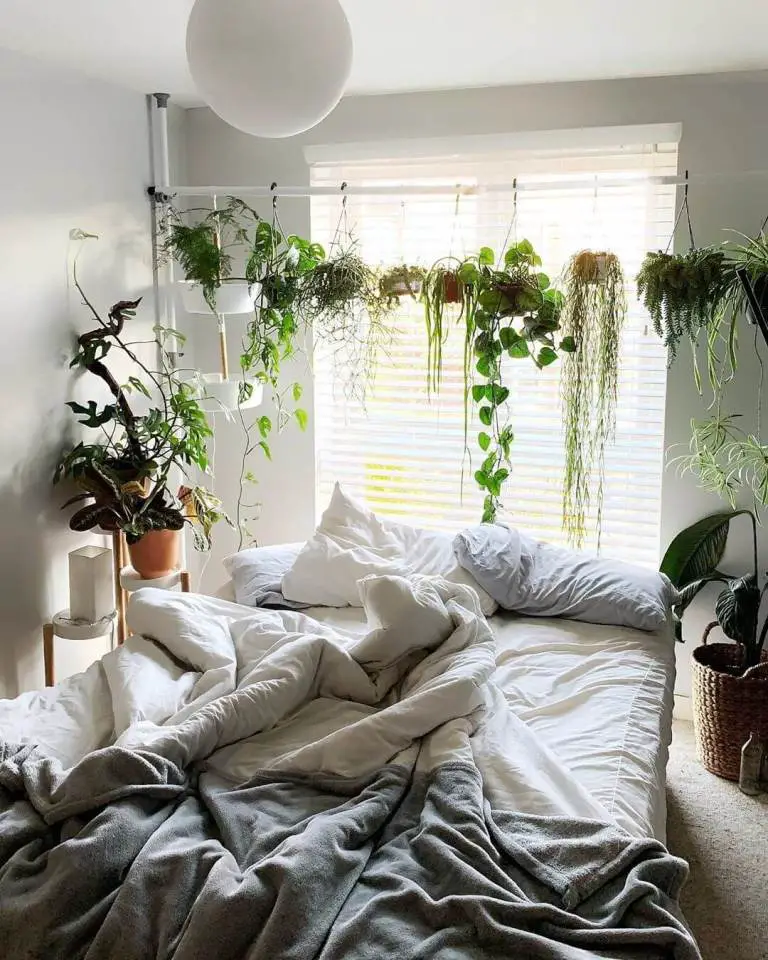 While weight limits still matter here, tension rods can sustain way more than a hook.
Tension rods are installed horizontally from wall to wall (or panel to panel). And they don't rely on drilling at all.
As the name implies. They fit and stick by tension. And due to their nature, they can hold up a large quantity of plant pottery.
You can fit multiples, and you actually get way more flexibility as to where you hang plants.
How So?
You can hang your plants at lower elevations. Whereas the hooks you buy usually get slapped onto ceilings.
Plus, you can hang plants closer to windows. You can have tension rods extended at human height near each window. From there, you'll need little material to hang your plants!
This is a massive pro. It allows many plants you hang to get better sunlight. Plus, when hanging at lower elevations, you'll feel like your plants are taking up less space.
Specifically, the cords you hang plant pottery from will take up less space – making for a cleaner decorative look.
Only Problem
Tension rods really rely on the structure of your home/room.
You need two close-by panels or walls facing each to stick tension rods. Otherwise, they're not a viable option.
So if that's not something you can do, then check out the next point…
Related post: How To Hang Curtains Without a Rod
#5 – Clothing Rack Gardens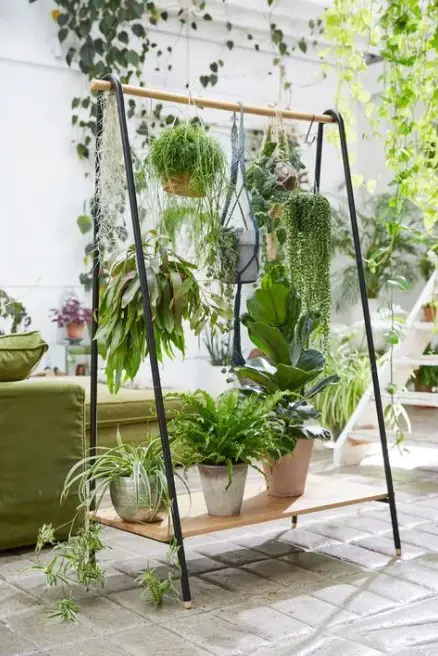 Clothing racks aren't really hung from ceilings. But, they can mimic that feel.
All you have to do is get a tall rack. Make sure it's tall enough to almost reach ceiling height. From there, you can add plants on the top of the bar!
But that's not all. Racks have the advantage of giving you extra shelf lines to use.
So you're not just hanging ceiling plants. You can also add some pottery on a floor rack, or something in between!
That way, you create a more holistic look. A rack will let you fill more greenery per space, almost creating an indoor garden!
#6 – Floating Shelves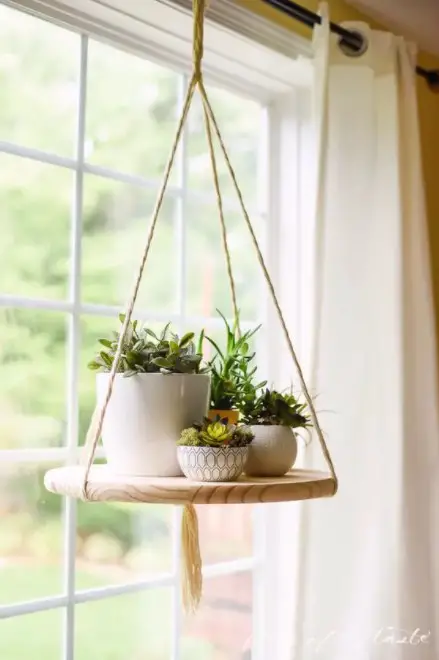 This really isn't a standalone hanging idea. It's something you'll always combine with a ceiling hook.
Floating shelves are excellent and for a reason. They're stylish, and they'll let you place ceiling hooks close to your windows.
That way, you can hang plants in a way that gives more sunlight
However, floating shelves do come with a critical con, this being an accident.
Risk Your Décor Crashing to the Floor
Floating shelves don't fit environments where you have children or pets – especially of the hyperactive type.
If you've got someone that likes to run around a lot, rest assured that floating shelves will always drop plants to the ground.
That's a lot of lost effort and soil to clean up. It's not maintenance work you want to endure. So save this form of décor for homes where people are a bit more grown.
#7 – Wall Mount Hooks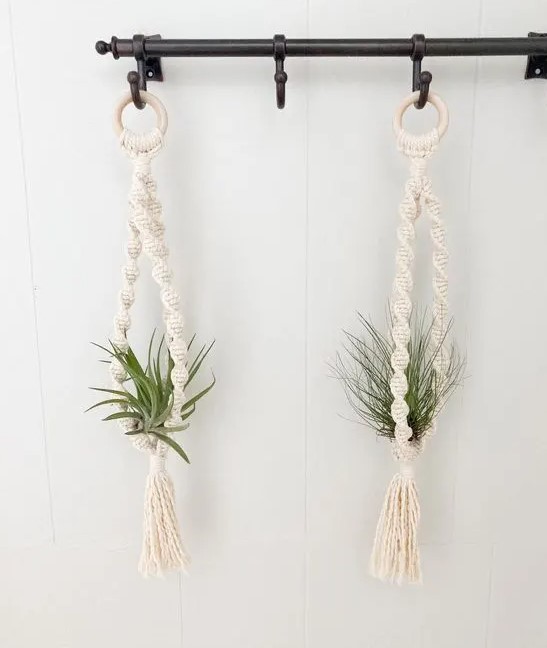 Don't think ceiling décor works? Maybe your ceiling is too high, and you need a hanging spot closer to the ground?
If so, you can try wall-mounted hooks (using command strips).
They save space. You can use them to decorate your home with more compact plants. Plus, you get more room for another decor you'd like to add.
But again, you're using command strips – a form of adhesive hanging. So take care with this option.
#8 – Shelf Plants
Similar to wall racks, but you get to stack more plants into a single space.
Shelf plants can fit indoor environments rather well. Your only challenge is to pick a shelf that matches your home interior.
Done right, you'll have a beautiful frame to contain your plants!
We recommend getting a spacious shelf. You can actually use that as an all-in-one place for your plants, and plant maintenance items.
Obviously, you can position the shelf to hide the latter.
Be sure to get a tall shelf too. You want some space to place your plants as close to the ceiling as possible!
#9 – Old Ladders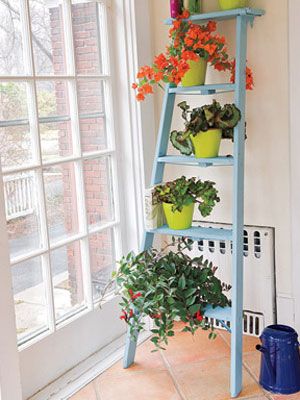 Not as appealing to most people, as that won't give off a modern look. But it's still recommended.
Old ladders give off a simplistic look. Plus, you're not stacking that much greenery, so the look is more natural. Not to mention, old ladder steps are like bars to hang plants from!
This option suits interior with more woodwork than something modern. If your end look is something like a countryside home, this is for you.
But, assuming you want a different option, you can try…
#10 – Coat Racks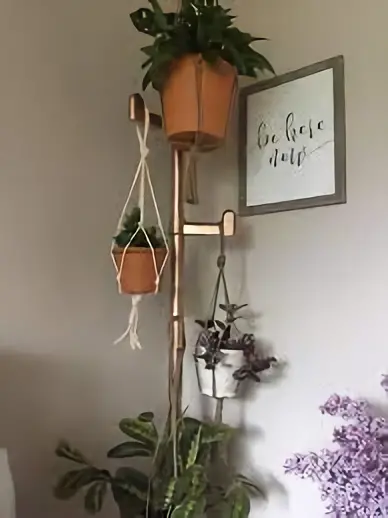 Coat racks have multiple pros.
First, you can position them anywhere you like. You can move them around with ease, so you can test a final look without committing to it firsthand.
Compare that to something like a suction cup or an adhesive hook – which aren't test friendly.
Coat racks can hang a wide variety of plants. You can hang large pots on them. You can suffice with small pots and their containers.
And if you're really creative, you can turn the coat rack into the pot itself – and grow some plants around it!
You can get coat racks anywhere, from a local store to Amazon. However, we recommend something that you can buy extensions for.
It'll allow you to modify it further as you develop ideas on how to decorate your household!
Final Word
Hanging plants from your ceiling doesn't require drill work. There are many simple low-maintenance methods to doing so.
You save yourself much trouble too – especially if you live in a place with a shaky unsupportive ceiling or rental home.
Be sure to explore the previous list, and pick out the options that suit you best!
More from Materialsix: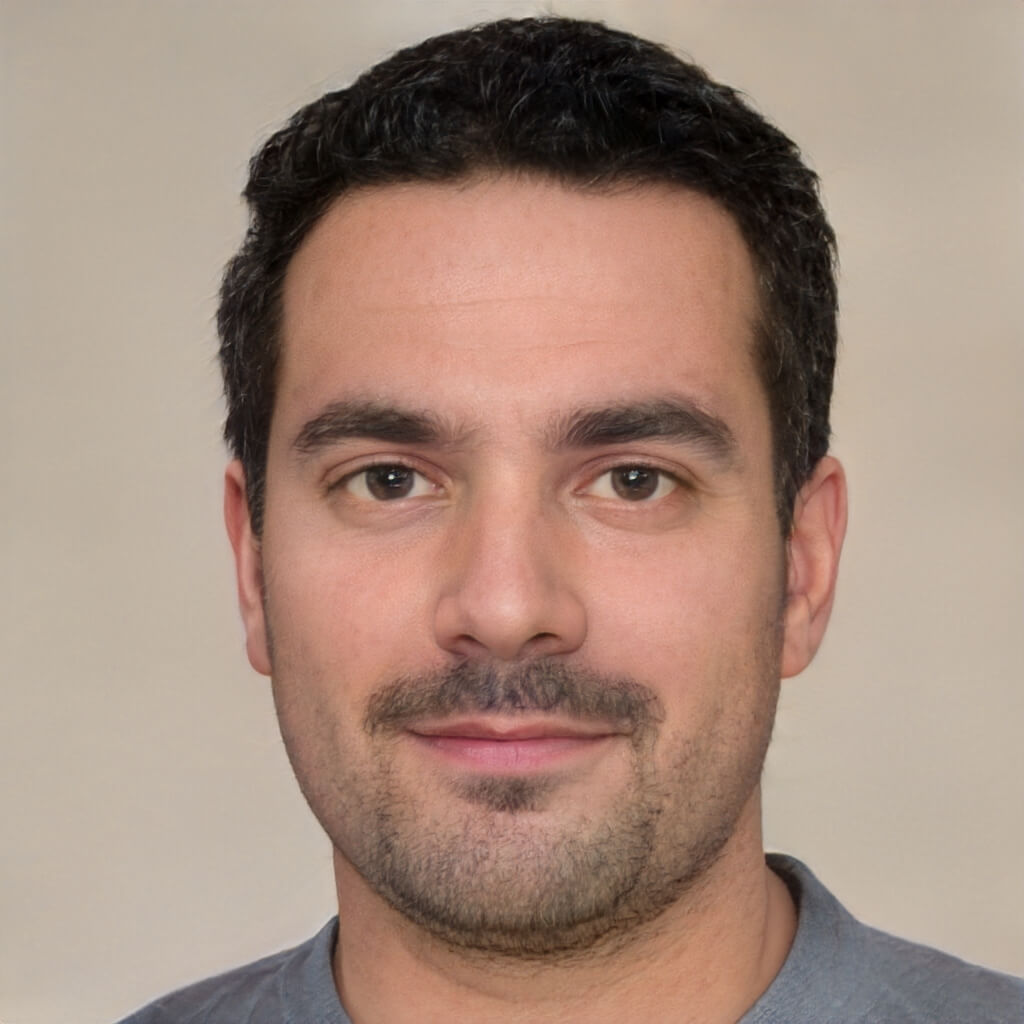 I'm a passionate home and garden enthusiast and the founder of Materialsix Home. With over 10 years of experience in the field, I've cultivated a deep love for all things related to home improvement, gardening, and interior design. Read more…