If you want a modern look in the house but are afraid of choosing the wrong color or theme, why not use these eye-catching wood wall ideas instead?
Applying one of these wood wall ideas in your house can never go wrong. Indeed, using these designs will make the room look more modern and of course eye-catching.
Wooden accent walls do not only make the room look better but also add some dimension to it.  Therefore, it is best to use the only side of the wall rather than all the sides.
Another great thing about wood wall patterns is they suit any kind of theme. So, whether you want a modern, minimalist, or rustic room, this design will fit in just perfectly.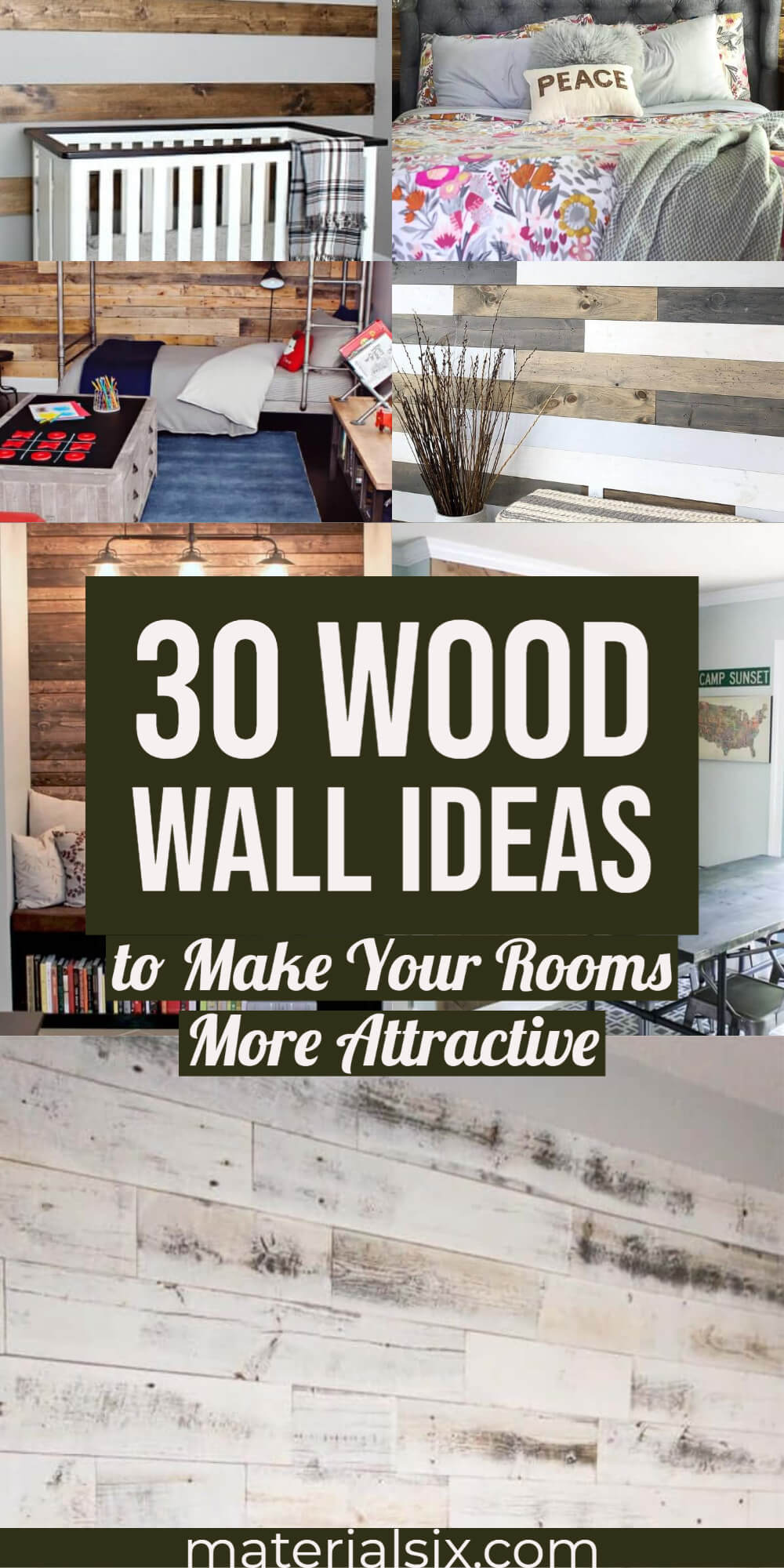 Wooden Wall Ideas to Transform Your Room
Before choosing which wood wall ideas you will be using, determine which room in the house to transform first.
Then, choose what kind of wood and theme to apply.
Remember that each type of wood brings different kinds of atmosphere. Thereupon, choose the ones that suit your room the best.
After determining the room and theme you want, it is time to choose between the best design. For those looking for wall design with wood, here are some of the best options:
1. Slat Wood Panels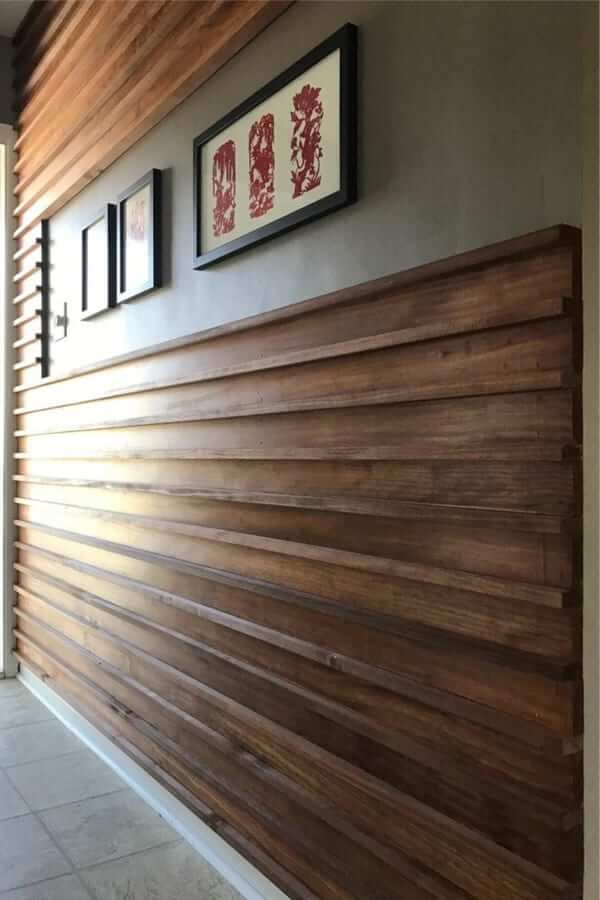 For those looking for a modern but simple look, then try using these slat wood panels to decorate the walls.
Hence, this kind of material is best to use for big rooms that have a large space because it adds some dimension.
A tip you must do before starting the project is to stain the wood first. To prevent blotchiness, it is best to use a pre-stain conditioner and apply it on all sides.
2. Warm Wood Wall Accent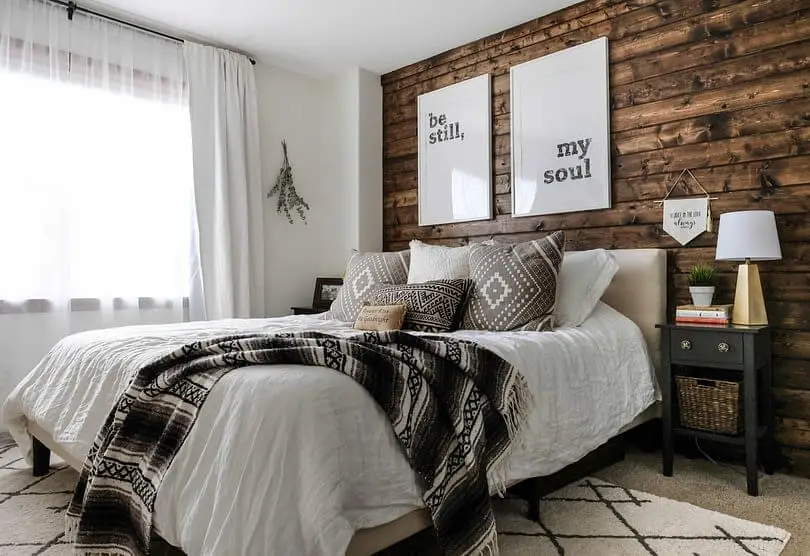 If you want to bring a warm rich texture inside your house or room, then try this wood wall accent. The key to bringing out this atmosphere is by staining the materials with dark colors such as brown.
This accent will look great if you put it in the bedroom behind the bed.
Even though the wood wall accent is simple, but this decorative item can give a huge difference in the appearance of the room.
3. Wall Plank Fireplace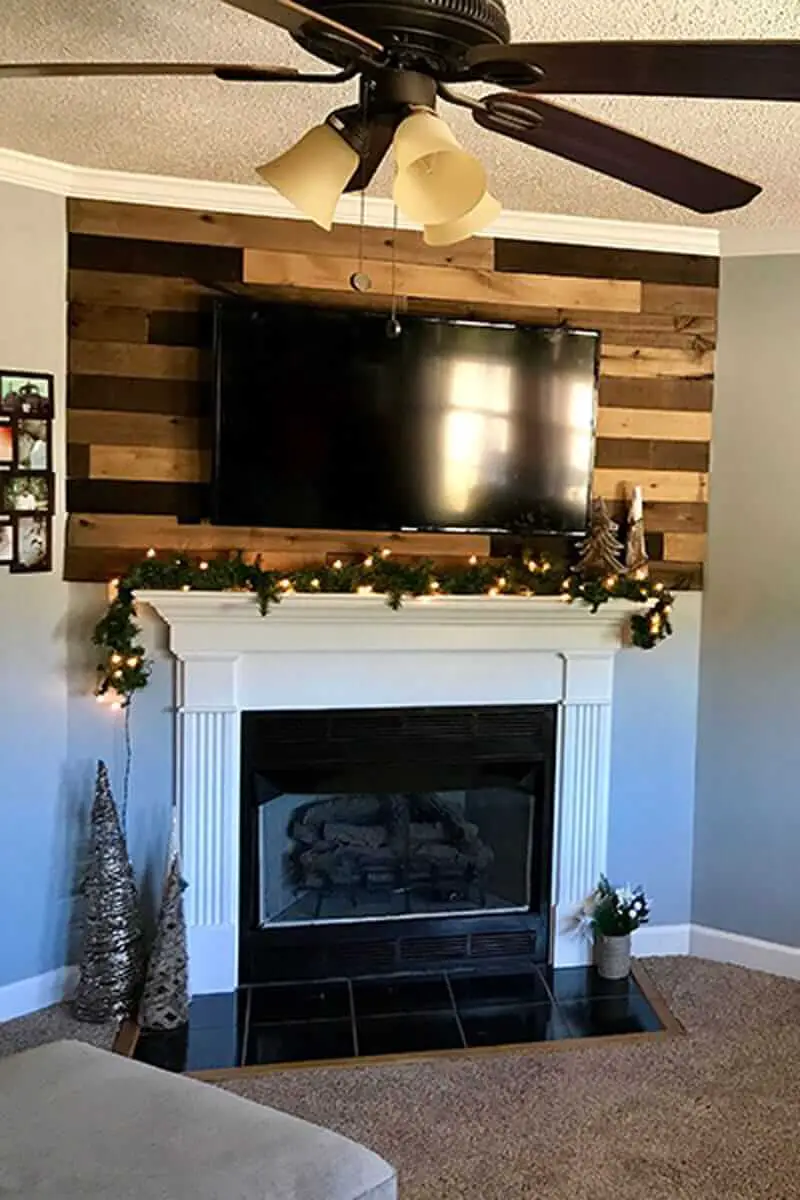 One of the places in the house where you can apply wood plank wall ideas is above the fireplace. By adding this piece of art, your living room will become different and warmer.
A great thing about doing this project is you do not need to do a whole makeover. Just use weathered boards to add some textures to the wall.
Also, if you get bored of it, just take them off without ruining anything.
4. Modern Look Wall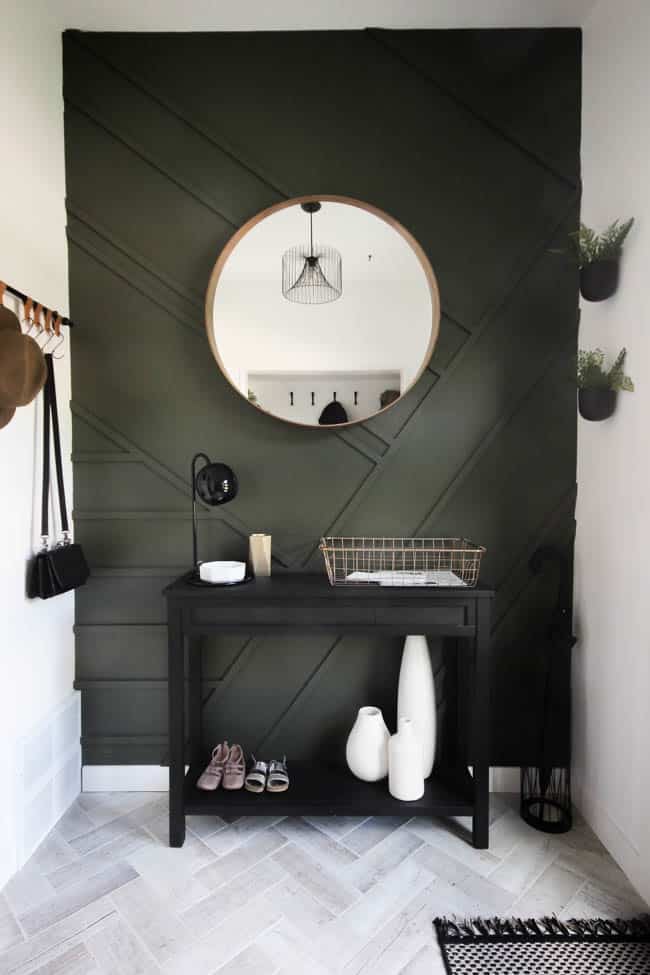 For those looking for modern wood wall ideas, then this design is surely great to try. It does not use full blocks or brown color as the theme but in change it uses black.
As for the pattern, the users placed the wood horizontally. Therefore, people can apply this design in small pieces too.
5. Shiplap Walls for The Laundry Room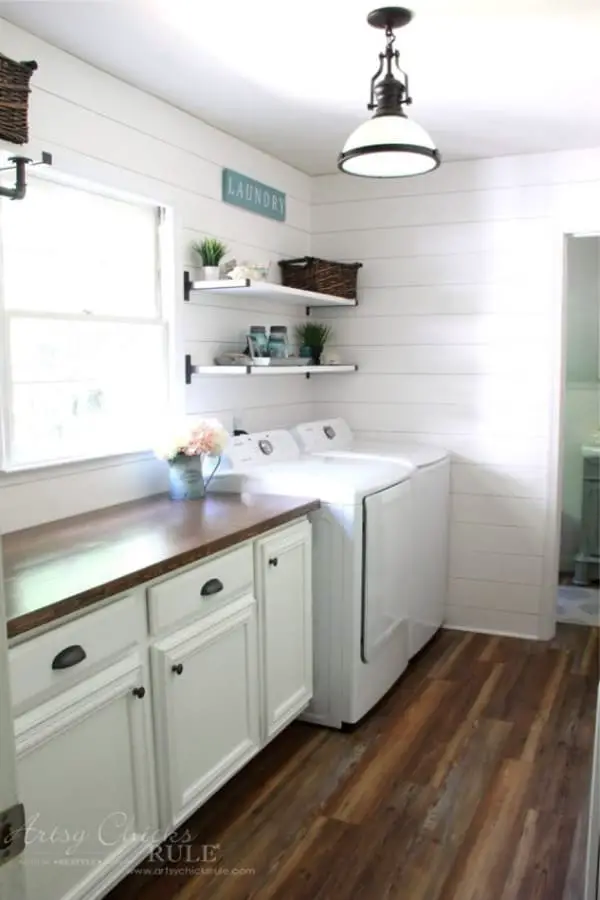 Just like other places in the house, the design of the laundry room is just as important. However, to make sure you do not spend too much on it, use shiplap for the walls.
Overall, faux shiplap looks just like white tiles, but they are easier to install and a lot cheaper. So, if you are on a limited budget, this option is surely worth trying.
6. DIY Fence Wall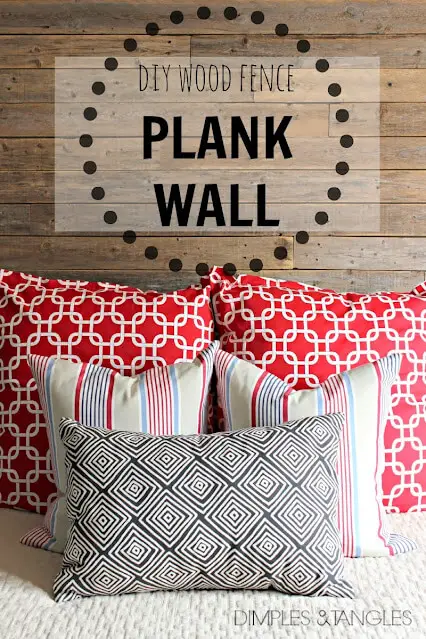 Who says that making wood accent wall ideas must use expensive materials only?
If you are on a budget, then why not use fence wood instead. This DIY project is cheaper and stronger that can bear any kind of condition.
7. Planked Wall for the Bedroom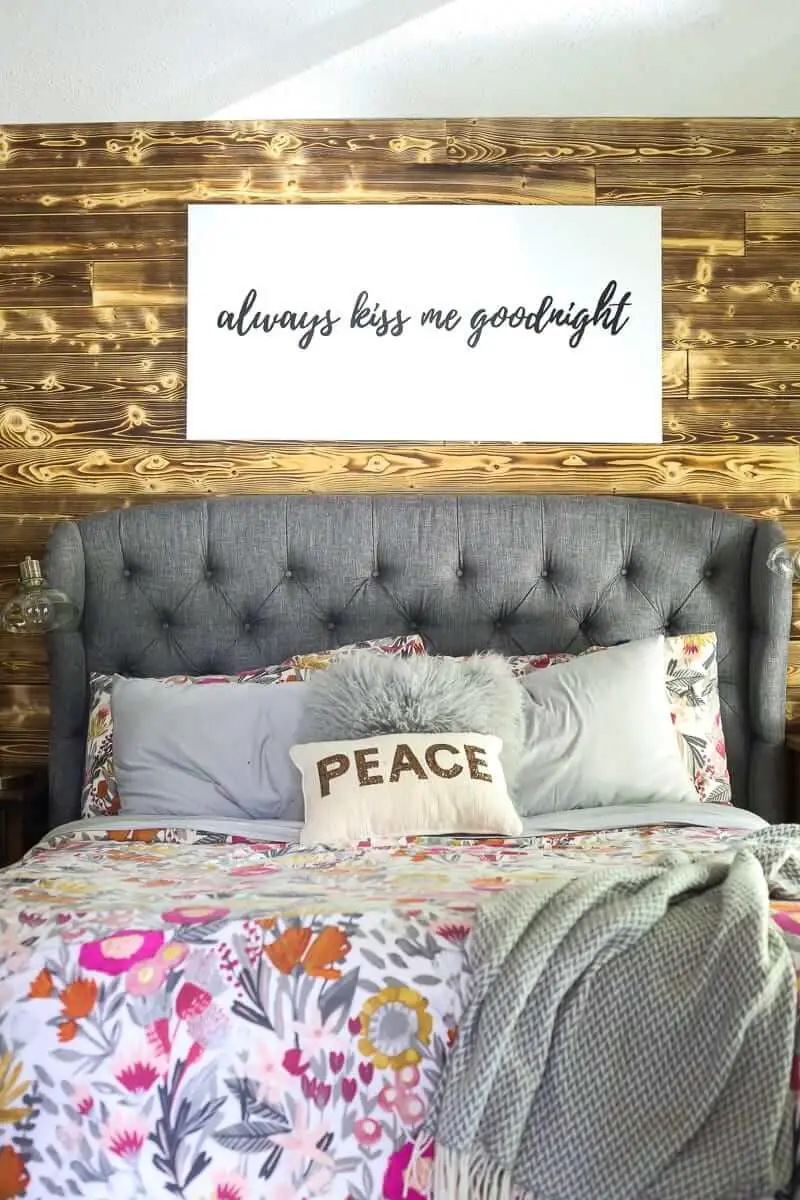 One of the easiest ways to make your bedroom look different is by adding a wooden accent wall behind the bed.
If you do not want to do too much work, then purchase charred wood boards from a home depot.
When purchasing the board, buyers can request the length they want to buy. Therefore, after buying the wood, you just need to stick them on the walls.
8. Modern Plywood Accent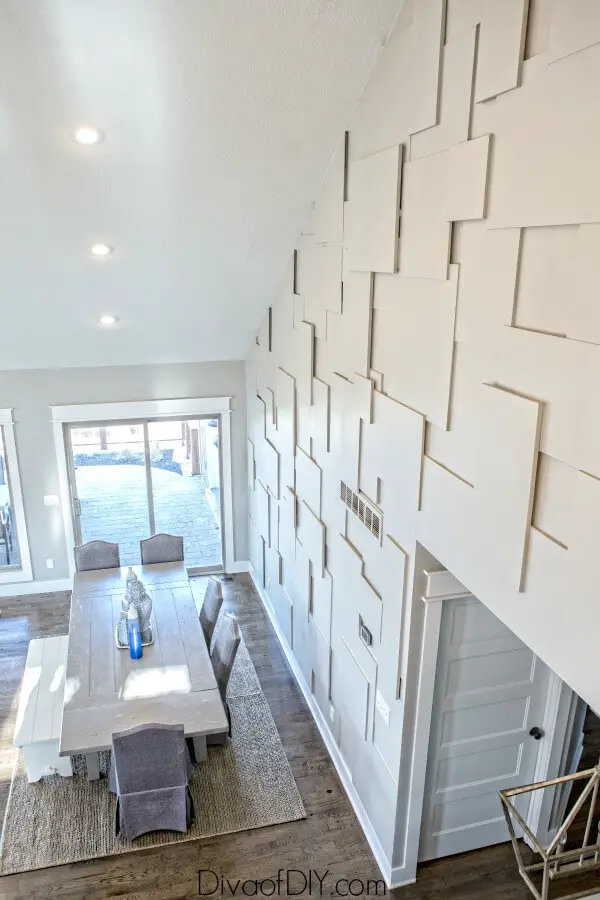 Look how amazing this plywood design is! Just by using small squares of wood, the room looks so modern and different!
However, even though this design looks great, but it is not suitable for spaces. Make sure to apply it in large places where the roof is high.
Therefore, the room will not look small or full.
9. Striped Walls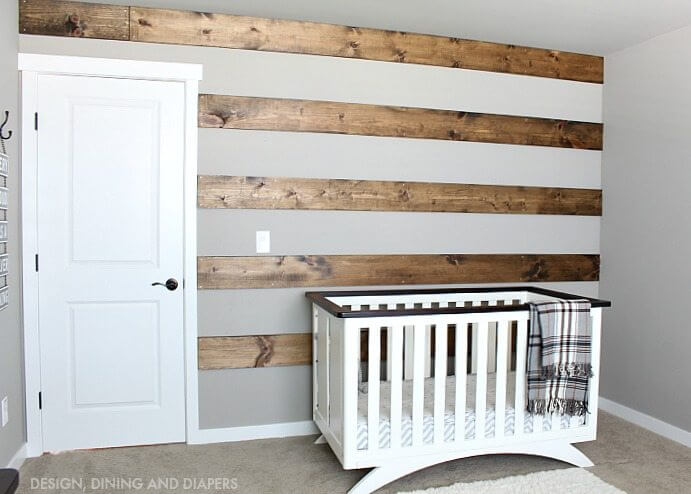 One of the wood wall ideas that you can apply in the nursery room is these stripe walls.
Normally, wooden accent walls will make the room look more mature. However, with this design, the space still looks fresh but young.
So, just cover up some parts of the wall and let the rest show.
10. Wooden Floating Shelves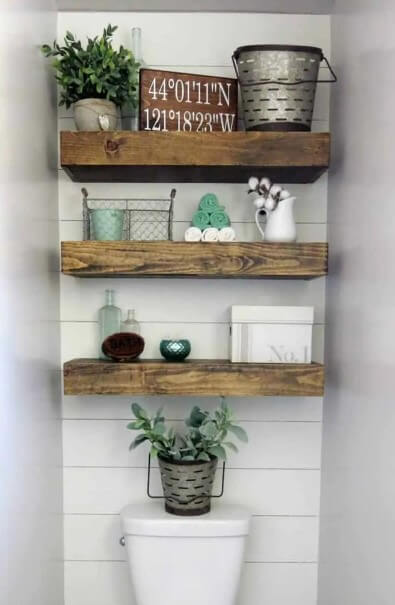 If you want some wooden accent inside your bathroom, then build on a floating shelf.
Rather than just using the wood as a decoration, make the material as a shelf too. Therefore, you can put all your belongings from the towels, brush, and plant above it.
11. Wooden Living Room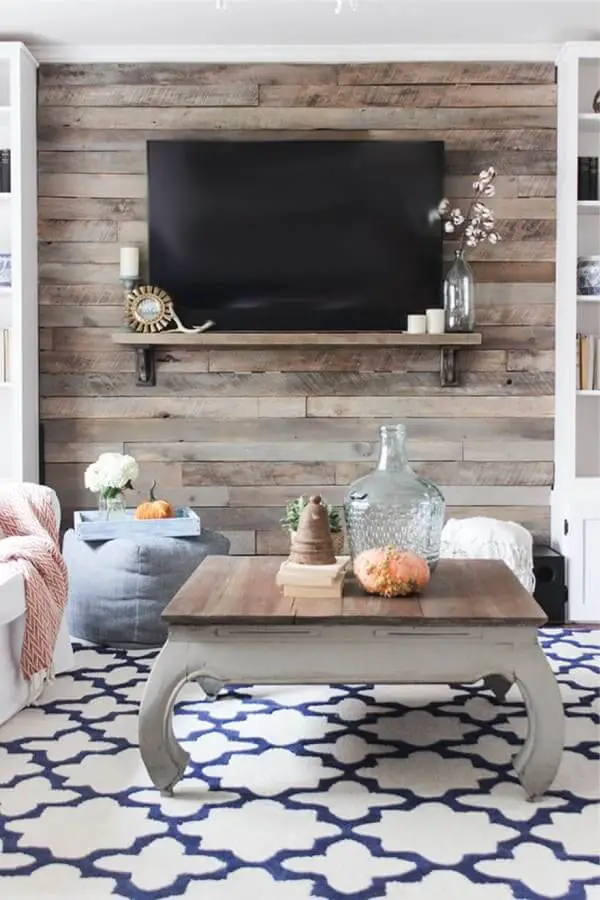 This is a great wood wall living room to embellish your house. Just by using some pallet wood, the room looks rustic but still pretty.
The key in this design is using natural colors and pallets for the accent. However, if you want a more modern look, stain the wood with a darker color.
12. Thick Wood for Wall Decoration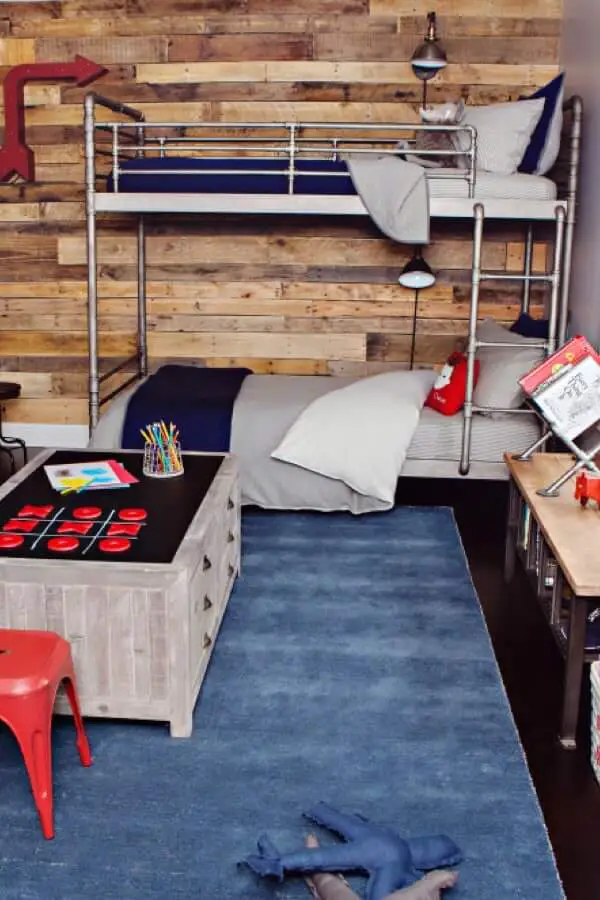 If you have no idea how to decorate your sons' room, then you might want to try one of these wood wall ideas.
The wall decor is simple, but it makes the room look totally different, and most importantly it is long-lasting.
13. Stikwood Wall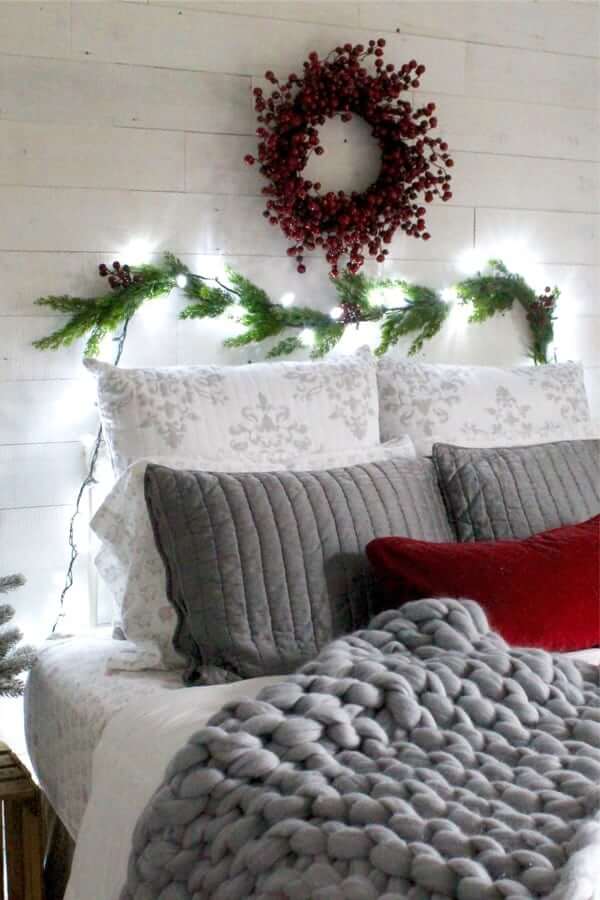 If you want to keep things simple and clean, then make this stick wood design for your room. For the material, there are many options to choose from pallets to chanted wood.
Then, to make the room look simple and clean, paint the wood with white or another soft color. If it gets too boring just add some ornament around it.
14. Pallet Walls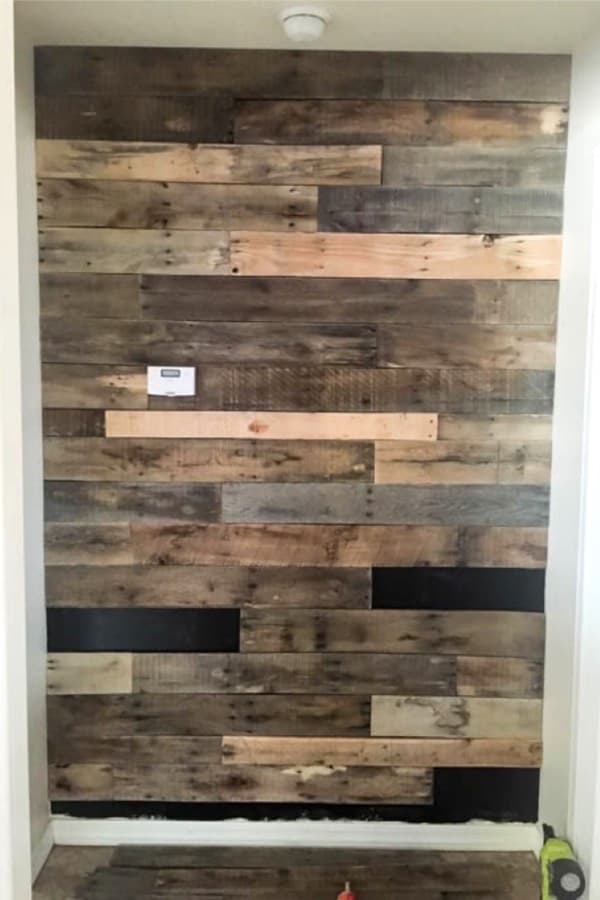 For those with a limited budget, one of the best wood wall ideas to apply is surely this pallet design. Why? Because it looks good and it is cheap!
When making this design, you can choose between using the whole pallet without cutting it or taking the parts apart.
However, to make it look neater, the second option is better.
15. Ship Theme Bathroom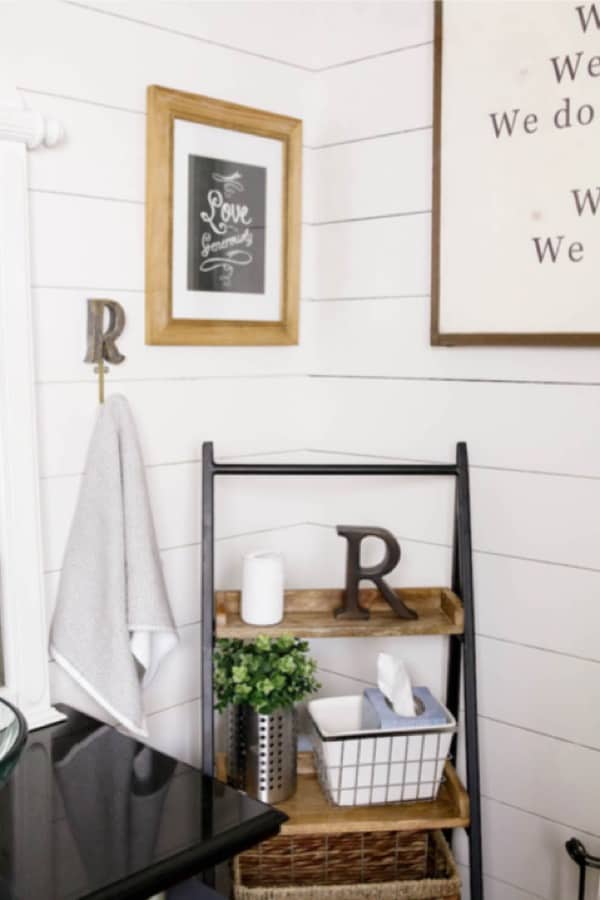 If you are planning to decorate your bathroom, you might want to copy this white ship theme. The major element in this room is the shiplap on the wall.
Luckily, they are easy to install and inexpensive. However, if shiplap is too expensive, then you can always change it with plain plywood.
16. Plank Wood Reading Area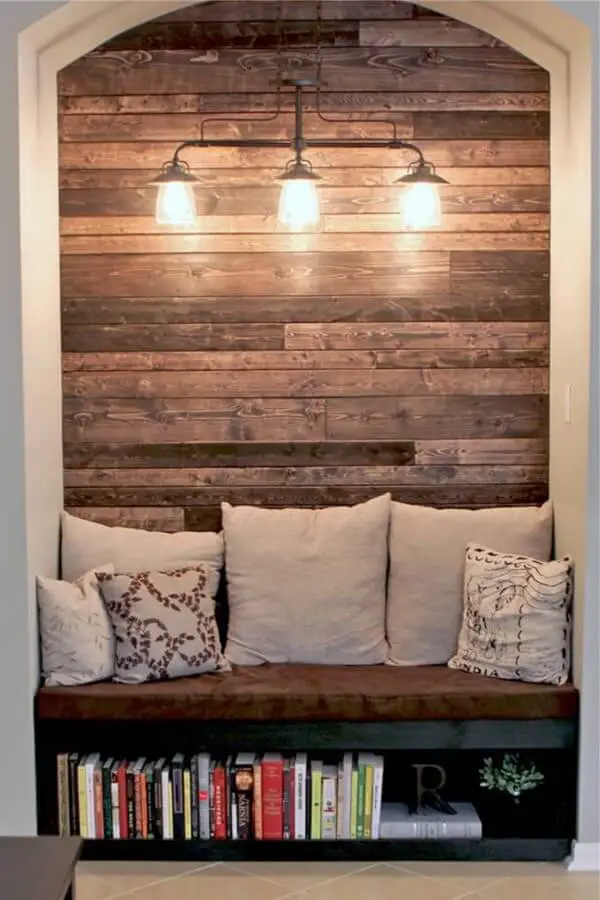 If you have a space in the house and want to renovate it into a reading area, then use plank walls to make it feel like a real library.
After that, stain the wood with dark colors to evoke a classy look.
On the other hand, for a modern look, choose a lighter shade. To make the nook feel even cozier, add a hanging lamp and a bench inside.
17.  Reclaim Wood Design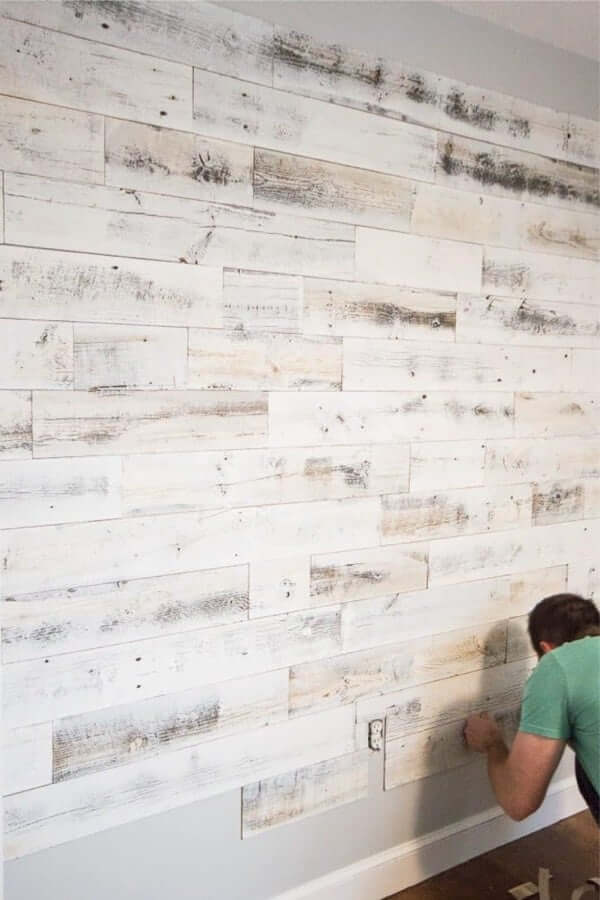 This is one of the reclaimed wood wall ideas that you can apply almost anywhere in your house, starting from the living room, bedroom, or even for the ceilings.
Even though you are using reused woods it does not mean that the result will be disappointing. Instead, you can get a great room, especially if people can stain the material well.
Another great thing about using reclaimed wood is it is environmentally friendly! So, by choosing this material, you are also helping save the forest.
18. Herringbone Patterns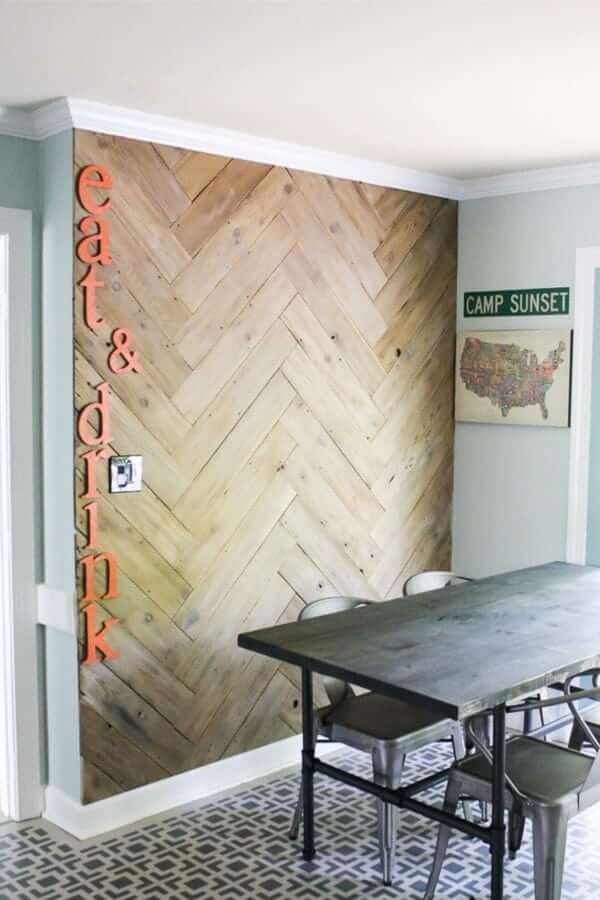 This herringbone pattern is one of the wood wall ideas that people can make from reclaimed materials.
Rather than putting the planks in a horizontal or vertical pattern, people can hang them in a V shape for a different look.
However, make sure that each side of the plank wood is the same size.
19. Floral Wood Walls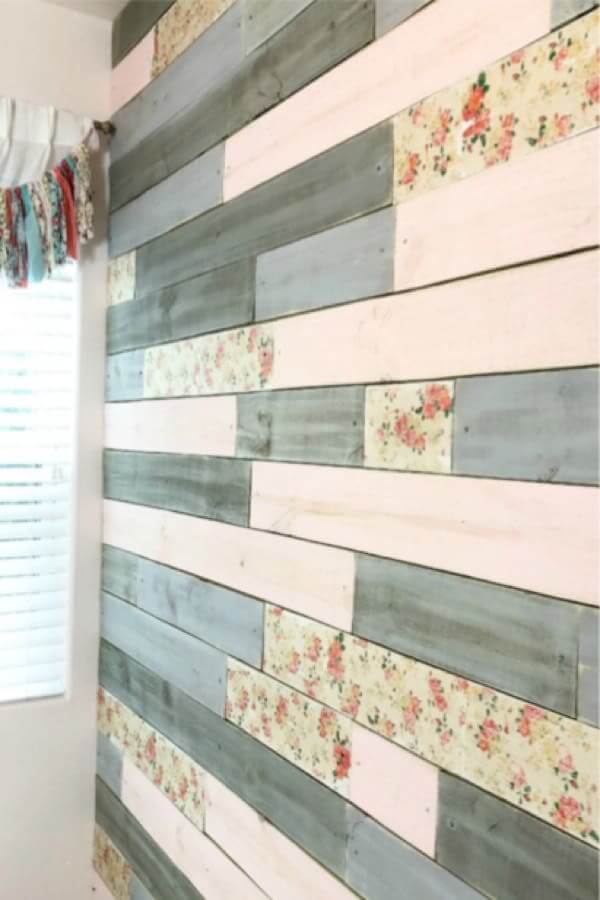 Wood plank itself is enough to make a room look different and modern. However, if you think that it is too plain, then add some wallpapers to it.
Stick the wallpapers on some parts of the plank wood rather than the whole wall. Therefore, there will be a combination between flowers and wood.
With this combination, the room will look natural but also seem like a chic theme.
20. Wood Walls for Basement Stairs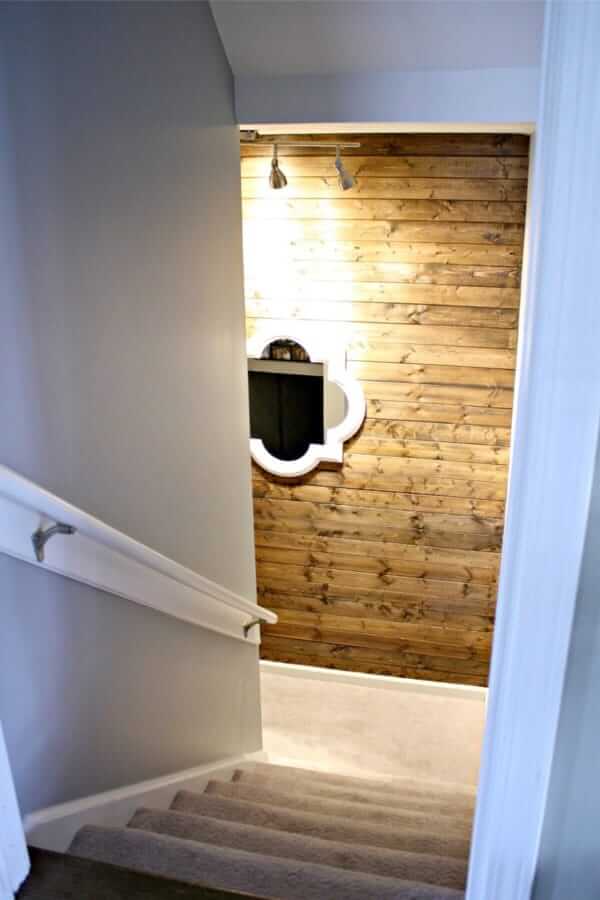 Wood wall ideas can be applied almost anywhere in the house including the stairway hall in the basement. However, because it is in a hidden place, people usually do not want to spend too much on it.
If so, then use these stained woods for the walls of the stairs. Not only are they cheap, but they will upgrade the look of the basement.
21. RV Bed Frame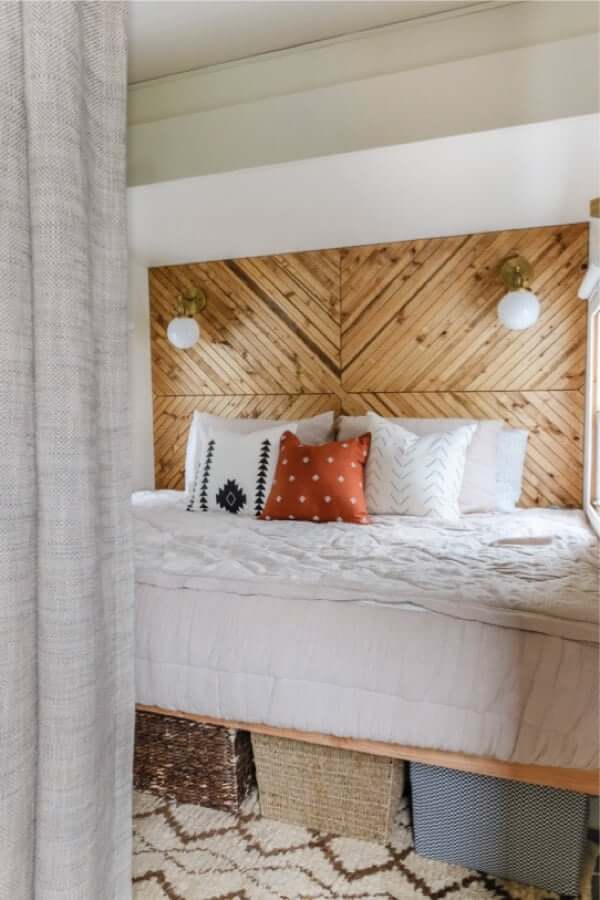 Adding an RV bed frame on the walls can instantly create a different atmosphere inside the room. Even though the making process is a bit difficult but when you see the result, it is all worth the energy.
For this design, rather than using plank wood search for thin and long materials instead. Therefore, you do not need to cut or work too much on it.
22. Vertical Walls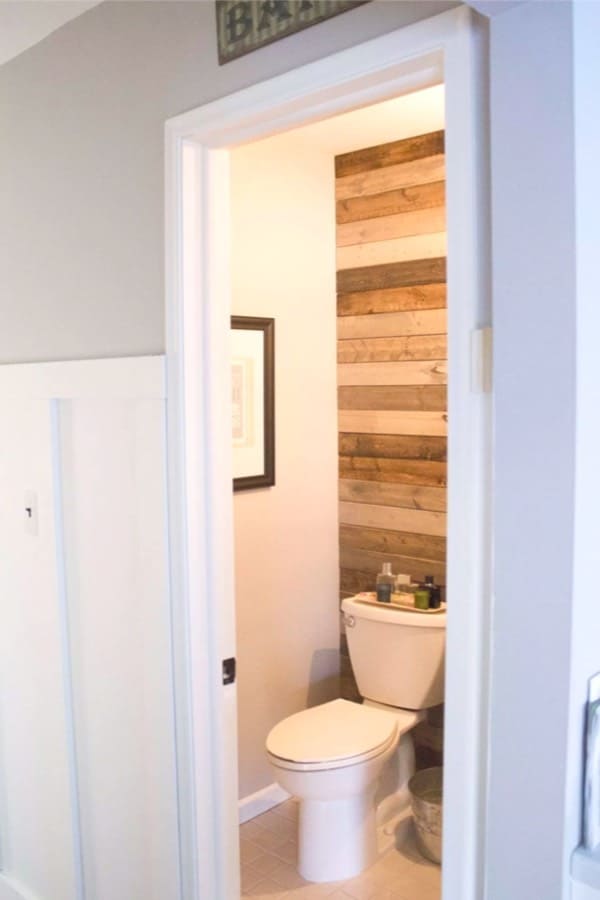 This must be one of the simplest wood wall ideas on the list. If you have a limited budget, then use reclaimed wood or leftovers from pallets.
Then, cut them in the same size and stick the items on in a horizontal pattern. Even though this design is so simple, but it can really upgrade the style of the room.
23. Rough Wood Design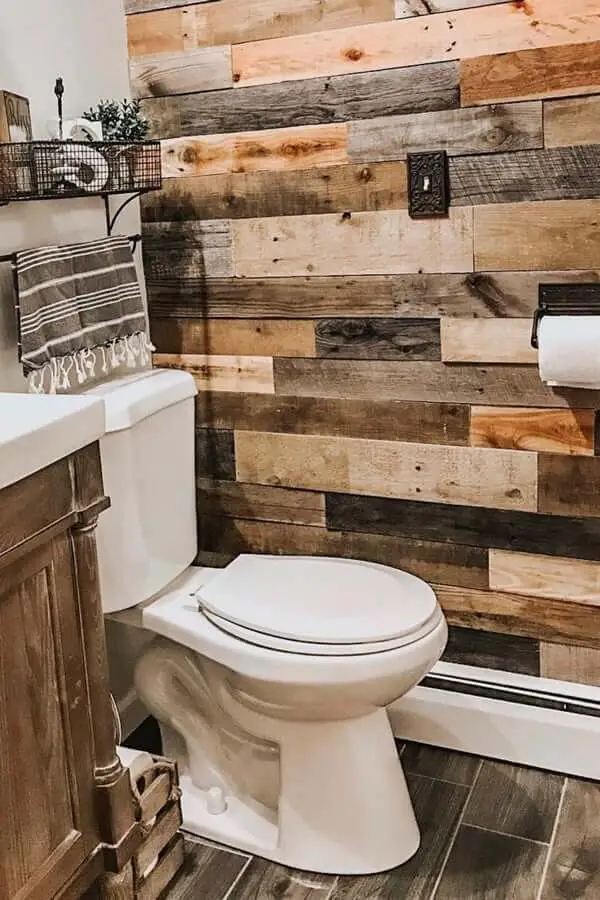 For those looking for simple wood wall ideas, then try this one out! Why? Well, no need to smoothen the rough surface or paint it to look good.
Its concept is to utilize rough wood for the wall accents. Therefore, you do not need anything to the material except cutting it into the right size.
24. Dark Wood Design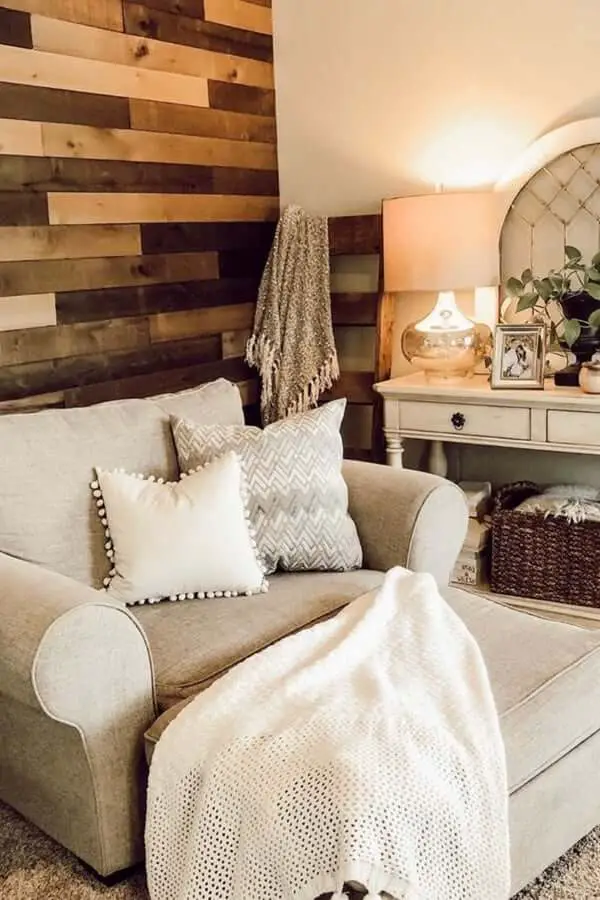 If you do not mind dark themes in your living room, then darker color woods as the accent to your walls.
This kind of wood will make your room darker. However, it brings a warm atmosphere inside. If you do not want it to look totally dark, then combine it with lighter shades.
25. Angled Pattern Wall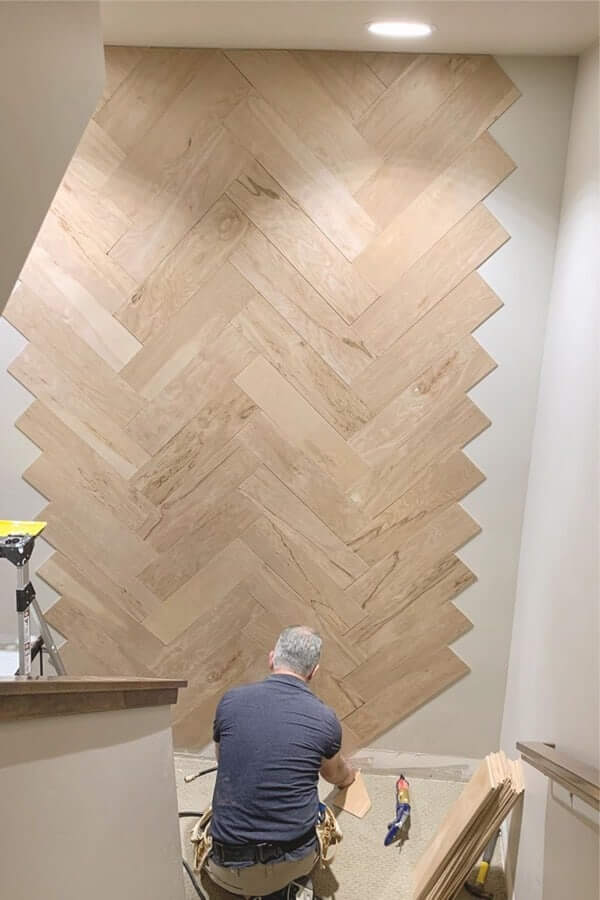 This angled pattern wall is another great accent that can be applied in all rooms of the house, including your stairway.
However, to make it look modern and brighter choose light color woods or boards.
26. Rectangle Wood Pattern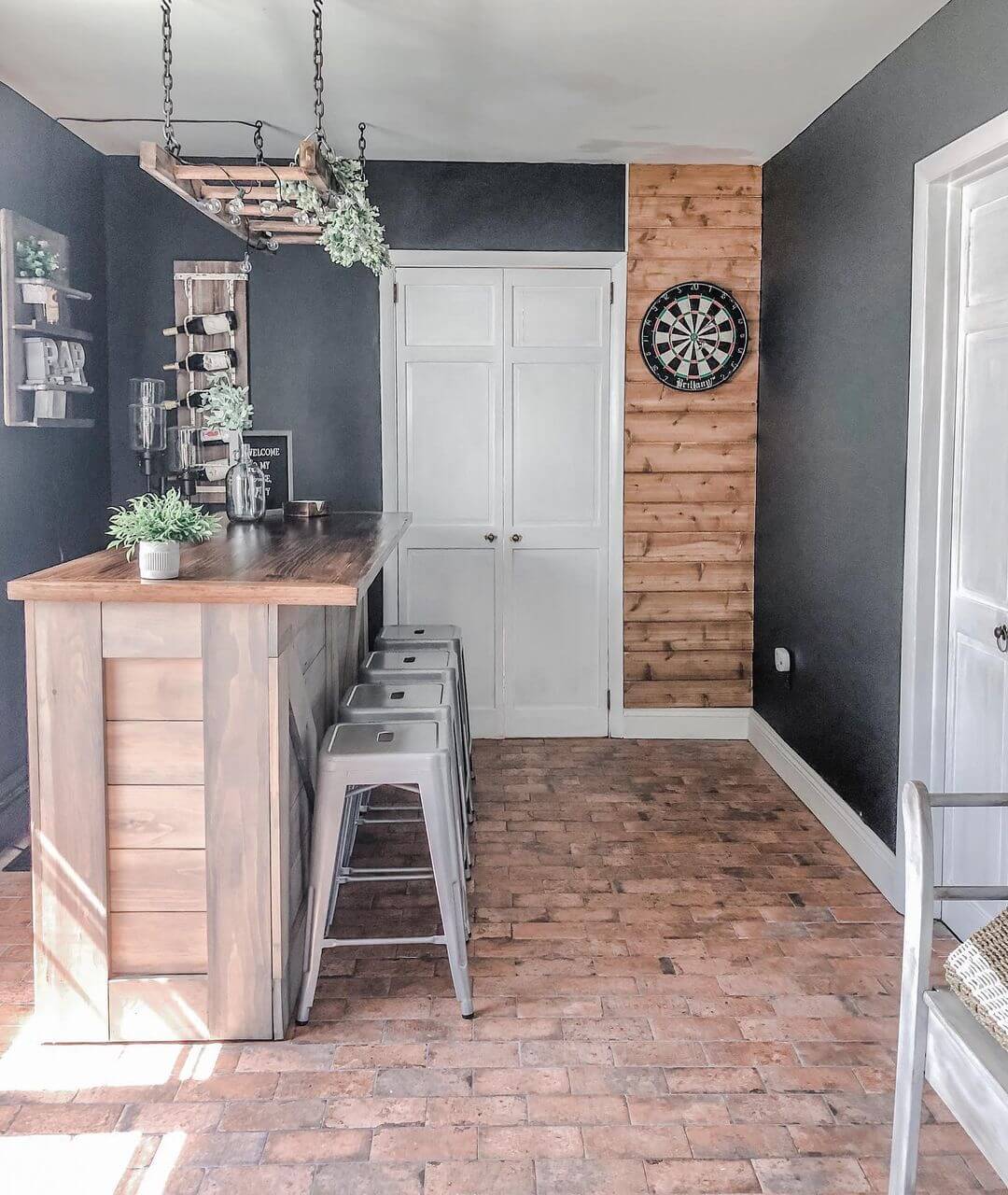 Wood wall ideas can be expensive, so adjusting your budget seems very essential.
If you still want to make a wooden accent wall, then make a rectangle or small wood accent inside your house.
It is better to build it in the corner so it can still fit in with the design of the room.
27. RV Wood Wall for the Kitchen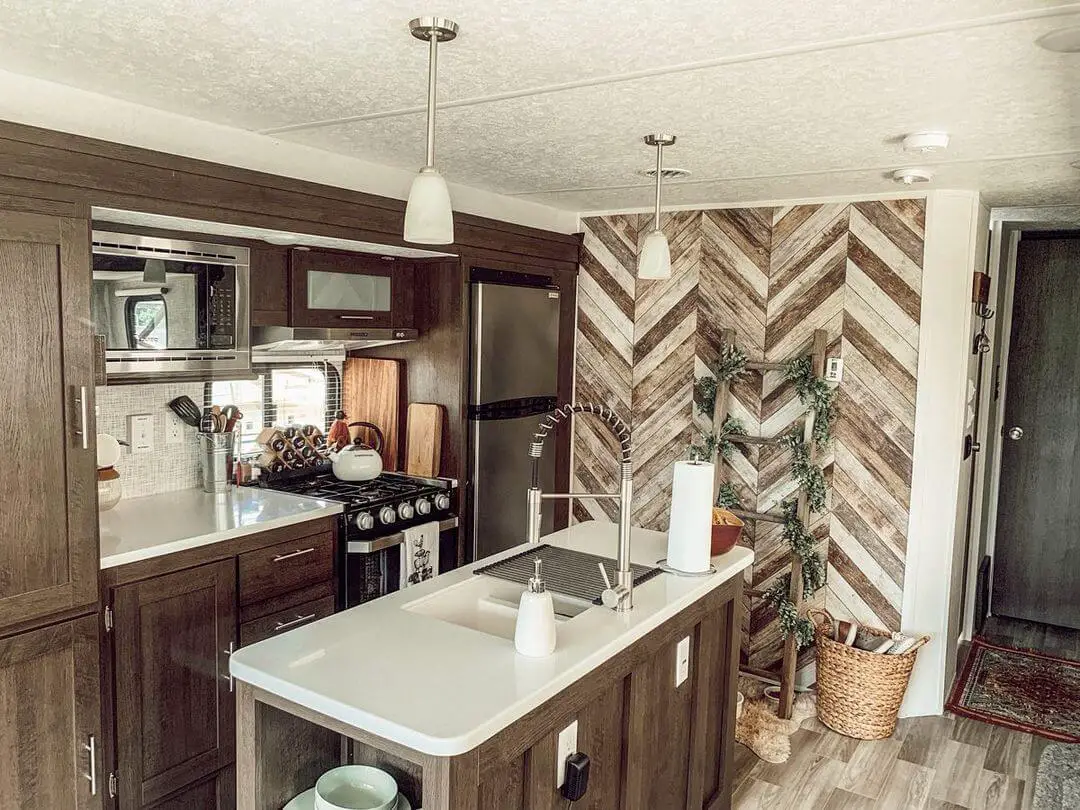 This is another RV pattern that you can apply in the house including the kitchen.
Rather than using one tone of the wood, the owner decided to make combine some colors at once! And look how amazing it turned out.
28. Natural Entrance Wall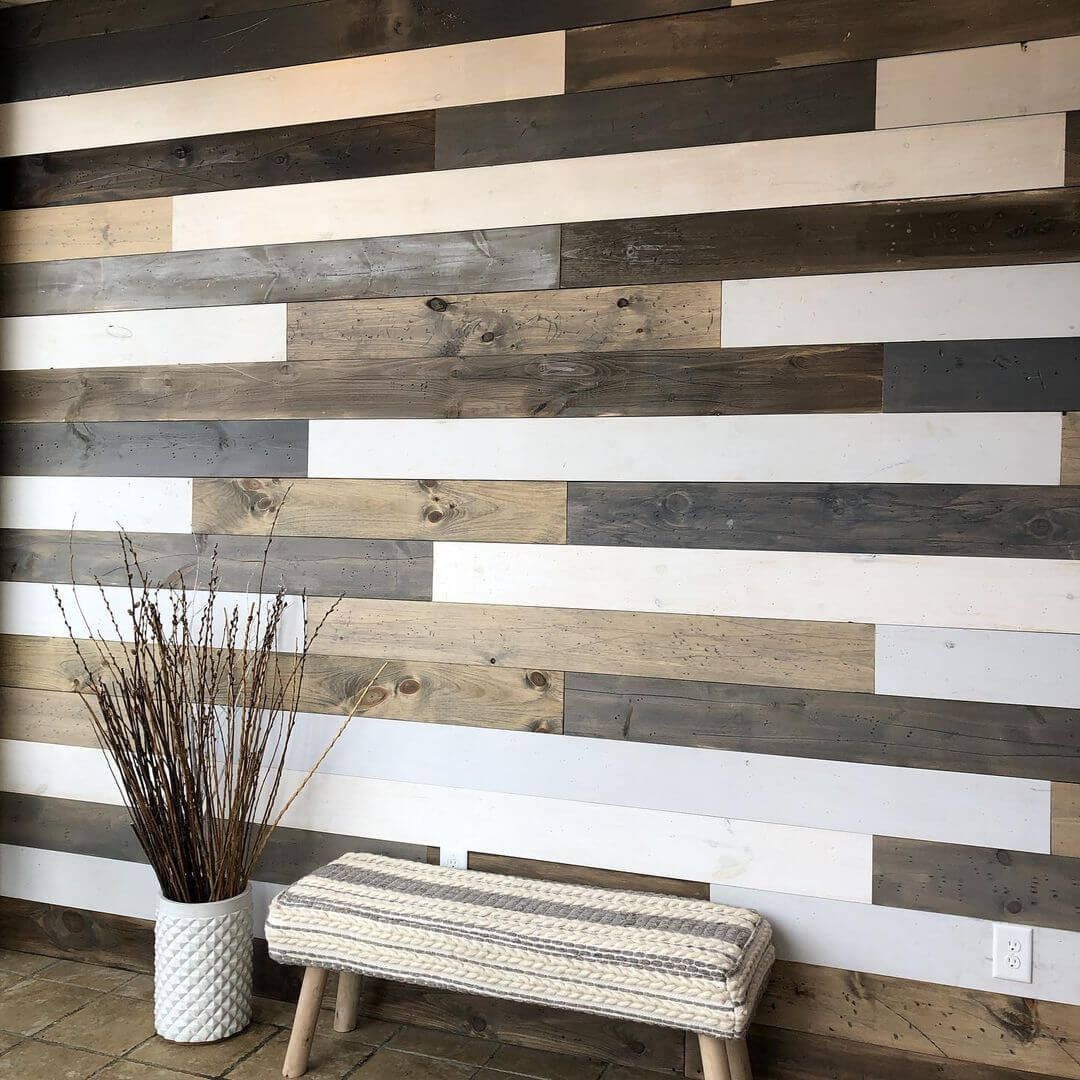 Make a good entrance inside your house by applying different colors of plank wood.
Instead of using brown, why not combine it with gray and white too! See how beautiful your hallway turns out.
29. Leaf Pattern Wall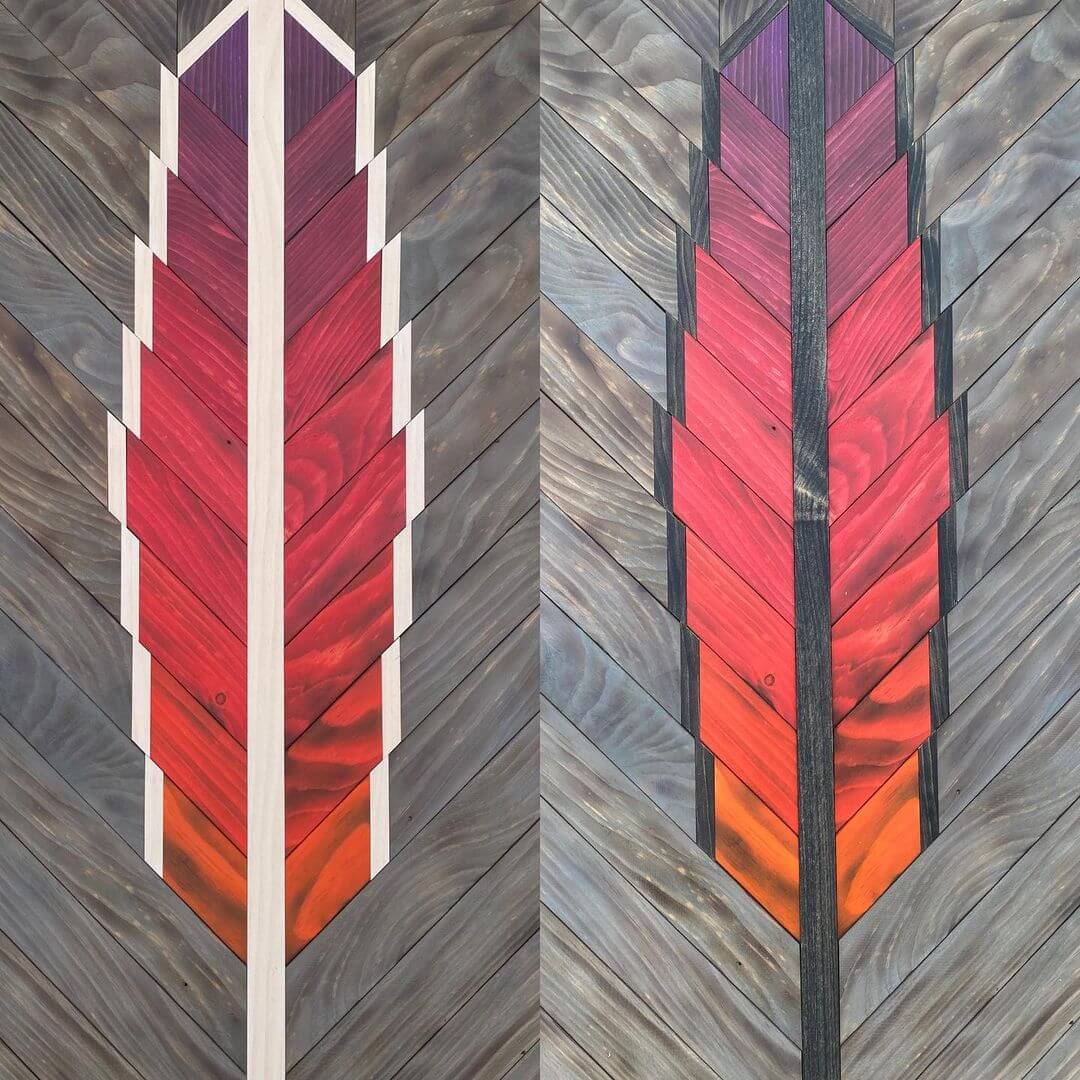 Want a different look by using wooden wall accents? If so, then you should try this leaf design in your house!
The wood accent offers a pretty look and becomes a decoration to the room.
30. Wooden Modern Backdrop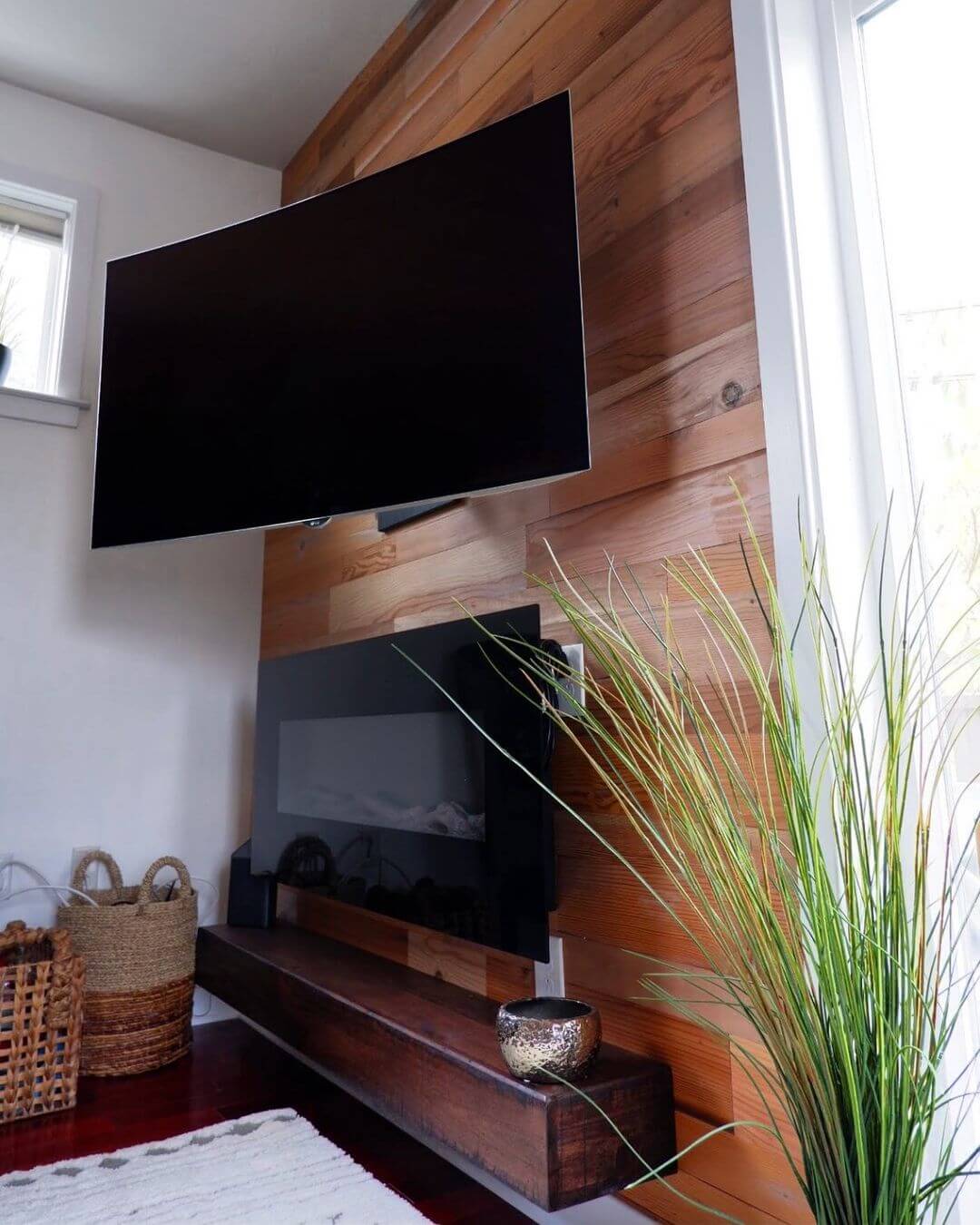 The last wooden wall idea on the list is this modern TV backdrop.
No need to apply a wooden accent to all the walls to upgrade the room. Just stick it on one side of the wall, such as behind the TV to make it look modern and pretty!
Conclusion
There are many wooden wall ideas that you can choose and apply in all the rooms in your house. Just choose whether you want a simple design or a luxurious one.
So, from all of the wood wall ideas, which one suits your house the best?
More from Materialsix: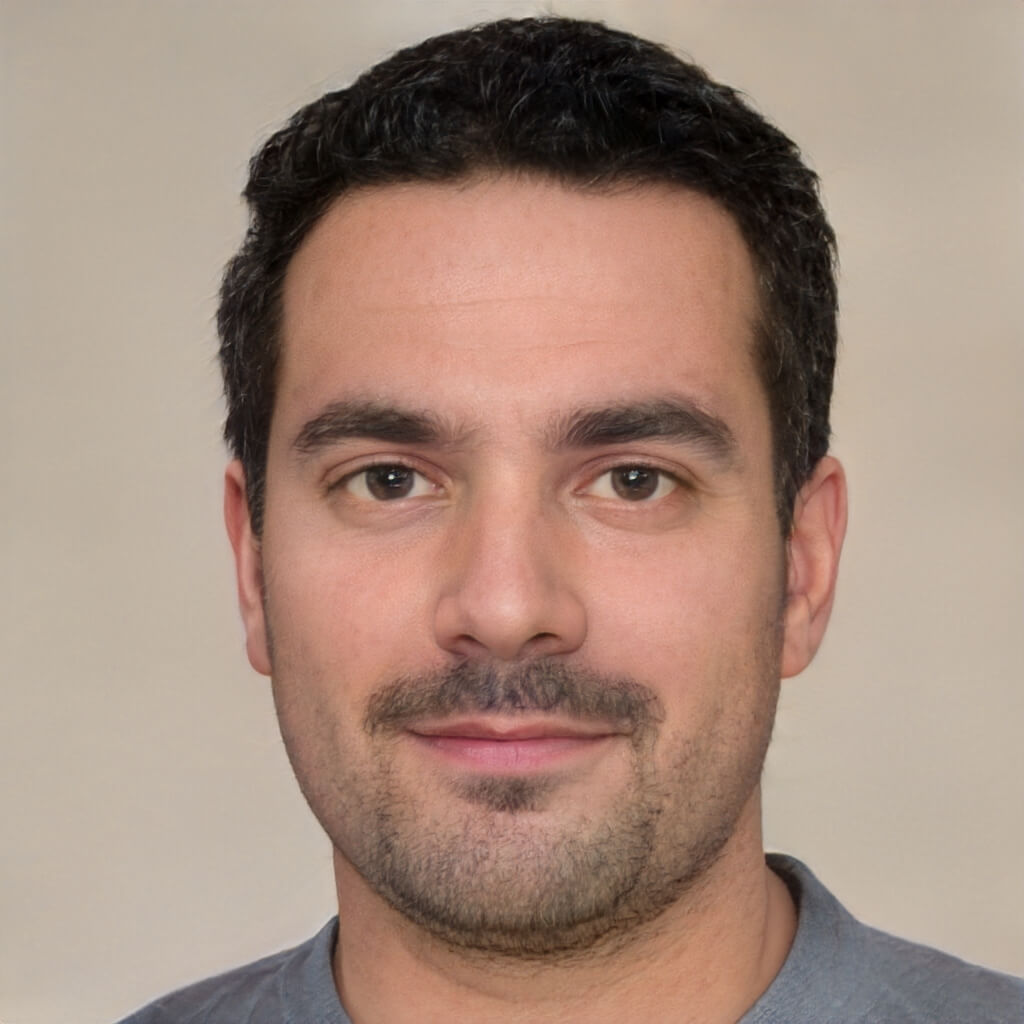 I'm a passionate home and garden enthusiast and the founder of Materialsix Home. With over 10 years of experience in the field, I've cultivated a deep love for all things related to home improvement, gardening, and interior design.