Lights play an essential role in every house because they help you do your everyday tasks. Therefore, you need some best lighting for sloped ceiling ideas.
Furthermore, they will help you figure out what to choose. However, choosing the best lighting for the low-sloped ceilings is not always that simple.
Thereupon, consider several things before picking lamps.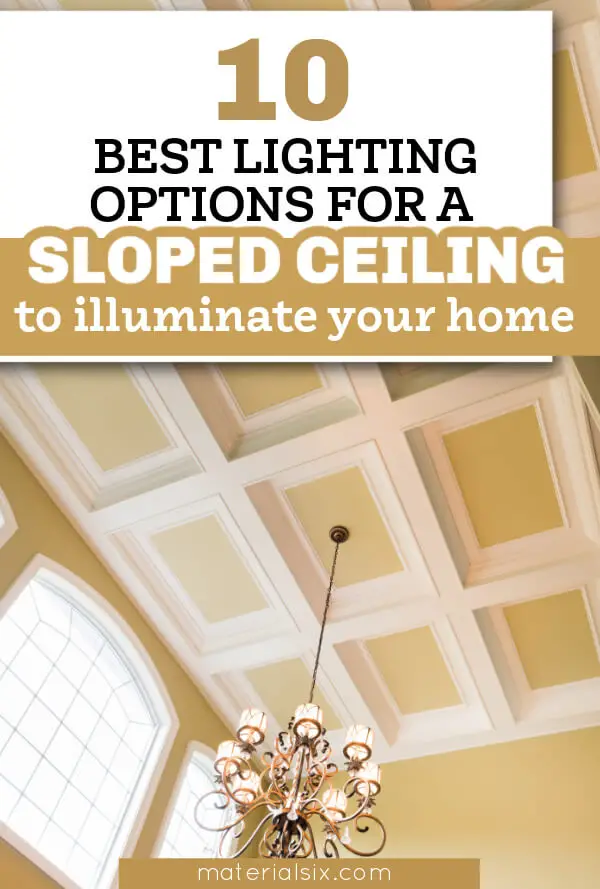 10 Best Lighting Options for a Sloped Ceiling
Are you looking for the best-sloped ceiling lighting? Look no further! Read on to find the most appropriate one for your home right here.
1. Flush Lights for a Simple yet Stylish Look
The flush light is one of the best lightings you should take into consideration. As the name suggests, people mount this type of lamp directly to the ceiling, so it stays flush with it.
Therefore, a flush light is a perfect choice for a small room with a low roof, like the attic, because you will not bump your head on the lamp.
Flush lights come in various designs to match the interior of your room. Whether you implement rustic or modern style, this type of lighting will round out the look nicely.
2. Opt for Semi-Flush Lights for a More Decorative Look
Unlike a flush light that mounts directly to the ceiling, this type of lighting leaves a little gap, resulting in more illumination.
A semi-flush light is different from a pendant light that typically extends farther away from the ceiling.
It only provides about a 4 or 8 inches gap between the fixture and roof. Thus, it is also the best lighting in a small space.
3. Get a Lavish Look with Chandeliers
If space is not a problem, you should put chandeliers on the list. This type of light tends to extend far from the ceiling.
Therefore, suspending it from a higher place has always been a good idea.
Besides, if you have a high ceiling that may look awkward, hanging a chandelier can help you connect the lower and upper portions of the room.
You only need to hang the chandeliers in the middle of the room and let the intricate design become a spectacular statement piece that will draw the eyes instantly.
4. Highlight a Certain Area with Track Lighting
Track lighting is easy to adjust, making it perfect for sloped ceilings. Besides, you can install more than one light on the same track.
This way, you can highlight a certain area you want. Although you can find many track lighting styles, you will not likely get a lavish one.
This type of light tends to focus on function rather than style because you will install it close to the ceiling, so no one will not notice it.
Furthermore, choosing the right track lighting can be a bit tricky depending on the angle of your ceiling.
If it is mildly sloped, this light will work like a charm.
On the other hand, if the angle is rather sharp, you might need to install the one with straight lines and adjustable lights so that it can illuminate the room better.
5. Add a bit of Industrial Look with Cable Lighting
Are you a fan of the industrial look? If you are, you should consider installing cable lighting to illuminate your home while accentuating the style.
If you love the functionality of track lights but want a more stylish look, you should try cable lighting.
Cable lighting shares the same type of system as track lights.
However, it uses cable mounted to the walls instead of a track suspended from the ceiling to hold the lamps.
Due to its unique design, cable lighting can add some sort of style to the space.
6. Recessed Lighting for the Minimalist Style
The recessed light is one of the most popular options among sloped ceiling lighting. It is your greatest bet if you want to illuminate the space without showing off any fixtures.
As a result, you will get a super sleek look that will complement your contemporary or modern home.
People also know these designs as 'can lights' because the lamp sits snugly inside a can.
When you install this recessed lighting, you will position the cans right into the ceiling. Thus, you will only see the light as if it came out of the roof.
Despite the minimalist look, recessed lighting is also hard to install when it comes to a sloped ceiling.
It happens because you have to purchase special cans that match the angle of your false roof.
7. Make Use of the Versatility of Pendant Lights
Pendant lights are quite similar to chandeliers in terms of functionality. However, they are different in design.
Chandeliers consist of many light bulbs that look like candles sometimes. On the other hand, a pendant light usually has only one lamp on it.
Since you can hang a pendant light freely from the roof, it is perfect for a sloped ceiling.
Nonetheless, you may need more than one piece because a pendant light can only illuminate the area beneath it.
8. Feel the Cool Breeze with Ceiling Fans
A ceiling fan can do more than just become a part of lighting ideas. Not only can it illuminate the space, but it also can help you fix poor air circulation.
Like chandeliers and pendant lights, a ceiling fan can make a great statement piece.
Otherwise, you need to position this fan strategically so that the blades will not hit the angles of the ceiling.
Another trick you can use is to purchase a ceiling adapter to help you install the fan at the best angle.
9. Why Bother? Go for Floor Lamps
If you think you have not found the best lighting for your sloped ceiling, you can just opt for a floor lamp.
Unlike the aforementioned lighting fixtures that rely on the ceiling, this type of light stands freely on the floor.
For this reason, you do not need to worry about the hassle of installing lights at a certain angle.
Even if you are not good at electronic stuff, floor lamps enable you to illuminate the space without breaking a sweat.
Installing a floor lamp is just a piece of cake. You only need to plug it into the socket, and you are good to go.
10. Earn a Mesmerizing Look with Wall Sconces
Like a floor lamp, this lighting does not require you to work with steep angles because you will mount the lights on the wall.
Wall sconces offer various styles. Therefore, they can complete the look of any design you apply to your home.
Frequently Asked Questions about Lighting for Sloped Ceiling Ideas
You have come across a lot of lamps for sloped ceilings. Thus, you may have some questions in mind.
Keep on reading to find the answers before deciding what to choose.
How do You Install a Pendant Light to a Sloped Ceiling?
Pendant lights are one of the lighting ideas you can apply. However, installing it is not that simple.
The cord of the pendant light comes out of the canopy and passes through a strain relief that holds it in place.
An inner collet also helps to hold the cord tightly as the pendant light hangs straight down. However, it will be different if you install it on a sloped ceiling.
If you use the standard way when installing a pendant light on a sloped ceiling, you will find the cord kink.
It has to endure the weight of the light while not hanging straight.
However, you still can install a pendant light on a sloped ceiling, though. A mechanical device called "hang straight" can help you solve this problem.
A "hang straight" will enable the cord to pass through the canopy and movable joint that tames the angle between your sloped ceiling and floor.
As a result, the cord will hang vertically through the strain relief.
How do You Install a Recessed Light on a Sloped Ceiling?
Unlike the flat ceiling, the sloping angle is a big issue when installing a recessed light. Nevertheless, it does not mean you cannot do that.
Before installing the lights, you need to determine the slope of the ceiling.
Once you know the angle, you can try getting a special lighting housing to make the light shine straight down.
As a good rule of thumb, the housing is usually longer on one side to match the slope. People also know it as a "shovel cut."
What is the most Expensive Lighting for Sloped Ceiling Ideas?
The costs you might spend for the aforementioned lighting designs may vary depending on the installation process and materials.
However, chandeliers are likely to cost you a fortune due to their sophisticated design and lavish look.
Conclusion
So, what is the best lighting for a sloped ceiling? It depends on how you want to illuminate the space.
Also, considering your home style is necessary. Make sure that the light you choose complements the interior immensely.
The best lighting for sloped ceiling ideas would be the one that meets your budget and need.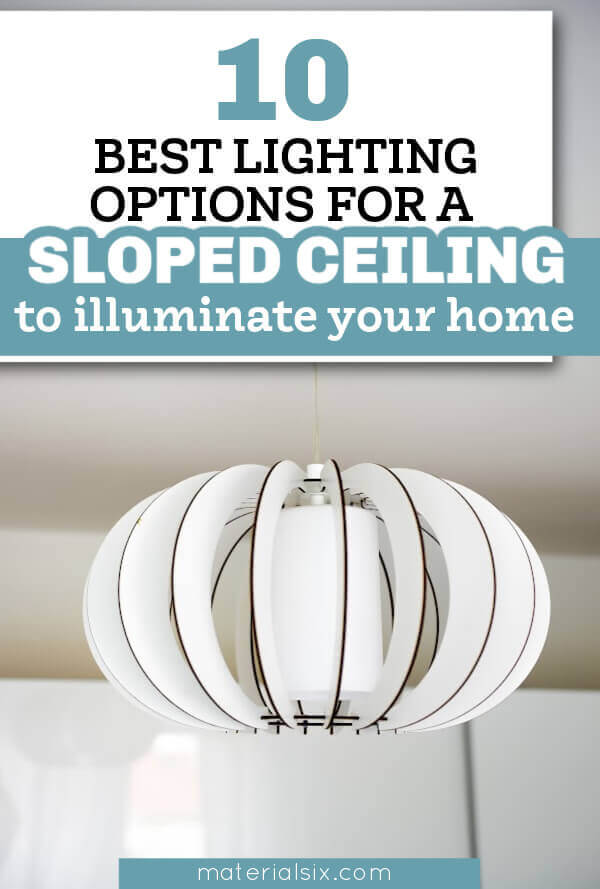 More from Materialsix.com: