Driveway gate ideas continue to evolve and create captivating architectural landscapes. Thus, design experts reveal innovations to make the building look magnificent since entering the front area.
It is undeniable that the model does determine the impression. Therefore, you need to choose carefully before deciding on the concept.
Luckily, many choices of materials and style also make it more impressive.
In this review, we will discuss various ideas from various architectural concepts. Hopefully, the designs can inspire you! So, let us start!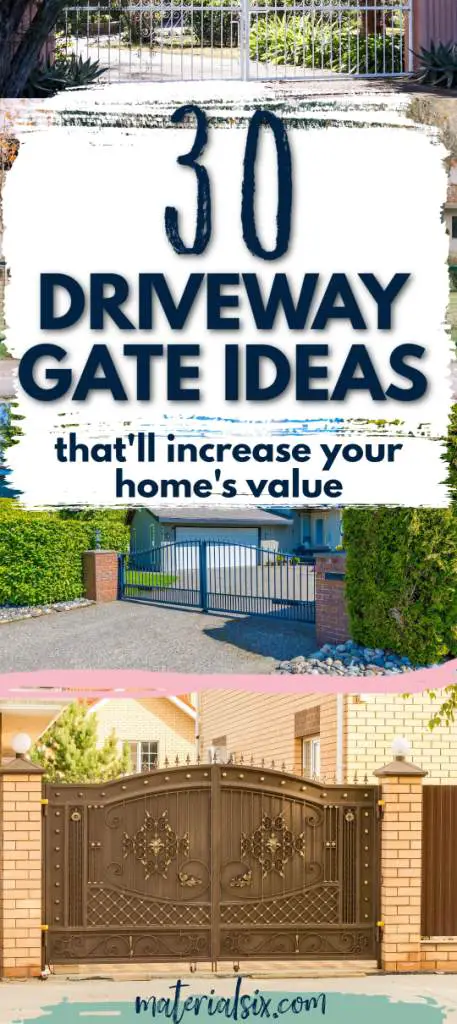 Inexpensive Driveway Gate Ideas
Awesome designs do not always cost a fortune. Thereupon, if you are limited in funds, some alternative materials and designs may suit, without compromising their beauty. Here are the examples:
1. A Rustic Entrance to the Lodge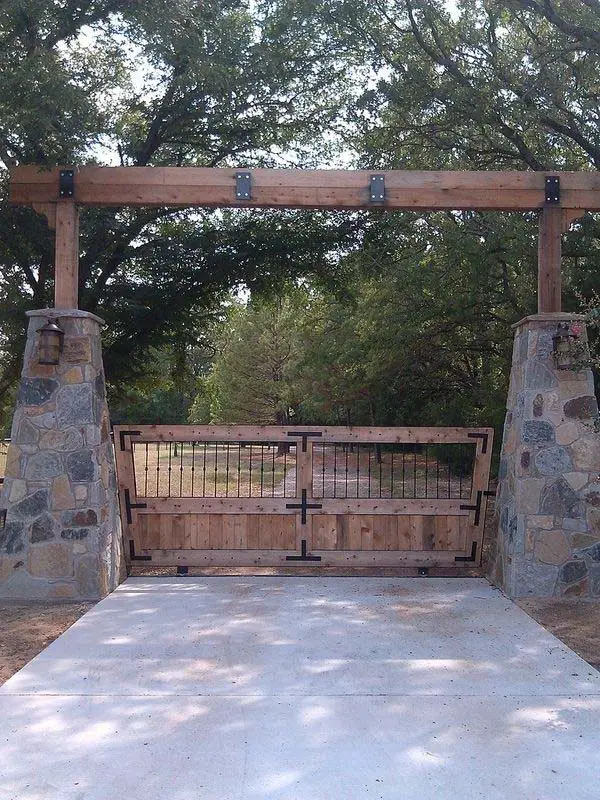 A rustic theme is a perfect choice for a low-key yet artistic look. Likewise, wooden gates are more affordable than metal but have a timeless appeal.
Therefore, a little touch of new will make it look awesomely classic.
2. Wood and Metal Combination Driveway Gate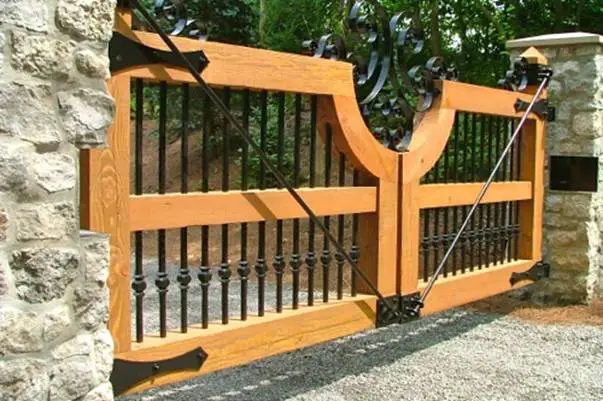 Rustic is interesting, but you need a metal touch to give a grand welcome to guests. Then, to minimize costs, a combination of wood and metal will be the best.
Also, get an impressive entryway with a stone fence.
Metal Driveway Gate Ideas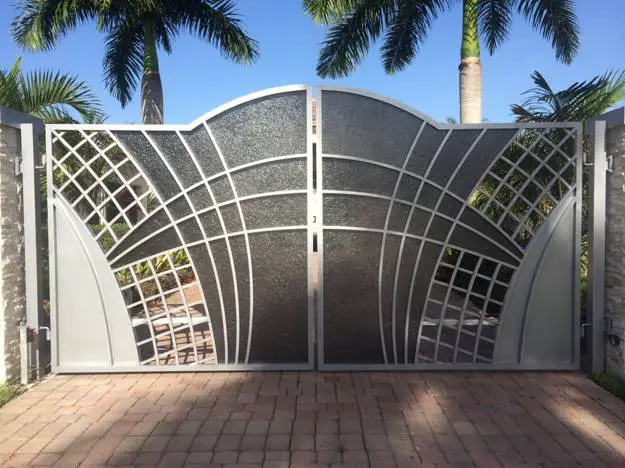 Metal is the best material for gates and doors that require high security. Indeed, it is worth the quality despite the high price.
Here are some ideas for you:
3. Magnificent Medium-Sized Gate
Front gate ideas do not always need tall, closed gates to look grand. Likewise, thick metal material with medium size will seem classic and traditional when combined with stone buildings on either side.
4. Ornamental Welcome Gate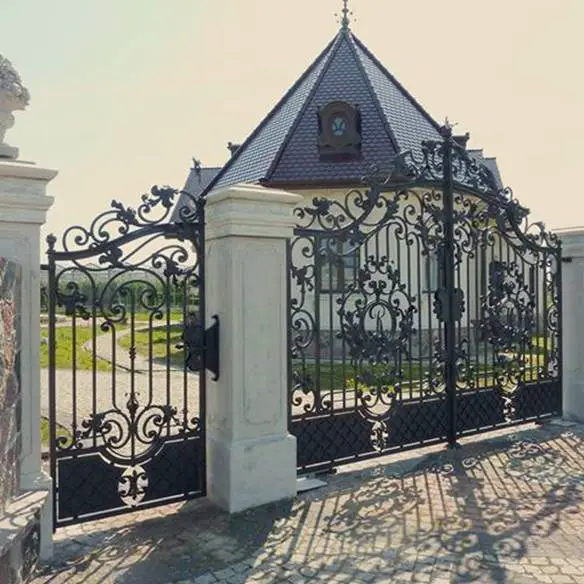 The advantage of using iron is that this item allows you to obtain strong materials without compromising artistic value.
Then, you can choose from many decorations and embellishments, even those with very intricate patterns.
5. Big Door with High-Security Metal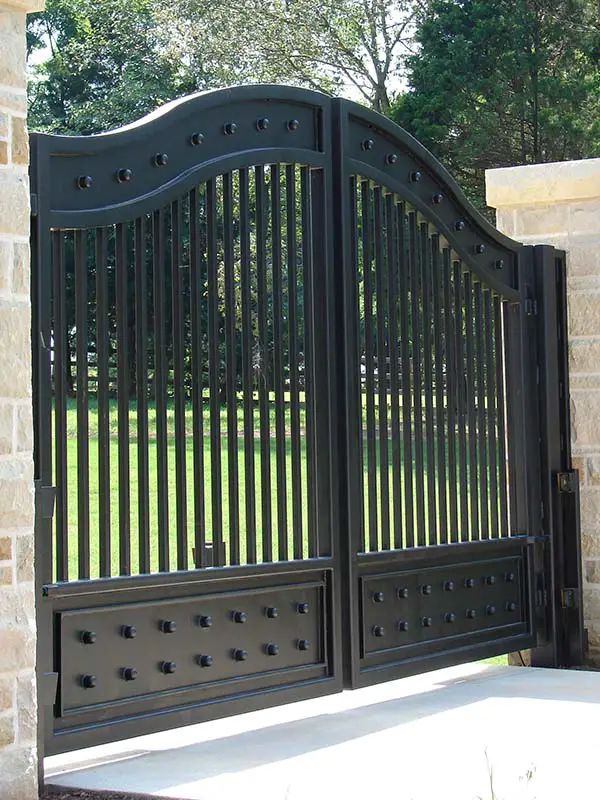 Metal gates are always successful in giving the feel of grandeur. Subsequently, with quality materials, this big door is relatively safe and sturdy.
Meanwhile, with bars that allow outsiders to see in, it conveys a friendly feeling to others.
6. Luxurious Golden Driveway Gate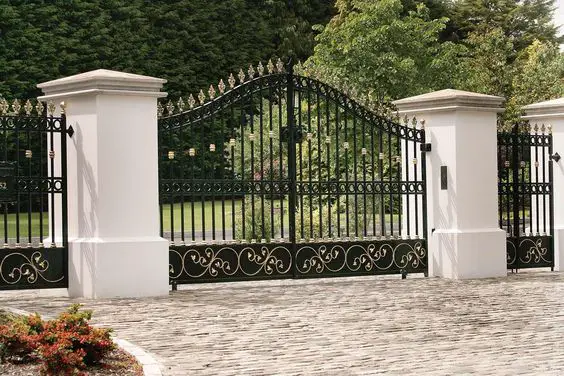 To give the impression of luxury and majesty, use an iron gate with elegant gold ornaments. Thus, you can choose the appropriate color with a classy feel, for example, black or white.
7. Artistic Iron Gate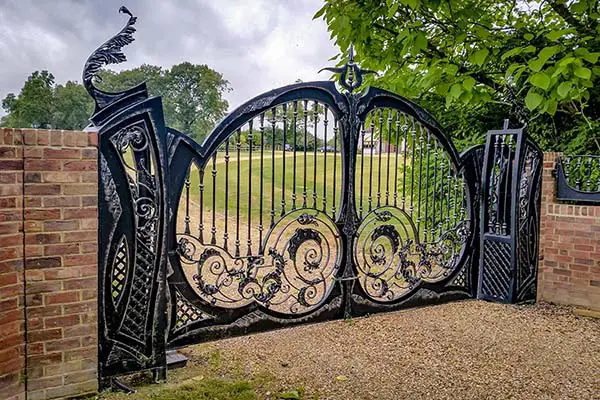 Are you still fixated on the monotonous design? Now is the time for you to wow your guests with an artistic doorway.
Furthermore, the unique shapes, motifs, and looks are reminiscent of the wizarding world of Harry Potter.
Small Driveway Gate Ideas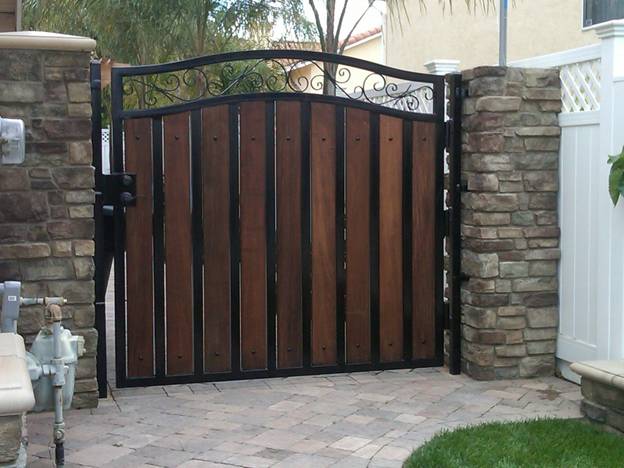 If you have a small driveway, provide a design that saves space but is still attractive. The following are some doorway designs that will make a residence or other building look dashing from the front.
8. Luxurious Gate with Classy Details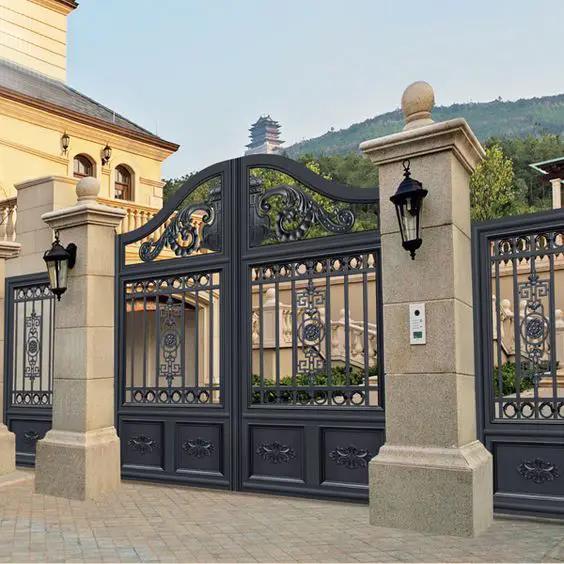 As small driveways usually stand with buildings and features, the wrought-iron gate is the right choice. Sturdy shape, size, or artistic decoration will make it stand out among the things around it.
DIY Driveway Gate Ideas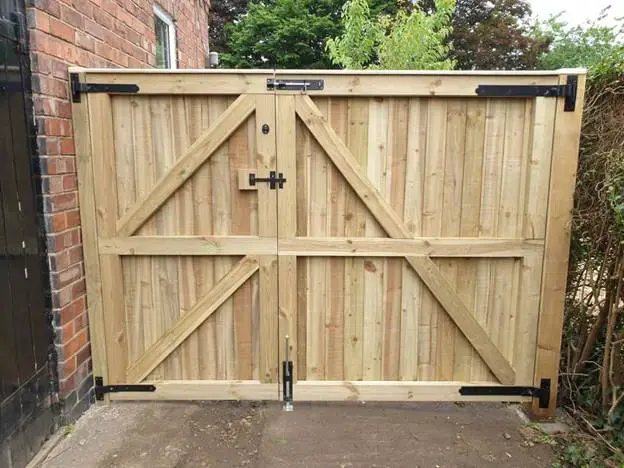 Talking about driveway entrance ideas, you can make it custom and low-price by DIY. So, take advantage of existing materials to create a masterpiece.
Additionally, here are some inspirations you can take:
9. The Reclaimed Door with Custom Design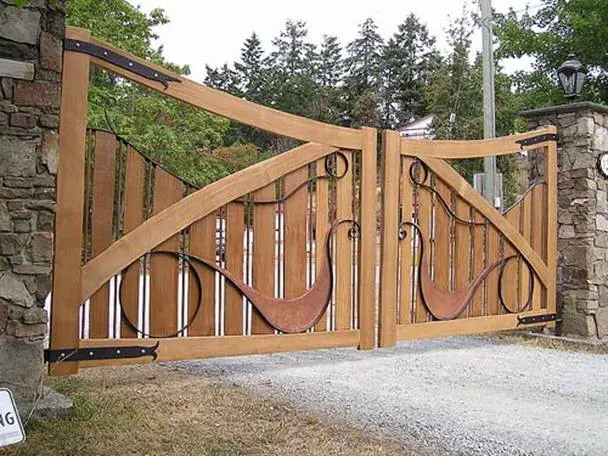 If you have used furniture, you can even make your gate. For instance, the photo above shows a doorway of reclaimed red cedar.
Moreover, the design is simple but looks very classy with decorations that you can adjust to your taste.
10. Ranch-themed Wooden Gate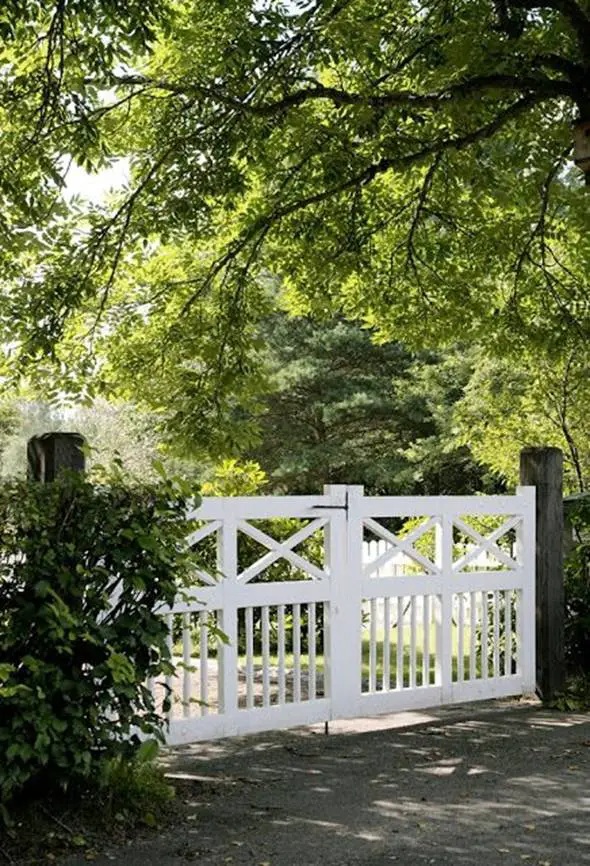 Building a beautiful gateway yourself is not impossible. Hence, you can make the entryway more impressive with the farm/ranch concept by using reclaimed materials.
It is also an easy and low price to make.
Simple Driveway Gate Ideas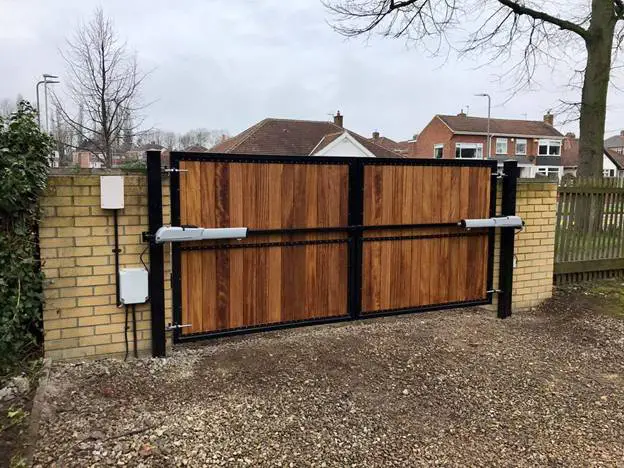 Some people like artistic and intricate designs. However, displaying a simple gate is not a sin because you can apply many concepts.
So, here are some inspirations:
11. Beachy Manual Gate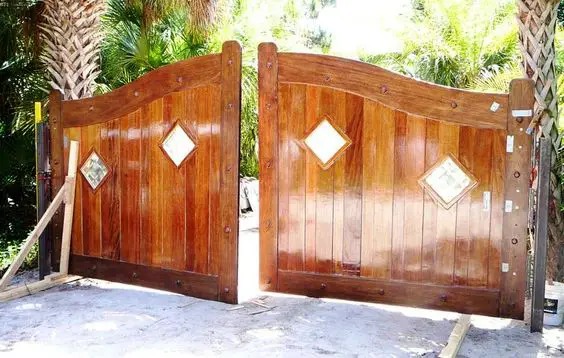 Whatever you find around the beach is quite eye-catching. Then, to look natural in the sea area, you can use a manual wooden gate with a simple design.
Moreover, a little ornament can also make it look more charming.
12. White Farmhouse Concept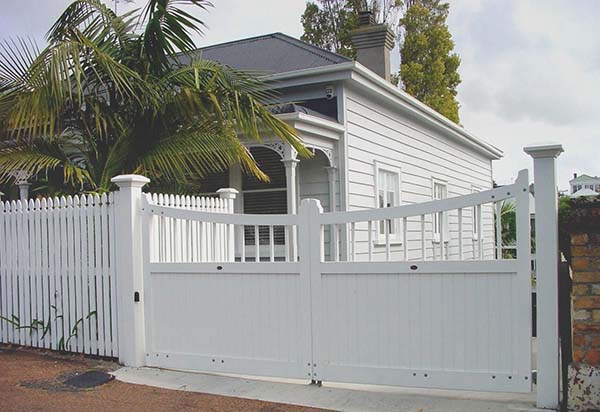 White is still a favorite hue because it can make a dwelling much more spacious. Therefore, if you live on the beach or countryside, try building an entryway with a simple but peaceful farmhouse style.
13. Classic Gate Entrance Ideas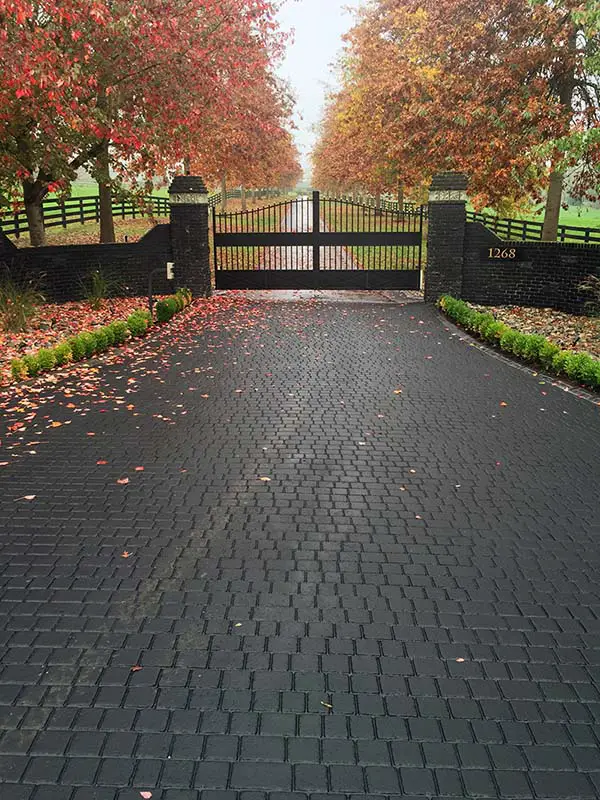 Without much ornamentation and decoration, a grand entrance always has its splendor. You can apply classic and minimalist designs to display splendor without effort.
Further, a little green land can be a sweetener.
14. Wooden Simple Doorway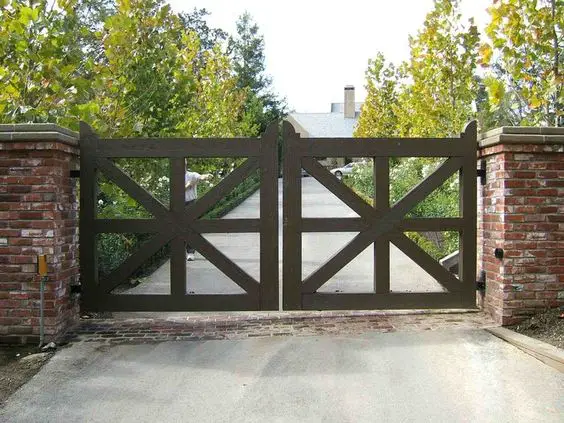 Gates do not have to be tall and closed to look great. Thus, a wooden doorway with a simple design can impress anyone.
However, less decoration does not mean not being attractive.
15. Simple Wooden Gate with Light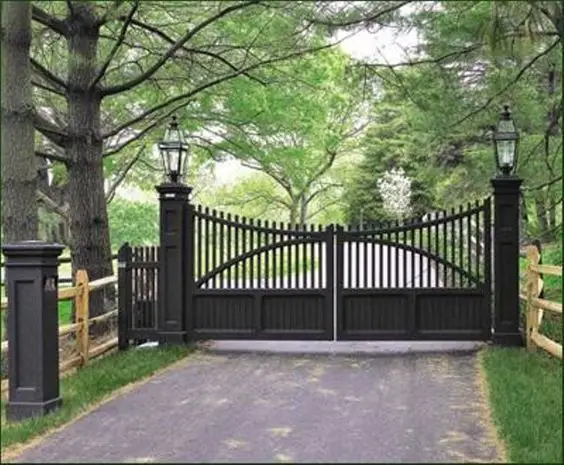 If you want the entryway to look majestic in simplicity, you can provide simple but powerful accessories. Then, try placing the lights on the right and left.
Hence, you will see a classy feel without excessive ornamentation.
Farm Driveway Gate Ideas
Building an entryway for a farm or ranch area is different from the housing. However, you can display it nicely and impressively.
In addition, here are some designs to emulate:
16. Natural Design for Large Area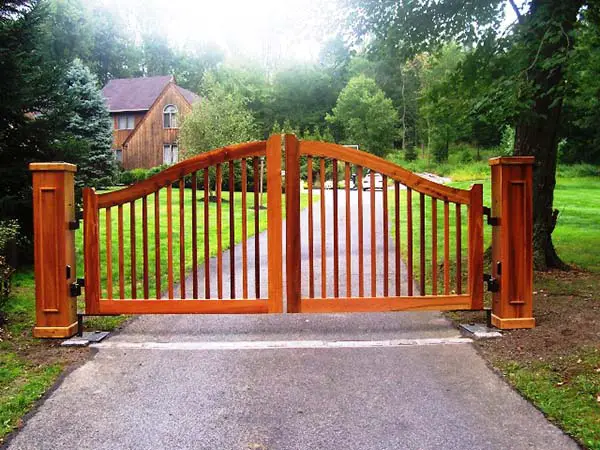 The entrance to a village or housing estate does not have to be a hassle. For rural areas, a simple wooden entryway is the best option.
Furthermore, this simplicity gives newcomers a warm and friendly feel.
17. Big Picture in the Front Gate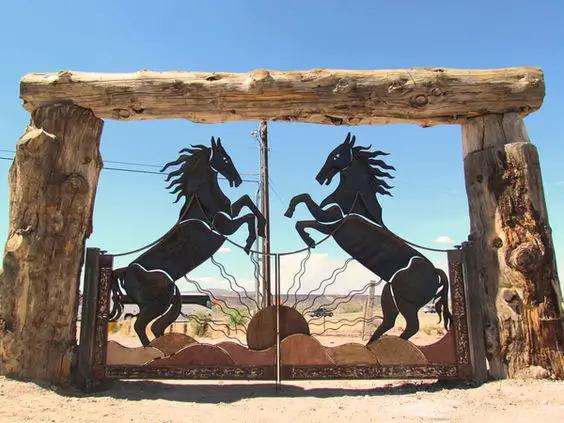 For a dramatic impression, you can add ornaments or decorations of painting-like on the front gate. Generally, this design is suitable for ranch or farms, where the picture shows what is behind the big door.
18. Traditional Wooden Entrance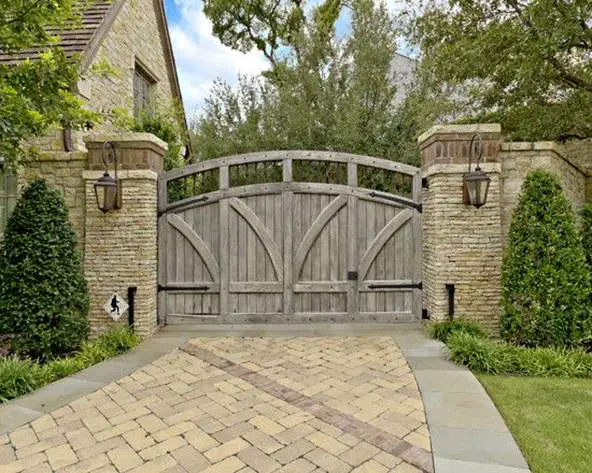 Weathered and old-fashioned fixture sometimes actually has an appeal. Likewise, a worn wooden gate and a stone building is a perfect combination that spoils the farmhouse concept lovers.
19. Entering with Art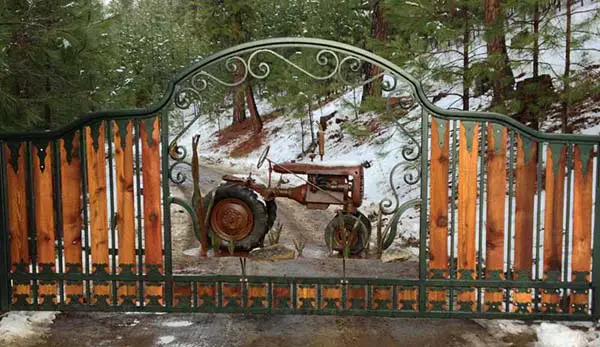 The unique entrance will leave everyone stunned and amazed. Thereupon, one way is to give a touch of art. You can display ornaments or even large decorations according to the tastes and needs of the building area.
Modern Driveway Gate Ideas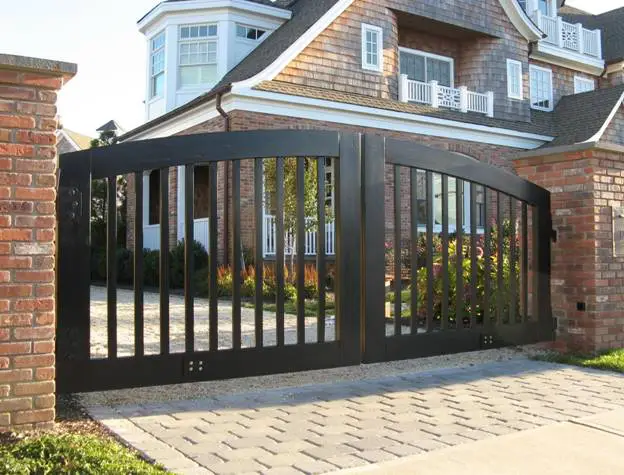 Many people choose modern nuances in various interior and exterior designs. This concept is generally has minimalist, simple, but stylish.
Here are some ideas for you:
20. Eccentric Wrought Iron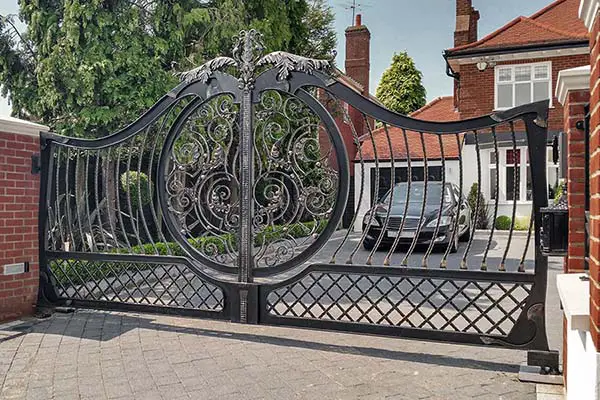 Home fences and gates will be less visible because of building or garden decorations. Therefore, please add a unique and eye-catching wrought iron motif, for example, mythological characters or other creatures.
21. Contemporary Design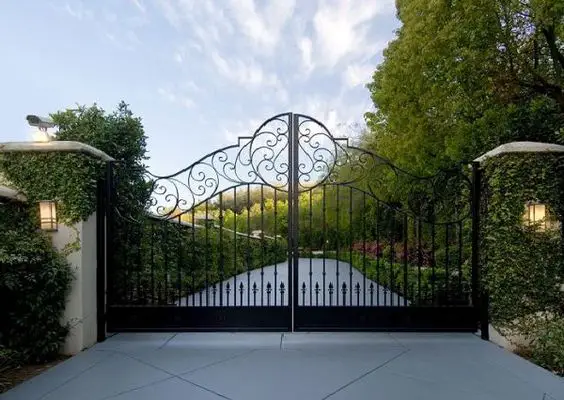 The modern contemporary concept is identical to a simple design with small but firm lines. Although there are not many decorations, this model blends well with fences, gardens, and driveways.
22. Wood, Metal, and All Elements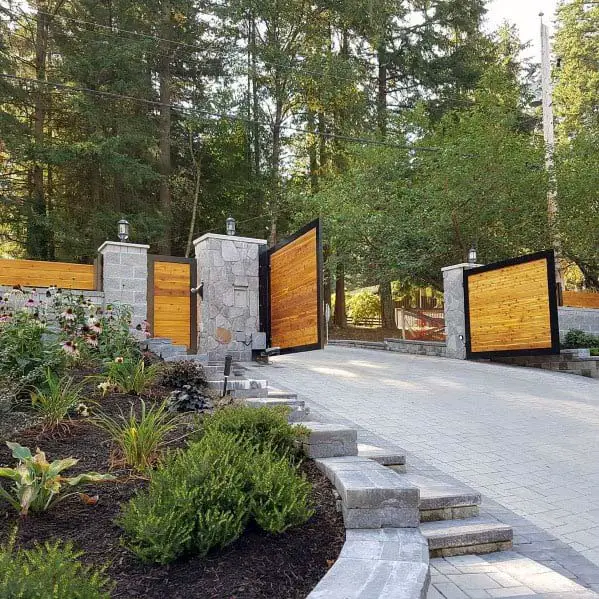 Swinging gates do take up space but its charm never dies and continues to be a crowd favorite. Hence, you can combine wood and metal with natural concepts, such as stones, plants, even concrete.
23. Mediterranean Entrance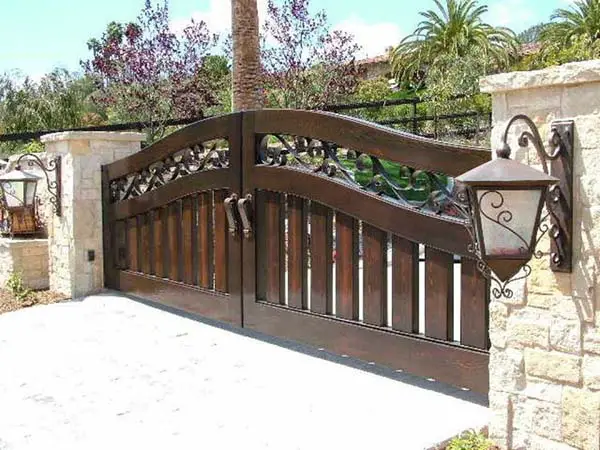 The Mediterranean style never goes out of style and always blends well with any concept. You can even combine it with a wooden gate design that still looks modern with its simplicity.
24. Compact Driveway in Minimalist Concept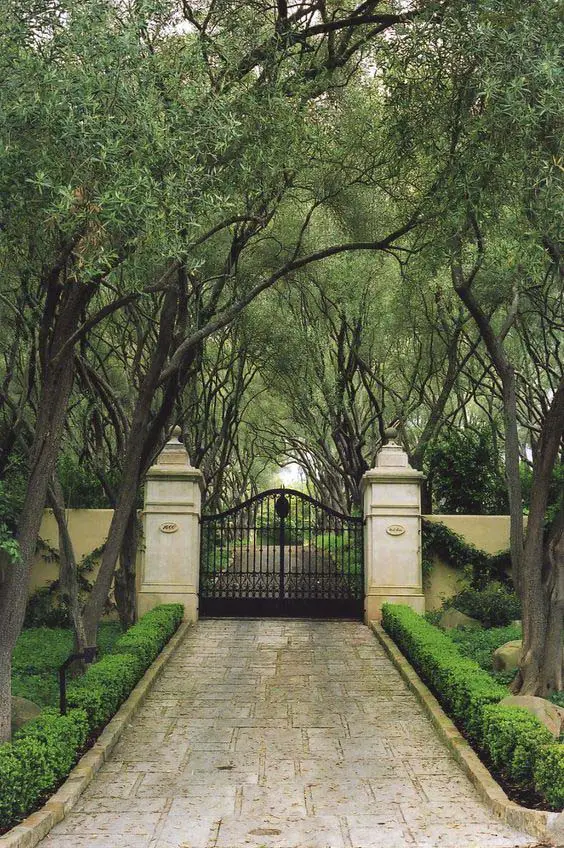 There is one more style that will make the entrance look dashing. Besides, the simple design has bars that are impossible to breakthrough.
Thus, this minimalist concept is suitable for buildings with a large road in front of it.
Folding Driveway Gate Ideas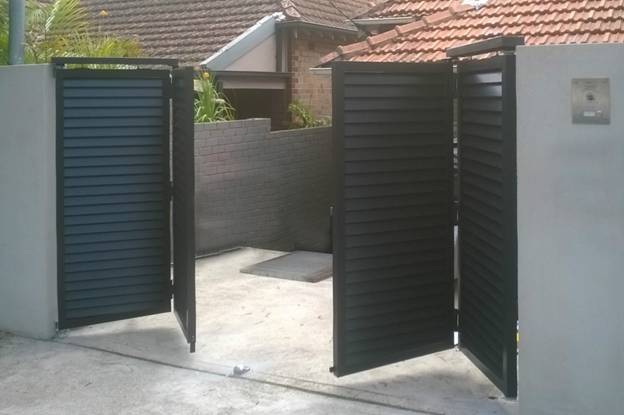 A folding gate is not just a model but has a functional value. Hence, you can open the door to the desired width without worrying about taking up space for the door movement.
Check out some of the following designs:
25. The Folding Metals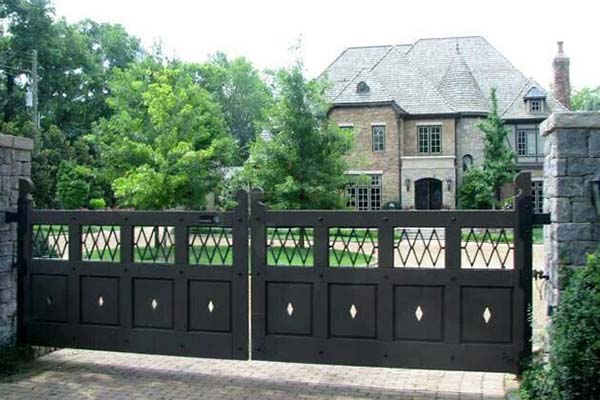 Metal materials are ideal for any gate model, including the folding type. You can set how wide the entryway needs to be opened but still look stylish.
Moreover, it is suitable for buildings with high mobility in and out.
26. How to Fold the Wood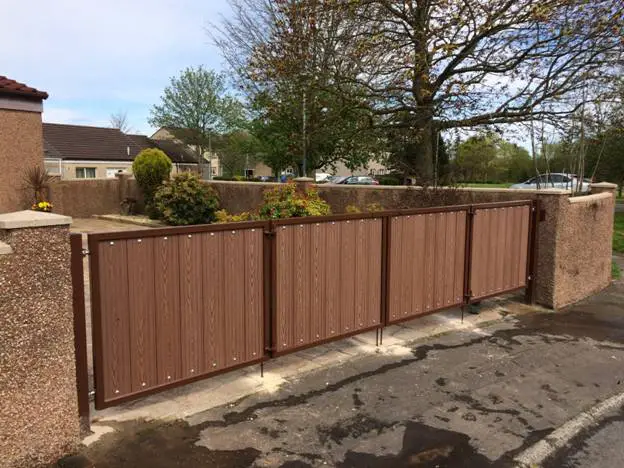 To give a majestic but natural impression, you can also combine metal with wood. Thus, the big door will look beautiful, strong, and not easily damaged by bad weather and environmental influences.
Automatic Driveway Gates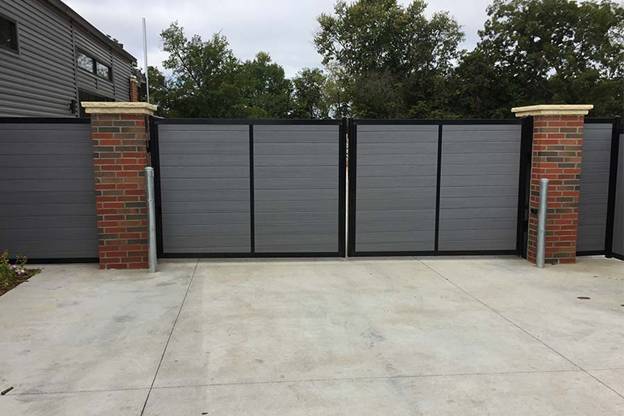 Some need more security for the building. In this case, automatic gates can be an option because they provide access to open and close only those who have an interest. Here are some ideas.
27. Keep Your Privacy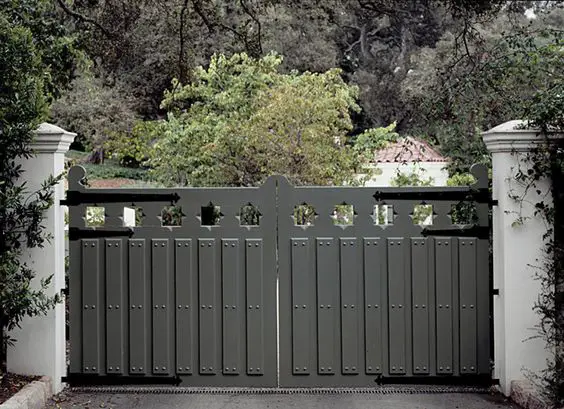 If you want to maintain privacy and do not want people to see into the building, a solid gate with automatic security can be an option.
Additionally, with a simple design, this design still looks comfortable to enjoy.
28. Pedestrian-walk Driveway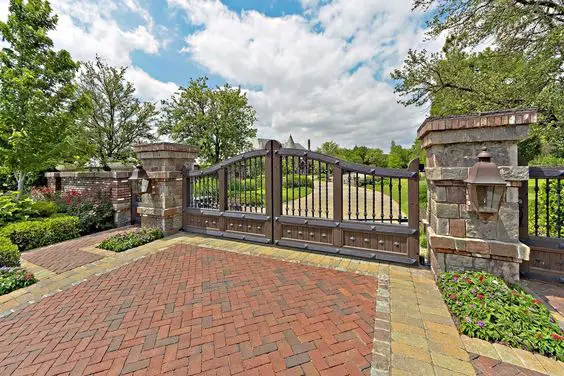 Even though it has advanced technology, that does not mean you cannot adopt a classic style. The style ranch can be a choice for those who use the road as a driveway and a pedestrian walk at the same frequency.
29. Ranch and Farmhouse Concept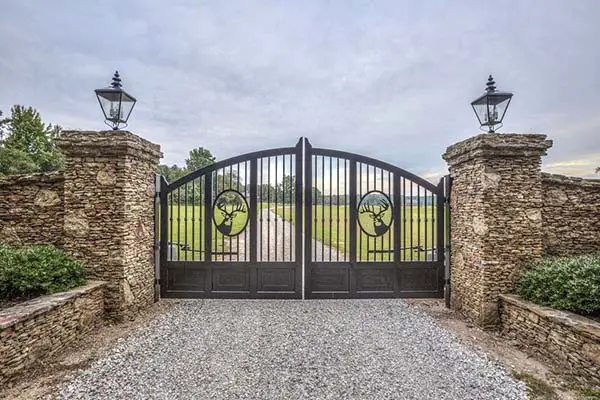 A ranch or farm is identical to a large expanse of land. With these conditions, you can use an automatic entrance that is simple but tall and sturdy.
Meanwhile, animal decorations can give a sweet touch without much effort.
Sliding Driveway Gate Ideas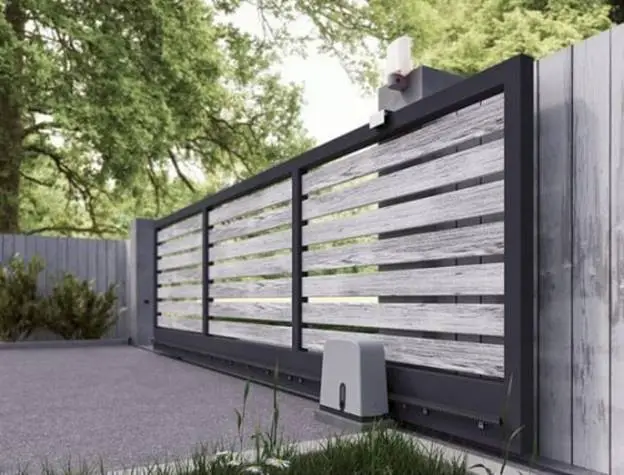 A sliding driveway gate is sometimes better than a manual one. You do not need to keep your distance just for door mobility.
Here are some ideas for you to pick.
30. Unique Sliding Gate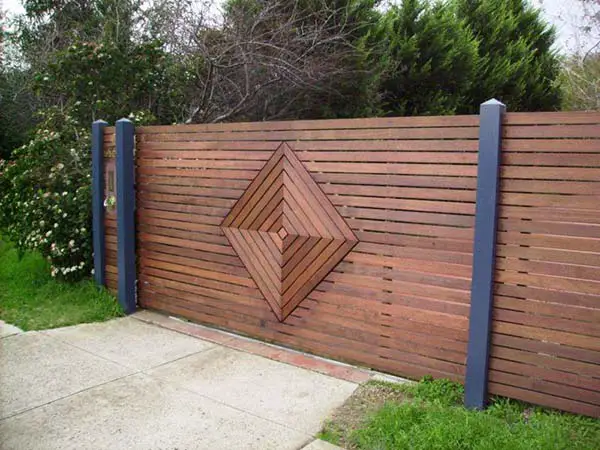 Most sliding driveway gate ideas use an iron because it is more resistant to friction. However, using wood is also not a bad idea.
Thereupon, with the right design, it will give a natural and artistic feel.
Conclusion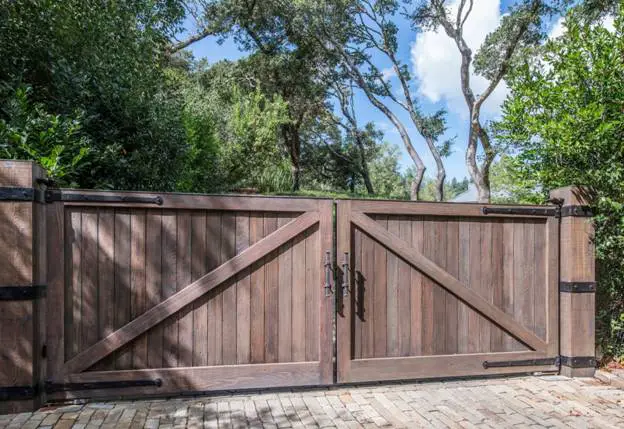 Driveway gate ideas are important because they will determine the first impression of people who come. However, please consider its function and purpose before building.
More from Materialsix.com: