As contemporary home trends become even more popular, the term farmhouse style might not be unfamiliar to your ears. The name explains it, and it is a house that has the vibes of a farm. You might have seen it in some movies set in the 1700s – 1800s of America, it is quite a classy looking one. Are you interested? Let's find out more!
Farmhouse Architecture Explained
The origin of the farmhouse dates back to the 1700s when it first came to the United States. They are mostly built from wood and other natural materials. Back in the day, they focused more on functionality rather than aesthetics. Almost all of the elements were for survival and working purposes.
This particular style was a modest style built by American pioneers. There were no set rules, but it is usually a single-floor house. As mentioned before, the interiors and buildings were made with local materials by farm communities that had minimal skill sets.
The Evolution of Farmhouse Style
The iconic farmhouse vibes that we feel and see today were based on classic colonial rectangular farmhouse design. Unlike the classic one, it has been adapted and has a second floor. The standardized version of today was established in the early 1900s by the Sears, Roebuck, and Company catalog.
Future homeowners still favor the simple beauty of farmhouse houses as they can accommodate for new generations to come. Nowadays, the exterior color is not limited to white, and there is a premixed choice with a few notable colors like pale yellow. Light green, light blue, and even dark colors as well. Here is a video of what a farmhouse looks like nowadays.
Watch it and have a feel.
Elements of Farmhouse Style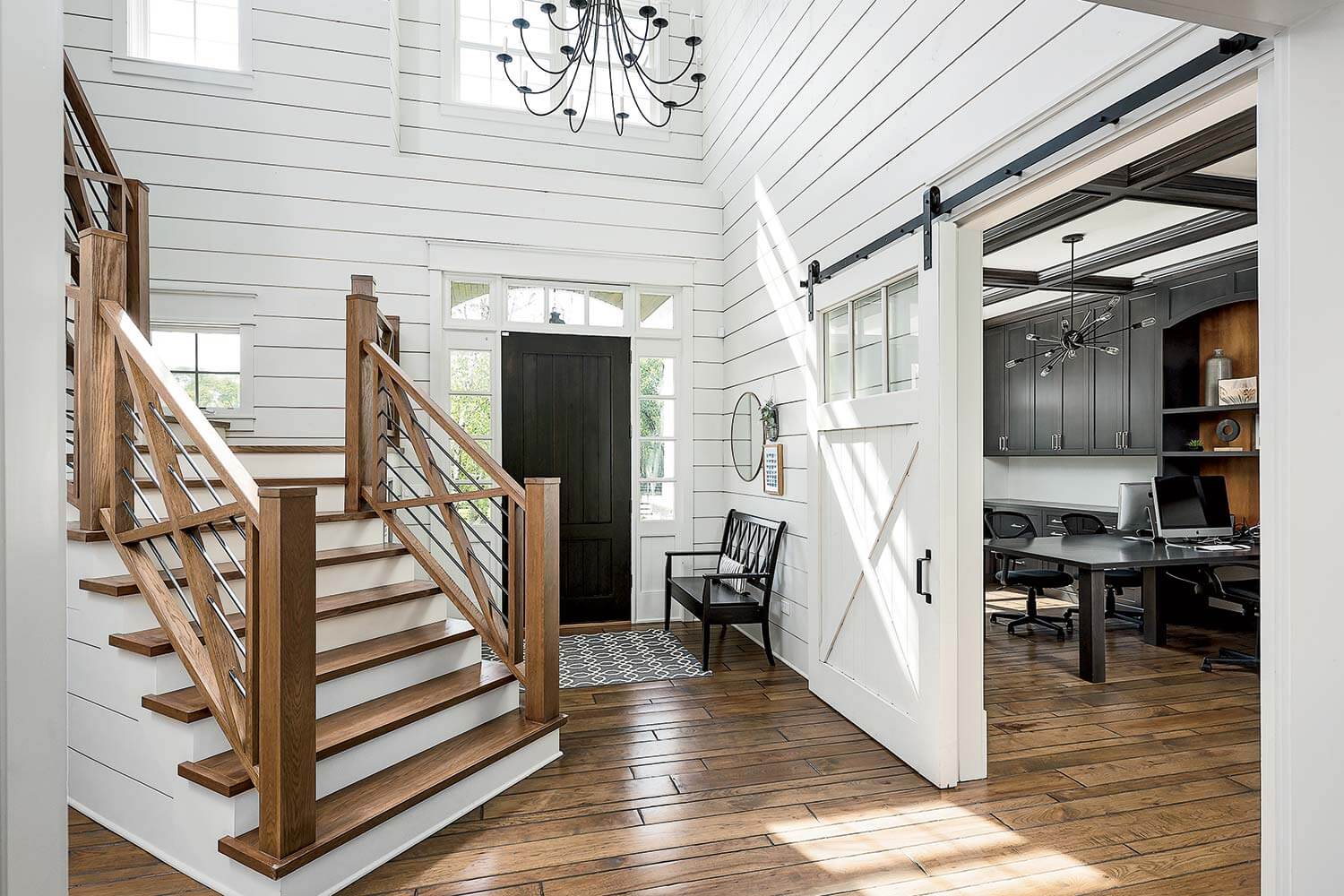 Whether you have watched the video or not, let's discuss the main common elements that can be found in a farmhouse. Here are a few key elements to look out for in identifying a farmhouse-style house:
1. Location
Authentic farmhouses were built in rural areas for agricultural purposes. This agricultural lifestyle made the house look as natural and rustic as possible. Depending on the region, old farmhouses are usually constructed from wood and stones.
2. Fireplaces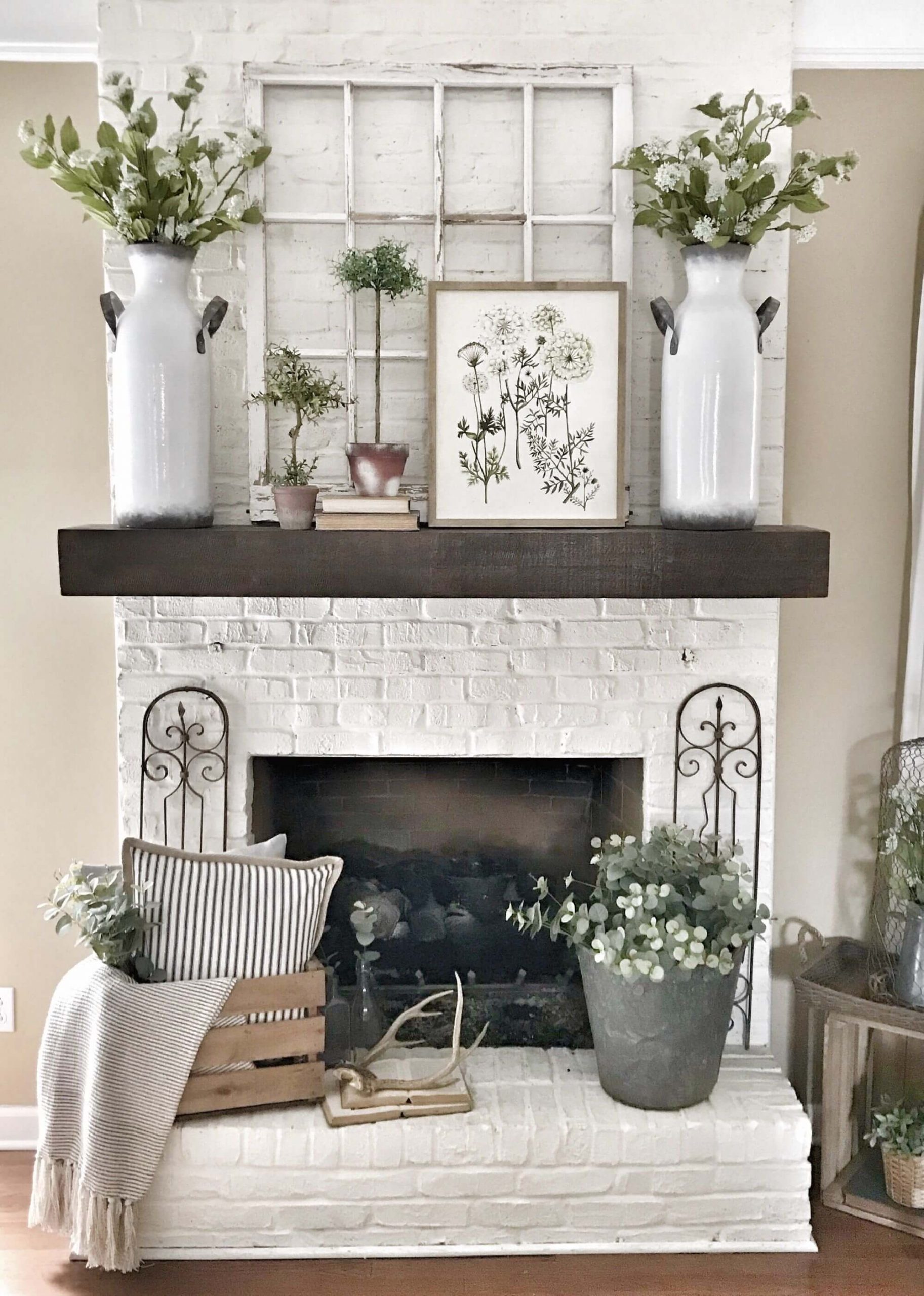 Farmhouse design houses usually have large fireplaces. You can say that it is the heart of the house, especially those in the northern region of the United States. This source of warmth and heat is a must-have for its functionality in surviving the cold weather, and you can cook with it too!
Related: Farmhouse Mantel Decor Ideas
3. Exteriors and Layouts
Many authentic farmhouses have similar floor plans; cooking space, living area, bedrooms, and porches. The exteriors are constructed to be covered by clapboards to keep the wind and moisture out of the house.
4. Porches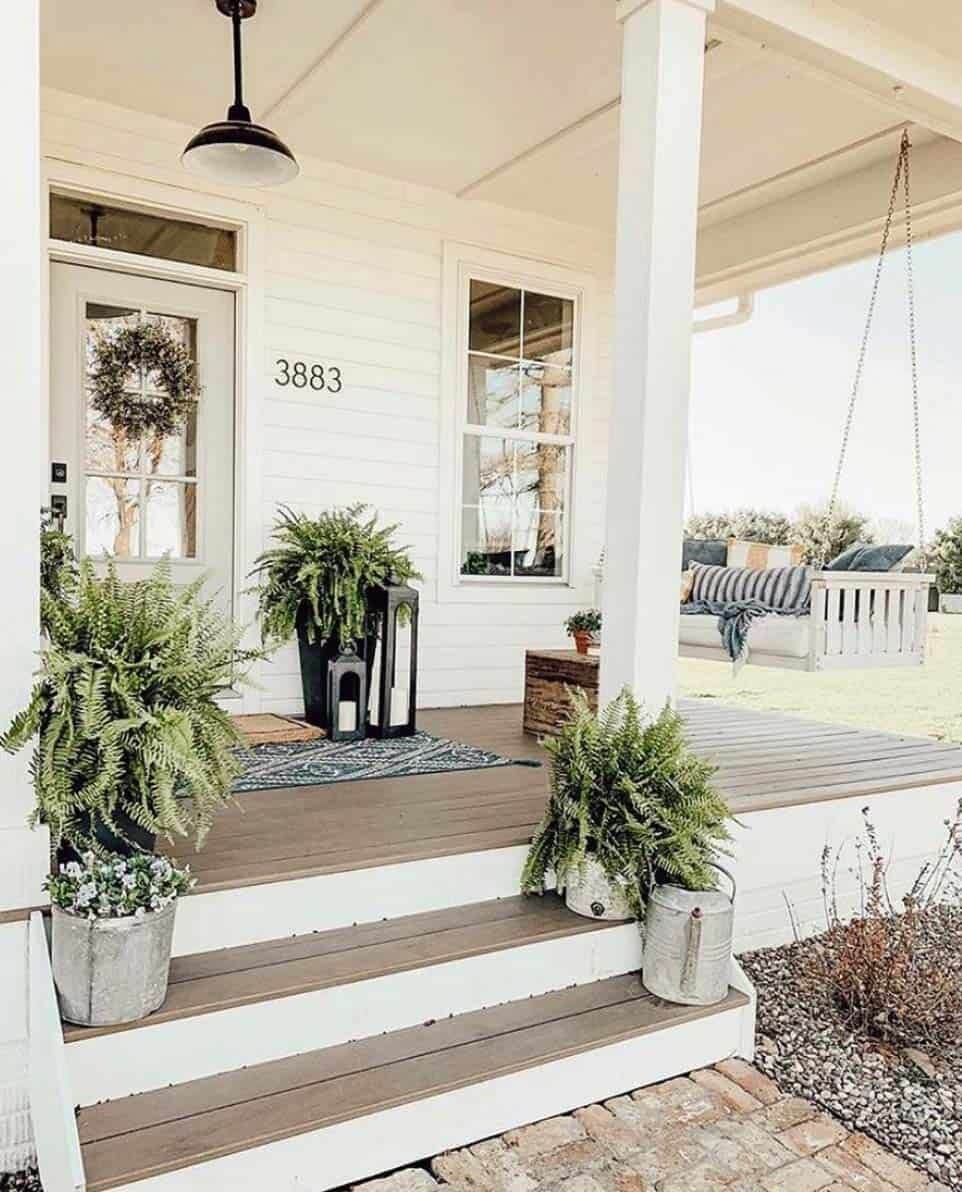 It's part of the house that functions as a place to cool off in the summer. As for the all-year-round is a place to clean yourself (mainly your boots/shoes) before heading into the house. As we can see, this further proves that every aspect of a classic farmhouse has its functionality.
Read also: 40+ Stunning Rustic Farmhouse Porch Decor Ideas
Farmhouse Style Decorating Tips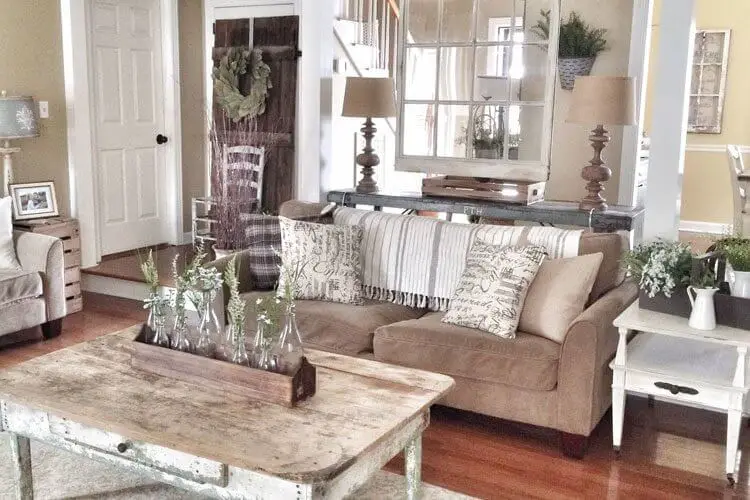 The bright side is that nowadays, you can have a farmhouse vibe without buying a new house. You need to re-decor! Here are some tips for you to get started:
1. Neutral Colors and Textures
The first step is to repaint every wall with neutral-looking colors such as white, beige, shades of grey, etc. Other colors that can fit in are aqua, sage, and yellow. Neutral colors tend to get boring to look at, that's where textures come to play, from multiple finishes of wood to chunky fabric knits or linen.
2. Practicality
As mentioned many times before, practicality remains because it is the origin of this style. Try to incorporate every decoration that has a function. Try not to emphasize too much on looks, as it should look effortless.
3. Exposed Wood Beams
It will surely make that farmhouse vibe. Apart from style, you can use wood beams to hang lightweight curtains and others. It also gives a natural atmosphere to the room
4. Vintage Furniture
In this case, vintage or antique furniture has more value than new ones. However, please don't push it too far; exclude the kitchen appliances and entertainment. You wouldn't want to cook with an old stove or not be able to play video games on your TV, right?
Where to Find Farmhouse Home Decor?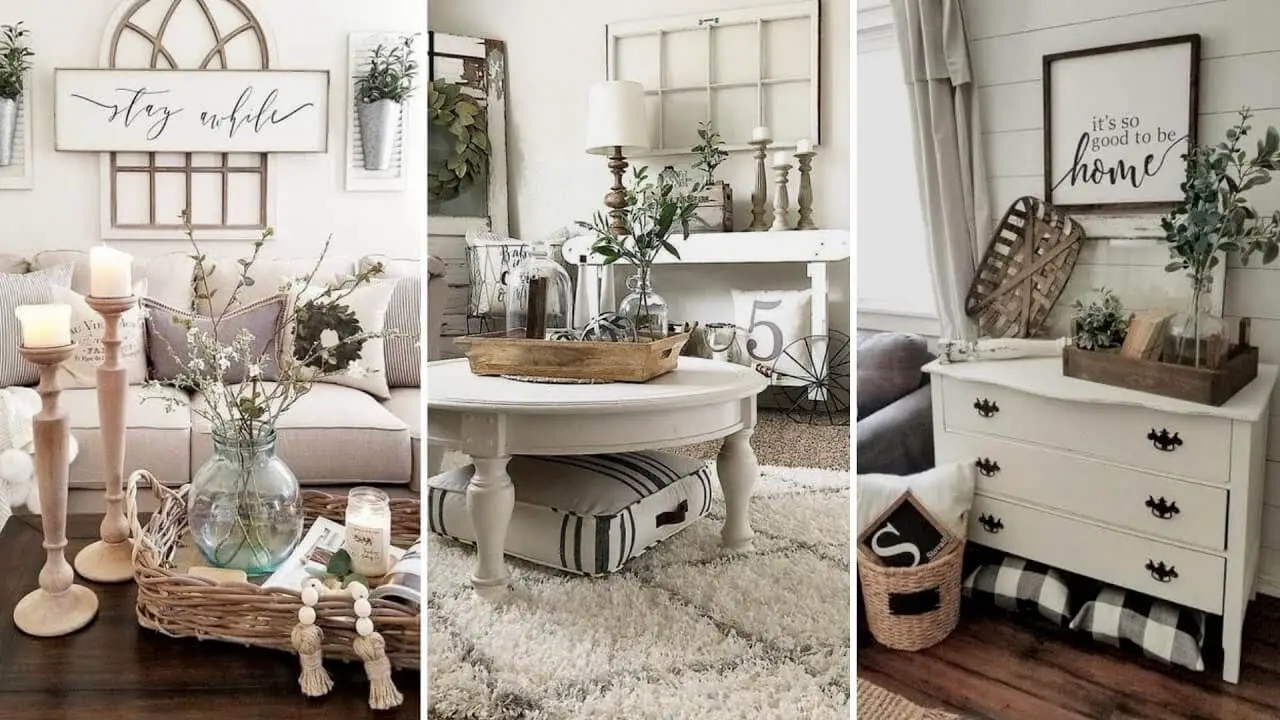 Finding farmhouse decor is now easier because you can find them in online and offline mainstream stores like Wayfair, IKEA, Amazon, etc. Although, nothing beats the feeling of finding antique and rustic items in the flea market. It's like finding a treasure!
So, after reading this article, do you want to redecorate your house? Start doing it step by step, and your house will turn into a farmhouse style in no time. Look at inspirations online, do what feels good for you and plan it out for your home!
More from Materialsix.com: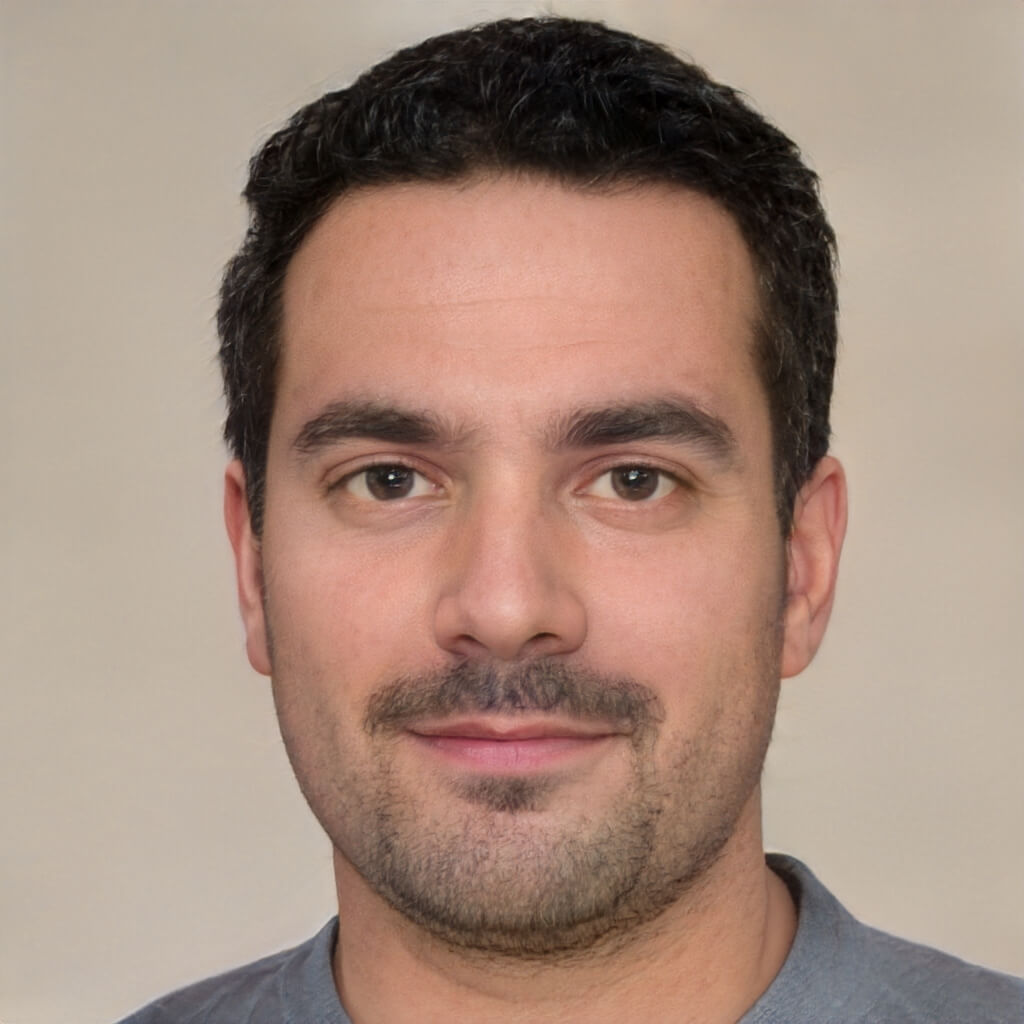 I'm a passionate home and garden enthusiast and the founder of Materialsix Home. With over 10 years of experience in the field, I've cultivated a deep love for all things related to home improvement, gardening, and interior design.