Nothing can beat the charm of the kitchen island as a standalone structure in your kitchen. DIY kitchen island ideas can turn your kitchen into a dazzling space.
A kitchen island is a perfect statement that can be stunningly paired with other furniture in the kitchen.
You can also double the kitchen island with the bar area or with the stovetop so that it doesn't only take up your space.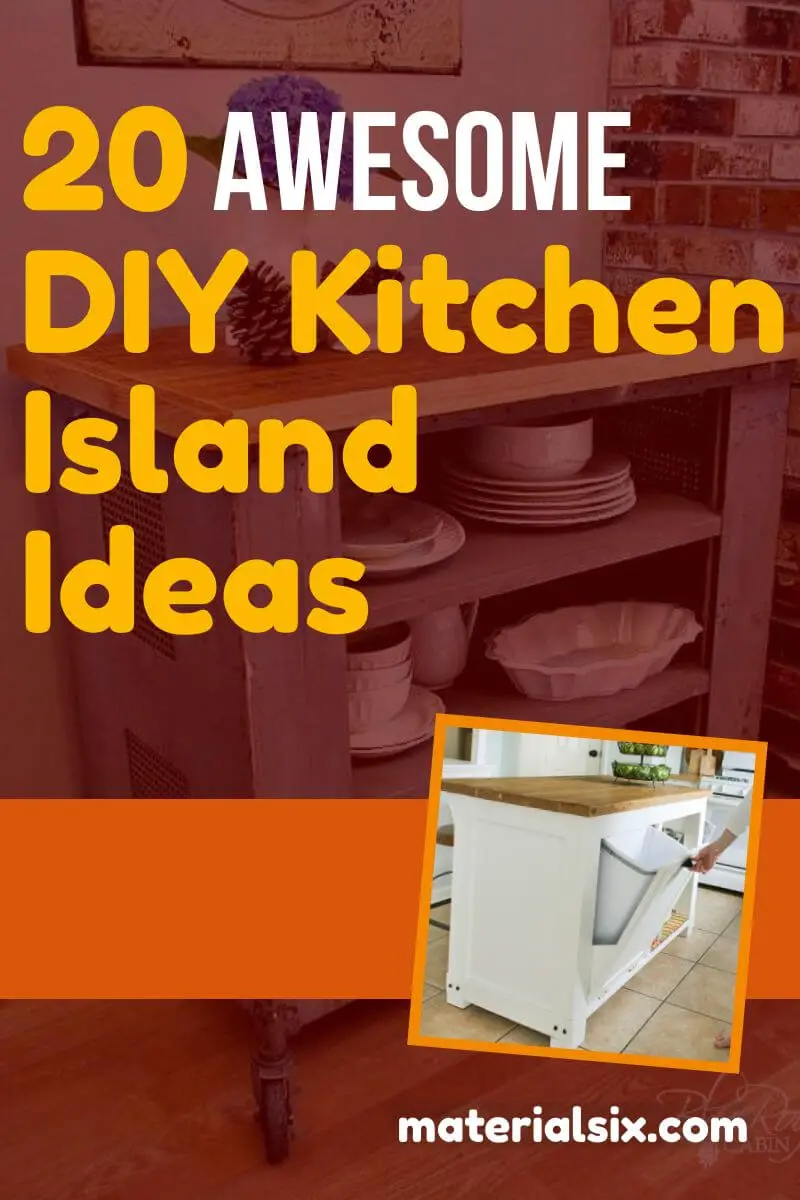 Present A Kitchen Island for Minimalist Kitchen
Nowadays, only limited space is left to the modern family. That means that you must think twice before implementing a kitchen island idea. There are plenty of kitchen islands suitable for a tiny kitchen. We'll give you some examples.
A rolling table is a solution if you do not want to lose space in your kitchen. Just move it when you need more space.
A kitchen idea with chicken wire cabinets can showcase some stuff and give a more spacious ambiance. You can also put it on a small wooden cart, and you get multifunctional material.
Create Affordable Kitchen Islands
Want to save more on a budget? You might repaint an old dresser and turn it into a kitchen island. It is one of the most affordable DIY kitchen island ideas.
You can also look for a kitchen island with budget-friendly material. Instead of the marbleized top, opt for a reclaimed wooden table, painted stainless steel, or anything.
There are still many good kitchen island ideas that you can apply. Check out the best DIY kitchen island ideas that we compile just for you.
---
1. Pallet Kitchen Island for less than $50!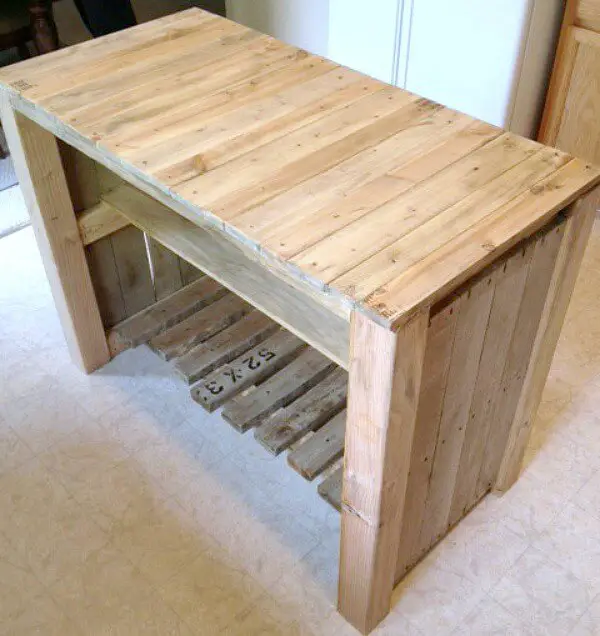 Who doesn't love pallets when all we need is a low-cost option? They are the most cost-effective alternative we will recommend for you!
Let's build an island with this pallets recycling idea. It cost you less than $50! It's an easy home project, but it is the ideal short solution to every kitchen problem!
2. Dresser To Kitchen Island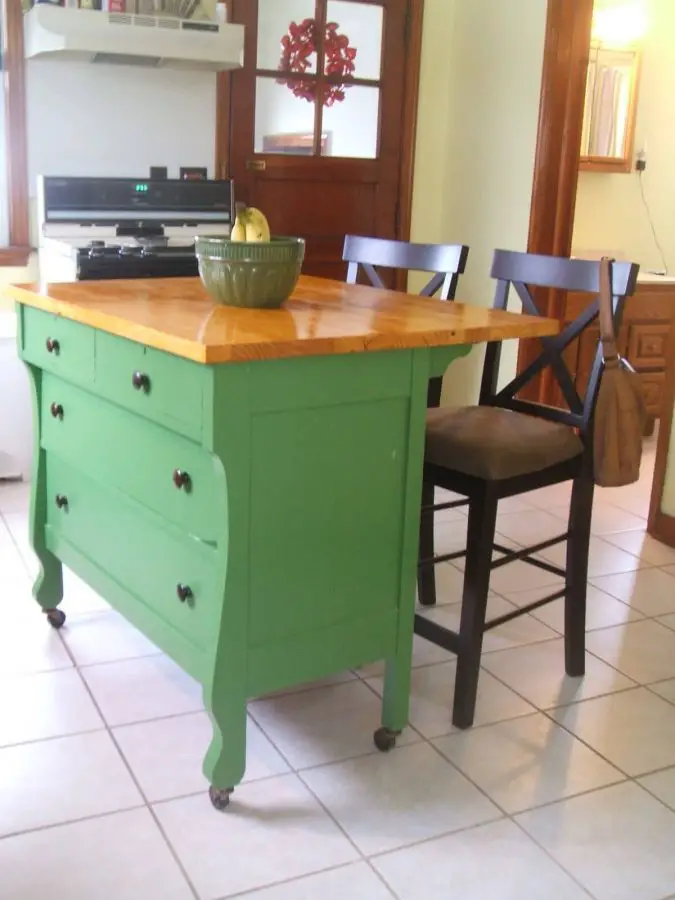 Is there any old dresser in your garage that you don't know what to do with? Why don't you turn it into a versatile kitchen island?
You may want to make them sturdier or repaint them; a little work will help. It makes an outstanding focal point and provides extra counter space too.
3. Island Dreams – Restore Cabinet Turned Kitchen Island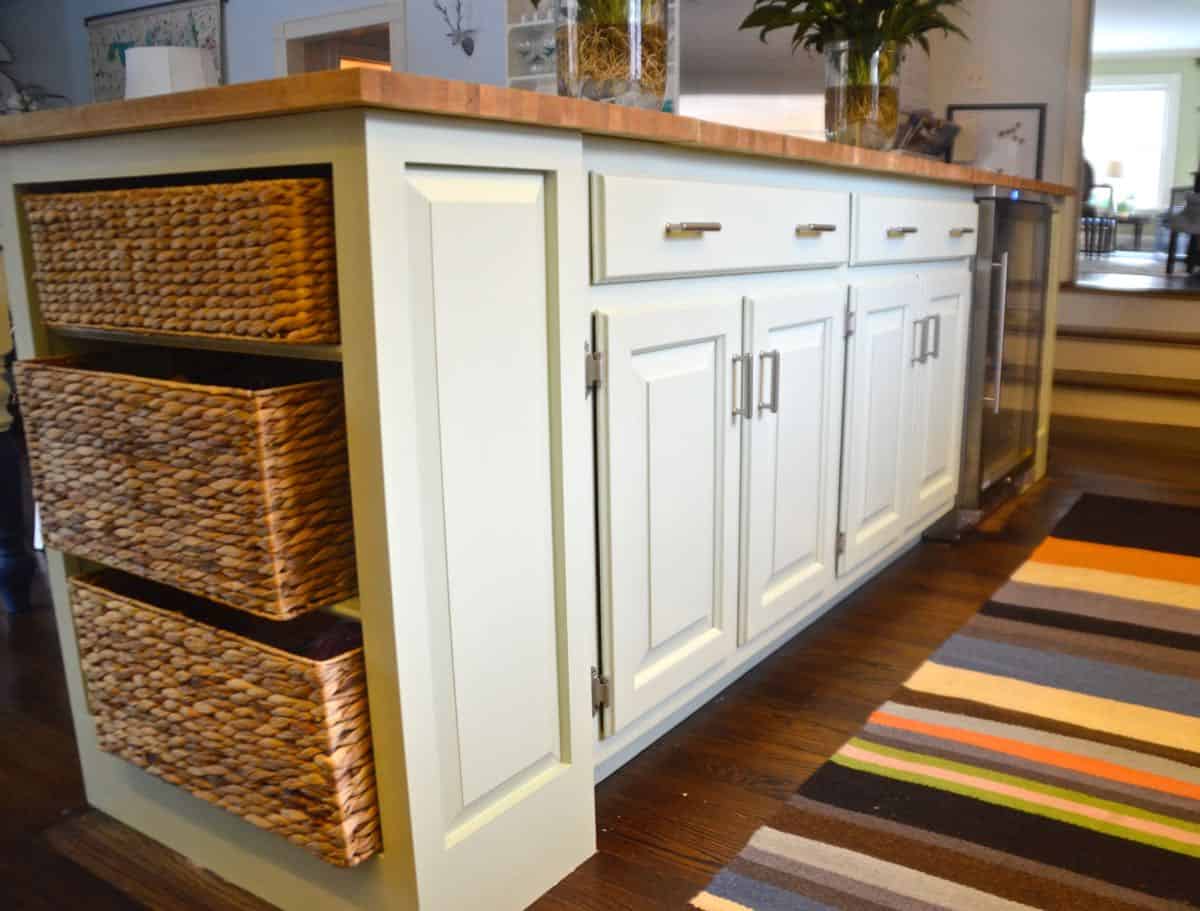 Whenever you need an idea on how to make a cheap kitchen island, this one with a wine fridge is a great idea that involves some tricky work but is easy to do.
Consider replacing hinges and drawer pulls, as well as adding countertops for heavy usage.
4. Industrial Kitchen Island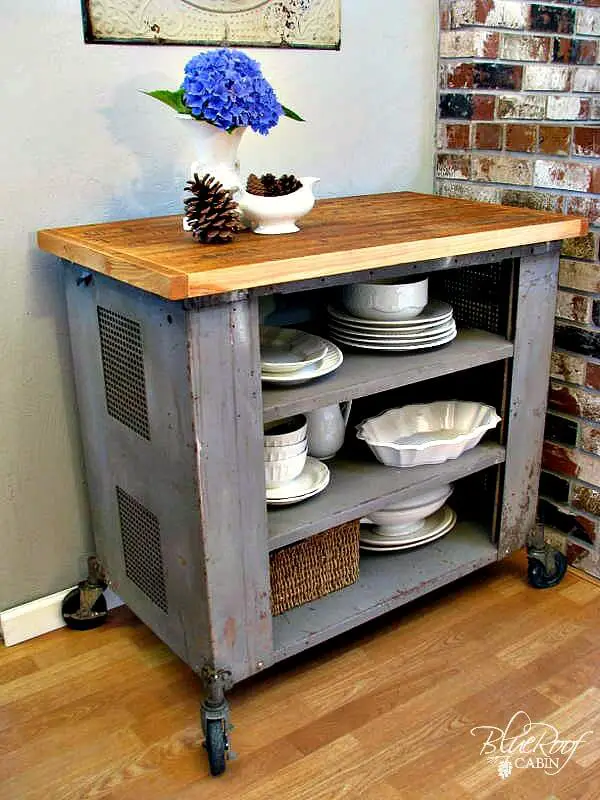 It is a one-of-a-kind and cheap kitchen island out of the industrial cart. Consider using an old oak table as the countertop. They would make a great kitchen island or bar, cart, or even coffee station without a lot of effort.
5. A DIY Kitchen Island: Make It Yourself And Save Big!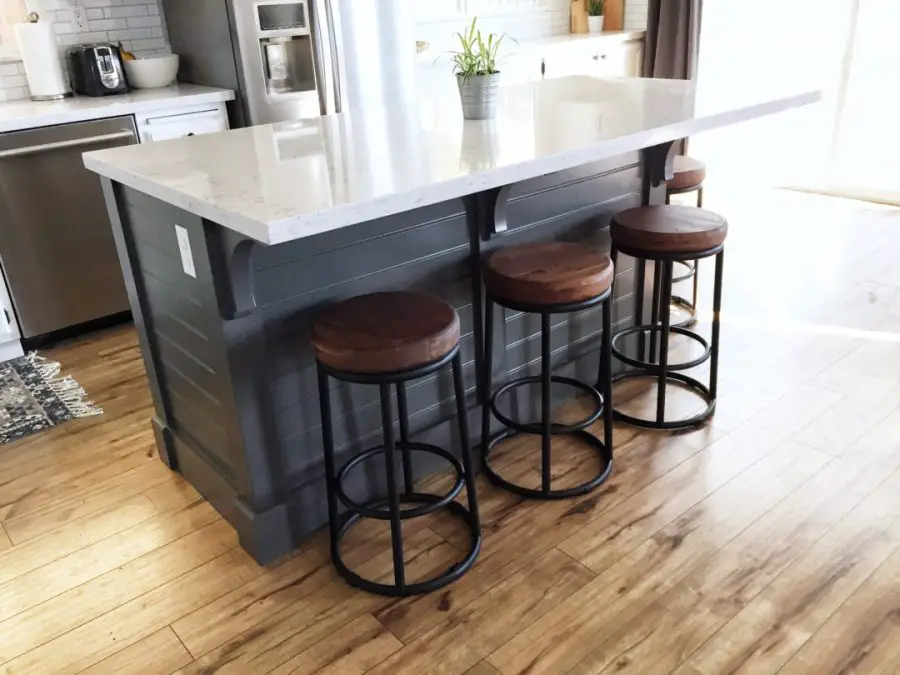 Are you looking for kitchen island ideas on a budget? Imagine you have a kitchen island that is half the price of the market price! DIY projects are not only satisfying because you get to choose your own design, but they also help to save huge money.
6. Gaby Kitchen Island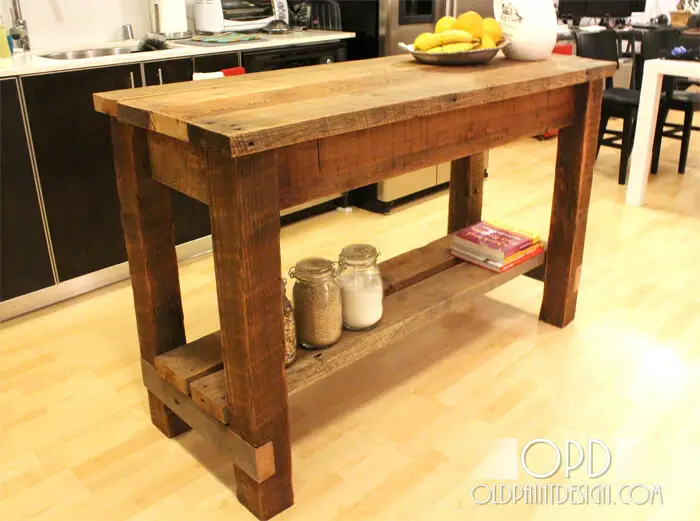 Whether you are a beginner or don't have much time to build a complex design, sometimes simplicity is just what you need. This cheap DIY kitchen island suits you; it's easy and super quick to build, with decent functionality.
7. Kitchen Island Inspired By Pottery Barn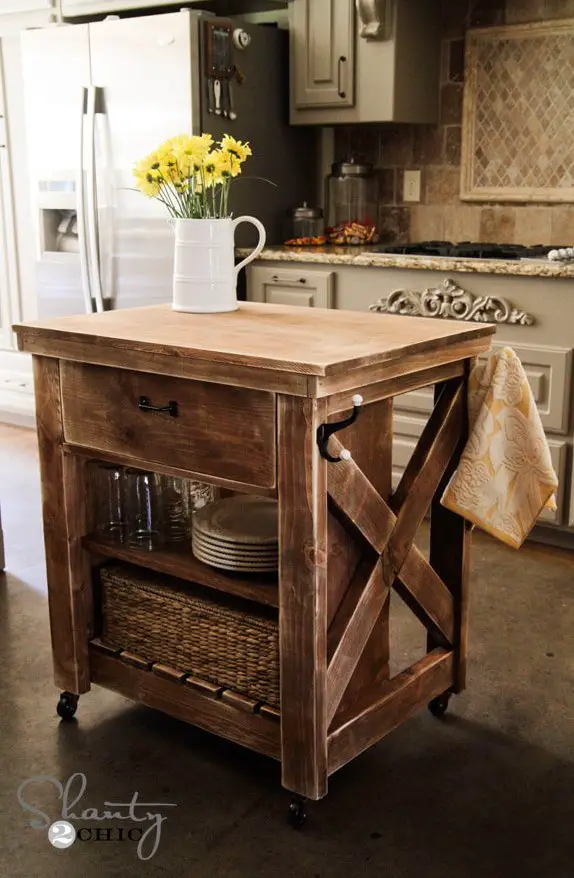 You'll love the versatility of this stunning stuff. It fits nicely in whatever your kitchen size is, offers extra storage, and brings a vintage look to your room.
The best part is: it's movable. Pick your favorite spot, or simply roll it to the garage when there is a lot of traffic in the kitchen, and it's limiting the way.
8. Sweet Little Kitchen Island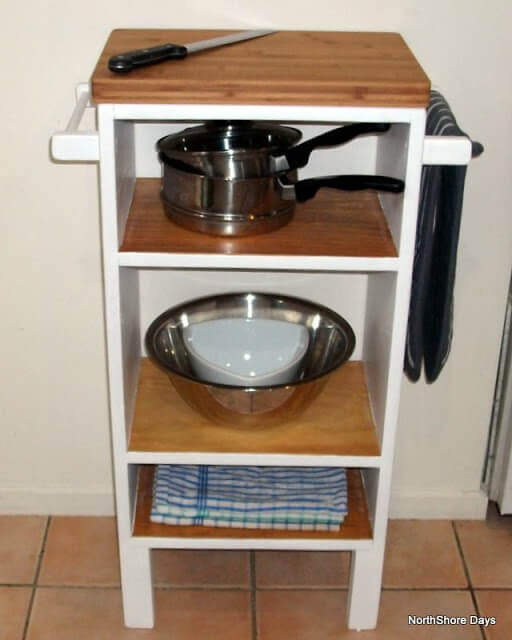 It is one of the popular cheap DIY kitchen island ideas you'll be in love with. You may require little effort, such as sanding, painting, varnishes, and the addition of a cutting board. Then there you are—transforming old shabby furniture pieces into something brand unique!
9. Farmhouse Kitchen Island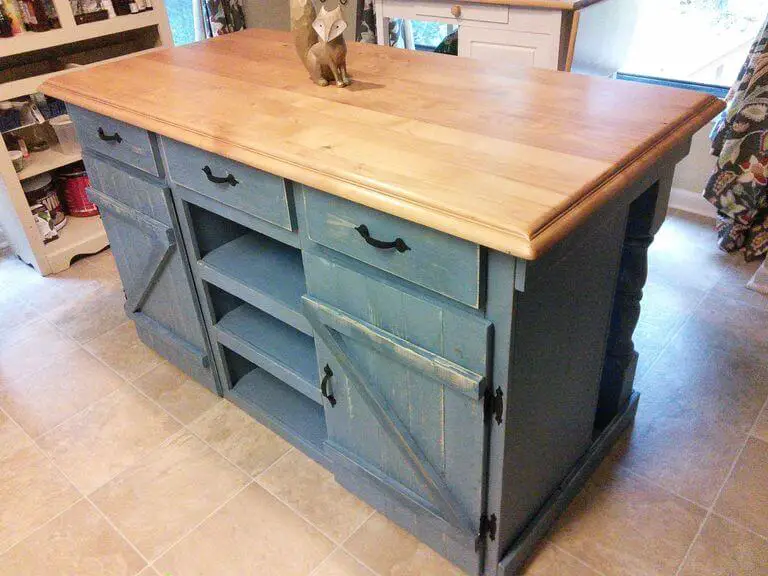 Look at how the blue paint makes a striking accent color to this farmhouse-style island! The design is one of the most inexpensive kitchen island ideas that inspire those who crave beautiful furniture but can't afford the price.
10. Kitchen Island Made With 2x4s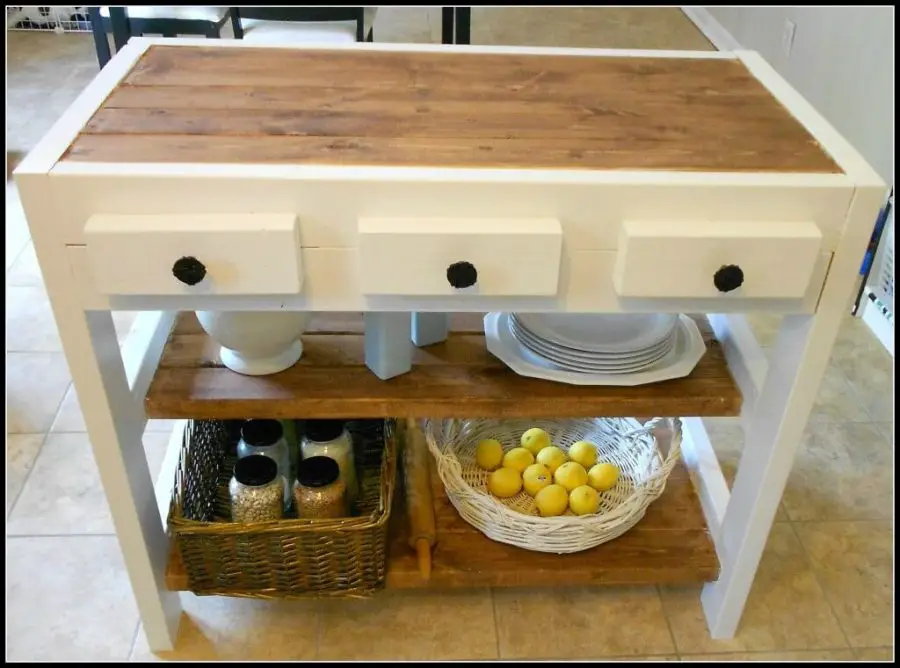 Here's a simple DIY kitchen island idea made from scrap lumber. It is a brilliant idea for transforming those spare 2x4s into something magical: a rustic yet classic-looking kitchen island. It turned out fantastic and looked better than most items for sale in shops.
Related: 40 Easy and Fun DIY 2×4 Wood Projects
11. From Wash Tub to Kitchen Island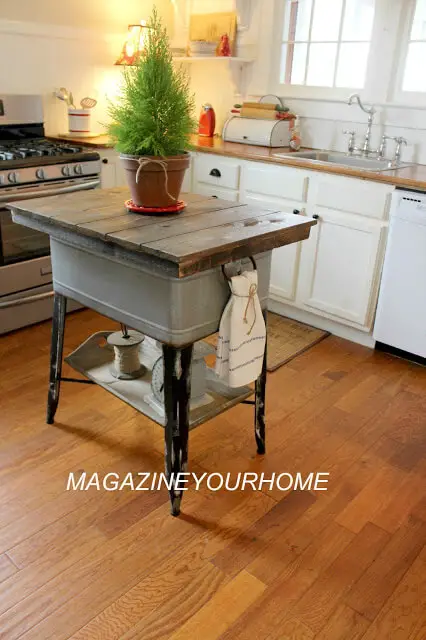 Another rustic vibe: this one-of-a-kind kitchen island is a fantastic addition to your kitchen. It was built out of an old washtub and scrap wood. You can lift off the top to provide for internal storage. Not to mention the handles and the old tray, every detail is worth mentioning.
12. Kitchen Island Made From an Old Door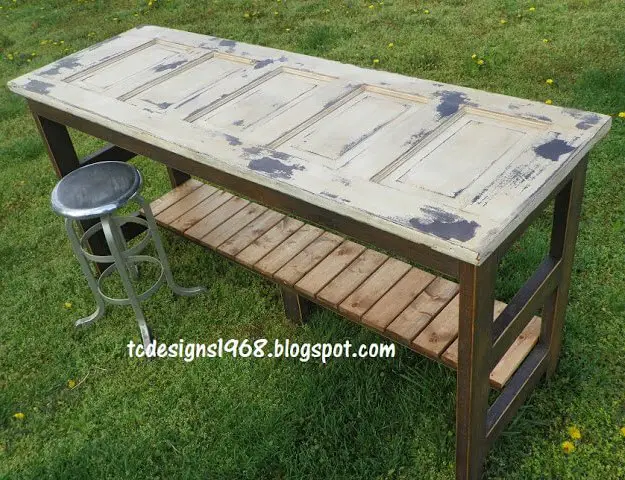 When it comes to DIY kitchen islands, thinking outside the box can lead to some truly unusual designs. Take a look at this ancient door that has been repurposed into a table. The long, hefty surface is ideal for a large family table. What a terrific idea!
13. Salvaged Wood Island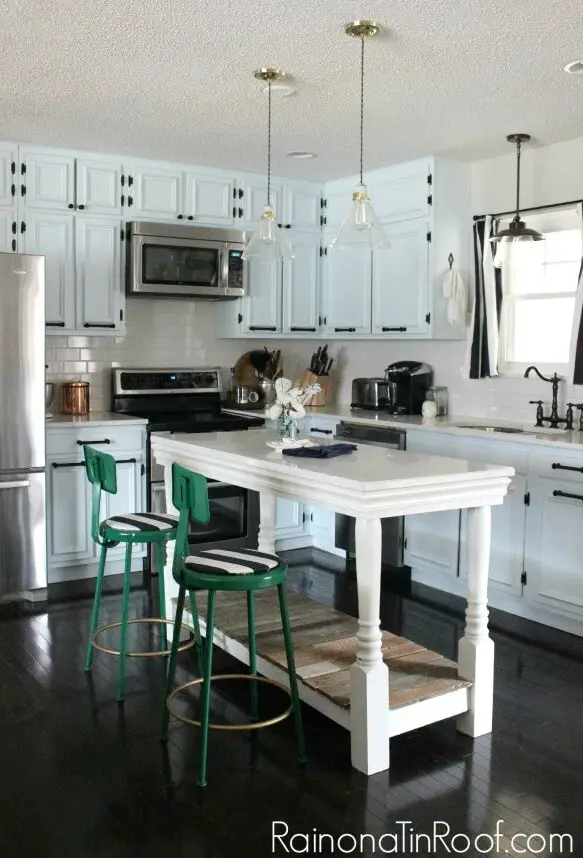 All you need to make this island is basic DIY skills. The best part about it is that you can use it as a terrific workspace. It can be a good place to enjoy breakfast or even lunch and dinner, yet it does not take up the entire kitchen.
14. Kitchen Island Cart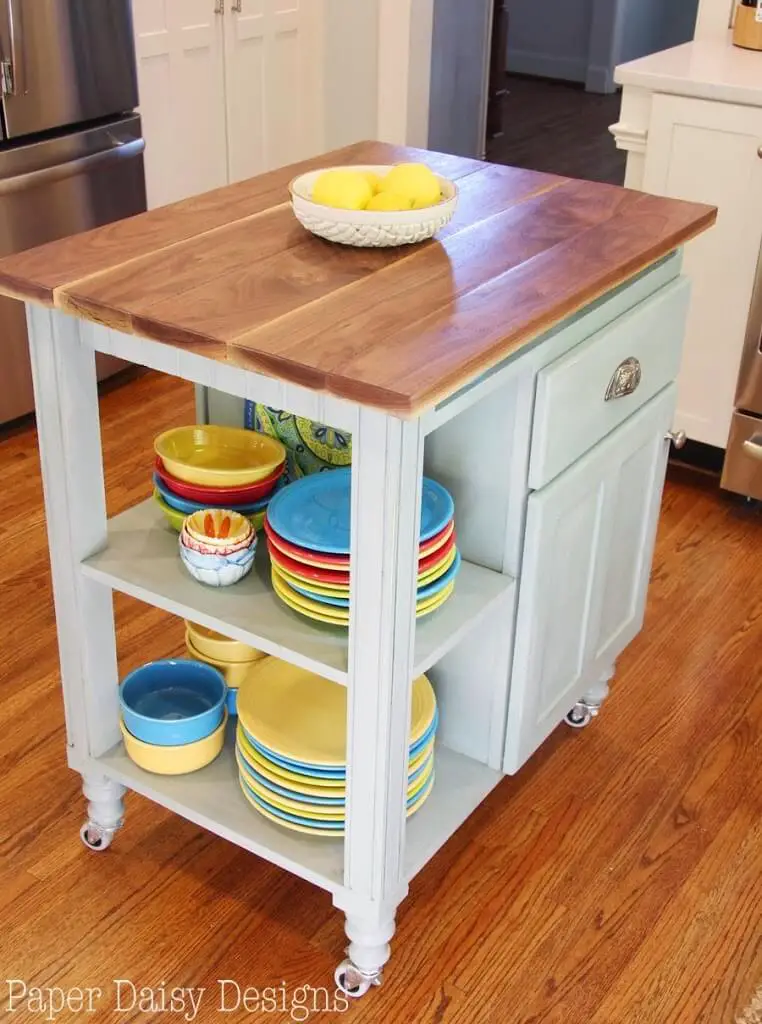 When space is limited, it's time to innovate and seek kitchen islands with portability. It is a must-have inexpensive kitchen island for anyone who enjoys entertaining. You can draw it straight up to the sink or use it as a bar on the deck. It's a real workhorse.
15. Kitchen Island with Pantry Storage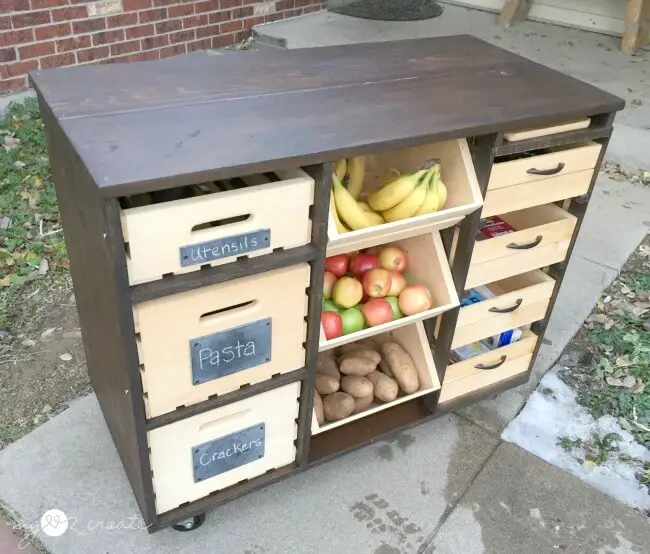 We always need extra storage for fruit and vegetables. It is one of the DIY kitchen island ideas perfect for kitchens without an island and a superb addition for any kitchen that needs additional moveable pantry storage!
16. Kitchen Island with Trash Storage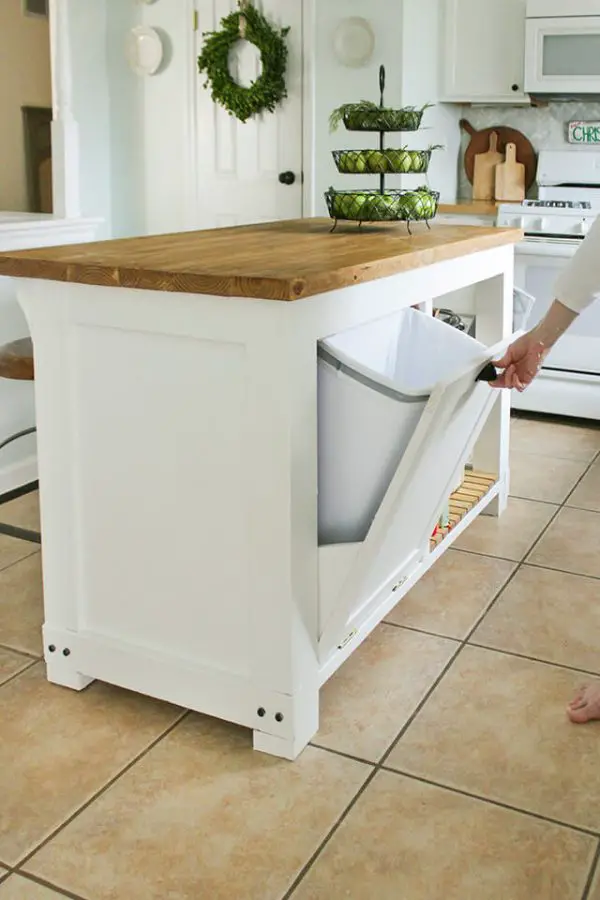 The design is simple yet very classy. You'll adore the pine countertop and the concept of hiding the trash container. It's clutterless and might be a favorite spot for family members to sit and talk-have quality time with you while you're cooking.
17. Mobile Kitchen Island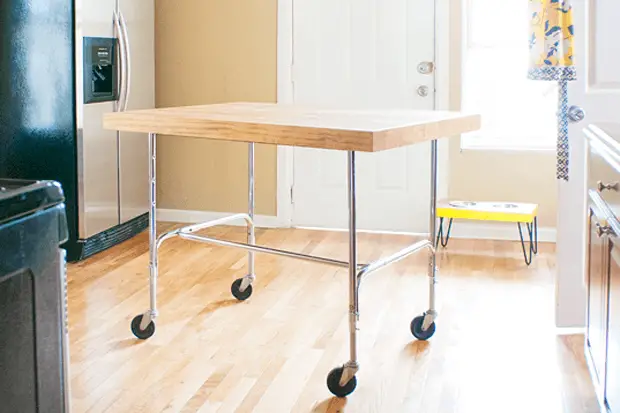 You don't want anything in the way of your precious aisle. You may easily move the island around the corner or out of the way when not in use. You may even place it in the center of your kitchen floor to create an instant workspace. It's really worth it!
---
Conclusion
Here you already have various choices of DIY kitchen island ideas. There's no more boring kitchen, especially since you double the function of your kitchen island.
Now make a change in your kitchen! You can share this good news with your friend on social media, hope they'll be inspired to make a change to their kitchen!
More Kitchen Posts & Other Posts You Might Like: