Decorating and organizing can be a bit tricky, especially for the upper area. But, thankfully it's still plausible because you can choose one of these above kitchen cabinet decor ideas.
These designs will make your place look tidy as well as pretty.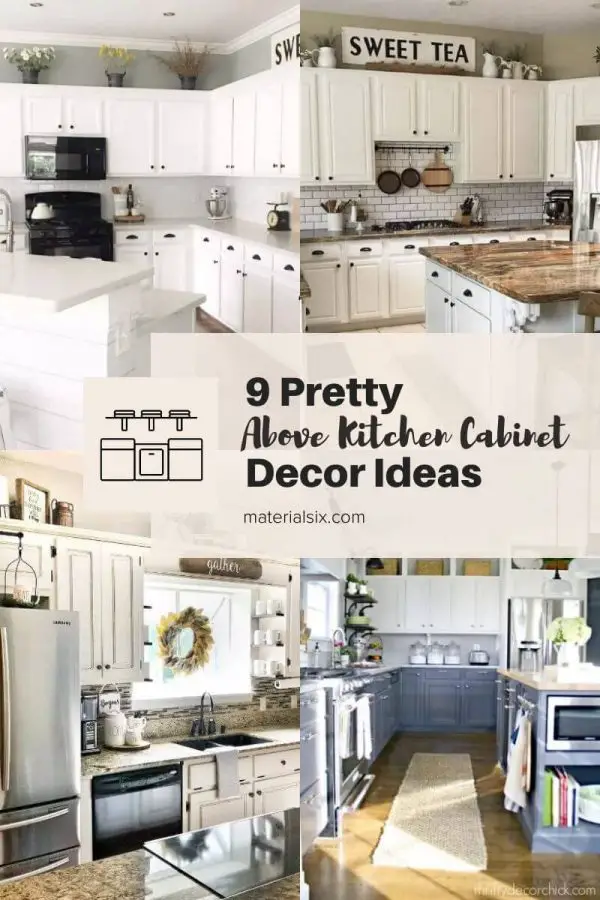 How to Decorate Your Above Kitchen Cabinets
The above kitchen cabinets have a big impact on the style of your home. They also need to be functional and beautiful. So you have to think of how to decorate it. Check out these pretty decorating ideas of the above kitchen cabinets.
1. Show Your Collections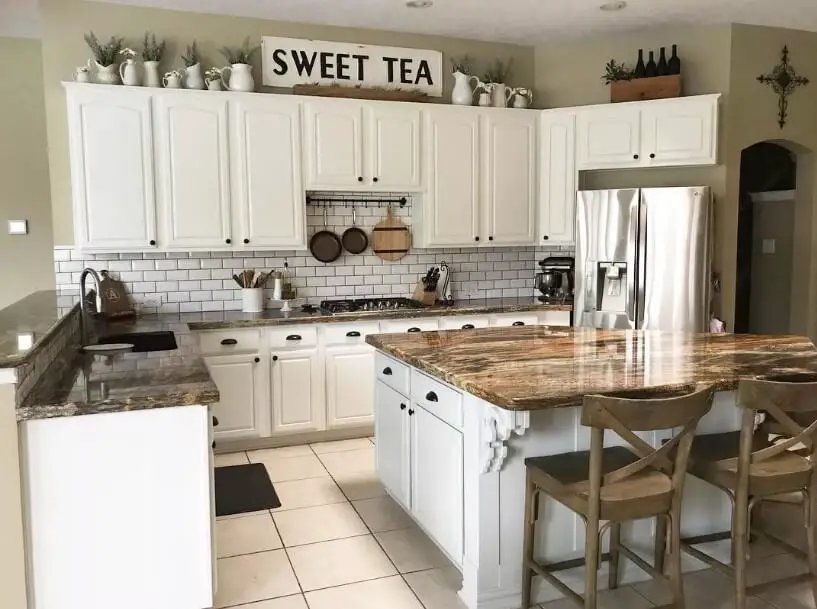 The above kitchen cabinet decor chooses to showcase some of your home utensils. It is a good idea, though. Because, rather than getting confused about where to place them, you can just put those utensils on the top of the cabinets.
Moreover, by displaying the items, other people can also enjoy it. Thus, it is better than keeping them inside the closet or even in the basement. In addition, the upper part of the cabinet can be an ideal spot to expose your kitchen tools.
2. Above Kitchen Cabinet Storage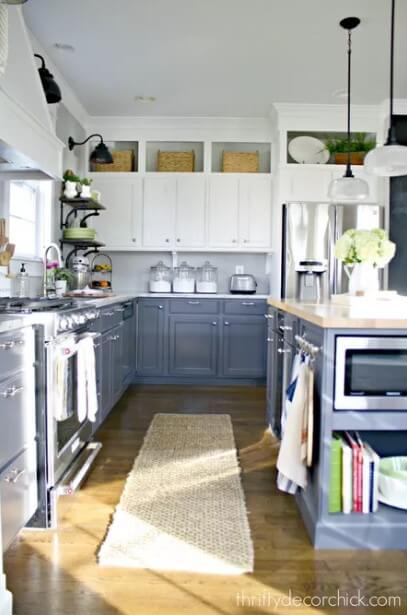 The next idea you can apply is this one-of-a-kind above kitchen cabinet storage. Create an empty spot on the top part then fill it with baskets. As a result, it will not only make the area look neat, but you will also get extra space for your supplies.
Baskets are both decorative and functional items for the room. Make sure to place it neatly above the cabinet. You can also add a divider in between to give an organized look to space.
3. Display Vintage Objects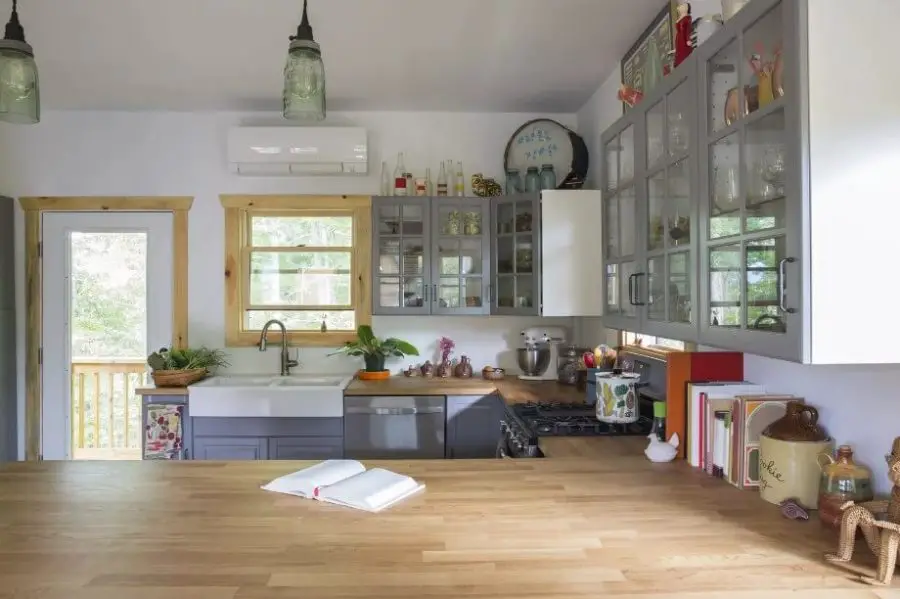 Antique objects will never go wrong as room decor, including for the kitchen! That is to say, you must try adding something vintages such as frames, mirrors, or some old family portraits.
In addition, the flea market is a great place to find those treasures as it is cheap and decorative for the house.
You can also use unused bottles as room decor. Paint them uniquely and then, put them in order on top of the cabinet. As a result, it will create a vintage but pretty decoration for the kitchen.
4. Greenery Above Kitchen Cabinets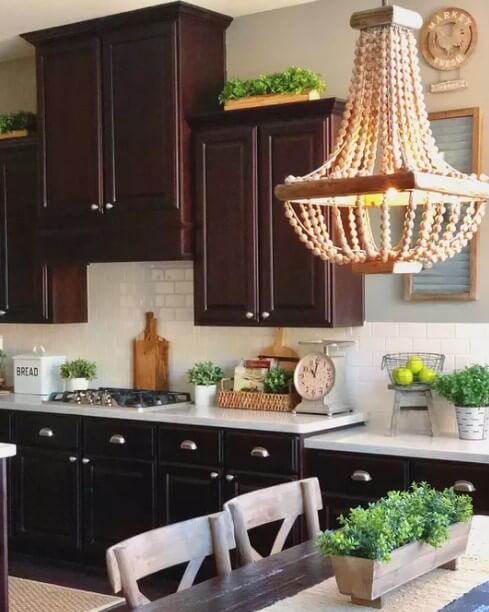 Whatever the interior style or design is, you can go with greenery above kitchen cabinets ideas. Bring in some green inside the house by using artificial plants. They are cheap to buy and need no maintenance at all.
To make them look neat and pretty, but the plants in small pots. To make the kitchen look more greenery, choose different kinds of herbs for each cabinet.
5. Display Some Supplies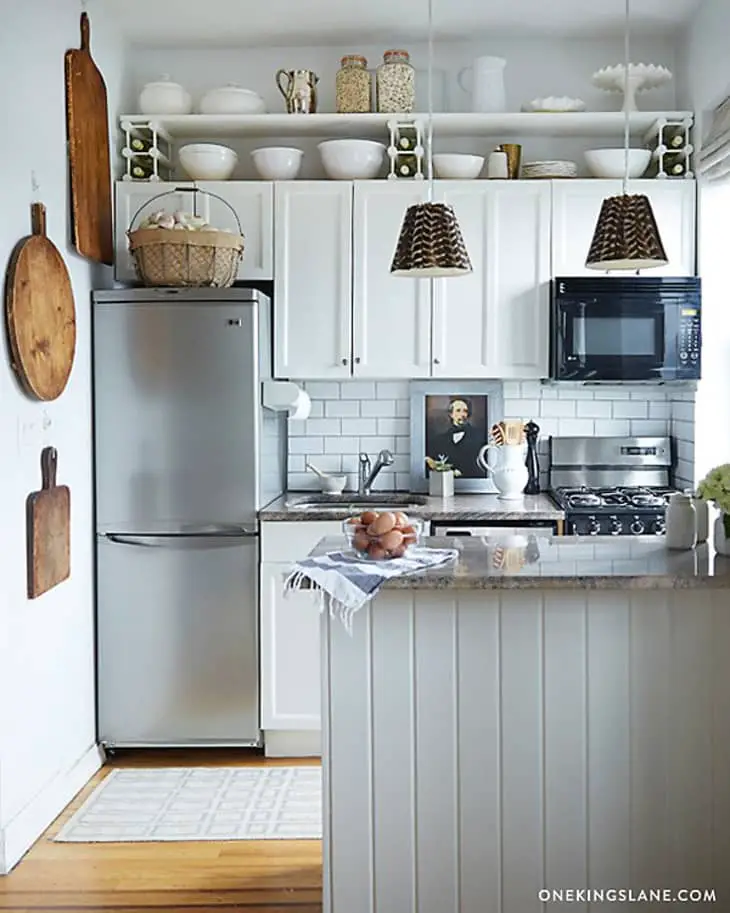 There are so many kinds of kitchen equipment, that sometimes the storage might not able to keep them all. As a solution, we could put some as a display, as a decor in the room.
If you have enough space between kitchen cabinets and ceiling, then put your trays, cake stands, or even the electronic blender on top. By putting them neatly and organized, you can use the area for storage and decoration in the room.
6. Items to Fill in the High Space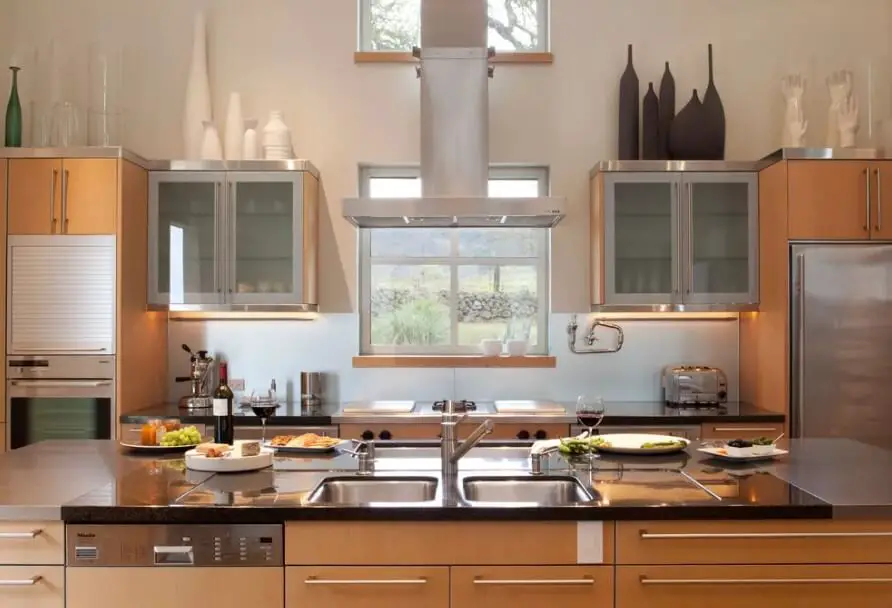 Having high ceilings in the kitchen could bring more space to the room and create a nice circulation. It is also one of the tricks to make the place look bigger.
Those who have enough space between kitchen cabinets and ceiling can place some tall ceramic art like a vase or a statue on top. This additional decor will create a modern feel inside.
7. Creating an Art Gallery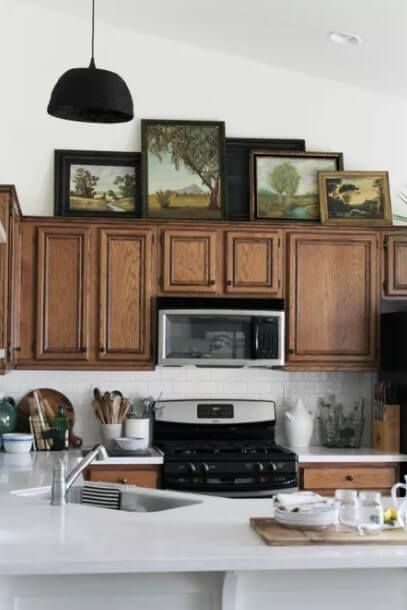 Pictures and frames would also be great above kitchen cabinet decor. Try to make it look artistic by using different sizes of art. Using some layers on the positioning would make it unique as well.
As for the pictures, you can choose any kind of theme. Starting from visual ones to your kid's painting at school. For a different touch, monochrome portraits of family members can also be used as decor.
8. Typography Space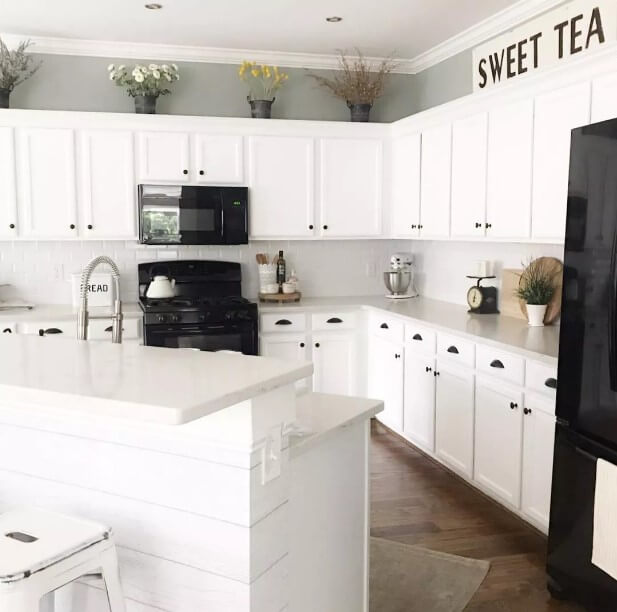 Typography is the next decorative idea for the Above Kitchen Cabinet Decor. Fill in the cold space using inspiring words and quotes to lighten the day. Then, combine the sign with some artists such as flowers or paintings.
In addition, you can find loads of concepts in creating typography. Starting from using cutting stickers, painting it manually or even a plat sign as well. The words could use different fonts, sizes, and even colors to create different moods and spaces.
9. The High Indoor Garden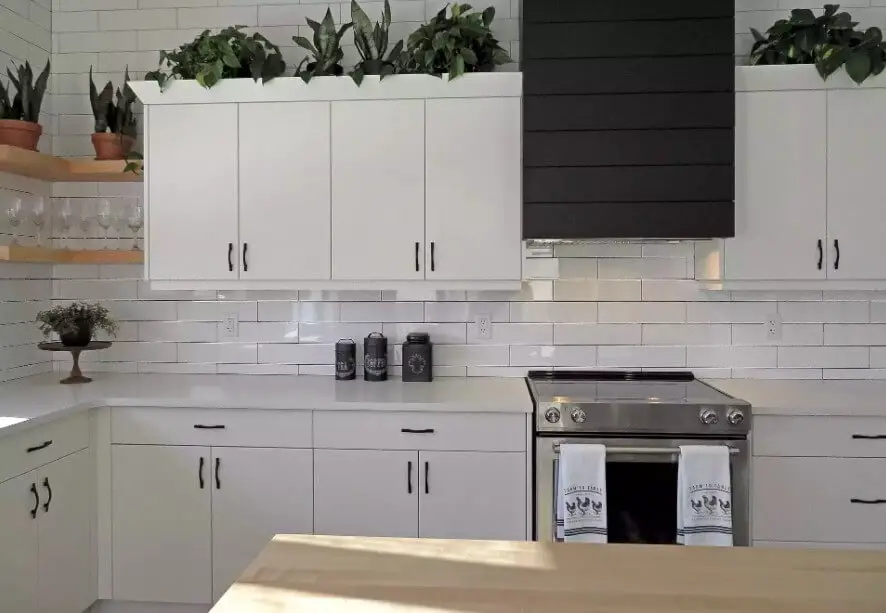 Don't have enough space in the backyard to create a garden? Then, why not use the upper space in the kitchen to have one?
Certainly, it is possible to fill in the above cabinet with something different such as real plants.
But you must ensure that you're using plants easy to maintain. Plants such as cactus as well as elephants' ears are some of the types you can use as an above kitchen cabinet decor.
These decorative ideas for the above kitchen cabinet decor can create a nice, artsy space. Some can even keep the room organized as well.
However, before choosing the above kitchen cabinet decor, make sure to measure the space available. Therefore, you can make the room nicer rather than making it look more crowded.
More Kitchen Posts & Other Posts You Might Like: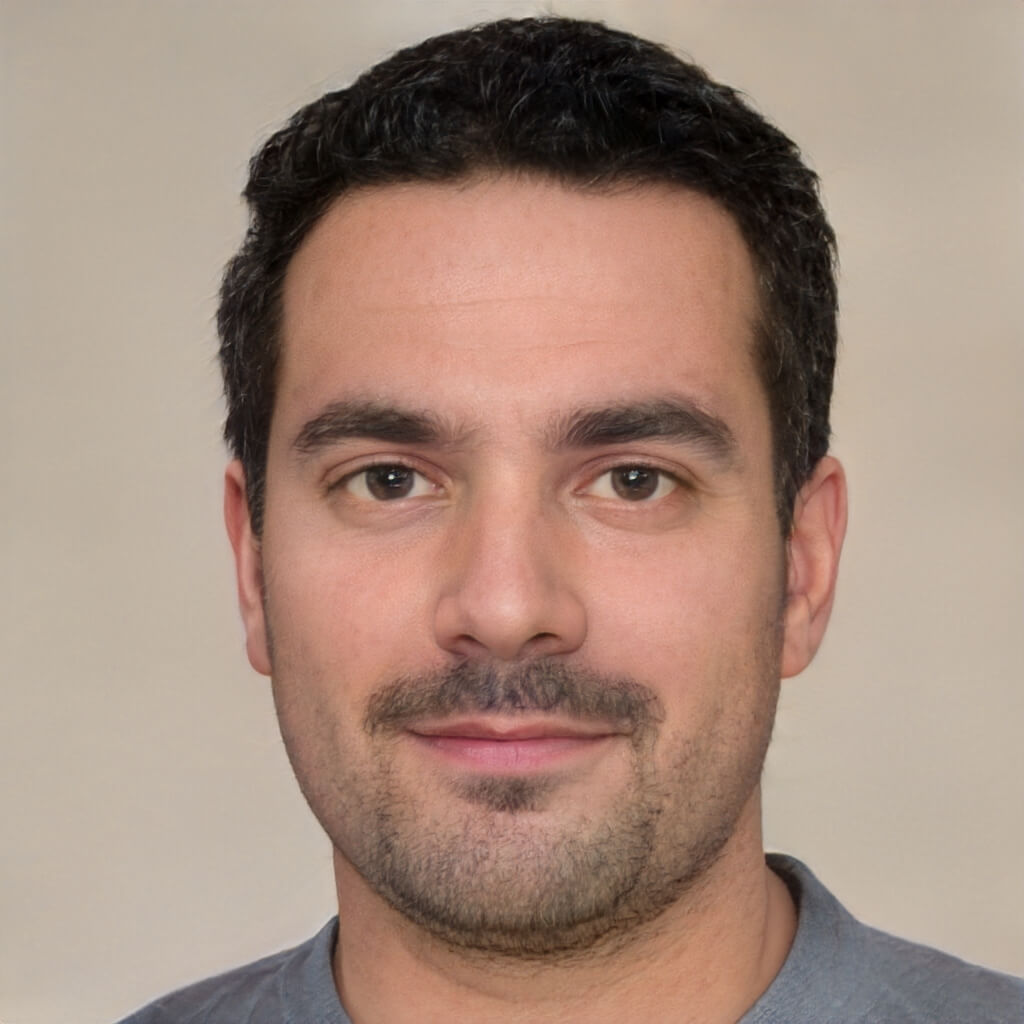 I'm a passionate home and garden enthusiast and the founder of Materialsix Home. With over 10 years of experience in the field, I've cultivated a deep love for all things related to home improvement, gardening, and interior design.